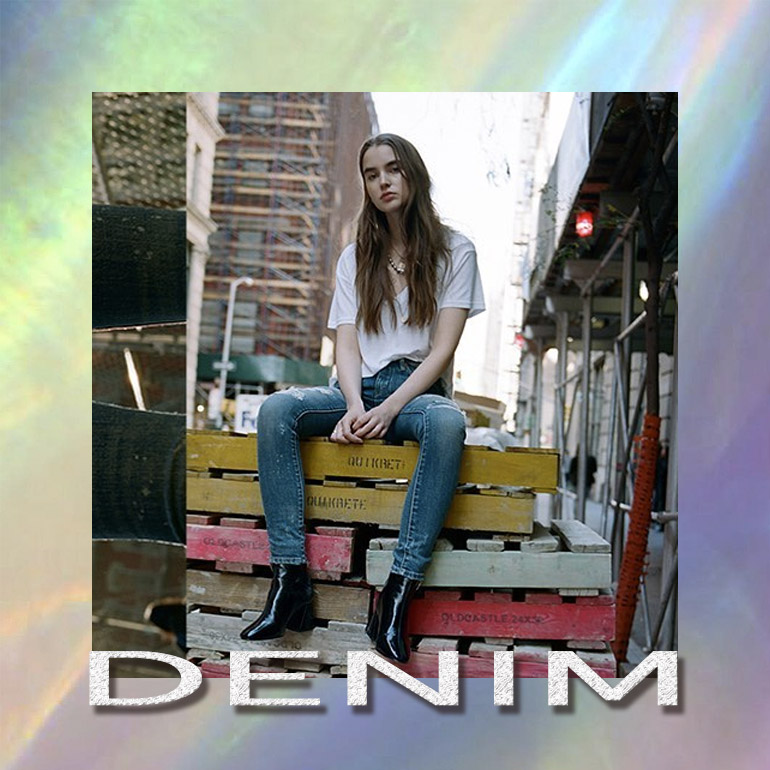 There's truly nothing more satisfying than slipping on that perfect pair of jeans. You know the ones! That pair that fits you just like a glove? The ones that go with everything in your closet! The ones that make your butt look great?! And while denim has been a long time wardrobe staple we've come to expect season after season from an oversaturated market, we believe that a truly great pair of jeans should be anything but basic! This upcoming season, denim is making a super fun comeback, and (just because we think you're awesome) we want you to be ahead of the game. That's why we hand plucked these top twelve contemporary denim labels that you should know about in 2019! Ranging from the tried and true O.G brands that might already be on your denim radar, to the indie cult favorites you've admired from afar, to the up-and-coming labels you are starting to see percolating in your fashion circles, we're here to guide you on your journey as you head on the highway to denim heaven. So whether you're into sustainable styles, inclusive designs, classic skinnies, or cutting-edge looks, you're sure to find a brand (or two) that's just right for you. Here's to finding that perfect-fitting, second-skin feeling, derrière-defining pair of jeans comfortable enough for lounging and fabulous enough for date nights, that will take you through this season and beyond. You can thank us later.
Our top twelve contemporary denim labels to know:

1) Tortoise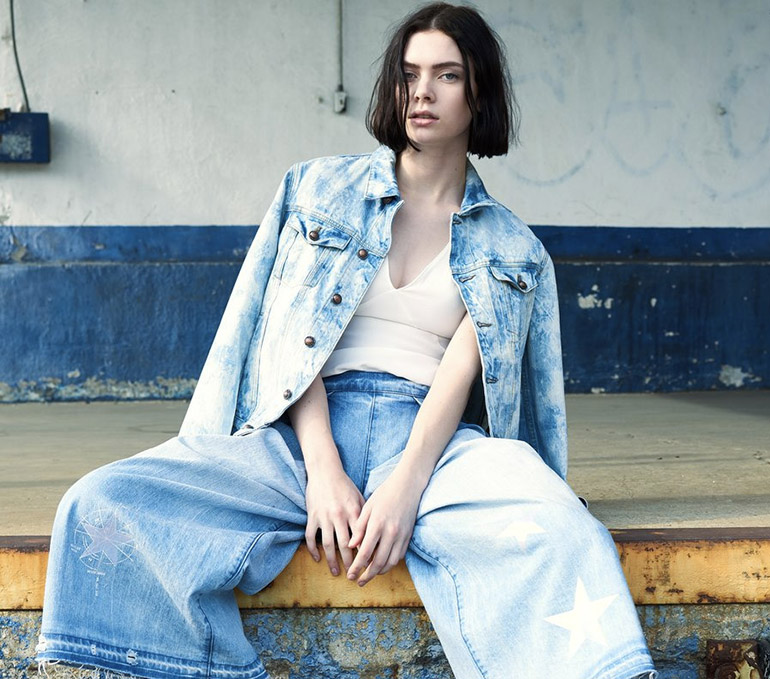 If you care about sustainability, and you're on the conscious-clothing train, you're going to love adding the women's denim from Tortoise to your shopping cart (and your carbon footprint). It's time that lovers of true indigo denim come out of their (proverbial) shells and rejoice in the stylish offerings from the first and only denim brand that is continuously using methods of washing that not only use less water, but also eliminates harmful chemicals. The popular top denim brand Tortoise that launched in 2013, has been hard at work accomplishing its mission to create attractive denim responsibly, and has us feeling all kinds of good about adding their pieces to our closet! This season you'll find super fun frayed details all over tanks, dresses, skirts, and pants as well as front button style dresses, wide-leg pants, and all over button details. Now that's fashion we can all feel good about.

2) GRLFRND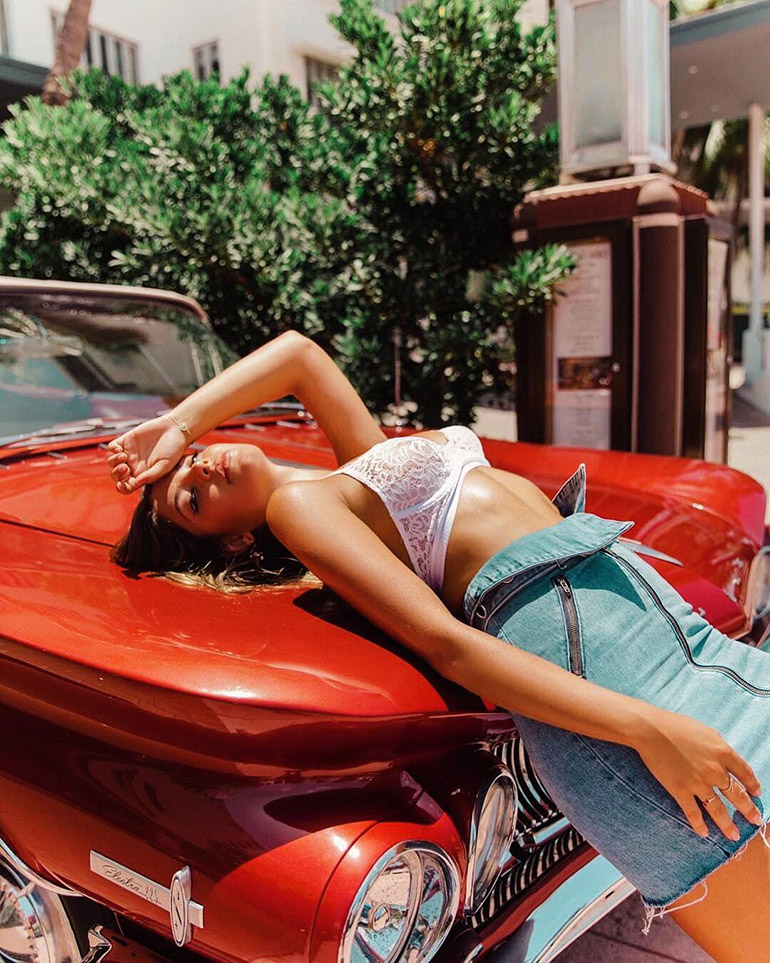 Anything but boring, GRLFRND is known for pushing the limits of basics above and beyond what's expected from classic women's jeans. With a total throwback nostalgia reminiscent of the 1990's supermodel era, the line is both classy & glamorous, but with just the right amount of edge. Never sacrificing comfort in its fashion, this well-made brand is always concerned with a flawless fit, and the result is long-lasting women's denim looks that are flattering, comfortable, and chic. Have fun pairing the label's hot new high-rise long jeans with heels for a perfect work-to-play vibe. The relative newcomer (launched in 2015 at Coachella Music Festival) has garnered a reputation for having the best jeans out there! The excellence in quality and construction displayed in this top denim brand, certainly do help make a solid argument for denim (and not diamonds) being a girl's best friend!

3) Mother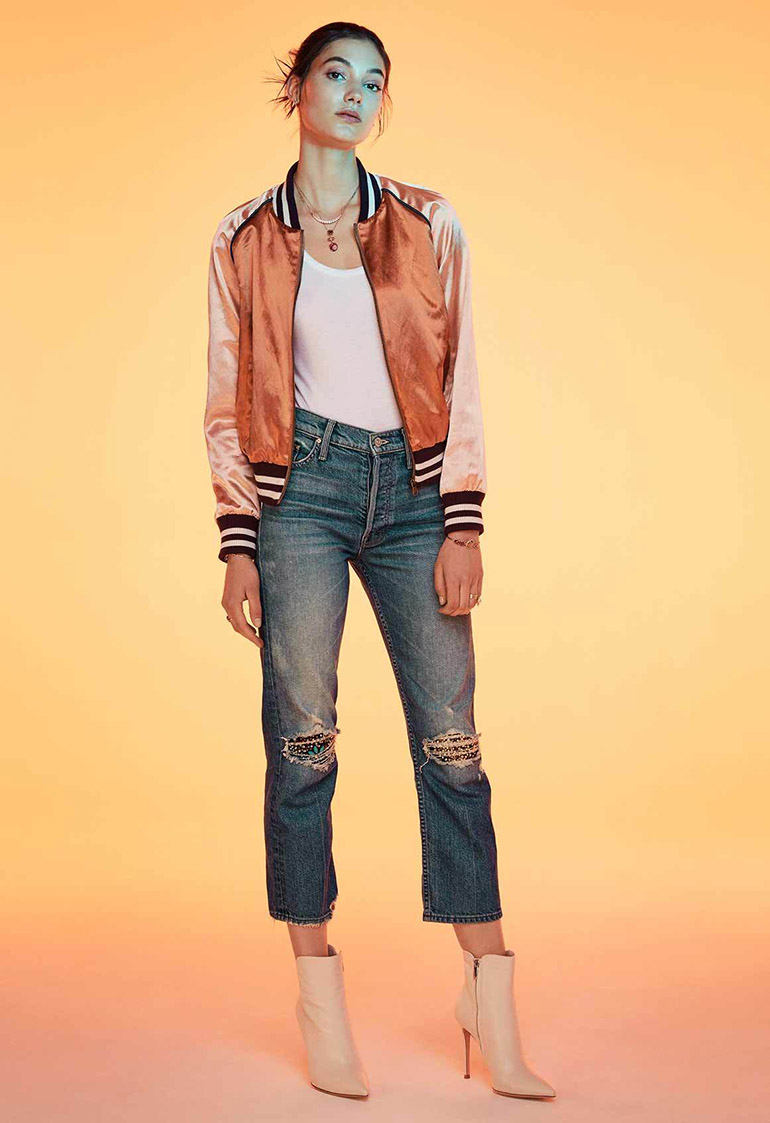 Despite the name of the L.A based denim label, these sure aren't your mama's jeans! Mother, the small-batch, boutique, made-in-L.A. denim brand that is redefining and re-imagining 70's-esque jeans, is keeping things indie at heart, and we love that! The California women's denim brand creates an epic throw-back esthetic that is fun, free, and totally unfiltered. And what better era to set the tone for a label that is effortlessly cool and always fashionable than the era of free love and unity! Unique eye-popping details like racing stripes & fringe trims are just a few of the design details sprinkled throughout the seasonal selections from Mother. And while the vibe lives in the indie world, this popular brand Mother also has just the right amount of mass appeal with on-trend styles like popular high-rise denim and fan-favorite extra wide legs. So keep shakin' what your mama gave you, and keep this brand on your wish lists for the top jeans out there.

4) SJYP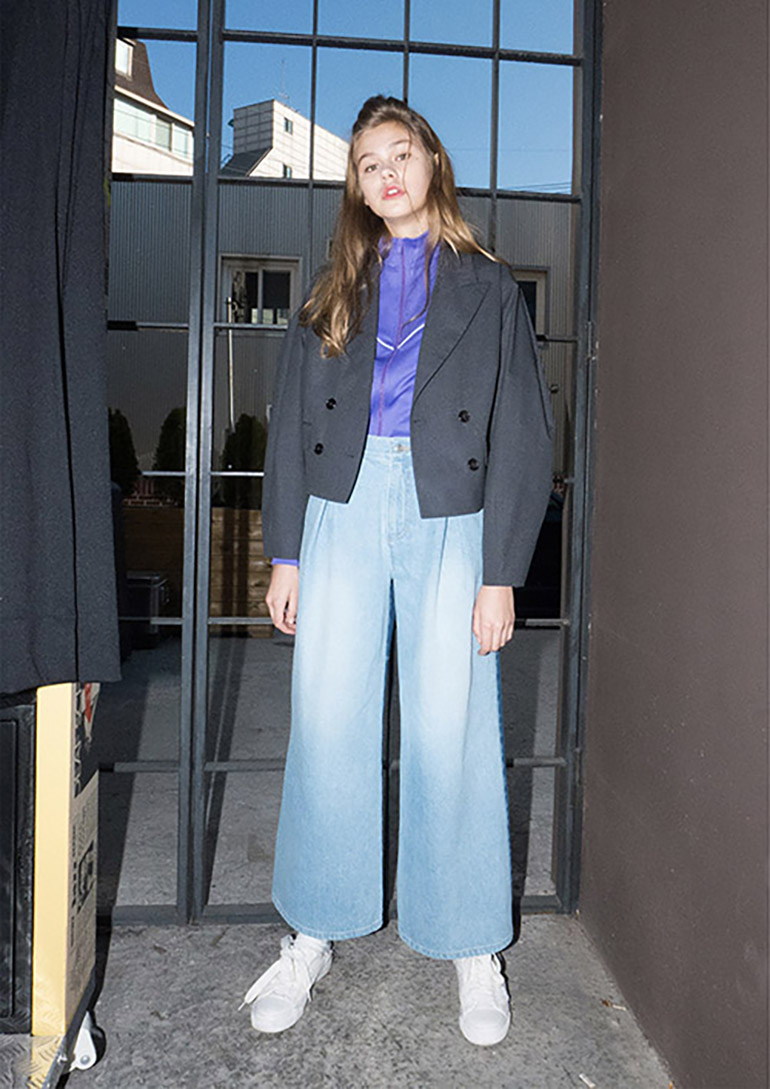 With the overwhelming popularity of the blue-jean dresses that came from their initial fashion line, designer couple Steve Jung and Yoni Pai were inspired to launch an entire denim line, SJYP, and give the people what they really wanted. Totally unique designs that are quirky and fun. Since their launch, freshly inspired silhouettes and unexpected details have become synonymous with this Seoul based brand SJYP, and fashion insiders have clamored to get their hands on their goodies. Lovers of this label have come to expect super fun frayed-edge jeans, and patchwork women's denim looks. This season you'll also find active-wear inspired denim jackets with 90's era racer stripes and oversized fits, and avant-garde twists on denim that are just the right amount of playful and feminine. And you know what they say – the couple that designs rad 90's denim together, stays together. Oh, that's not a thing? Well, it is now!

5) AMO Denim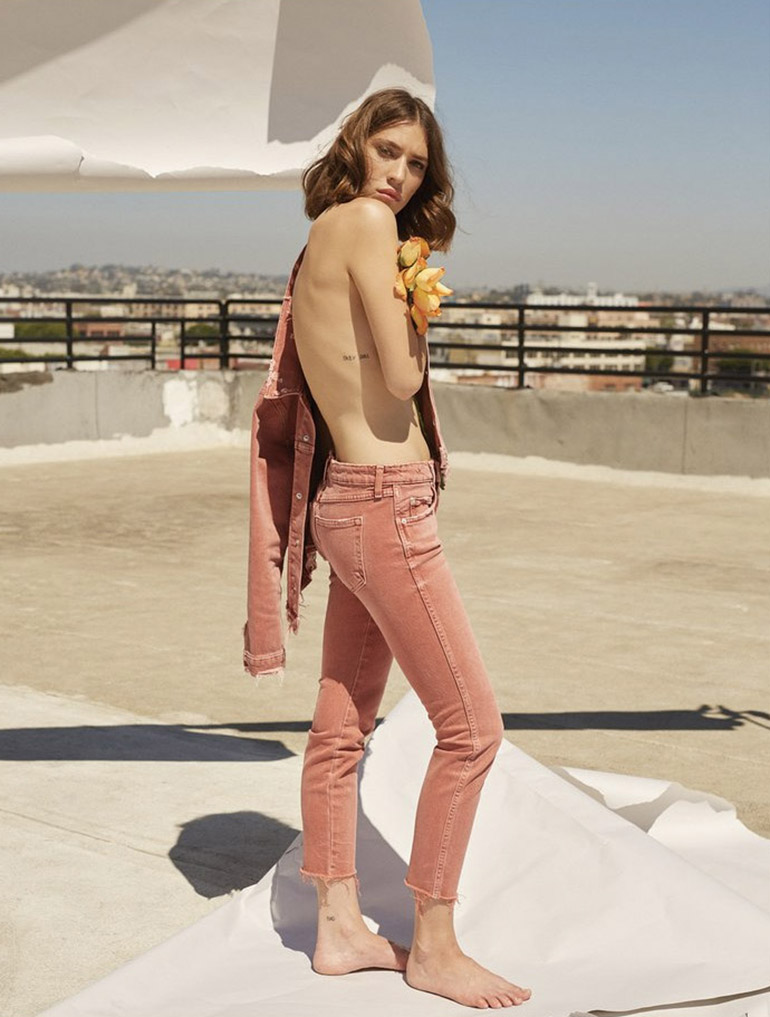 Fresh, feminine, and decidedly high end, AMO denim gets the laid-back vintage vibe just right! With a name that literally translates to love (in Latin) we've got our very own first-love butterflies for this fabulous brand, and we are crushing hard! This super loveable label creates an effortless, everyday, and flawless look that just so happens to pair perfectly with cozy, trendy, Tee's from their collection. Founded by fashion industry veterans, Kelly Urban and Misty Zollars, the label was founded in an effort to to create that perfect pair of jeans we all want! What's great about AMO is that the denim is timeless, yet also made modern with its design details. Double up on the relaxed charm by pairing jeans from their collection with a t-shirt from the same line. Proceeds from certain styles from this label go to supporting Planned Parenthood, so if you were wondering if you can be stylish and also support a great cause, we're here to tell you the answer is a big fat yes! I guess you really can have it all — great style and a penchant for progress! For that must-have breezy look and for a feel that slips right on, check out this women's denim collection that is lovingly made in Los Angeles.

6) Rolla's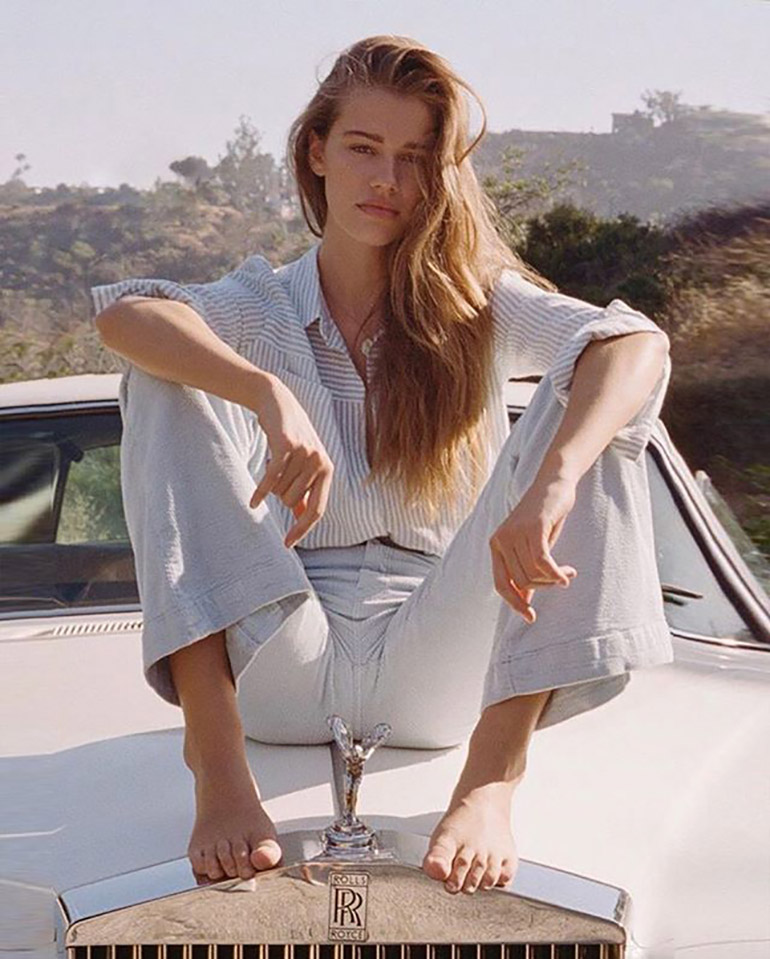 Simple, iconic, and with a hint of rock n' roll, Rolla's is a top denim brand that you simply must put on your radar! Created by designer couple Andy Paltos and Sarah Gilsenan and inspired by the 1980's, you can easily create a carefree, inspired, modern, and sexy style with any of the on-trend designs coming right from this Aussie line of women's jeans. The best part? With stylish jeans for under $100, this authentic denim brand proves that you really can look like a million bucks without breaking the bank. And with an eclectic Rolla's collection of the best jeans offered every season, you'll never be at a loss.

7) Neon Blonde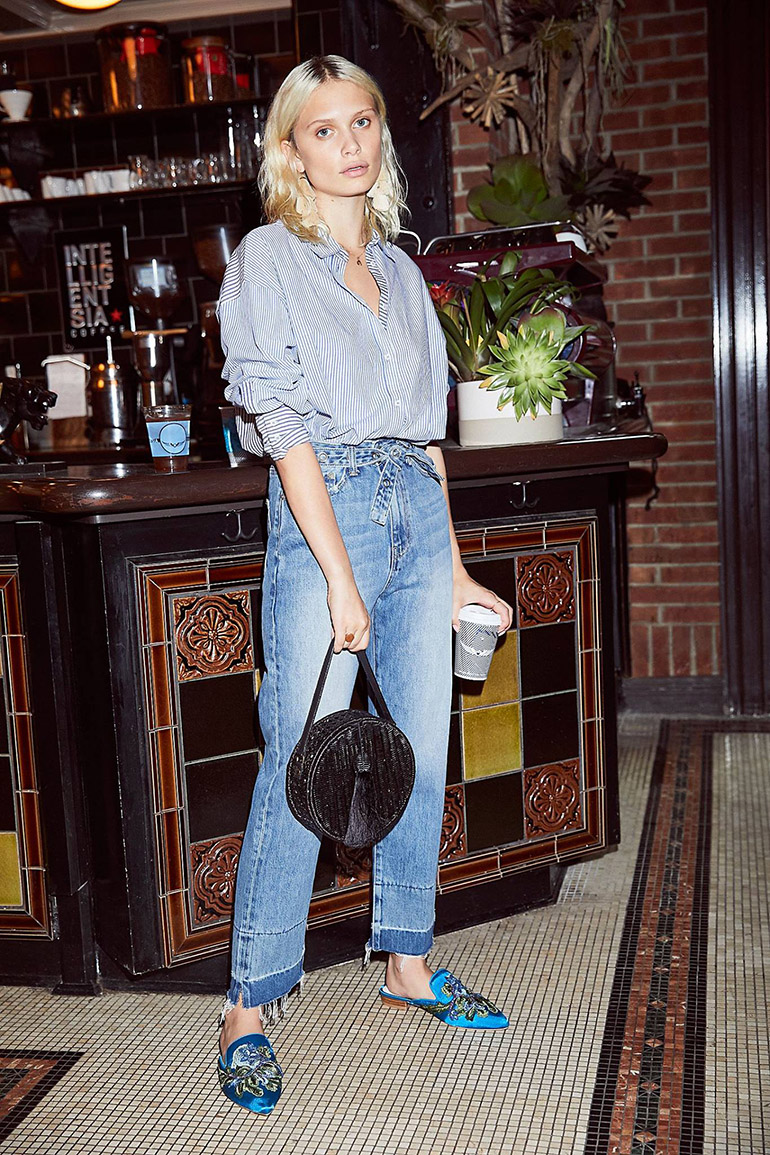 Not for the faint of heart, Neon Blonde is a bold Aussie street-style brand that will elevate your denim game in a big way! Created for the self-assured girl who isn't afraid of taking fashion risks or making a statement, you'll be sure to shine bright in the women's jeans from the collection. With a sharp eye on detailed quality pieces, the brand offers trend-setting denim jeans, skirts and shorts, that possess femininity and edge. The Neon Blonde muse is cool, edgy, seductive, and free-spirited. And if this sounds like you – then you'll love rockin' the chic and statement-making designs coming from this awesome brand.

8) Blank NYC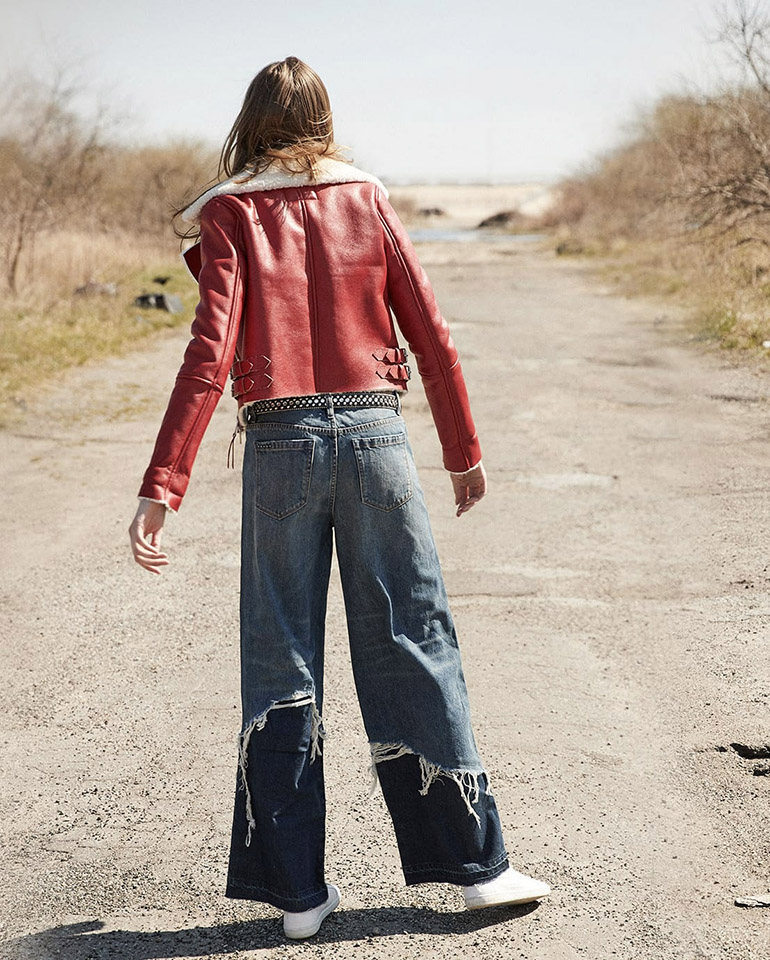 Having made a huge splash on the denim scene just over a decade ago with its signature studded Skinnie Classique jeans, denim label Blank NYC has had big shoes to fill from the get-go. Lucky for us, they have been up to the challenge of creating the best jeans and top denim looks ever since. Branching out and now offering wide-leg, flares, and stylish separates, the modern brand seems like it's in-it-to-win-it. Irreverently demanding that customers "Slip into second-skin skinnies" and "Fill in the [*%!&?# ] blank" on their website, the playful, edgy, urban brand Blank NYC founded by Emmy Lauridsen and Leigh Brown delivers on its promise to create approachable clothing in obsession-worthy fits!

9) Moussy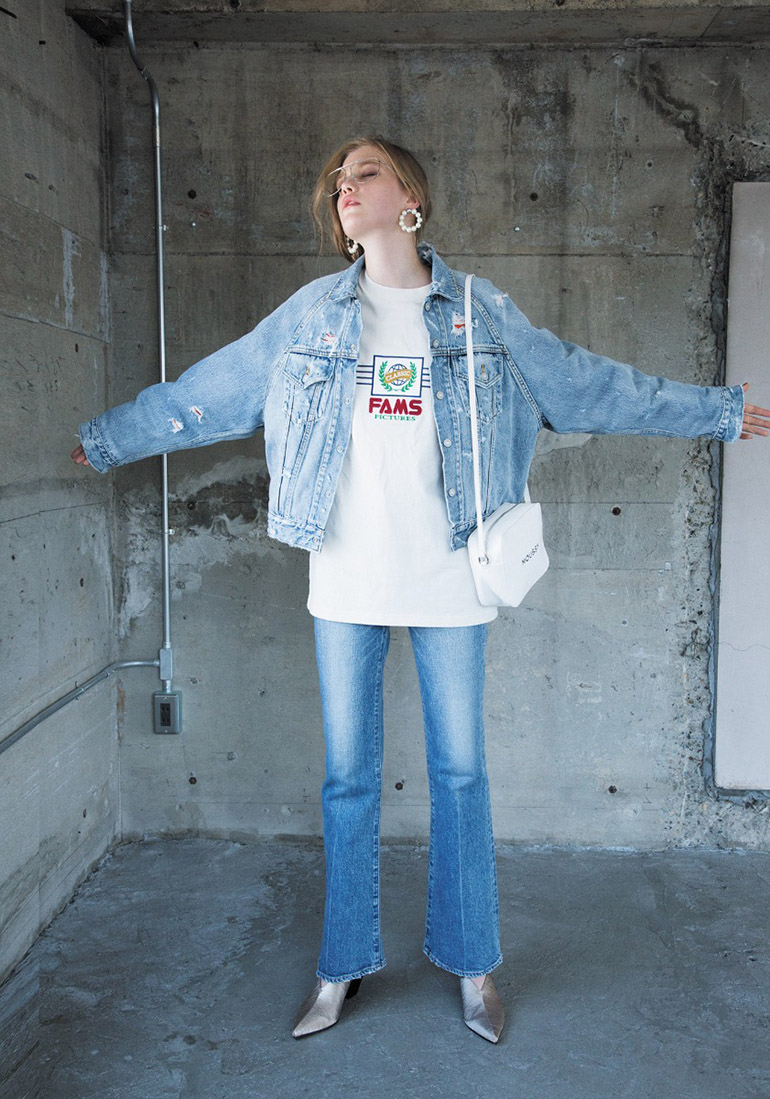 Vintage-like washes, throwback nostalgia, and premium fabrics make up MOUSSY – the hip Japanese women's denim brand with a hugely popular international fan base. With an approach to women's fashion that is rooted in a traditional men's style, this Tokyo based brand has been able to successfully cross gender norms in the the most stylish ways possible, while still managing to make the muses that love wearing their jeans still feeling every much as bit of a woman! This beloved brand offers simple, laid back, minimalist styles that are made to last, and will scratch that itch for cool, comfortable denim. The brand proudly opened the doors to its first Moussy stand-alone store in NYC in 2016, and continues to garner fashion fans internationally. Offering menswear-inspired high-waisted women's jeans, beat-up cutoff shorts, cropped skinnies, and ankle-length denim skirts, this cult-favorite brand is anything but meek.

10) The Ragged Priest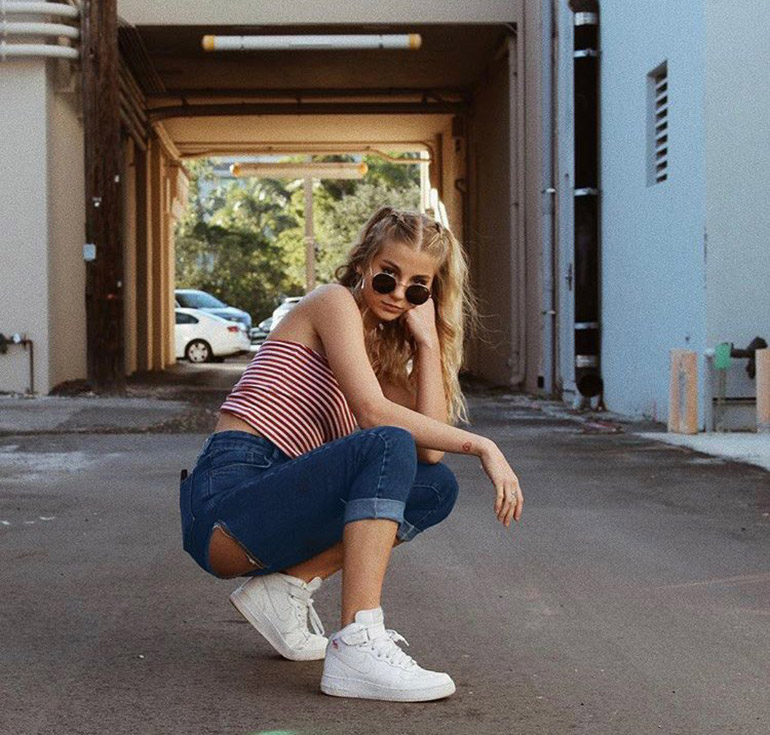 Punk Rock, edgy, and always cool, The Ragged Priest is a totally unique brand that offers denim in a way that is special, unique, funky, and fun. High waist wide leg cropped skater jeans with color patches, whimsical prints, printed side seam stripes, wide leg grazer fits, blue denim jackets with heavy chain detail, and mom jeans with distressed rips on the knees and butt are just a few of the cutting edge offerings of women's denim looks coming from this UK brand! If you like to take big risks in the fashion department, The Ragged Priest will likely become your BFF brand. Always mixing things up with color blocks, hardware, embellishments, and cool cuts that highlight the derriere, this brand's women's jeans are redefining and giving new meaning to the term mom-jeans.

11) One Teaspoon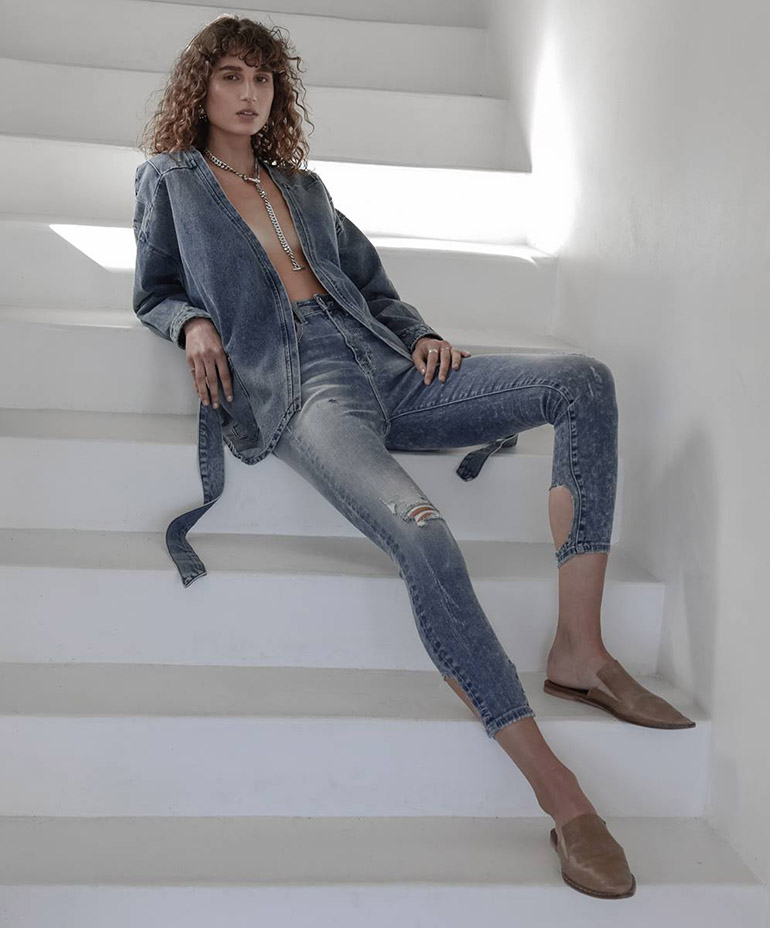 If you like your style to possess both wearability and edge, then One Teaspoon is the best medicine! And you know you're in good hands when a trusted label that has been around almost 20 years, like a fine wine, just keeps getting better with age. This lovely label from down under, founded back in 2000 by Jamie Blakey, has been dolling out the best jeans, and top denim looks season after season ever since it s launch. And while many denim brands tend to play it safe in hopes for longevity, this awesome Aussie cult label One Teaspoon has managed to transcend the usual trends, and constantly push the limits of what is expected from the women's denim world. With a knack for reinventing silhouettes, you'll love their wide array of slouchy drop crotch styles, bowed legs, raw hems, skinny cuts, high waisted options, and of course their famous distressed denim pieces.

12) Carmar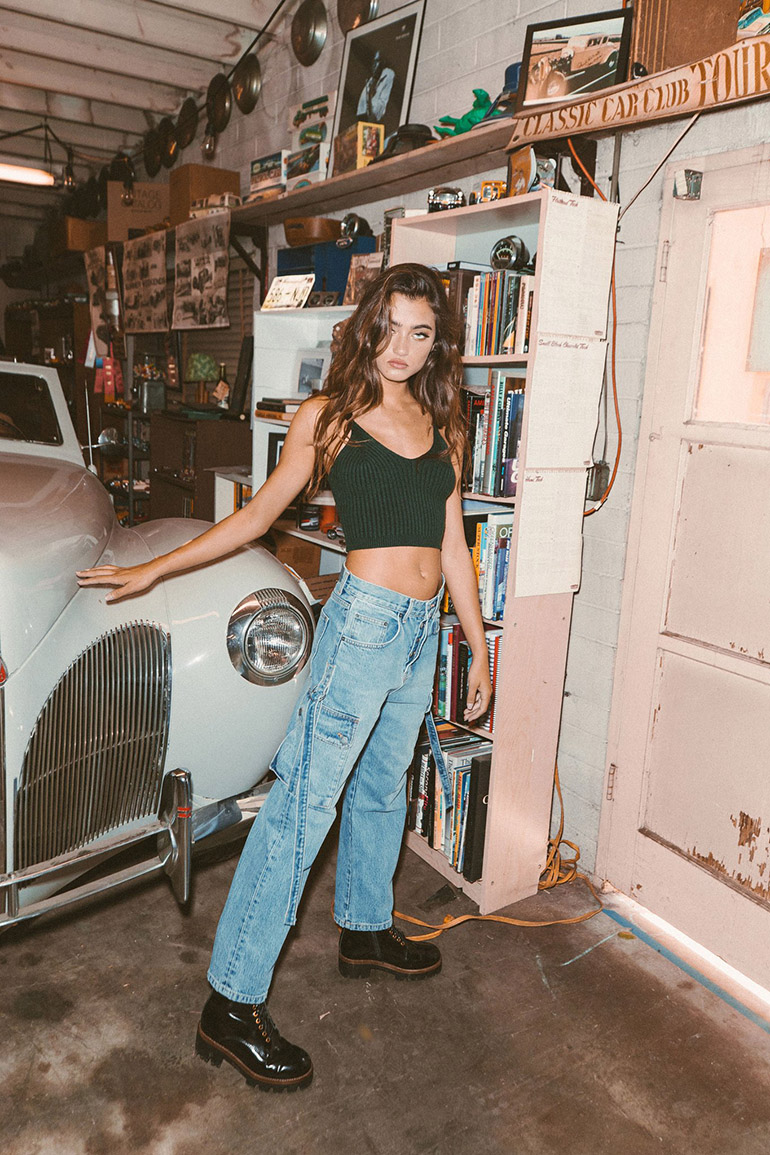 California based CARMAR is a premium denim brand with a freedom-loving, youthful, and innovative vibe. Both stylish and super comfortable, you can expect a wide array of designs that are truly unlike anything else out there. From baggy cargo jeans, to cropped relaxed-fit high rise cuts, to denim joggers, skinnies, corset jeans, and even Bermuda shorts, you'll never be guilty of going along with the crowd when wearing CARMAR. Design details like distressed cut-outs, frayed hems, harness trims, O-ring cage details, and even patches and colored side zippers are the icing on the CARMAR cake. When you're in the mood to stand out, and make a statement with your choice in denim, CARMAR is the path of least resistance. So for those who dare to stand out from the crowd in denim, this Los Angeles denim label has your back!
(Visited 1 times, 1 visits today)