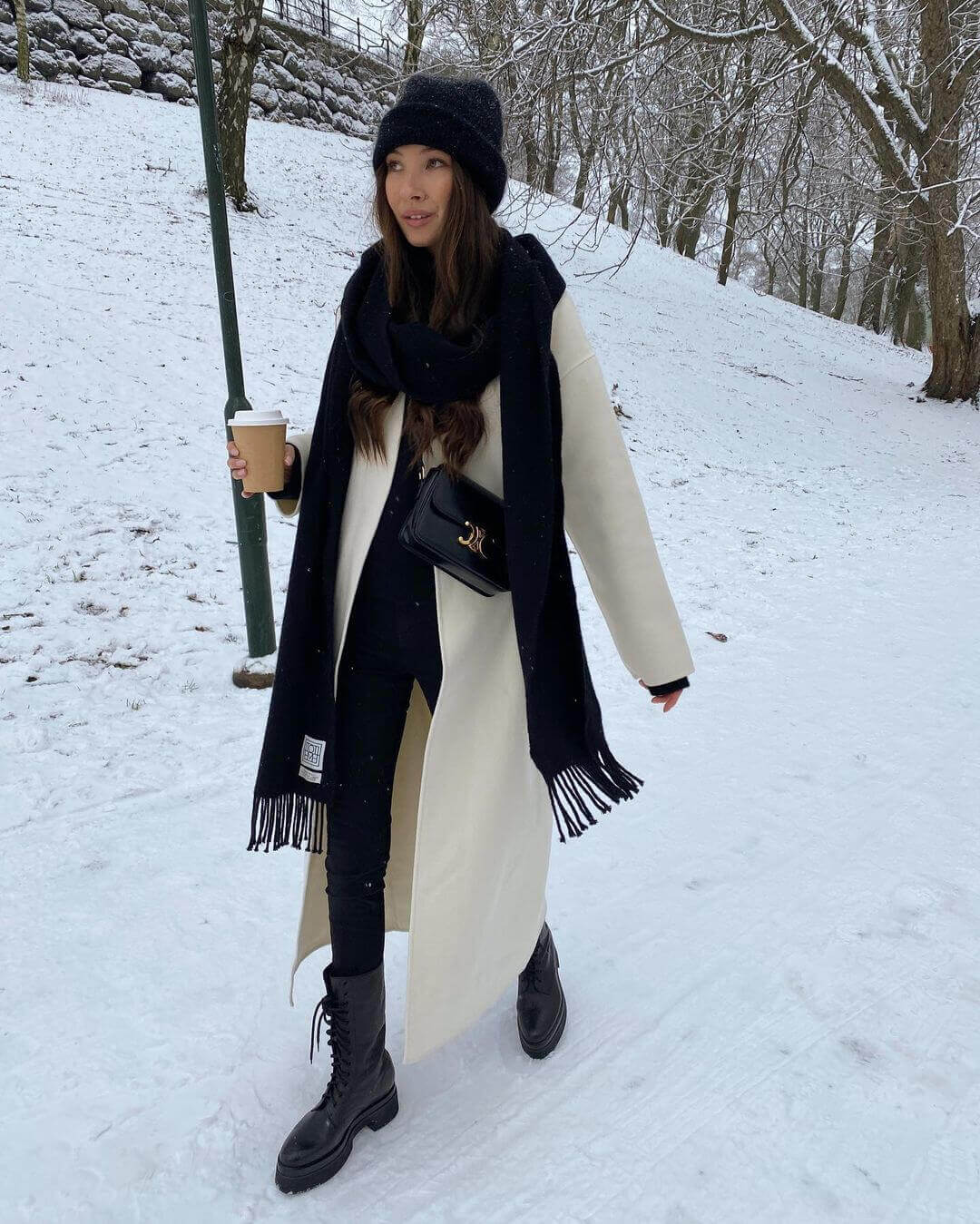 Photo via @fakerstrom
Boot trends come and go, but combat boots are the one style that's consistently been on our radar. We'll even go as far as saying they're officially a winter wardrobe staple, especially if you live in a colder climate. These heavier looking boots marry both style and practicality, which we're always game for. The lug sole ensures you won't slip on ice or in the snow while the taller shaft keeps your legs warm. Not only that but the edgy design keeps your ensemble forward-looking, making them a must buy for winter.
In years past, combat boots generally complemented punk and grungier looks, but these days, they're beyond versatile and can complete a myriad of aesthetics from minimal scandi outfits to more romantic get ups. That's exactly why we wanted to cover them in today's blog post. Ahead, you'll find 10 fresh ways to wear combat boots for winter – and can shop the outfits for yourself.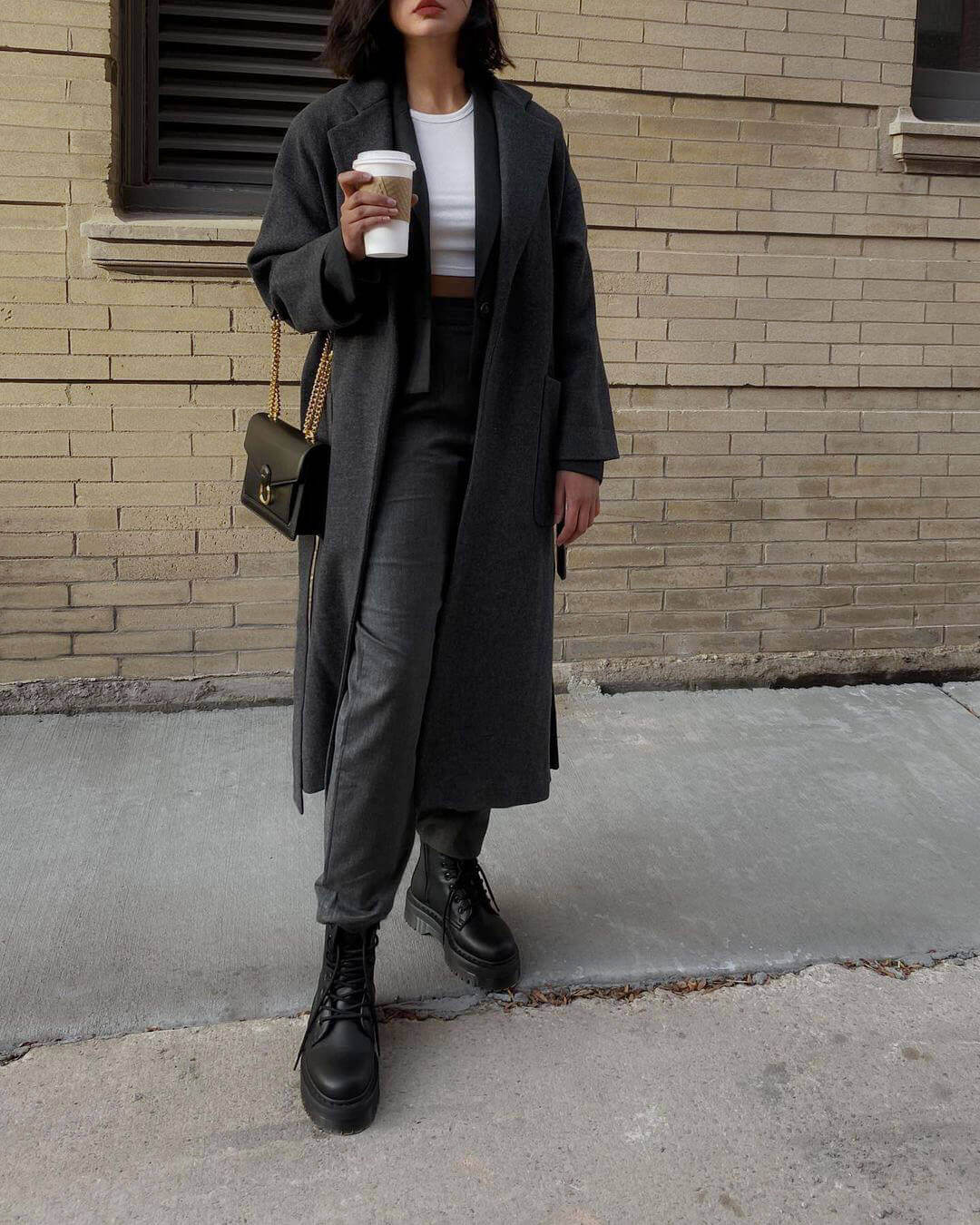 Photo via @veneti.a
1) Monochrome & Cool
Keep your winter looks cool and casual in monochrome tailored pieces. This chic layering of trousers, a cropped blazer, and matching coat culminate to produce a sleek outfit. The finishing touches are definitely the vegan leather handbag and – of course – the chunky combat boots.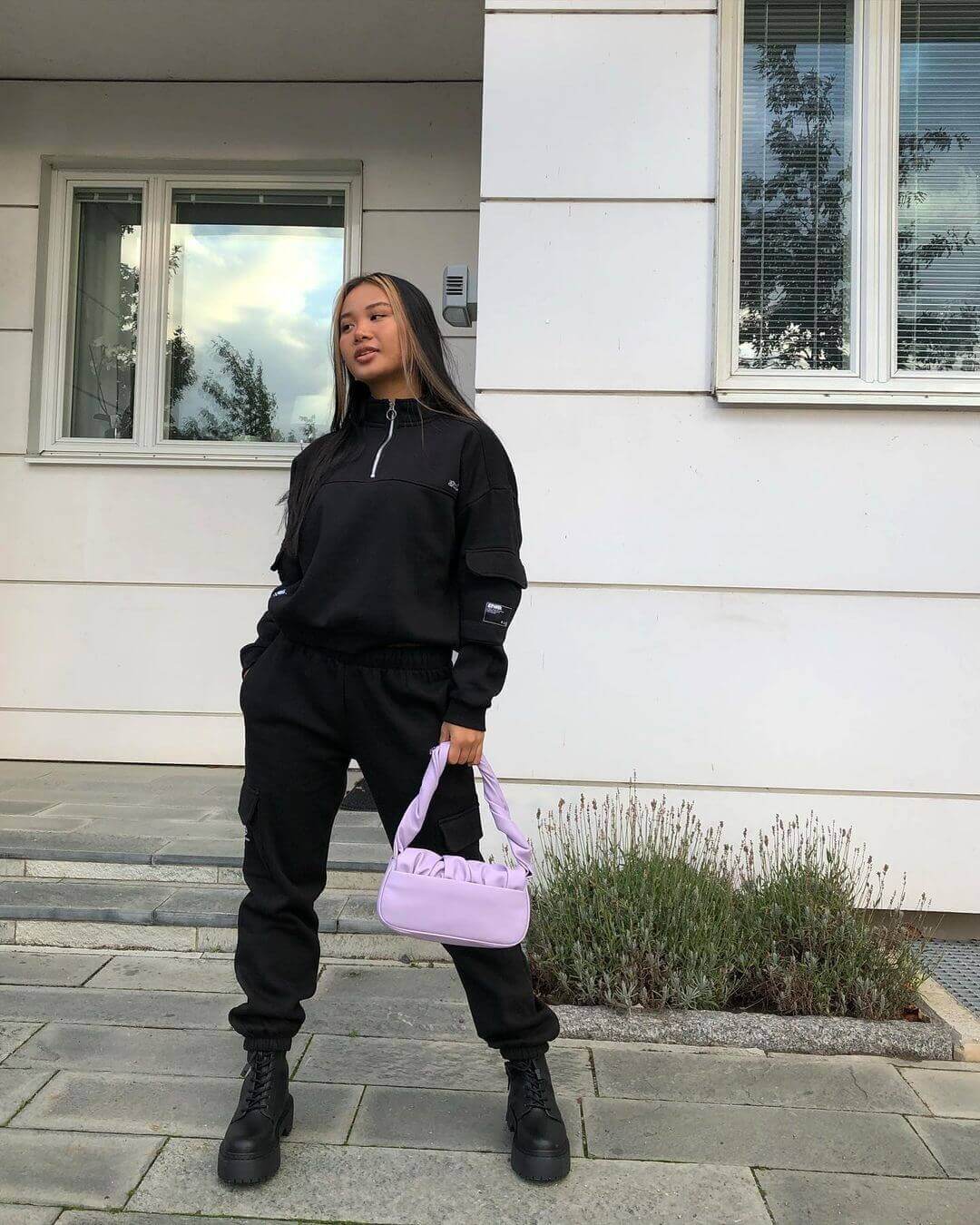 Photo via @hhelenanguyen
2) Tracksuit
If you are familiar with street style, you know how much tracksuits are beloved by the fashion community right now. This influencer proves that a tech-inspired hoodie and matching joggers are the perfect pairing for lace up combat boots. As a bonus, we love the addition of the more feminine, pastel handbag to make the black base pop!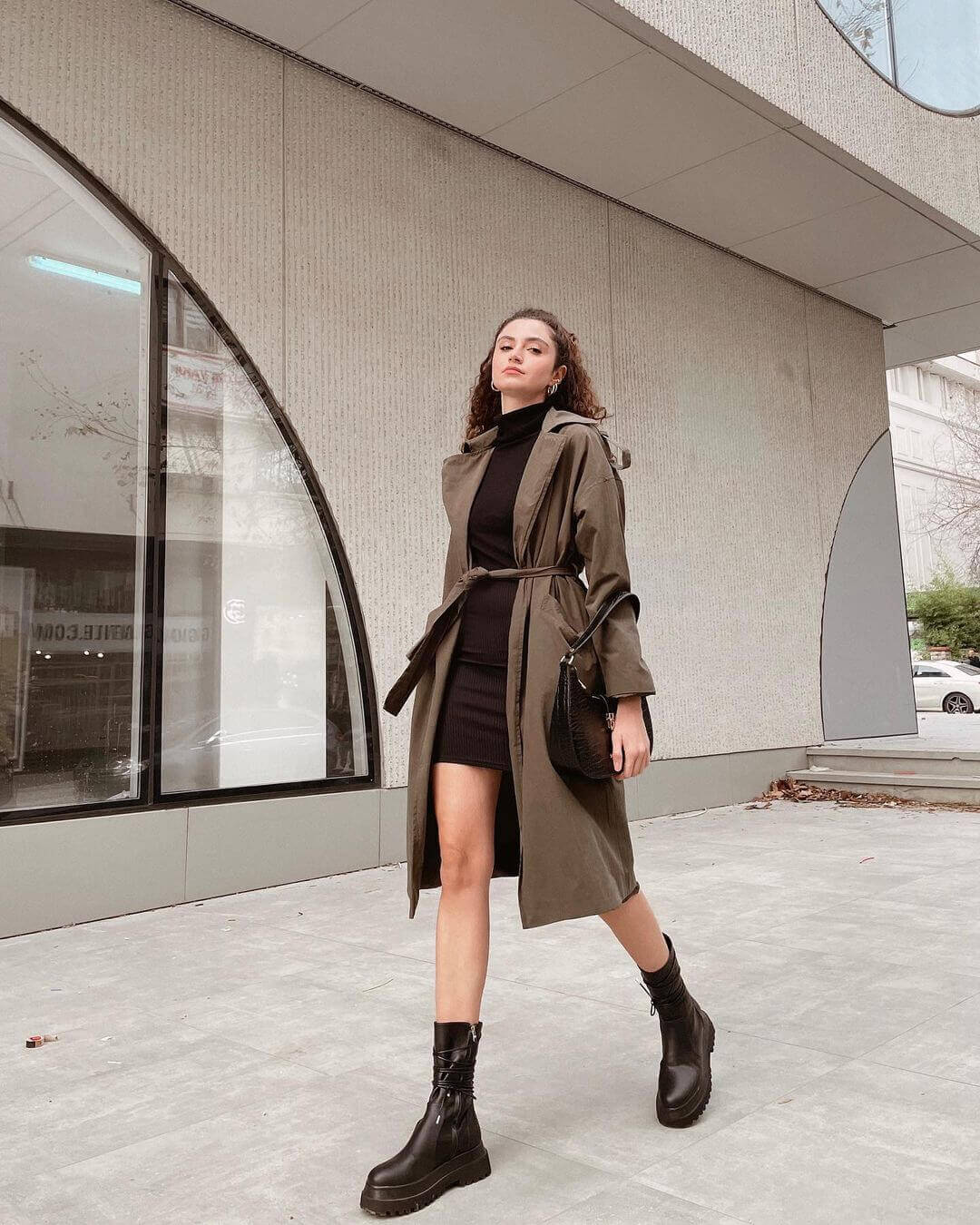 Photo via @gizemuzel_
3) Utility Coat
When in doubt, you can never go wrong with a utilitarian coat. This army green longline jacket falls perfectly over top a black knit dress. The choice to go for bare legs and combat boots immediately toughens up the look and adds a cool-girl edge. However, you can ramp up the look further with a pair of textured tights and a ribbed knit beanie if needed.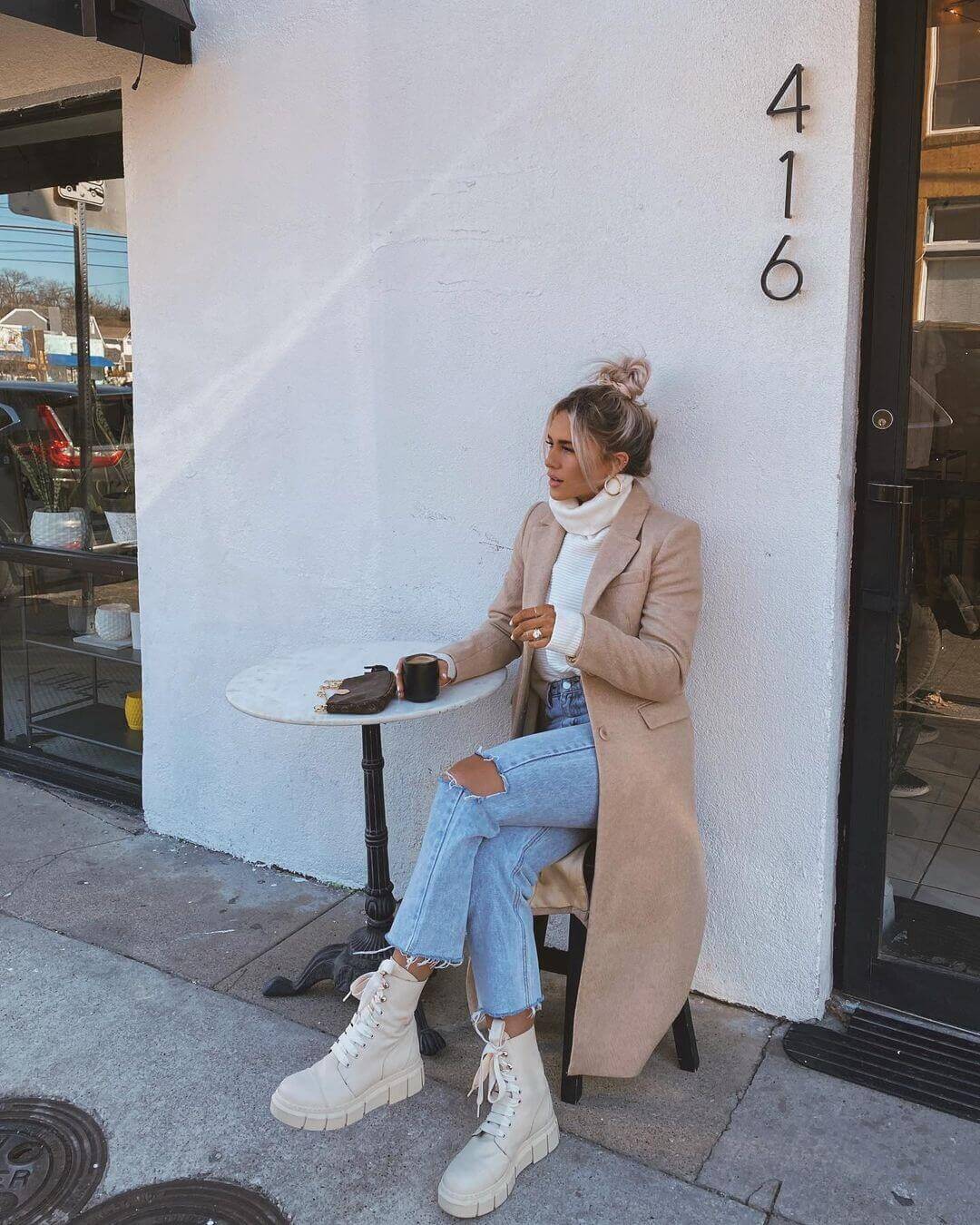 Photo via @joandkemp
4) Neutral Get Up
Give your basic black combat boots a break by opting for a beige alternative. They're proving to be just as versatile as black and look amazing with coordinating loungewear or denim. For the perfect coffee run look, we love how this blogger kept it minimal with neutral layers and distressed jeans. The camel coat and ecru sweater help to elevate this casual fit.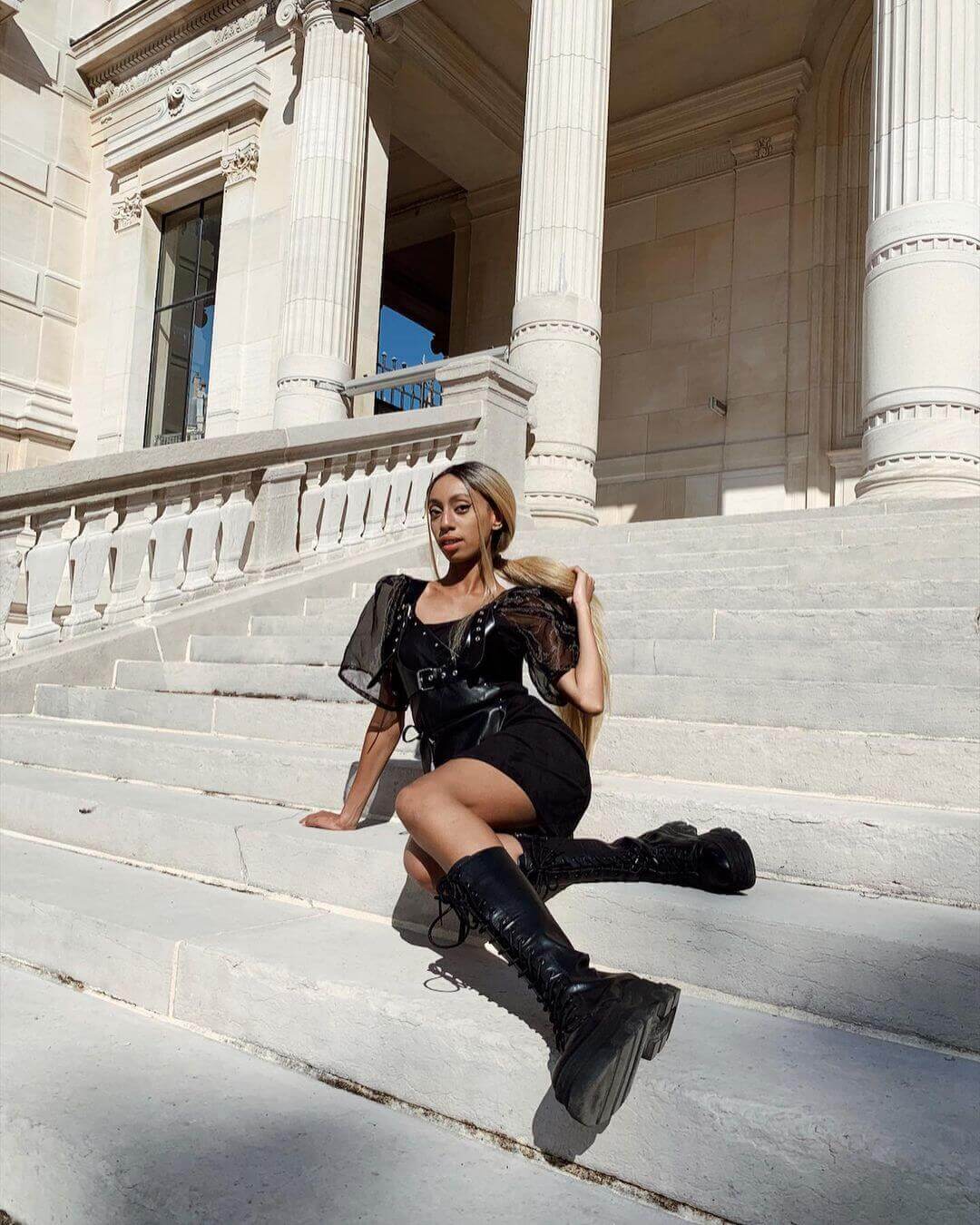 Photo via @sheyablue
5) Knee-High Combat Boots
If you really want to keep your wardrobe forward and updated this season, consider adding some knee-high combat boots to your arsenal. If you're not sure how to style them, go for a high contrast look with a little black dress! Feminine details like sheer puff sleeves or ruffles may come off feminine but they look bold and powerful with combat boots. Now that's an ensemble that is sure to impress.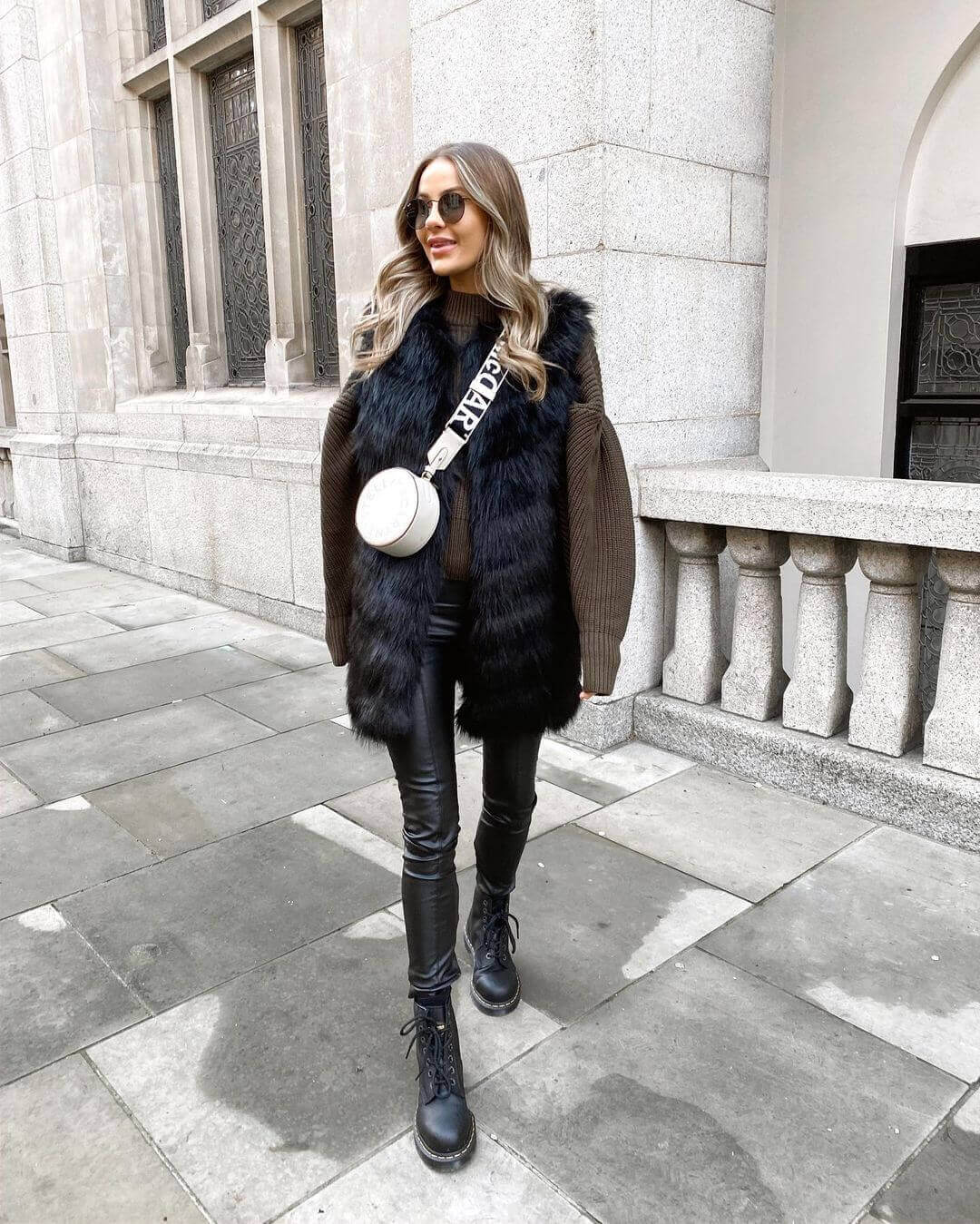 Photo via @nadiaanya__
6) Mixed Media
For an ultra cool yet fashion forward uniform, there's nothing better than mixing statement textures. A faux fur vest with a chunky knit sweater and faux leather pants provide the ultimate foundation for classic combat boots. All that's needed to finish off your look is a handbag in a punchy color and round sunglasses.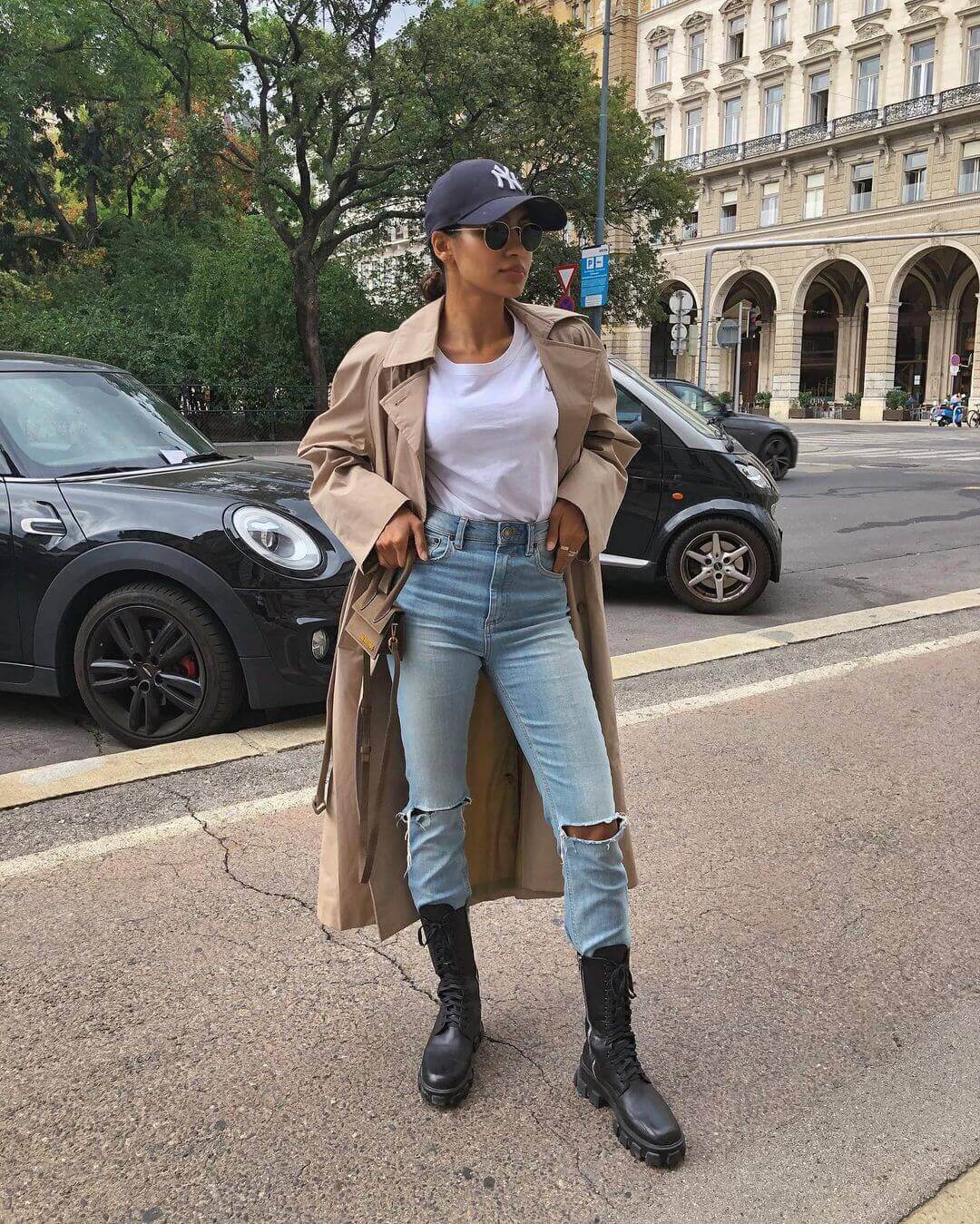 Photo via @soniaheartsfashion
7) Chic & Minimal
Combat boots are amazing because they can stand on their own. That said, you can create some really chic outfits with them by wearing only basics. A plain white t-shirt tucked into high-waisted, distressed denim is instantly elevated with military-esque combat boots. Top it all off with a trench coat and baseball cap for that model-off-duty vibe.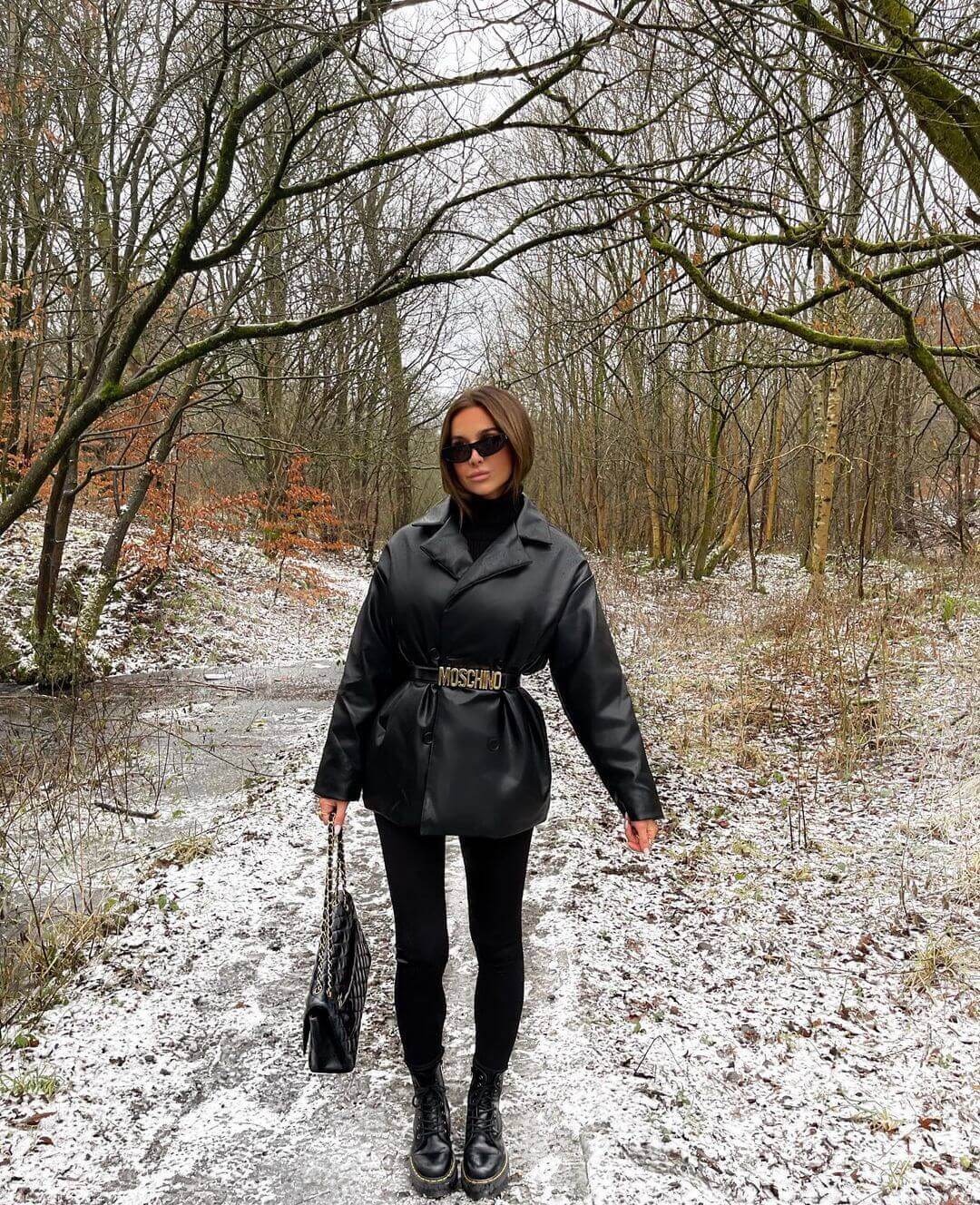 Photo via @emilyshak
8) Oversized Tailoring
When feeling stumped on what to wear, one can always rely on a blazer. An oversized style is trend savvy and the perfect piece to layer on top of button-down tops or turtleneck sweaters. Whether you opt for bare legs or black tights, chunky combat boots will give your look an extra boost.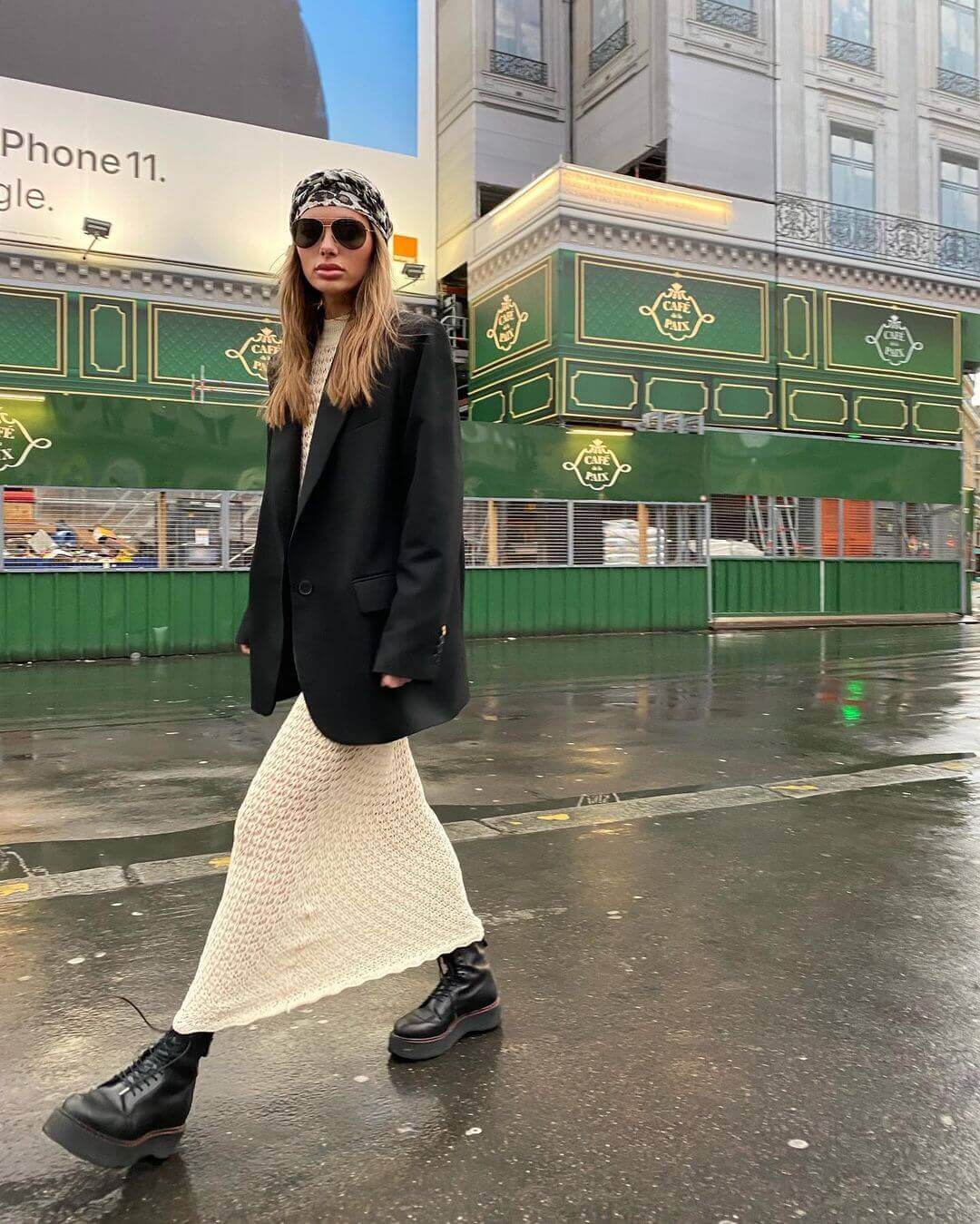 Photo via @nojinasty
9) Knit Maxi Dress
Besides chunky combat boots, another trend we're ogling over this season is knit maxi dresses. They happen to make the perfect companion for combat boots as proven in the outfit above. The knit dress styled underneath a blazer and combat boots looks so effortless together! The headscarf puts the cherry on top.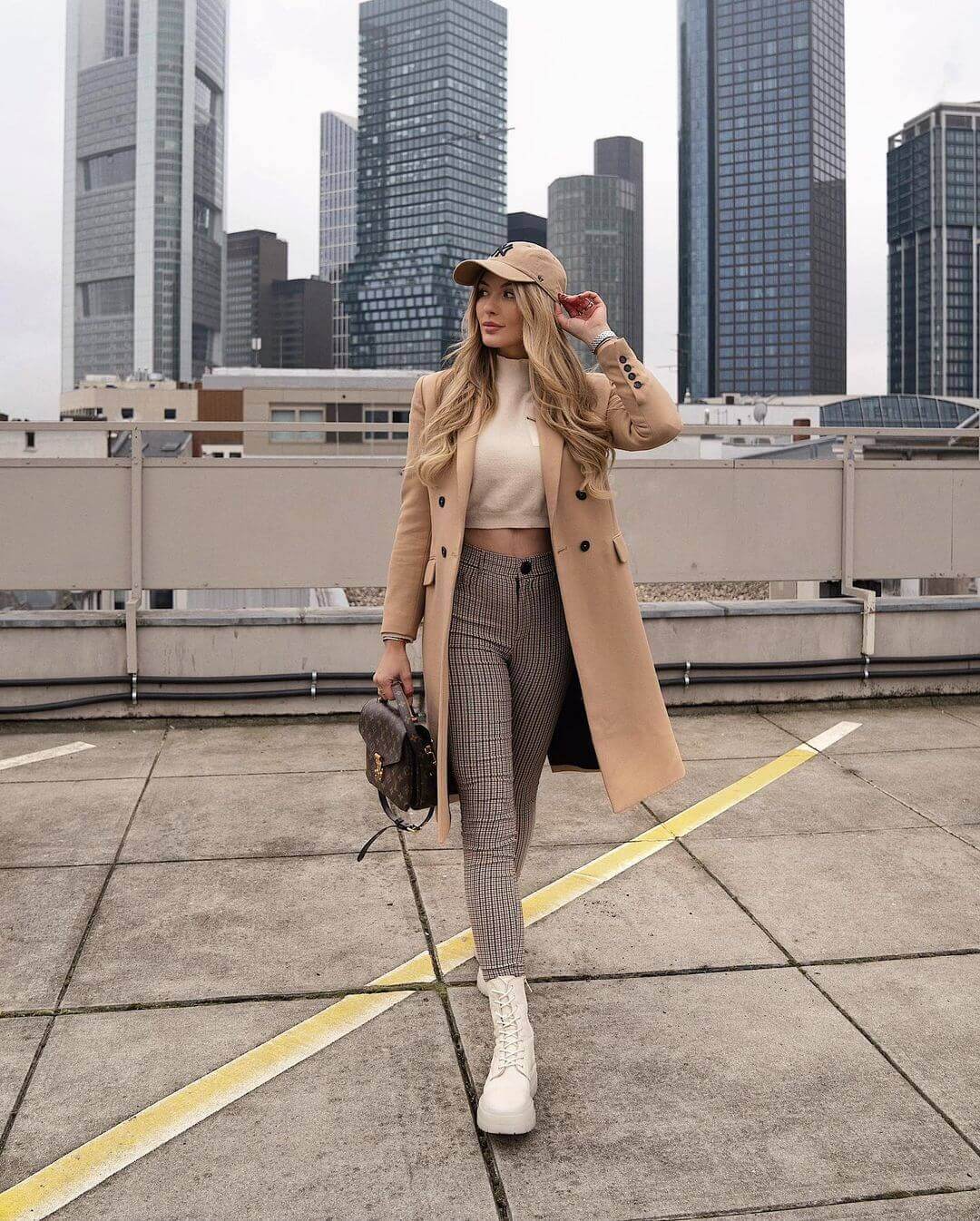 Photo via @paulinakurka
10) Printed Pants
Finally, you can breathe new life into your tailored pieces by teaming them with combat boots. We love how this Instagram influencer tucked her plaid trousers into chunky beige boots. She pulls it off impeccably by keeping the rest of the outfit solid. The end result feels both polished and cool.

Combat boots provide the easiest way to toughen up an outfit whether you're dressed in casual denim or a more elegant ensemble. This season, there are so many options to shop from chunky lug soles to more classic designs. That means you can even take them into the office with the right pair. If you weren't yet convinced that you needed a pair of combat boots for winter, we hope the 10 outfits above proved otherwise.
(Visited 1 times, 17 visits today)