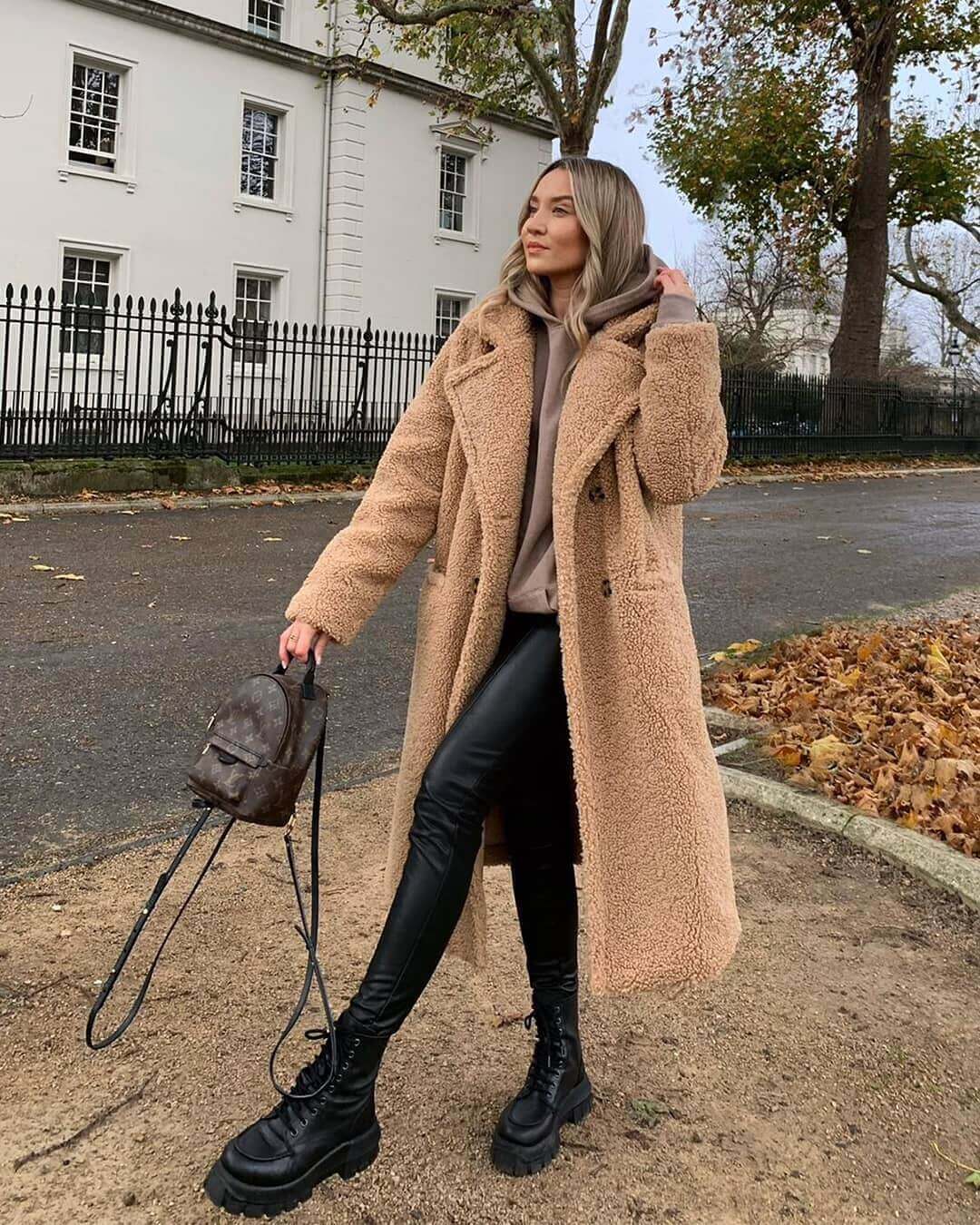 Photo via @newlook
The snow and extreme cold can put a damper on donning a cute outfit, and we can't blame you for that when you have to worry about natural elements like inches of snow or gusty winds. In moments like these, warmth is probably your number one priority with style taking the back seat. For those of you who are living in areas with wintry climates, you might even dread pulling out the snow boots from the back of the closet. But – we are here to soothe your worries because snow boots can actually be really chic when styled correctly. Whether you're preparing to brave the cold or will be taking a snowy vacation this year, we rounded up 10 chic snow boot outfits that'll help you figure out how to marry practicality with style.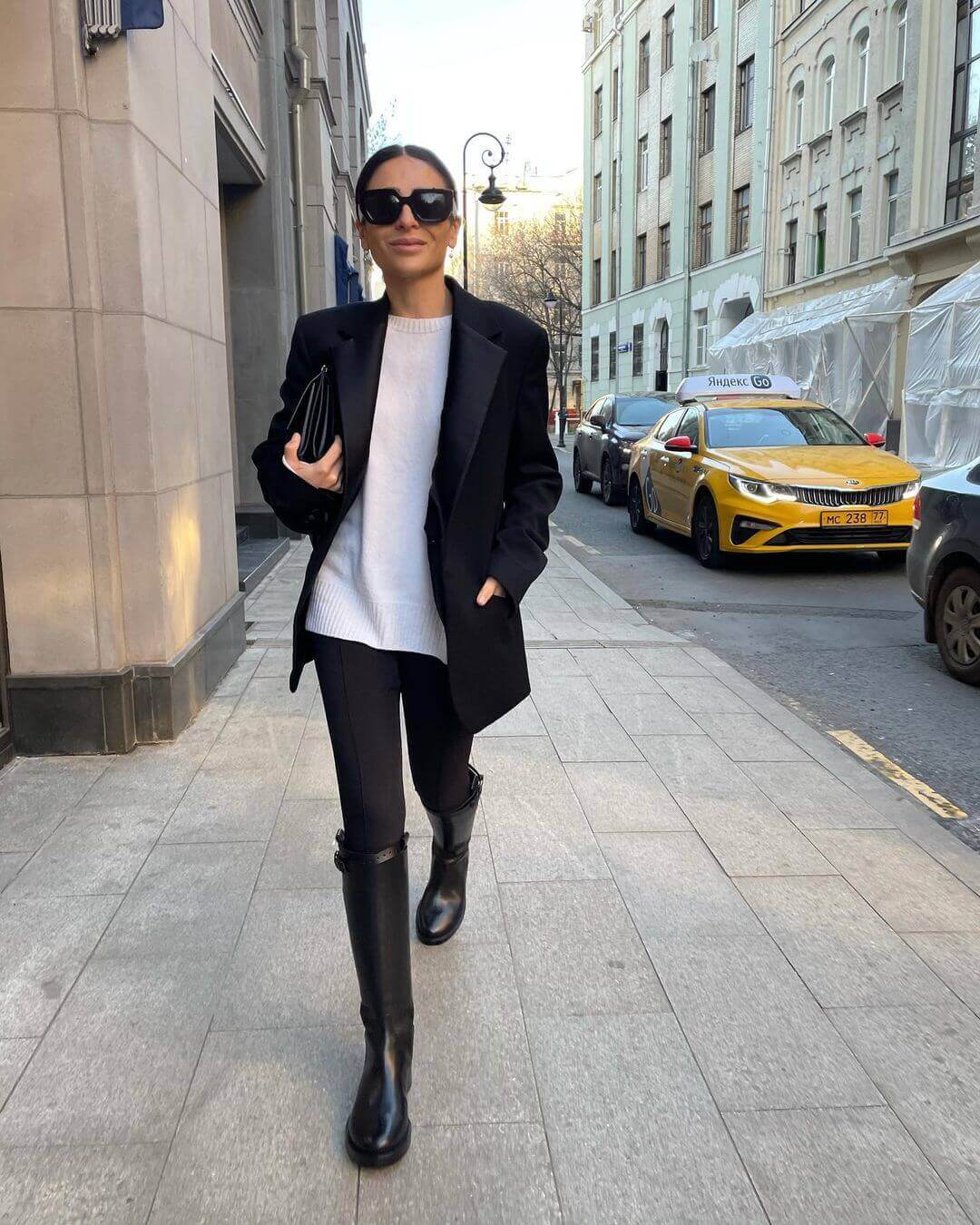 Photo via @tamunatsiklauri
1) Minimal Black & White
When in doubt, there's no need to overthink your outfit. Sometimes the best looks are great due to their simplicity. This black and white look is simple but sweet. The tall and practical riding boots make an elegant pairing with some simple leggings, a classic sweater, and a loose blazer coat. As temperatures continue to dip, you can layer on a heavier parka or faux fur coat too.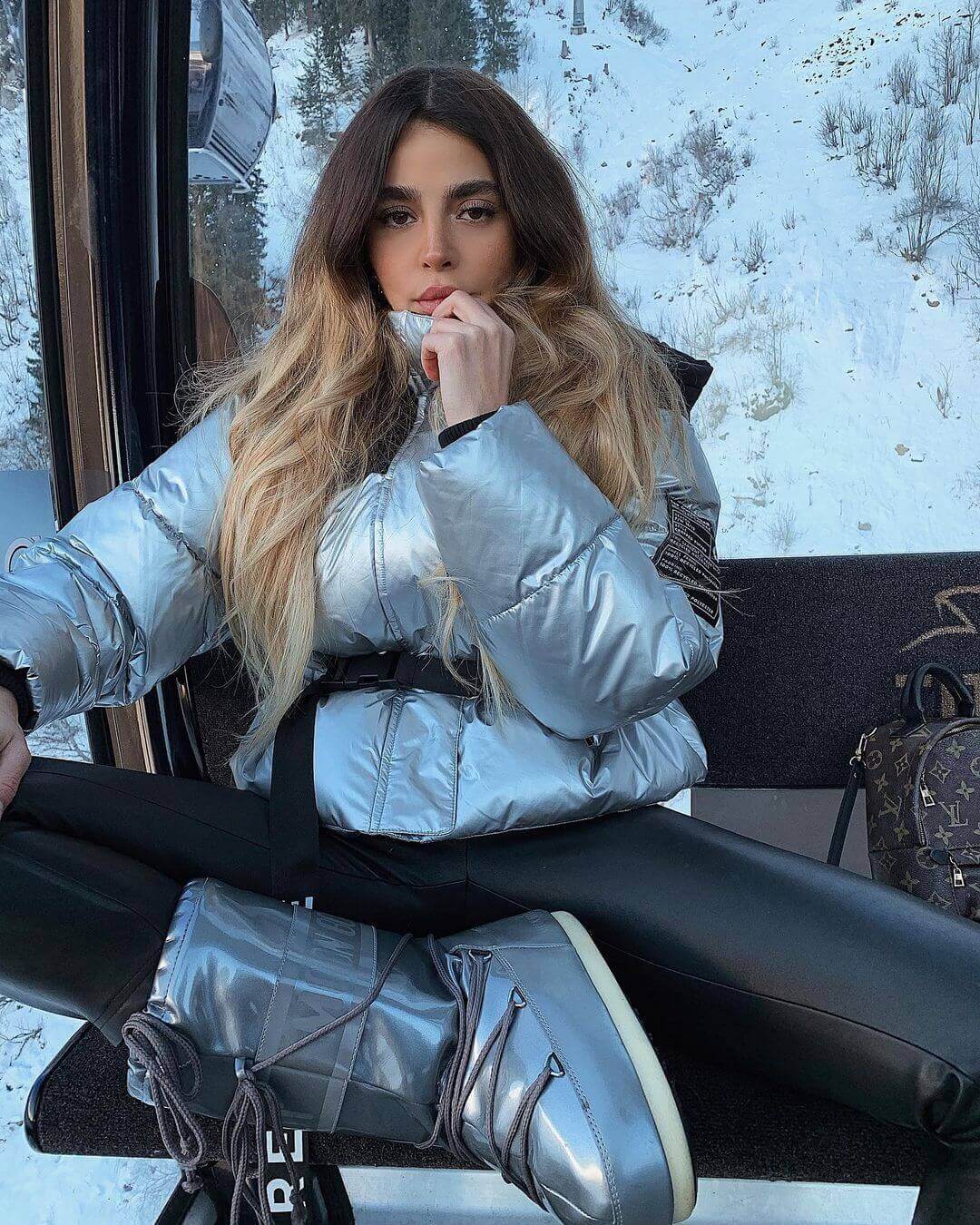 Photo via @hilal.yetisti
2) Metallic Snow Boots
If you are looking for some statement winter gear, look no further than these metallic sheen booties that just so happen to be the perfect match for a metallic puffer jacket. This is how you tackle the snowy climate with style! The faux leather leggings are also a finishing touch to complete the modern snow bunny aesthetic.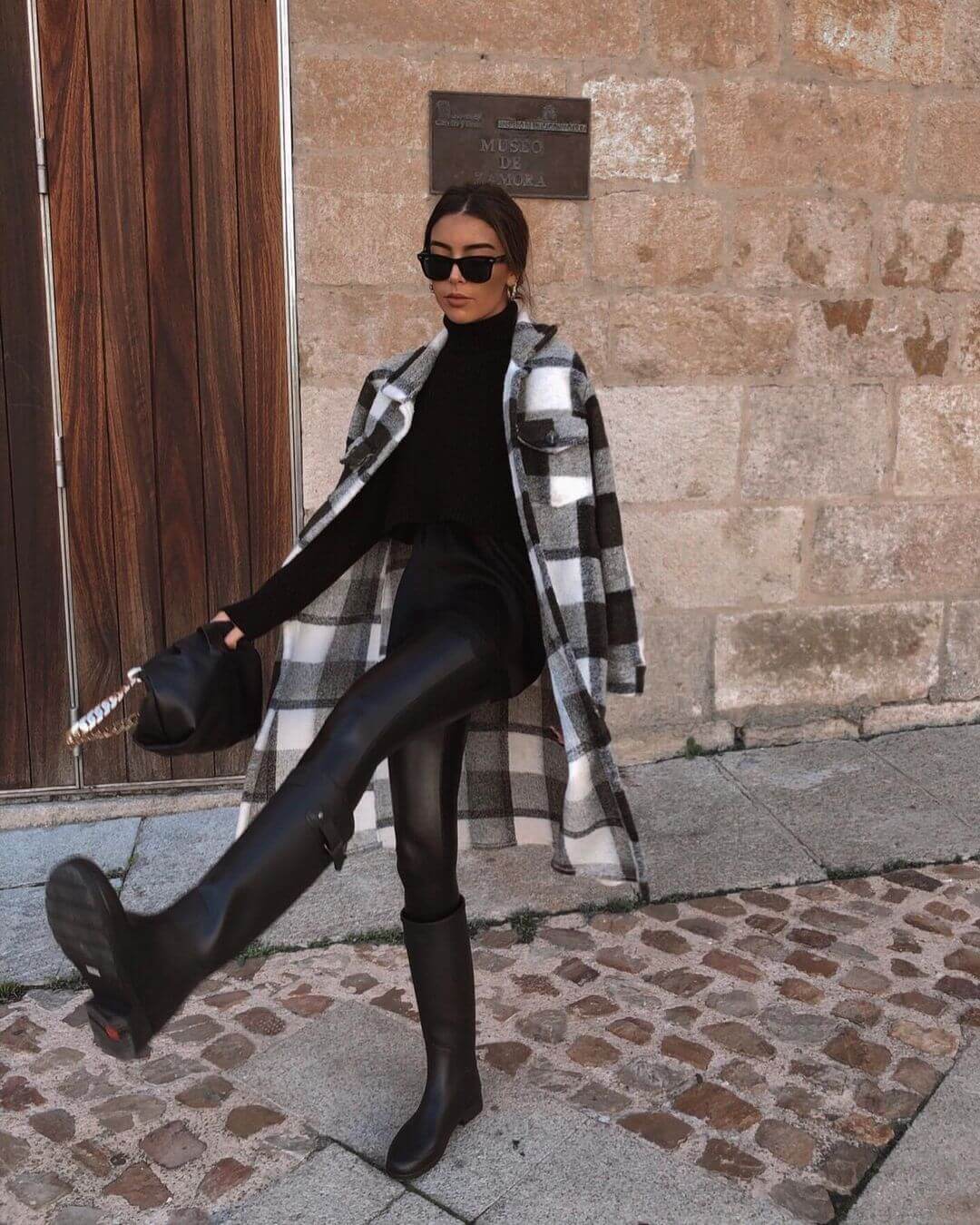 Photo via @isabelcamposr
3) Long Shacket
This winter, pair your most practical boots with some trendy outerwear like a longline shacket. We personally love how the cozy, monochromatic plaid pops over the all black outfit. For extra style points on this look, do not forget your large, incognito sunglasses and bold chain strap handbag. We never knew rubber boots could look so chic.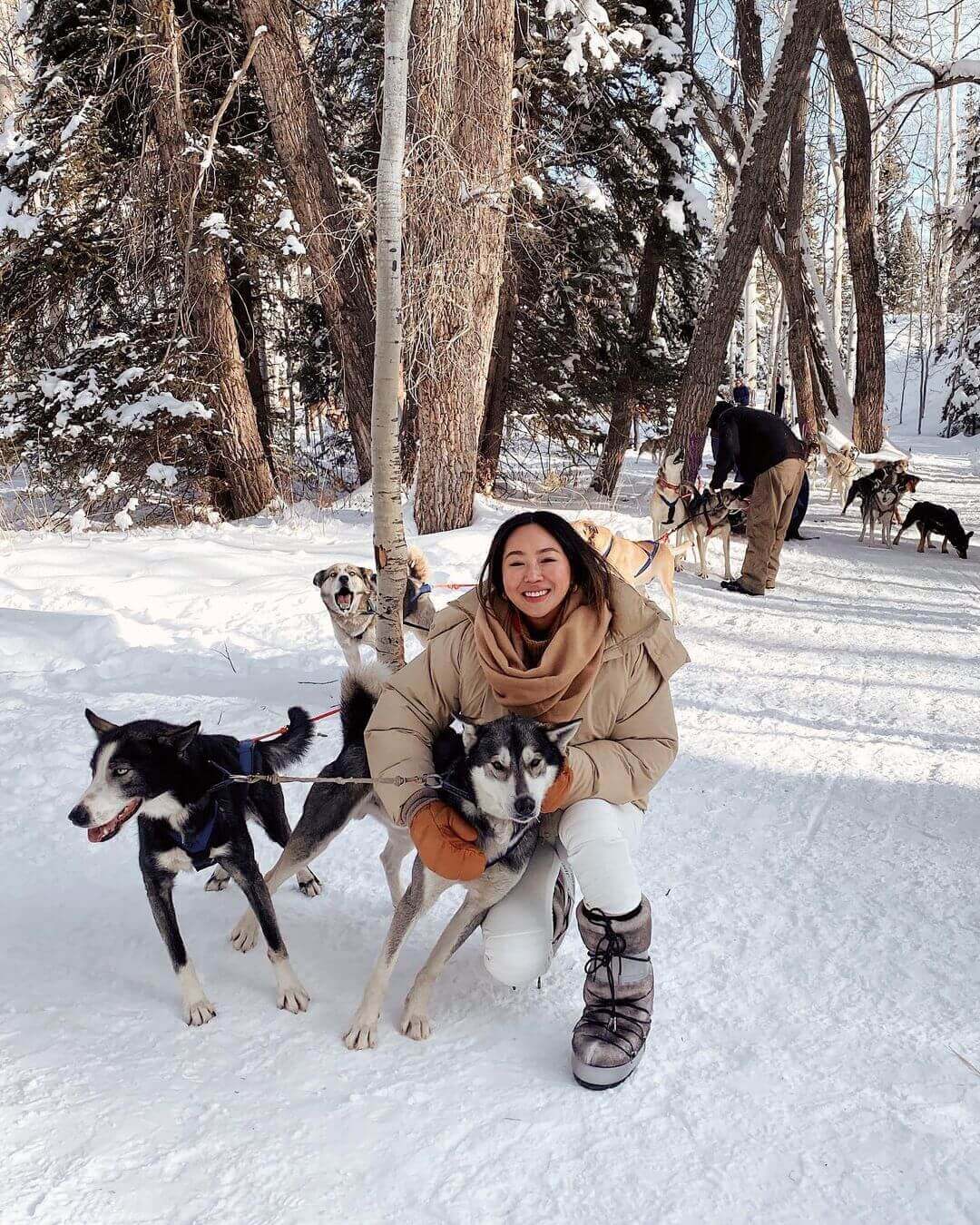 Photo via @aimeesong
4) Winter Whites
If there's anything we've learned over the years, it's that a monochromatic outfit never fails to look elevated and chic, even when worn with chunky footwear. That said, you can keep your snow boot outfits looking stylish by playing with white and neutral tones. Aimee layered up on these tones impeccably with a tan scarf, cropped puffer jacket, and sienna colored gloves. The entire look is just perfect for romping around in the snow!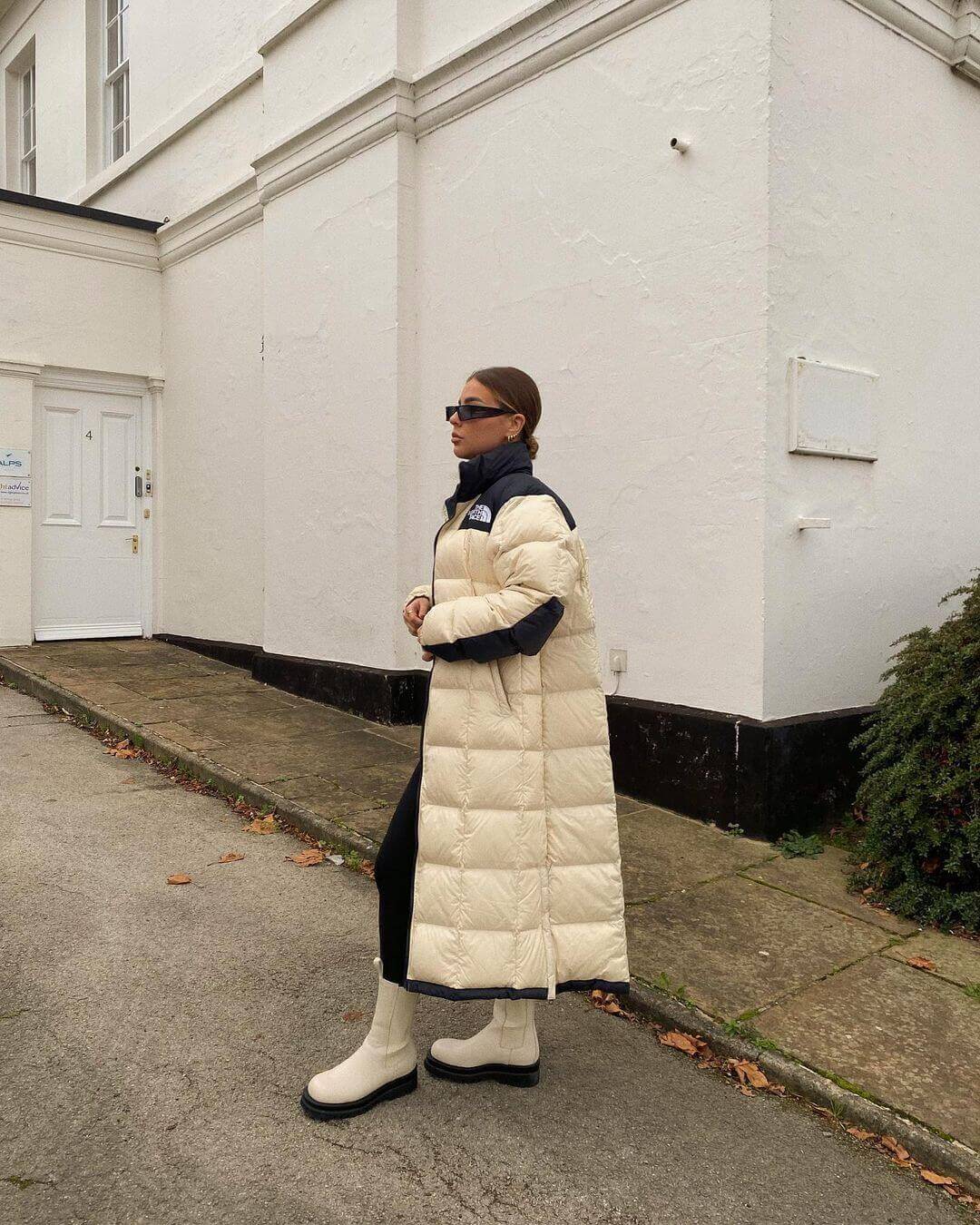 Photo via @missjoslin
5) Matchy Matchy
You can also take the above neutral styling tip a step further by matching your heavy duty snow boots with an equally heavy duty winter jacket. Nothing screams warmth more than a North Face quilted parka. Plus, we love how Ellie managed to coordinate it with her winter boots, creating a cohesive winter ensemble.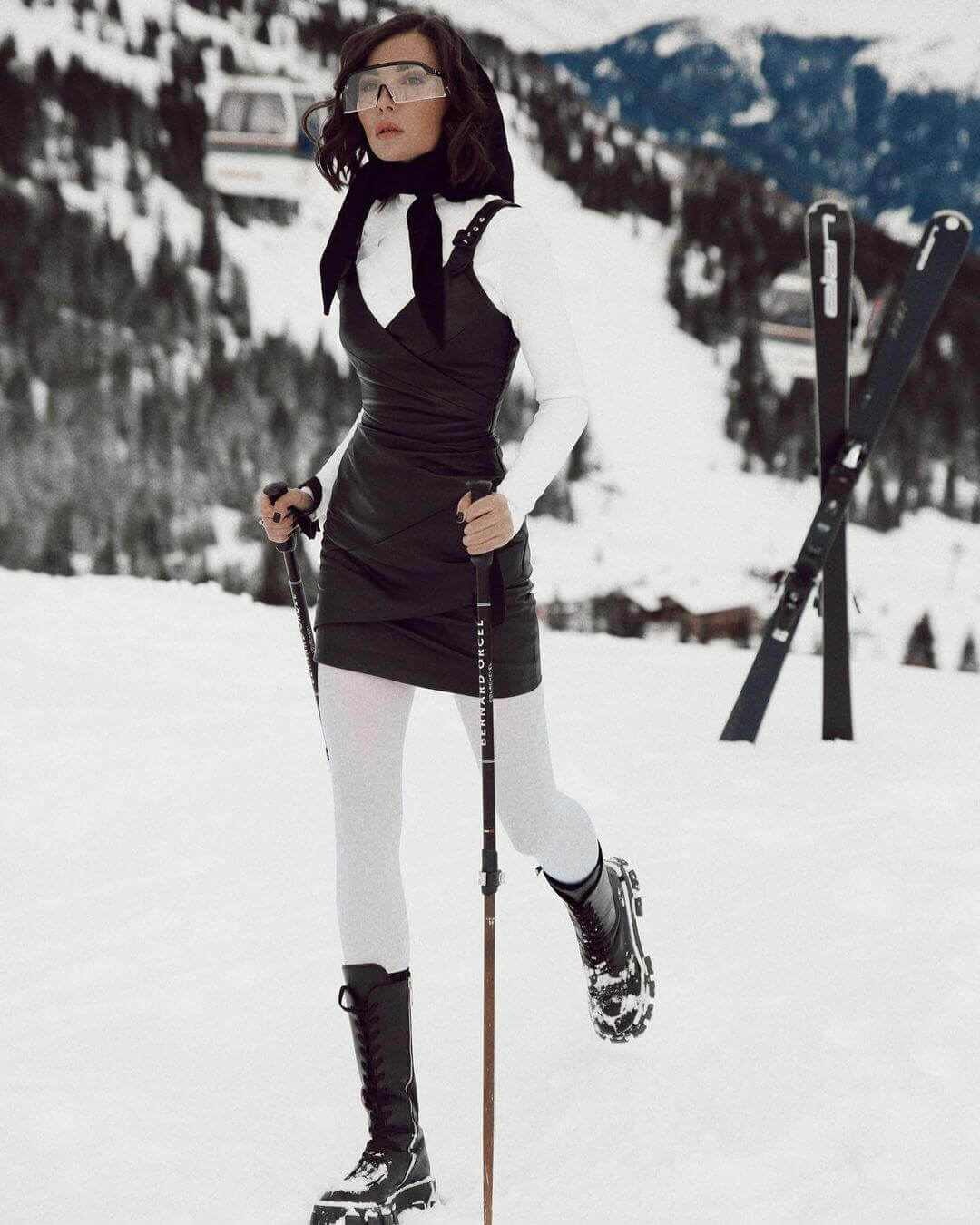 Photo via @karina_nigay
6) Leather Layers
Admittedly, this look is perhaps not the most practical skiing outfit but we cannot get over the unique take on winter layers! The tight leather mini dress on top of a white turtleneck and tights is exceptional, especially with the addition of tall lace-up boots. If you are looking for something on the edgier side, this is an amazing way to dress up any lug sole boots right now. Just don't forget to grab a warm winter coat as you make your way out the doors.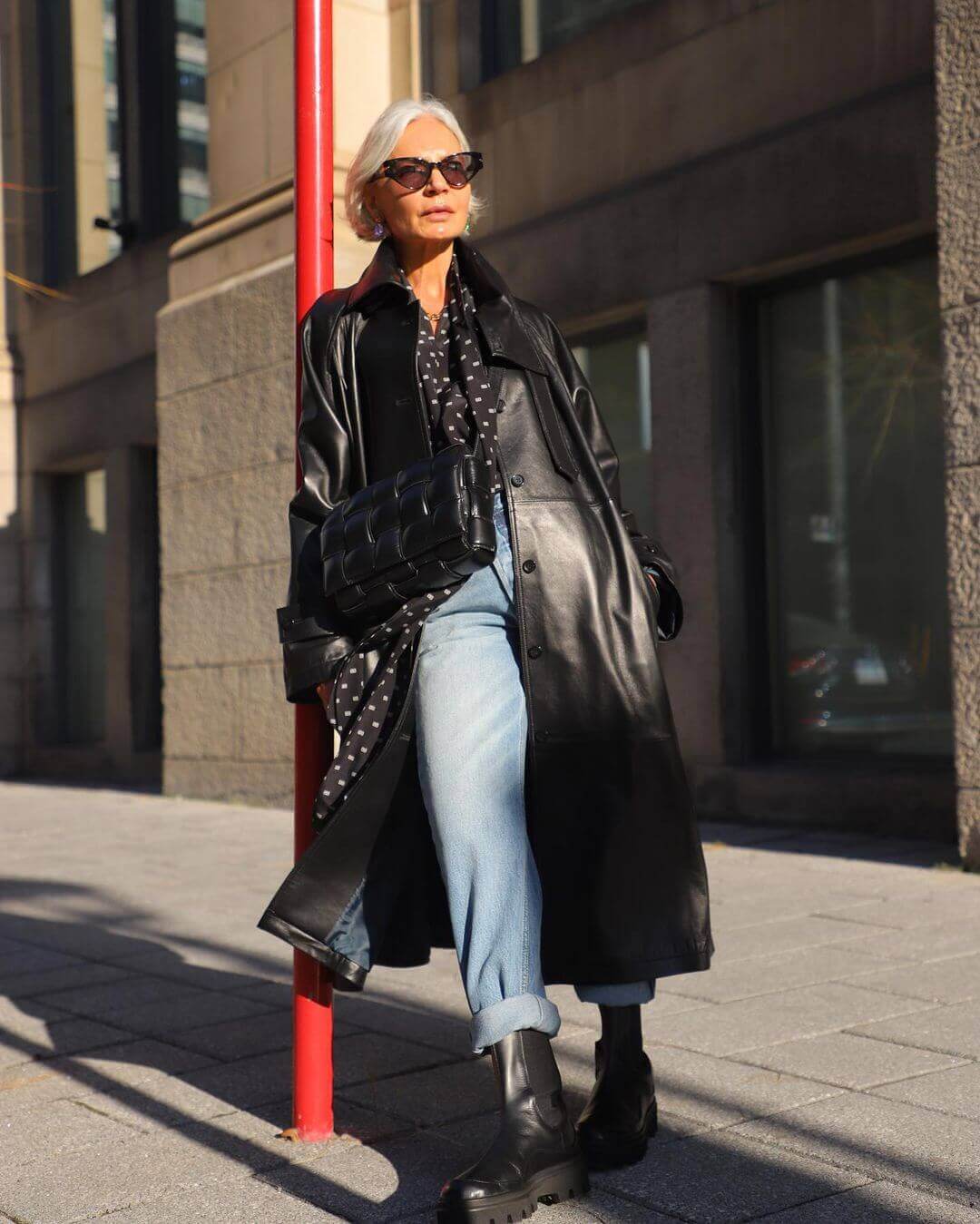 Photo via @greceghanem
7) Cuffed Denim
Denim is magical because it's seasonless and pairs well with almost anything. In this outfit, we love how the straight-leg jeans are cuffed to fall perfectly over Grace's chelsea boots. To keep the aesthetic cool and effortless, she opted for a long faux-leather trench coat, cat eye sunglasses, and a flowy blouse.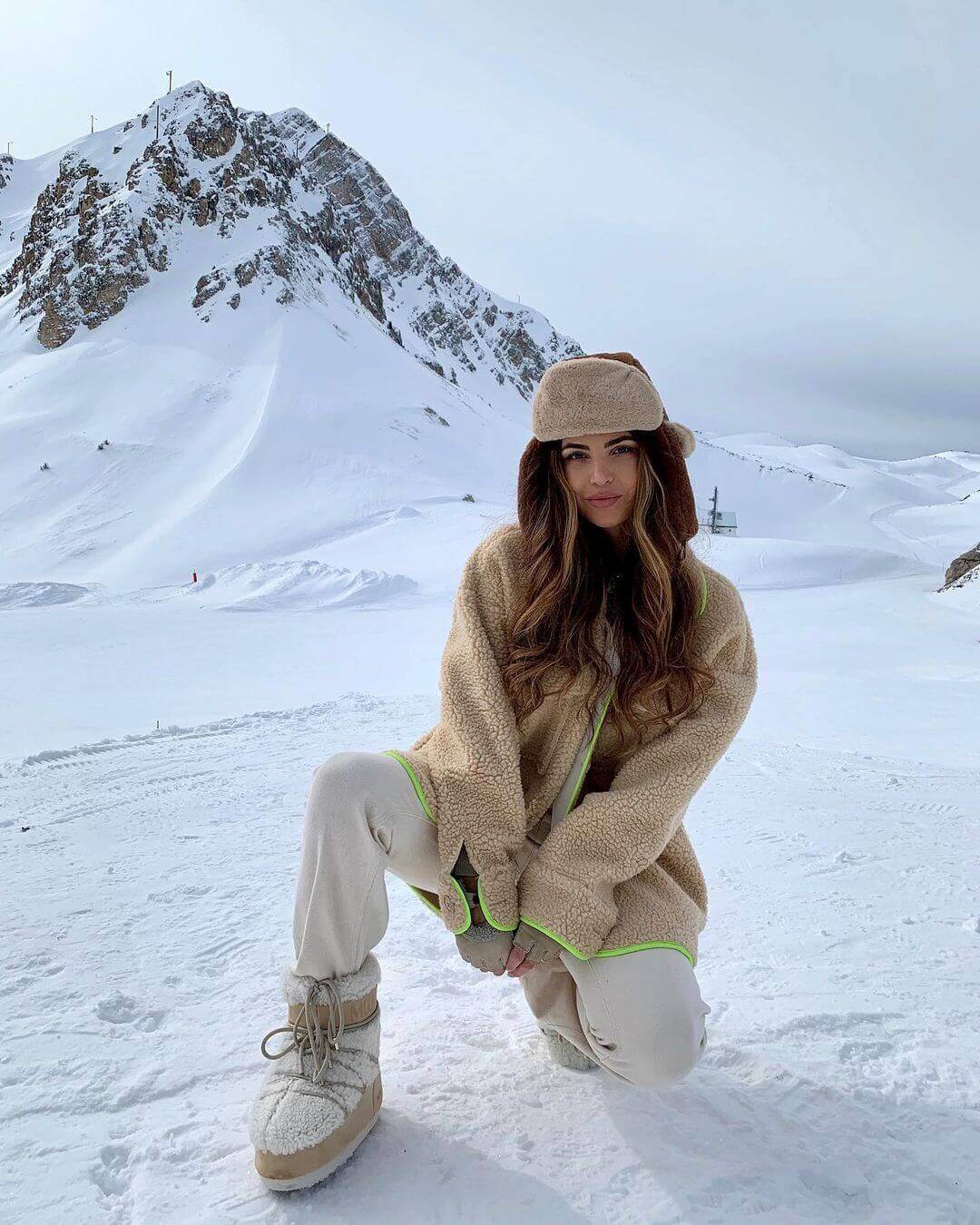 Photo via @negin_mirsalehi
8) Textured Warmth
Cozy textures continue to trend well into the winter season with sherpa taking the cake. This outfit definitely plays up the trend from head-to-toe with the fuzzy hat, sherpa jacket and sherpa-lined snow boots. To pull it off as an everyday look, break it up with a little denim or faux leather. The result is ultra cozy without sacrificing style.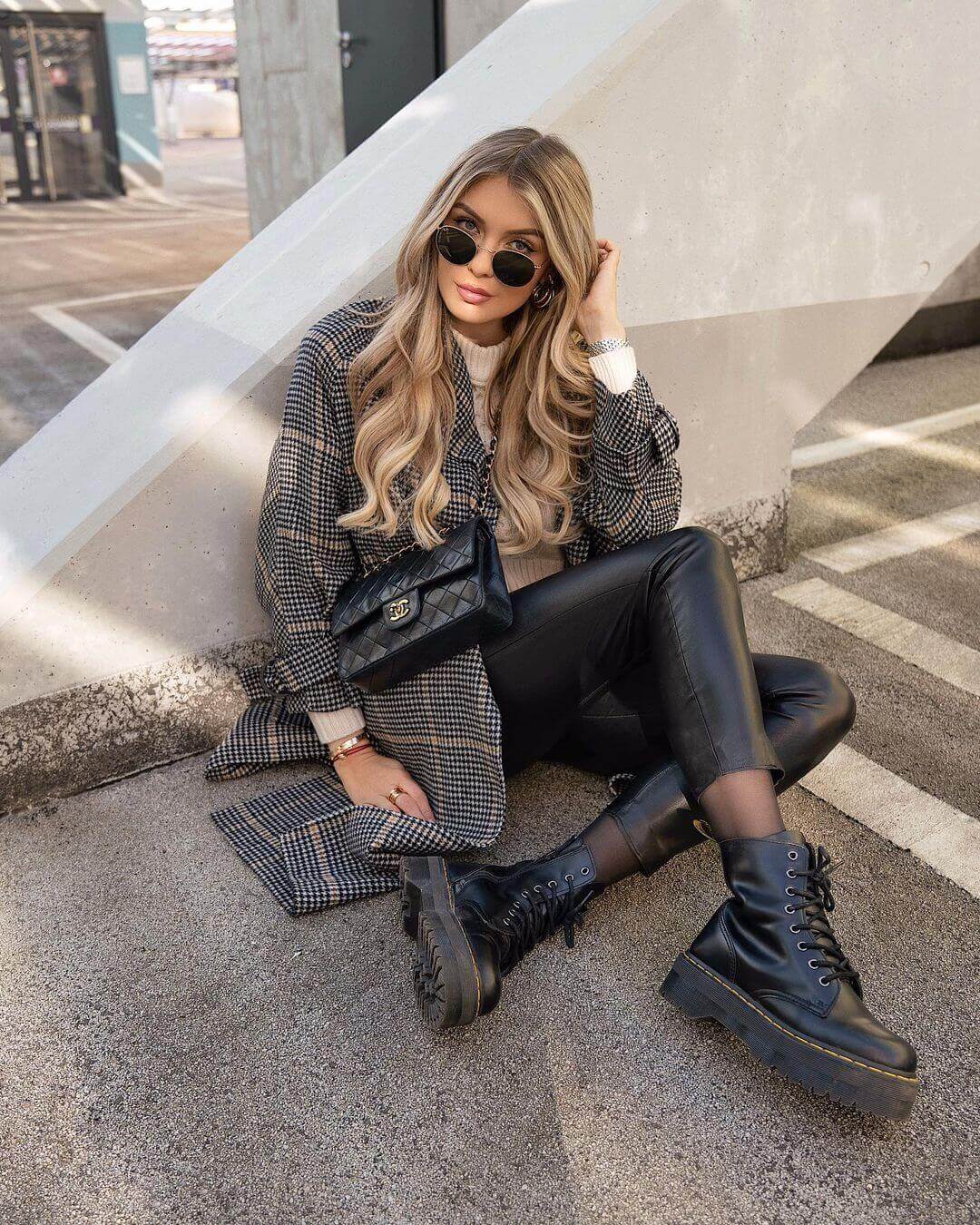 Photo via @paulinakurka
9) Winter Plaid
Winter is all about statement outerwear – and one of our favorites is the plaid coat. This influencer proves that a plaid trench is one of the most timeless, classic pieces that you can own – and it easily dresses up any winter booties. For extra layering, we love how she wore sheer black tights underneath her faux-leather pants. It's the small details like this that really make an outfit stand out!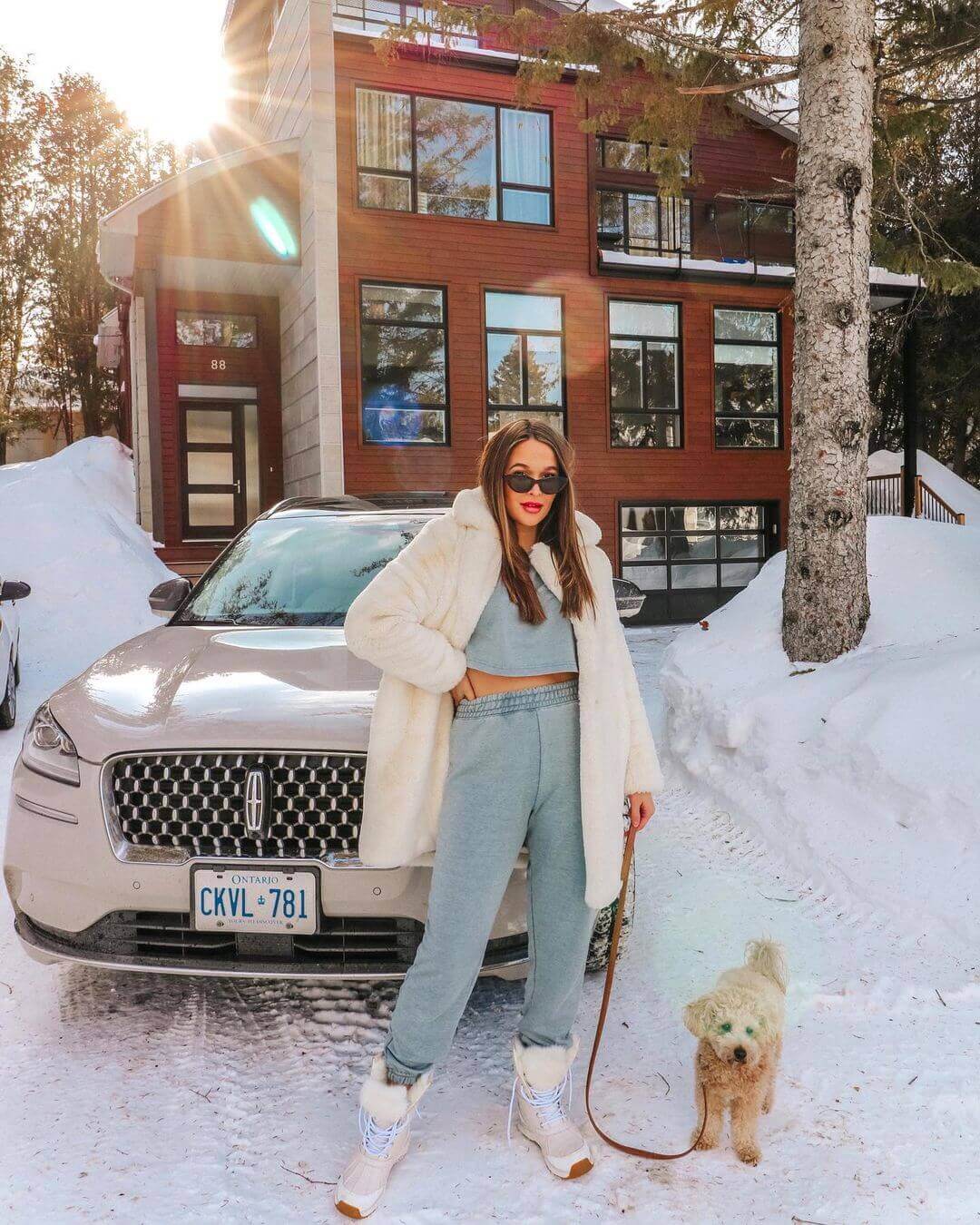 Photo via @taniamotuzas
10) Sweatsuit & Snow Boots
For the ultimate cozy outfit, try pairing your snow boots with a matching sweatsuit. We would have never guessed, but the final looks is both comfy and stylish. To add a bit of a luxe vibe to your leisure attire, throw a white faux-fur coat on top.

As we continue to dive into December, it's time to start strategizing your winter looks with the most stylish snow boots. From chunky platform boots and lug-sole styles to rubber silhouettes, we hope that these 10 snow boot outfits give you plenty of styling inspiration to get ahead on your winter wardrobe.
(Visited 1 times, 2 visits today)