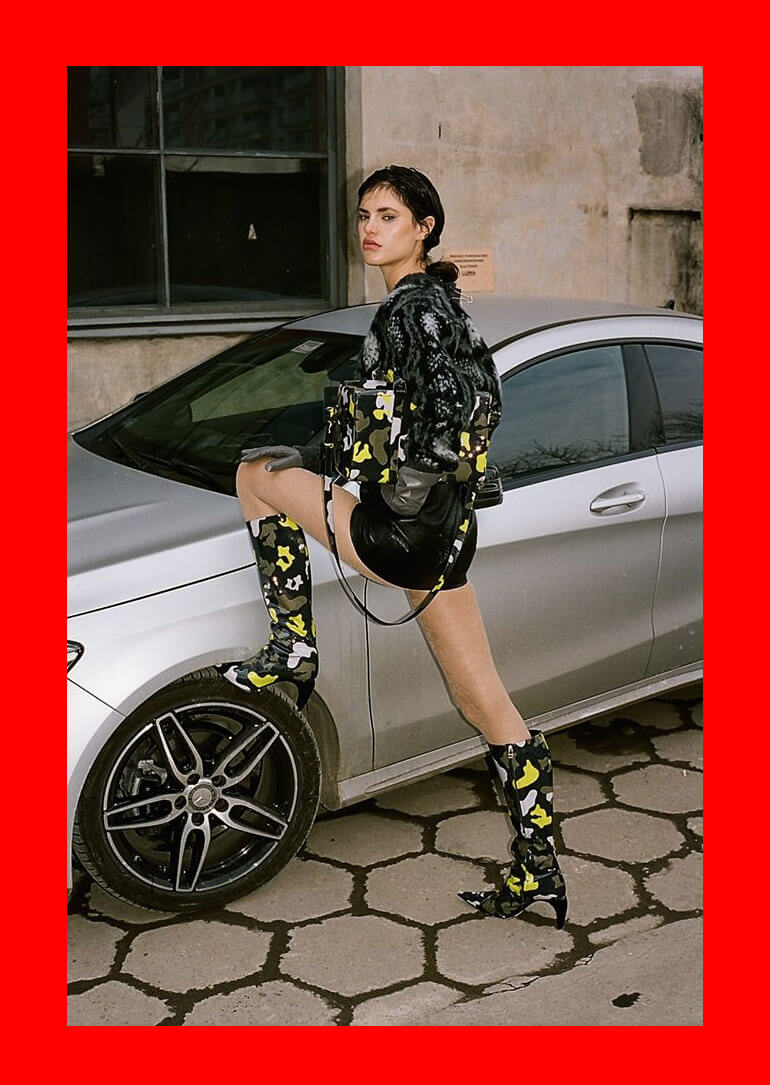 There is no question about it, street style fashion is back in a big way! You don't have to look far to notice urban style, street style, and street-ready trends on both the runway and the everyday catwalk! And though today's streetwear certainly has some major 1990's influences, the most modern iteration of this casual and comfortable style offers its own fresh take on the old school look. From surf and skate culture, to sportswear, and now an endless array of new fashion sneakers out there, it's time you get yourself up to speed with this latest fashion phenom! These days, the top streetwear brands out there are adding an elevated, fresh, and majorly modern take on 90's street style, and with all the new looks out there, you'll always feel cool and comfy rocking the best in street style. And it you're feeling shy about turning your style up a notch, we're here to tell you to get out of your shell and into these super rad looks! Afraid to venture alone? Don't sweat it, we're here to help! We've put together the top 11 contemporary streetwear brands that will elevate your street style so you can spend less time searching, and more time looking you're best!
Our top 11 contemporary streetwear brands to know:

You will always look fresh AF strolling the streets in streetwear fashion made for cool girls with an eye for design. And among the best streetwear brands out there is non other than ARIES. This revolutionary womenswear label that offers streetwear fashion was created by Italian-born English-based Sofia Prantera and boasts a huge cult following. And if you know what's good for you (and your closet) you're going to want to check it out! We're absolutely obsessed with the label's Double Waistband Jeans that look super stylish whether worn fitted or baggy. (We love having options!) Like to keep things simple? We get it! These super stylish jeans are ridiculously cute with sneakers and a tucked in tee! The best part? Designer Sofia Prantera created them to be unisex, so feel free to share them with your beau or boy bestie! No matter what the zodiac calendar says, all signs point to ARIES.

What do Kanye West, Rihanna, Beyoncé, and Lady Gaga all have in common? They are all major fans of, and have collaborated with, Tokyo-based luxury streetwear brand AMBUSH. And while, sure, a dedicated celebrity isn't everything, we gotta say, the AMBUSH's co-designers Verbal and Yoon have created a fashion following that is one for the ages. Besides, in our humble opinion, this is one of the most inventive and inspirational streetstyle brands out there, celebrity following or not. Designers Verbal and Yoon, who are also known as being Tokyo's premier style icons, use their label as a means to express their style, vision, and personality, and we like what we see! Urban fashion, street style, and luxury details all work together. So whether you're hitting the streets in their Linen Patch Top with its rough cut design on the neck and hem, or accessorizing with unique pieces like the Can Clutch, you can't go wrong!

For streetwear clothing that brings its own Eastern flare, Misbhv, by Natalia Maczek, is one to watch for! A leader and innovator in the Poland streetwear fashion scene, this killer label has garnered much love and acclaim from international fashion lovers and trendsetters alike, while still managing to stay true to its own flavor of cool. The label's designer Natalia Maczek mixes in 70's influences and brash graphics, creating an attitude that seems to be an expression of the changing identity of the streewear fashion scene itself, best described as a combination of both luxury vibes and an Avant-garde approach! We're not going to lie, Misbhv's Aero Active Dress is our new obsesh! Made from the label's own signature engineered activewear fabric, and boasting a logo on the waistband, the future looks bright and tight in this sexy little number.

When it comes to fashion, having a successful label that stands the test of time is definitely a matter of survival of the fittest (and of the most stylish!) So it's only fitting that fashion label ADAPTATION, relative newcomer label to the street style fashion scene, is marking its territory in a bold way! The label's creator Ali Fatourechi is taking his latest label and infusing inspiration from L.A culture which combines skate, punk, surf, and hip-hop culture. Pairing both lux and sporty concepts together, ADAPTATION steps outside the traditional streetwear concepts and makes a mark. But rest assured, designer Ali Fatourechi makes sure you'll also be able to find some crisp basics for dreamy pairings in this laid back Cali-inspired street style brand.

When jeans, dresses, and jumpsuits are what make up your own street style, then dressing to your hearts desire is as easy as T, R, E. That's right. The label TRE by Natalie Ratabesi knows what a girl wants, and we are ever so grateful to her for that! Designed with the intention of giving the wearer of this street style clothing confidence and enhancing her mood, the expansive wardrobe options from this quality streetwear brand include a broad range of options from gowns, to blouses, to hoodies, to denim, and they are fundamentally awesome thanks to Natalie Ratabesi's vision. And when your craftsmanship in every piece is impeccable, jeans become just as important as that fancy gown, if not, more so! A street style clothing staple must have? So glad you asked! TRE's Pigalle utilitarian style jumpsuit. Now you can elevate your look with urban style that has a touch of luxury and sophistication. Who says you can't have it all?

Taking its inspiration from 1990's Venice Beach, California, Benta Verniti's Unravel Project seeks to put its own spin on streetwear classics, and we love their distinctive flavor. Cool, cozy, and casual, the L.A based Unravel Project produces looks ranging from classic to experimental, and everything in between. You'll love adding urban style oversized patchwork hoodies, neon hoodies, and party-ready denim & tulle hybrid skirts to your closet to round out your collection of street styles. Designer Benta Verniti's has created some truly original looks, and at the top of our list are these fun, edgy, street ready Blue Inside Out Shorts, featuring a high waist, frayed edges, and a slogan detail.

'80s style and playful silhouettes are in full effect with Korean cult fashion brand Pushbutton. If you like versatility in your streetwear clothing, and who doesn't, this label is sure to become a favorite when shopping for street style looks. The latest coming from pushBUTTON are clothes without a "fixed shape", allowing the wearer to change silhouettes through design details like adjustable tabs. We love getting to take our looks into our hands and fusing our own inspiration into our street looks, so for this we thank the label's designer former K-pop star Park Sueng Gun. Wearable, shapeless, and new is the name of the game here, and this popular brand is in it to win it! Be part of the revolution with this big-hitting fashion label created by Park Sueng Gun, that represents the upcoming Korean generation.

Fuchsia Down Jackets, Orange Camo Sets, and Diag Dresses are just a few of the stand-out pieces from streetwear label OFF WHITE by Virgil Abloh. Season after season, this visionary streetwear brand offers an ever changing rotation of hip urban fashion for both men and women, that are all rooted in current culture. If you have ever asked yourself if streetwear fashion can simultaneously be sophisticated and youthful, the answer is a resounding yes, and OFF WHITE is the proof! And if you need any further evidence that this brand is the real deal, just look to some of the collaborations that designer Virgil Abloh has attracted: Jimmy Choo, Timberland, Converse, Champion, Dr. Martens, and Levi. Yeah, no big deal.

We are loving the Logo Tees coming from NYC based label Danielle Guizio. Simple, clean, throwback street style at its finest. Among our top pics are the Babydoll Logo Tee, and Babydoll Global Tee with their short sleeve cotton cropped design, crew neck collar, and tonal stitching, they are a perfect pairing for that on-trend denim you've been waiting to rock. Offering exclusive cut & sew pieces, staple outerwear, and signature sets, there is truly something for every "It-Girl" out there! If you love 80's and 90's vintage sportswear (and chances are if you're reading this article you do!) then you'll be happily delighted by the modern twists and attention to detail that make Danielle Guizio's streetwear brand at once perfectly nostalgic and fresh.

With a cult-following of almost 750K on Instagram, there's just no way that street-inspired label I.AM.GIA can stay under the radar! And why should it? With a decidedly edgy approach to street style fashion which includes cargo pants, corsets, snakeskin boots, and plaid sets, it's no surprise that the hottest fashion models of today are on this label like flies! The thing that is refreshingly surprising, is the reasonable price tag! The founder of I.AM.GIA, Alana Pallister, approached the brand concept with an interesting angle. She imaged the badass Instagram girl of today, and decided to empower women through the brand's fictitious muse, Gia by creating the unique styles we see today. We love that Alana Pallister has a knack for fusing a masculine vibe into womenswear, and its clear to see from its growing popularity that this combination really resonates with the fashion girls of today.

You can take your streetwear seriously and still have a sense of humor! Just ask label GCDS, aka, 'God Can't Destroy Streetwear', and the dynamic duo brother team Guiliano and Giordano Calza. Known for its ironic graphics, memorable slogans, and surprising collabs, this Milan-based Italian streetwear clothing brand can now be found in over 400 stores across the world. Founded by a dynamic brother-team of creative director Guiliano Calza and CEO Giordano Calza, this crazy popular brand offering clothing, shoes, and accessories continues to expand and grow in the world of streetwear fashion. Don't get left behind, jump on the GCDS wagon! Not for the faint of heart, traffic-stopping looks like the Fluo Workwear Coach are big winners! And with summer season around the corner, you can be the dopest 90's girl the beach in the label's Crashed Future Swimsuit.

These days, you can't seem to escape the latest fashion sensation, streetwear style with a twist. From California skate culture to 90's hip hop influences, to old school sports inspired swag, there is no limit to the looks you can accomplish with mix and match options from all the hottest streetwear brands out there! The best part of jumping on any style band wagon is creating looks that are your own, and approaching a trend with your own unique vision. But to get your looks top-notch, it can't hurt to get a little help from the pro's! That's why we put this list together for you, of the 11 streetwear brands that will elevate your street style. We hope you enjoyed browsing some of our very own favorite street style brands, and can't wait to see you bring your unique brand of boldness and confidence to the looks you put together to elevate your looks this season and beyond! And now that you know about these 11 streetwear brands that will elevate your street style, the only question in, where do you start shopping first? C'mon, don't be shy!
(Visited 1 times, 1 visits today)