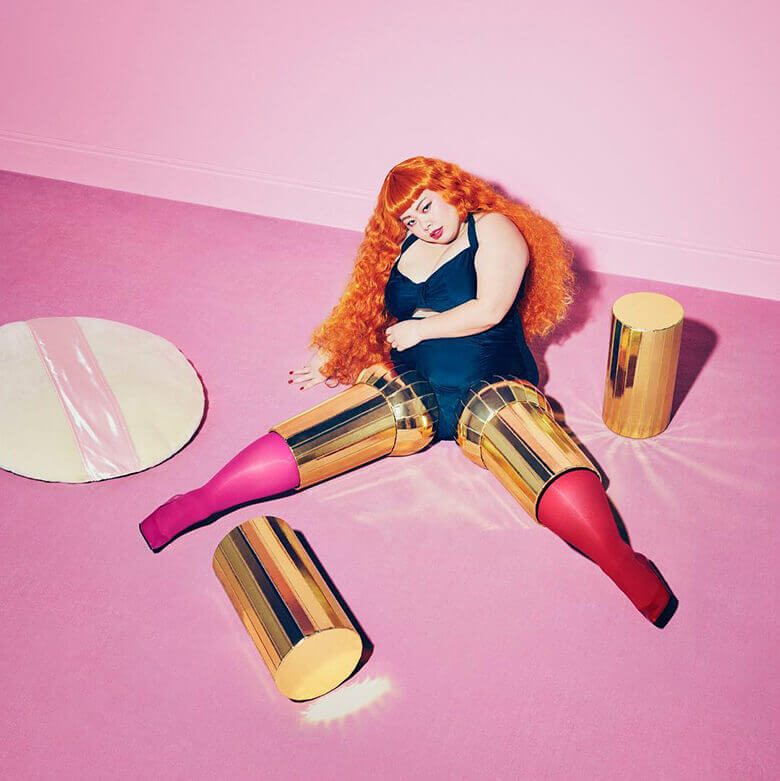 If you haven't heard of Japanese comedy sensation Naomi Watanabe yet, then chances are you probably haven't been spending much time on Instagram lately. Cause if you had, you'd see that, clocking in at a measly little 8.5 Million followers — making her Japan's most followed Instagram account — Watanabe is no small potatoes. But Naomi Watanabe, who has been nicknamed "The Japanese Beyoncé" is more than just a popular Instagram personality with a great name and even greater style! Naomi Watanabe is a cutting-edge comedian, a cultural influencer, a body-positivity role-model, and a super exciting fashion designer.
But before she was a household name in Japan, and on her way to becoming one in the U.S, Naomi Watanabe was just a lonely girl in Japan who found solace in comedy and lived to make others laugh. Born in Taipei and raised just east of Tokyo in a town called Ibaraki, Watanabe knew at a young age that she wanted to become a comedian. In fact, as a fifteen-year-old teenager, she announced her desire to pursue a career making people laugh, much to the dismay of here family members who urged her to opt for a more traditional path. At 18 years old, Watanabe made good on her promise to herself and began her training at a popular school for comedians in Japan.
Though she performed regularly on television and in variety shows in Japan, it wasn't until 2008 that Watanabe really rose to fame when videos of her lip-syncing to Beyoncé's "Crazy in Love" and then later to Lady Gaga's "Poker Face" went viral, much to the delight of a global audience. The videos of her wild antics, energetic dancing, and spot-on lip syncing caught the internet by storm, and the rest, as they say, is history.
But between being featured on an international ad for GAP, a relocation to New York city, and with the success of her clothing line Punyus, her career is anything but a thing of the past! In fact, some might say, the rise of Naomi Watanabe is only just begun. Just ask Lena Dunham, one of the many celebrities who have sung the praises of Naomi and her fashion label and have become fans of the budding fashion icon in their own right! And if having a fierce and loyal celebrity following wasn't enough, in 2018 Watanabe joined the ranks of Time Magazine's list of the 25 most influential people on the internet. Now that's not something a girl from a small town outside of Tokyo can say every day!
But for Watanabe, the rise to fame wasn't all rainbows and butterflies. In a country where the average waist size for women is 28 inches, she is twice the size of the average woman in Japan. And as a young, outspoken artist who sees herself as different from the crowd, it can be a lonely venture choosing to pave the road less traveled. And though her family has slowly come around on her career choices now that success is on her side, they weren't always so supportive. And to say she has certainly experienced her share of body shaming and criticism on the internet and beyond is certainly an understatement.
But when there is a will, there is a way, and Watanabe has all but personified the old adage "what doesn't hurt you makes you stronger". In fact, one of the main reasons we've fallen hard for Naomi and the reason why we think she is such an inspiration, is her pure and positive attitude. She never puts herself down or others, and she's all about that self-love! It seems that at the center of what she does, whether it's busting out some awesome dance moves, making people laugh, or designing her fierce fashion line, her message to others out there who feel different seems to be that they should love themselves just the way they are. And we are all about that!
So what is her fashion line Punyus all about? We're glad you asked! Playing on the Japanese word for "Pudgy", Naomi first launched her fashion label back in 2014, and we can tell you straight up, it's anything but ordinary. Though it was first conceived of as a plus-size brand, the intentionally concept-less label now runs the gamut of sizes ranging from extra small to a 6X large, and is considered an "all-size" brand. And that's just the way the designer likes it. Having been put in a box all her life due to her size, it makes sense she would want to create something that is for all people, regardless of size. Since its launch, the label has branched out on some super cool projects including a successful collab with popular Japanese label Sailor Moon which featured a wide range of clothes from t-shirts to sailor suits, to schoolgirl costumes. Beyond the rack, Watanabe has also garnered a reputation for putting on quite the fashion show, putting herself front-and-center as the live entertainment! Now, that's a show we wouldn't want to miss.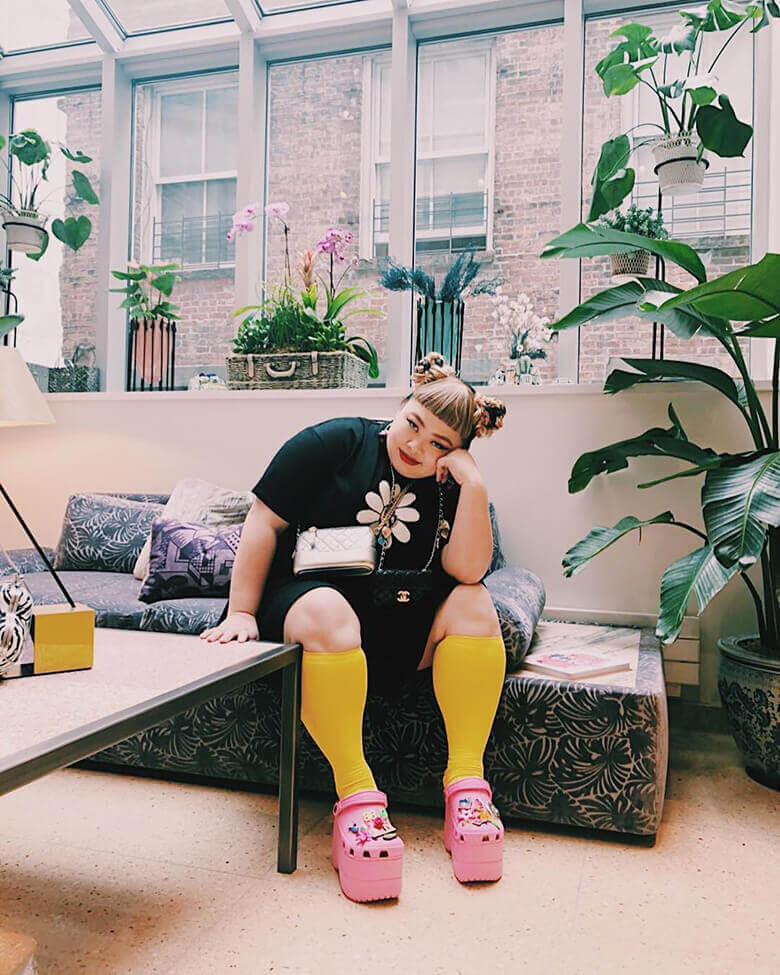 The vibe of Naomi's Punyus label is quirky, fun, weird, and super cool. For those fans of the popular London based fashion label The Lazy Oaf, Punyus shares a welcomed familiarity you'll love. Quirky prints on sweatshirts and tees, including scrambled eggs, green peas, and toothpaste tubes are not to be missed. But on the very top of our radar is of course the super cute and fun printed sweatshirt and sweat-pant combo with prints that bare an uncanny resemblance to Naomi herself, with her signature double braids and infectious smile. Can you say meta? Other popular looks include super stylish oversized sweaters, PJ-inspired printed blouses, ribbed turtleneck sweater dresses, collegiate-style sweaters, and several different styles of on-trend denim. And at the very friendly price-point the label offers, you'll be sure to come back for more!
We're all in for Naomi Watanabe and her many talents, and we're huge fans of her fashion label Punyus. Now we'll just sit back see what the inspiring, creative, body-positive artist has in store next!
(Visited 1 times, 1 visits today)