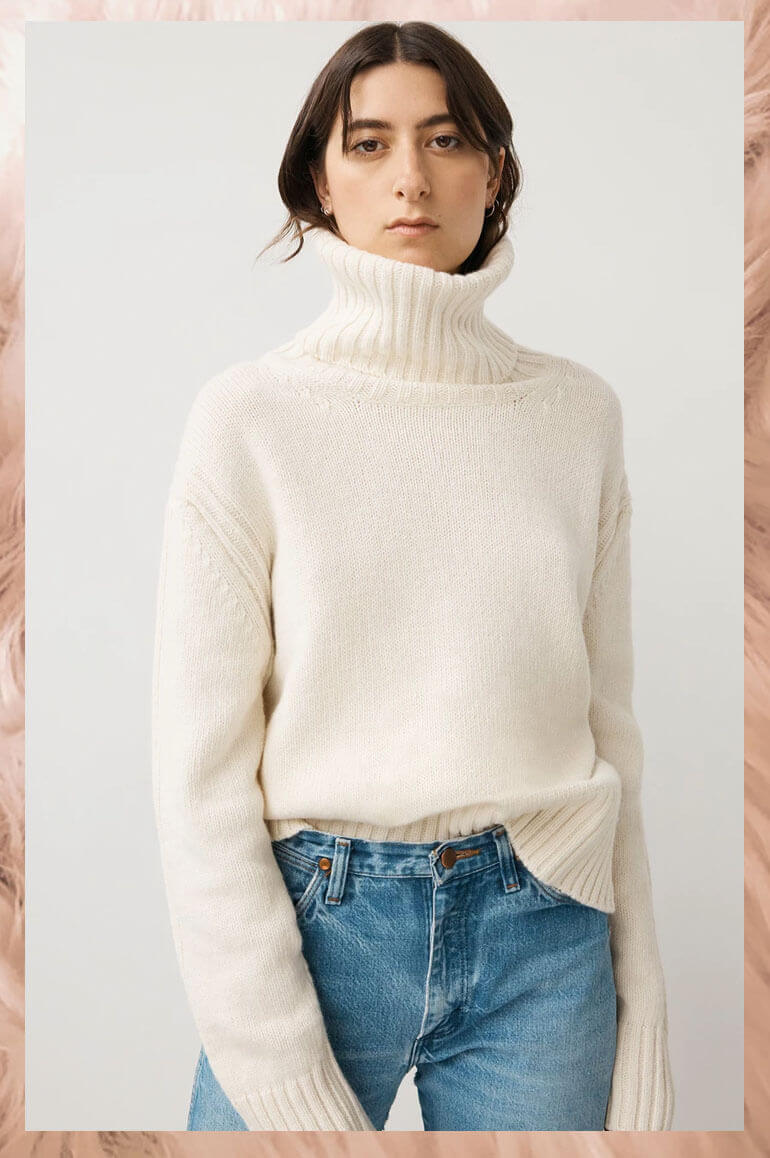 If you're anything like us, just the mere mention of sweater weather evokes images of changing leaves, of cozy walks in the park, and stylishly snuggly evenings at home sipping coco, or out on the town warming up with friends and cocktails. And whether you're more of a fan of graphic sweaters, of trendy knitwear, or of classic cozy sweaters, we can all use a little style inspo when it comes to cooler temps. But with so many knitwear brands popping up, it can be hard to decipher whether the looks you like are actually made to last, or if they'll barely last through the winter. So how do you find the coziest and most stylish knitwear out there to look your best in 2020? Well, that's what we're here for! We've got an early holiday gift for you, we've created a list of the top 10 sweater knitwear brands to help you stay cozy (and stylish) this cold-weather season.
1) &Daughter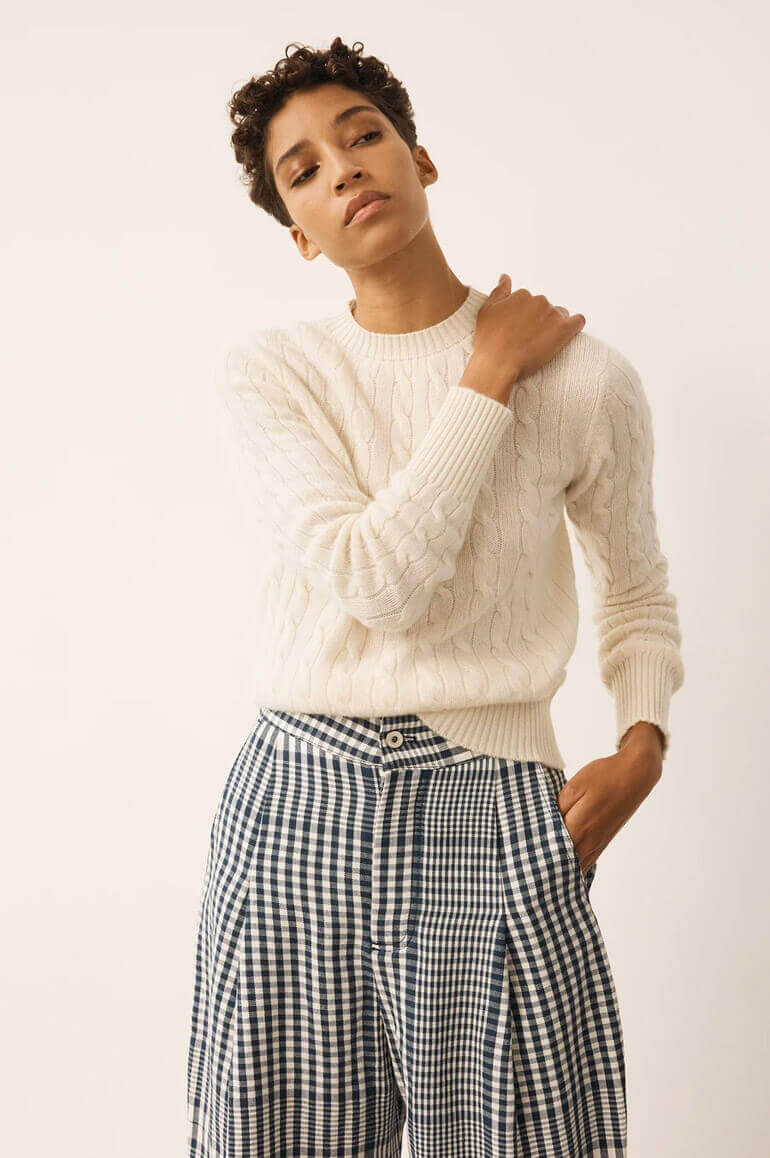 For consumers who have a keen eye for quality, longevity, and the finest natural yarns out there, &Daughter is going to be one of your new favorite knitwear brands. Expert makers in the UK & Ireland create slow knitwear by knitting each garment individually and the result is sweaters and knitwear offerings that are brimming with style. Graphic sweaters and classic sweaters alike, you really can't go wring here. This family-led sweater brand established by father and daughter design duo Columba and Buffy Reid, (hence the brand's name &Daughter) proves that family really does know best! Just check out the Bansha Fair Isle Merino wool turtleneck sweater, with it's relaxed fit and mid-weight knit. More of a cardigan gal yourself? We got you! The Kira ribbed wool cardigan is the perfect medium weight cardigan that goes with everything! If they're stylish collaboration is any indication, we'd say it looks like Columba and Buffy Reid have that special family to last a lifetime!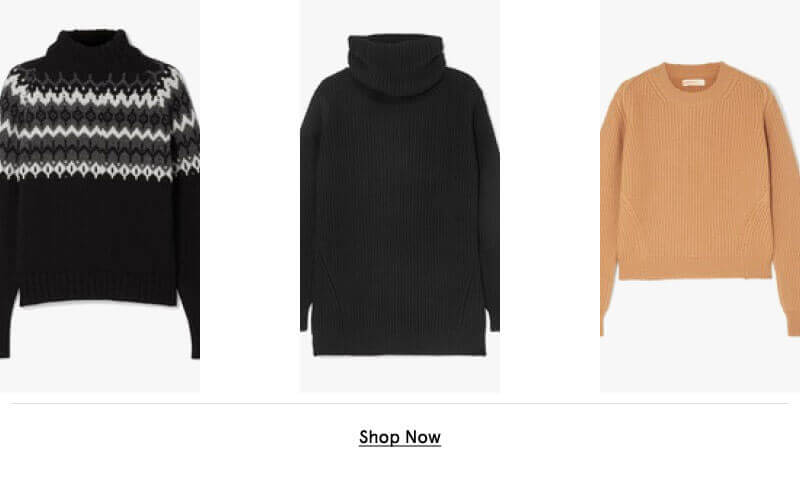 2) Maiami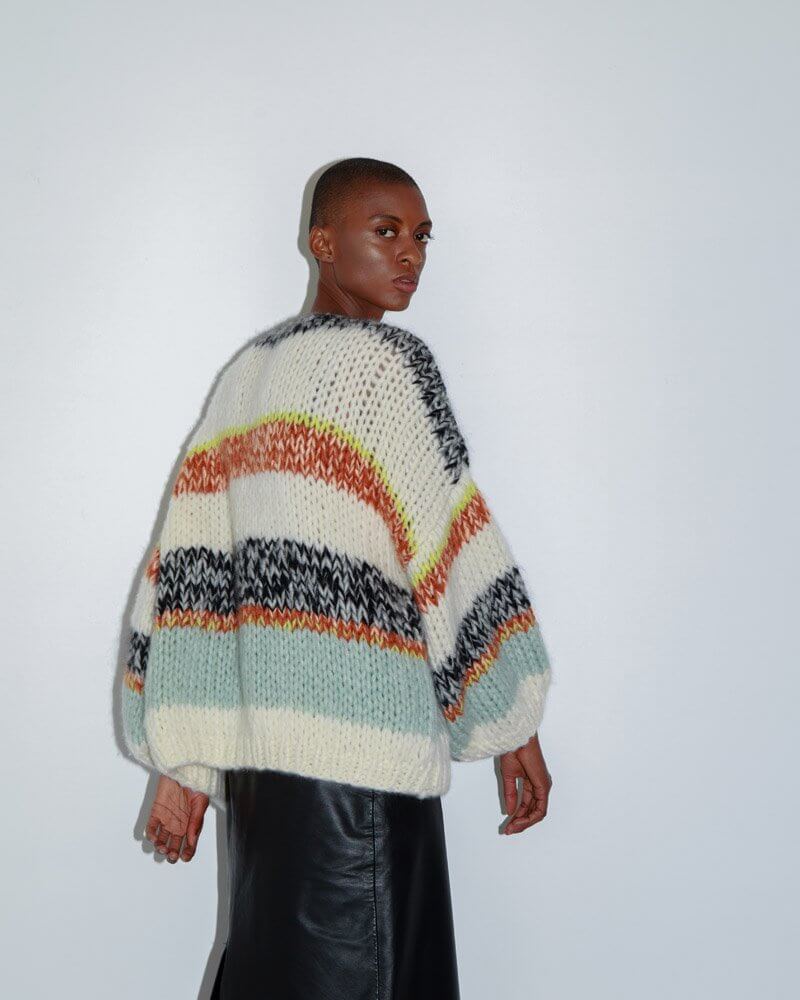 For a luxury brand that offers beautiful cozy sweaters and sweater knits that you'll love season after season, Maiami is a sweater brand worth the investment. Modern, distinctive, and made with an unexpected color palette, this exclusive brand is a winter dream come try. The brand's designer Maike Dietrich launched the label in 2004 and has enjoyed a successful international expansion, picking up fans along the way. And if you like brands with a conscious, you'll be happy to know that this impressive brand's designer Maike Dietrich is committed to using resources responsibly and to avoiding wasting said resources wherever possible. Looking for a touch of magic this season? Then say yes to pieces by Maiami like the Ombre cropped cardigan which has that perfect touch of winter spice with its metallic threading and balloon sleeve. And if living boldly and brightly are part of your 2020 new year's resolutions, then you're going to want to slip into Maiami's stylish Mohair big cardigan and start turn heads this season.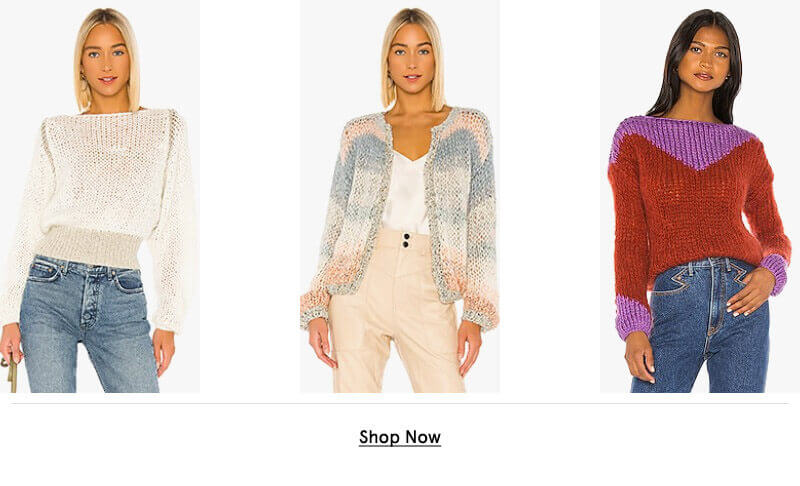 3) Loulou Studio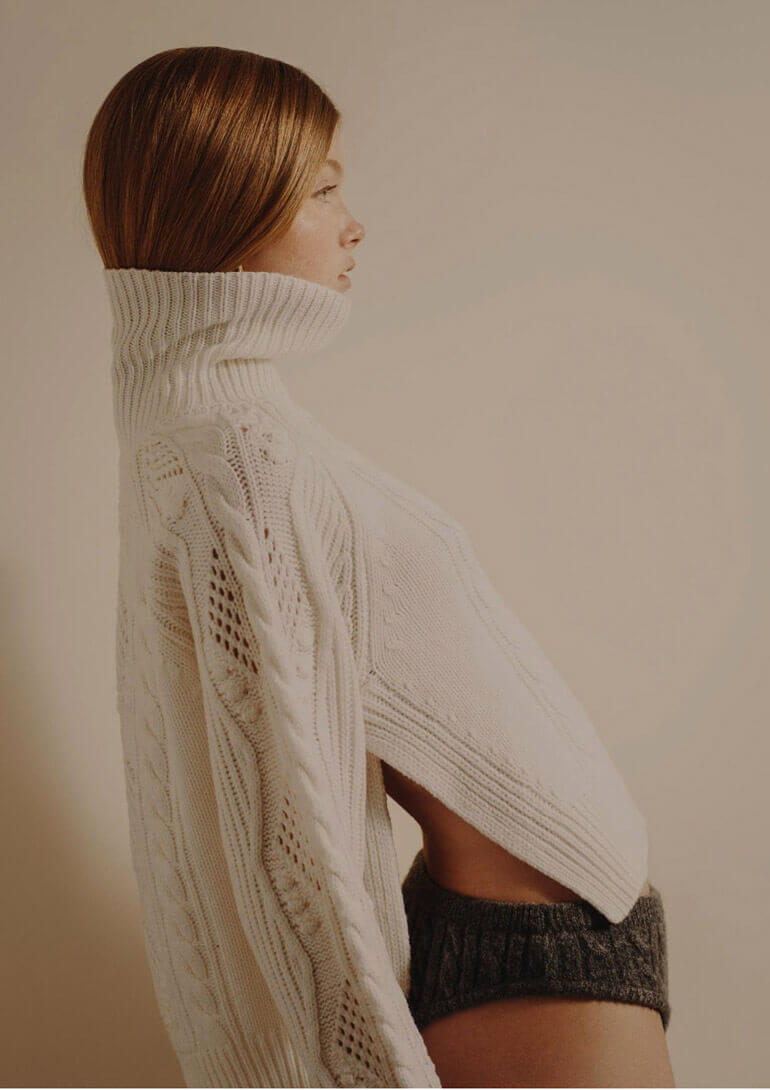 Who knew that when Parisian influencer Chloé Harrouche first launched her contemporary fashion label Loulou Studio that it would end up being a huge hit? But then again, when you have a built–in audience of over one-hundred-and-fifty-thousand followers who love your style esthetic, your brand's success is really a no-brainer. With super stylish cozy sweaters, cardigans, sweater knits, bodysuits, and t-shirts among their many offerings, the brand's success was truly inevitable. As the creative director and founder of Loulou Studio, Chloé Harrouche has taken her passion for sharing her fashion faves with a global coommunity to a whole new level. Can we just say, we're going to rock Loulou Studio's Linosa cashmere hoodie all season long, and never take it off!? The best part? This awesome label offers much more than just sweaters! In fact, we can't think of a better (or cozier) way to step into this season than these Maddalena cashmere track pants. Looking for something with a little style edge? Classic style meets innovation with the Tie-detailed ribbed wool and cashmere-blend sweater.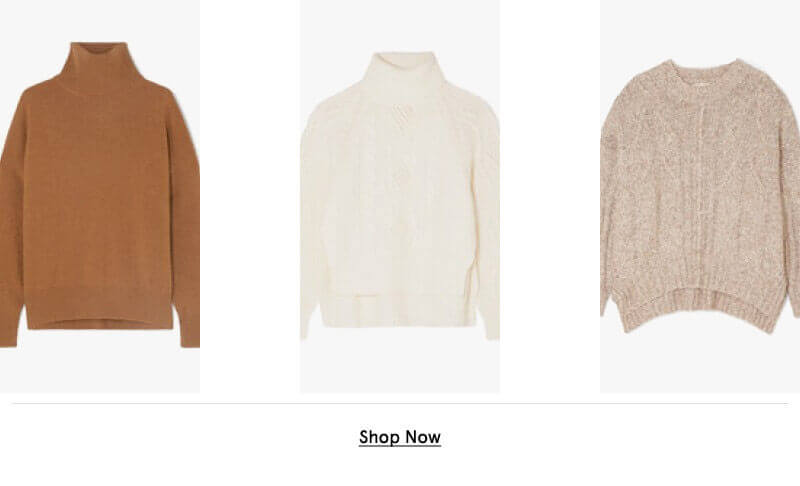 4) Envelope1976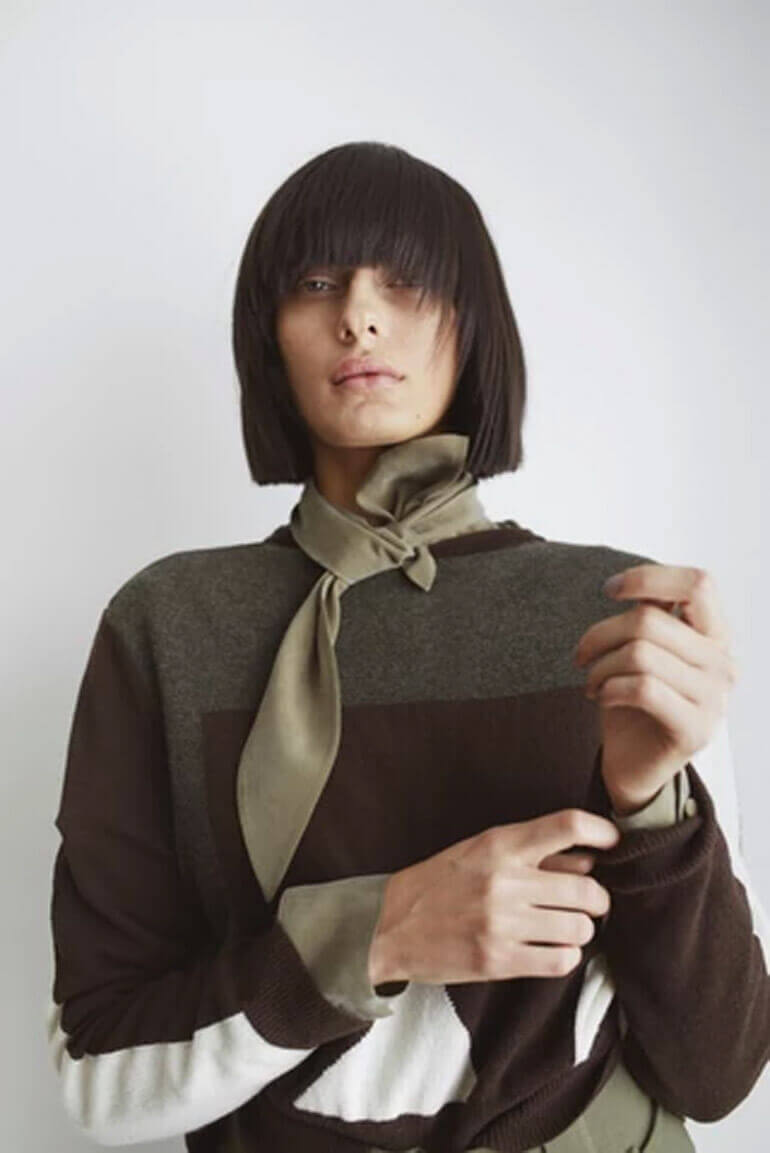 Another awesome and sustainable sweater brand you'll want to have on your radar this season is Envelope1976. With an effortless and timeless esthetic and color palette, this luxury label aims to create long-lasting garments that can be worn multiple ways and on any day of the year. Gotta love that! The label's founders Celine Aagaard and Pia Nordskaug's attention to sustainability has pushed them into the upper echelon of in-demand knitwear brands with conscious head-to-toe looks. The Houston belted wool coat with its wraparound design, perfect for layering, is all we want for Christmas this year. We love that Celine Aagaard and Pia Nordskaug's pay close attention to classic lines, and that they infuse their knitwear with modern touches which truly elevate even the most classic of pieces. Loving this wool trend? Then you're going to want to get your hands on Envelope1976's Svalbard wool cape, which is hand-knitted from beige wool to perfection. Simply style it with a boho hat or chandelier earrings, and you'll have that perfectly in-demand boho look.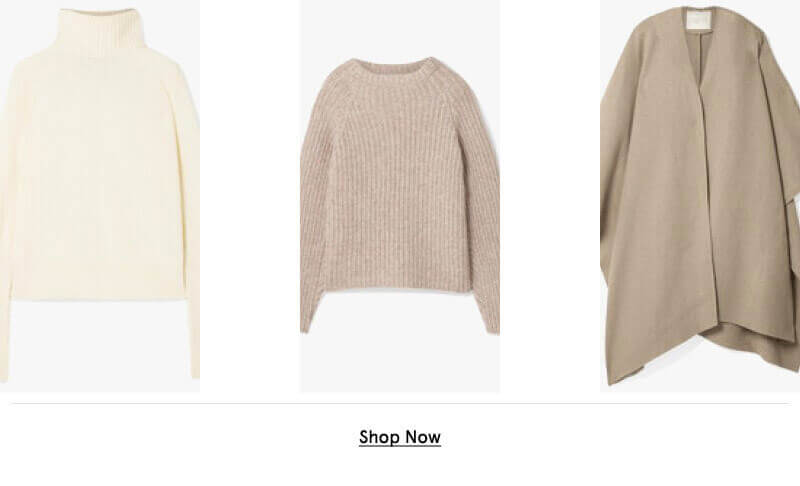 5) Demylee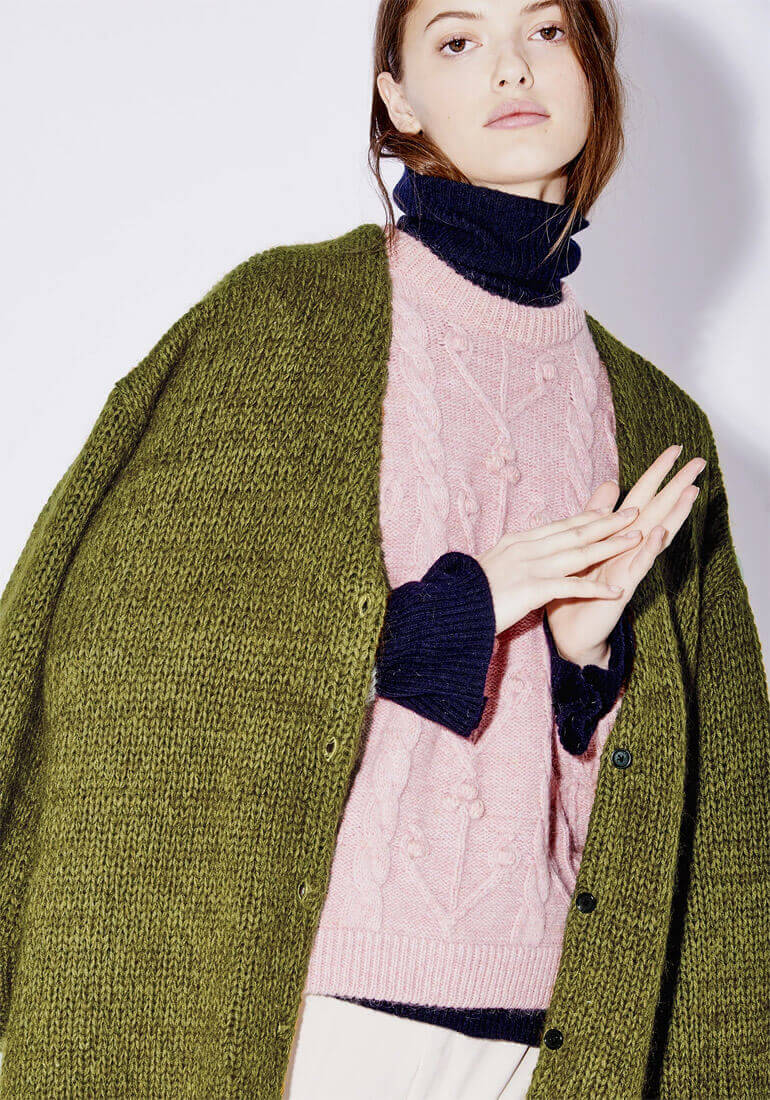 Launched back in 2007, knitwear label Demylee has been offering the best that sweater weather has to offer for over a decade, and in the fashion world, that is truly a lifetime. The brand's Korean born designer Demy Lee began offering sweater knits and pieces from her eponymous label upon graduating from the prestigious Parsons School of Design, but not before first holding some top-notch design positions with brands like Calvin Klein and GAP. Not too shabby. With a great resume under her belt and some very valuable hand-on experience in the fashion world, Demy Lee proceeded to launch her brand Demylee, and it's been on the radar of some of the top fashion lovers throughout the globe (including ours!) ever since. Certainly not for the wallflowers or the faint-of-heart out there, this beautiful and bold Rosamonde Sweater is a prime example of how a classic sensibility and a powerful palette truly can work together, a quintessential combo that makes this brand one to watch for this season and beyond. For an eye-catching crew neck sweater that will be right on target for the holidays, look no further, the Lucero Sweater is a Christmas miracle.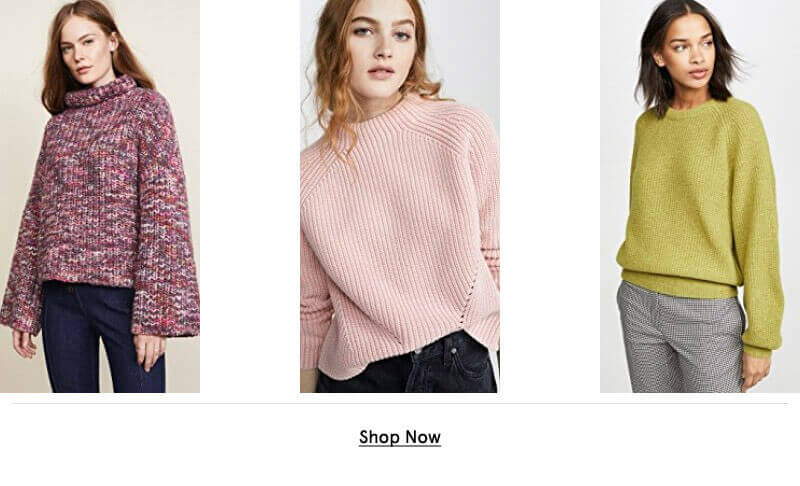 6) Le Kasha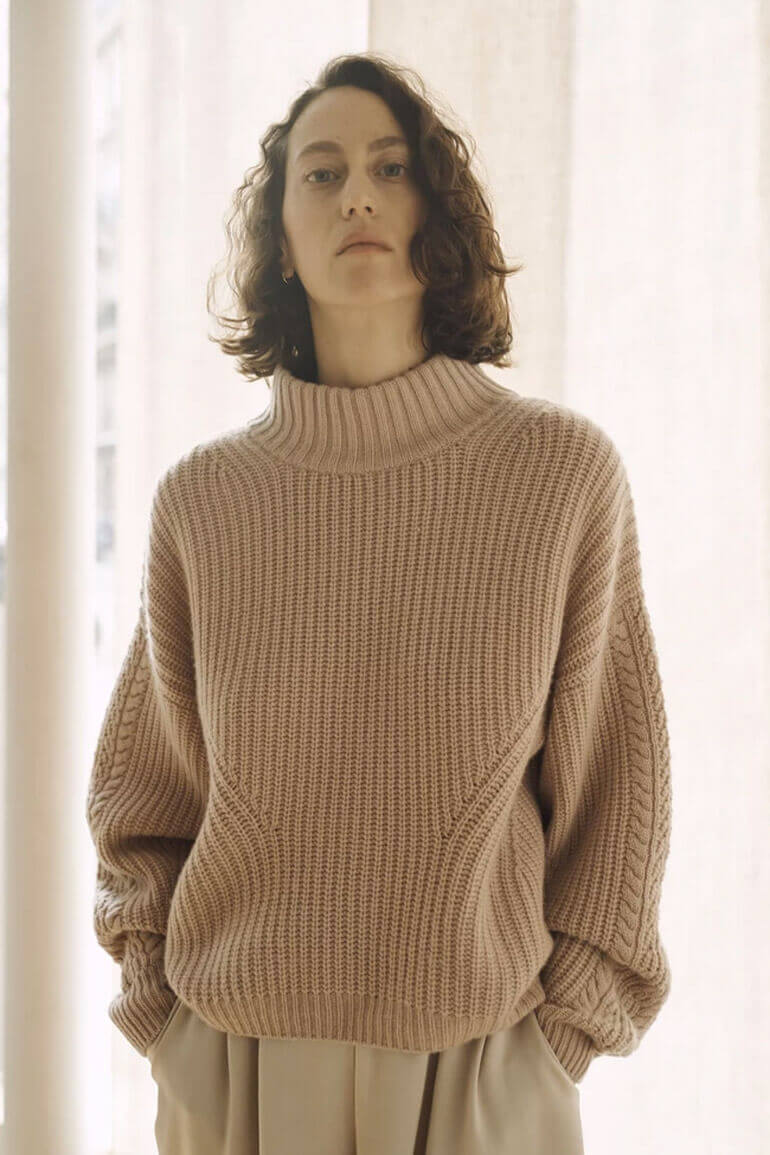 While we've seen many new and trendy labels come and go, only the tried and true stick around for the long haul, and there is something truly special about brands that last forever. Le Kasha is one of these special brands. In fact, the French luxury fashion brand that is now led by Mali Marciano, first started as a cashmere goods label and has really stood the test of time by offering sweater knits and knitwear that are equal parts stylish, elegant, and comfortable. Bringing with it a long legacy of tradition and French culture, Le Kasha proudly continues to maintain its sought-after cache after all these years. Even today, the essence of the original Le Kasha continues to persevere, with a new twist, under the direction of Mali Marciano, who has taken it upon herself to add modern touches and new silhouettes to keep things fresh. But don't just take our word for it! Scope out some of the brand's looks like the Oversized Cashmere Sweater in light blue, or the gorgeous Long Cashmere Sweater Coat which ranks at the top of our Christmas list!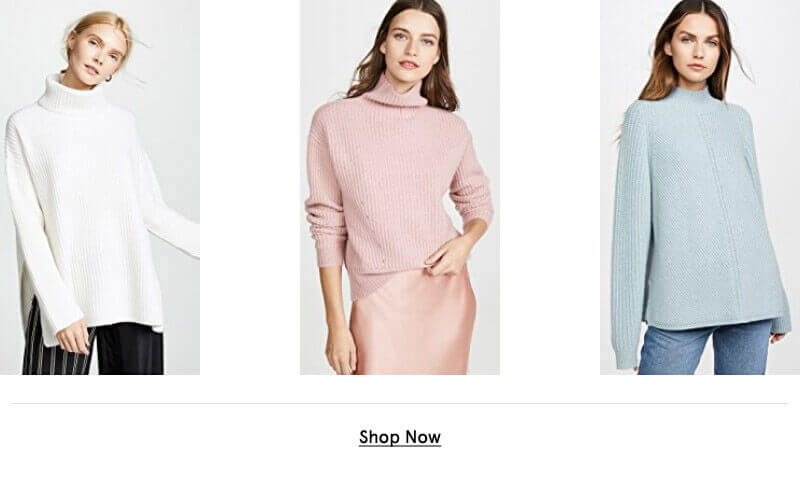 7) Victor Glemaud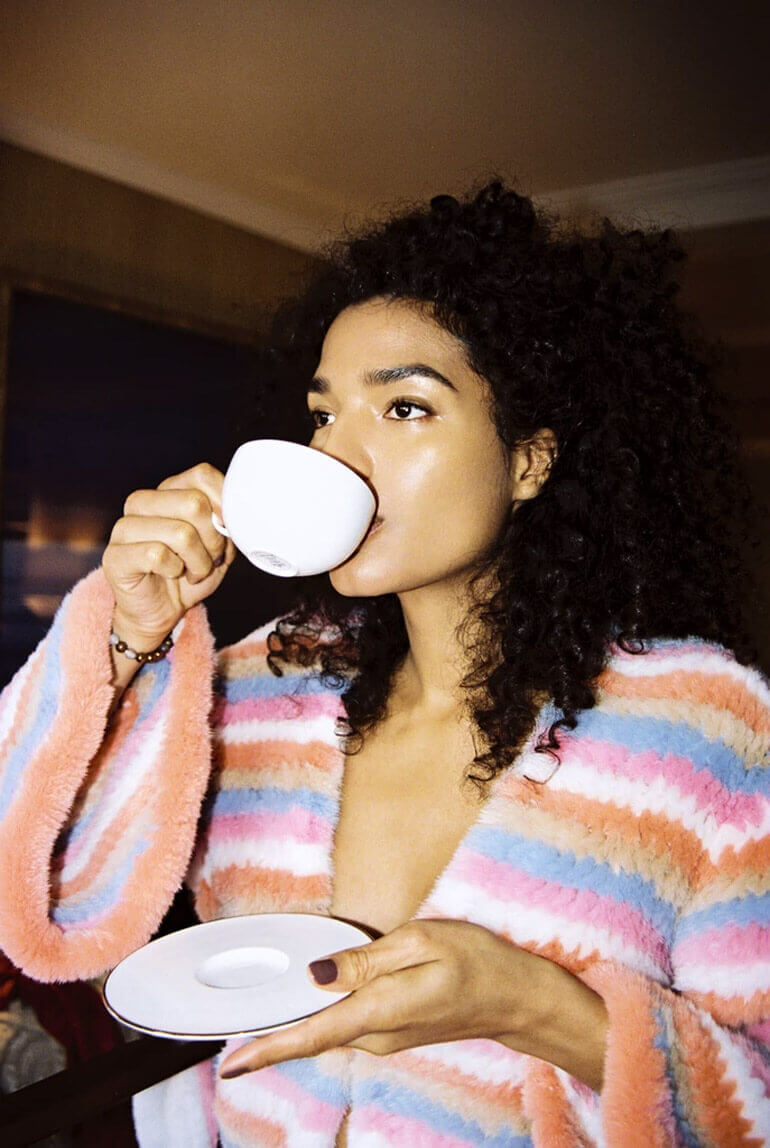 When celebrities and style-makers like Iman, Selena Gomez, Dakota Johnson, Hailey Baldwin, Ashley Graham, Christian Combs, Amber Valetta, and Issa Rae are fans of your designs, you're in good company to say the least. And designer Victor Glemaud with his namesake collection of statement knitwear seems to be making friends and fans wherever he goes. Launched back in 2006 by the Haitian born designer who now resides in New York City, this label has become synonymous with risk-taking in its knitwear, and we're all about that! Looking for something that truly pops off the page, and off the rack? Look no further! Looks like the Merino Wool Crop Sweater, and the Long Sleeve Combo Sweater will most definitely do the trick. Who says you have to stick to a fall color palette when it comes to sweater-wear? Certainly not designer Victor Glemaud, and thank goodness for that!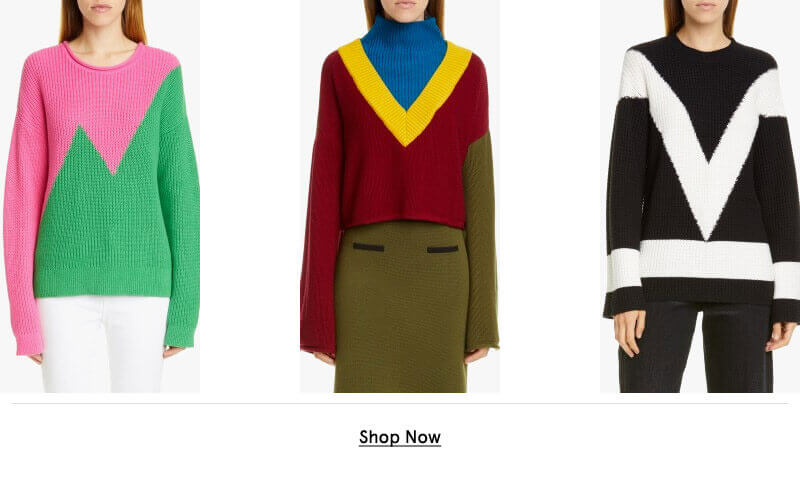 8) Brochu Walker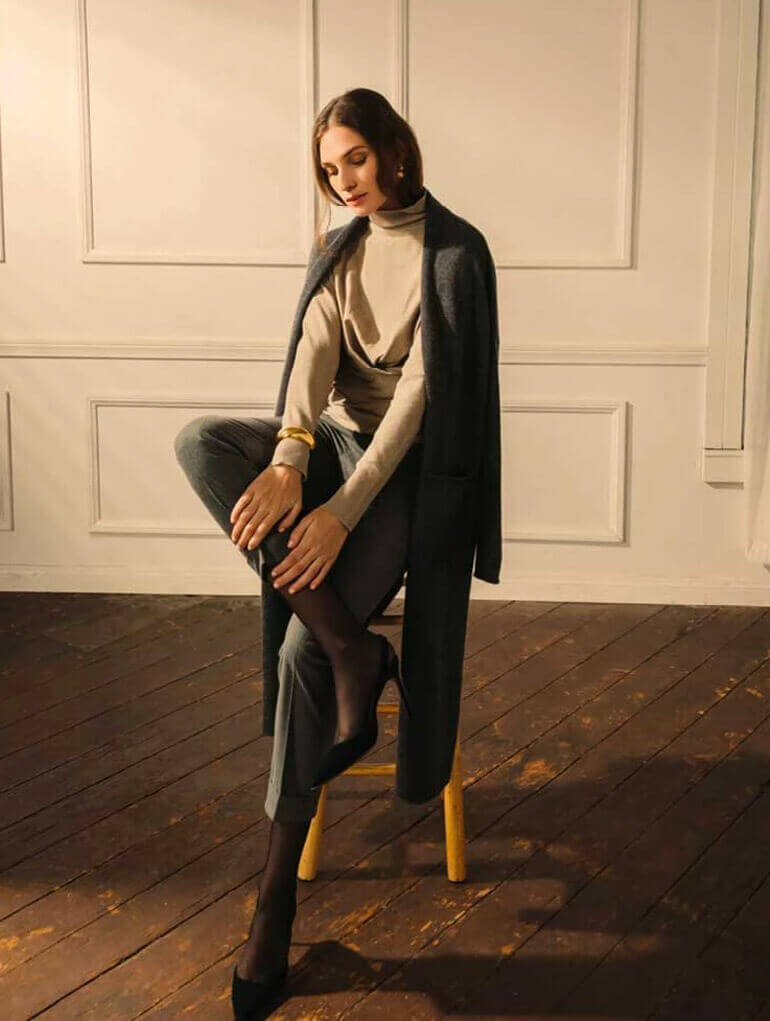 On the other side of the spectrum is the gorgeously understated and minimal designs from Brochu Walker. Less is always more with this label led by Karine Dubner, and these pieces will stay in your closet for years, always working with and enhancing current trends and ultimately standing the test of time. Sophisticated, confident, and timeless looks like the Desy Crew Sweater in Julep will ensure cozy and stylish nights out, and looks that offer a touch of femininity and innovation of style like the Alvino Balloon Sleeve Hooded Sweater give you just the right amount of variety you're craving! Brochu Walker is based in sunny L.A and led by CEO Karine Dubner, the marriage of European style with a California ease make this a marriage that's made to last. So sign us up!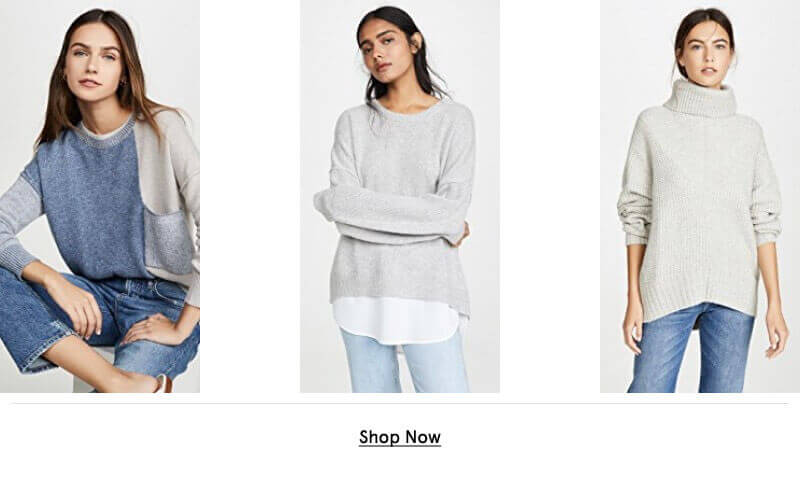 9) Eleven Six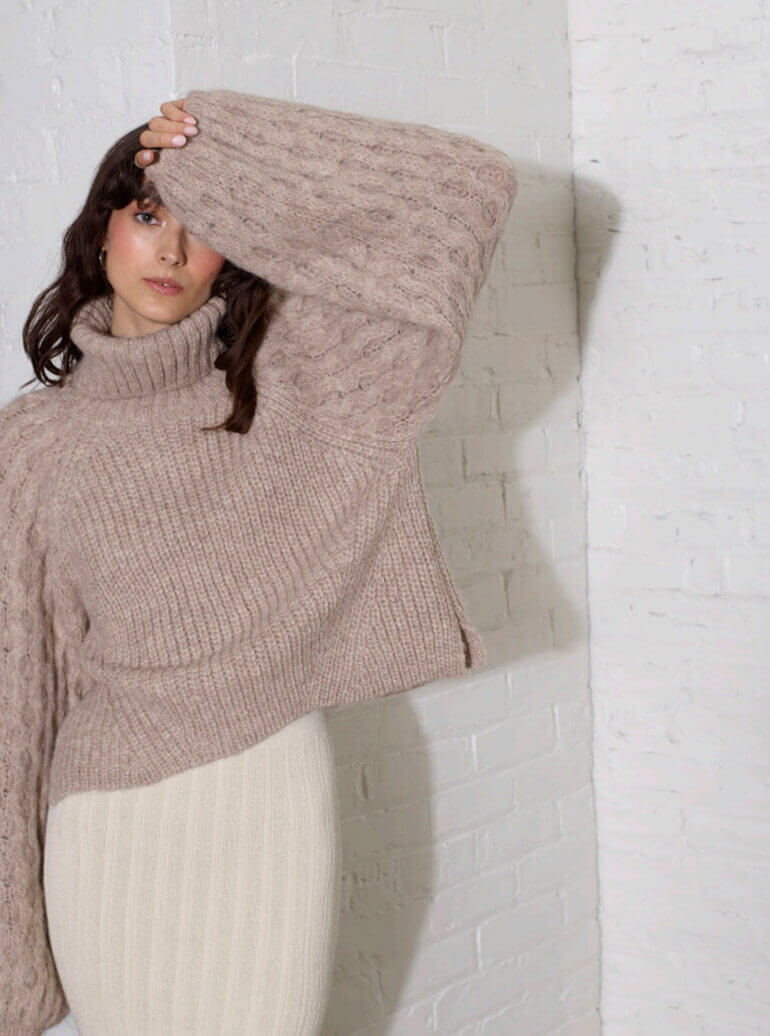 British couple Catherine and Nick Carnevale left their corporate jobs in order to pursue their passion for fashion by creating brand Eleven Six, and boy are we glad they did! Beautifully unique, and handcrafted with love, Eleven Six knitwear is contemporary and effortless in the best way possible. Upon perusing their offerings, one can see the influence of traditional Andean knitting technique from a special trip to Peru that the couple took, which ultimately inspired the launch of their brand. We're on cloud nine with the multi-colored chunk knit Freya Sweater, and its bold scalloped stripes. And we're equally in love with the Caroline Sweater, an abstract long-sleeved graphic sweater that will turn up the cool-factor in your wardrobe, big time. The label's designer couple Catherine and Nick Carnevale truly intend each piece to work cross-seasonally so no need to tuck these gorgeous looks away in your winter box when spring time hatches. Instead, keep them around for year-round layering and snuggly nights.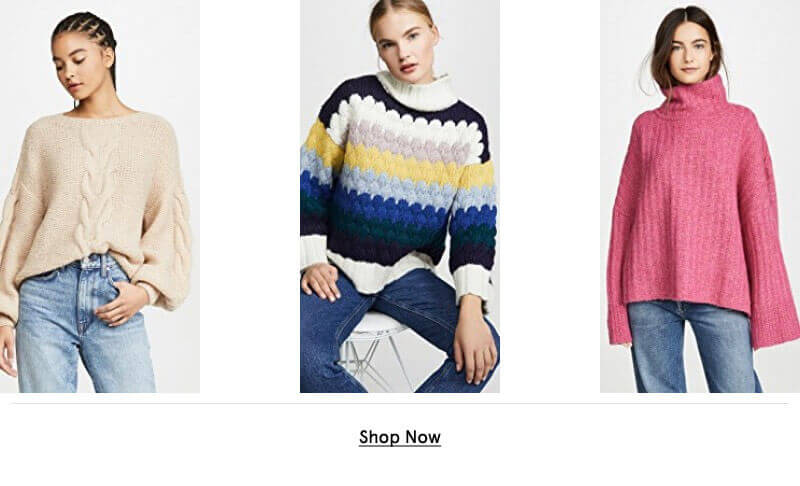 10) Callahan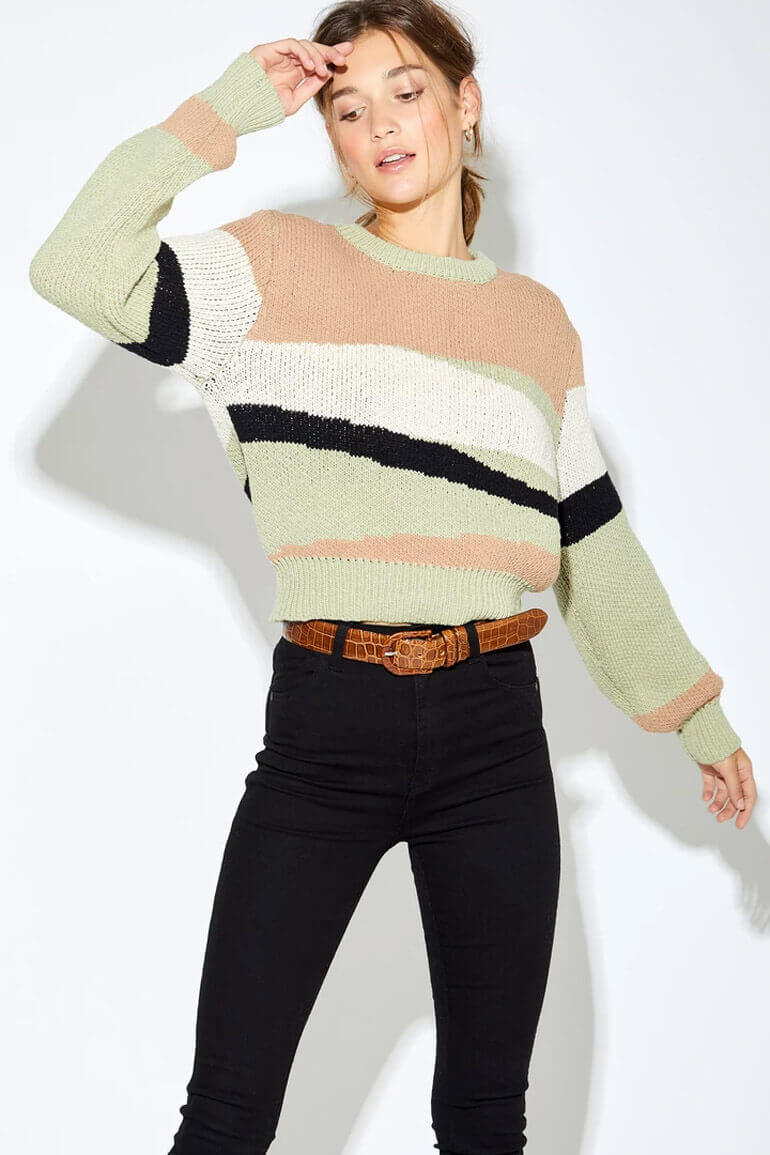 Laid back, slowchy, oversized, and stylish, are just a few of the words to describe the many diverse knitwear looks from Los Angeles based sweater label Callahan, launched by Michelle Callahan in 2014. Trust us when we say that Callahan is here to set you on the style trajectory you need in 2020. Bottom line, fashion-loving cool girls love this awesome brand, and for good reason! Between the effortlessly stylish fit of their cozy sweaters and the graphic sweaters in their selection, there's truly something for everyone. This brand may be a relative newcomer, a mere six years in the existence to be exact, but the brand's designer Michelle Callahan has taken a note from the best in the biz and created high quality knitwear that feels as easy-breezy as California itself. If you're in the market for super cozy boyfriend-style fitted sweaters, this is Callahan's specialty. Add a little sultriness to your knitwear with the Mar Sweater in gorgeous Marigold, or bring sexy back with the Shaker V Back Sweater.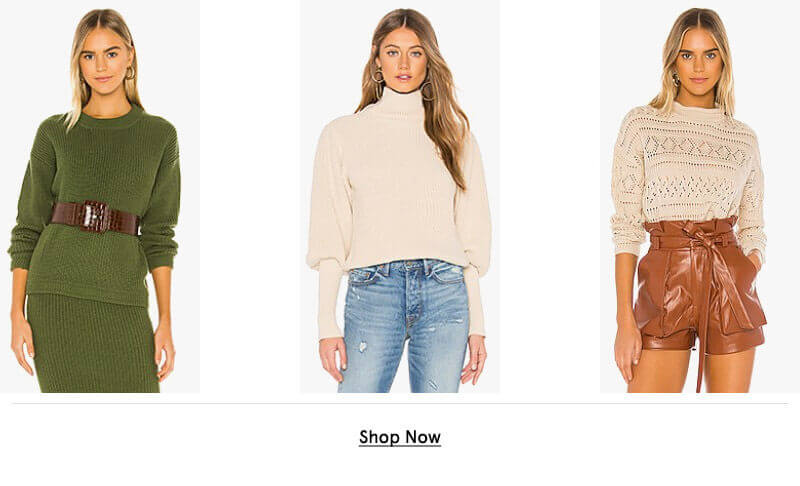 So embrace the changing leaves, the cozy walks in the park, and even the snuggly Netflix-and-chill nights at home this sweater season. With these top sweater knitwear brands to know in 2020, you'll have no need to feel intimidated whether snuggling with your boo in a cozy sweater, or stepping out to a holiday party in stylish knitwear! We hope you'll approach this new year with inspiration, and we're happy to help. Now, go get cozy!
(Visited 1 times, 1 visits today)