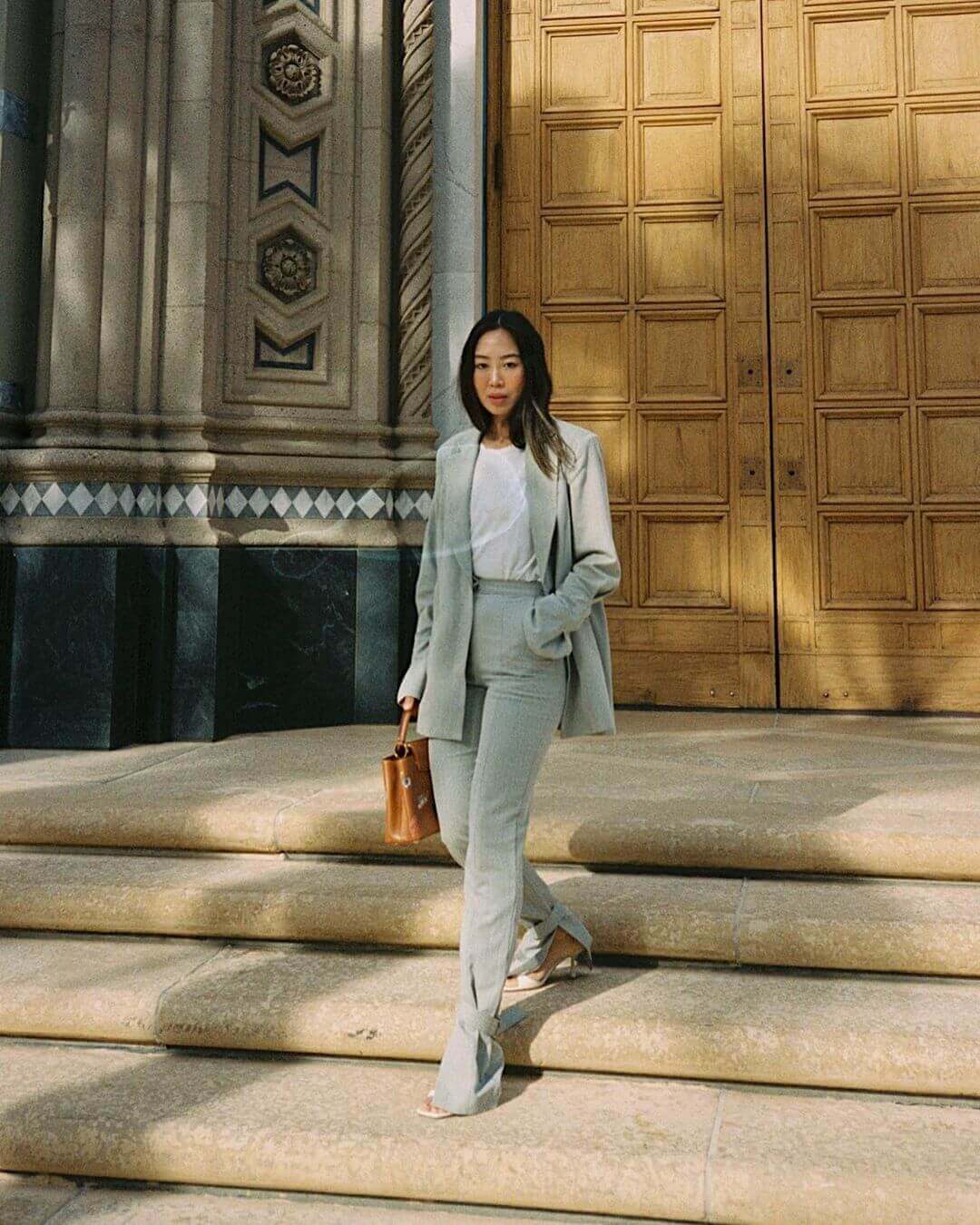 Photo via @aimeesong
With more than a month of winter to go, we think it's safe to say that these next few weeks will be the most brutal. That just means it's time to up your style game for the undesirable weather ahead. We wanted to focus on workwear today since it's often the least inspiring and trickiest to dress for when you factor in the essential bulky layers and frigid temperatures. We happen to favor winter workwear outfits because they are often chic, put together and full of boss energy! The good news is, your workwear wardrobe doesn't have to be as boring as it used to be. It simply takes the swap of some accessories, modern staples, or a statement coat to really transform your business look while still staying practical. Whether you're clocking in from home or heading back into the office, we wanted to share this chic batch of winter workwear looks you can reference. They're full of hidden tips and tricks that adhere to any workplace dress code without completely giving up on style (even if you have strict dress requirements in place).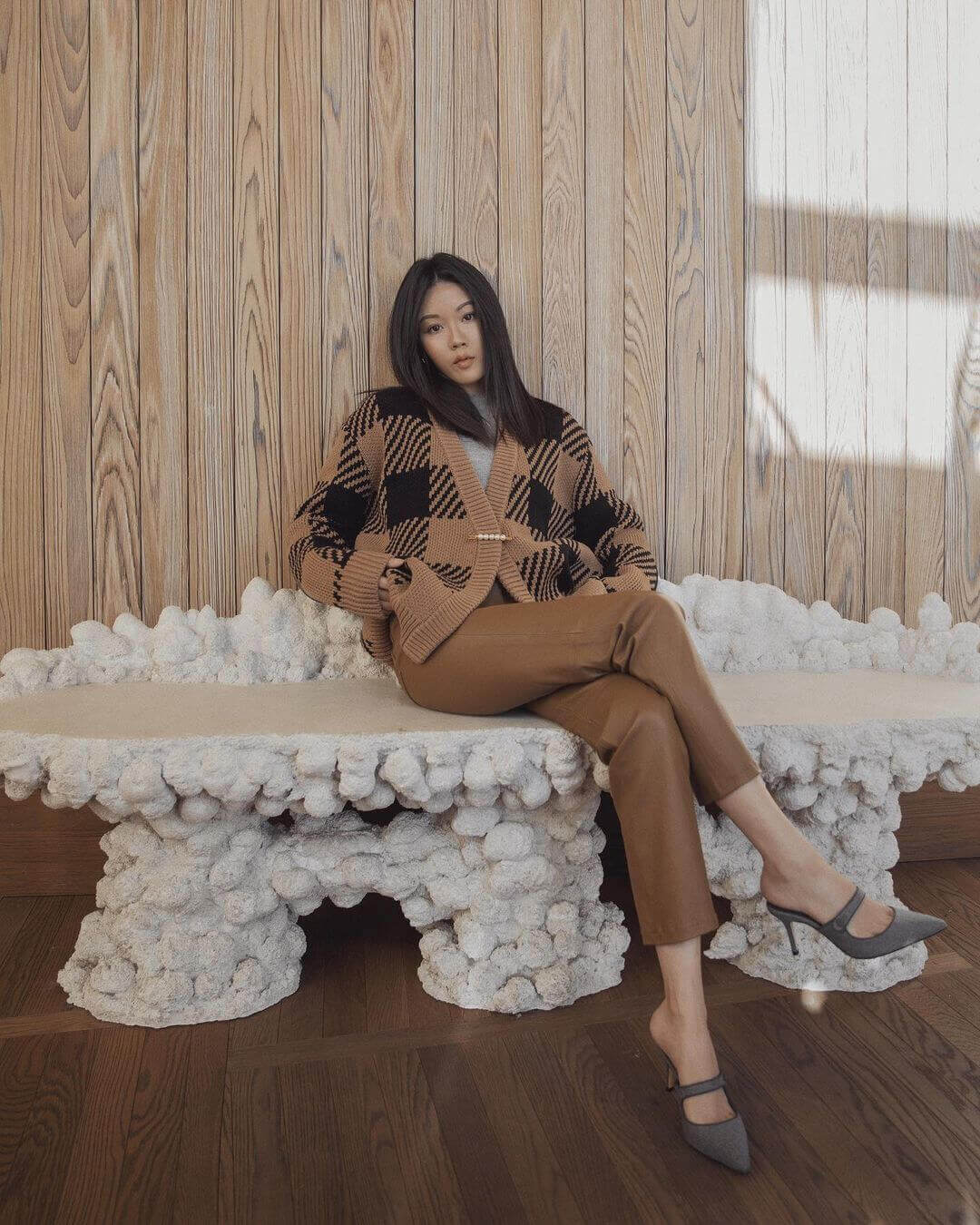 Photo via @tsangtastic
1) Grandpa Cardigan
One of the best things about the current winter trends is that many of them are office friendly. For instance, oversized cardigans and anything leather. This outfit here is the perfect example of how to bring the cardigan into work in a way that's on trend but still looks smart. Layer it on top of a neutral turtleneck top and straight leg leather trousers then finish it off with some pointed toe mules. Score extra style points by sticking to a monochromatic color palette.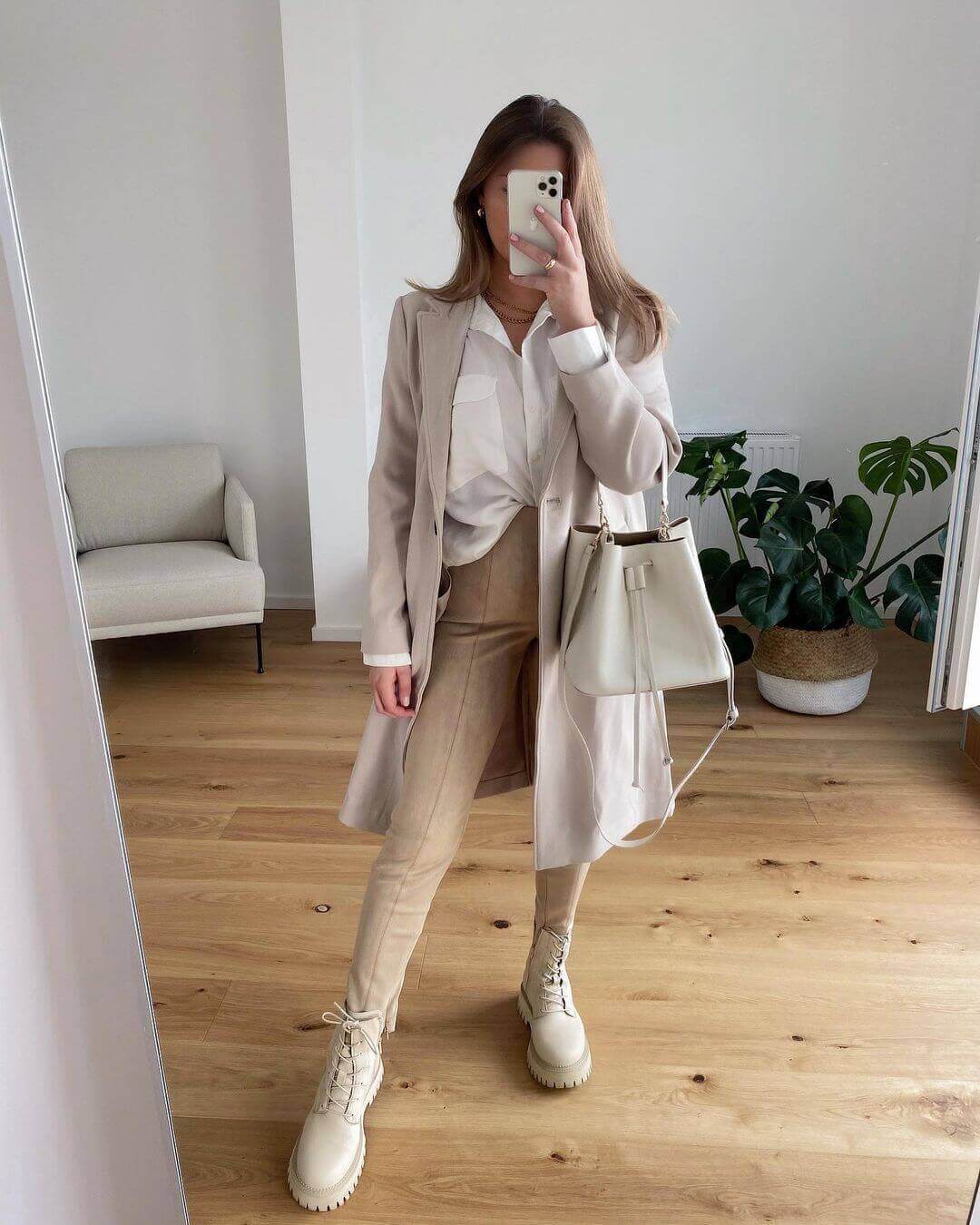 Photo via @tiaravanessaa
2) Neutral Layers
To create a chic outfit with pieces you already have hanging in your closet, stick to the basics. A minimal coat, button-down blouse and high-waisted trousers are a foolproof combination for the office. If you work in a more casual office environment or in the fashion industry, add a contemporary, winter flair by opting for statement combat boots. Otherwise, this outfit would be just as chic with nude pumps or booties.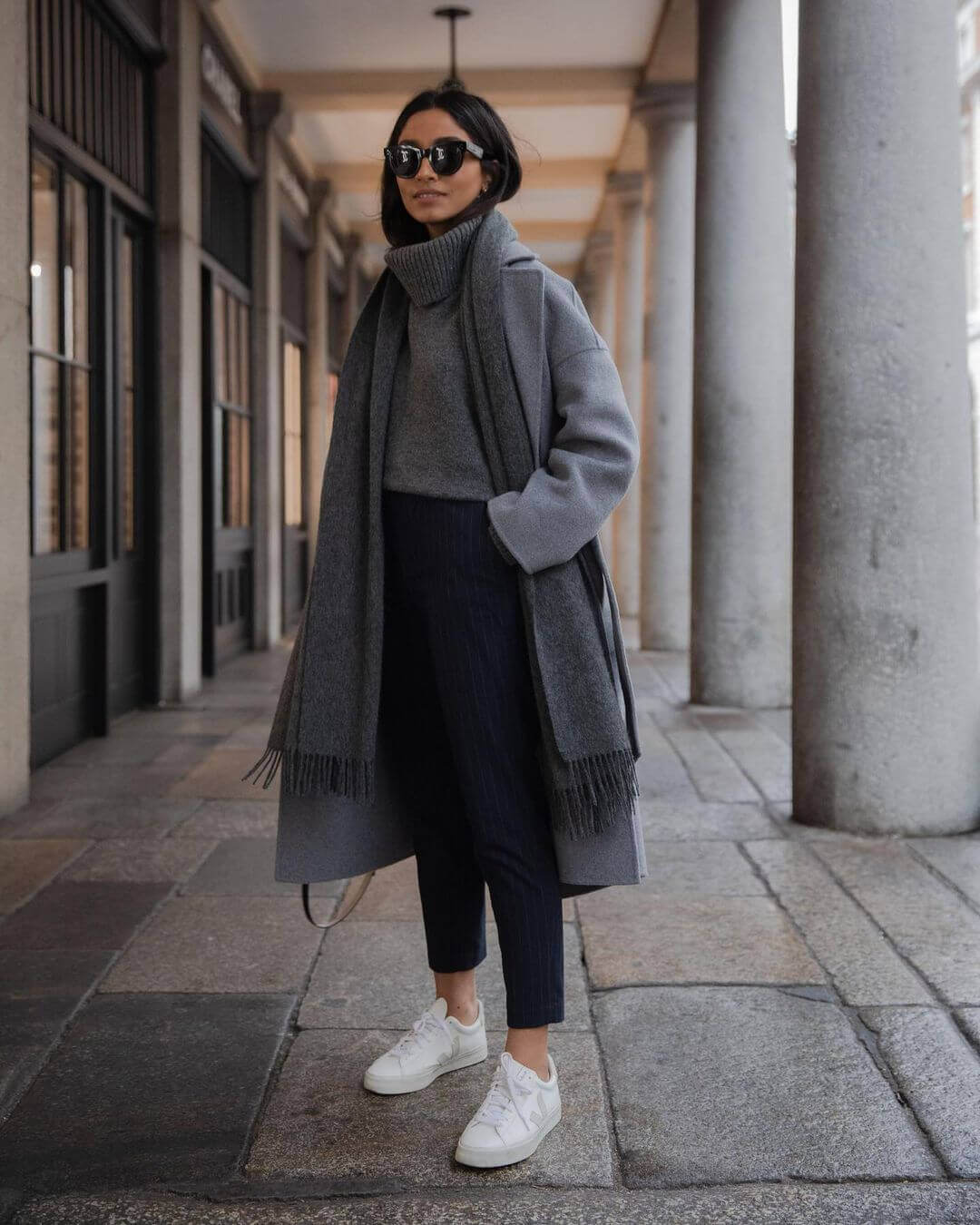 Photo via @cocobeautea
3) Business Casual
If you're still celebrating Casual Friday's at the office, use this as an excuse to trade your heels for sneakers! Clean, white kicks look best with tailored pieces, so you easily get away with them. We love how this blogger stuck to workwear neutrals via a gray coat, oversized sweater, scarf, and cropped trousers. It's the epitome of business casual.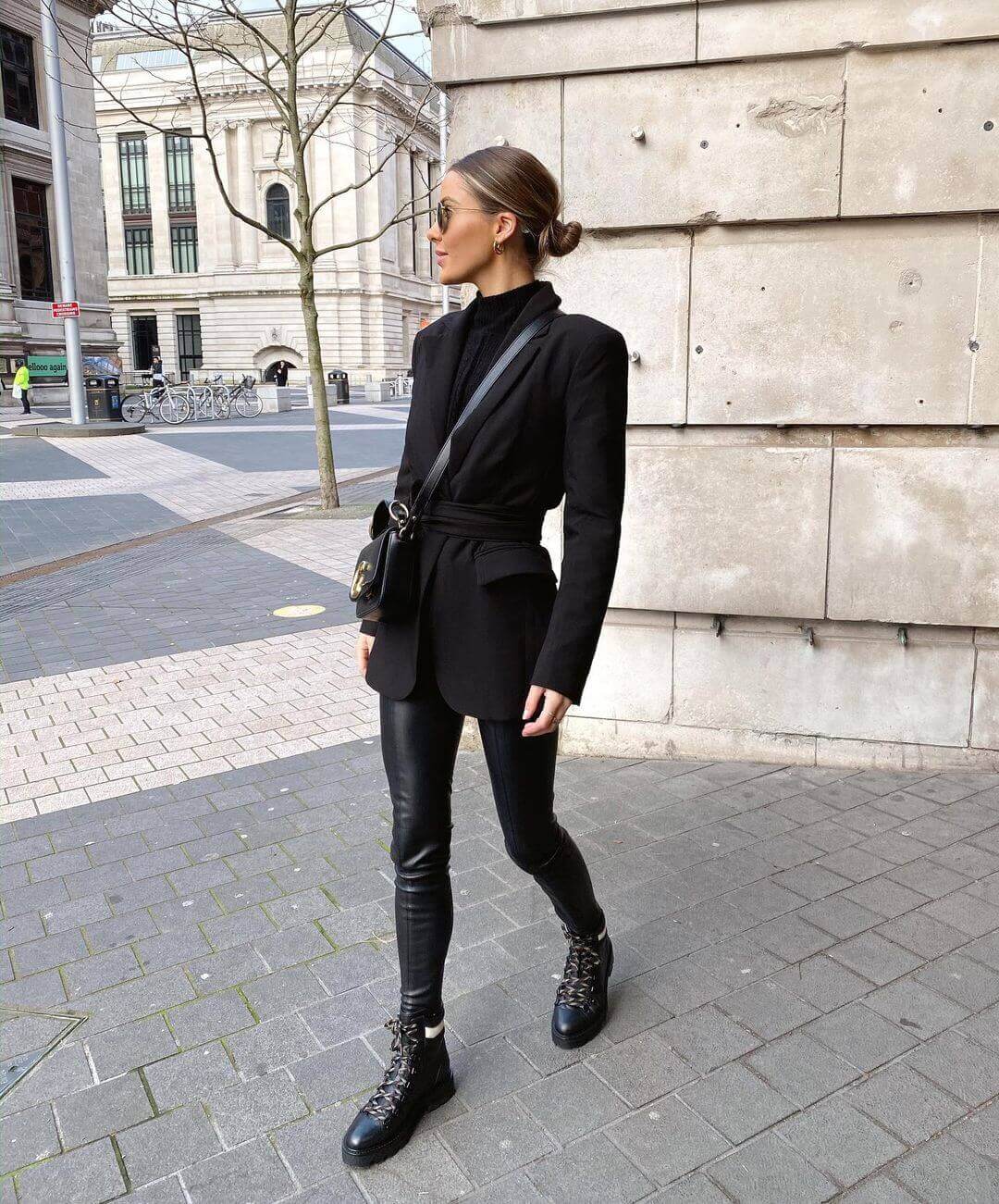 Photo via @nadiaanya__
4) Modern Power Suit
If you're bored of that traditional black blazer lurking inside your wardrobe, it's probably time to switch it up and go for something trendier. A belted blazer is not only flattering but really elevates your standard office wear. Not in the mood to buy a new blazer? Then breathe life into an old one by cinching it at the waist with a leather belt. When teamed with an all black outfit, it exudes high fashion. Combat boots add that street style touch, but you can always swap them out for knee-high boots for a polished, feminine look.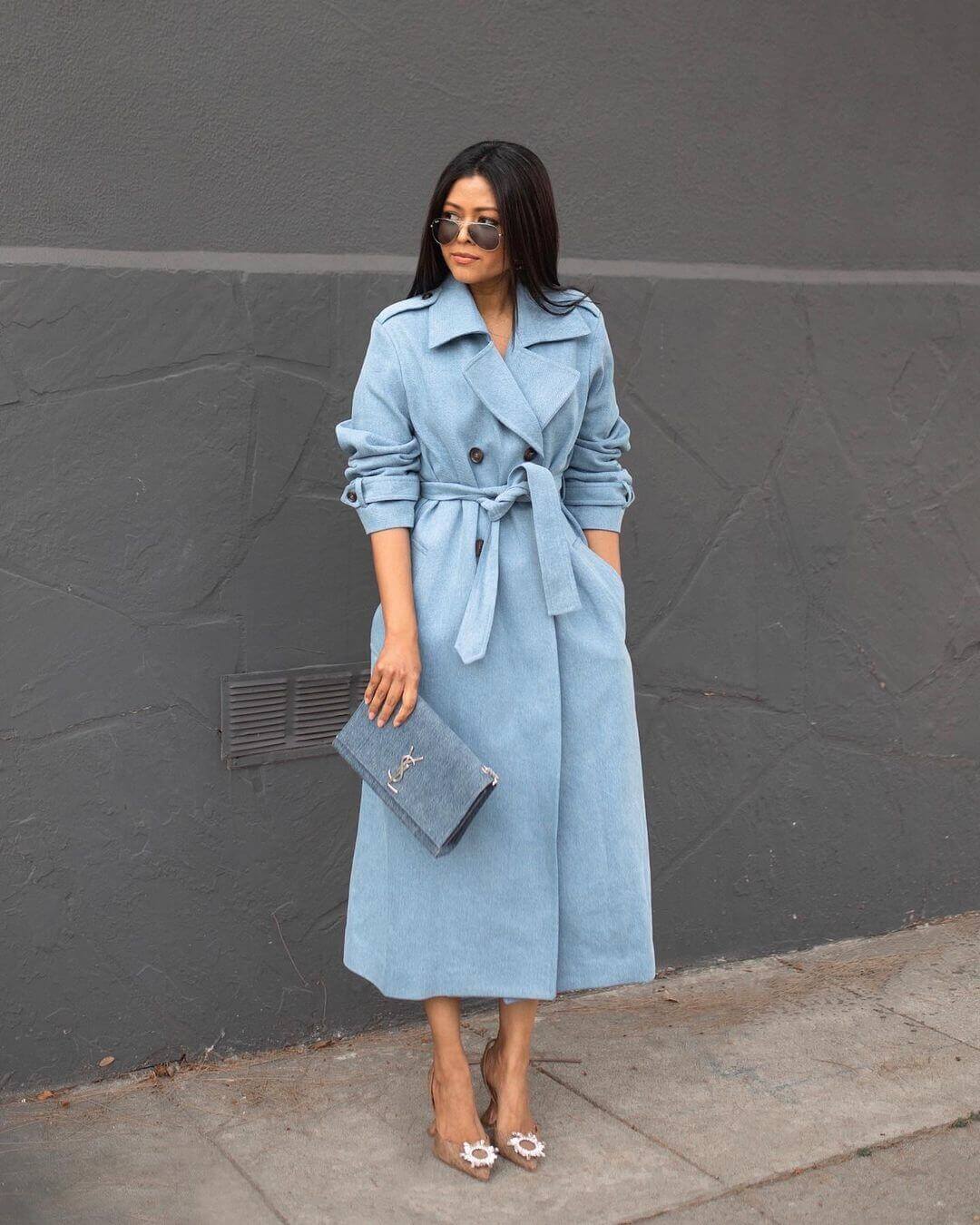 Photo via @walkinwonderland
5) Unexpected Color
You can also jazz up your winter workwear by adding a pop of color. As seen above, a bold or soft colored coat goes a long way. This pale blue trench coat and embellished pumps amp up the boss babe vibes. It truly livens up an otherwise basic winter look! We're loving anything from pale blues to ash green and hot pink.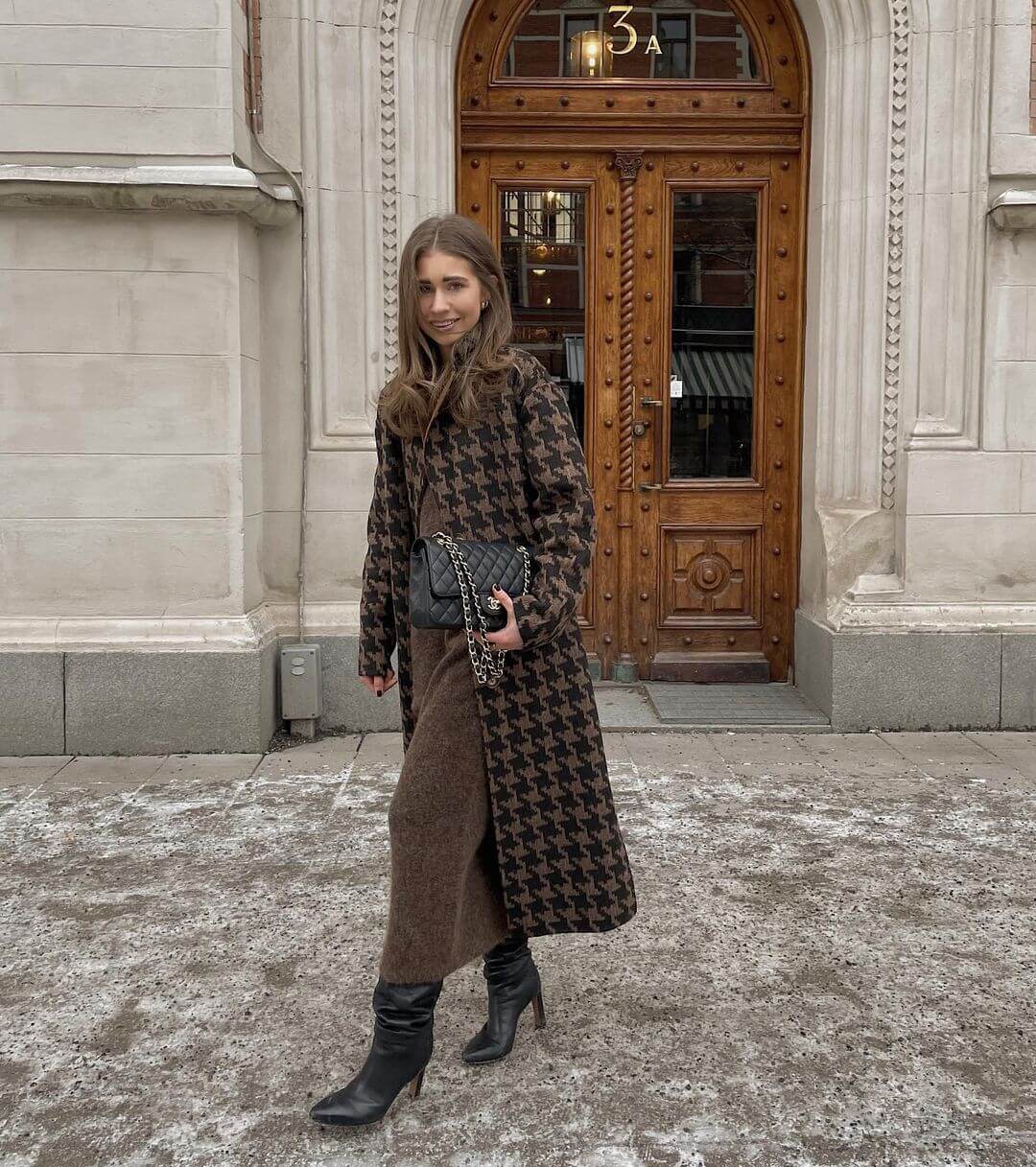 Photo via @alvasperle
6) Chic Outer Layering
If you work in an industry that requires you to bounce around from one place to another, you'll definitely want to invest in stylish, yet cozy gear. A classic patterned coat is foolproof and goes with any workwear look. We love anything from houndstooth to plaid. Rocking some slouchy boots and a mid-length sweater dress underneath ensures you'll stay extra warm while still look cute on-the-go!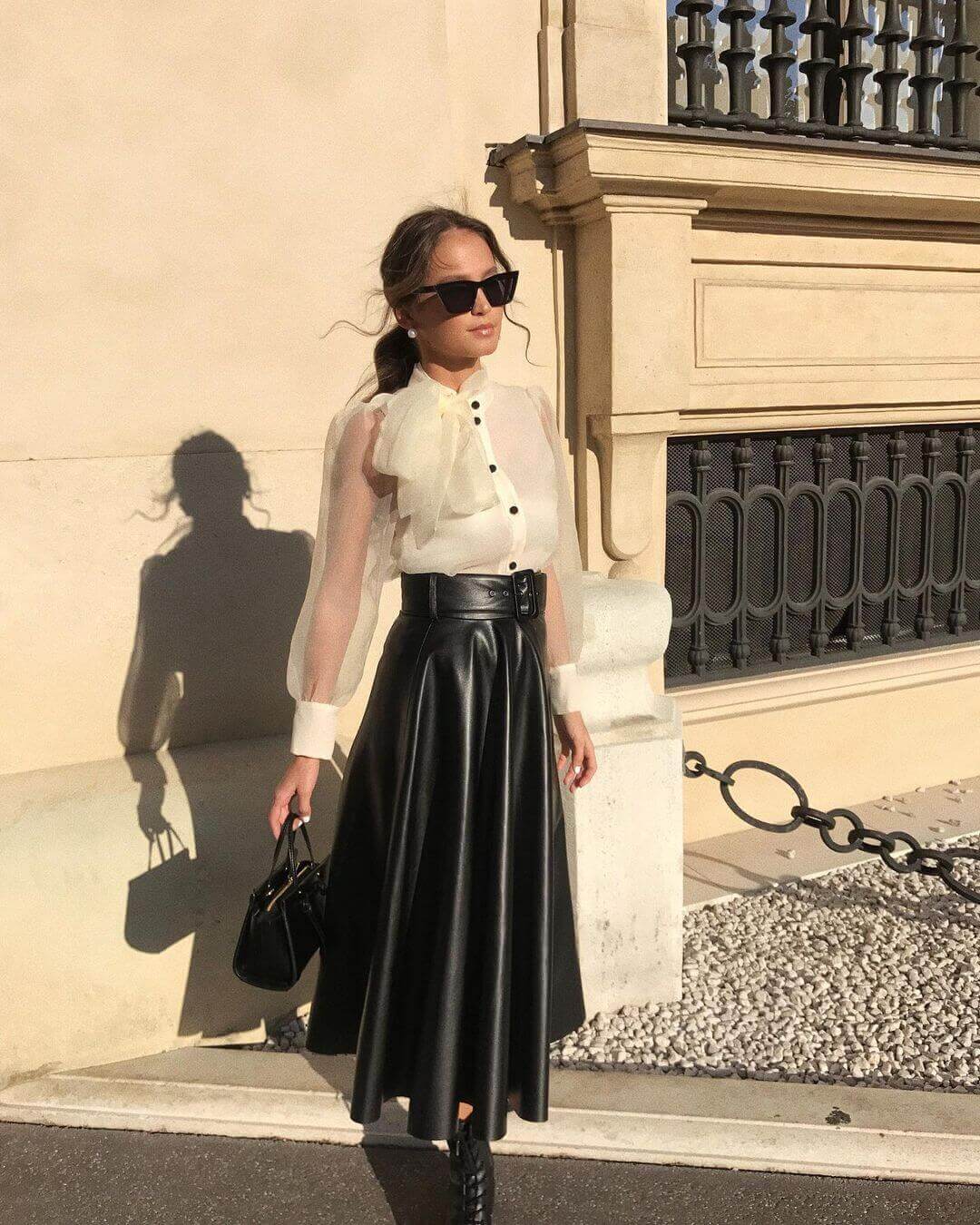 Photo via @majamarko7
7) Office Romance
Leather has been hot these past few years, and it's become increasingly normal to adapt this powerful fabric into the workplace. It's particularly fitting in any winter workwear wardrobe since it's so thick and has the ability to keep you insulated! The next time you're thinking about wearing a pencil skirt, swap it for a full leather skirt. Whether faux or real, it'll look amazing with a romantic blouse and lace up booties.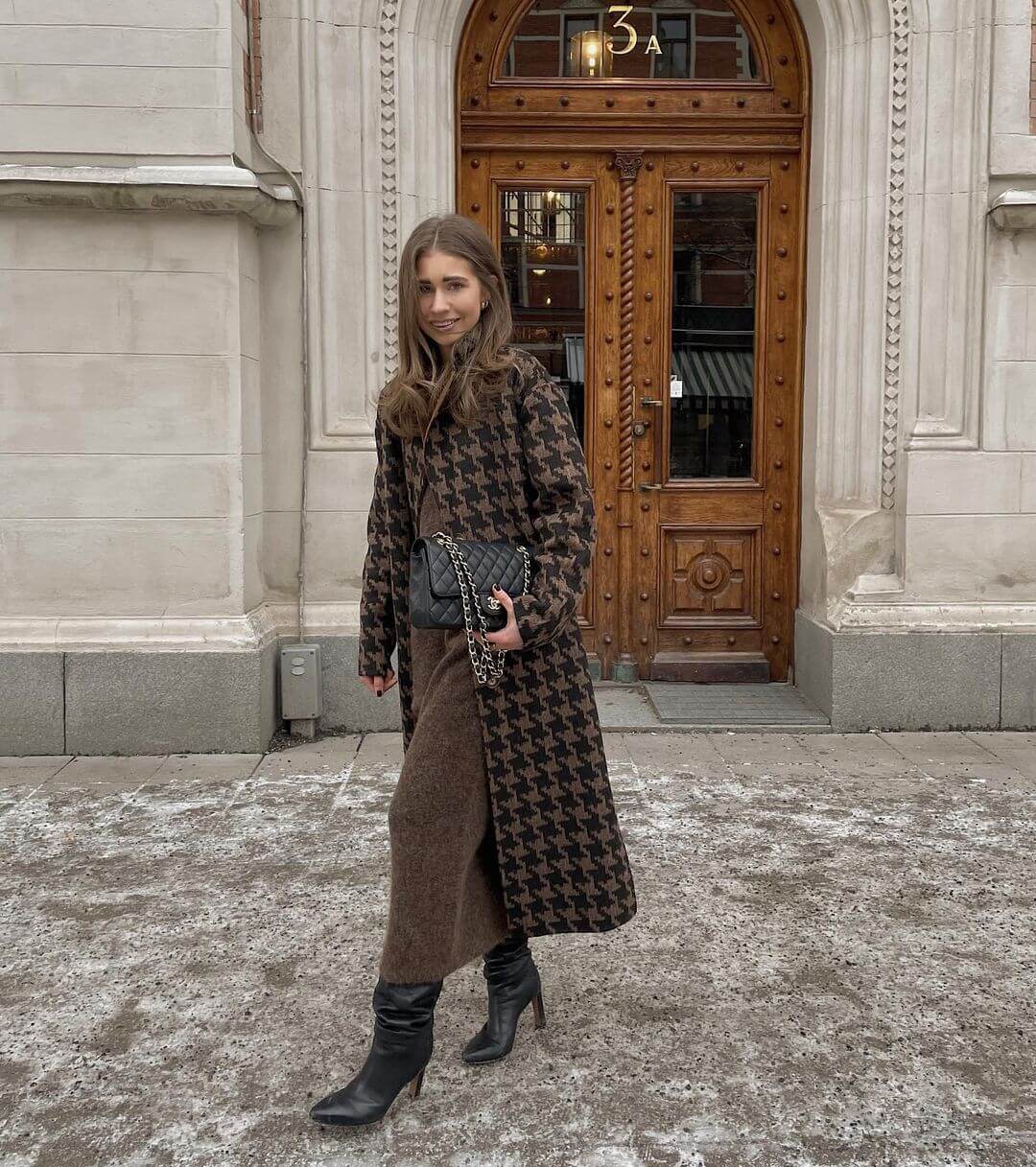 Photo via @melisekrem
8) Check Mate
Whether you're working away from a makeshift office, from your couch, or office cubicle, loose trousers will guarantee comfort. We recommend going for classic plaid print to spice things up. It pairs exceptionally well with a solid top and smart jacket. You'll be Zoom meeting ready in minutes.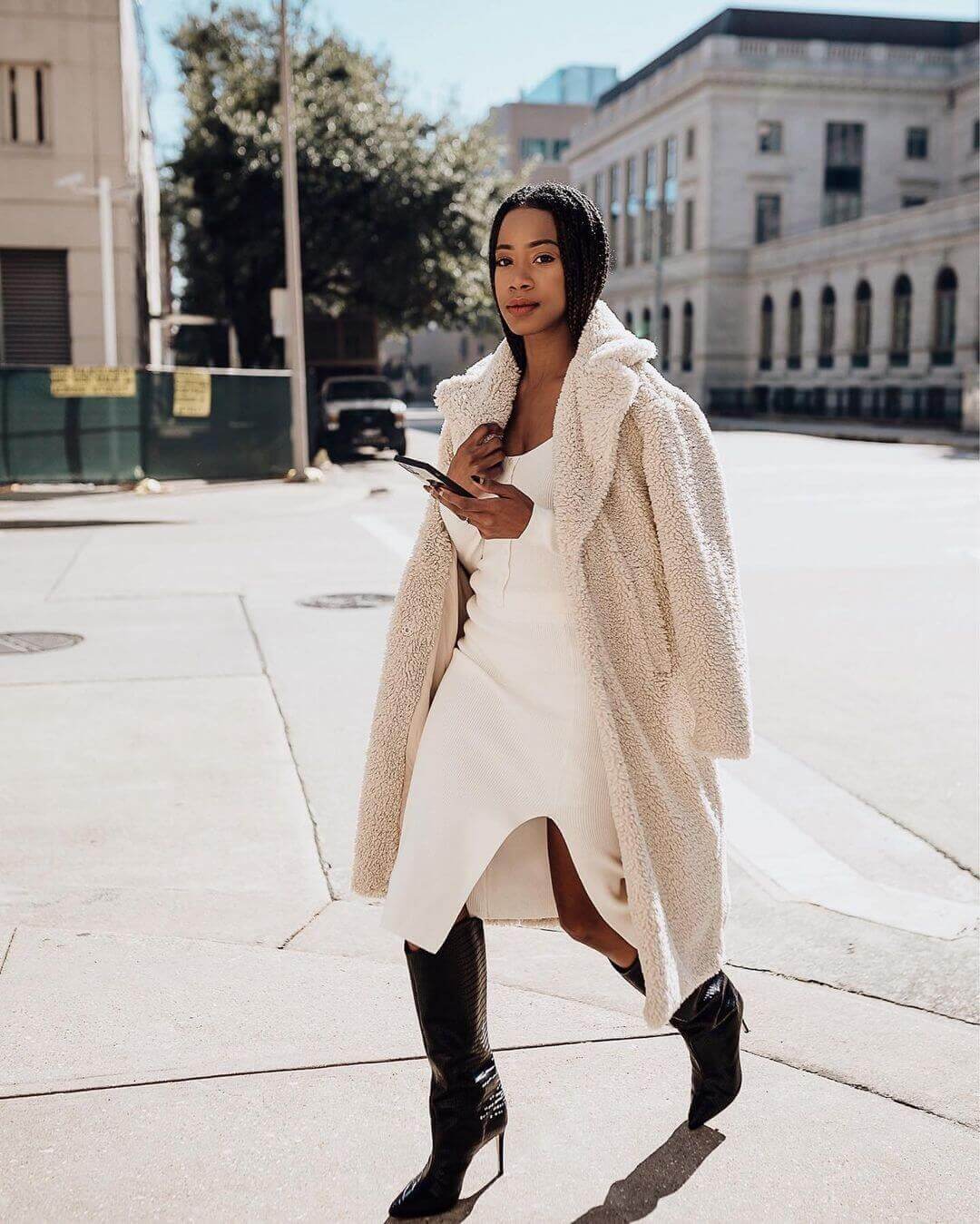 Photo via @imgoodlikemeghan
9) Cozy Chic
Give your winter workwear wardrobe a refresh by incorporating different textures. Chic knit dresses and leather knee high boots are a match made in heaven – and they make the ideal base for a faux shearling or fur coat. Cream tones help pare back the statement vibes and make the entire fit feel more elegant.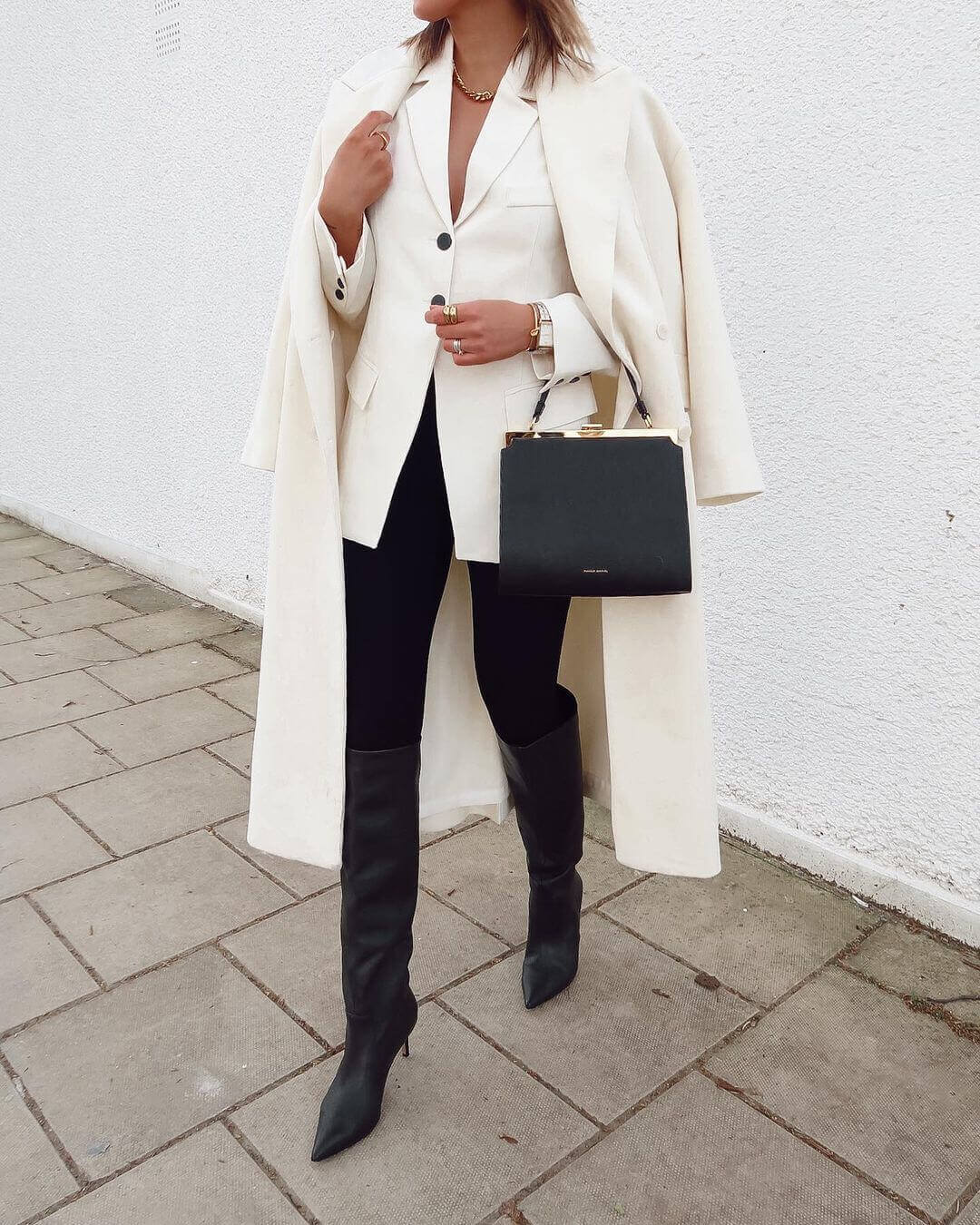 Photo via @itsjustinesjournal
10) Smart & Tailored
If you love classic workwear, take the pieces you already own and play with varying proportions. This blogger does smart tailoring the right way by buttoning a white blazer on top of black leggings. The longer coordinating coat with sleek boots take the office look to another level. Complete the look with gold jewelry and a structured top handle bag.

Even if you've been working from home for past several months, we're big believer that it's worth getting dressed for the occasion. It's not only motivating, but gets you in the right mindset to be productive. As evidenced above, there are so many workwear pieces you can adapt for your home office or the workplace. Pick a few and run with them!
(Visited 1 times, 1 visits today)