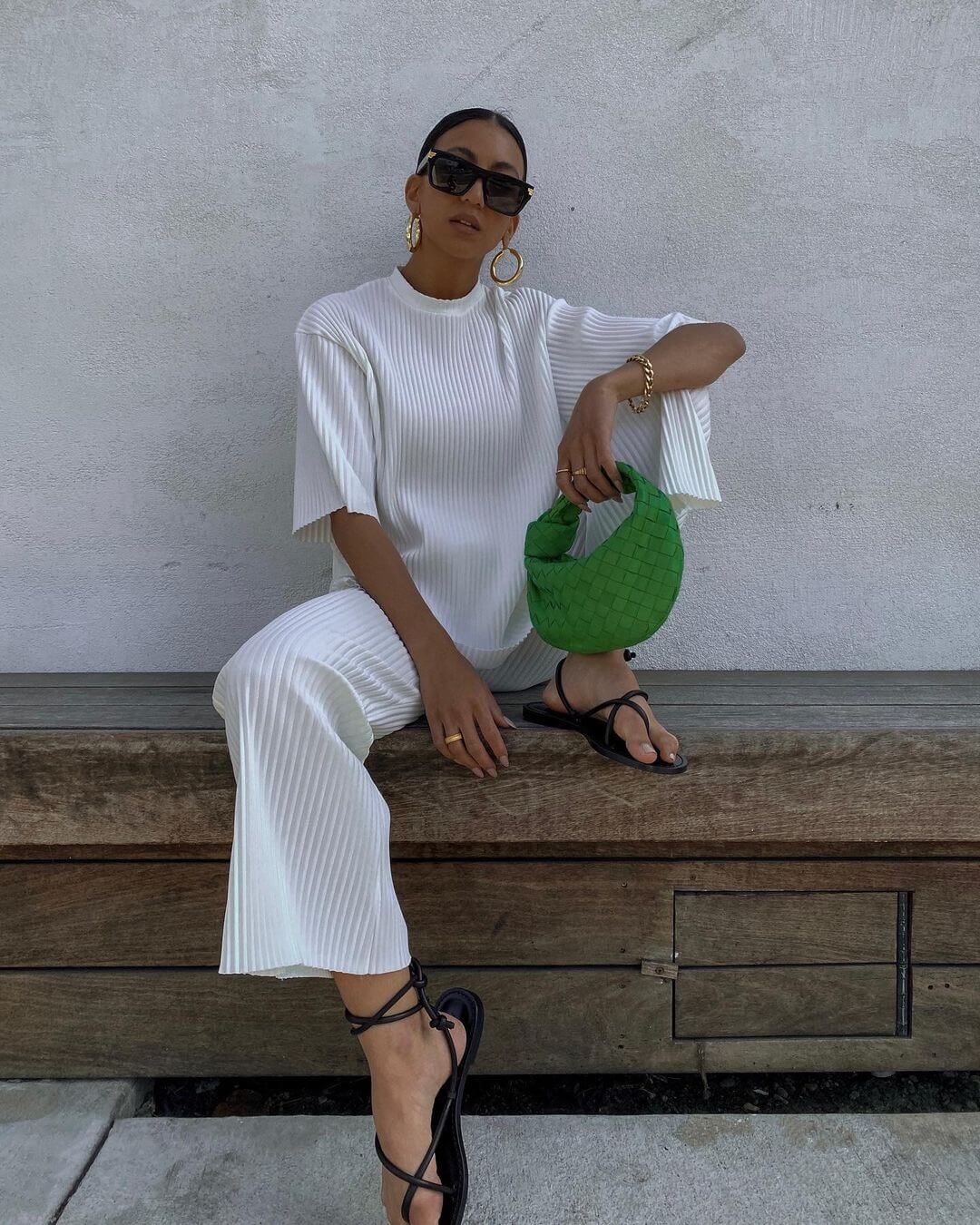 Photo via @kayla_seah
White has always been a staple color to wear in the summertime. Whether you are wearing bright whites or warmer toned creams and ivories, it never fails to look sharp and refreshing on everyone. Despite all the bold colors saturating the market right now, white still manages to stand out and make a statement. So let this be your sign to rock a monochromatic white outfit this season. Although it can be intimidating to tackle, there are so many benefits that make the risk worthwhile. For instance, it makes an effortlessly chic outfit no matter where you're off to. Wearing white will also keep you cool as it repels heat (rather than absorb it). That said, the last thing you want to do is throw on a random assortment of white articles of clothing. To help you master the art of all things neutral monochrome, we rounded up 10 white outfits for summer you'll want to replicate.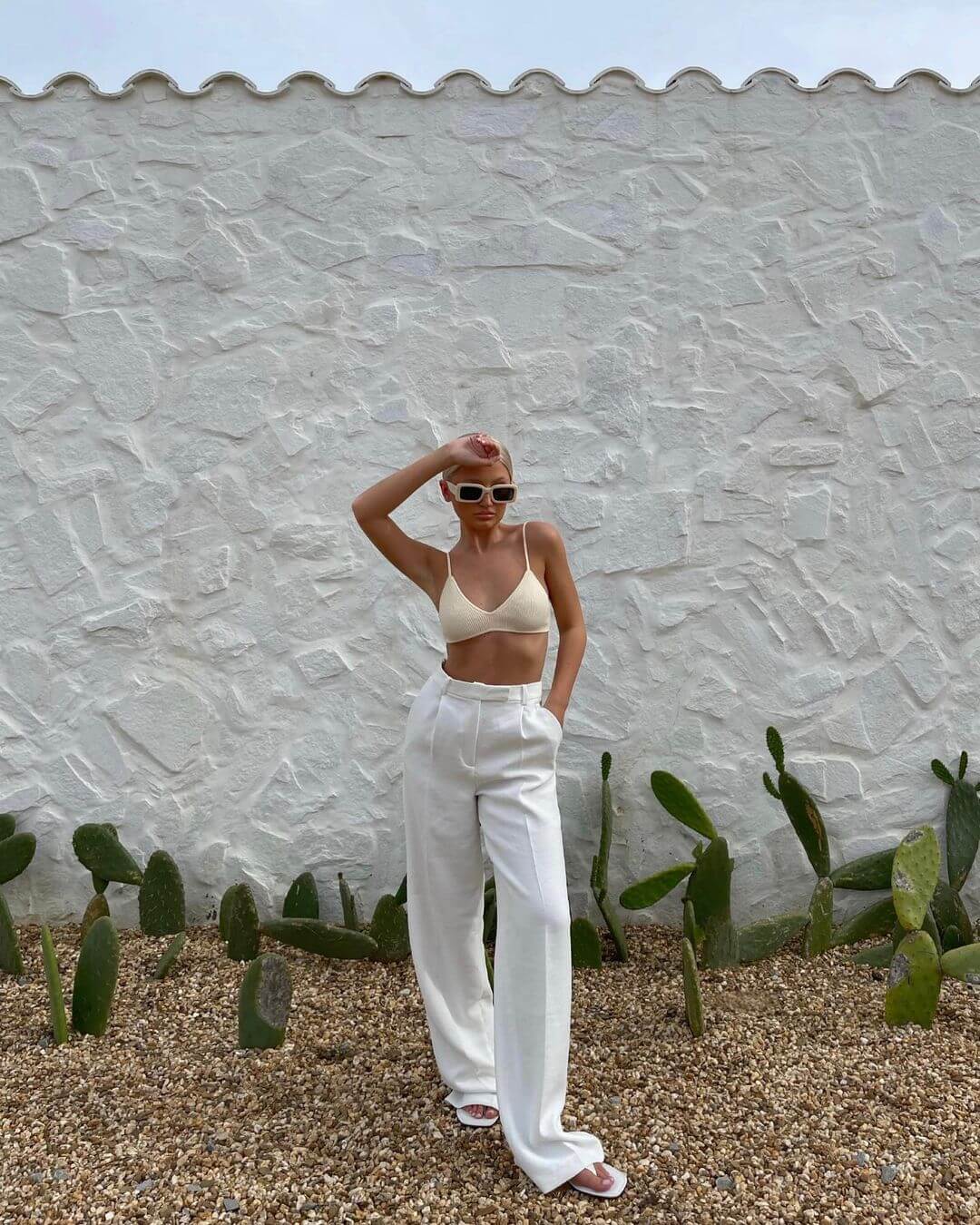 Photo via @_rebeccajackson
1) Beach Side Whites
Chances are you will spend some time tanning by the pool side or lounging on some beach. Use this to your advantage to rock a resort-inspired white outfit. Rebecca's outfit is equal parts dressy and relaxed thanks to the styling of the bikini top with some crisp, white trousers. The neutrals are further intensified with the rectangular sunglasses and square-toed sandals.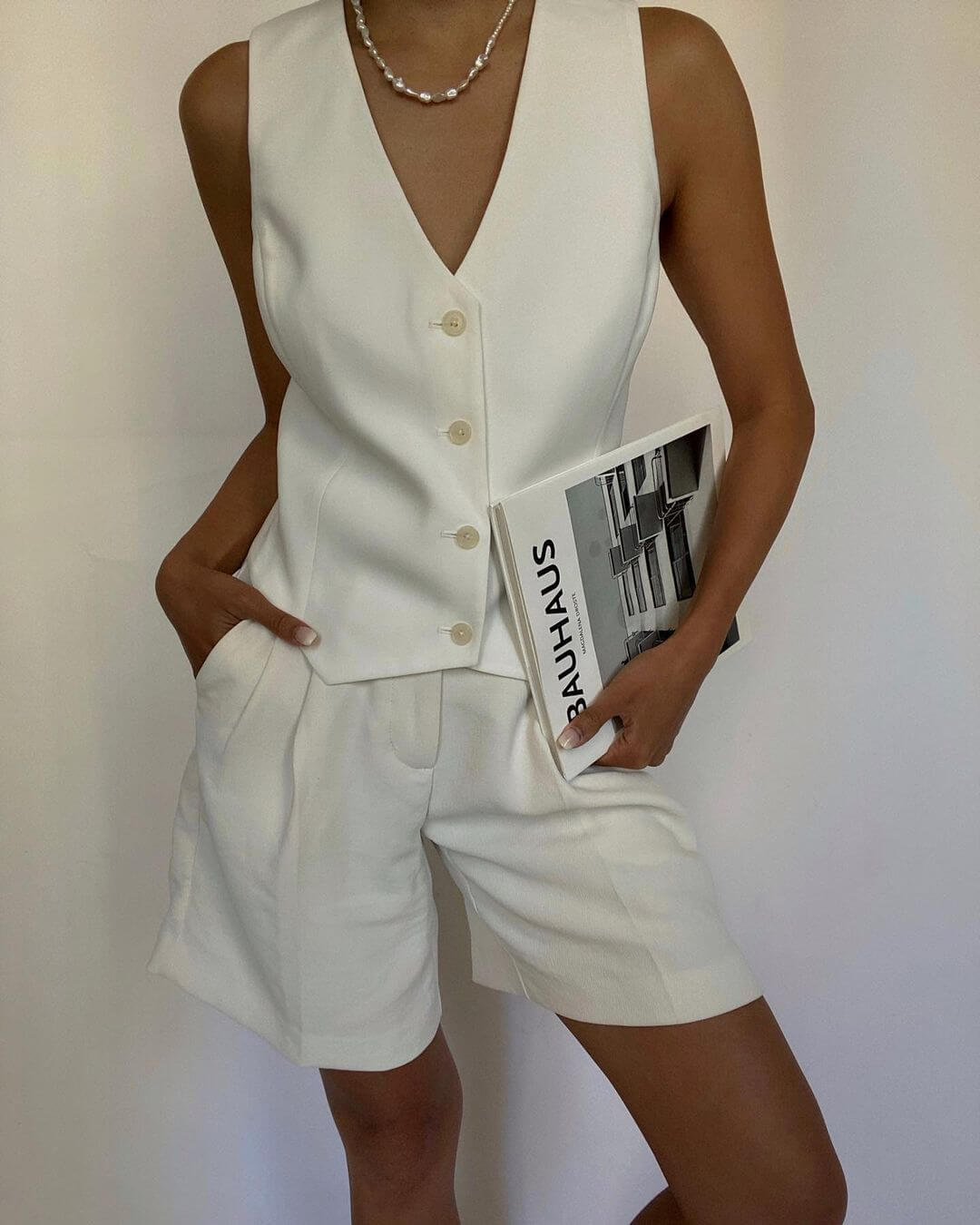 Photo via @dawn.tan
2) Crisp & Tailored
Structured tops and bottoms are a fashionista's favorite and we love this summer take on the look. The vest styled as the singular top and the tailored shorts make a fantastic combo. This creamy outfit is perfect for any semi-formal event you have upcoming this summer. Just finish off the look with some slides or strappy sandals.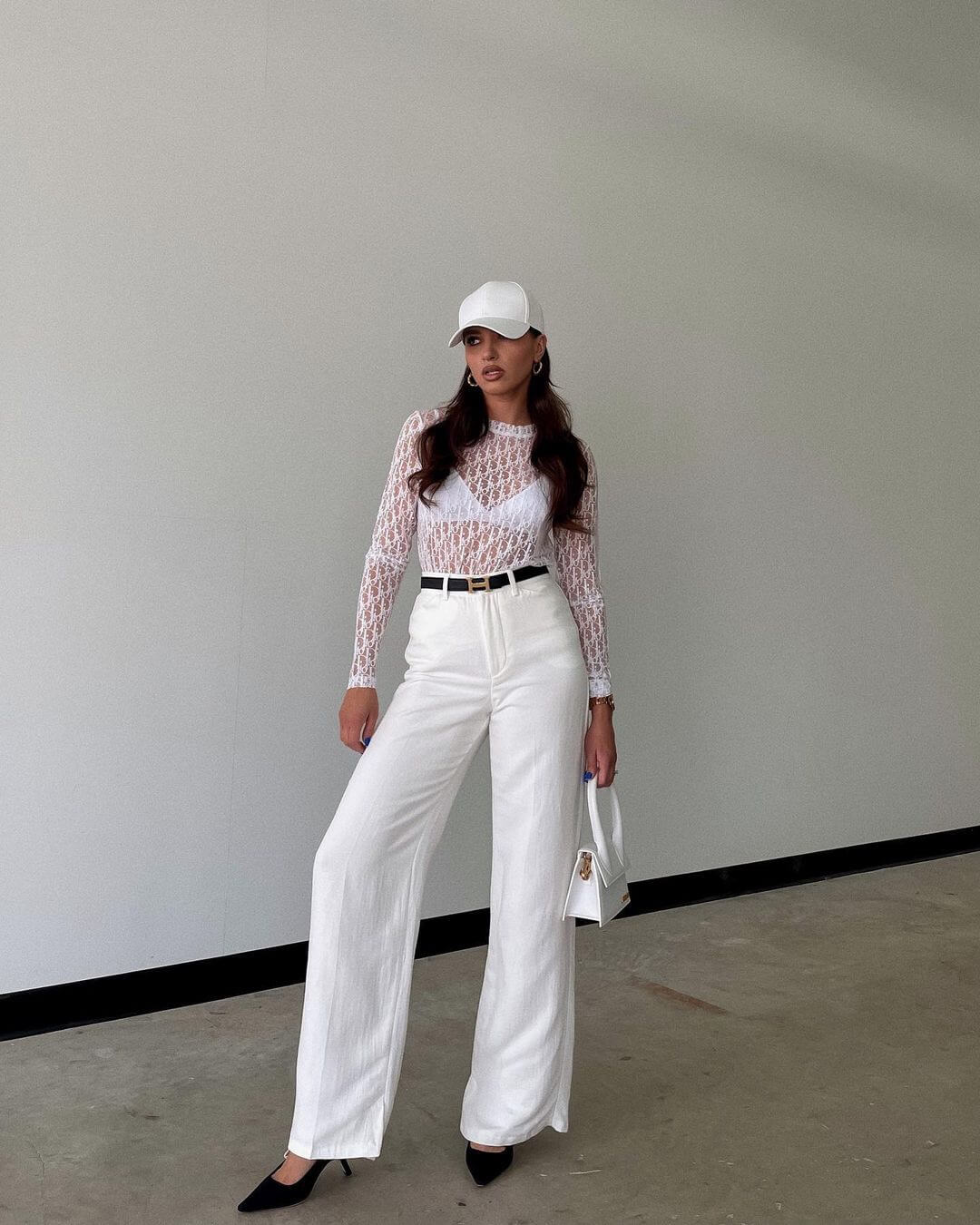 Photo via @vitaliia
3) Texture Play
When it comes to a monochromatic outfit, we always recommend mixing textures. This white outfit for summer is a top tier example as it skillfully incorporates a sheer lace top, belt and denim. When meshed together, each piece manages to break up the color just enough to give the look more surface interest. We highly recommend incorporating lace to inject some summer romance into your wardrobe!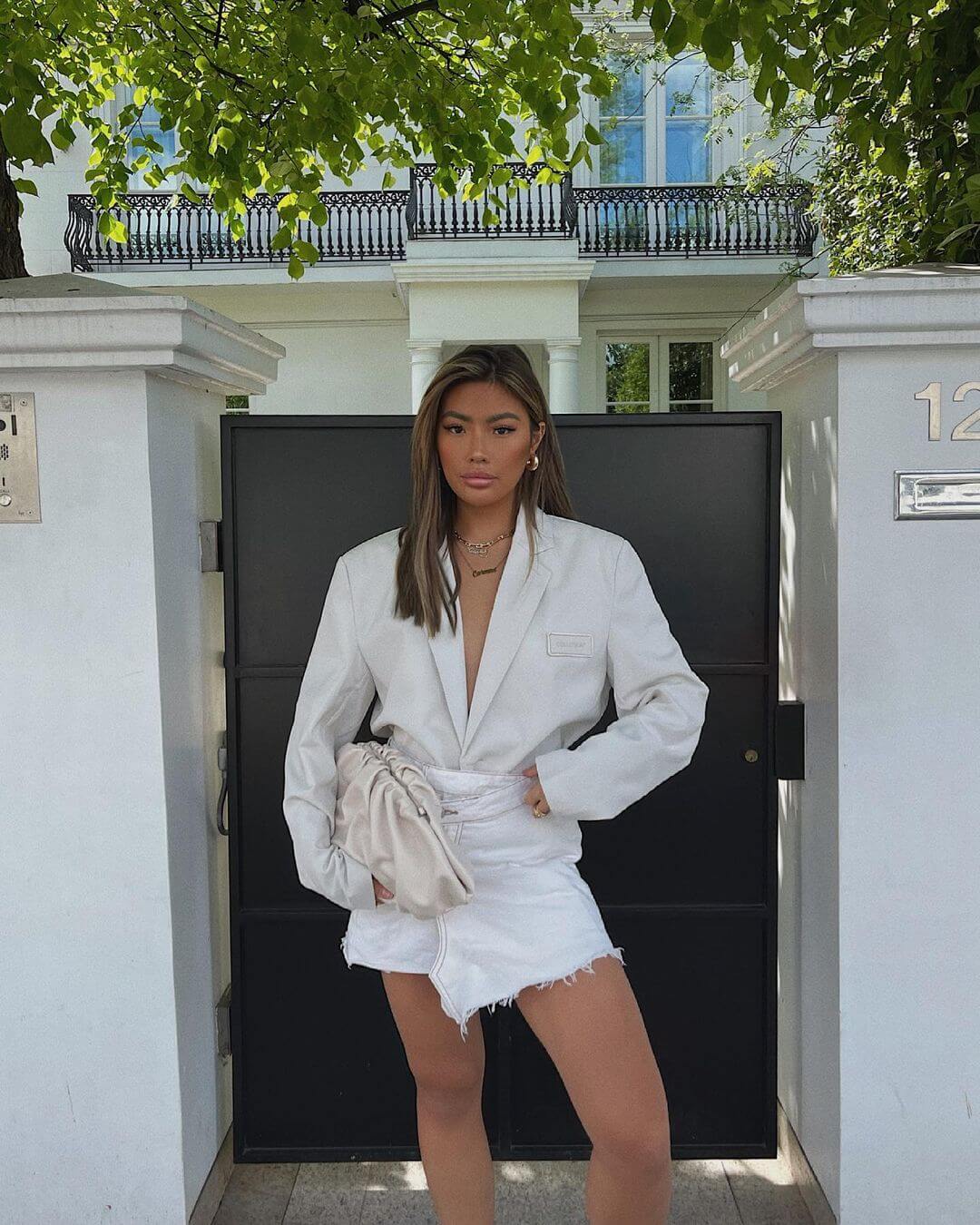 Photo via @x_carms
4) Work & Play
If you are looking for a stylish outfit to transition from the office to after hours, say hello to this neutral outfit. The light, linen blazer is actually tucked into a casual denim skirt for a cool and unexpected yet catchy look. The finishing touches of the trendy dumpling baggy and chunky sneakers, also in a light neutral palette, complete the look.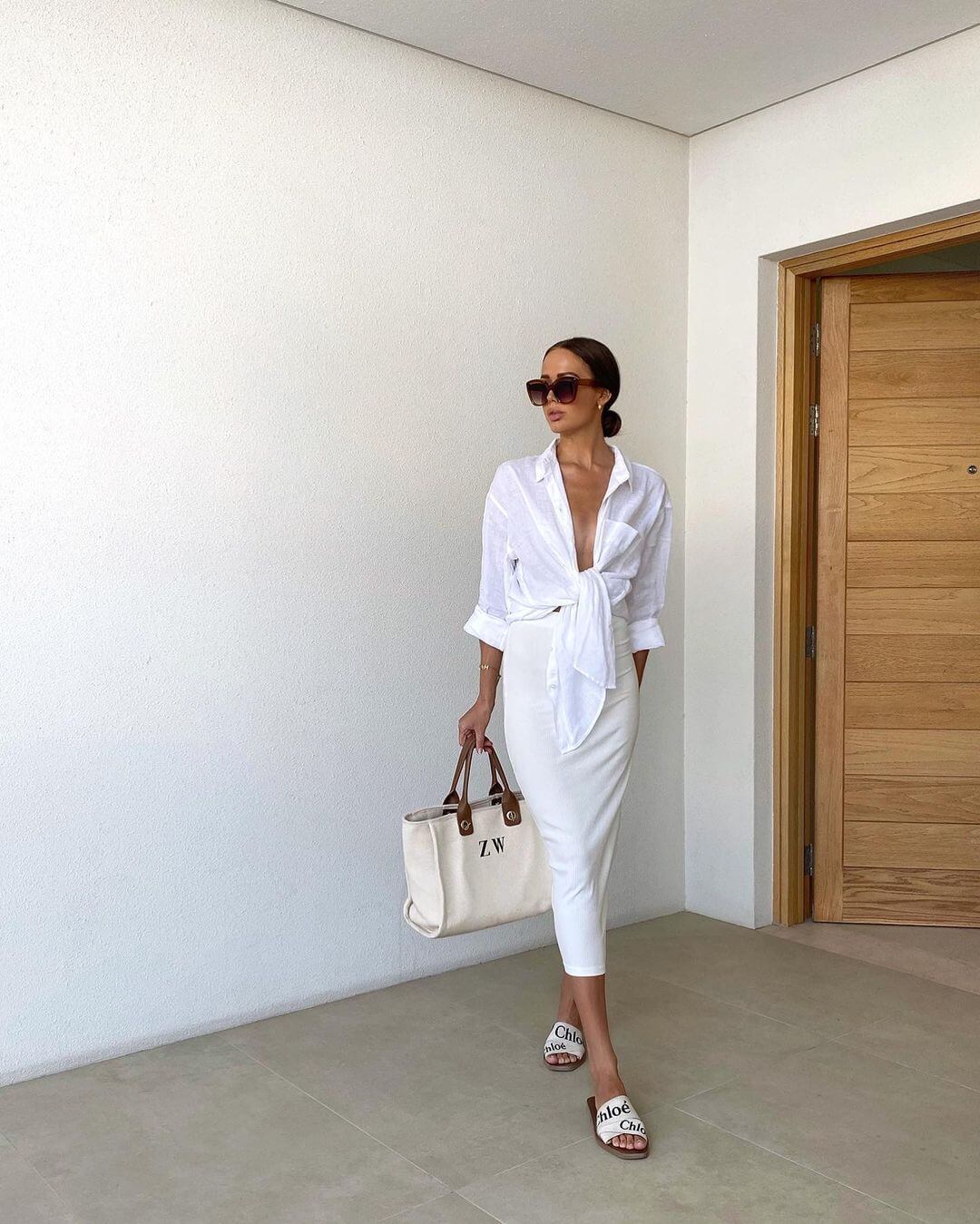 Photo via @zozoewitherspoon
5) Vacation Vibes All Day
A summer white uniform does not have to be anything out-of-the-box either. Sometimes non-complicated outfits are the best. This casual fit is so simple yet so chic – and completely on par with the minimalism trend that's going strong right now. A button-down white top tied at the waist is a great way to add dimension to a head-to-toe white fit. Keep it relaxed by pairing it with a white tube skirt, canvas tote bag and slide sandals.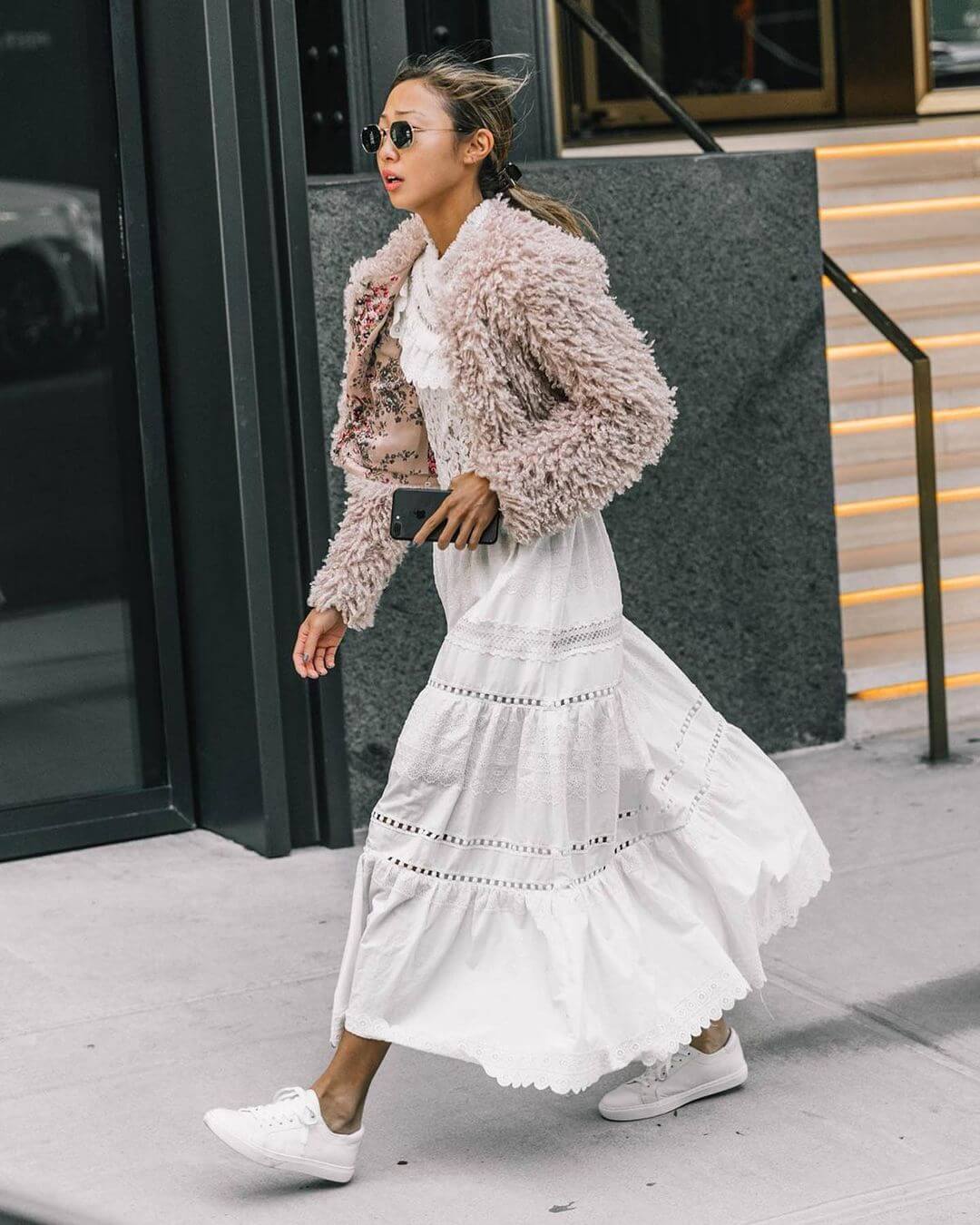 Photo via @collagevintage2
6) Maxi Dress
We love a good maxi dress in the summer but there is something special about one in all white. We're digging styles with romantic detailing, such as eyelet, scalloped edges, and sheer elements. Mix these components with a voluminous silhouette and you have a dress that's as ethereal as ever. It's such an ideal look to frolic all day in. The addition of sneakers make it that much better. Come fall, just throw on a textured jacket and you're all set.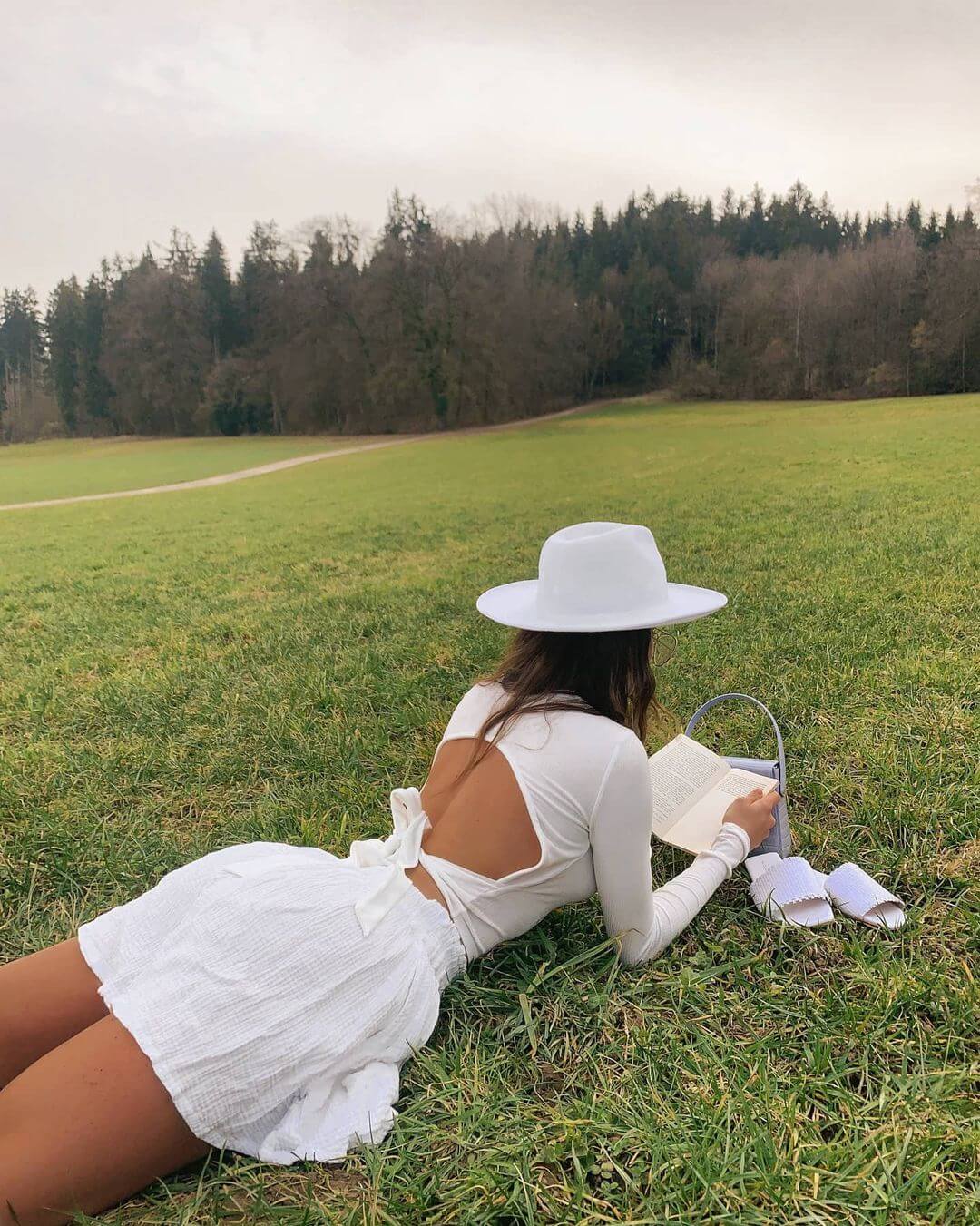 Photo via @thefashionfraction
7) Modern Romance
It's probably obvious by now that white oftentimes translates to romance. This outfit shows how you can channel your inner girly girl with more modern pieces too. The wide brimmed hat is certainly the star of the look – but the other pieces like the sandals, open back top and flounce skirt culminate to produce a lovely ensemble that is ideal for attending a picnic or taking a leisurely walk in the park.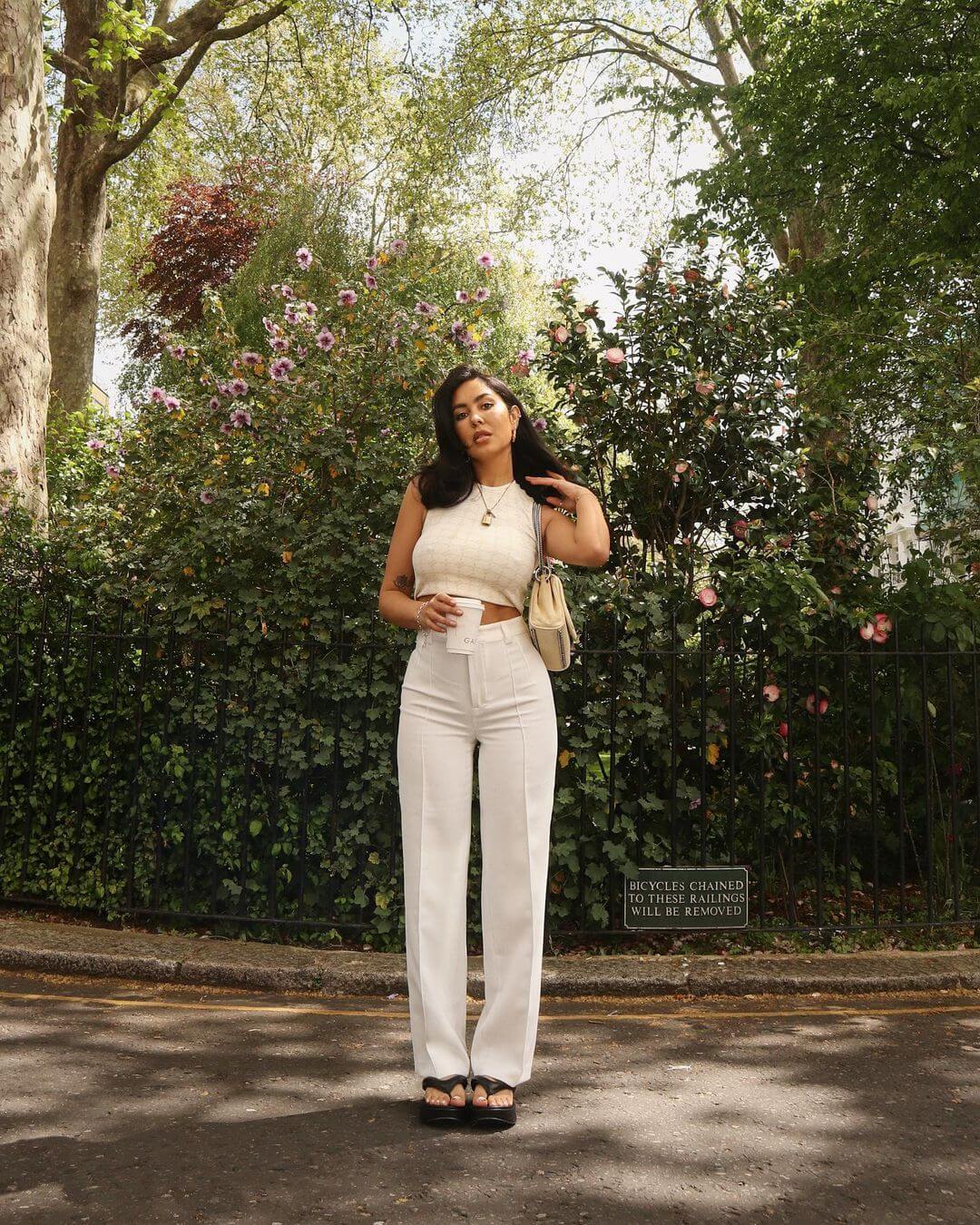 Photo via @yasminechanel
8) Blank Space
White is the optimal color scheme for any minimalist's wardrobe. This elegant summer outfit makes use of the clean colorway in the best possible way. The cropped tank and white trousers may be simple, but they're truly a match made in heaven. Whether you opt for more intricately designed separates or super clean cuts, they'll look instantly chic when combined.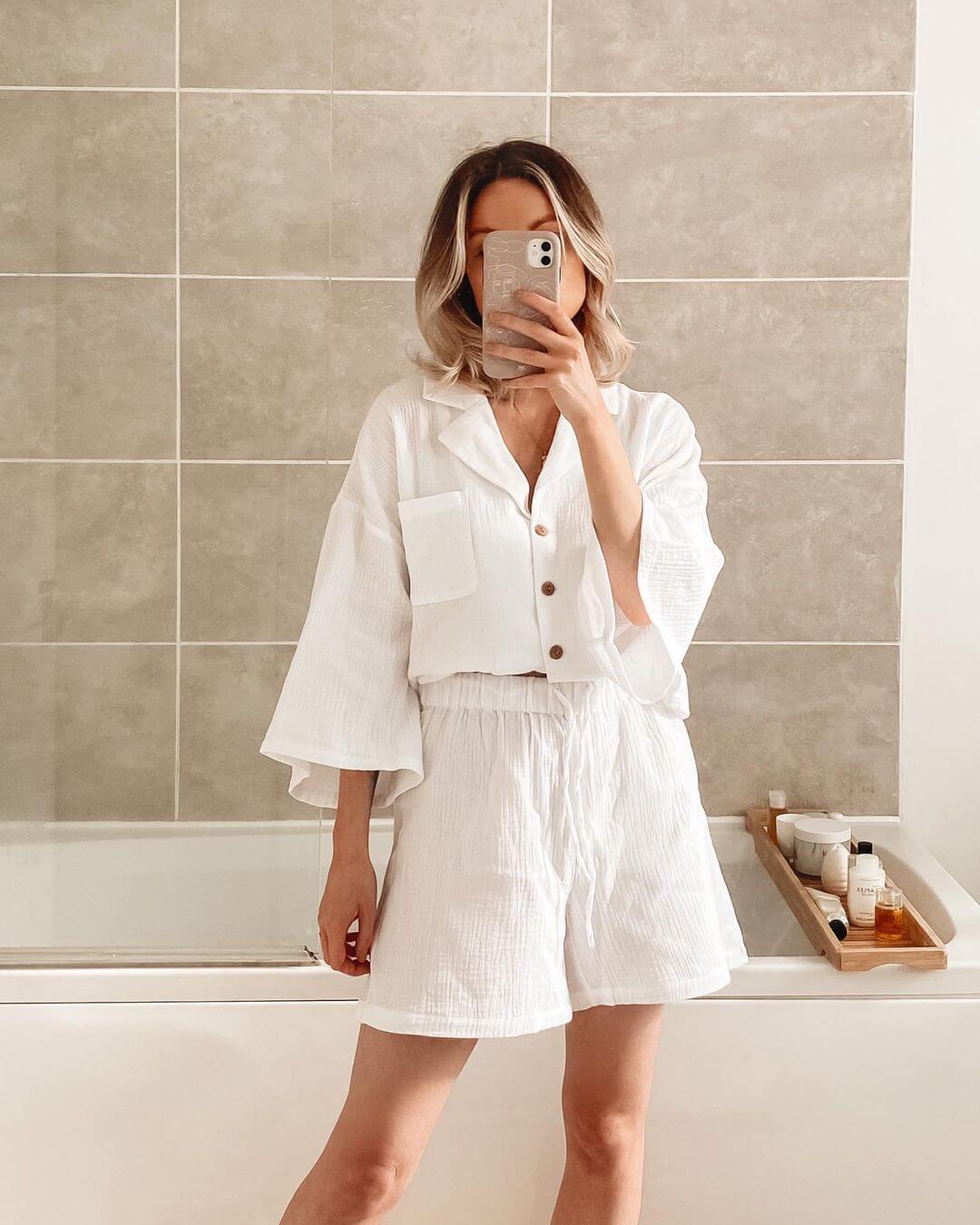 Photo via @ninaleacaine
9) White Linen
Linen is one of our favorite fabrics to wear during this time. The light, breathable fabric makes it a go-to for almost any situation, which means you should pick up some white linen sets. As seen above, an oversized top tucked into loose shorts exudes the best summer vibes. This is a summer outfit you'll find yourself living in all season long.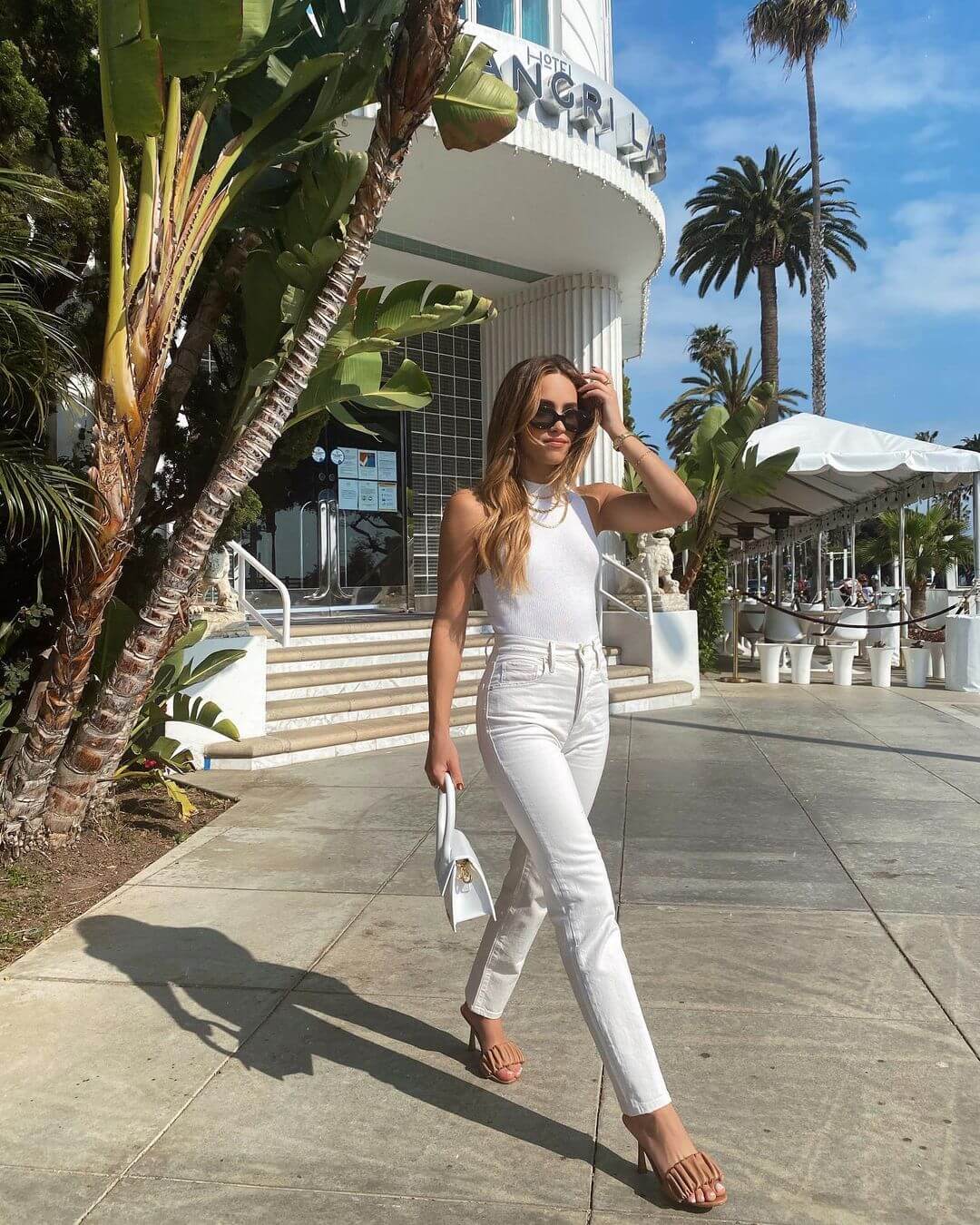 Photo via @claudiagraziano
10) Back to Basics
Instead of overcomplicating your white outfits for summer, why not take it back to the tried and true basics? A pair of high-rise white jeans go a long way. To keep things simple, style it with a basic tank or bodysuit. You can then use the right accessories to elevate it just enough. Think layered necklaces and some ruched heeled sandals.

White, as a fashion color, has been proven over and over to take centerstage around the warmer seasons. Whether you're touring a new city or hanging by the beach side, wearing a white outfit won't just be picture perfect, but looks flawless in real life. Fortunately, it's easier than ever to incorporate this color into your daily looks – just look to one of the 10 outfits above to pull it off.
(Visited 1 times, 2 visits today)