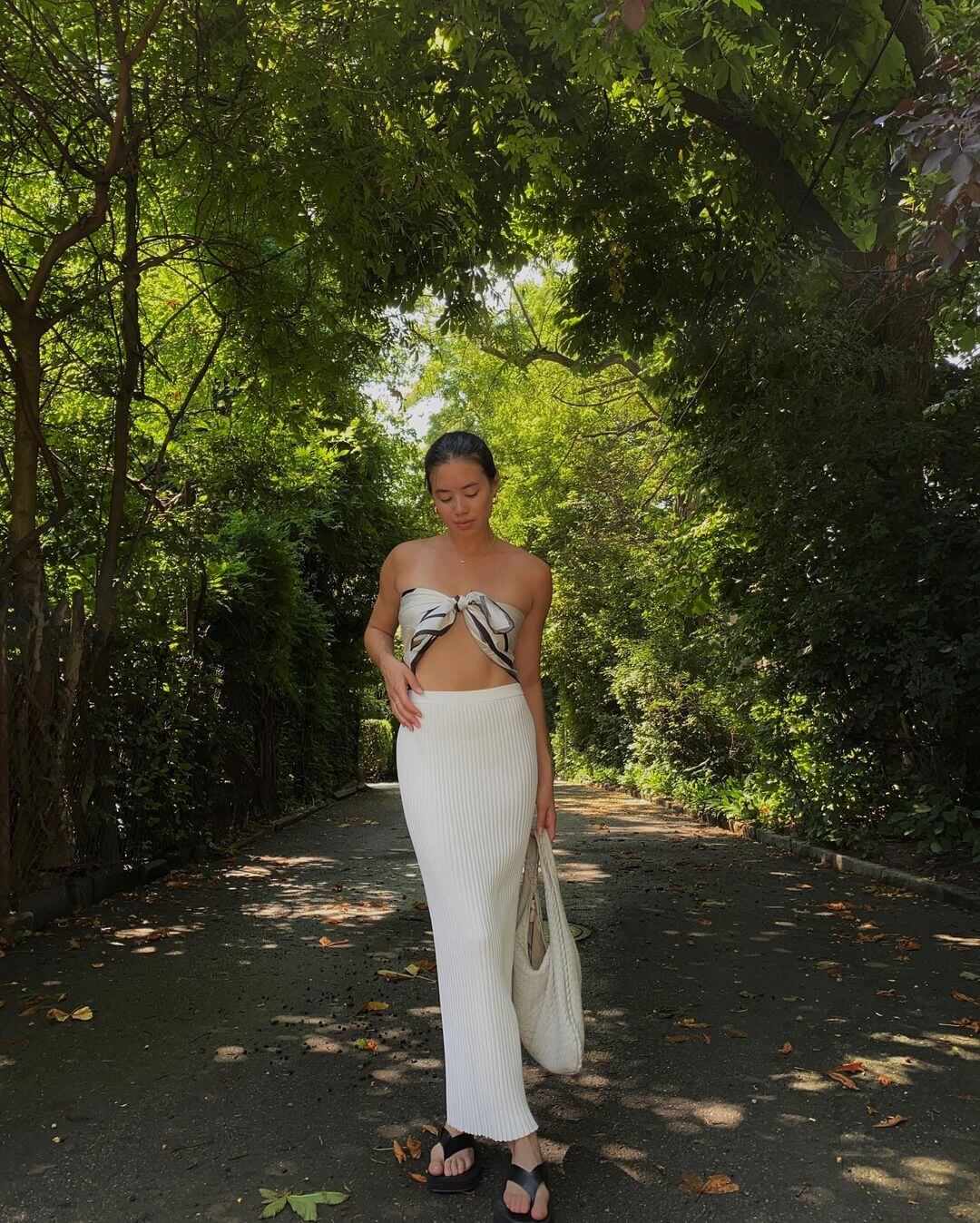 Photo via @sasha.mei
We are in the midst of summer and the rising temperatures are proof that pool party season is in full swing. Whether you have constant access to a pool or just booked a trip to Vegas, it's crucial to have some poolside ready frocks at your finger tips. Cute swimwear is obviously the name of the game – but it's all about what you wear on top. We tend to put an emphasis on cool, breezy pieces that pull double duty and work as a coverup if desired. You really don't need to go buy an entire new outfit too. In fact, we recommend reworking the pieces you already have in your wardrobe – but if you're in need of a little retail therapy, we have all the inspo you need. Either way, you can get started here… Below, you'll find 10 chic pool party outfits that you can make an entrance in.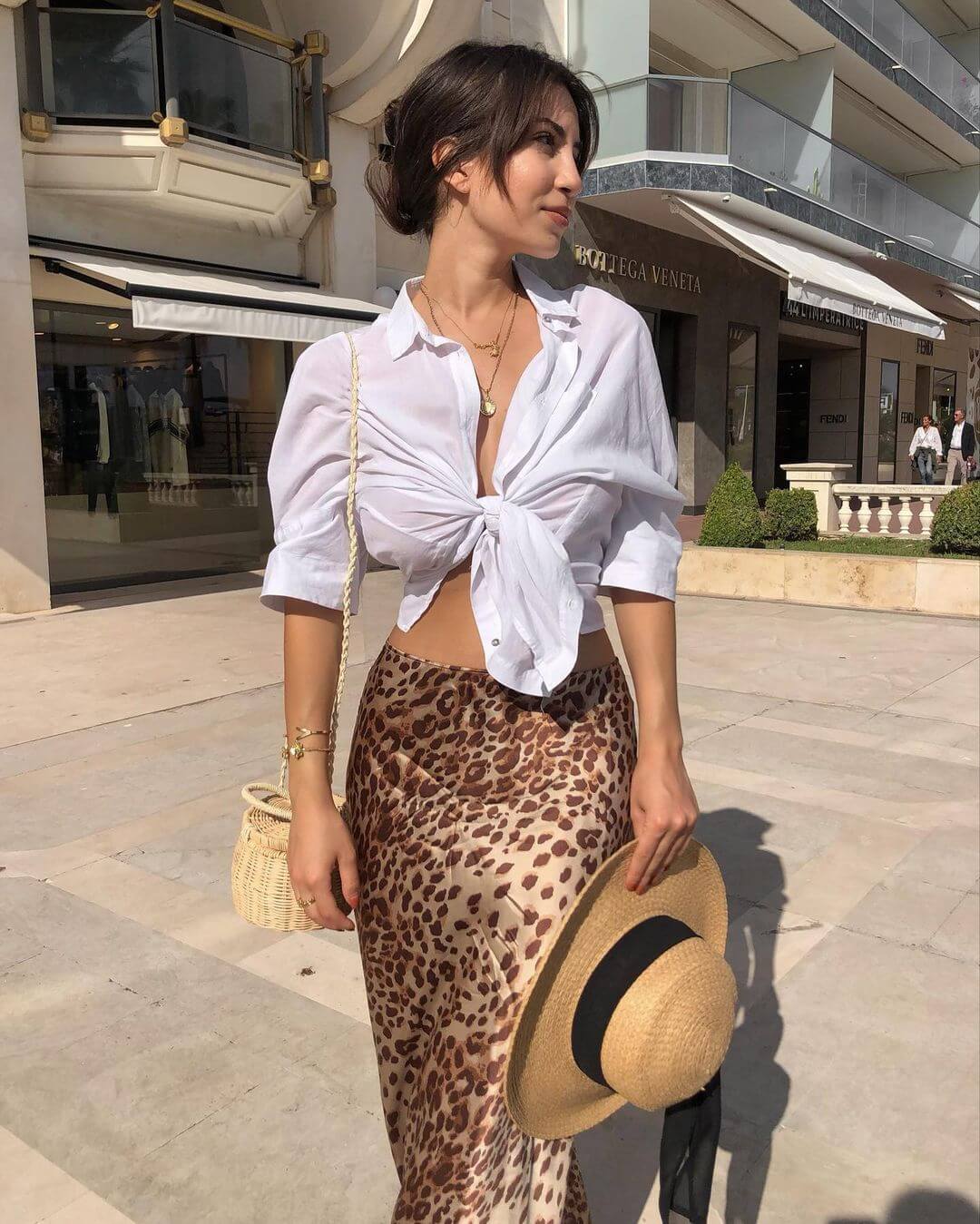 Photo via @ani.maar
1) Button Down Shirt + Slip Skirt
We say this all the time and we'll say it again. A lightweight button-down top is a timeless wardrobe staple that makes for a great cover up. We love how this influencer tied the ends together to create a makeshift crop top, which pairs incredibly well with a high-rise slip skirt. All that's left to complete the look is some straw accessories. This outfit is for you if you plan to be at the pool but out of the sun and sipping margaritas.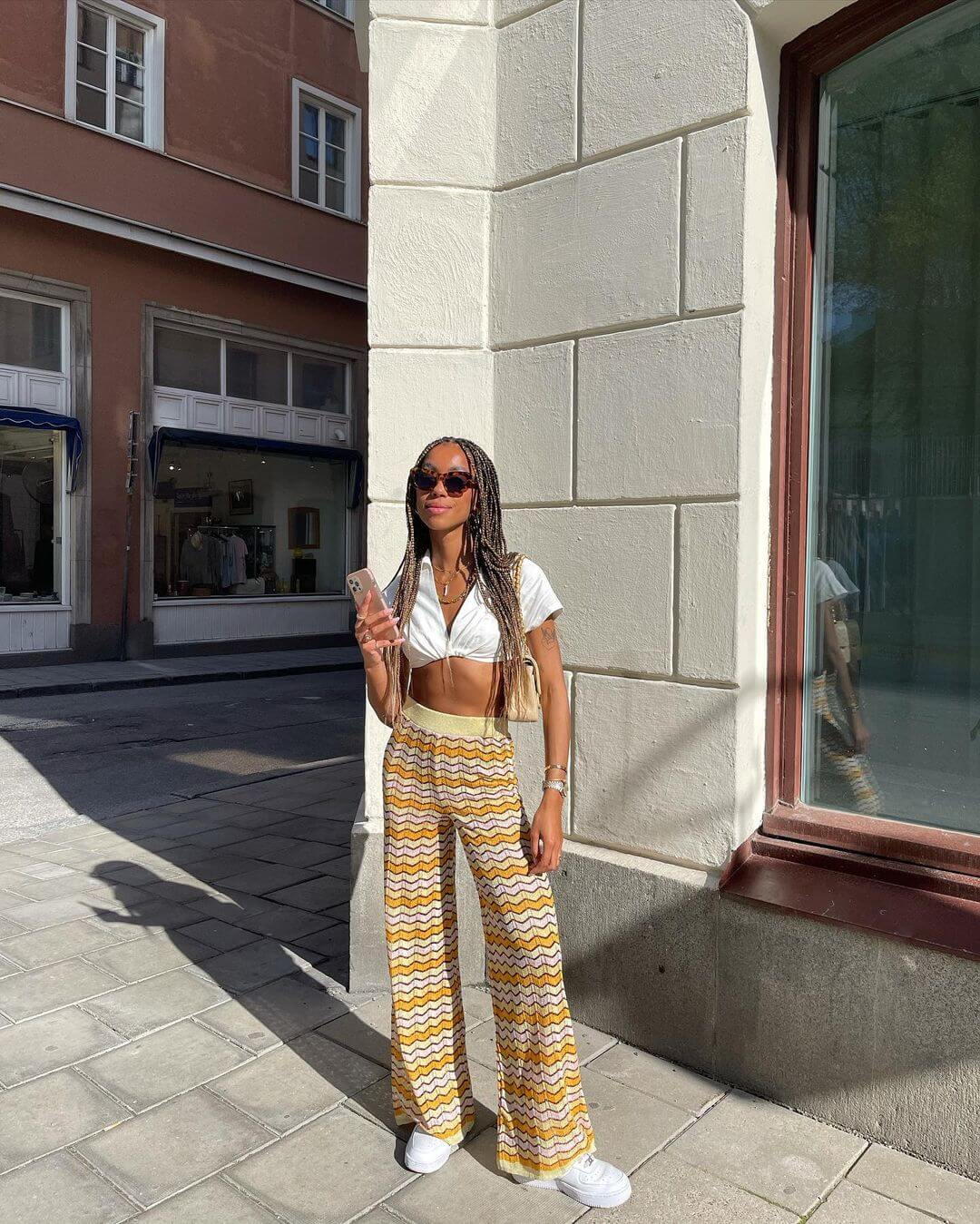 Photo via @amaka.hamelijnck
2) Bold Knit Trousers
For pool party outfits that truly make an entrance, you need a pair of statement knit pants that pack a punch. The lightweight fabric makes them easy to pull over a bathing suit bottom and the high-waisted fit is ideal for pairing with your bikini top. This allows you to simultaneously achieve a trendy everyday look and a poolside-ready fit.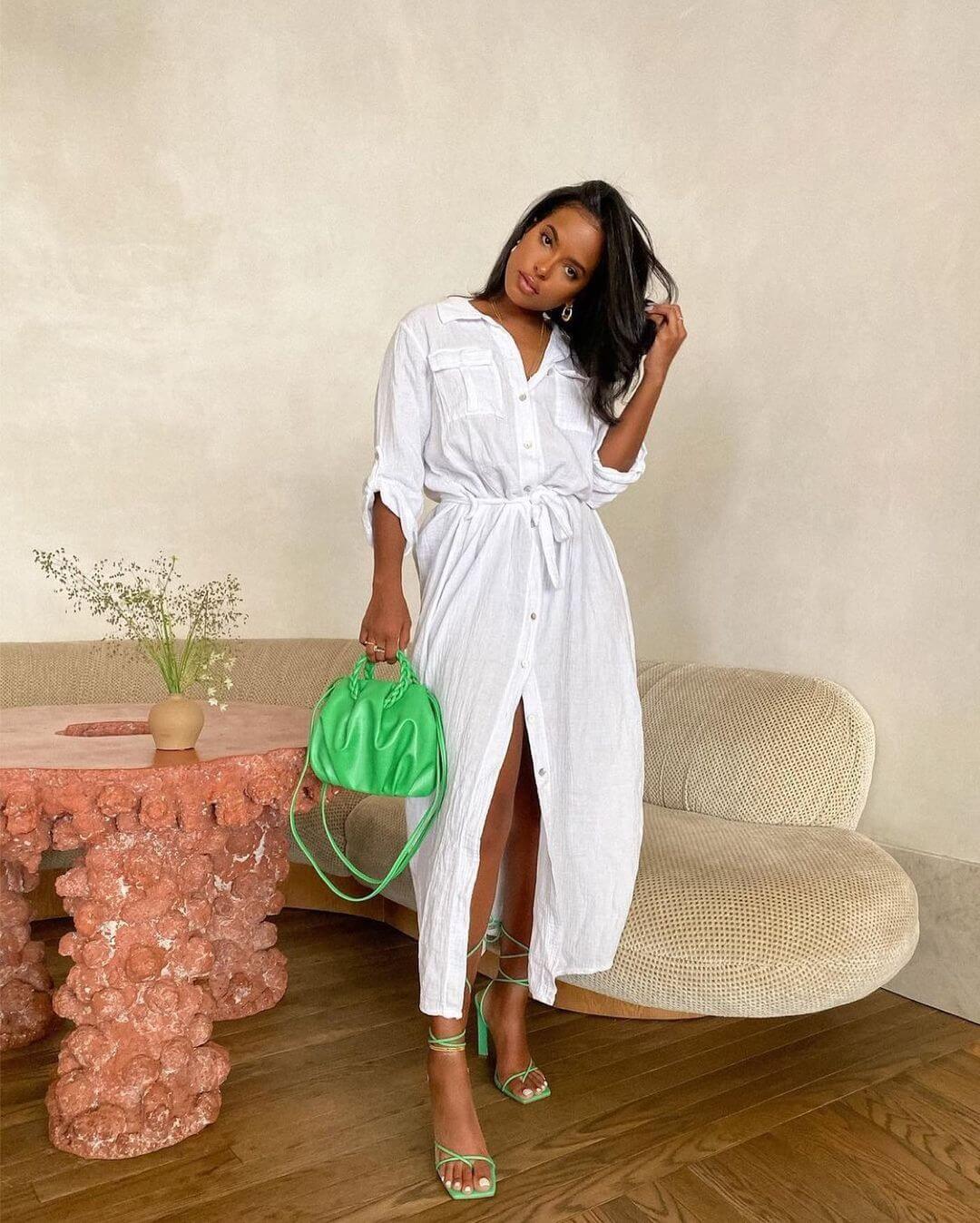 Photo via @alicejoythomas
3) Linen Coverup
Linen just makes sense in the summertime. It is comfortable and practical – and doesn't necessarily look like it's made for the pool That's why a linen coverup dress is the perfect choice for your next pool party. If this look feels to banal and minimal for your taste, you can vamp it up with some neon heels and a flashy handbag.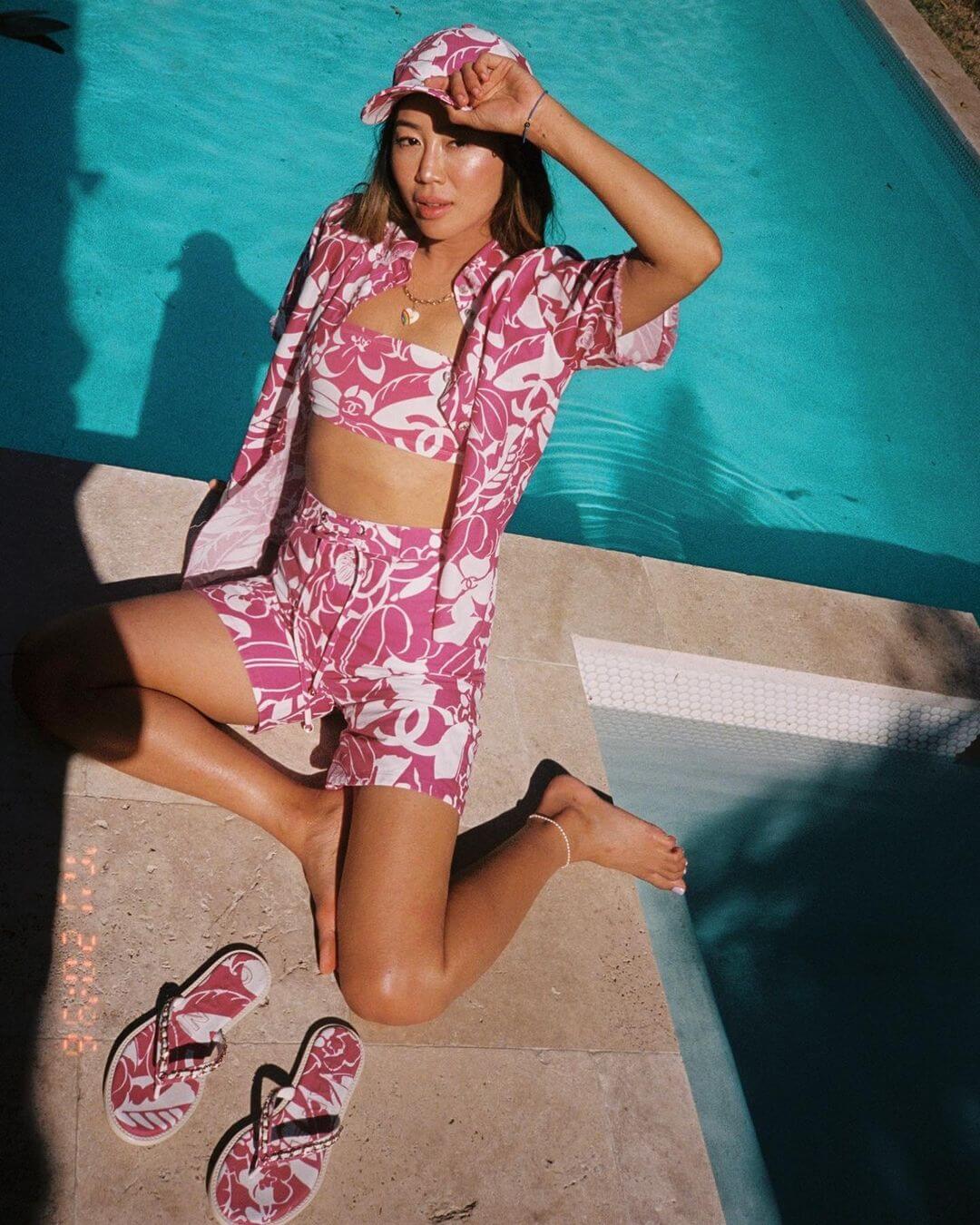 Photo via @aimeesong
4) Matching Set
Matching sets make life easier, but especially when it comes to dressing up for a pool party. A coordinating shirt and short combo is an effortlessly chic option to throw over your favorite bathing suit. Major bonus points if you can literally match from-head-to-toe like Aimee did!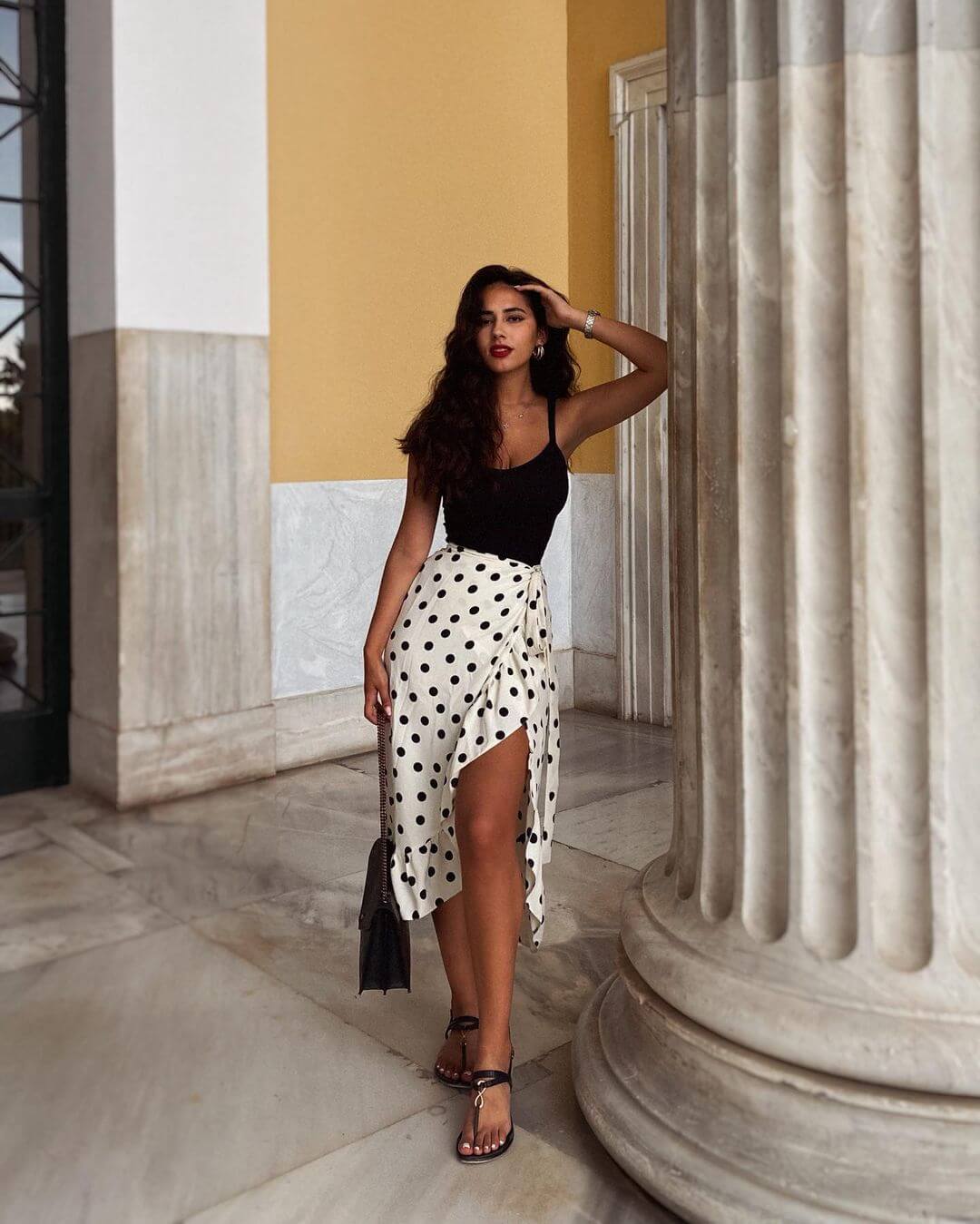 Photo via @imhrisa
5) The Wrap Skirt
A wrap skirt is essentially a sarong but made to be worn out and about, which is the ideal option when you find yourself going from dinner straight to the pool. Just wrap it on top of a one-piece bathing suit, and no one will ever know. Once you arrive to the pool party, you're all set to jump in!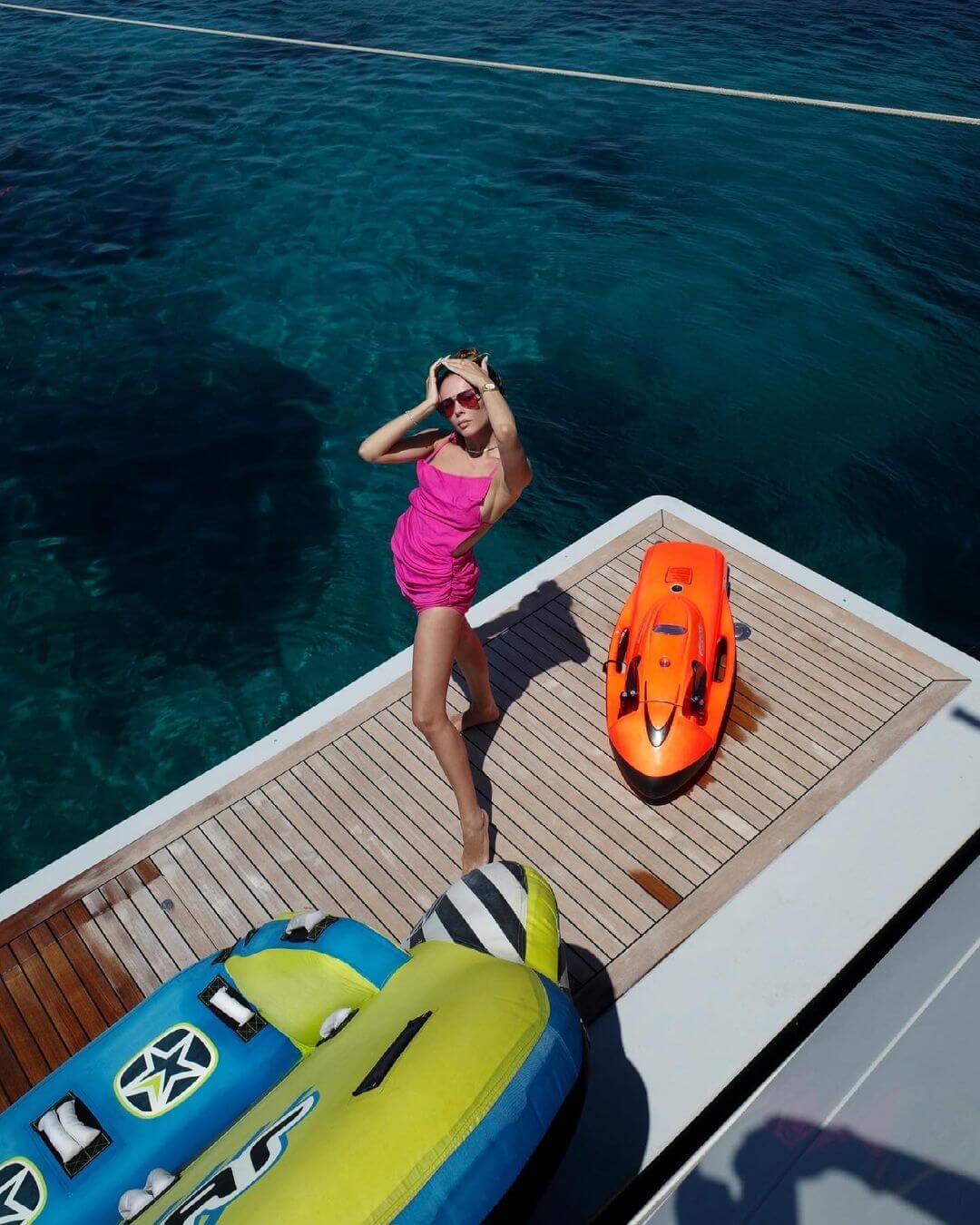 Photo via @styleheroine
6) Open Back Dress
There are times when pool parties are all about socializing without actually going in the pool. For those occasions, you can skip the bathing suit altogether while going for an alternative that is seasonally appropriate. Dare we say the open-back dress is a viable option! It allows you to show off a little skin while still being put together. For a fun, resort inspired look, try opting for bolder colors and prints.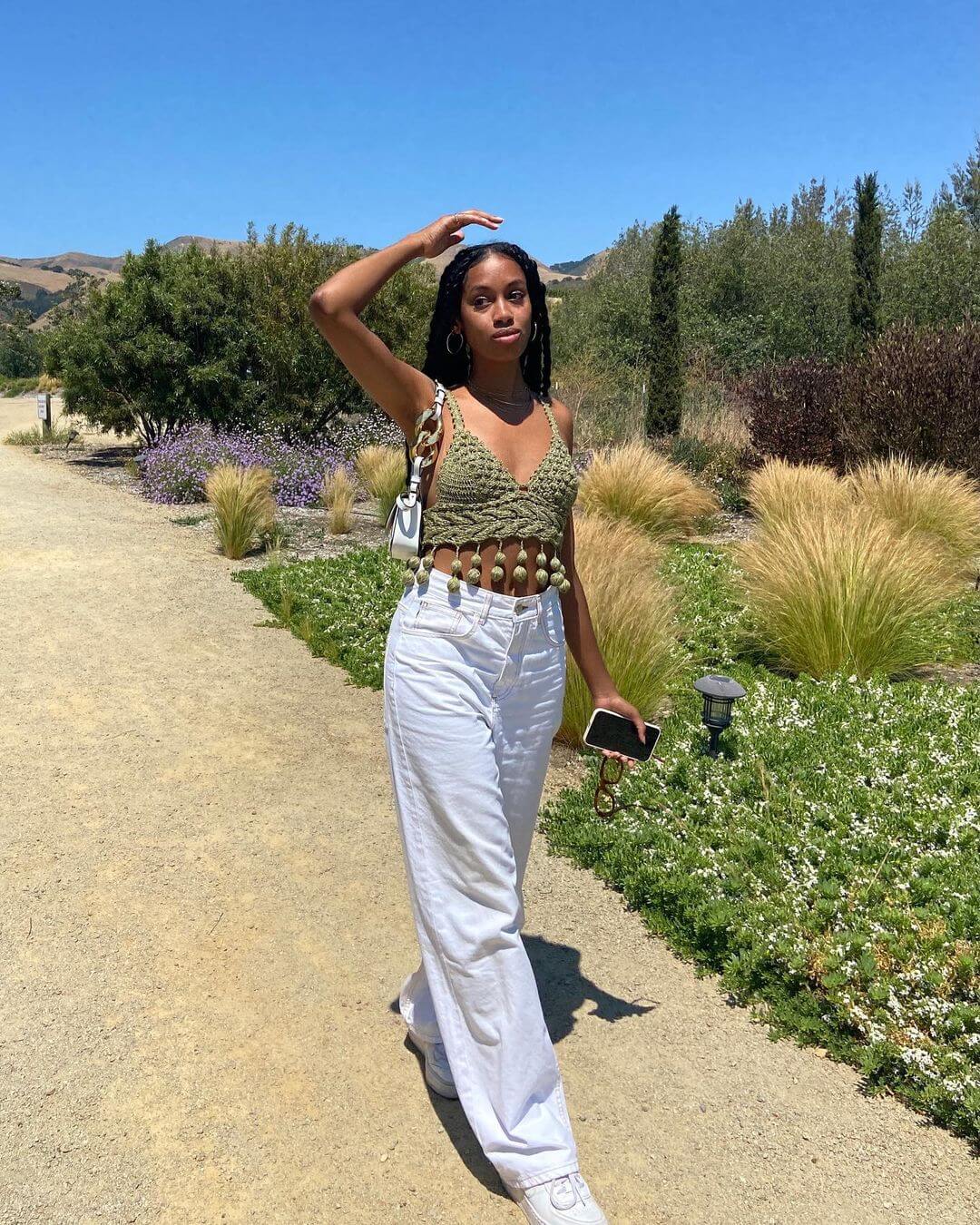 Photo via @claire_most
7) Crochet Top
Denim can make for some cute pool party outfits too. You just have to be strategic about your styling. For us, a crochet crop top will definitely stand out without looking out of place! Now this is a look that can take you from the pool to anywhere else that day. Add a bucket hat and sunglasses for the final summery touches.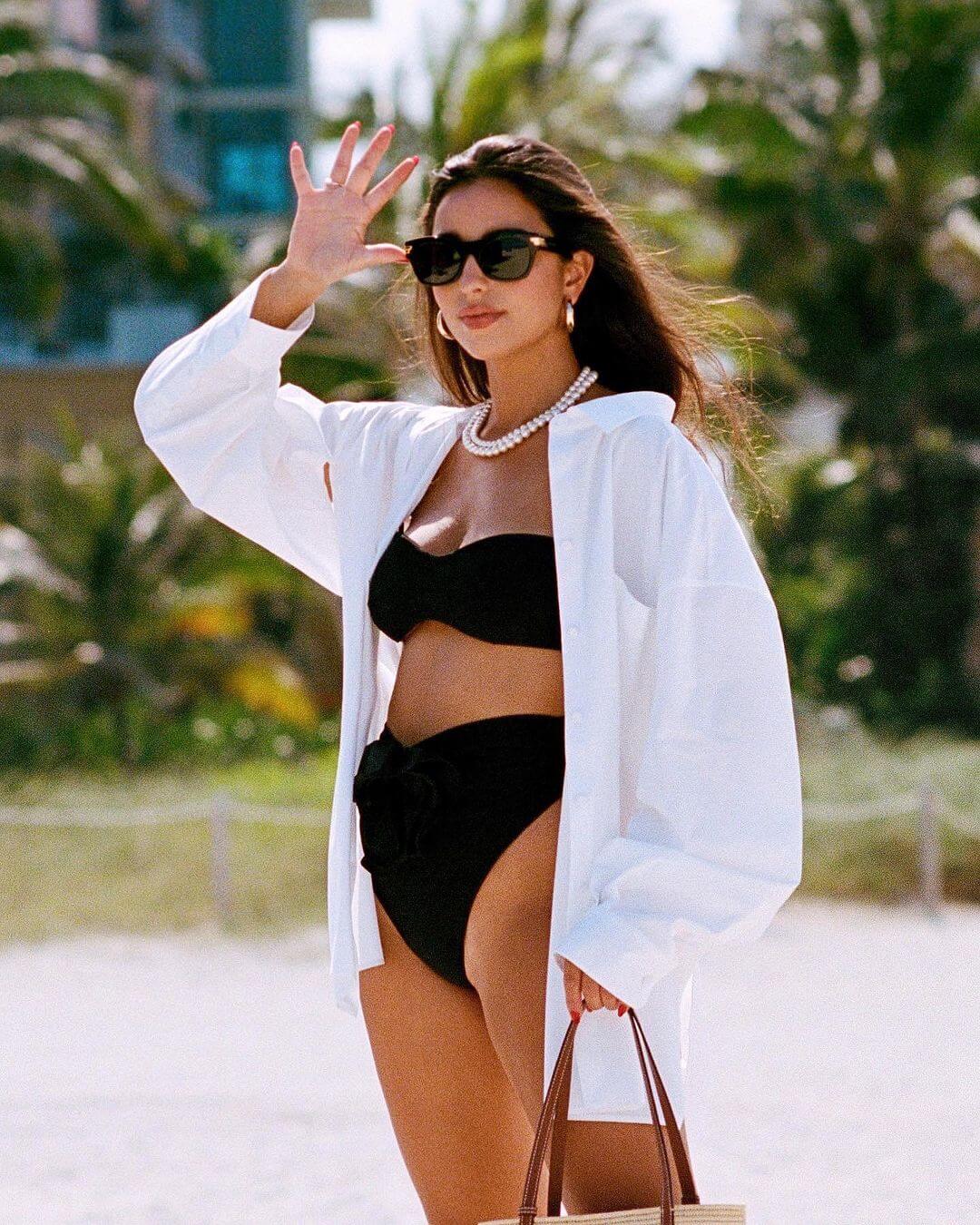 Photo via @bettinalooney
8) Retro Bikini & Shirt
Channel chic retro vibes for your pool party by looking for a high waisted bikini bottom and matching top. As for a cover up, the infallible white shirt is a solid option you can drape over your bathing suit for a little extra coverage. Finally, the oversized sunglasses, gold hoops and pearl necklace are the perfect accouterments on this elegant poolside party outfit.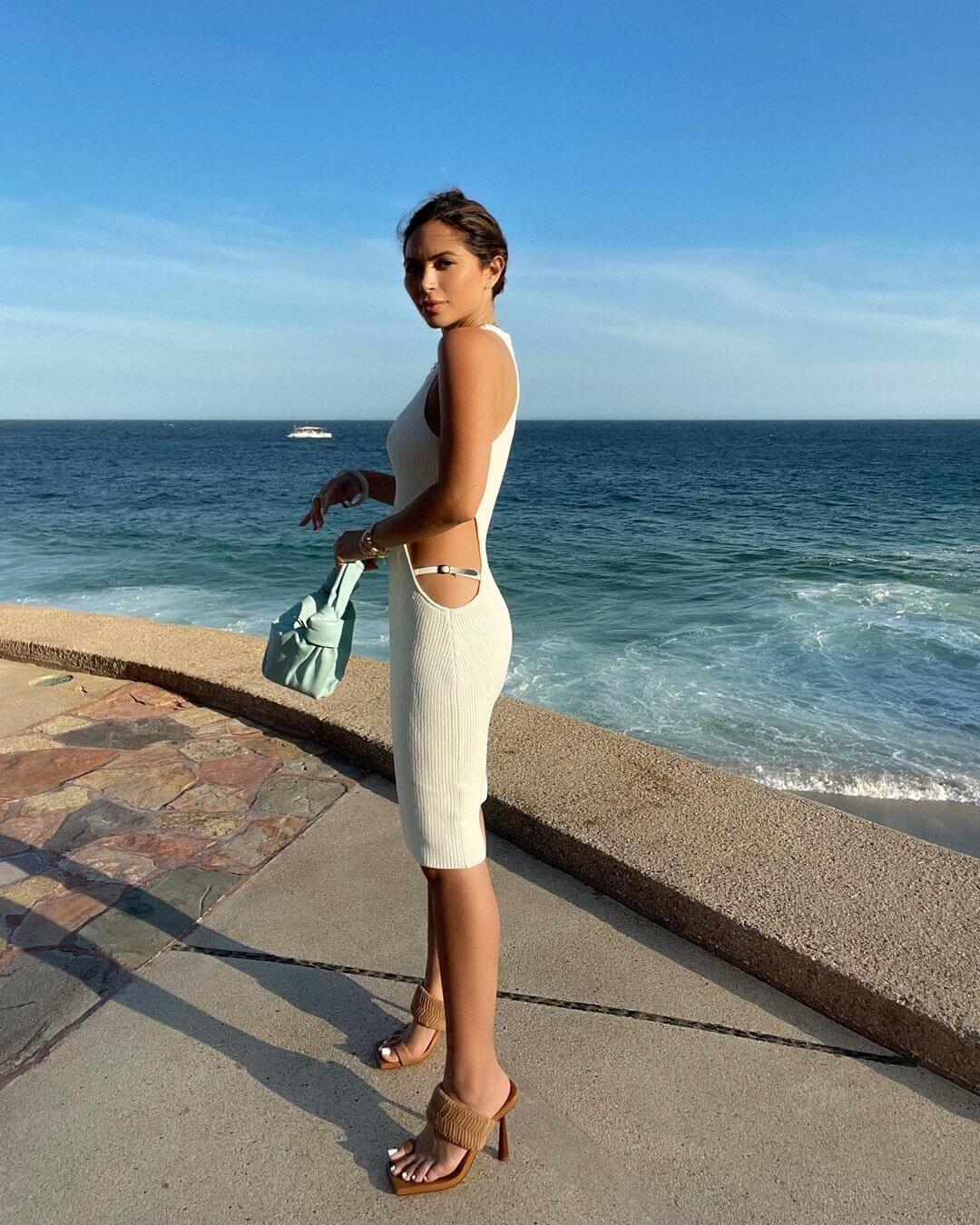 Photo via @marianna_hewitt
9) Cut Out Dress
Feeling spicy? Try this trend for your pool party – cut outs! We love how this particular hip-hugging knit dress has large cutouts on the sides – it is a way to obtain that beach look without actually wearing a bathing suit. Of course, this cut out trend also translates into tops, bathing suits and more so don't be afraid to get creative.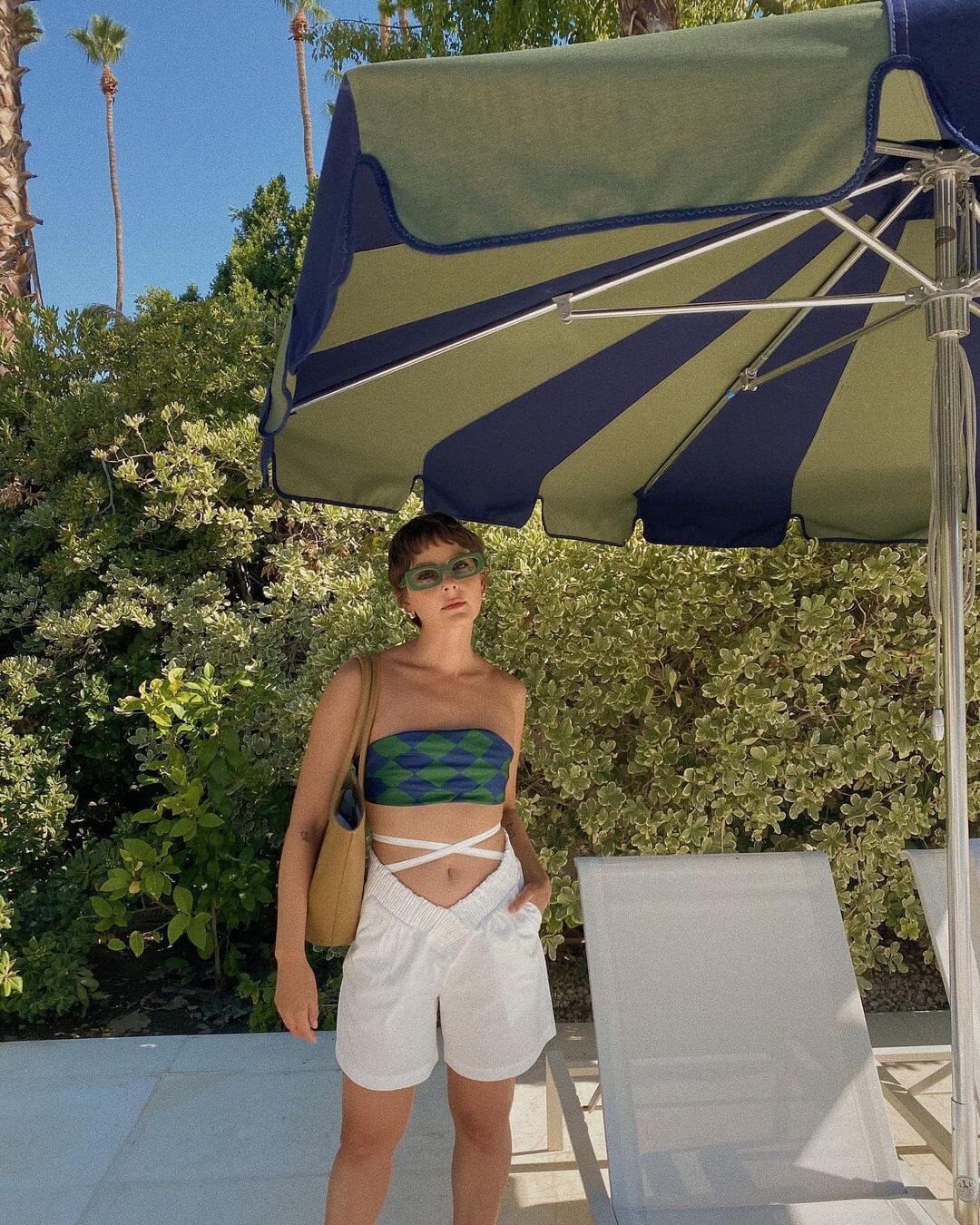 Photo via @alyssainthecity
10) Linen Shorts
The perfect pair of linen shorts is just as easy as throwing on an oversized shirt or dress. However, the best thing about them is that they work well with both a bikini sets and one-pieces. We love how Alyssa keeps her look neutral with a pop of color for that clean, cool-girl style.

With these 10 pool party outfits in mind, we hope you are more than prepared to tackle your next luau-themed party, casual outing with friends, or sultry evening at a rooftop pool. And hopefully, this makes getting dressed easier, so you can make your summer one to remember!