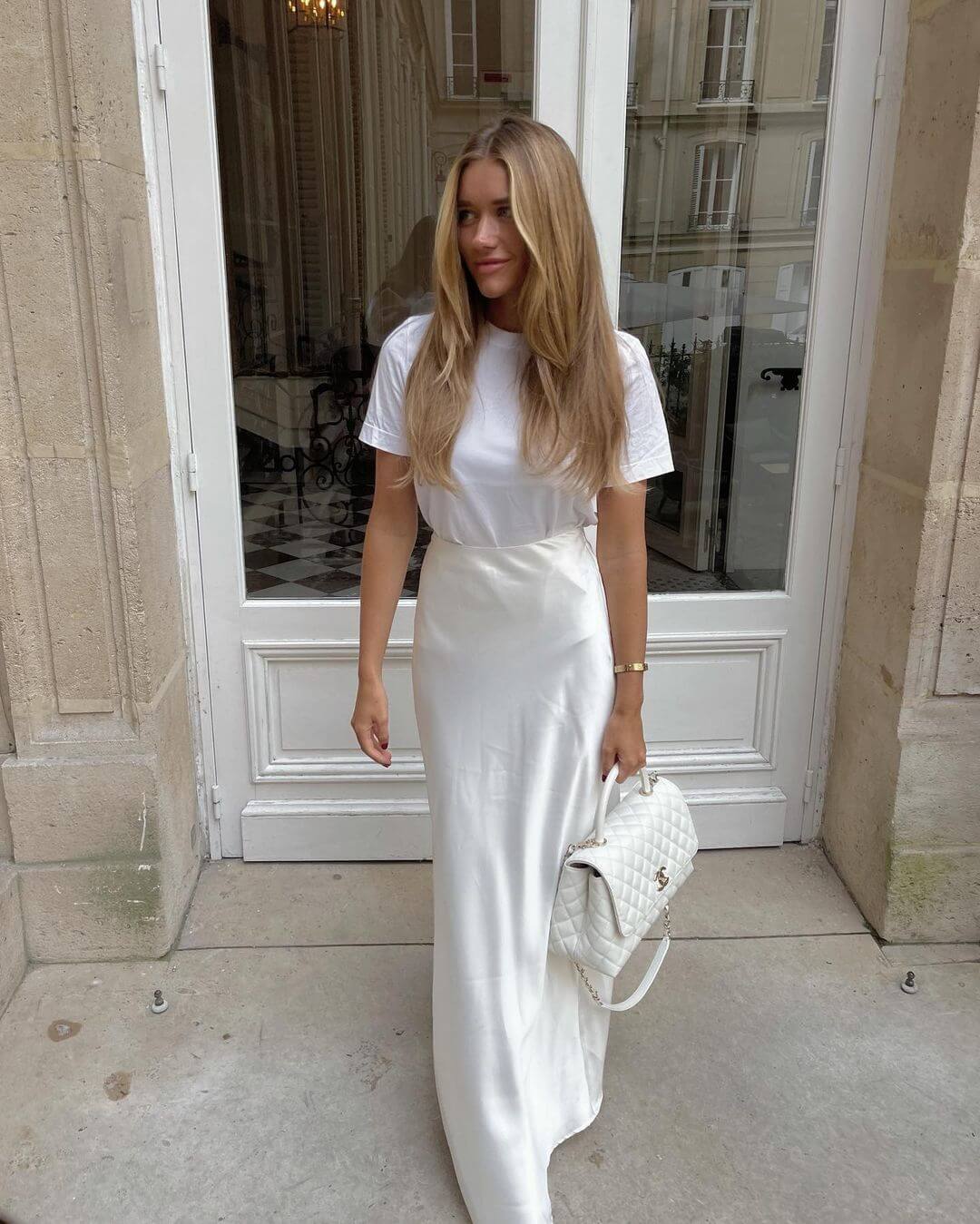 Photo via @lovisabarkman
The brunch movement definitely intensified over the past few years and it's become a culture in itself. It has also become a good excuse to get dressed up on a relaxing Sunday morning and indulge in some delicious food. We're totally on board as we have to admit, there is nothing quite like bonding over mimosas and waffles with your closest girlfriends in your best outfits. Since brunch has become such a way of life, often translating into an Instagram photo op, you might want to have a pocket full of looks that are chic and comfortable to wear at a moment's notice. You'll want to make sure these looks can carry you from a restaurant to whatever else might transpire after whether that's a few hours of window shopping or a stroll around the city. If you need some inspiration on putting your best foot forward this Sunday, here are 10 looks worth emulating.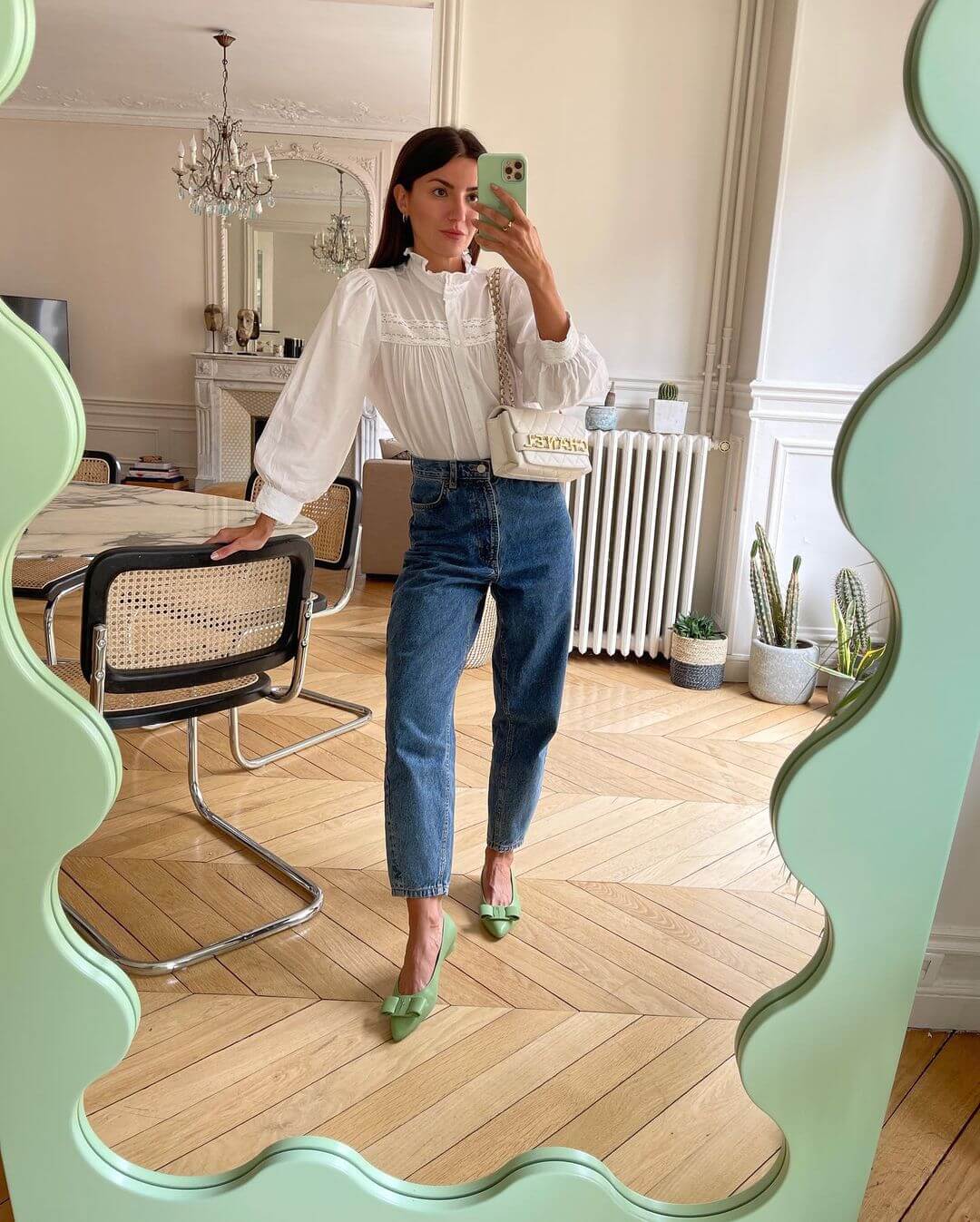 Photo via @alexandrapereira
1) Peasant Top & Denim
Steer your brunch outfits in a classic yet fashion forward direction by taking notes from the prairie trend. We love how Alexandra takes her basic jeans to new heights by pairing it with a peasant-style top featuring a high collar, statement sleeves and applique. The look is polished off with a pop of color via the sage green flats. Notice how the minimal hair and makeup look also make the outfit stand out.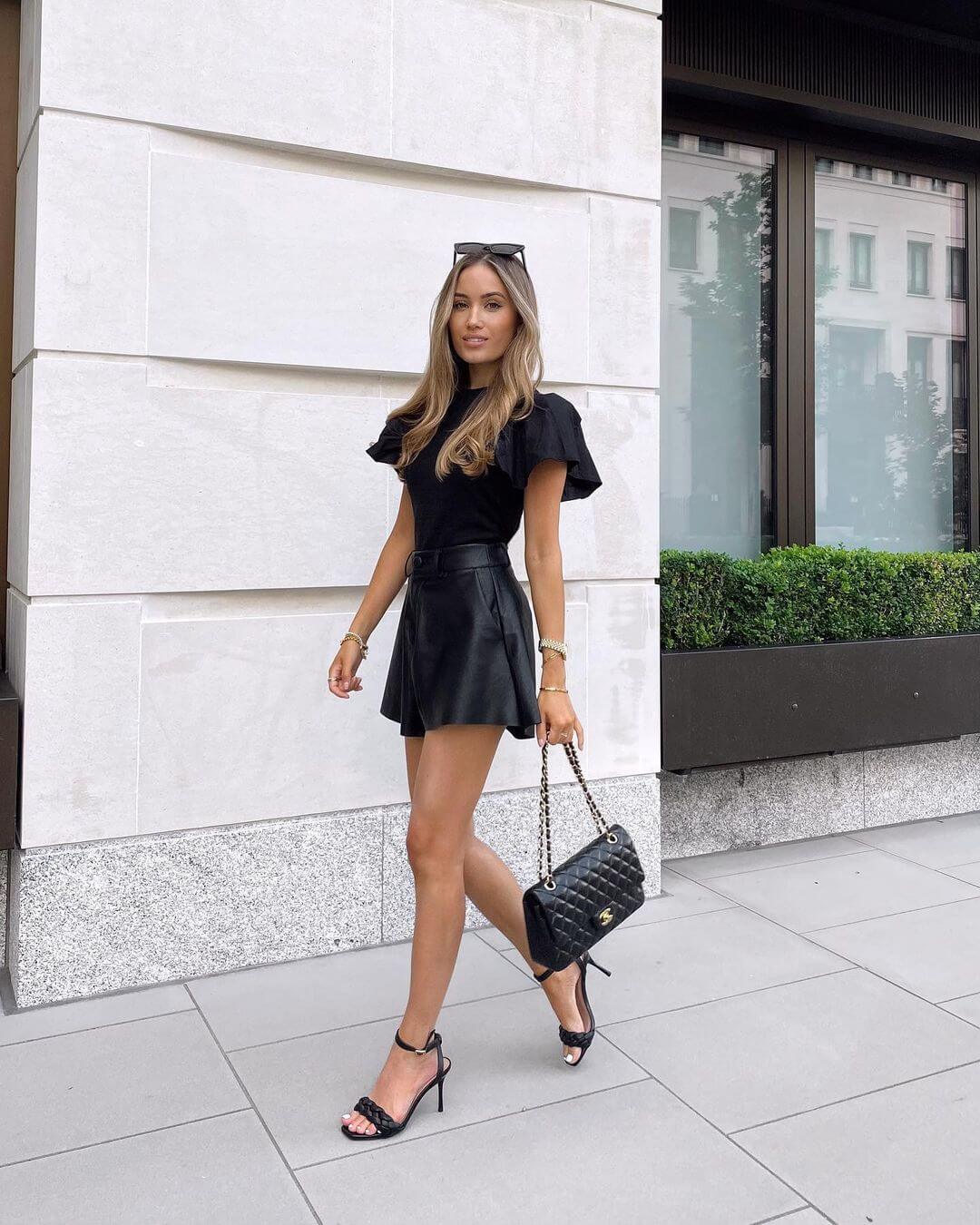 Photo via @kateehutchins
2) All Black & Feminine
Nothing is more chic than an all black moment. As always, the key to nailing down the perfect monochrome fit is to mix and match different textures to highlight each piece separately. This blogger nailed it with the feminine flutter sleeve top and the faux-leather shorts. She even throws in braided and quilted accessories into the mix to create more visual interest – and it works like a charm!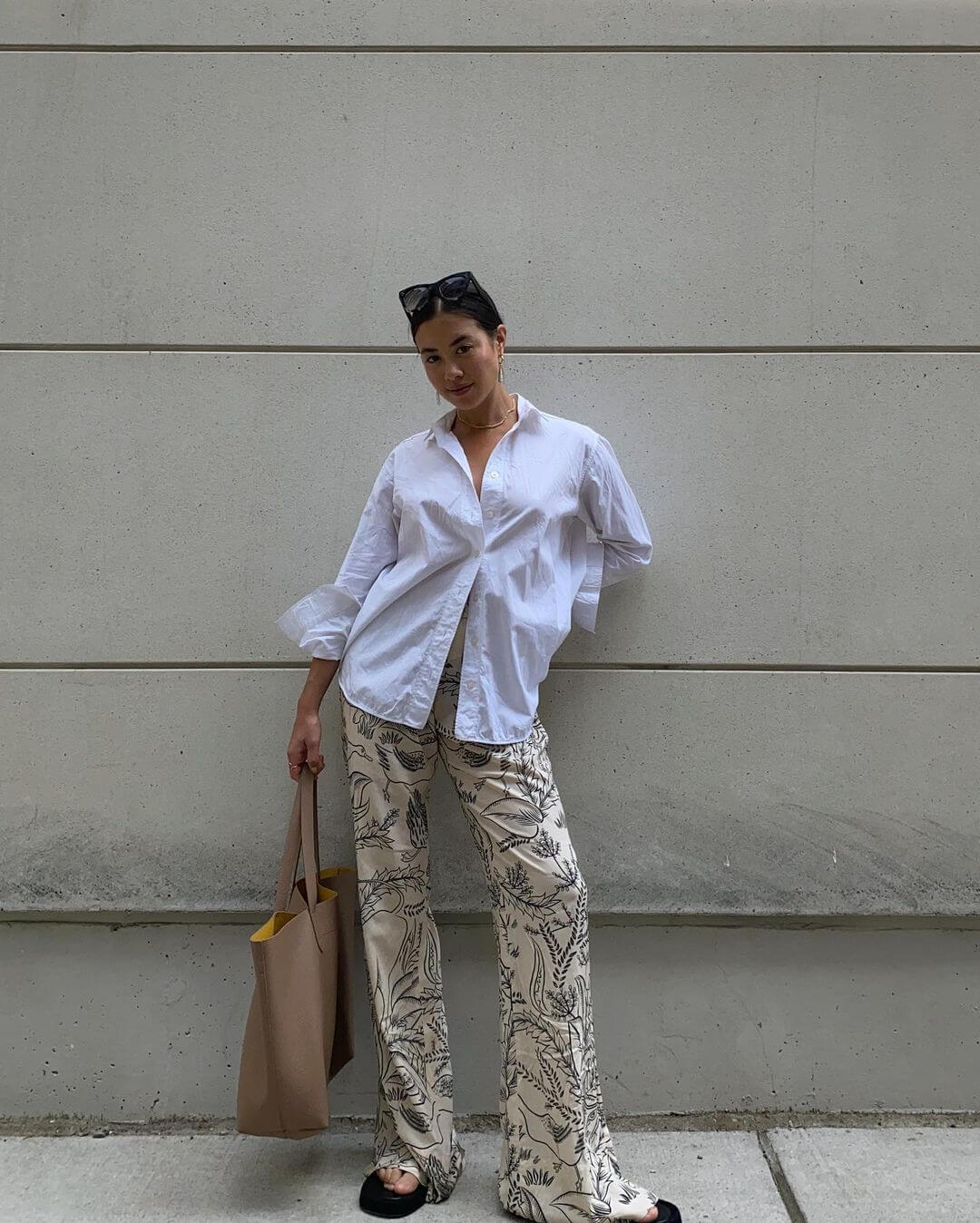 Photo via @sasha.mei
3) Pajama Dressing
Pajama dressing shows no signs of slowing down – and here's proof that you can rework your PJ pants into some effortless brunch outfits. They don't just make a bold statement but can be toned down with solid neutrals. We love this outfit as it checks both boxes for style and comfort. Since printed pants are going to be everywhere this upcoming fall, you can rest easy investing in a pair now!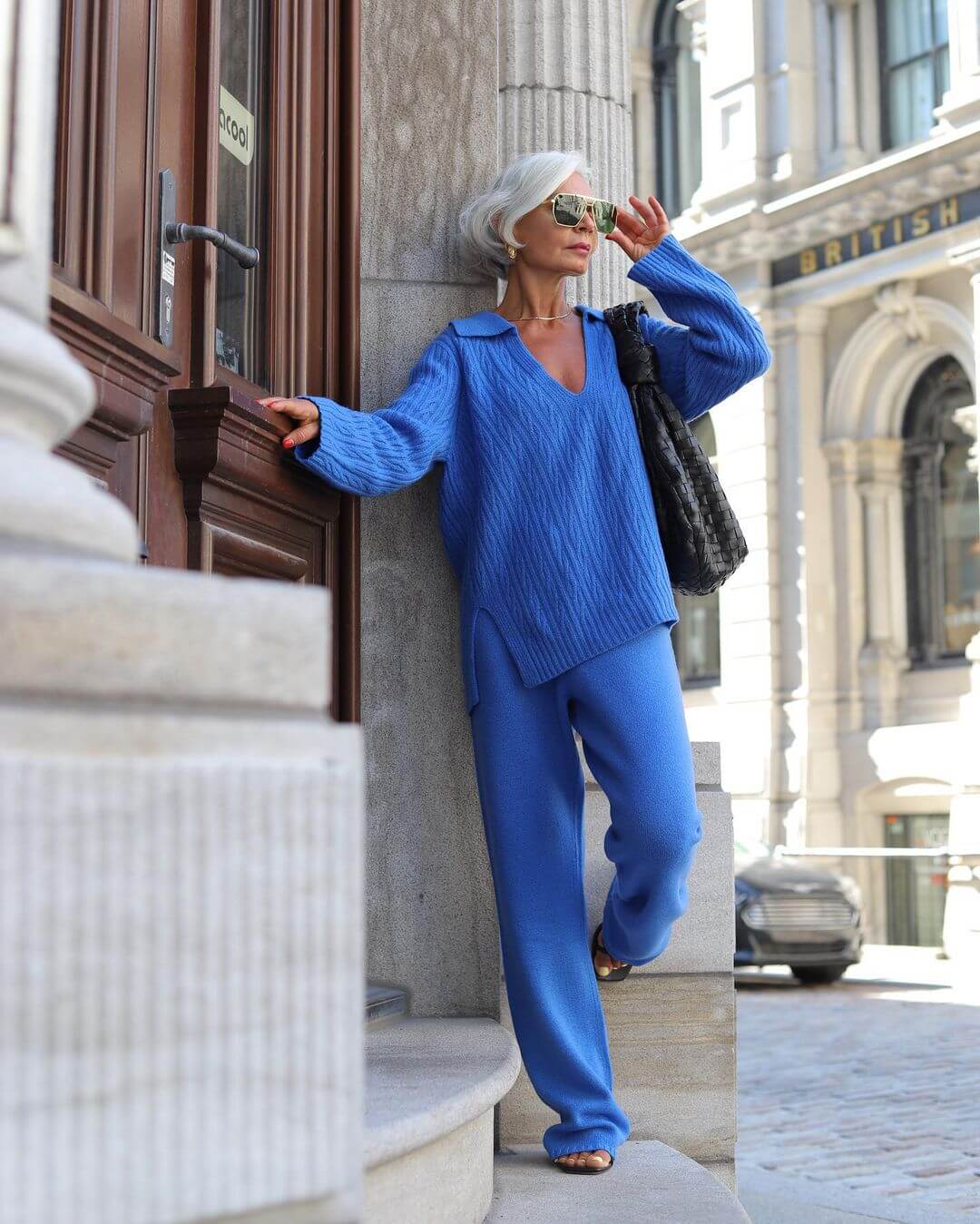 Photo via @greceghanem
4) Elevated Knit Set
If comfort and style are priorities for you, but pajamas feel too sloppy, then you might want to try an elevated knit set. It offers a similar vibe that makes rolling out of bed and straight to brunch socially acceptable! Just be sure your sweater knit pants come in  a wide cut as it can pass for polished trousers.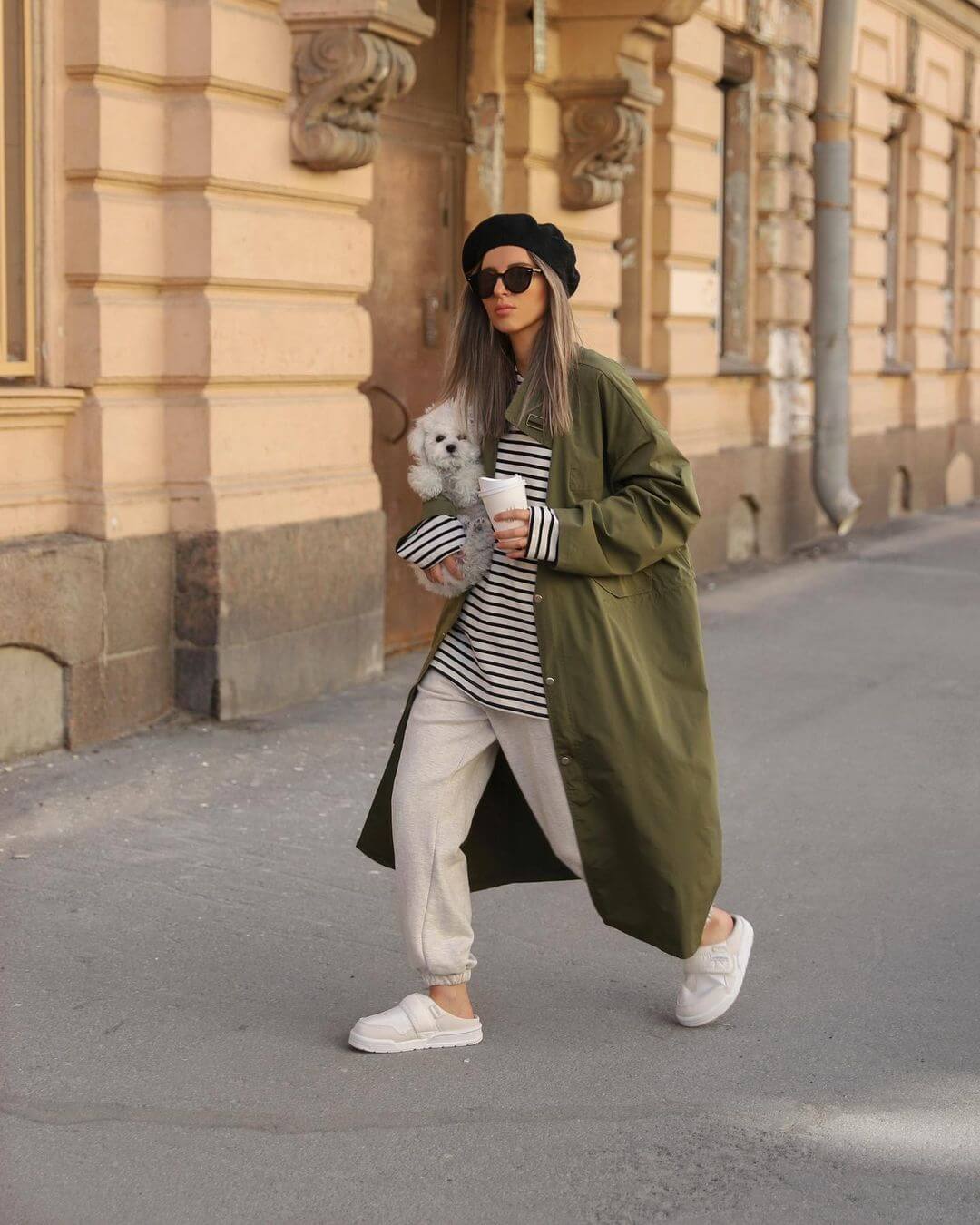 Photo via @lyu9mila
5) Updated Loungewear
Speaking of cozy, this updated loungewear outfit takes the sweatpant aesthetic to a whole new level. Mila styles her tapered sweats with a striped long sleeve tee – but the added shirt jacket and Parisian style beret is what makes it fresh and fit for a quick brunch session. It may still be too hot to pull off these layers now, but save it for late September and you won't disappoint in the style department.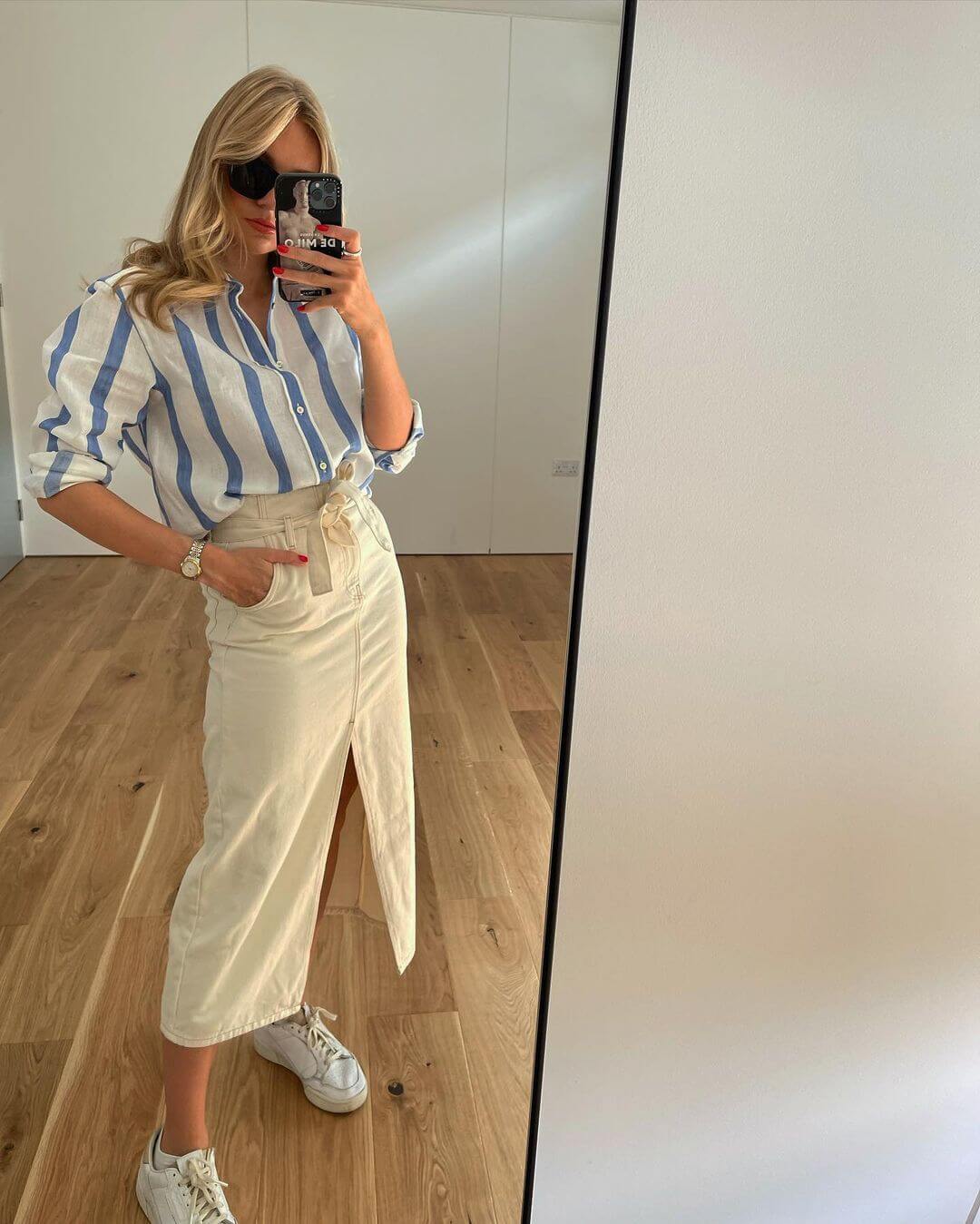 Photo via @lydiajanetomlinson
6) Denim Midi
Give your jeans a break and try an updated denim look with midi or maxi skirt. We love how Lydia keeps this brunch outfit casual with a stripe button down top and some clean sneakers. This outfit will have you looking 100% in seconds.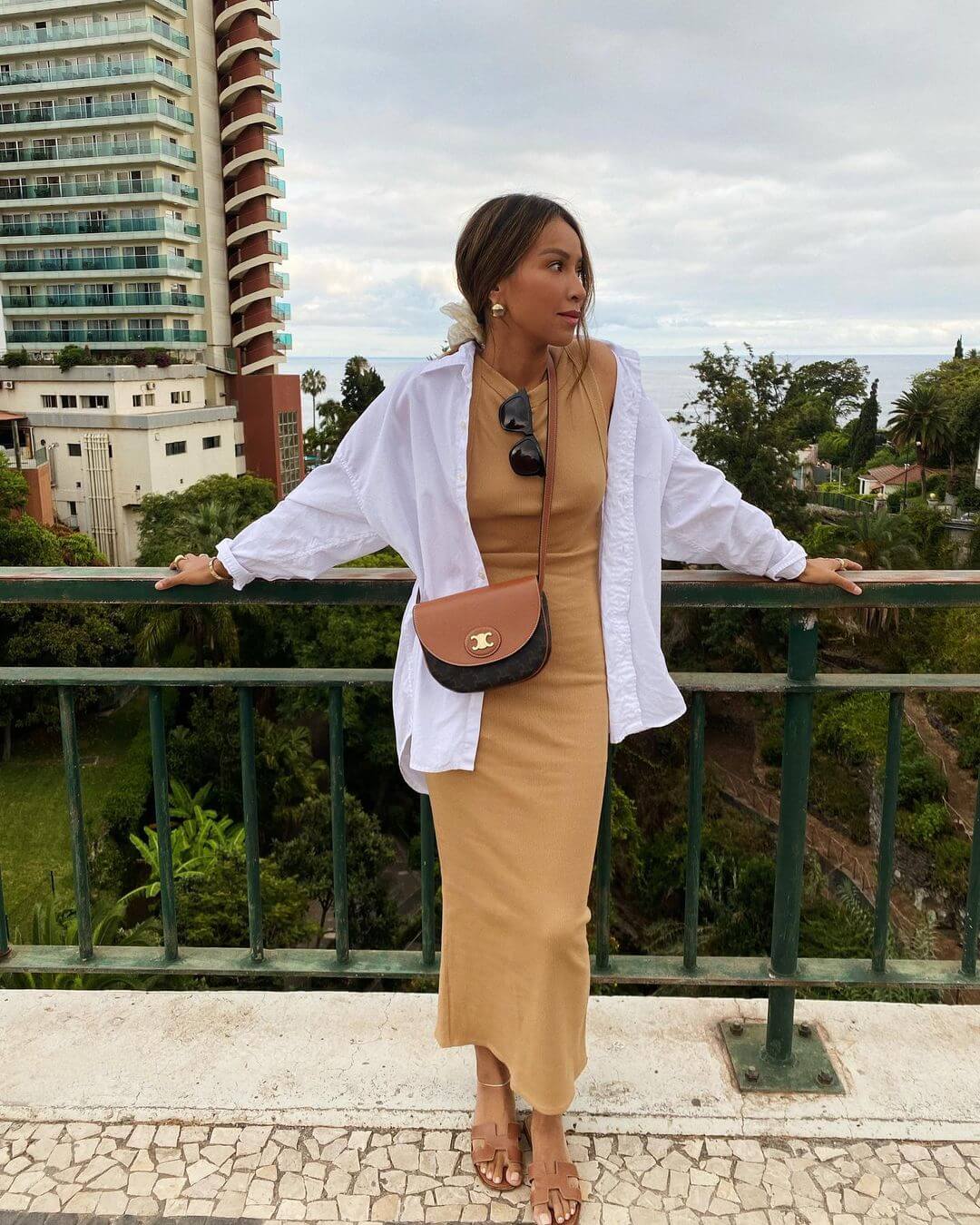 Photo via @sincerelyjules
7) Knit Dress
This year has been all about warm weather knits, especially in the form of a dress. It's hands down one of the best brunch outfits any girl can pull off whether you want to take it up or down. We're particularly fond of how Jules styles it here with an anklet, oversized white shirt and flat sandals. It's as chic and easy as Sunday mornings.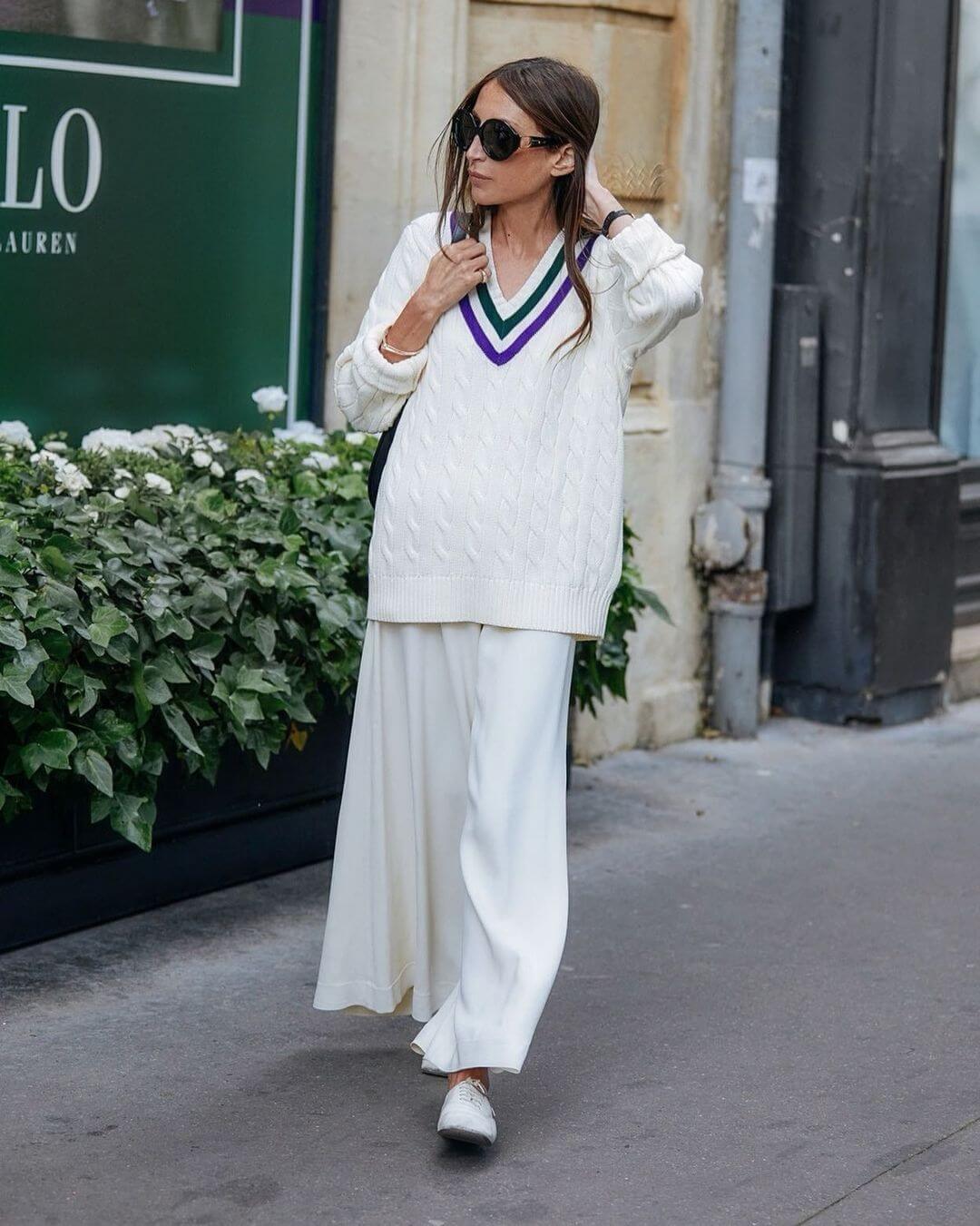 Photo via @louloudesaison
8) Preppy Chic
If you are going to a more bougie brunch, what better outfit to pull out than some preppy separates. This oversized tennis sweater draped effortlessly over some white flared pants makes the most Instagram-worthy outfit. It's the perfect outfit to sip on a Bloody Mary!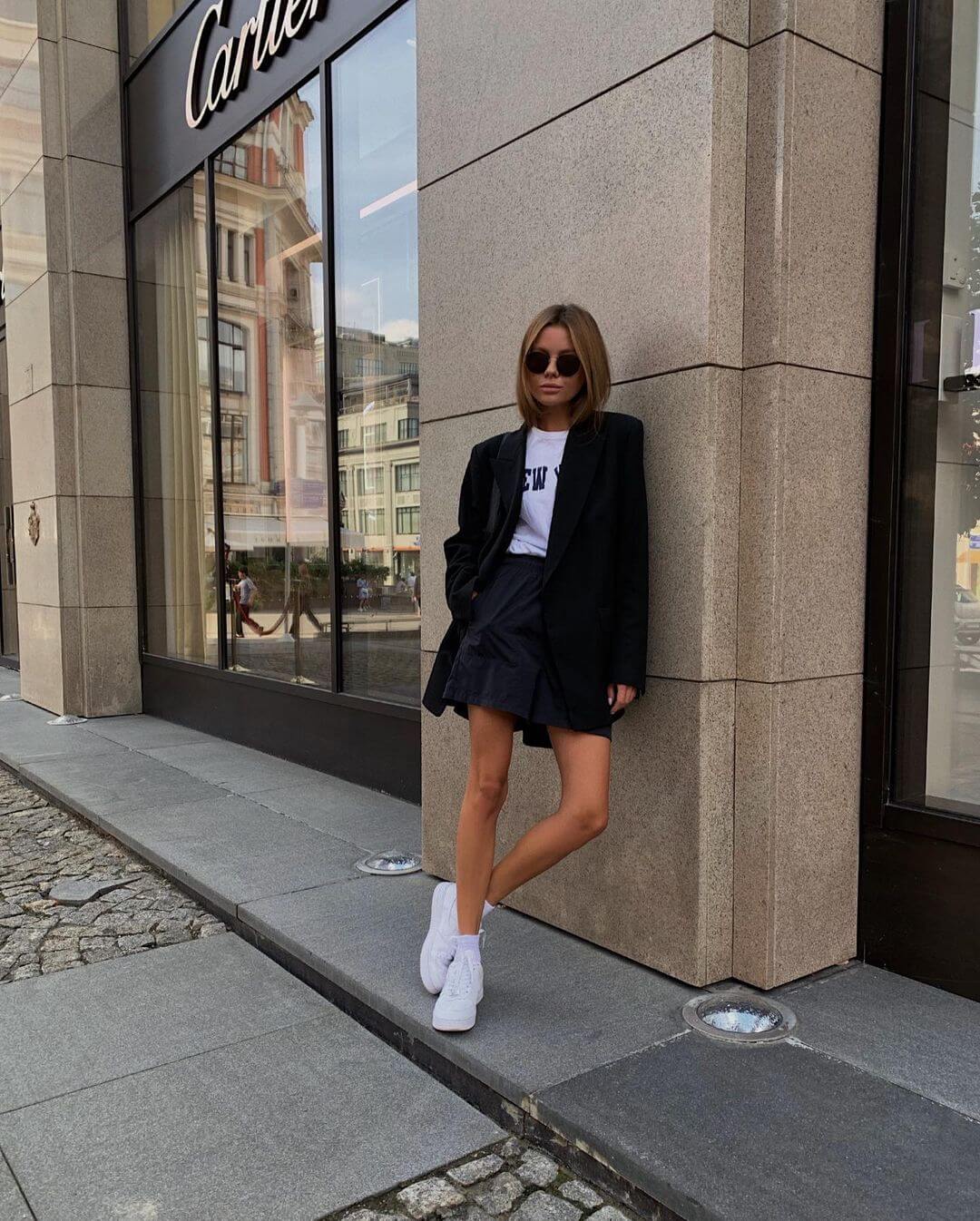 Photo via @anya_keyton
9) Casual Tailoring
Another brunch outfit idea is to incorporate some casual tailoring. Think an oversized blazer with a graphic tee and some long shorts. This combo is great for when you don't feel like putting too much thought into your outfit but still want to look put together. We'd say this look is ideal for enjoying brunch al fresco at your favorite spot in the city.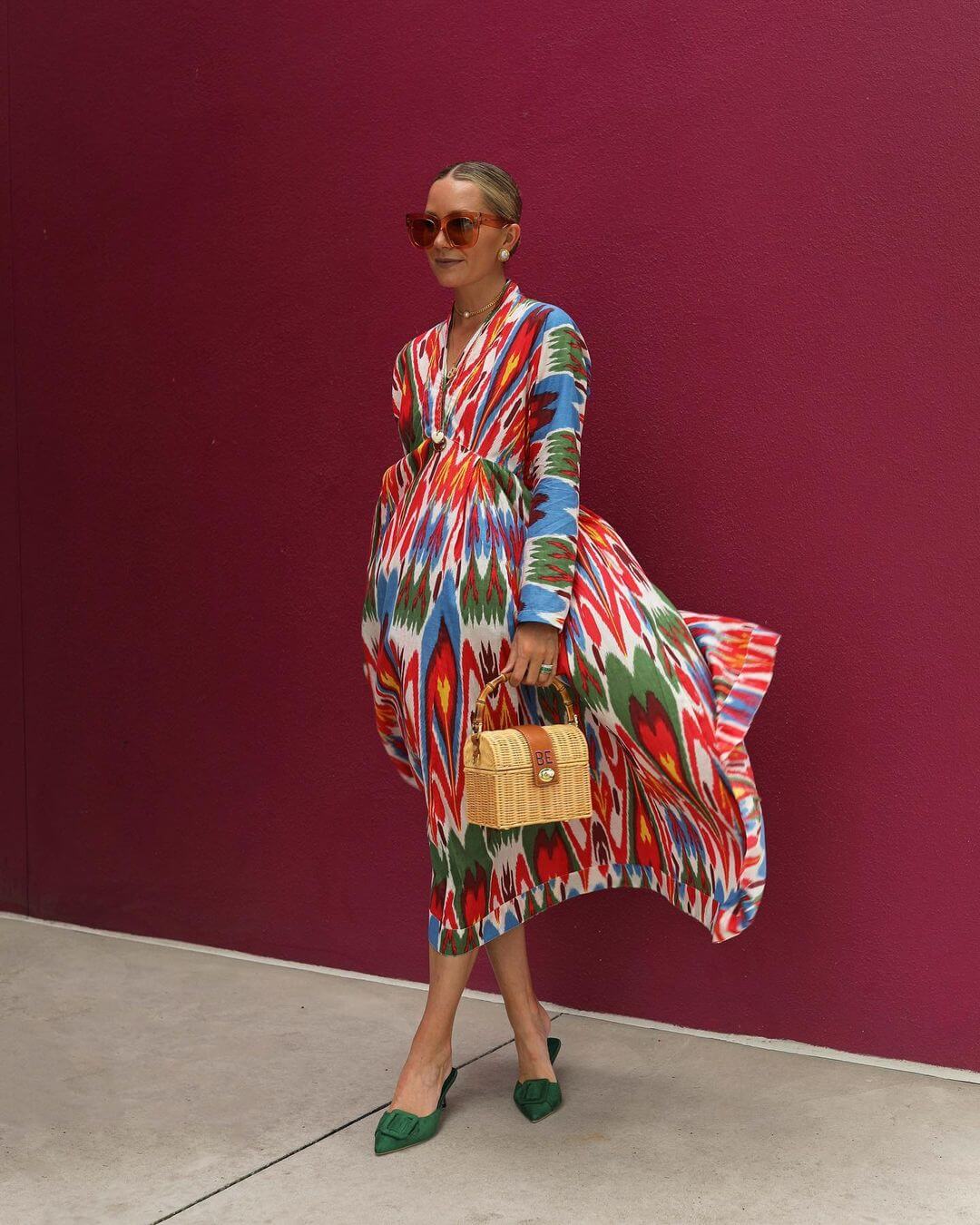 Photo via @blaireadiebee
10) Voluminous Dress
Brunch is all about treating yourself to pastries, eggs benedict, fluffy waffles or whatever else your heart desires. A fashionable way to hide your food baby is with a flowy voluminous dress! We can always look to Blair for endless catchy summer dresses that reignite our love for quirky, cool brunch outfits.

Lounging around through the end of the week doesn't mean you can't look put together at Sunday brunch. Instead of wasting your time test driving different trends, you can takes notes from the 10 brunch outfits above. Each offer completely different aesthetics that will have you covered for any weekend situation now through fall.