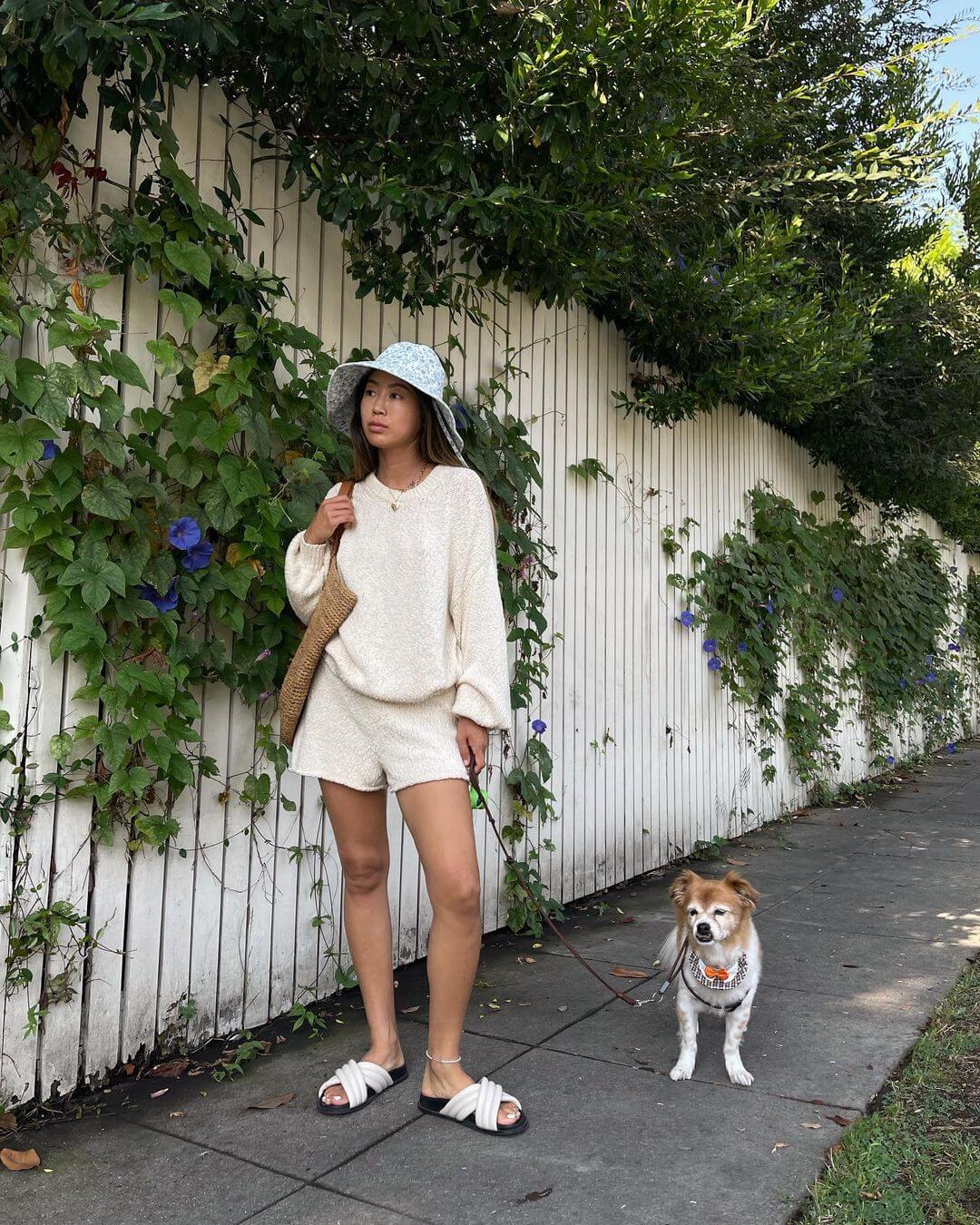 Photo via @aimeesong
Just like that, the end of the summer is upon us. As much as we are hit with a wave of sorrow as we say goodbye to warm weather, beach trips and short skirts, we are also just as ready to welcome fall. Labor Day always seems to act as the turning point between the two seasons and it is also the last long weekend of the summer, so everyone should make the most of it! For many, Labor Day festivities translate to one last BBQ, the final dip in the pool or just one more outdoor gathering with friends and family. Whatever your plans are, this is a good excuse to wear an outfit that pays homage to the months prior or maybe even one that provides a sneak peek into the upcoming fall trends. Not sure what to wear? We've got you covered. Ahead, you'll find effortless yet on-trend outfits for Labor Day weekend!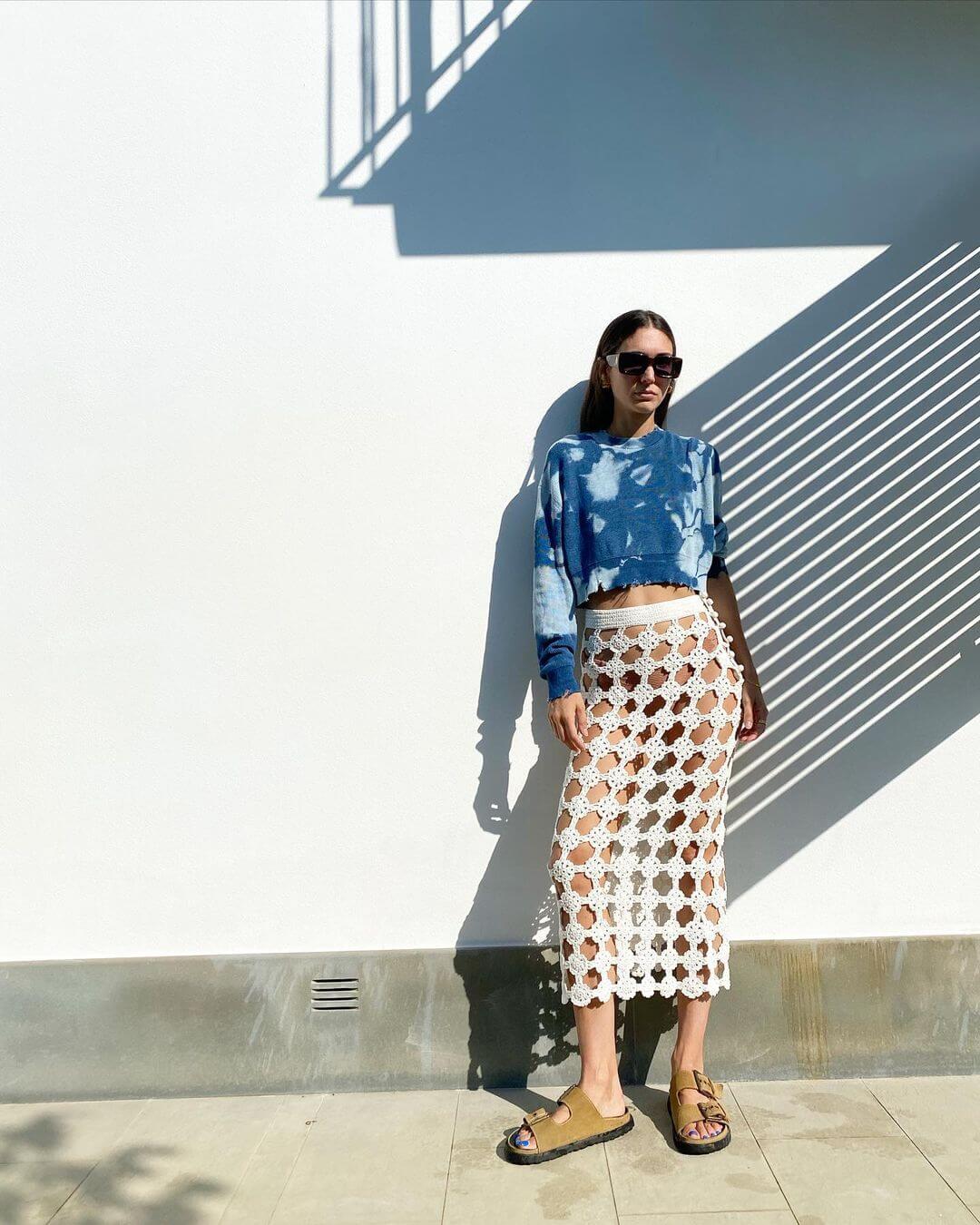 Photo via @dilettabonaiuti
1) Tie Dye & Cut Outs
What better way to close out pool season than with a killer suit and cover up look. Tie dye is a no-brainer pattern to celebrate the end of the summer and we love how it looks paired with a sheer crochet midi skirt. This youthful, care-free outfit can take you from BBQ to poolside to drinks for dinner.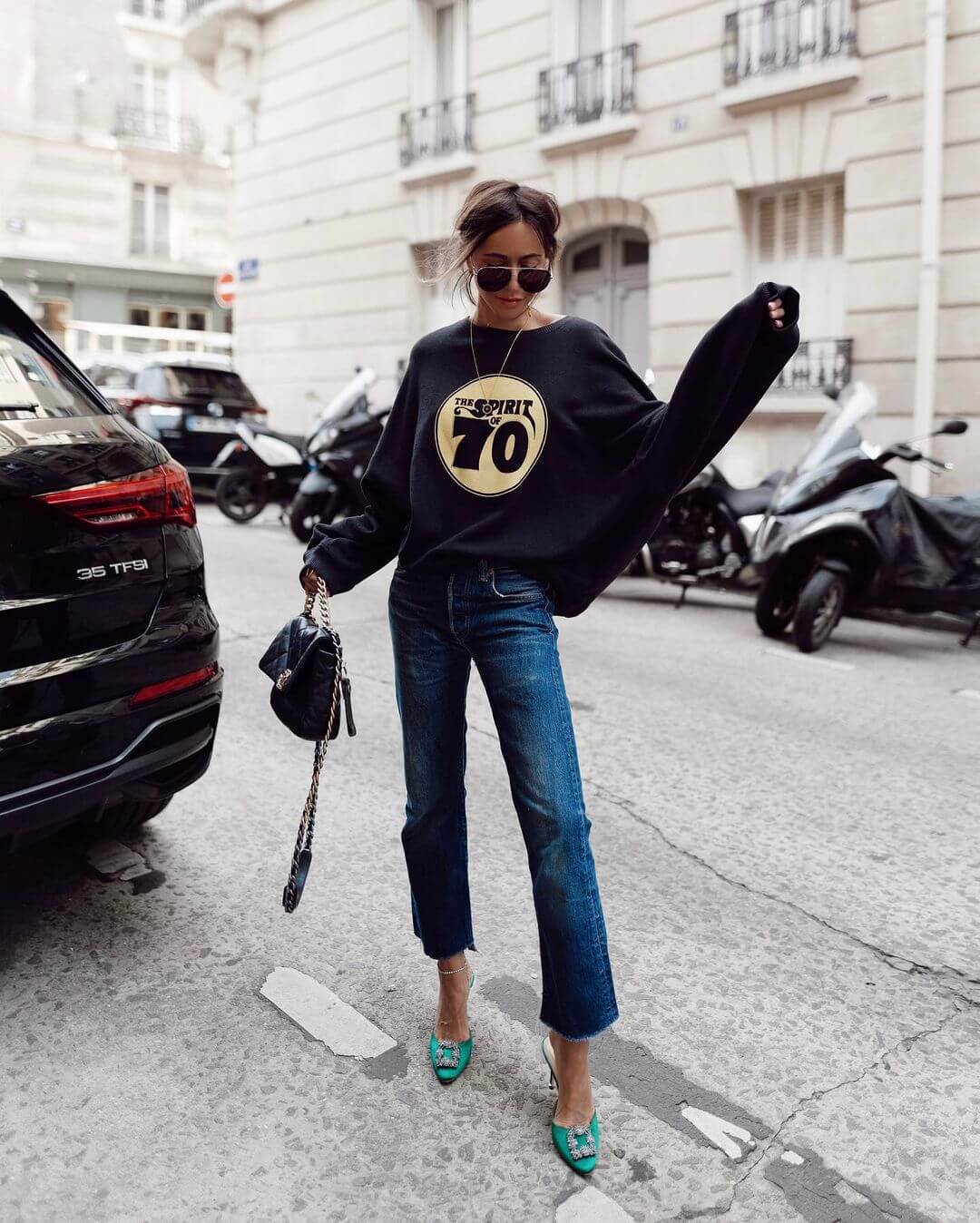 Photo via @babiolesdezoe
2) Denim Days
Collegiate meets glam in this next look. If you are aiming to keep it casual but still have that innate desire to add a little flair to your outfit, try this combo out. Zoé wore a graphic crewneck sweatshirt with some classic cropped flared denim. To elevate things just enough, she added a pair of bejeweled kitten heels from Manolo Blahnik.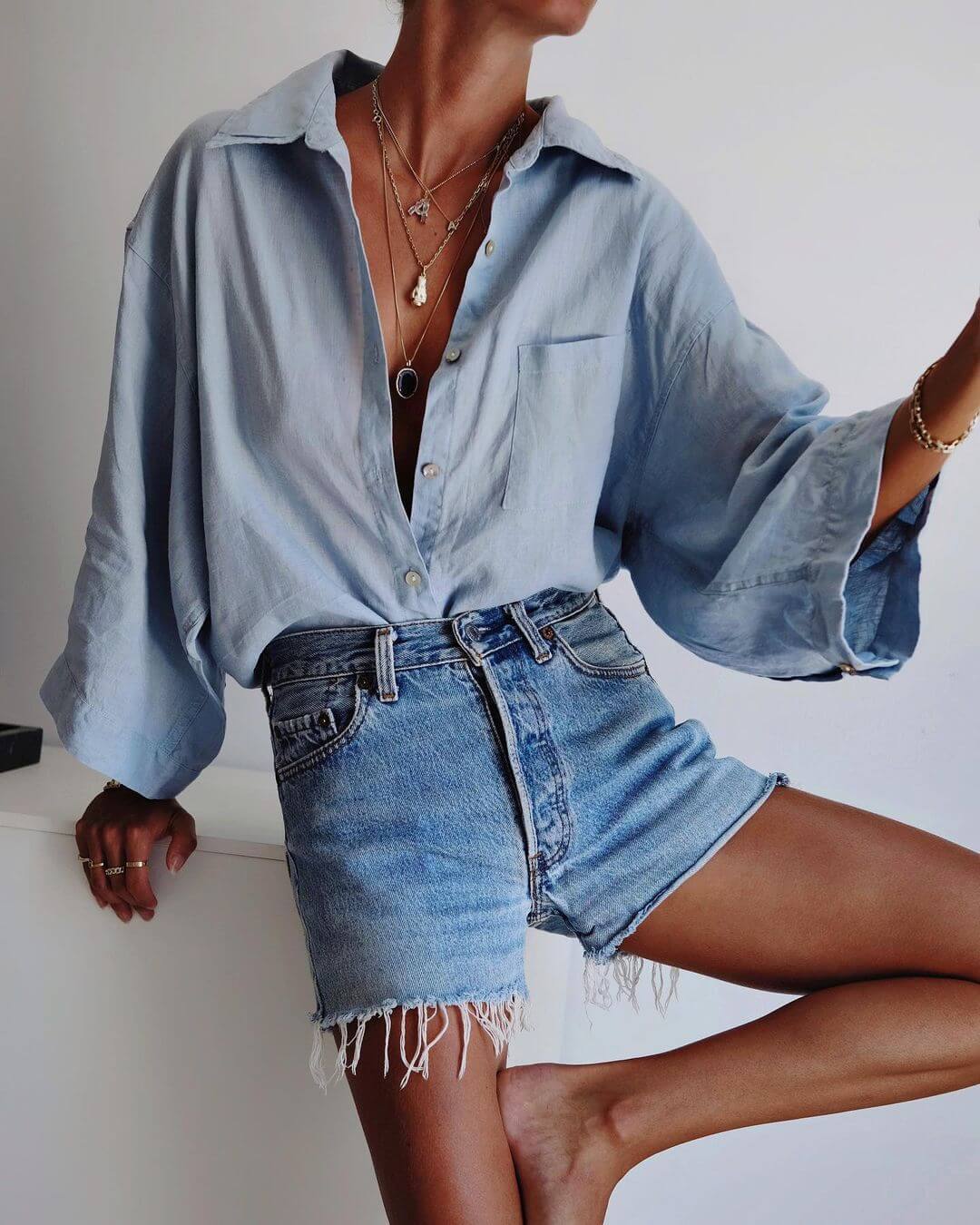 Photo via @andicsinger
3) Double Down
There's no such thing as too much denim when closing out summer. That's why we recommend doubling down with denim on denim outfits for Labor Day. It is timeless, Americana-inspired and effortlessly chic. Additionally, Andi's choice of styling with loads of gold jewelry make it feel intentional and put together.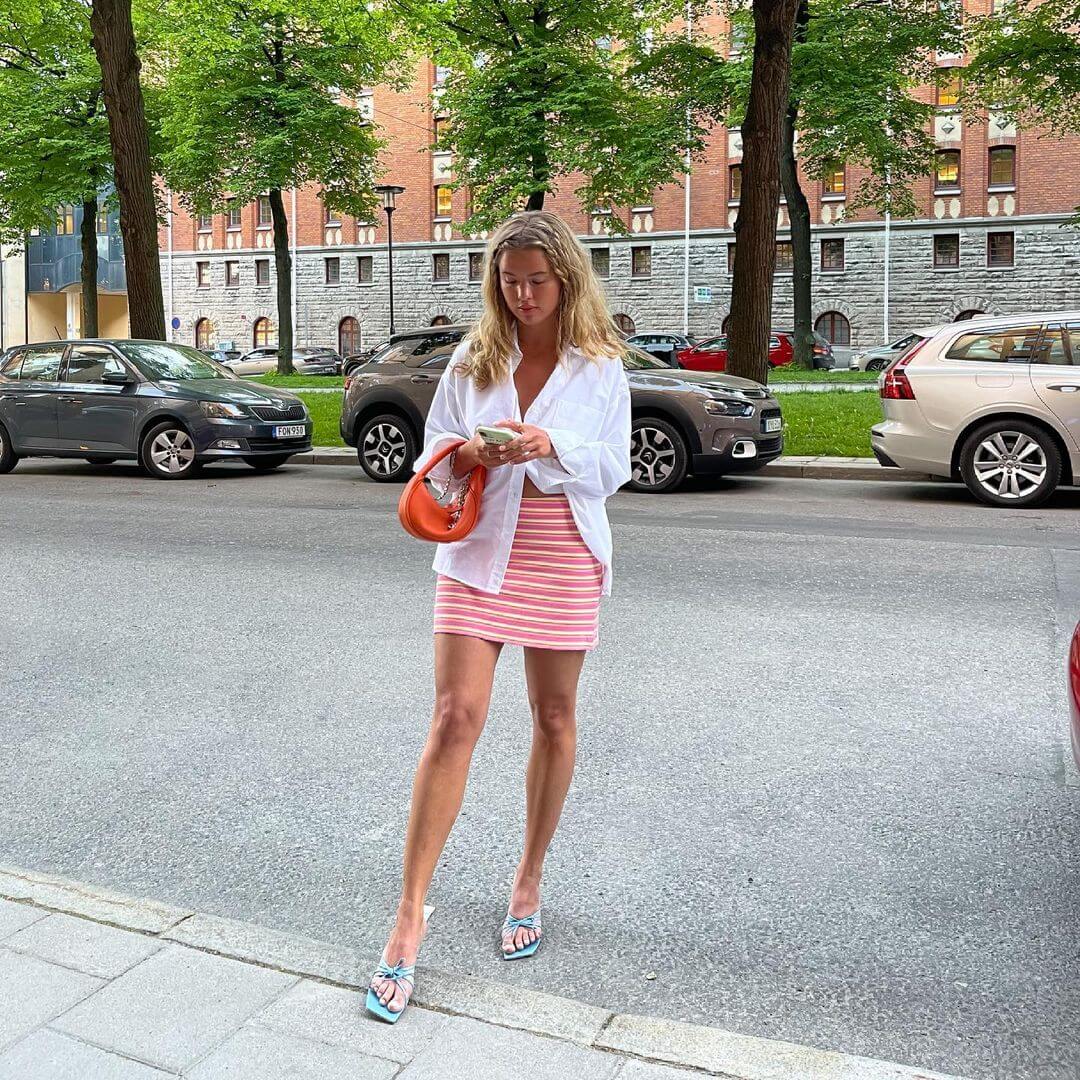 Photo via @matildadjerf
4) Subtle Patriotic
We love a subtle nod to the American holiday by incorporating just a touch of the red, white and blue combination. This outfit knocks it out of the park with the loose blouse, striped mini skirt and square-toed kitten heels. We can't get over the subdued tones, which is a fresh change from the typical vibrant colors of the flag. Take notes if you're looking for a festive, yet fashionable holiday outfit!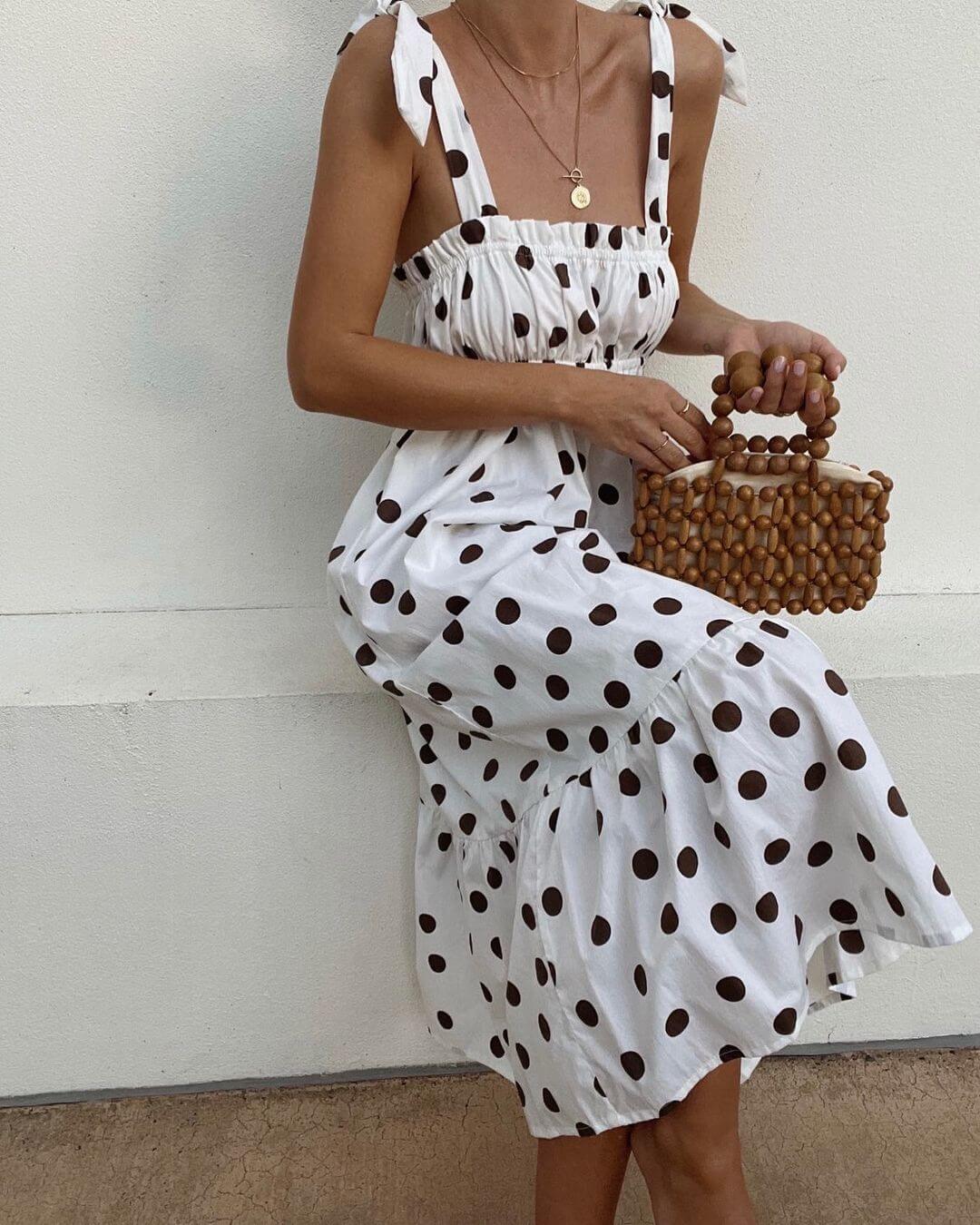 Photo via @faithfullthebrand
5) Polka Dots
Incorporate some pattern into your Labor Day looks with polka dots. We love how it brings forth a charming, vintage-inspired vibe no matter where you are. Whether you opt for this darling print on a voluminous dress, loose blouse, or flowy pants, you'll have an outfit that's resolutely chic.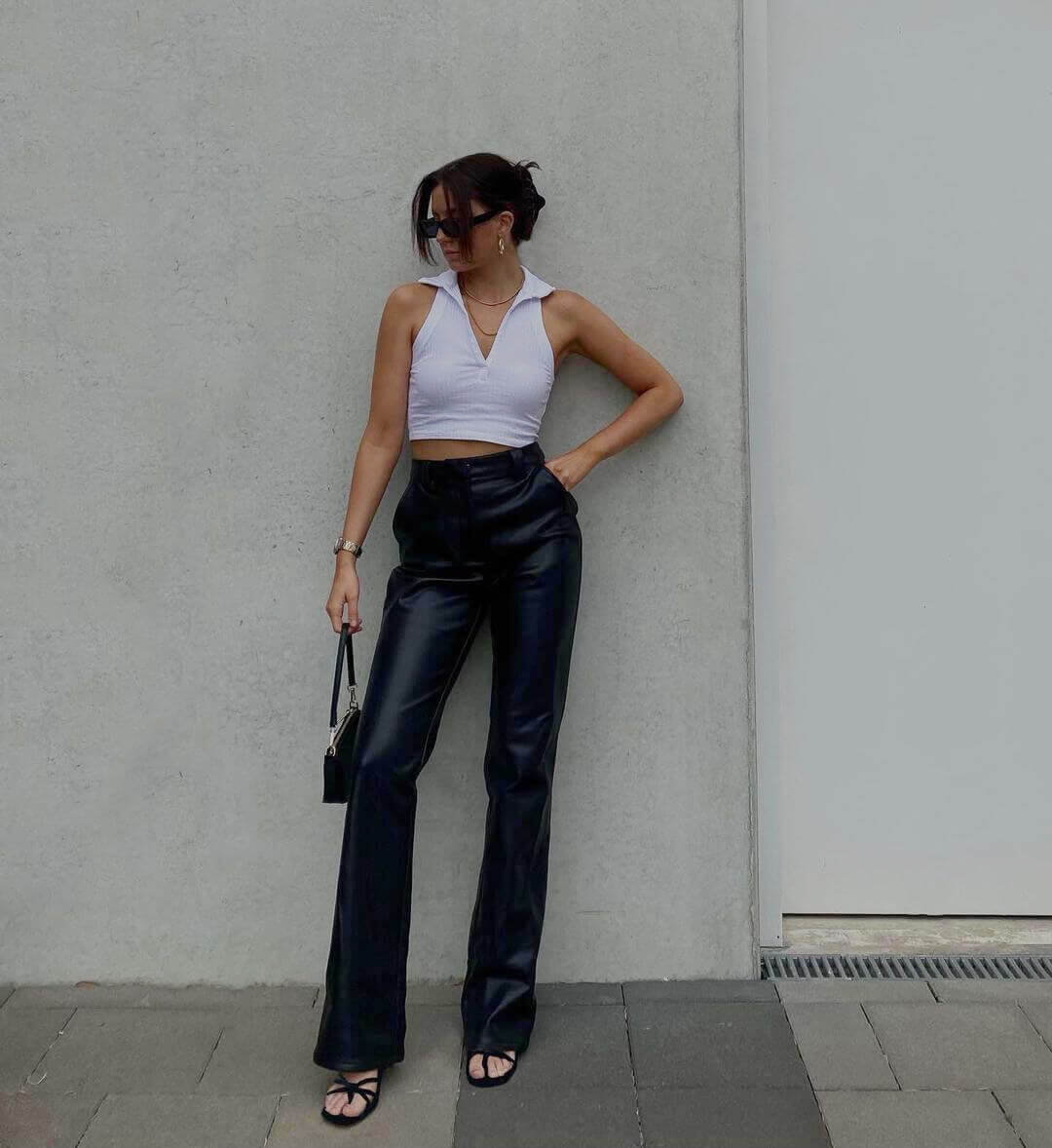 Photo via @karlaajohanna
6) Little Bit of Leather
If you are ready to put summer behind you and get right into fall fashion, there is no better day to start than Labor Day, the unofficial start of autumn. Leather will trending hard yet again as is the case every year. So if the weather cools down wherever you are, take the chance to showcase some edgy leather pants or a skirt with a summery top.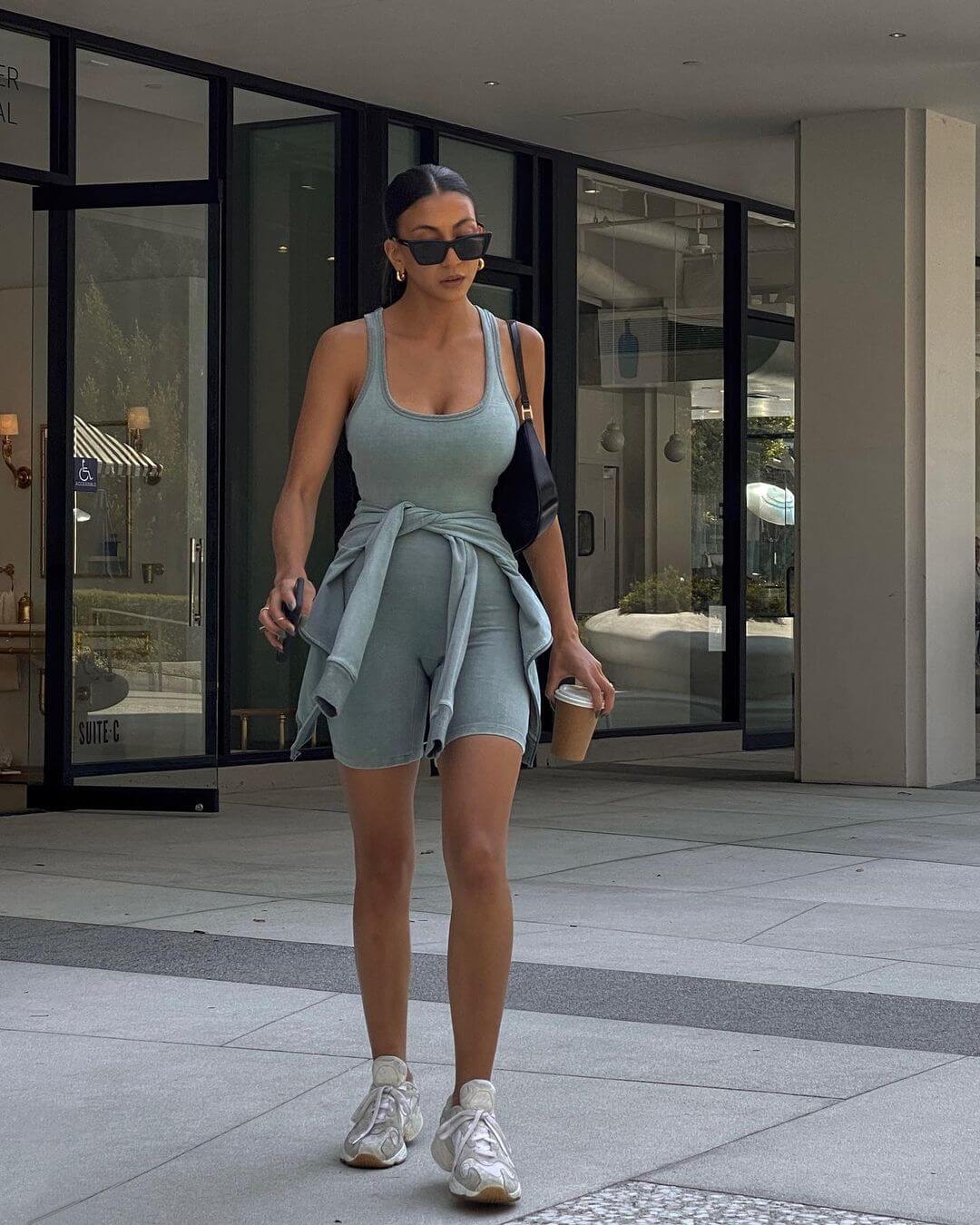 Photo via @kayla_seah
7) On The Run
Traveling and need something comfortable and cool? This look won't fail to impress. You can call it a catsuit, onesie or unitard… Whatever the case may be, it's a good way to break up your basic athleisure/workout looks. Style it with some sneakers, gold hoop earrings, and a shirt jacket so that it feels wearable around family and friends.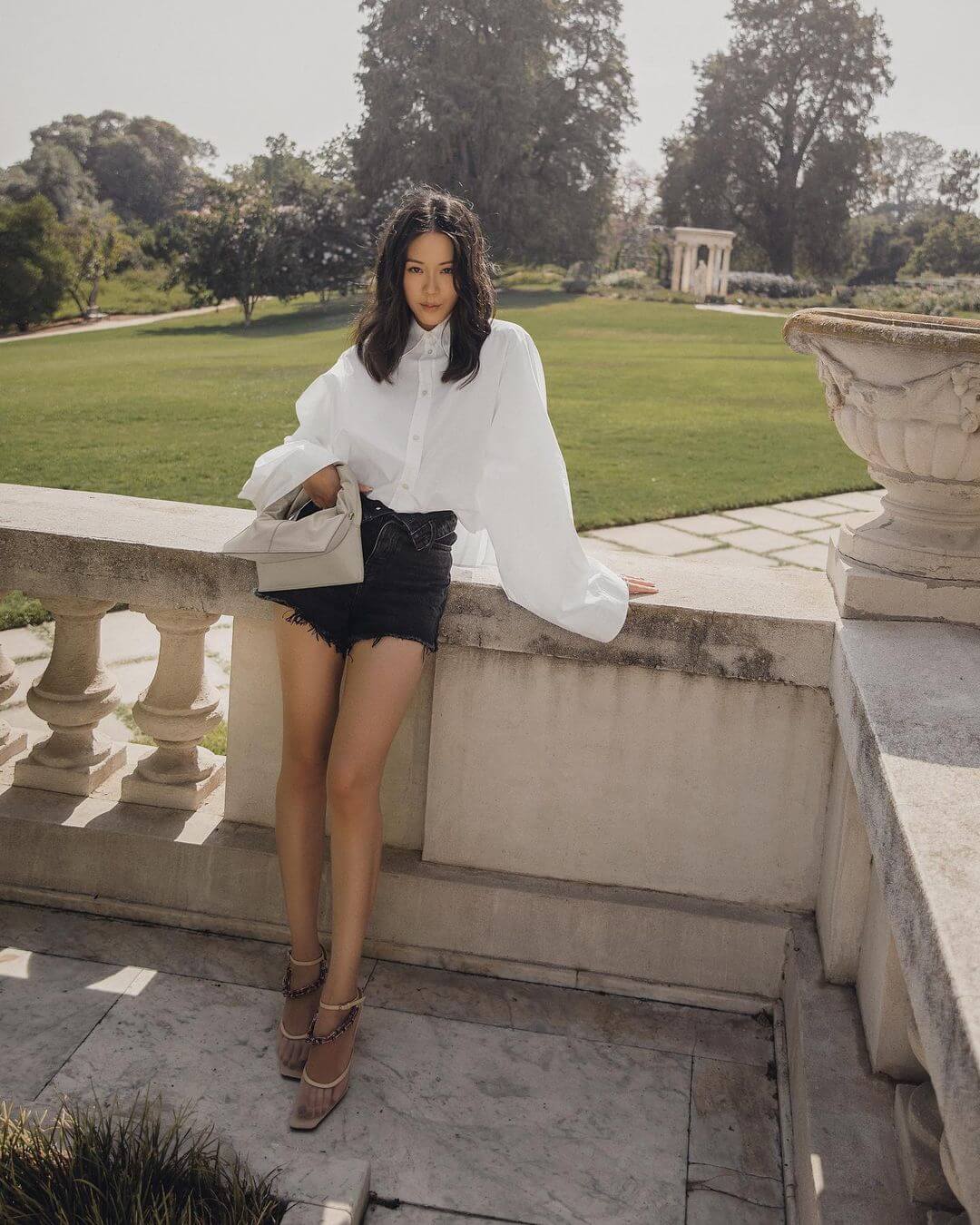 Photo via @tsangtastic
8) Dressed Up Cut Offs
You should never pass up chic denim shorts outfits for Labor Day. Jenny's dressed up take on it will have you ready to tackle any fun event. Recreate the look by pairing it with a white statement top, chain-embellished sandals and a top handle bag.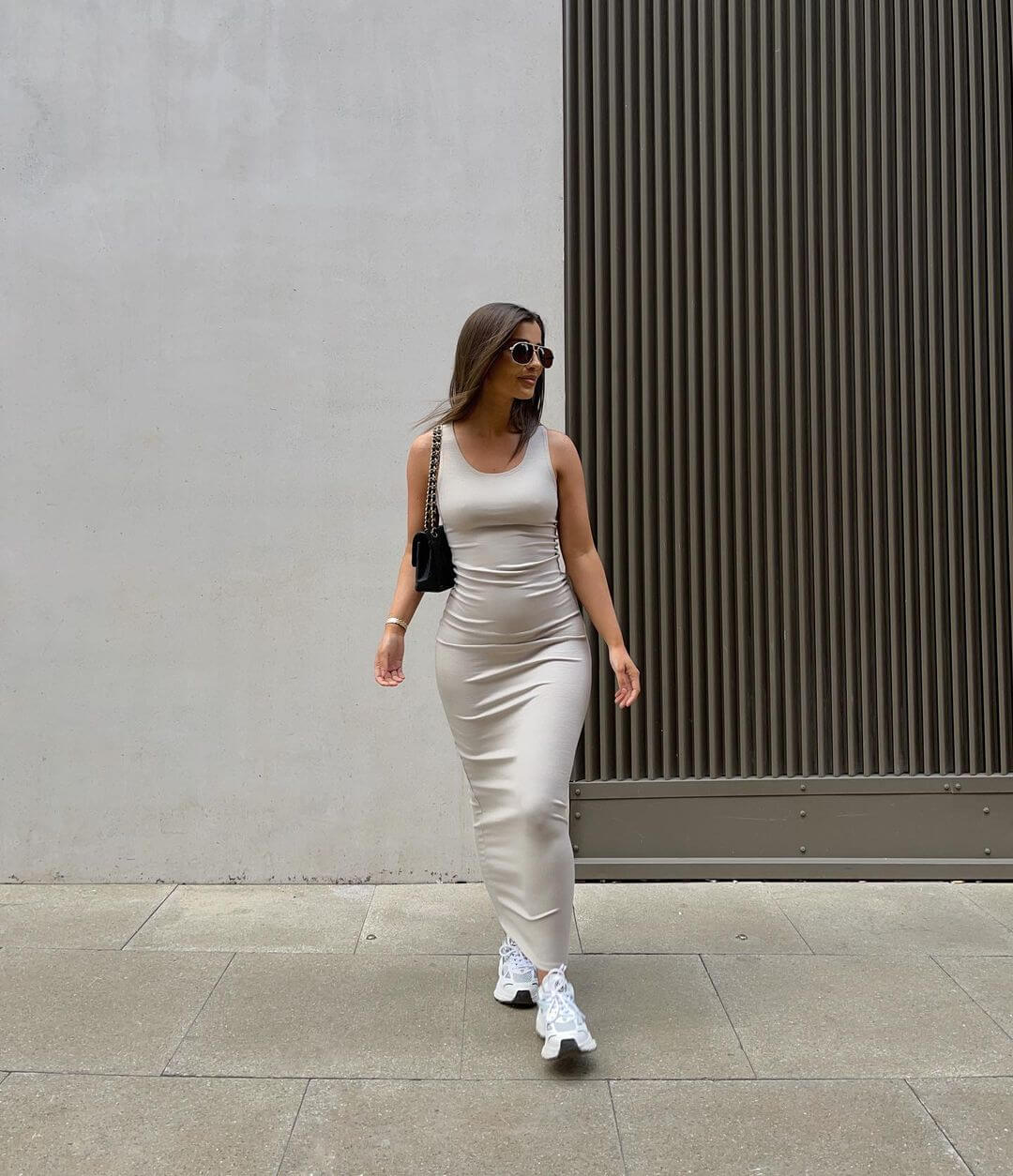 Photo via @aliceoliviac
9) Tank Top Dress & Sneakers
If you're seeking transitional pieces that can be restyled in the fall, opt for something sleek and flattering like this body-hugging maxi. Over Labor Day, keep it simple and casual by skipping the heels and going for chunky trainers! We love the neutral base that allows you to get creative with outerwear, jewelry and sunglasses.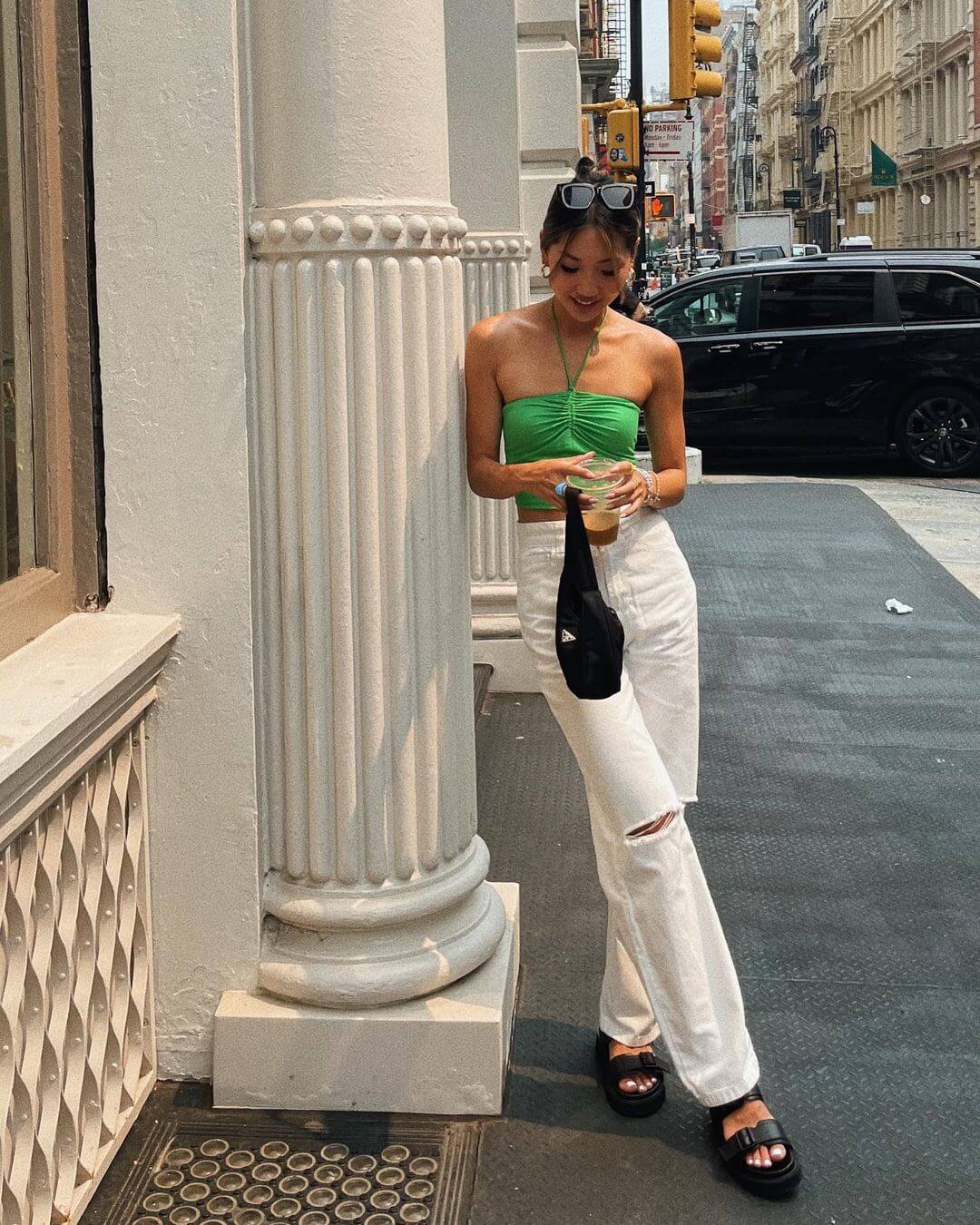 Photo via @itsyuyann
10) Cropped Halter
The halter has been one of our top micro trends of summer so why not incorporate it into your outfit as a way to close out the end of the season? It's a no-fail top to pair with high-waisted denim! Don't forget to also incorporate your favorite summer accessories like chunky sandals, cute hair clips – or even both!

Summer may be coming to a close, but that doesn't mean your rotation of fashionable, comfy fits has to end with it. In fact, Labor Day weekend is one of the best times to go all out on your favorite summer trends and put together off beat warm weather looks. Thanks to Instagram, you have 10 flawless outfits to start with. Let us know which one you're most likely to wear!