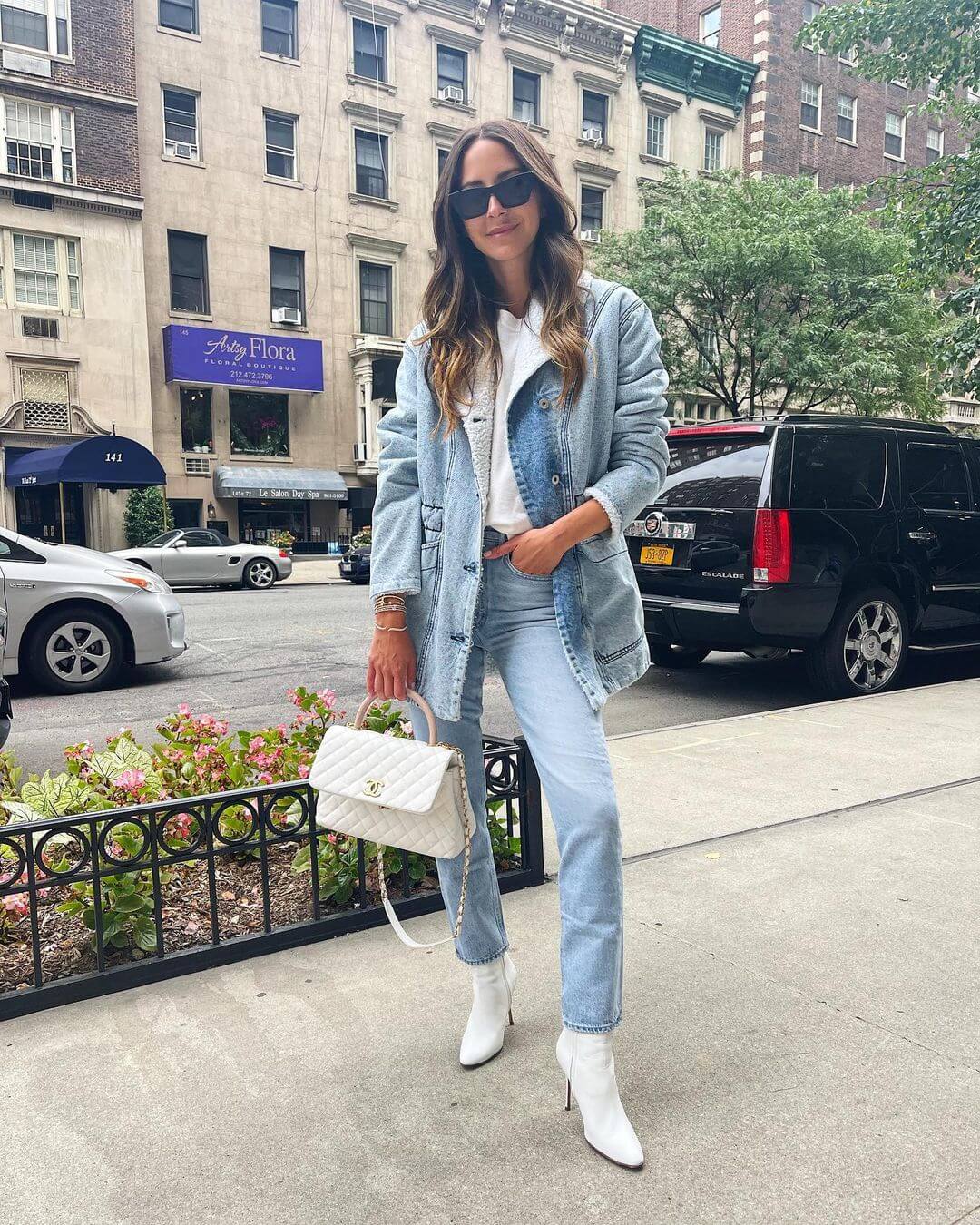 Photo via @ariellecharnas
School is starting up again, people are returning back to the office and temperatures will soon be cooling off. This translates into just one thing – fall is almost upon us. While we are stoked to welcome back pumpkin spice lattes, cozy knits and late nights around a bonfire, we know that fall typically does not arrive in the flick of a switch. It occurs as a gradual transition. And if you want to be prepared for the brisk temperatures before it hits, the best place to start is in your wardrobe. We admit that fashion can be daunting to navigate as you ease your way out of summer dresses and shorts into knitwear and boots. Since we are seemingly stuck in this in-between mode, intersectionality is highly encouraged and shopping for certain clothing choices should be a priority. To pull you in the right direction and equip you with pieces that have longevity, we pulled 10 transitional pieces from some of our favorite influencers. Keep scrolling to get inspired and shop the looks for your own collection.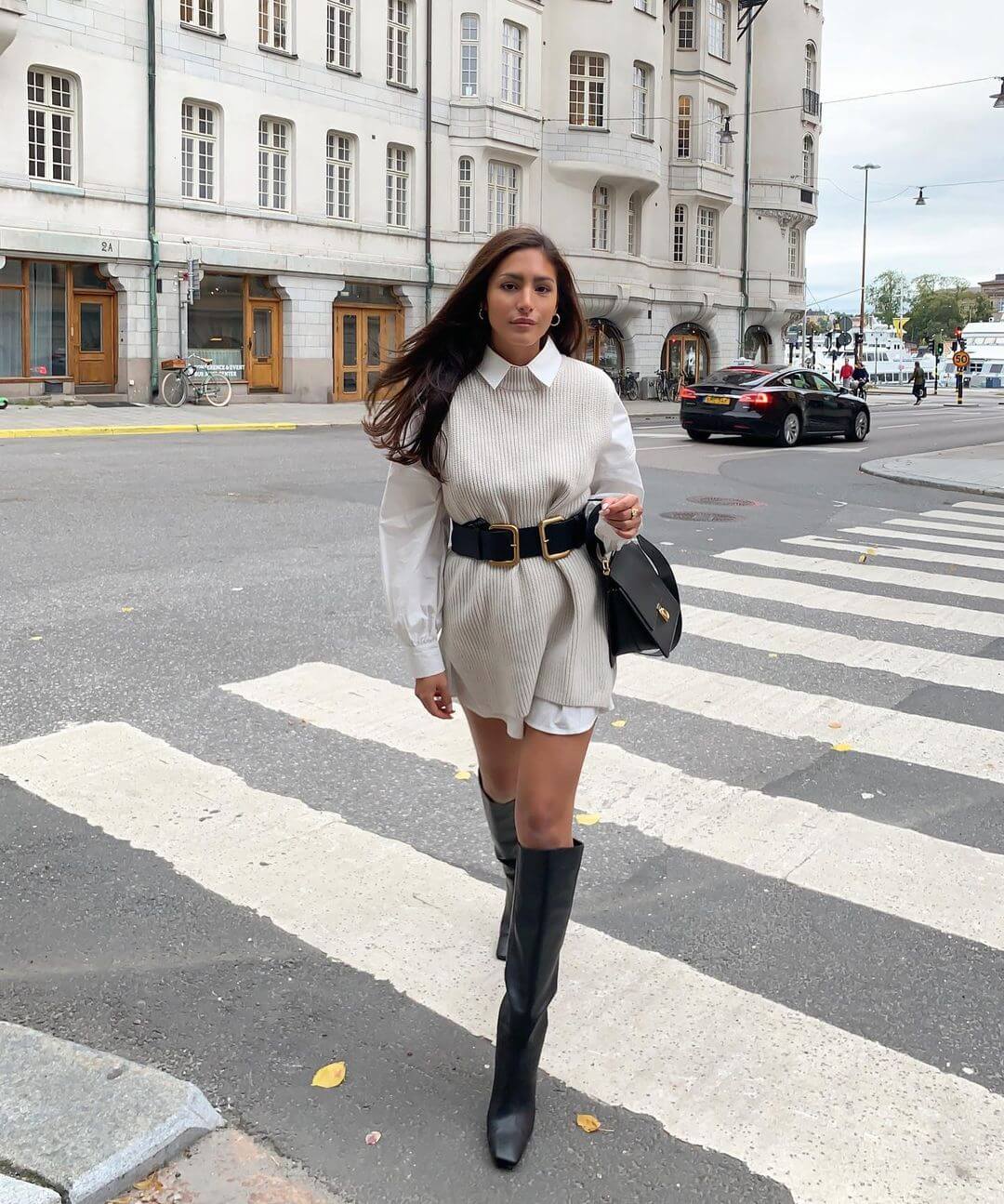 Photo via @estheraguirre
1) Sweater Vest
Fall is all about the art of layering. One piece making its way back onto the scene is the sweater vest. We love this outfit as it features an oversized vest that is worn as a dress – the ideal transitional fit. The added statement waist belt helps trim down the bulk while adding top notch polish. If you can't do with layers in your part of the world just yet, wear the vest on its own as a tank top.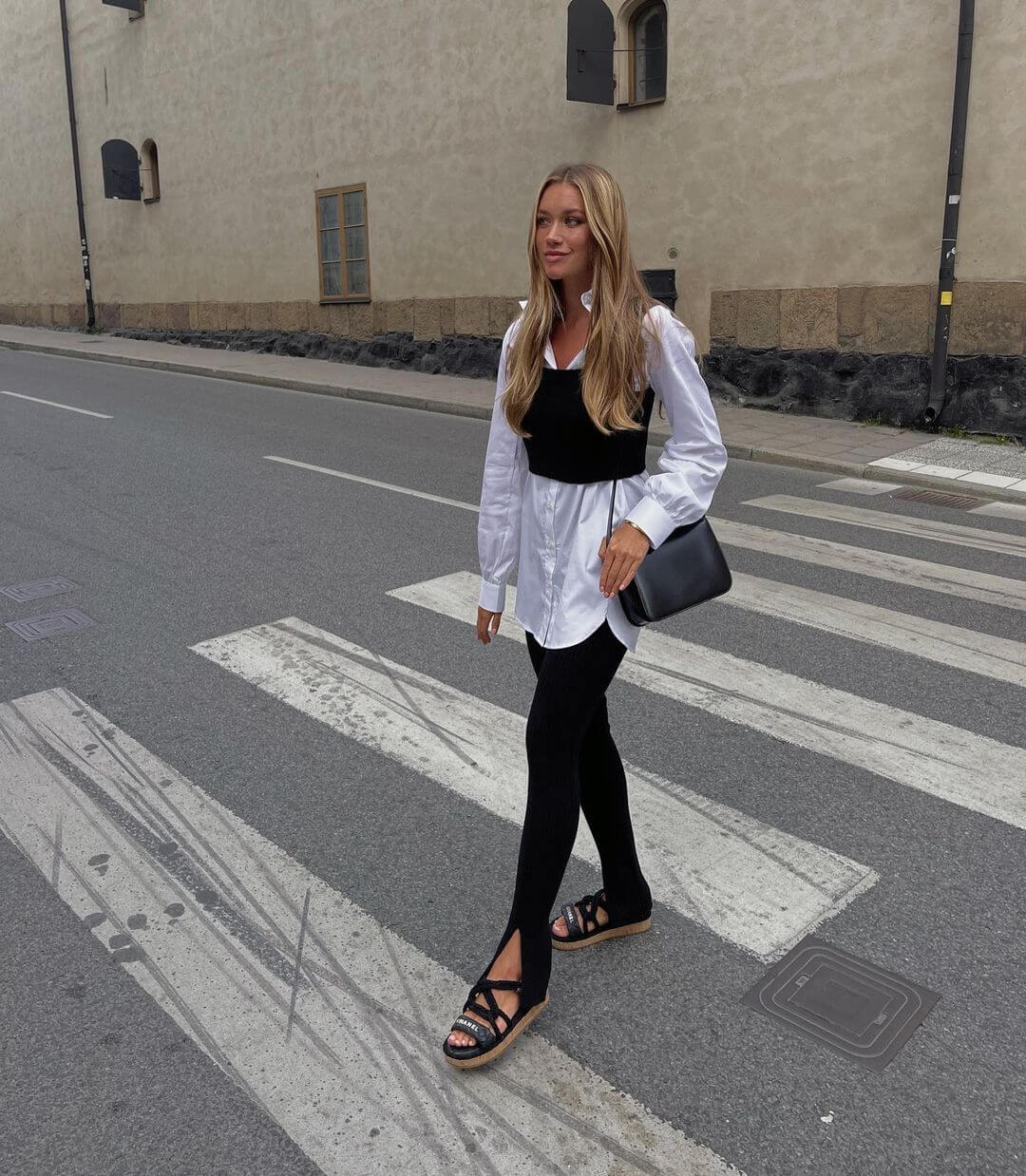 Photo via @lovisabarkman
2) Split Hem Pants
We love basic pieces with an updated twist such as split hem pants. This long pant style is one of the best transitional pieces to ease you into a fall wardrobe as it looks great with sandals, sneakers and open-toed shoes. What seems like regular flared trousers at first glance turns out to be a visually interesting variation thanks to the hem detailing. An added bonus – they're perfect for wearing with pointed toe boots later.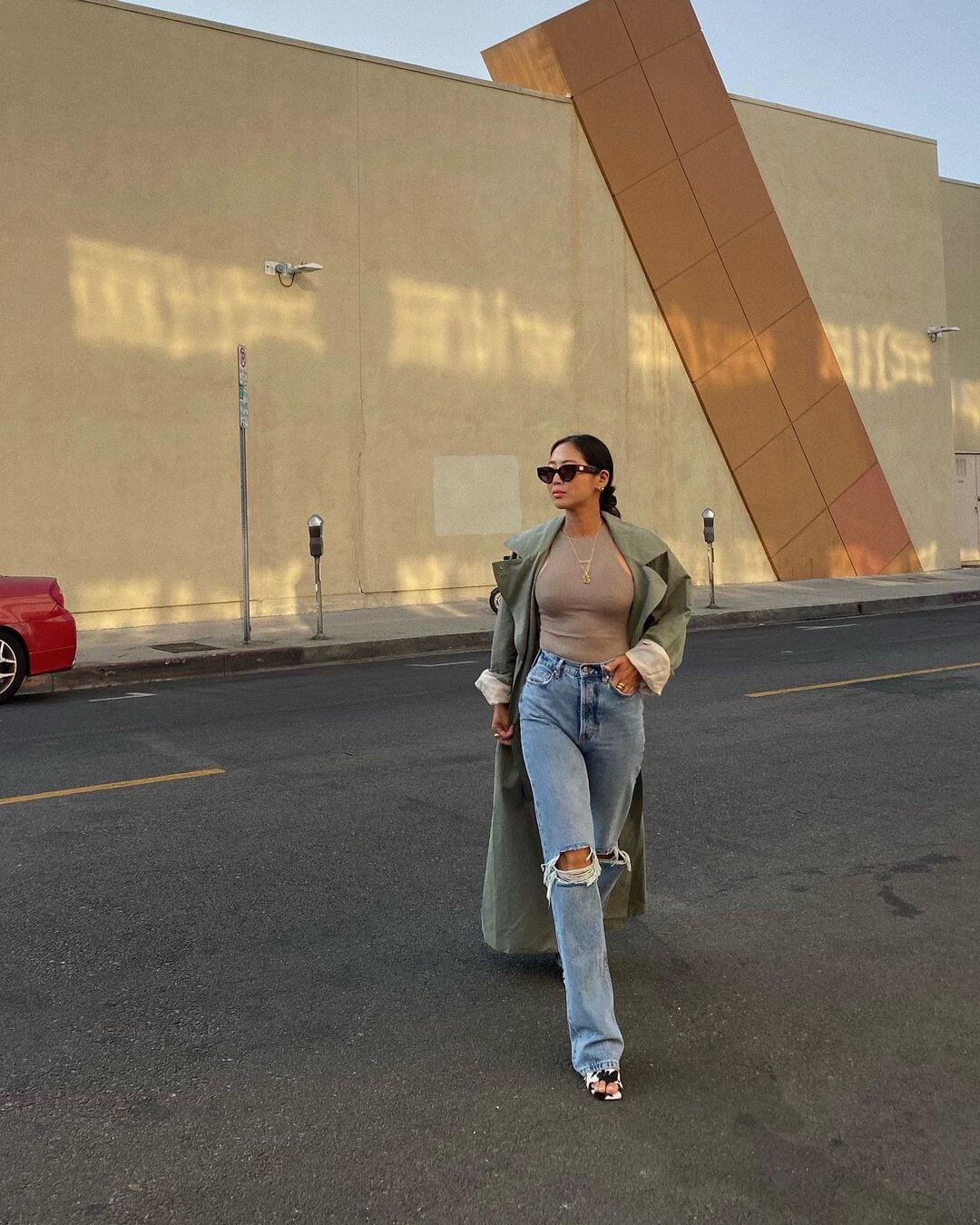 Photo via @aimeesong
3) Colored Trench
A trench coat is a classic, transitional outerwear item favored by so many fashionistas as it is not too heavy or light and shields you from environmental elements. However, do not be afraid to stray from the traditional beige. A colored trench is actually such a nice pop to throw on top of any outfit, whether it be casual or dressy.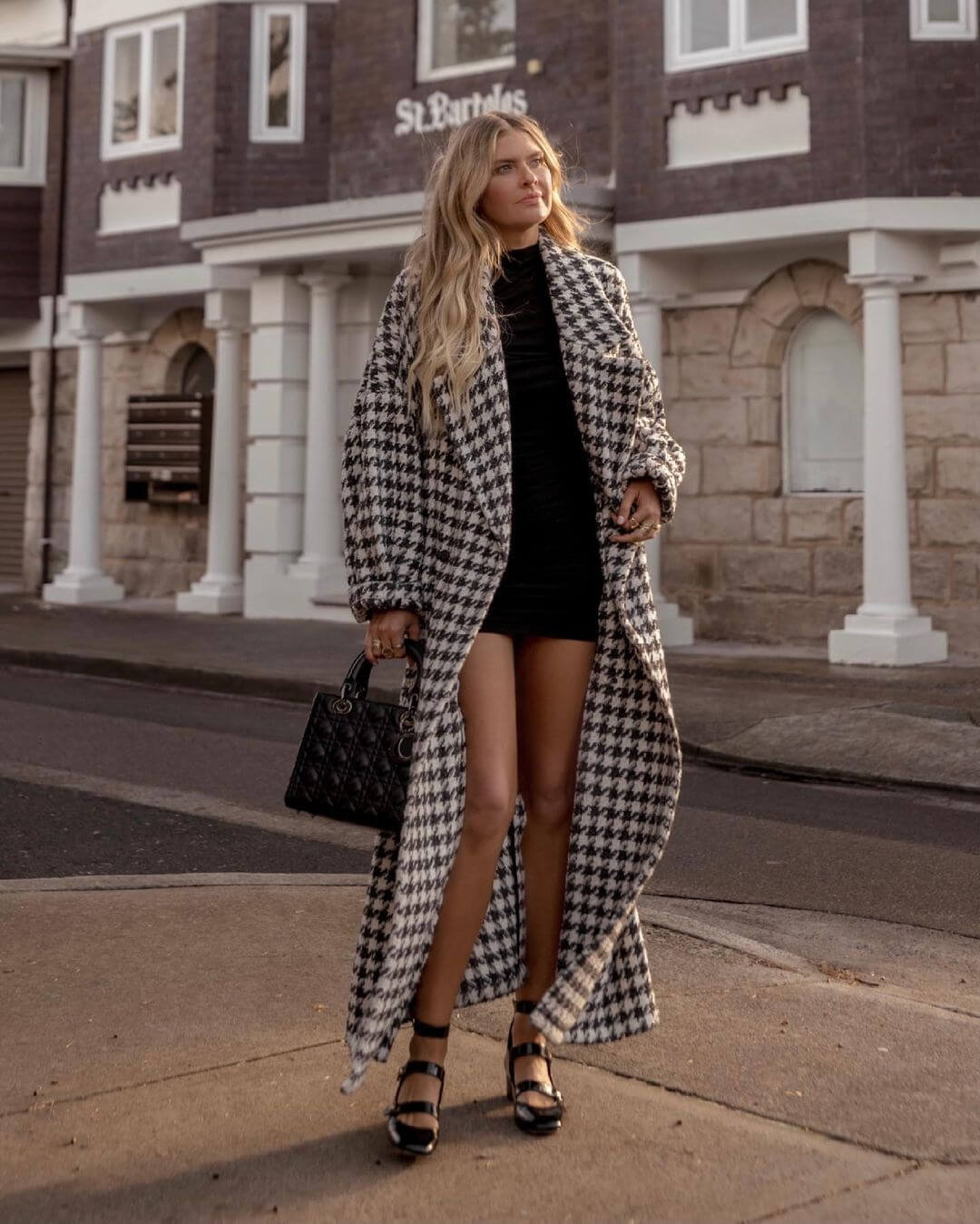 Photo via @elle_ferguson
4) Tweed, Houndstooth, or Boucle
Get others excited for fall by simply incorporating more autumnal oriented patterns and textures into your outfits again. Houndstooth, tweed, or boucle are all show-stopping pieces for this time of year. Anything they're added to looks incredibly stylish and feminine. Consider donning a statement outerwear piece for a head-turning look.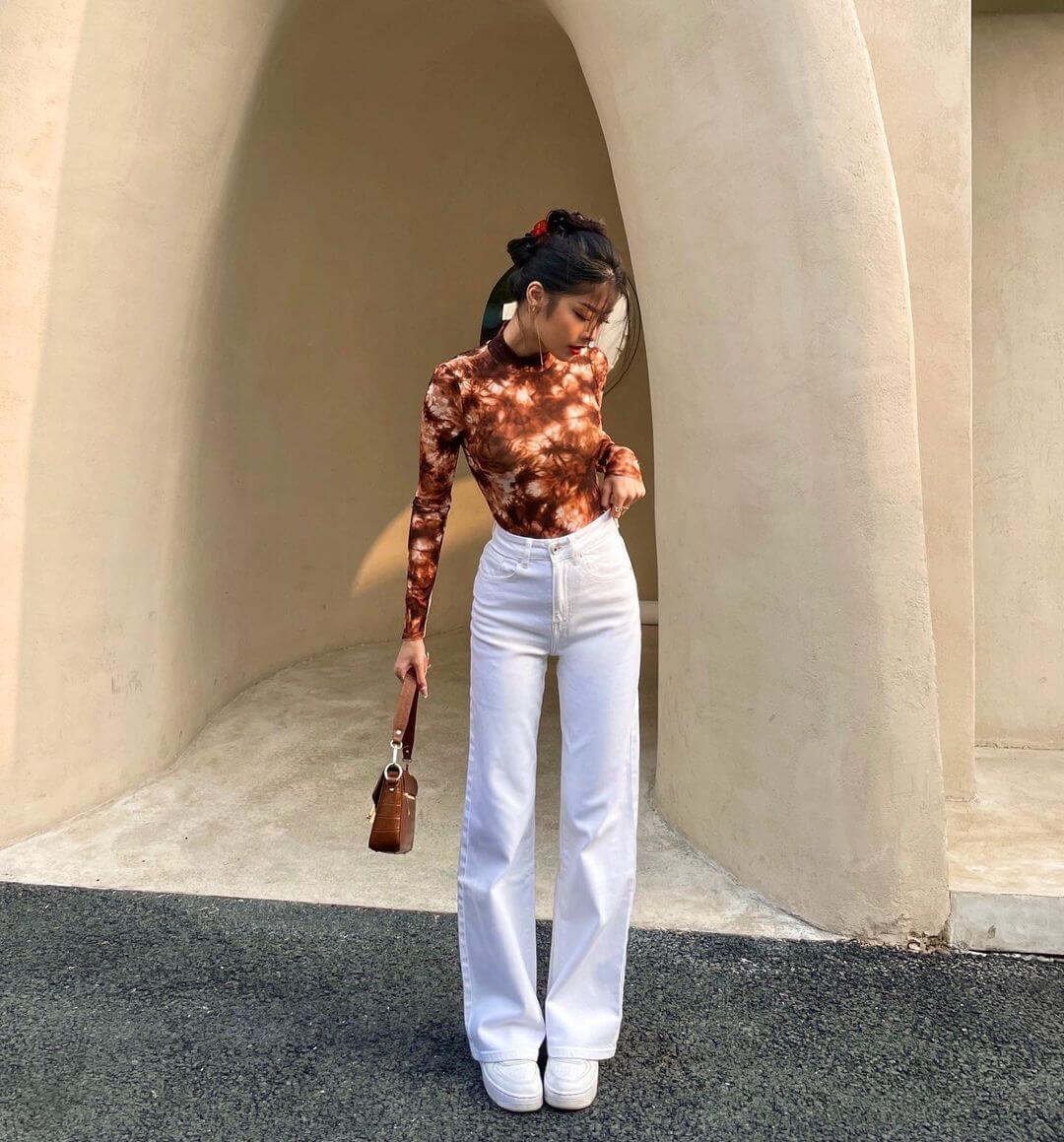 Photo via @caroline_hu
5) Second Skin Tops
Second-skin printed tops have been everywhere as of late. The fact that they are so incredibly form-fitting and tend to feature funky patterns make them a brilliant match for denim and solid trousers. We love tie-dye and artsy prints to really spice things up. Since second skin tops are usually semi-sheer, you can wear them now while it's hot with a bralette underneath, then layer them up with knits later.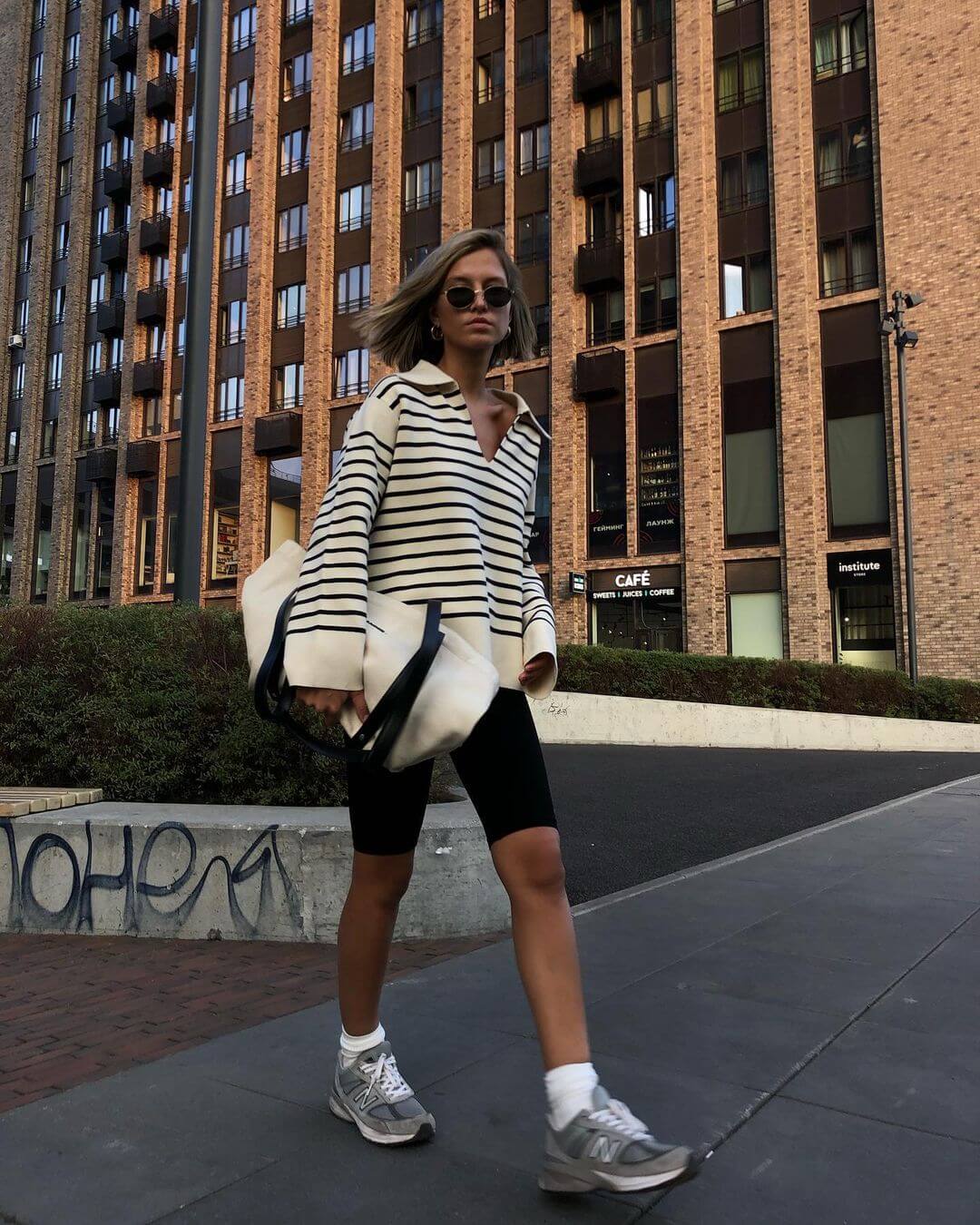 Photo via @dashakos
6) Collared Sweatshirts & Sweaters
What is fall without a heavy dose of coziness? We are all about elevated basics and there is none other than sweatshirts or sweaters with an added collar. Pop these tops over biker shorts, split hem leggings or baggy denim – and you instantly have a casual, transitional weekend warrior fit.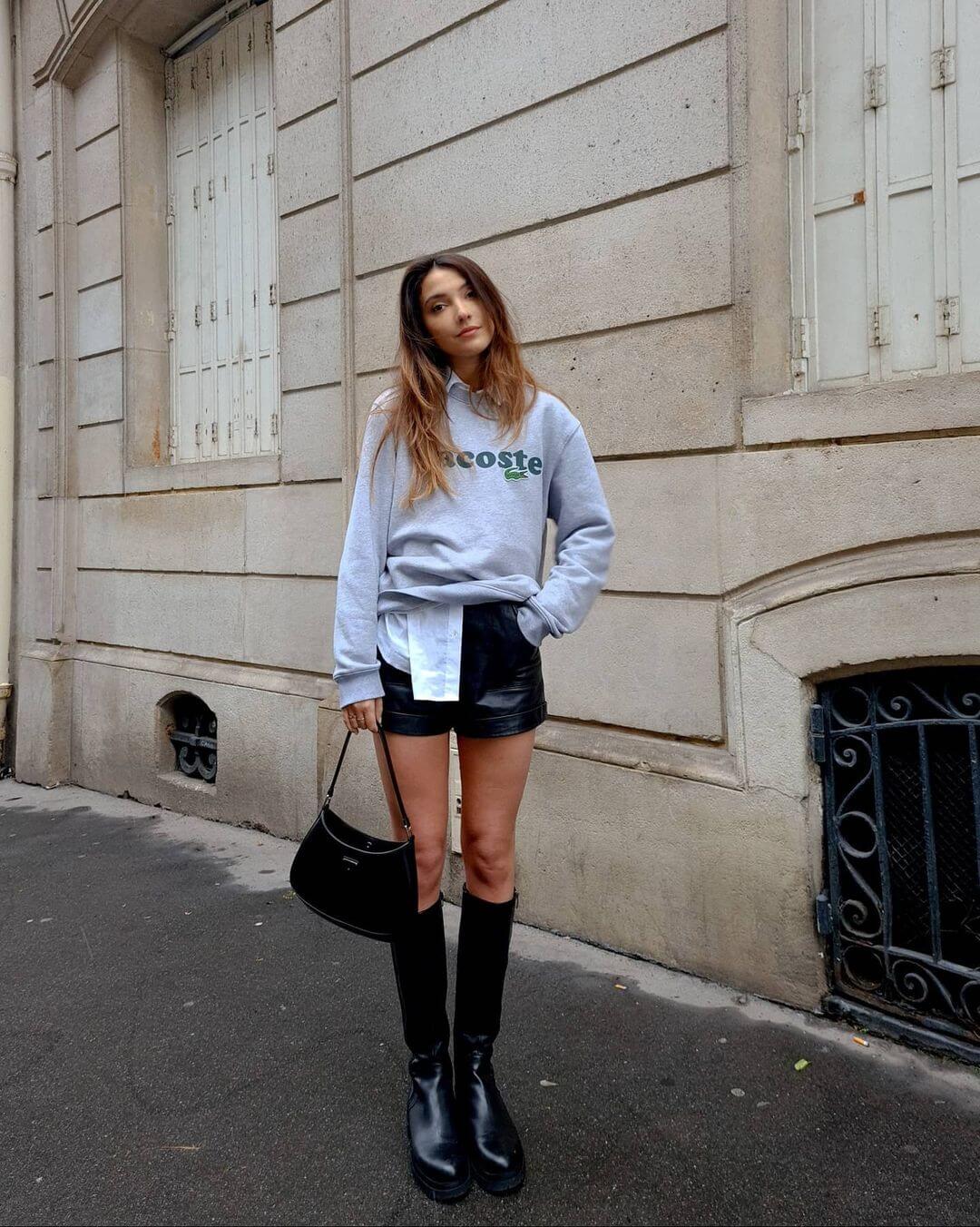 Photo via @wendyswan
7) Leather Shorts
Fall is the season to reintroduce leather. However, it is a very heavy material that can ramp up the heat fast. So a great way to mix it into your fall transition looks is via shorts. Wendy paired hers with a layered button up shirt and graphic sweater, then finished it off with chunky knee-high boots. This chic, rainy day look is one for the books in our opinion.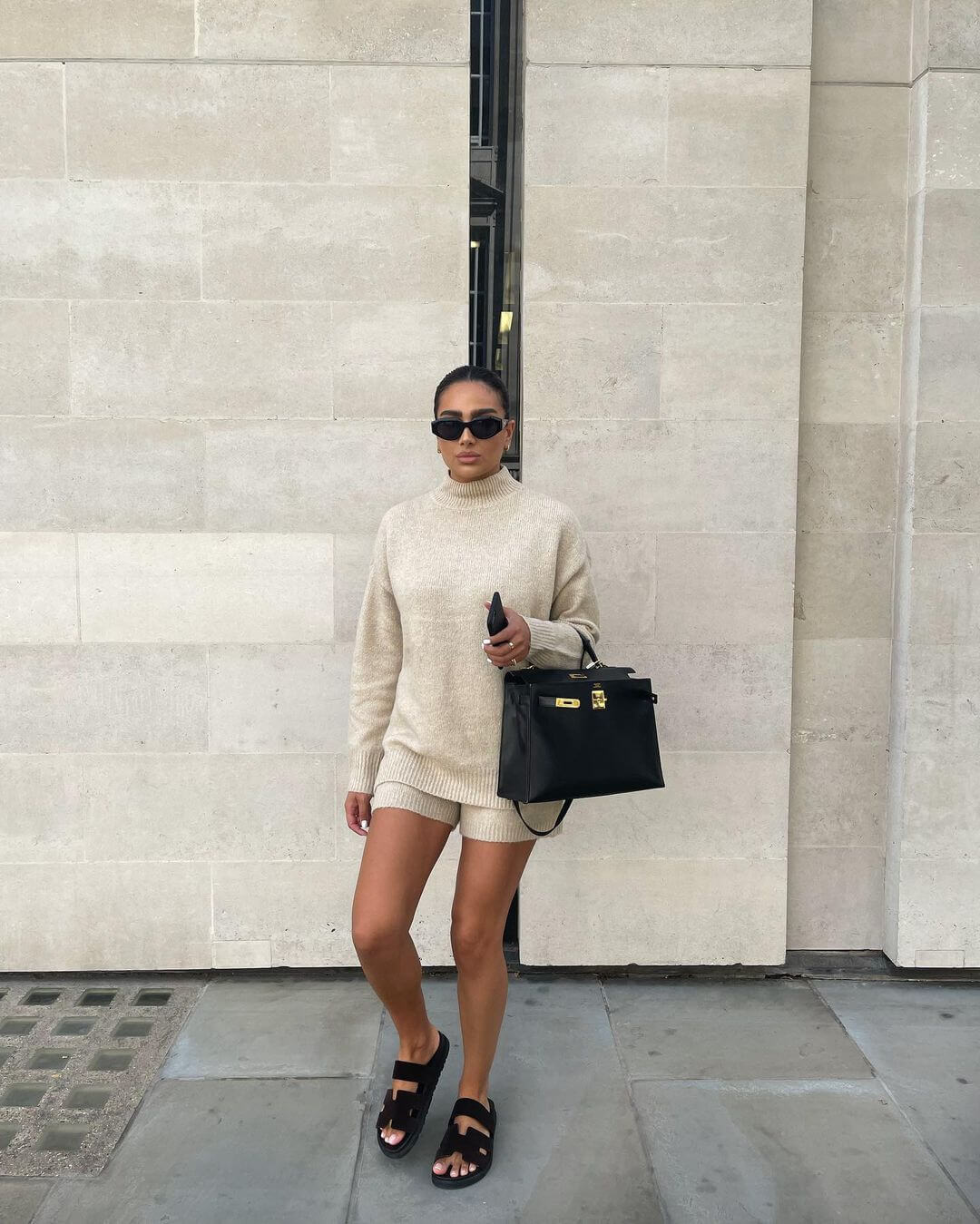 Photo via @charlotteemilysanders
8) Sweater Sets
Sweater sets will remain all the rage as we gear up for the next season. Obviously, we all love when fashion meets comfort. Fortunately, these knit pieces are cozy enough to lounge at home in and stylish enough to wear out and about. You could also throw in some luxe accessories like oversized sunnies and a structured bag to take your look up a notch too.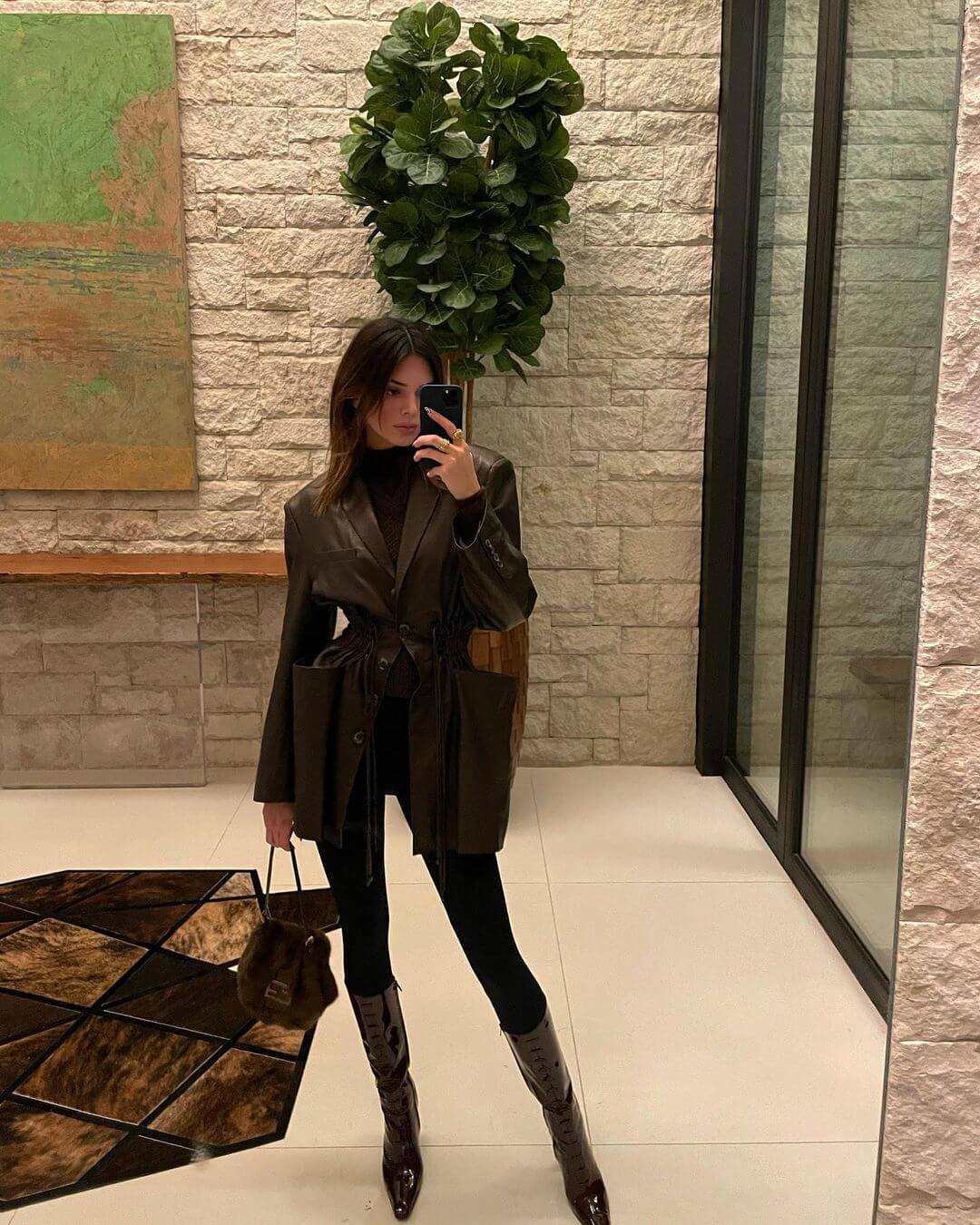 Photo via @kendalljenner
9) Chocolate Brown
Summon up the autumnal feels by dressing in the tones that fit the season. Chocolate brown is such a velvety, luxurious color and a great way to transition into the cooler months. If it is still warm where you are, introduce the color in pieces like silk or cotton so they are breathable while still reading fall.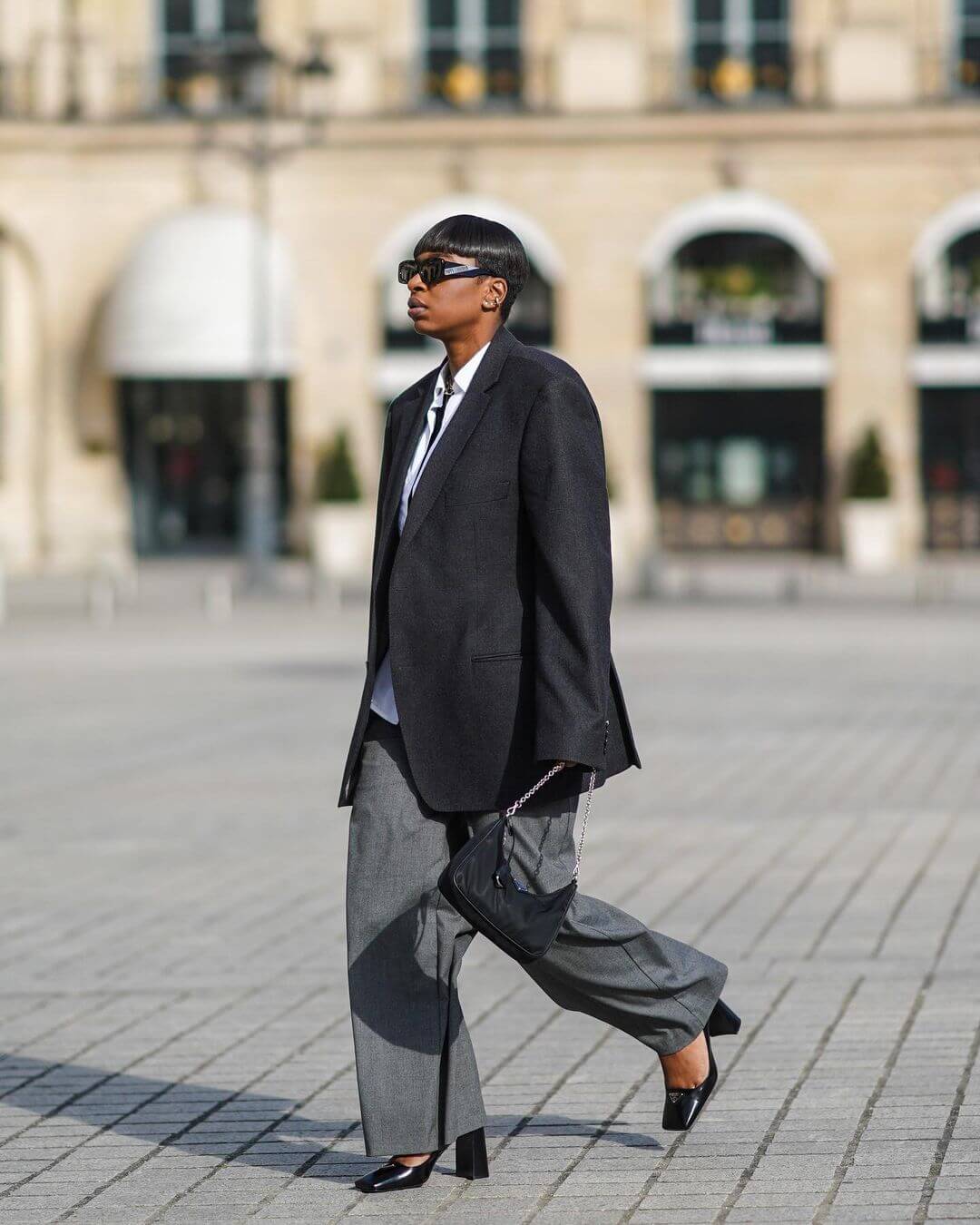 Photo via @thevisuelofgrace
10) Oversized Blazer
Lastly, suit up this season with some chic tailored pieces. You can expect to see the oversized blazer everywhere. A great way to wear it to beat the remnants of summer heat is by swapping your typical shirt or blouse with a more trendy bra top.

We hope these looks got your creative juices flowing and inspired for fall! With just 10 transitional pieces, you'll be ready to create fashion-forward looks that incorporate the upcoming trends while still pandering to the transitional weather. Which one was your favorite?