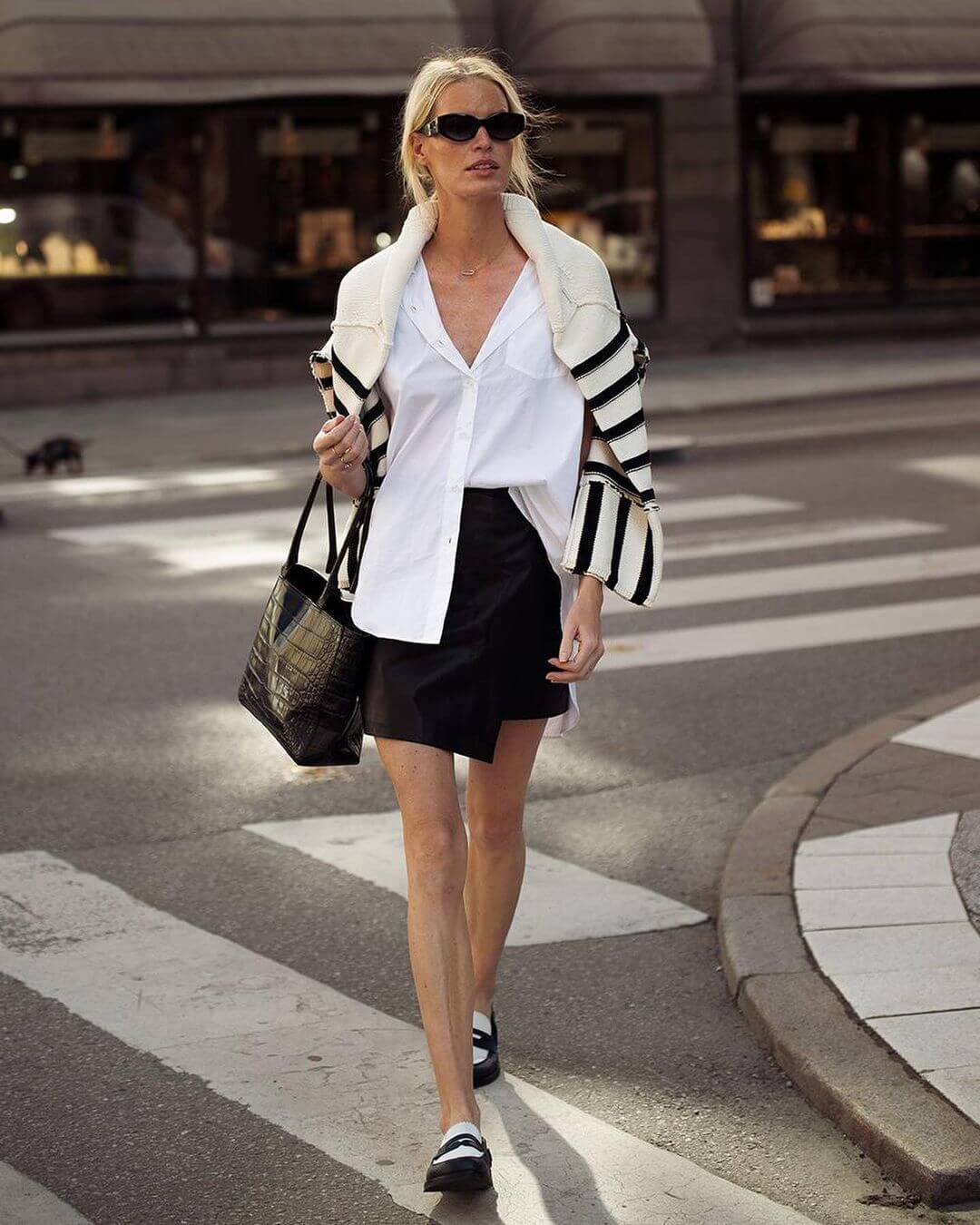 Photo via @priscilaevangelista_
We all have those staple items in our wardrobe that may not have gotten enough love over the years. Take for instance, the classic white button down shirt. Chances are you all have some variation of this item in your closet but haven't gotten much mileage out of it lately. Fortunately, things are taking a turn and this shirt is now trendier than ever. We're definitely on board and have been looking for ways to rework it into our daily looks. A quick scroll through Instagram proves that it can be layered endlessly and even worn in new, adventurous ways. If you ever thought you've exhausted your white button down shirt, think again because we've got 10 refreshing looks that prove you can keep the staple item on heavy rotation for fall.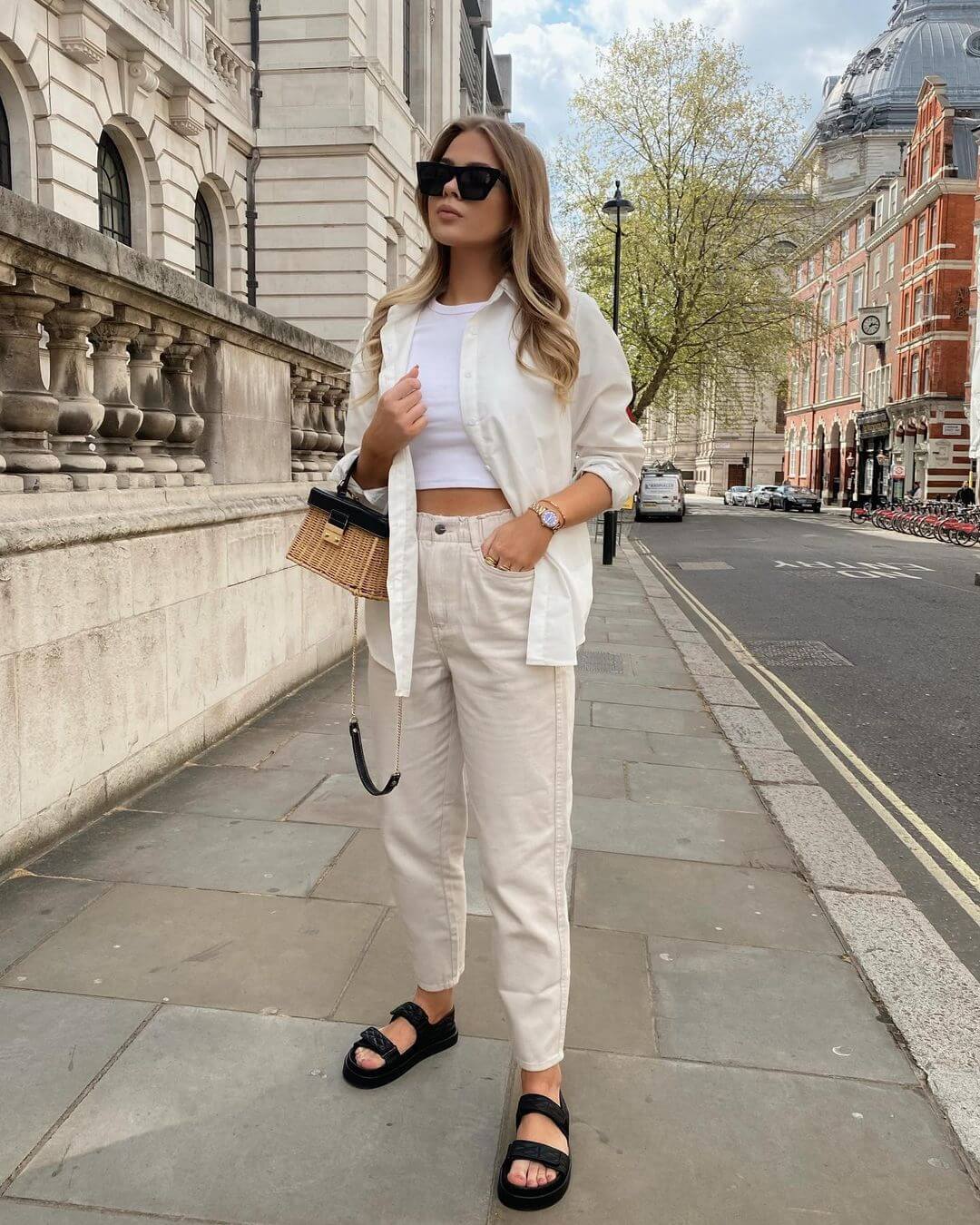 Photo via @mildagud
1) Light Layer
One of the simplest, no-brainer ways to style a white button down shirt is to merely use it as you would a cardigan. By keeping it loose and unbuttoned, it acts as a light, breezy outer layer that injects low key interest to an outfit. We love how this influencer uses it to make her summer staples wearable during this in-between period. Get the look yourself by throwing a white shirt over a minimal cropped tank and some tapered denim.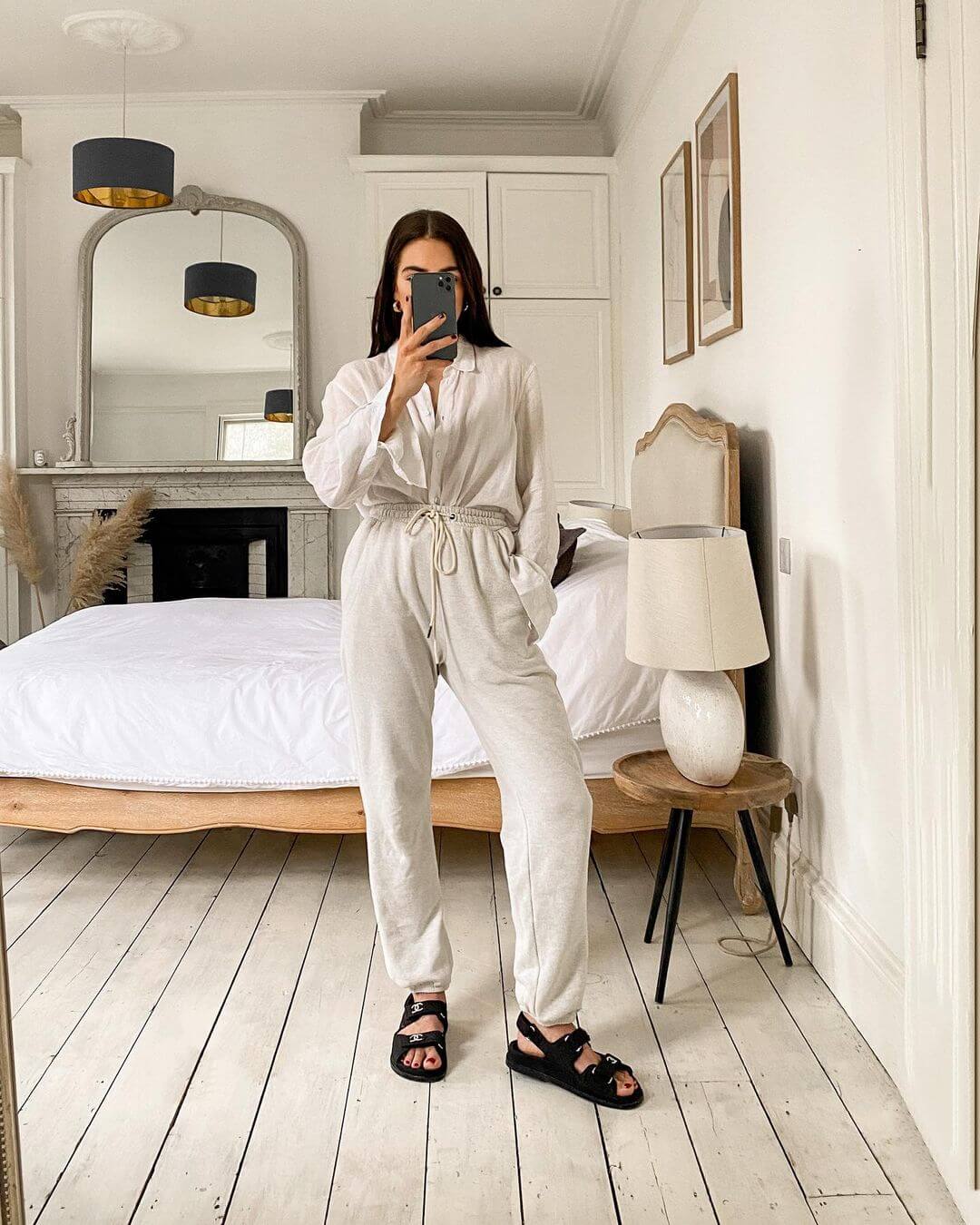 Photo via @_jessicaskye
2) No Sweat
Another new, cozy way you can wear your button up is by tucking it into none other than sweatpants! This not-so-typical outfit combination that is actually effective and stylish. We recommend it for those busy errand days when you want to look cute but still want to remain comfortable. Complete it with chunky sandals and swap them for shearling slides once temperatures dip.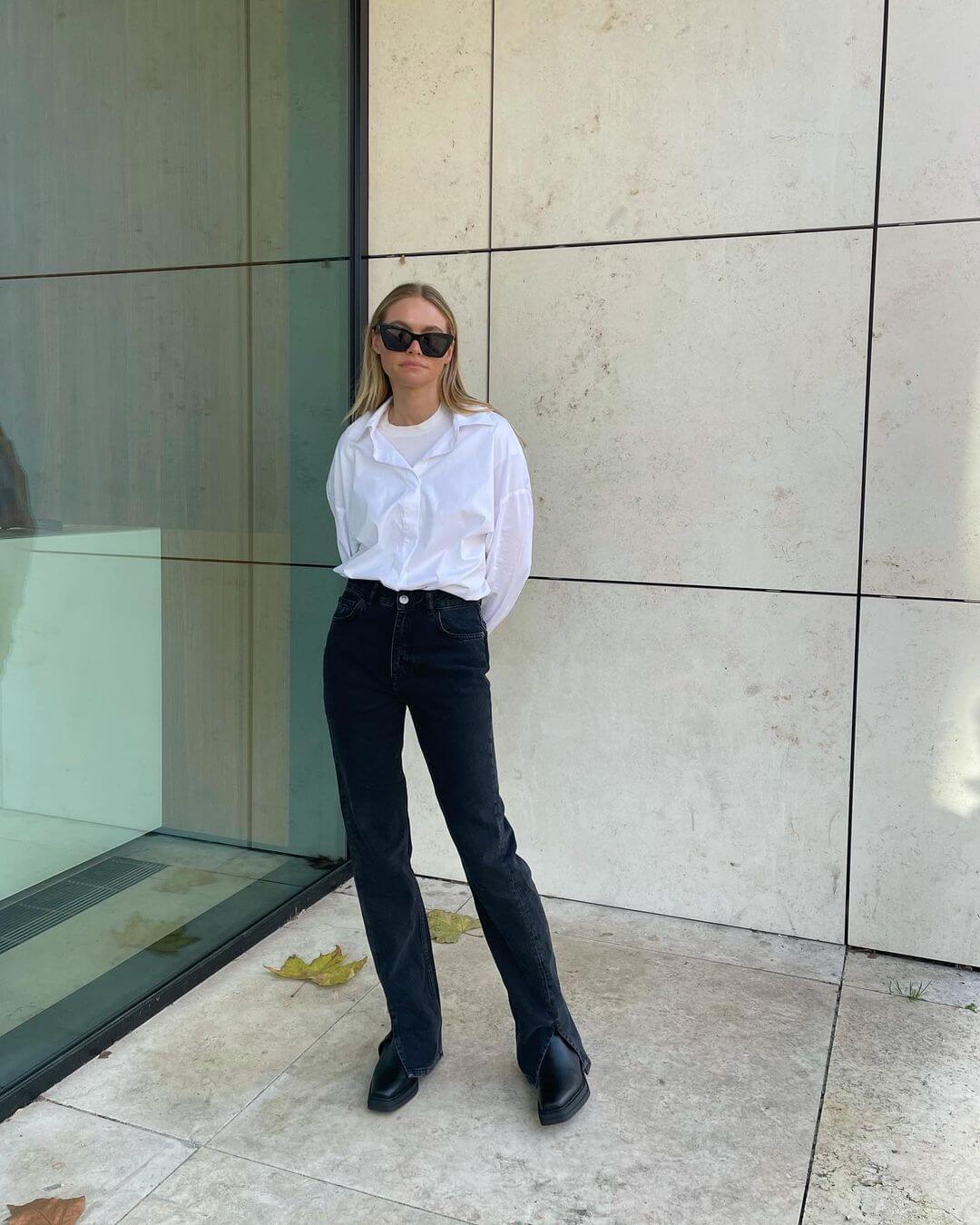 Photo via @clairerose
3) Tucked & Layered
The chill will eventually set in, and when it does, you could layer the white shirt over a basic tee or even a turtleneck. Just be sure to button it up and tuck it into some full-length, relaxed denim. Pull it out ever so slightly so the shirt billows over the jeans. The overall effect is equally polished and casual. Add some dark sunnies and a pair of chunky boots to achieve an off-duty vibe.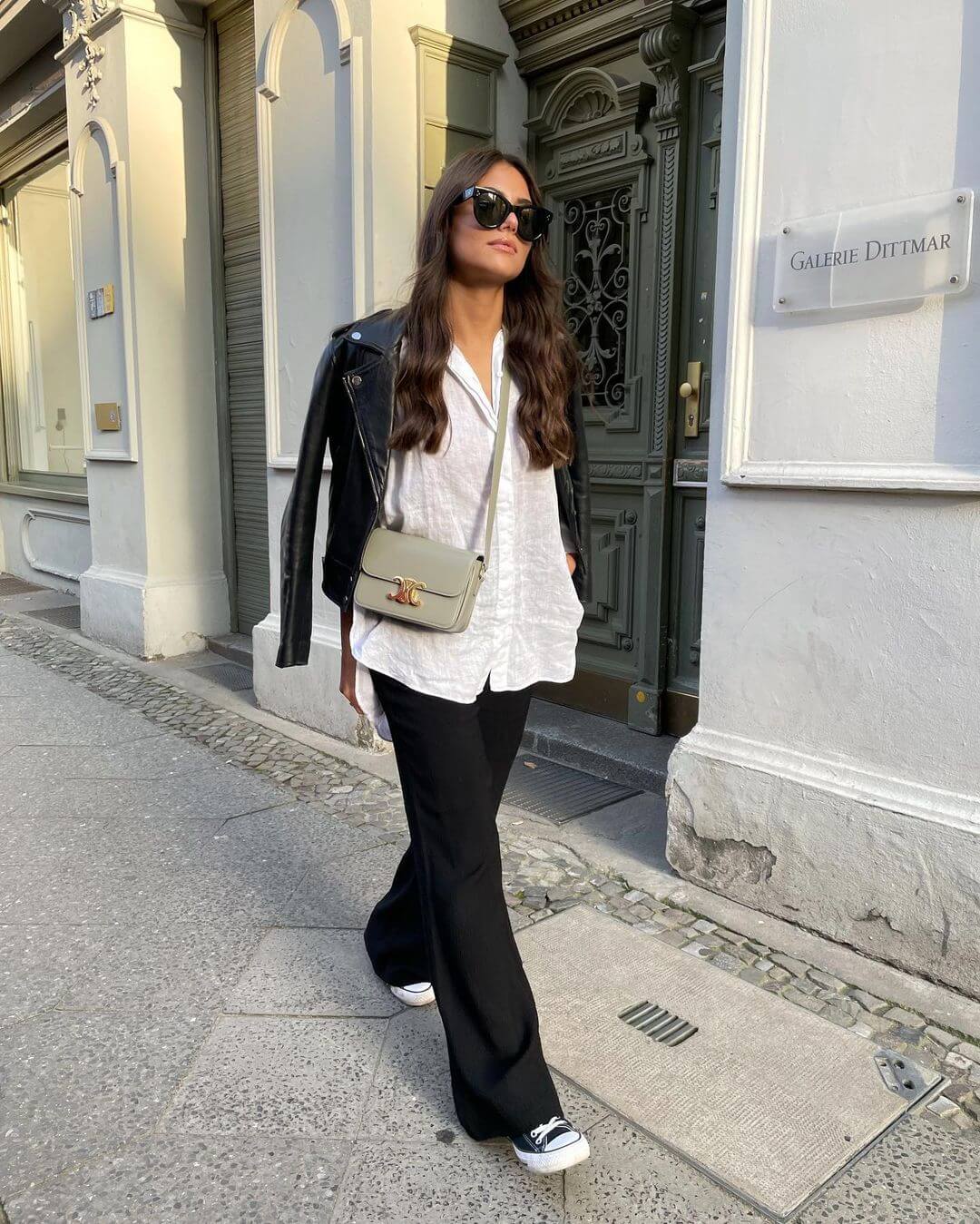 Photo via @aaylingk
4) Loose and Unbothered
In contrast to the above look, you can also opt to leave your button up shirt untucked and loose. Obviously, this still creates a laidback look which is perfect for an outfit to wear out on the weekend. Bonus points apply if you want to casually drape your moto jacket on top to finish off the outfit!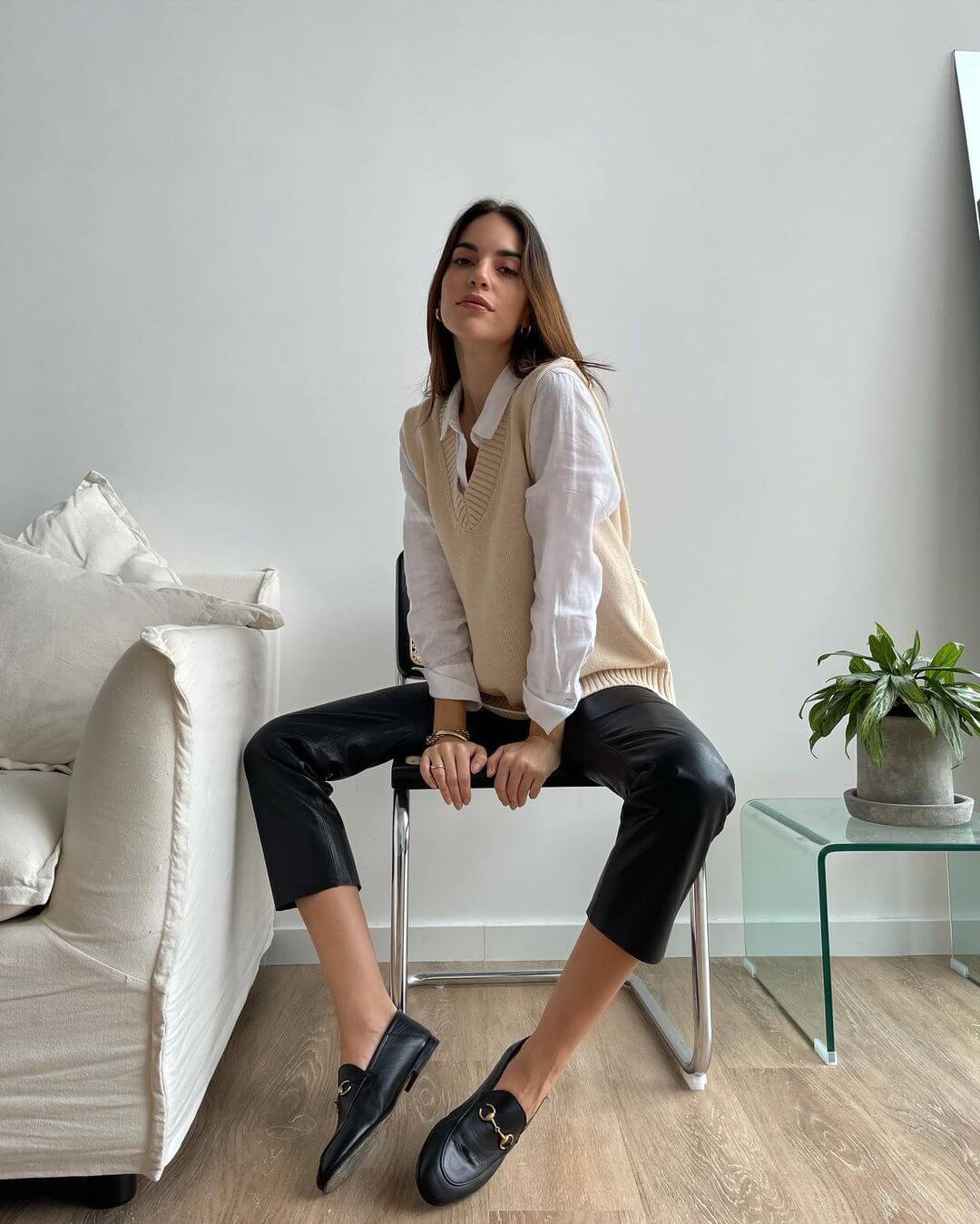 Photo via @carolinacubasq
5) Layered Sweater Vest
Of course, we cannot forget about the sweater vest! The white button up shirt is the ideal match for this more collegiate-style knit top. The two layered together make for the perfect autumnal outfit. All that's left to look put together is a pair of faux leather pants and loafers.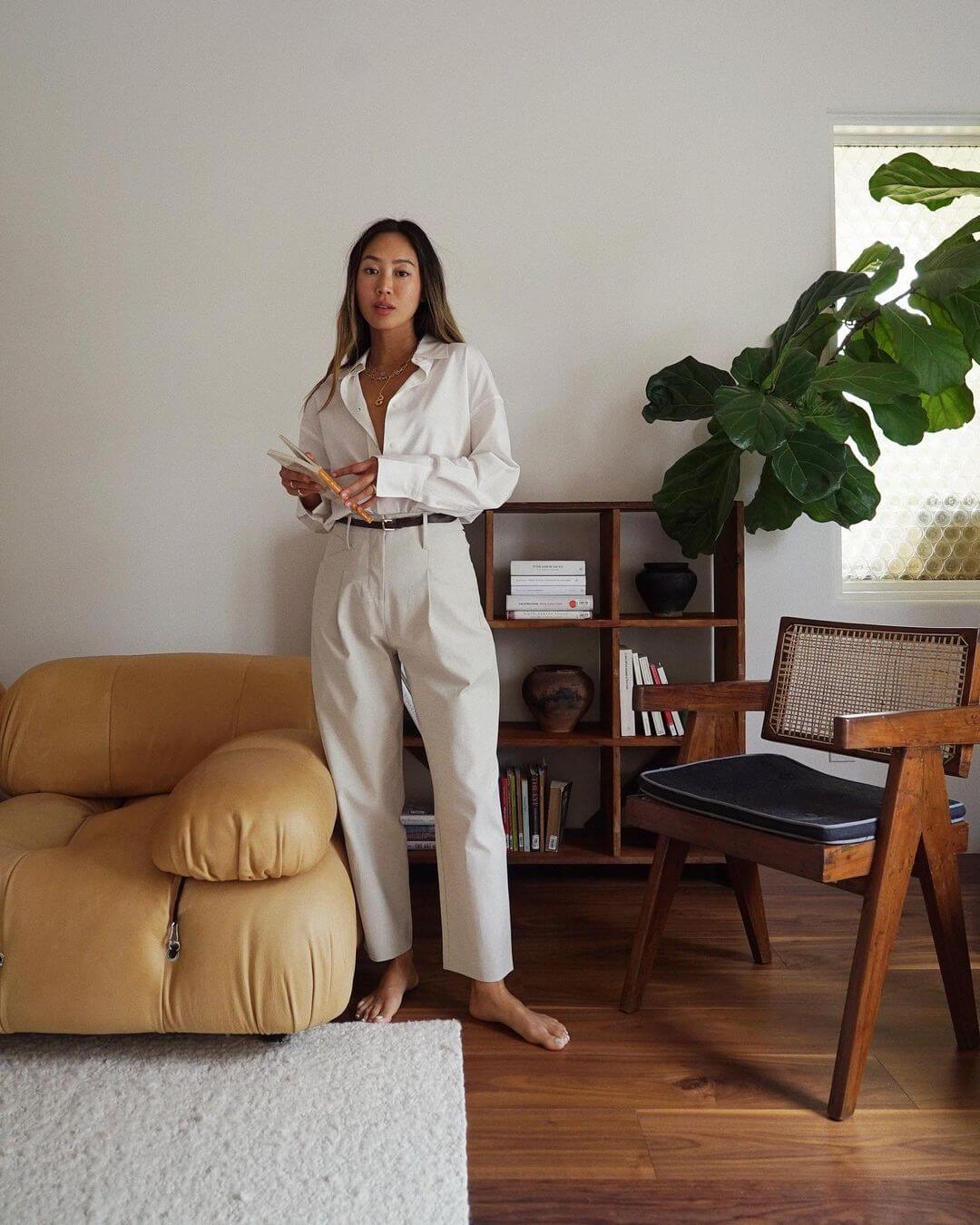 Photo via @aimeesong
6) Business Casual
Naturally, button up shirts and blouses are fit for the office so why not bring back this piece for a fashionable business casual look. You can keep things clean and minimal too as seen above. Choose any crisp white shirt and pair it with some pleated trousers. Add a subtle but sexy finish by keeping some of the buttons undone, then tie it all together with a belt.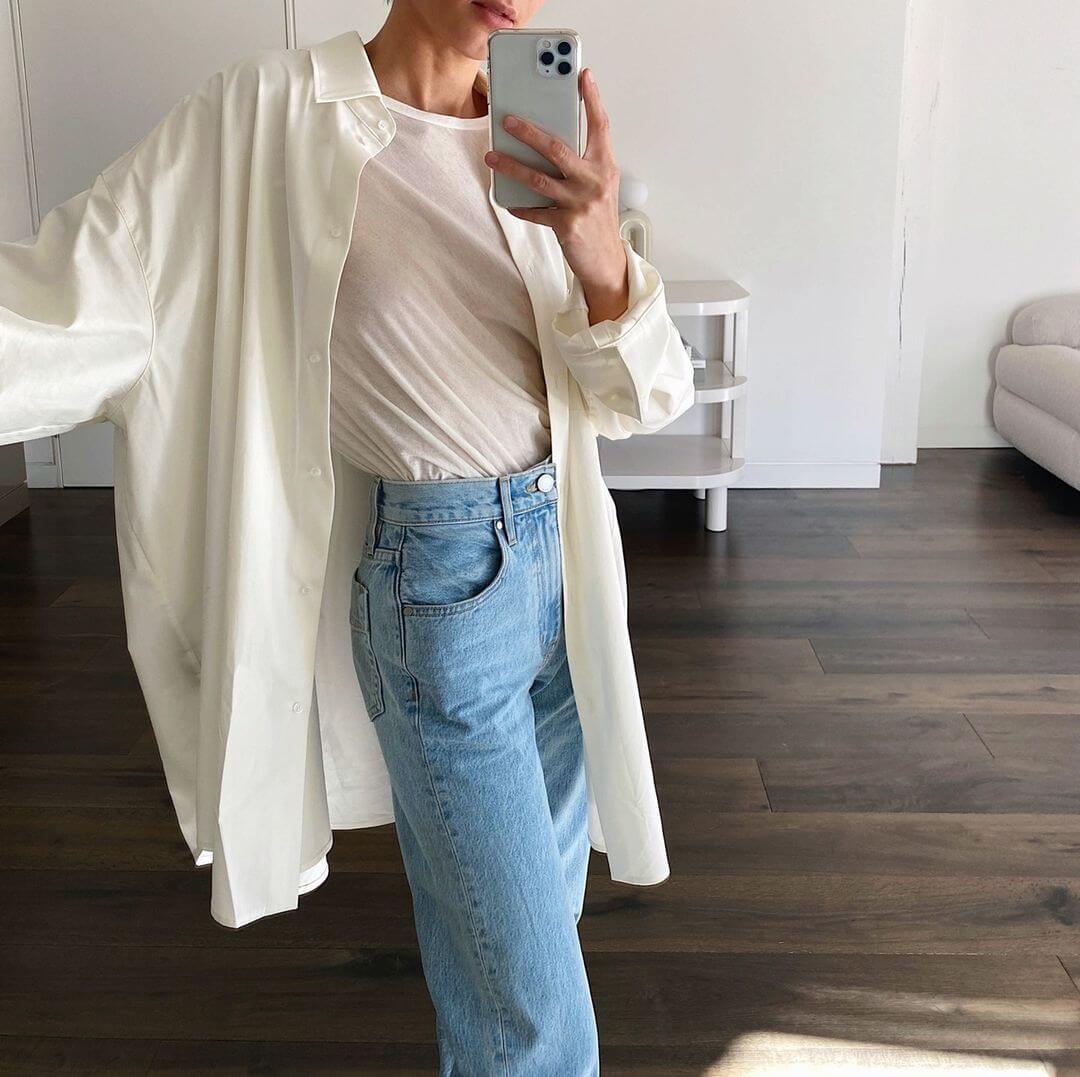 Photo via @pepamack
7) Large & In-Charge
Do not forget about super-sized white button down shirts too! Maybe you can even head to your S.O.'s closet to steal his or her larger button ups for your outfits. For a quick fit idea, toss your oversized shirt on top of some high-waisted jeans, then add a structured bag and heels or sneakers. There, you have instantly trendy look.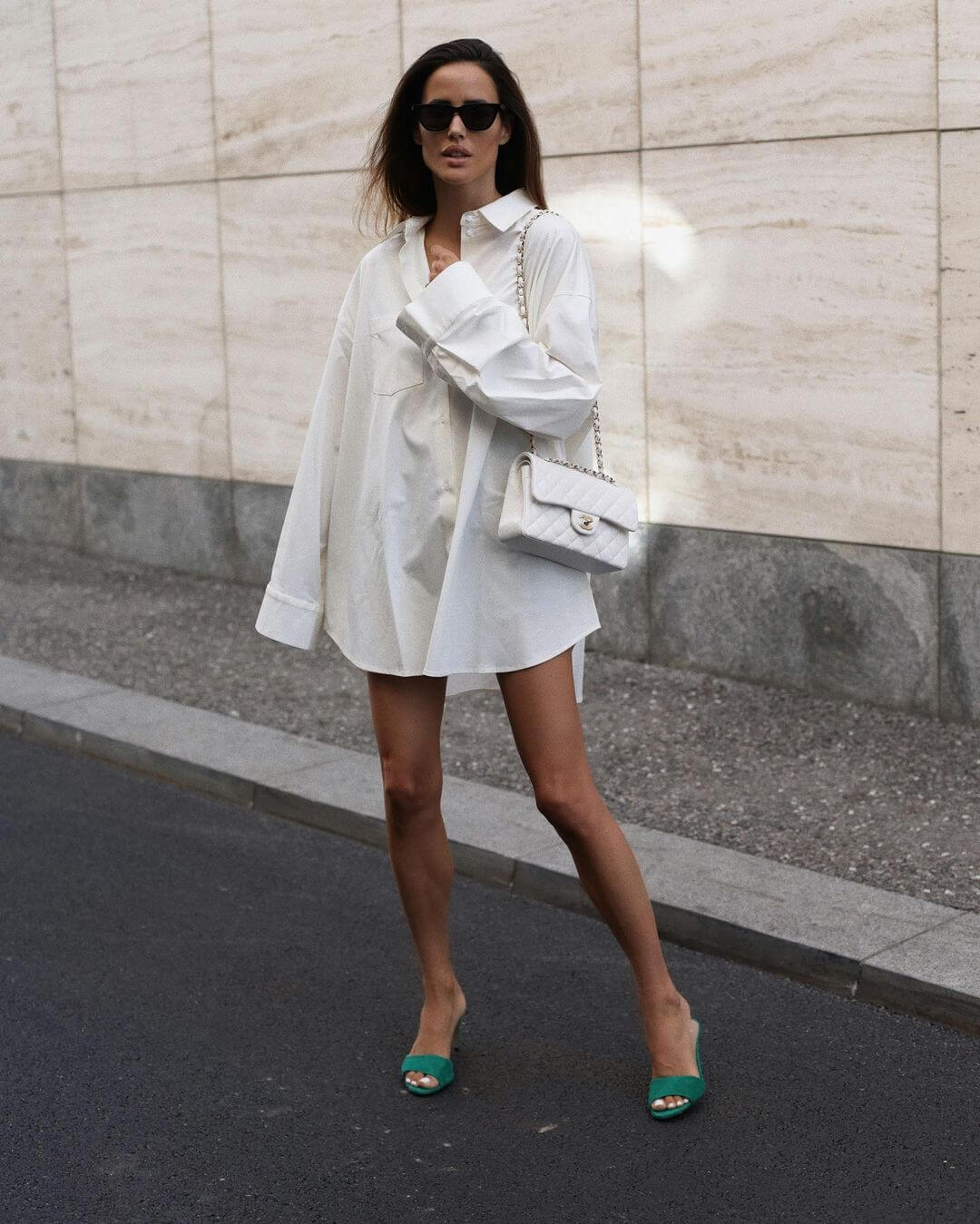 Photo via @ariviere
8) Shirt Dress
Speaking of oversized, you may even be able to get away with styling a white shirt as a dress or tunic. If it is long enough, more power to you, but if it is on the cusp, you can just add a pair of biker shorts underneath. Style it with some vibrant heels or knee-high boots for a more autumnal twist.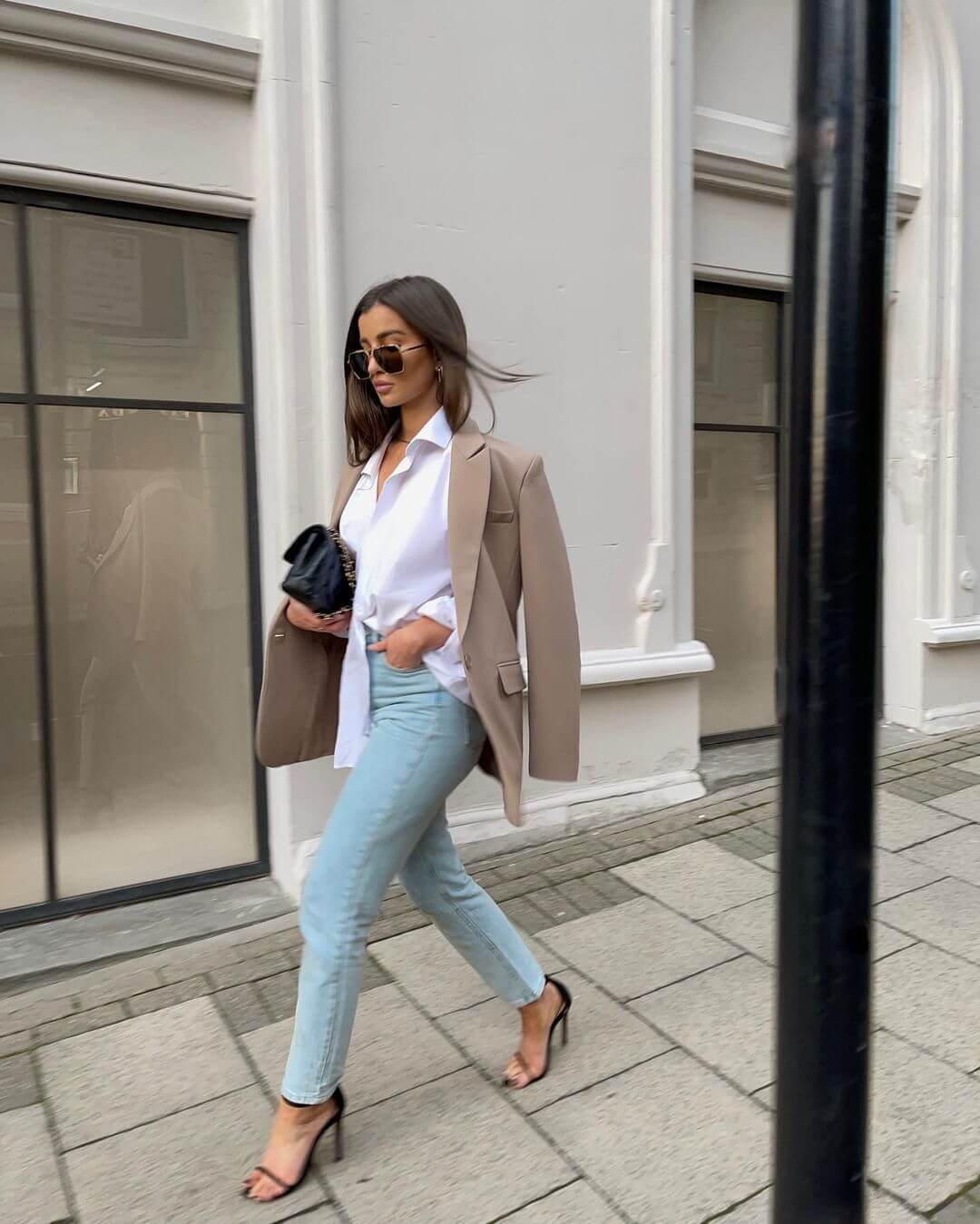 Photo via @aliceoliviac
9) With A Blazer
Here at The Cool Hour, there's nothing we enjoy more than a smart blazer so we'd be remiss not to mention it. That said, a white button down shirt coupled with a solid or printed blazer will never not be a look. Dress it down with jeans or dress it up with some trousers and you'll always be chic. Notice how Alice turns things up a notch with the half tuck styling.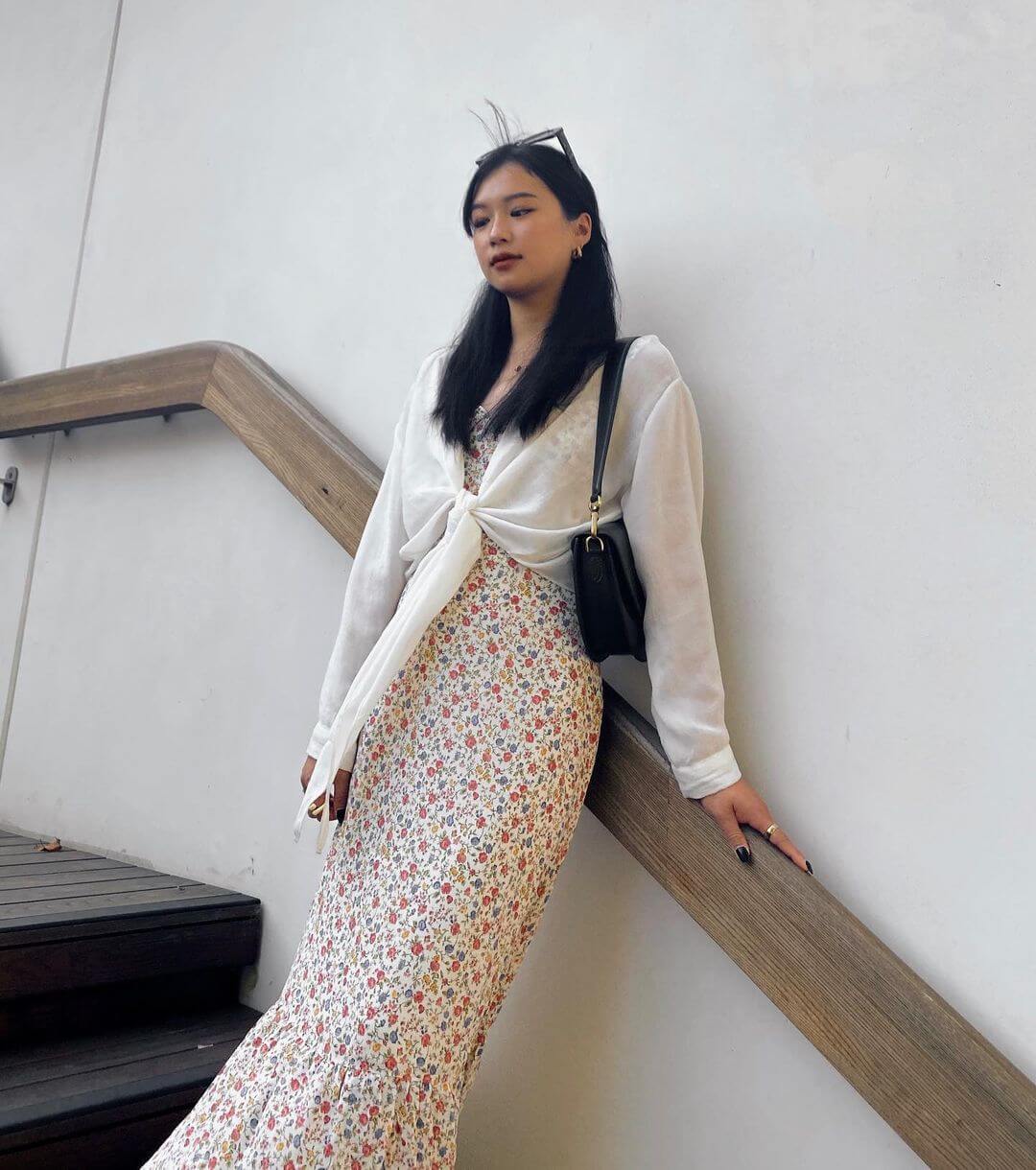 Photo via @nuriamaa
10) All Tied Up
The last suggestion we have for styling your white button up is to tie up the ends. You can use it to layer over a dress or even a simple tank top to carry over your favorite summer pieces into fall. It's a combo you can wear over and over.

There has never been a staple more essential than the white button down shirt. We hope these looks give you the necessary fashion inspiration to revisit that classic lurking in the back of your closet.
(Visited 1 times, 1 visits today)