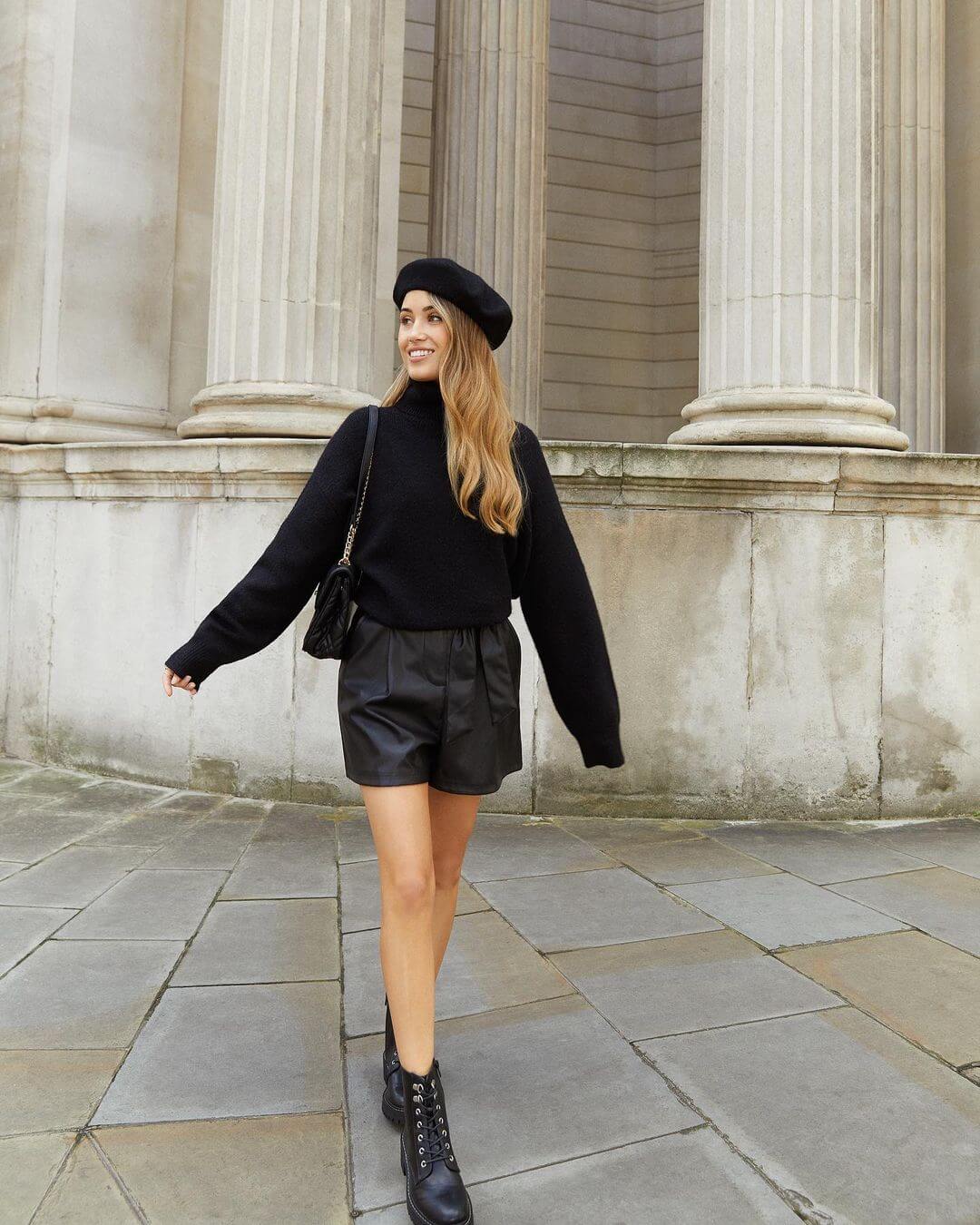 Photo via @kateehutchins
Leather weather has officially arrived and we are here for it! Although the trending silhouettes change from year to year, this luxe fabrication never fully goes away around this time – it only evolves. We love leather because it can take the shape of so many different things as seen on the runways. Whether you opt for a skirt, trench coat, or trousers, leather is always a chic option to keep yourself warm. Aside from functionality, leather is also versatile and long-lasting – all the reasons why you should expand your own leather fashion collection right now. With so many styles and options to choose from, we thought we would put together some inspiration on all the various ways you can wear leather over the next few months.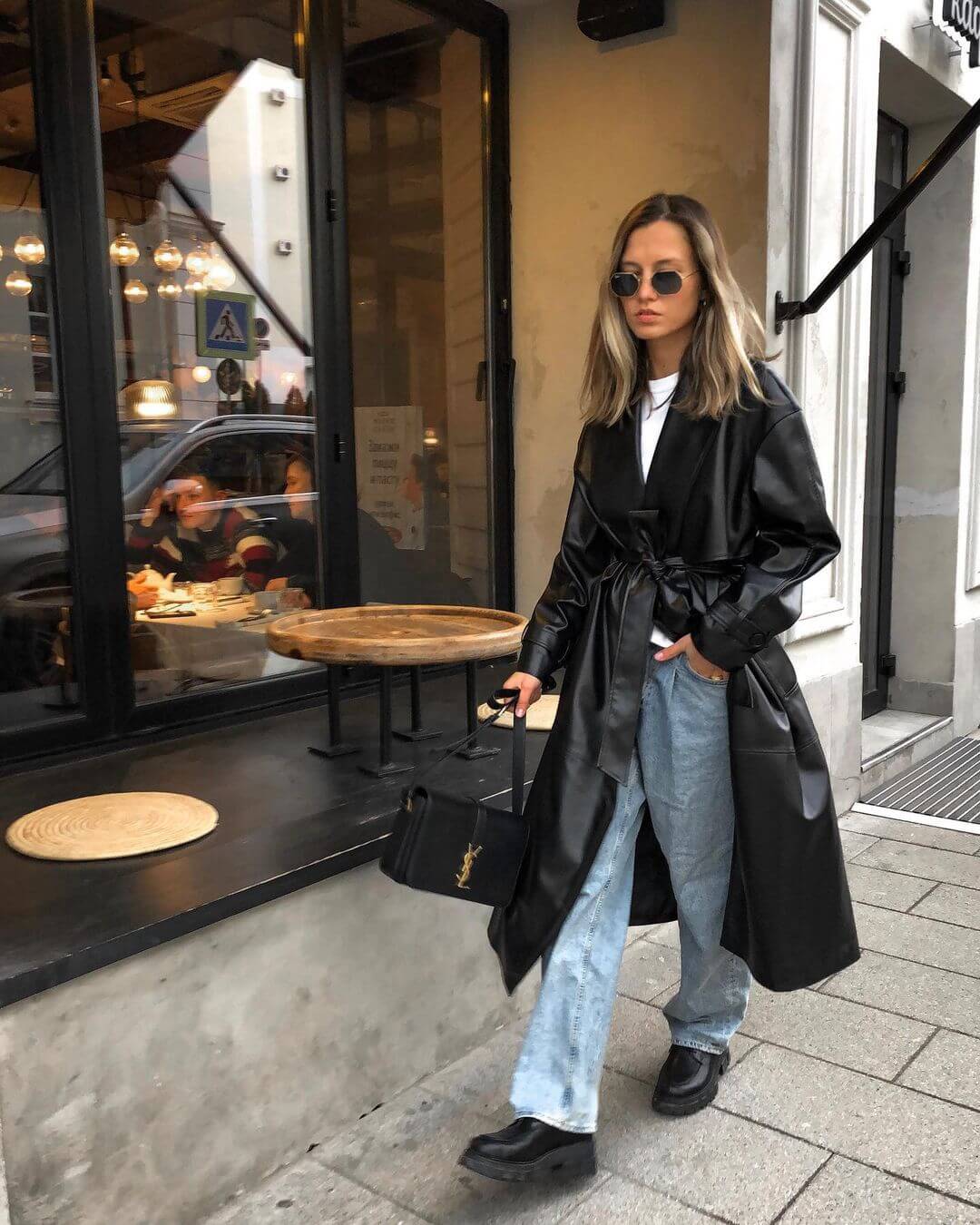 Photo via @dashakos
1) In the Trenches
The most obvious way to incorporate leather into your fall wardrobe is via outerwear – and for a not-so-obvious take, you'll need a leather trench coat. If you are worried about looking too Matrix-y, ensure the outfit underneath is made up of relaxed basics. This makes for an off-duty model vibe.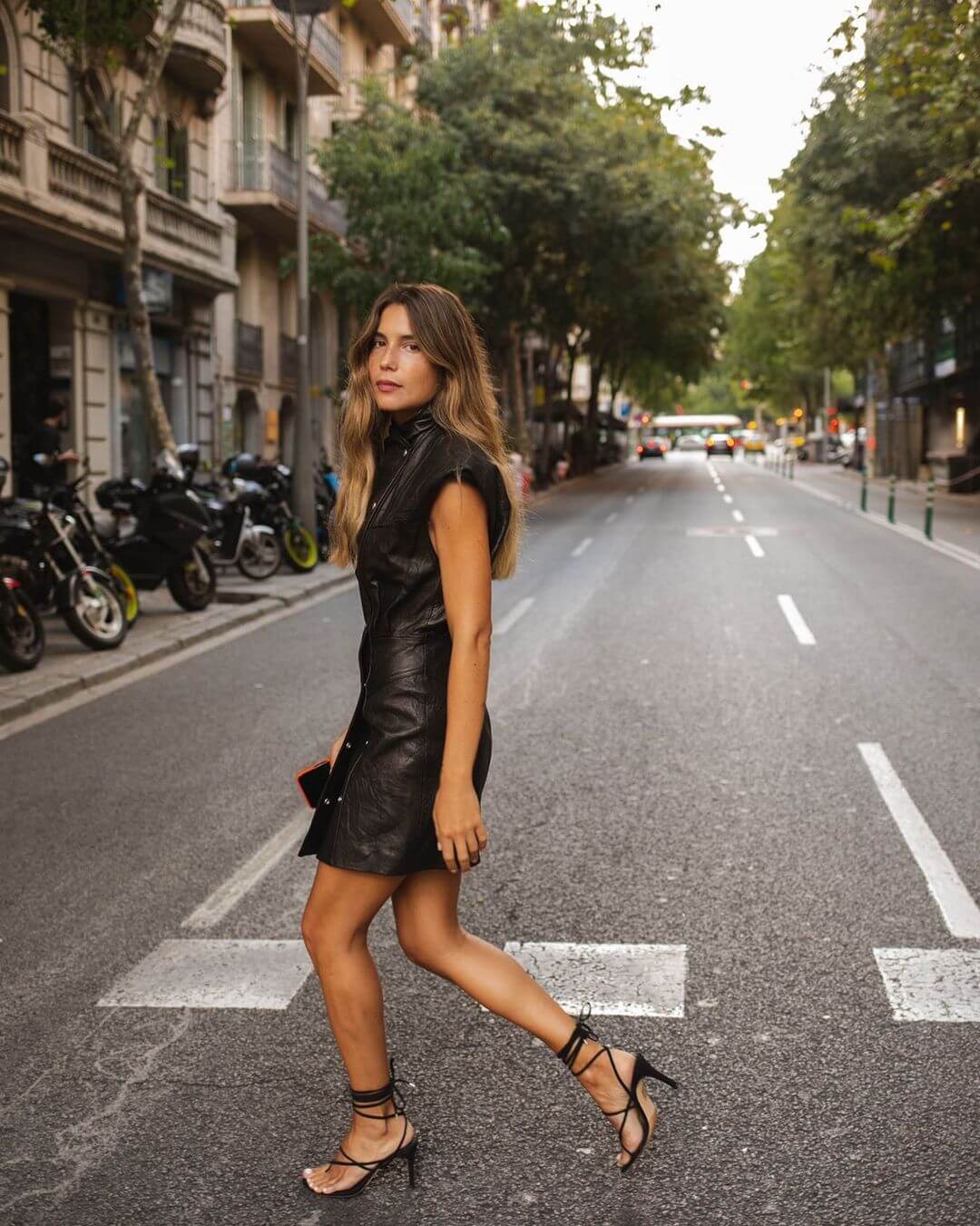 Photo via @belenhostalet
2) Dress it Up
A killer leather one-piece to try is the dress. It is seductive and stylish, making it a highly covetable fall style that is fitting for a sultry date night. For a transition look, style it with some strappy heels and as it gets colder, definitely swap those for some boots. We can see it looking uber stylish with a faux fur coat and textured tights.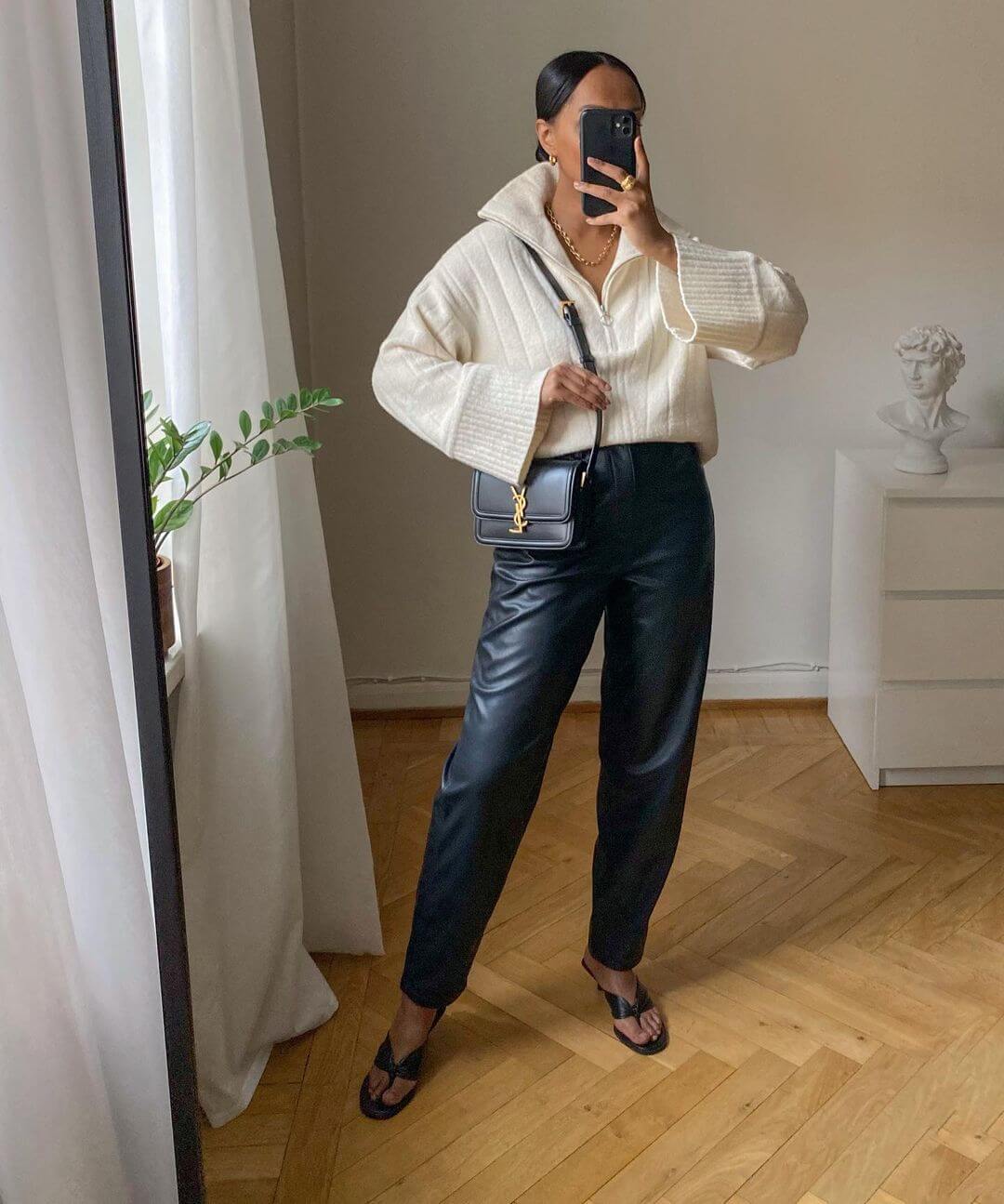 Photo via @femmeblk
3) Leather Trousers
Tired of your boring old trousers? An easy solution is to upgrade to some leather ones. The silhouette still looks polished but the leather itself lends an edgy flair! You can temper it with a cozy, oversized knit for the workplace as seen here. Once temperatures take a turn, you can then begin incorporating suede and velvet accents for a fun play on texture.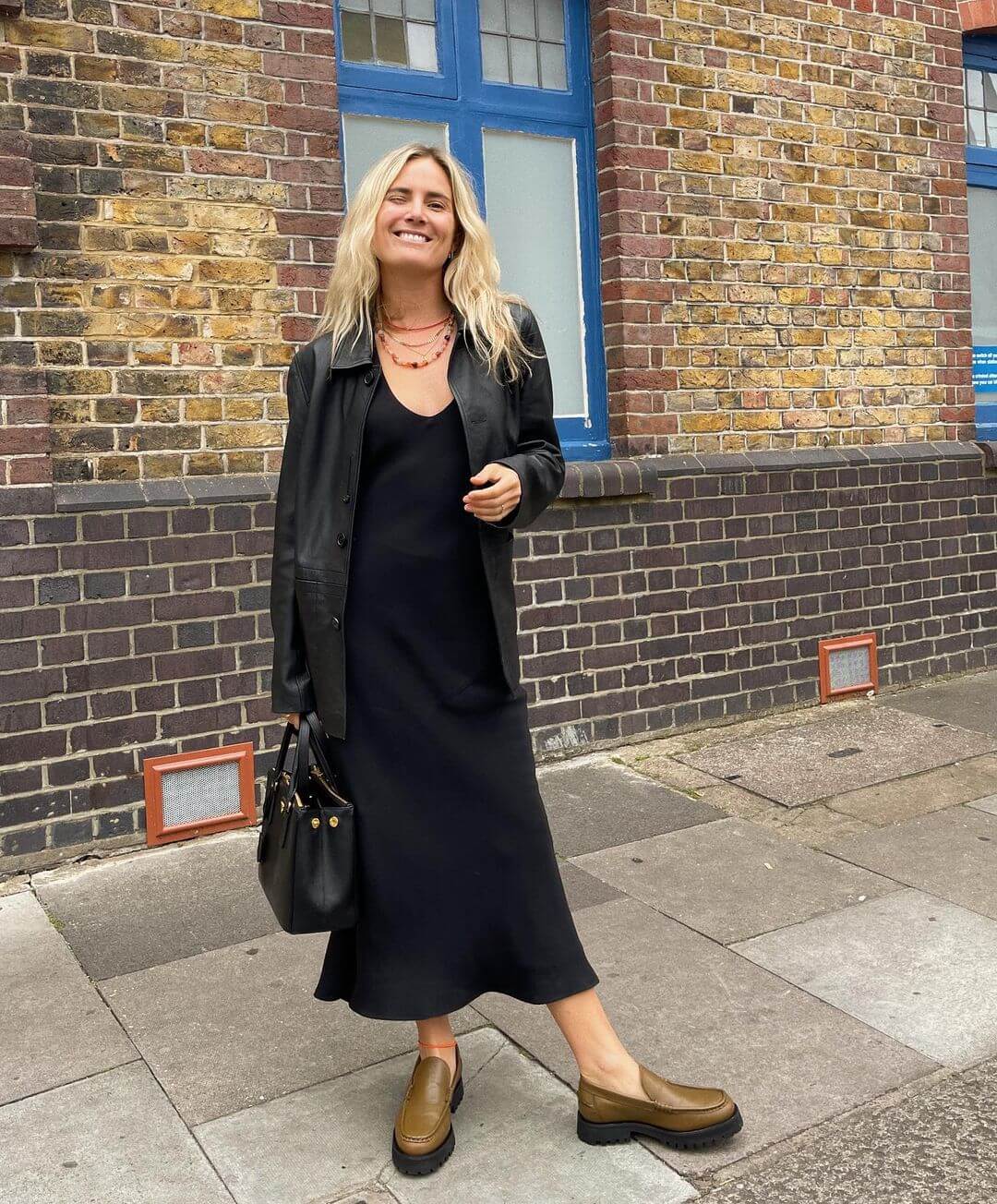 Photo via @lucywilliams02
4) Chic Shirt Jacket
One of last year's fashion buzzwords was shacket (a cross between a shirt and jacket) – and it continues to spiral upwards this year. The leather variation of this fall staple is updated and fresh. Look for oversized fits so they can layer easily over dresses or denim. We love how Lucy composes an off-beat black outfit with a leather shacket, maxi dress and chunky sole loafers.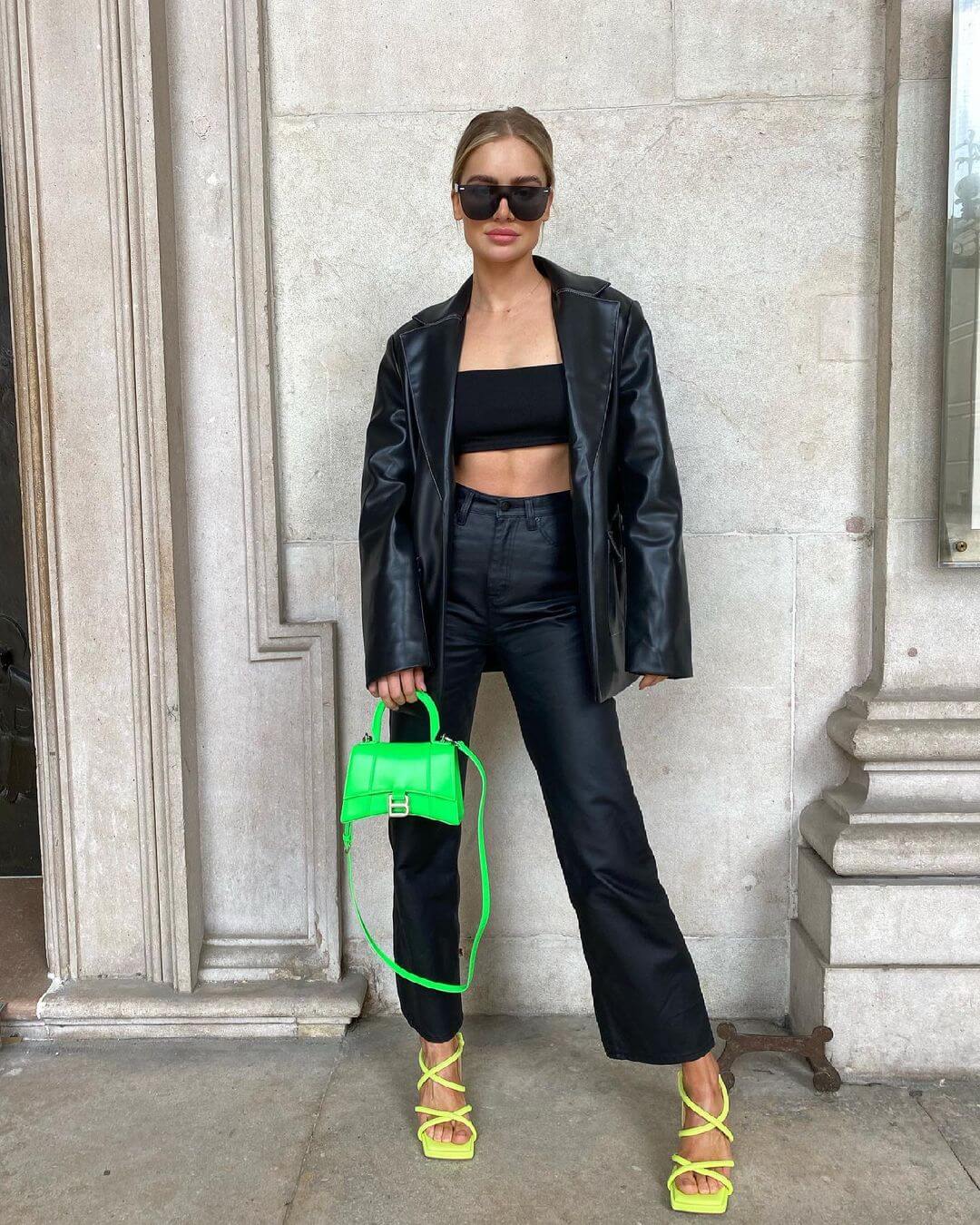 Photo via @viktoriahutter
5) Double Trouble
If one leather piece is not enough for you, don't shy from going after a larger statement. This influencer styles a leather blazer with a pair of leather cropped pants for an epic look! When topped off with neon accessories, you've got a head-turning ensemble worthy of a street style snap.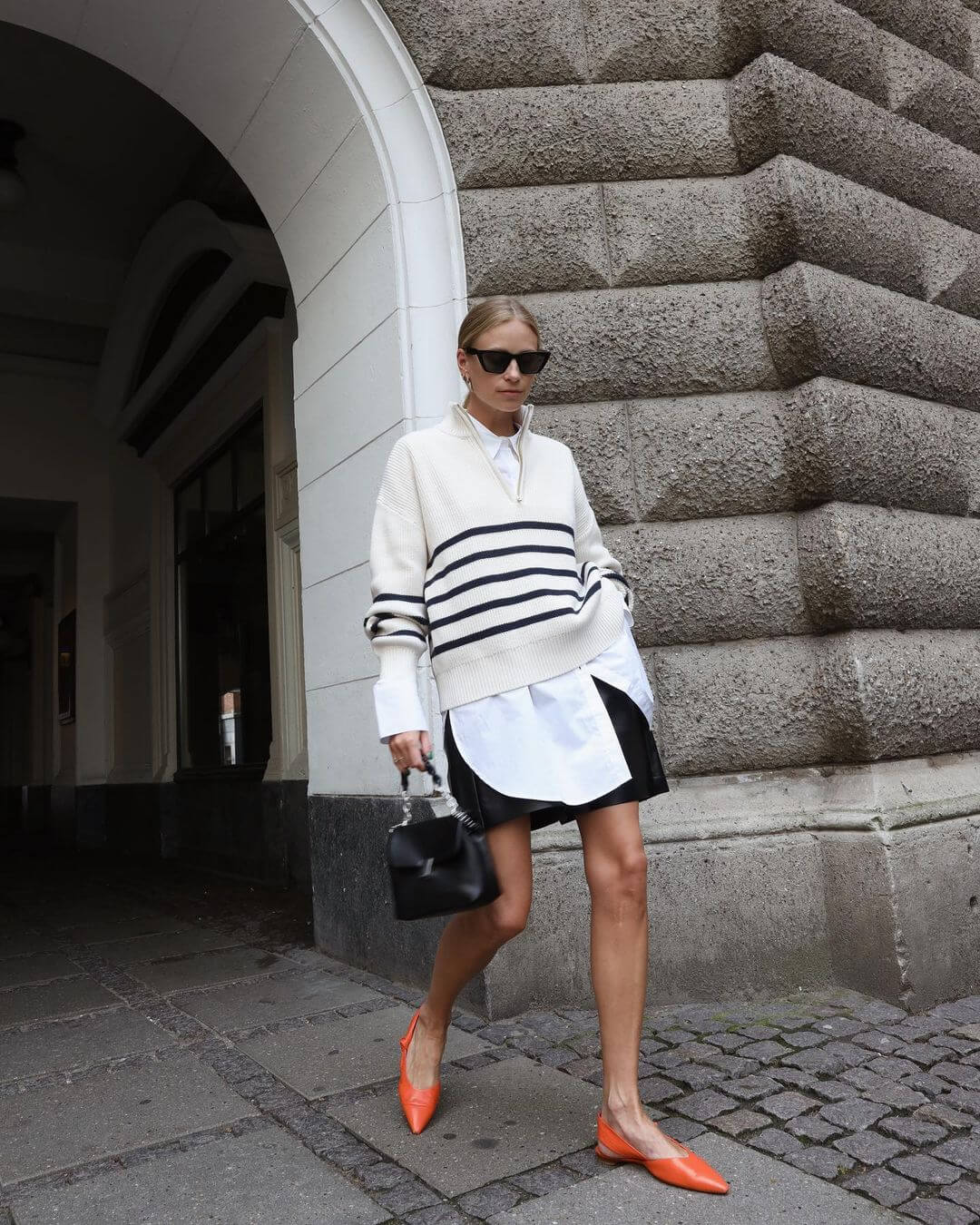 Photo via @tineandreaa
6) Short story
Take advantage of this next inspirational outfit right now as we are in the thick of in-between weather. Leather shorts, whether faux or real, are ideal for any transitional period. We're currently coveting a loosely tailored fit teamed with an oversized white shirt and half-zip sweater layered on top. For that pop of summer while it's still warm, add some bright pointed toe flats.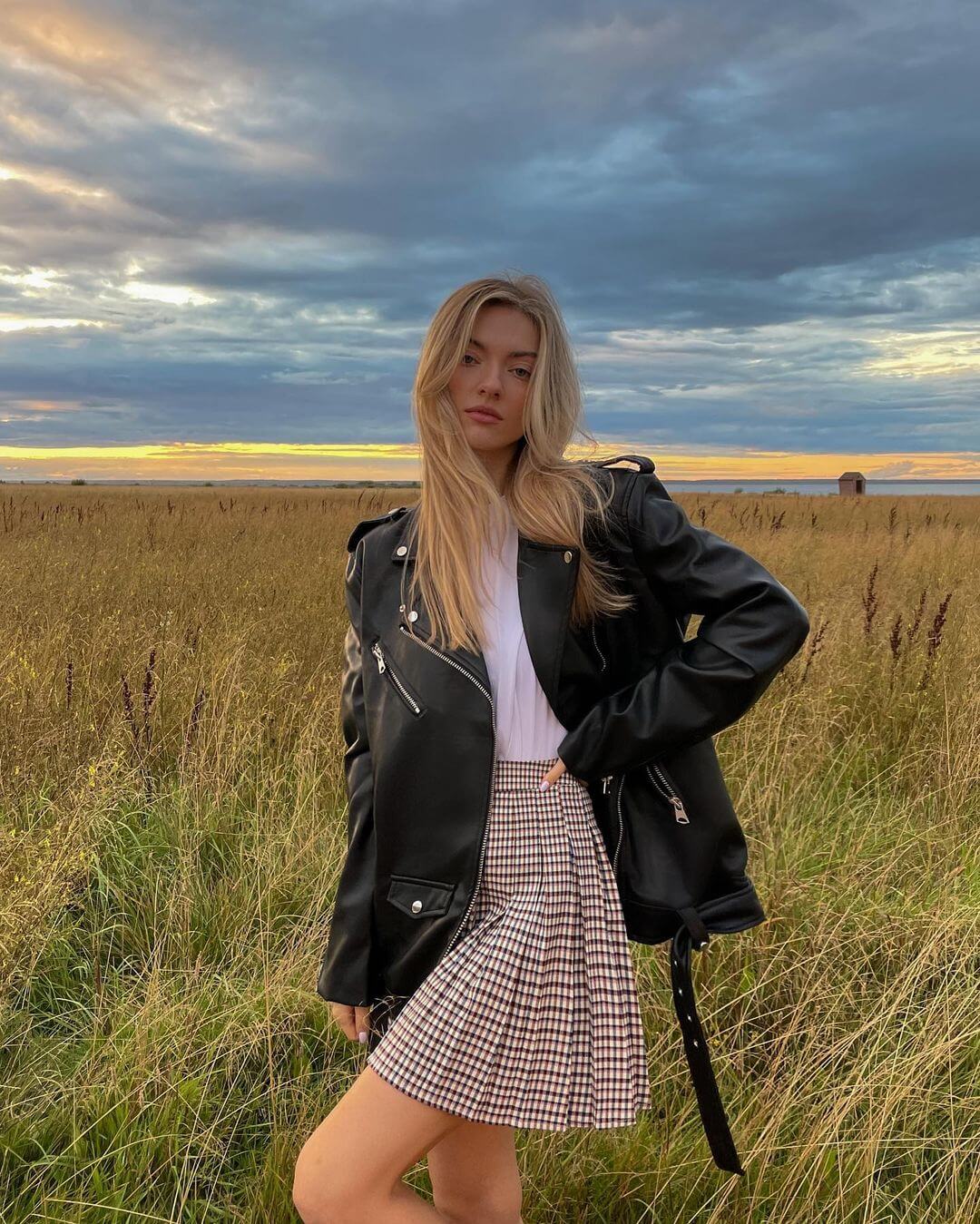 Photo via @lizarudkevich
7) Moto Jacket
Another staple outerwear piece for fall is a leather moto jacket. It has basically reached icon status (like a blazer or a trench coat) for never going out of style. Shop for oversized moto jackets for maximum layering potential and a cozy, androgynous feel. When paired with more feminine pieces like a pleated mini skirt, you have a match made in heaven.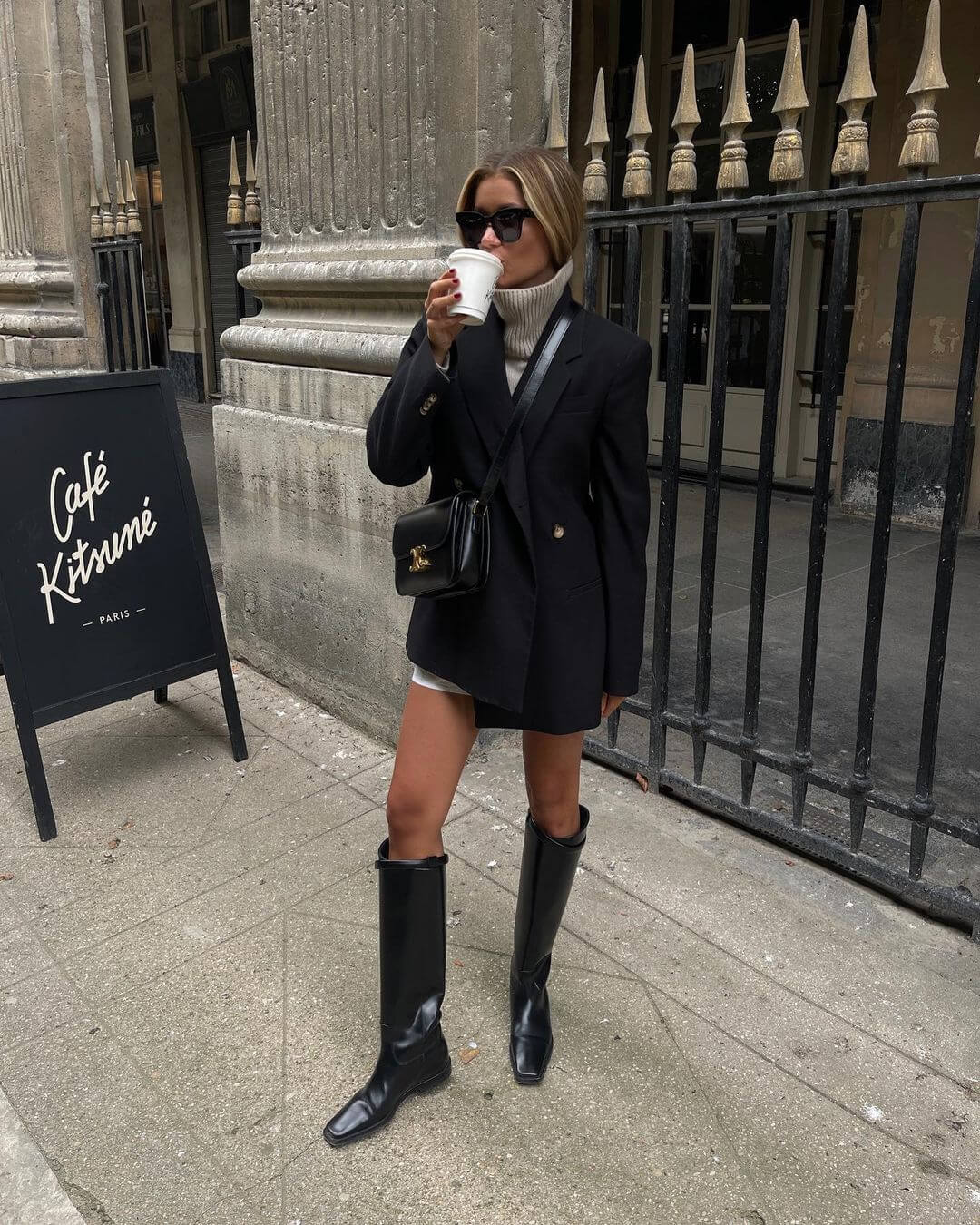 Photo via @lovisabarkman
8) Boot Up
Tall leather riding boots are a move this season, so make sure you invest in a pair to elevate all your fall looks. We're particularly eyeing structured boots! Whether you style them with tucked-in pants, shorts, or a dress, you're sure to look cooler than ever.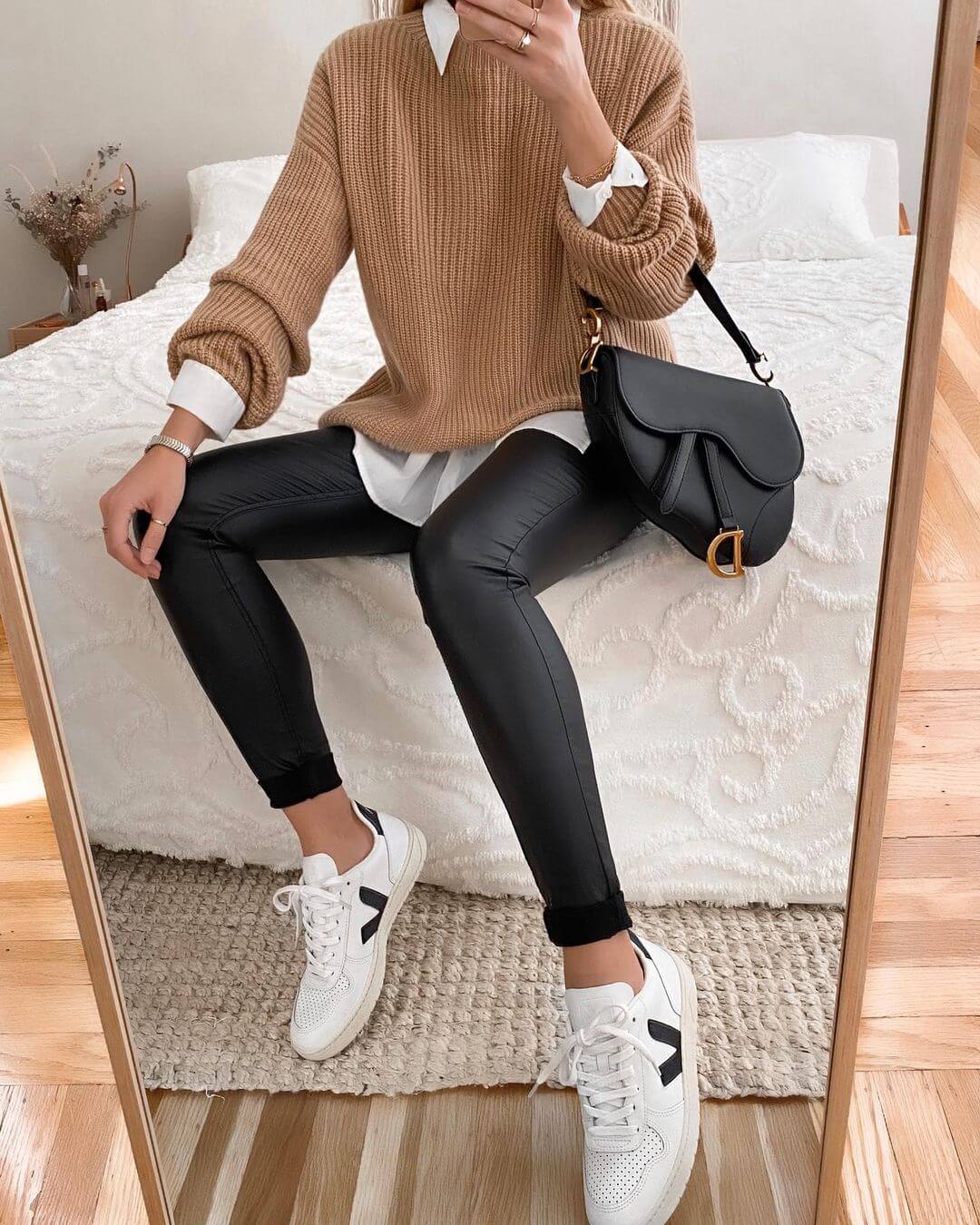 Photo via @la_nadia
9) Leather Skinnies
Skinny jeans might not be high in demand this year – but slim leather pants and faux leather leggings still are! They feel more put-together than yoga pants and will take your errand-running outfits or coffee-run looks to another level. We love Nadia's minimal fit featuring a layered neutral knit and clean sneakers.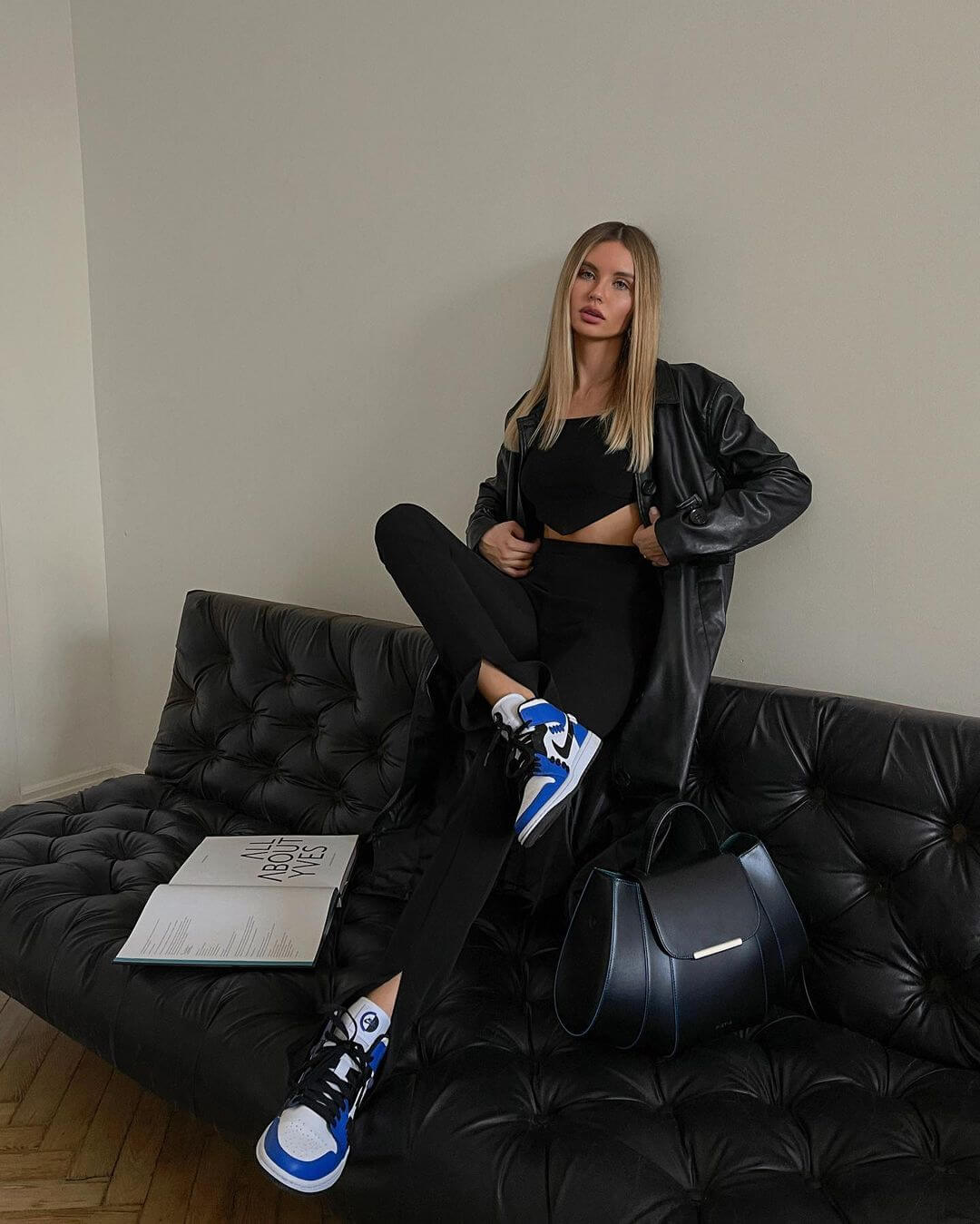 Photo via @shepelevich
10) The Updated Blazer
By now, I am sure you have plenty of blazers inside your wardrobe. However, you still might be missing the leather effect blazer. It carries the same sophisticated silhouette but the material itself ups the ante! You can cinch it at the waist with a belt or throw it over split hem pants for a fashion-forward look.

When you think of leather, the classic moto jacket is probably the first thing that comes to mind. However, new-season staples have emerged in 2021, making a strong case for wearing leather anytime. The 10 outfits above incorporate our favorite fall fabrication in chic, unexpected ways – and it's time you do the same.
(Visited 1 times, 1 visits today)