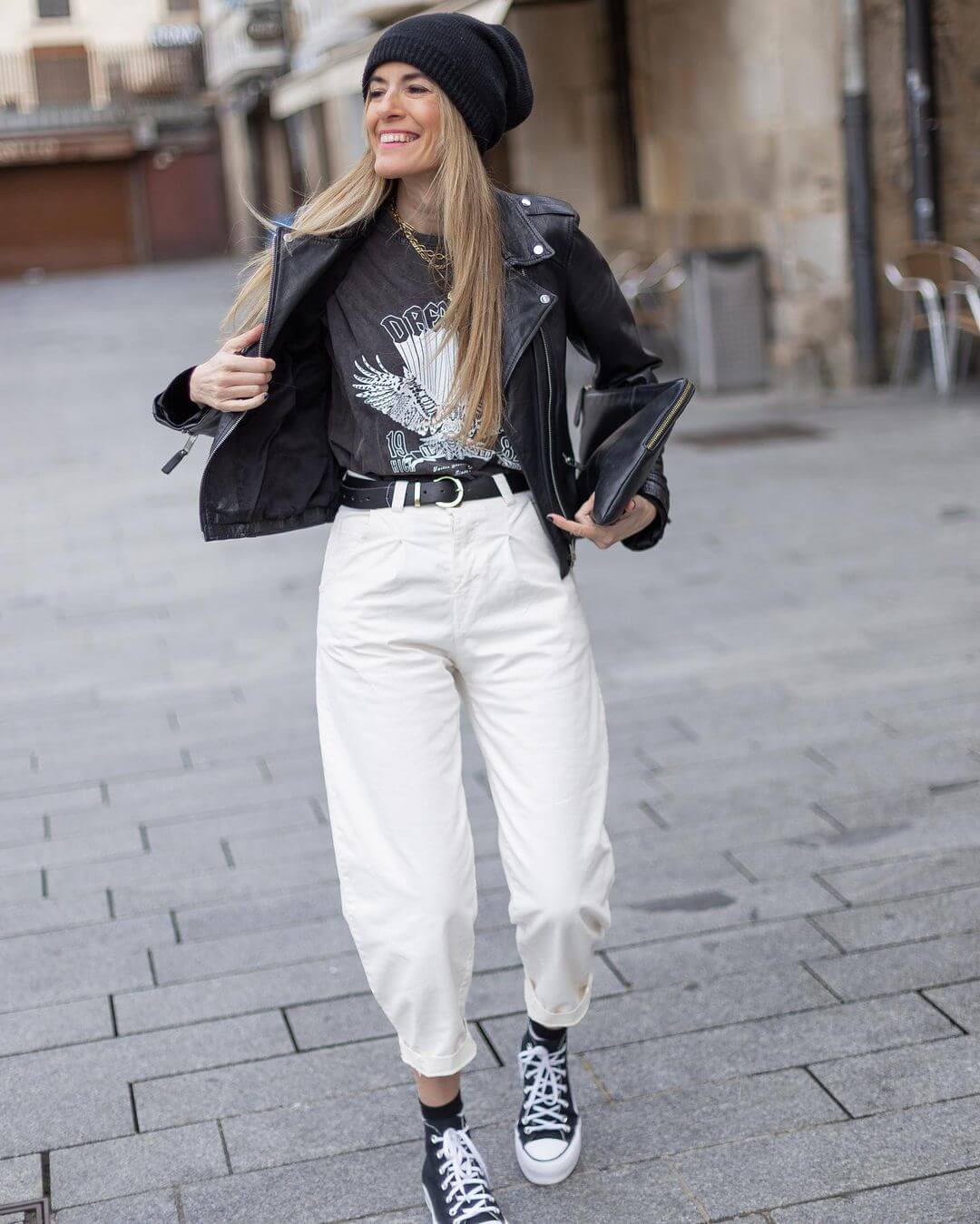 Photo via @rebelattitude
It's officially September with Labor Day weekend ahead of us. The fashion faux pas that always resurfaces at this time of the year is whether wearing white after Labor Day is appropriate. It's safe to say that it's one of the most outdated style rules of our time yet continues to trend in searches. We believe that fashion isn't just about breaking rules – but is meant to be fun, lighthearted and never too serious. White happens to be perennially chic and seasonless, making it especially wearable for fall and winter – especially jeans. If you're feeling tempted to put your summer staples away for the season, leave it to tropical dresses, linen shorts, and sandals. Keep your white jeans on hand for some fresh styling. Below, we pulled together 10 modern ways to wear white jeans after Labor Day and beyond!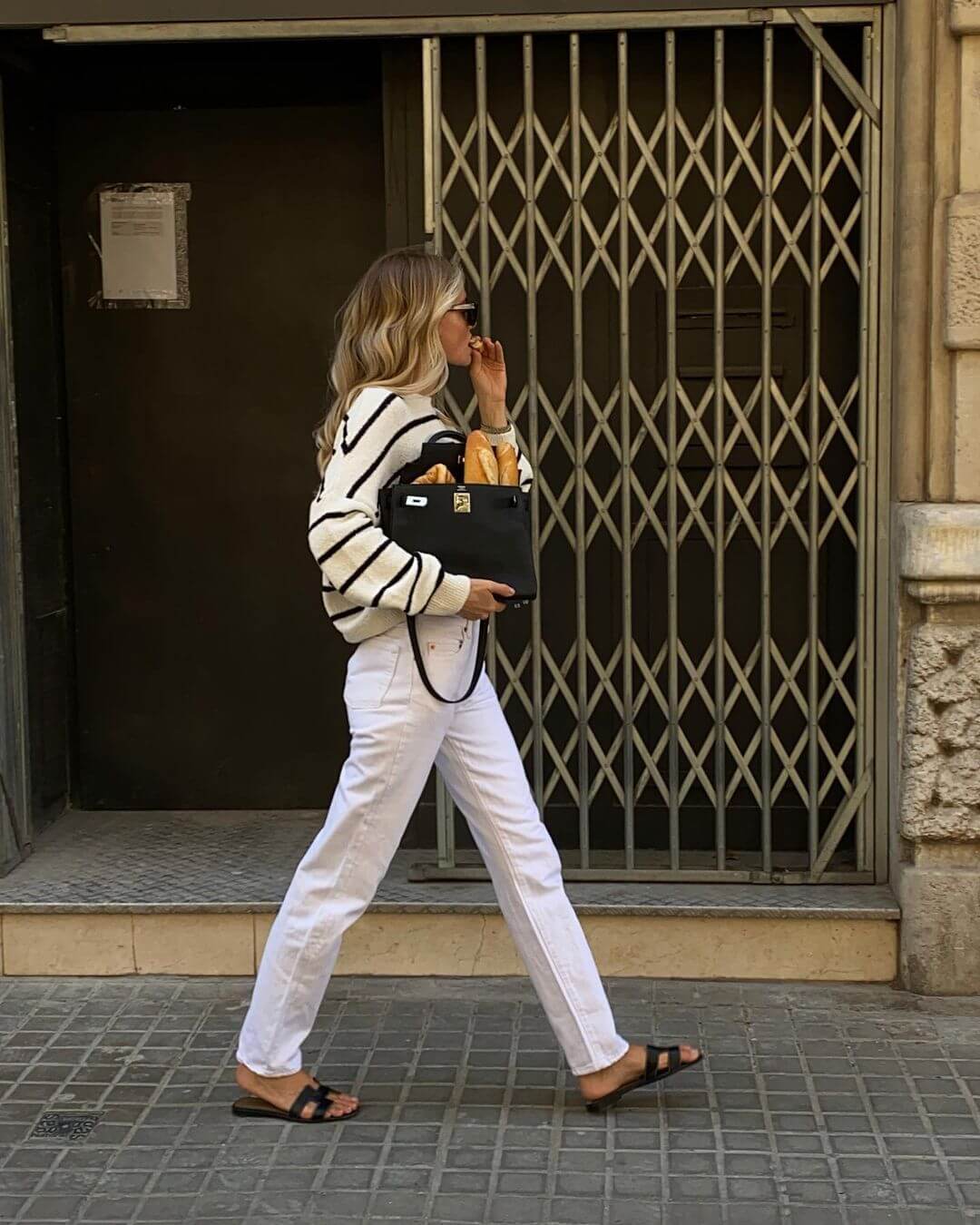 Photo via @clairerose
1) Nautical Stripes
A major sweater trend we will be seeing a lot this fall and winter is the nautical striped knit. It just so happens that this style top pairs extraordinarily well with white denim as it provides that timeless, preppy aesthetic. Make the outfit pop further with some dark, contrasting accessories.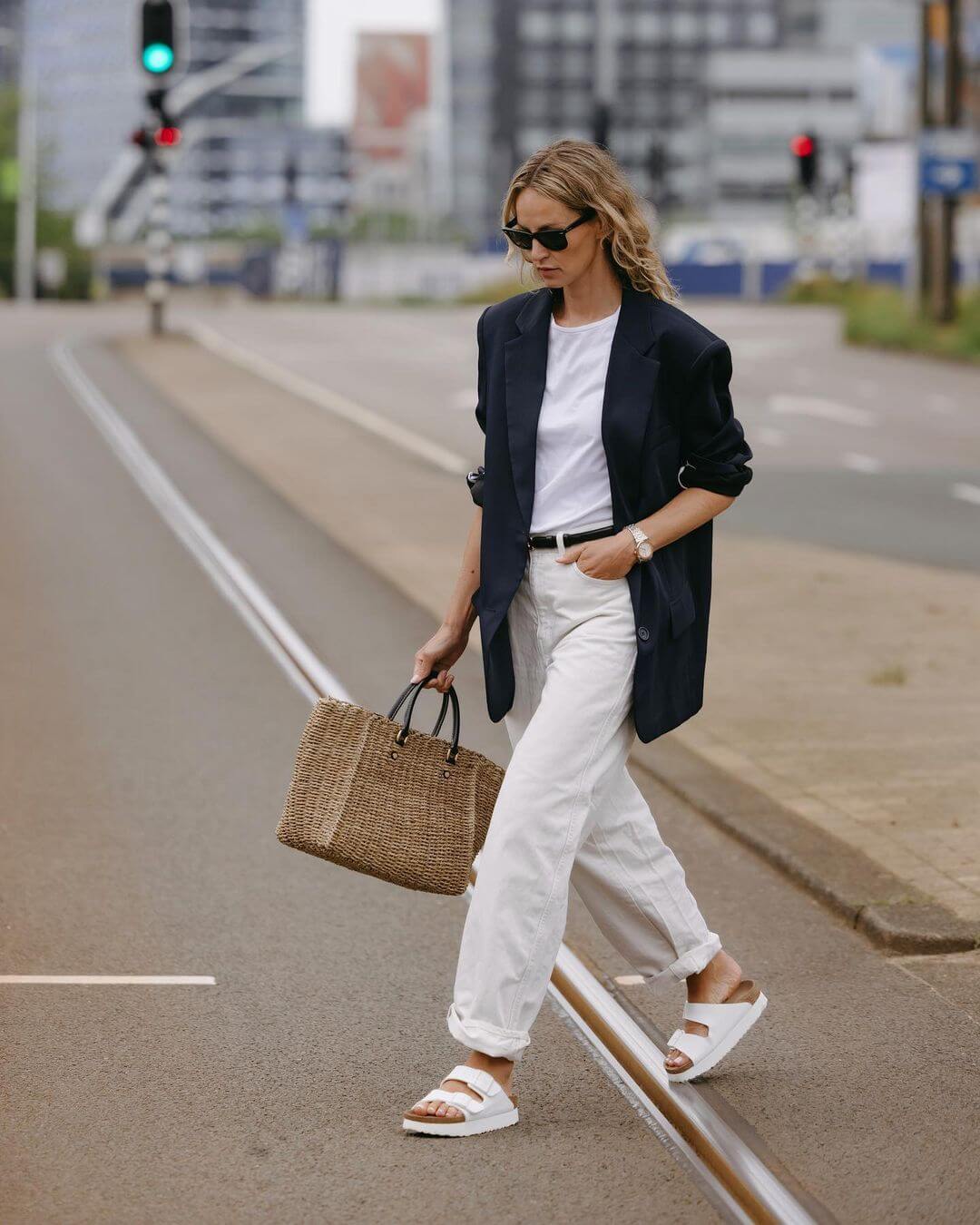 Photo via @anoukyve
2) Layer With A Blazer
When you are in an outfit rut, a blazer will always be there to lift you up. For an effortlessly chic white denim outfit to wear post Labor Day, just throw your most beloved blazer on top. Note that the more androgynous, oversized fit continues to be a major movement. You can also keep the summer vibe going strong for early fall by wearing chunky sandals and a straw bag.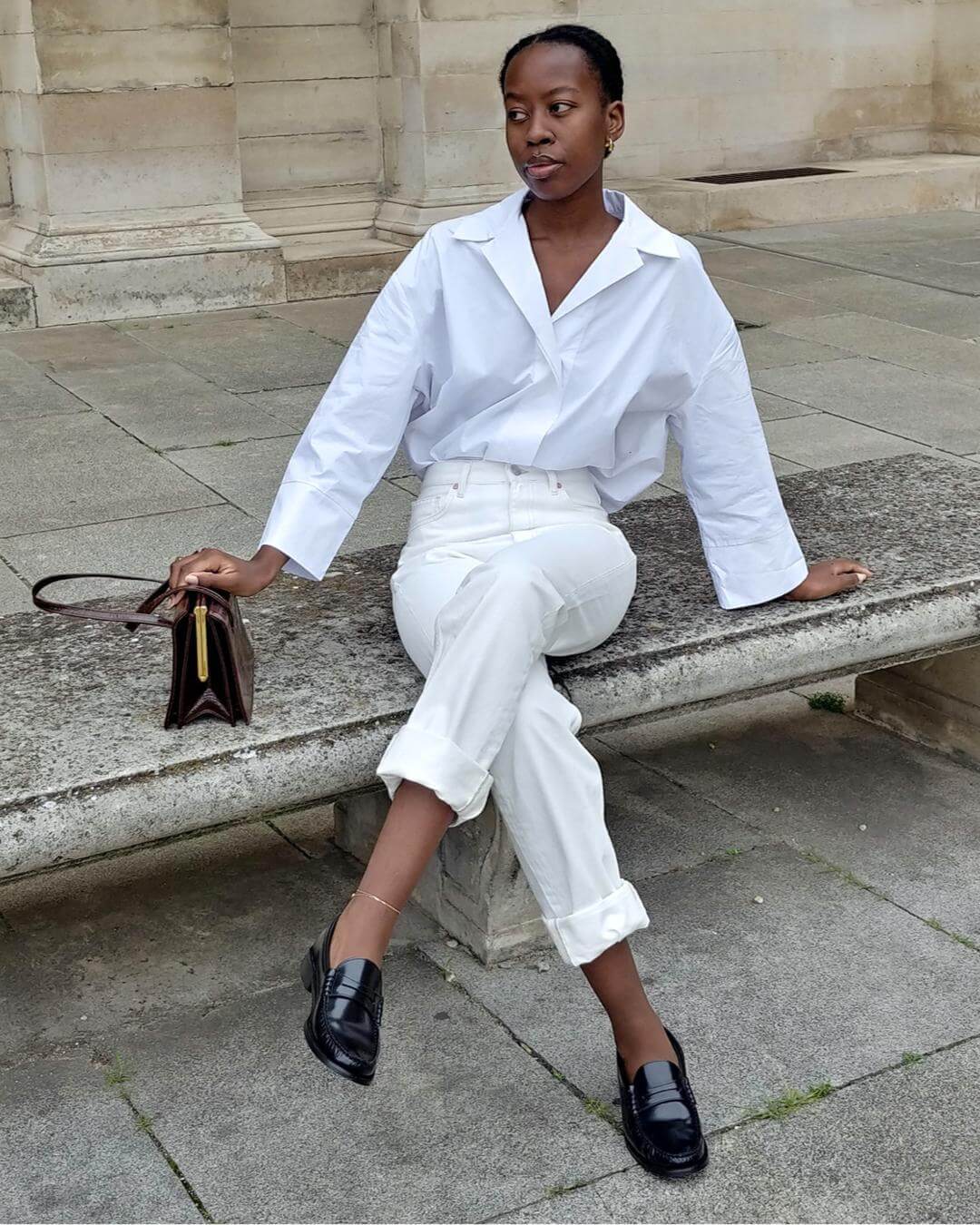 Photo via @sylviemus_
3) Button Up Shirt Tuck
Similar to the blazer, the button up is another classic piece that never fails to look good with anything. Double up on the white by tucking a collared shirt into your go-to pair of white jeans. You can even earn extra style points by opting for a high-rise, baggy cut. If your jeans are too long, do not be afraid to cuff the hem of your bottoms for a more tapered fit!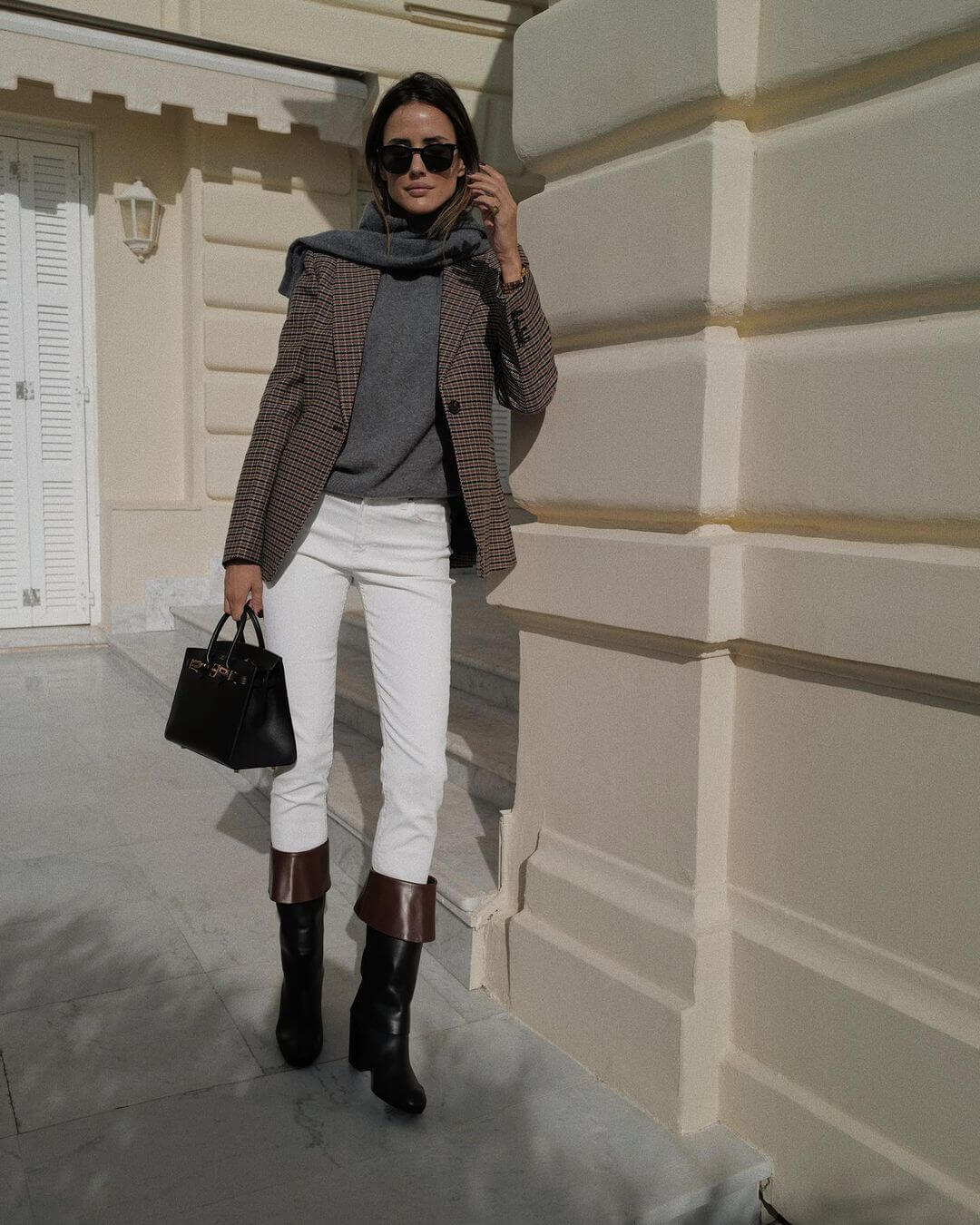 Photo via @ariviere
4) Fall Contrast
Once it starts getting cooler, there is still no reason to retire your white denim for the year. In fact, we love the way this stark white bottom looks when worn with darker, more fall oriented pieces. In this case, the bottoms are sandwiched in between a plaid blazer and dark, calf-high boots for an elevated look.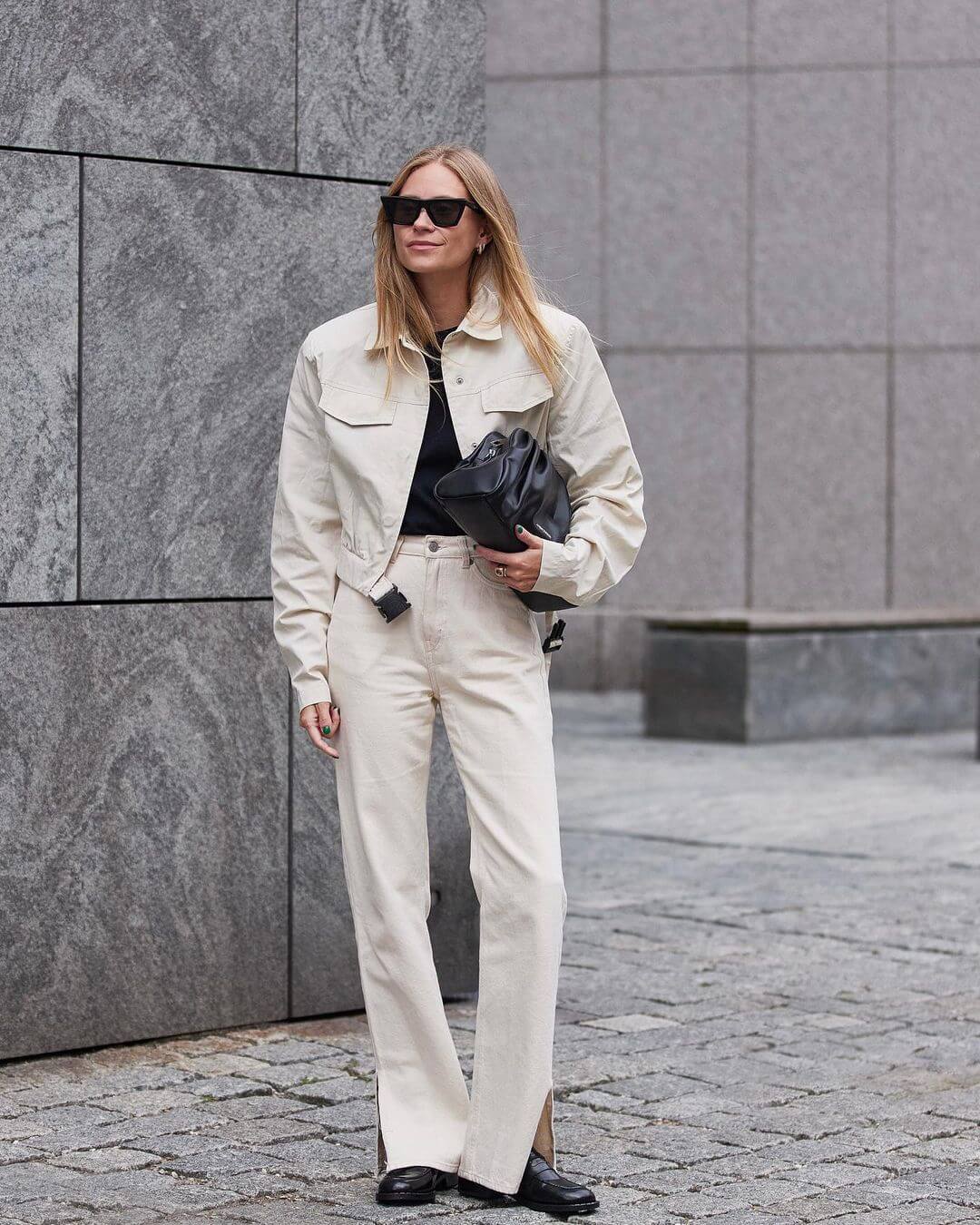 Photo via @tineandreaa
5) Coordinating Outerwear
If you're looking for the 2021 way to style white jeans after Labor Day, this is perhaps it. Tine found the perfect matching two-piece set that embodies fall's best silhouettes, including a baggy denim jacket and split hem jeans in a slight off-white color. The dark t-shirt peeking out from underneath provides just enough separation for a cool girl touch.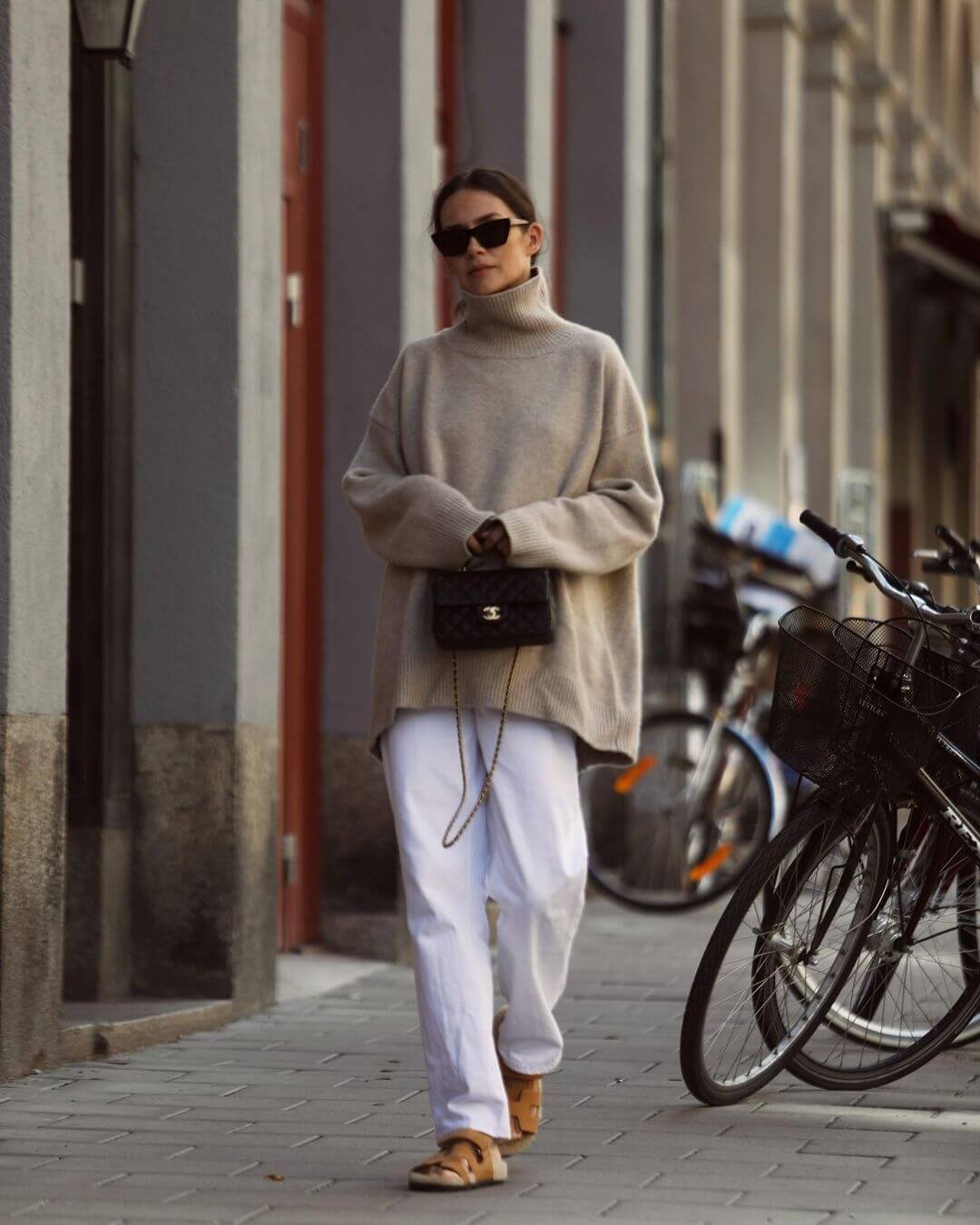 Photo via @carolineblomst
6) Oversized Everything
The passing of Labor Day also means we can officially bring on the fall vibes. So of course, we suggest busting out your favorite cozy pieces to wear with your signature white jeans. This transitional outfit features the softest oversized sweater, baggy jeans and casual slides. The end result is ultra modern and minimal in the most eye-catching way.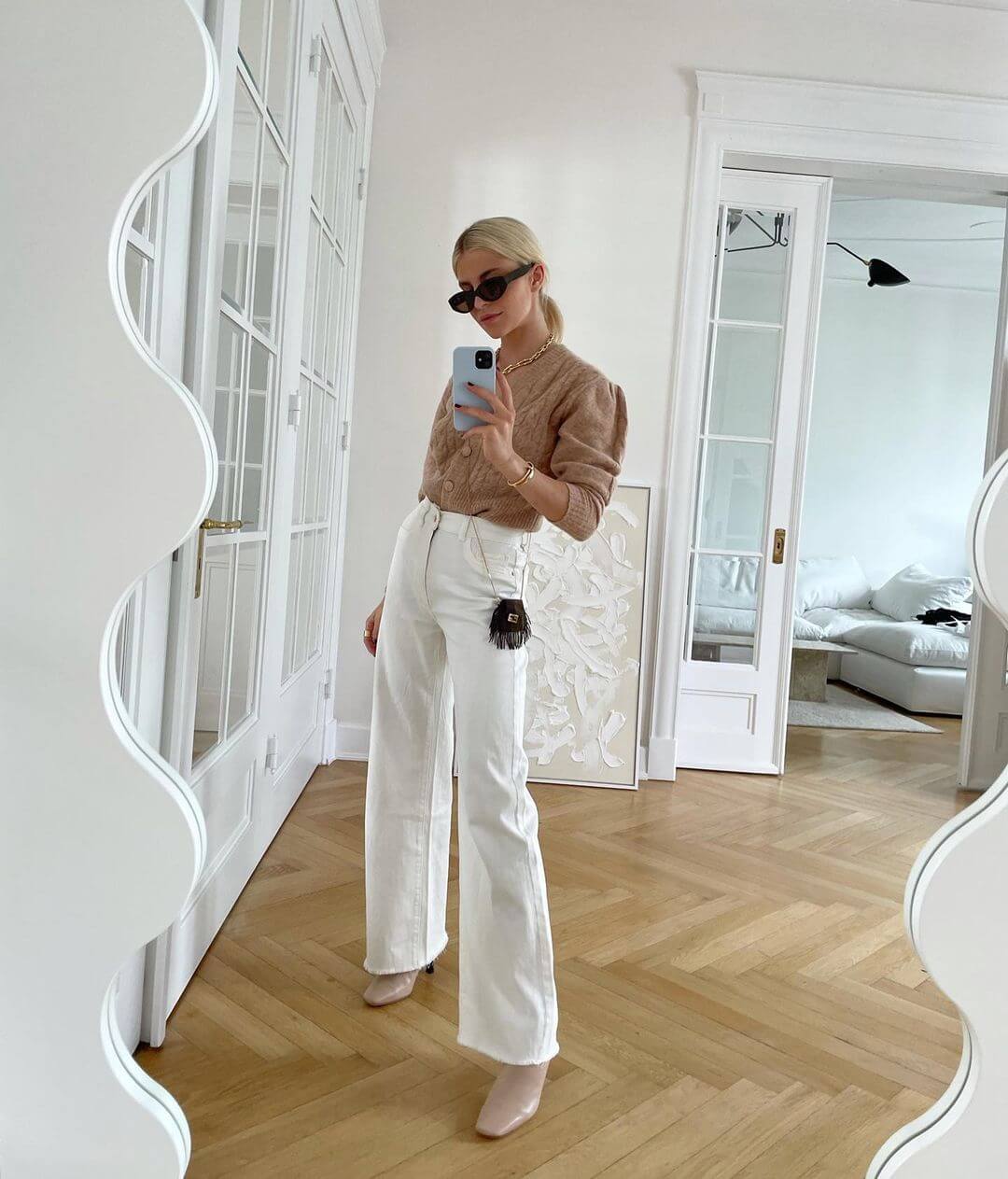 Photo via @carodaur
7) Cardigan & Wide Leg Jeans
Don't shy away from updated denim styles like wide leg jeans. We find that they're more fitting for the office given the trouser-like appearance as seen above. To get this polished look, you'll need cable knit cardigan tucked into your jeans and some square toe boots. You can then take it up a notch with a micro bag, chunky chain necklace and trendy sunnies.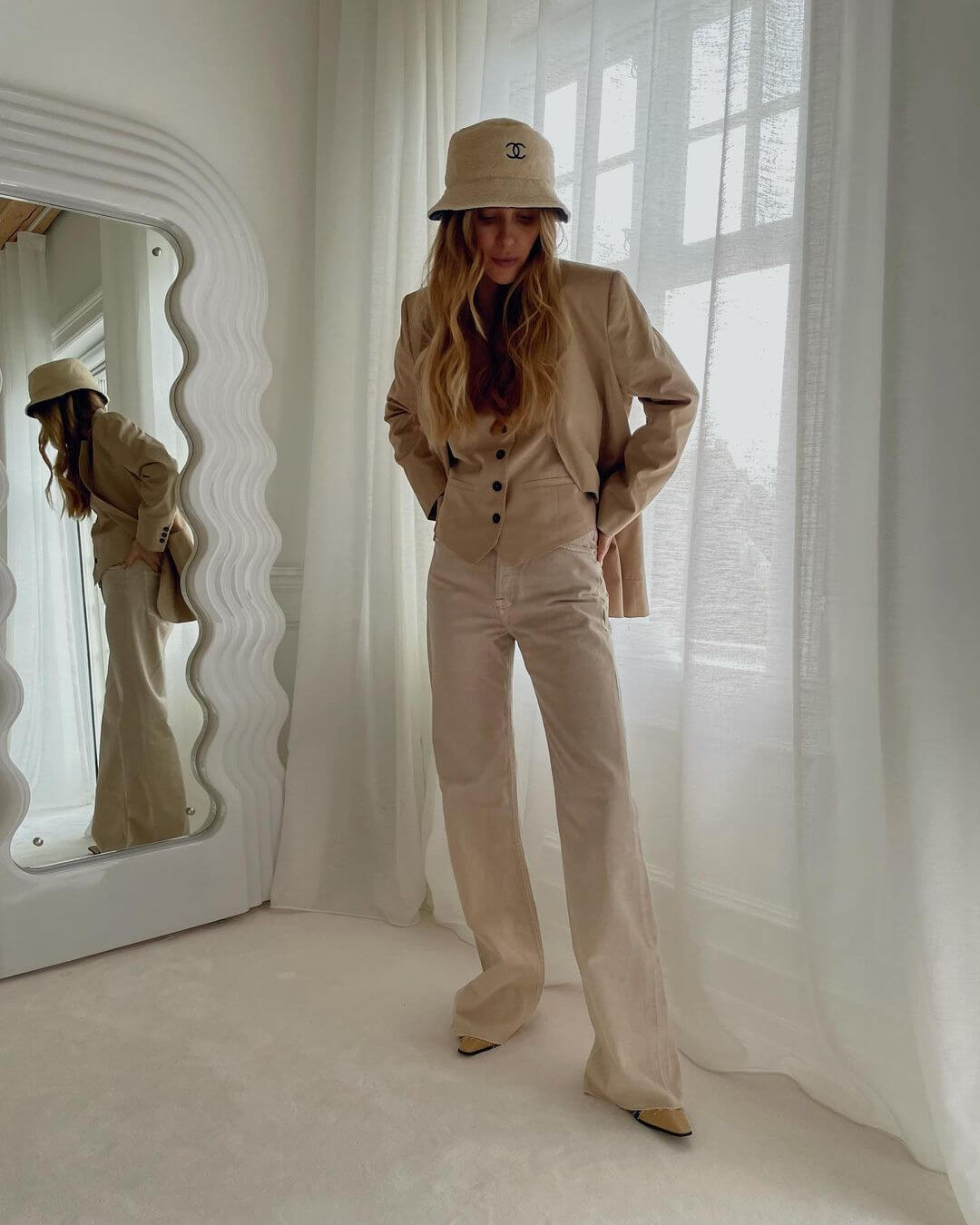 Photo via @pernilleteisbaek
8) Semi Suit
We've seen the rise of modern suiting in past years and it's going to another level this fall with the debut of vests. Pernille's brilliant take on the trend makes us want to team a blazer and vest with off white jeans. The full length denim is the perfect swap in place of classic suit trousers. All that's left to maximize the It-girl aesthetic is a bucket hat and western-inspired boots (also in the same color family).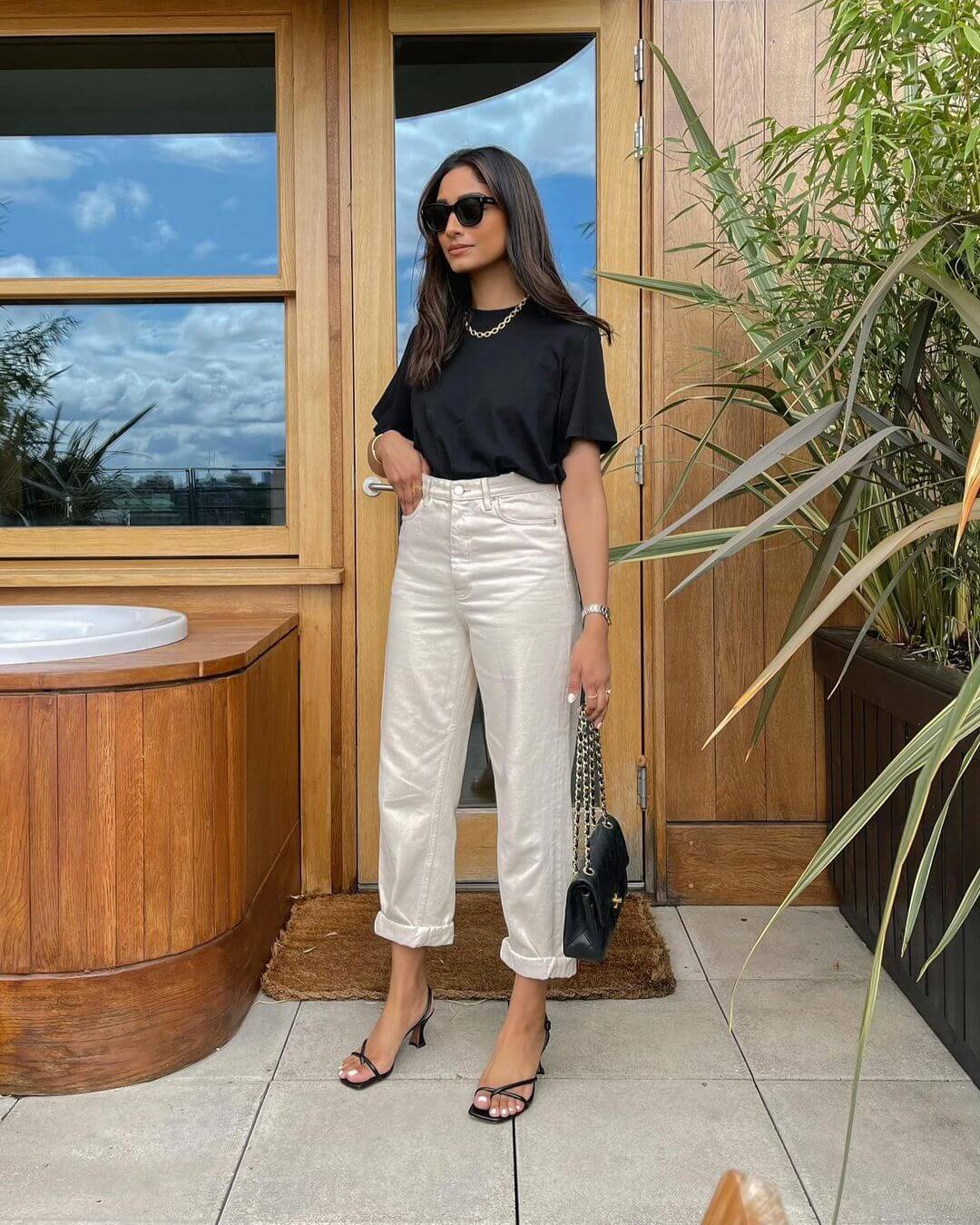 Photo via @cocobeautea
9) Dress Up a Black Tee
White denim naturally looks dressier than your average blue jeans. Thus, you can use it to dress up basic pieces – like a black t-shirt. This combo, coupled with some oversized sunnies, designer bag and kitten heels instantly transform your white jeans from basic and drab to fab. When the temperatures drop, bring on the blazer coat and you're good to go.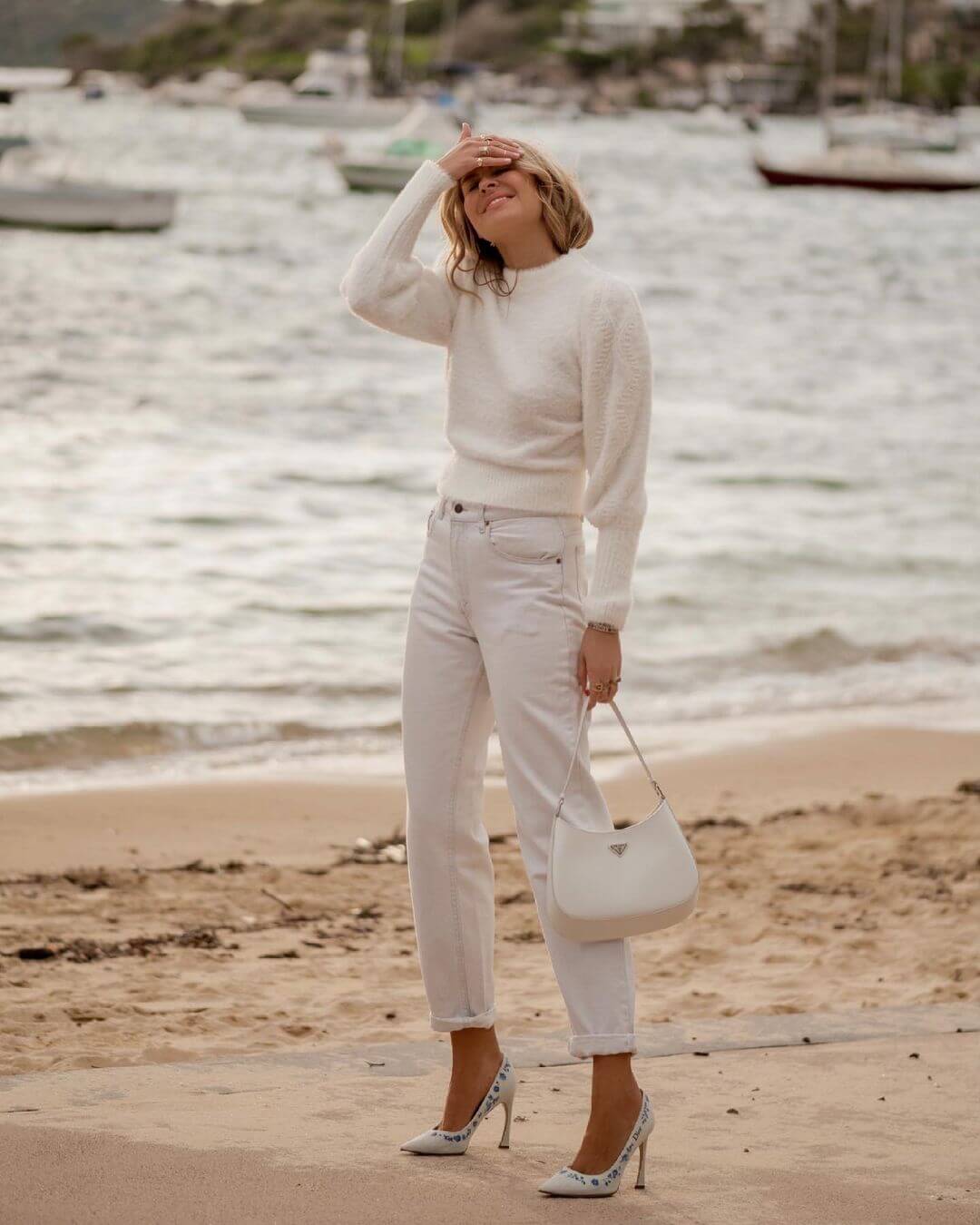 Photo via @elle_ferguson
10) Complete White Out
If we are breaking the so-called fashion "rules", why not take it all the way? Wearing white jeans after Labor Day is the best time to go after a monochromatic fit. We love how it feels refreshing and light among the crisp air. For the perfect fall look, you'll need a pair of white balloon jeans, textured long sleeve knit, white pumps, and a white shoulder bag.

With so much noise around when you can wear white and what to wear with it, it's no surprise that so many people choose darker neutrals for fall. But, the 10 looks above provide great starting points for getting the most mileage from your white jeans after Labor Day. Not only do they match everything, but they also add an elevated touch that most items cannot.
(Visited 1 times, 1 visits today)