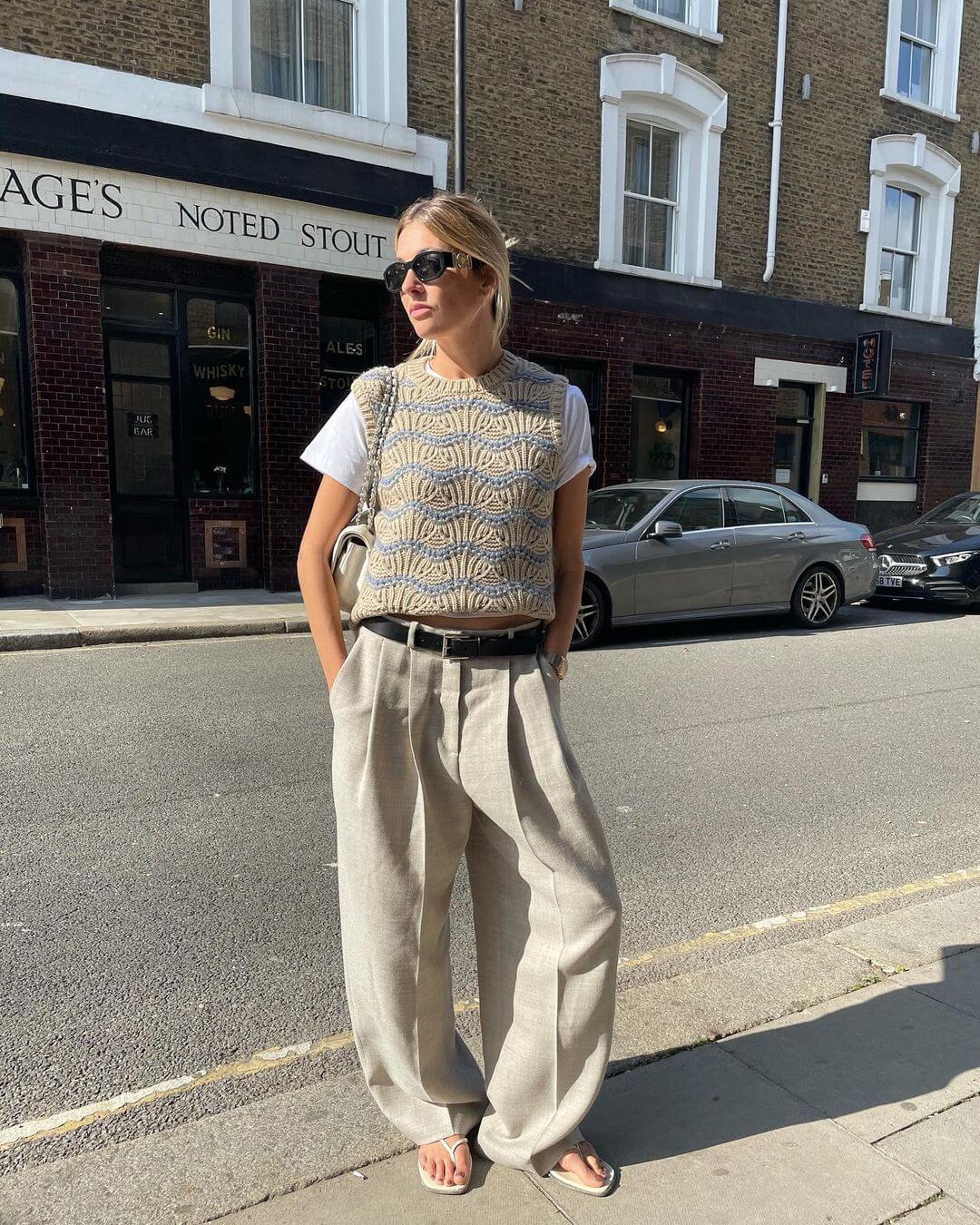 Photo via @camillecharriere
Last year, we saw the sweater vest rise to the occasion, and it's blown up completely since. This iconic sleeveless knit top could be found just about anywhere from luxury department stores to high street boutiques. There are no signs of it slowing down anytime soon. It's obviously a key piece as you transition your wardrobe into fall – and can be used for additional layering once winter temperatures hit. You really don't need to think twice about it given the fact that the knitted vest is both a stylish and practical purchase. Additionally, it can conform to a multitude of styles. There is a sweater vest out there for those who love quirky, colorful pieces as well as those who prefer a clean, minimal aesthetic. Not sure how you would style it? Have no fear – there's countless cool and classic style inspiration from our favorite fashion girls. Below, you'll find 10 unique ways to pull it off no matter which style you prefer.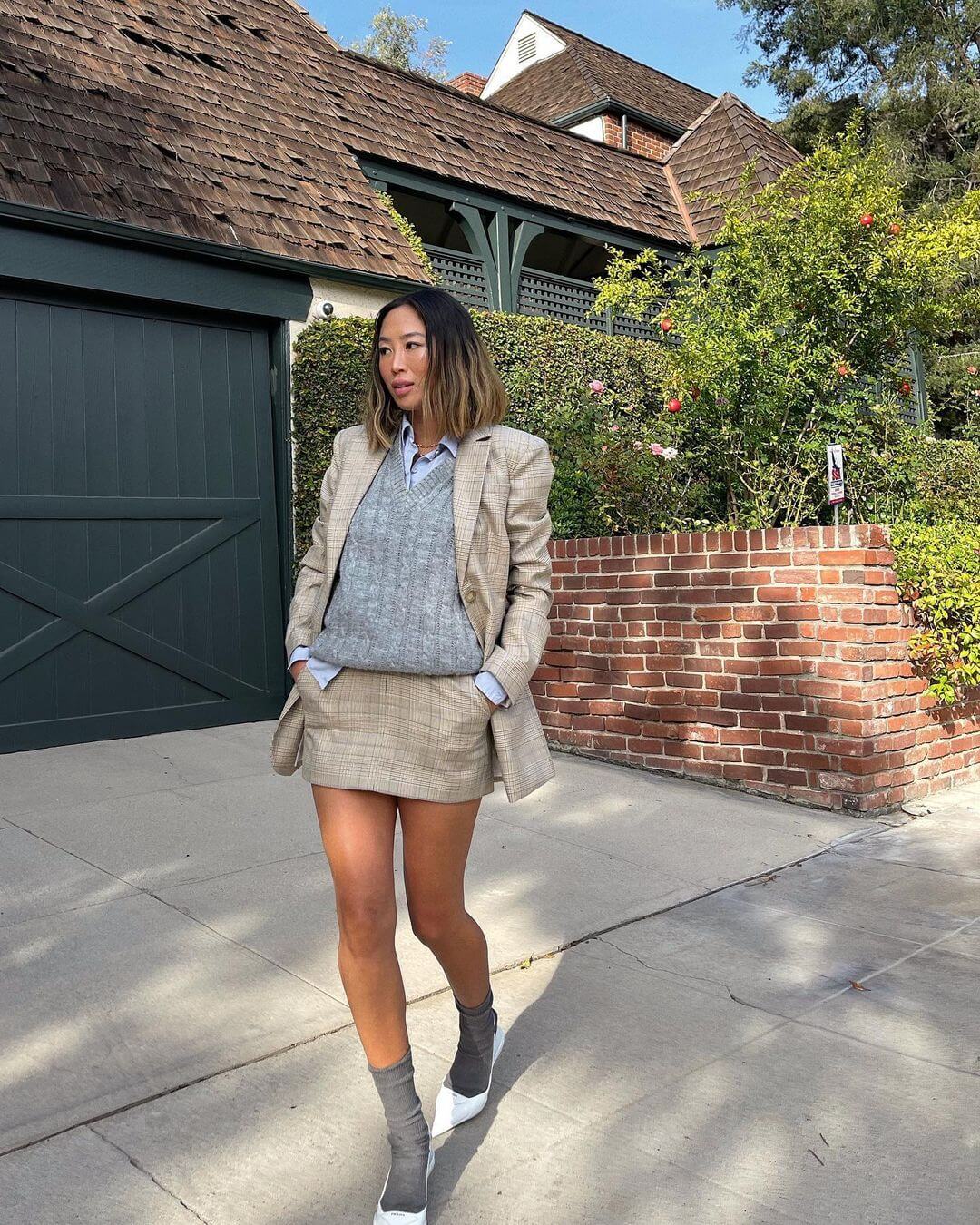 Photo via @aimeesong
1) Preppy Chic
Sweater vests and pleated mini skirts were a ubiquitous combo of the early 90's. With that in mind, Aimee's got the right idea, revisiting its preppy roots in a contemporary fit. She styles her grey cable knit vest over a button up shirt and pairs it with a micro plaid skirt. The icing on the cake though is the decision to add socks with some pointed toe flats. Trés chic!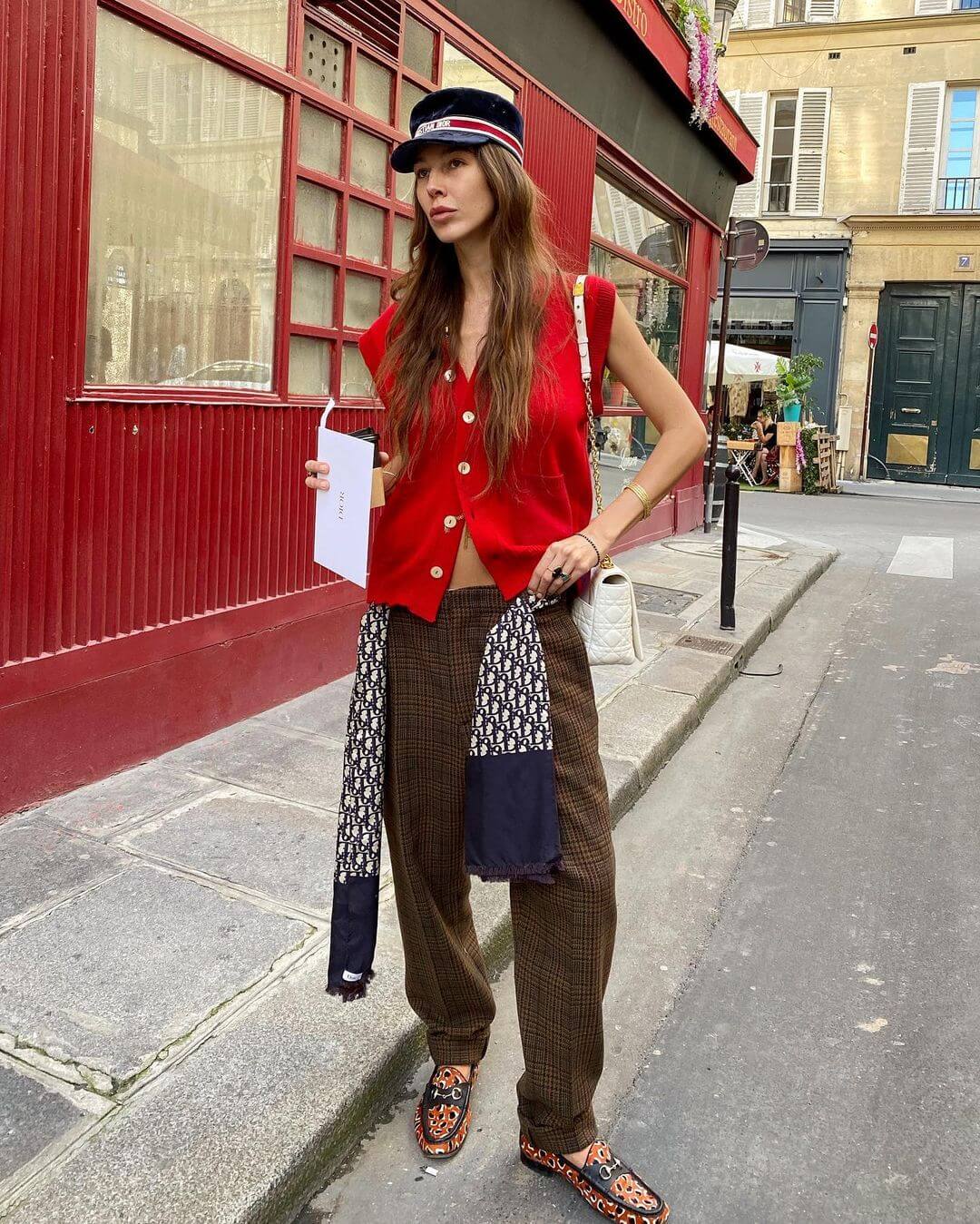 Photo via @estellechemouny
2) Borrowed From the Boys
The sweater vest is inherently known for being a key piece in men's fashion. Of course that can transition seamlessly into womenswear too. This fall, try out the eclectically chic look above by borrowing from the boys. We love how Estelle wore a punchy red cardigan vest with some loose, plaid trousers and penny loafers. Top off the ensemble with a baker's boy hat and patterned belt. This bold, non-conventional look was made for the streets – and it's sure to turn heads!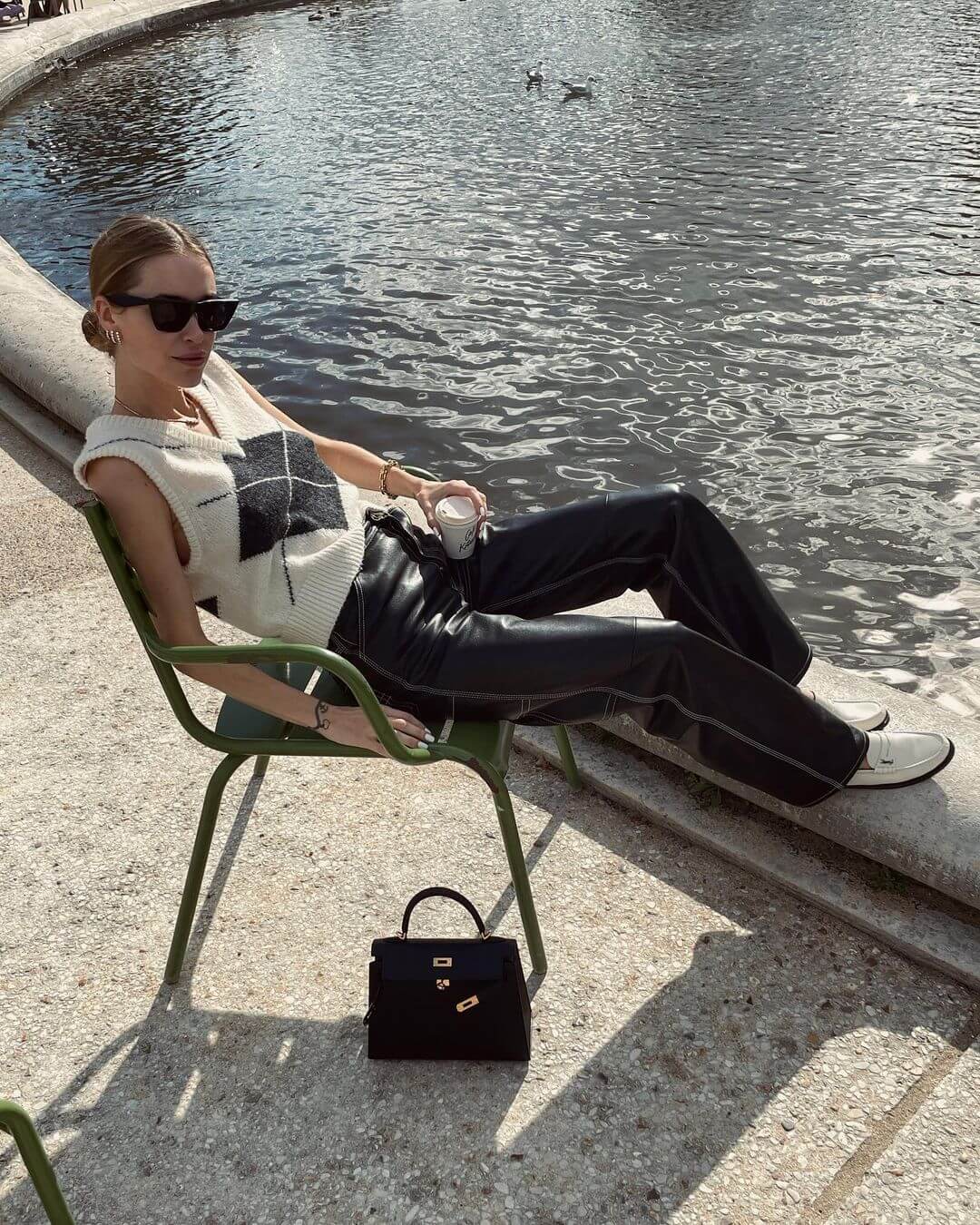 Photo via @pernilleteisbaek
3) Sweater & Leather Weather
Another popular trend worth hopping on board this season is the leather pants in a wide, trouser-like cut. It just so happens to be a brilliant item to pair with a plaid sweater vest. Pernille's a la mode take on this trend exudes major It girl vibes. The kitschy argyle pattern looks so fresh in a simple black and white colorway while the leather pants makes an otherwise preppy look feel edgy. Keep the monochrome impact high with dark cat-eye sunglasses and stacks of earrings.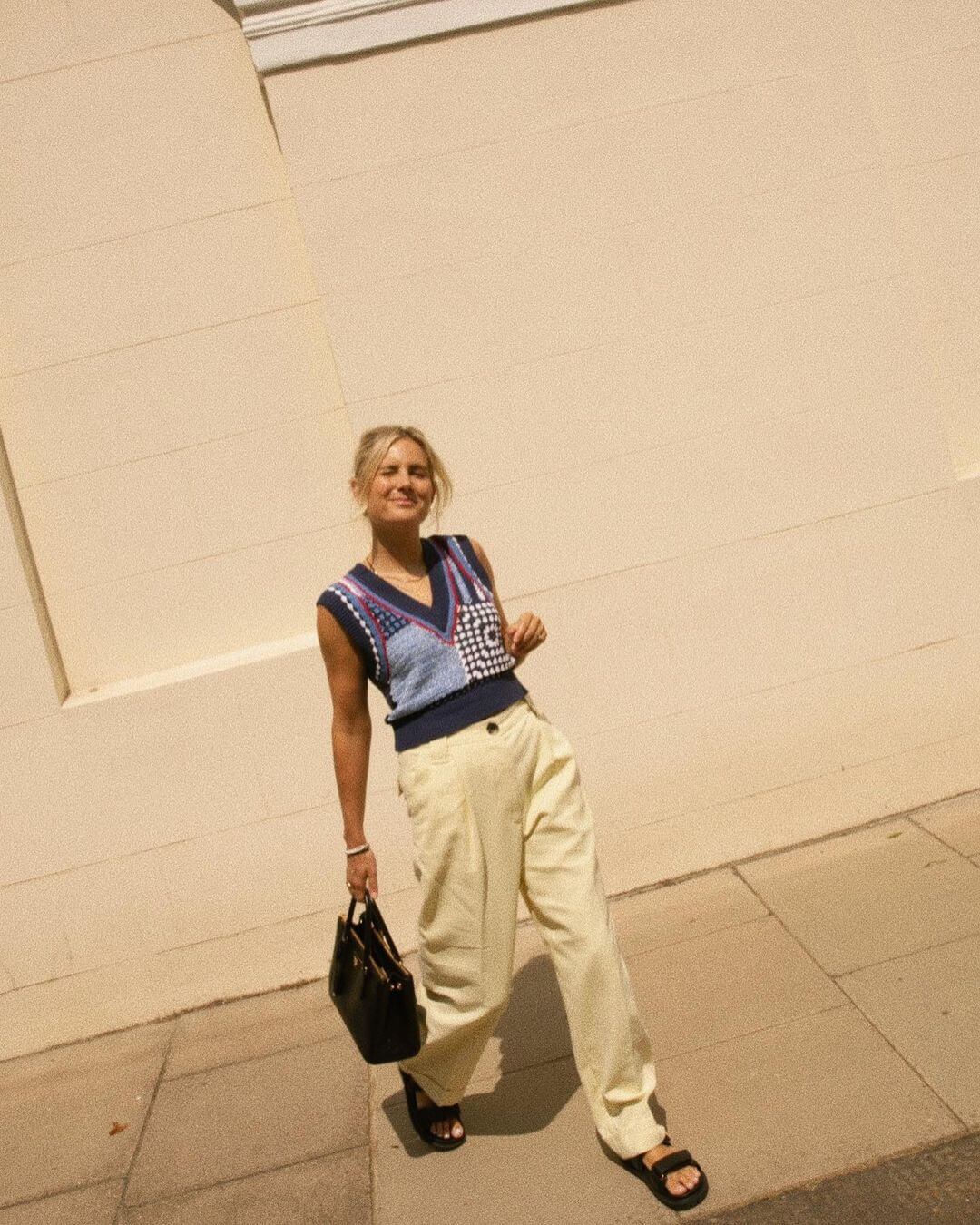 Photo via @lucywilliams02
4) On The Go
Not exactly cold where you're living yet? This transitional look is one for the books. To recreate it, you need a fun, patterned vest worn with some loose, oversized trousers and chunky sandals. As it turns colder, you can easily swap the summer shoes for shearling slides or clogs and add a long sleeve tee underneath the vest. Don't underestimate the power of simplicity – the impact here is far from insignificant.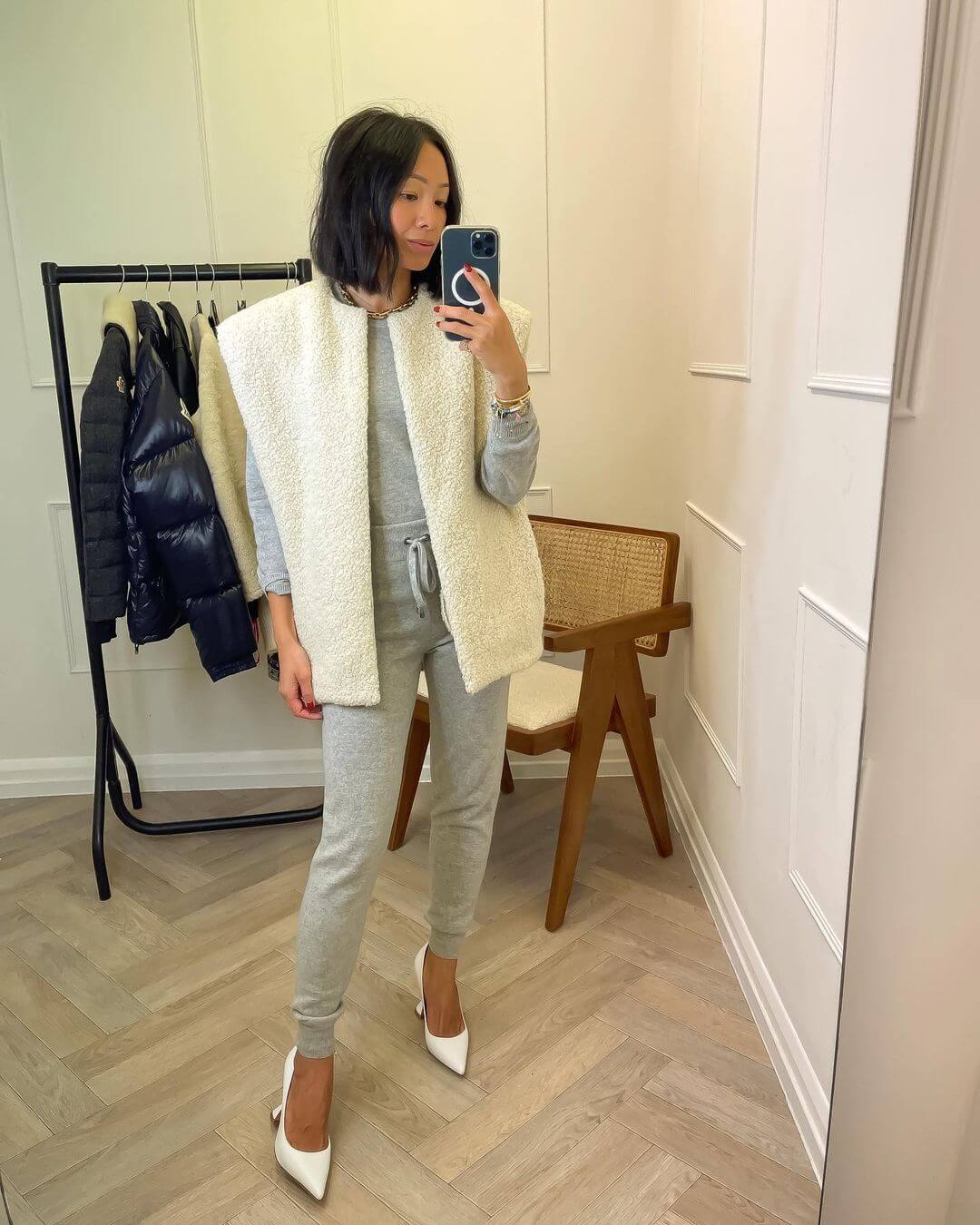 Photo via @lisaingmarinelli
5) Unexpected Knit On Knit
Now straying from the more basic outfit formulas, we have this cozy chic combo that we can't wait to replicate. A fuzzy, fleece textured vest as seen above adds warmth and style to the most casual pieces. Lisa scores major style points here by pairing it with a gray sweatsuit (although a knit jumpsuit would work too). The addition of white pumps mean you can wear this for lounging around – or heading out and about on the town.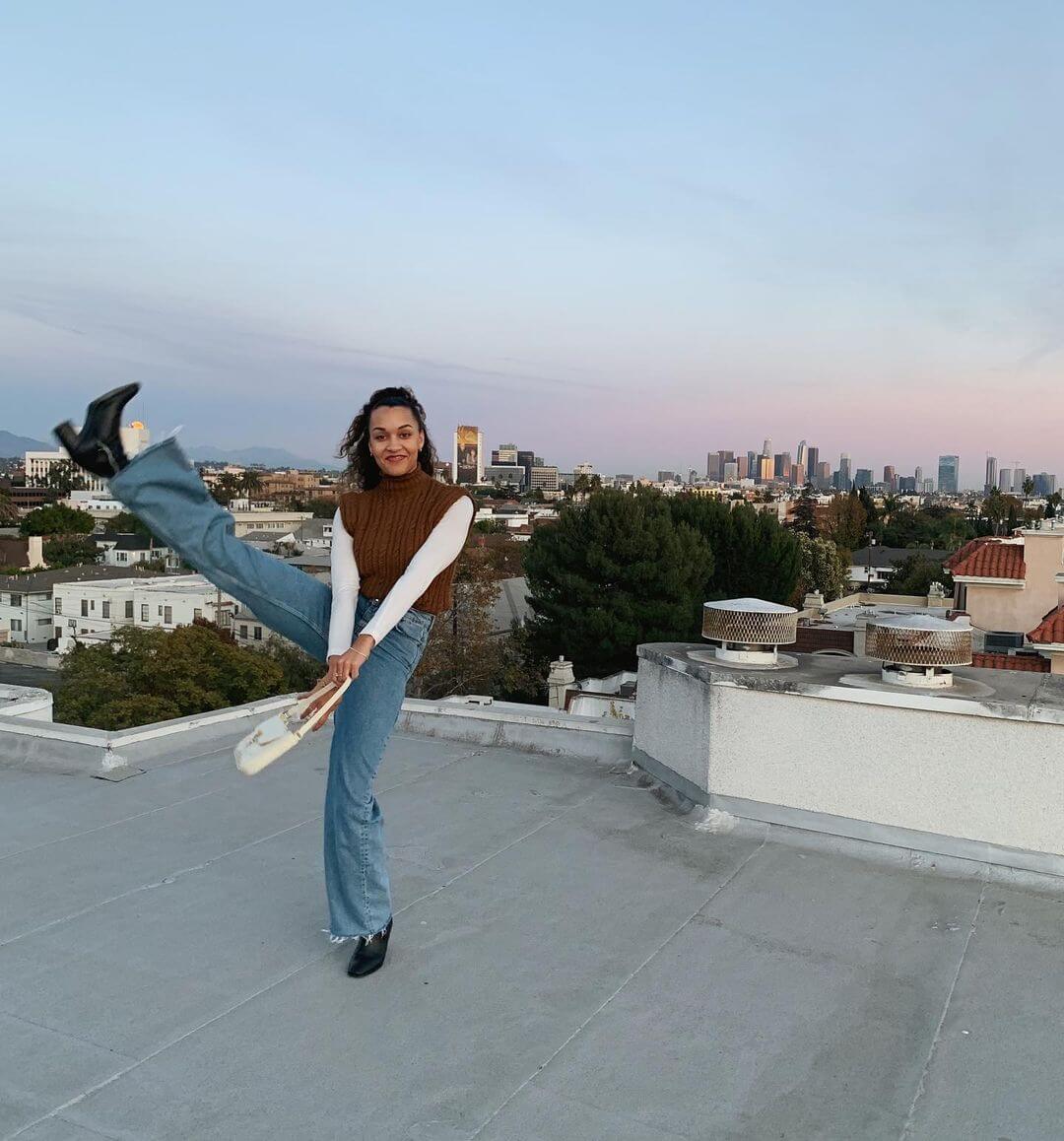 Photo via @annadominguez
6) 90's Revival
The sweater vest is also known for its incredible popularity back in the 90's, so you could channel this vibe into your outfit while the 90's revival is happening. For optimal warmth, layer a solid long sleeve tee under a cable knit sweater vest and style it with your favorite throwback-inspired denim (aka baggy or flared). You can't go wrong with any bag or footwear style – but why not keep the 90's effect going strong with square toe booties and a shoulder bag? It's such a simple outfit to throw together yet so visually appealing and on trend!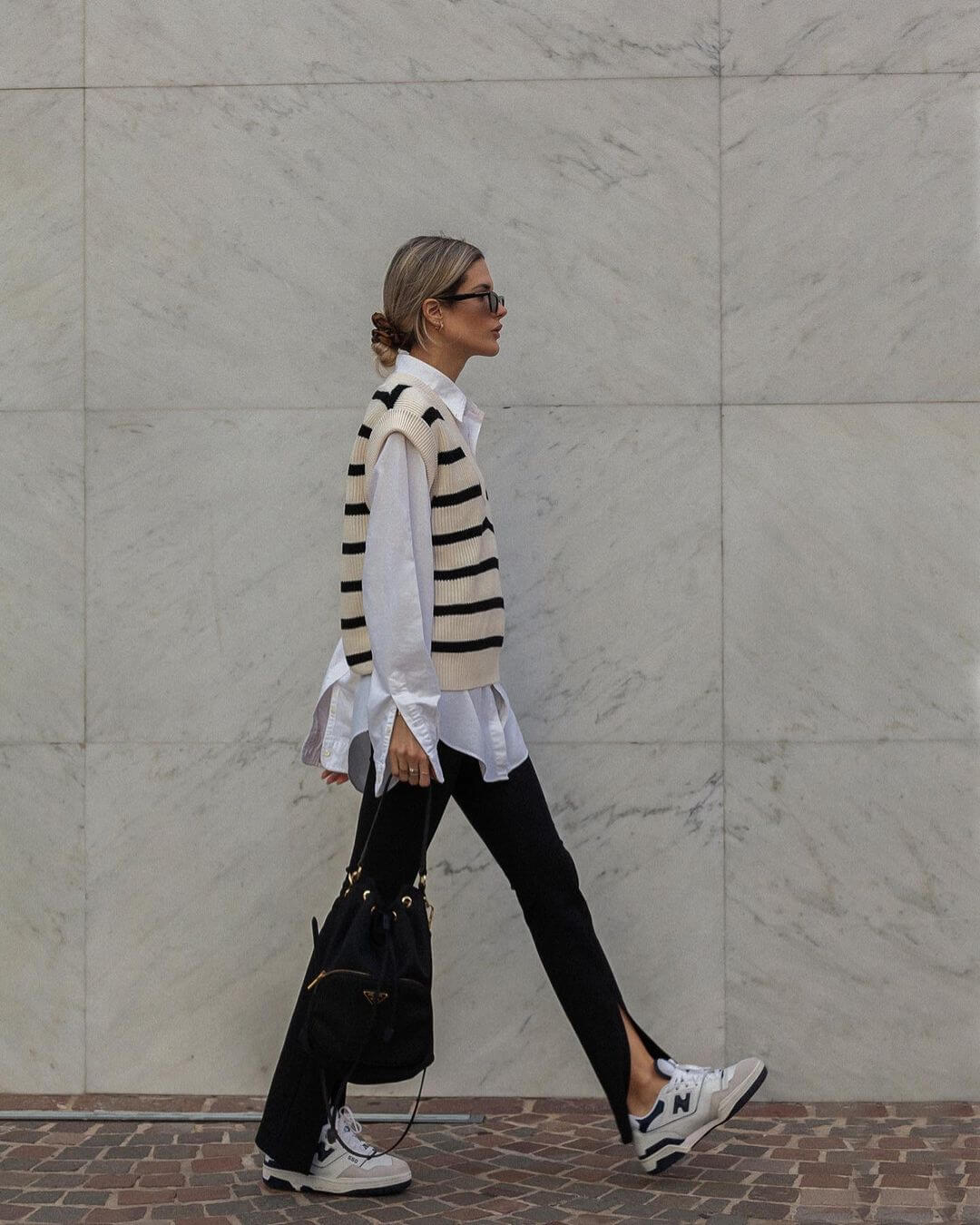 Photo via @priscilaevangelista_
7) Pattern Please
Sweater vests look way more chic in any kind of pattern – even with something as straightforward as nautical stripes. Reinvent this minimal outfit by tossing a striped vest on top of an oversized shirt and some solid flared pants. Definitely choose to leave the shirt loose and unbuttoned for that effortlessly chic finish. To keep your outfit from feeling too formal, complete the fit with your favorite unassuming pair of sporty sneakers.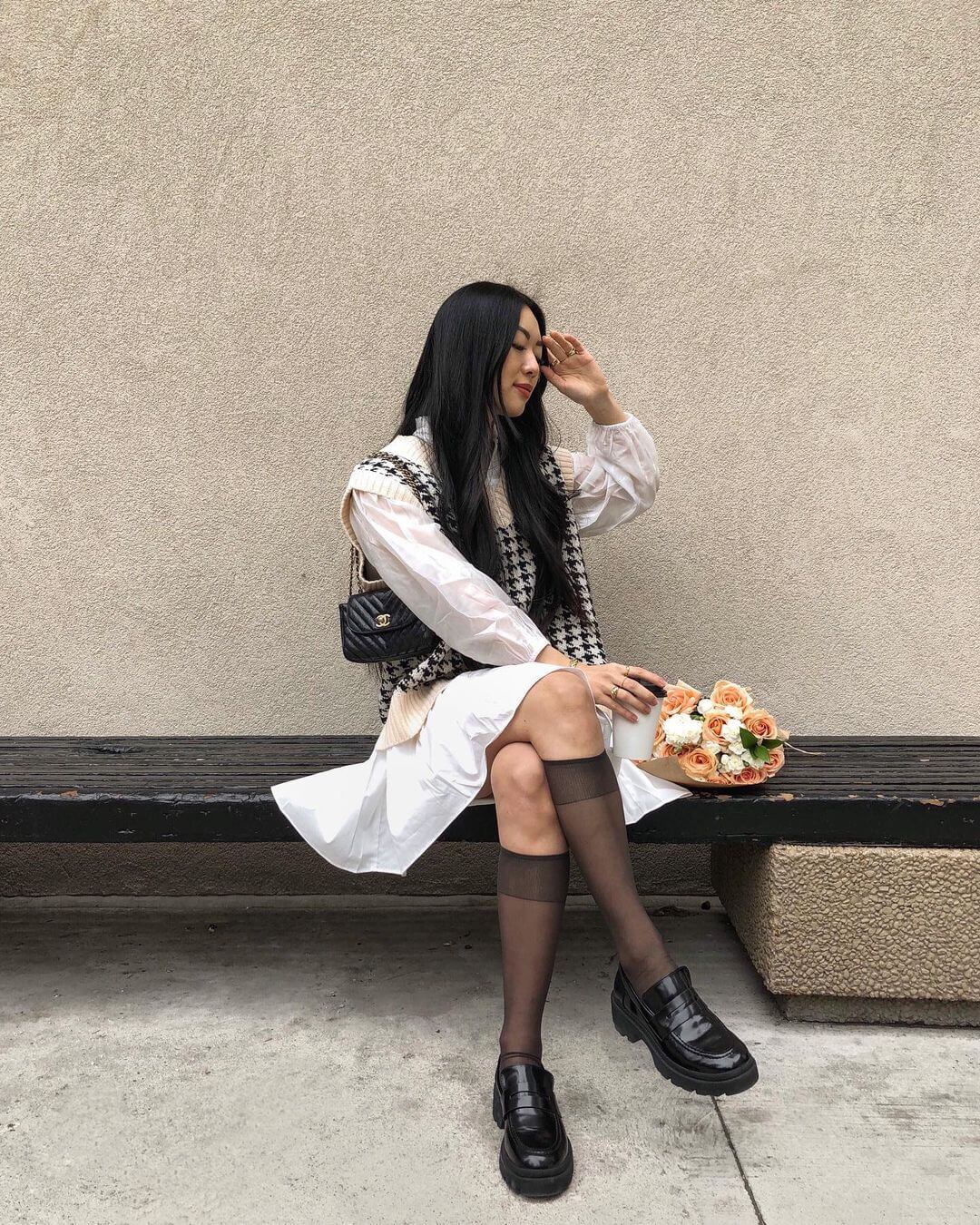 Photo via @winnspiration
8) Vest Romance
Get a little bit more romantic with this next sweater vest look. This influencer pairs a simple houndstooth vest over a loose cottagecore dress, then seals the deal with some sheer knee-high socks and chunky loafers. The juxtaposition of all the pieces is pulled together thanks to the dreamy dress and downtown loafers. Bookmark this look for later if you want a more feminine, dreamy take on the trend.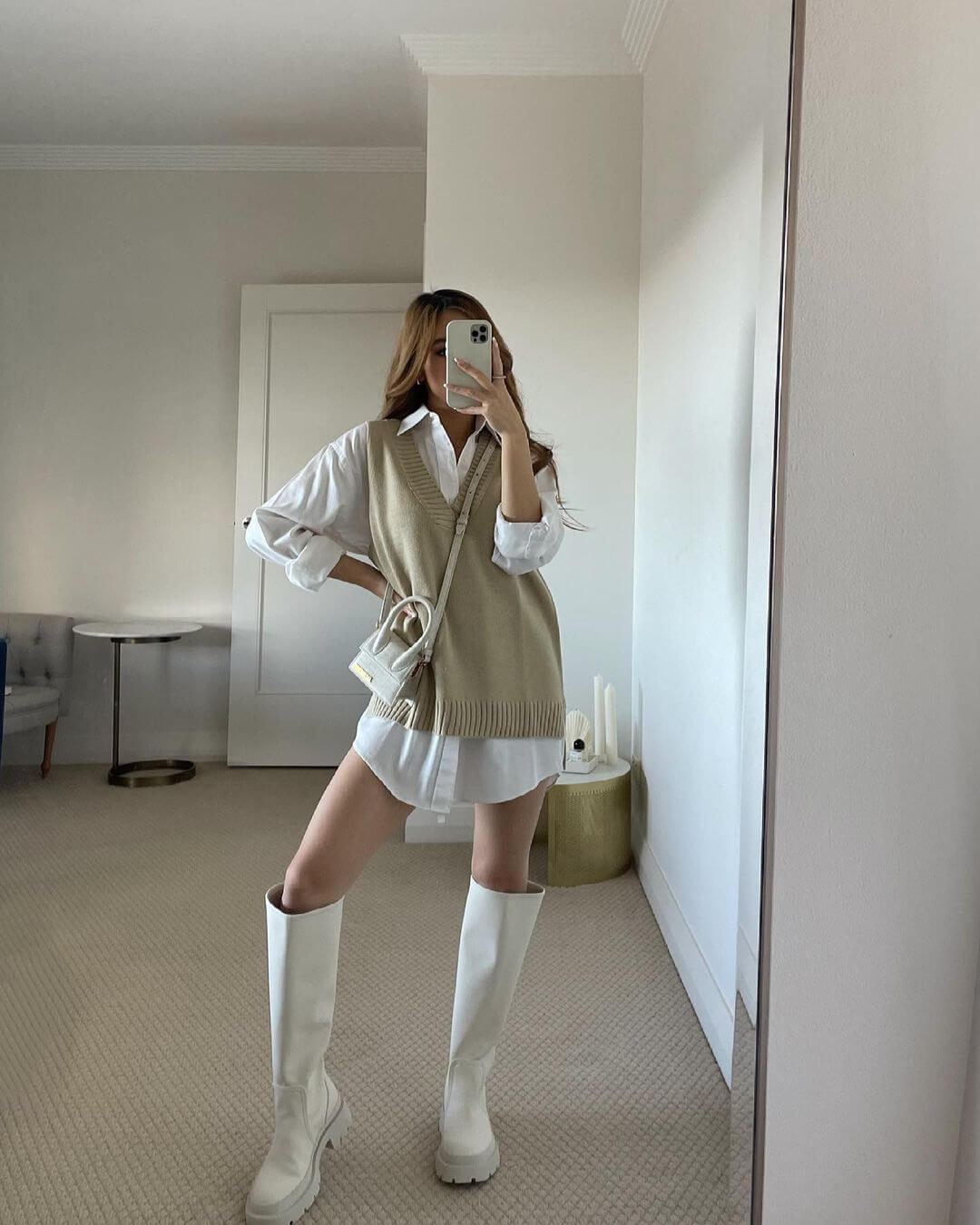 Photo via @ashleighuynh
9) Neutral Overload
You know we always appreciate a well put-together neutral outfit and Ashleigh killed it with her beige and white remix. She loaded up on white from the shirt dress to the handbag and knee-high lug sole boots. Then, tops it off with a beige sweater vest and crossbody handbag. The result? So polished yet forward.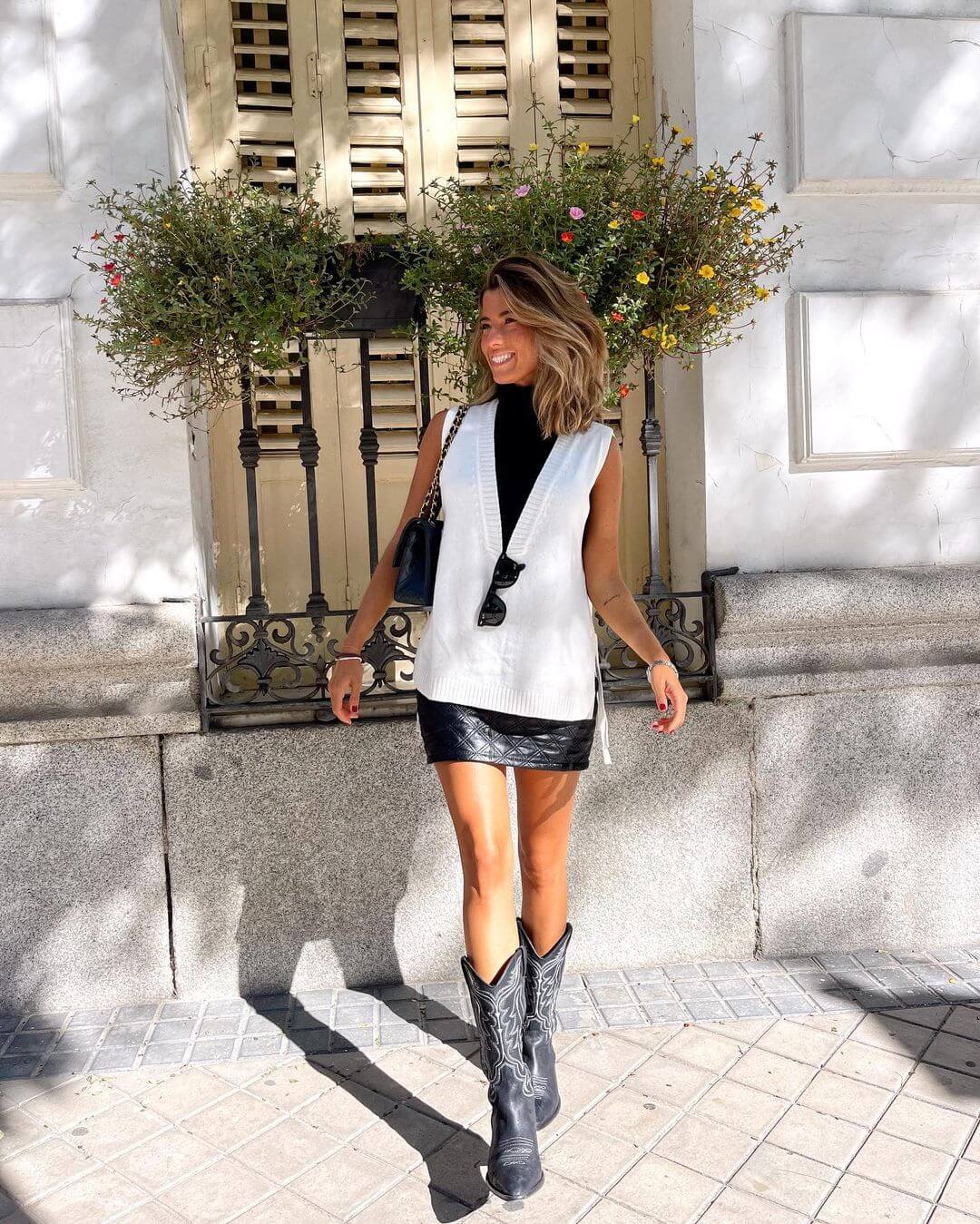 Photo via @mariahernandezc
10) Giddy Up
As we mentioned above, the sweater vest is quite versatile and can mold to all different styles. You can see in this outfit how the vest seamlessly coordinates with the leather mini skirt and 'It' shoe of the season – cowgirl boots. When wearing strong statement pieces, sticking to a solid sweater vest will allow the other items to really pop!

(Visited 1 times, 5 visits today)