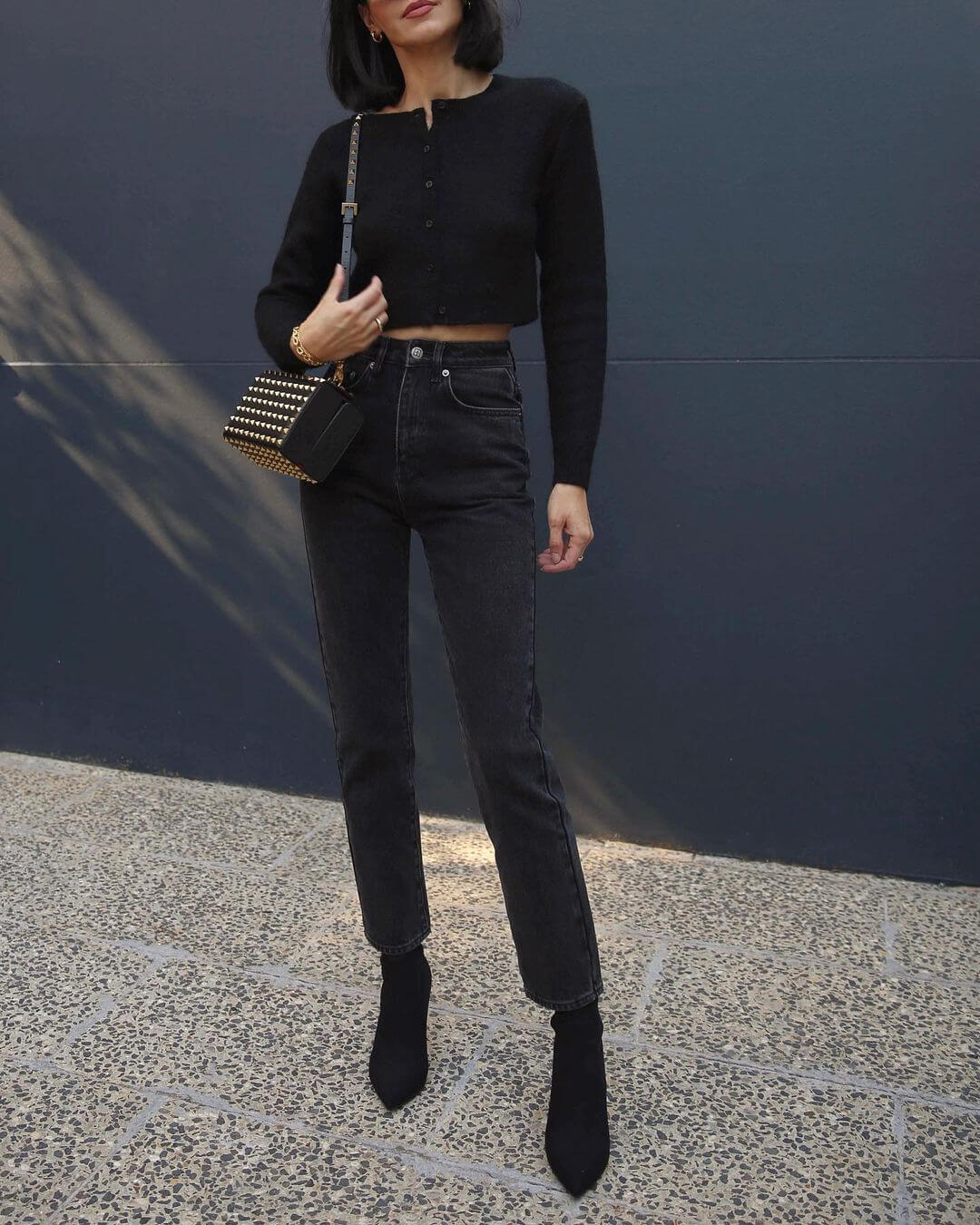 Photo via @pepamack
Black clothing in the fall just makes sense. It tends to match the general moodiness of the weather and the waning hours of daylight. Not to mention the fact that it still remains the superior color in terms of class and style, while also being universally flattering to all who wear it. Since black is such a popular color choice for the autumnal season, we wanted to provide you with the latest inspiration on all the different ways to sport it. Whether you're looking for a sultry date night frock or an edgy daytime look to brave the chilly weather, you can scroll ahead to jump into a monochromatic outfit exploration. Here are 10 all black outfits worth copying this season.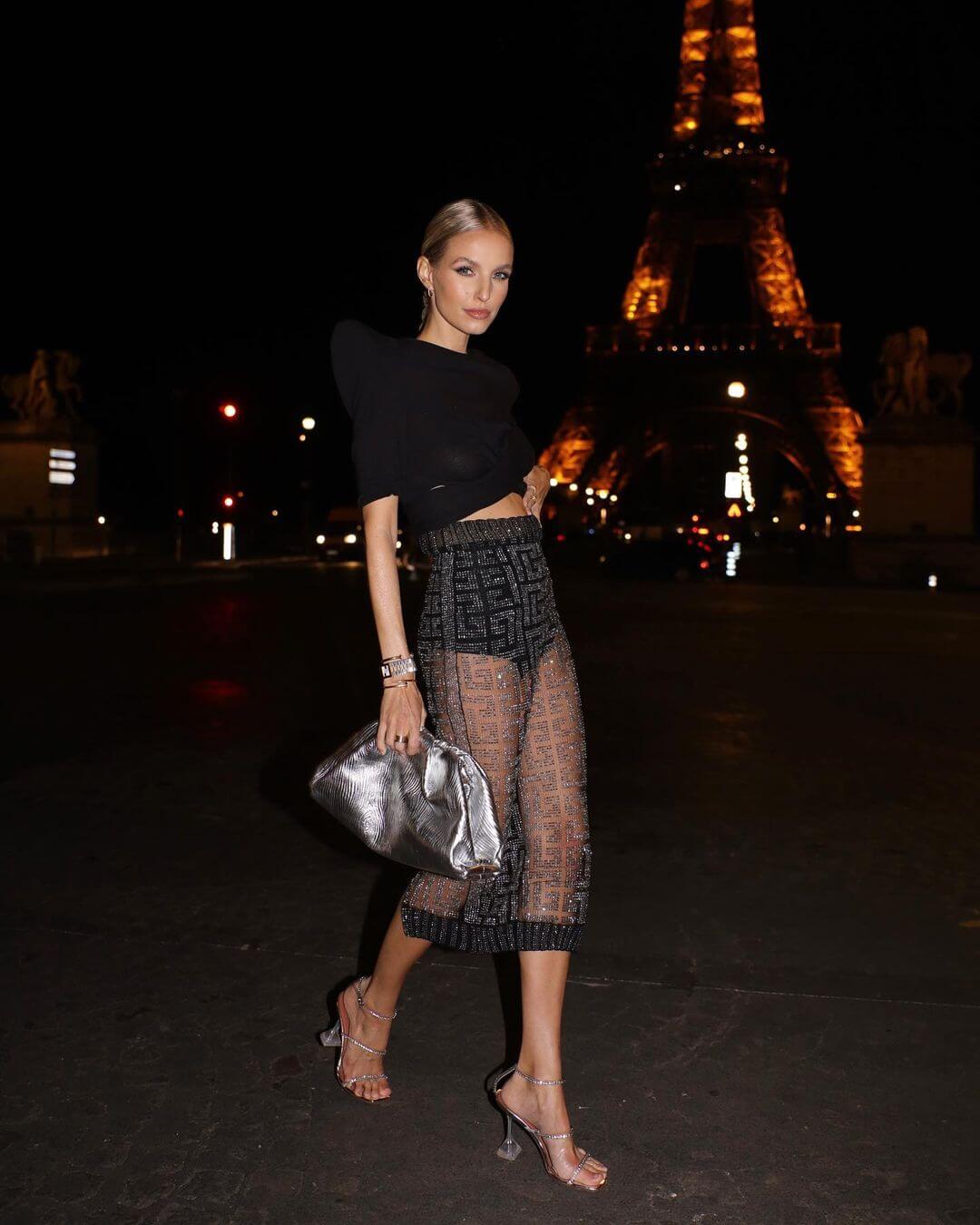 Photo via @leoniehanne
1) Sheer Disbelief
Starting the post off with a bang, here is one of our favorite all black outfits that is going to blow innocent bystanders out of the water. Sheer, 'naked' going-out attire is the hot new trend to wear both on the red carpet and out on the town. This sparkly transparent midi skirt is expertly styled with a black cropped top and flashy metallic accessories. Bookmark this look for your new holiday party uniform.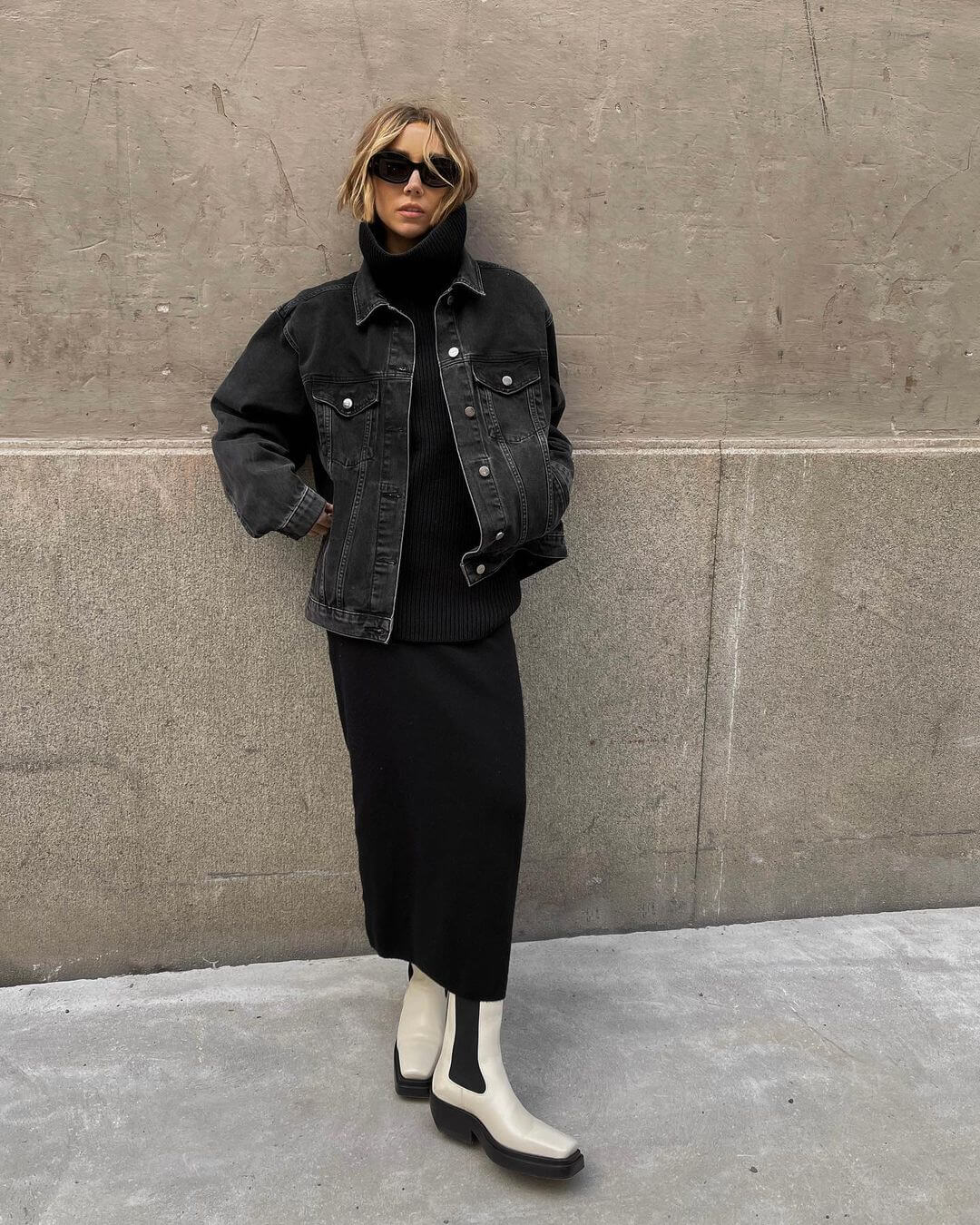 Photo via @lisa.olssons
2) Chunky Knits
'Tis the season to wear chunky knitwear. This elevated ribbed turtleneck is layered seamlessly over a matching knit skirt and the black-on-black finish actually provides a slimming effect. The look is further layered with a dark denim jacket which acts as a nice contrast to the look, while still adhering to the darker color scheme. Of course, feel free to add in a pop of freshness with some white lug sole boots like Lisa did.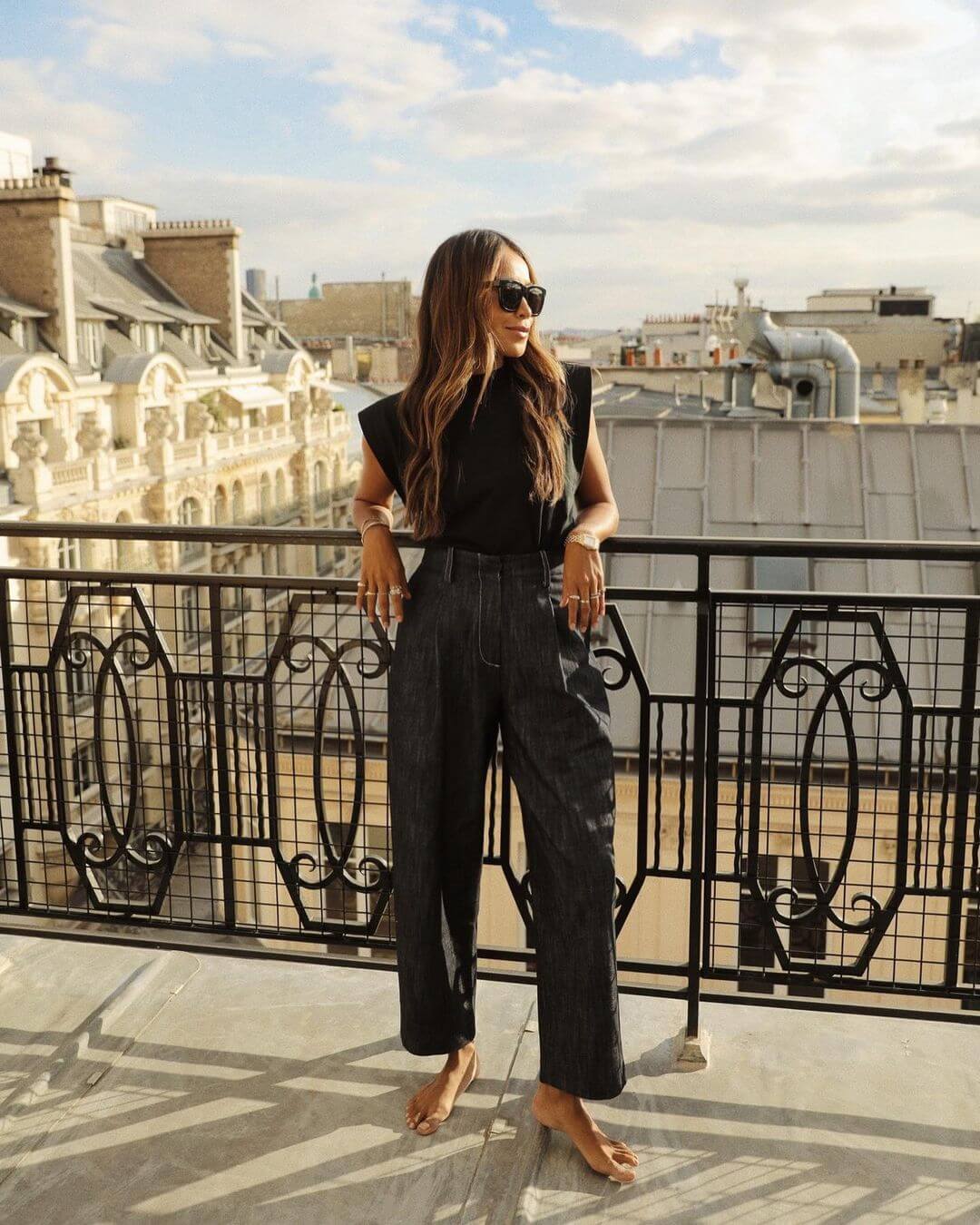 Photo via @sincerelyjules
3) Dark Denim
Looking to integrate more black pieces into your daily wear? An everyday item you can wear repeatedly is a trusty pair of black or dark wash denim. It really is a no brainer as they can easily be dressed up or down for any situation. In particular, we are crushing on these black jeans with the pleats and wide trouser silhouette. They're so effortlessly chic – even when styled with a plain black muscle tee!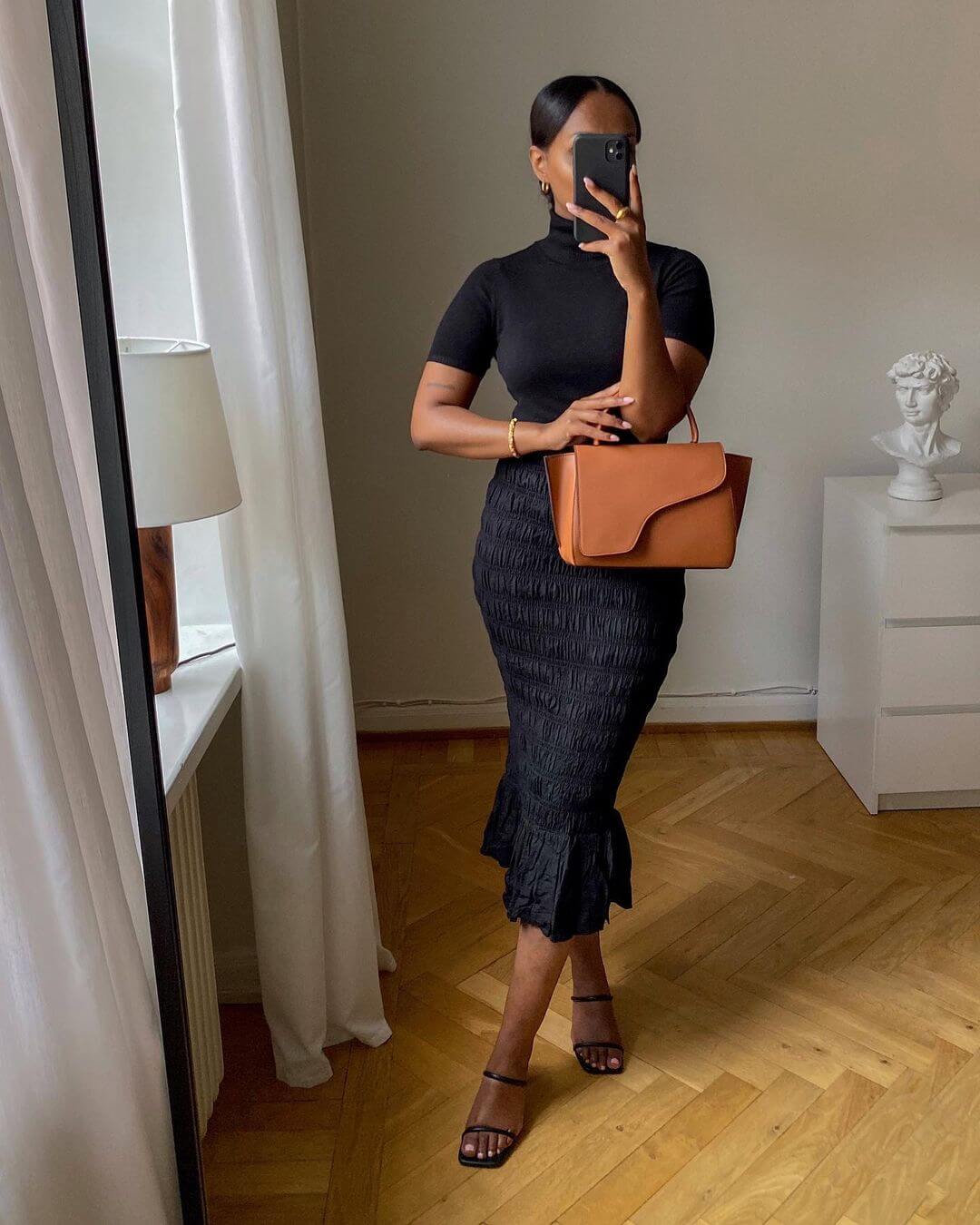 Photo via @femmeblk
4) Sleek & Polished
Black practically oozes sophistication, so one way to style this rich shade for fall is to look for pieces that are sleek and polished in themselves. We absolutely love this outfit as the textured midi skirt helps to create separation between both top and bottom. The decision to add a contrasting camel handbag deserves some serious style points as it complements the dark outfit perfectly.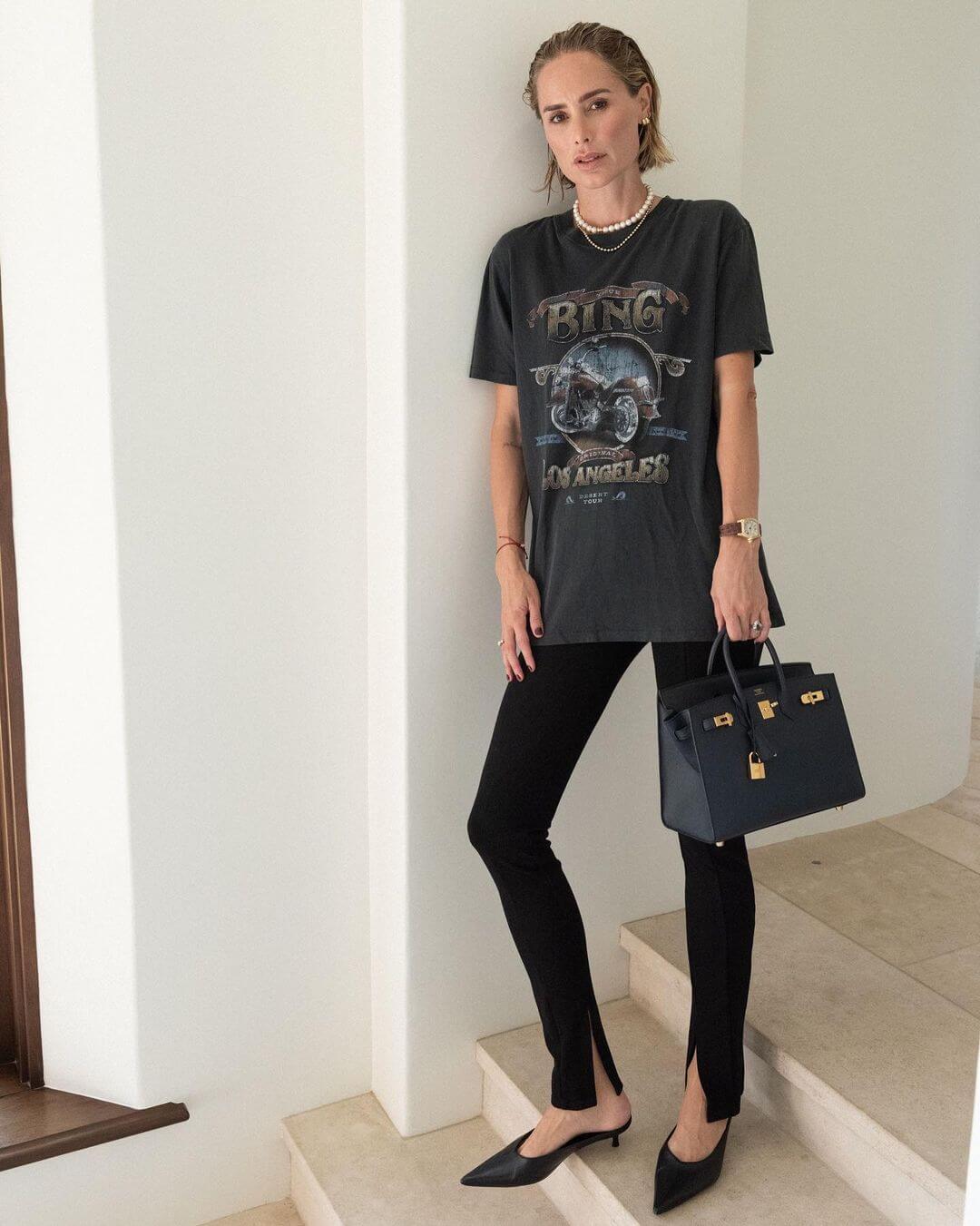 Photo via @aninebing
5) Get Graphic
Another way to wear all black for fall is via a graphic t-shirt. Vintage band tees, punk graphics and quirky sentiments are all fun pieces to add to your collection. However, in order to turn the laidback top into a more concise, trendy outfit, style it with a pair of split hem leggings, pointed toe mules, and a structured handbag. These more polished items have the ability to transform any oversized tee from frumpy to chic.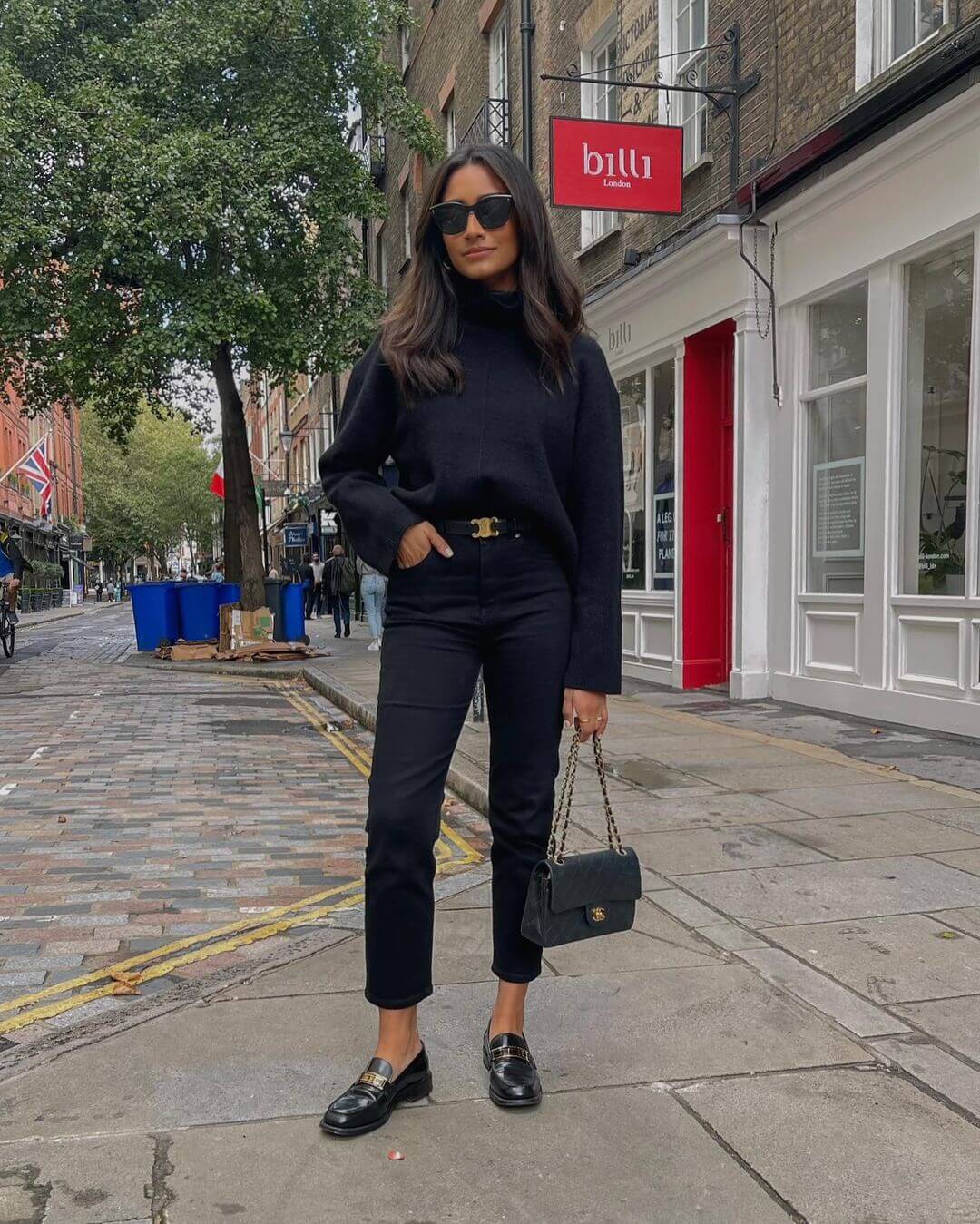 Photo via @cocobeautea
6) Monochrome Workwear
Dressing in all black is also suitable for the workplace! We love this stylish, put-together rendition of a casual office look. The cozy mock neck sweater is casually tucked into high-waisted black jeans. But what makes this outfit complete are the choice of accessories. The covetable loafers, flap bag and oversized sunglasses all add to the elegance of the look.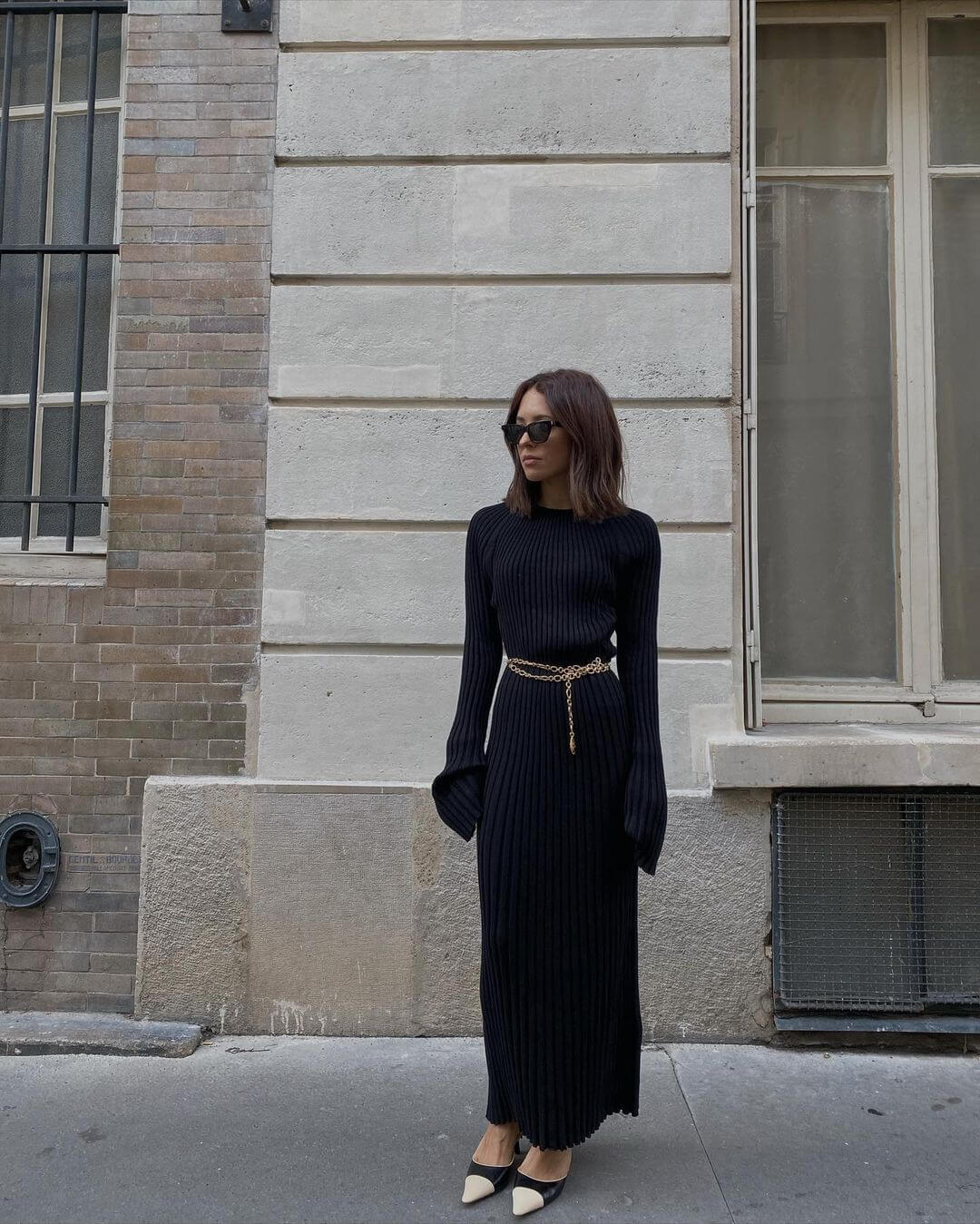 Photo via @deborabrosa
7) Maxi Dress
We love a good LBD but why not add a black maxi dress to your fall rotation this year? It makes for such a luxe and chic look – especially if you decide to play within the elevated knitwear trend like Débora does above. It definitely carries an unbothered, Parisian aesthetic that's to die for. You could also shop chain belts to accentuate the waist on your long black dress for a novel touch.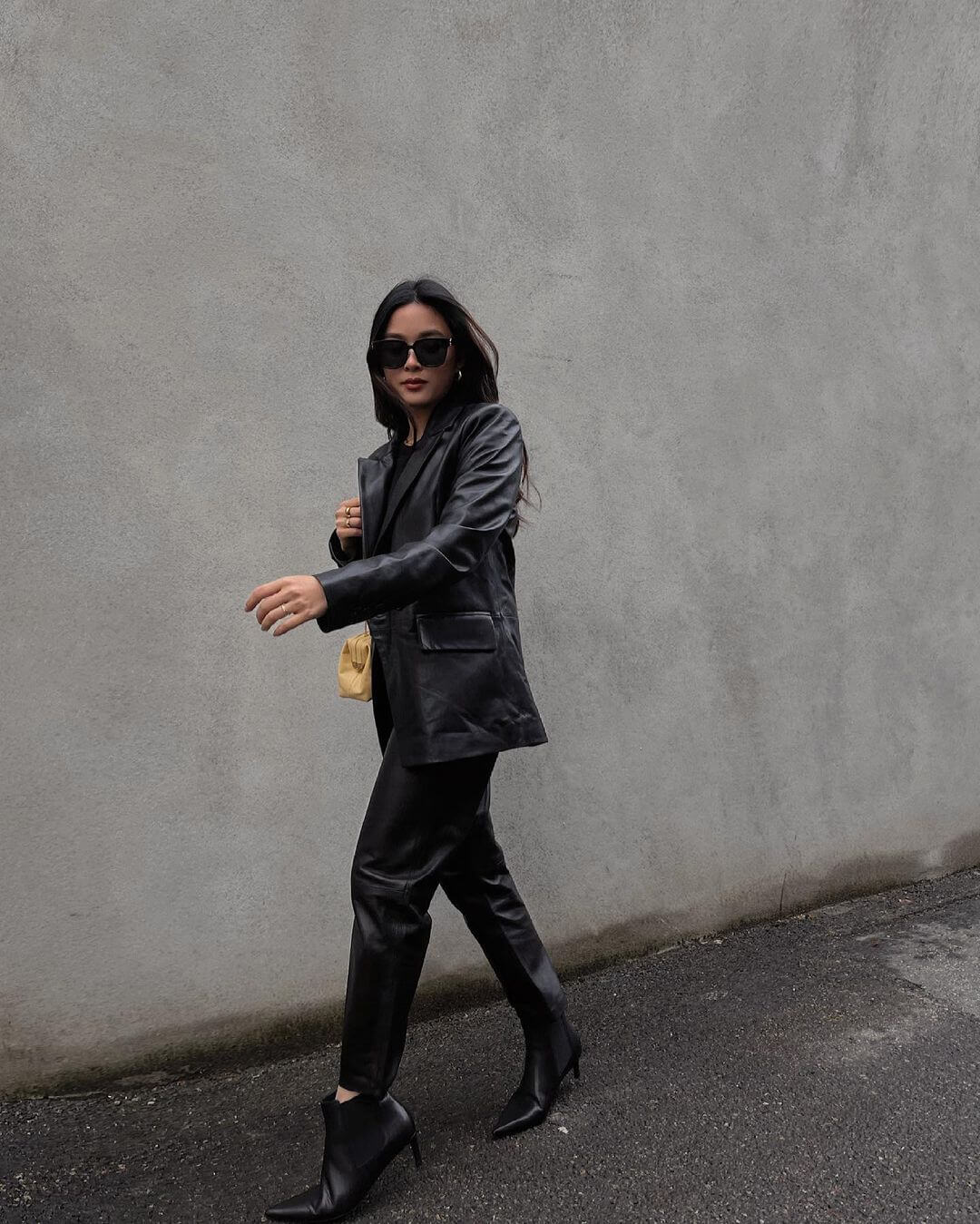 Photo via @xoxotsumi
8) Tailored to Perfection
You'll never disappoint suiting up in a crisp, all black ensemble for fall. As we're all aware, anything tailored (and made from leather) is taking the main stage this season and there is not a more iconic color than black. Traditional suiting with chic accessories is an easy outfit formula to emulate. Or you could trade up your suit for an elevated alternative such as a faux leather blazer and trouser set.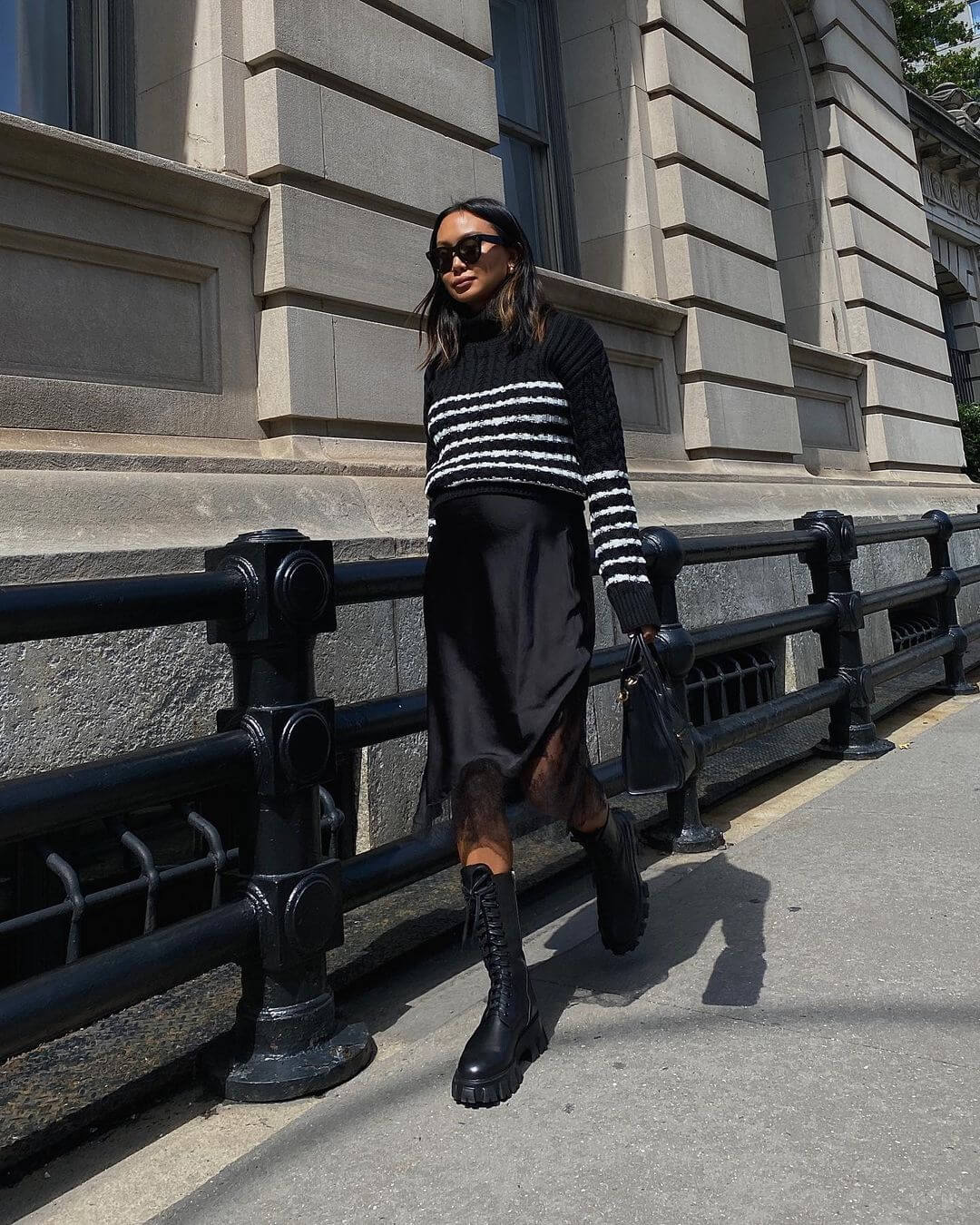 Photo via @linhniller
9) Touch of Pattern
You could also choose to break up your black monochrome fall outfit by integrating just a bit of pattern. As a prime example, we love Linh's pairing of a striped sweater layered over a silk slip dress. You can also reverse the look and style a pair of dark patterned pants with a solid black top! It is a nice way to soften up the look and add more interest.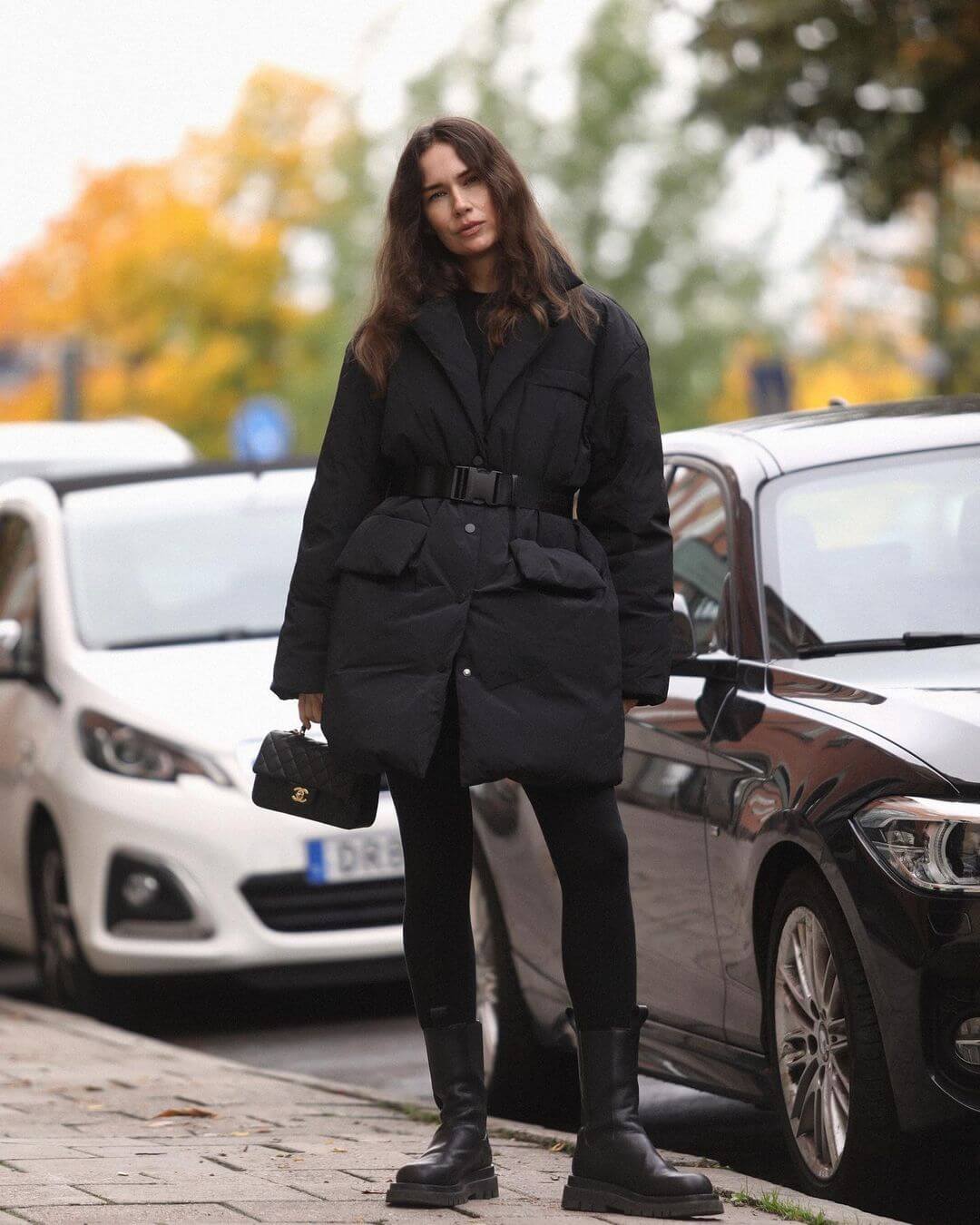 Photo via @carolineblomst
10) Belted Puffer
The final tip to create a killer all black outfit for fall is to play with silhouette and volume! An oversized belted puffer coat with sleek black leggings and chelsea boots take on a fashion-forward personality thanks to the mash up of contrasting textures. This tried-and-true combo will live on through winter too!

Contrary to popular belief, all black outfits are far from basic and boring. Modern basics with strong detailing and expected textures are all you need to jazz up a monochrome look. The 10 all black outfits above provide the refresh you need when you're not in the mood for color.
(Visited 1 times, 1 visits today)