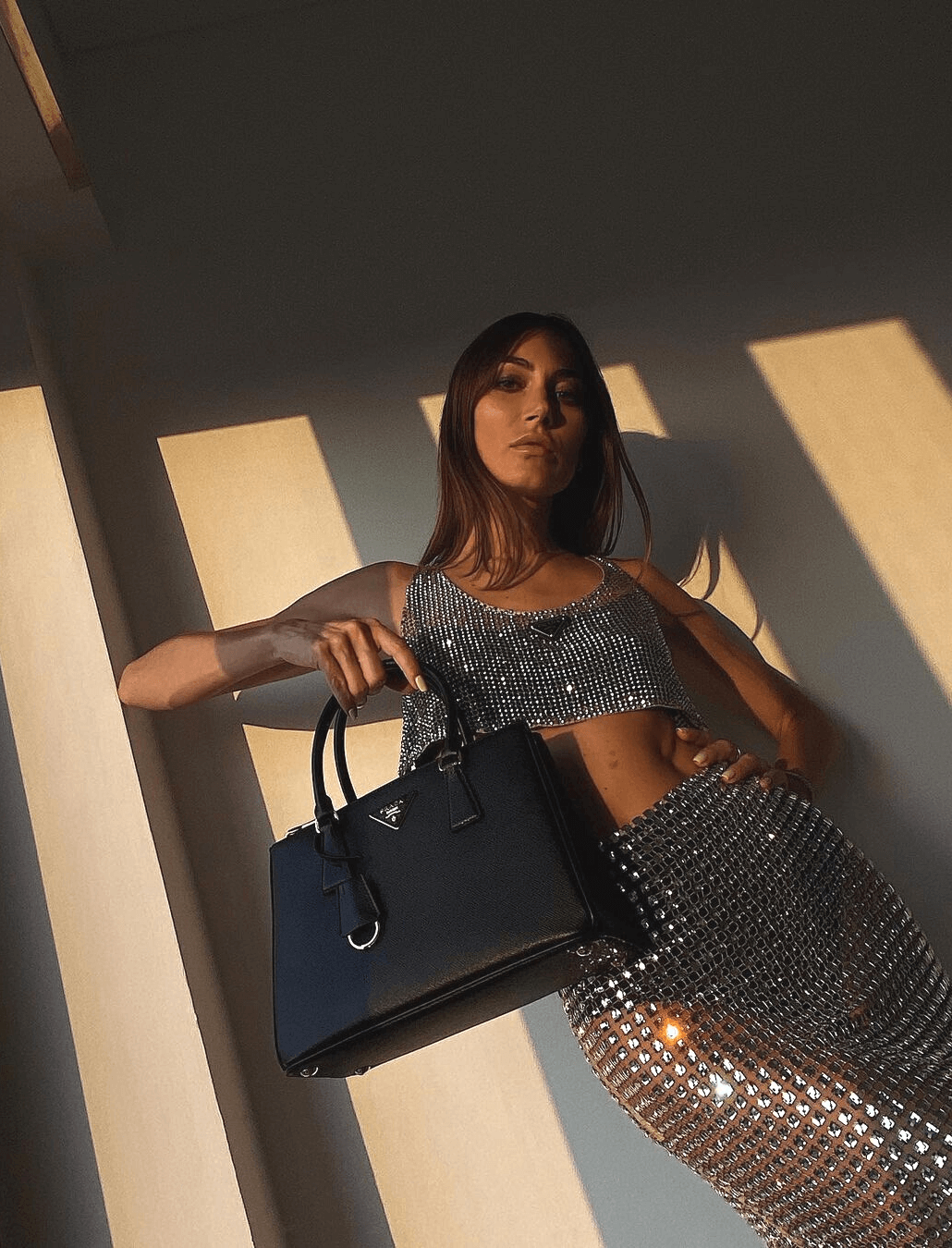 Photo via @giorgiatordini
The holiday season ultimately means the resurgence of all things sequins. No matter what, this trend always makes a grandiose return towards the end of the year and we're always ready to welcome it back with open arms. Sequins can be a tough look to style any other time of the year – even with pared back staples – but for the holidays, it just makes sense. The light-reflecting nature teamed with the ability to make anything look sexier is just what we need right now. And with a swarm of upcoming social gatherings and parties, we can't think of a better way to step into party-season dressing. There's no need to worry about looking tacky or froufrou. We have some ultra chic looks that show you 10 different ways wear sequins ahead. Keep scrolling to ring in the holiday season with style.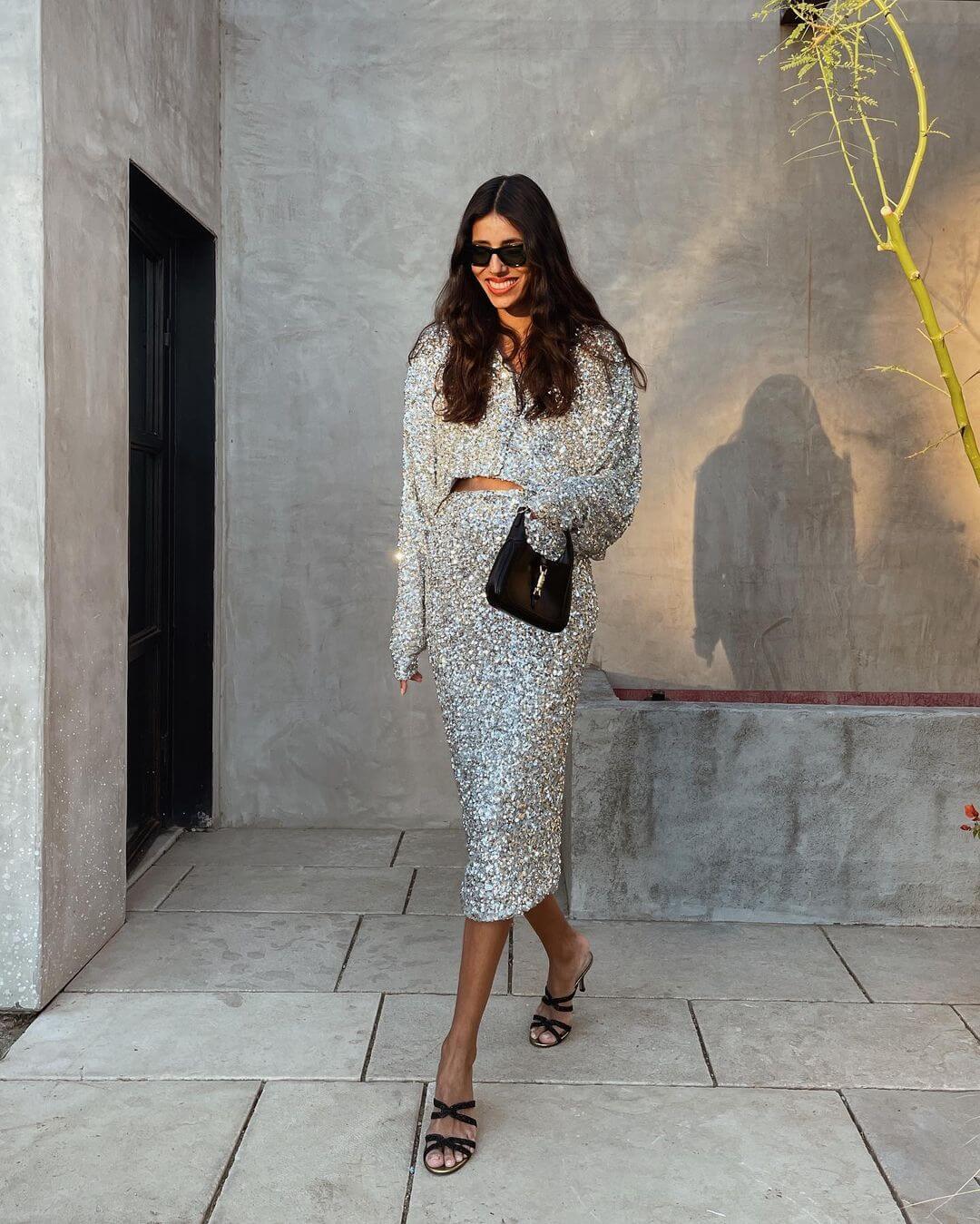 Photo via @babba
1) Sequin Sets
When you are not quite sure on how to style a new look like sequins, one of the best things you can do is search for a matching set. With an outfit already pre-formulated and ready to go, it takes away the stress of having to coordinate your wardrobe with pieces in unfamiliar territory. For example, this glitzy crop top and midi skirt combo is not just an instant crowd pleaser but a killer look for any winter party.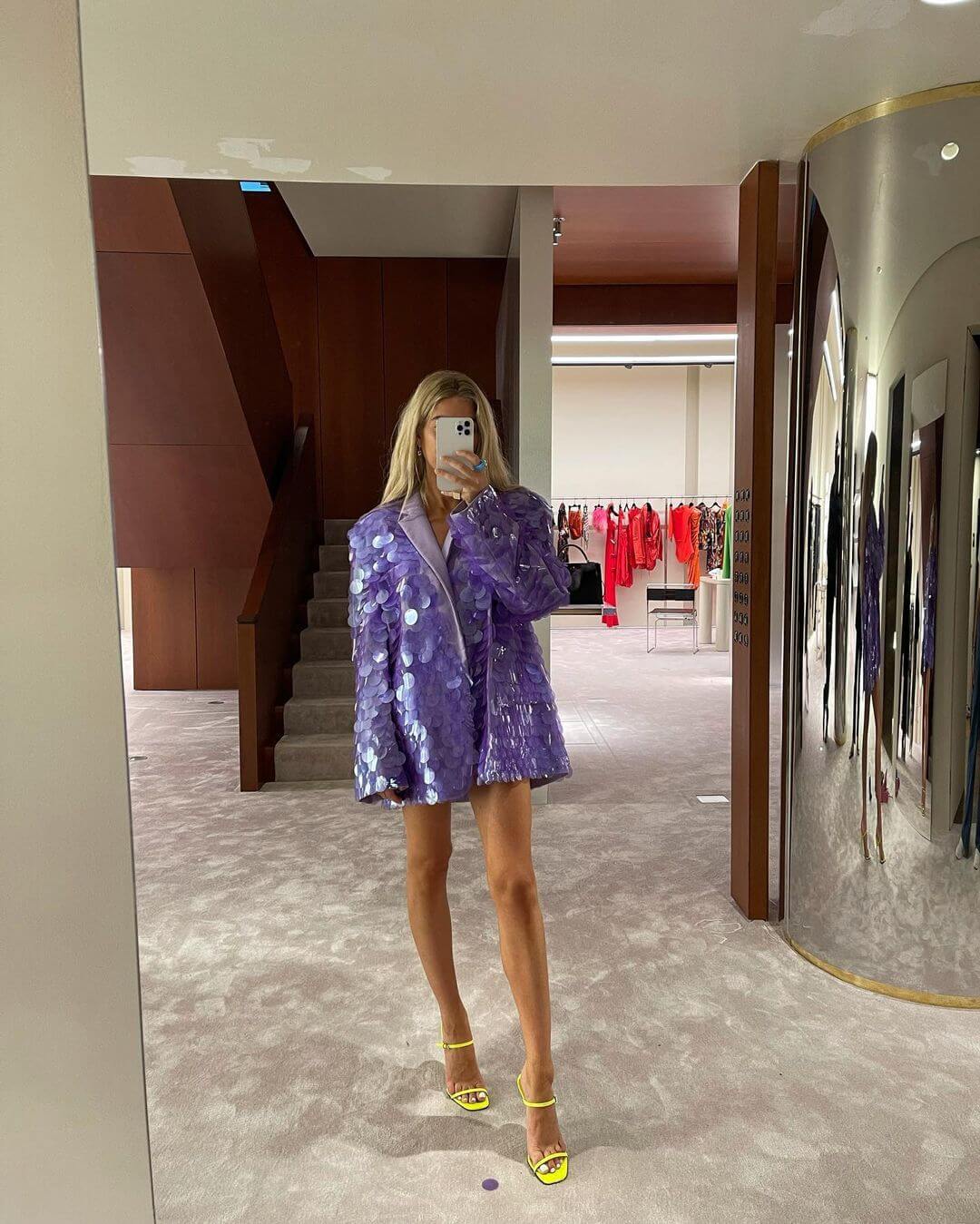 Photo via @emilisindlev
2) Blingin' Blazer
The blazer is a time-tested staple, allowing it to evolve and transform fully over the years. We've seen it across different aesthetics from dresses to menswear cuts. The latest and greatest though is the sequin blazer and it is serving up fashionable party vibes that we cannot get enough of! For your next holiday getup, opt for an oversized blinging blazer as a mini dress and finish it off with high-contrast neon heels.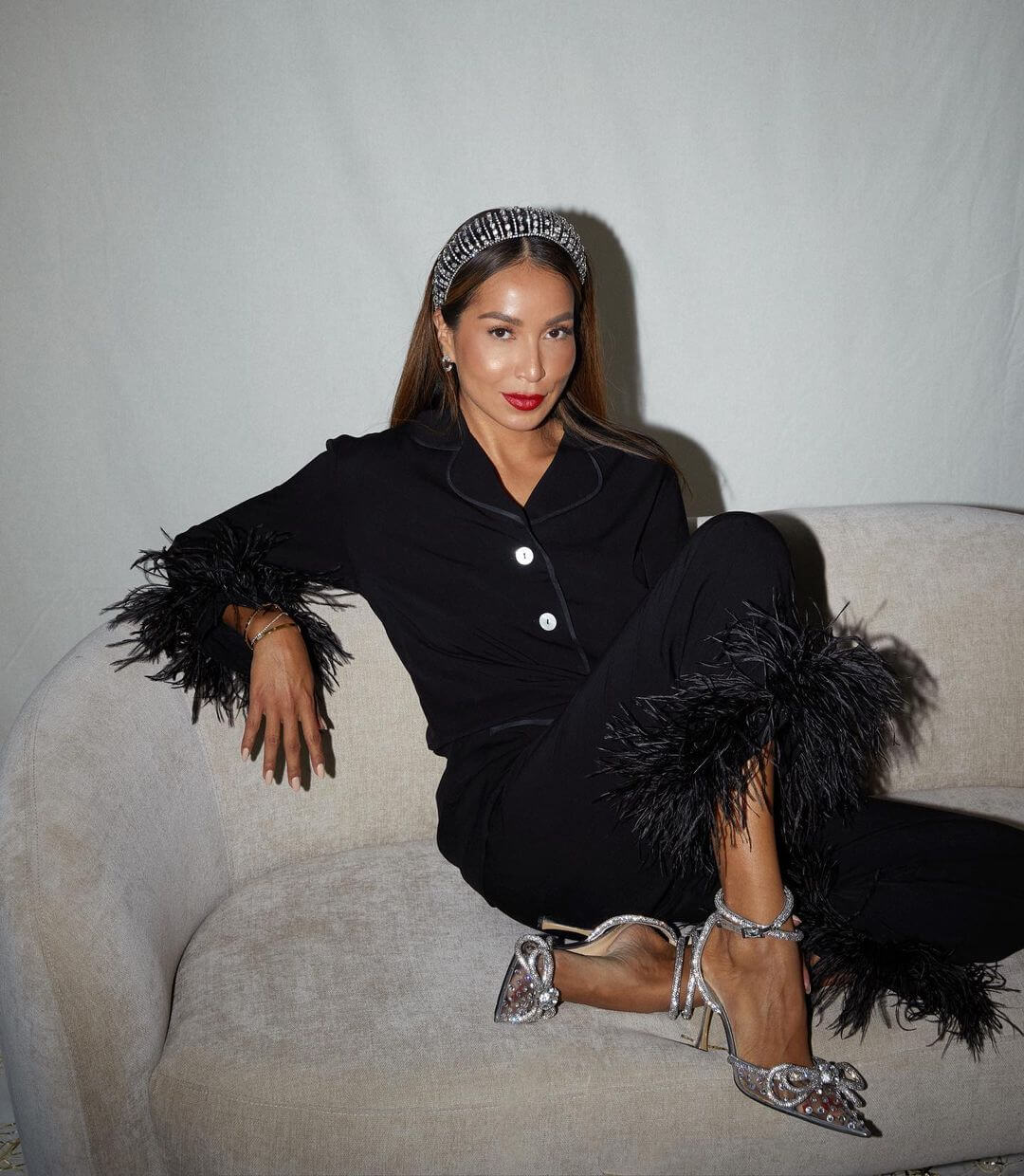 Photo via @sincerelyjules
3) Twinkle Toes
Not keen on wearing a full-on sequin outfit for the holidays? Not to worry! You can still let the festivity shine by playing with extra sparkly accessories. A pair of blinged out heels are the perfect accompaniment with any formal look and a fun way to go after the trend in a more subtle way. Don't forget an embellished headband and tennis bracelets to keep the glam vibes going strong.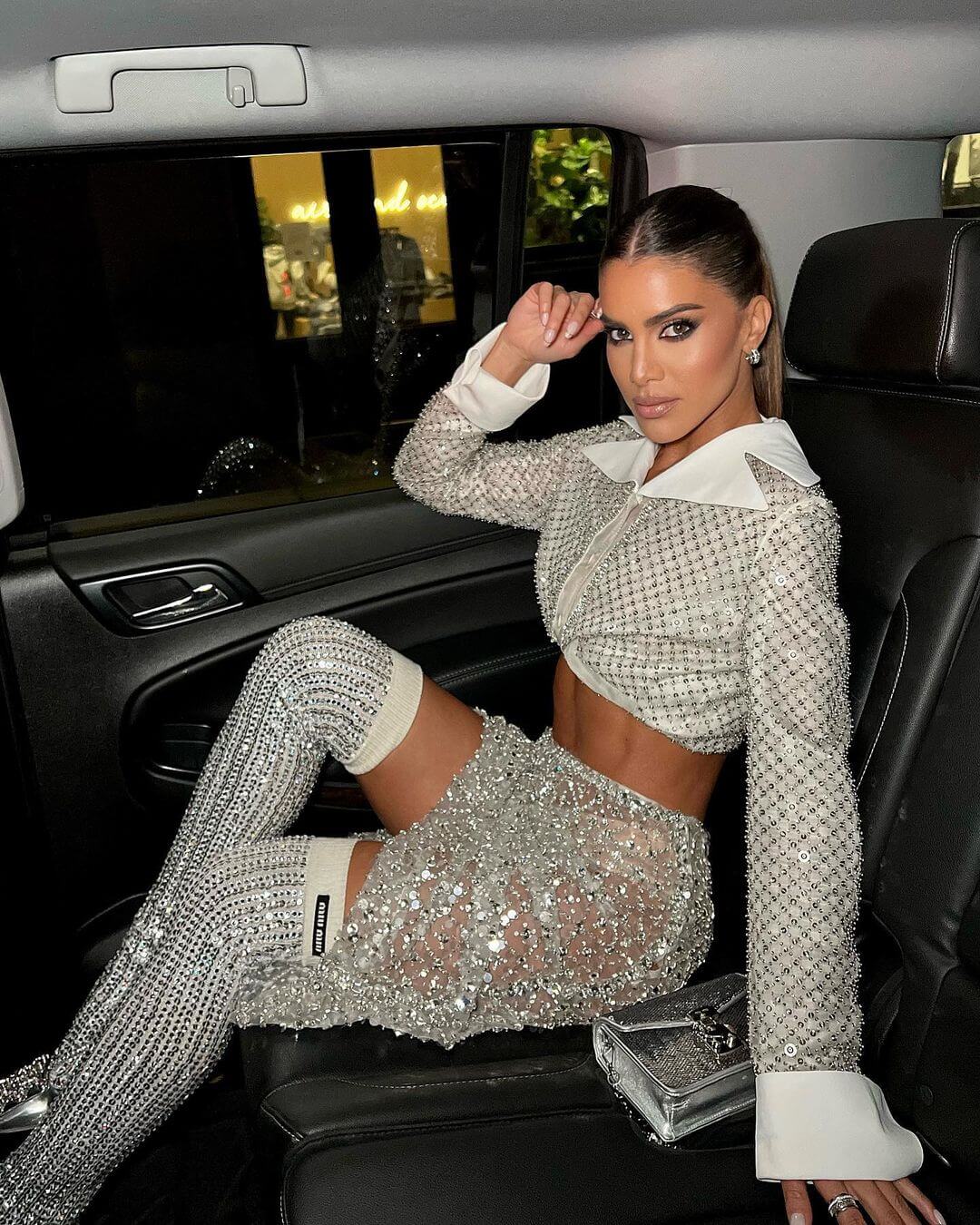 Photo via @camilacoelho
4) Double Trouble
Now if you're all about making a strong case for the jubilant trend, we present Camila's gaudy ensemblie dripping with sequins from head to toe. There's no denying that Camila shows us multiple ways to wear sequins in one look. This outfit, courtesy of Miu Miu, features an embellished top and transparent skirt akin to the naked dress trend. The night out elements don't stop there! The icing on the cake is the sequined knee-high socks. Lesson learned? Channeling a disco ball is quite stylish when done right!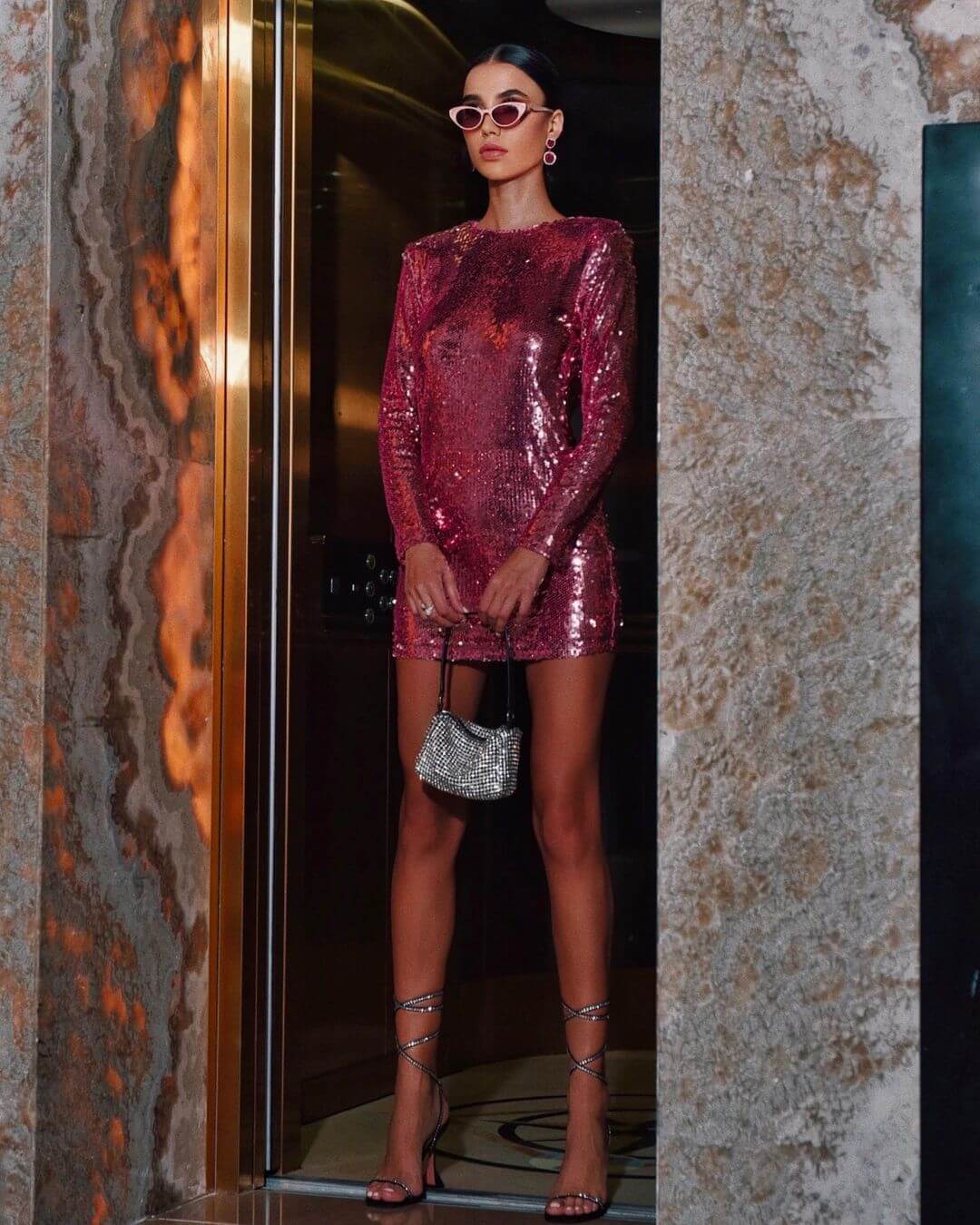 Photo via @nadineabdelaziz
5) Colorful Sequin Dress
If you are in need of a fun, flirtatious party look, perhaps for New Year's Eve, nothing fits the bill more than a mini dress decked out in colorful sequins. As shown here, Nadine's micro mini will make a lasting impression. Look for key added details, like an open back design, to further set your outfit apart from anyone else's at the party!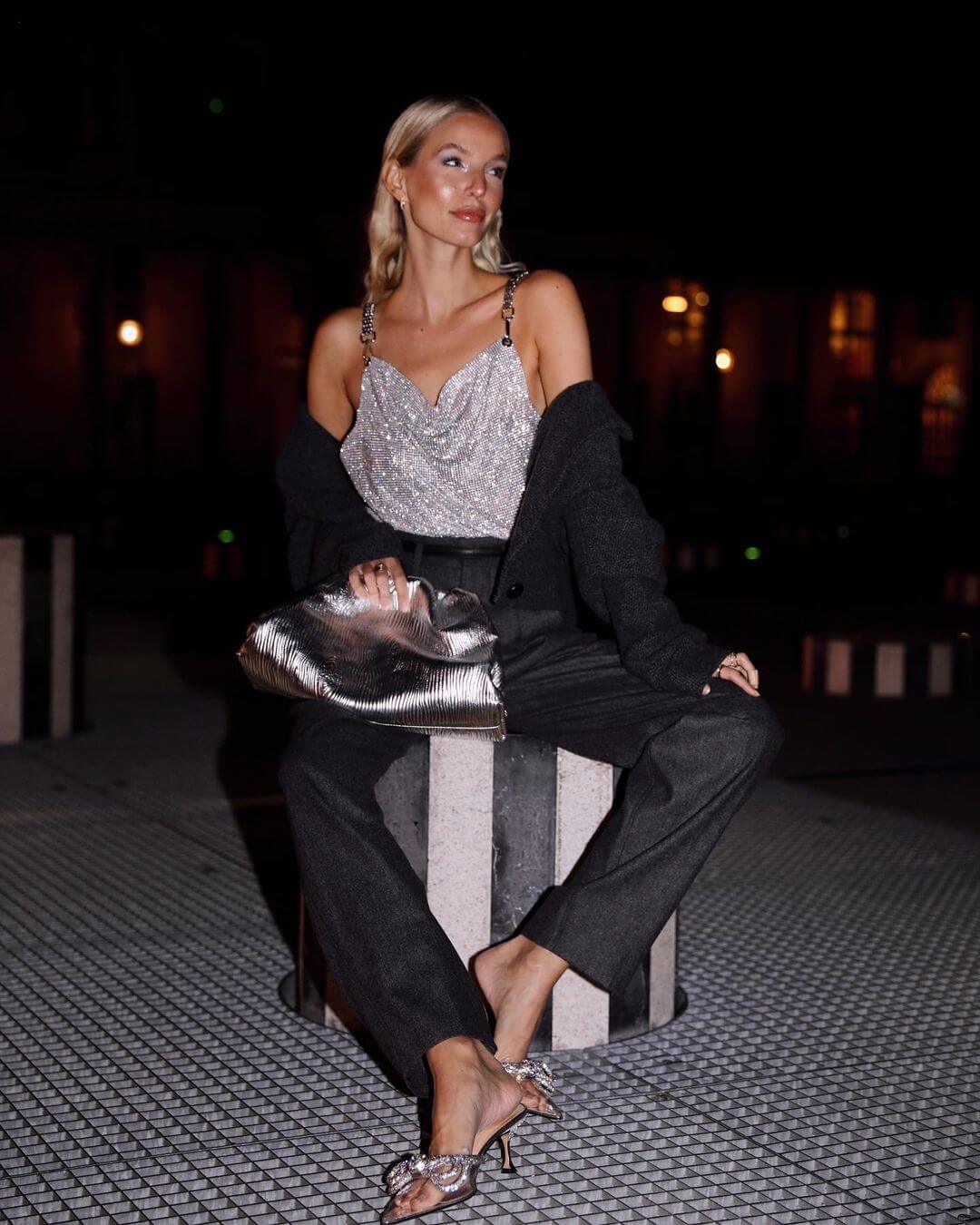 Photo via @leoniehanne
6) Metallic Top
Add a little sparkle and shine to your outfit without being too flashy by shopping for a metallic top to set the vibe. In this instance, Leonie's sequined camisole is the perfect spontaneous touch to wear with the darker high-waisted trousers. This is an easy outfit that lets a little loose while still being polished as ever. Definitely consider copying this formula for your upcoming holiday party.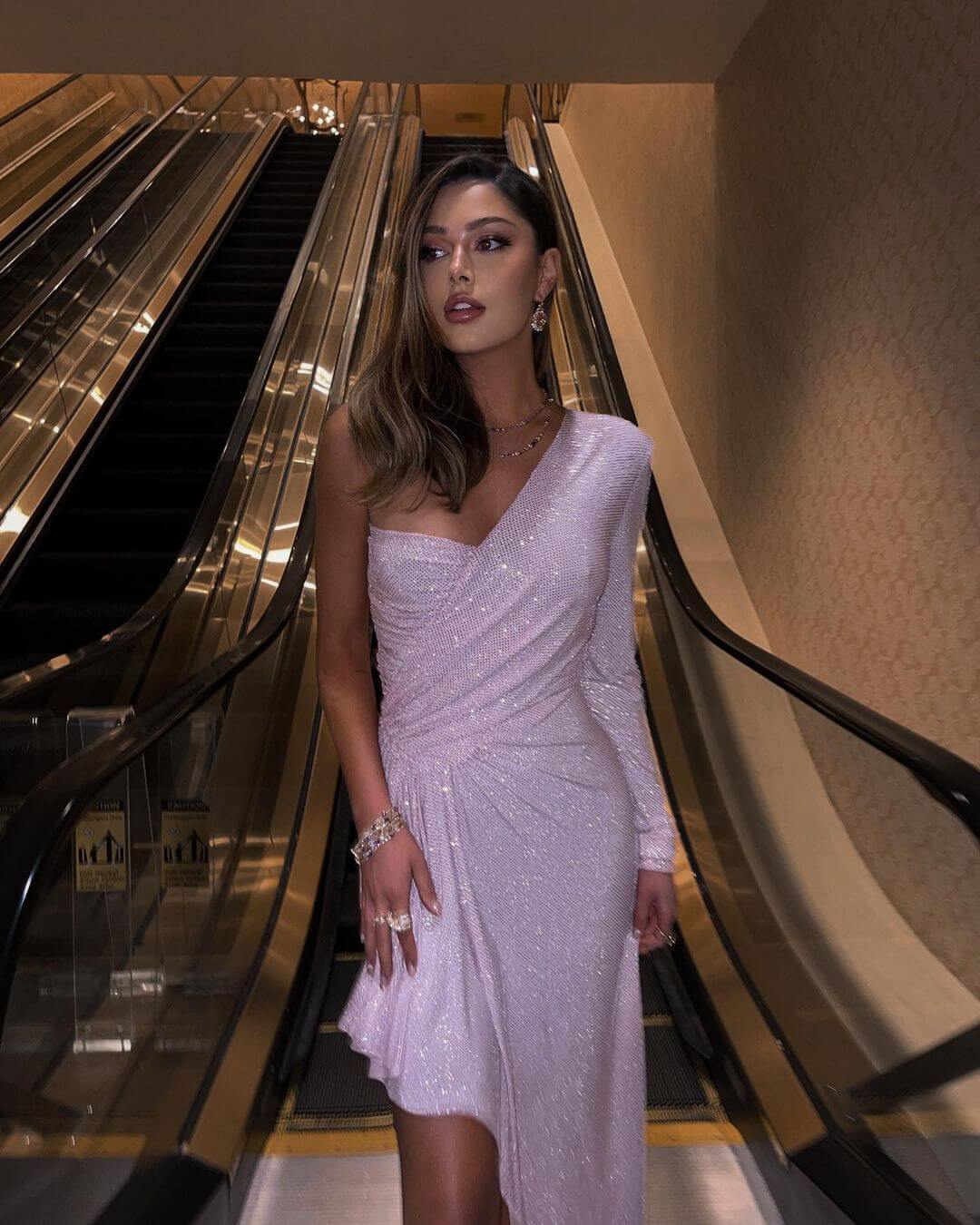 Photo via @jourdansloane
7) Meet in the Midi
A silhouette that never fails to be classy and timeless is the midi length dress. Now couple this with sequins and you have yourself a look that hits it out of the park. Keep your own sequined midi dress look polished by styling it with simple jewelry and slinky heels.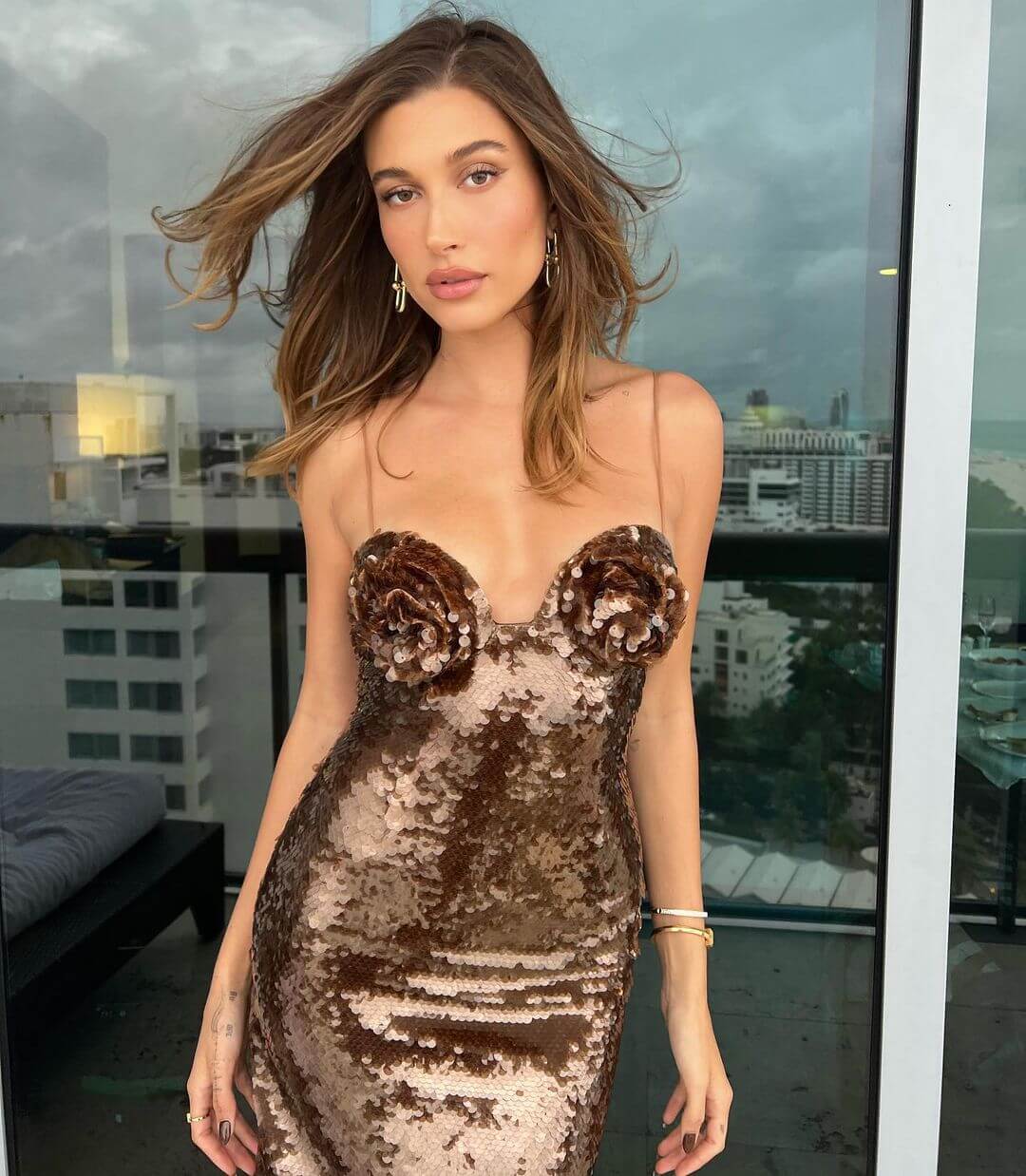 Photo via @haileybieber
8) Glam Gown
If you have a black tie party or something more formal to attend this winter, why not wow everyone with a sequined gown! Take some notes from Mrs. Bieber herself. She recently wore a fully embellished gown that is nothing short of stunning. The shimmery, textural finish instantly brightens up the holidays or spices up New Year's Eve.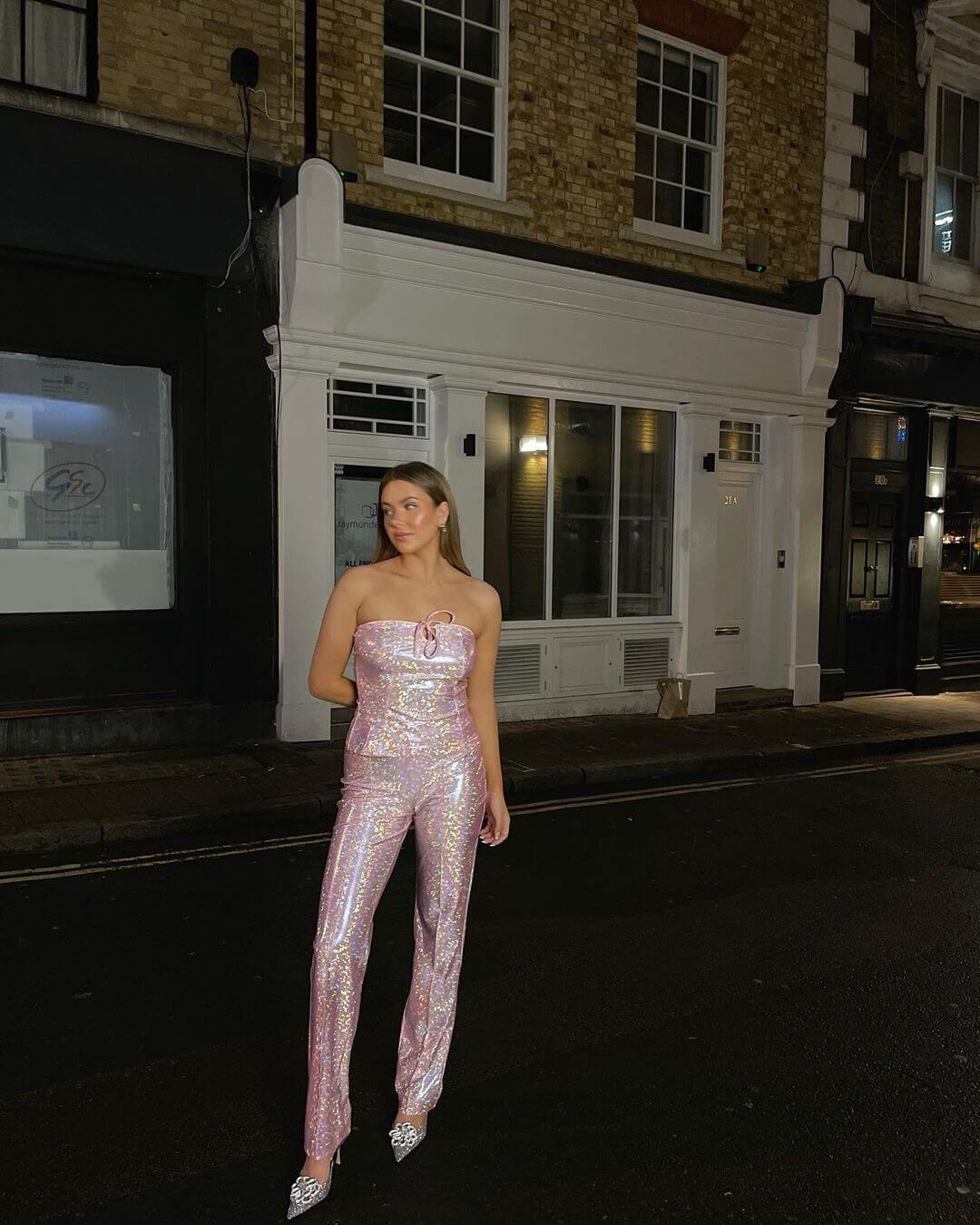 Photo via @sophiesuchan
9) Sparkly Pants
When it comes to cool, modern ways to wear sequins, do not feel boxed in on donning the standard glam gown! There are plenty of sparkly pant options to choose from. Though Sophie happens to be wearing an incredibly chic set consisting of a garish corset top and party pants, you can achieve the same effect by wearing separates or a jumpsuit too! A solid top and some statement sequined pants are still incredibly swoon worthy if you ask us.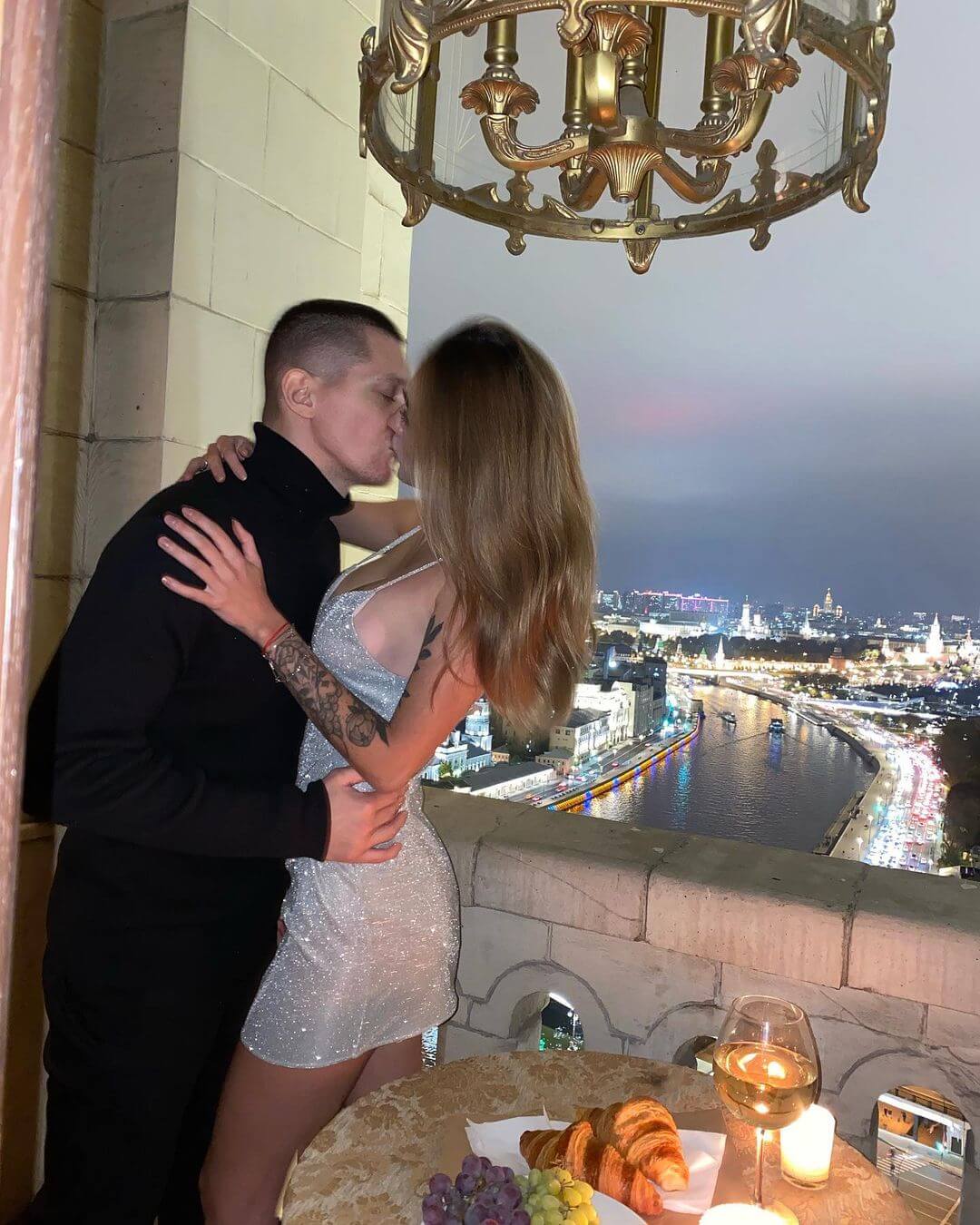 Photo via @mezenova
10) Mini Slip
A girl should always have an emergency slip dress in her wardrobe. With party season well underway, you might want to make room for a sequined option too. It is equal parts romantic, sexy and fun – ideal for any after dark celebration. It's versatile enough to throw on for a house party with friends or en evening at your favorite rooftop club. For more conservative gatherings, layer an oversized blazer on top.

There you have all the different ways we're obsessed with wearing sequins. No matter what your holiday plans are, one of these looks are sure to dazzle.
(Visited 1 times, 1 visits today)