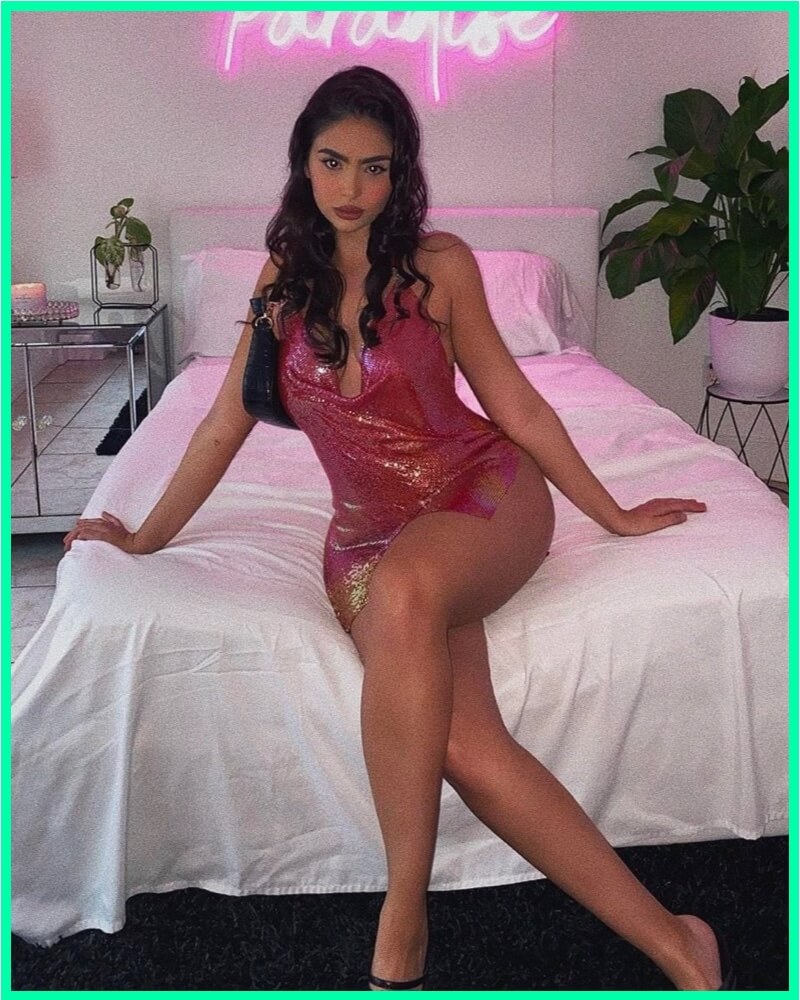 The holiday season is creeping up on us fast and it's only a matter of time before our calendars are chock full of gatherings, parties, and soirees. Of course, any girl wants to show up as her best for each occasion but it can get costly trying to score a new look for fancy dinners and more. Lucky for you, it doesn't have to be as long as you know where to shop. Whether you're on the hunt for a glam gown, a modest midi, or a flirty cocktail dress, we recently uncovered a plethora of options that will save you from scrambling at the last minute to find the perfect outfit even if you're on a tight budget. If you're ready to prep for the holiday circuit, read on below to discover 12 brands with the best affordable party dresses. Each label offers up budget-friendly numbers that are trendy and extravagant just enough so you can go out and have fun.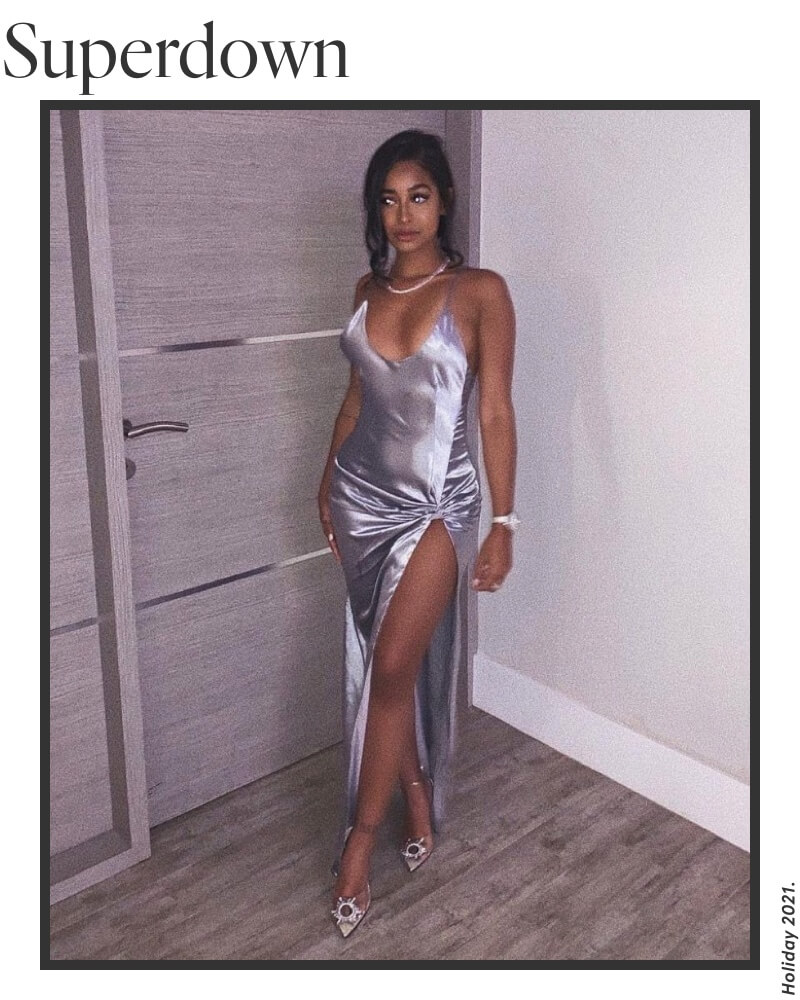 An influencer favorite, Superdown is hands-down our go-to source when it comes to trend savvy, youthful clothing. If you are seeking fun, flirty party dresses that stop others in their tracks, there is no doubt you will find exactly what you need right here. Superdown is known for capturing all the latest fashion movements and translating them into easy, affordable pick-me-ups. They also cater to a multitude of style aesthetics, meaning there is something for everyone whether you prefer bold fringe dresses that are bound to turn heads or more classic midi dresses that ooze pure sophistication. Superdown will certainly not let you down this holiday season!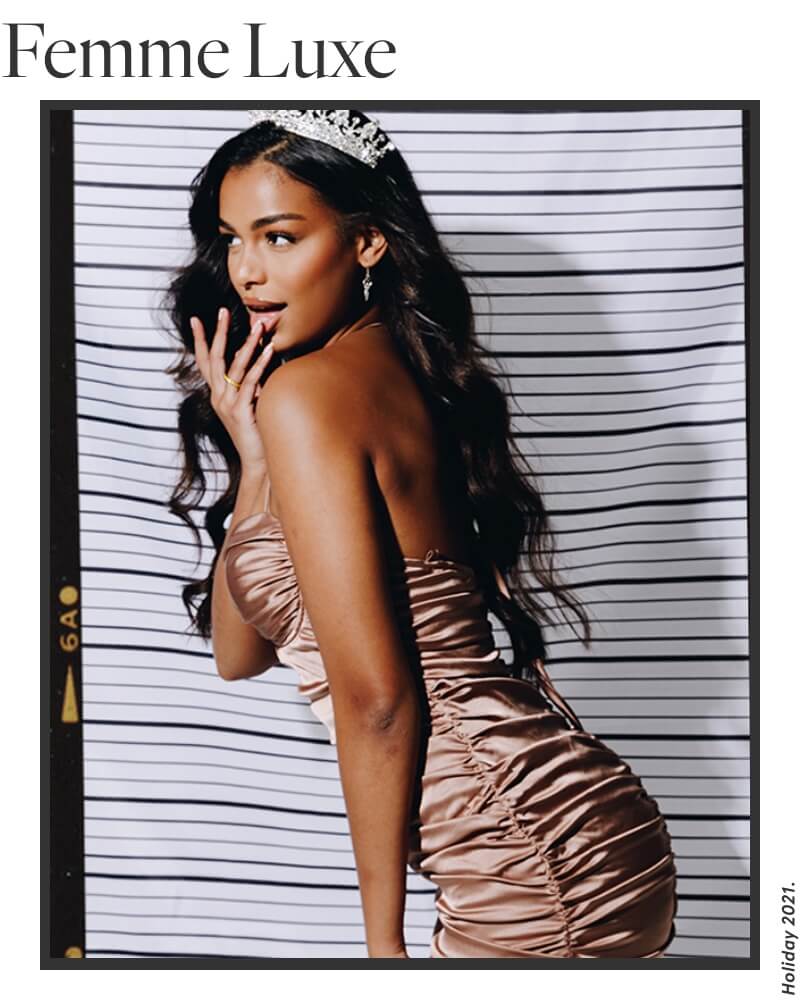 If you tend to desire a little sass and flair in your holiday party dresses, then Femme Luxe will be right up your alley. In terms of affordable clothing, you cannot really beat the price tag appeal this trendy clothing brand has to offer! The pieces constantly cater to the hottest of-the-moment trends, so you will find highly covetable looks featuring faux-leather, smoldering corset bodices, and flirtatious cut outs. With a young, care-free approach to style, Femme Luxe has you covered on the winter's most-wanted party attire – and the best part is the fact that it will not cost an arm and a leg like other brands! You can grab an outfit for Christmas, New Years and any other celebration in between and still have some extra funds to stock up on their equally trendy everyday clothing too!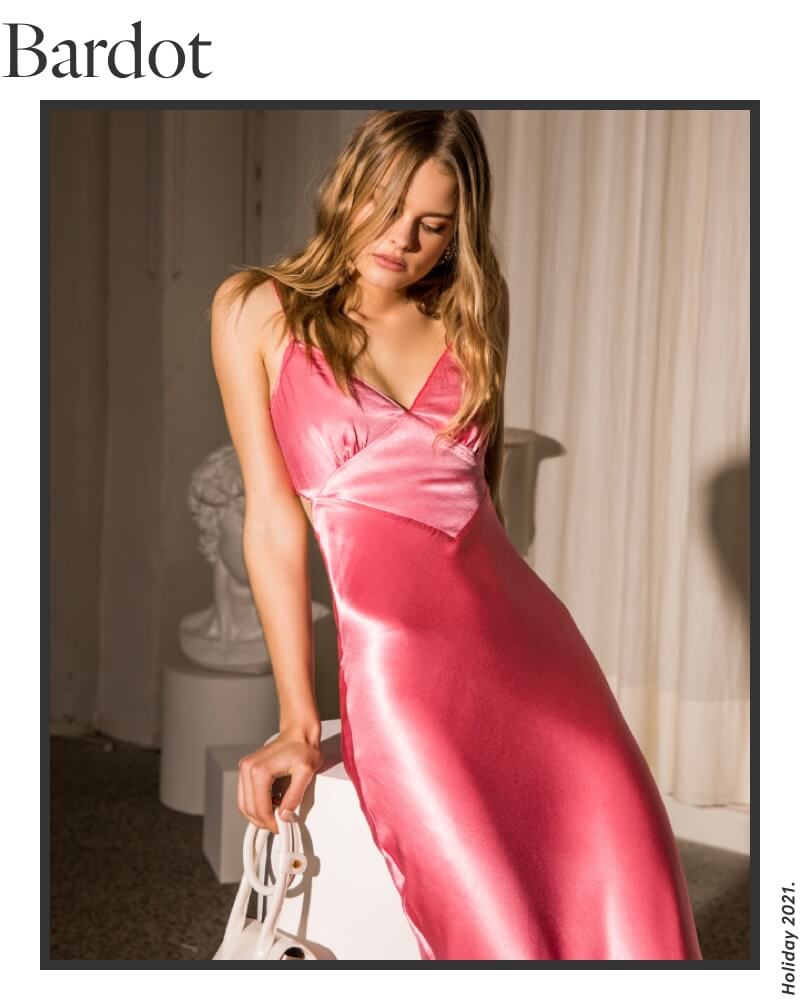 Although Bardot was founded in Australia by Carol Skoufis in 1996, it is a brand that is admired all around the globe. With a quick glimpse into their offerings, it's easy to see why Bardot has become a household staple. Their exquisite dresses feature flattering cuts made from natural fibers that look and feel way more expensive than their price tags. Consider Bardot your best bet for flawless, elegant dresses that you can wear from your company holiday party to your family's Christmas dinner as their designs tend to lean a little bit more on the conservative side. Despite the more refined aesthetic, their holiday dresses are meant to make a lasting impression on all who lay eyes on it! They're also timeless so you can rewear them year after year. We're fans of the femme midi dresses that are universally flattering along with the sweet cocktail dresses adorned with lace and ruffles. Their goal is to enable each wearer to be their very best selves when donning their pieces and from the looks of it, they're able to achieve exactly that.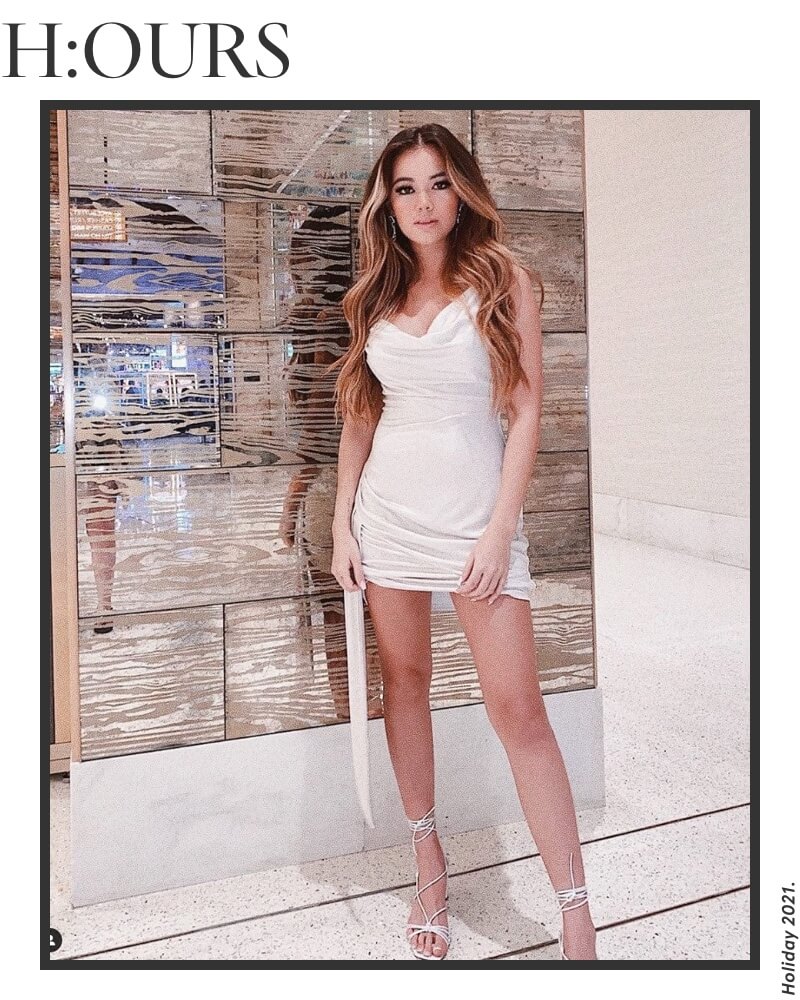 Party people can now meet their sartorial match thanks to show-stopping label H:OURS. This Los Angeles-based clothing brand is designed for those who specifically like to have a good time dancing and socializing around the clock. In particular, they specialize in all things glitz and glam, which is what you want to look for when shopping for the perfect holiday party dress. We really see H:OURS shining for upcoming Christmas parties and New Years Eve soirees. With designs that run the gamut from intricate cut outs to body hugging fits to sequins, you can expect sexy but elegant frocks when shopping from H:OURS. Once you add loud accessories, such as a colorful clutch and killer shoes, you'll be in the spotlight all night long. We wholeheartedly vouch for them when it comes to being a 2021 party attire resource.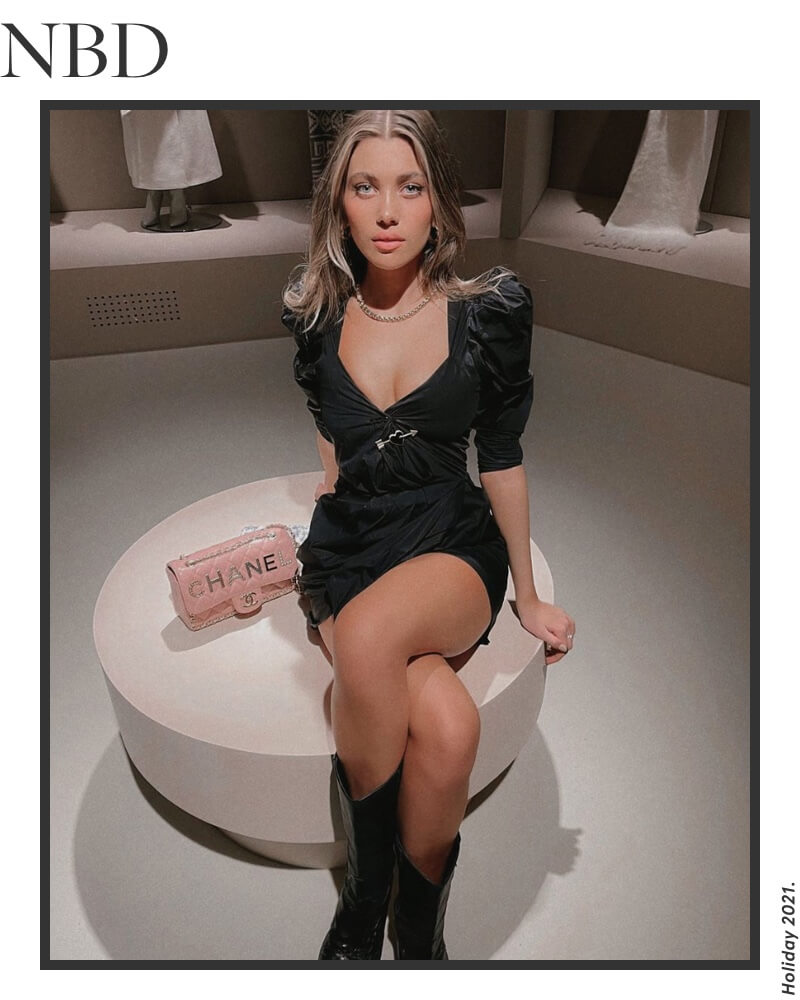 Shopping for a holiday party dress is honestly no big deal when you rely on NBD. This brand is a fashionista favorite surely because they never miss a beat when it comes to the latest and greatest trends. Inspired by the girl who is constantly on the go, jetting from one social gathering to another, NBD's dresses span across short cocktail options to classic midis as well as longer gowns – all of which are versatile enough for any holiday occasion. With an abundance of styles at your fingertips, you can easily cross off all your outfit needs for those upcoming events in one fell swoop. The best part is that your ensemble may look like you spent a pretty penny but it's actually super easy on the wallet.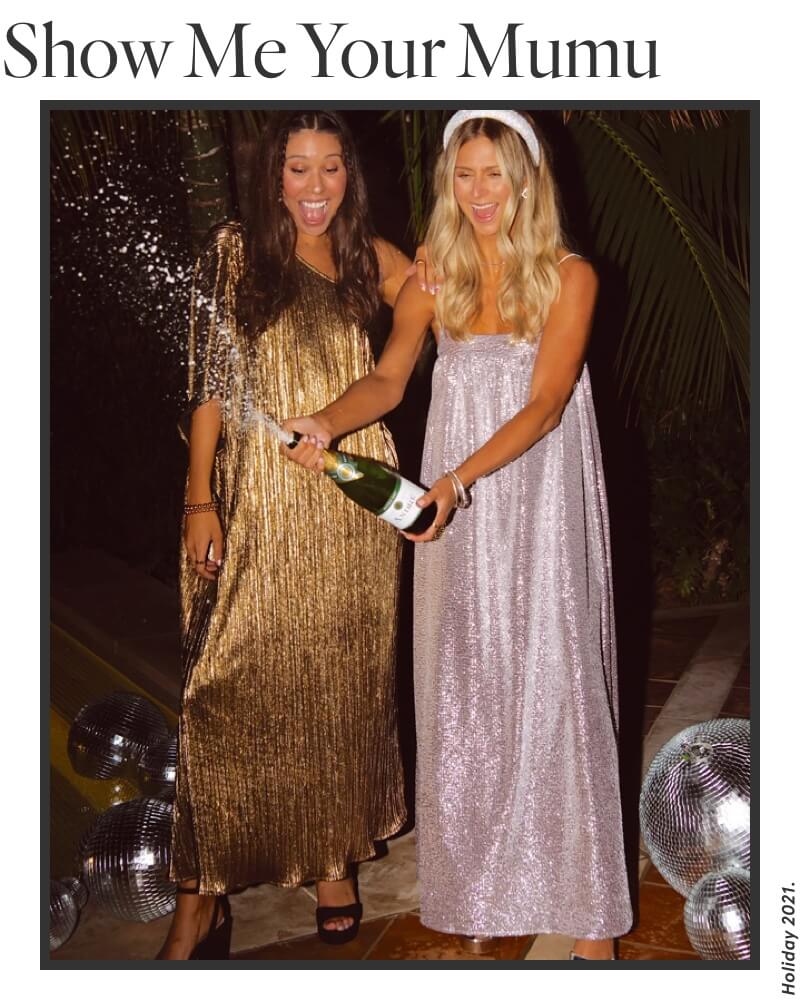 Founded by college besties, Cammy and Cologne, Show Me Your Mumu is a stylish, free-spirited clothing label that does not take itself too seriously. It is founded on the notion that fashion should always be fun and viewed as an extension of your own personality. This comes as no surprise as it was founded in Los Angeles and really captures the essence of the carefree city. The designers successfully replicate that ethereal feeling into each and every piece season after season. They have the party dress formula down to a science. Knowing that the holidays are all about opulence and love, Show Me Your Mumu is a really great collection for the girl seeking New Year's Eve dresses brimming with bold sequins and jaw-dropping silhouettes. If that's not your heart's desire, they also have more modest holiday outfits like cozy sweater dresses, sultry slips and midi skirts. The cozy but still sexy alternatives are fit for holiday get-togethers when you're around family and close friends.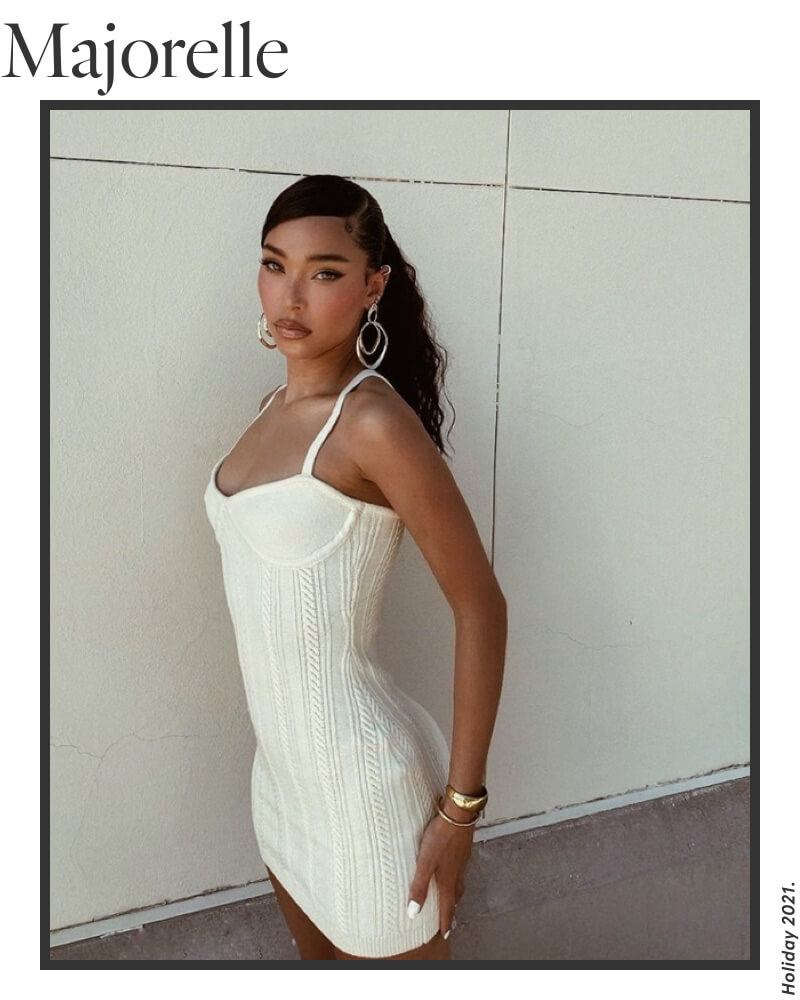 If you are a frequent shopper of The Cool Hour, there is a good chance you recognize Majorelle. This contemporary brand sets the gold standard for what affordable party dresses should look like. It was founded by the previous head designer and creative director of both StyleStalker and The Jetset Diaries, so you know each piece is intentionally formulated with the utmost skill and love. The first thing you might notice is that Majorelle is romantically inclined, keeping a huge focus on feminine details, such as ruffles, vintage-inspired lace, and voluminous sweeping skirts. This makes their lineup of frocks a really lovely option for those who prefer to wear their heart on their sleeves. Whether it's party wear dresses with statement sleeves teamed with a thigh-grazing hemline or a polished slip that you can style from day to night, you can trust that a Majorelle piece will channel those magical, romantic vibes that are omnipresent during this time of year.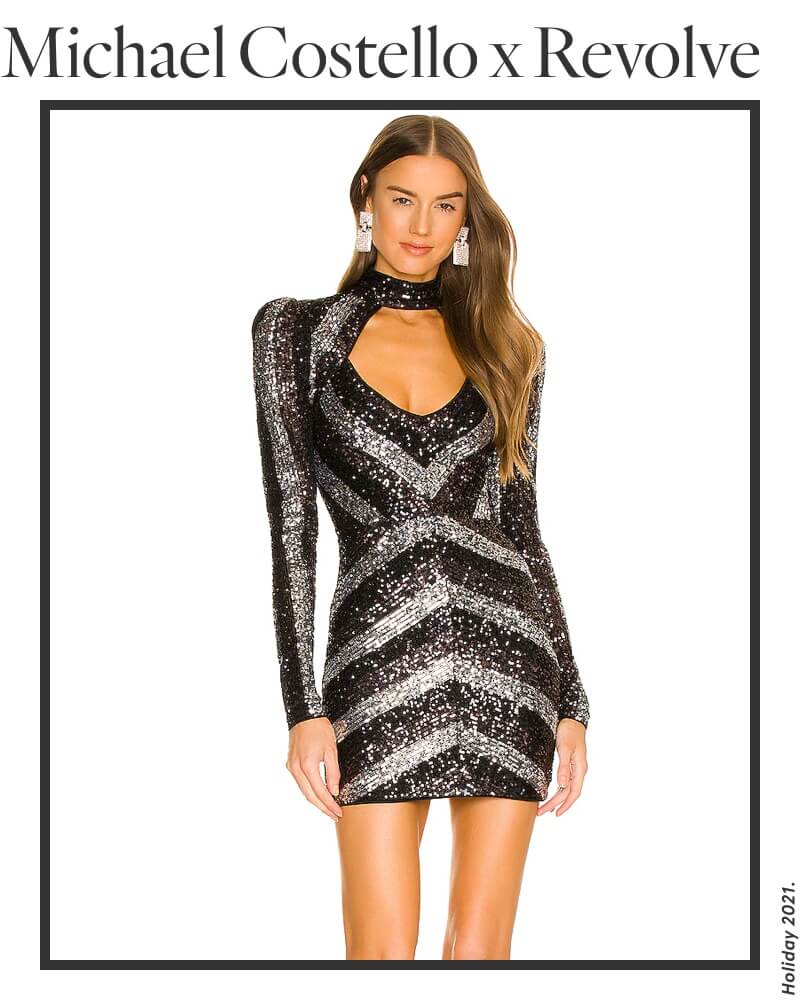 Known for ultra luxe, lavish gowns, you can trust that Michael Costello will deliver nothing but the best party dresses and holiday outfits to wrap up 2021, and it's exclusive lineup with Revolve makes it more affordable. We're fans as each dress is designed to bring out the confidence of the wearer. Their beautiful creations are fit for royalty, often making a splash with intricate, off-beat cuts like an asymmetrical hem or an off the shoulder neckline. This is a label definitely worth checking out for all of your lavish holiday party desires. Along with a plethora of flirty cocktail and maxi dresses, the Michael Costello x Revolve collection boasts plenty of chic jumpsuits and one-pieces that allow you to shake things up. We have no doubt that this brand will quickly rise to the top of your most coveted list in terms of social outfits and party get-ups.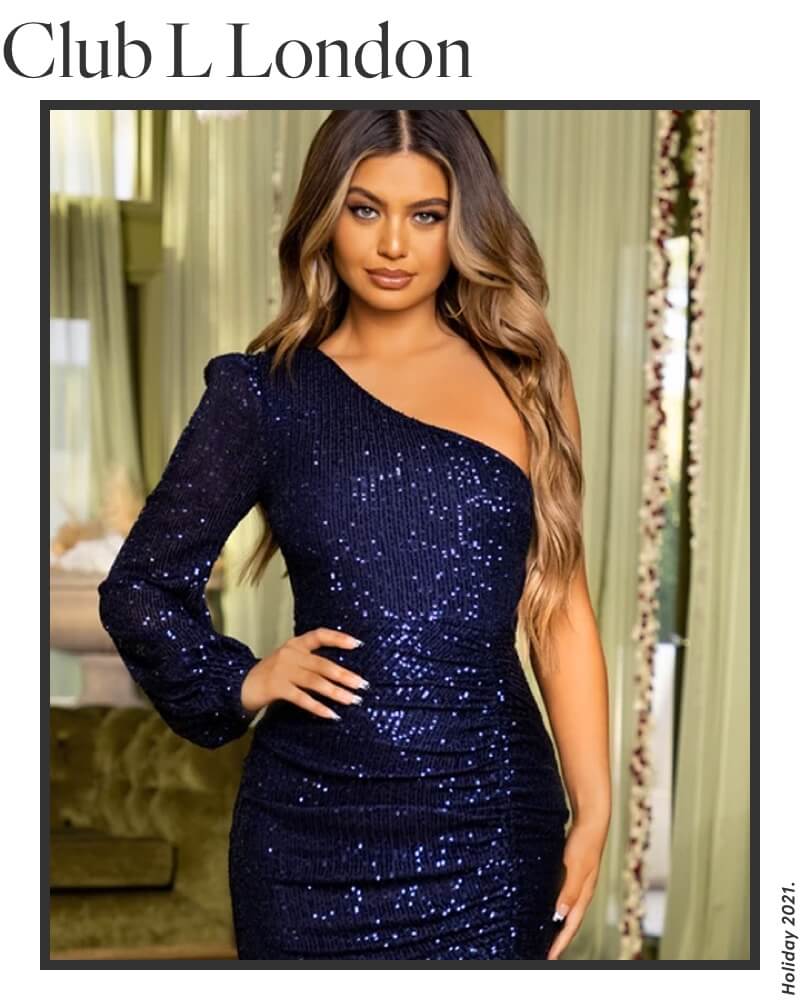 Who knew that there could be such trend-right evening dresses at affordable price tags! Thanks to Club L London who has been serving up looks since 2007, you can have all the after dark dresses you need for any and every occasion. This British powerhouse of a fashion brand has mastered the art of dressing up a girl who wants to make a grand entrance at any event she attends. They have an abundance of club and party wear options decked out with sultry details like off-the-shoulder and deep v-necklines. That coupled with figure-flattering designs make for swoon-worthy party dresses you'll want to embrace through the end of the year. Club L London needs to be on your radar, not just for the 2021 holiday season, but honestly for all your social engagements now and in the future. The only issue we foresee is that there aren't enough invites to get through every exquisite piece offered.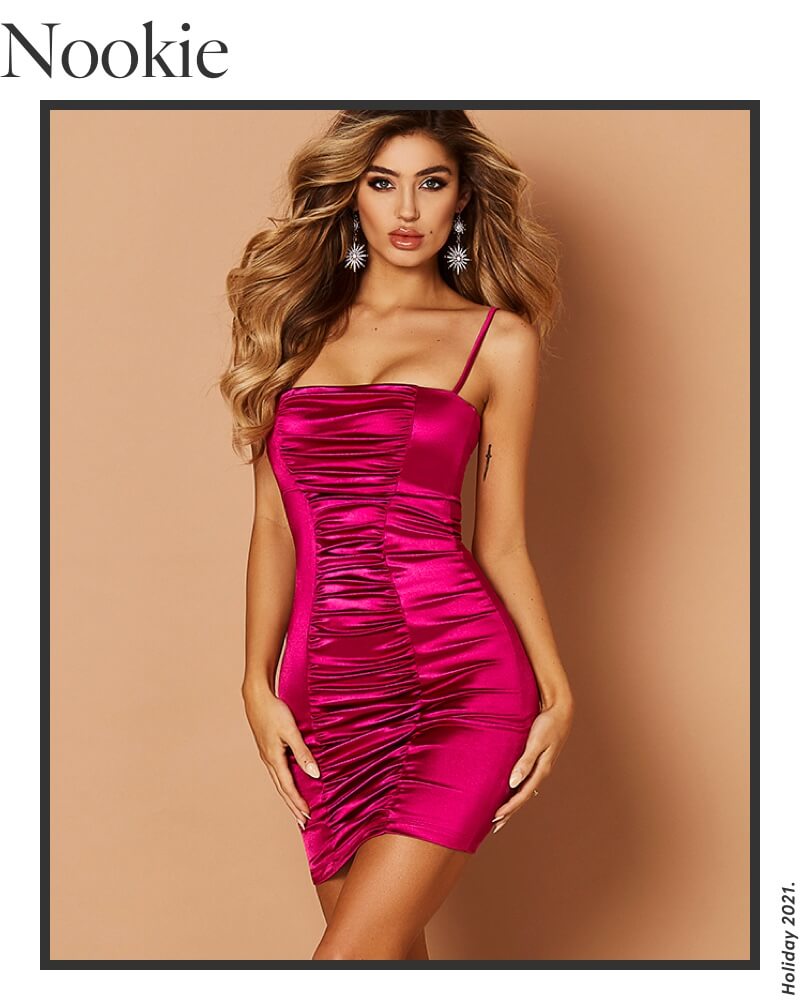 Australian contemporary womenswear brand, Nookie, is changing the fashion game day by day. This label goes beyond just cute clothing. They make a hard effort to instill self-love, modern femininity and confidence in all of their customers – and they're able to achieve that through their unique form-flattering dresses. We highly recommend Nookie if you prefer a polished, minimal approach to party dressing. Nookie party dresses make the picture perfect holiday outfit because they're meticulously crafted to hug your body in all the right places. The unique fabrications immediately stretch and mould to your own unique shape so it's flattering on everyone. Although Nookie's garments are rather simplistic in style, they're nothing short of glam, always featuring a subtle contemporary twist to be in line with the buzziest trends. Think of an asymmetrical shoulder that adds that final touch to set a gown apart from any other. We promise you will be able to effortlessly find your dream Christmas party or NYE celebration dress from Nookie.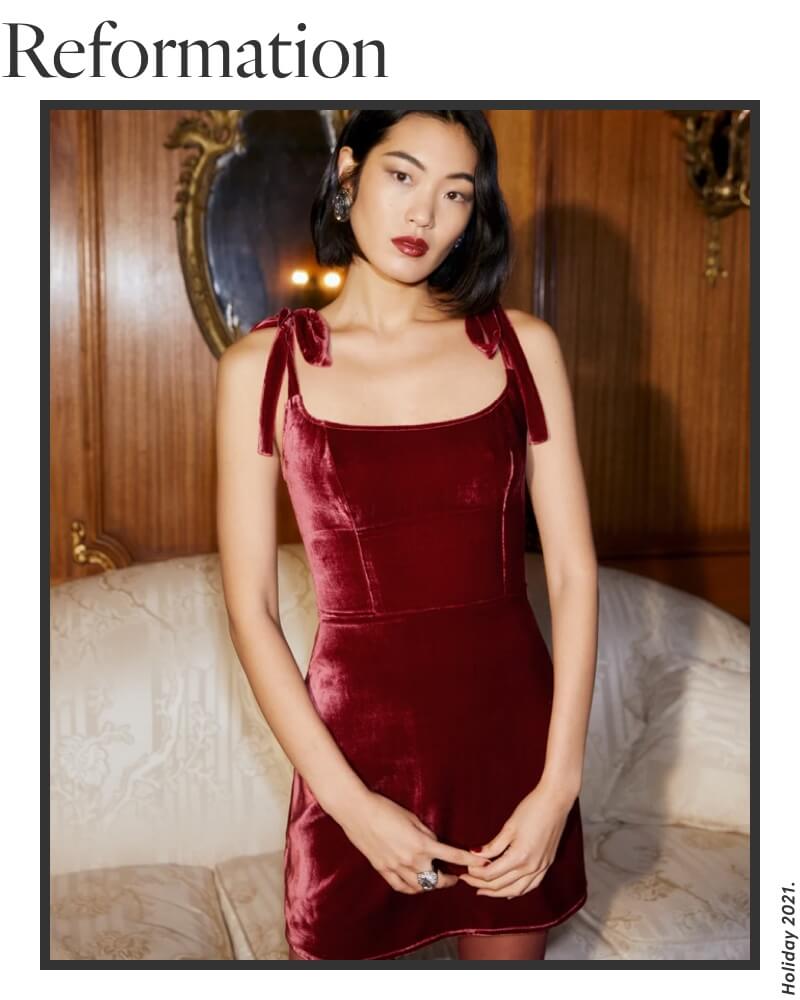 A sustainable powerhouse of a label, Reformation will surely have you covered on all your holiday and party fashion needs. But, the best part is that each piece comes with an ease of mind thanks to their intense focus on sustainability and ethical practices. Bragging rights include being 100% carbon neutral, instilling fair working environments in both corporate and the factories, and tracking each piece's environmental impact in order to be as transparent as possible. In this day in age, what is not to love about a company who actually cares? Obviously the clothing is the icing on the cake too! Reformation has such gorgeous offerings of dresses that are often imitated but no dupe has come close to the real deal. It's easy to see why every girl falls head over heels for them too. The vintage-inspired designs often highlight sweetheart necklines, puffy princess sleeves and the perfect midi cut that unveils a sense of nostalgia. These details make it so easy to find the perfect holiday dress you have been longing for.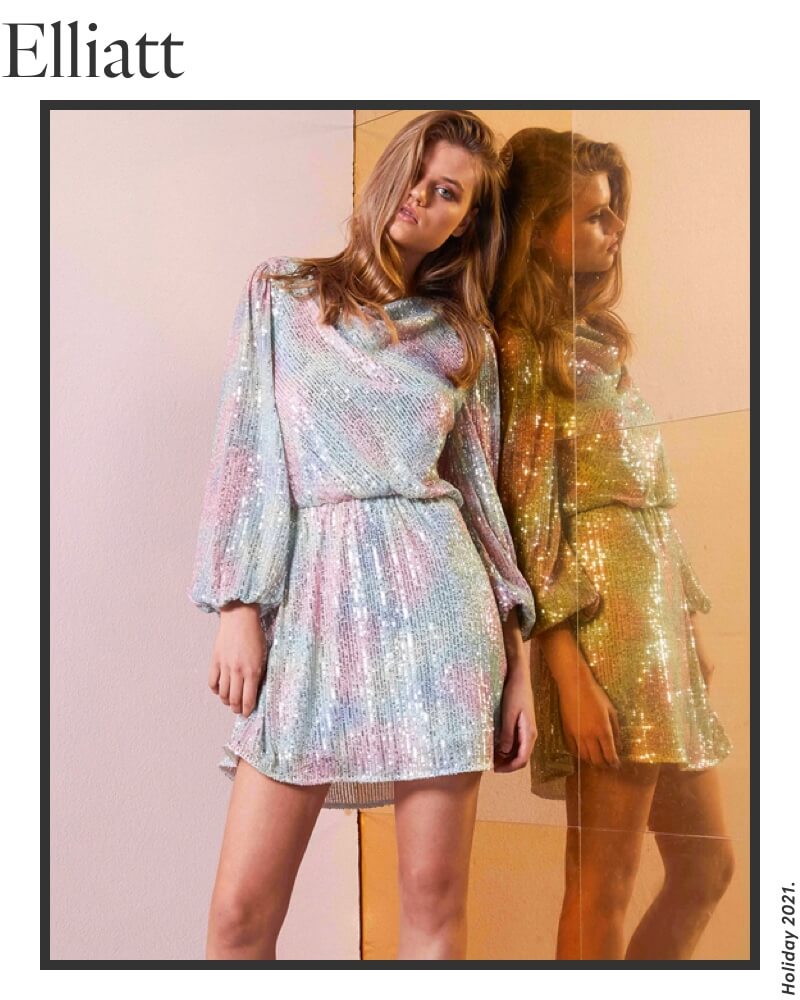 If you love being the life of the party, you certainly need a dress to match the vibe. Elliatt is another Australia based brand we can't get enough of. The collection is full of styles for the girls who are not afraid to inject color and energy into their lives. Despite the general tendency to wear darker colors throughout fall and winter, Elliatt encourages you to step out of your comfort zone and live a little! They offer holiday dresses in saturated hues and eye-catching patterns, so you are sure to find a show-stopping piece that is unique and unlike anything else. Elliatt dresses are always conversation starters and have an uncanny ability to make the evening feel extra special. Their festive looks are also fairly affordable, making it a great stop if you need multiple outfits for various social gatherings over the holidays including winter weddings.

The holiday season is easily the busiest time of the year, which totally makes sense as we gear up to celebrate Thanksgiving, Christmas, New Year's Eve and more. As a result, you could quickly rack up the hours hopping from site to site in hopes of finding dreamy party dresses that immediately impress. Fortunately, this concise list contains all the fashion brands you need to know to put your best foot forward!
(Visited 1 times, 1 visits today)