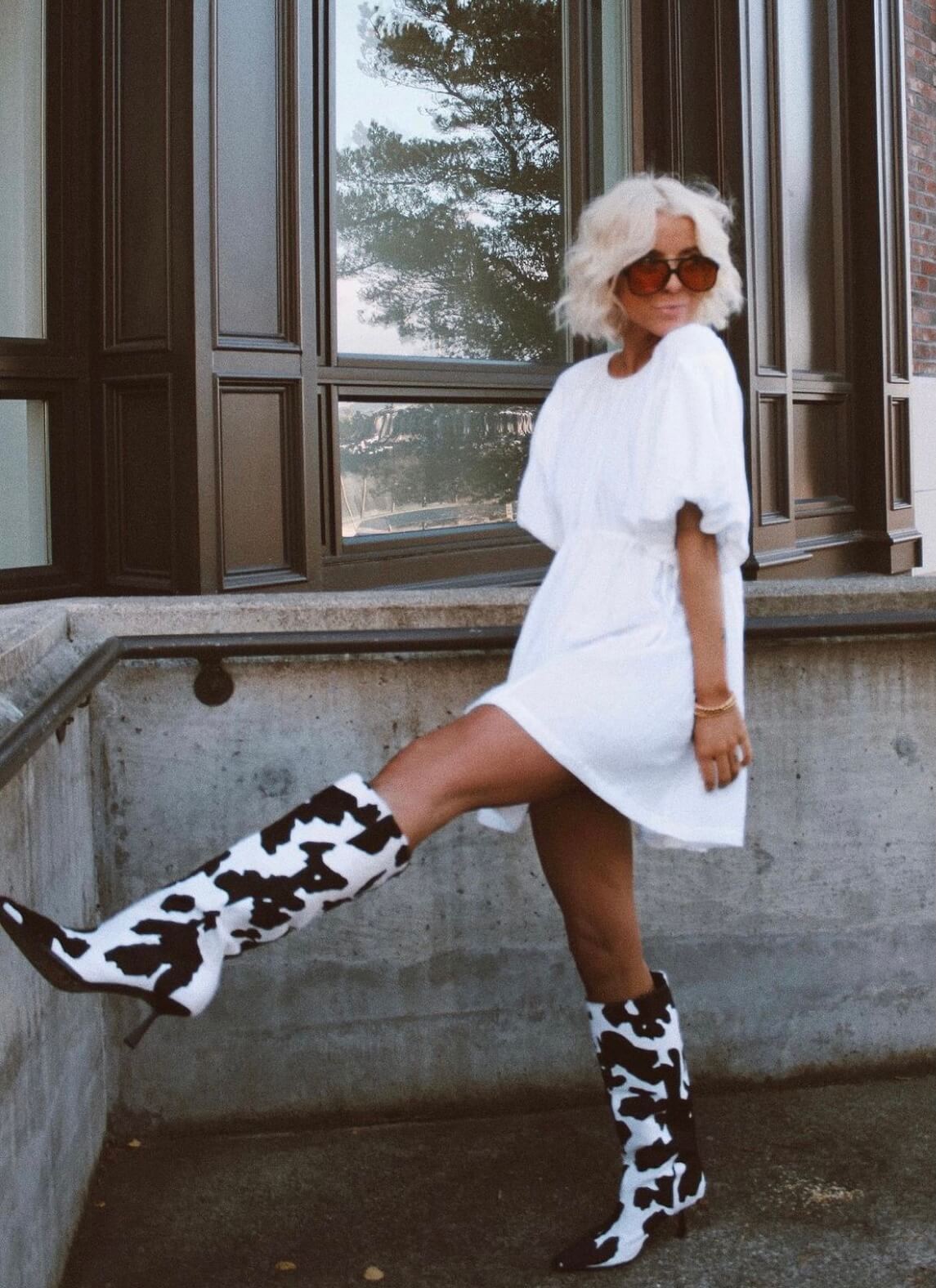 Photo via @xonitarose
With the women's cowboy boot trend making a stamp on fall fashion, the classic Western shoes are back with a splash of updated and elevated designs. One style we can't help but splurge on is the high-heel cowboy boot. This trendy take on the classic cowboy boots design features the silhouette and embroidered detailing we love with a modern spin on the heel. 
From Western ankle booties to knee-high cowboy boots, these boots are made for walkin'… in style. Up ahead, we detail how to rock the high-heel cowboy boot trend for fall. Whether you're looking to play a little dress up or on the hunt for a statement boot that will add a little yeehaw to a casual outfit, these high-heel cowboy boots are the perfect investment piece for any wardrobe this season. 
How to Wear High-Heel Cowboy Boots 
The great thing about the cowboy boot style is they are so versatile and pair well with virtually any outfit. And, despite being a tad on the dressier side of the spectrum, high-heel cowboy boots are really no different. From stilettos to kitten heels, this trendy shoe style can take your fall look to the next level.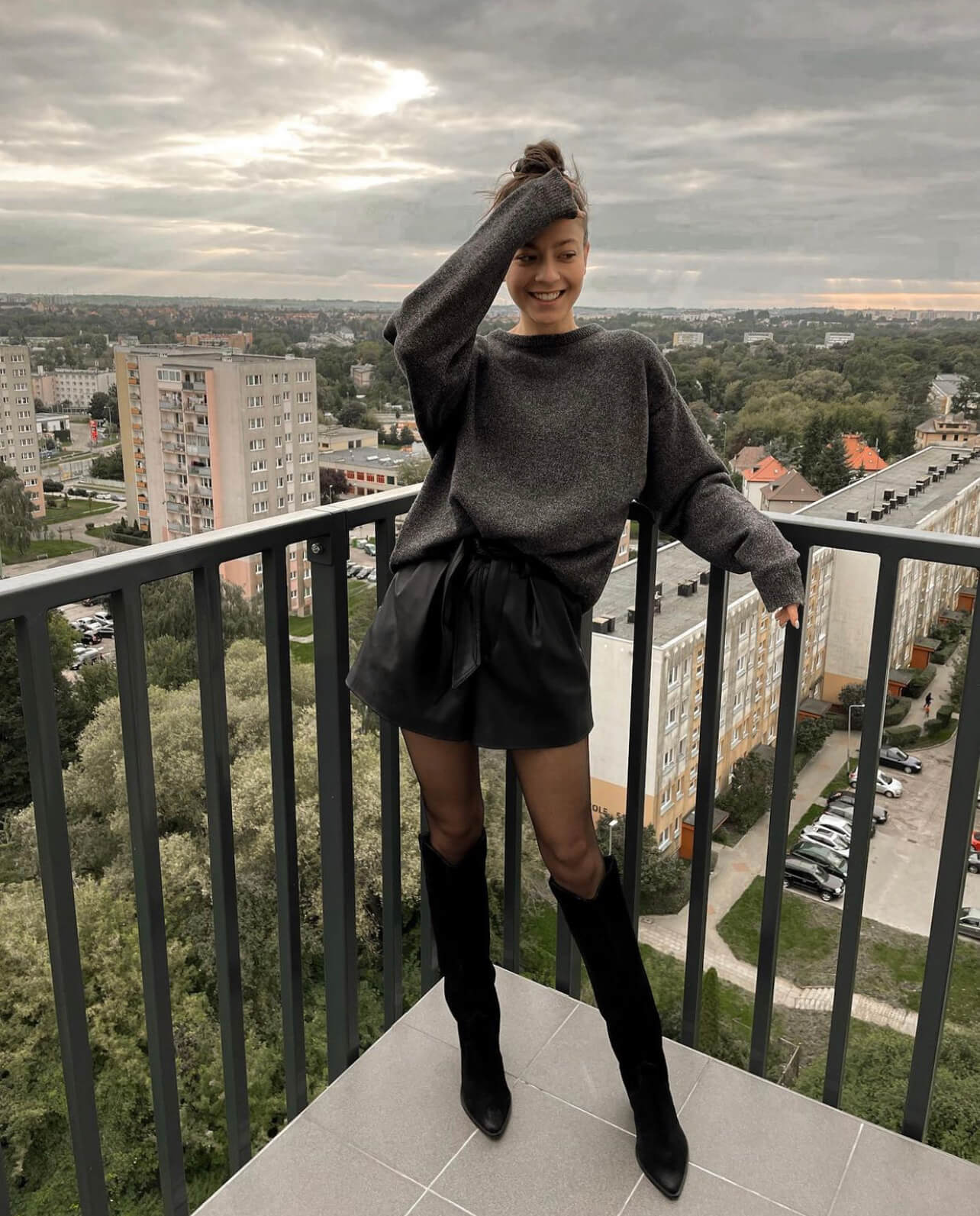 Photo via @ilona_brzezinska
Tights and Oversized Shorts 
You can't go wrong with this cozy ensemble. Whether you want to wear a shorter Western ankle boot situation or classic high-heel cowboy boots, this fall outfit of the day pairs well with any design. Keep it simple with black tights, oversized leather shorts, and a cable knit sweater, or spice it up with a pair of shimmering tights. For colder temperatures, pair this look with a wool coat and beanie.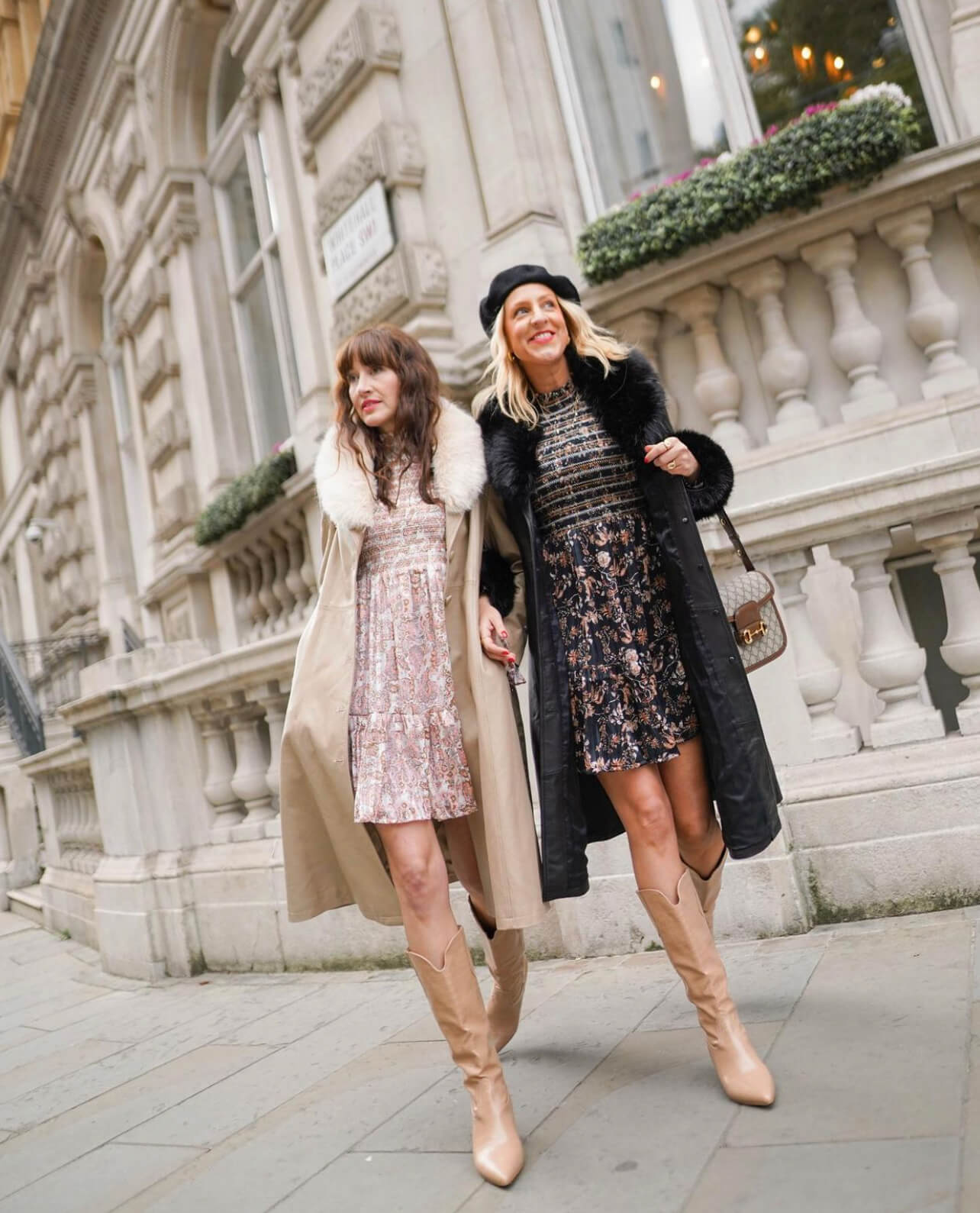 Photo via @belleandbunty
Floral Dresses 
A floral dress just feels right for cowboy boots. From mini to midi, floral dresses and cowboy boots are a timeless take on this trend, and the high-heel approach gives the ensemble a new spin. Wear this outfit with your favorite denim jacket or even a fur trim coat and wool hat for the coziest vibes.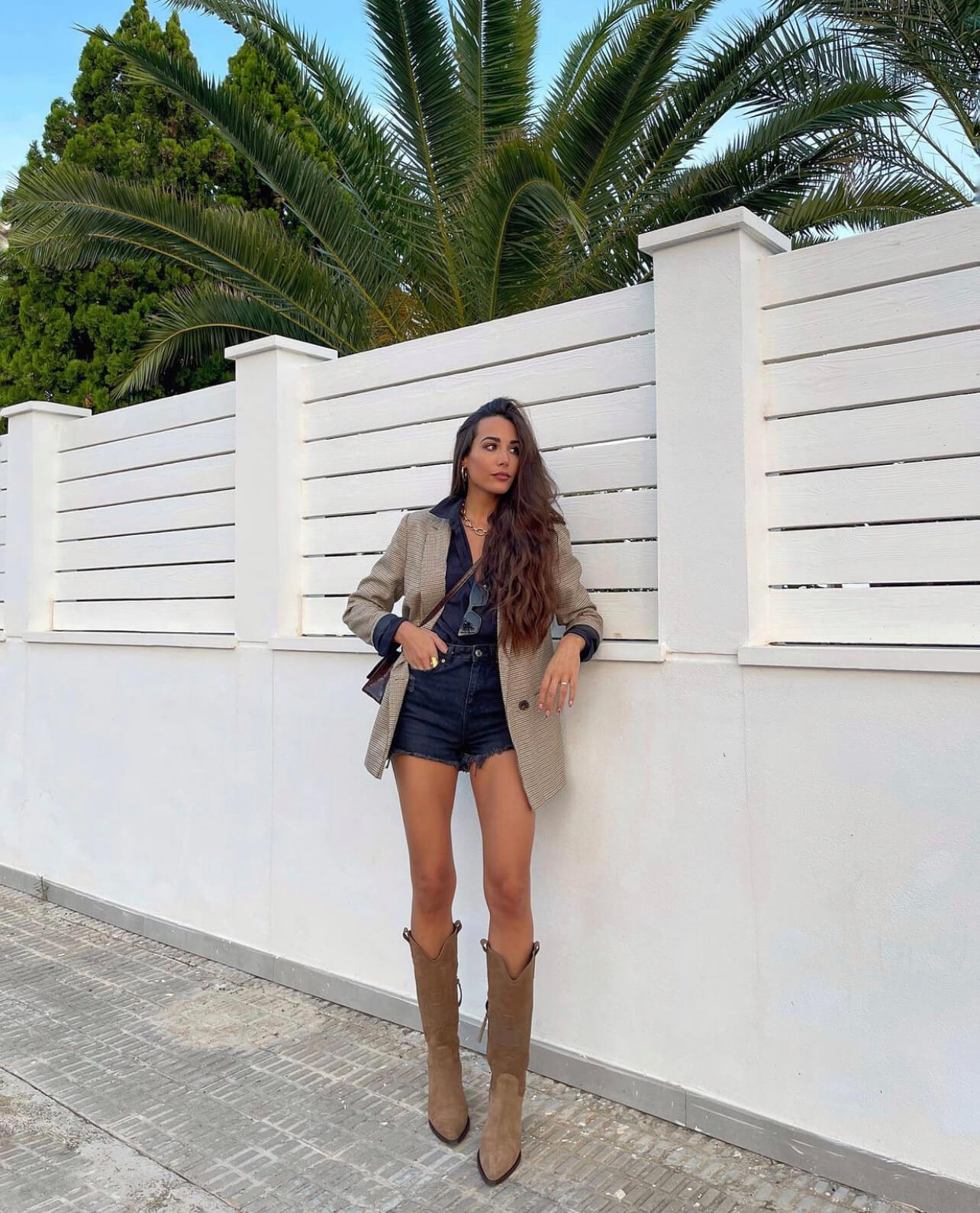 Photo via @tania.ayuso
Blazers 
We love a little style mix and match and this combination is so chic. Blazers are a great fall statement piece that can be worn with anything from your favorite pair of light wash straight jeans to a pair of shorts to — of course — trousers. Throw on some high-heel cowboy boots and you're ready for brunch or a night out on the town.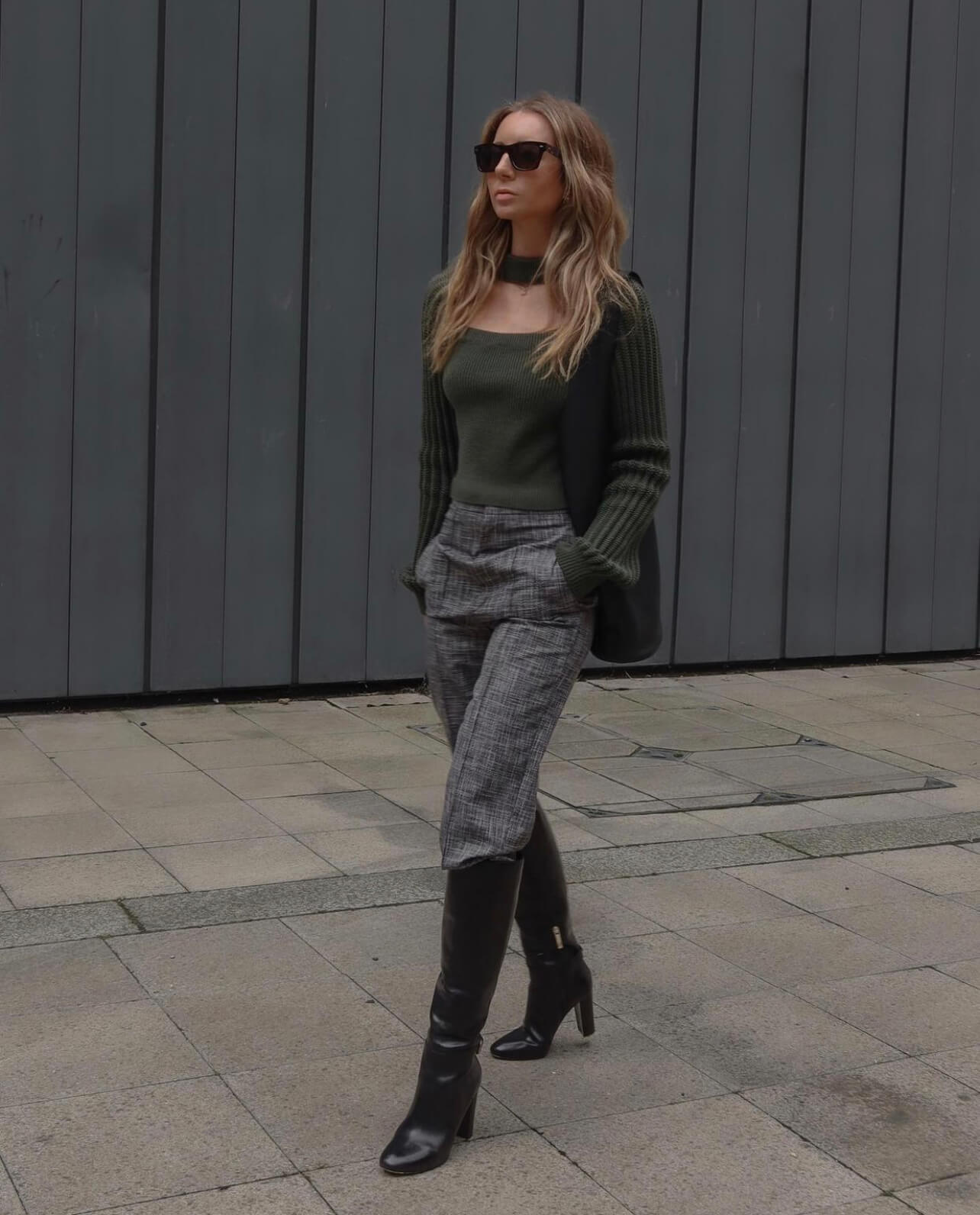 Photo via @jessicasharris_
Trousers
When we think of cowboy boots, we might think the only way to wear them is with fitted jeans and dresses. Think again! A pair of baggy trousers tucked into cowboy boots is très chic. Add in the high-heel for an even more flattering get-up.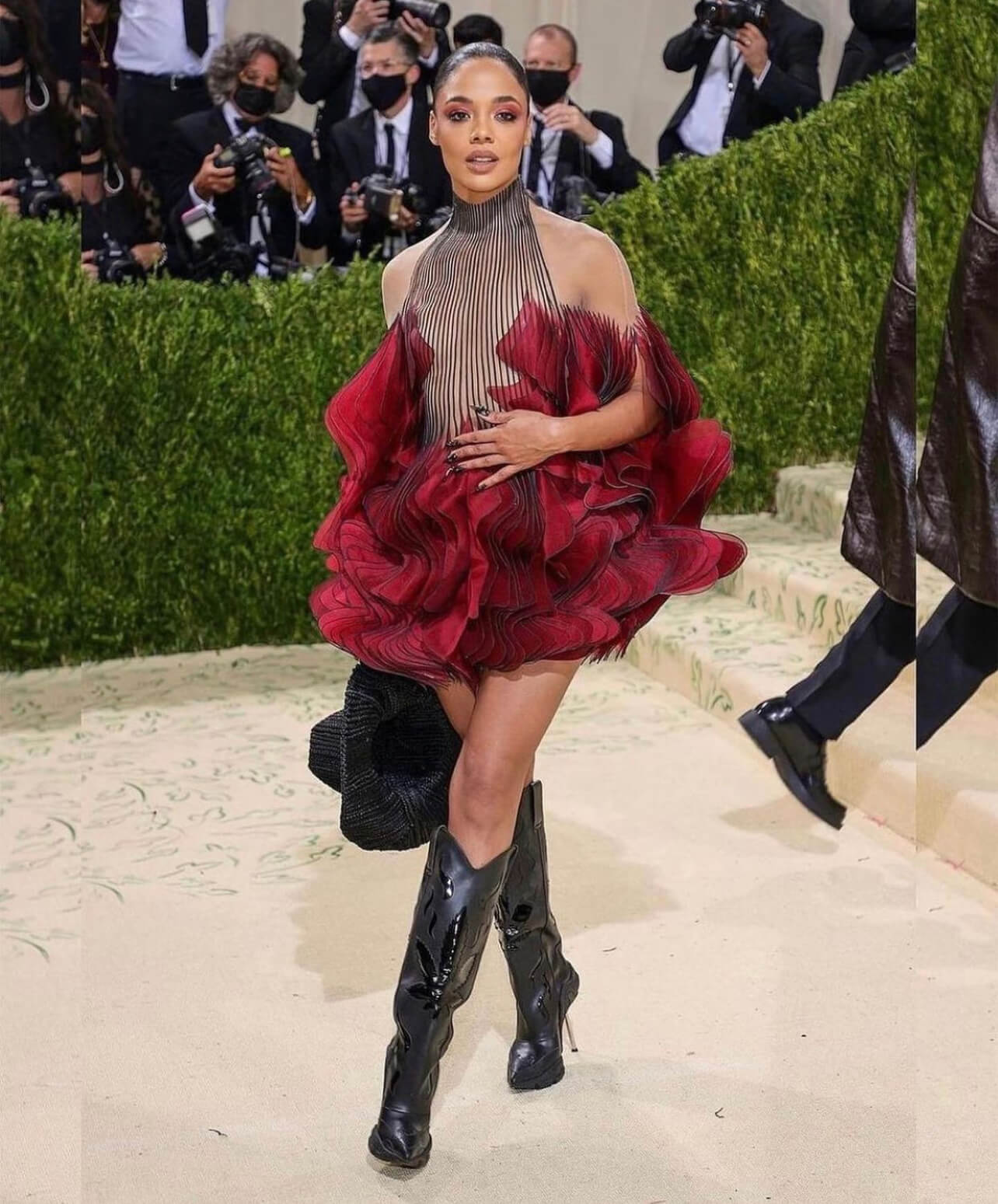 Photo via @tessamaethompson
Party Dresses
Thanks to the high-heel effect, you can really play with this style of cowboy boots and even wear them to a formal event with your favorite party dress. The key here is to find a boot that is made of more elevated materials and a skinnier, stiletto-like heel. 
High-Heel Cowboy Boots
We scoured the internet for some of the best — read: most stylish — high-heel cowboy boots to wear this season. Here are our favorites for your shopping pleasure. 
Cowboy Bootie 
KHAITE Dallas Leather Ankle Boots
If you're on the prowl for a pair of high-heel cowboy boots you can wear every day, dressed up or dressed down, this ankle boot design is our favorite selection. Inspired by the classic cowboy boot, these Dallas Leather Ankle Boots feature 2-inch curved heels with intricately embroidered swirl details and signature pull tabs. 
Available in sizes 36 through 41. 
Bohemian Boots 
Isabel Marant Dernee Suede Ankle Boots
With the cowboy boot silhouette and some slight slouch, these suede ankle booties are designed with a 2-inch kitten heel and ultra-soft black suede for a bohemian take on the West. Also available in brown suede, these pull-on heeled cowboy boots can be worn with a pair of skinny jeans and a sweater or tights and a ruffled skirt. 
Available in sizes 35 through 41.
Suede Style
These boots put the yeehaw in every step. Designed with Western-inspired stitching and made from genuine suede, these knee-high cowboy boots boast a 3-inch cone heel for an ultra-feminine style. Pair with a maxi or midi dress and your favorite wool coat to complete this fall look. 
Available in sizes 6 through 10. 
Squared Up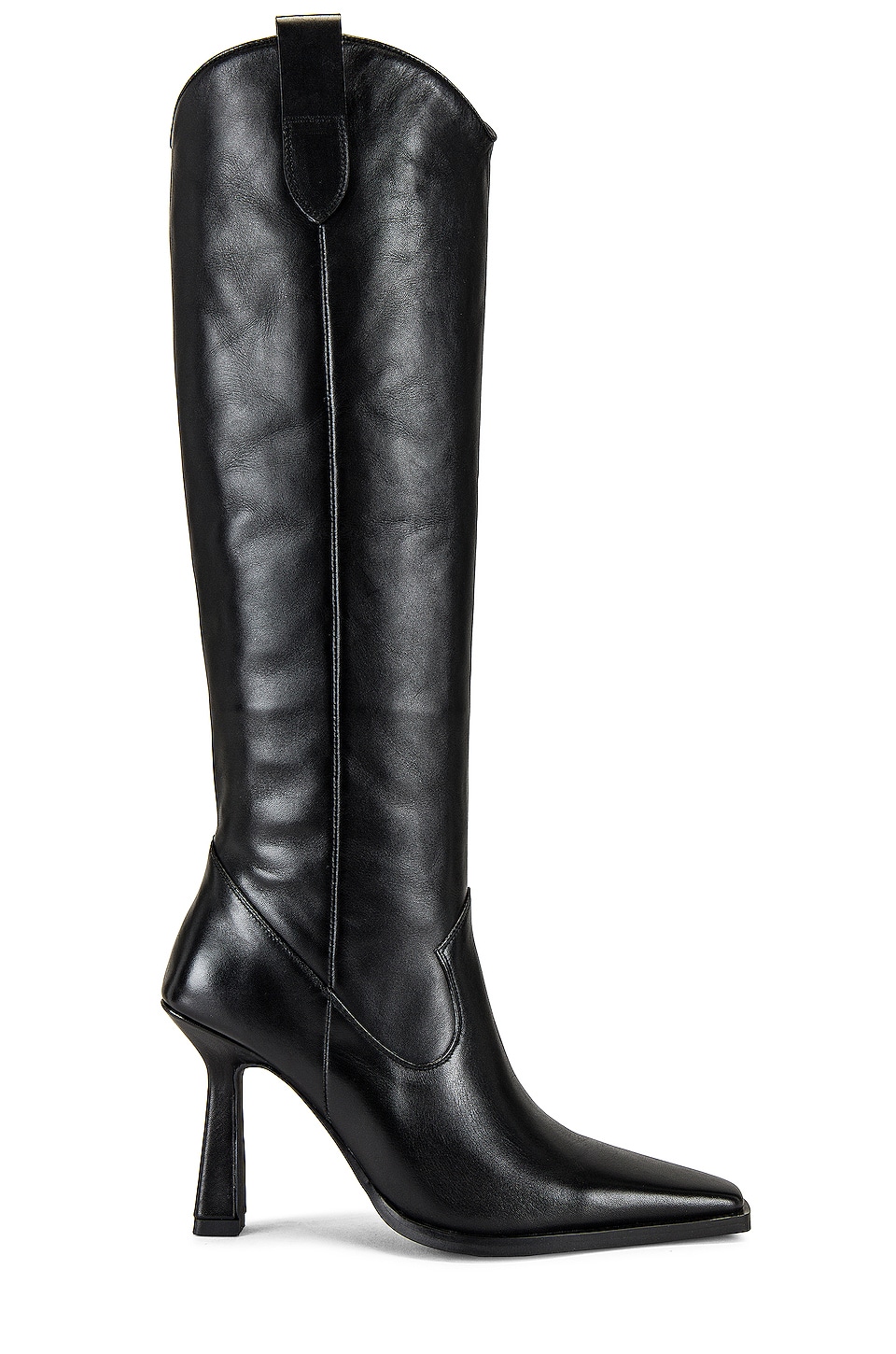 Alias Mae Jinny Knee High Boot
We love this spin on the classic square-toed cowboy boots, featuring a 4-inch heel, minimalistic embroidery, and traditional pull tabs. This all-black leather high-heel cowboy boot is great for playing dress-up and would look stunning with a more formal ensemble. 
Available in sizes 35 to 41. 
Western Magic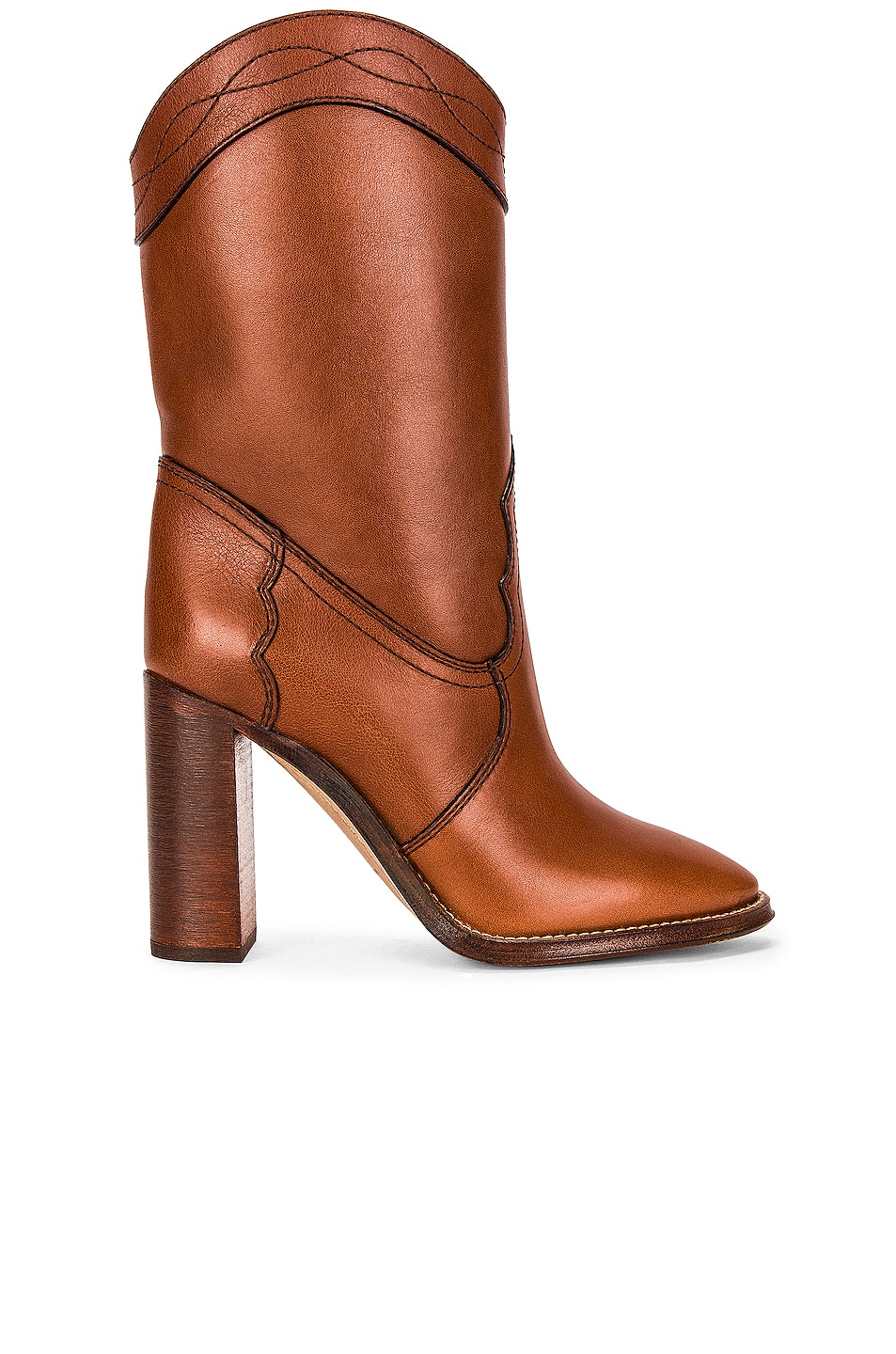 These Western high-heel ankle booties from Saint Laurent take inspiration from cowboy boots with their traditional silhouette and beautiful scalloped embroidery. We love the mid-calf ankle boot design with a stacked 3.5 inch heel that is versatile enough to wear with jeans and a T-shirt or dressed up with a flowy midi dress and brimmed hat. 
Available in sizes 35 through 41. 
The Point
For a chic and upgraded take on the cowboy boot silhouette, look no further. These pointed-toe high-heel boots take inspiration from cowboy boots with their design but bring a touch of modern with a pointed toe, 3.5-inch French heel, and slight slouch. Pair them with a pair of tights and an oversized sweater dress for cozy fall style. 
Available in sizes 5 through 11. 
Lay Low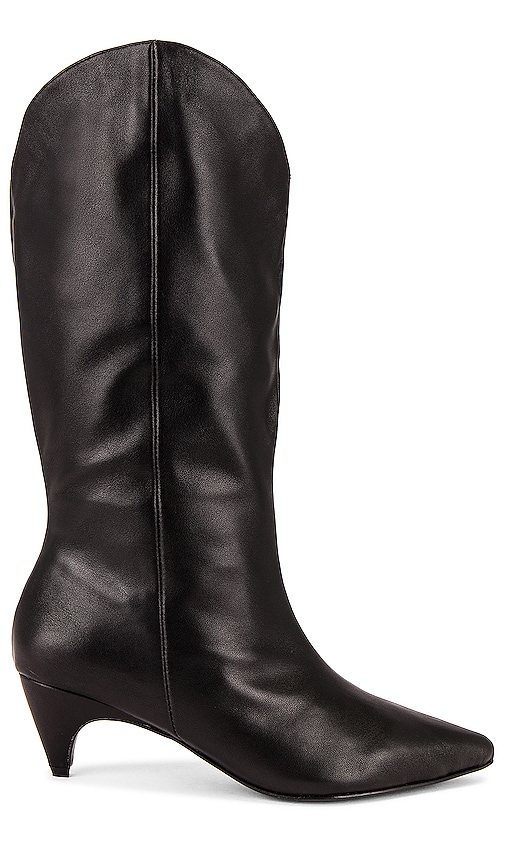 Add a subtle cowgirl touch to your fall wardrobe with these kitten-heel cowboy-inspired boots. Made from genuine leather and featuring a 2.5-inch heel, these boots pair well with a mini skirt and sweater, or even a long, flowy bohemian maxi dress. 
Available in sizes 5.5 through 10. 
Made for Walkin'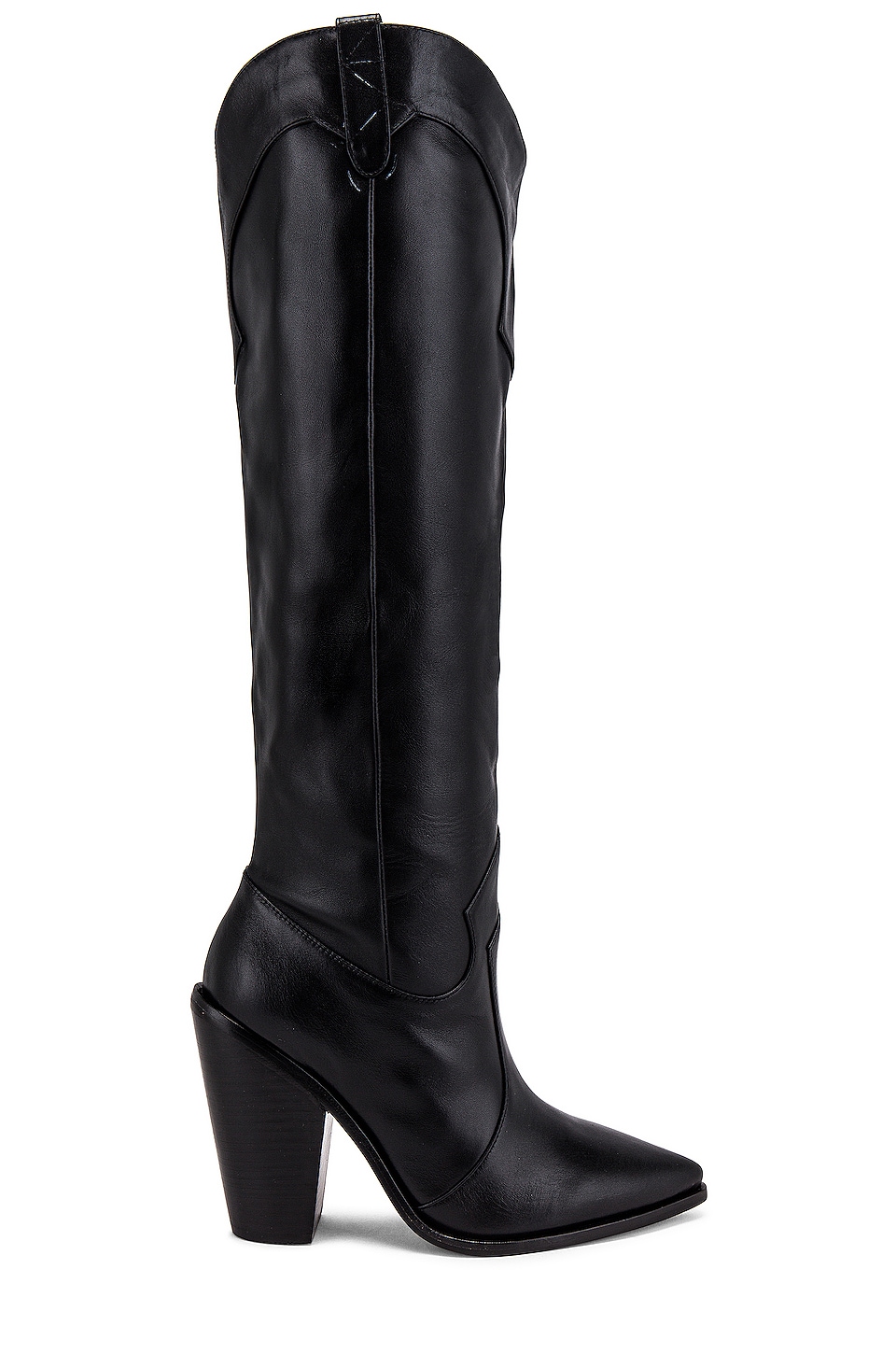 If you prefer a chunkier heel, these high-heel cowboy boots from Raye might be more your style. We love the knee-high shaft donned with simple embroidery detailing in a traditional cowboy print pattern. And, despite the heel being 4.5-inches, the chunkier design makes them made for walkin'. Pair with some trousers and a sweater for ultra-cozy vibes. 
Available in sizes 5.5 through 10. 
Crocodile Cowgirl 
Textured crocodile-embossed cowhide gives these statement-making V-cut high-heel cowboy boots a fun feminine appeal. Dress them up with a short and flowy mini dress or dress them down with a pair of light-wash mom jeans, button-up shirt, and blazer. 
Available in sizes 35 through 41. 
Fabulous Fur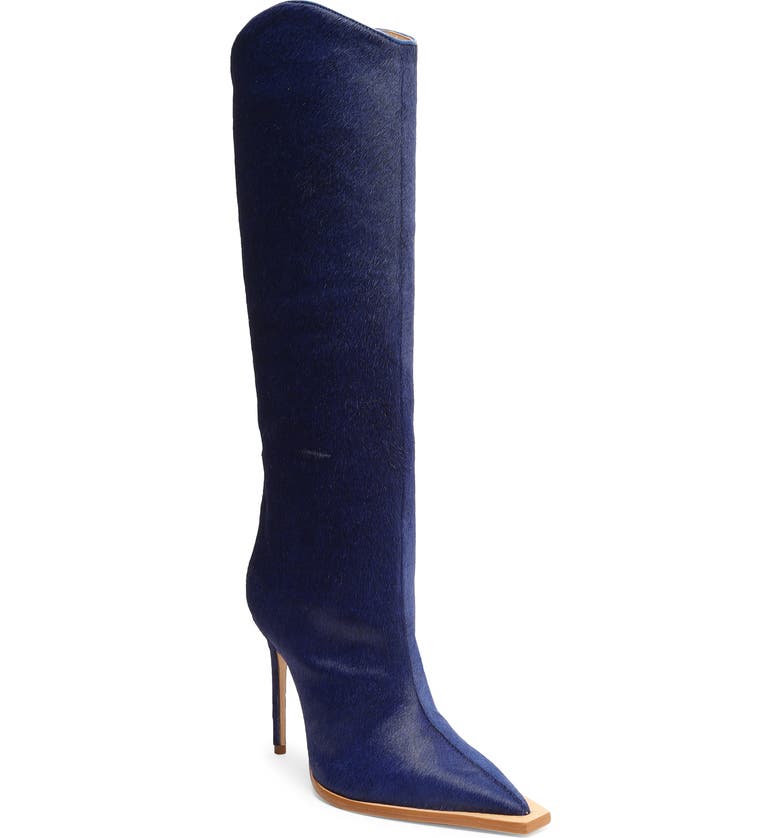 Schutz Maryana Welt Wild Pointed Toe Calf Hair High Heel Tall Boots
Take a walk on the wild(er) side with these calf hair high-heel cowboy boots. Available in an array of colors — including off-white, bloodstone, black, blue, and animal print — these are the perfect statement piece to any outfit. Designed with a 4 ¼-inch stiletto heel and a simple silhouette, these high-heel cowboy boots would go well with a pair of skinny leather pants and a chunky knit sweater. 
Available in sizes 5 through 11. 
(Visited 1 times, 1 visits today)