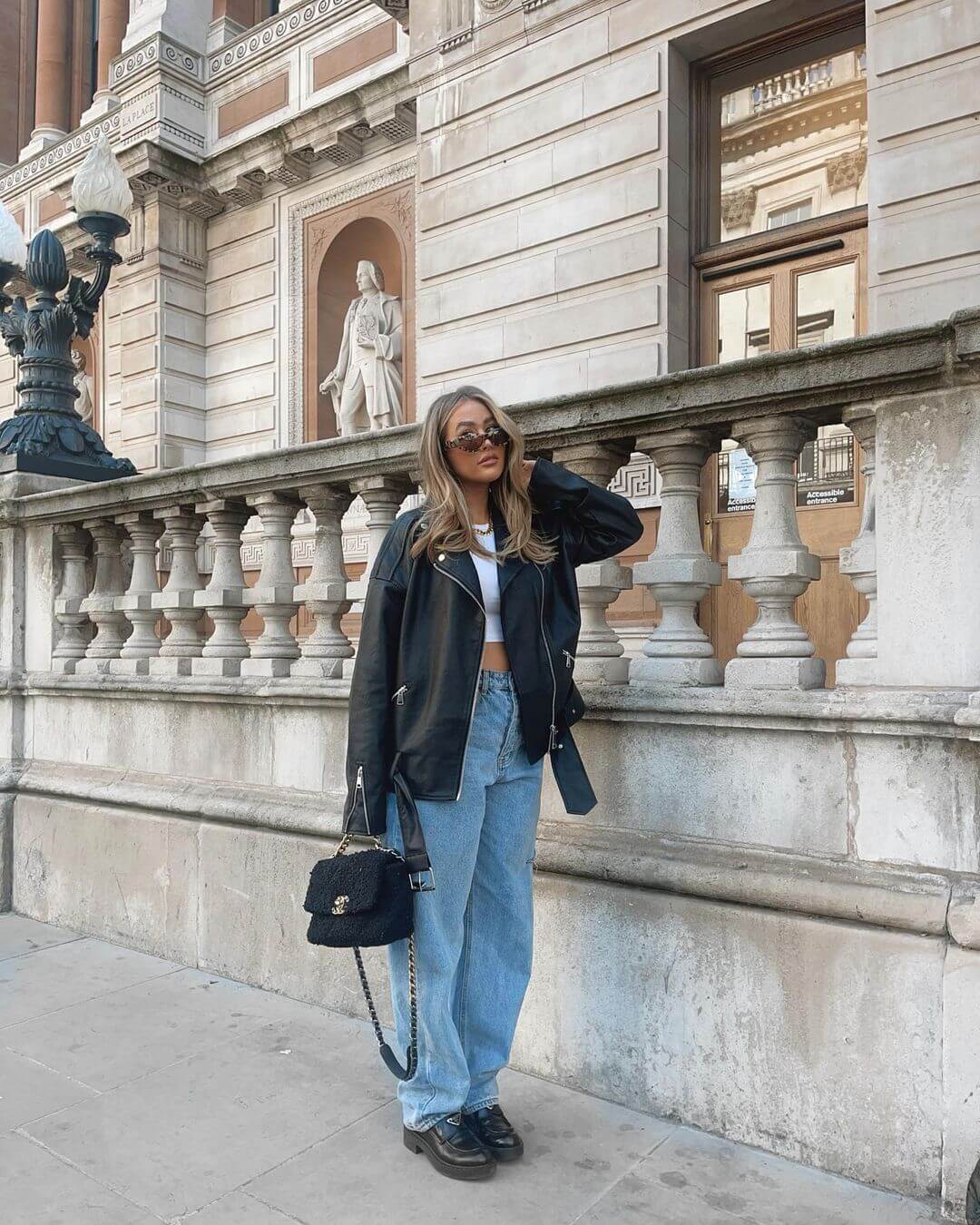 Photo via @itssophiemilner
Just like the seasons, fashion trends come and go – but if one thing has proven to stand the test of time, it is denim. No matter what time of the year it is, jeans can be adapted to any sort of weather or situation.  The only ephemeral detail is a change in the rise or the silhouette, but even then, one can get away with wearing both a trendy in-season variation or a classic pair of blue jeans all the time. To provide further proof, we took to Instagram to uncover some of the best winter denim outfits equipped for the chilly weather. There's a little less than two months till winter but this round up of stylish looks will provide you with plenty of inspiration on how to mix up your jeans with those cold weather essentials. Keep scrolling for the key outfit combinations to keep in your back pocket.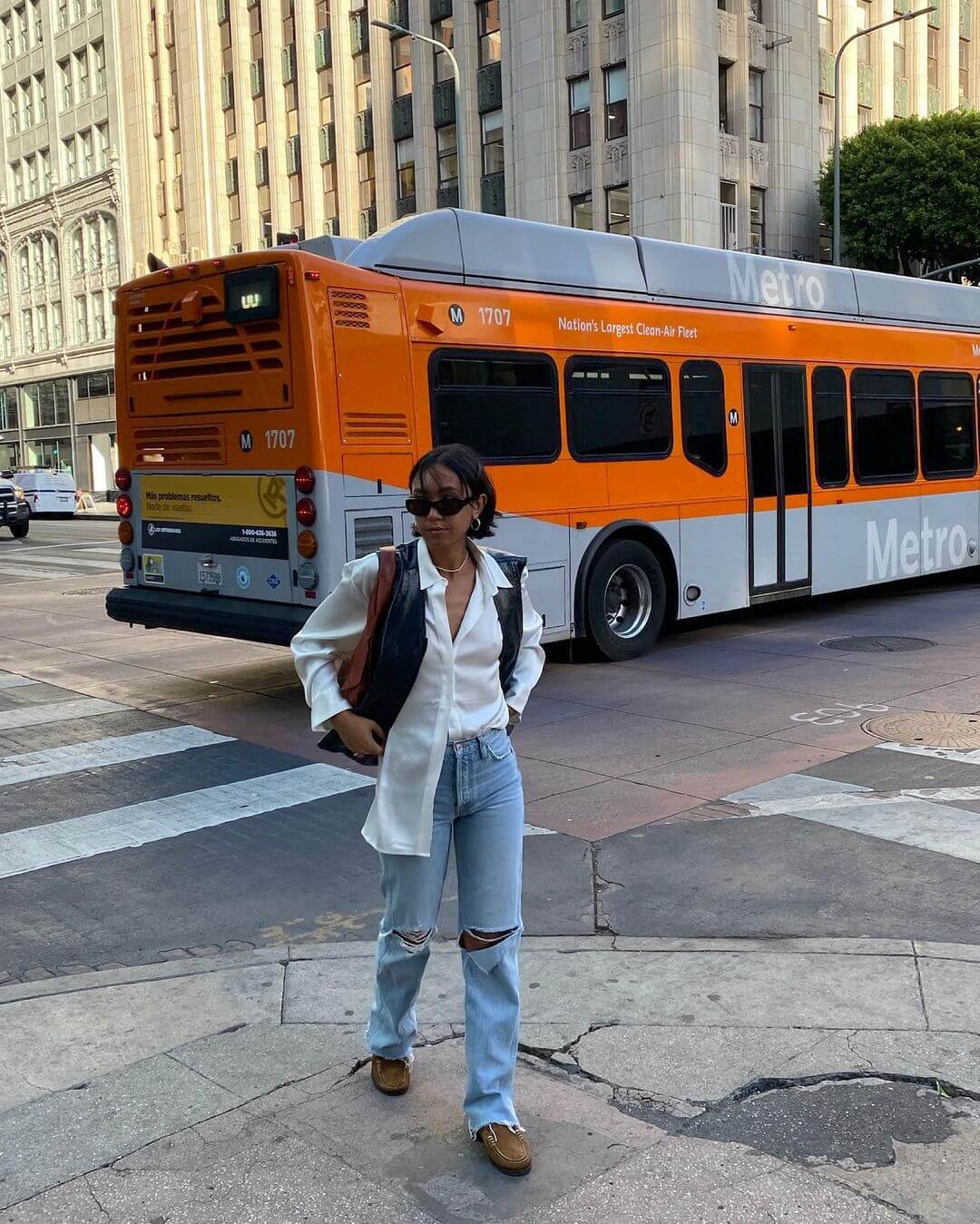 Photo via @shhtephs
1) Vest to Impress
One of the hottest layering devices of the season is no doubt the vest and it is so easy to style with your favorite pair of jeans. Whether it be a knitted vest or an edgier leather vest, just throw it on over a button up for an effortlessly layered look. Then, put on the final touches with a half-tuck of the shirt for that West Coast cool appeal.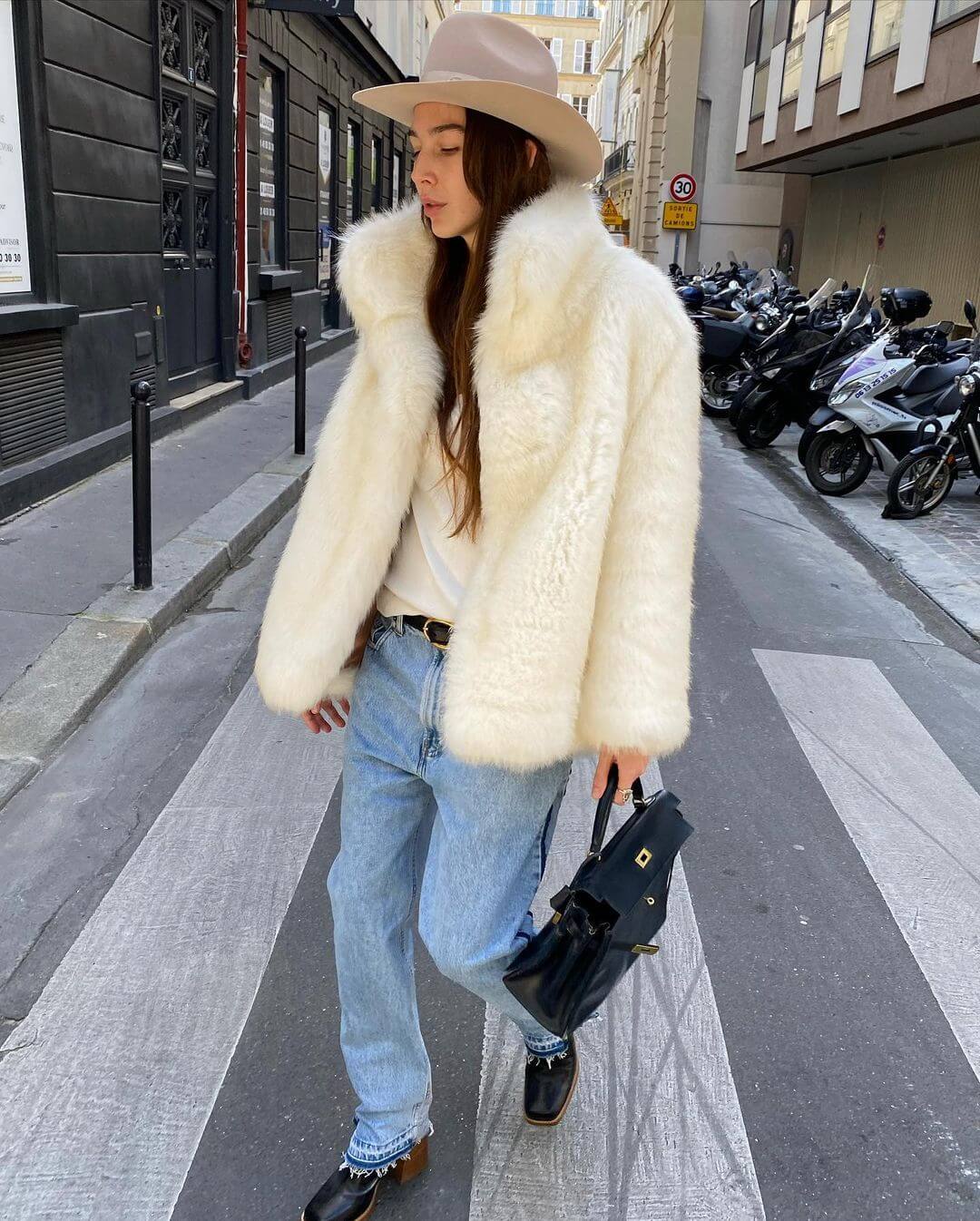 Photo via @estellechemouny
2) Cozy Textures
What would winter denim outfits be without a glamorous faux fur coat to top it off? In season's past, we've seen the faux fur or shearling coat paired with skinny jeans but this look proves that all you need to look current is a pair of looser denim with a mid to low-rise waist. We love how this influencer mixes different style aesthetics for a visually pleasing ensemble. Note the floppy brim hat, wooden soled boots and structured bag – these are all the components you need for a warm but stylish winter fit.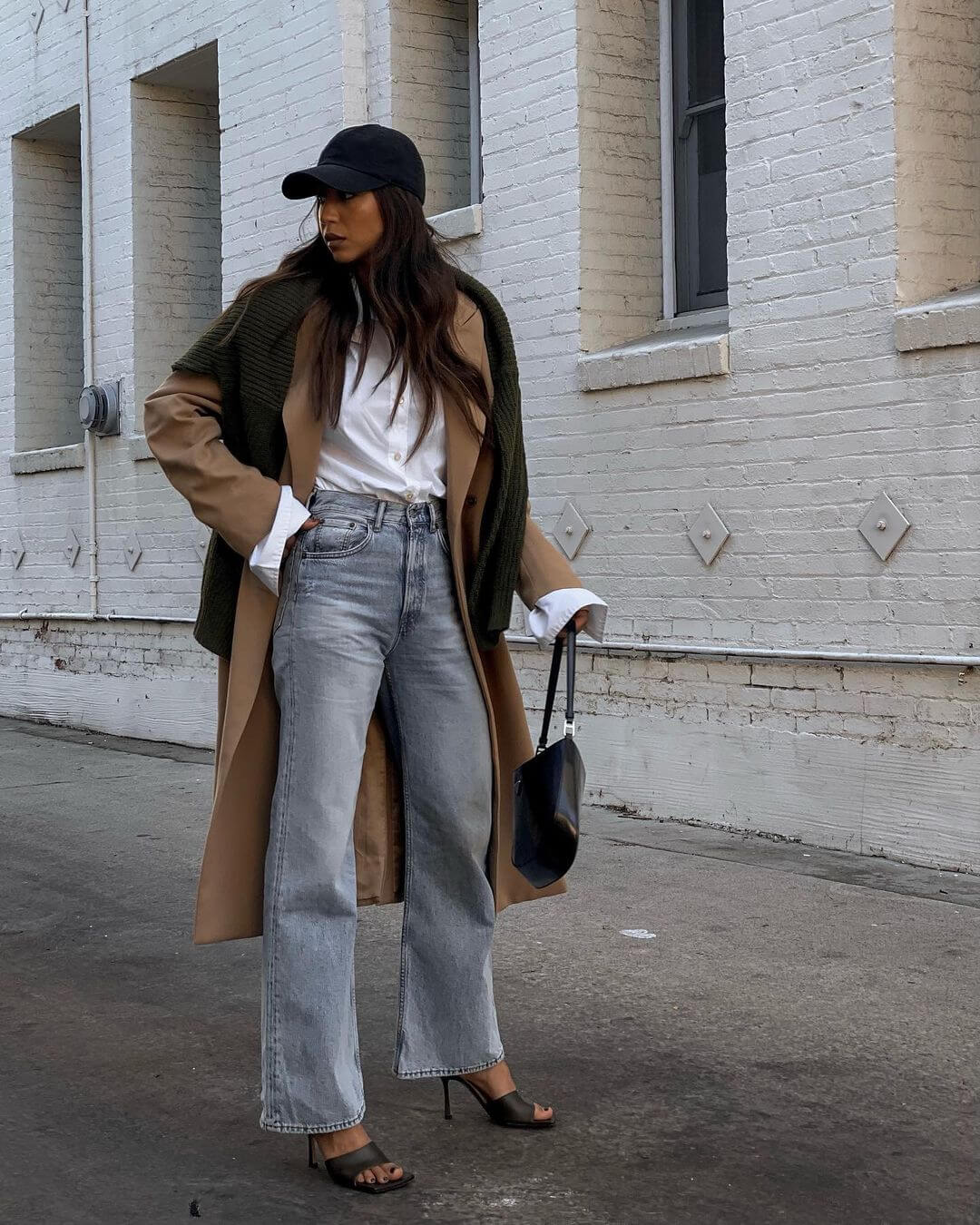 Photo via @kayla_seah
3) Back to Basics
Speaking of outerwear, jeans happen to match with almost any coat your heart desires. For a polished look, wear your winter trench coat with your jeans. If you need additional layers, a contrasting sweater wrapped over the shoulders make for a smart, on-the-go fit. Kayla opted for some wide-leg jeans and heeled mules, but feel free to swap those out for a different cut or boots if you live in an even colder climate.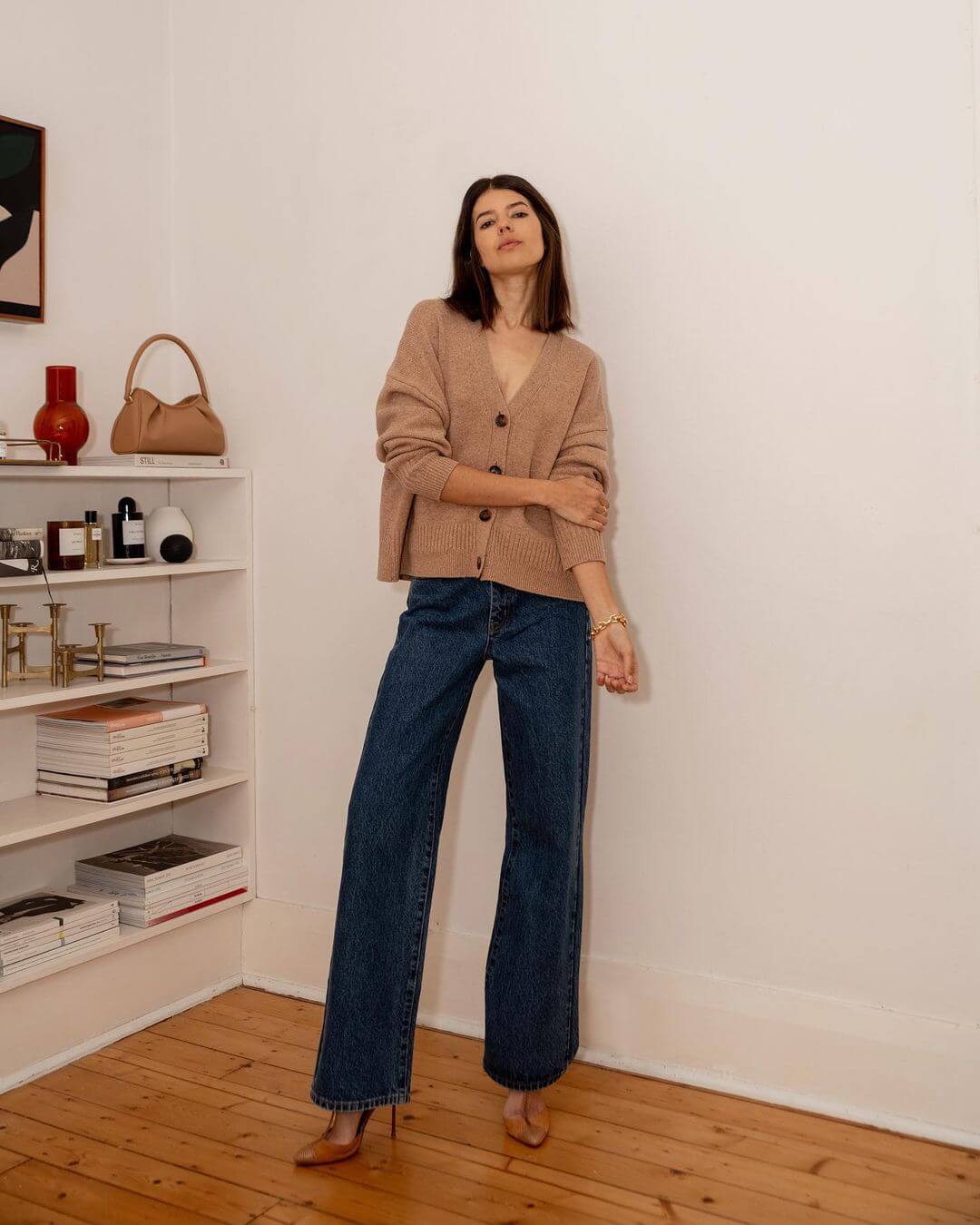 Photo via @talisa_sutton
4) Cardigan and Again
Sweaters, just like coats, are a wintertime necessity and any style can be worn with your jeans! This year, a classic cardigan might be one of the trendiest options yet. For an easy outfit that you can mix and match all season long, you can choose to wear your cardigan as your sole top by buttoning it up all the way. Your denim silhouette is key to looking as fresh as possible. Wide trouser-like jeans or 90's inspired cuts are our top picks.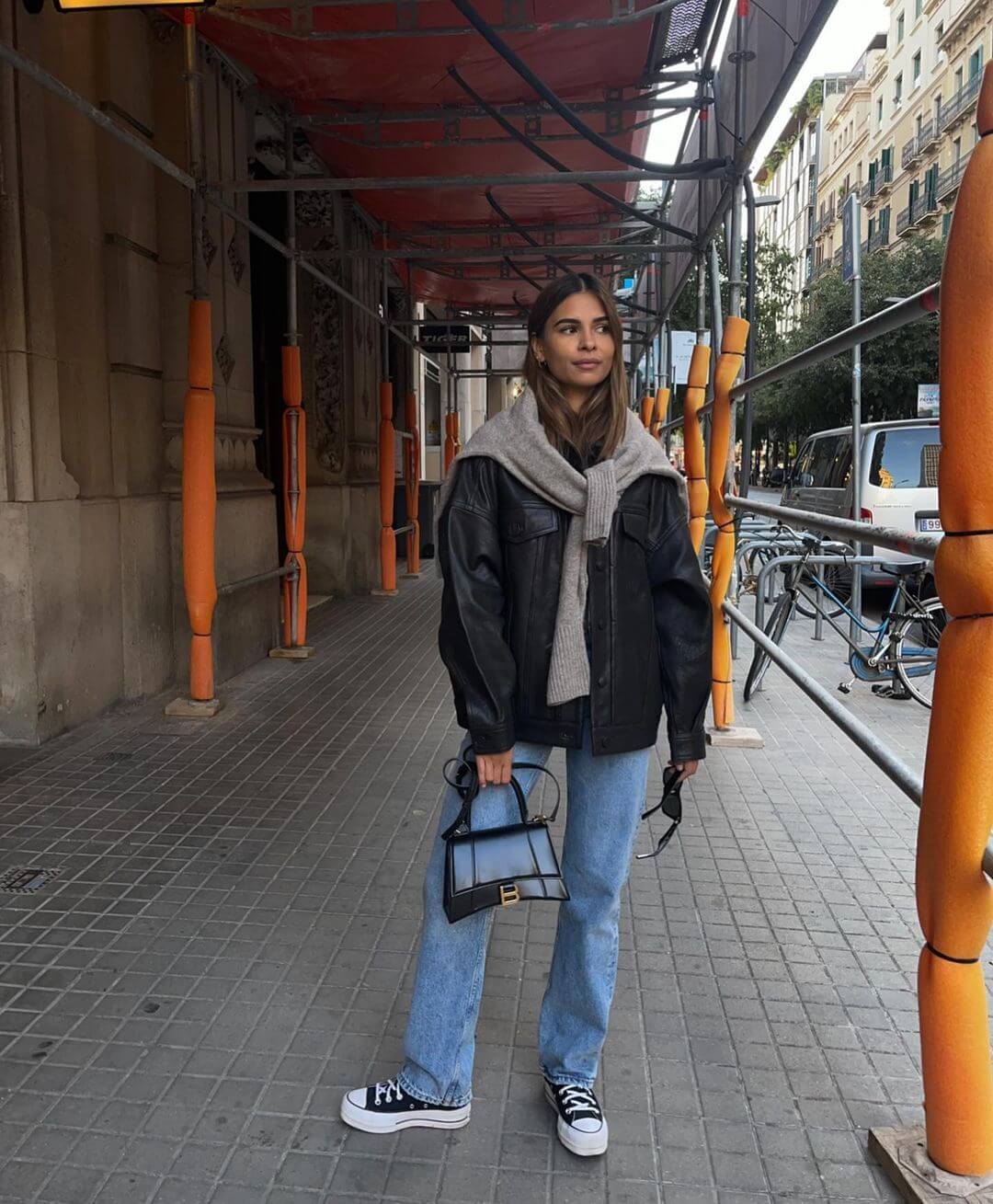 Photo via @emitaz
5) Sensible Sneakers
The beauty of denim is that it is so versatile and can be worn with even the most casual or formal of pieces. For example, we love this everyday look featuring denim with comfy sneakers. You can choose to dress it up ever so slightly with select additives like a structured handbag and a leather shacket. That layering knit tied on top is a key styling hack to make winter denim outfits extra chic right now.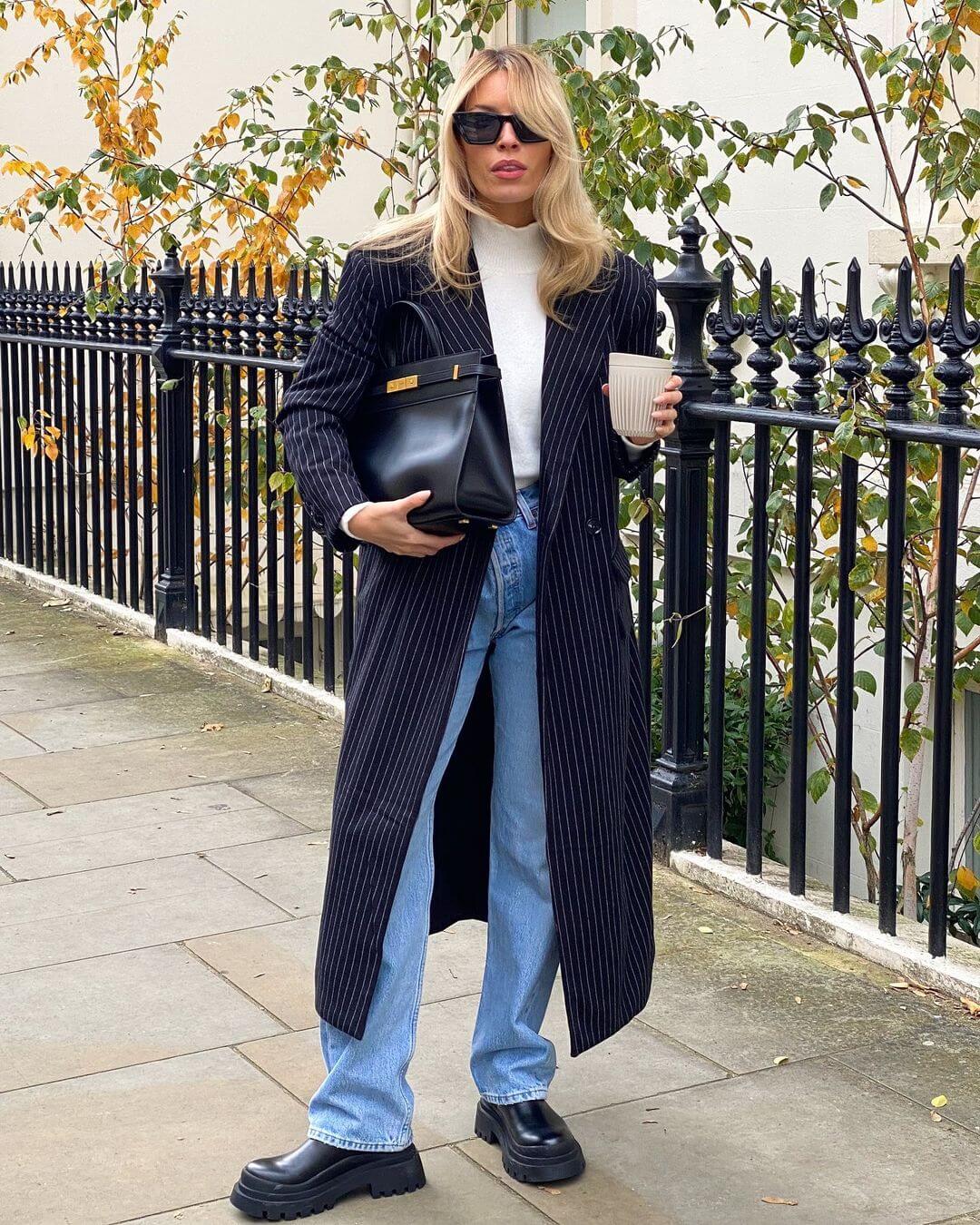 Photo via @georginalennon1
6) Casual Fridays
If you're on the hunt for stylish winter denim outfits for the office, here's a look that won't disappoint. Simply replace your trousers or suit pants with some clean, full-length jeans. Georgina certainly got the memo by wearing her pinstriped longline coat with a classic turtleneck knit and the oh-so-coveted chunky boots. This get-up would work with other office favorites like a blazer and a button down shirt!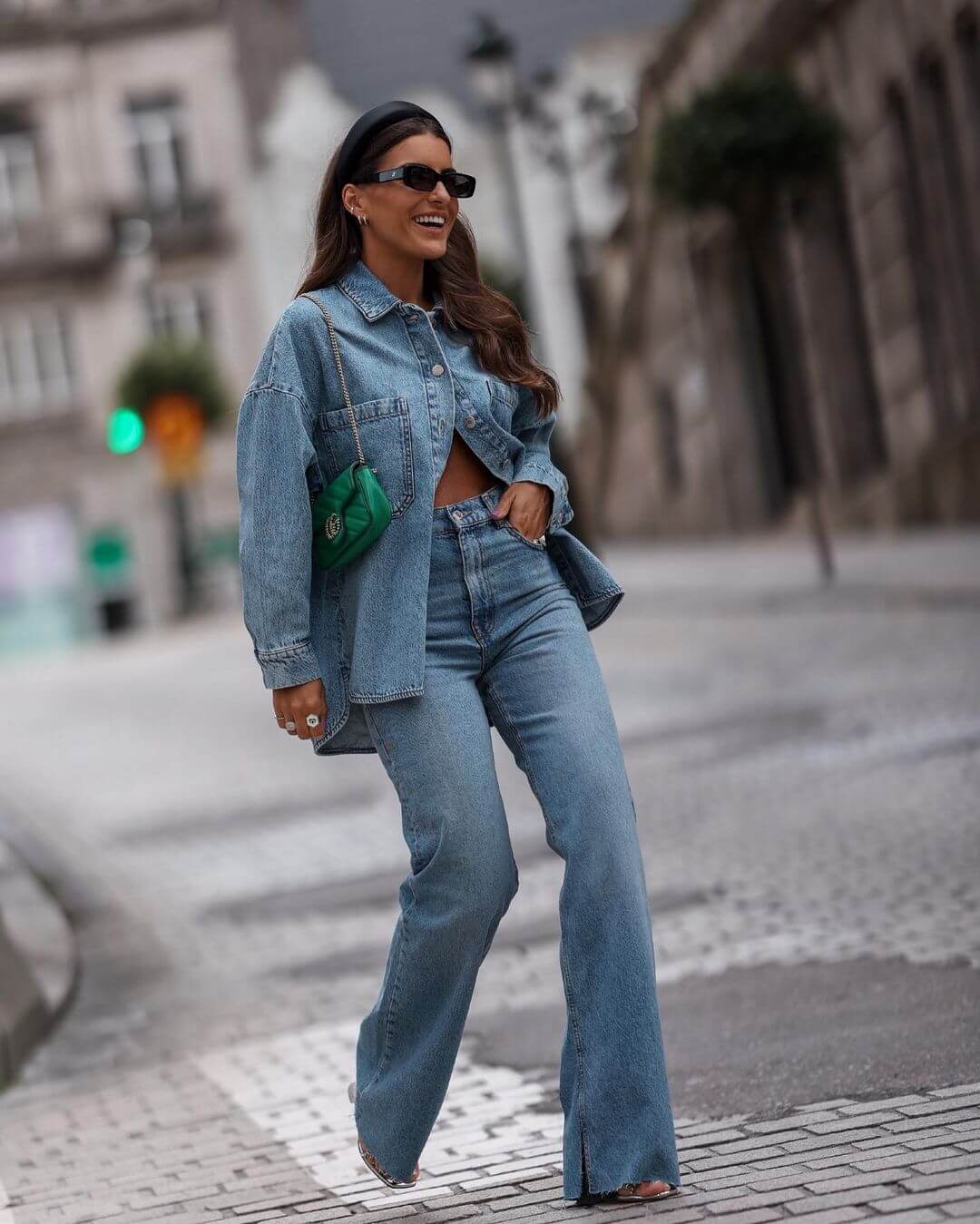 Photo via @joanavaz_
7) Double Denim
There's no such thing as too much of a good thing. If you are an avid denim fan, you could choose to rock the Canadian tuxedo this winter as a chic take on the matching set trend. This influencer expertly styles a denim shirt with coordinating bottoms, purposely keeping the top mostly unbuttoned to break up the matchy matchy effect. Pile on a layer of warmth for winter by adding a long teddy bear coat, oversized blazer coat or plaid maxi jacket.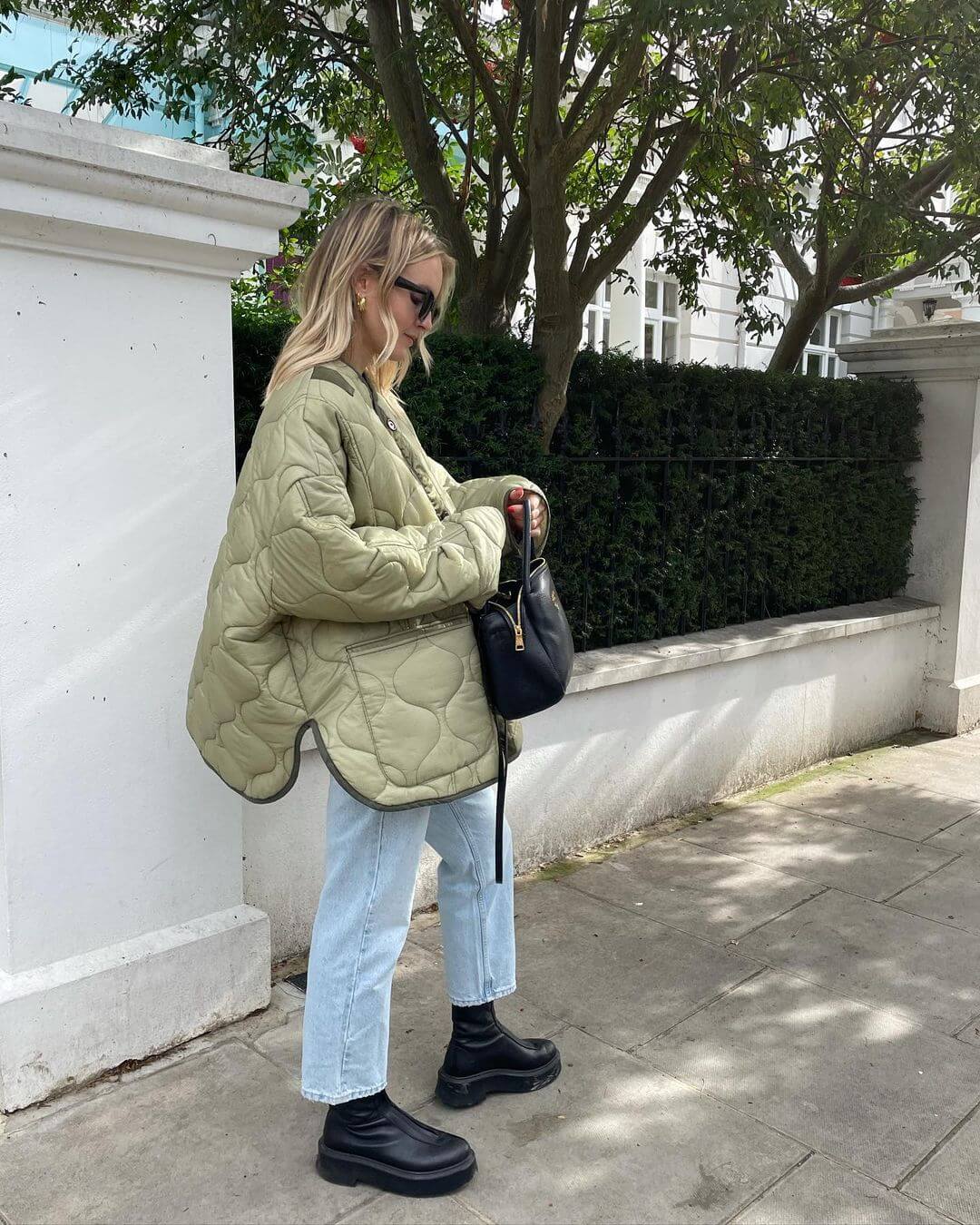 Photo via @pollyvsayer
8) Puffed Up
The most important coat for winter is perhaps the puffer! It's not just infinitely cozy and warm but is also lightweight, allowing you keep your layers to a minimum. If you don't love the bulk that often comes with winter outfits, this basic combination is one for the books. Green and other brighter colors keep your look youthful but you can always stick to black for an elevated feel. As for what to wear on the bottoms, keep it simple with lug sole boots and ankle-cropped, straight-leg jeans.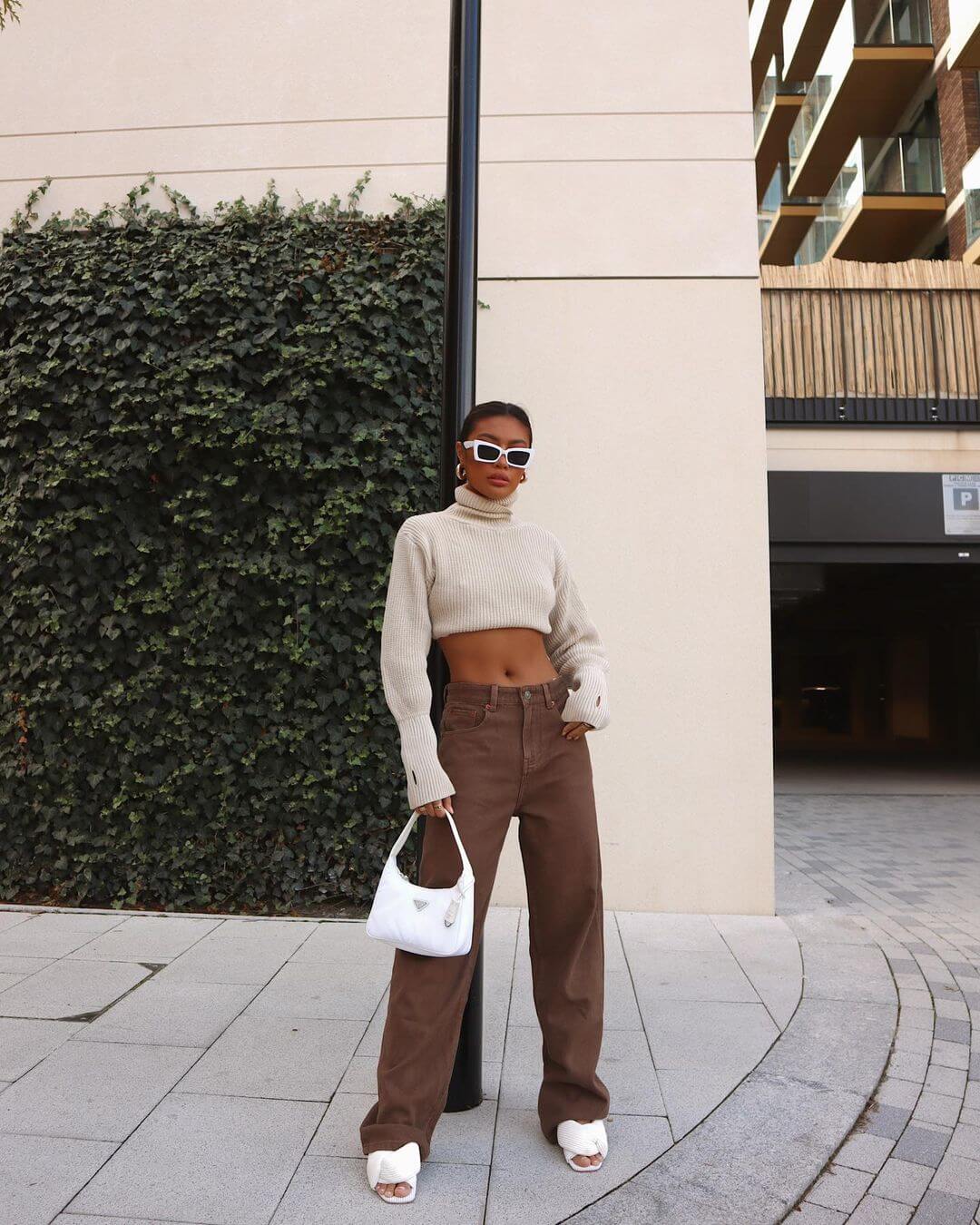 Photo via @x_carms
9) Color Coordinated
Beyond the classic blue jeans, you could also choose to wear colorful variations. Play into what is trending by opting for a chocolate brown, ecru or beige to team with your other cozy neutrals. We can see here that going for muted tones is an expensive-looking combination you can wear every single day for the next two seasons.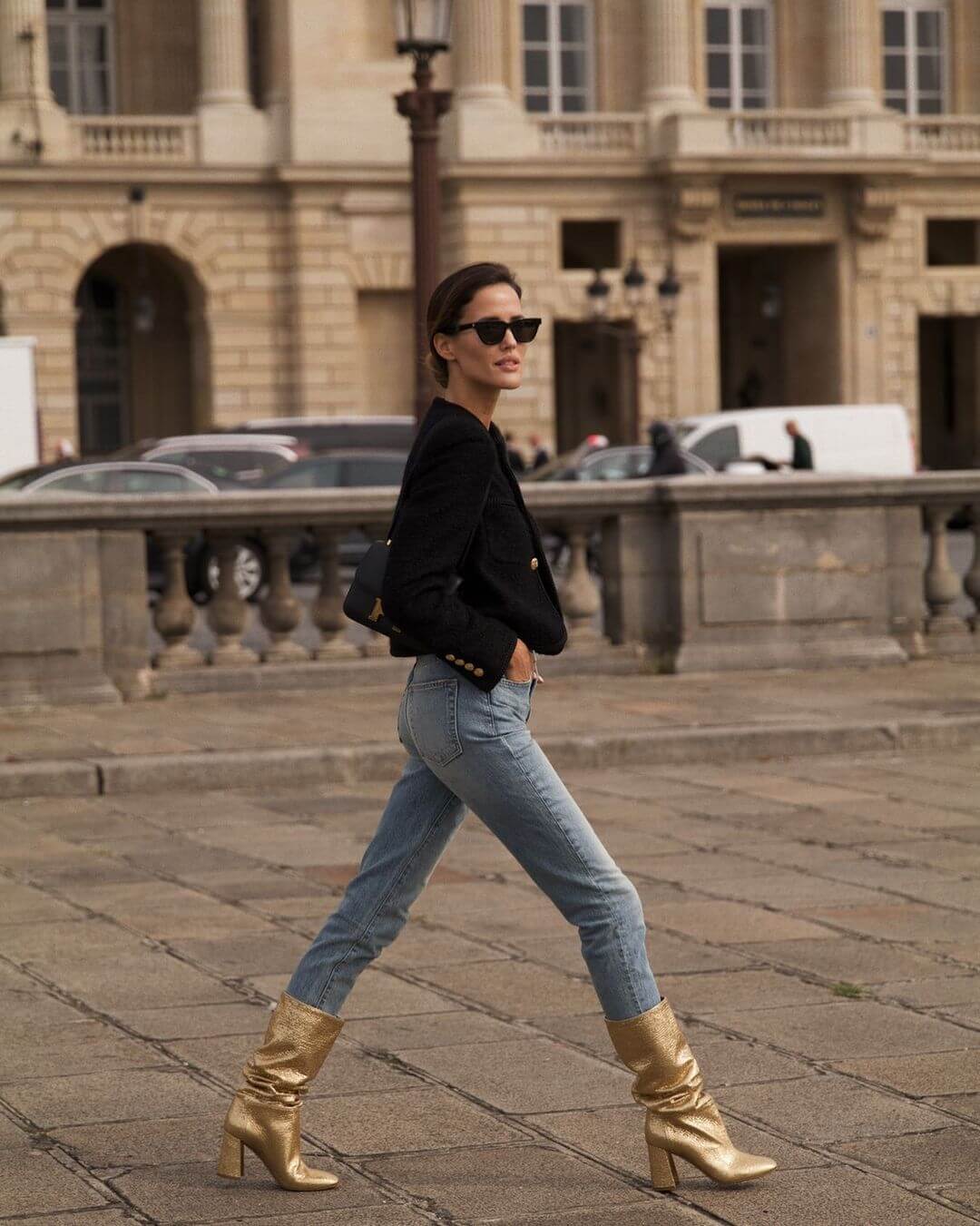 Photo via @ariviere
10) Statement Boots
Denim can also be the perfect foundation to add on a statement accessory. A pair of plain jeans is unassuming, which happens to be ideal for showing off loud, key pieces, such as a pair of gold slouchy boots! Think of this as a low-effort way to make your jeans look extra luxe. There's something about the symbiotic pairing that we cannot get enough of.

(Visited 1 times, 1 visits today)