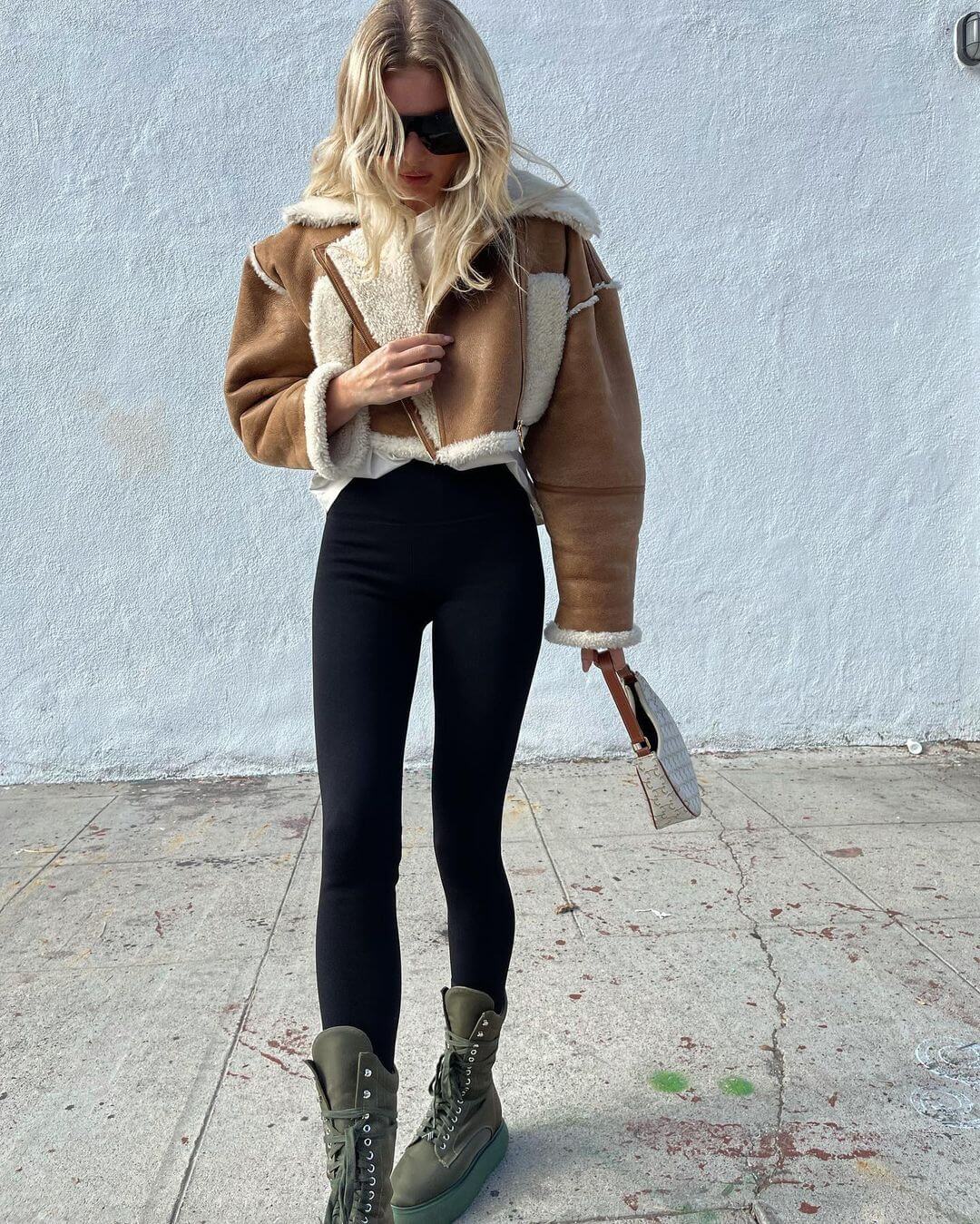 Photo via @hoskelsa
Despite the drop in temperatures and the inevitable accumulation of snow, there is so much to look forward to during the winter season – most notably, the fashion that comes with it. For the past two years, loungewear dominated the scene, but as we approach 2022, there are tons of maximalist trends getting ready to take over. For instance, plush cold weather accessories, bold layering, and of course – statement boots – that take everyday dressing to the next level! You can also expect to see the revival of iconic trends from previous decades, including Y2K denim, groovy patterns of the 70's and many more! Today, we're making a case for the biggest winter fashion trends that aren't just about to blow up but are totally worth investing in. Keep scrolling to see 10 inspirational looks that showcase just how to style winter's hottest pieces in the new year!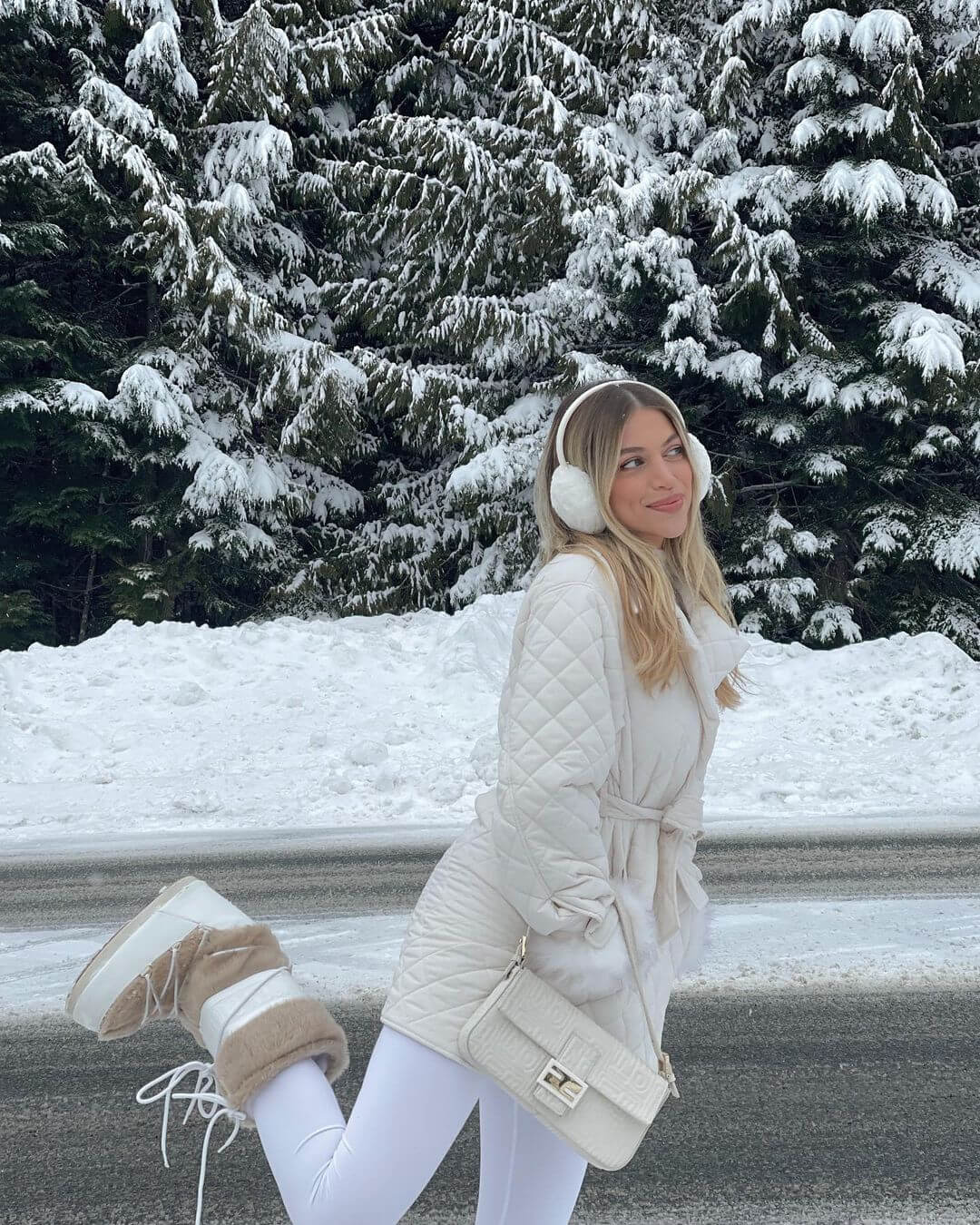 Photo via @nitsanraiter
1) Aprés Ski Chic
Although winter gear is an obvious must for this time period, there has certainly been some reworking of this look. Pieces that were once notorious for hitting the slopes in are now being taken into the streets. Both designer and high-street brands are embracing the aprés ski chic aesthetic, serving up puffy marshmallow-like jackets, Nordic sweaters and bulky snow boots. It's easier than ever to gear up, channel your inner ski bunny and brave the cold.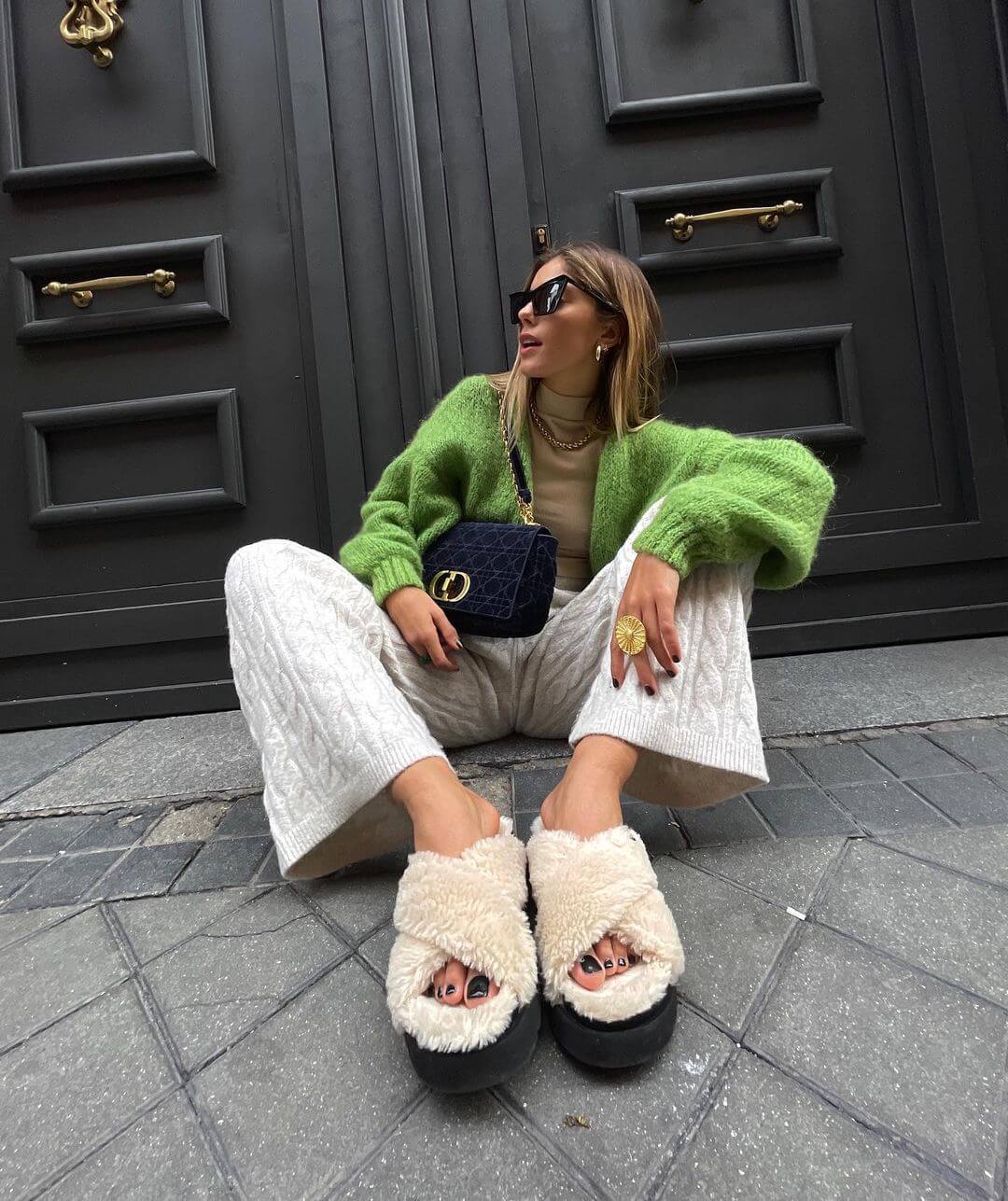 Photo via @sarabace
2) Faux Fur Everything
Texture is proving to be an on-going theme this winter and faux fur is one of the easiest, most glam ways to pull off the trend. Furry jackets from shearling to fleece remain highly covetable but we are also seeing a massive spike in faux fur accessories too. Everything from fuzzy slides to hats and gloves add to the faux fur craze.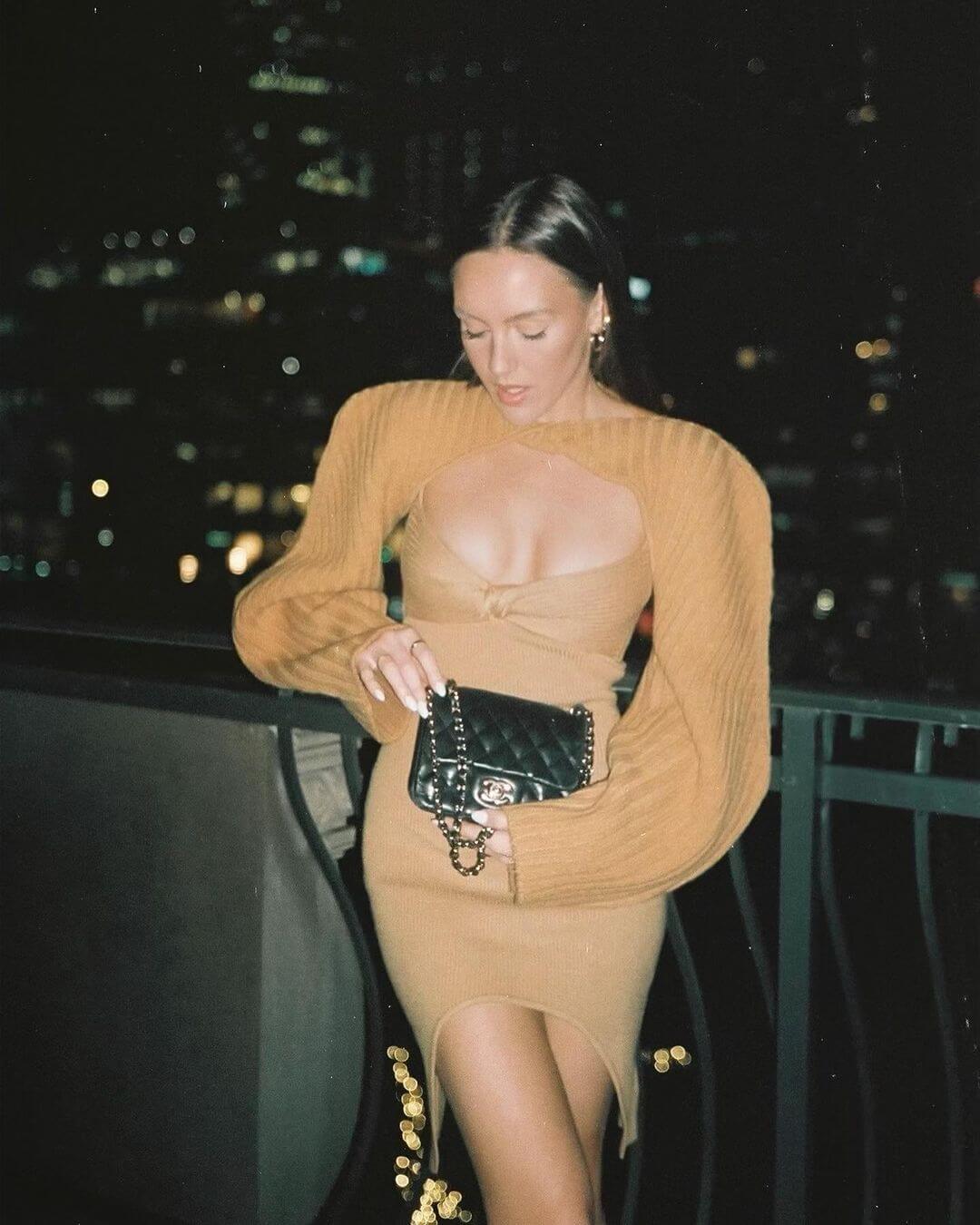 Photo via @emmaleger
3) The Shrug
Who would have thought that the shrug would make its way back into our wardrobes? But here we are! This item is essentially detachable sleeves that can be paired with something as dressy as a cocktail dress or more casual get-ups, like a cami or sweater. It is such a modular piece that creates an added layer of interest to your outfits.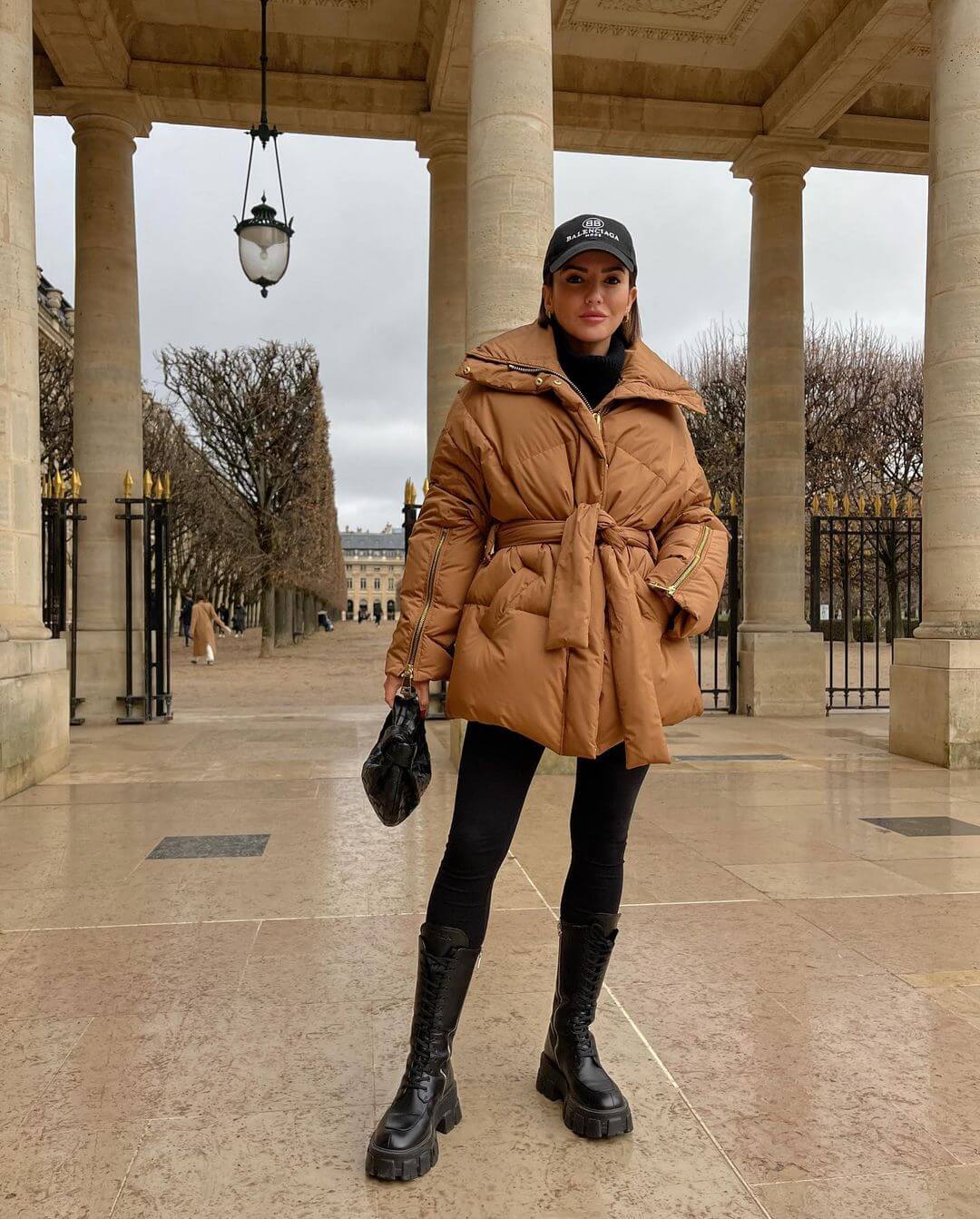 Photo via @alexandrapereira
4) Quilted Outerwear
In conjunction with the aforementioned aprés ski aesthetic, one of the winter fashion trends worth going all out on is the quilted coat. The bubble texture adds a lot of volume and visual interest to your basic winter ensemble. We have been seeing a mix of retro-inspired silhouettes with a cinched waist as well as more modern styles that are super cropped. Take your pick and wear it all season long!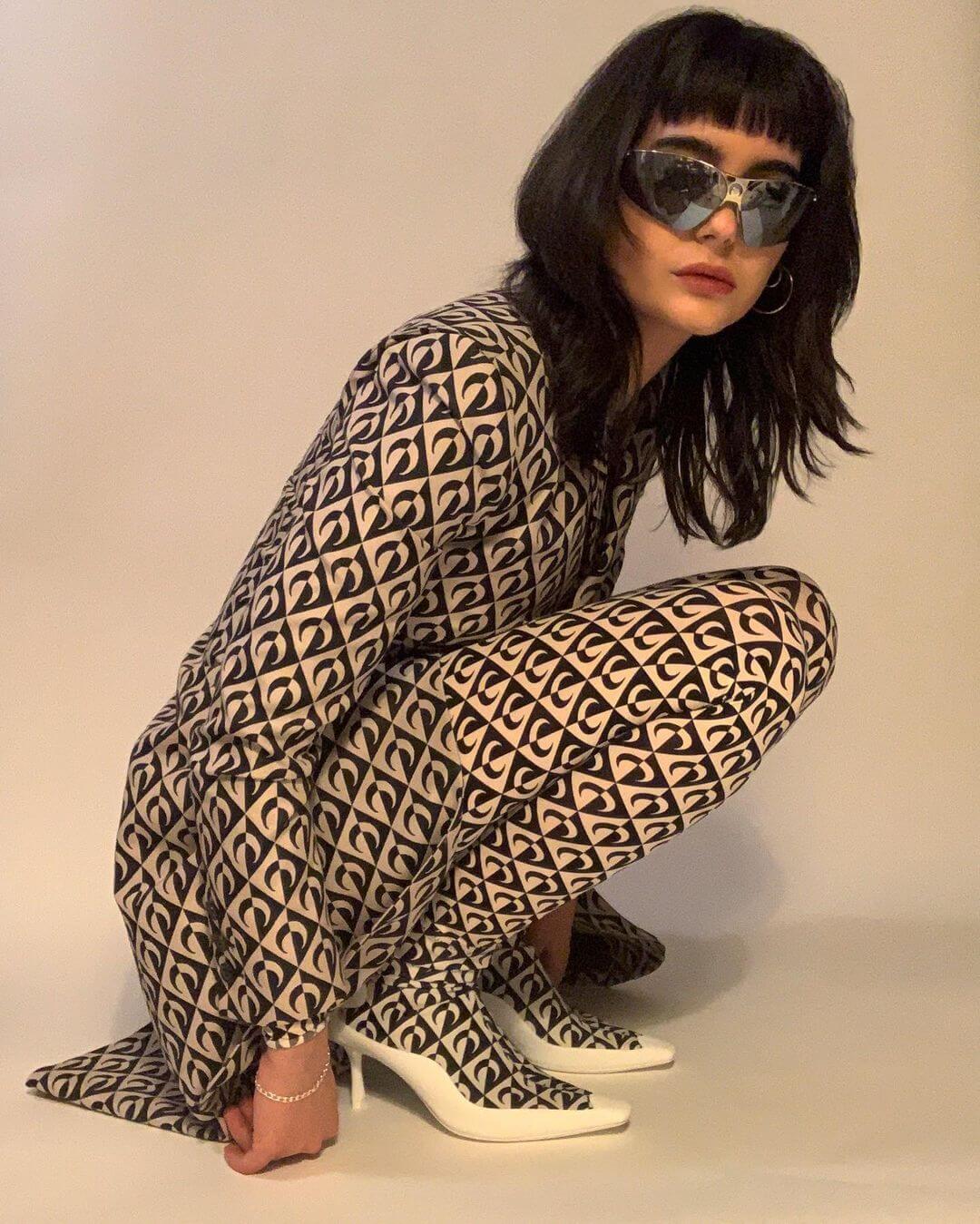 Photo via @maria_bernad
5) Catsuit
For a more daring, one-stop winter trend, turn to the second skin look in the form of a sultry catsuit. It has been a celebrity favorite amongst the Kardashians, Hailey Bieber and more. If you choose to wear it solo with some stilettos, it would be the perfect statement party look. However, you can also take a more modest approach to styling it by wearing it underneath a dress or as a ski suit.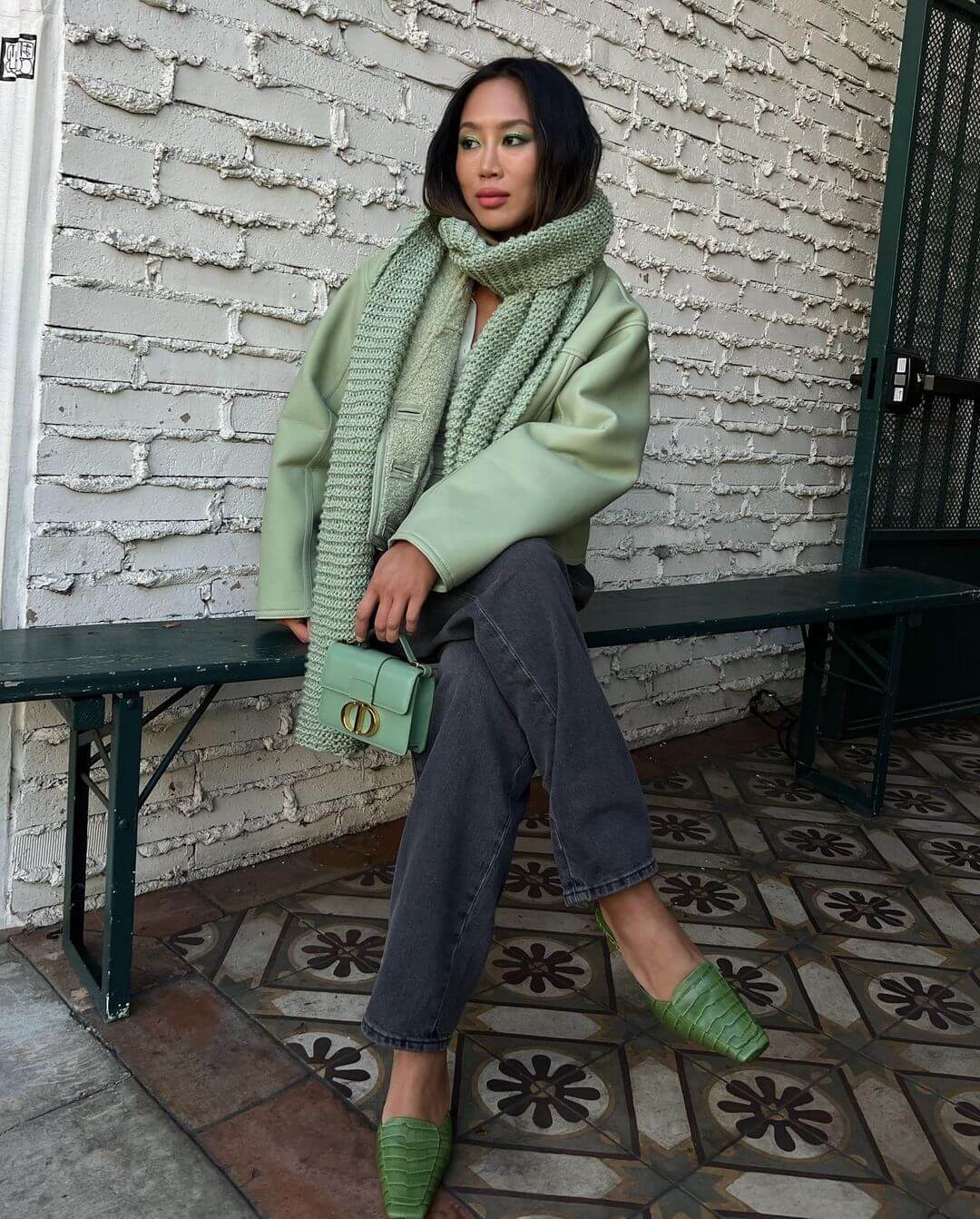 Photo via @aimeesong
6) Saturated Hues
No longer are we choosing dark and dull colors for winter fashion. Instead, many more fashionistas are injecting saturated hues into their cold weather outfits. Everything from flashy oranges to fuchsias is a go. One color in particular that is making waves is green! This includes anything from soft shades of pistachio to the bright and punchy Kelly green.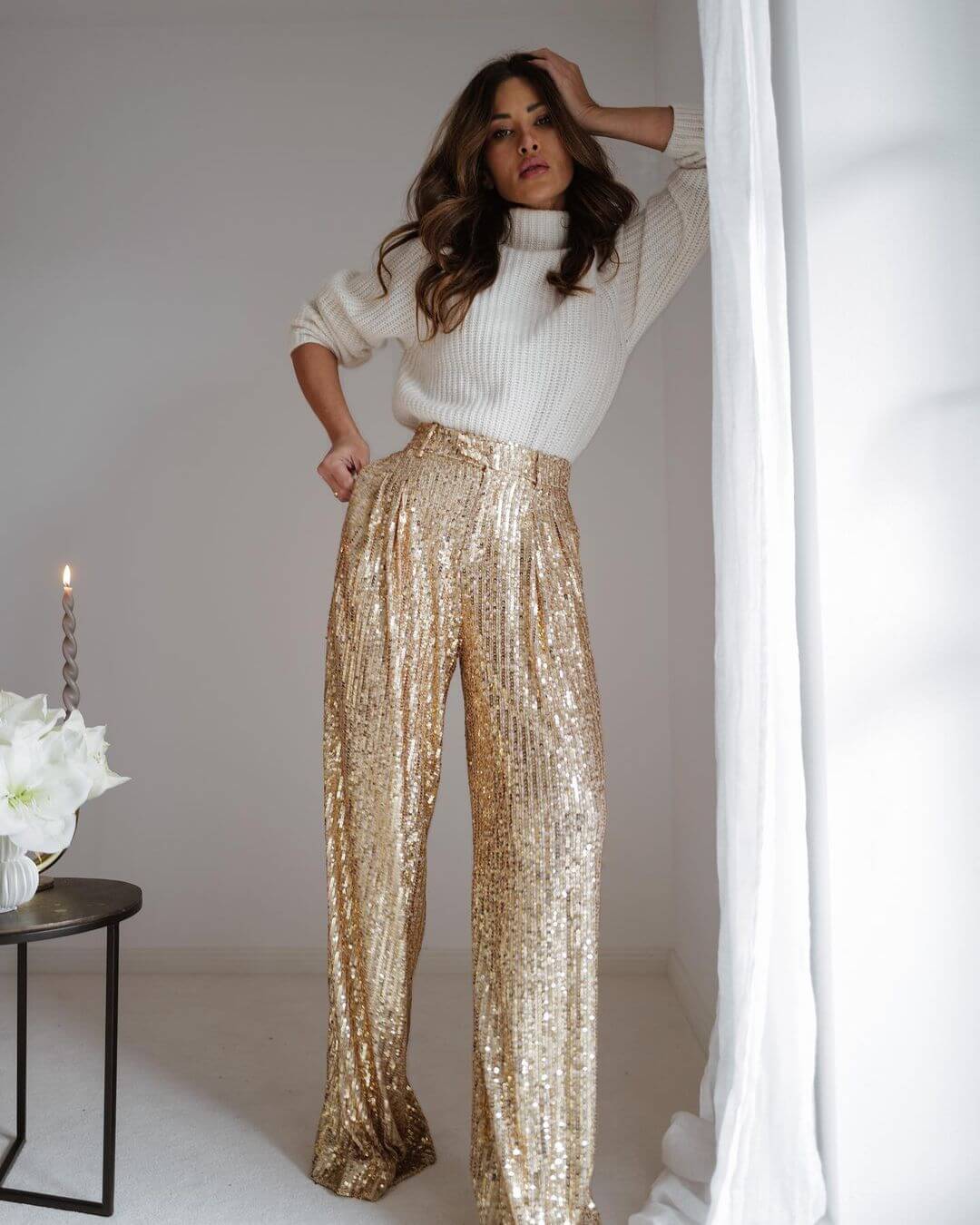 Photo via @fusunlindner
7) High Shine
If you've invested in sequins, lamé, or anything with a reflective sheen for New Year's Eve, you'll be pleased to know that you can extend the life of those pieces through 2022. That means you can style a high-shine skirt or some trousers with basic knitwear and sneakers during the weekdays. The conversation-starting pieces will turn heads all winter long.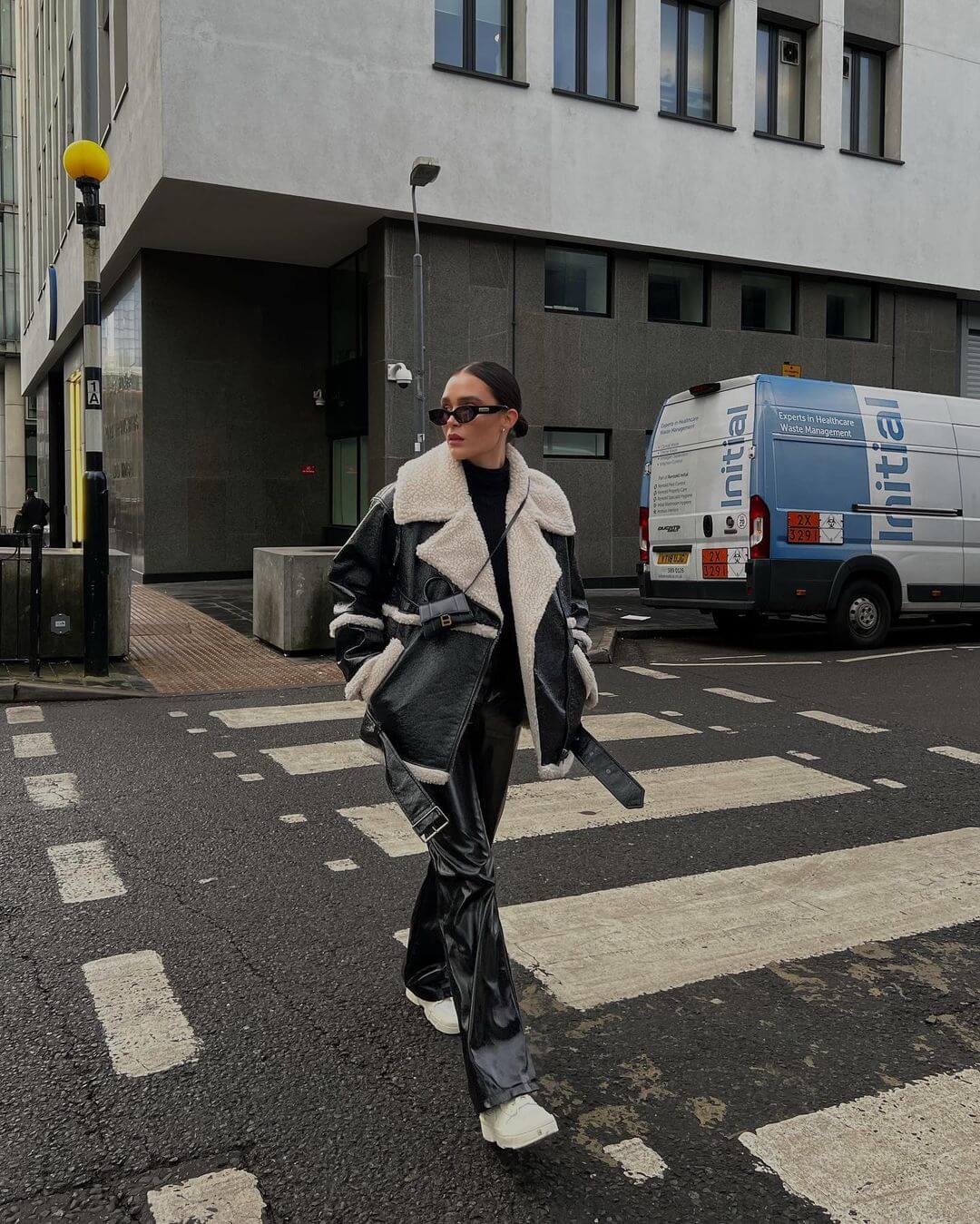 Photo via @lissyroddyy
8) Leather
One trend that naturally goes hand in hand with winter is leather. It is forever a fashionable look that feels particularly chic during the cold weather. The heavier fabric is also ideal for combating the low temps. Be sure to work anything from leather outerwear to leather pants into your looks – and do not be afraid to rock them all at once!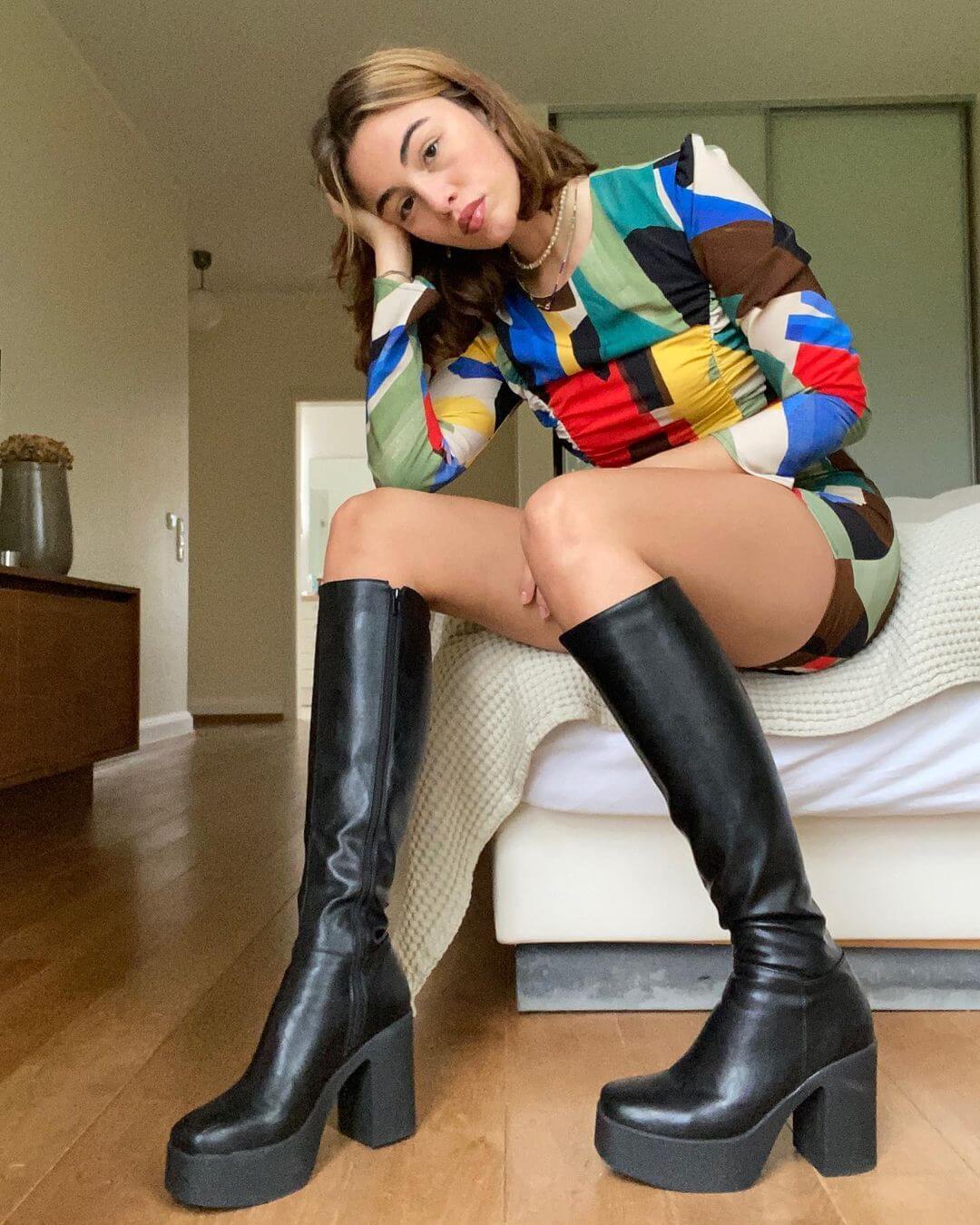 Photo via @helenabeckmann
9) Platform Boots
Thanks to the awakening of Y2K fashion, platform boots have been a hot ticket item. Every Gen Z is taking this trend by storm with no signs of them slowing down. Thick soled knee-high boots are a symbiotic match for colorful mini skirts and bodycon dresses. In fact, they're a key accessory to making your micro mini's more wintertime appropriate.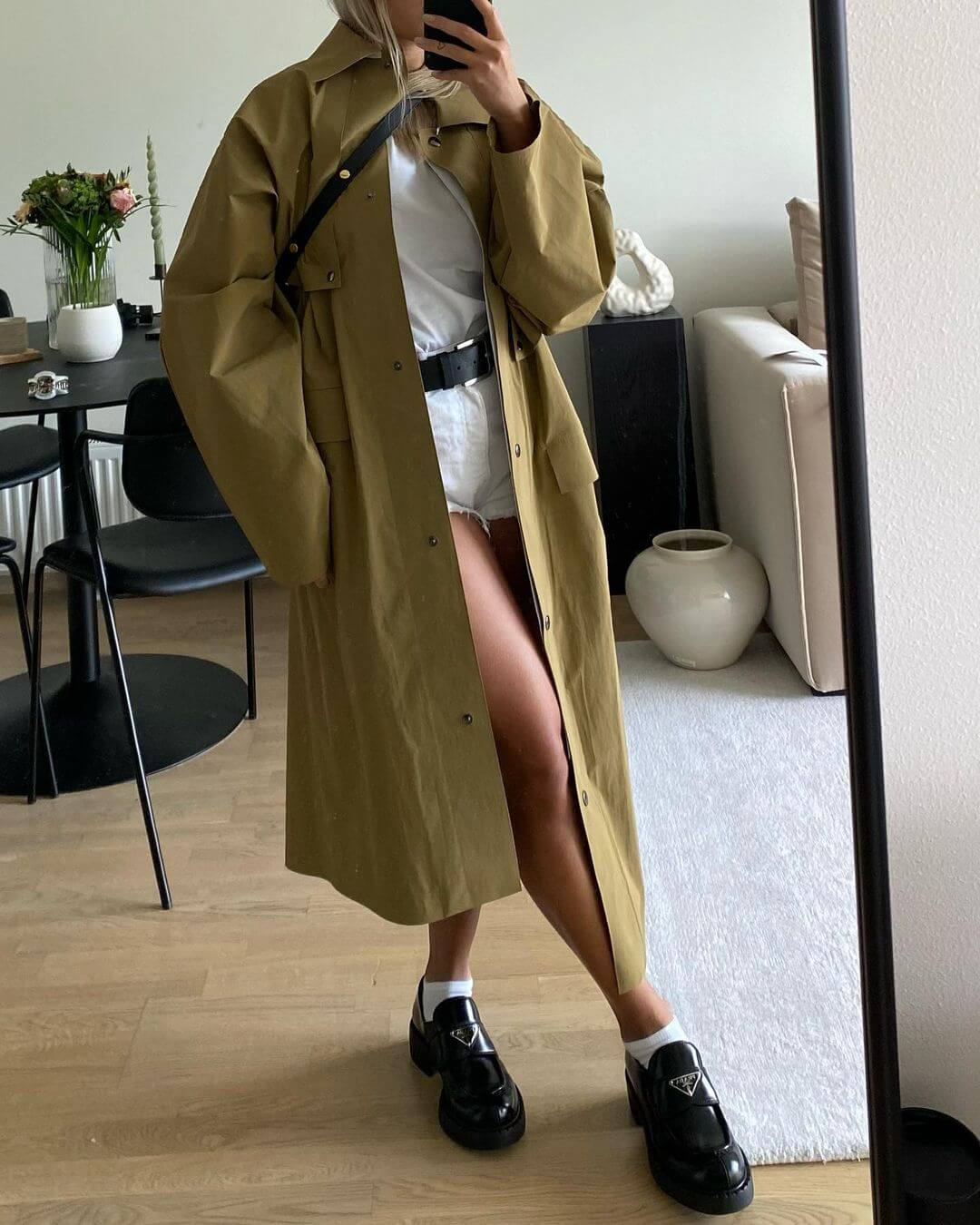 Photo via @s___dang
10) Socks & Loafers
The final winter fashion trend we want to highlight is the specific combination of socks and loafers. These chunky, preppy shoes returned with a vengeance and they manage to coincide with a few different styles. Wear your socks and loafer pairing with romantic dresses and flowy skirts or style with more androgynous trousers and blazers. This iconic duo will definitely be making more and more appearances, even as we approach springtime.

And there you have a quick cheat sheet for the only winter fashion trends that matter at the start of 2022. They're translatable to everyday wear but are also striking enough to evoke a double take. So, get ready to shed those sweatpants and slippers and embrace your wild side.
(Visited 2 times, 1 visits today)