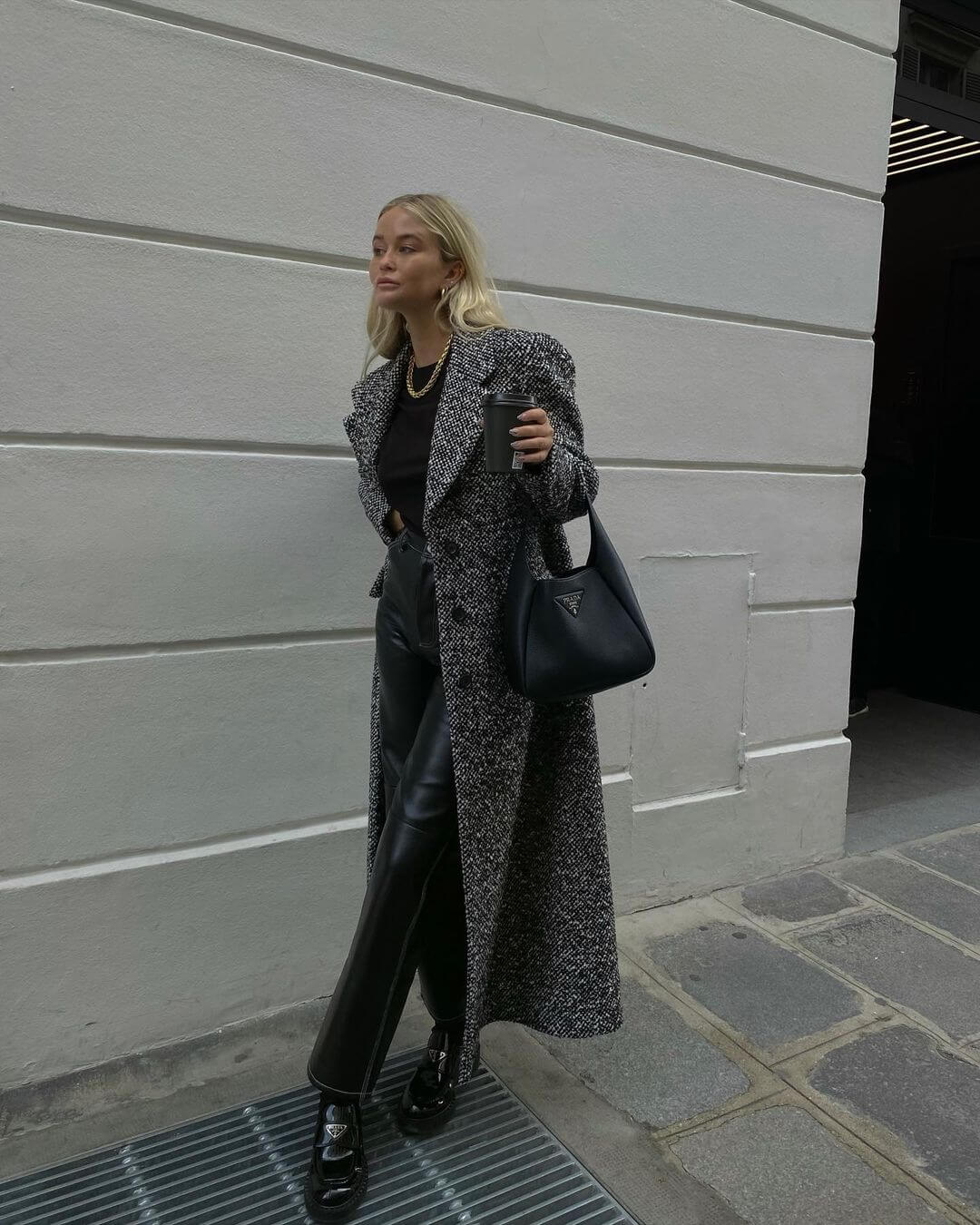 Photo via @josefinehj
Whether you have plans on the docket for a fun winter getaway or for meeting up with family over the holidays, one thing is for sure – you'll need an optimal travel outfit to accompany you. Catching flights or embarking on long roadtrips during the dead of winter can be a little daunting as you have to fight your way to the airport in frigid temps. Not to mention the hassle of getting through TSA. It can be easy to succumb to throwing on whatever just to stay snug – but we're here to tell you it doesn't have to be that way! Travel outfits can be chic, even with subzero temperatures as you're en route, when you know how to master the art of layering. Dressing from the bottoms up is your key to success when it comes to this sort of fashion endeavor. To get you in the right mindset, we're spilling all the inspiration you need to create comfortable winter travel outfits that are practical, and more importantly, fashionable.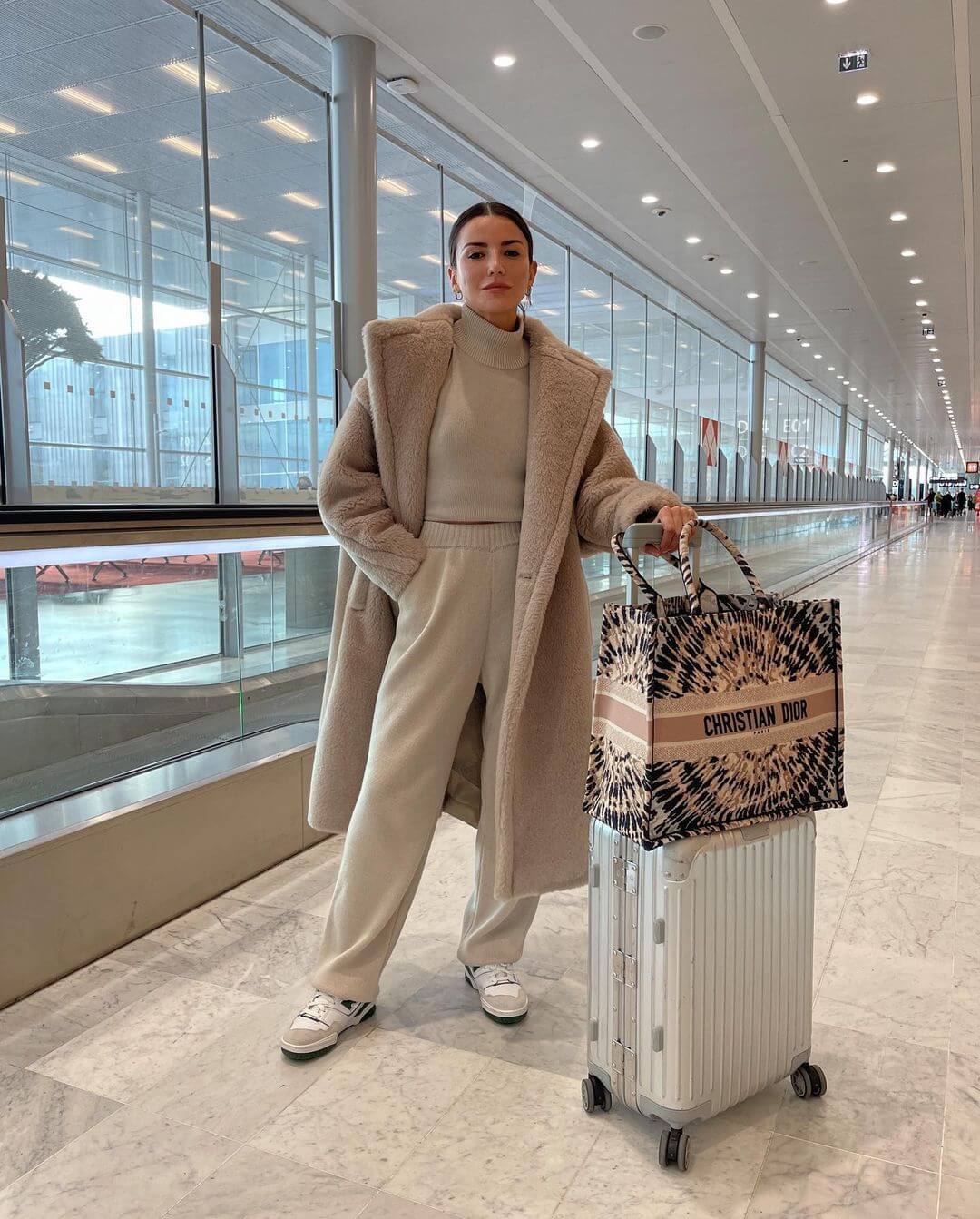 Photo via @alexandrapereira
1) Cozy Knit Sets
Let's take a moment to give gratitude to all the matching sets that make getting dressed a breeze. Winter red eye? No worries at all when you have a cozy knit set to wear to the airport. For our minimalistic dressers, stick to soft neutrals such as a beige. You can even layer a longline teddy coat on top to further coordinate with your dreamy base. And if you're more of a maximalist, there are tons of bold-patterned sets to appease your style needs too.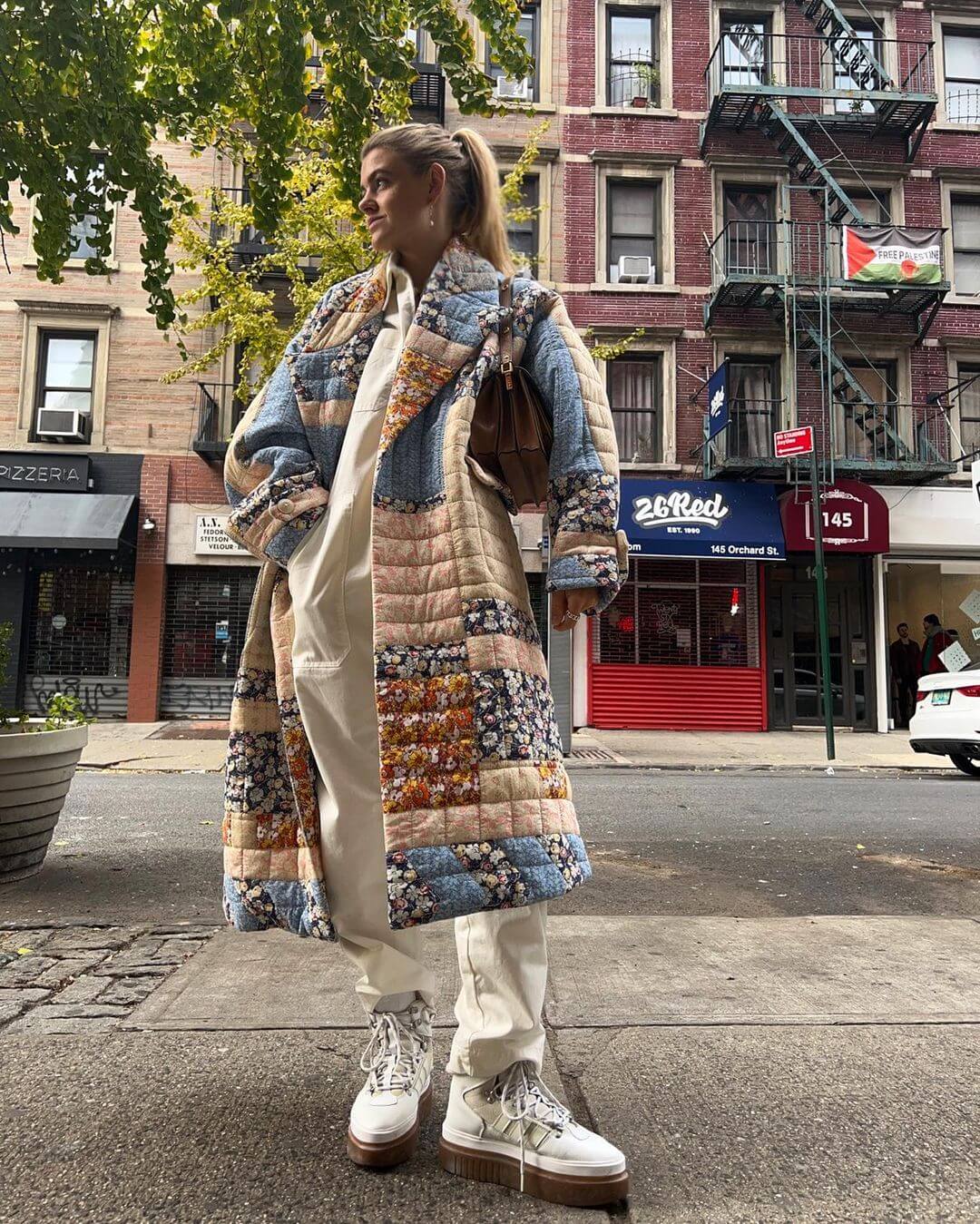 Photo via @amalienielsenn
2) Vintage Quilts
We haven't found anything better than traveling with a built-in blanket conveniently incorporated into your outfit over winter. Quilted jackets have been a micro trend all season long as they inject major texture and interest to a look. They also tend to be quite insulated, making them the supreme choice as you trek from place to place. As long as your coat packs a punch, it doesn't really matter what lies beneath.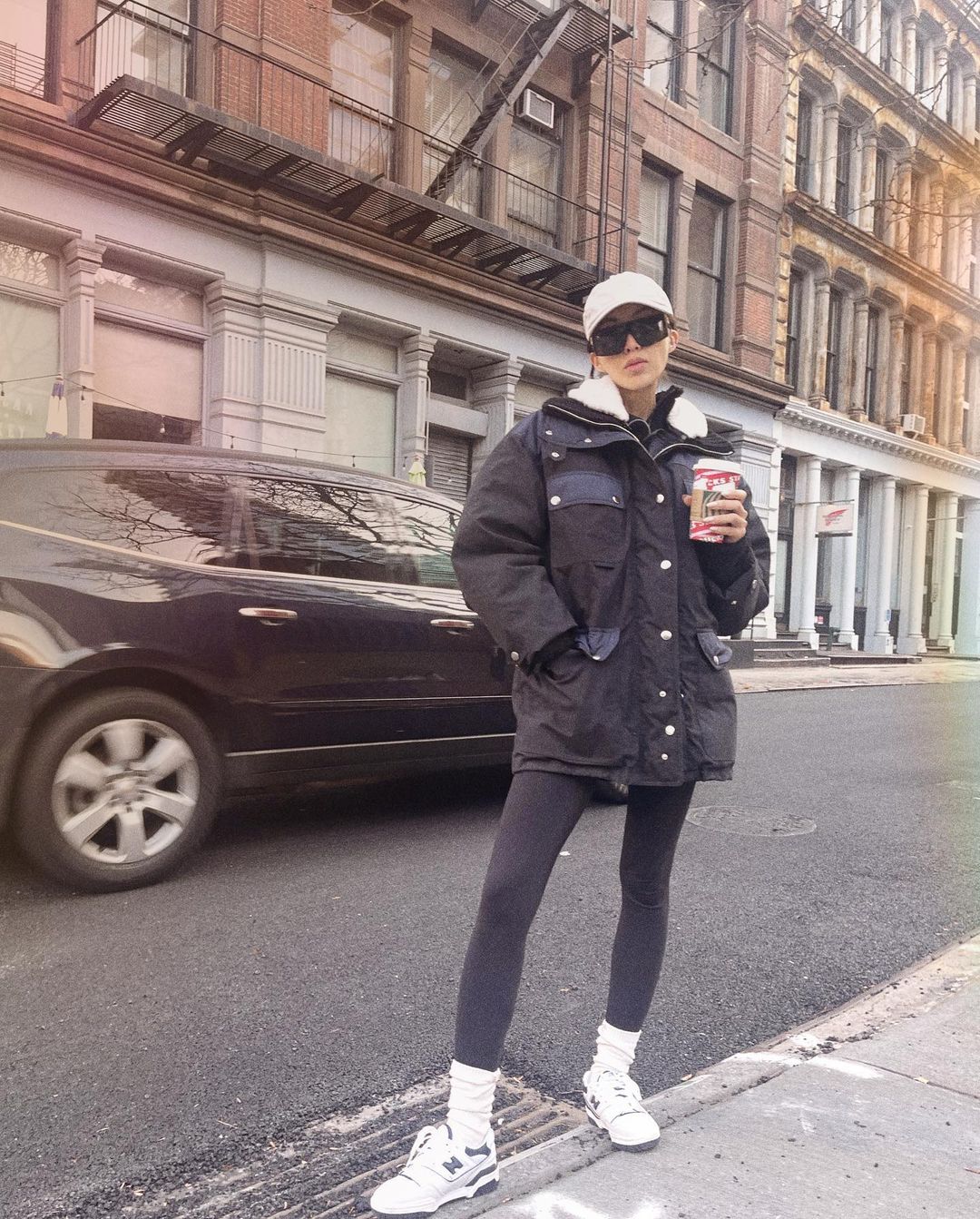 Photo via @chrisellelim
3) City Girl
If you are seeking stylish ways to work your favorite black leggings into some winter travel outfits, look no further. Take notes from Chriselle's casual cool mashup by styling them with a heavy duty parka for protection from the cold. Elevating your basic leggings all comes down to the details, such as gathered socks and classic norm-core sneakers. This is how you go from airplane to city exploration without missing a beat.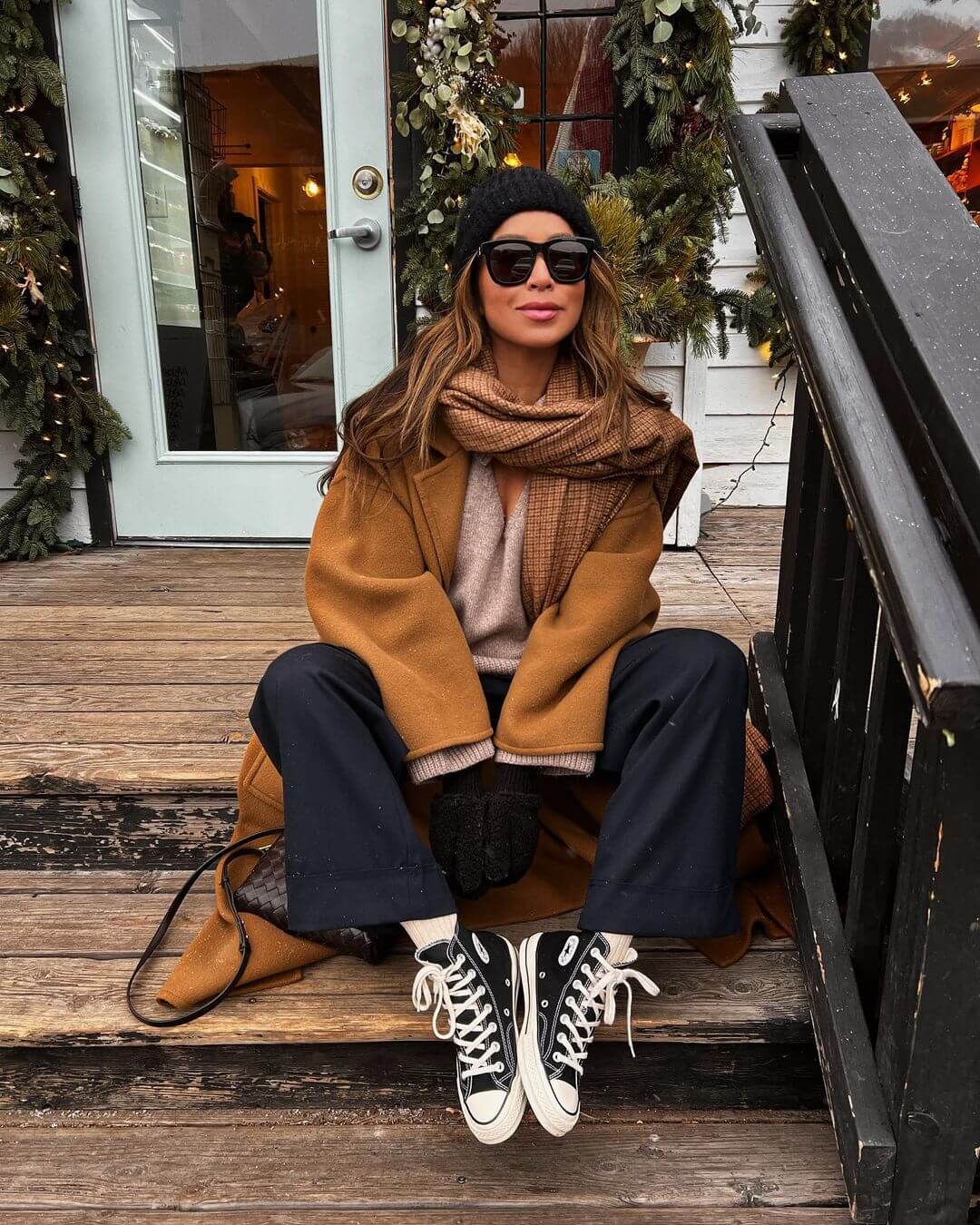 Photo via @sincerelyjules
4) Loose and Unbothered
One of the best ways to stay comfortable when traveling to a winter wonderland is to drip in oversized fits. We're talking lofty coat, supersized sweater, and sweeping pants! Lucky for us, the loose and slouchy look continues to trend upwards. To step up the warmth factor, do not forget a beanie and scarf as both are essential accessories!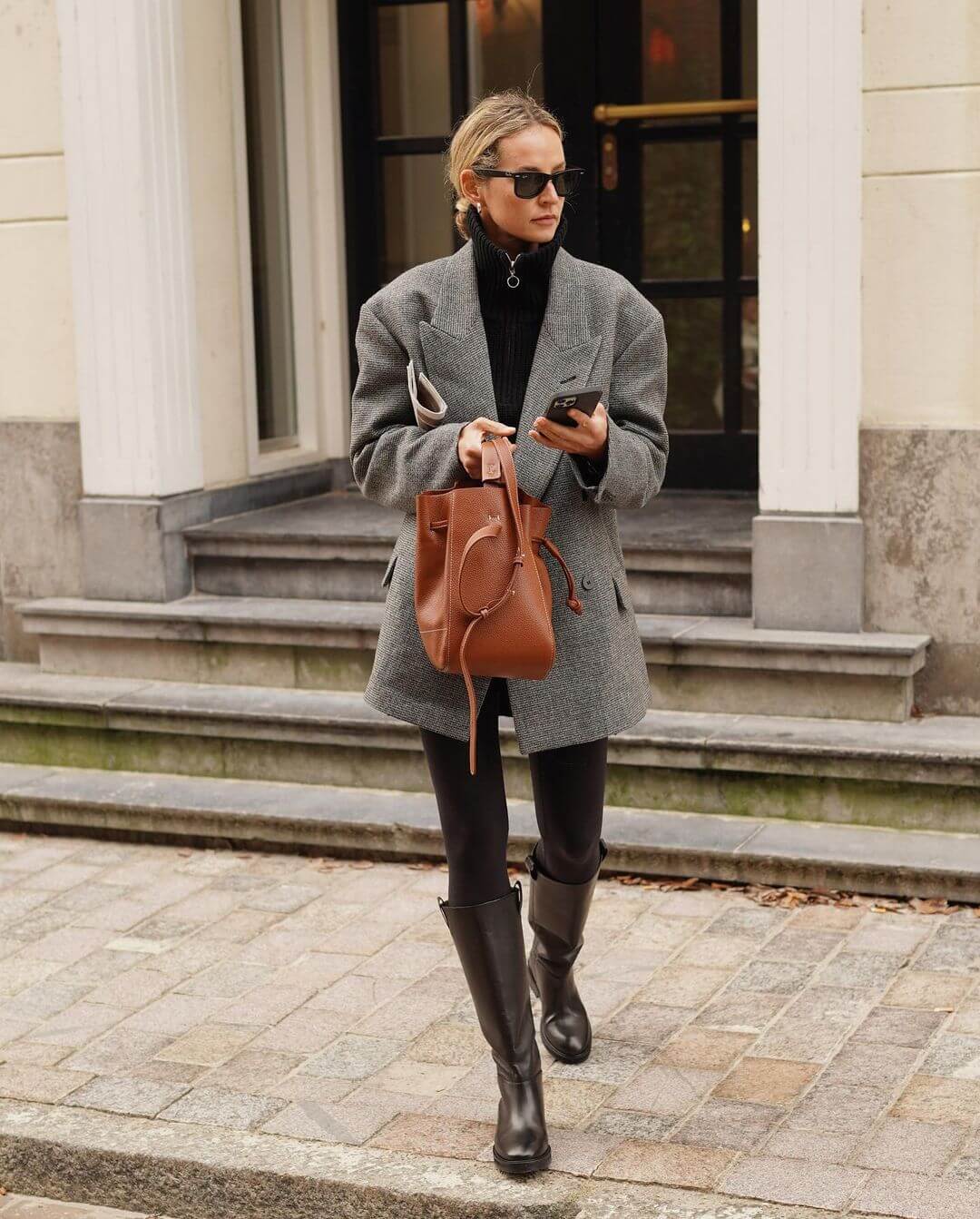 Photo via @anoukyve
5) Jet Set Blazer
We can't think of an instance where a blazer wouldn't come in handy when layering up in the wintertime. As long as you opt for a heavier fabrication like wool or boucle, this classic outerwear can be put to good use! It doesn't just act as a layer of warmth but keeps your travel outfit chic and adaptable for any situation from work to play! To style it on the go, do as Anouk did above and toss an oversized blazer over top a half-zip pullover (zipped to the top) and riding boots.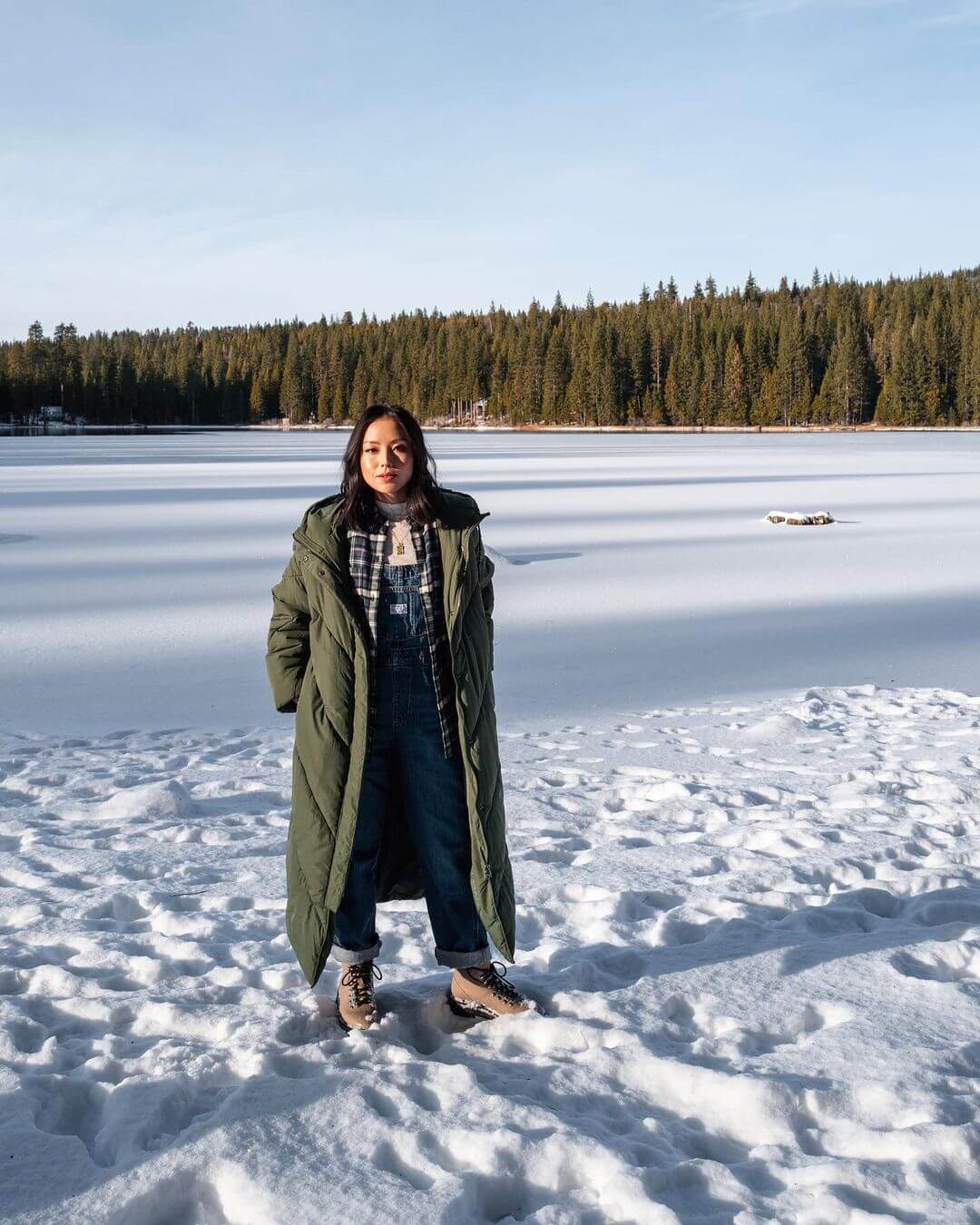 Photo via @kateogata
6) Padded Parka
For the most extreme temperatures, strategic layering is non-negotiable. Whether you are stacking three different tops over two pairs of pants, the most important thing you'll need is a sturdy winter coat to protect you from the harshest of elements. Padded parkas might be pricey but they're well worth the investment.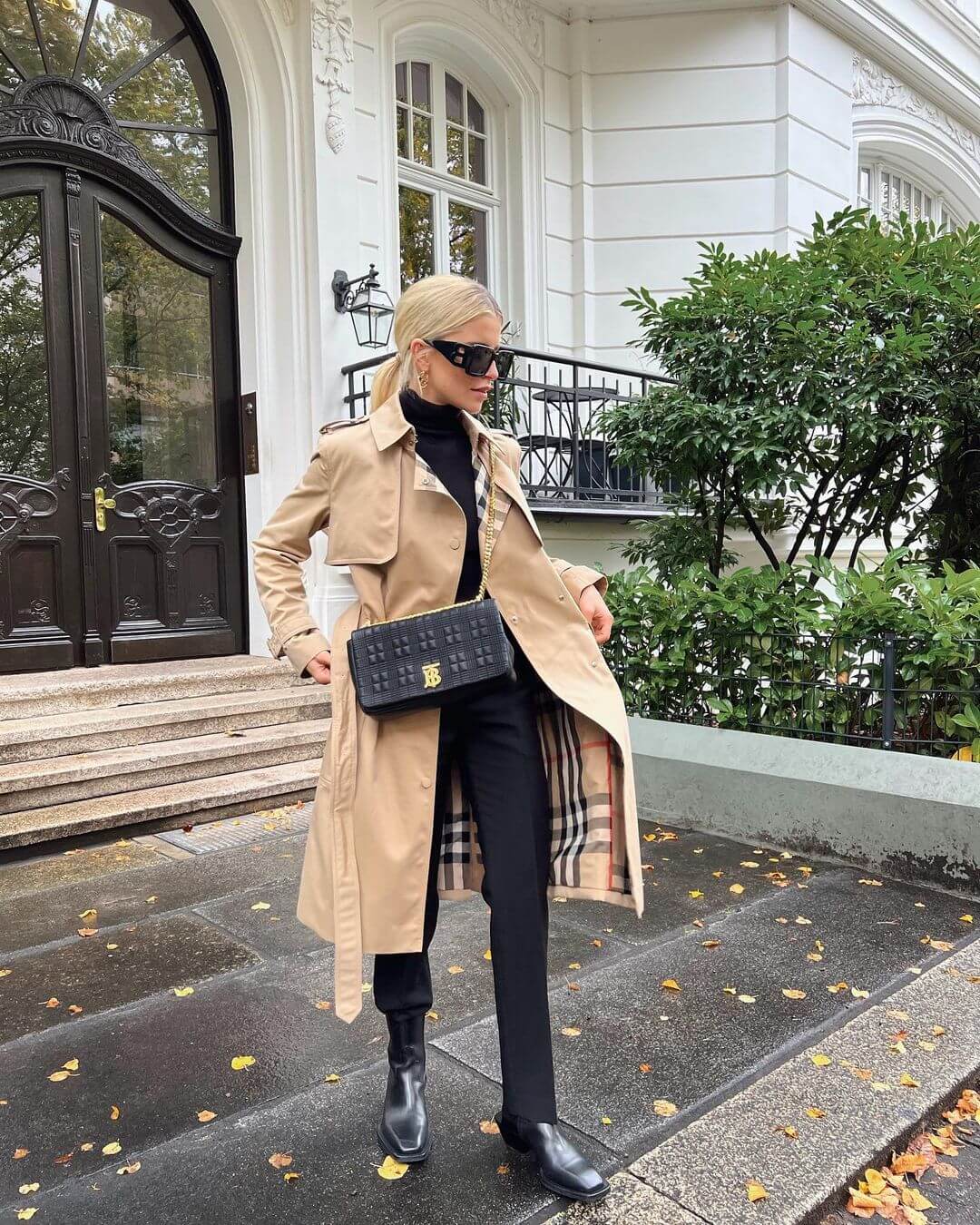 Photo via @carodaur
7) Travel Trench
If you are embarking on milder winter travels, swap the aforementioned coat for something lighter but elevated. One of the most iconic outerwear devices is the trench coat, which is the definition of chic and timeless. Keep the rest of this winter travel outfit sleek and put together. Final touches of large sunglasses and a structured handbag will complete the look.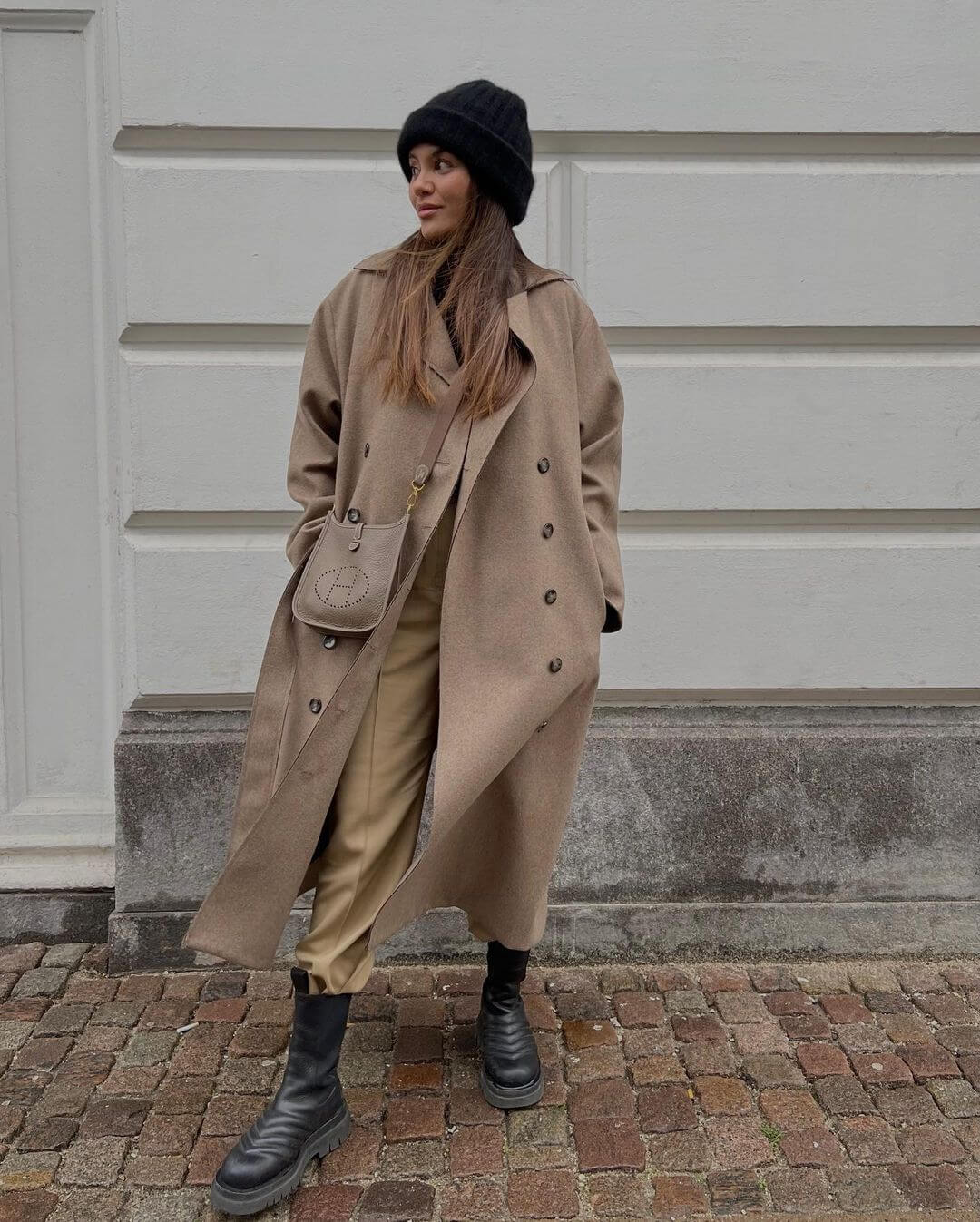 Photo via @fundachristophersen
8) Monochrome Layers
A more androgynous alternative to a winter travel outfit, this skillfully layered look nails down airport style to a tee. We love the use of chestnut brown with touches of black accessories to bring back that minimalist edge. The slick, lug sole boots are the perfect footwear choice as they're on-trend and comfortable enough to walk in all day. Bonus points go to the fact that they're also non-slip. The thoughtful crossbody bag ensures you can roam around hands-free.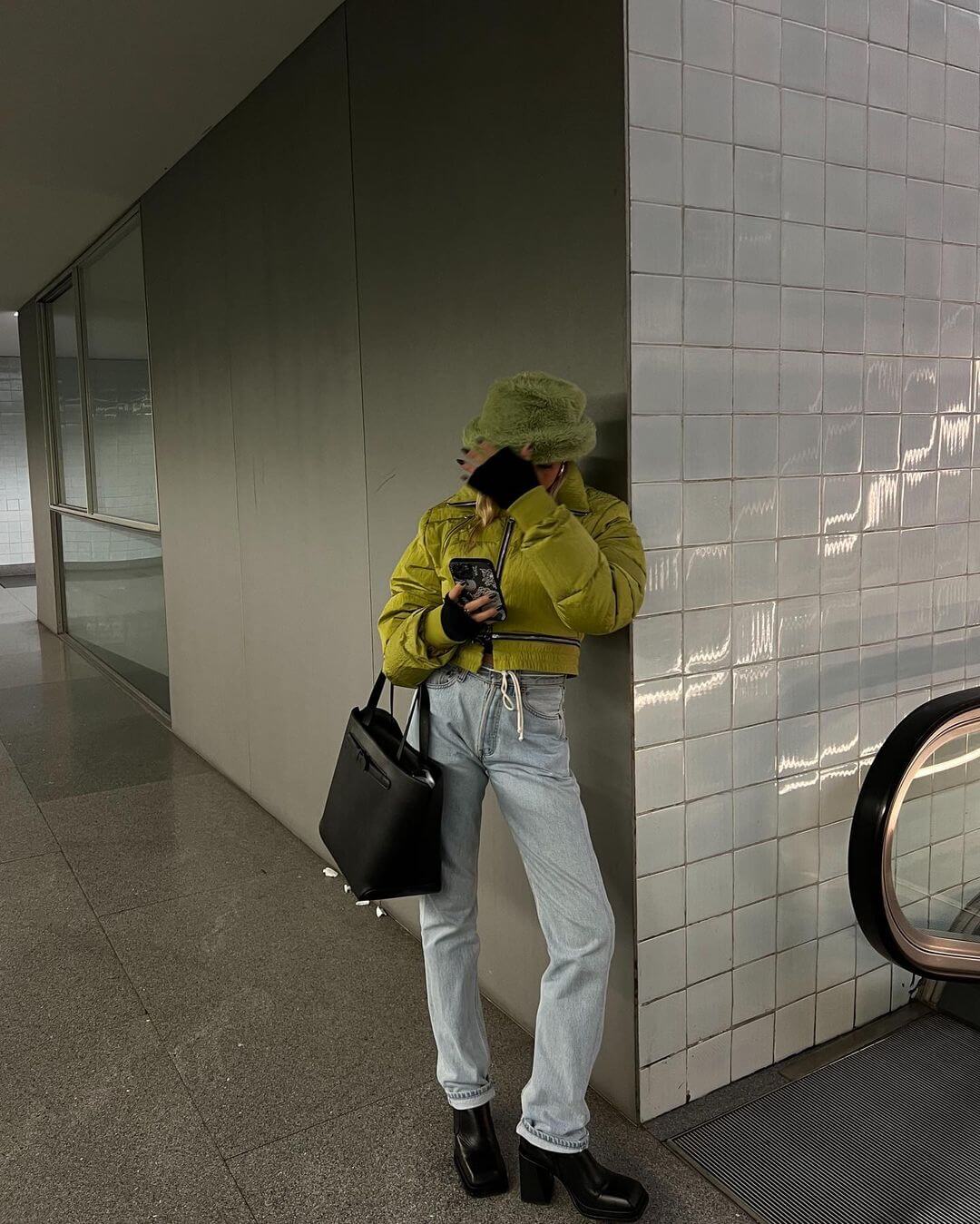 Photo via @sofiamcoelho
9) Commuter Chic
Keep your winter travel outfits stylish and commute-friendly with this spunky, fresh look. Sofia styles a neon bomber jacket with some loose, vintage inspired denim. Furthermore, she manages to match her coat perfectly with a textured hat. This faux fur cutie is not only serving up 90s vibes but it undoubtedly keeps your head warm and snug.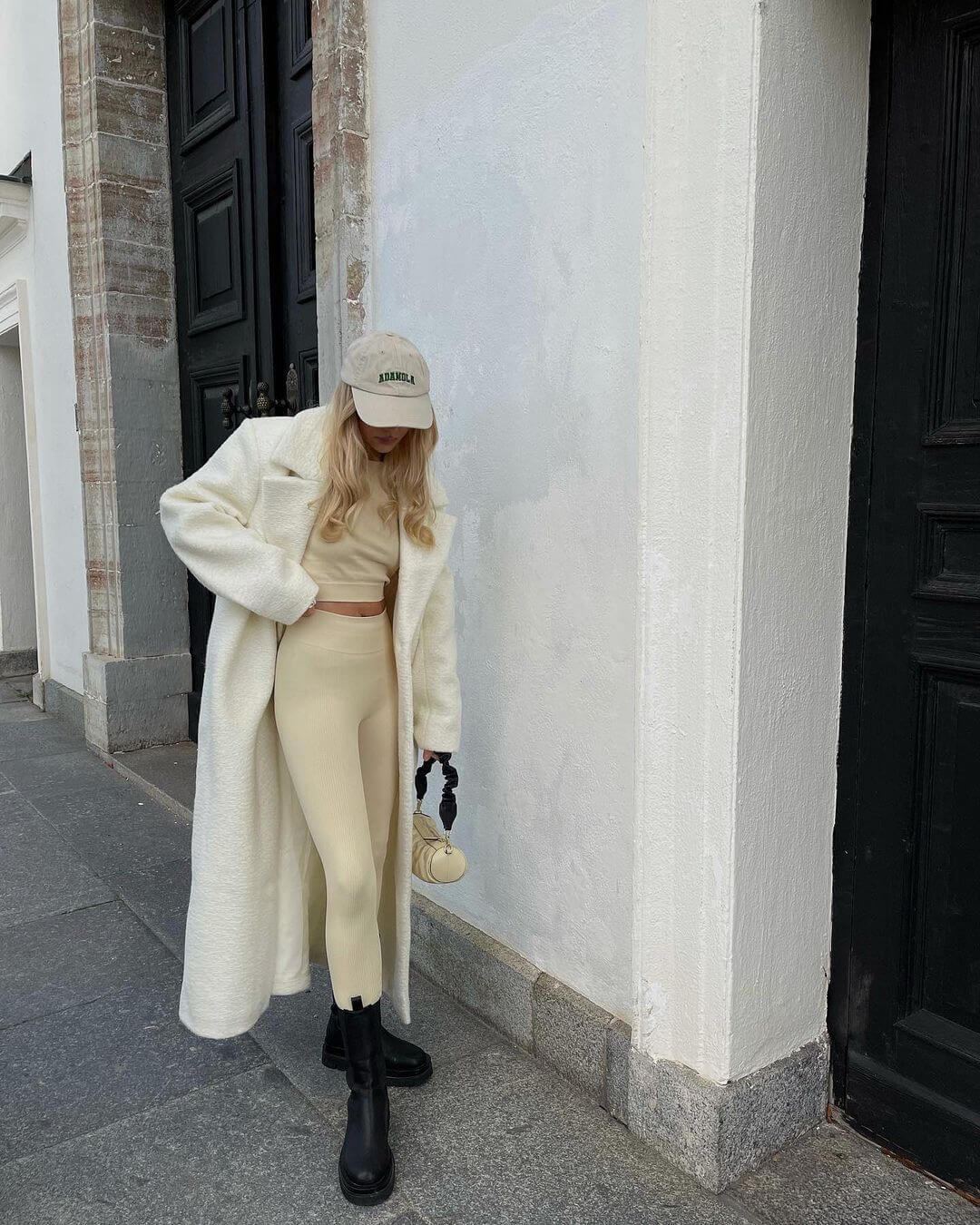 Photo via @wefelicia
10) Stay Active
We all have those days where we want nothing else but to stay in our activewear from morning to night. So let's use this opportunity as an excuse to dress up our favorite set for any winter travels ahead. Simply pair your most beloved set with a maxi coat and some practical boots that will shield you from the cold weather. Then, sprinkle on the model-off-duty vibes with a baseball cap. And there you have *chef's kiss* – activewear never looked so good!

(Visited 1 times, 3 visits today)