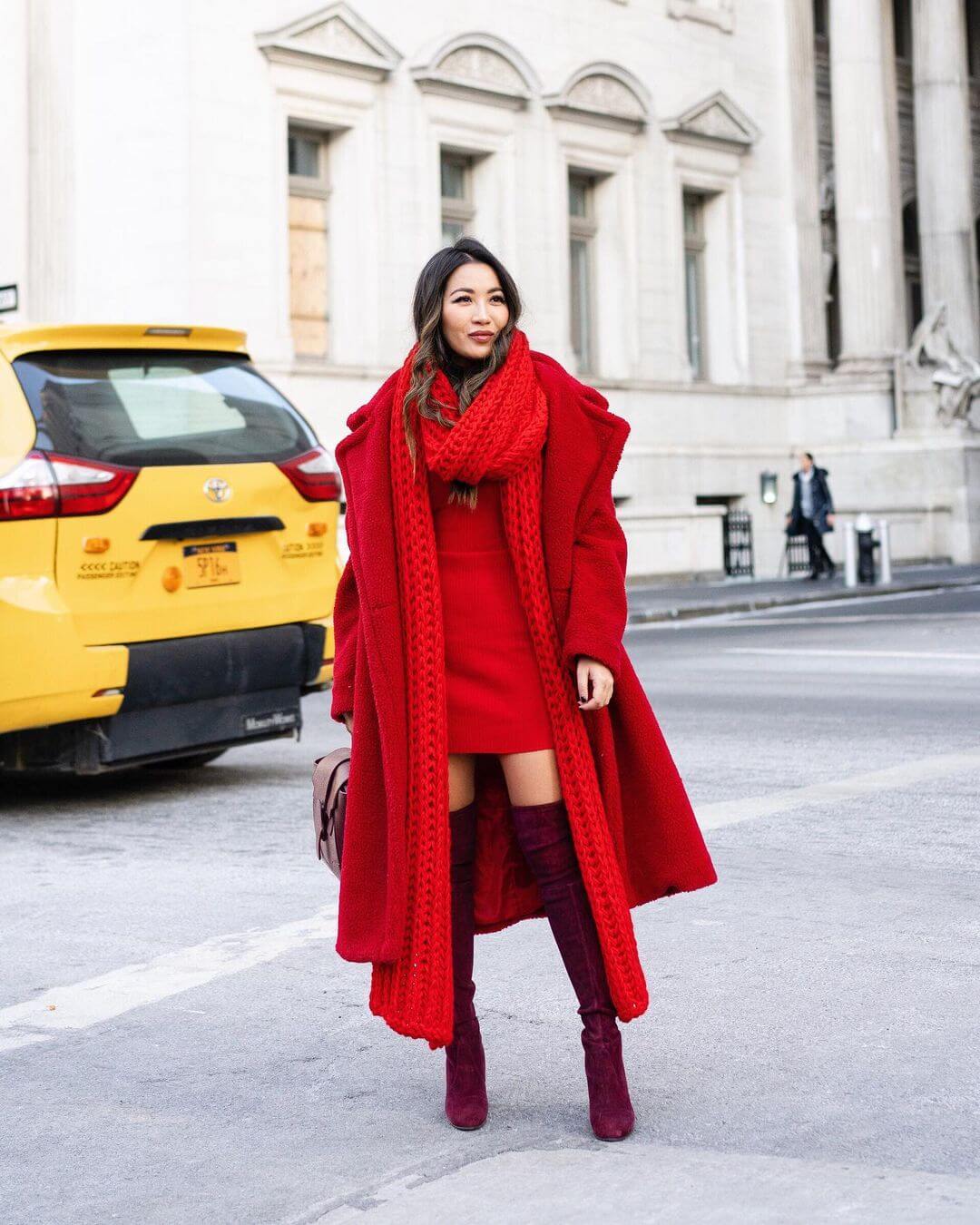 Photo via @wendyslookbook
It's the first day of December, which means the holiday season is officially upon us! There are a whole host of social gatherings at this time of year with both friends and family. While some celebrations will fall on the formal side and require you to go all out in micro dresses and heels, most will have just one requirement – comfort. That calls for low-key, relaxed fits that infuse our love for both the festive season and the coziness of plush sweaters that come with winter. We're talking warm, chic sets, glamorous sweaters and cheeky knit pairings that you can wear well into the new year. There are so many variations of knitwear looks to try whether you're grabbing dinner with friends, enjoying movie nights at home, or attending family get-togethers. To prove our case, we put together a list of 10 holiday knitwear looks you can mimic for your next celebration.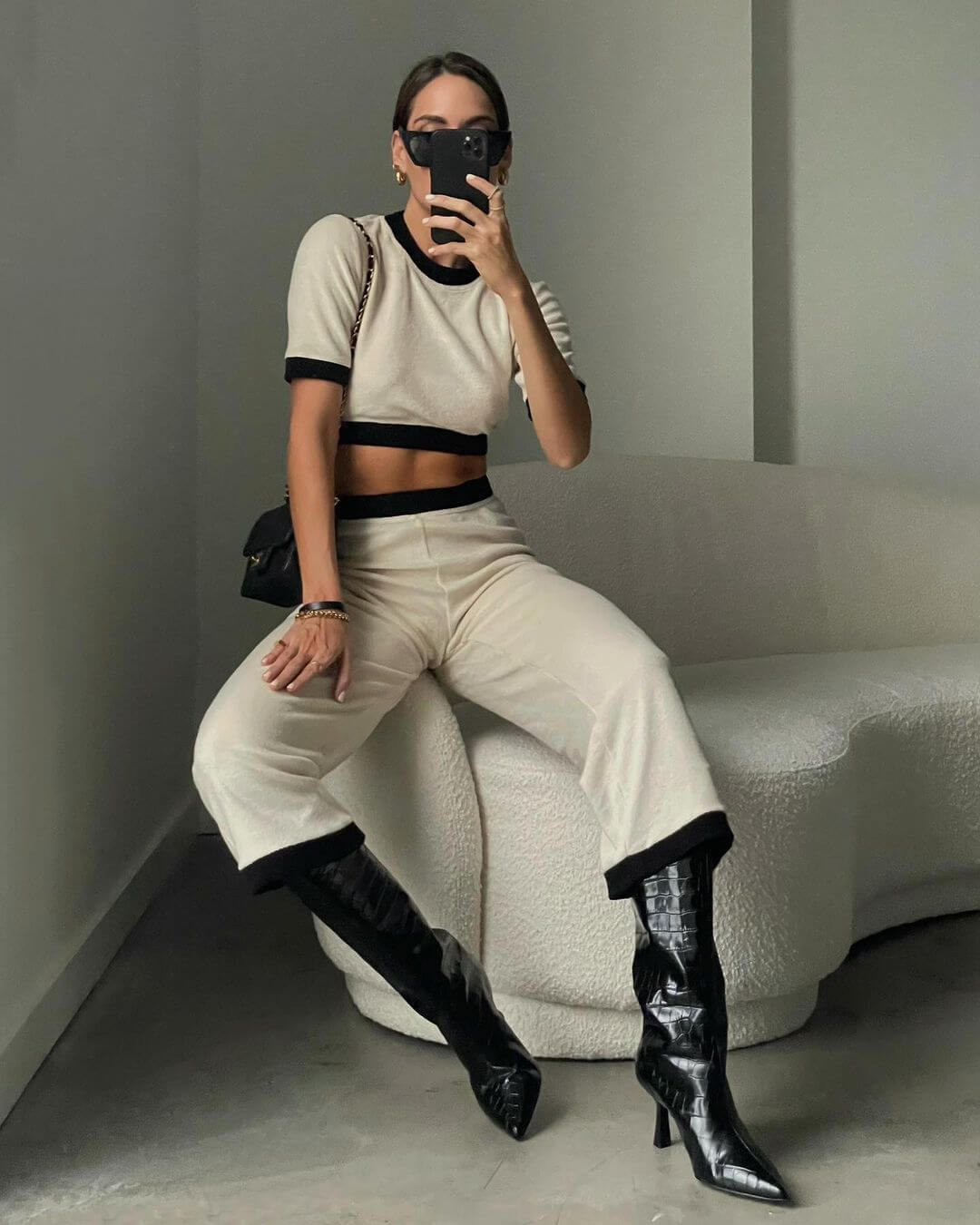 Photo via @imnotsorrydarling
1) Elevated Knit Sets
To achieve a sophisticated spin on the holiday knitwear look, we always recommend sticking to neutrals such as a beige, white, black – or anything else in between. Carolina shows how it is done by sporting a matching knit top and cropped wide leg pants. This is the epitome of stylish and polished, especially with the addition of tall croc-effect boots and a chain bag.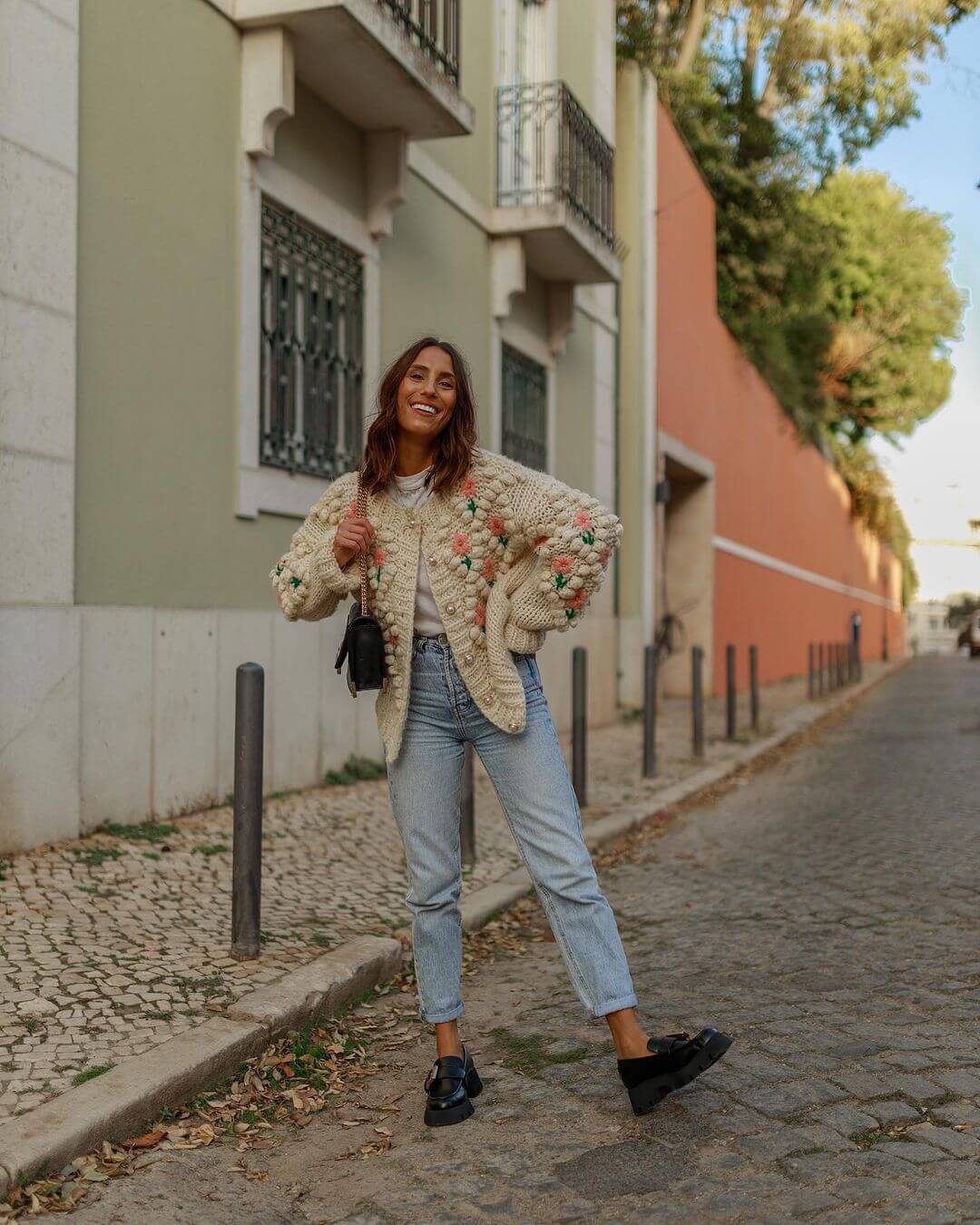 Photo via @mexiquer
2) Grandma Chic
Think ugly holiday sweater but make it cute. This grandma chic bubble knit cardigan that Sofia wears couldn't be more fitting for any casual holiday gathering! We love how she pairs it with light-washed denim, chunky loafers and a white tee for an easygoing but still playful ensemble. When shopping for vintage-inspired sweaters, keep a strong eye out for details like embroidery and pearl embellishments to make the most visual impact.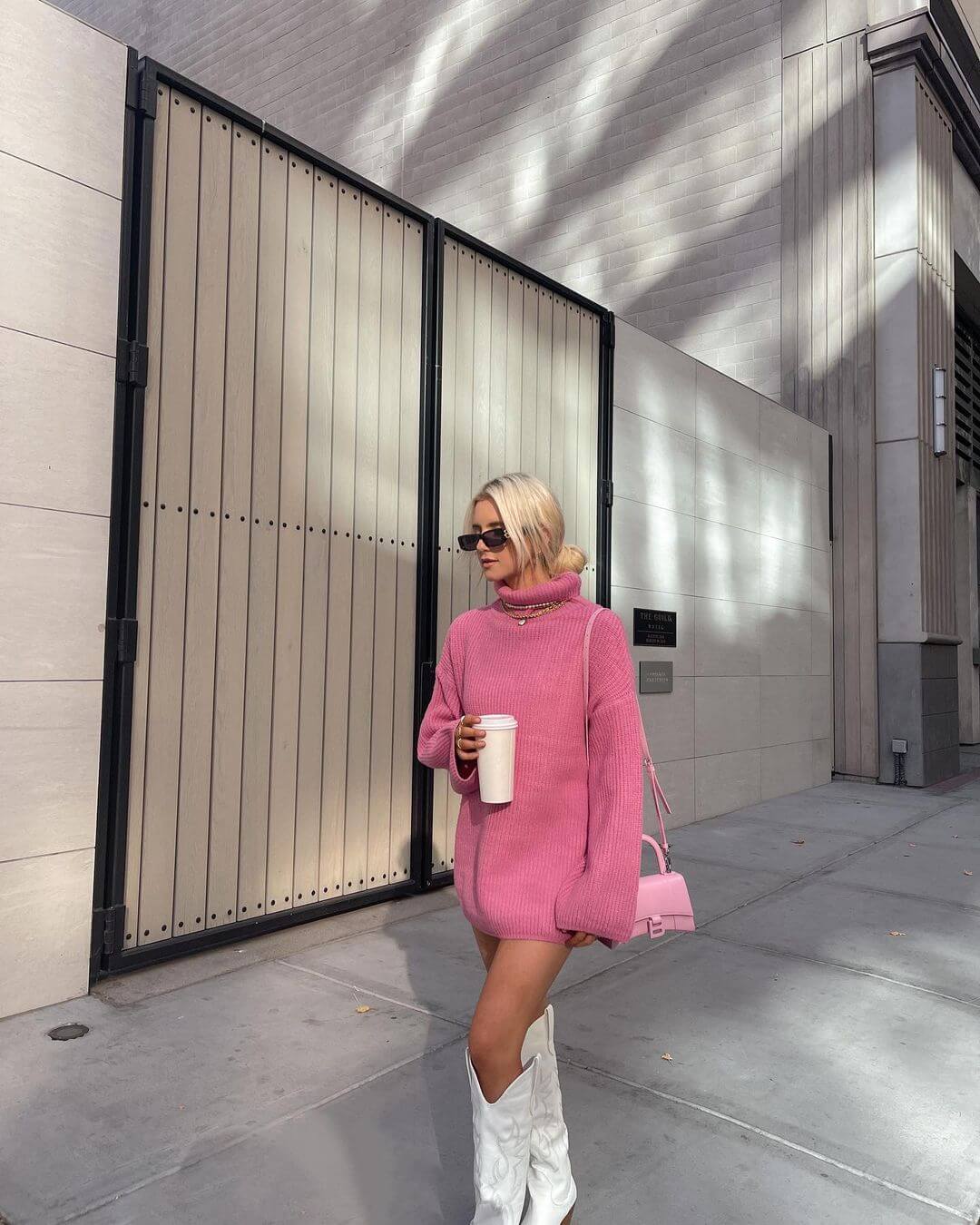 Photo via @shestyledwhat
3) Sweater Dresses
For a slightly more dressed up version of the holiday knitwear movement, one piece that never fails to impress is the sweater dress. It's such a no brainer when paired with tall boots. Don't be afraid to switch it up this season with an off-beat color like bubble gum pink – that alone does most of the talking. All you need to decide is what shoe to slip into! We're crushing hard on non-traditional options like white cowboy boots.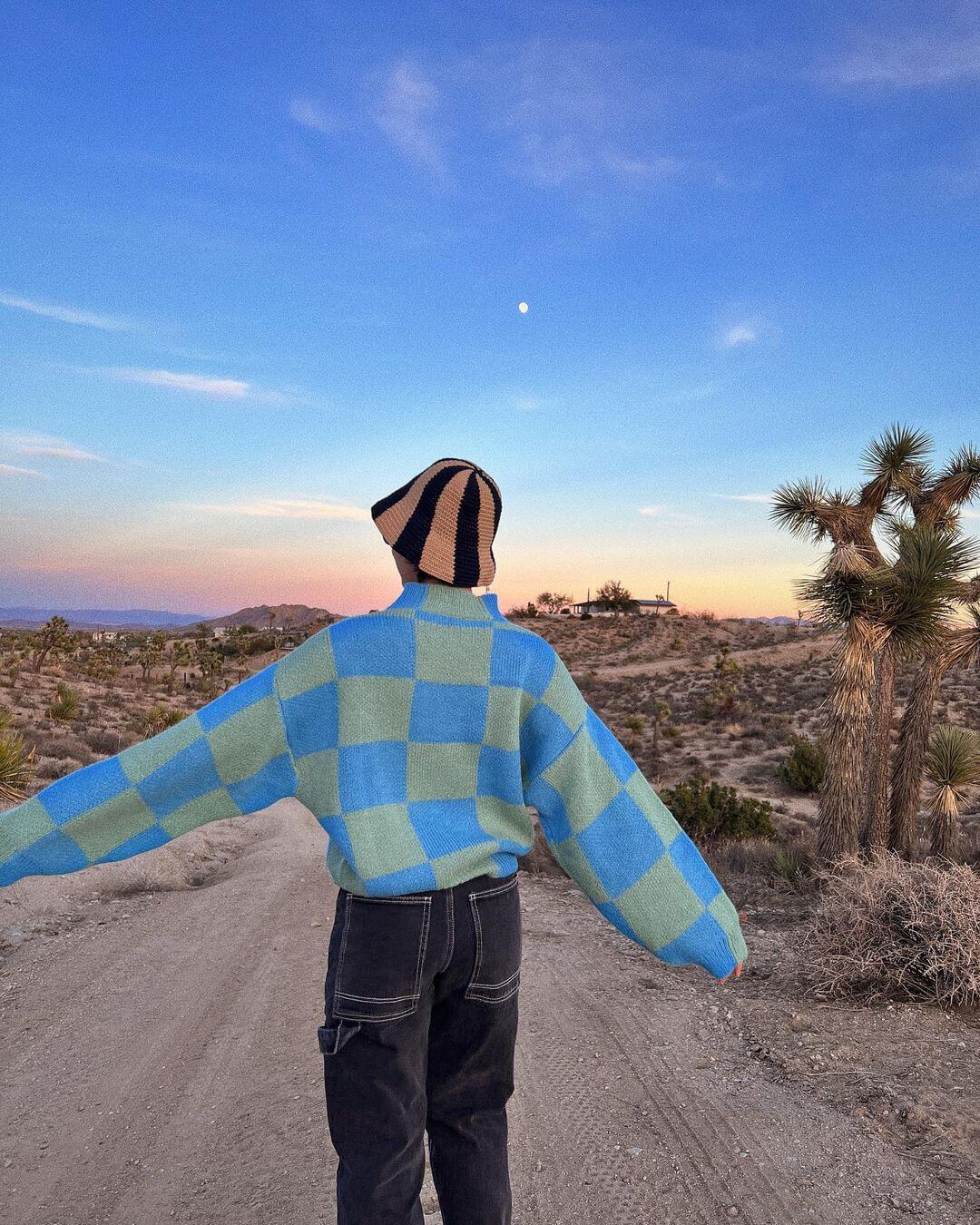 Photo via @alyssainthecity
4) Graphic Knits
Looking for something fun with a heavy Y2K influence? Graphic designs are the new-age twist that puts a youthful twist on your holiday knitwear looks. In particular, we are seeing a huge demand for novelty prints like checkerboard, fair isle, and supersized groovy florals. Take your pick of prints and create a relaxed look fit for the girl who is always on top of emerging trends.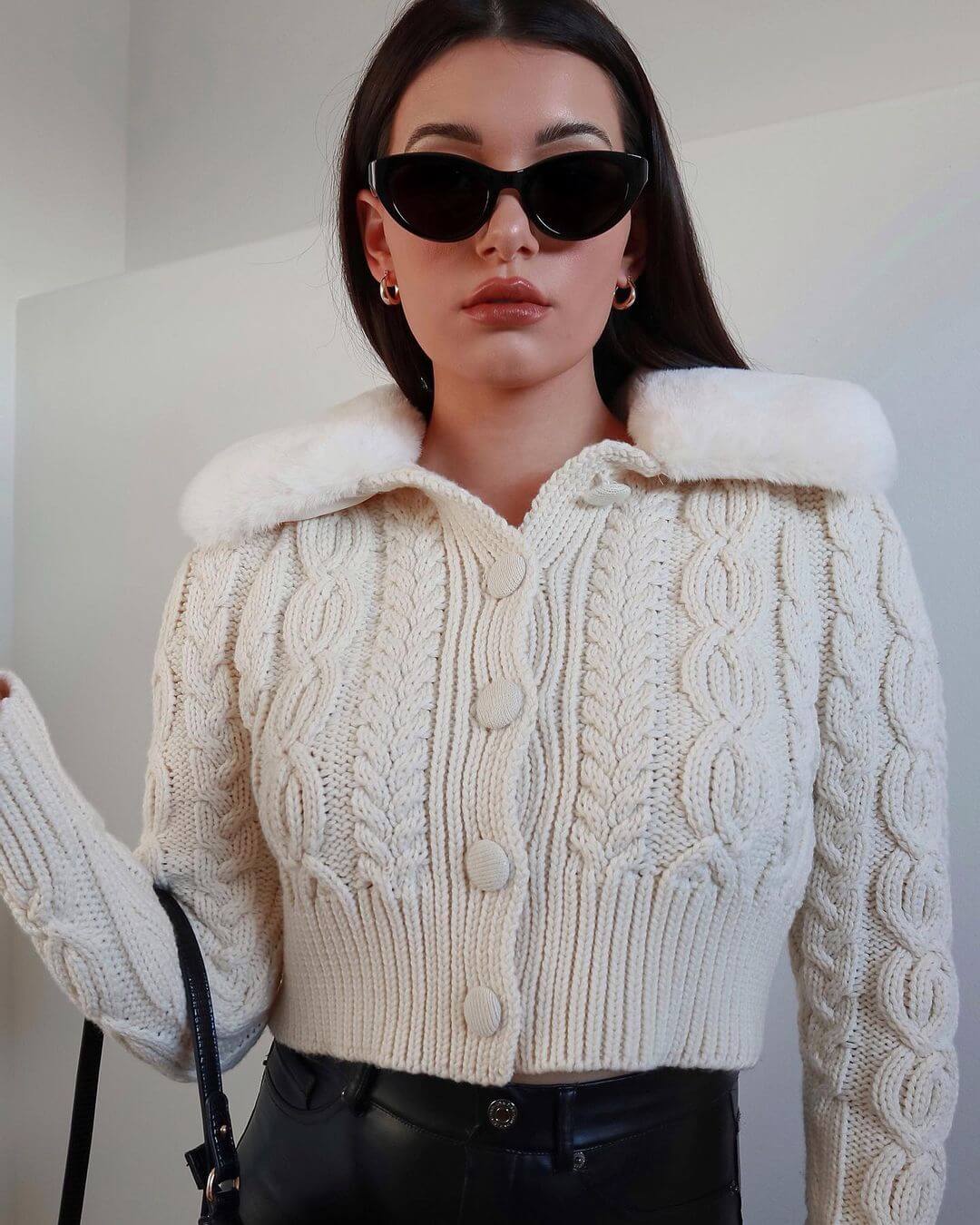 Photo via @raindaisyy
5) Furry Trims
Switch up your typical cable knit cardigan for Christmas with one that features faux fur trims. The statement accent revamps this classic silhouette to instantly exude nothing but glam. Faux fur trimmed knits are sophisticated yet luxe, making it a heavy hitter for those who want to take their holiday knitwear looks to the next level. As for what to style it with, consider high-waisted faux leather pants or a plaid mini skirt.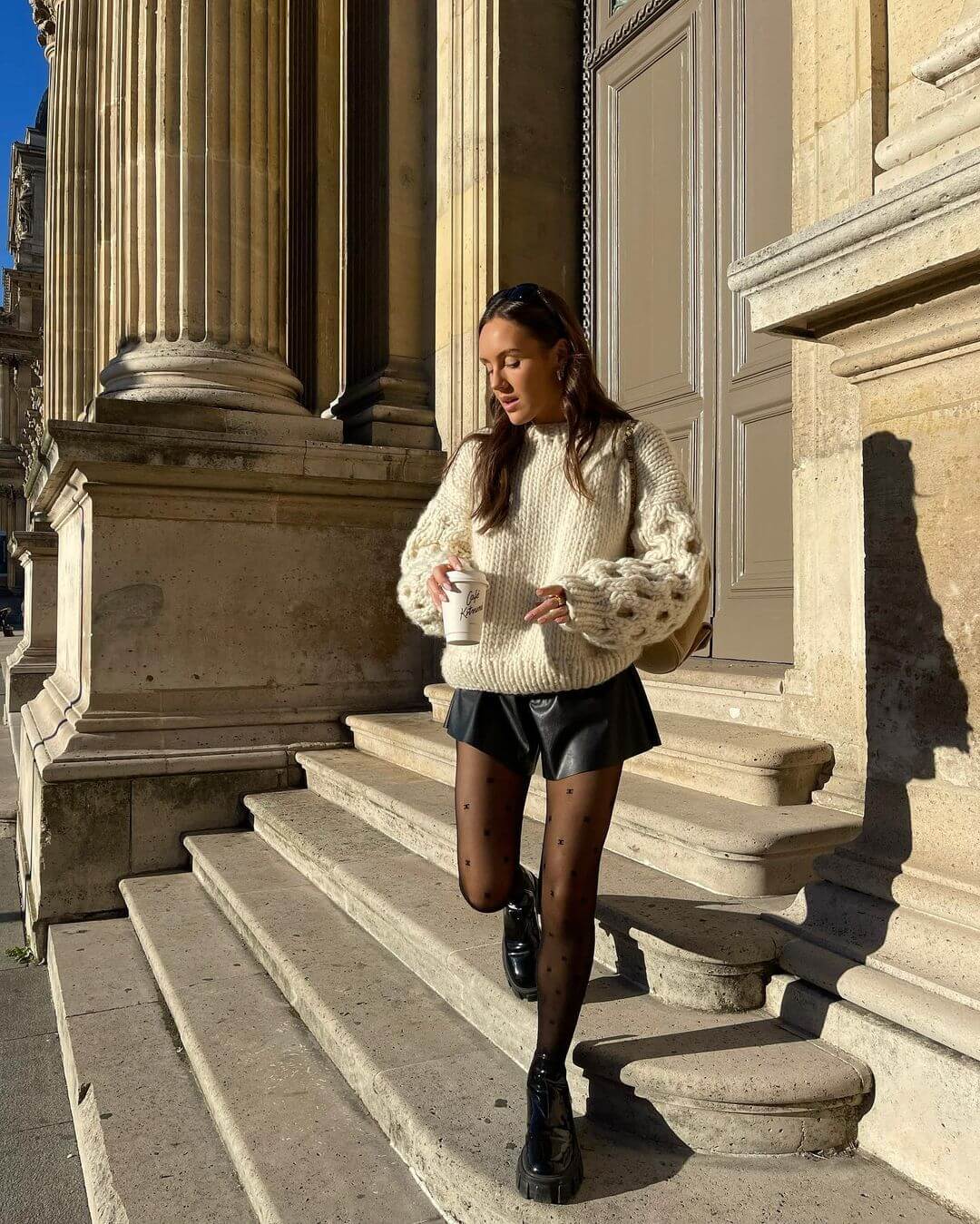 Photo via @emmaleger
6) Larger Than Life Sleeves
Of course, no one can argue that the coziest sweater option involves chunky textures and oversized sleeves. Style your chunkiest sweater with sleek leather shorts and printed tights to balance out the voluminous top. Then, round it out with chunky ankle boots and a feminine headband.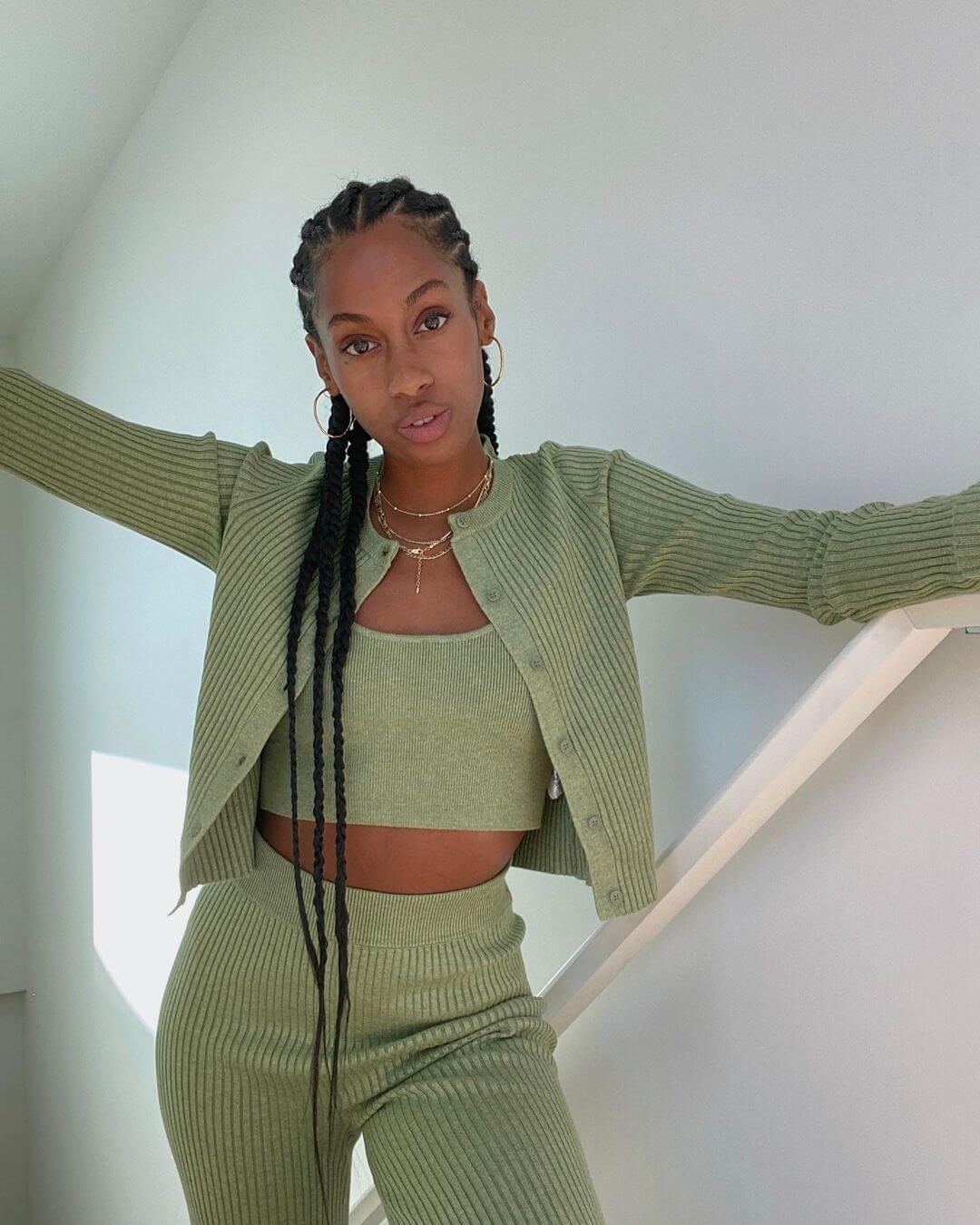 Photo via @claire_most
7) Three Piece Sets
Matching knits sets in the winter are not groundbreaking by any means. However, you could take it up a notch by rocking a 3-piece monochromatic set – or mixing and matching your ribbed knits for a less structured aesthetic. It looks even better when you go for pops of color like green, orange or pink. Consider this your dressed up alternative to loungewear.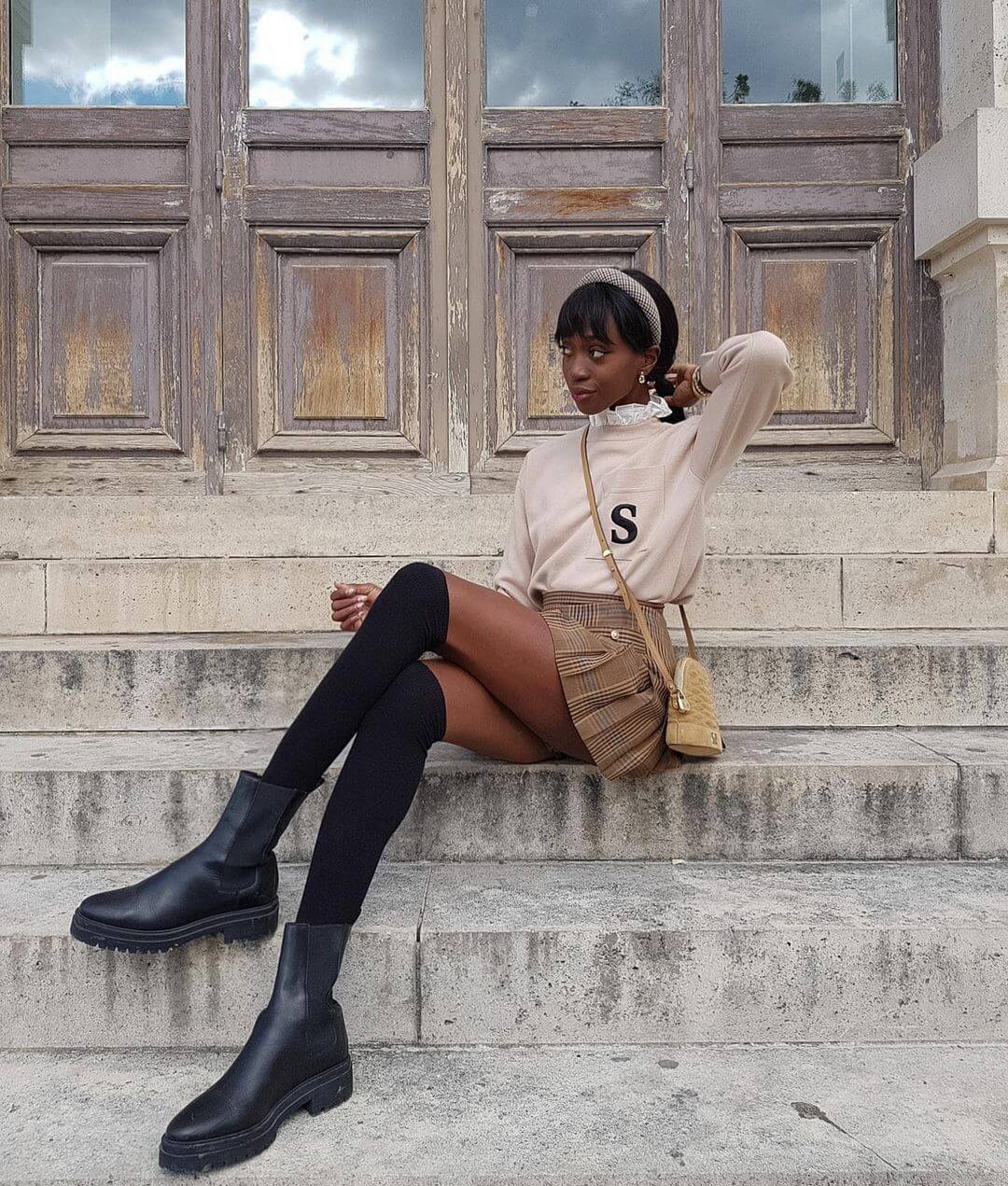 Photo via @emmanuellek_
8) School Girl Effect
Put a collegiate spin on your holiday knitwear looks by taking style notes from Emmanuelle. She goes all out with knee-high socks and a pleated plaid skirt. But the detail we love most is the ruffled, lace turtleneck sticking out from underneath her sweatshirt. Gossip Girl would be proud!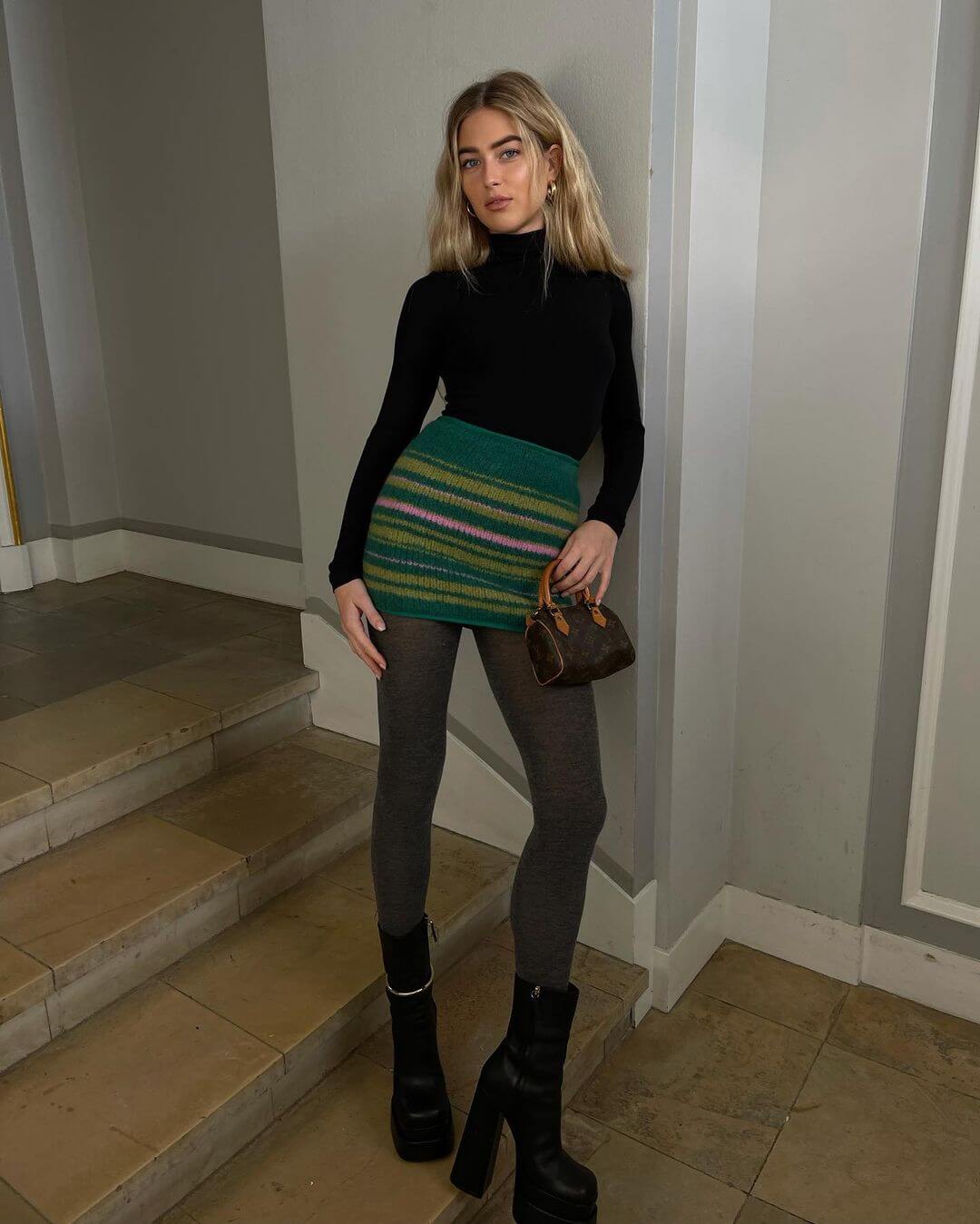 Photo via @emilisindlev
9) Knitted Mini
Mini skirts aren't the first thing that come to mind when it comes to holiday dressing in the frigid cold. But, but that doesn't mean you have to sacrifice your favorite trends of the season. A fuzzy mini skirt with warm knit tights bring the holiday vibes to new heights. Best of all, this look keeps your legs toasty in the process, especially when you throw platform boots into the mix.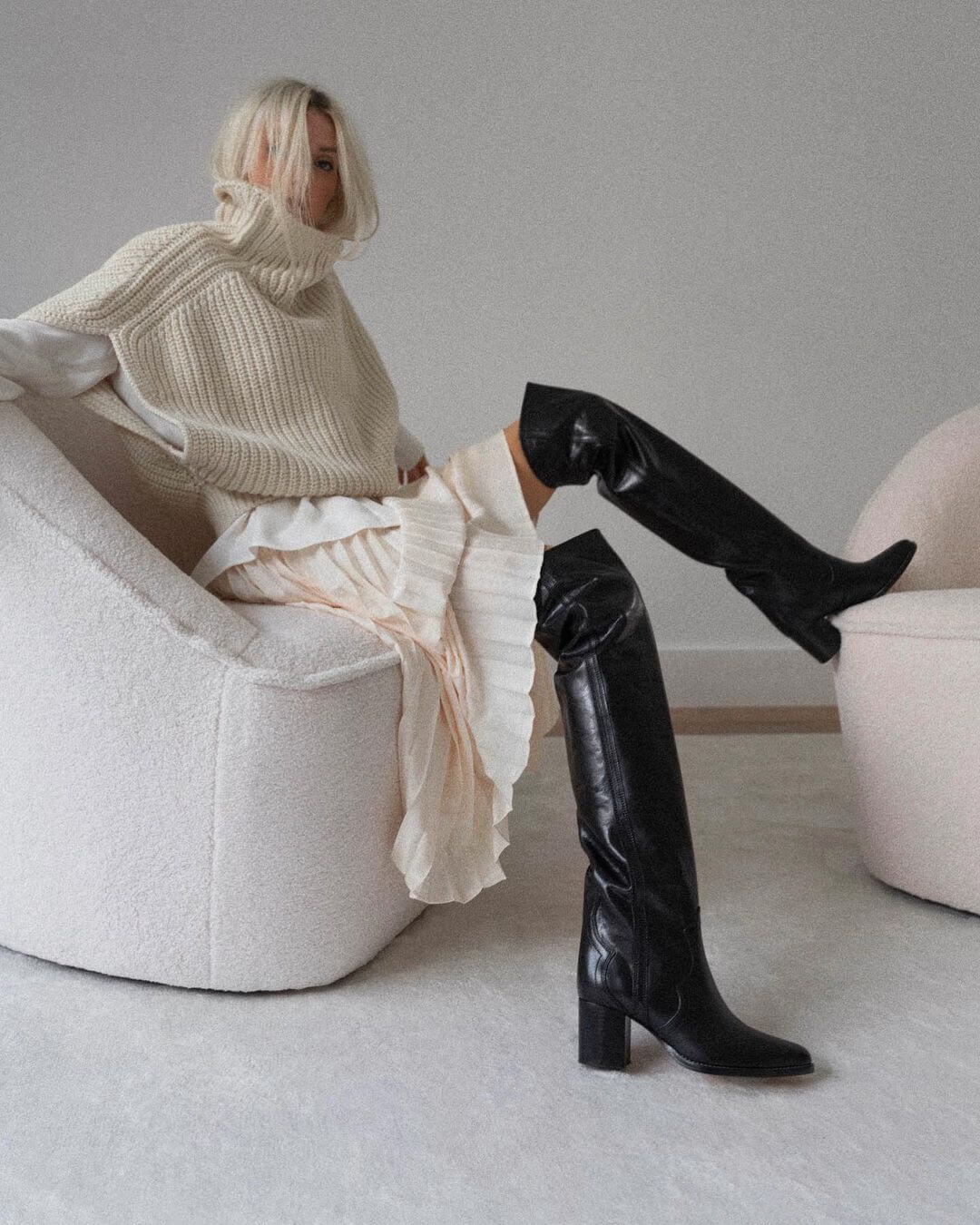 Photo via @figtny
10) The Best Vest
To wrap up our collection of holiday knitwear looks, we leave you with this immaculately layered outfit. You cannot talk knits this year without mentioning the likes of a sweater vest. These days, this layering device is an essential part of every cold weather wardrobe. While there's no end to styling it, this look in particular is sure to make others do a double take. Recreate it with a pleated skirt, slouchy over-the-knee boots and a button-down top underneath the vest.

For anyone keeping their celebrations super chill but still want to incorporate inklings of the latest trends, these holiday knitwear looks will surely impress. They're festive as they are comfortable to celebrate in all month long.
(Visited 1 times, 1 visits today)