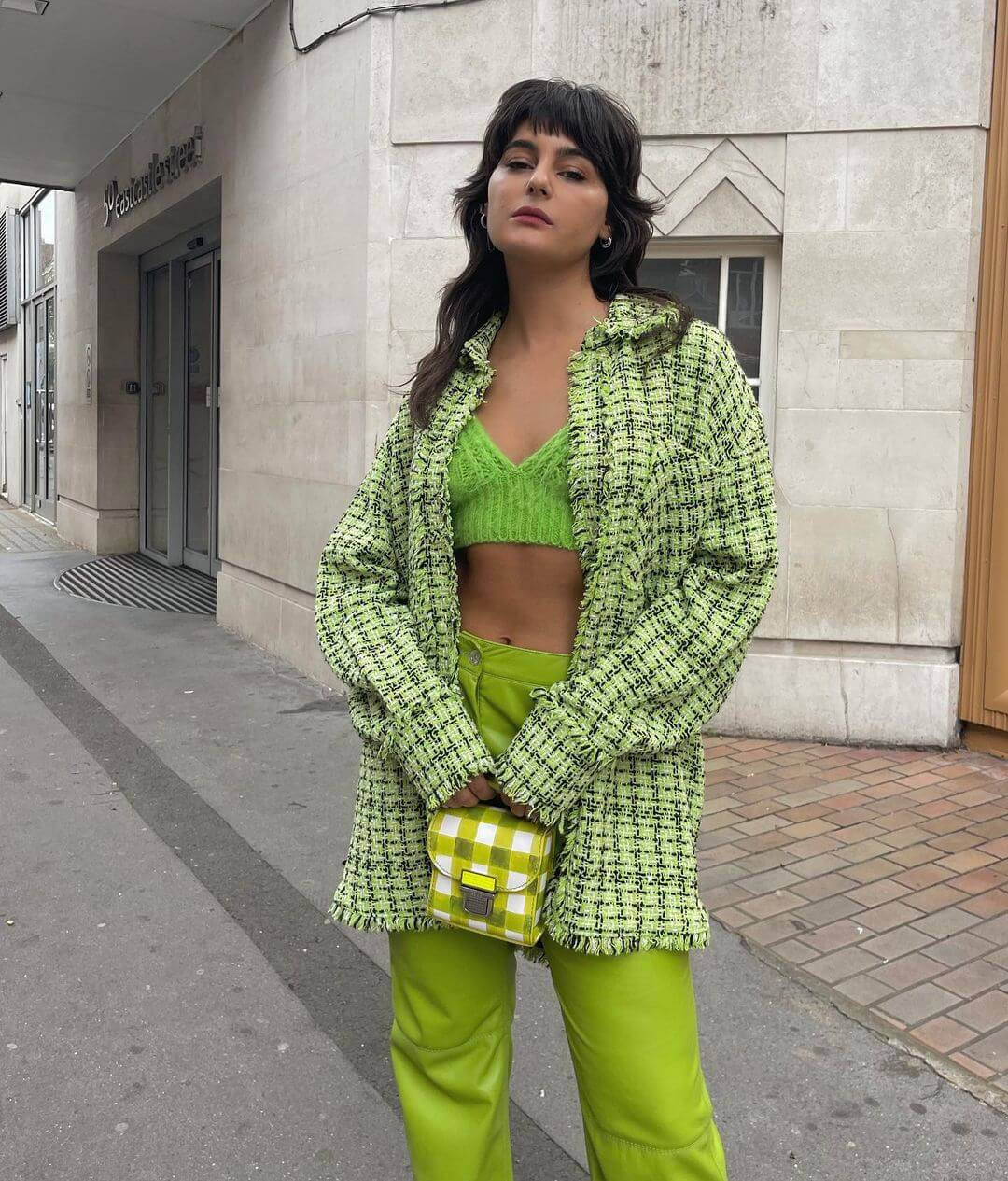 Photo via @maria_bernad
If there's one lesson we have learned since the inception of the new year, it's the fact that green is no longer a color you can ignore. This in-demand hue has been everywhere and there is no stopping its force anytime soon. In fact, we predict that green will continue to thrive as we sift through the different seasons. With your favorite luxury designers and high street brands are on board, you can expect to find a slew of clothes, accessories and footwear in both earthy, muted shades and vibrant, mood-boosting tones. Now that we can collectively consider green more of a necessary neutral, how does one go about seamlessly introducing it into their wardrobe? Well, we have 10 fashion forward ideas that will undoubtedly make you green with envy. Keep reading to unveil 10 stylish ways to wear the green fashion trend.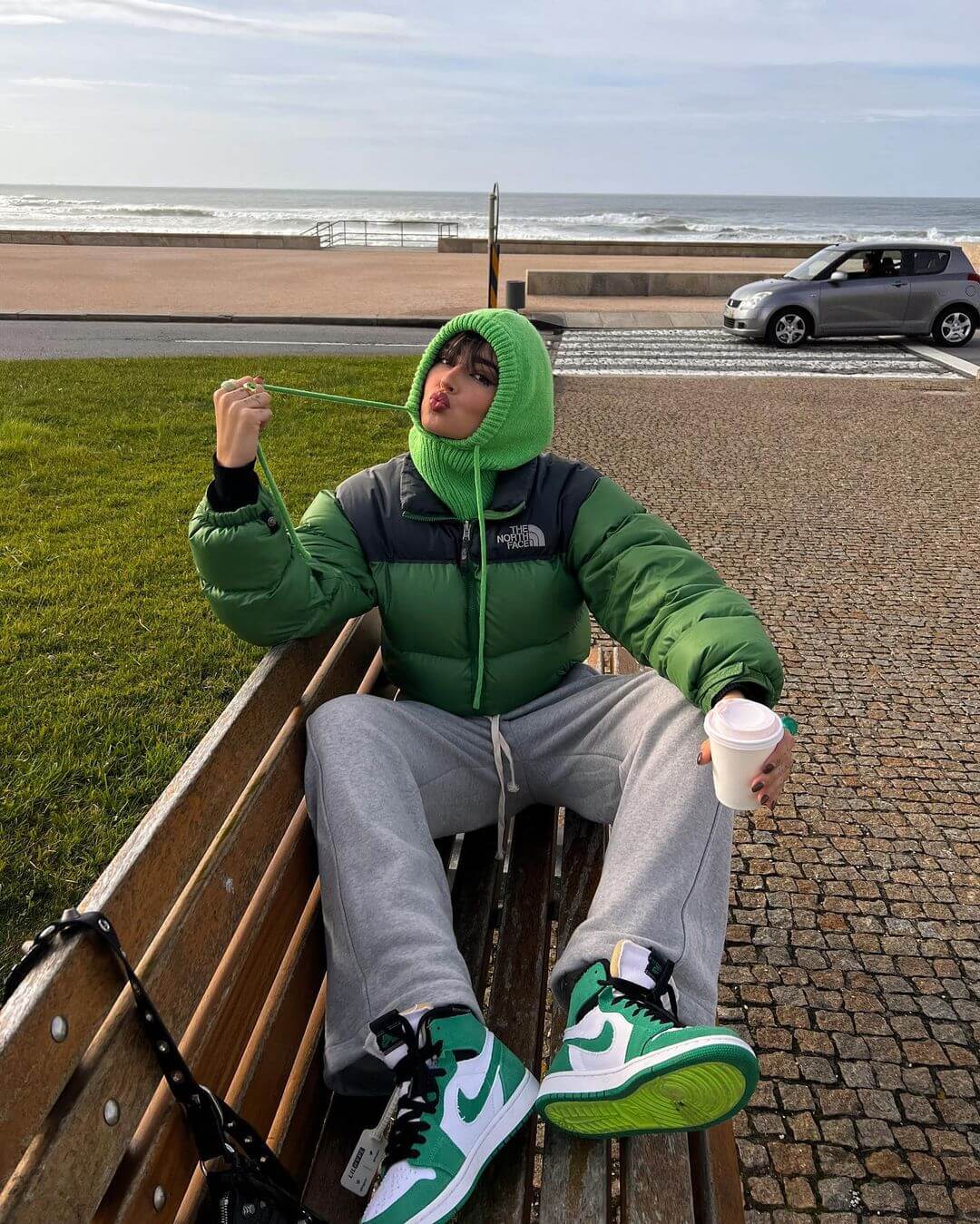 Photo via @irisloveunicorns
1) Geared Up For Winter
It's only the third week of January, but by this point in the month, it's safe to say that many of us are growing tired of bundling up in the same winter layers. Fortunately, green allows us to switch it up and keep things fresh. A punchy puffer jacket and striking green sneakers are key to achieving an effortless street style outfit when it's freezing out.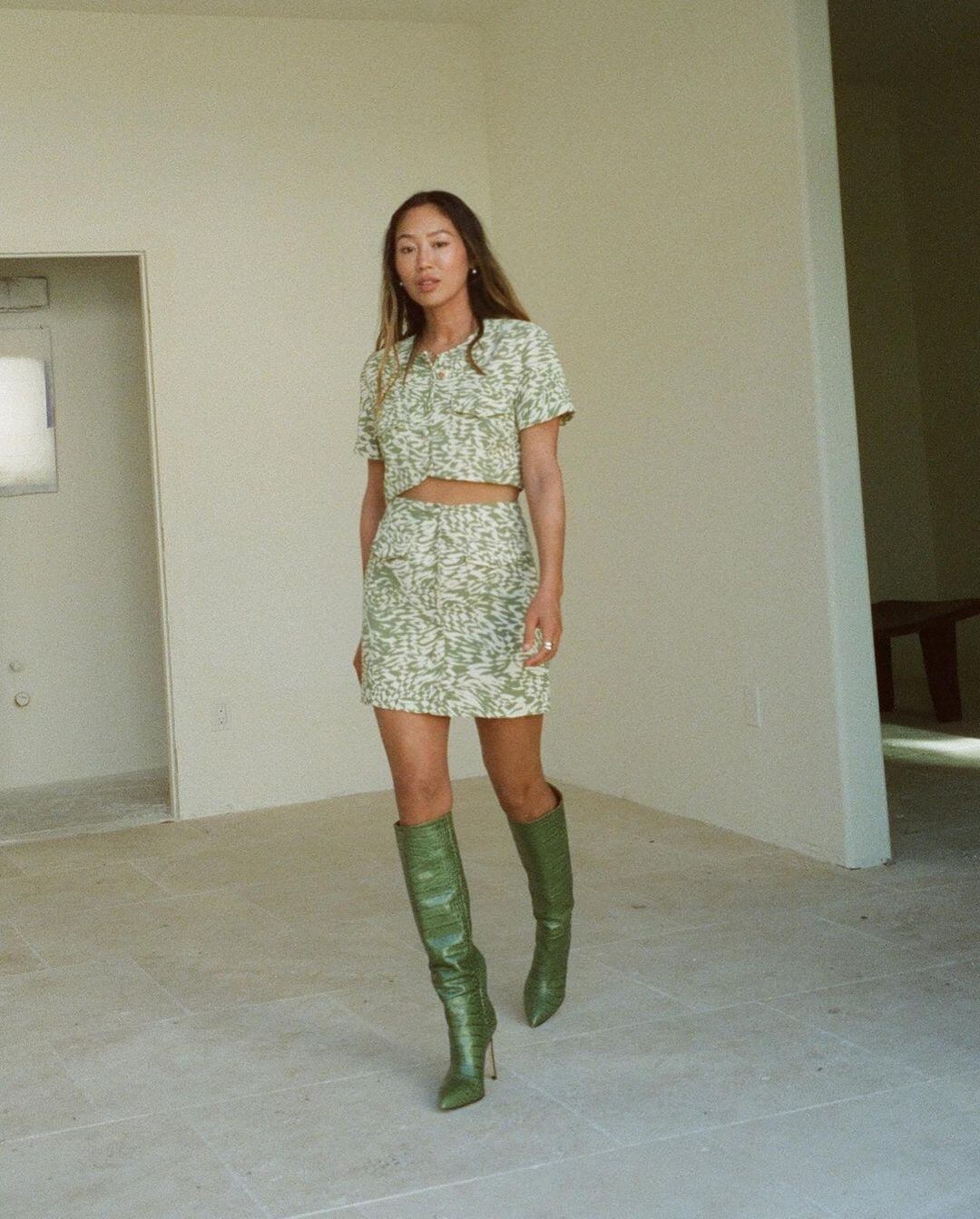 Photo via @aimeesong
2) Boot Envy
Sneakers not really your vibe? No worries, green happens to look just as good on any footwear silhouette. Just take a peak at Aimee's tonal green outfit for proof. Obviously the matching set with the allover green pattern fits the requirement – but the coordinating sage-colored knee-high boots are what we have our heart eyes set on. Green shoes have never looked chicer!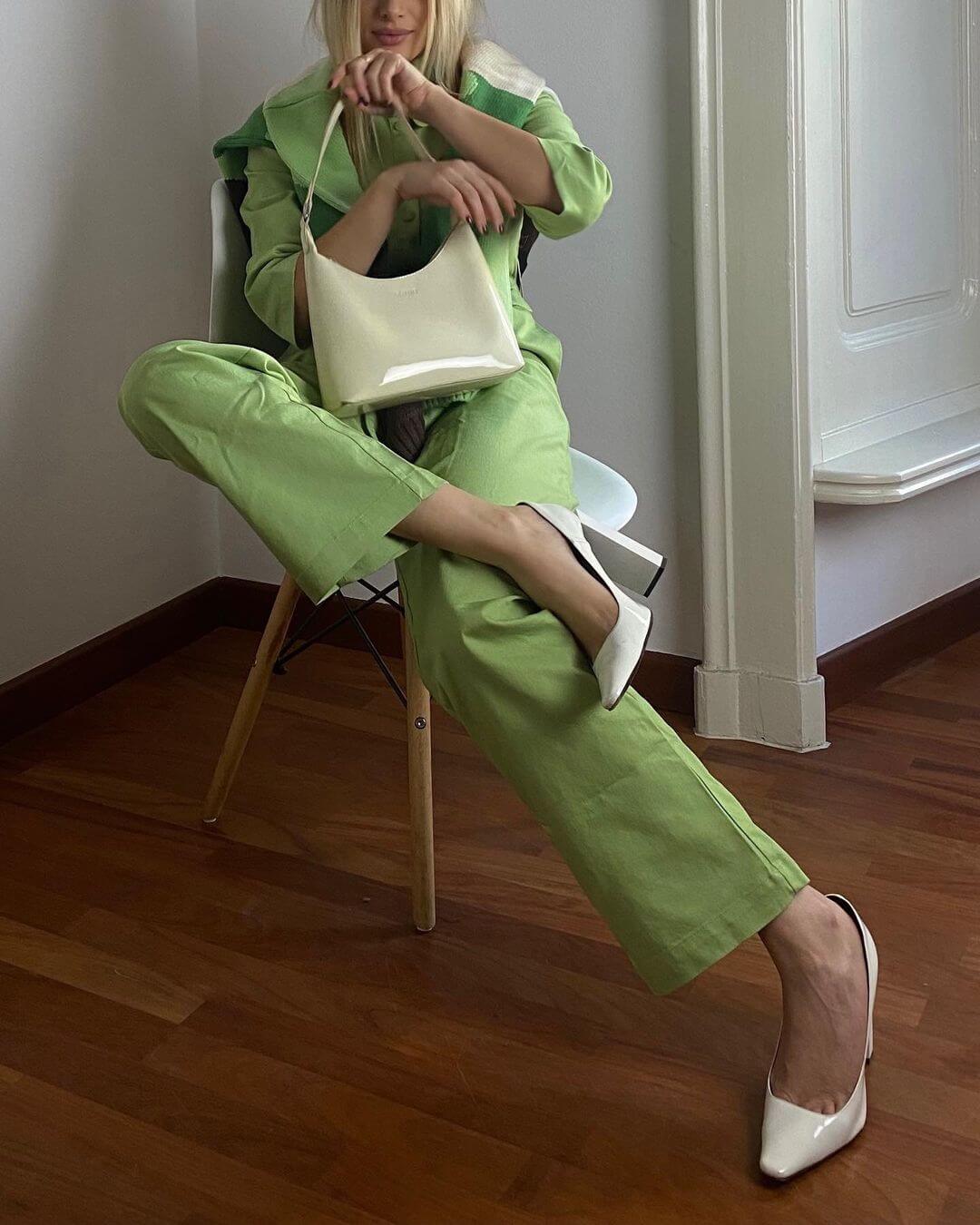 Photo via @cristinamusacchio
3) One Piece Wonder
When in doubt, one of the best ways to jump into a brand new color is to go all out and opt for a monochromatic moment. Make it easy on yourself and choose just one item like this celery green jumpsuit. The addition of the white pumps make it look more sophisticated than ever, putting a refreshing spin on the green color trend.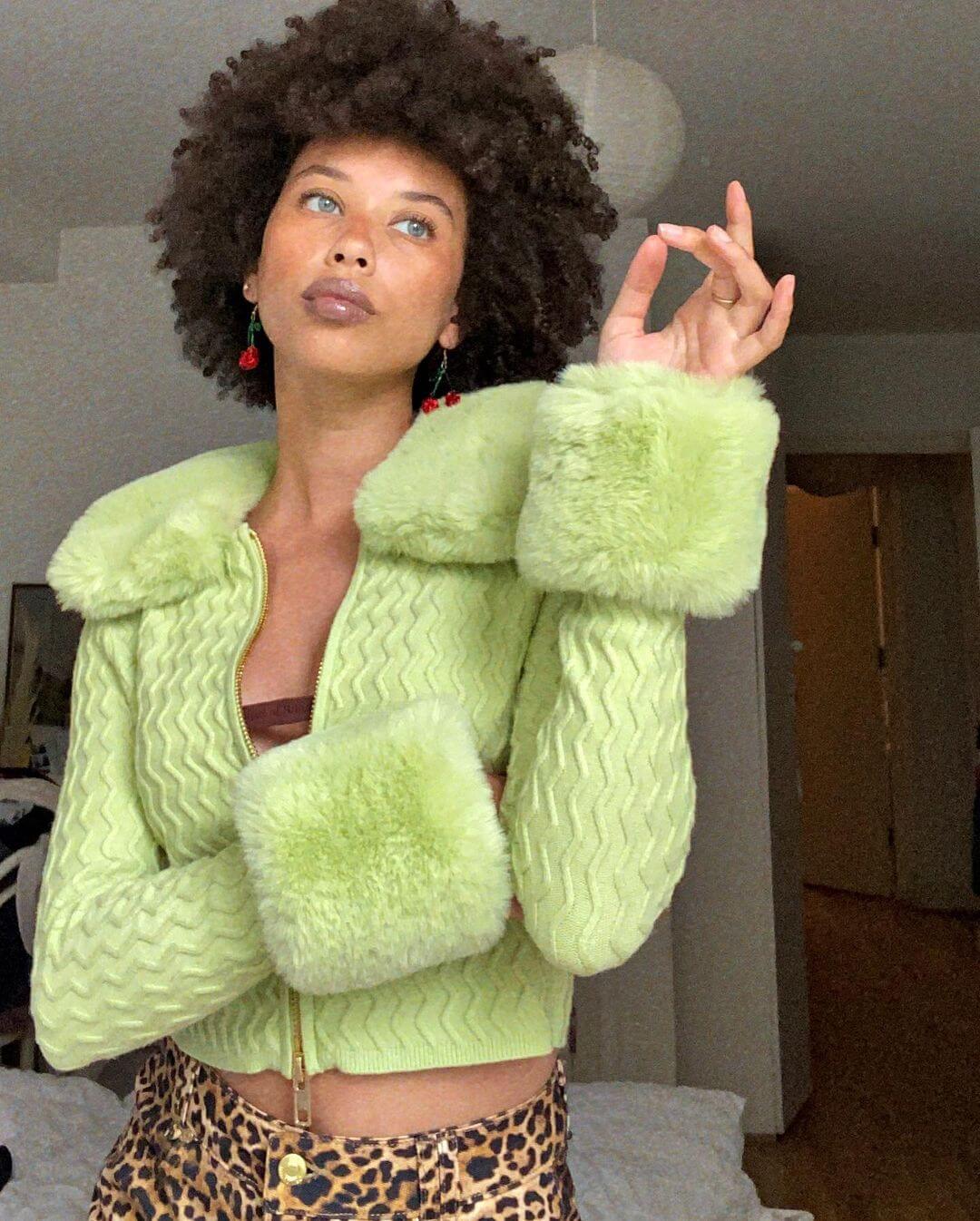 Photo via @pippamelody
4) Knitwear
If Instagram has taught us anything, it's that green knitwear is the solution to peppering in some youthful fun into your cold weather wardrobe. Whether it be a minty or a brighter variation, minimalistic sweaters will liven up your work wear with little effort. However, you can also take it up a notch and look for a Y2K interpretation with perky details. Think faux-fur collars and cuffs – they're so exquisite paired with brown tones or animal prints.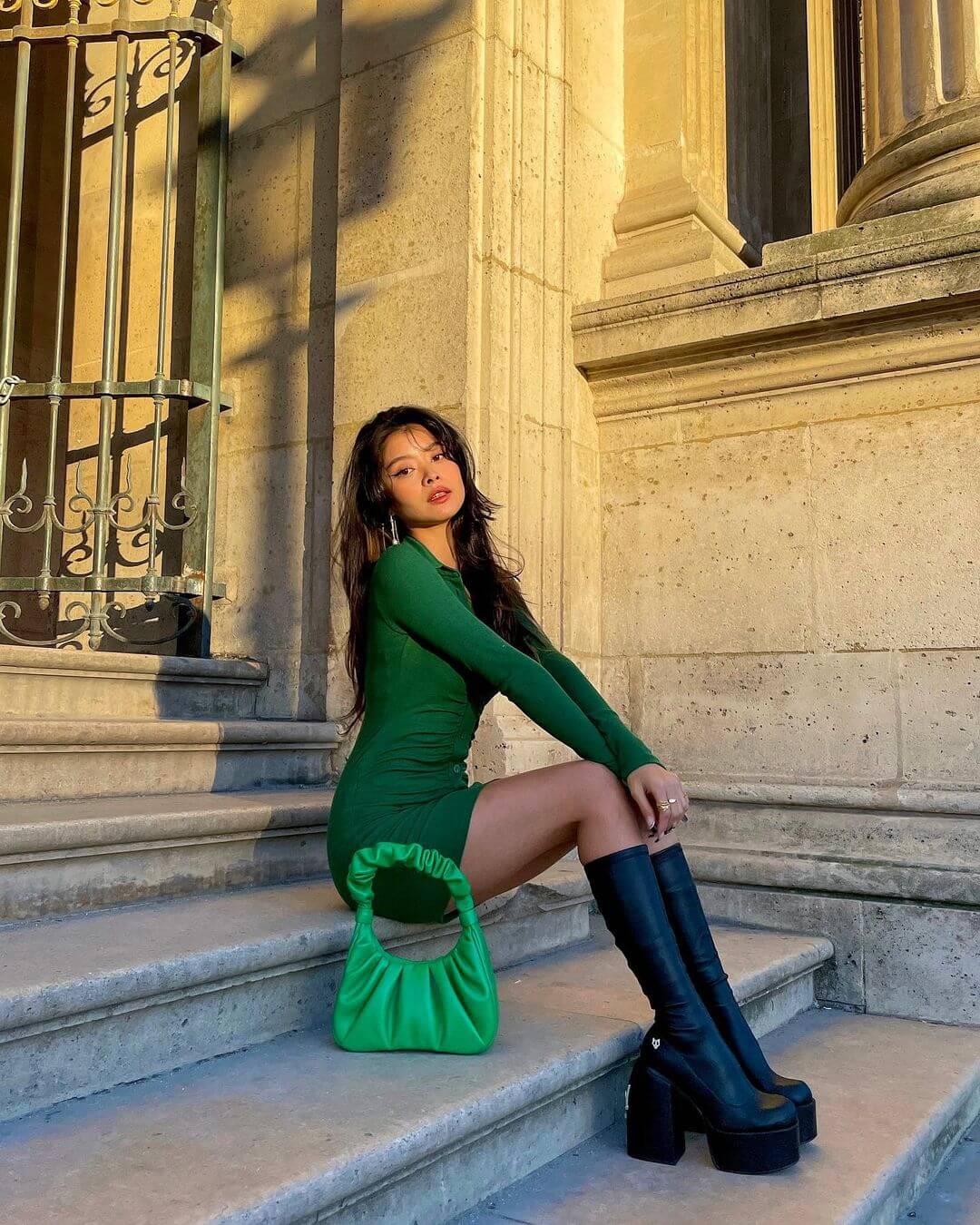 Photo via @caroline_hu
5) Hued Handbag
Still warming up to the green fashion trend? Not to worry… You can easily dip your feet into this look by shopping for green accessories. It's a subtle way to tap into the color without dedicating too much energy and money into luxe pieces like a coat or a sweater set. Thanks to Bottega, bright kelly green handbags have become a force to be reckoned with, especially for those whose daily uniform defaults to black.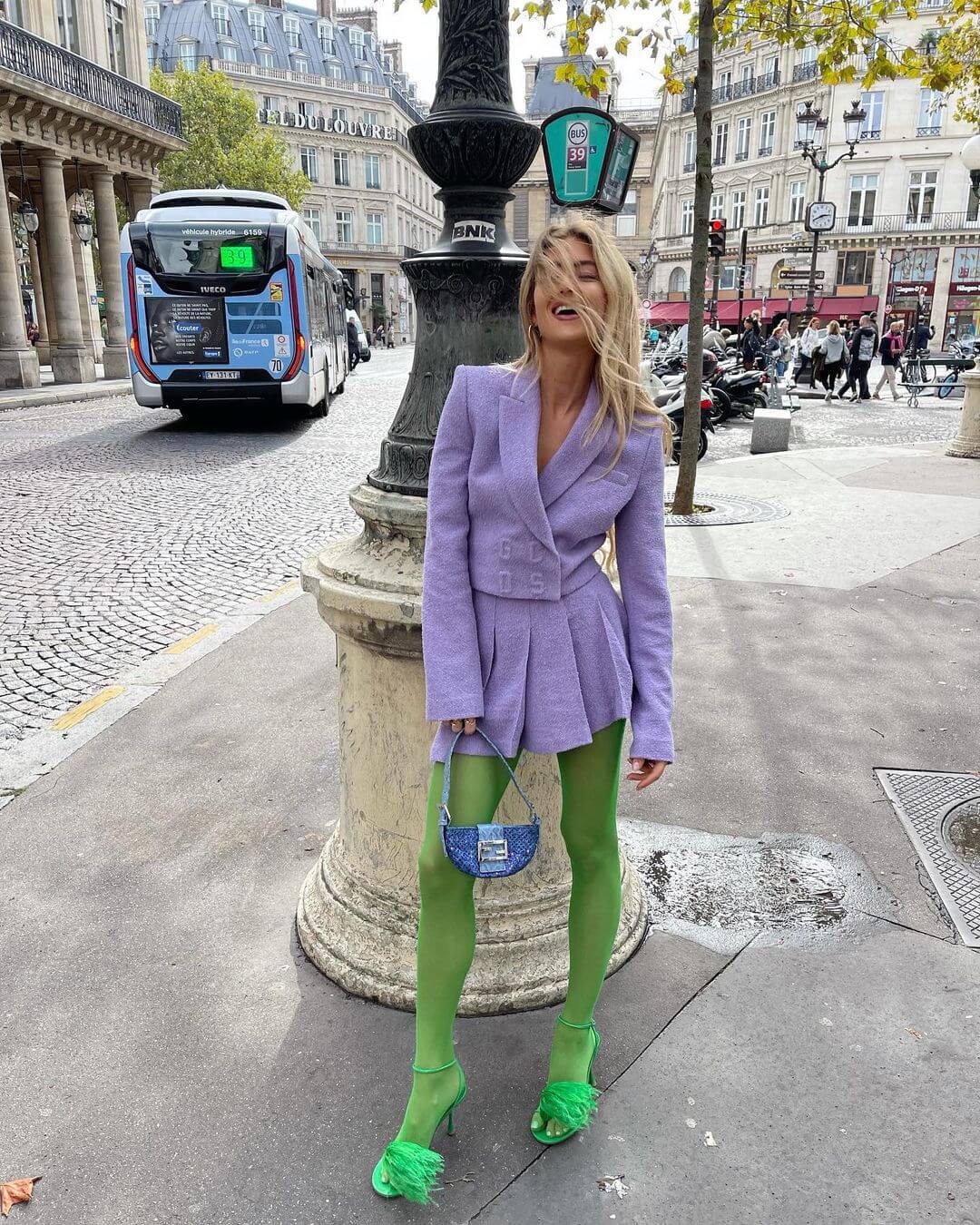 Photo via @emilisindlev
6) Lean & Green
Unexpected green color pairings are a surefire way to knock your style out of the park. This look is meant for those who truly embrace the bolder side of fashion. To replicate it, simply shop non-traditional pieces, like lean and green stockings. These alone are enough to warrant a double (or triple) take on the streets. Extra style points are awarded to Emili since she expertly teamed the green tights with feather festooned party heels and a lavender suit.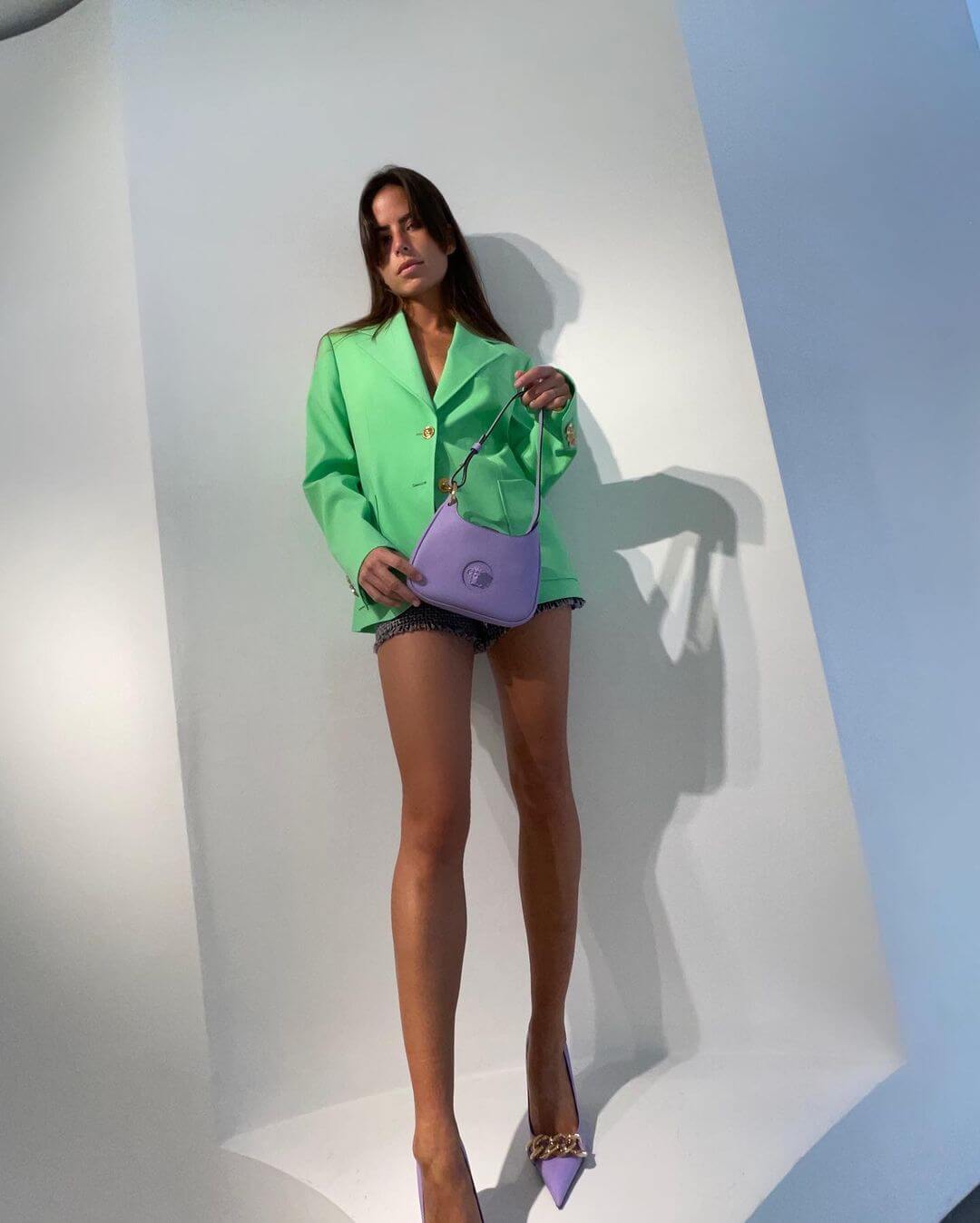 Photo via @ninauc
7) Blazer
Find us a color or pattern that doesn't adapt well on a blazer. Seriously, this foolproof staple manages to take on any trend with ease and green is no exception. When in doubt, you can throw it on top of jeans, trousers or tweed shorts – and it looks good. Wear it for a casual afternoon over a cup of coffee or even into the workplace.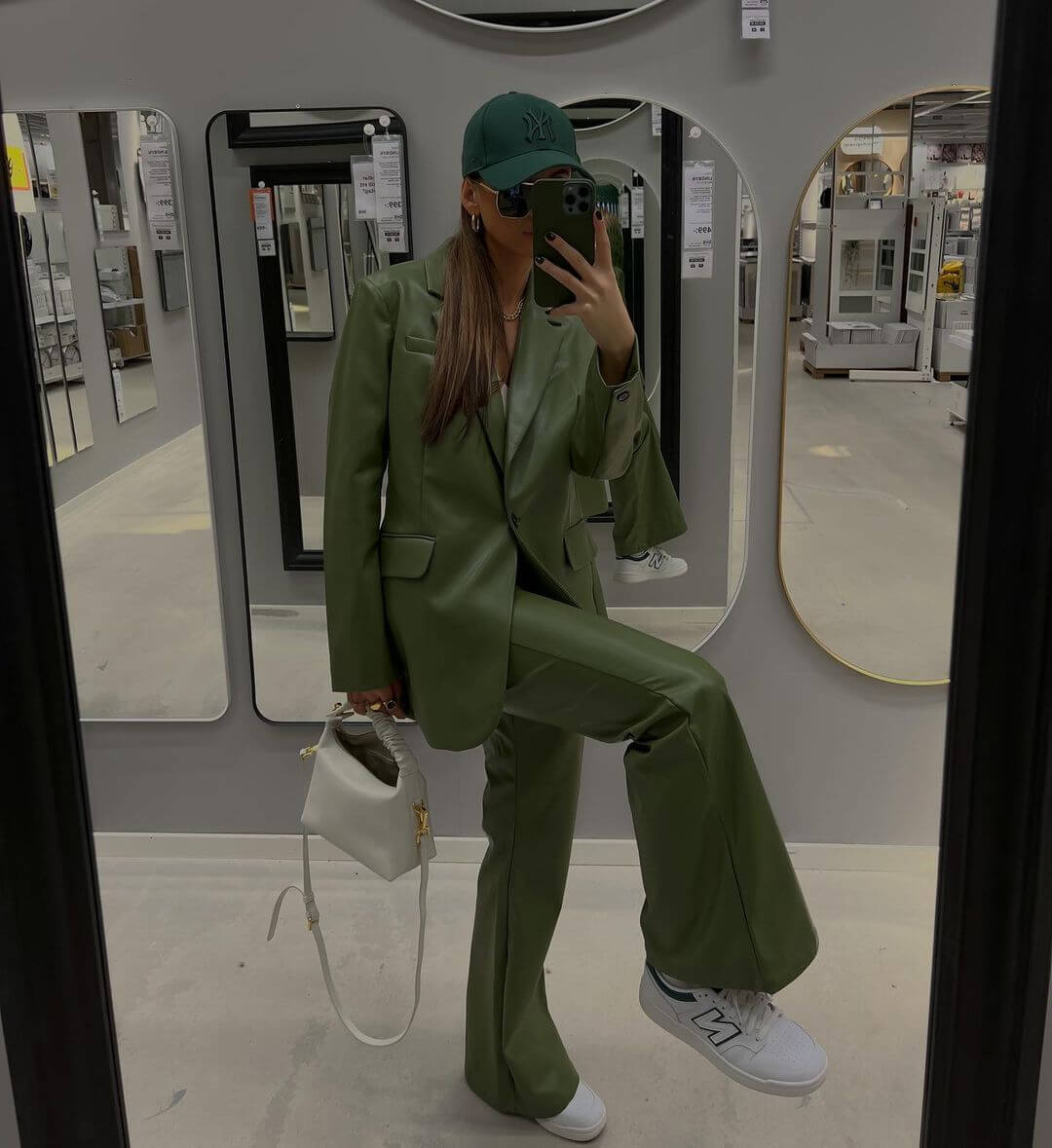 Photo via @myforteisfashion
8) Suit Up
If a green blazer doesn't satiate your fashion needs and you find yourself wanting more, it may be time to invest in an entire suit set. A pantsuit in either sage or kelly green will provide a major fashion moment, allowing you to stand out amongst the sea of black and beige get-ups. Keep your look relaxed and casual by styling it with minimal sneakers and a baseball cap.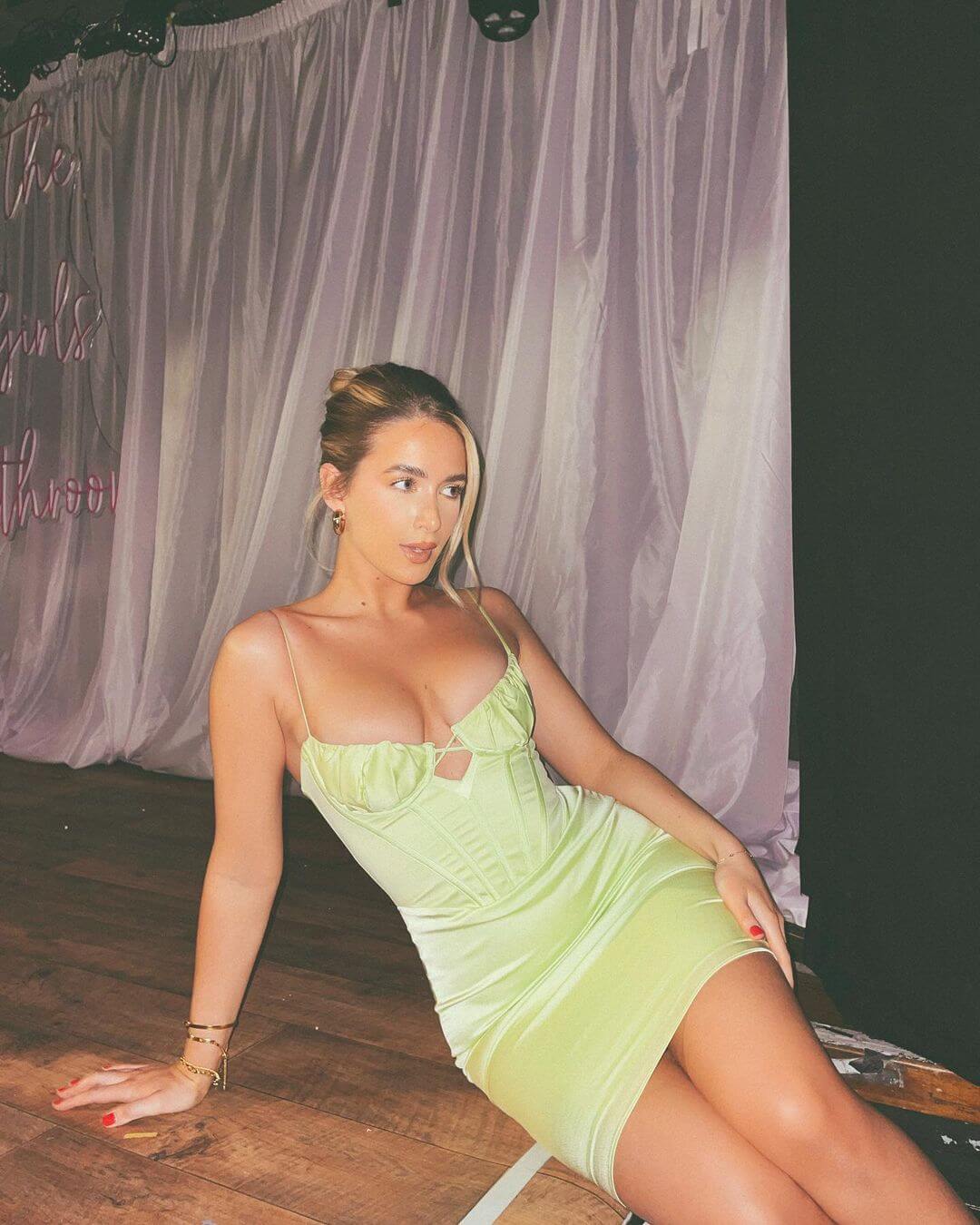 Photo via @sophiatuxford
9) Little Green Dress
Form-fitting green mini dresses are a must this year whether you have a date night planned or a fun night out with the girls. You'll be surprised at how drastically it can enhance your nightlife. Just elevate it with some strappy heels, gold hoops and stacks of bracelets. If you're attending more formal events, this bolder look will bring the energy to the party as it's the perfect mix of flirtatious and trendy!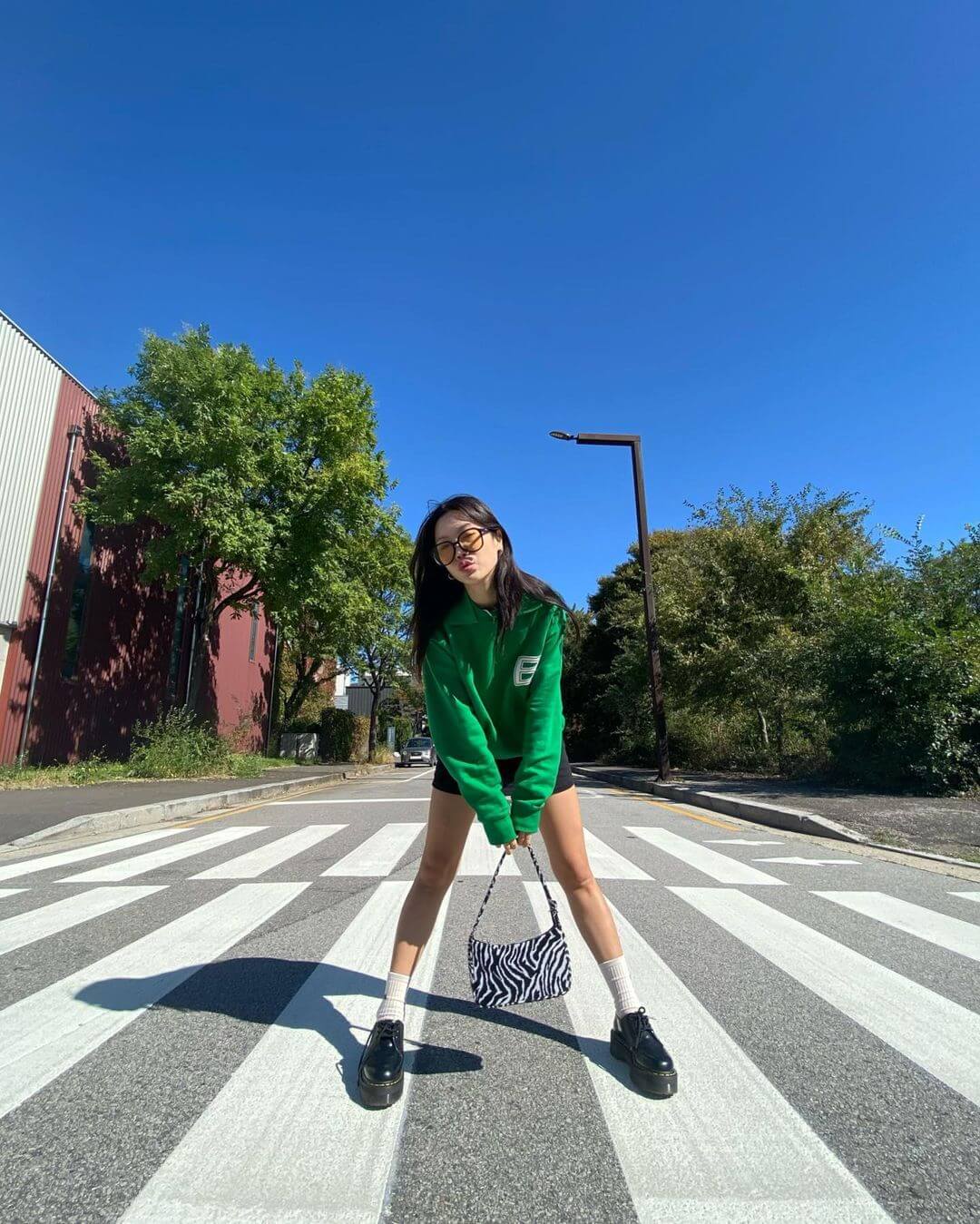 Photo via @gemjem
10) Loungewear Separates
On the contrary, the green fashion trend looks just as good on more relaxed pieces from loungewear to pajamas and beyond. An oversized green jumper or a pair of sweats lets you to play into the trend without being too stuffy or forceful. If you're not accustomed to wearing green, this is perhaps the best way to ease into it. Keep your green loungewear look simple by pairing it atop darker solid colors. Try it once and we bet it'll quickly become your go-to off-duty errand uniform.

(Visited 1 times, 1 visits today)