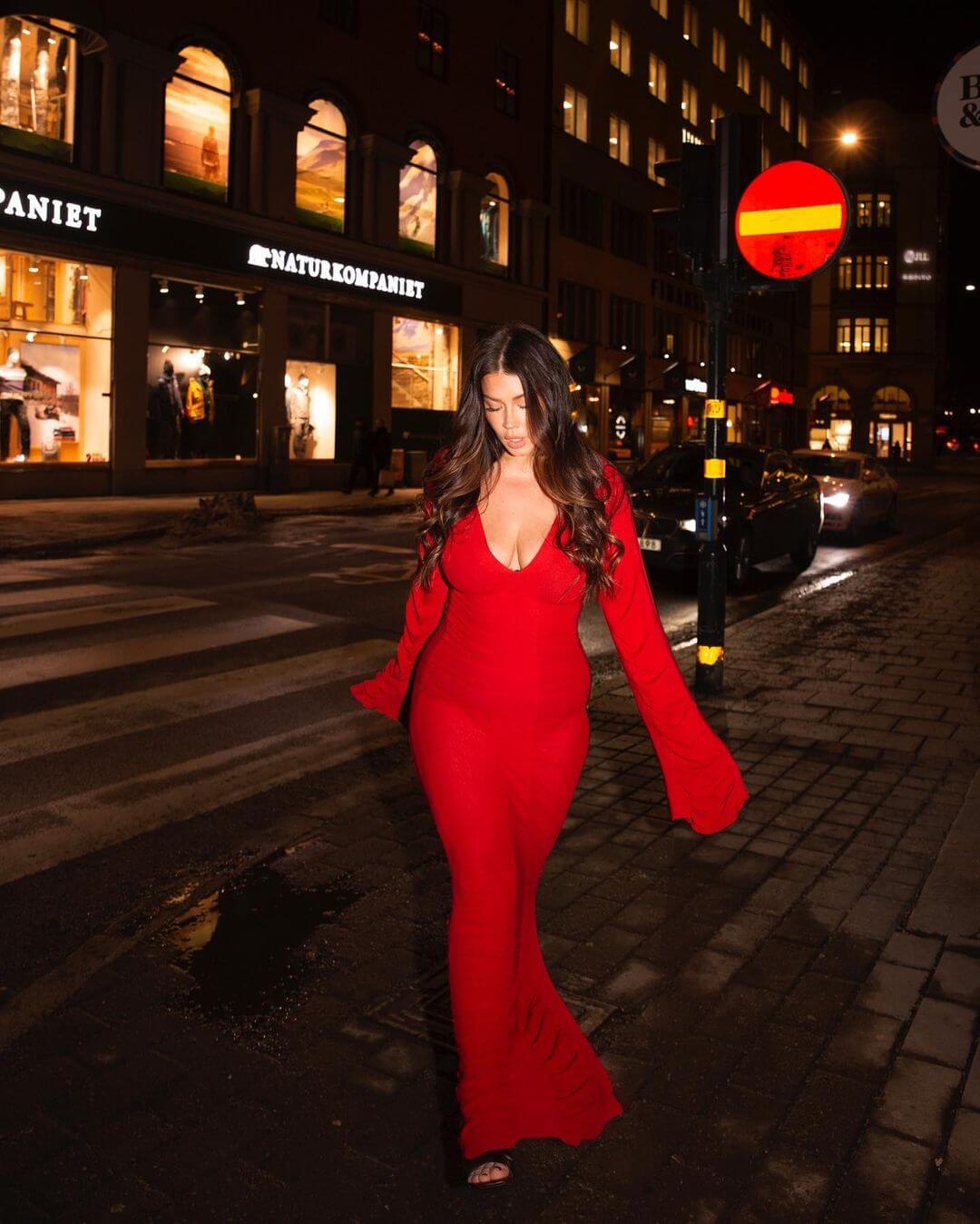 Photo via @cassklatzkow
Whether you're a fan of Valentine's Day or not, there's no denying that February 14th is fast approaching. We love using this lighthearted holiday to celebrate our loved ones, which often translates into date nights (or night outs) galore. And since everyone has their own idea of the perfect evening, we can't think of a better excuse to treat yourself to some new wardrobe additions. Maybe you love celebrating by going out to a fancy dinner, or perhaps you love staying in with your friends… Regardless of what that is, we have plenty of Valentine's Day outfit ideas to get you in the mood. Ahead, you'll find off beat looks that run the gamut from dreamy red and pink ensembles to sexy neutral looks. As long as you stick to these formulas, you're bound to have a fabulous Valentine's Day outfit no matter what your plans are.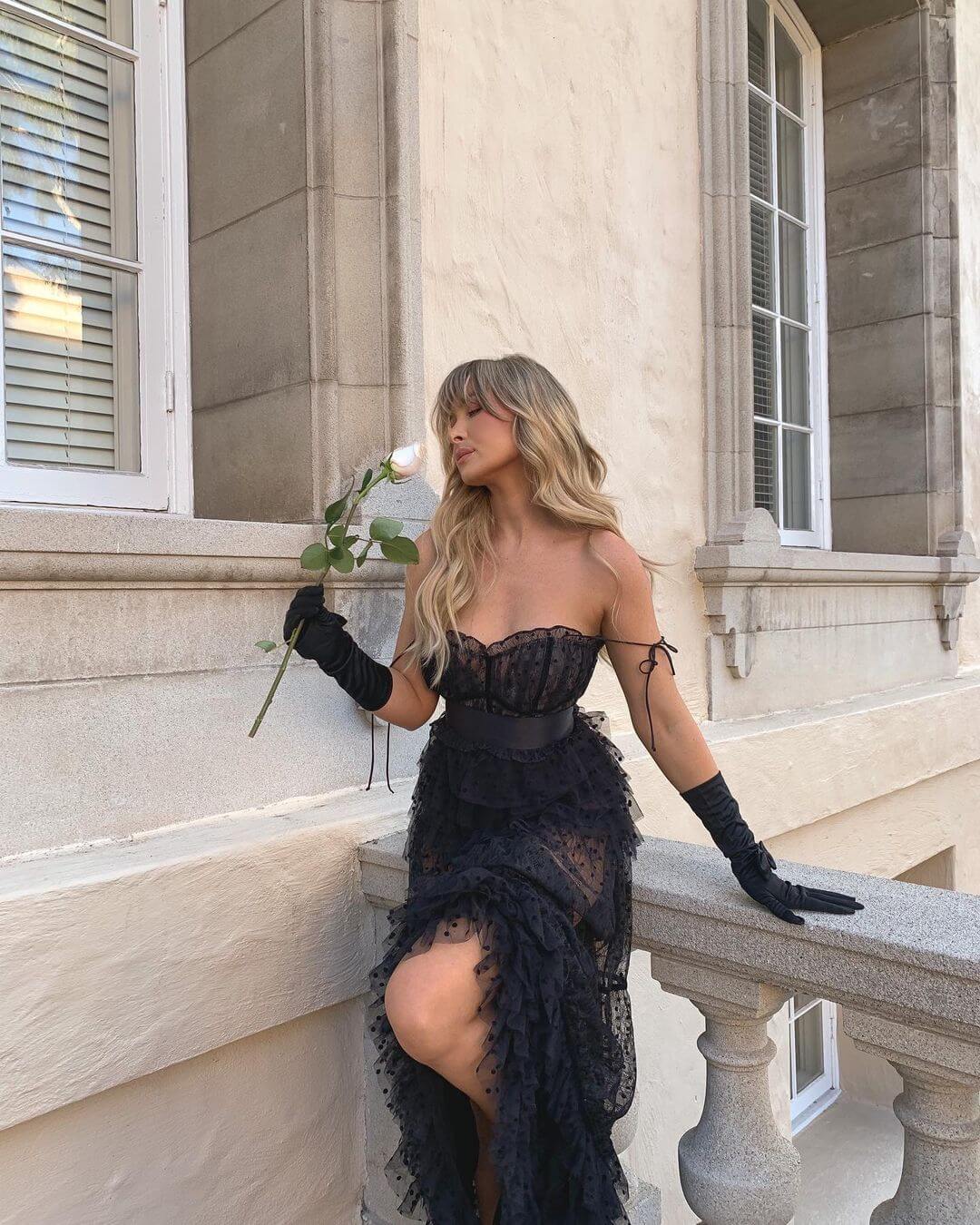 Photo via @minamarlena
1) A Sheer Thing
If you're a romantic at heart, there's no better way to dive into the holiday than with a sheer, lace dress. Just be sure to pair it with knee-high boots and tights. For the ultimate cool factor, top your lacey number off with some elbow-length gloves and add a cropped puffer jacket to really set the romantic mood.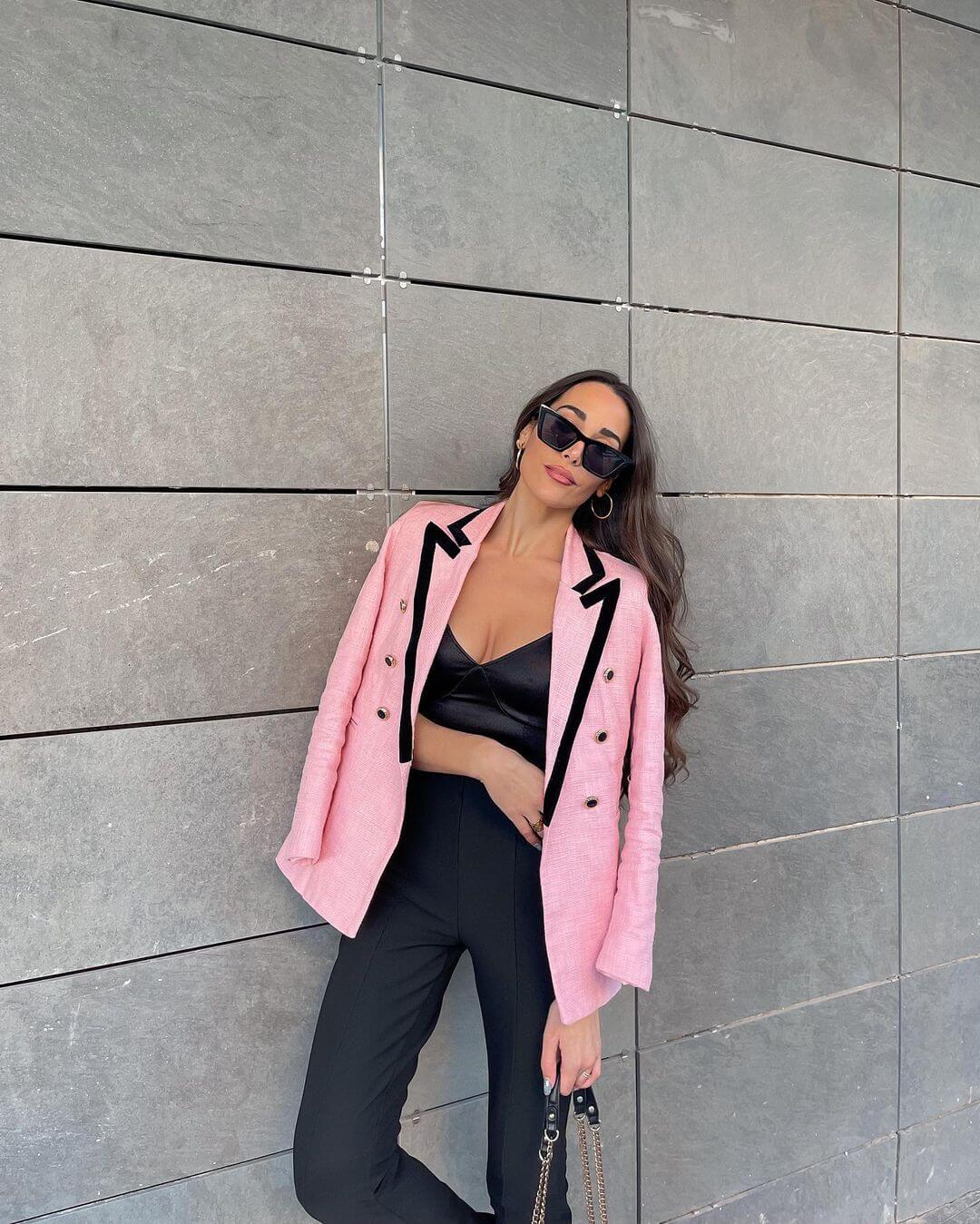 Photo via @tania.ayuso
2) Pink Blazer
Valentine's Day is all about emphasizing classic colors, such as red and blush. It may sound cheesy but it really doesn't have to be. If you're transitioning from the workplace to a date night, a pink blazer is your no-fail solution to being chic and festive. It pops beautifully against an all black outfit and keeps everything feeling classic but trend right.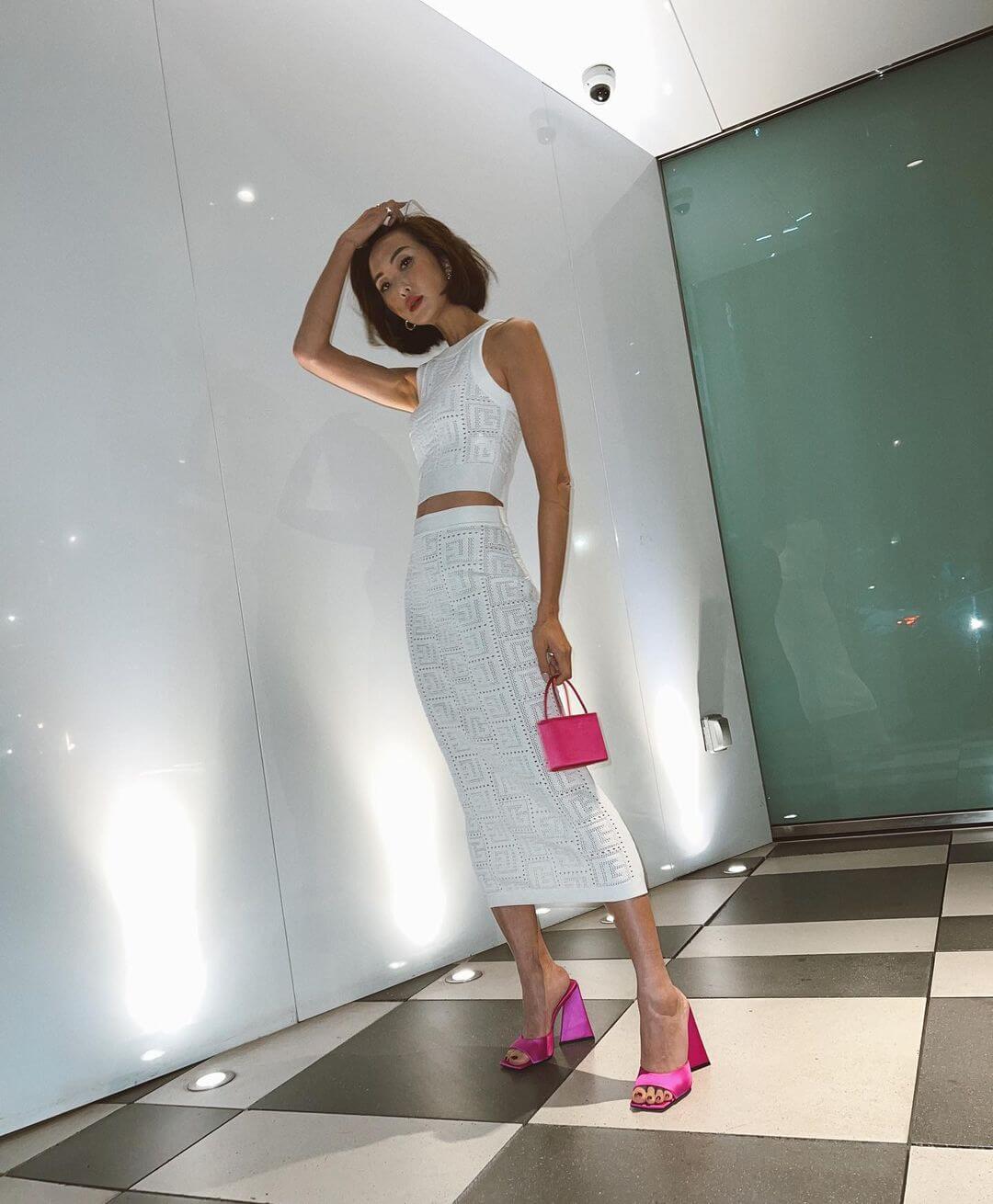 Photo via @chrisellelim
3) V-Day Accessories
A formal dinner doesn't always require an elaborate dress. In fact, you can choose to channel those V-day sentiments into your look via pop-color accessories as Chriselle does above. The white matching set with fuchsia block-heeled mules and an accompanying mini handbag is such a nice break away from the classic red dress.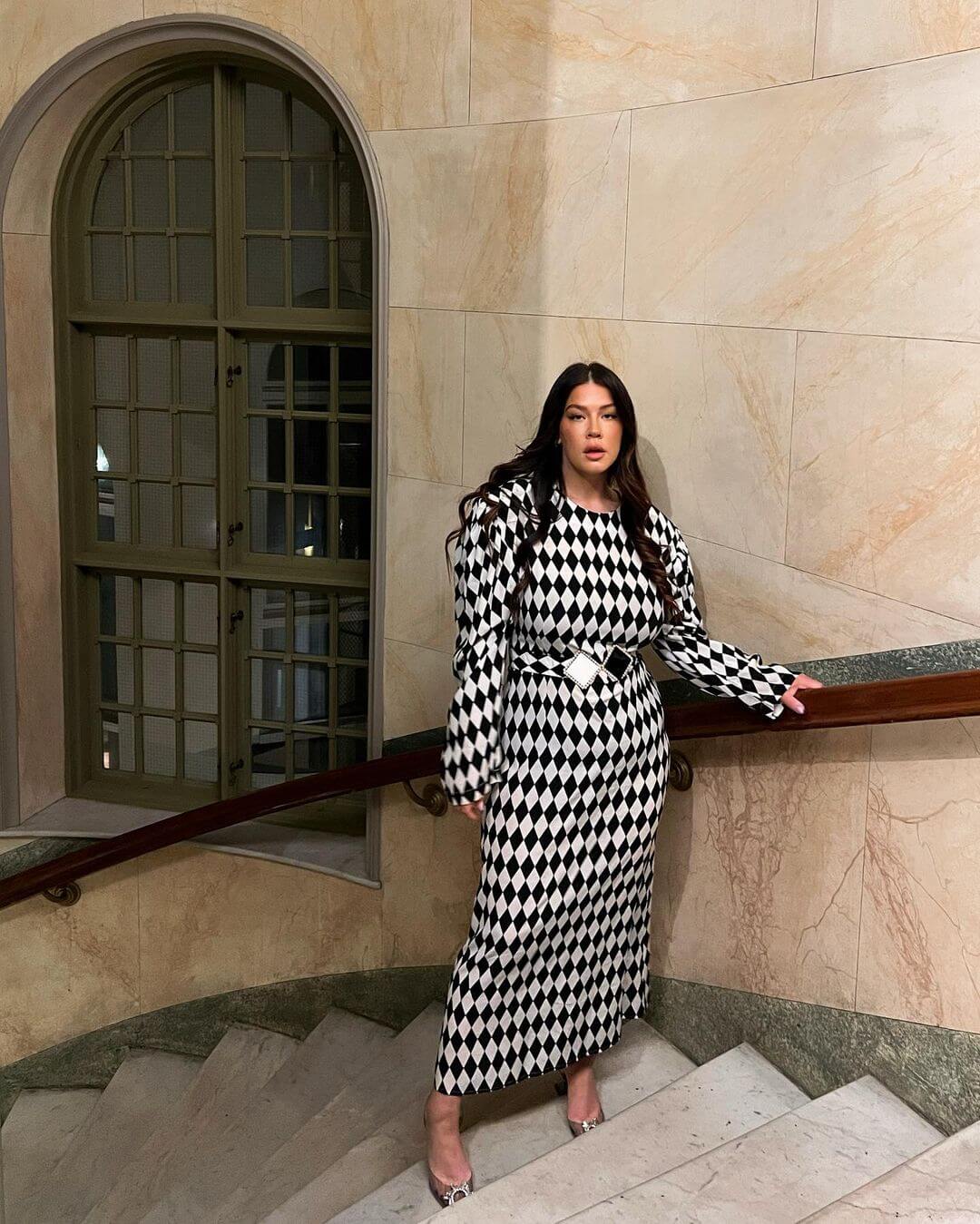 Photo via @cassklatzkow
4) Going Graphic
Fashion It girls are taking an unabashedly playful approach to dressing with maximalist print trends – perhaps due to their significance in Y2K and academia aesthetics (both rising trends). And we can't think of a more appropriate time for it than Valentine's Day. Checkerboard and abstract prints naturally lean more edgy. However, don't be afraid to bring back some of that feminine energy with a pair of bedazzled heels and smokey cat eyes.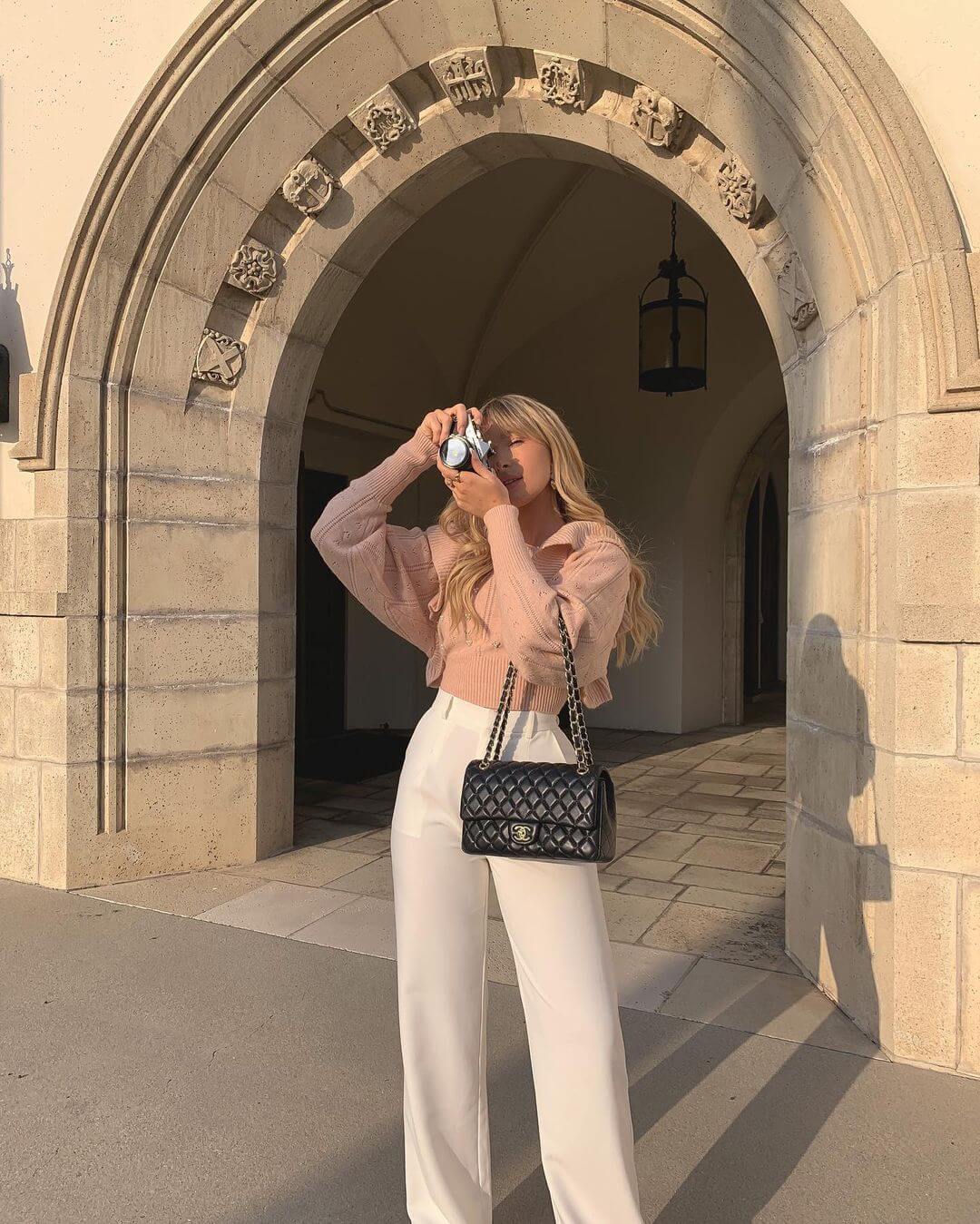 Photo via @minamarlena
5) Close Knit
For an effortless Valentine's Day outfit that is polished and well-thought out, try rocking a relevant sweater. By relevant we mean anything in the aforementioned hues meshed with romantic ruffles and embellishments. For instance, Mina's pretty blush sweater adorned cascading ruffles and pearls. All that's needed to finish off the look is white flowy trousers. You can also swap the trousers for denim to tone things down.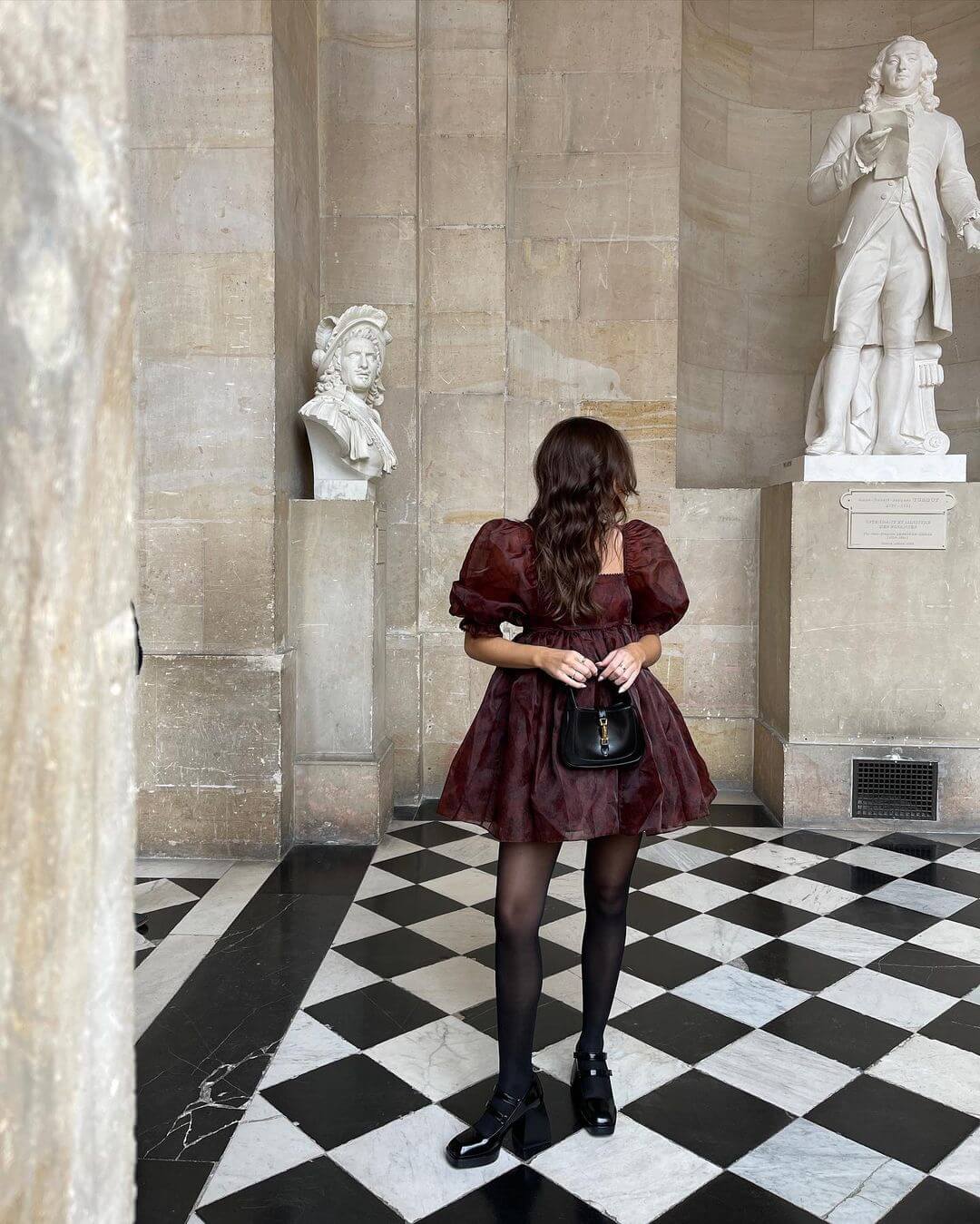 Photo via @emmaleger
6) The Babydoll Effect
The cottagecore aesthetic is still going strong, with brands like Selkie spearheading romanticized tulle and babydoll dresses. This ethereal princess-like outfit complete with voluminous puff sleeves and a full skirt is another viable option to wear on February 14th. It certainly embodies amorous vibes. Style with your favorite mary jane heels to up the ante.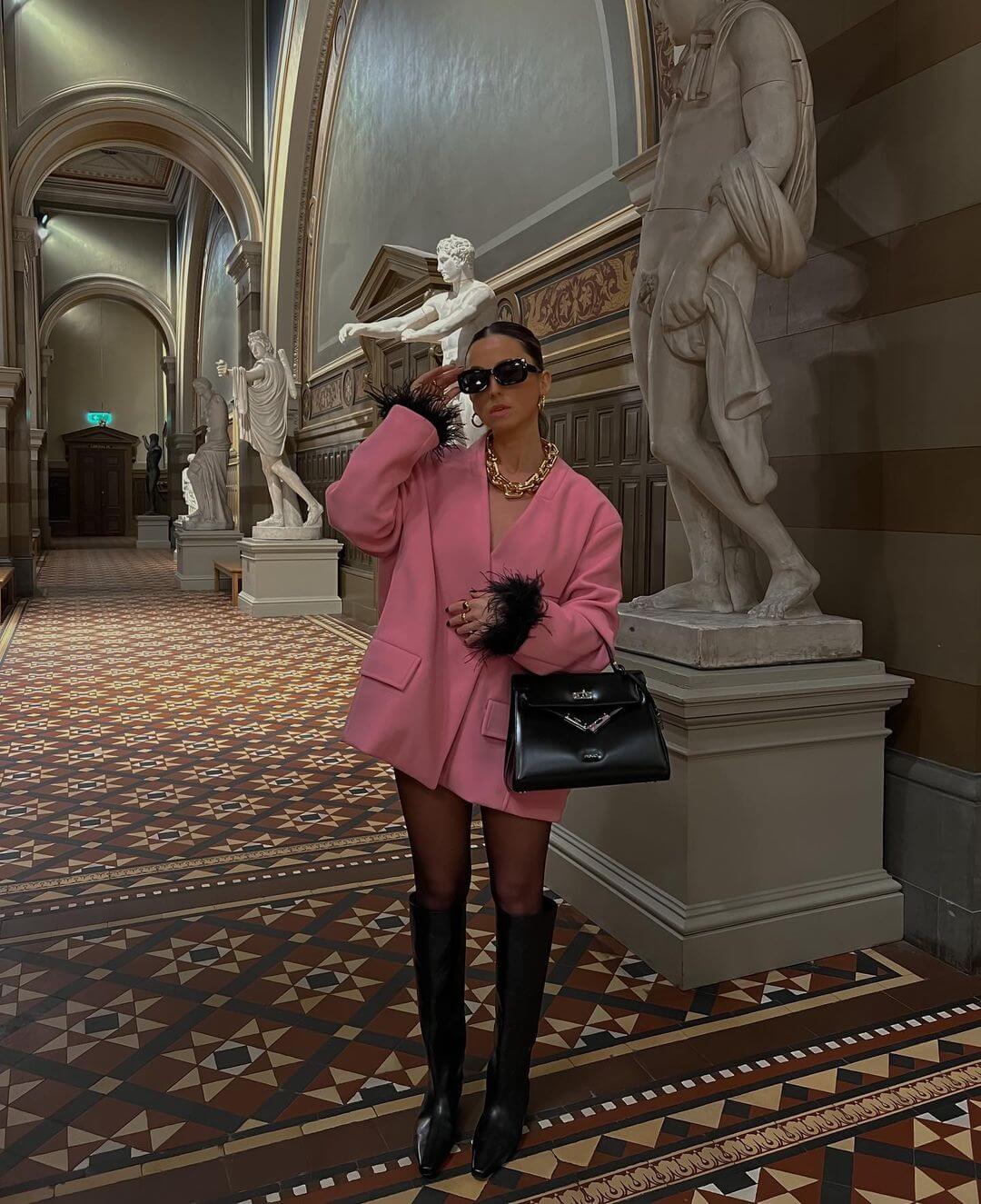 Photo via @myforteisfashion
7) The Blazer Leveled Up
A pink blazer or shirt dress feels just right for the season of love. Take cues from this look and style it with some sheer tights and knee-high boots. A chunky chain necklace and glossy handbag provides the right amount of contrast to the overly feminine look – exactly what we'd expect for a Galentine's Day gathering.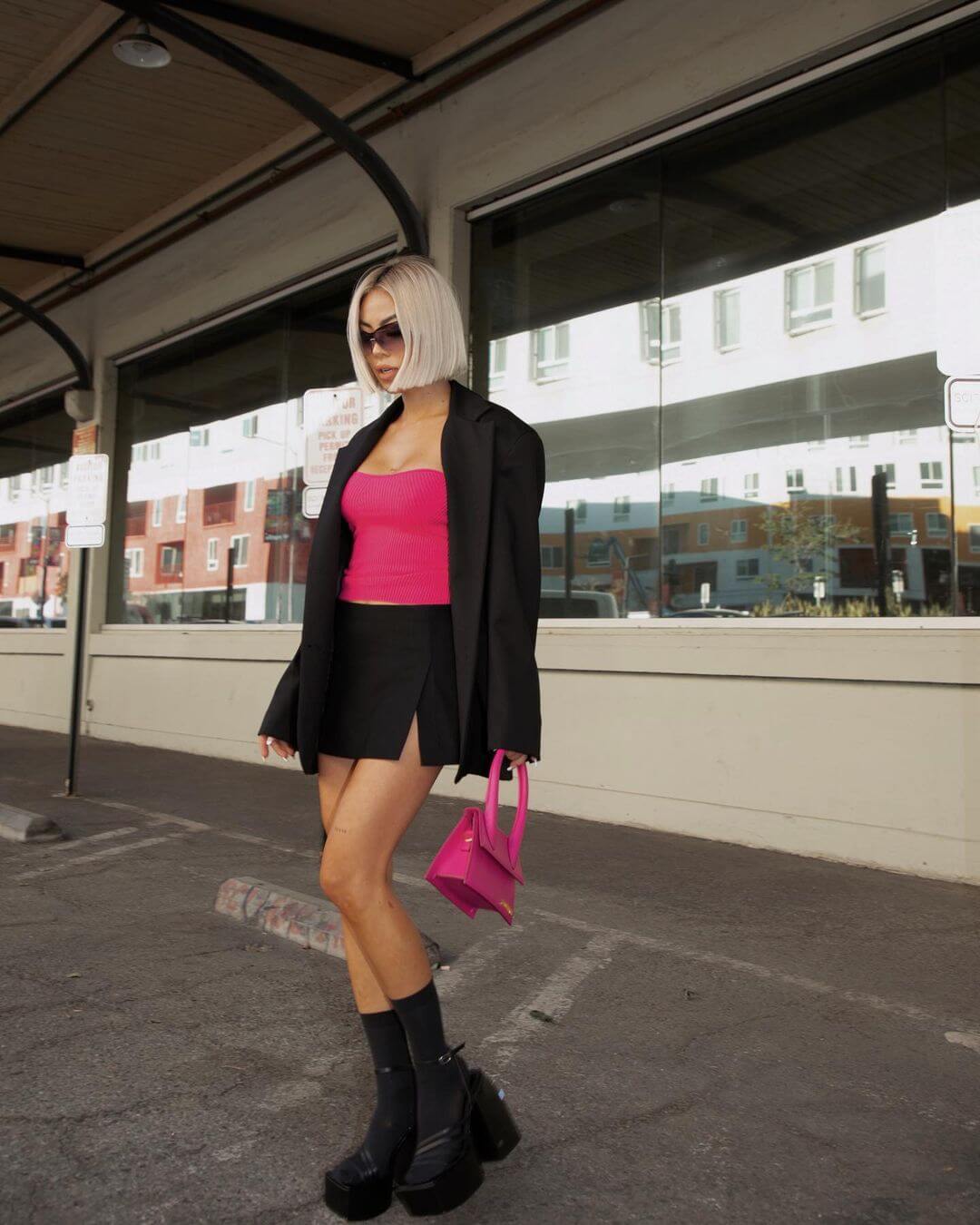 Photo via @ellenvlora
8) Micro Mini & Platforms
Trend spotters are already predicting that miniskirts are going to be one of the breakout pieces for spring. So why not get a head start with your Valentine's Day outfit? A micro miniskirt is definitely a flirty piece that creates the illusion of long legs but you can elongate them further with the addition of platform heels! Don't forget to throw in a pop of pink before you head out the door.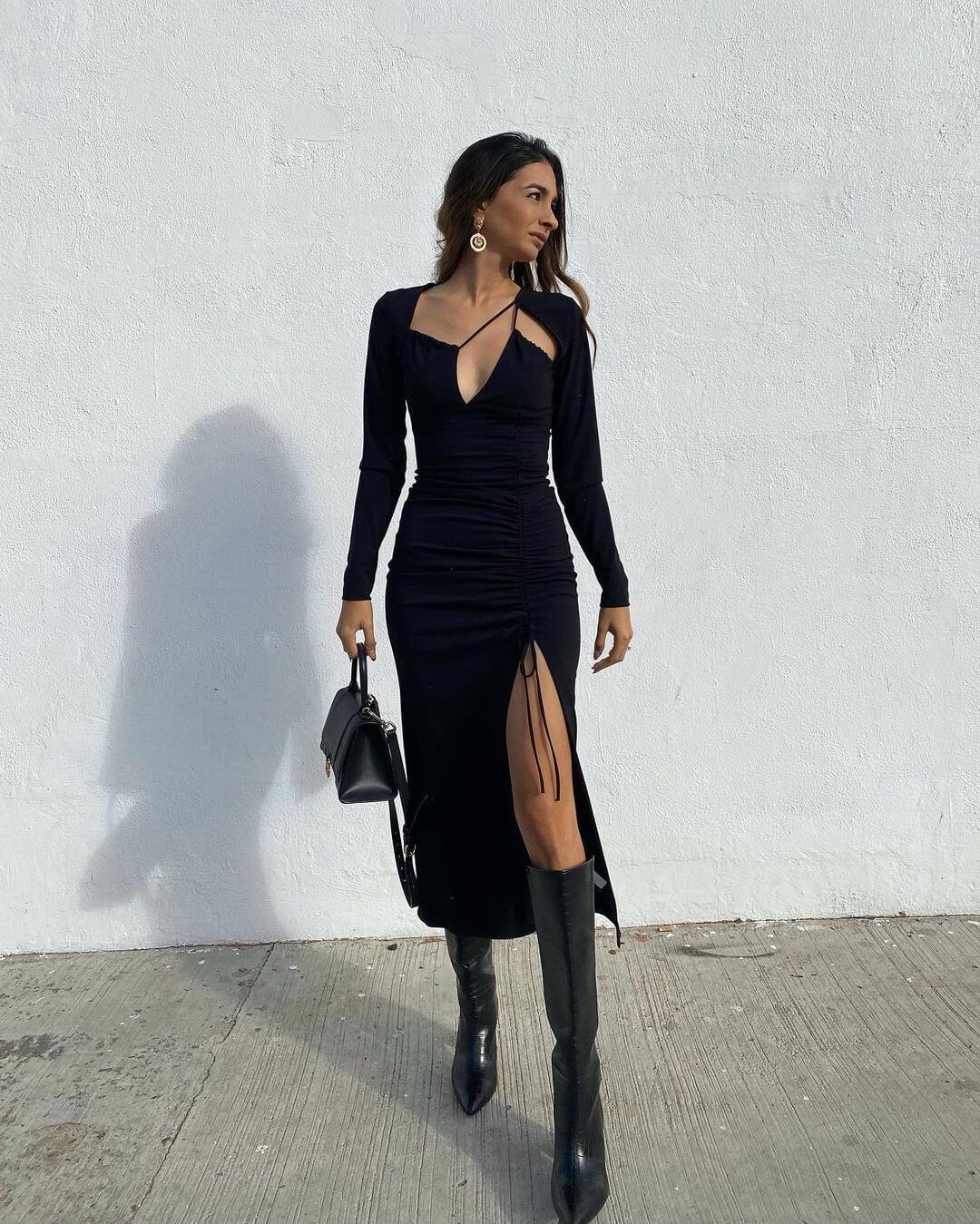 Photo via @viviansaad_
9) Cut It Out
This outfit is proof that you can create a look that feels romantic and fun without the frills. Whether it be a top or a dress, the addition of a tasteful splice provides just enough edge to make your outfit stand out. An intricately cut out dress practically begs you to take it out to a candlelit dinner with the S.O. When paired with textured tall boots, it feels sophisticated without being stuffy.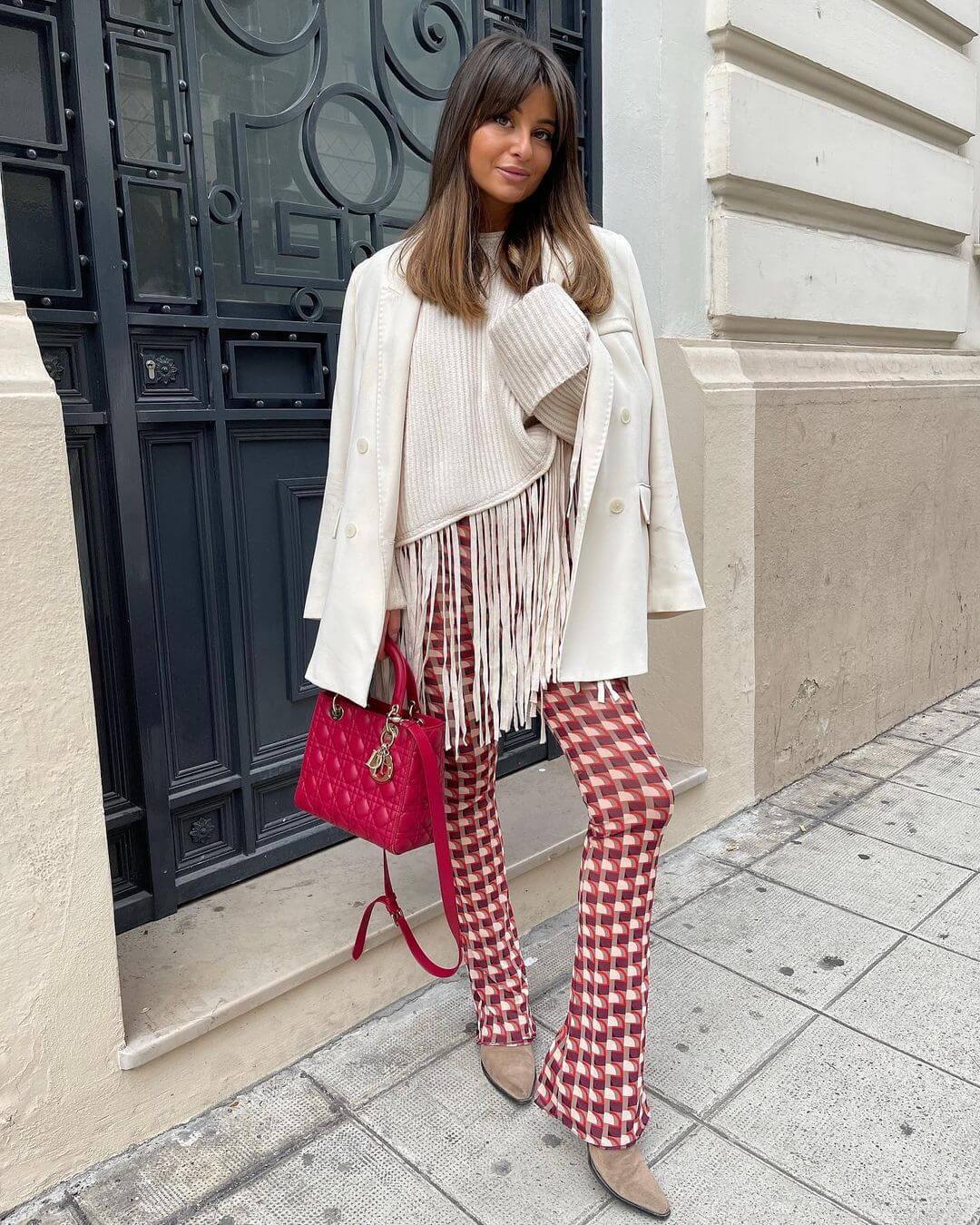 Photo via @morganerenaudi
10) Bohemian Glamour
On the hunt for a more unique Valentine's Day outfit that goes beyond the scope of basic skirt and dresses? Toss some groovy patterns into the mix for the right amount of extra. We're talking printed pants that immediately jazzes up your everyday look. Beautiful red motifs will make every head turn, especially when combined with a fringe sweater. To make this fashion-forward piece feel more modern, sprinkle in a few basics, such as suede booties and a blazer.

(Visited 1 times, 1 visits today)