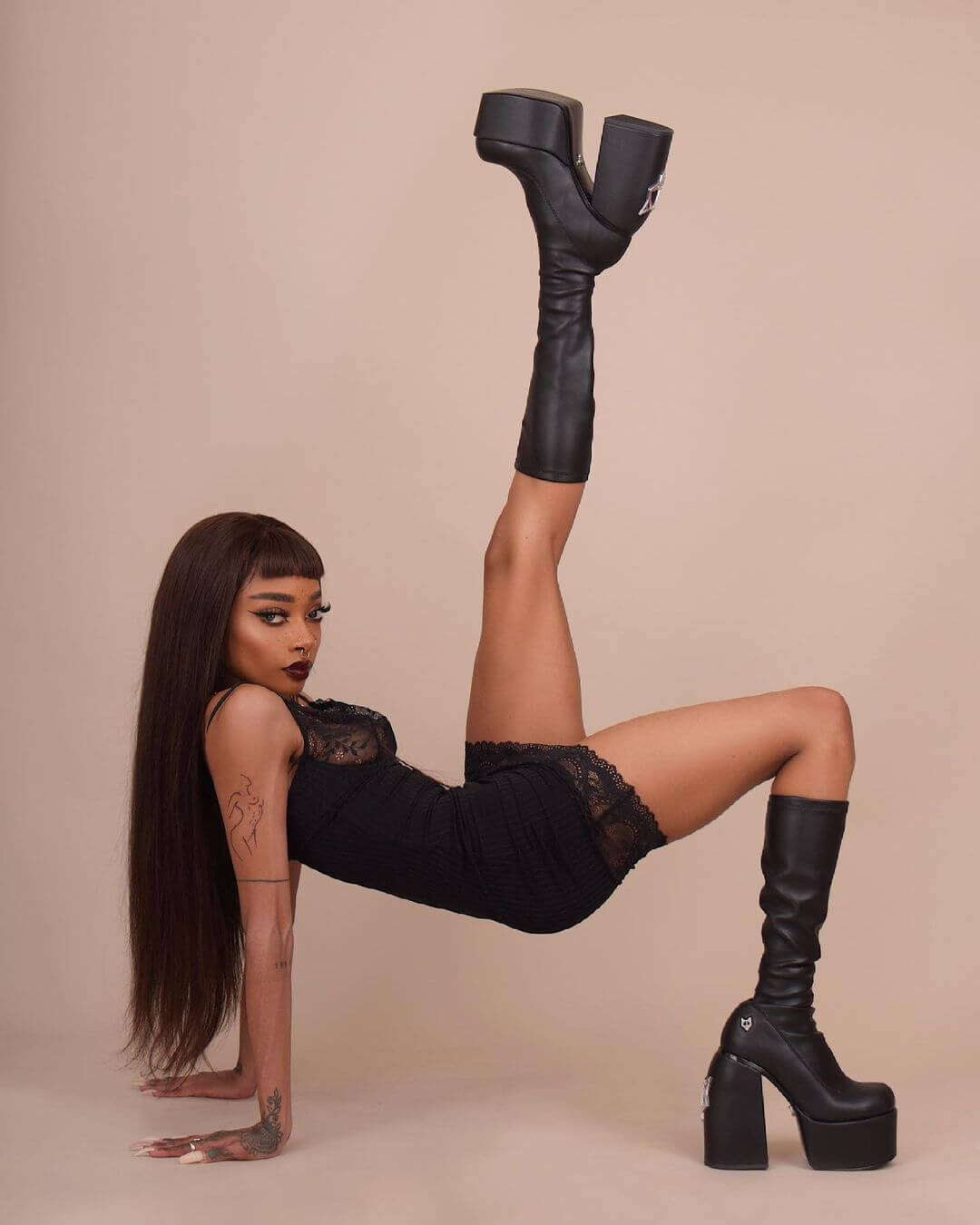 Photo via @nyane
There is only one shoe that truly matters right now and it's been dominating our Instagram and TikTok feeds. If you're thinking platform shoes, you've nailed it. This daring footwear trend is resurfacing everywhere from designer runway shows, like Versace, to celebrity street style to the outfits of your favorite fashion influencers. Needless to say, it's a trend you simply cannot miss out on! Since it is such a statement shoe, the question arises… how does one go about styling it? There is a common misconception that sky-high heels are only fit for the nighttime but we're here to prove you can deploy platform shoes for any occasion whether it be casual or formal. Keep scrolling for our how-to guide on wearing platforms right now.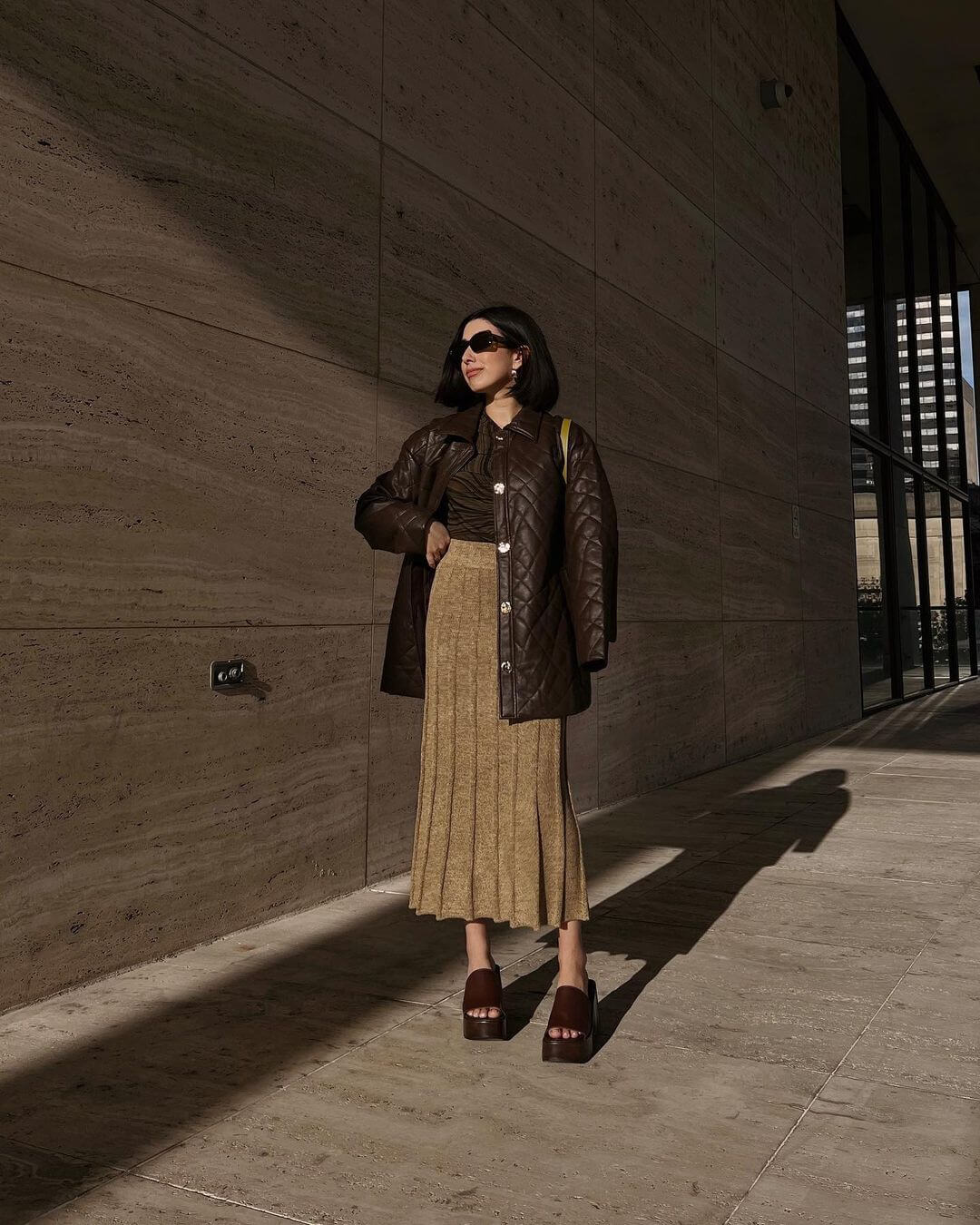 Photo via @aprillockhart
1) Midi Skirt
Here's a look that makes a strong case for wearing platform shoes in away that accommodates the workplace. Get the look for yourself by styling flatform slides with a midi skirt for a modest take on the trend. The conservative leaning bottom makes the trendy footwear feel professional and polished. An oversized jacket, like a quilted shacket, is a fashion-forward finish and ideal for early spring.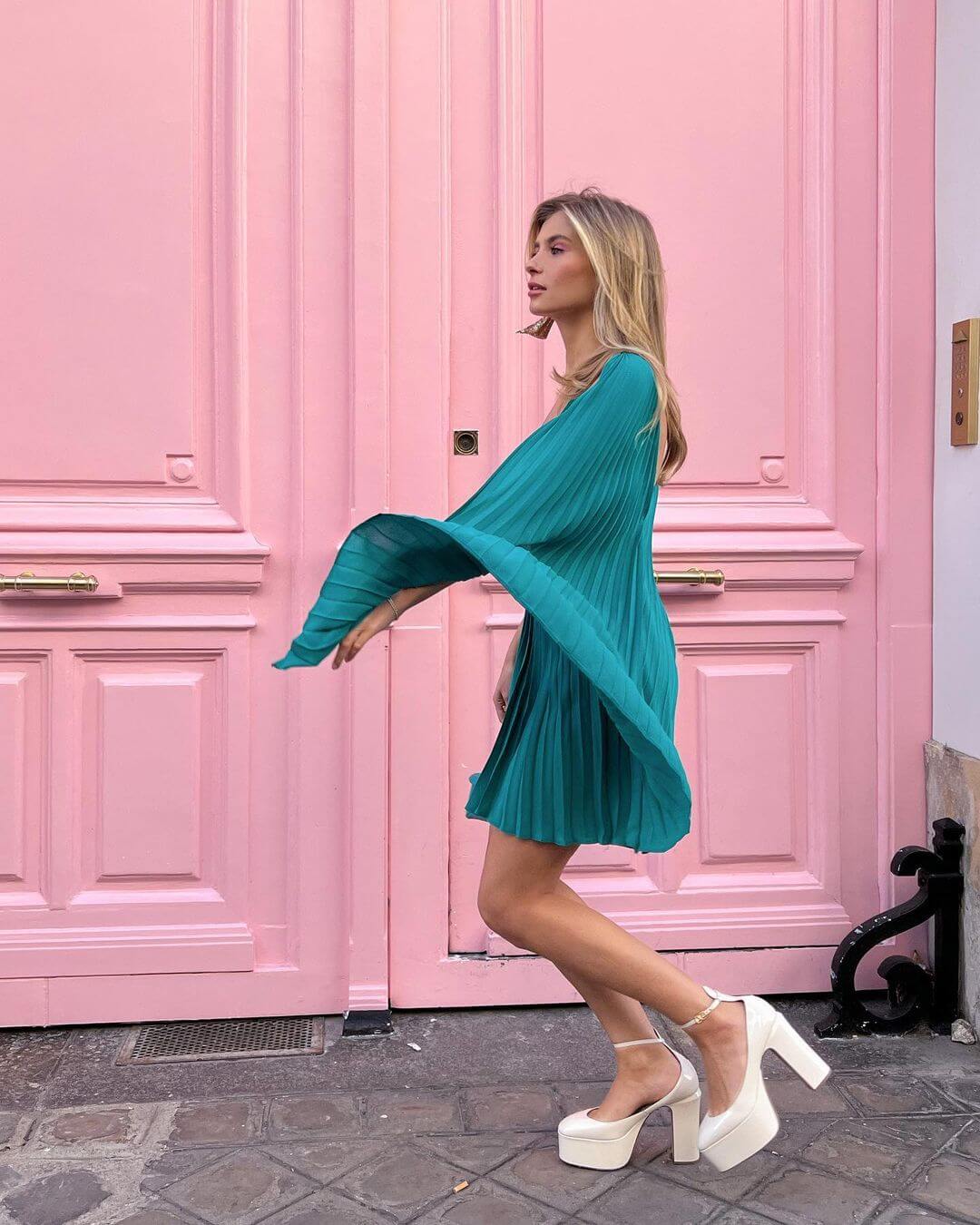 Photo via @xeniaadonts
2) Cocktail Dress
Up the ante at your next formal event by swapping your minimal heels for a maximalist option. Platform heels manage to elevate any style of cocktail dress while also adding a more contemporary twist that a traditional stiletto cannot provide. This heel swap happens to look good with any dress too, as long as you wear it with full confidence.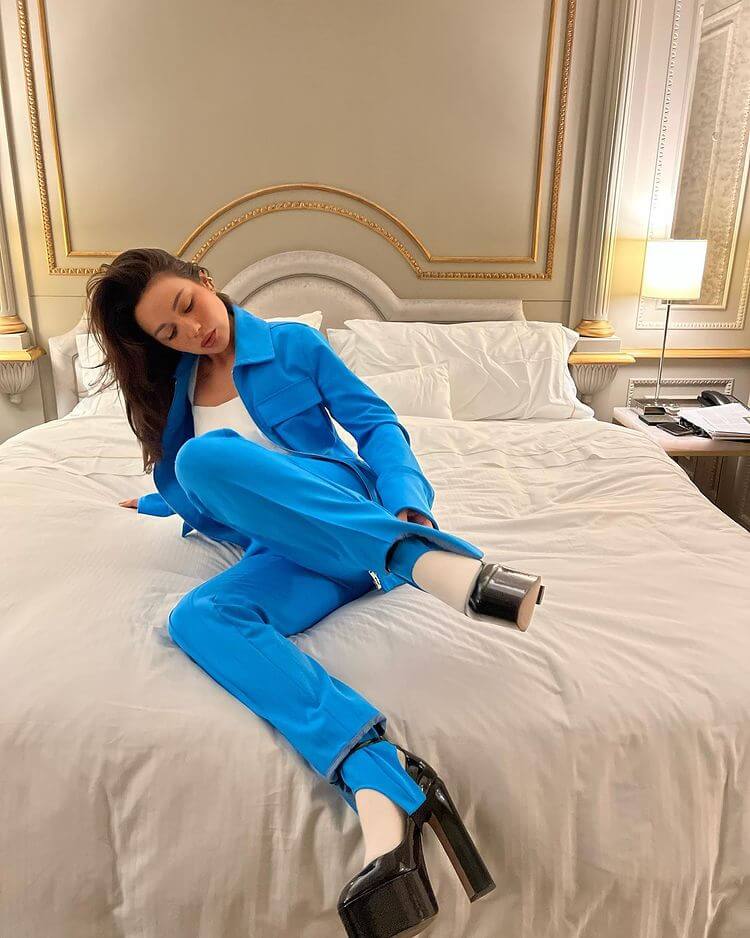 Photo via @mimiarr
3) Matching Set
If platform shoes intimidate you, this is your reminder not to reinvent the wheel. Rather, just think of them as any other shoe and you will find them much easier to style. A great place to start is with a matching set as these always make for a fail-proof outfit. Even better than a typical matching set is a saturated power suit – we love how platforms put a nonchalant spin on them. Plus, there is less to coordinate so you can focus your energy on more important things like keeping your balance!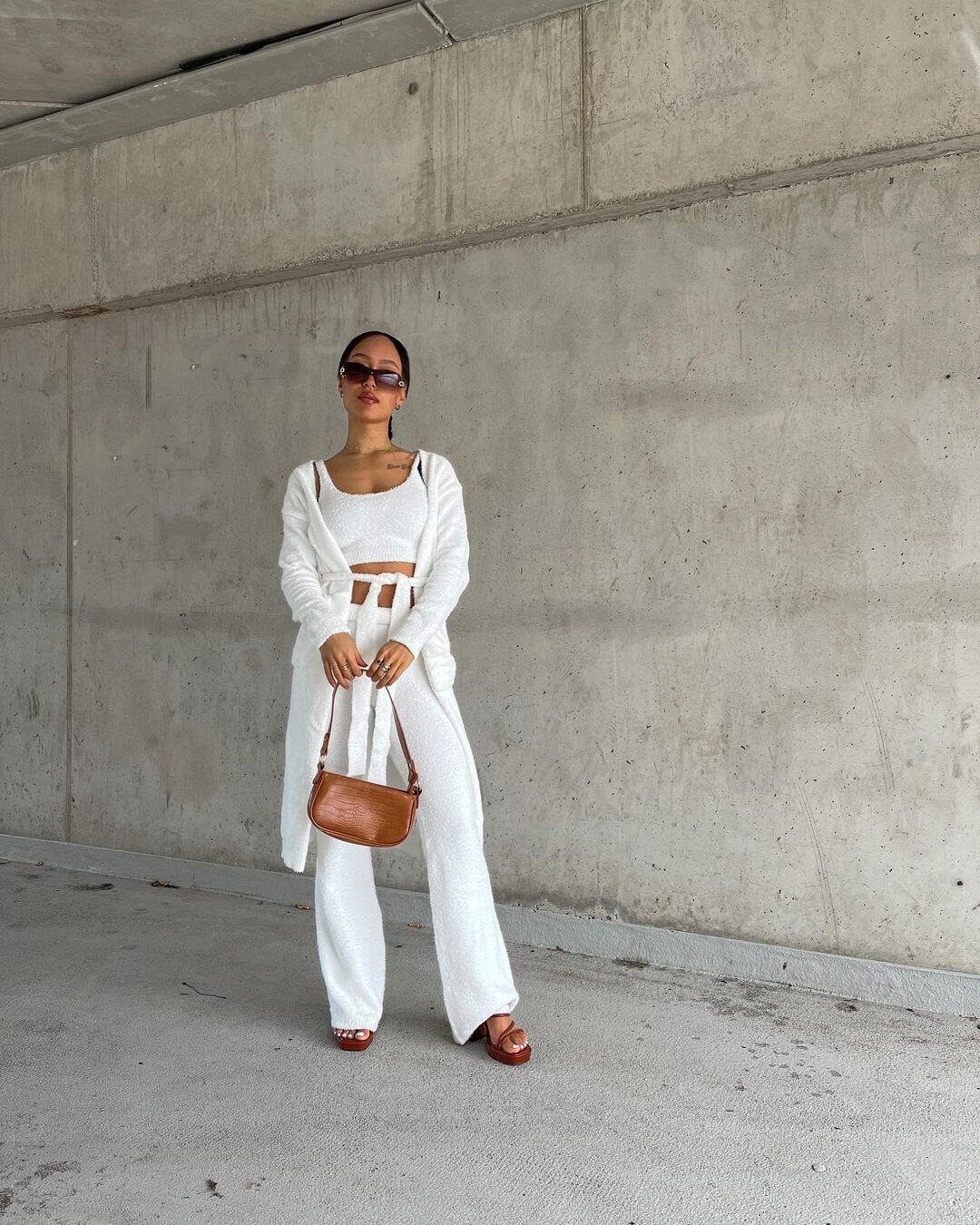 Photo via @chamillanicole
4) All White
You can also tone down the attention-grabbing nature of platform shoes by taking a minimal style approach. For instance, wearing a monochromatic color palette. It's a tried-and-true style hack for looking effortlessly chic – even in loungewear. This style influencer does a great job paring back her platforms with a relaxed all white look. Note how she opts for a contrasting color to elevate the entire fit without being too loud.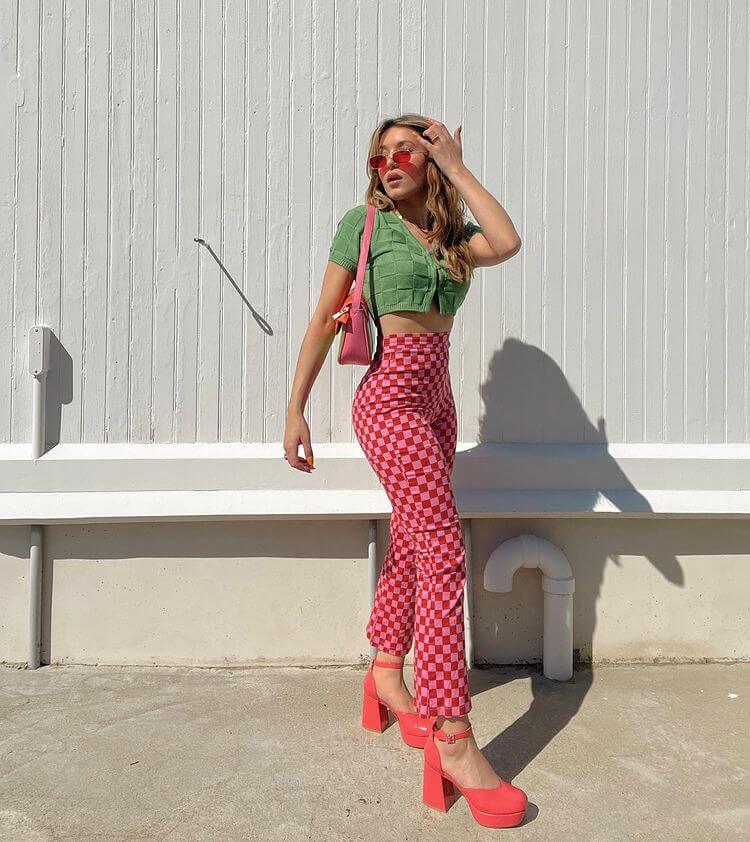 Photo via @amberdowty_
5) Pattern Pants
After a long and cold winter, there's no better way to ring in spring than by rocking multiple trends in one look. Pull it off by teaming some bold platform shoes with a statement-worthy pair of pants and punchy colors. Key prints of the season include checkerboard, warped swirls, and funky florals – all of which happen to look even better with some platform heels in tow.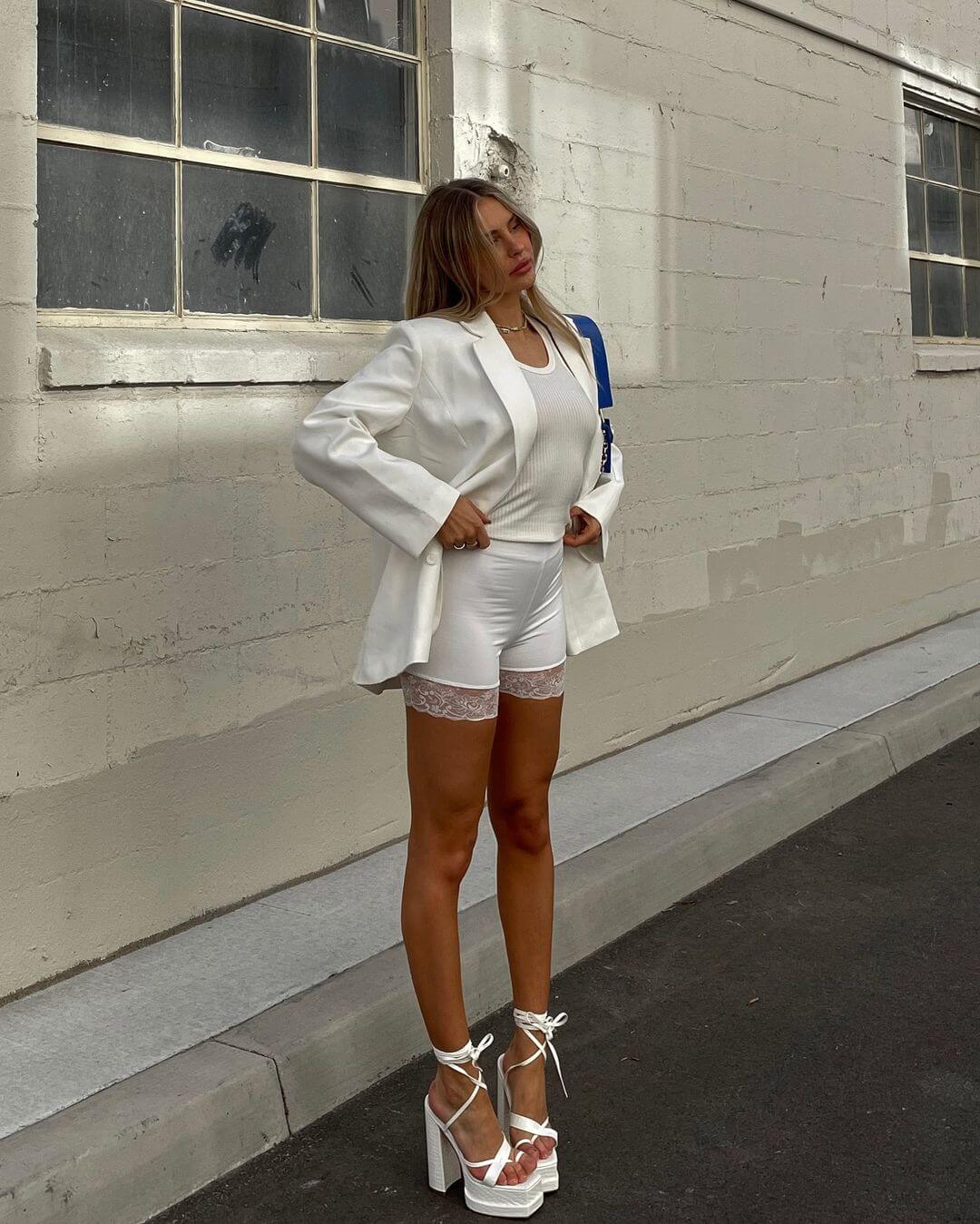 Photo via @jadeswildparty
6) Blazer & Biker Shorts
Not only do platform shoes have the benefit of supplying additional height but they also have the versatility to be worn with just about anything. For an outfit that fuses both casual and dressed up vibes, pile on your most treasured blazer with some casual biker shorts. The result? A balanced outfit that could be worn for a multitude of occasions.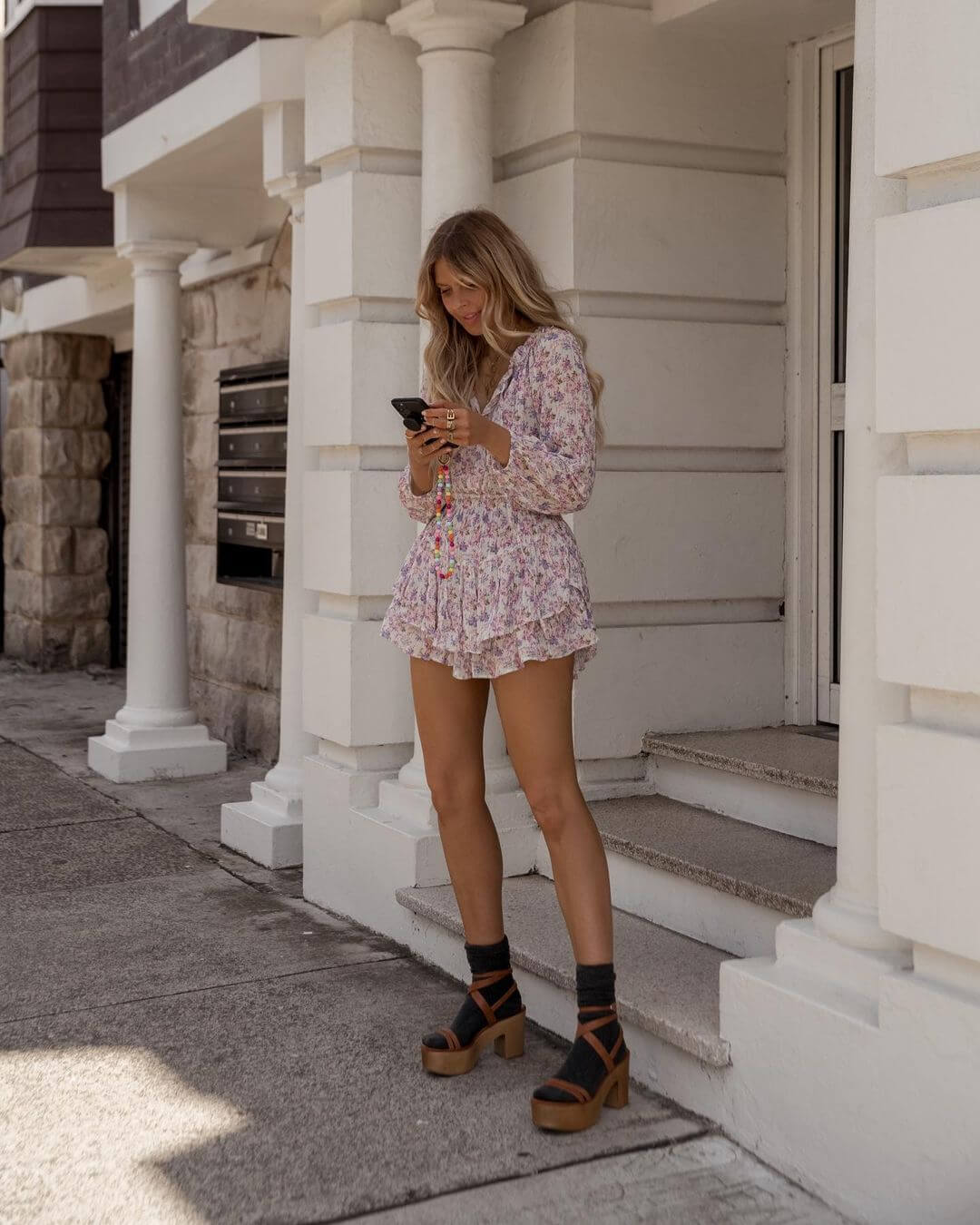 Photo via @elle_ferguson
7) Mini Dress + Socks 
A short and sweet mini dress invariably shows off a lot of leg so your footwear choice is absolutely critical. In this instance, you can use platform heels to channel a romantic ambience to your outfit. But what would make the look even better is throwing some socks into the mix for the ultimate feminine twist.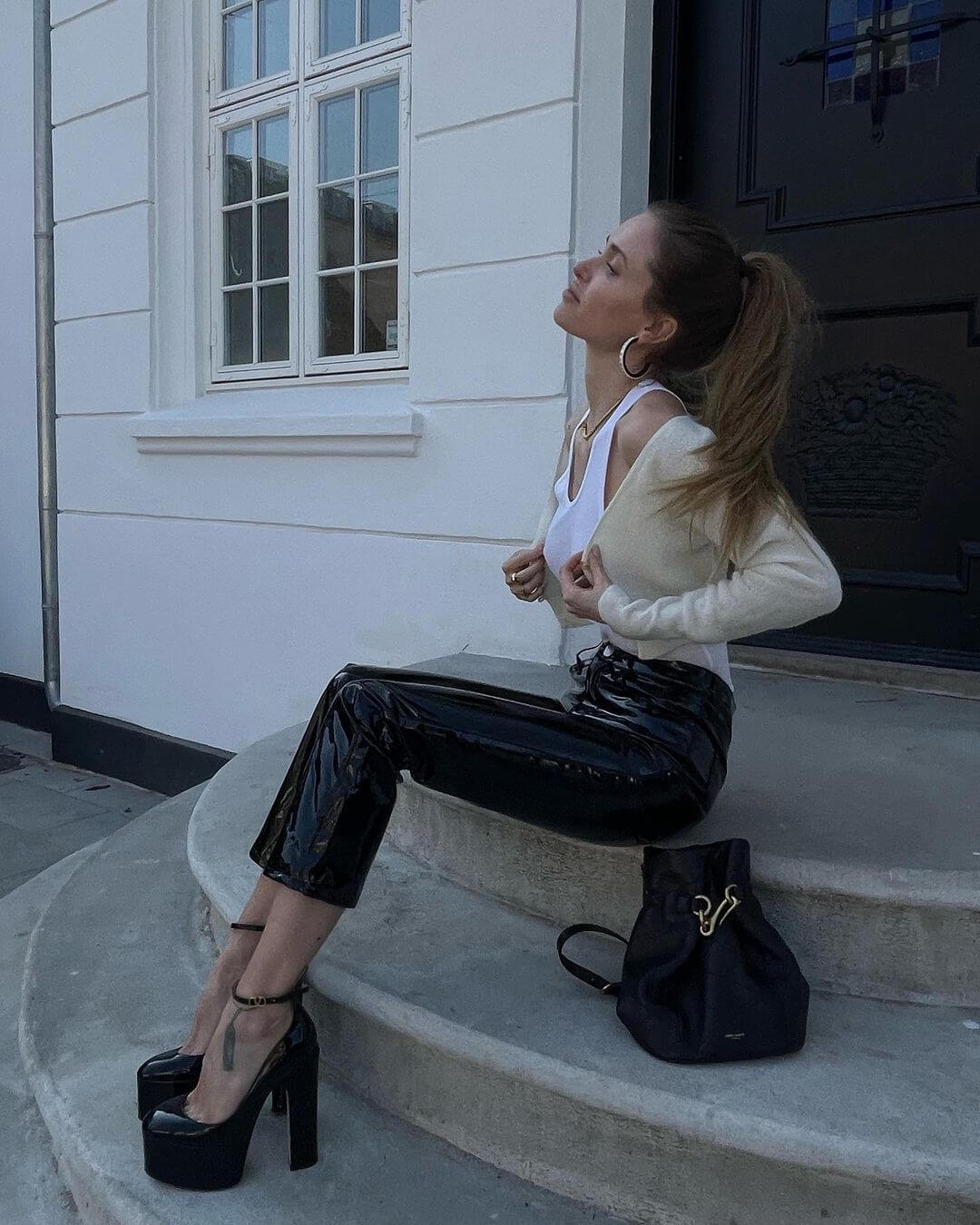 Photo via @pernilleteisbaek 
8) Touch of Leather
No need to shop for something entirely new when styling the platform shoe trend. Instead, mix-and-match pre-existing items from your wardrobe and make them feel brand new with the addition of sky-high heels. For instance, your favorite leather pants from fall and winter are perfect for those chilly spring days. Just give the edgy fabrication a ladylike treatment with platform pumps and a cropped cardigan.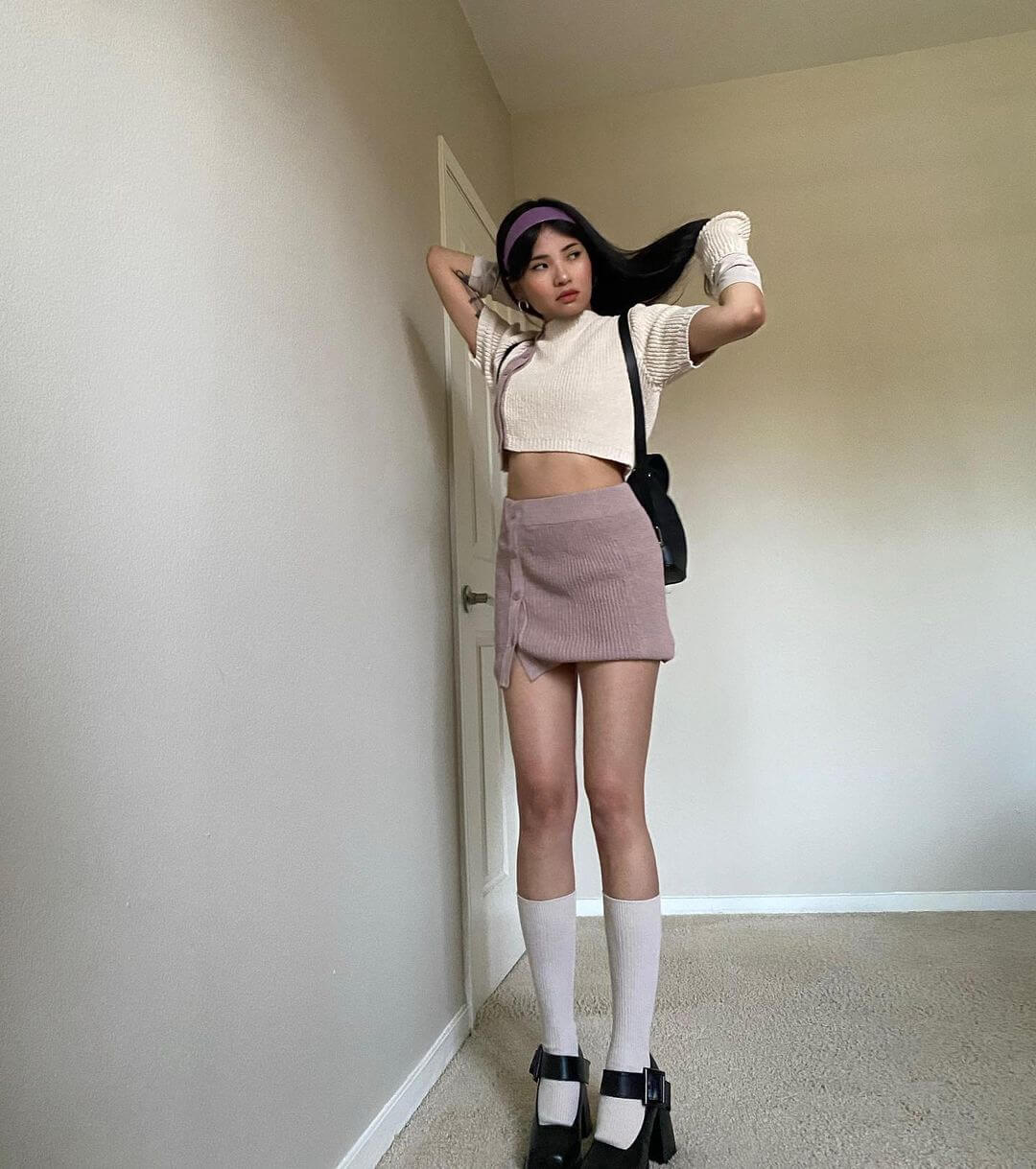 Photo via @pameluft
9) Mini Skirt
Still looking for a way to style that teeny skirt? If you add in some platform mary jane's, you've got a look that fits into the ever-so-popular Y2K bucket. Both pieces are a blast from the past and when worn together, the on-trend combo practically begs to be shown off. Feel free to add in knee-high socks to channel that academia aesthetic too.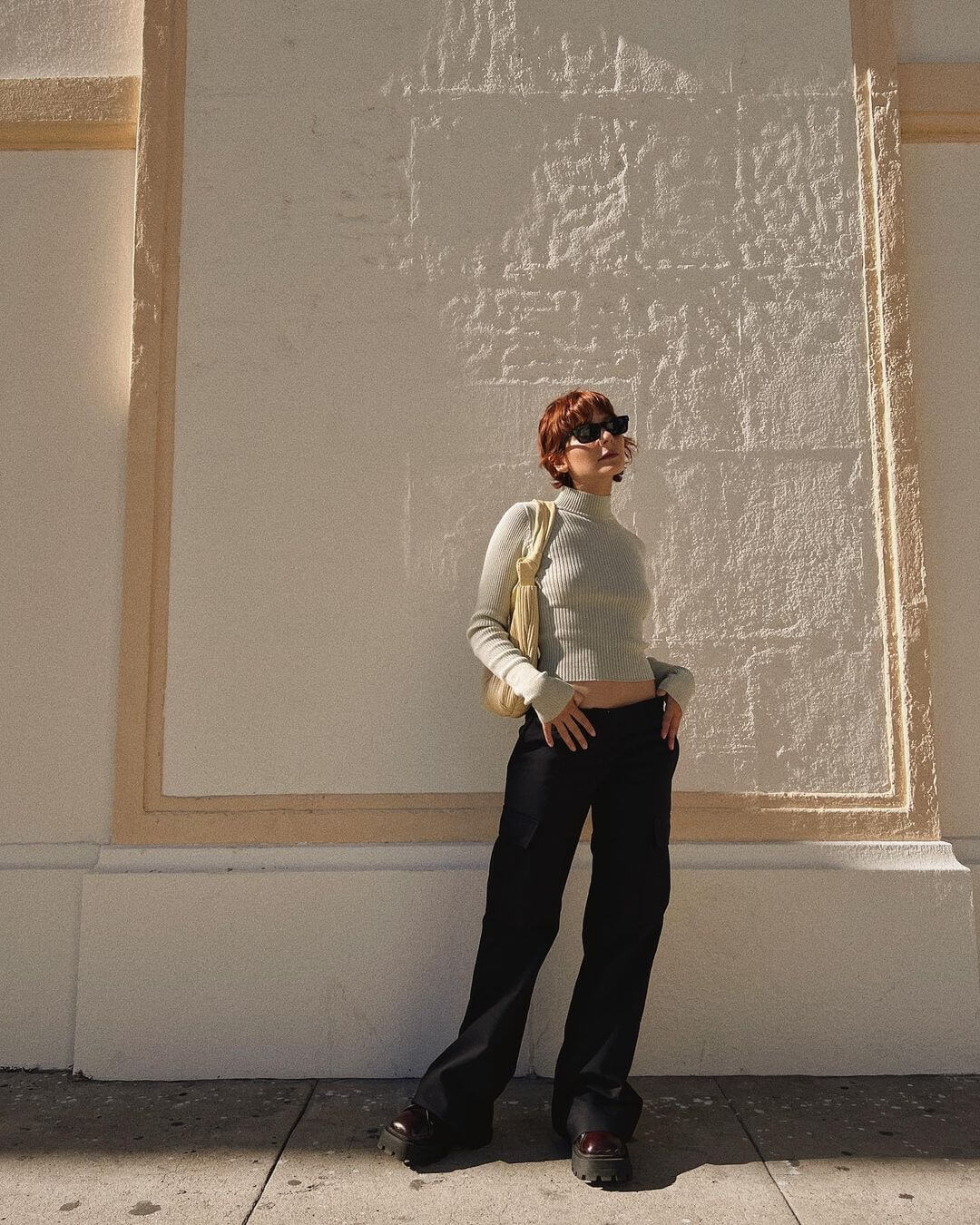 Photo via @alyssainthecity
10) Cargo Pants
For the ultimate relaxed vibes, style your chunkiest platforms with cargo pants, the undeniable "It" girl pants of the season. Oversized bottoms tend to look extremely cohesive with large-and-in-charge shoes as evidenced in the 90's. Just be sure to polish up the tomboy aesthetic by properly balancing it out with a modest crop top and baguette bag.

(Visited 1 times, 1 visits today)