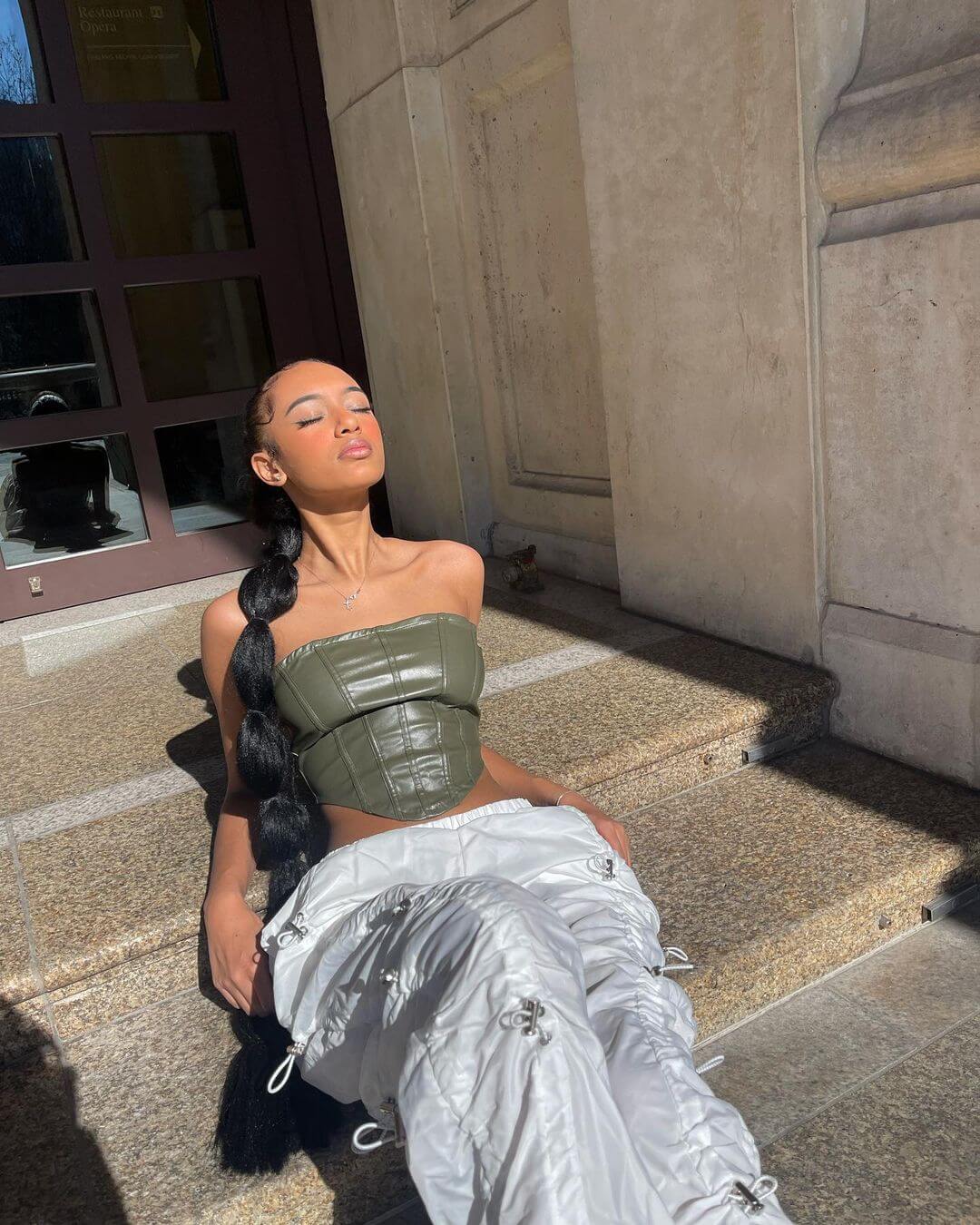 Photo via @aiss.atou
If there is one thing to takeaway from all of the trends currently circulating, it is that we are dressing sexier than we have in the past few years. In fact, spring 2022 isn't the time to shy away from sultry "hot girl" style. Normal fashion, as we knew it, continually shrinks in size and reveals a little more skin with each passing day. Take for instance, micro miniskirts, bra tops, sheer fashion and the likes. One flashy trend we're ogling more than the others is no doubt the corset. Hailing from the 16th century, the corset has made its way back onto the scene and we are deeming it the going-out top of the year. This post is proof that you can totally get away with wearing the lingerie-inspired piece with anything from skirts to cargo pants. So let's jump right into 10 different outfit ideas on how you can incorporate the itty bitty statement piece into your everyday looks.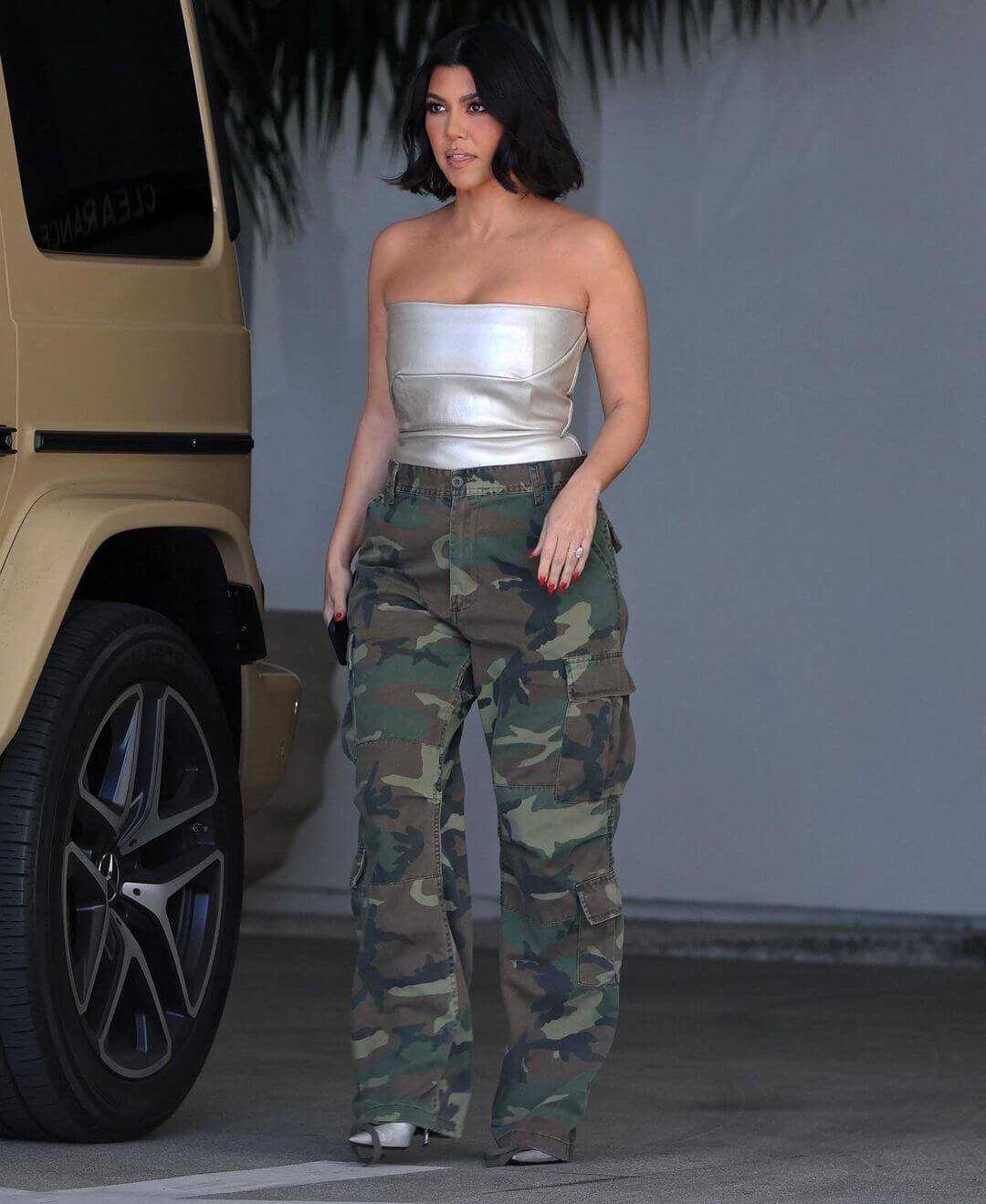 Photo via @danixmichelle
1) Cargo Pants
You know a trend is noteworthy when all the celebrities are jumping on board. Kourtney Kardashian was spotted donning a flashy, metallic corset with none other than an unassuming pair of camo cargo pants. The bold top is the perfect contrast against the more androgynous bottoms, while the addition of the heels make it a foolproof night out look.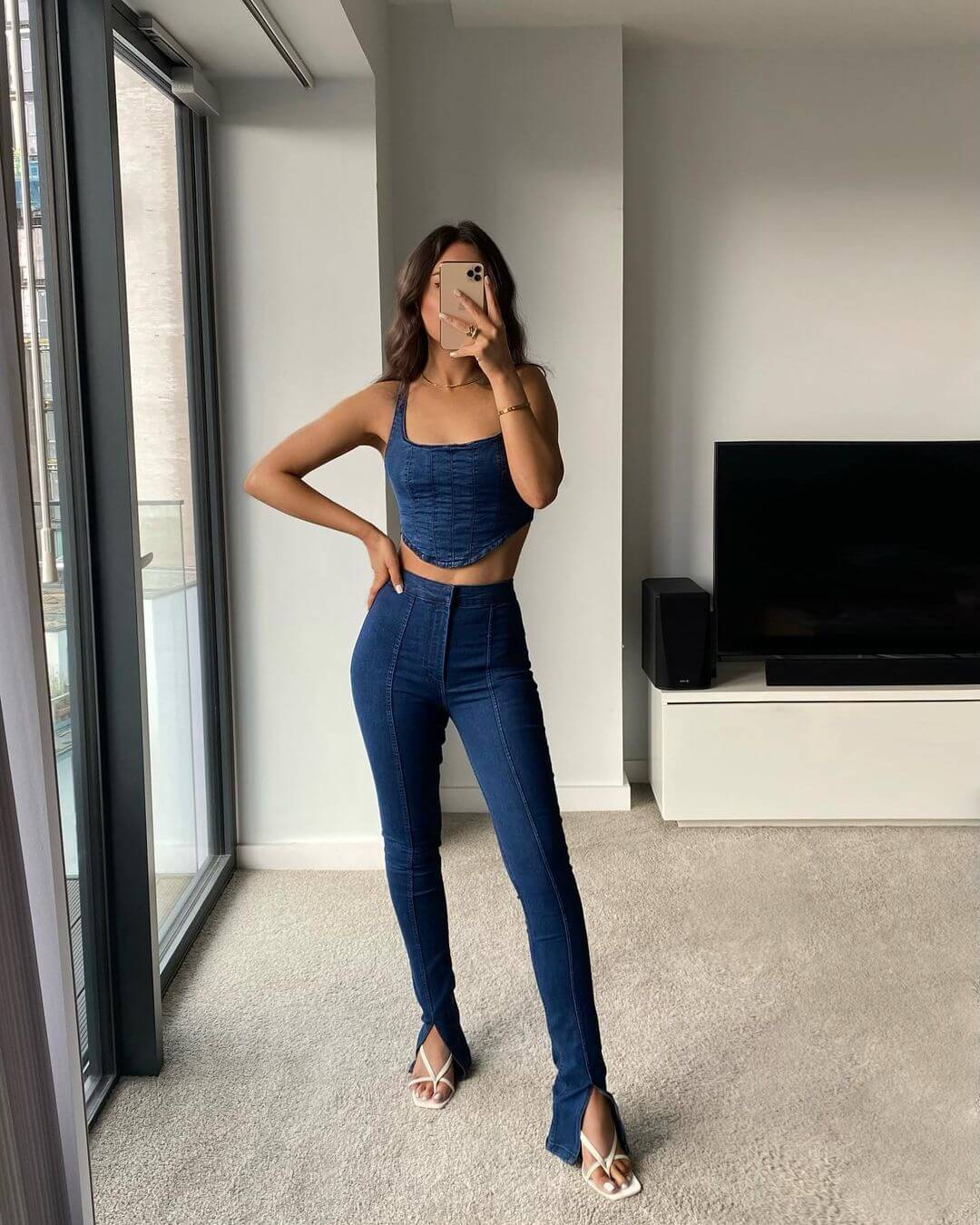 Photo via @georgiedobson
2) Coordinating Pieces
Monochromatic looks never fail to imbue polish and sophistication – and this applies to the trending corset too. Georgie makes a case for coordinating pieces by styling a dark denim corset with matching split hem pants to achieve a cohesive look. Even if your top and bottom do not match to the tee, you can still achieve this sleek effect by sticking to the same color family or fabrication.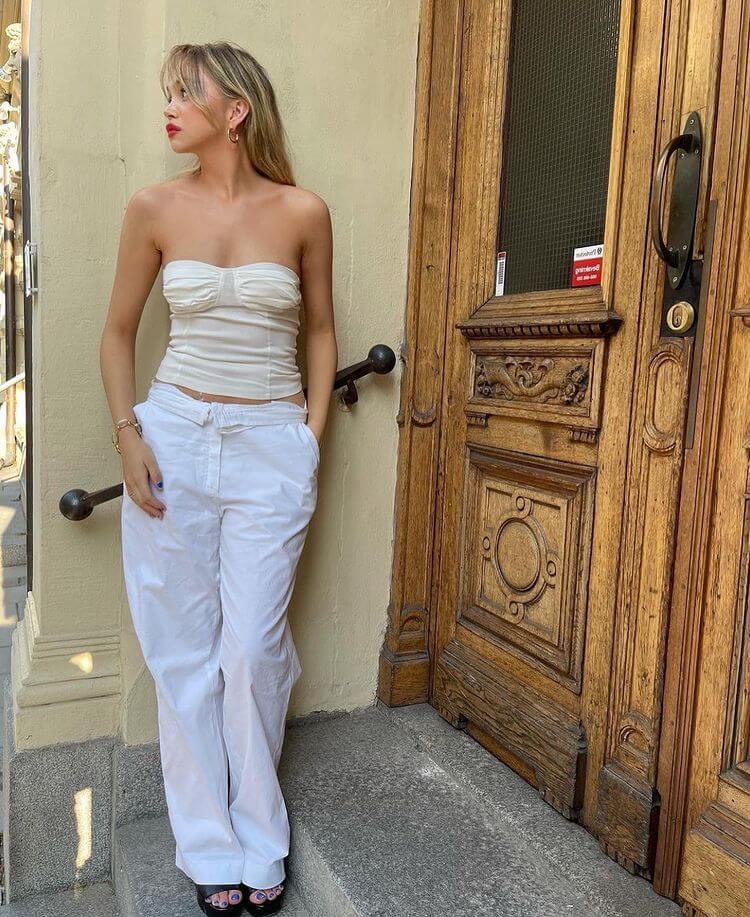 Photo via @wefelicia
3) Neutrals
Not every corset needs to be worn in a formal nighttime fashion either. You can easily transition your look to be more daytime appropriate by opting for a lighter, more casual color palette. Sticking to soft neutrals creates a relaxed vibe that can be pulled off any hour of the day. Additionally, you can style your corset top with a pair of wide leg bottoms and slide sandals to emphasize the laid-back mood.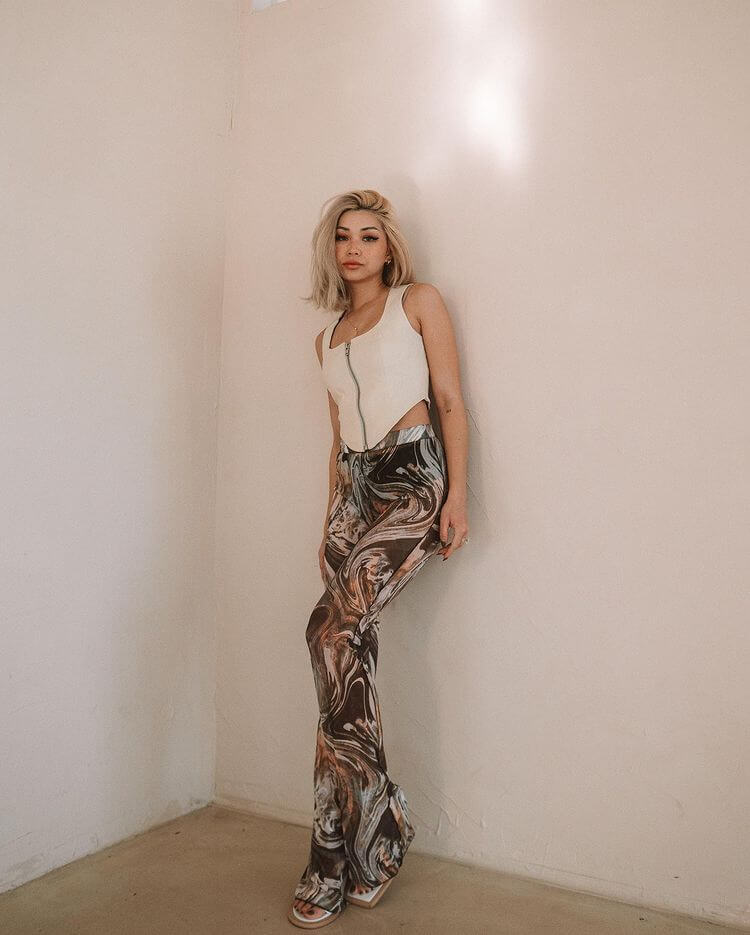 Photo via @francislola
4) Groovy Pattern
Channel the Y2K aesthetic by not only rocking the corset top but by also hopping on the groovy pattern trend. This is any abstract print that takes the form of psychedelic swirls or rippled waves. Our recommendation is to let the print do the talking! If your bottoms are in this groovy pattern, accent the look with a solid colored corset so the two pieces harmoniously balance each other out.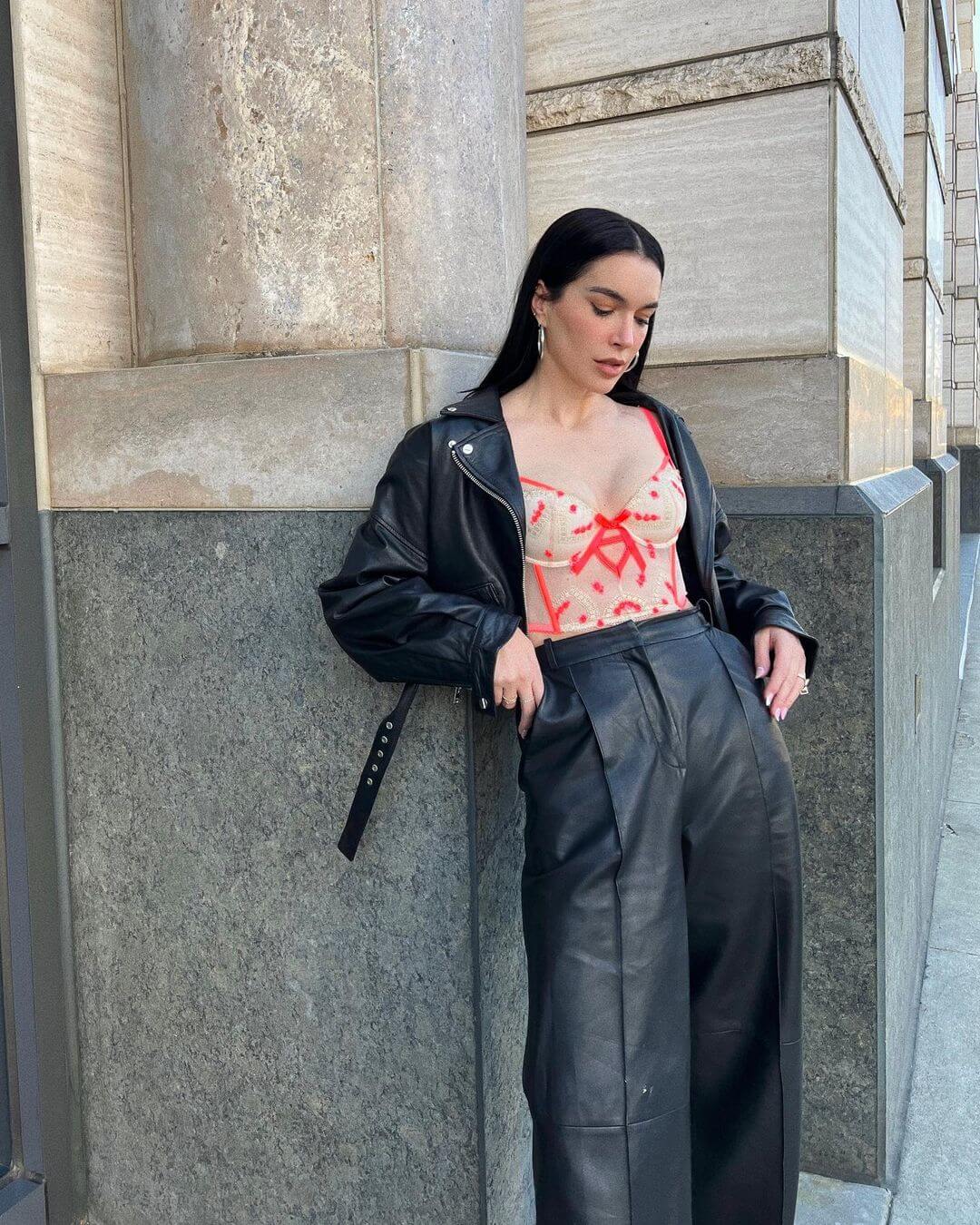 Photo via @brittanyxavier
5) Leather & Lingerie
You can also skip right to the lingerie department to find your next corset. A little bit of lace action is optimal for fitting right into that sensual aesthetic. Just amp up the look further by throwing leather to the mix. The classic combination of leather and lace always manages to be a hit and a premier outfit choice for your next date night. Throw on a moto jacket, leather trousers – or both if you want to go above and beyond.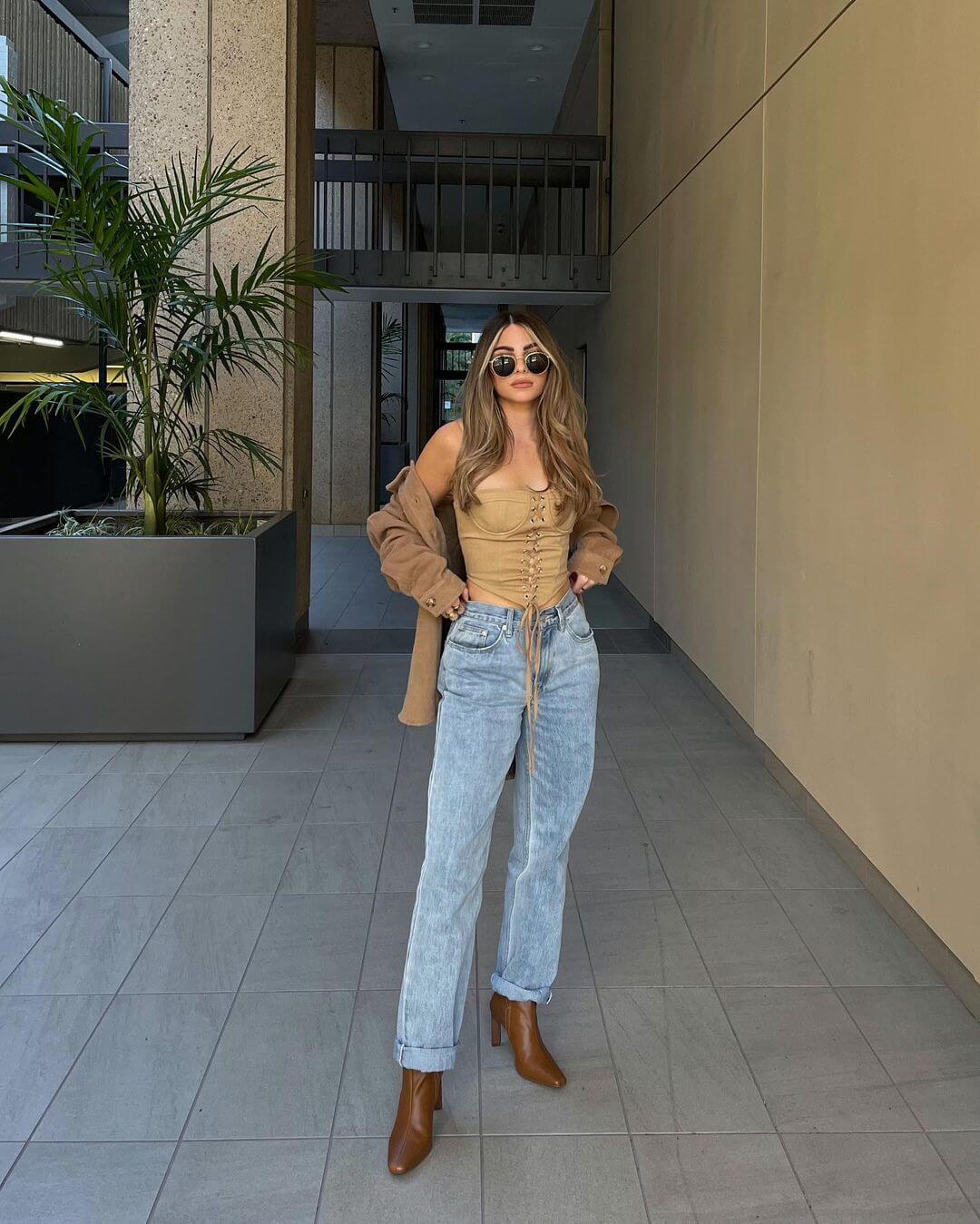 Photo via @josipellicano
6) Relaxed Denim
No need to overthink the corset trend either. If you want something simple and straight to the point, do not be afraid to dress up your denim with this going-out top. It's a show-stopping look that provides ample room for novel styling. You can wear your most flattering corset top with jeans and some heeled booties for an outfit that can take you from day to night. We recommend opting for a pair of slouchy jeans to nail that of-the-moment vibe.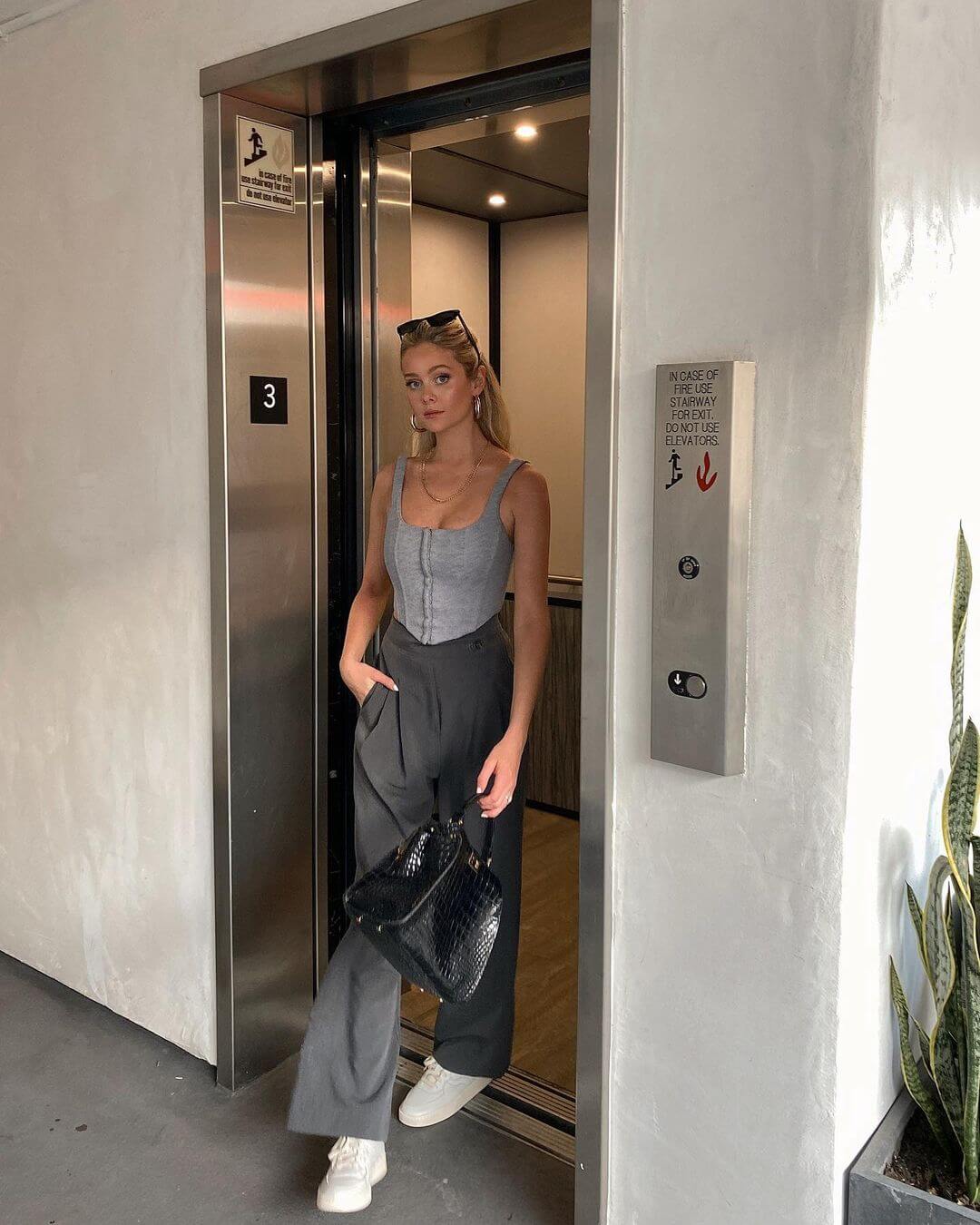 Photo via @hannahg11
7) Trousers
Enlist your favorite work pants for non-work related activities by adding a corset to the rotation. Note how the fitted top isn't just toned down by the flowy silhouette of the pants – but it feels much less like a night out look too. Avoid making the outfit appear too stuffy by sticking to a pair of sneakers, although kitten heels would have a similar effect. For the ultimate cool girl touch, don't step outside the door without a pair of oversized sunglasses in tow.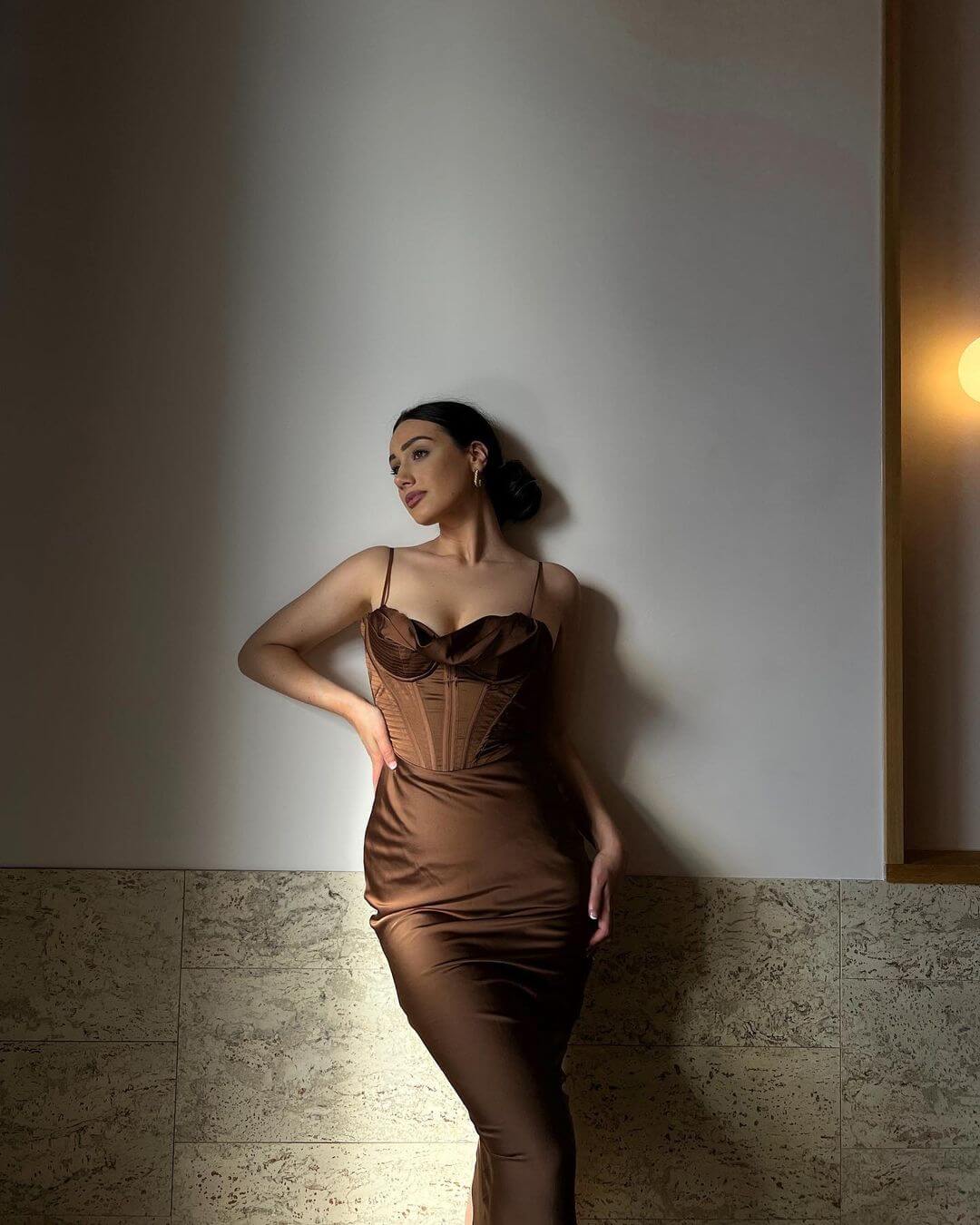 Photo via @angelagiakas
8) Dress It Up
Corsets are having such a moment that many designers like Versace are integrating the structured bustier top into other silhouettes. For instance, this corset embedded dress is truly breathtaking. Just like the regency-era days, the top accentuates your curves (but without the breathlessness). You could also recreate the same look by wearing a standalone corset over your dress or skirt of choice.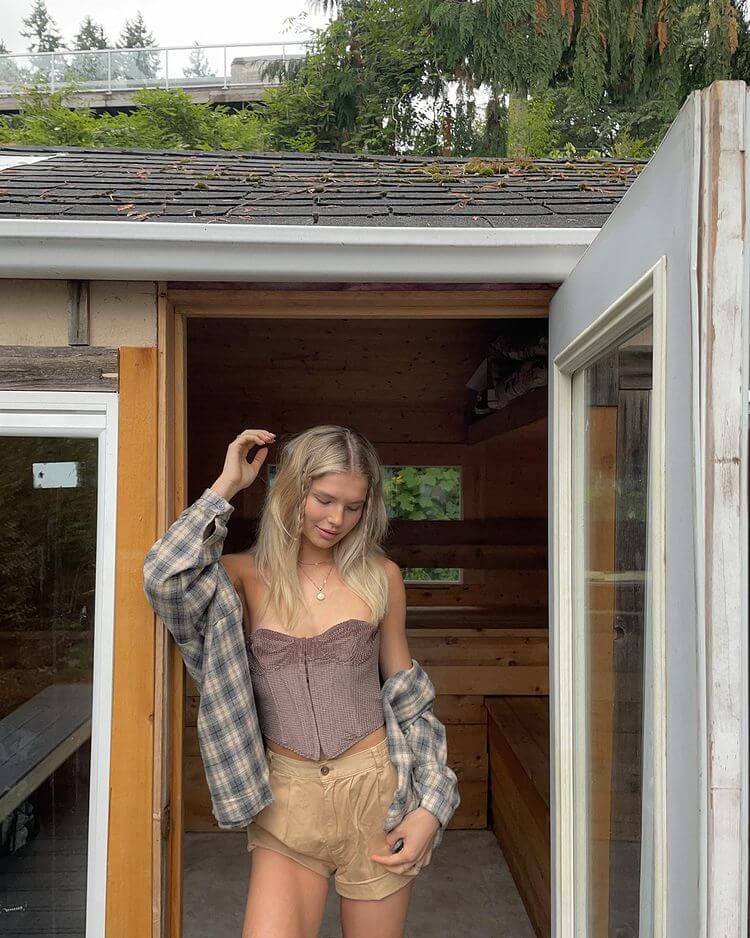 Photo via @elliethumann
9) Warm Weather Staples
As the days get warmer, there is even more reason to bust out a corset. In this case, think of it as an elevated tube top. Don your most comfortable corset and wear it with relaxed pieces, such as a cozy plaid over shirt and soft shorts. To complete the look, a trusty pair of combat boots will do the trick. This is evidence that a strapless bustier can be just as casual as it is formal.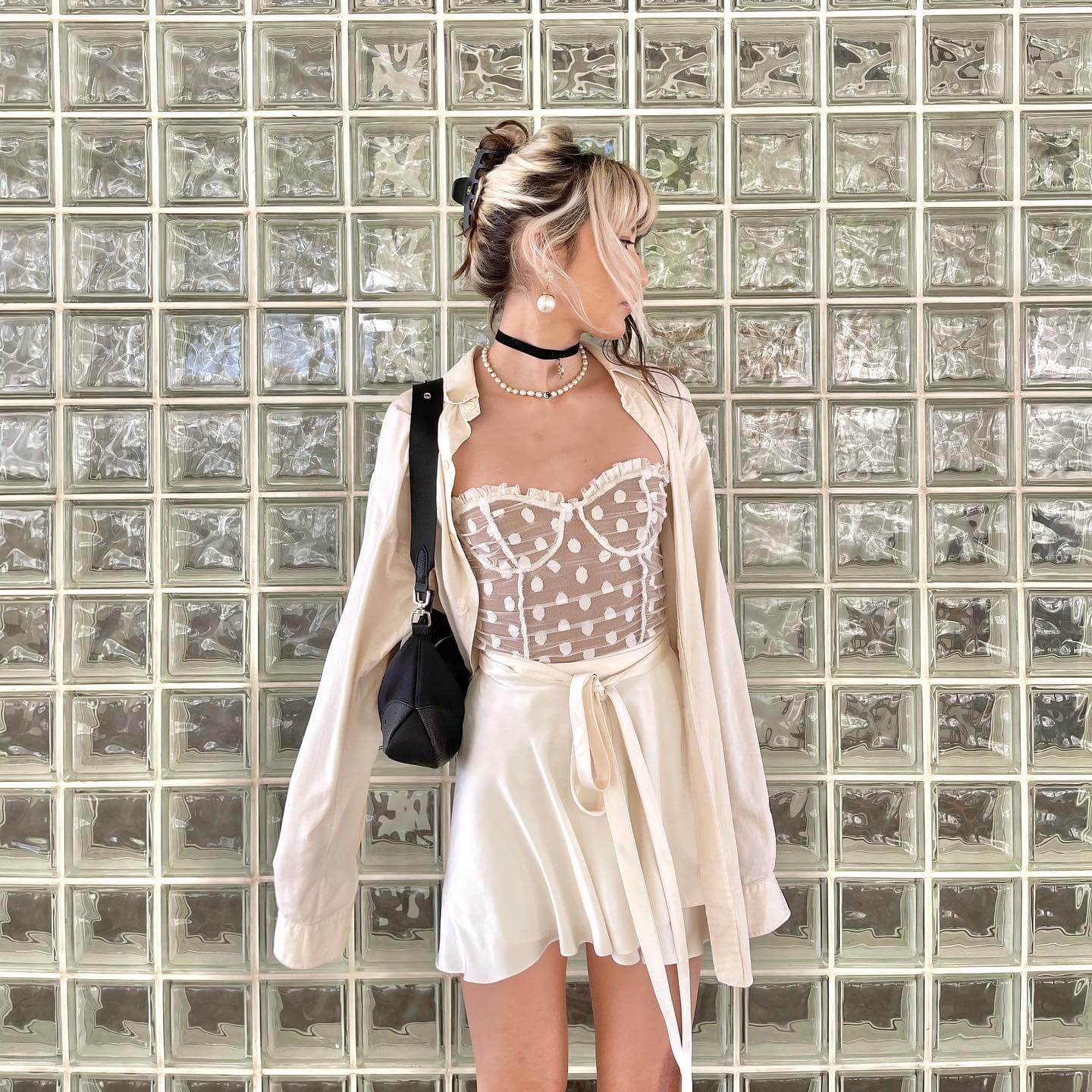 Photo via @best.dressed
10) Silk Sonic
We can all agree that the corset is naturally a romantic piece. That said, the ethereal aesthetic can be played up by incorporating equally dainty pieces. Think billowy silk garments or tulle as both are also tremendously feminine. We love how this influencer styled her lace corset with a silk miniskirt for an everyday look that also taps into the balletcore trend.

(Visited 1 times, 1 visits today)