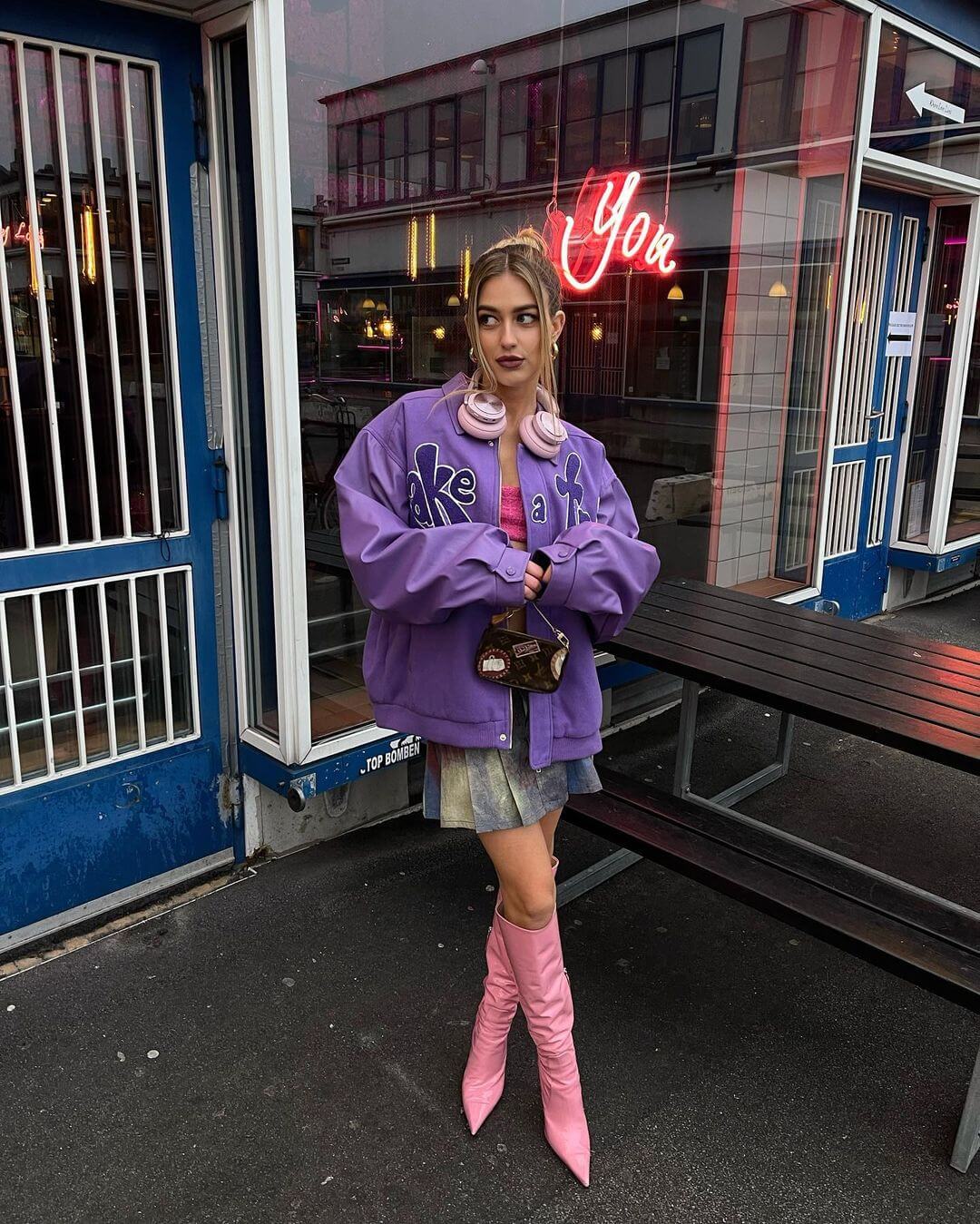 Photo via @emilisindlev
This might be a surprise to some, and not so much to others, but bomber jackets are officially in style for the spring and summer season. It reemerged on the fall and winter 2021 shows, and has since received the backing of our favorite celebrities from Hailey Bieber to Rihanna to Gigi Hadid. It's only a matter of months before we see them everywhere! This comes at a convenient time as we shift from winter to spring when light jackets are certainly needed. From classic styles to more eye-catching designs, the bomber jacket will be the perfect counterpart to your warm weather looks. Not convinced quite yet? Have no fear – we've compiled 10 outfits highlighting the bomber jacket as inspiration.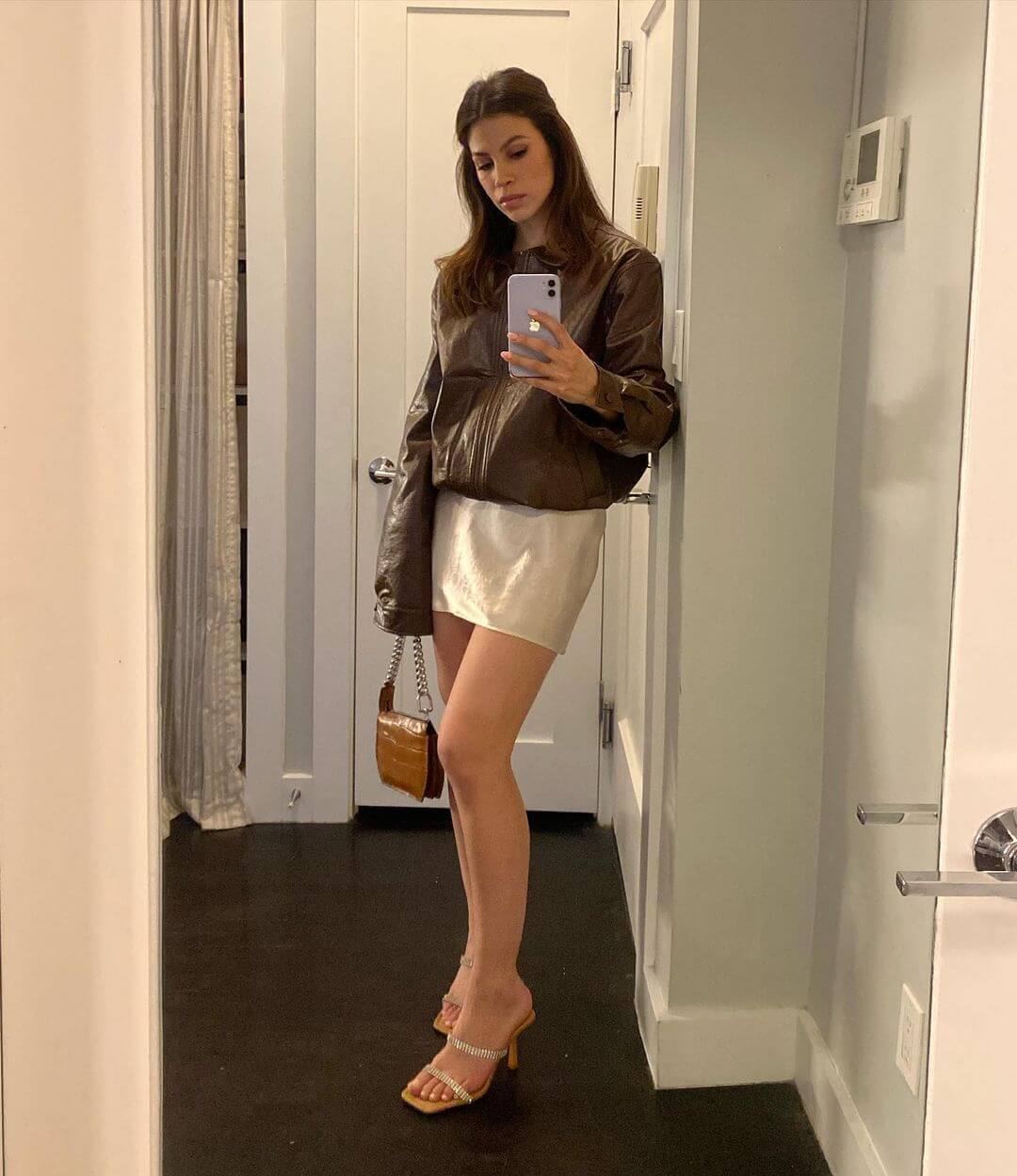 Photo via @theeverydayicon
1) Slip dress
Slip dresses aren't going anywhere, so if you're looking to give them a little refresh for spring, consider layering a faux leather bomber jacket on top. The elegant and edgy contrast will usher you into the spotlight for a date night. Just finish off the look with embellished sandals and a baguette bag. To make it more daytime appropriate, sneakers will do the trick.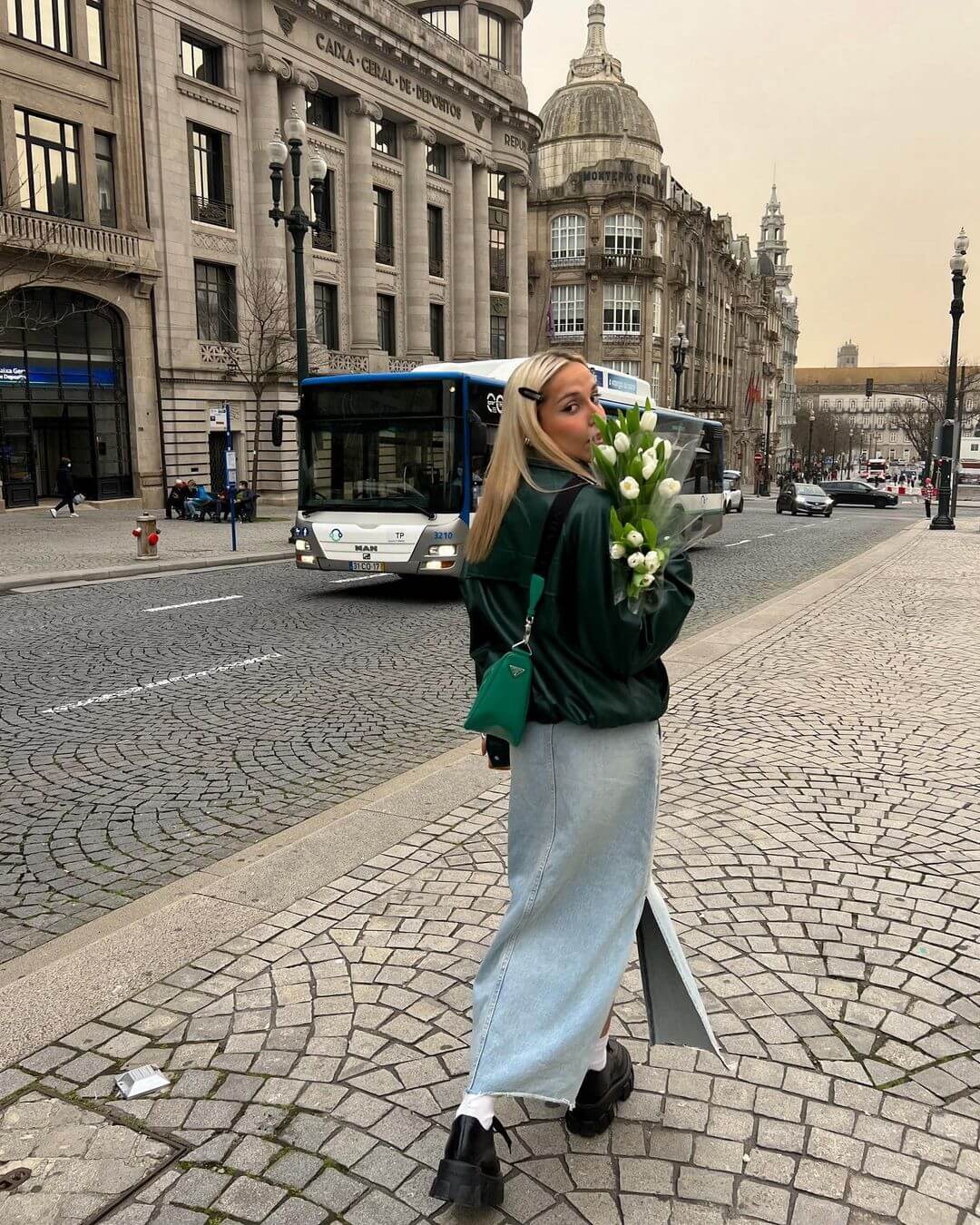 Photo via @sofiamcoelho
2) Denim Skirt & Chunky Loafers
If you're in search of fuss-free, easy spring outfits, take inspiration from this unique combination. A bomber jacket and long denim skirt with chunky loafers make for one effortlessly cool fit. It's the kind of look to run around in on the weekends when you're meeting up with friends for lunch. You can also transition it for a fun night out by slipping into sleek heels.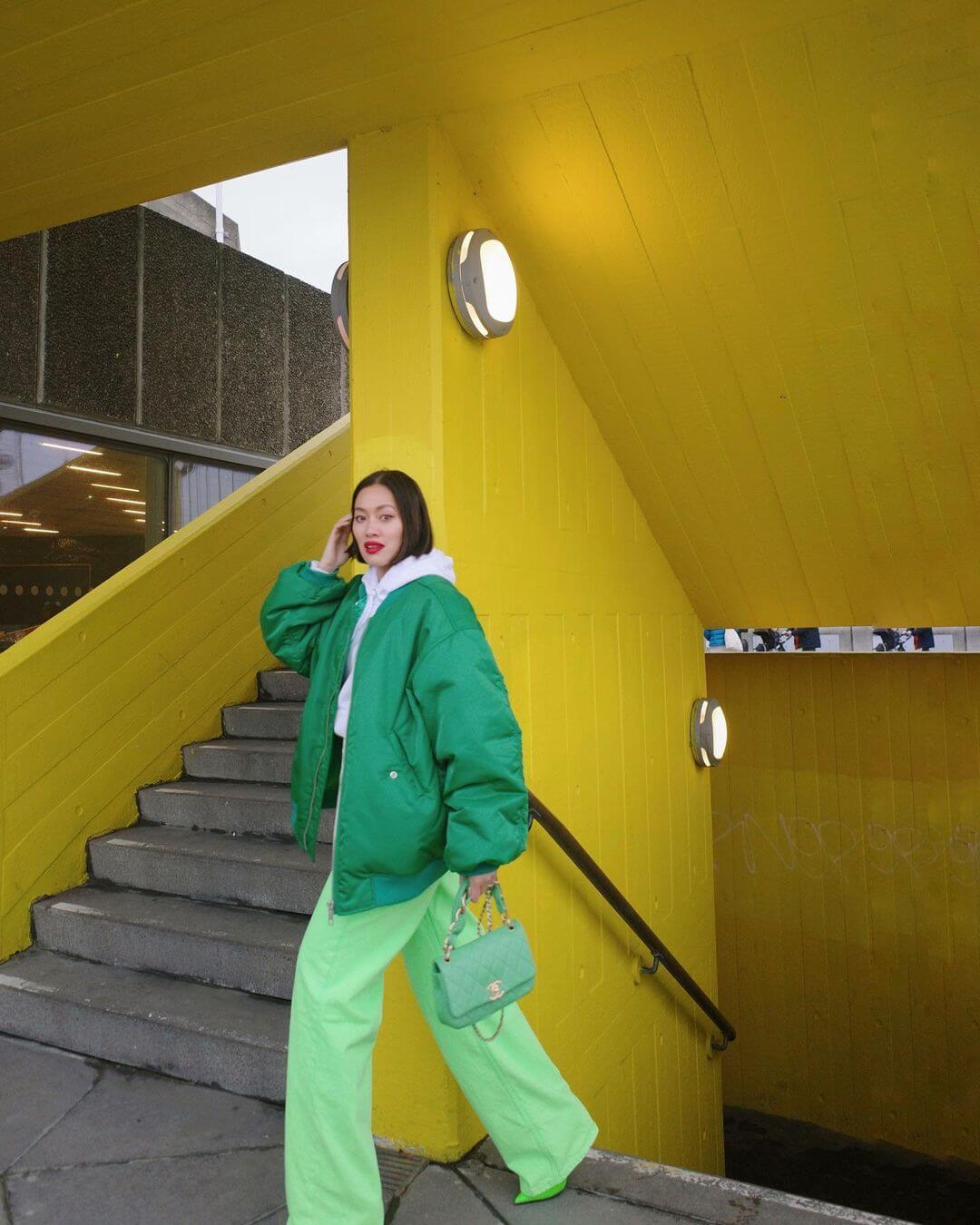 Photo via @handinfire
3) Bold & Bright
Bold, colorful bomber jackets are one particular style to make a mental note of. As for how to style them, do as Tiffany does above and pair them with equally colorful pieces. The head-to-toe saturated look turns up the heat and makes an entrance. Green is an obvious choice but if you're looking to veer off the beaten path, consider pink, orange or purple.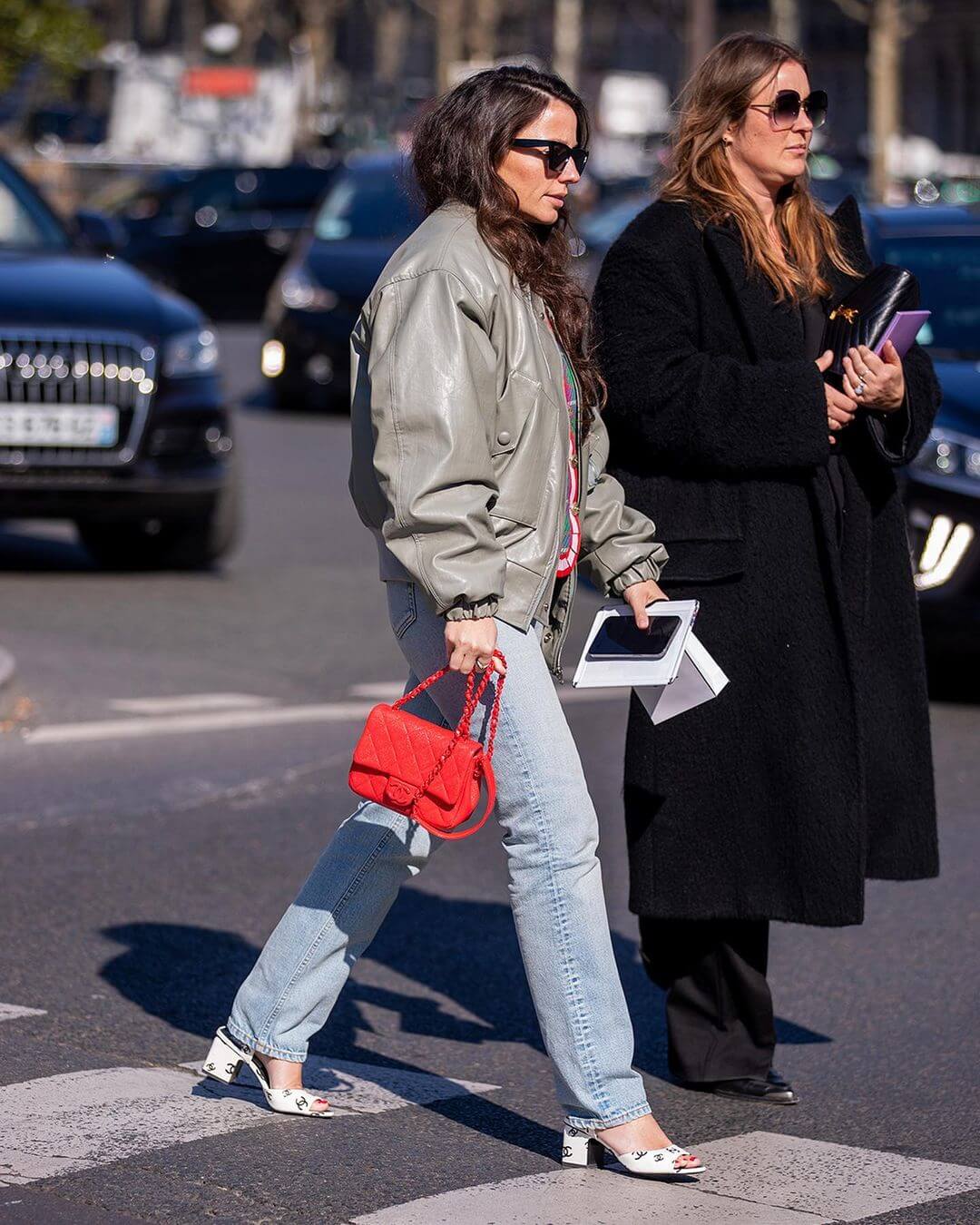 Photo via @ankedejng
4) Straight Leg Jeans & Heels
For an easy everyday take on bomber jackets, opt for one with a boxy cut and pair it with straight leg jeans. We love how this street style star went after a leather finish – but don't shy away from other options whether it's a quilted texture, satin look, or even a varsity jacket. Regardless of your choice, low block heels tie the whole look together. All that's left to spice it up are tiny sunglasses and a bright handbag.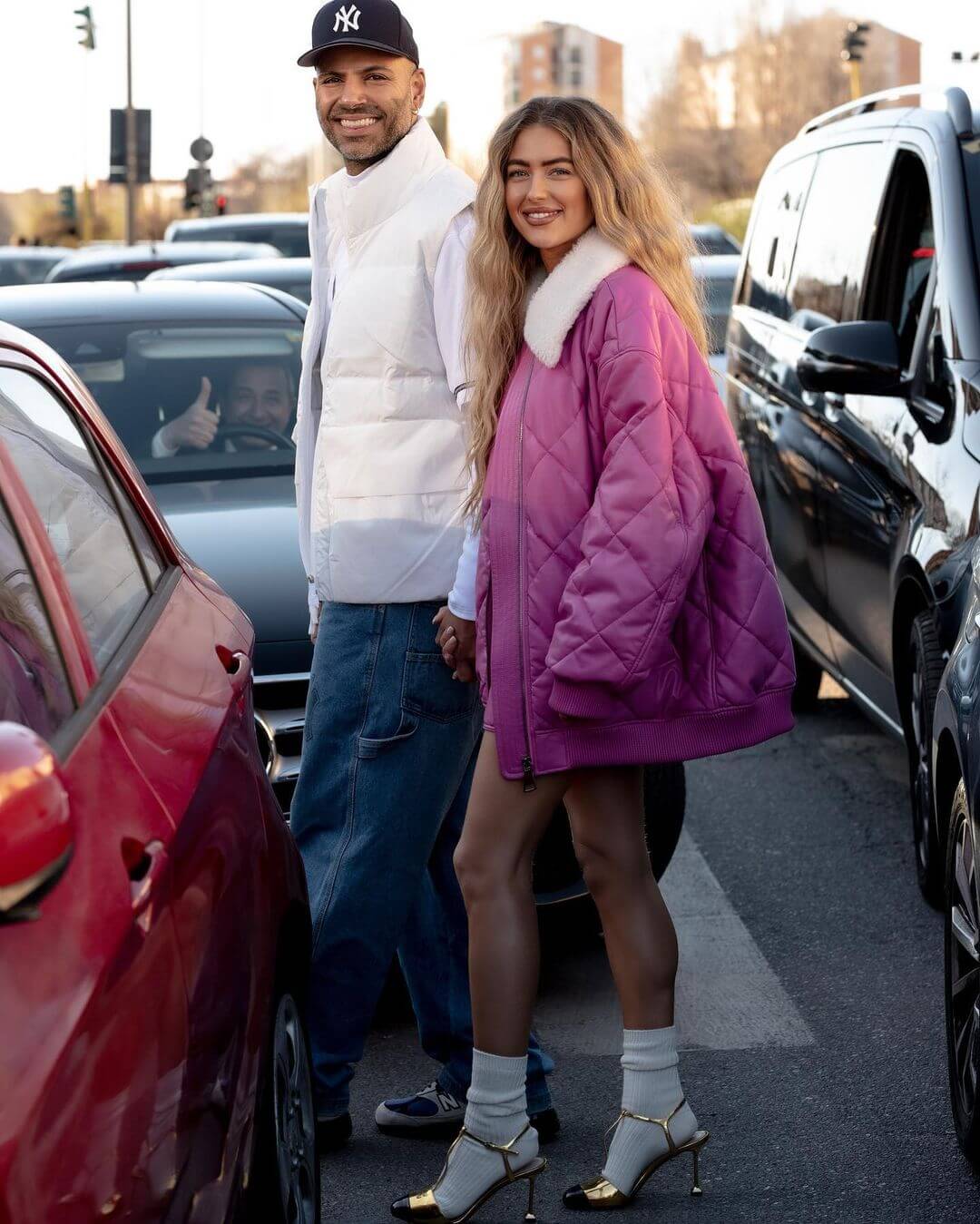 Photo via @emilisindlev
5) Socks & Sandals
Bomber jackets come in a variety of silhouettes, materials and colors these days. To create a look that feels very of the moment, considered an oversized jacket complemented with socks and metallic heels. The unconventional formula is a street style worthy look that begs to get snapped. Underneath that lofty jacket should be a miniskirt, another 2022 trendy staple. Fashion girls just can't seem to get enough of this combination lately.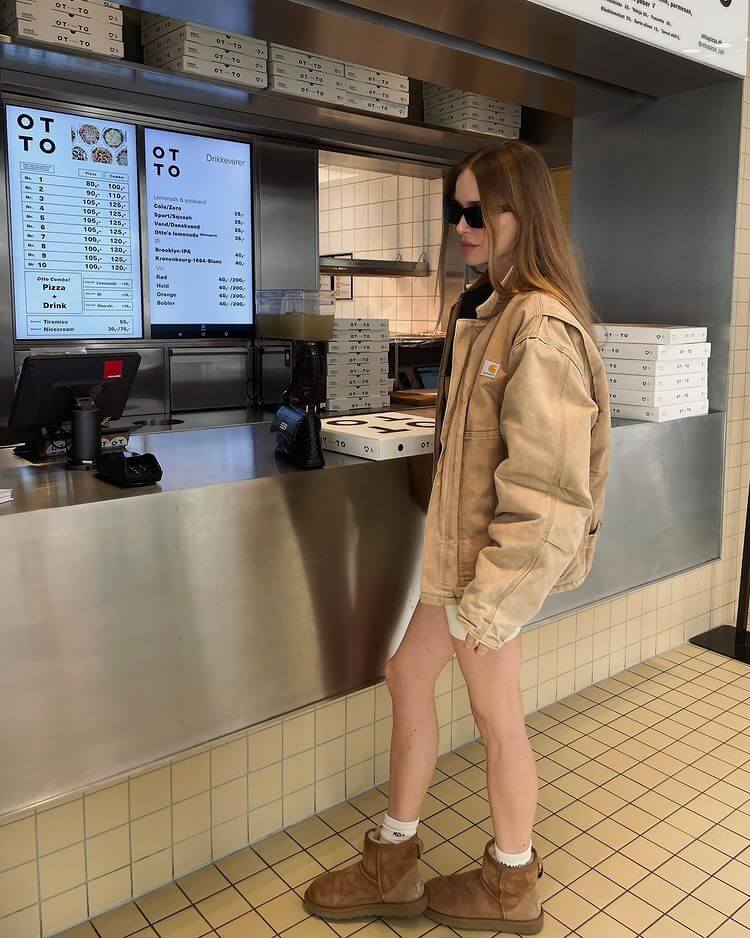 Photo via @pernilleteisbaek
6) Biker Shorts & Uggs
The laidback nature of bomber jackets make them the perfect layer for everyday. We love how Pernille dresses hers down with biker shorts and short Ugg boots. It's the kind of look we want to rock when running errands or making a quick coffee run. Accessories are optional but as proven here, the pieces truly speak for themselves.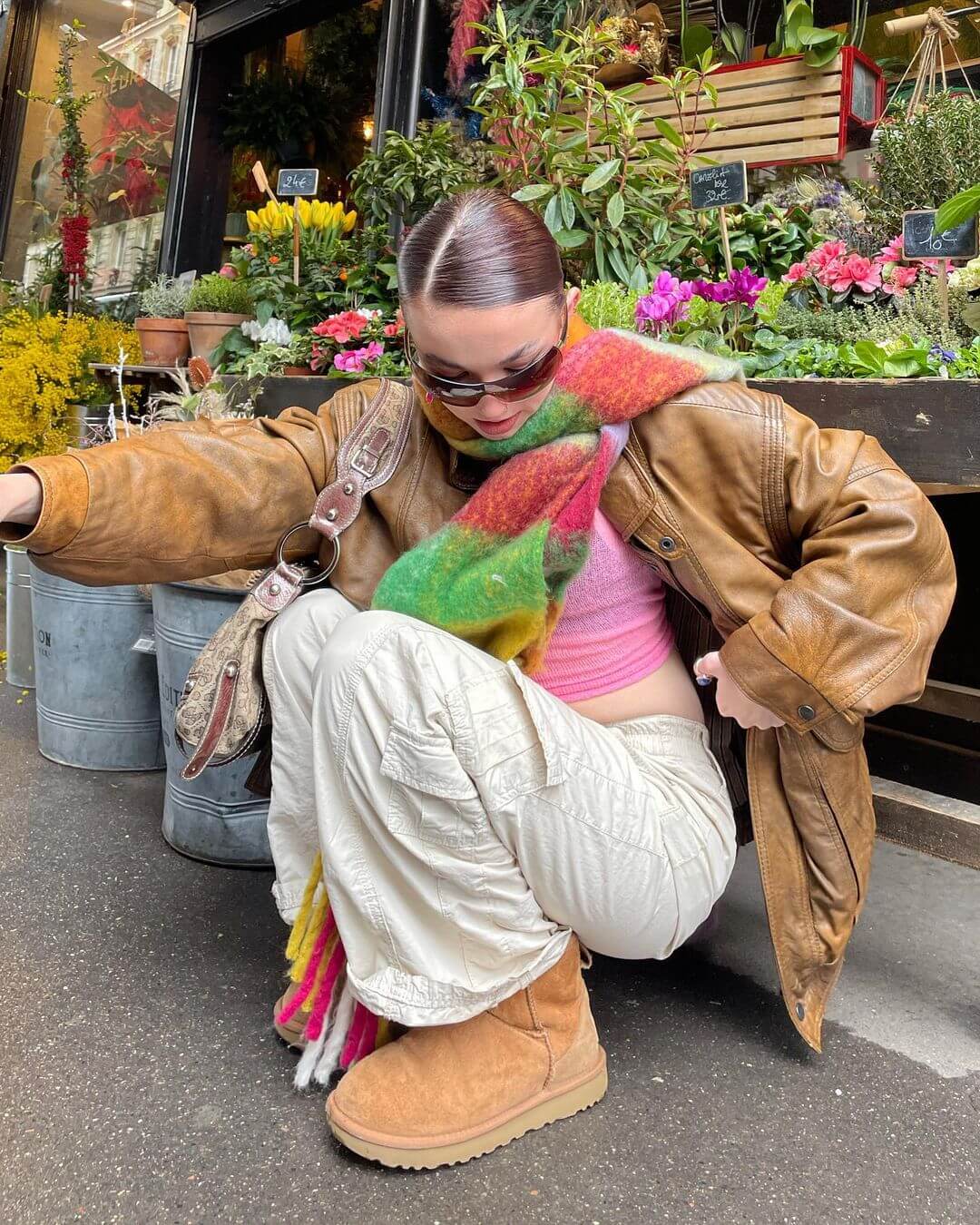 Photo via @laraadkins
7) Cargo Pants & Crop Top
Bomber jackets are a great way to flex your fashion muscles since they're so versatile and fit a variety of style aesthetics. One way to champion the trendy outerwear this season is by wearing it with all of spring's best trends. A colorful cropped tee with cargo pants and Uggs couldn't be a more appropriate combo for this retro jacket.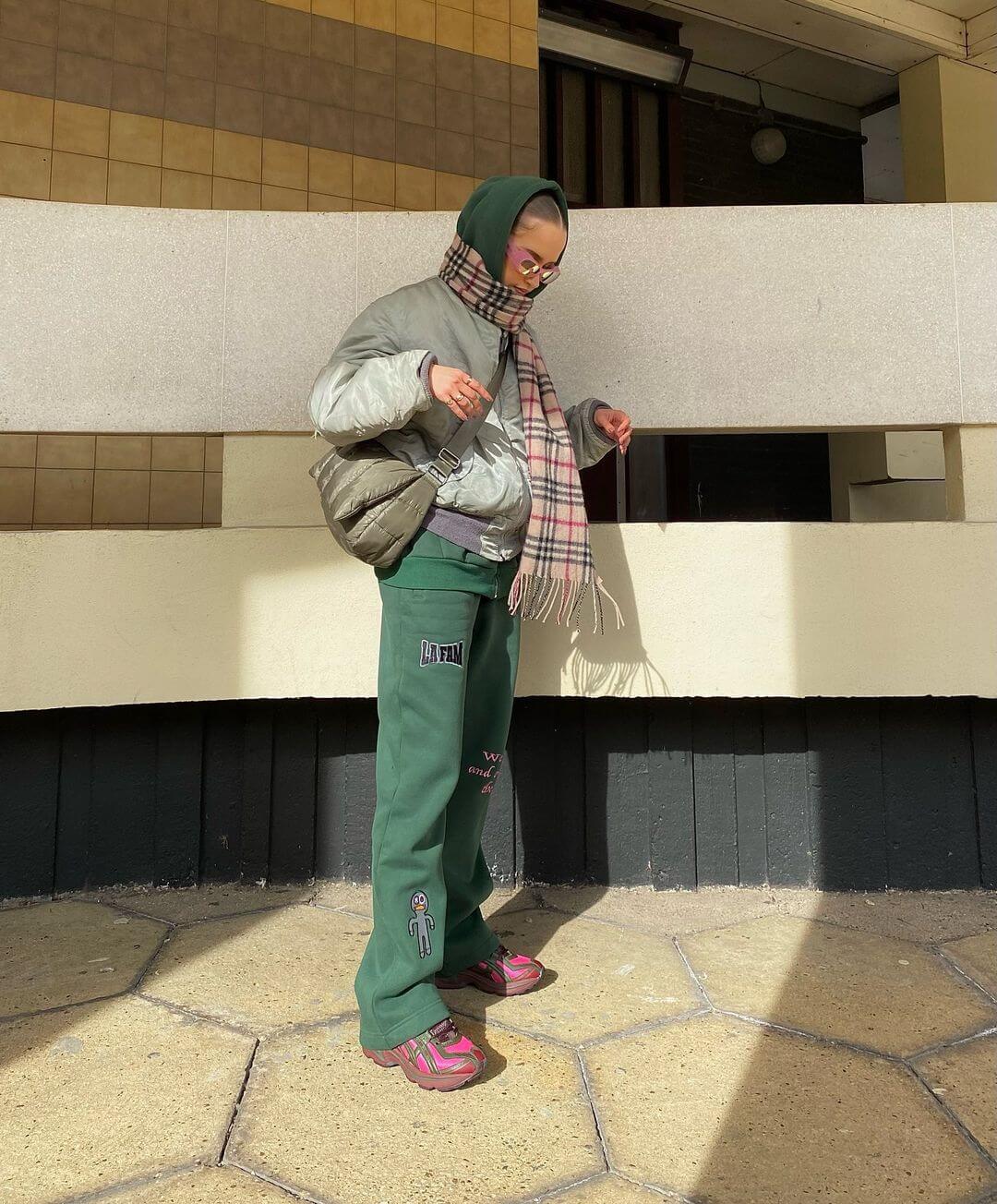 Photo via @natwinter_
8) Sweatsuit
We're also seeing the fashion set team their bomber jackets with casual staples, like sweatsuits and matching sets. The jacket's sporty feel with loungewear makes for a classic styling choice that fits right into early spring. If you want to take the casual look up a notch, add colorful specs and a plaid printed scarf.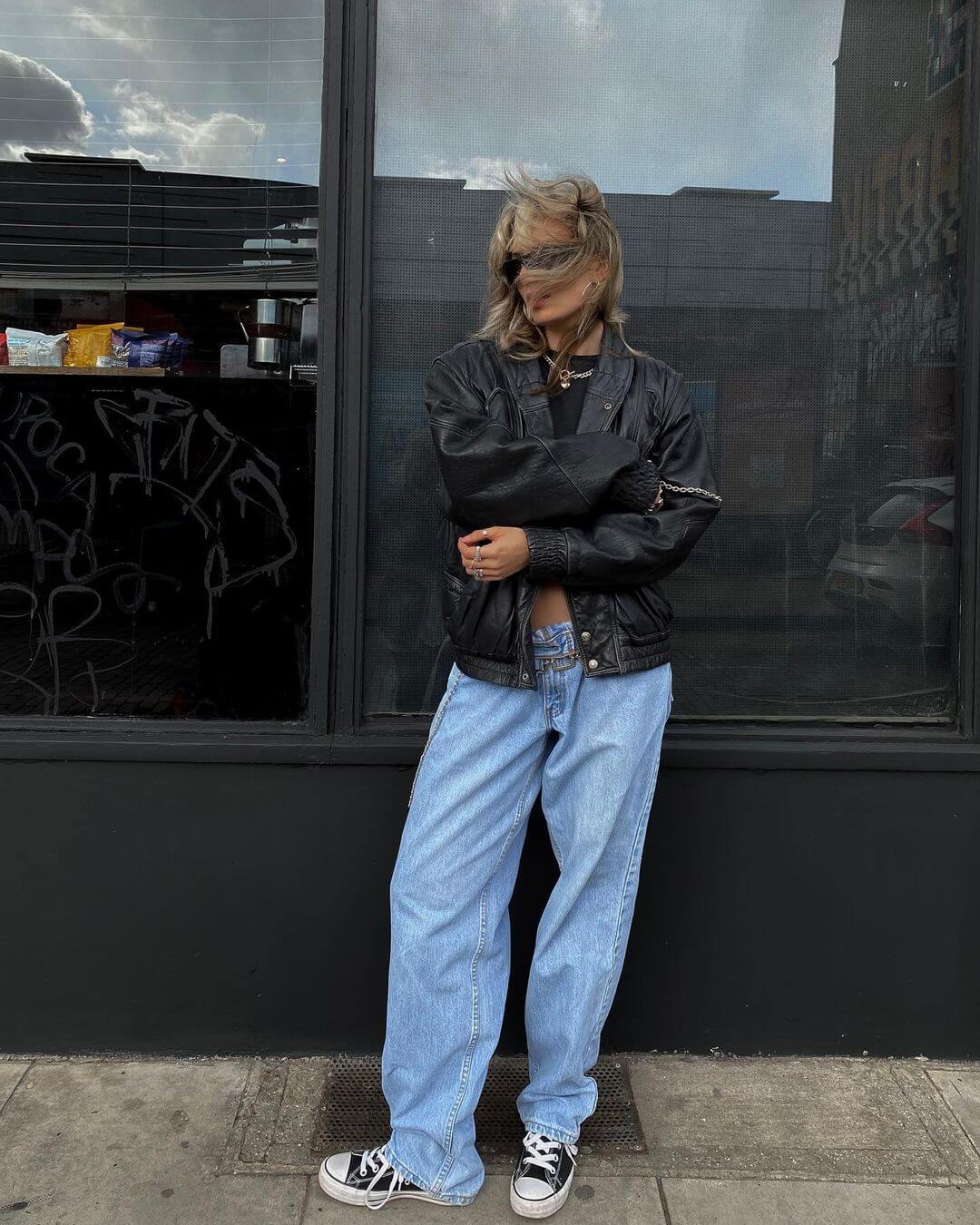 Photo via @momentsabloom
9) Baggy Jeans & Sneakers
Bomber jackets have wavered in and out of style since the 80's, so why not embrace it in 2022 by taking it back to its roots? Sport your bomber with vintage-washed jeans in a baggy fit, classic Converse's, loads of chunky jewelry and tiny sunnies. Given the boxier fit of this jacket, you can wear anything underneath from cropped tees to comfy hoodies.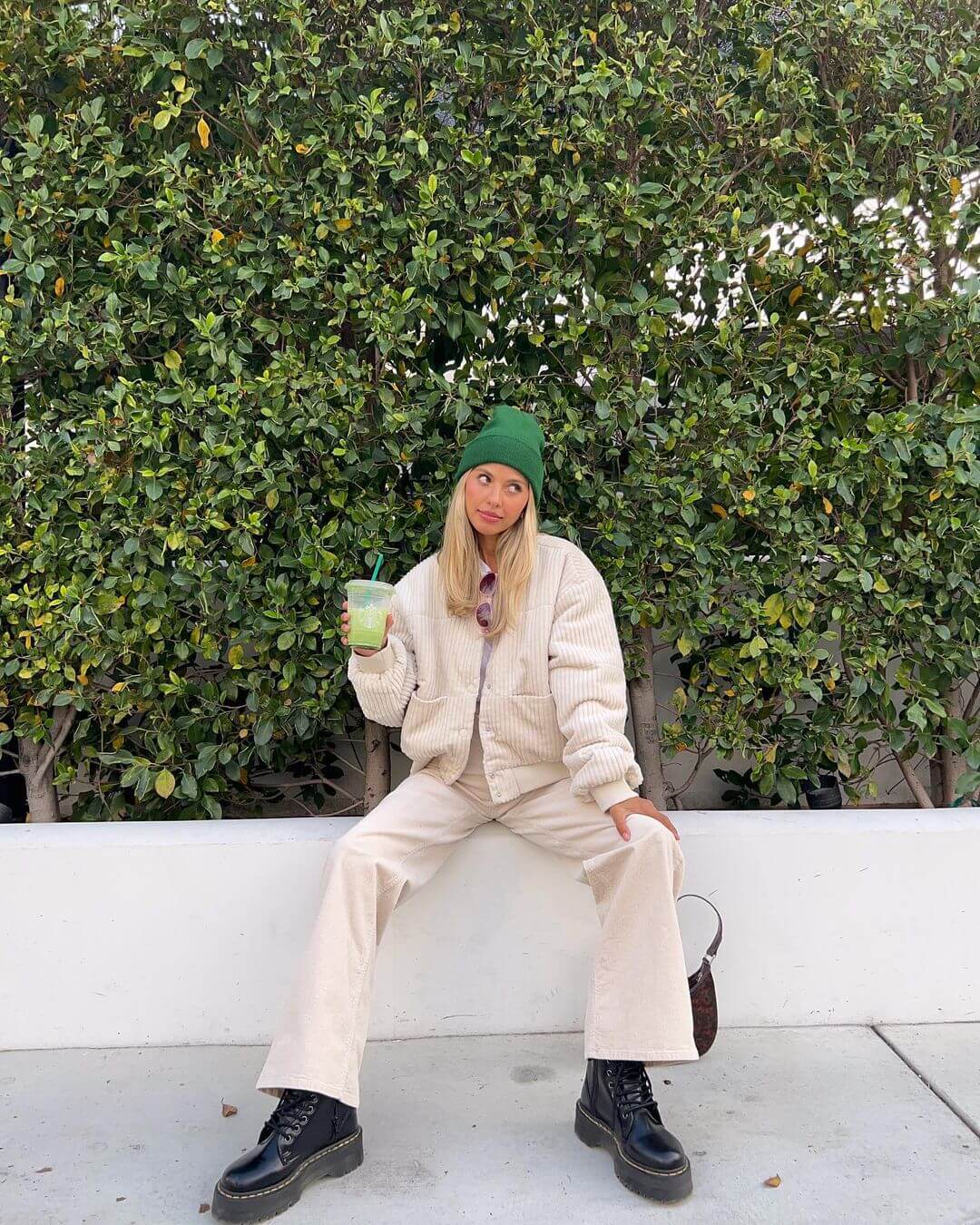 Photo via @brit_harvey
10) Spring Neutrals
If your style leans more classic, consider this easy approach to wearing a bomber jacket. A light colored jacket feels a little more elevated and looks so chic with ecru jeans and lace-up boots. Neutral and basic doesn't have to mean boring though. You can easily bring back more interest with fun accessories, such as a bright green hat and pink sunglasses.

If these looks are an indication of anything, it's that bomber jackets are an investment worth making. You can rotate them between casual and dressy looks. Plus, we know for a fact that they'll always have a place in fashion world.
(Visited 1 times, 2 visits today)