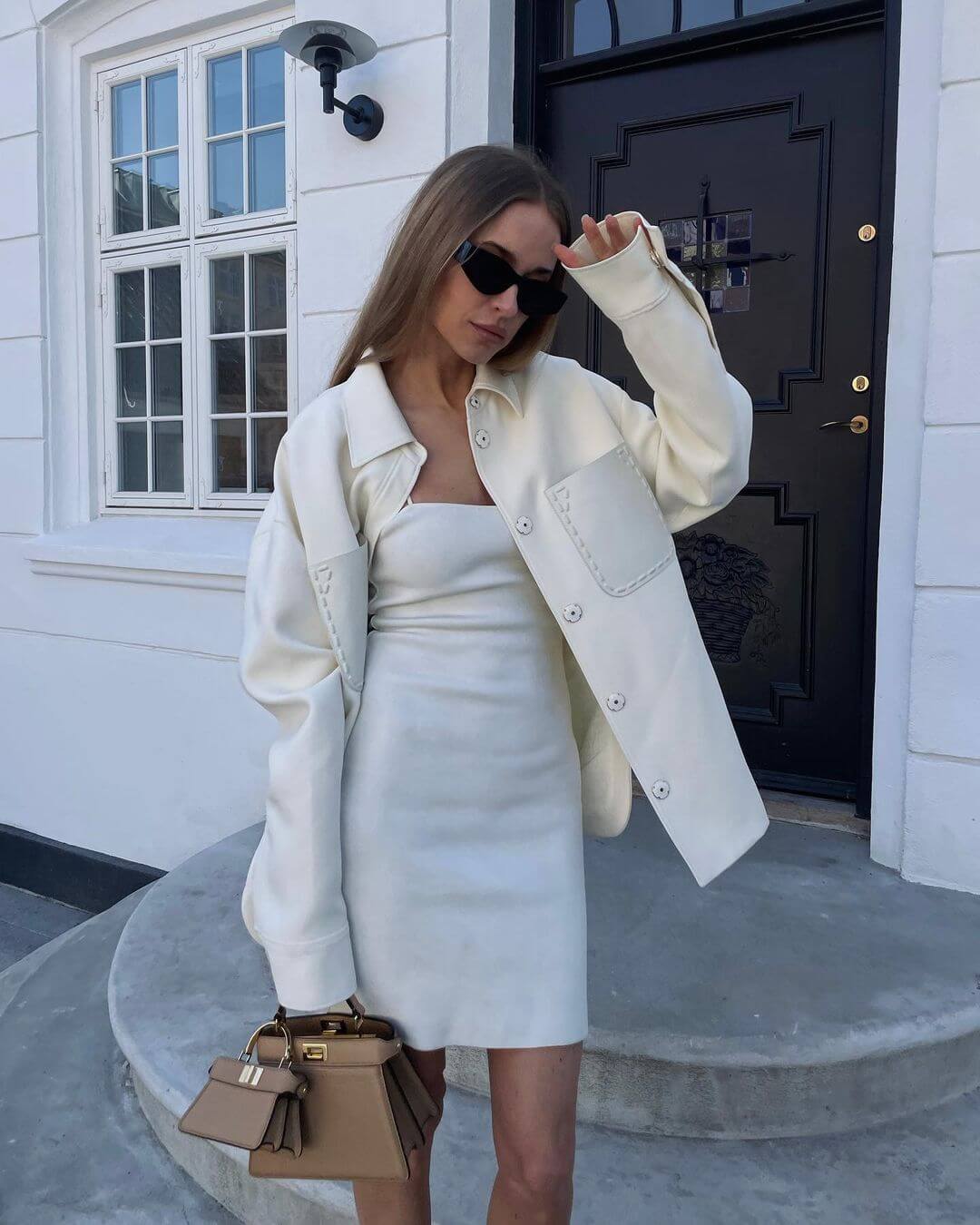 Photo via @pernilleteisbaek
There is something about spring that conjures up feelings of romance. Whether it be the influx of weddings during this time or the fact that a bevy of flowers are in full bloom, we can all agree that love is indeed in the air. Now that the weather is warmer too, there is no better time to grab your significant other and head out for a spontaneous night on the town. It's also a great excuse to step outside your comfort zone and try some of spring's buzziest going-out trends from thigh-grazing miniskirts to bra tops to sheer paneling. If you're ready to adopt some new outfits to celebrate your budding romance, we've got all the looks you need. Get ready to impress your other half and evoke feelings of major self-confidence with these 10 date night outfit ideas that are made for the heat.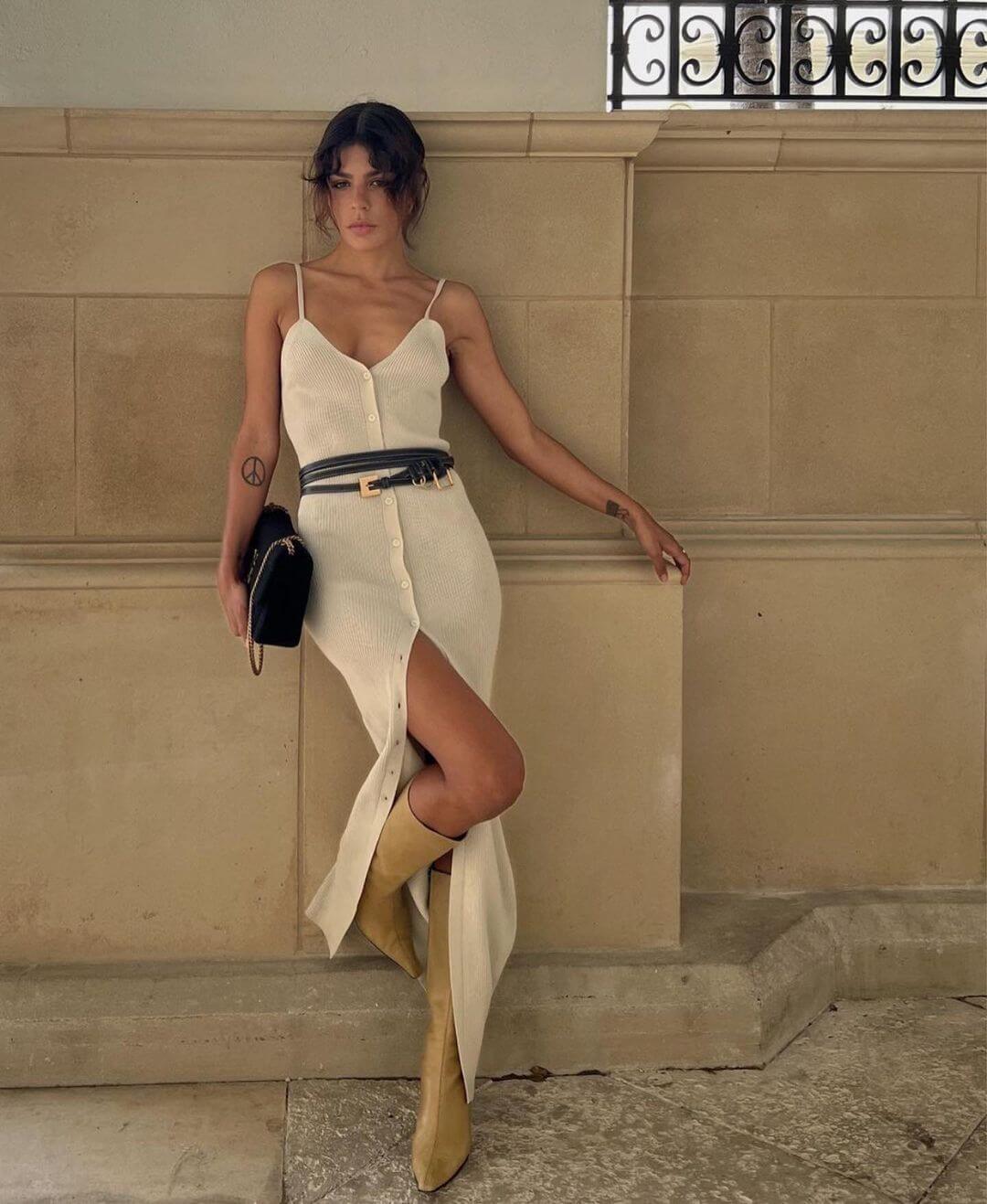 Photo via @stylinginparis
1) Flirty Knit Dress
There is something so alluring about simplicity – and that's exactly what this look is. A full-length ribbed knit dress isn't just minimal but it sets the mood for a quiet, candle lit dinner. You can always give it the cool girl treatment by introducing on-trend accessories, like a leather belt, calf-high boots, and a classic bag. When combined, they'll take your knit maxi dress to the next level. Be sure to opt for dresses with a thigh slit for an extra seductive effect.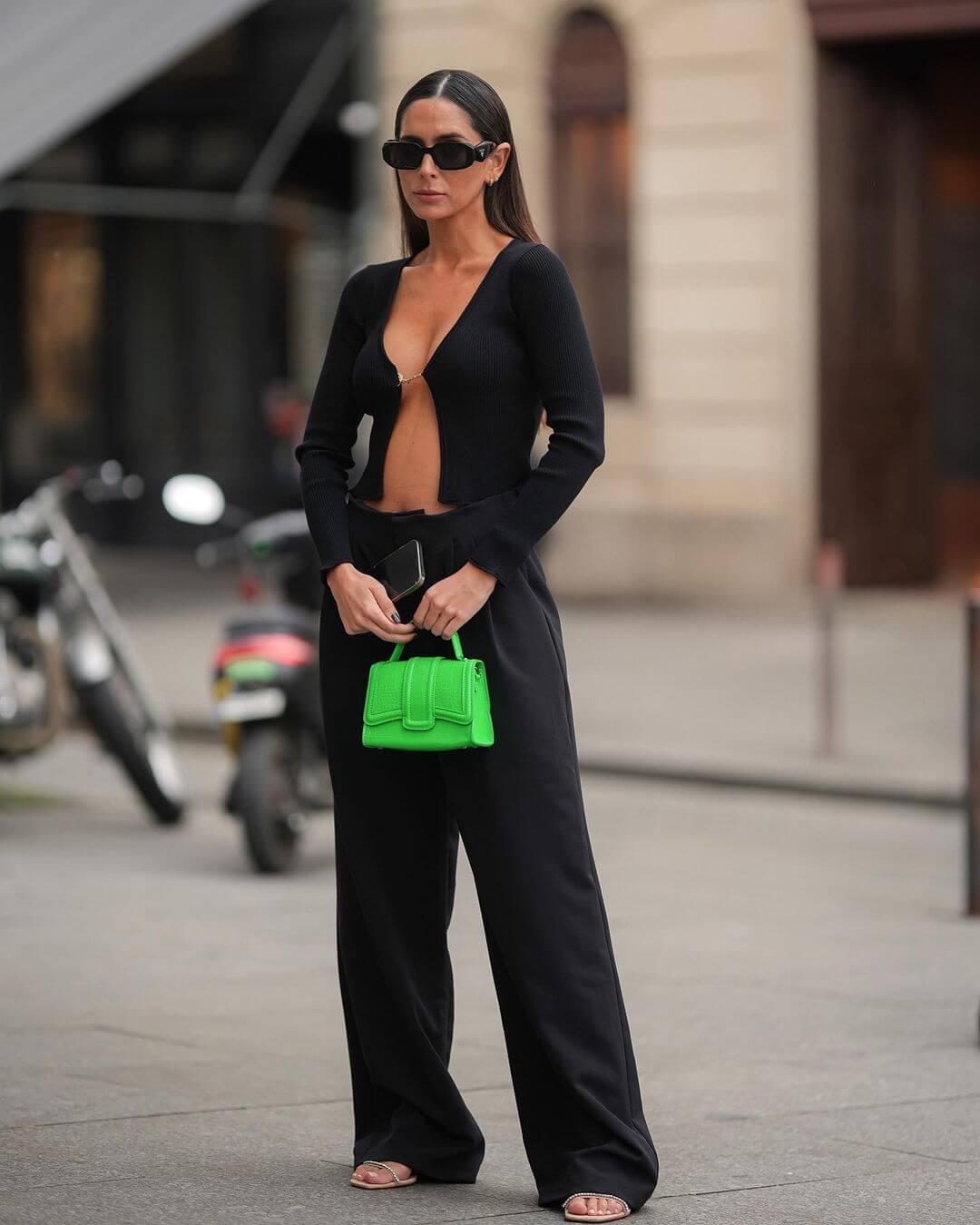 Photo via @pipatavaress 
2) Blackout With Bright Pops
Although saturated hues are trending, nothing really beats the sophisticated energy an all black ensemble exudes – even during the springtime. That doesn't mean you have to refrain from hints of color though. We love how Pipa styles a sultry open-front cardi with wide leg black trousers – and then makes sure to accent the look with a bright green handbag. This date night outfit lets you heat things up as you await the arrival of warmer temperatures.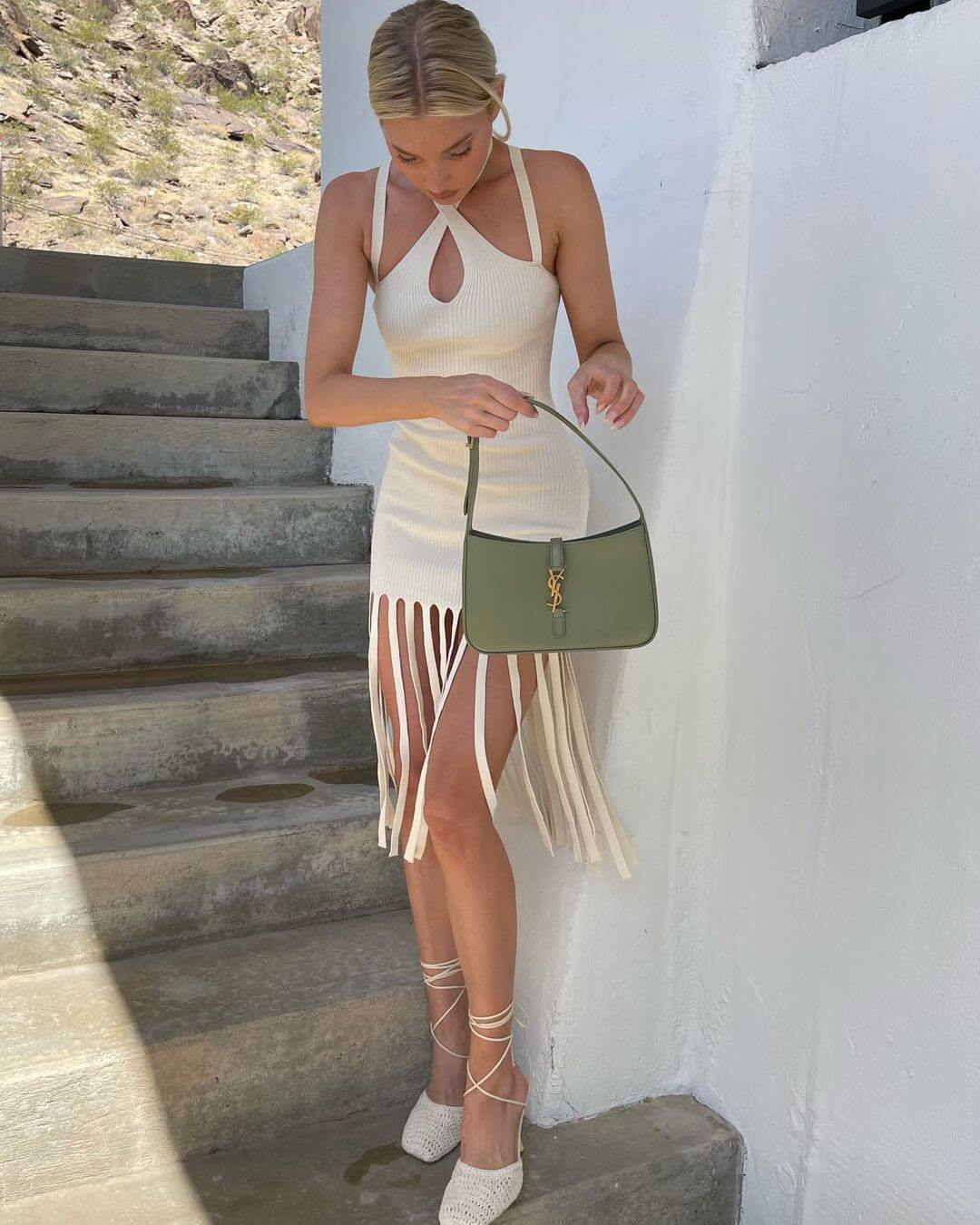 Photo via @hoskelsa
3) Fringe Benefits
One way to spice up your date night outfit is to add an unexpected detail into the mix. For us, there's nothing like a fringe accent piece – and we've been crushing on it all season long. Not only does it texturize your typical silhouettes but it also creates really beautiful movement, especially when you are casually walking around. As it's statement-making on its own, there's essentially no styling involved. Just add your favorite wrap-around heels and a shoulder bag.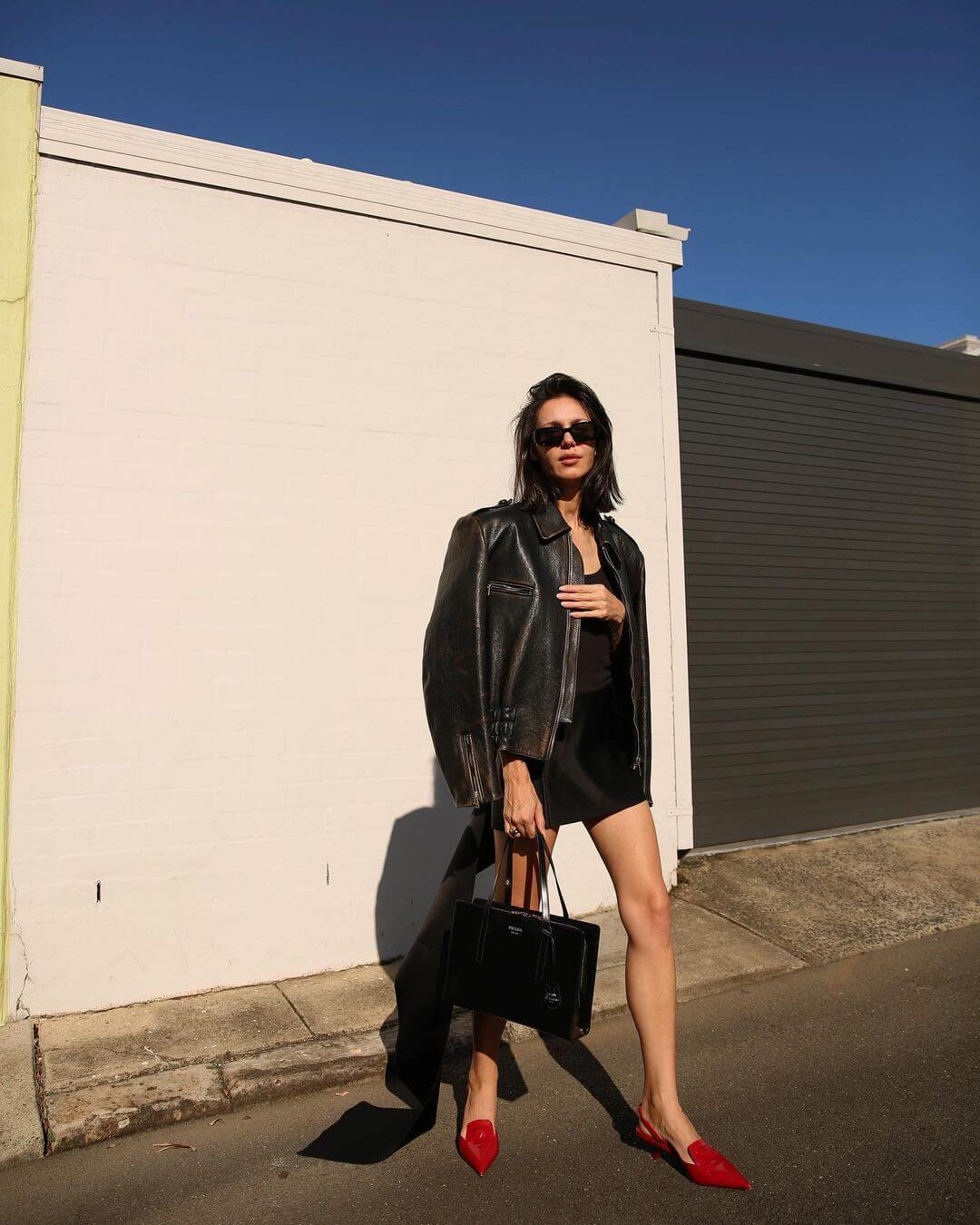 Photo via @pepamack
4) Bombshell Bomber Jacket
For your next night out, you can opt to look like a bombshell in a bomber jacket. The more rugged outerwear style is making a significant comeback but it can appear to rundown on its own. Fortunately, all you need to make it date night appropriate is to layer it over a micro miniskirt or dress. This gives the look a downtown edge while keeping everything feminine. For extra style points, add pointed toe heels – it injects an air of sophistication.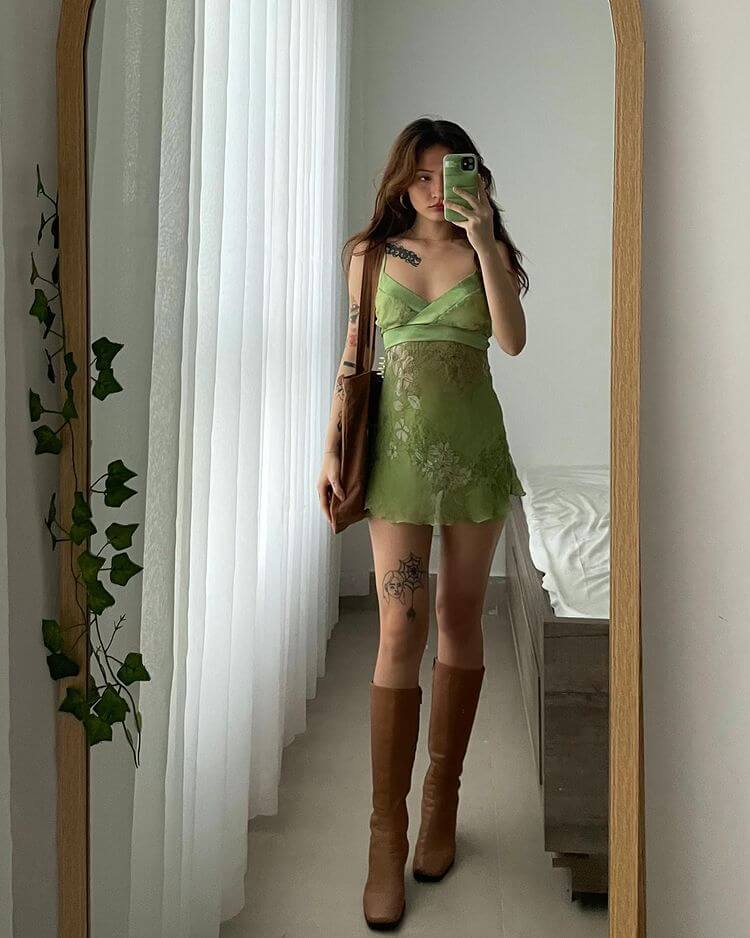 Photo via @naomiroestel
5) Sheer Dress
Don't be afraid to enlist the sheer trend to assist you in putting together the perfect date night outfit. By nature, any transparent fabrication is sensual and mysterious  – just what you need to show off a little more skin. Naomi puts a brilliant spin on the trend, pairing her sheer babydoll dress with the knee-high boots. The two-piece combo is enough to make your date ogle at first glance.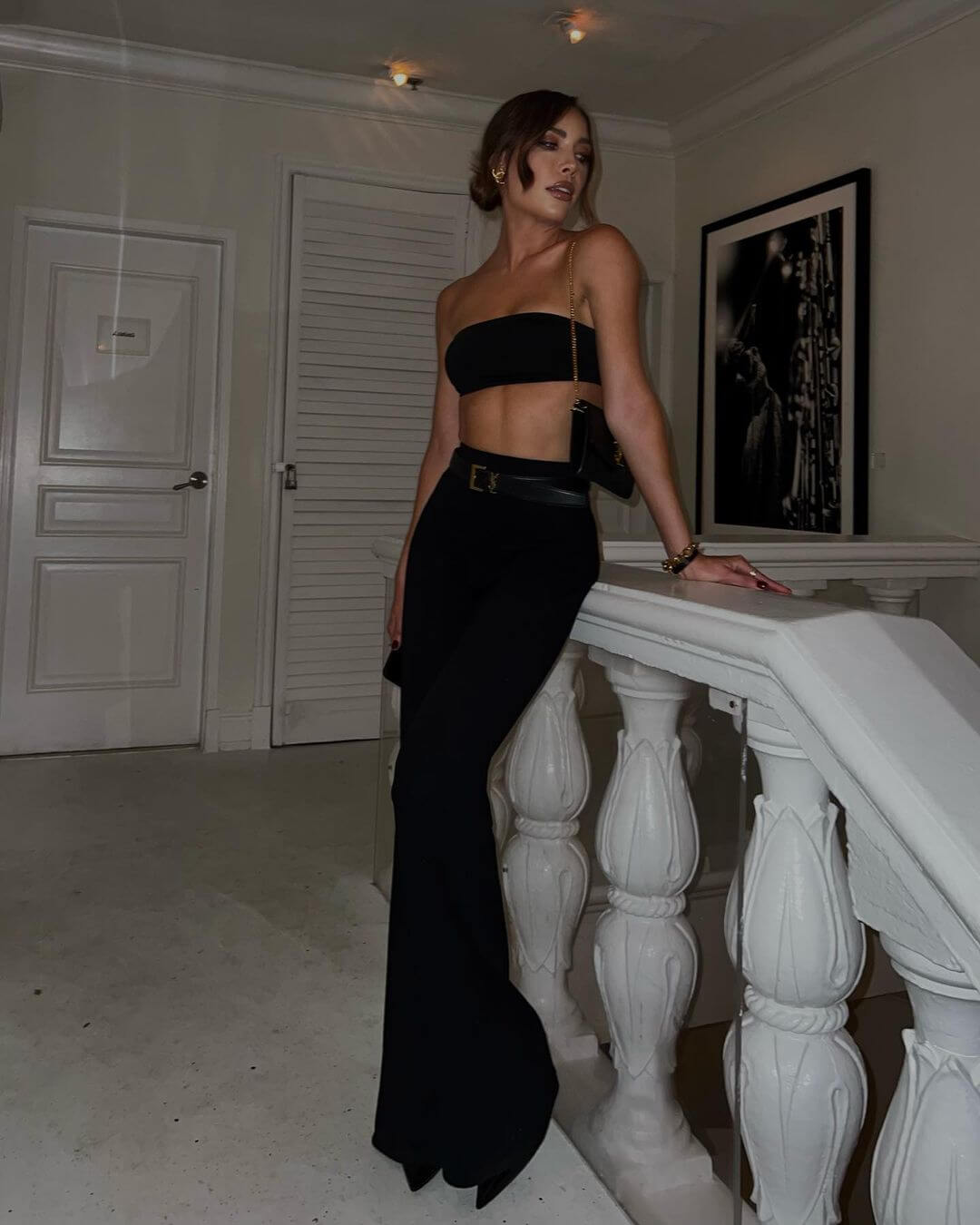 Photo via @imnotsorrydarling
6) Midriff Baring
Another tasteful way to bare some skin is by adhering to the popular bra top look. One outfit formula in particular takes the cake. A midriff baring bra top coupled with sleek, high-waisted trousers is a true match made in heaven. We cannot get over the end result and we have a feeling that your significant other won't be able to either. It's the perfect balance of sexy but chic.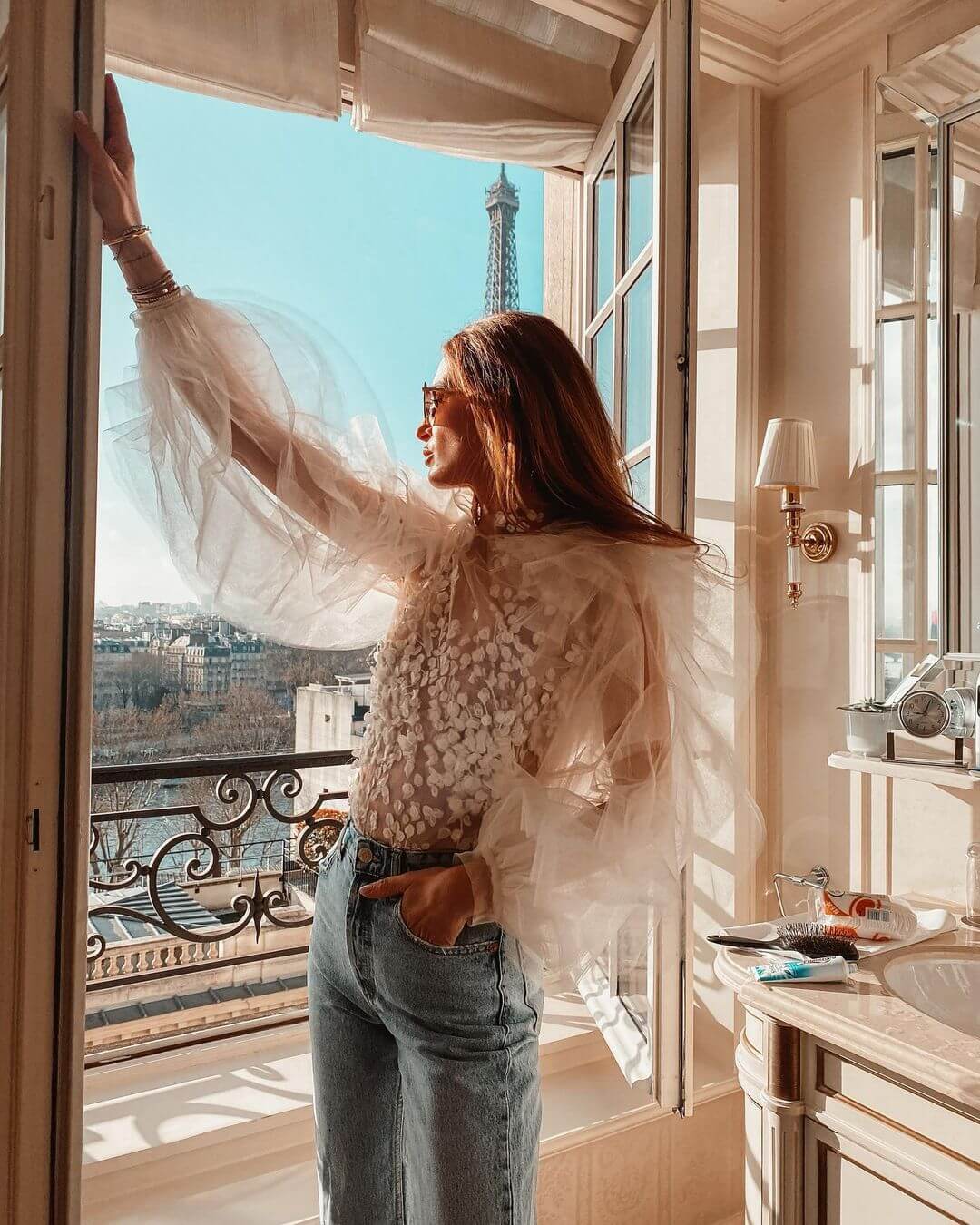 Photo via @lenaterlutter
7) Dressed Up Denim
For more casual spring outings, you can totally wear your favorite pair of jeans. However, you should be inclined to dress them up with more avant garde tops. Exhibit A, this stunning voluminous top with the textured tulle sleeves manages to take up the denim look tenfold. To complete the date night outfit, throw on a pair of heeled sandals and call it a day.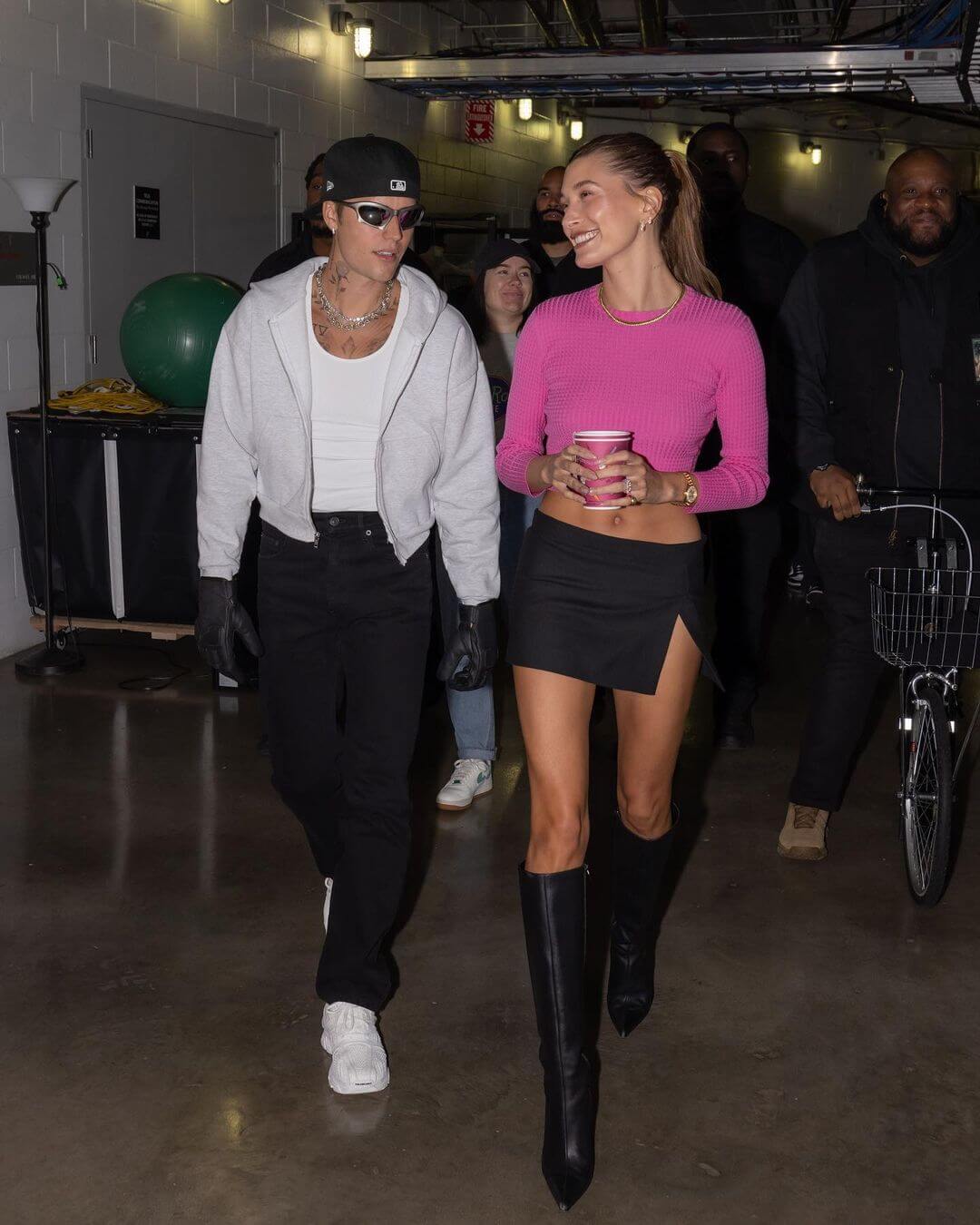 Photo via @justinbieber
8) Miniskirt 
Take notes from Mrs. Bieber herself. For a night out with her husband, Hailey slayed the micro miniskirt trend. This look proves there is no need to overdo it either. A simple solid-colored crop top, miniskirt, and a pair of tall boots is so incredibly striking! It's your fail-proof formula to nailing the leggy trend.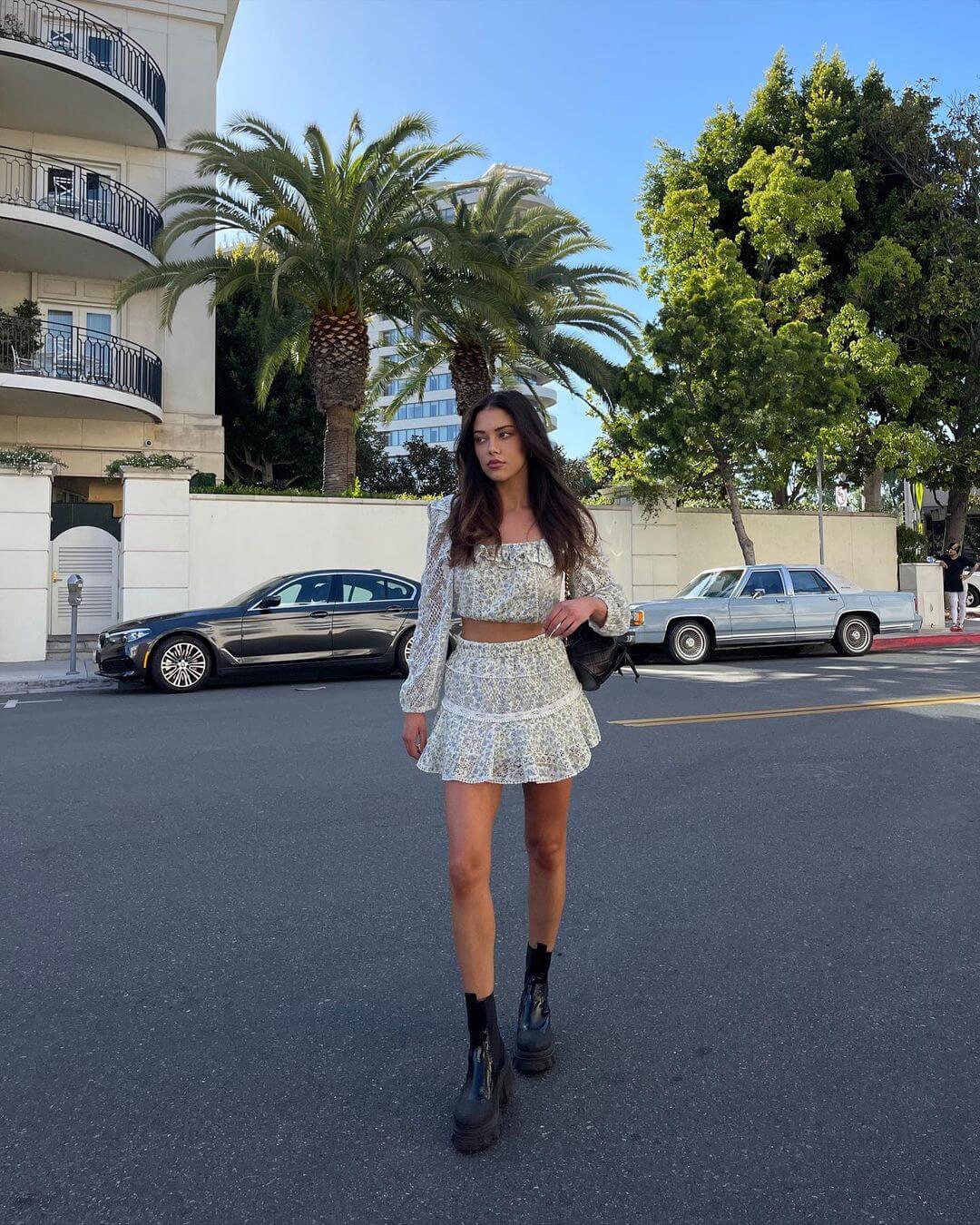 Photo via @jourdansloane
9) Forever Floral
Florals in the spring just make sense, especially when you're out and about on an intimate date night. So why not consider dainty floral skirts or dresses that channel innocent romance? If you want to avoid your outfit from appearing too girly, you can always team them up with chunky combat boots. The delicate and edgy juxtaposition packs a punch.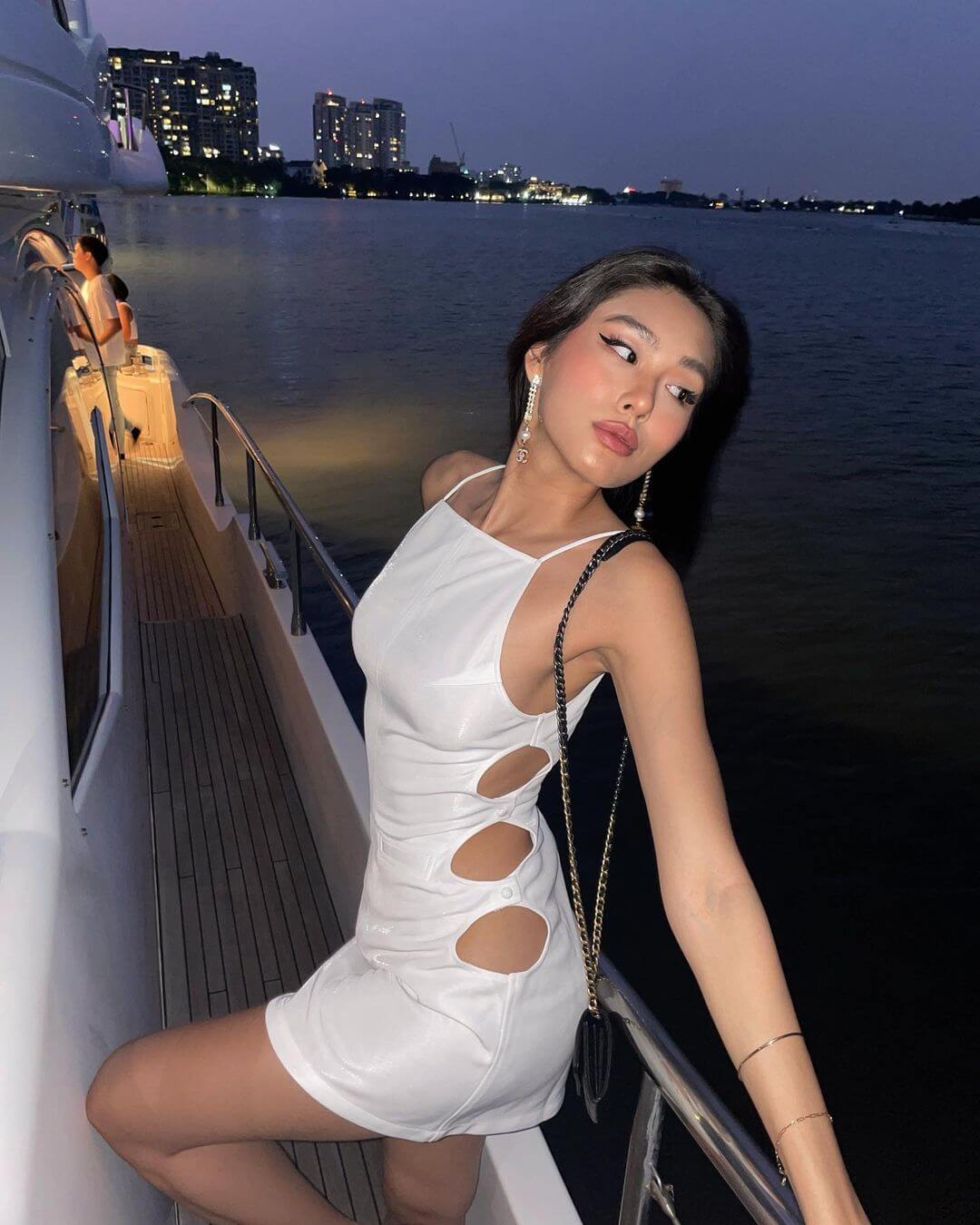 Photo via @thaonhile
10) Cutout Mini
When all else fails, you can always count on a cutout mini dress to deliver a stellar date night outfit. It's made for those balmy nights when you want to make an entrance – and feel like a million bucks. It's so iconic as even the slightest cutout unveils just enough skin to keep your SO on their toes. We pulled together a selection below that you can wear now well into the summer months.

(Visited 1 times, 1 visits today)