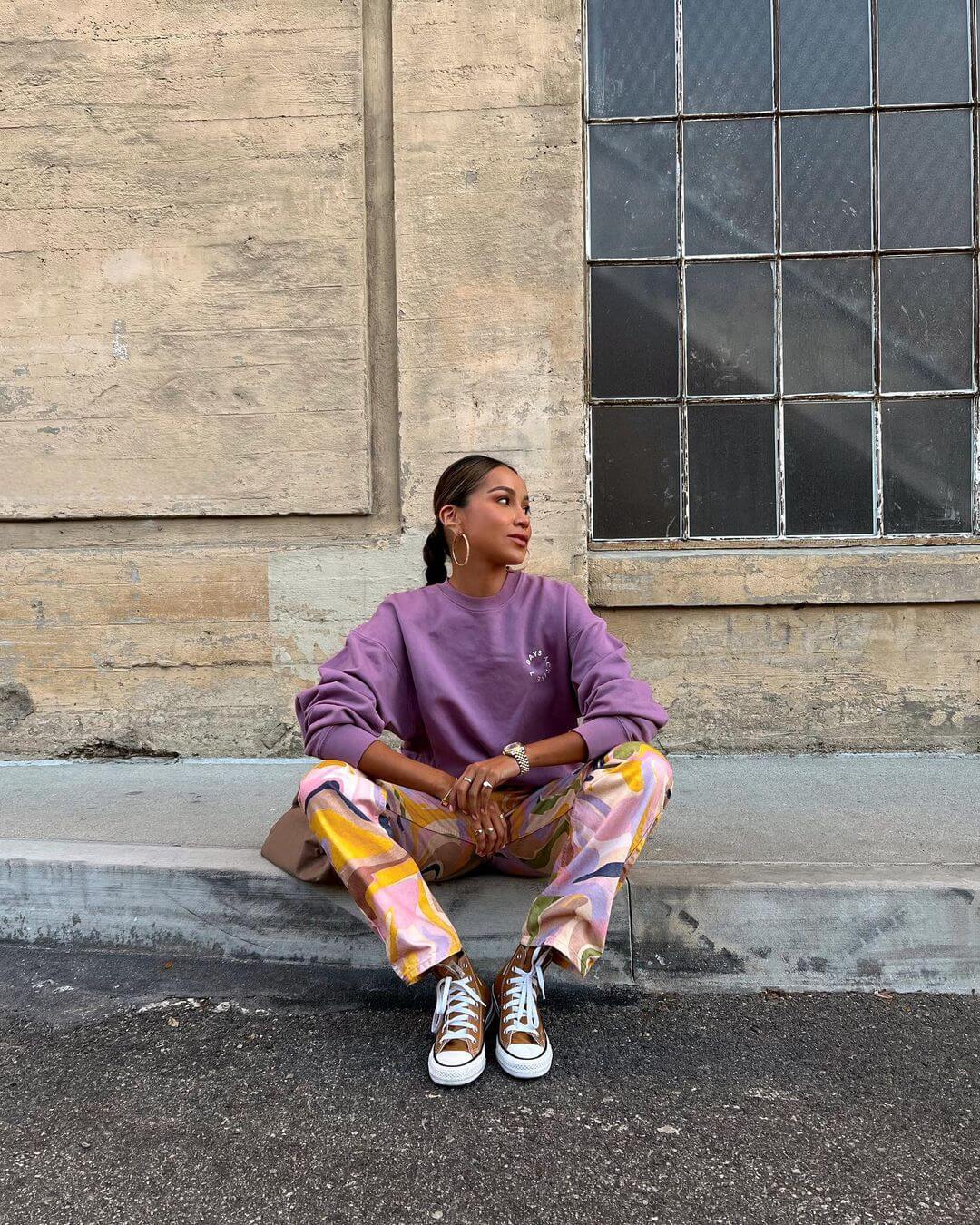 Photo via @sincerelyjules
No matter what time of the year it is, sneakers will always be a necessity within our footwear rotation. Sandals and other open-toed styles obviously play a big part in our outfits during spring and summer… But there is something about a pair of trainers that make such a handsome match with certain looks. In fact, anything goes when it comes to styling them, which means you can wear them whether you have a quick business meeting, a few errands to run, or a dinner date planned. As we shift gears to warm weather dressing, we wanted to highlight just how accommodating these casual kicks can be and why you should invest in a fresh pair or two. You'll be surprised to see that there is a perfect sneaker to accompany every fit. Scroll on to see 10 looks that are truly enhanced with them.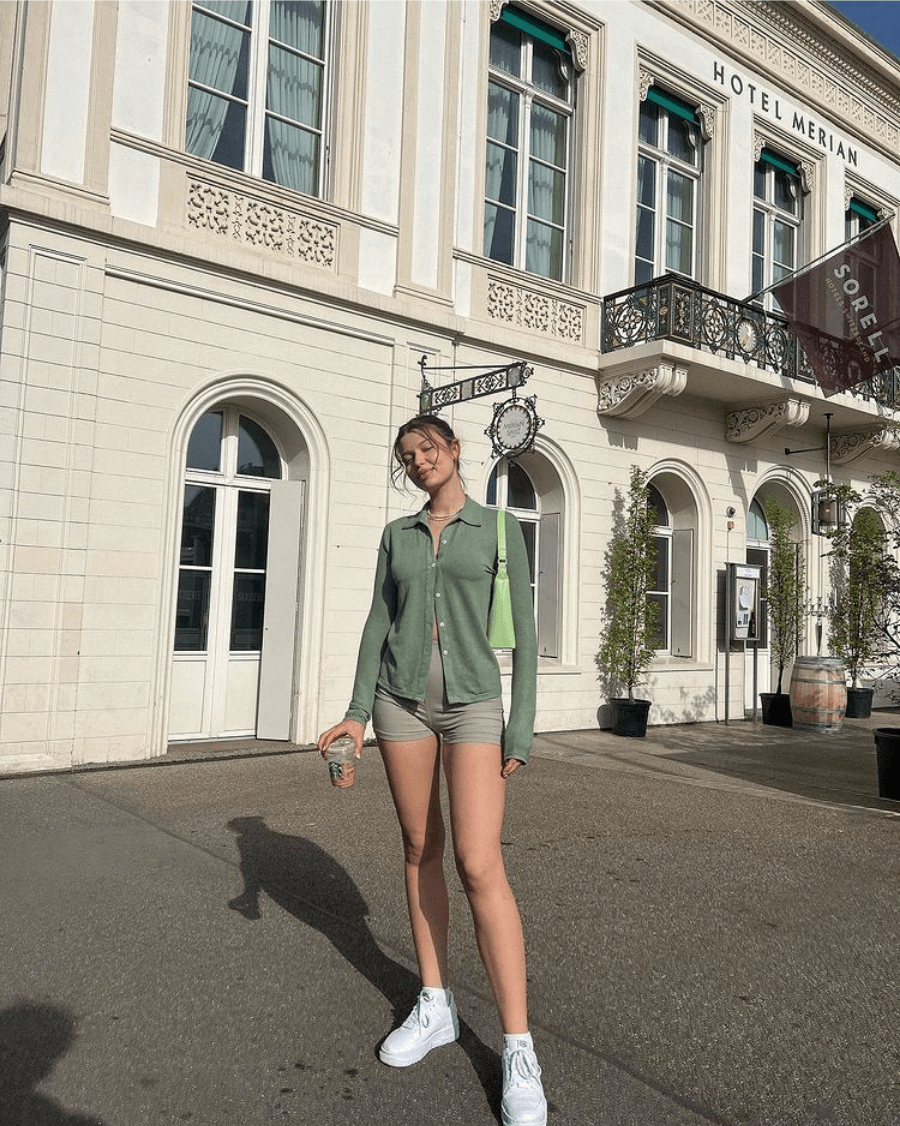 Photo via @gordenvalerie
1) Biker Shorts
By now, we know that both biker shorts and sneakers transcend beyond the gym. You can totally wear them to get a good sweat session in but we argue that they truly shine when styled for running out-and-about. Our casual weekend warriors will especially be inclined to try out this outfit combination. A minimal top with buttons, biker shorts, and a pair of white sneakers will take you from brunch to shopping and beyond.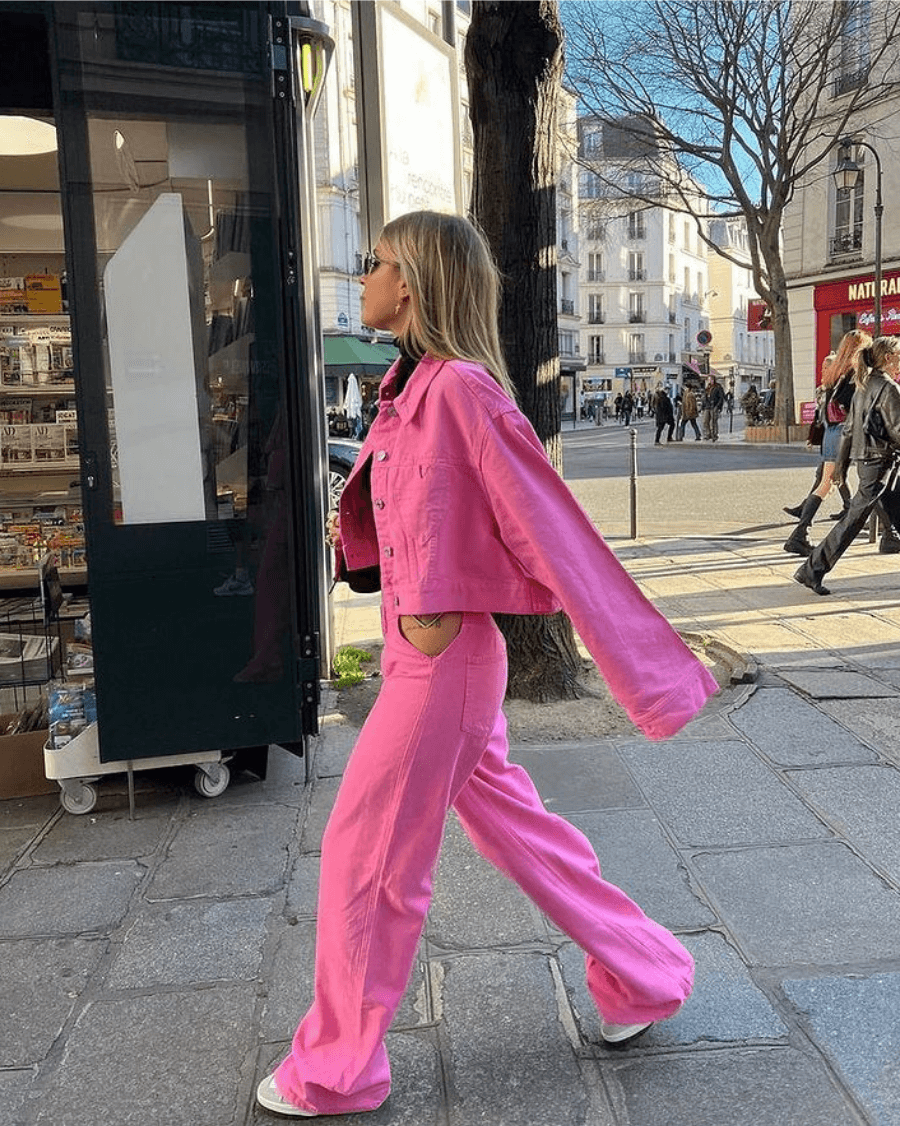 Photo via @audreyafs
2) Denim On Denim
Since one can argue that sneakers are casual by nature, why not pair them with your other trusty laid-back piece – denim. A stacked denim on denim situation is surely one to take the cake. Just reference Audrey's matching hot pink jacket and jeans. The sneakers help maintain that cool, effortless vibe. But, of course, you can achieve the same high impact results with traditional blue denim.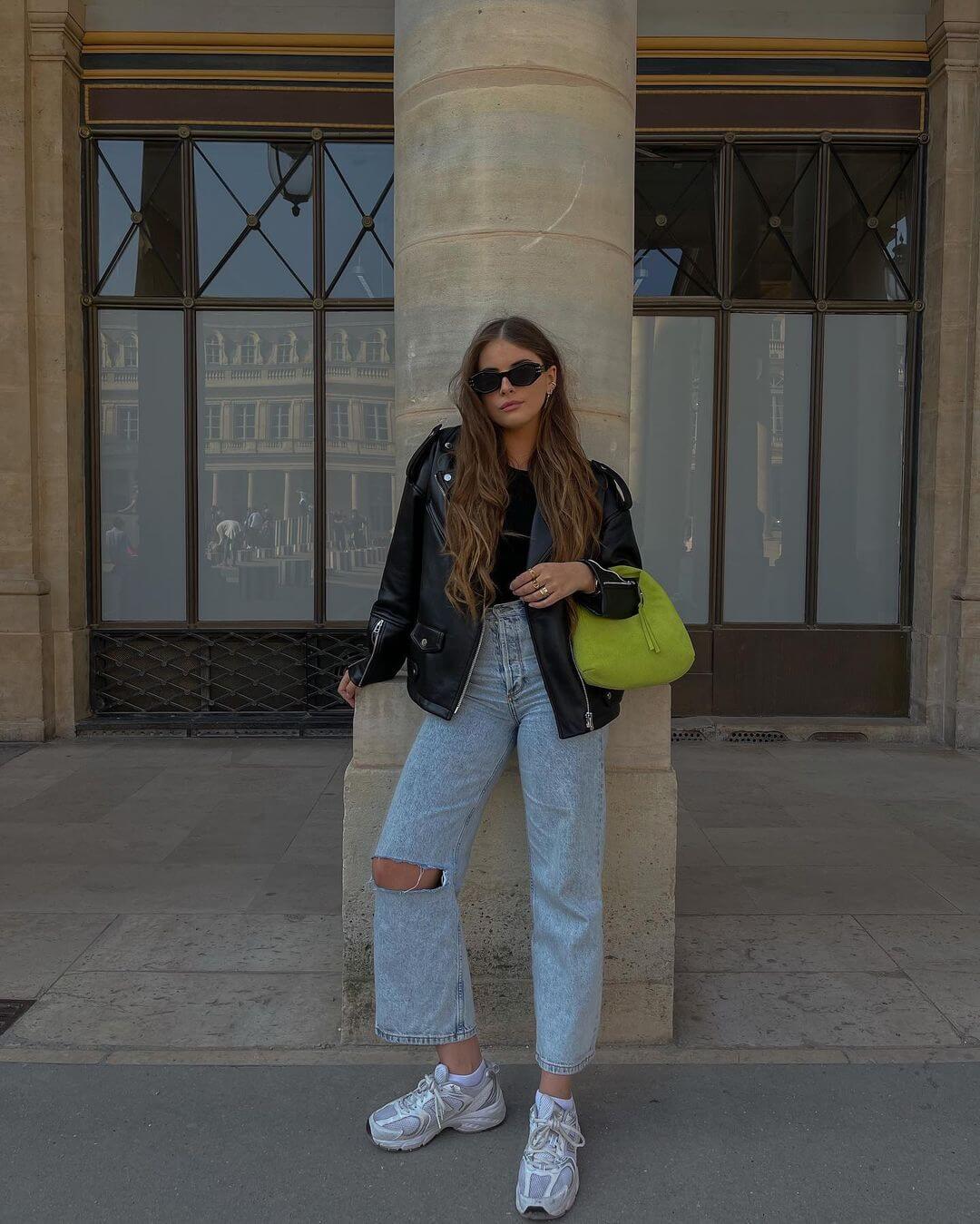 Photo via @lafleuks
3) Leather Jacket & Relaxed Jeans
If the Canadian tux isn't your kind of look, just replace the jacket with a leather piece. This edgier take on the aforementioned look is just as classic and cool. Not only that but a biker jacket happens to dress up whatever jeans you decide to pair them with. The addition of chunky dad sneakers round out the entire look, giving it a hint of the normcore aesthetic that we can't get enough of.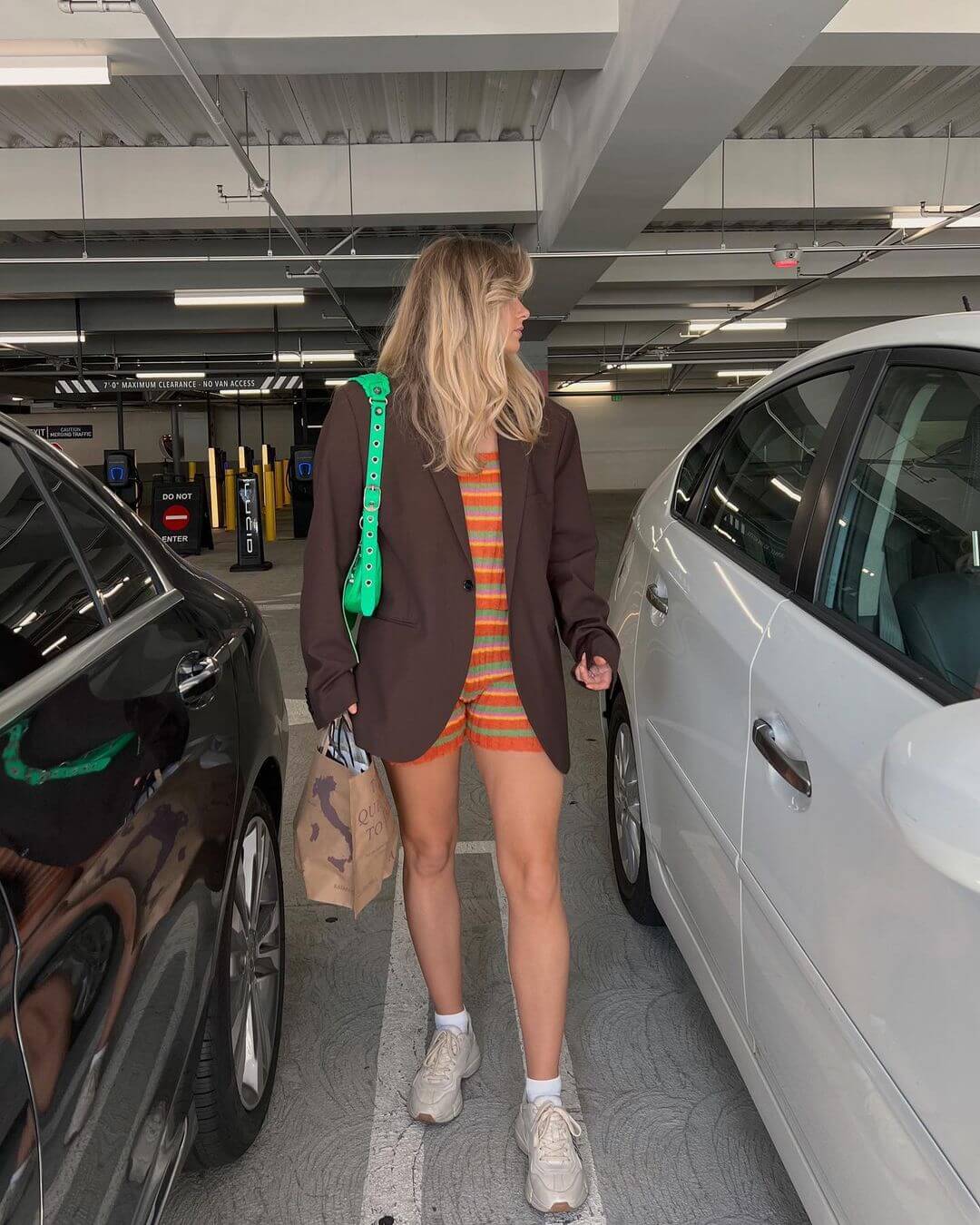 Photo via @courtneecrews
4) Oversized Blazer & Onesie
When in doubt, one can always rely on a blazer to pull any look together on a time crunch. If you're ready to embrace new territory, then skip the typical trouser and blazer combo and opt for a colored onesie. We love how she uses a pop of pattern beneath the blazer to add more character to her look. Then, to keep the statement fit feeling understated, she inserts a pair of neutral trainers. There goes a brilliant lesson in styling sneakers this summer.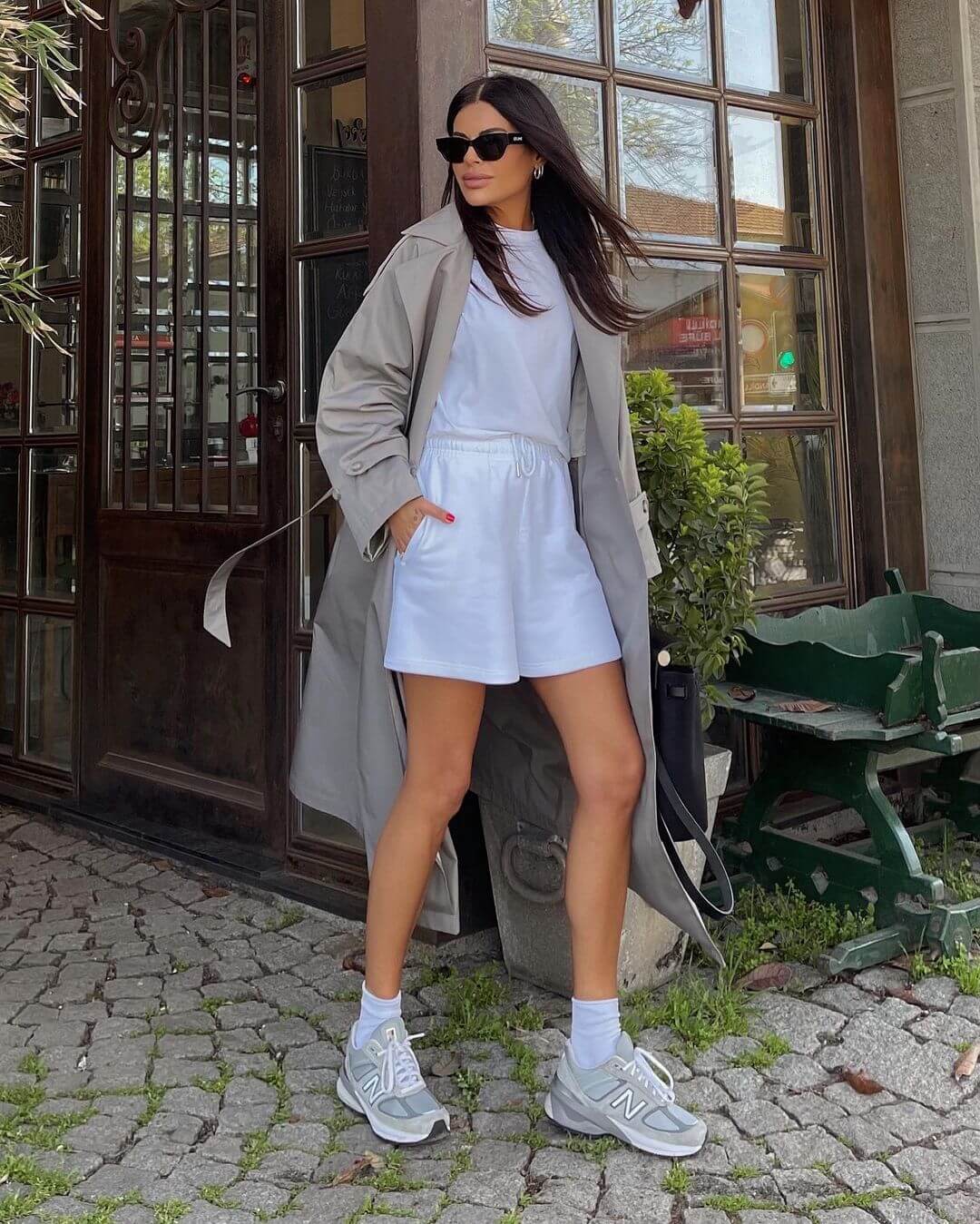 Photo via @nazifeeozcan
5) Trench & Sweats
Post-pandemic, we are collectively looking for effective ways to dress up our favorite cozy pieces. One option for tackling this is to toss on a trench coat as we already know it never fails to look polished. Even when styled with a basic tee and sweat shorts, the outerwear simply elevates all else. For the ultimate minimalistic vibes, take this opportunity to rein in the dad sneakers once again.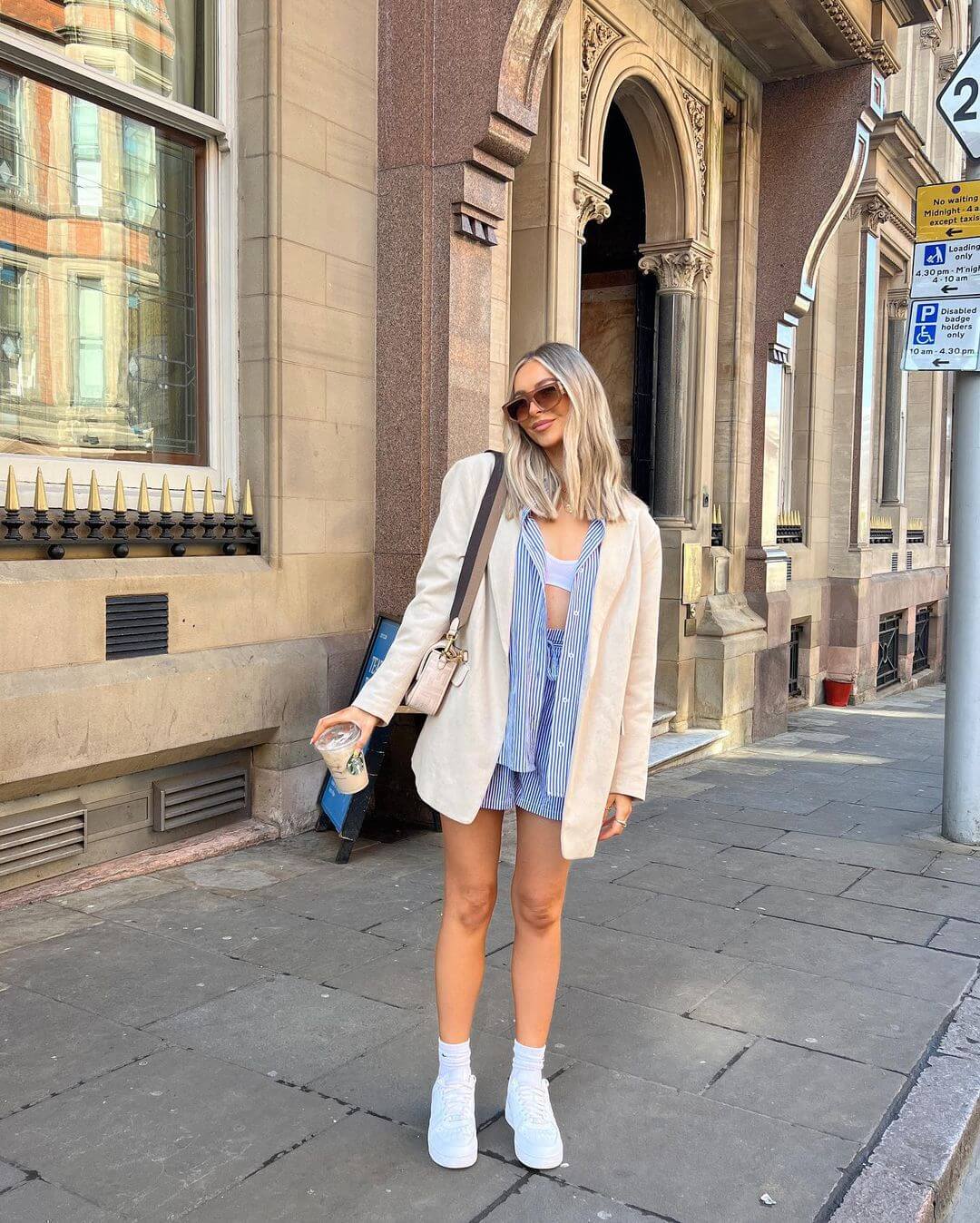 Photo via @alexxcoll
6) Boxer Shorts
ICYMI, boxer shorts are one of the pieces that all the cool girls of Instagram are rocking these days. Even better if you can find a matching counterpart. This outfit combination practically begs to be worn with a minimal pair of sneakers and tube socks to seal the deal. Keep your footwear solid and less busy for a cohesive summer outfit.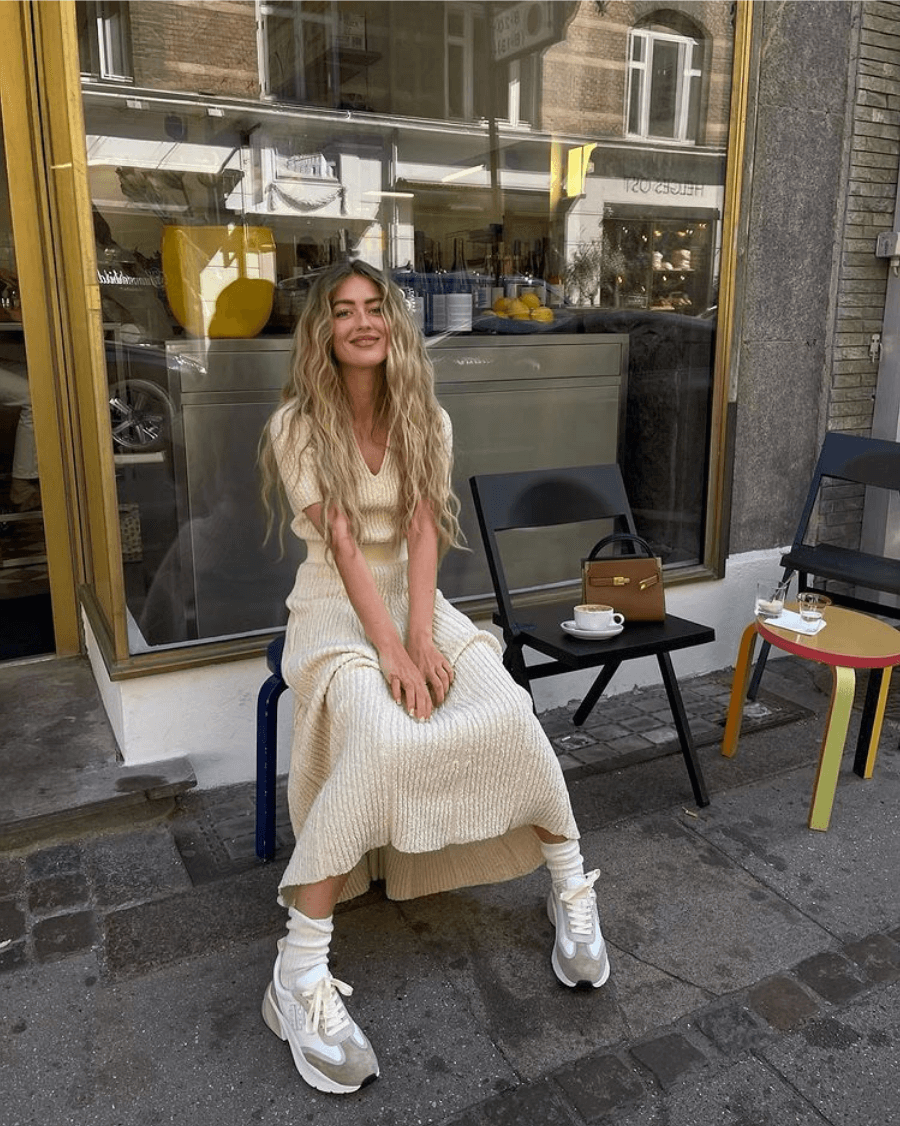 Photo via @emilisindlev
7) Maxi Dress
Sneakers can get a little tricky to wear when it comes to more feminine outfit combinations. However, Emili shows us that the trick is to not overthink it. Her choice of styling a neutral knitted maxi dress with a coordinating pair of beige and brown sneakers proves that feminine and casual can be done…and done extremely well.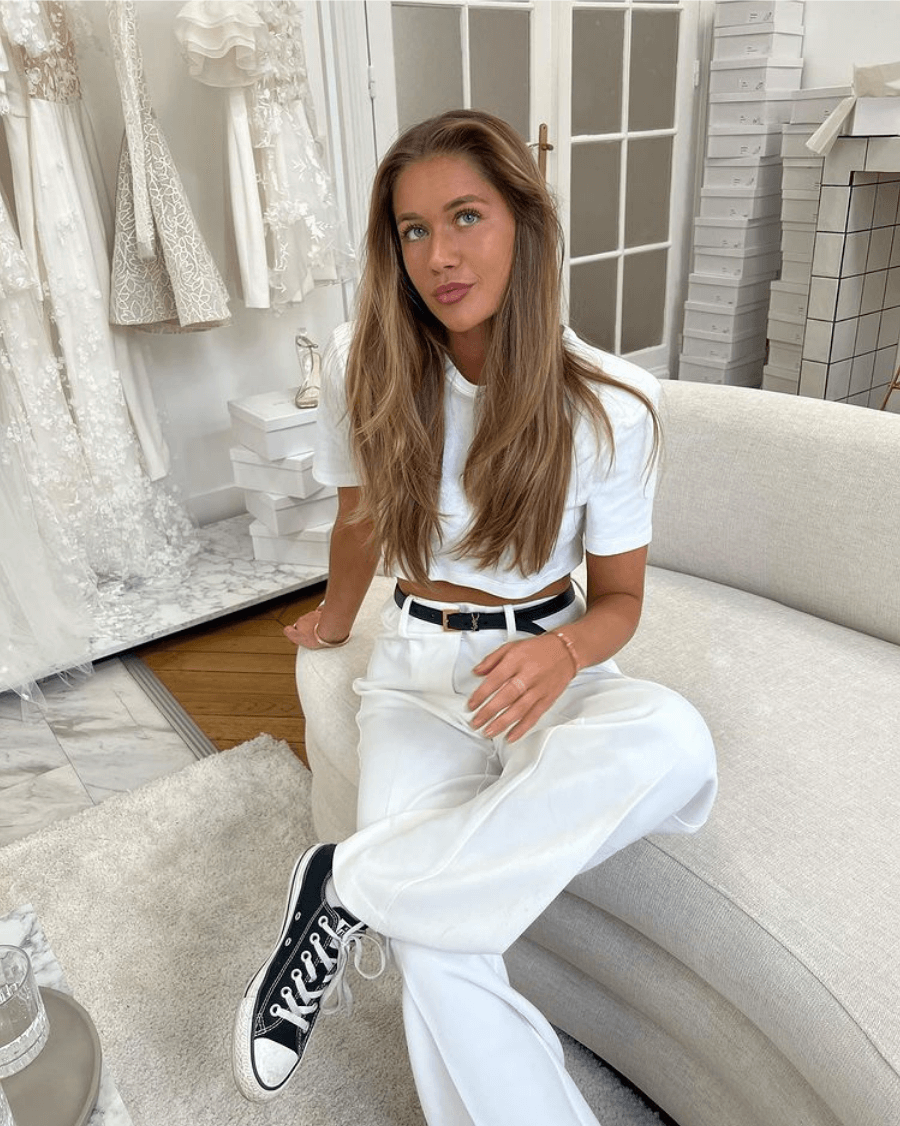 Photo via @lovisabarkman
8) Trousers
Another way to enhance your favorite pair of sneakers is to rock them with tailored separates. Our top choice of the season continues to be relaxed trousers. We cannot get over the sheer versatility one pair of pants can hold. Simply throw on a cropped tee and your go-to high top sneakers for a city chic outfit that won't lead to blisters or sore arches.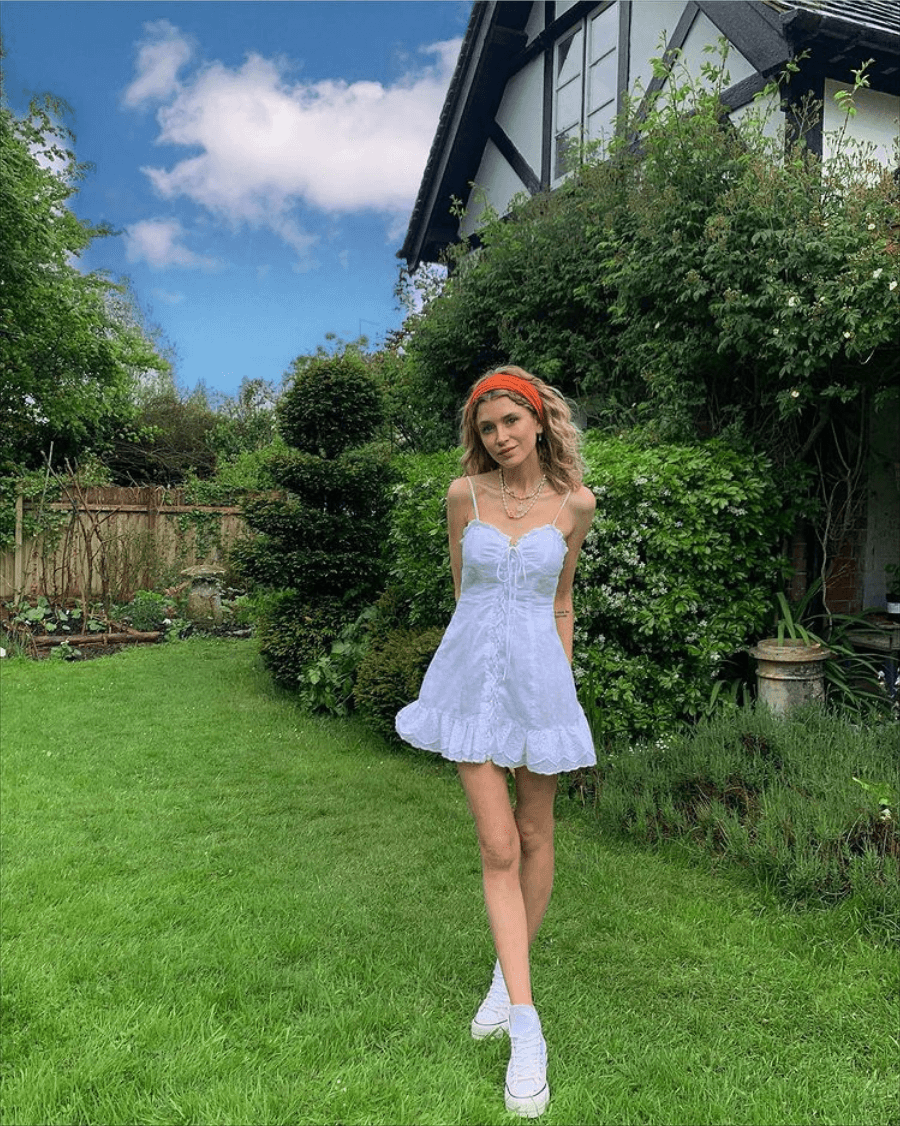 Photo via @oliviabynature
9) Little White Dress
White dress season is back and a pair of neutral sneakers is an easy way to make any frock suitable for daily wear. Emili may have made the case for maxi dresses and trainers, but Olivia proves that cottagecore inspired pieces with sneakers are just as effective. They also tend to be more approachable when styled this way. So the next time you're mulling over whether or not to wear a dress (or skirt), opt into a pair of casual kicks to make it less formal and more fun.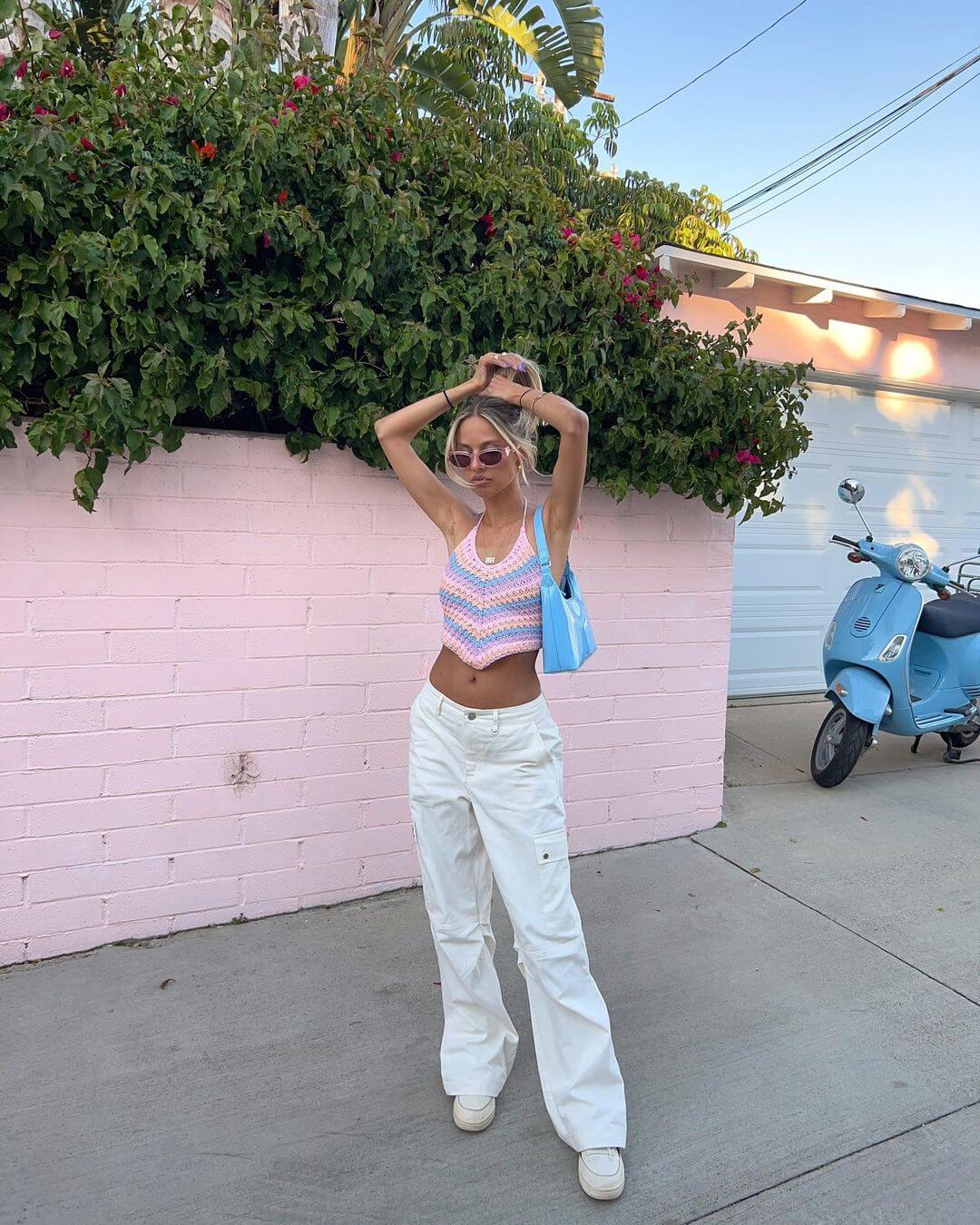 Photo via @brit_harvey
10) Halter Top & Cargos
Casual comfortable pants like cargos simply call for sneakers. This easy mash up with a crochet halter top hits that Y2K bucket without trying too hard. The style pairing is a no brainer when it comes to weekend wear, traveling, and exploring new places… After all, sneakers made for walking.

(Visited 1 times, 8 visits today)