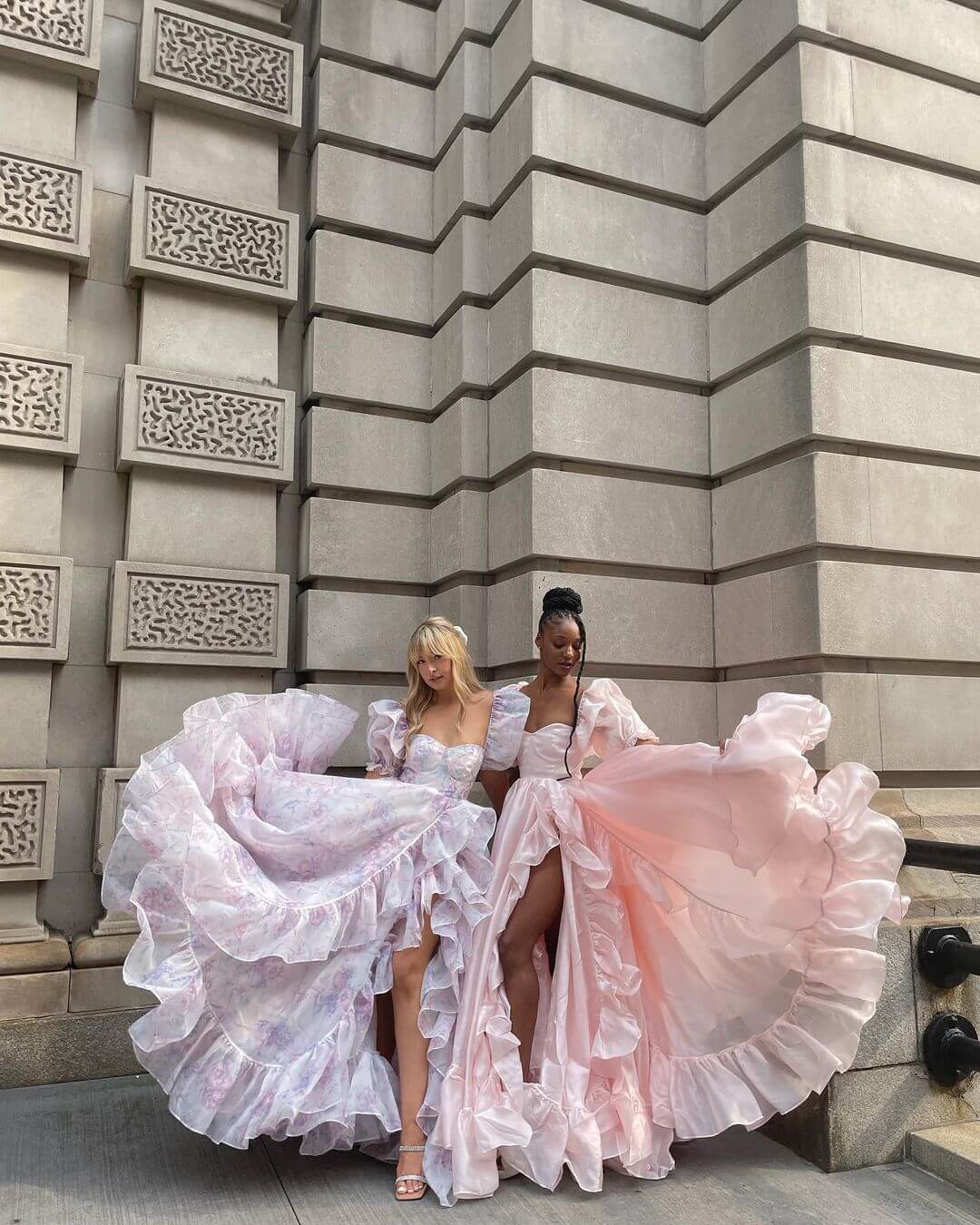 Photo via @camrihewie
With the popularization of specific style aesthetics and niches largely due to TikTok, there are an infinite amount of trends to keep track of. And although seemingly overwhelming, the good news is that you don't need to stick to just one. There is one particular style we've been crushing on since the start of the new year – and that is regencycore. For those who are not so familiar, think Bridgerton meets this year's Met Gala theme. With an emphasis on dainty details, such as ruffles and lace as seen on the British socialites of the 19th century, regencycore is heating up the summer season ahead. Most commonly today, you'll see the aesthetic channeled in the form of corsets, nap dresses, ultra puff sleeves, and opera gloves. It might sound too opulent for every day, but we're here to make a case that it's way more wearable than you might think. Just scroll ahead to see how you can tap into the regencycore trend this summer.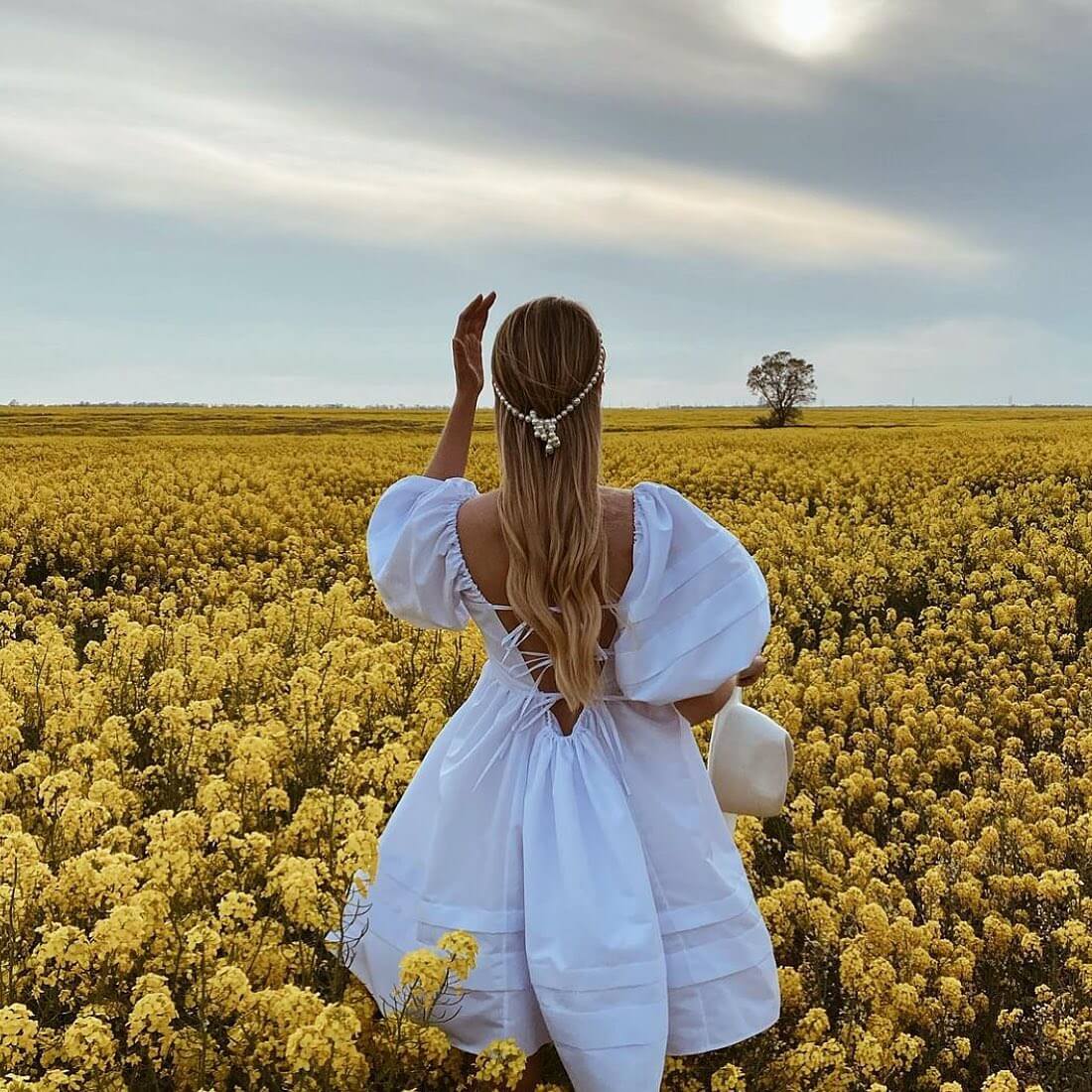 Photo via @natali_nata_
1) Puff Sleeve Dress
There's a huge emphasis on dresses within the regencycore aesthetic but especially ones that feature the iconic puff sleeve. This feature alone is enough to make any dress feel regal but one does not have to be heading to a debutante ball in order to wear it. Puff sleeve dresses are becoming a summer 2022 staple so don't be afraid to pull them for both special and mundane occasions.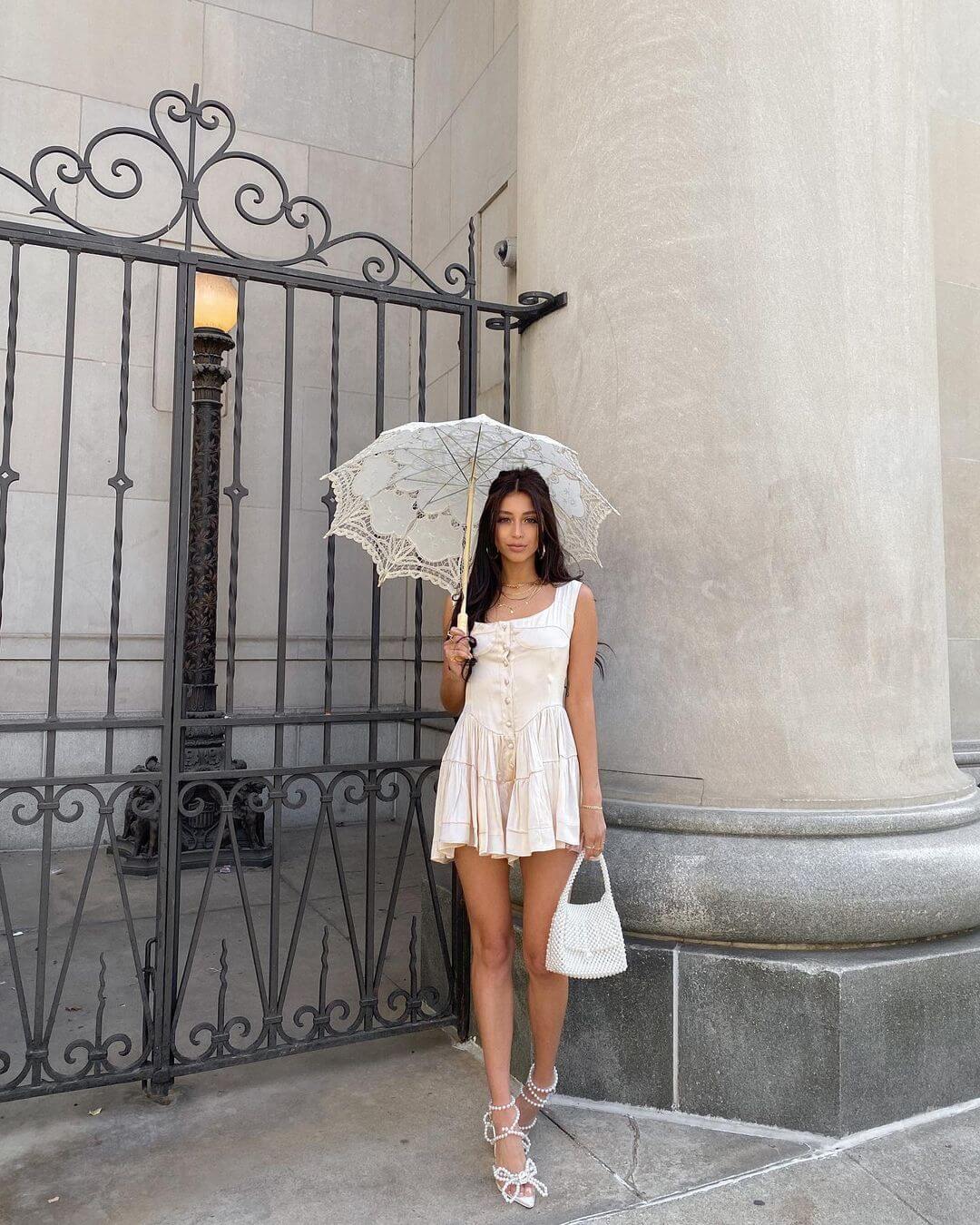 Photo via @thealondraflores
2) Pearl Accessories 
One way to channel the opulence of regencycore into an everyday look is by relying heavily on the use of accessories. A detail in particular that frequently gets associated with this style is pearls because they have that vintage-inspired charm that pairs well with lace and silk. From pearl encrusted heels to a fully embellished pearl bag, we urge you to layer on these accessories to further seep into the regencycore style.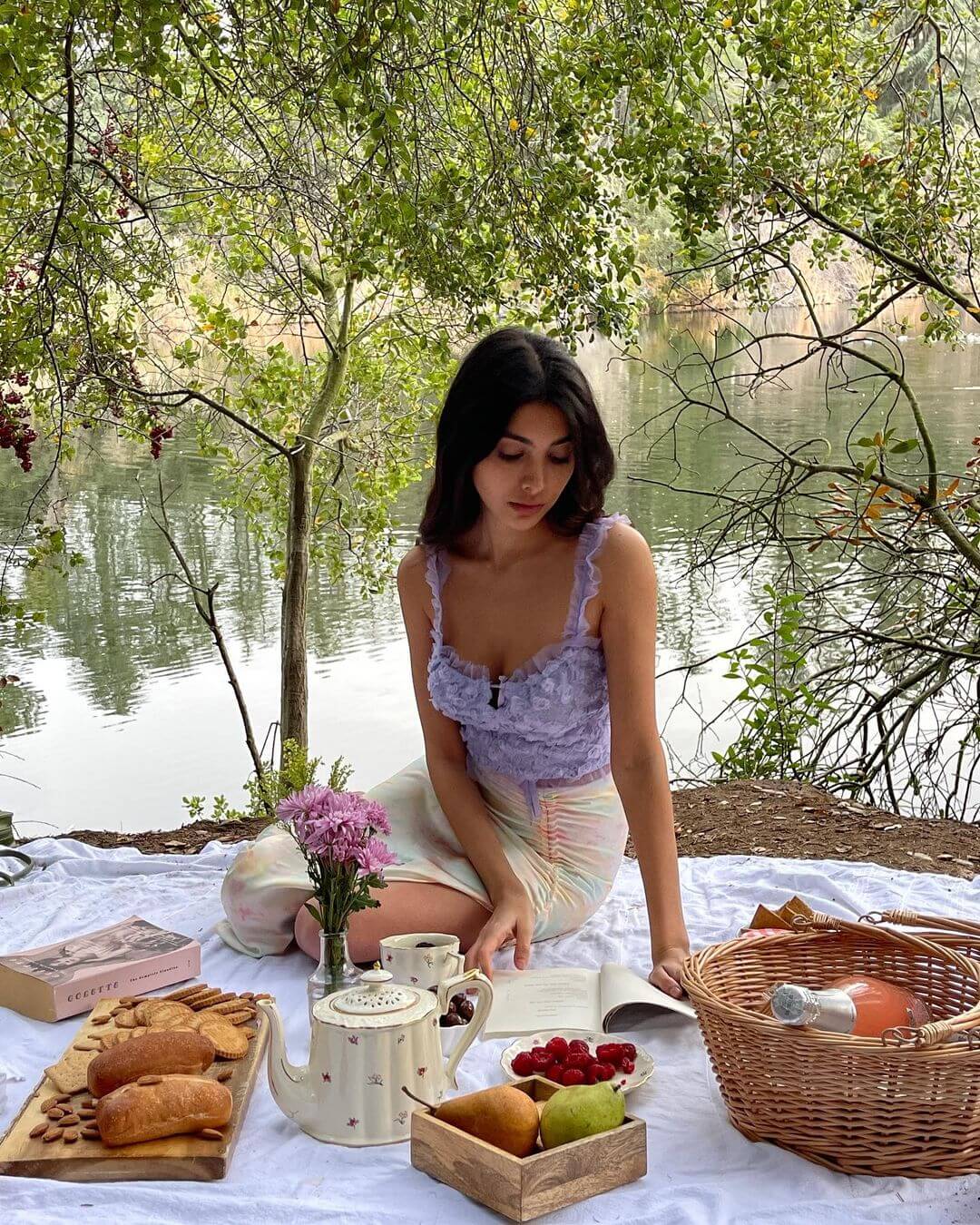 Photo via @ruslanagee
3) Pastels 
This style aesthetic is all about embracing your feminine side, so the colors you choose to wear will play a large part in it. When shopping regencycore inspired pieces to add to your arsenal, consider prioritizing pastel colorways to hit the nail on the head. In turn, darker and brighter hues are played down. Just look at Ruslana's outfit for reference… The lavender camisole and pastel midi skirt puts an ultra girly spin on a classic summer look.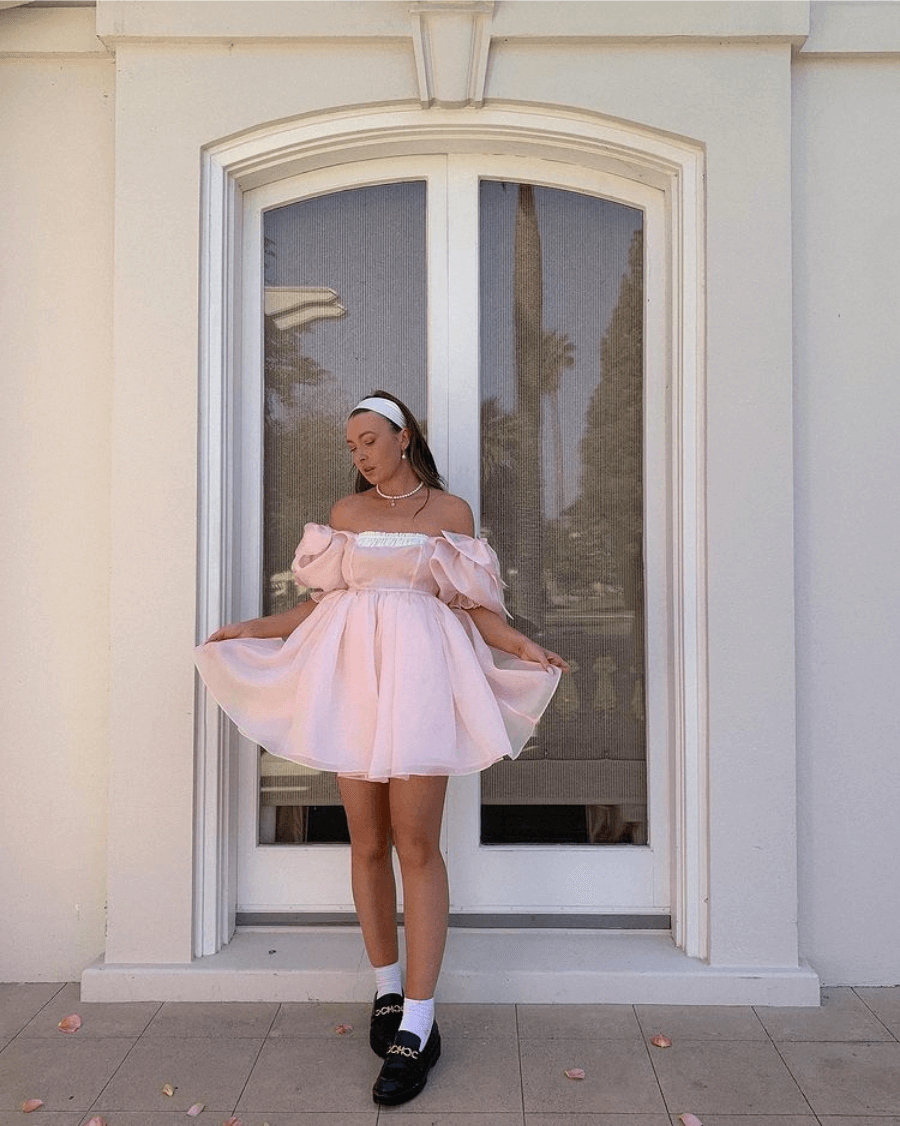 Photo via @minamarlena
4) Tulle 
Fashion addicts in favor of this trend know that tulle is the name of the game. Regencycore is all about instilling drama into everyday wear and what better way to do so than with volume. Tulle is known for casting off that avant-garde vibe especially when festooned into sweeping skirts. To make it appear more pared back in style, we love Mina's choice of pairing her tulle mini dress with socks and loafers.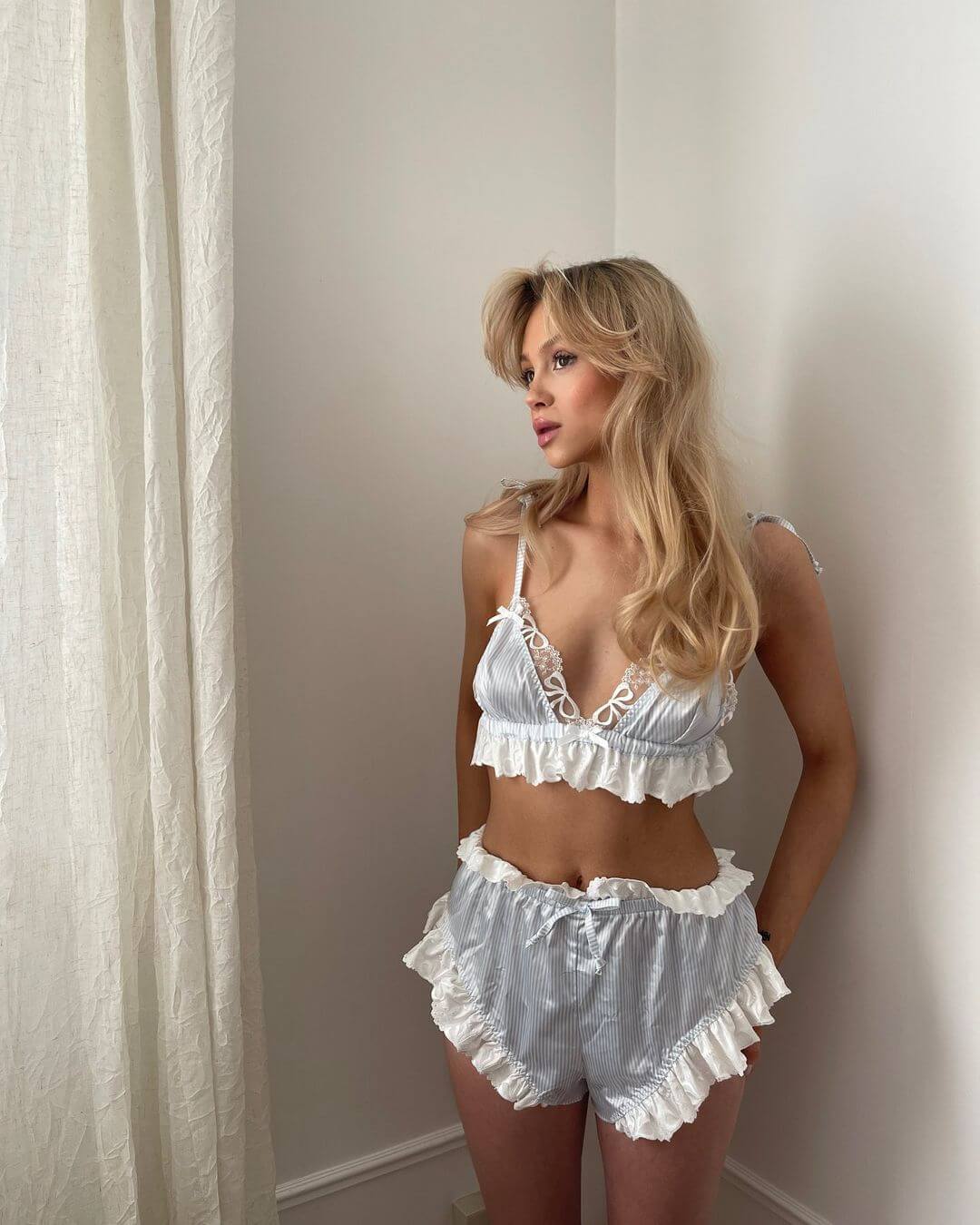 Photo via @wefelicia
5) Ruffle Detailing
Speaking of volume and texture, another regencycore detail worth shouting out is ruffles. Felicia showcases how an addition of a ruffle trim can immediately revamp an outfit to make it feel more decadent. From a textured collar on a button down shirt to a sleepwear set, there is no denying how elevated these pieces are, making them ideal additions to your growing regency inspired wardrobe.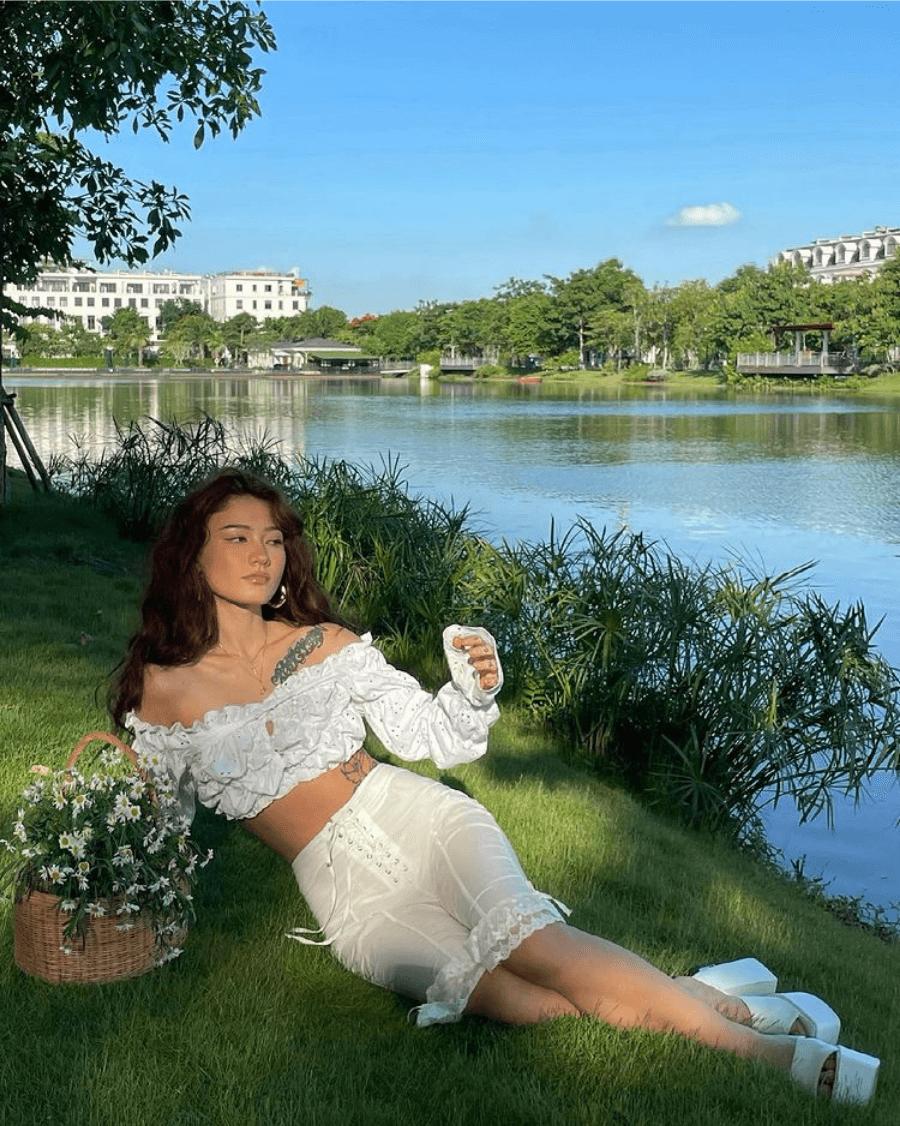 Photo via @naomiroestel
6) Off-The-Shoulder Top 
Another way to take a page from the regencycore handbook is by channeling the aesthetic via an off-the-shoulder top. Just be sure to focus on those with a mix of eyelet and lace detailing combined with volume. This silhouette is trending once again due to the push for more romantic inspired looks for the summer. Bonus points awarded to those who copy and paste Naomi's look by styling it with lace up bloomer shorts.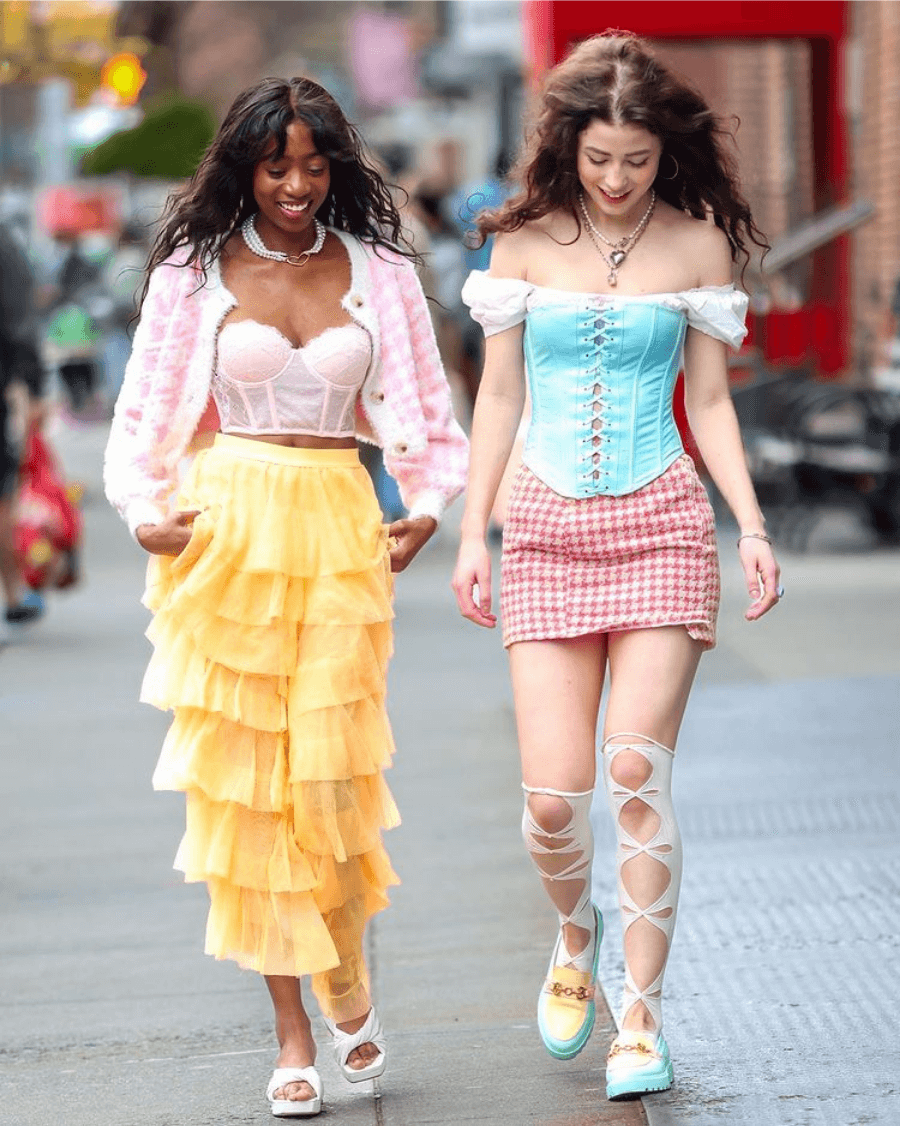 Photo via @sarahpriscillla
7) Corset
Of course we would be remiss not to mention the corset when talking about all things regencycore. This lingerie-inspired piece takes 21st century fashion to a whole other level. A corset can be worn on its own or layered underneath a top or over a dress. No matter what you choose, be sure to tack on other delicate pieces, such as a ruffled skirt and pearl necklace.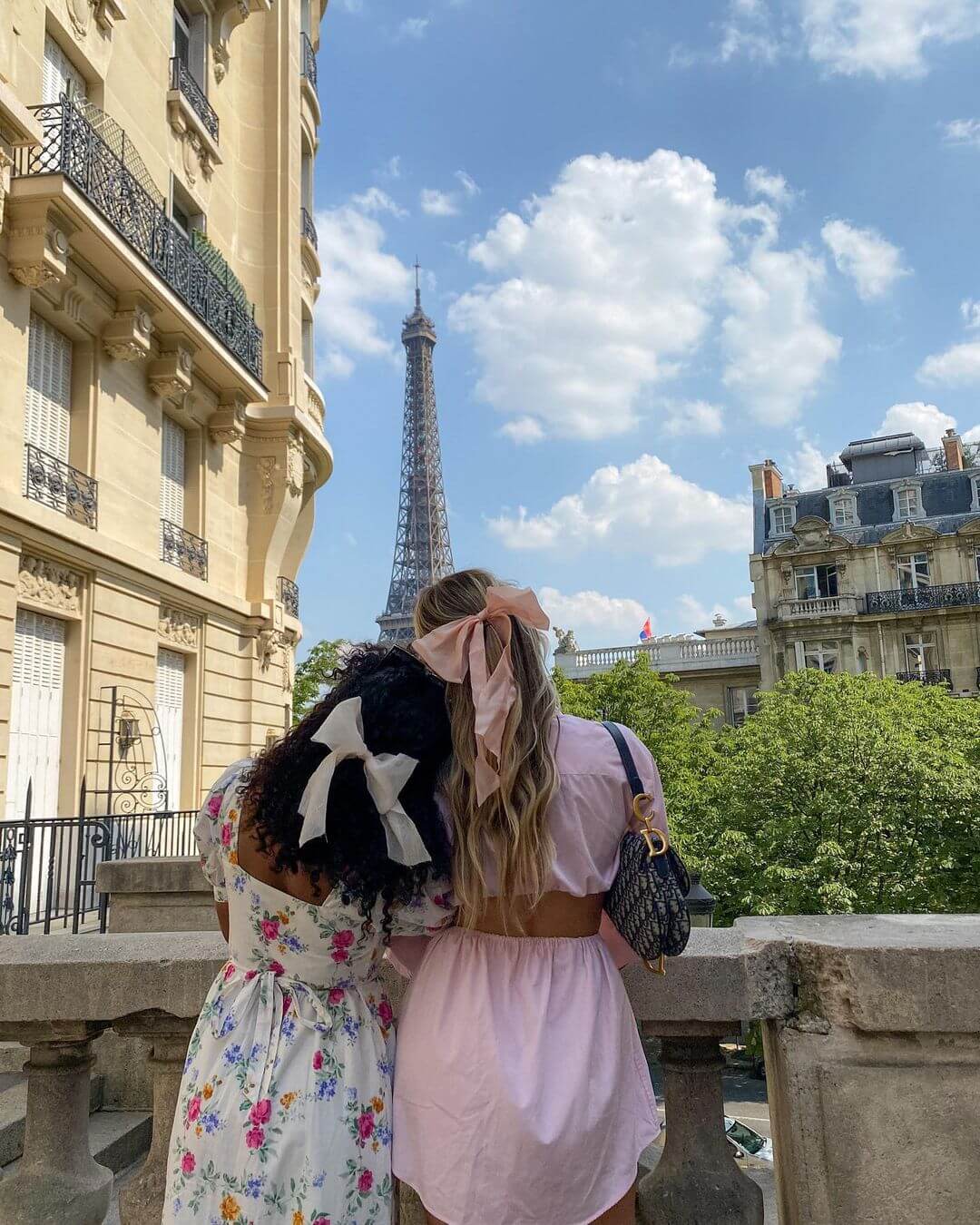 Photo via @thenikkirossi
8) Lady-Like Hair Accessories
When it comes to adding the final touches of a look, a regencycore expert knows that every detail is critical from your head down to your toes. That is why if you feel like your outfit is missing that special something, perhaps you should consider adding a hair accessory into the mix. An oversized hair bow, pearl headband, or a barrette is an easy way to perfect that Victorian-inspired aesthetic.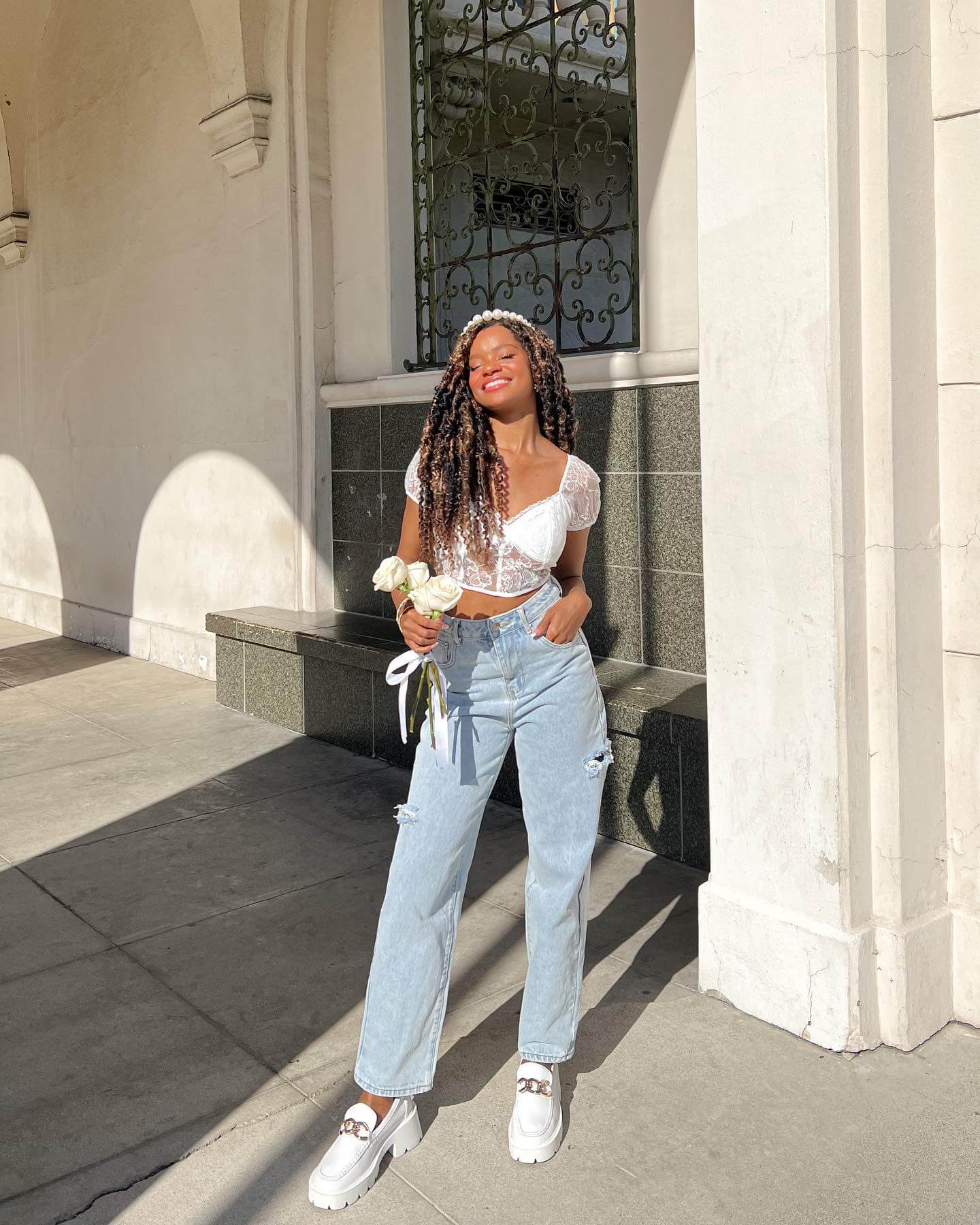 Photo via @chazlyn.yvonne
9) Lace Top
If you are not into dramatic skirts and dresses, you can still tap into the regencycore aesthetic with a pair of jeans too. If you're wondering how, all you need is an undeniably romantic lace top. This versatile piece is everyone's cup of tea. We love how it adds just enough extravagance to your favorite pair of blue jeans.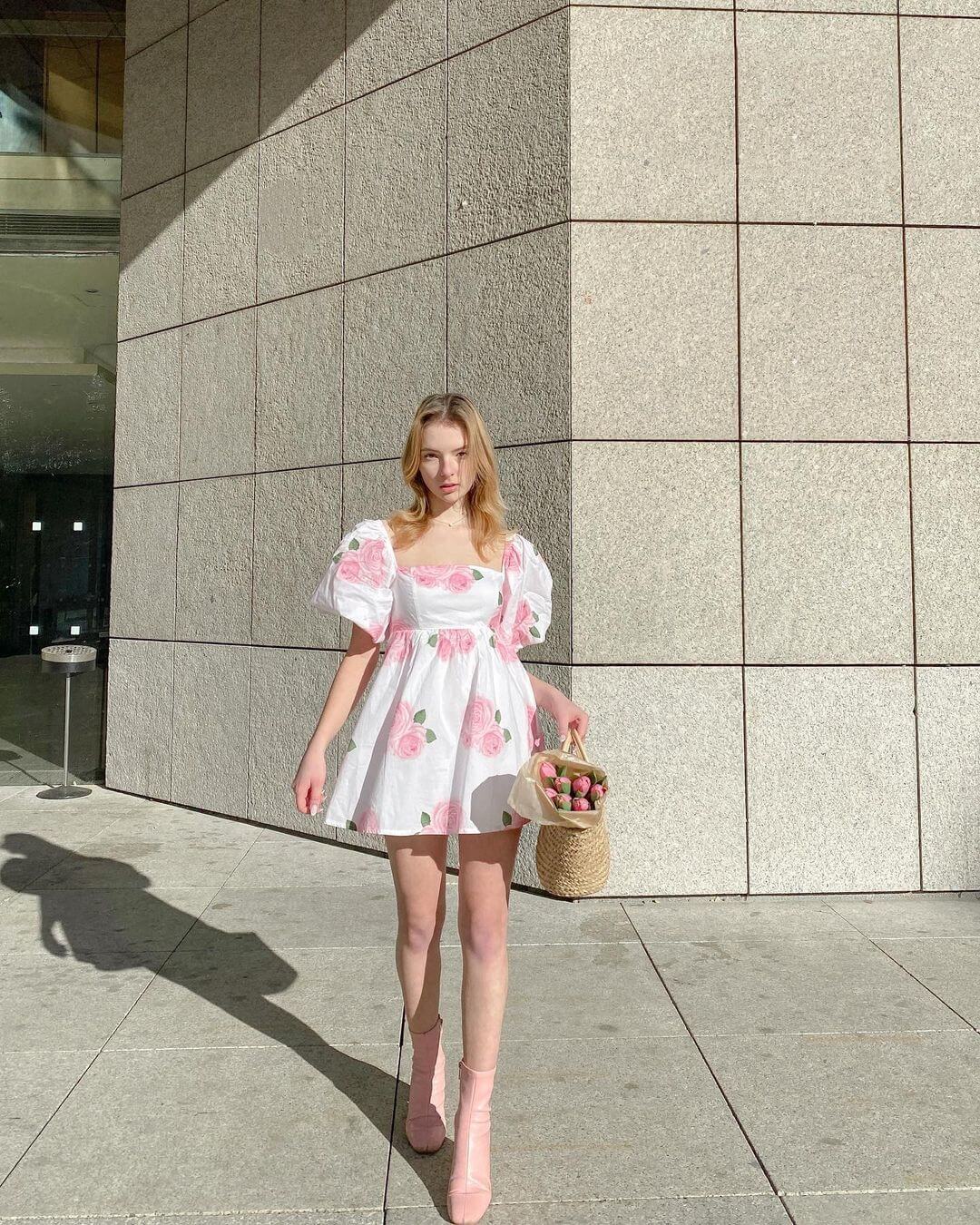 Photo via @natalie.nesazalova
10) Empire Waist Silhouettes 
Empire waist designs are another distinctive feature of regencycore. When combined with capped sleeves and a billowy skirt, it becomes the quintessential summer dress you never knew you needed. For such a romantic leaning style, consider a dainty floral pattern or pastel colorway – it helps inject a hint of royalty into the summer season.

(Visited 1 times, 1 visits today)