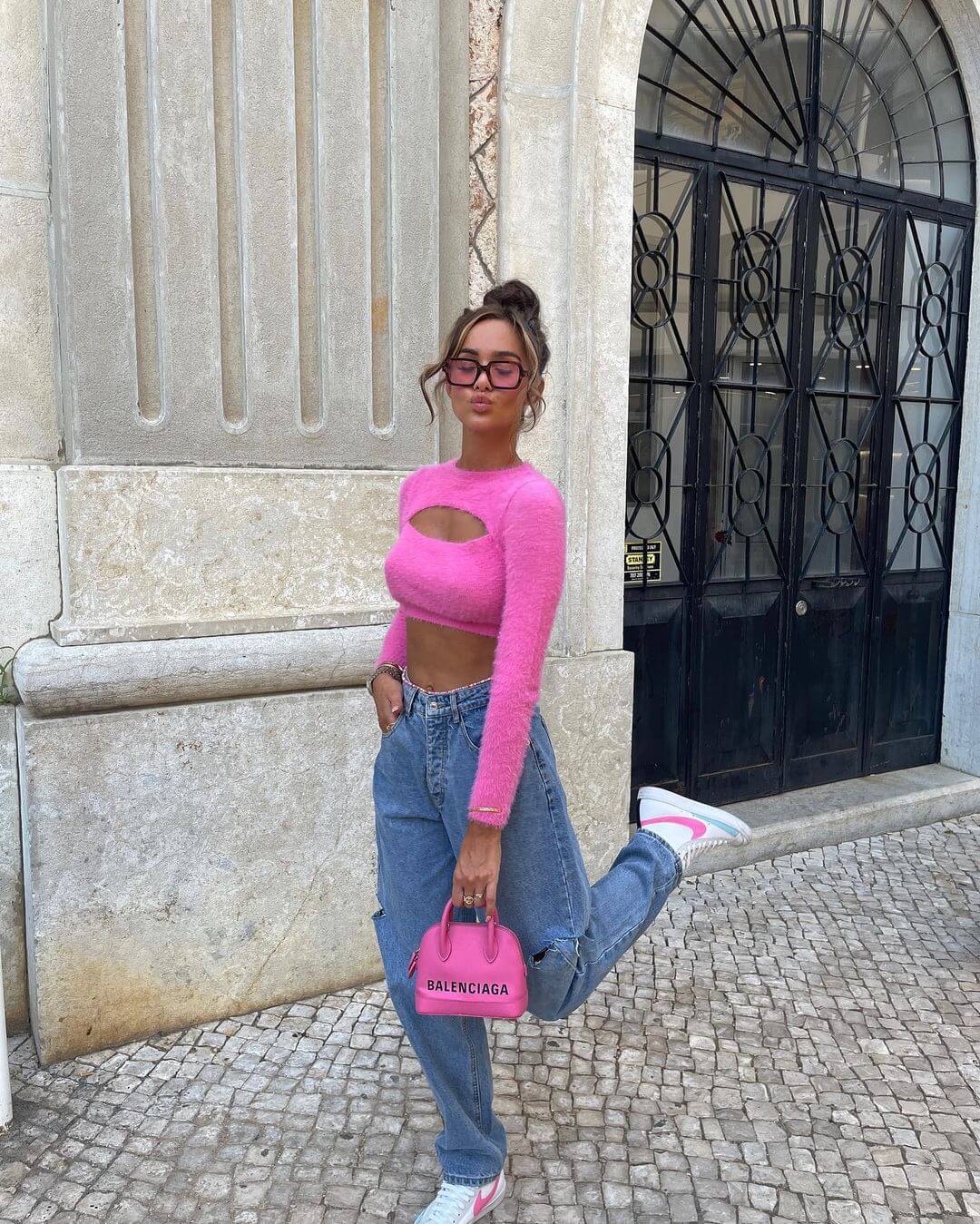 Photo via @emilyshak
The ultimate workhorse of our wardrobe is no doubt denim. Despite the wave of trends that come and go, jeans seem to never fade. And while they're reliable any time of the year, we have to admit that we're particularly fond of the all American staple in the springtime. Moderate temperatures signal that now is the best time to take advantage of your trusty pair of jeans and use them as a jumping point for a variety of looks. In our search for new and fresh outfits to wear with jeans, we discovered a ton of cool ways our favorite fashion girls have been styling theirs. We'll be serving up some of our favorites for you today from cool takes on classic denim to the trendiest silhouettes. You probably have several pairs of jeans within your arsenal already, so the inspirational outfit formulas below may be easier to mimic than you think. Scroll ahead for 10 shoppable foolproof outfits to wear with jeans. The window of spring savvy looks can end at any moment, so consider this your signal to hop on board while you can.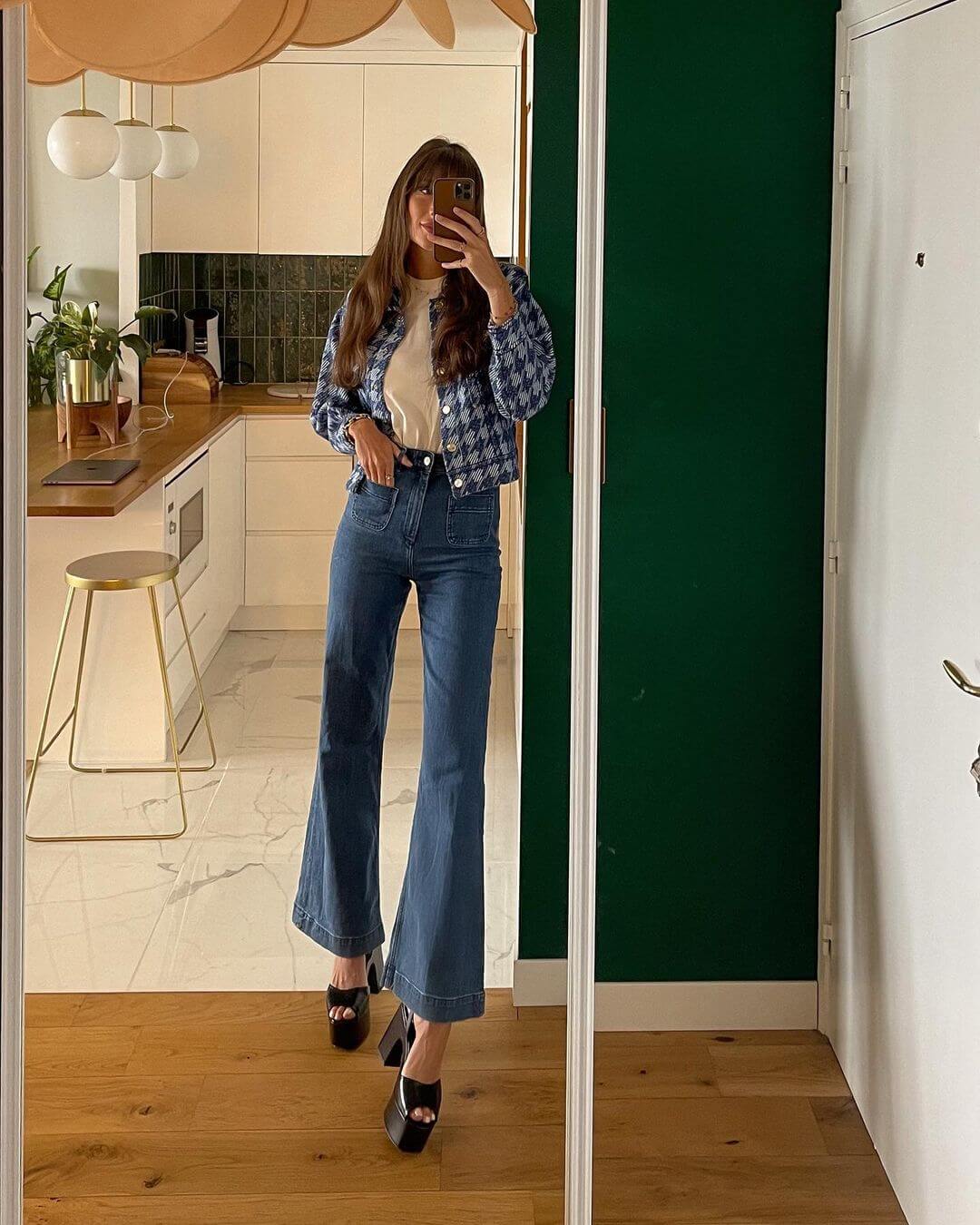 Photo via @juliesfi
1) Cropped Jacket + Platforms
Seeking an effortless way to dress up your denim? Look no further. Julie shows us how her flared bottoms are transformed with a cropped jacket over a plain t-shirt. The shorter silhouette on top helps to ensure the outfit appears tidy and polished. Meanwhile, the platform shoes are working overtime to provide height and elegance.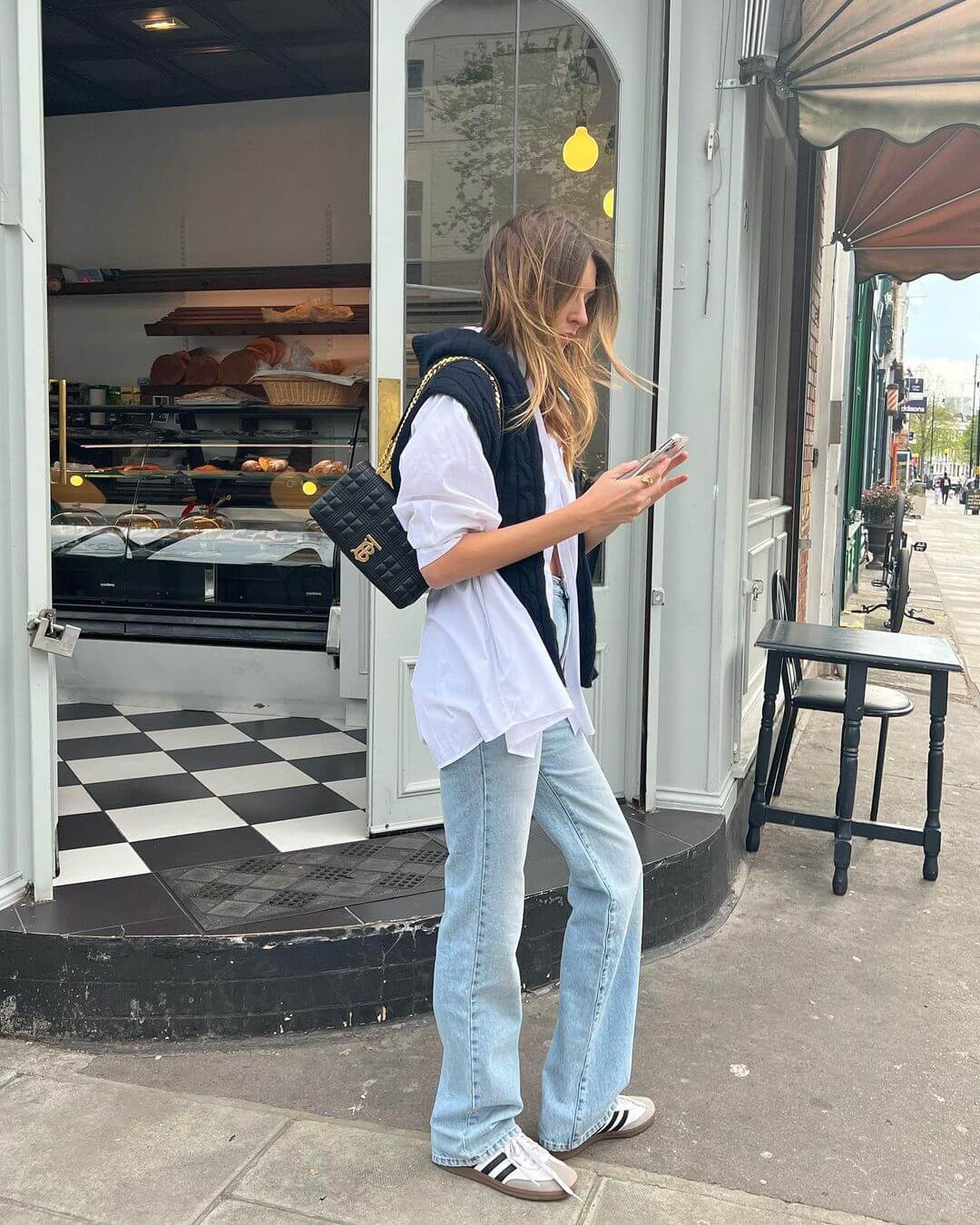 Photo via @camillecharriere
2) Oversized Button Up + Sneakers
In addition to your denim, a button up shirt is just as imperative in terms of classic pieces you should always have on-hand. So, why not wear them both? For off-duty days when you want to look stylish but still remain comfortable, a loose pair of jeans and an oversized button up will go a long way while still looking put together. The ultimate finishing touch in this situation is the sweater draped casually over the shoulder. A win-win in our book!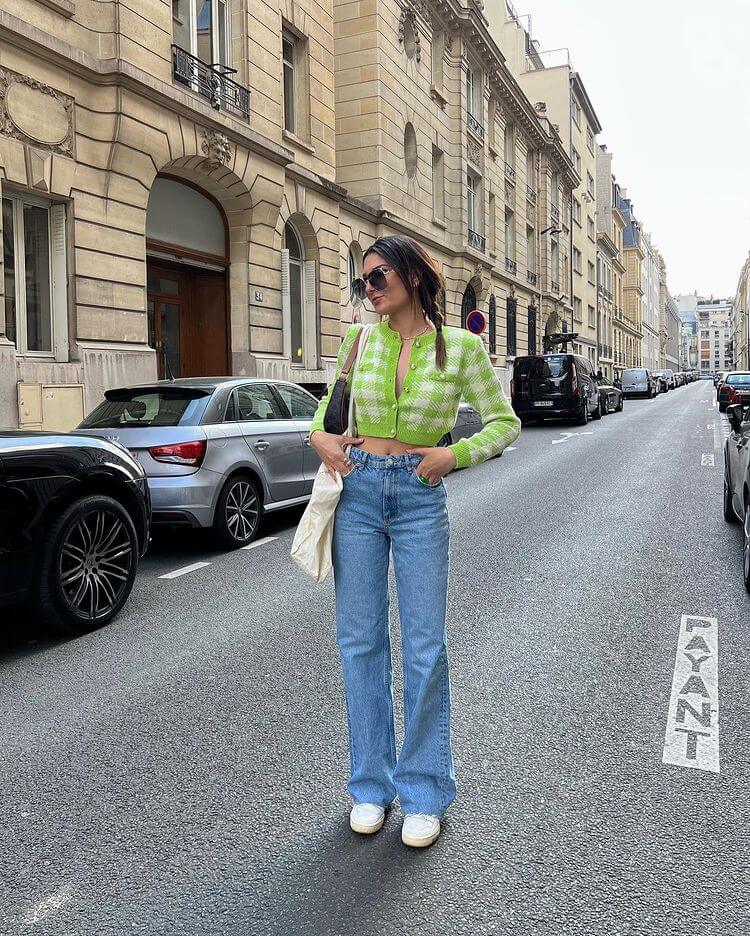 Photo via @junesixtyfive
3) Spring Knits
To channel the ultimate springtime vibes, opt for a seasonally appropriate knit to dress up your denim. If you're not convinced a simple sweater can take your look the distance, just look to Federica. She expertly pairs a bright spring plaid cardigan with vintage-inspired denim, accented with a market tote, for a cute girl-next-door look. Other spring knits you can incorporate into your mix are floral prints, vests, and pastel colorways.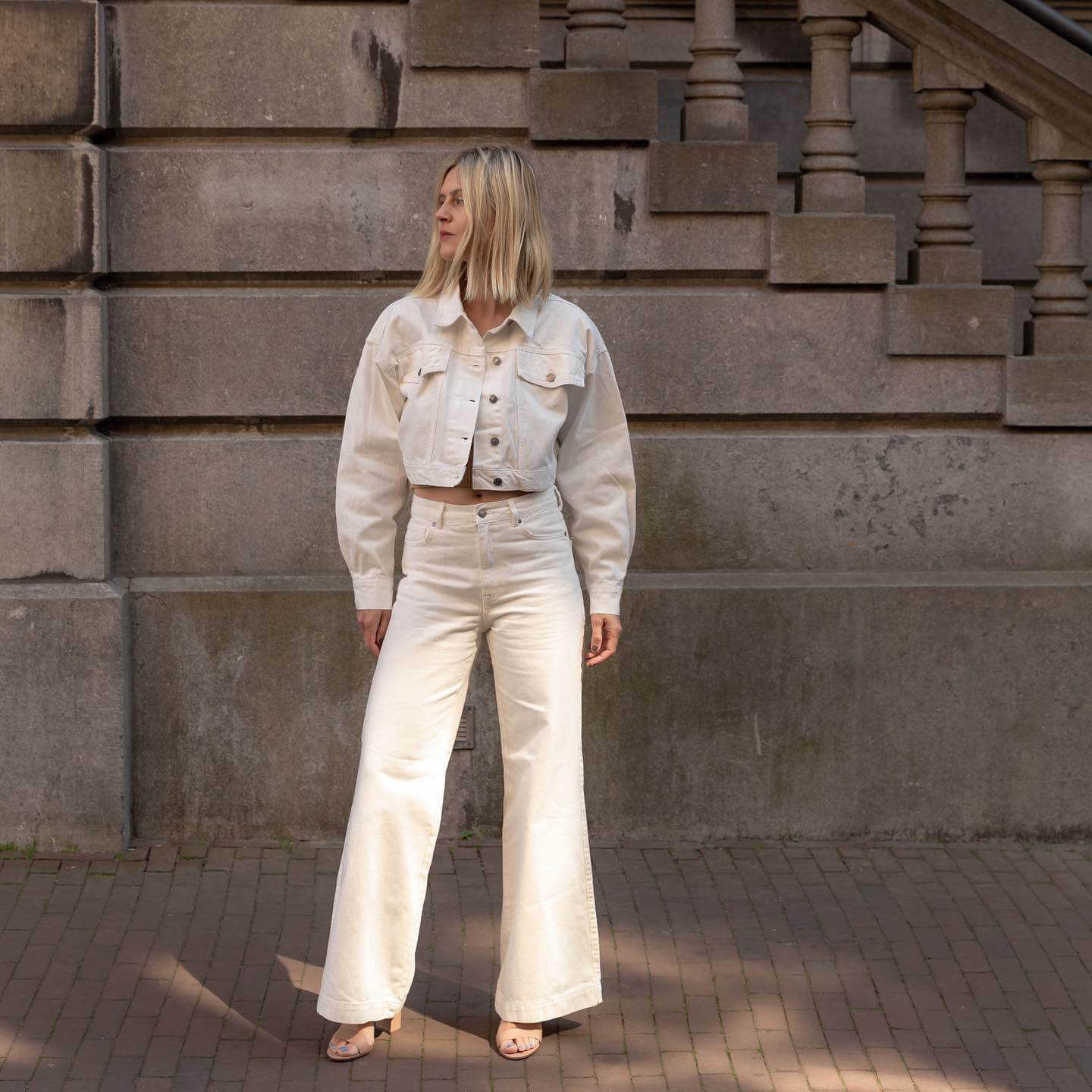 Photo via @lindatol_
4) Swap for White
Of course, you can always choose to switch it up and opt for something that is not your typical denim blue. For instance, bright white jeans always manage to look fresh when the warm weather rolls back around. The visual effect is so good that you may even choose to double up as Linda has done. A light denim jacket styled with a coordinating bottom proves to be the ultimate spring uniform you can keep on repeat.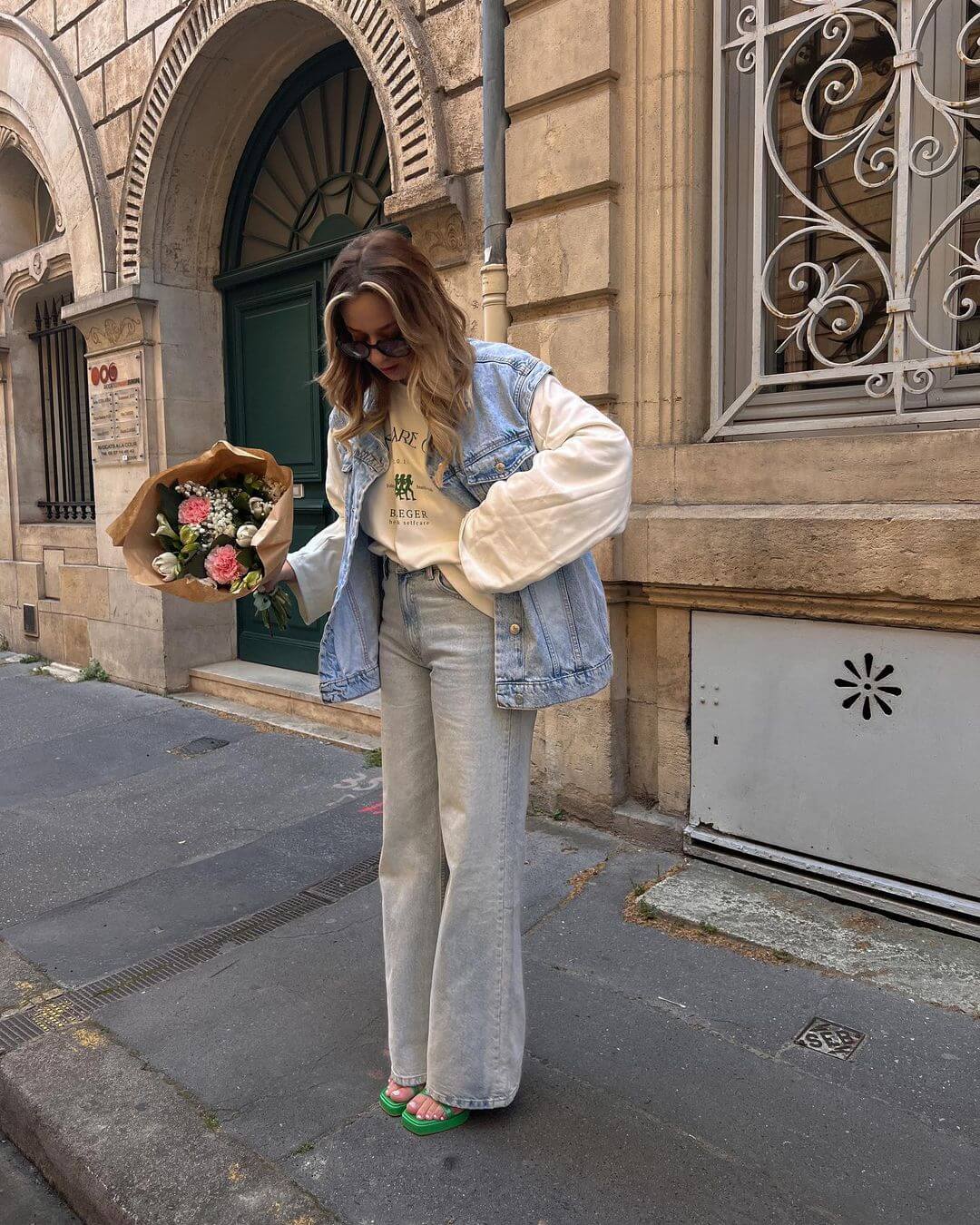 Photo via @chlosertoyou
5) Vest Believe It
For a slightly updated take on the classic Canadian tuxedo look this season, consider doubling down with a denim vest and jeans. The denim vest offers up a nostalgic aesthetic so opt for bottoms that are baggy to channel that early 2000's energy. If you are keen on dressing up this laid back outfit ever so slightly, reach for bold colored sandals to seal the deal.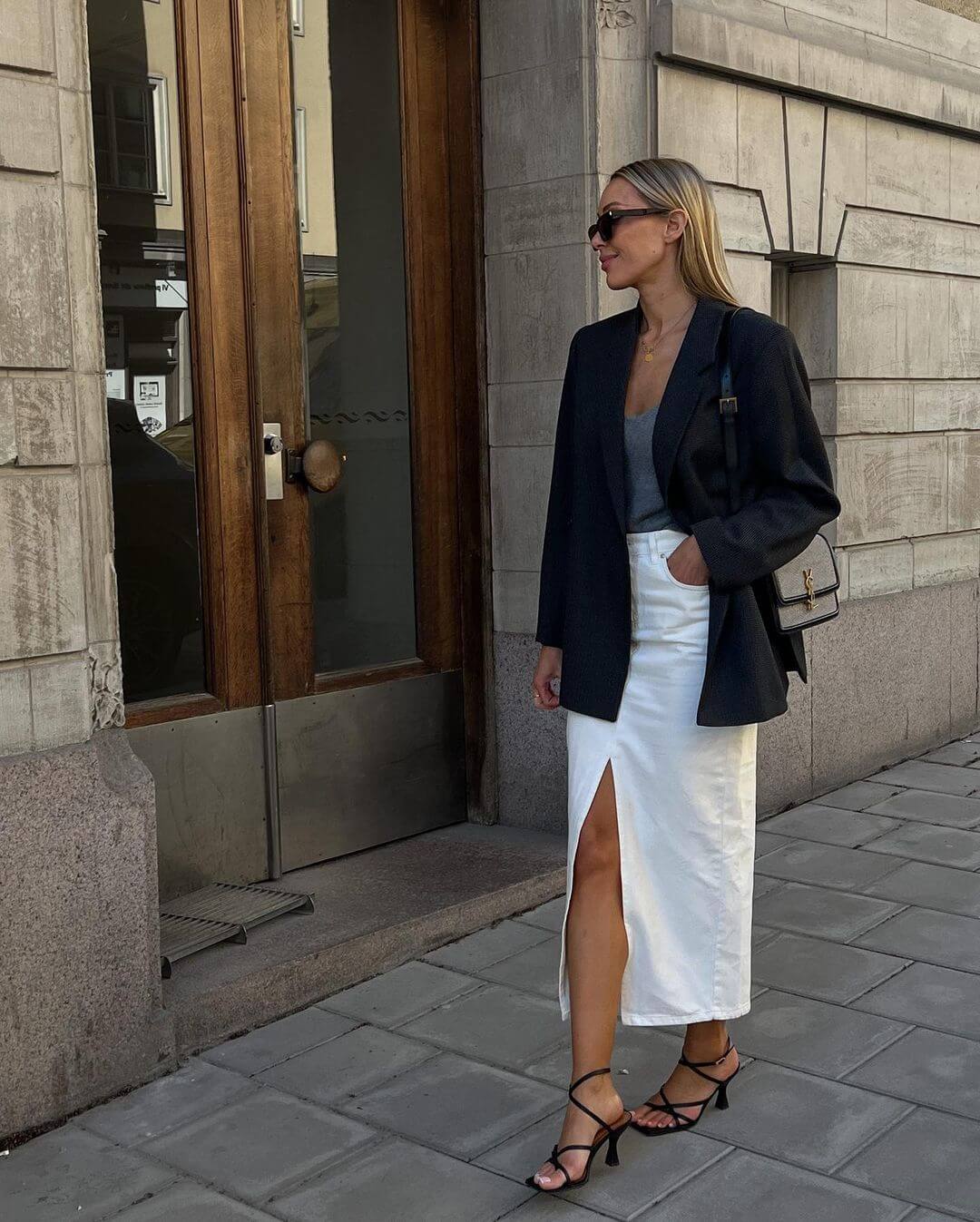 Photo via @alexiiak
6) Long Denim Skirt
This look proves that the sky is the limit when it comes to putting together chic outfits with jeans. If you are one who prefers more polished options, you can go beyond the typical pant silhouette and shop for longer hemmed denim skirts to carry you from the office into the weekend. Alexia's white denim midi is just as elegant as any other pencil skirt, especially with a tailored blazer and a pair of strappy sandals in tow.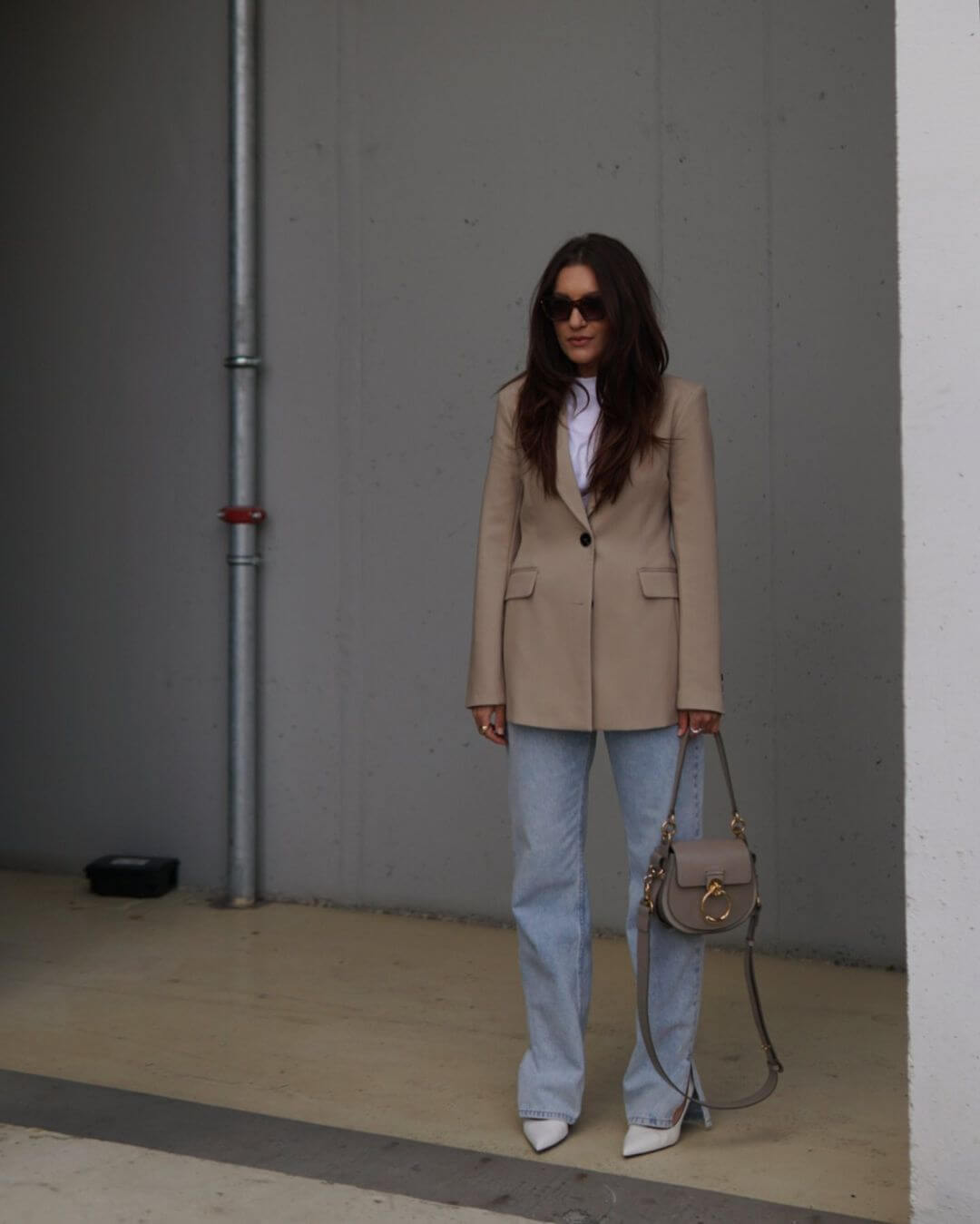 Photo via @sandrabendre
7) Split Hem
Speaking of a trusty blazer, this carries us into our next spring denim outfit formula. Given that this outerwear item has the power to make just about anything look refined, you can use it to your advantage to dress up even your most relaxed pair of jeans. These long, baggy bottoms are instantly revamped when styled with a nude blazer as seen above. The structured bag and heels help solidify the uniform, so it can be equipped for a variety of outings. While this combination isn't new to the fashion world, notice how the split hem detail changes the game.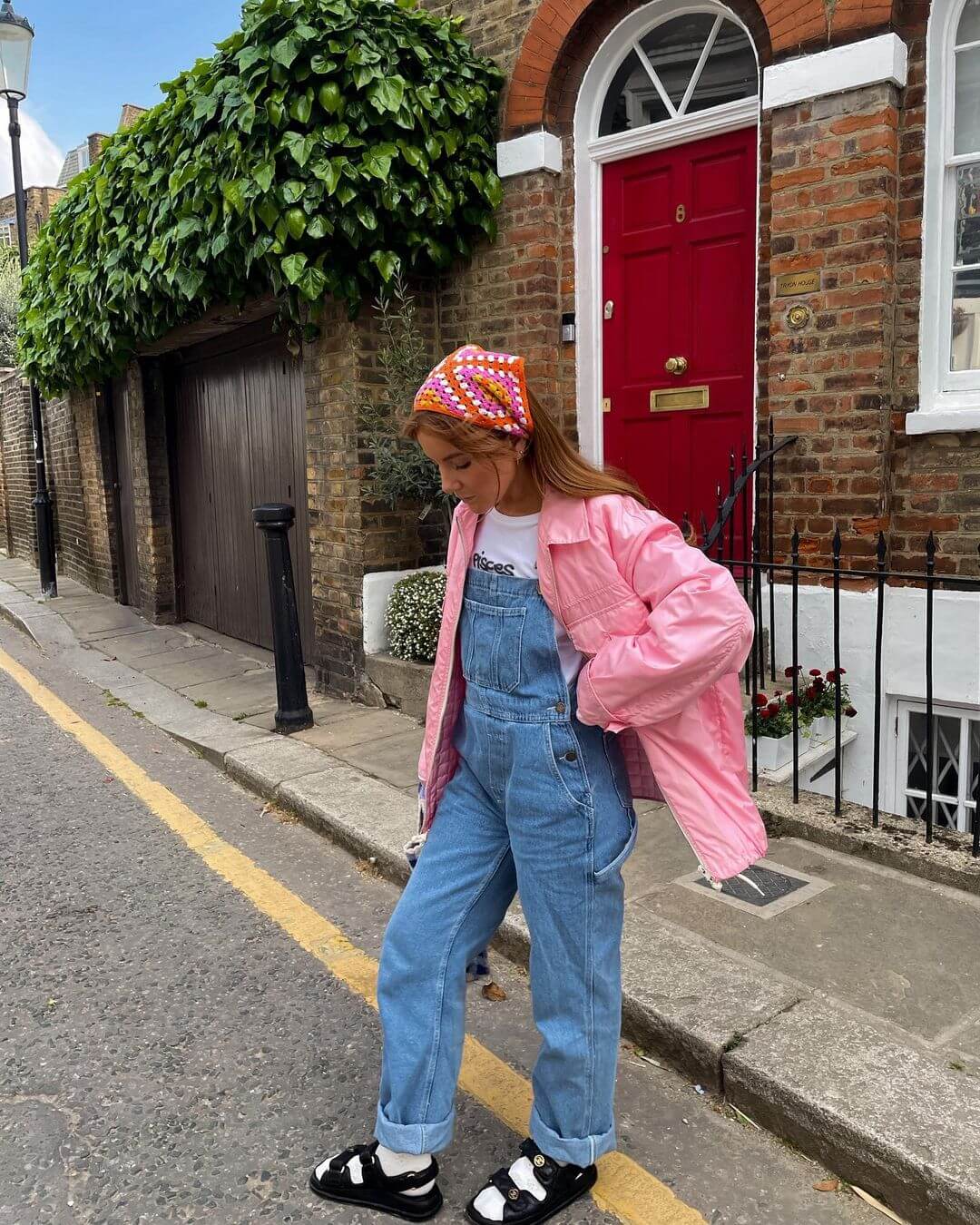 Photo via @rebeccaferrazwyatt 
8) Overalls
Don't be afraid to change up the standard denim fits with something off beat, like overalls. This one-piece might seem tricky to style, but Rebecca shows how it is done. To avoid looking like a frumpy farmer, simply integrate moderate, on-trend pieces with the one-piece. A bright bomber jacket with chunky sandals and a fun headscarf seems to do the trick.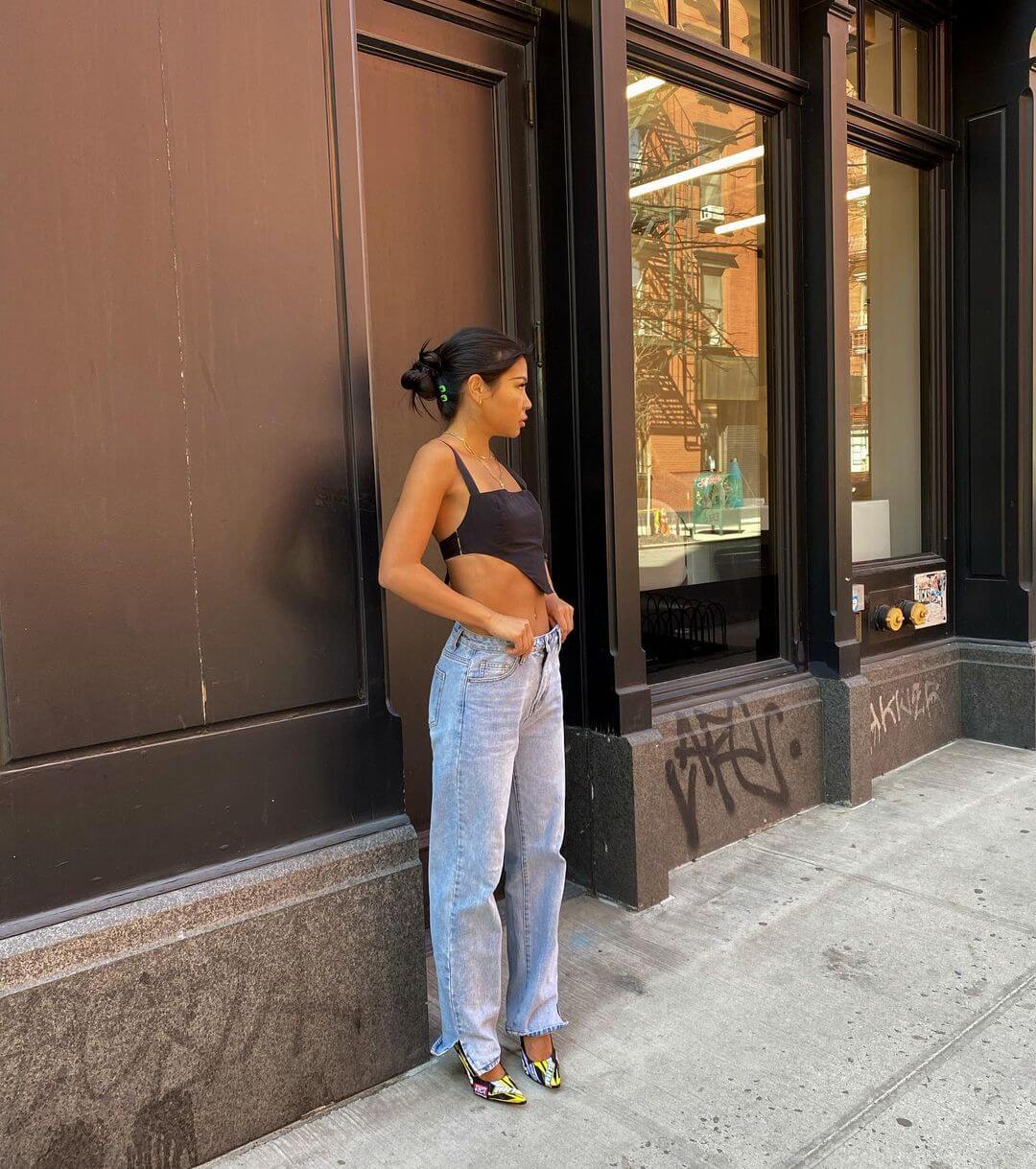 Photo via @adelehuntshi
9) Corset + Loose Jeans
Magically take your denim from day to night with the adaption of this quick and easy spring outfit. Your 90's inspired jeans look instantly fresh when styled with a form-fitting corset top. Of course, you can finish off the look with a pair of heels to spice it up even further.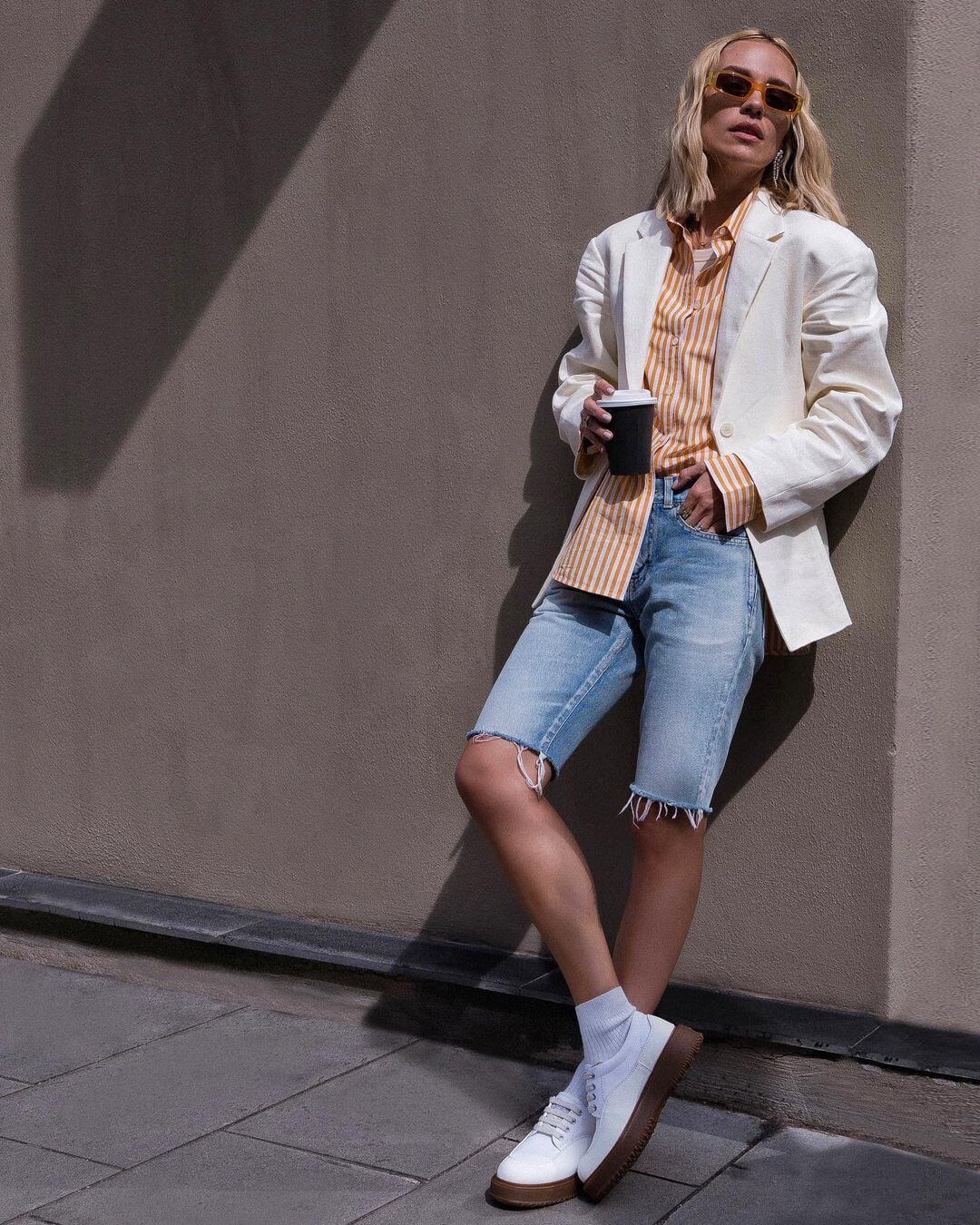 Photo via @vikyandthekid
10) Denim Bermuda Shorts
The last spring denim silhouette that we predict many will have on repeat is the longer bermuda short. The casual, effortless vibe is just what you're going to want as temperatures rise. But don't be mistaken – they can be made ideal for a dinner date with a cutout top and heels. For any other day of the week though, a crisp shirt and blazer combination with sneakers will pull you together in minutes.

(Visited 1 times, 1 visits today)