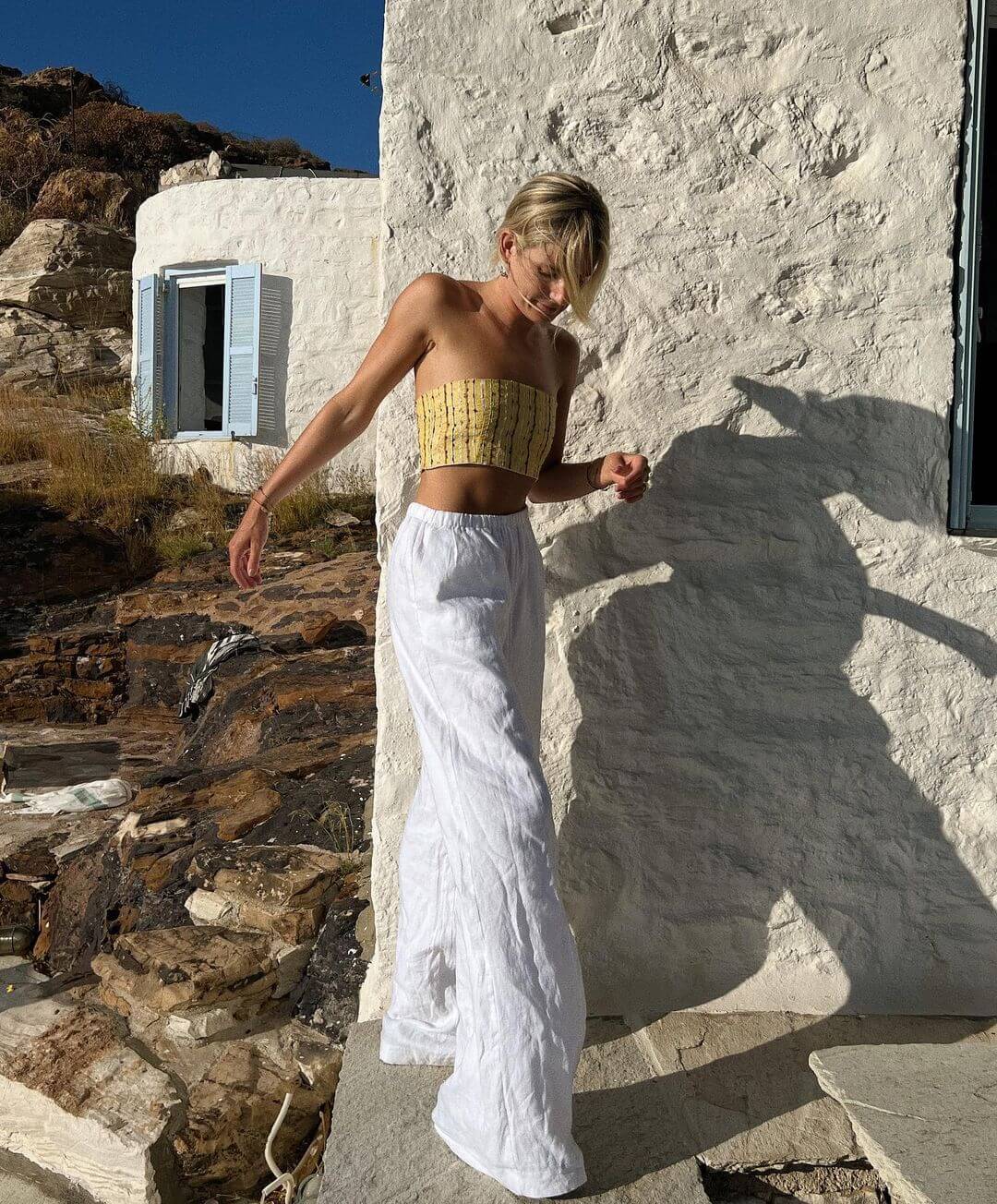 Photo via @lucywilliams02
Summer is now upon us but we like to think of the 4th of July as the official start to the season. With backyard BBQ celebrations and gatherings with friends, there is no better way to kickoff the summer season. Of course, one will need a killer outfit to celebrate the festivities. However, since 4th of July weekend is just a few days away, you'll need to act fast. Lucky for us, there is always an endless bout of style inspiration from our favorite fashion gurus to combat any last minute plans. Ahead, we've compiled a handful of looks that aren't just designed to be effortlessly stylish but perfect for any weekend get-together with your favorite people. So without further ado, don't let any more time be wasted… Discover some easy, on-trend 4th of July outfits you can copy and paste in a heartbeat. The best part? You'll be able to play these looks on repeat long after Independence Day is over!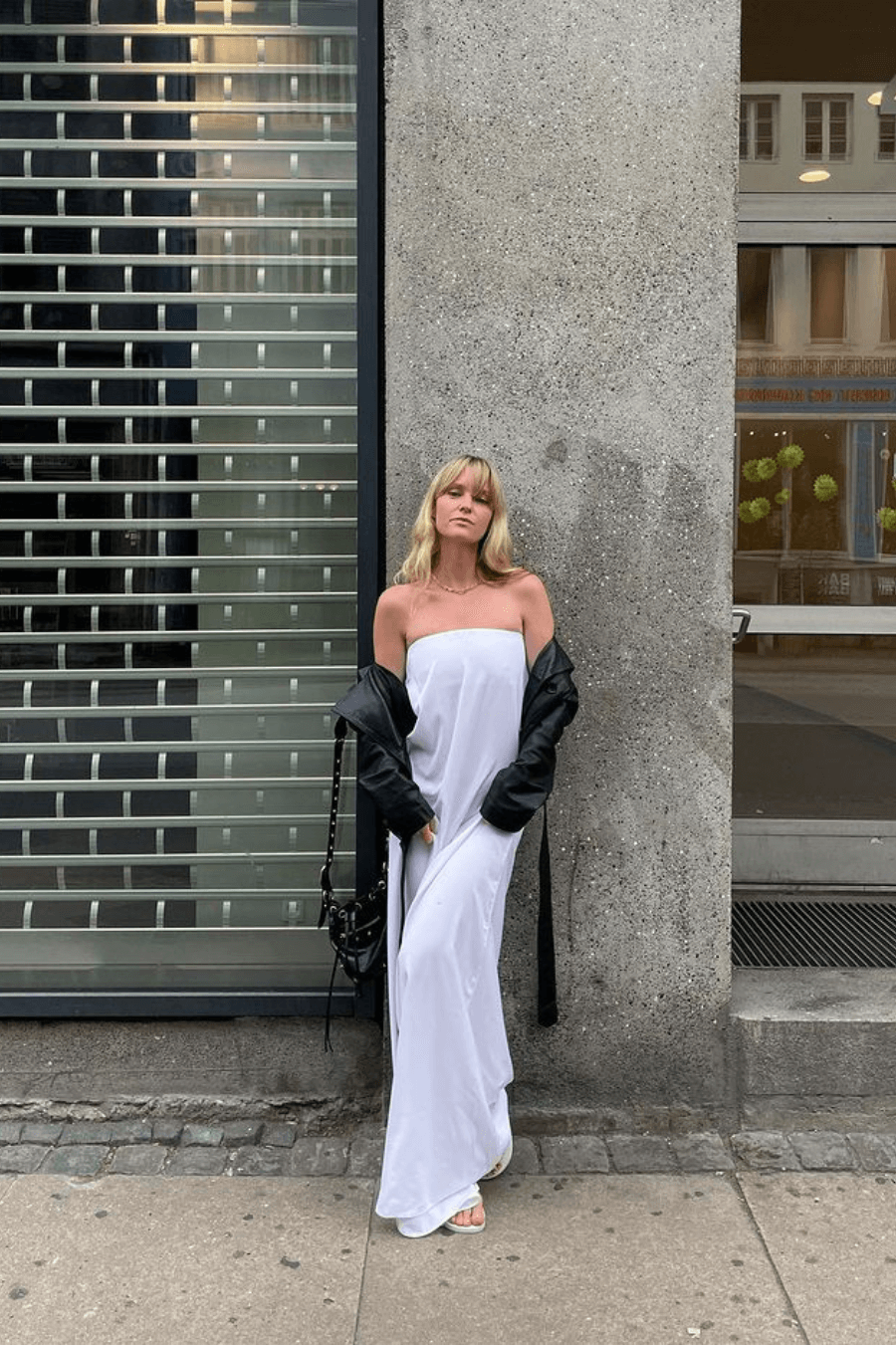 Photo via @_jeanettemadsen_
1) Maxi Dress 
When in a crunch for time, one of our best kept solutions is to head right to a maxi dress. The longer hemline never fails to make the wearer look put together. And even better – a billowy maxi dress will ensure you are relaxed and comfortable for hours on end. To add a bit of edge and a dash of the unexpected, incorporate some leather separates, like a moto jacket and shoulder bag as seen above. We love how Jeanette then grounds the entire look with a pair of flip flops.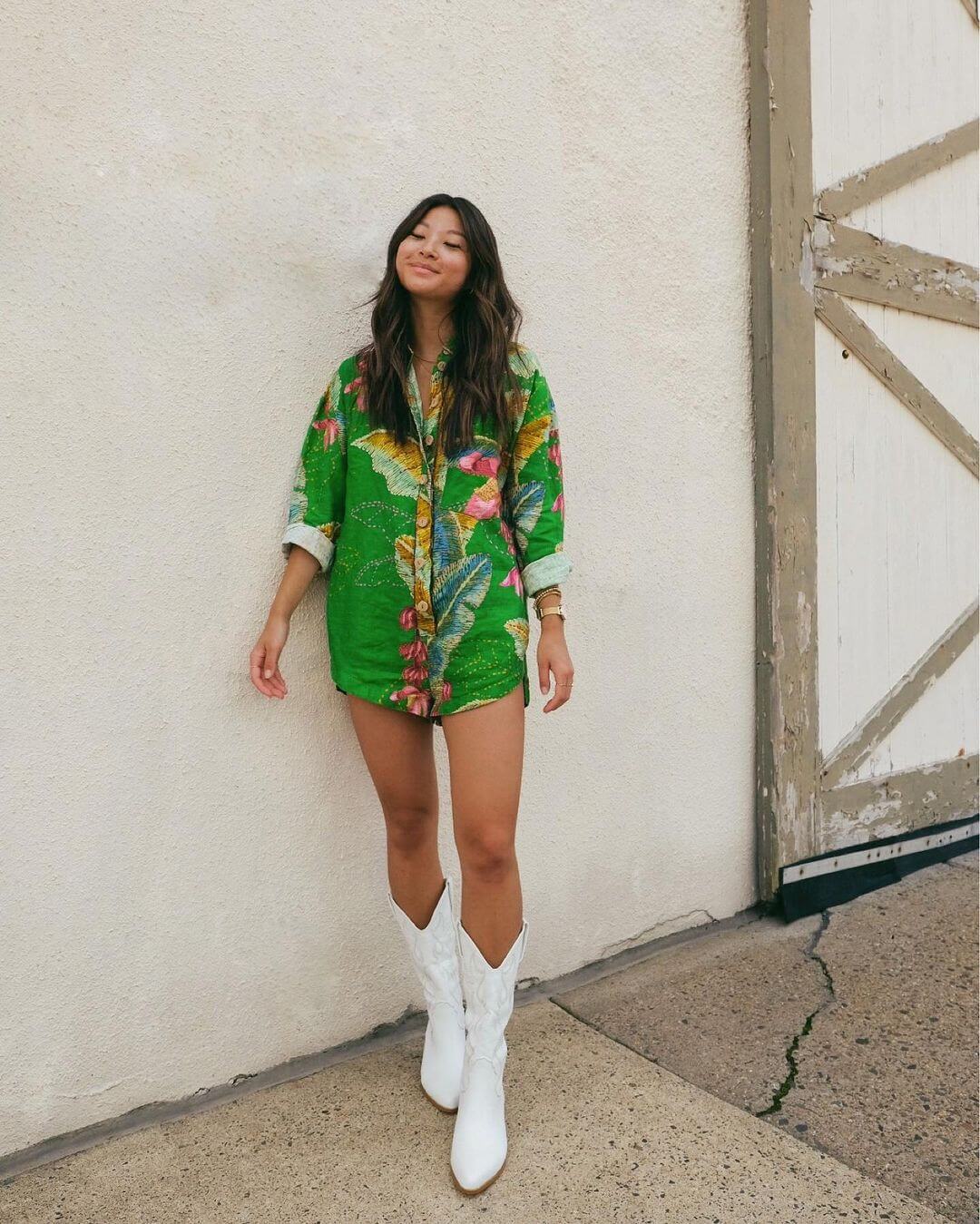 Photo via @trulyleesh
2) Bold Prints & Cowboy Boots
Summer style is all about channeling a care-free feeling and this next outfit does exactly that. We can all agree that the good vibes of the season are reflected in a fun patterned piece. Alisha rocks her bright Hawaiian style romper with none other than a pair of white cowboy boots. The two quirky pieces work exceptionally well for an off-beat, yet trend-forward outfit. If you can't find a statement romper, just opt for a printed shirt to create an equally striking ensemble.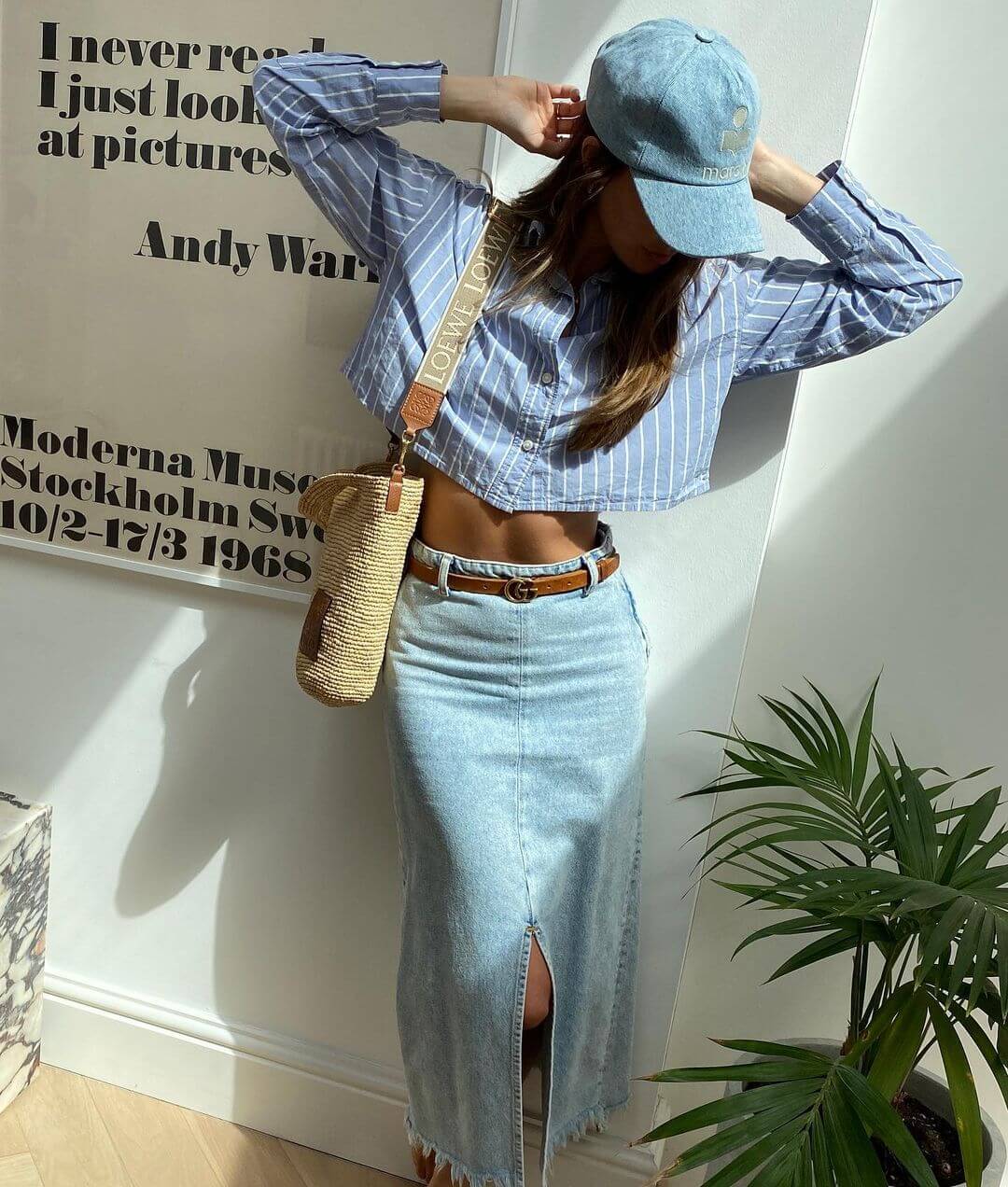 Photo via @beckyfashionstylist
3) Stripes & Denim
For a subtle nod to the 4th of July without going overboard, you'll need a hint of red, white, blue, stars and stripes. A mix of those elements will produce the most effective result. The easiest one to go after is possibly stripes, blue and denim for the right amount of Americana. Becky takes an unconventional approach to this by styling a cropped striped shirt with a denim skirt and denim baseball cap. The result is casual and cool – exactly what you'd want to replicate for a weekend holiday party.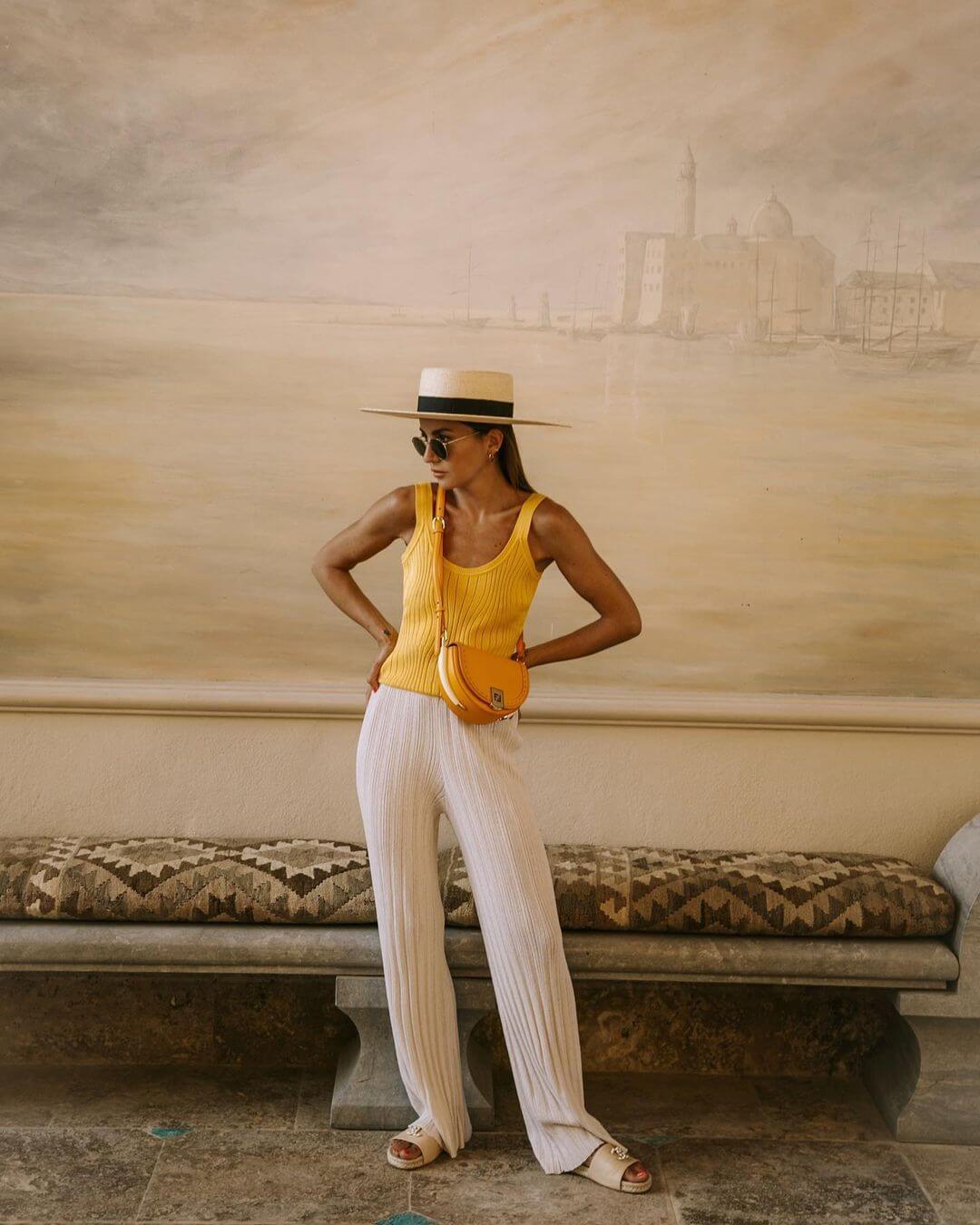 Photo via @alexandrapereira
4) Ribbed Knits
Independence Day is also an opportune time to start debuting some of your summer resort wear. Keep it uncomplicated and stylish with ribbed knit separates. Alexandra pairs a minimal tank with some flared, textured bottoms, which practically scream long weekend vibes. To top off the vacation state of mind, be sure to throw on your favorite straw hat and espadrille slides.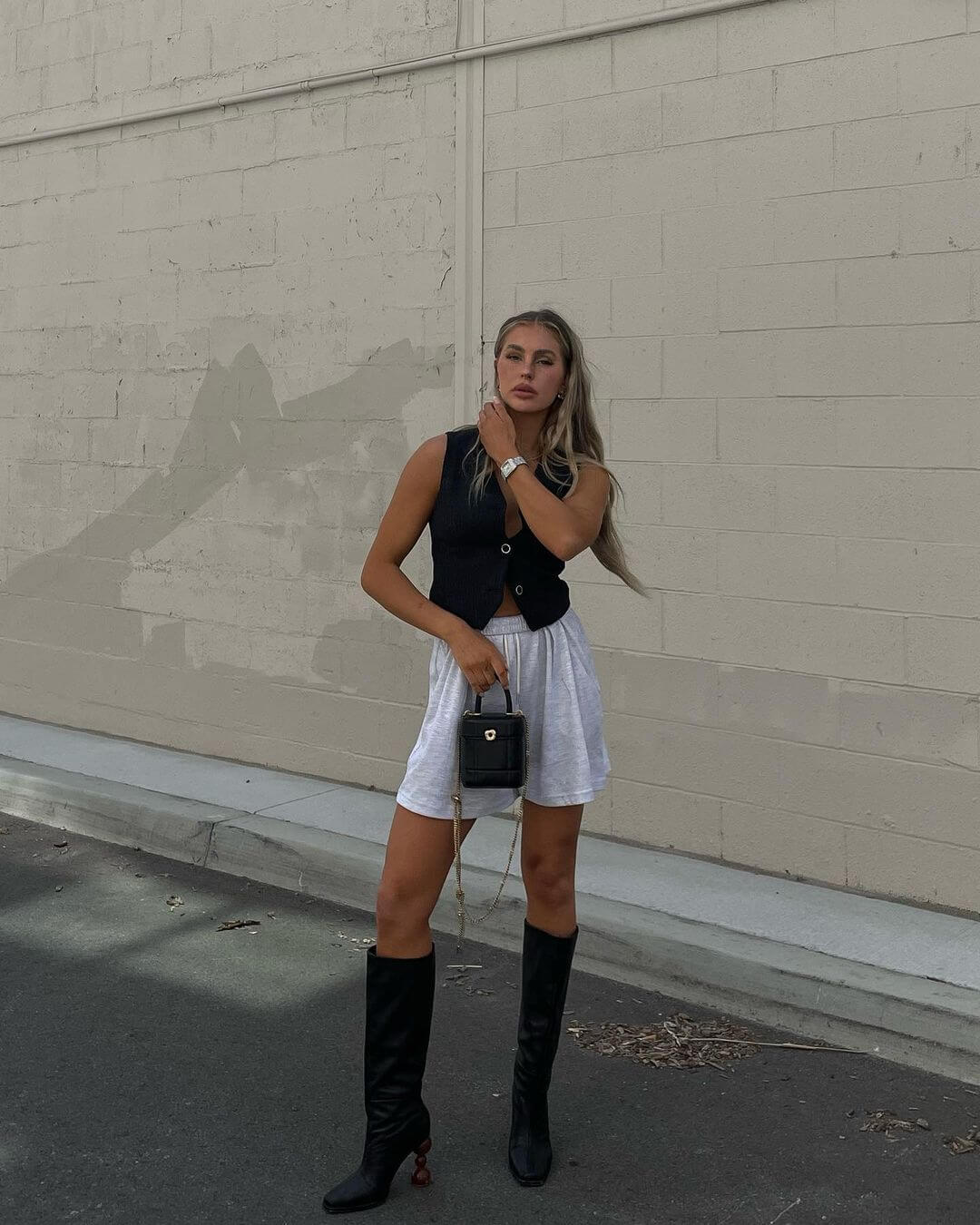 Photo via @jadeswildparty
5) Dress Up Your Sweats
This look's for the cozy loungewear lovers. Did you know you can easily spruce up your favorite sweat shorts to accommodate any holiday function? Just ask Jade. She mixes her gray sweat shorts with a tailored vest, a structured mini bag and pair of tall boots. With these few additions, no one would ever know these were the same shorts you wear to relax around the house.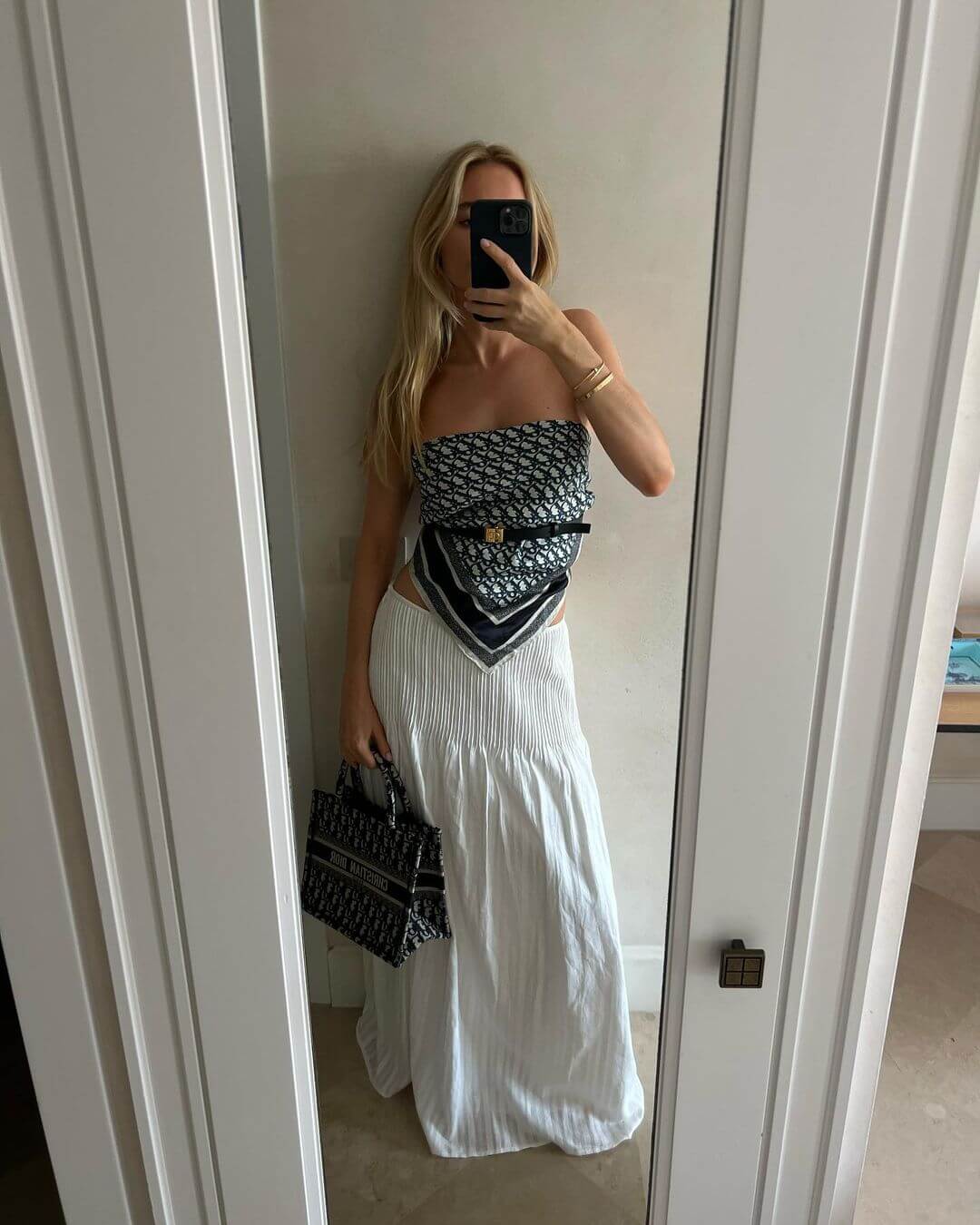 Photo via @clairerose
6) Scarf Top & Maxi Skirt
When it feels like you've exhausted everything in your wardrobe, try repurposing your favorite scarf into a crop top. It is such a fun way to adapt a classic accessory and make it feel brand new. We are obsessed with Claire's mashup of a scarf top and flowy maxi skirt. Notice how she cinches it just above the waist to keep everything in tact. It's such a chic take on a 4th of July outfit that you can wear throughout the rest of summer.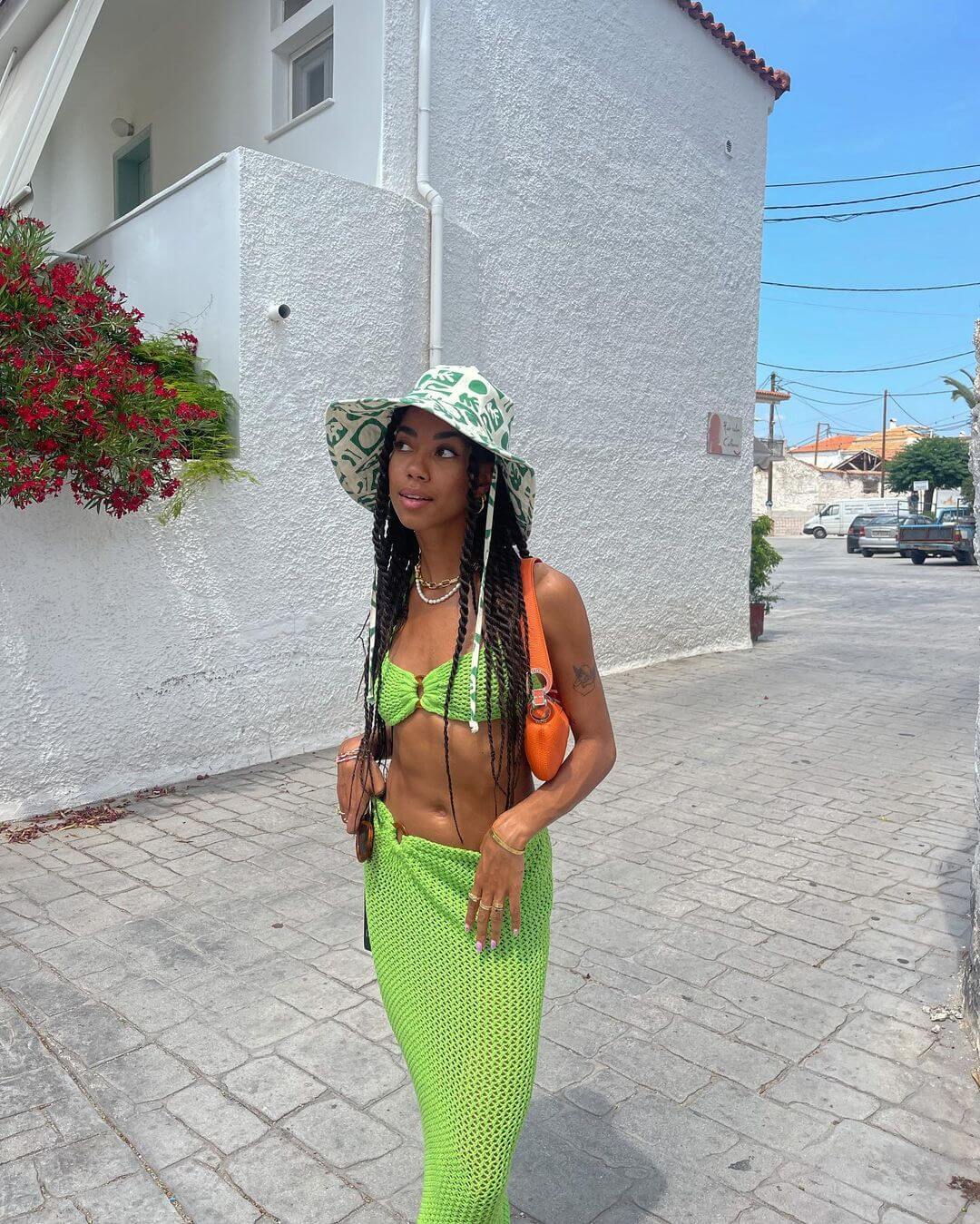 Photo via @amaka.hamelijnck
7) Swimsuit & Cover Up
Many 4th of July celebrations ultimately end up poolside. Come prepared by styling your swimsuit within your holiday outfit. An easy way to tackle this challenge is by reimagining your bikini as any bra top. Then, complete the look with a multipurpose coverup. That way, you are prepared at all times for a quick dip in the water.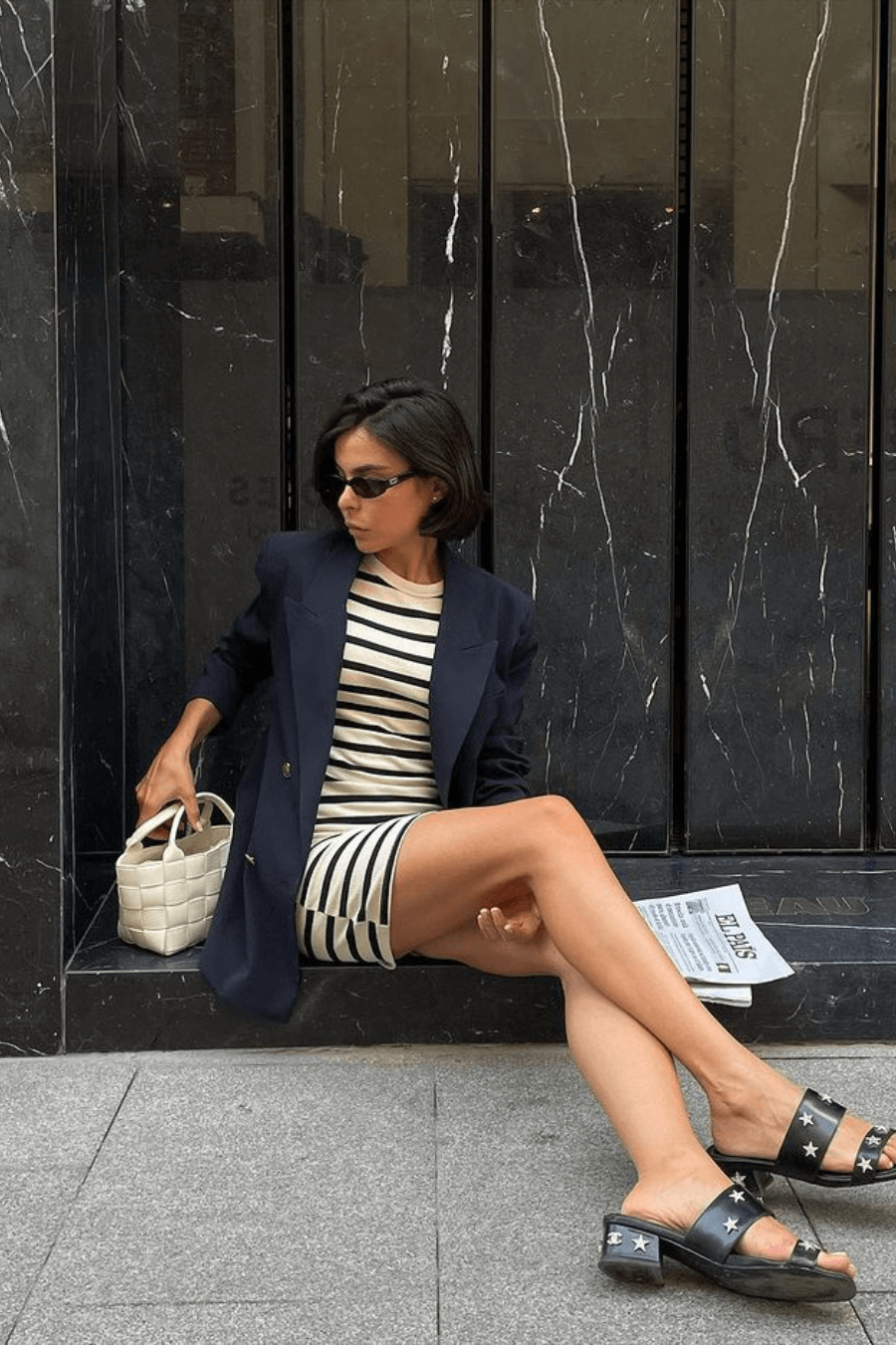 Photo via @martahandrich
8) Stars & Stripes
When in doubt, you can always rely on cool accessories for a cheerful last minute look. For instance, take any stripe shirt dress up a notch by pairing it with star accented sandals. You will be ready to tackle just about any July 4th plans that come your way.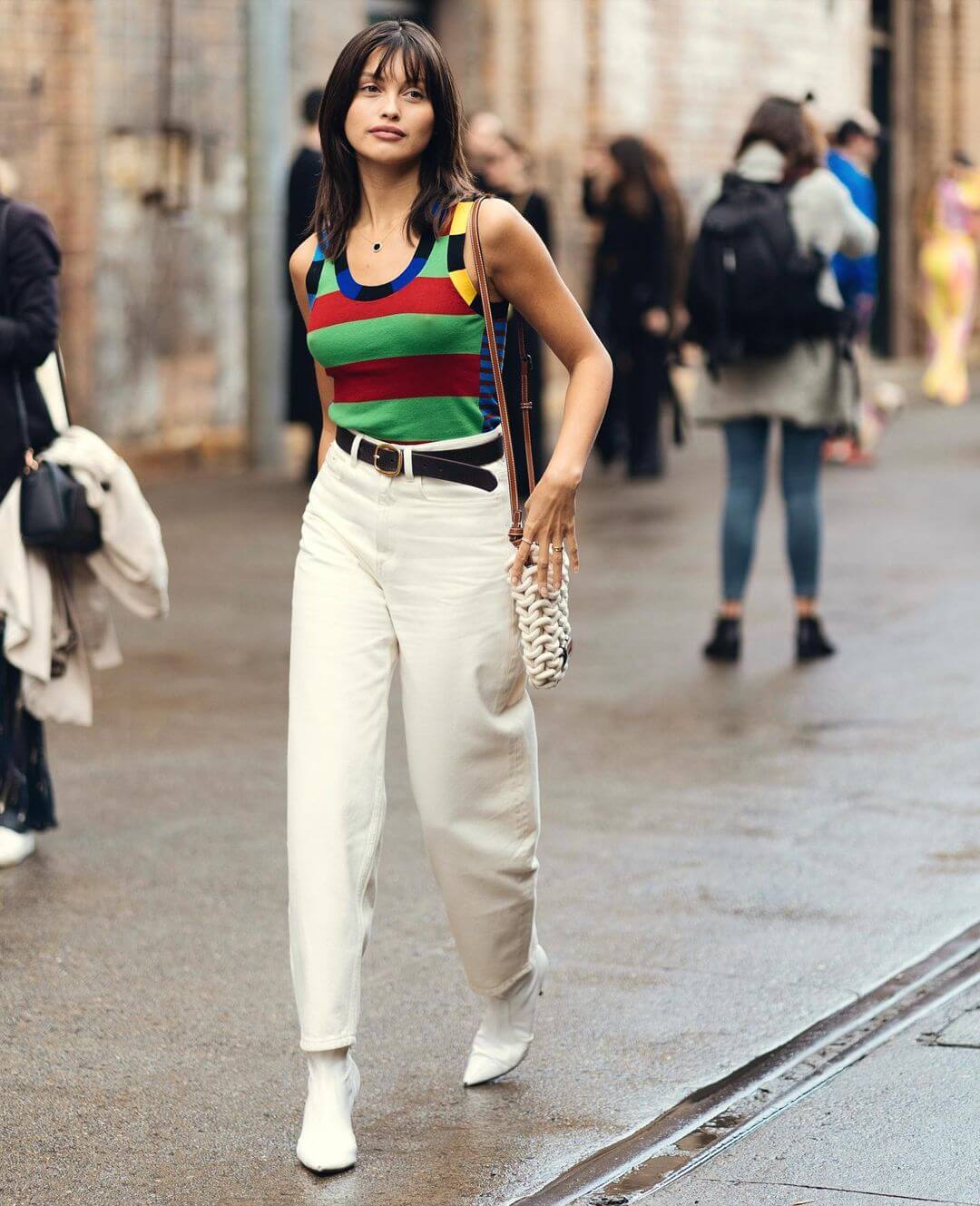 Photo via @sarahellen
9) Stripe Tank & White Jeans
Equal parts classy, casual and chic, the combination of a stripe tank top and relaxed white jeans is all you need for any laidback endeavor. In true 4th of July fashion, you can go the extra mile and opt for stripes in either red, white or blue – although other color combinations are just as impactful. The pop of patriotism ensures that you'll enjoy the fireworks in style.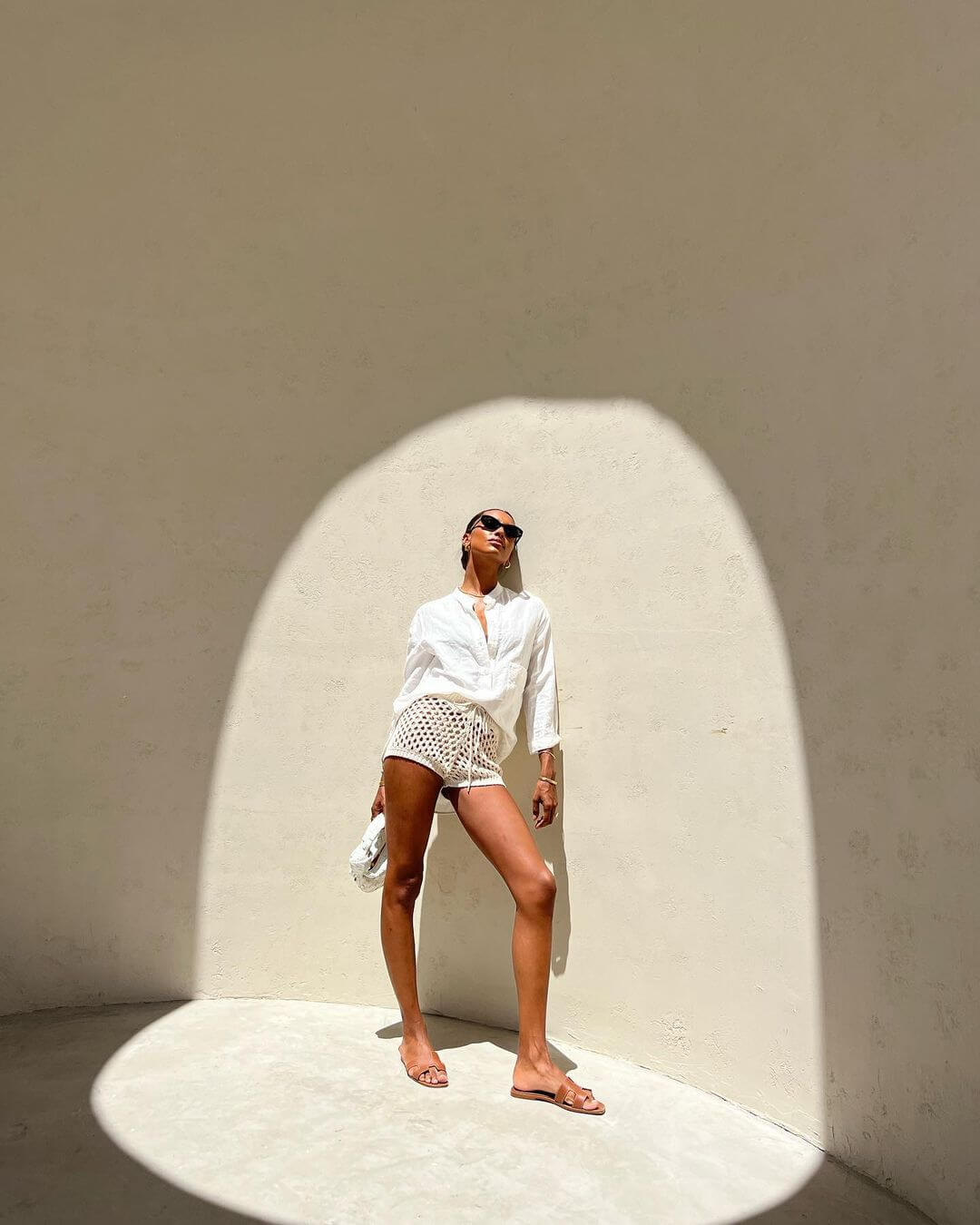 Photo via @jastookes
10) Nothing But Net
There is no better piece that sums up summer in one outfit like the net trend. Whether it be a pair of rope-inspired shorts or a net adorned handbag, create nautical-inspired look that nail the airy vibe of the season. We're willing to bet you already have this Insta-ready trend in your wardrobe, so you'll be able to whip up something fast.

(Visited 1 times, 1 visits today)