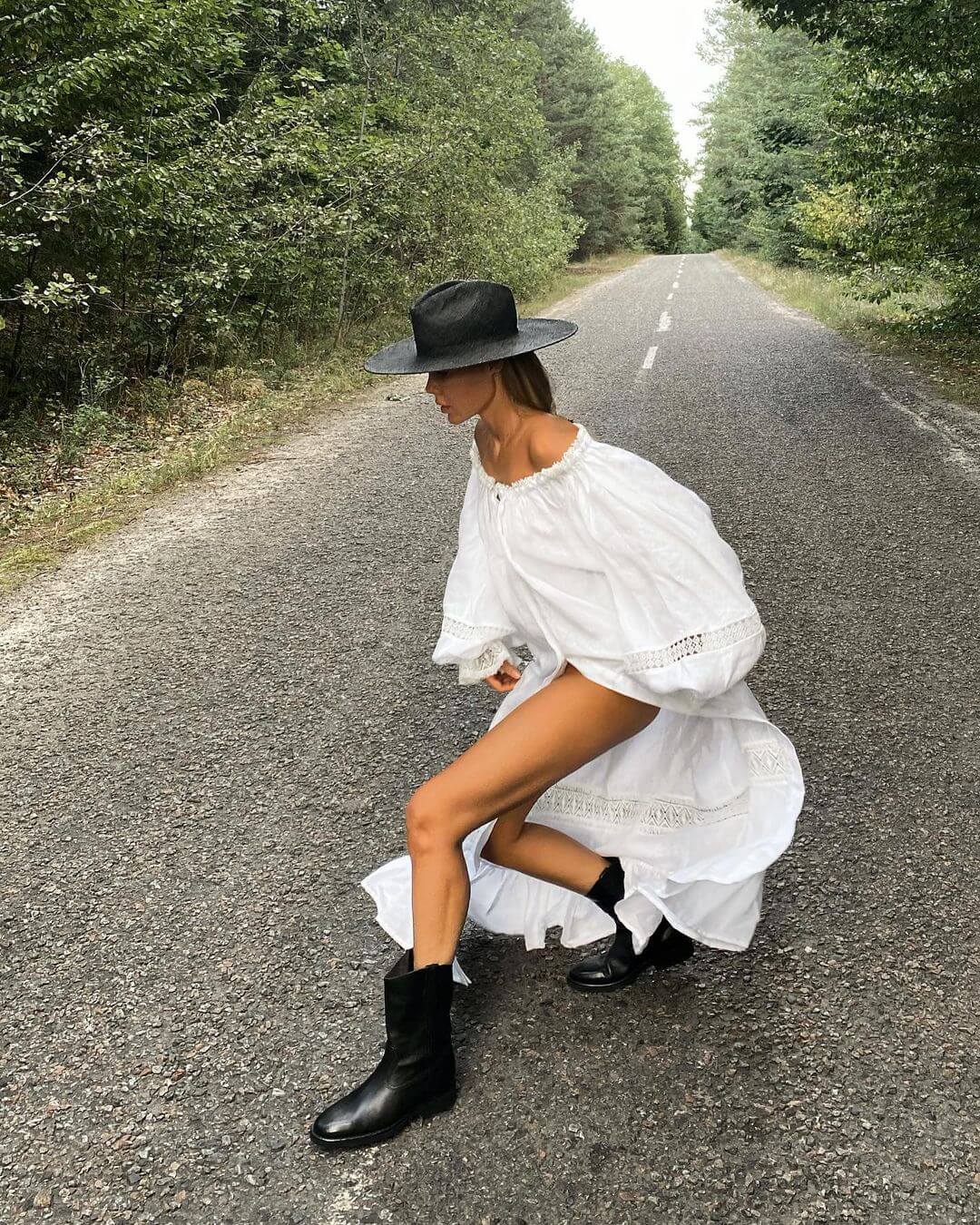 Photo via @natali_nata_
In the summertime, we love outfits that are chic with minimal effort, which is where maxi dresses comes in handy. Not only are they an all-in-one piece that never fails to look perfectly put together but they get major bonus points for being extremely comfortable. We're in luck this year since ankle-grazing dresses are poised to be the hottest dress style whether in the form of crocheted designs, tiered cotton dresses or body-hugging ribbed fabrics. Micro-minis are getting just as much hype, but if the revealing cut isn't your cup of tea, having an arsenal of maxi dresses will be essential to completing your warm weather wardrobe. There are so many ways to wear them too! From more casual formulas to dressy summer night outings, we have enlisted 10 stylish outfits with maxi dresses that you can emulate now. In one quick scroll, you'll find yourself wanting to add a few floor-sweeping frocks to your go-get list ASAP.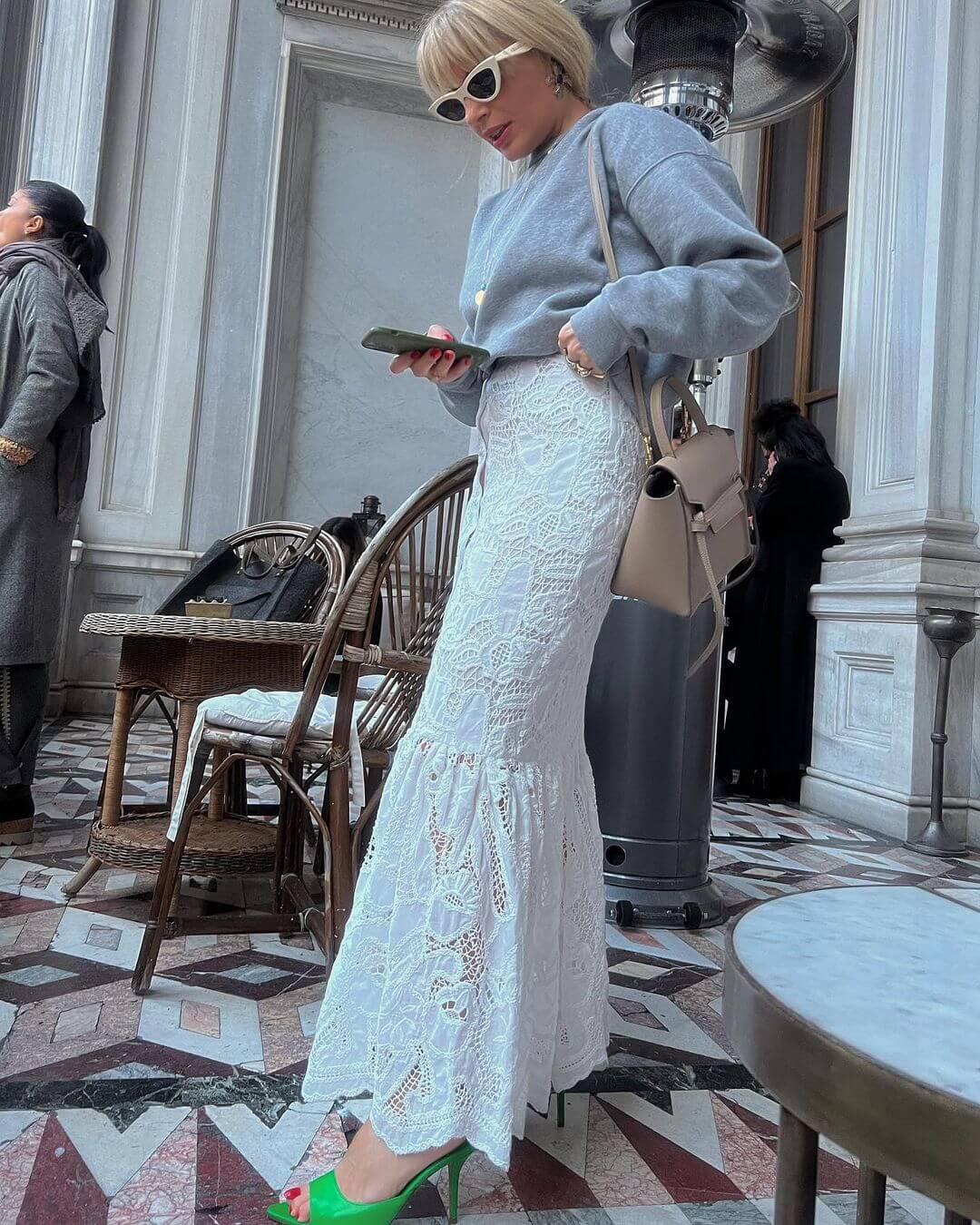 Photo via @dmryfr
1) Cropped Sweatshirt & Bright Heels
Turn any maxi dress into a casual weekend affair by adding a simplistic cropped sweatshirt on top. Even a lacey one-piece is toned down a notch with the addition of this nonchalant layering device. You always have the option of shedding this layer throughout the day too. Lastly, do not be afraid to spice up the look with a pair of punchy heels and bold sunglasses as Ayfr did.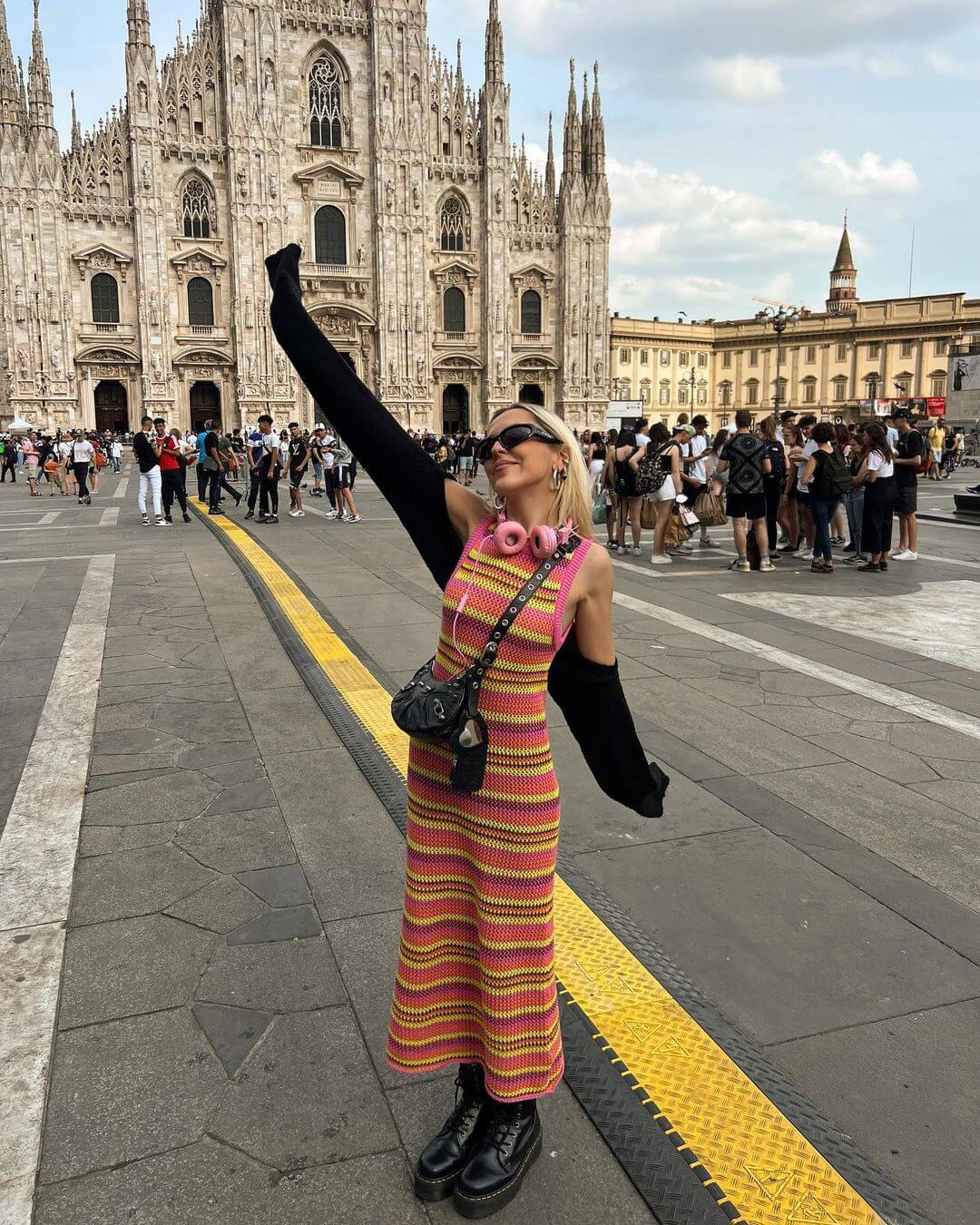 Photo via @sofiamcoelho
2) Multi-Stripes & Combat Boots 
You can add a bit of a Y2K spin to your maxi dress look with a few tweaks in accessories. To nail the head on this trend, we adore a nostalgic multi-stripe pattern. It helps set the tone for summer. Of course, what truly injects that early 2000's vibe is the combat boots, a shrug sweater, and an equally nostalgic bag.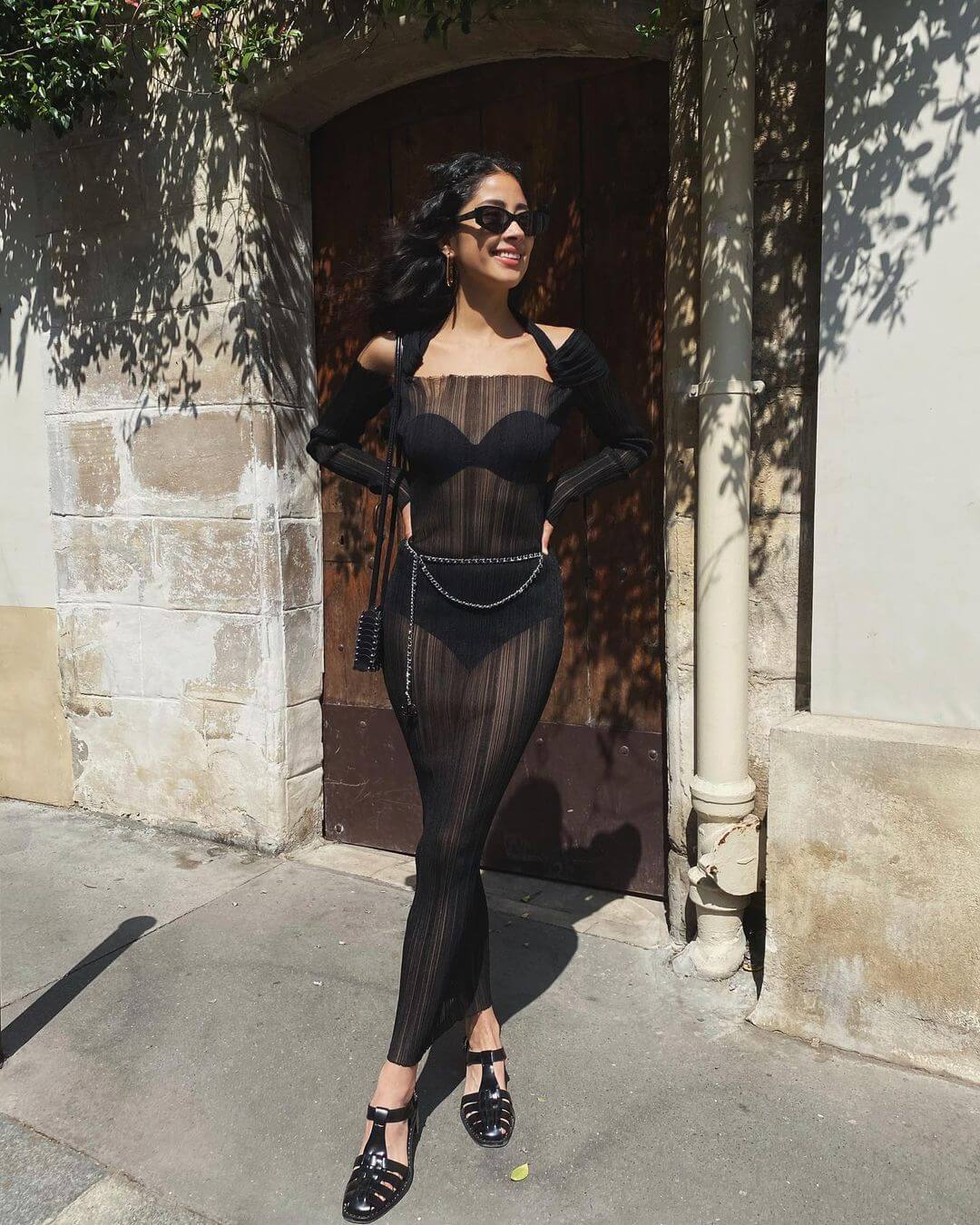 Photo via @dennielias
3) Sheer Dress & Fisherman Sandals
One of the best things about a maxi dress is how well it takes to any material. If you dare to go a little bolder, a see-through one-piece is the name of the game. We're seeing maxis in tulle, organza, and mesh, which offers endless styling choices when it comes to what you can wear underneath. Take your pick from lingerie to swimwear – there's no going wrong. To complement such a statement-making piece, we suggest adding a chain belt and fisherman sandals.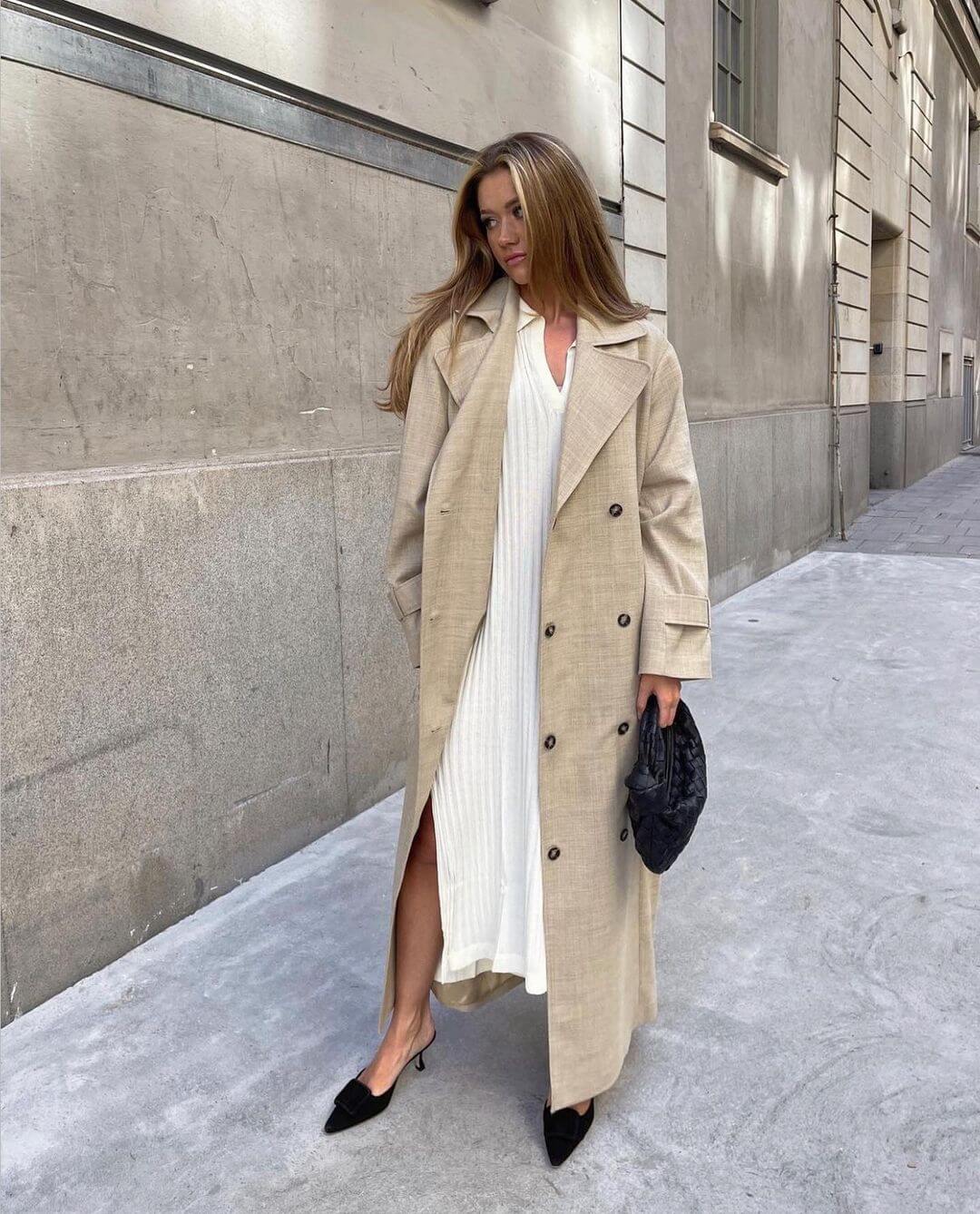 Photo via @lovisabarkman
4) Trench Coat & Ribbed Maxi
For a European take on your traditional maxi dress outfit, you can incorporate the age-old trench coat. A lightweight trench immediately adds a polished sophistication to every look and maxi dresses are no exception. Keep it minimal and lady-like with a pair of pointed-toe kitten heels and a Parisian-approved handbag. As for our favorite part about the look… It has the power to carry you through fall.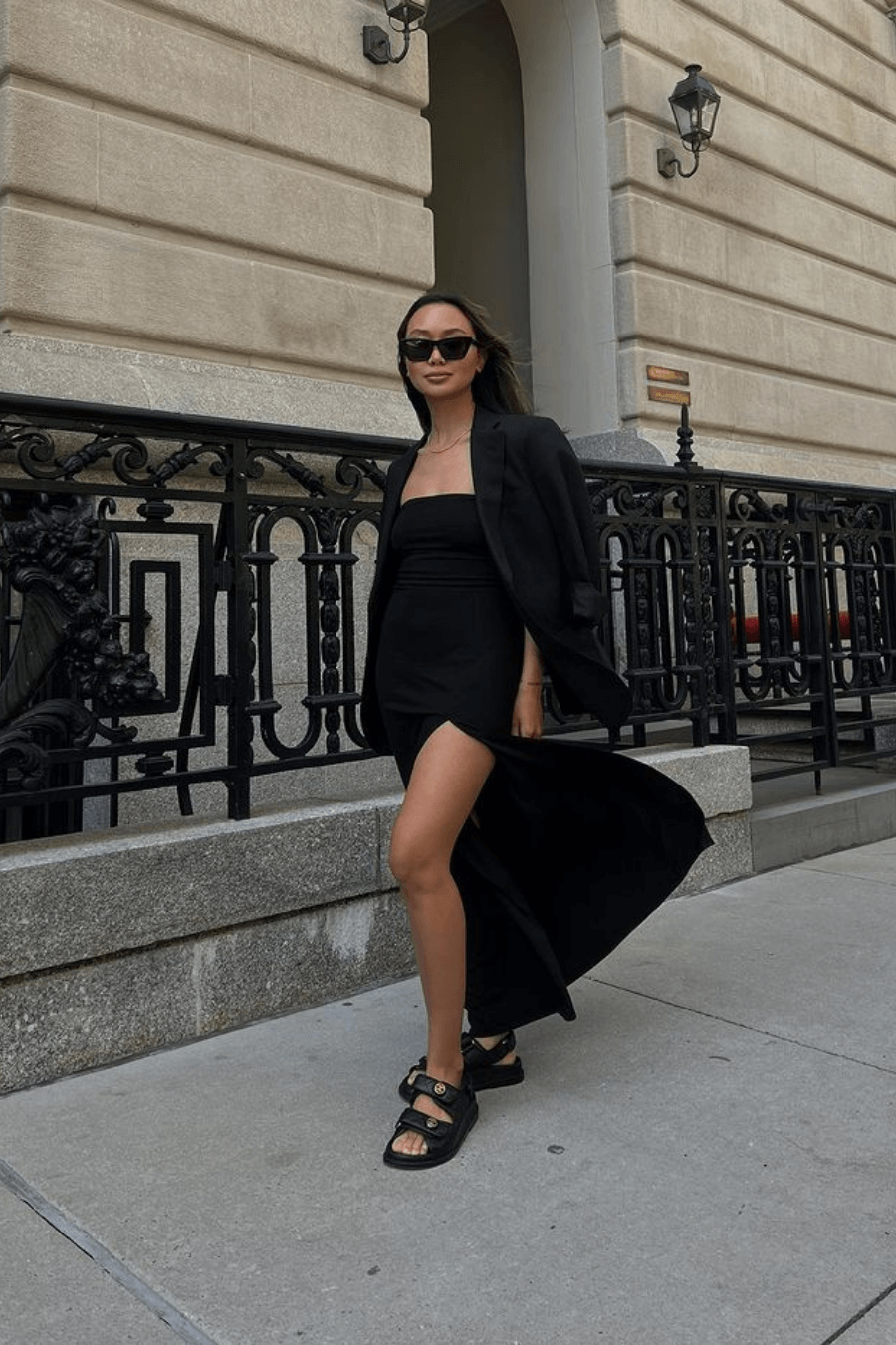 Photo via @linhniller
5) Blazer + Utility Sandals 
All black has never looked so good. We love how Linh styles her high-slit maxi dress with a classic blazer. The tailored outerwear adds a sense of formality to the floor-length dress but the trendy, utilitarian sandals are what seal the deal. This easy-to-replicate outfit formula is the ideal balance of dressy, casual and fashion forward.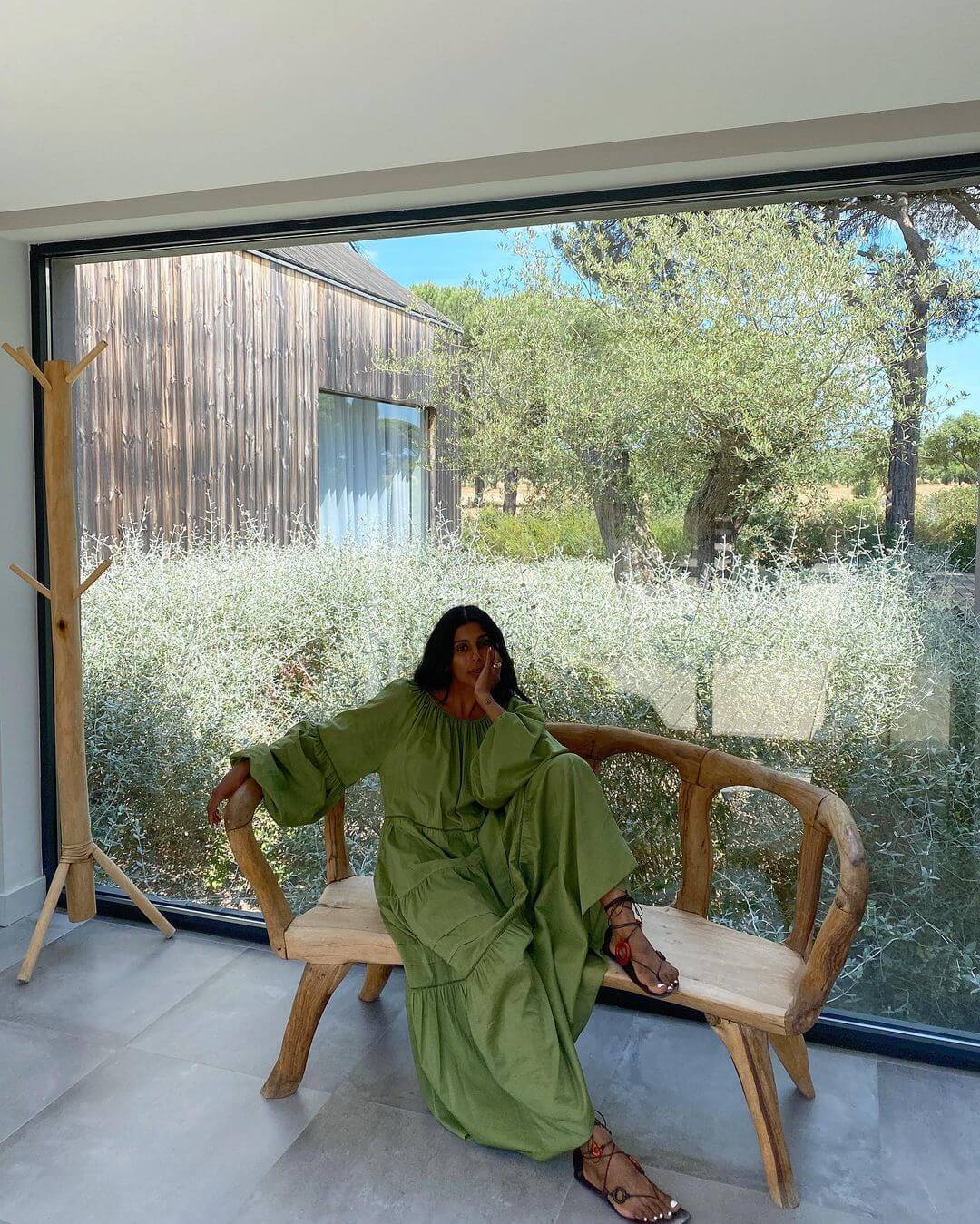 Photo via @monikh
6) Bold Color 
Summertime is all about incorporating playful pops of colors wherever possible and Monikh certainly makes a case for saturated maxi dresses. Her avocado green one-piece is fitting for any fun-filled summer activity. Feel free to shop the rainbow when it comes to these easy-going maxi dresses. Green, citrus, fuchsia, royal blue and more are all stylish options to get you through the season in style. With an abundance of sandals and bags that you can mix and match with your dresses, you'll never run out of outfits.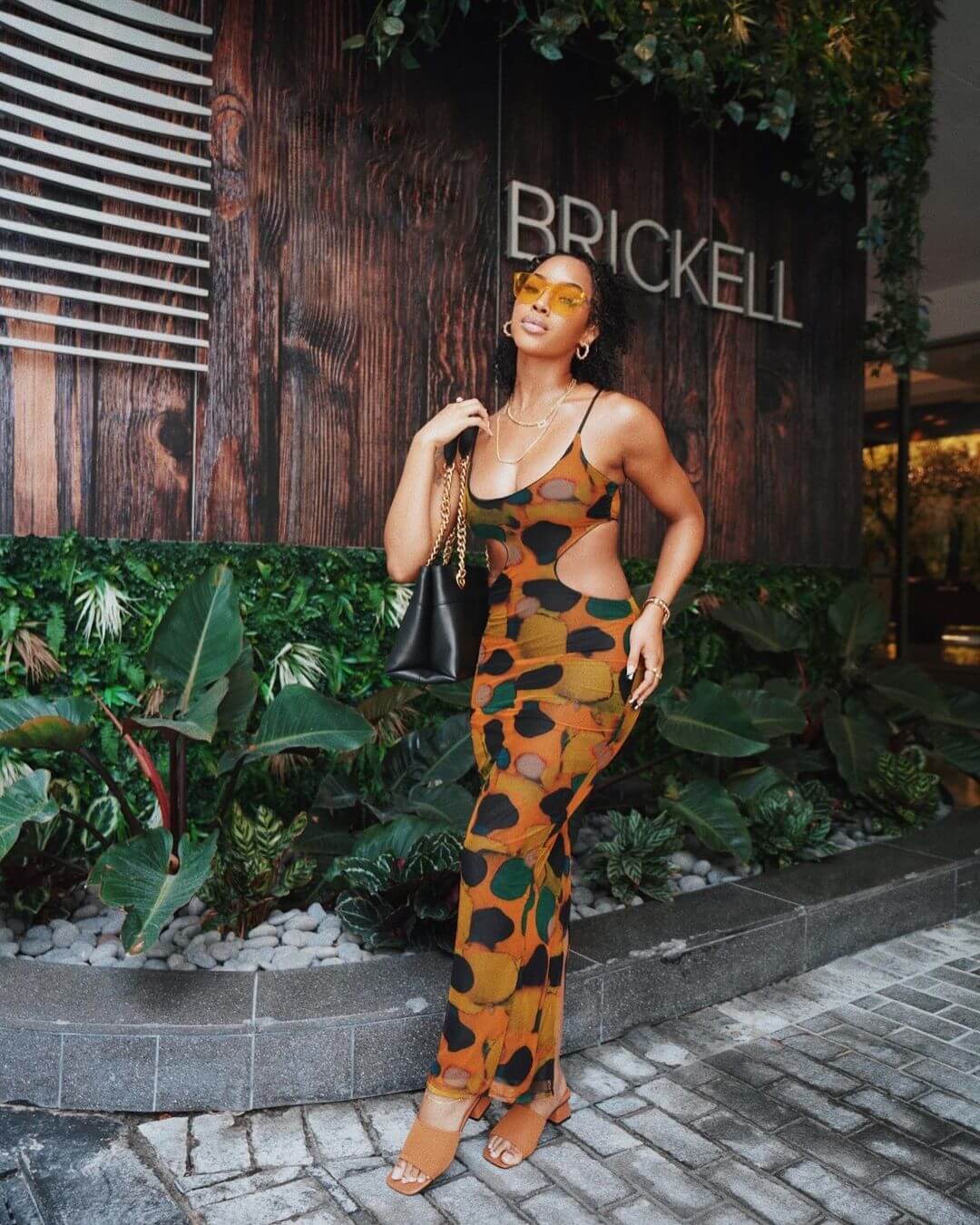 Photo via @bellamerlot_
7) Cute Cutouts
In the mood for something a little more risque? Cutout maxi dresses will certainly do the trick. Specifically speaking, midriff-baring cutouts as seen above happen to be the most popular within the long, flowing silhouette. The keyhole detailing bares just enough skin without being too revealing – and from a practicality standpoint, it provides an incredibly stylish way to beat the heat.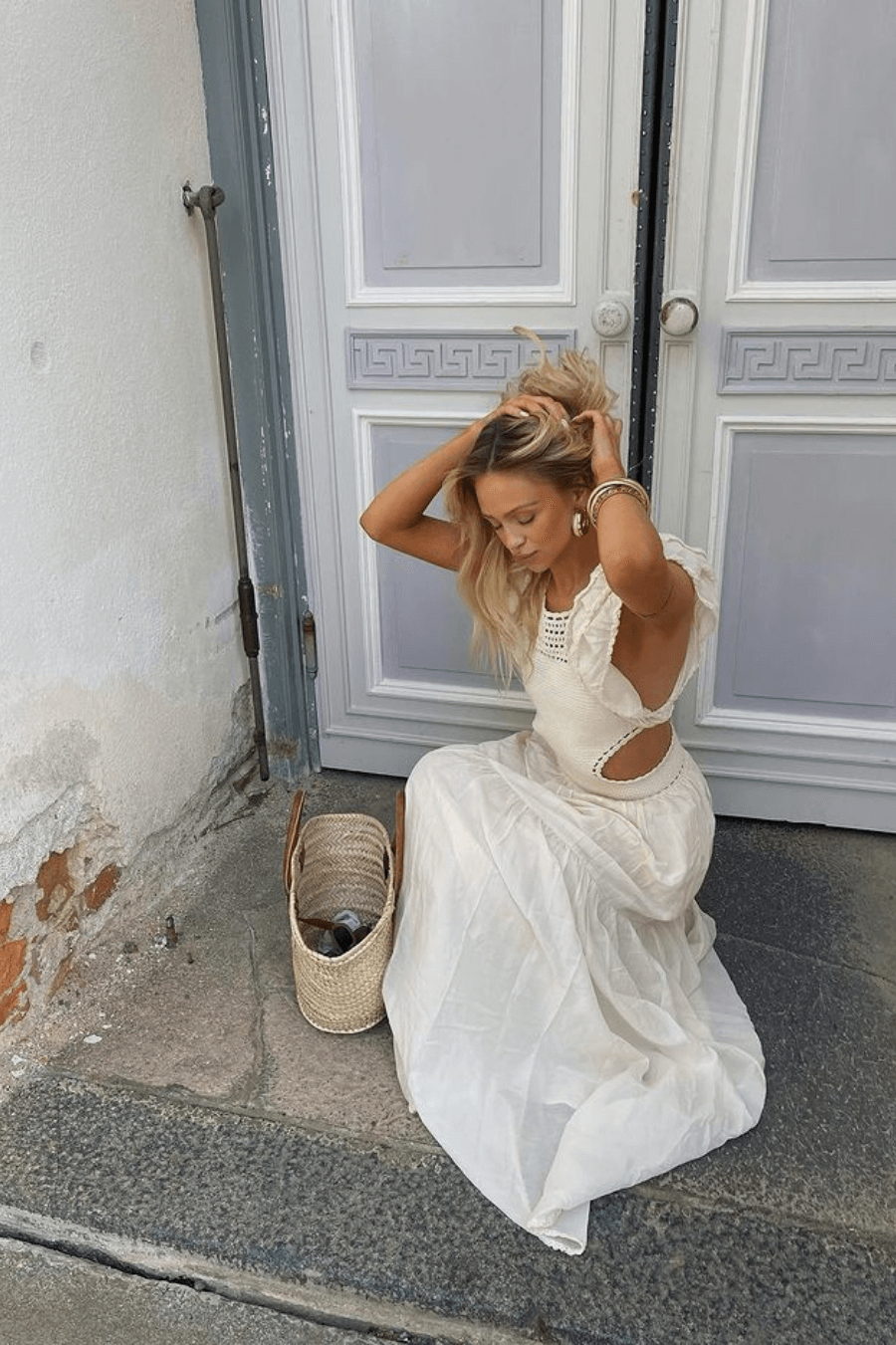 Photo via @wefelicia
8) Summer Whites
Maxi dresses are intrinsically breezy and refreshing. To channel this whimsical vibe further, try shopping for all white options. A lightweight, flowy white dress will literally feel like a breath of fresh air while also adhering to the coastal aesthetic. Finish off with a straw bag and gold jewelry to create the ultimate summer mood.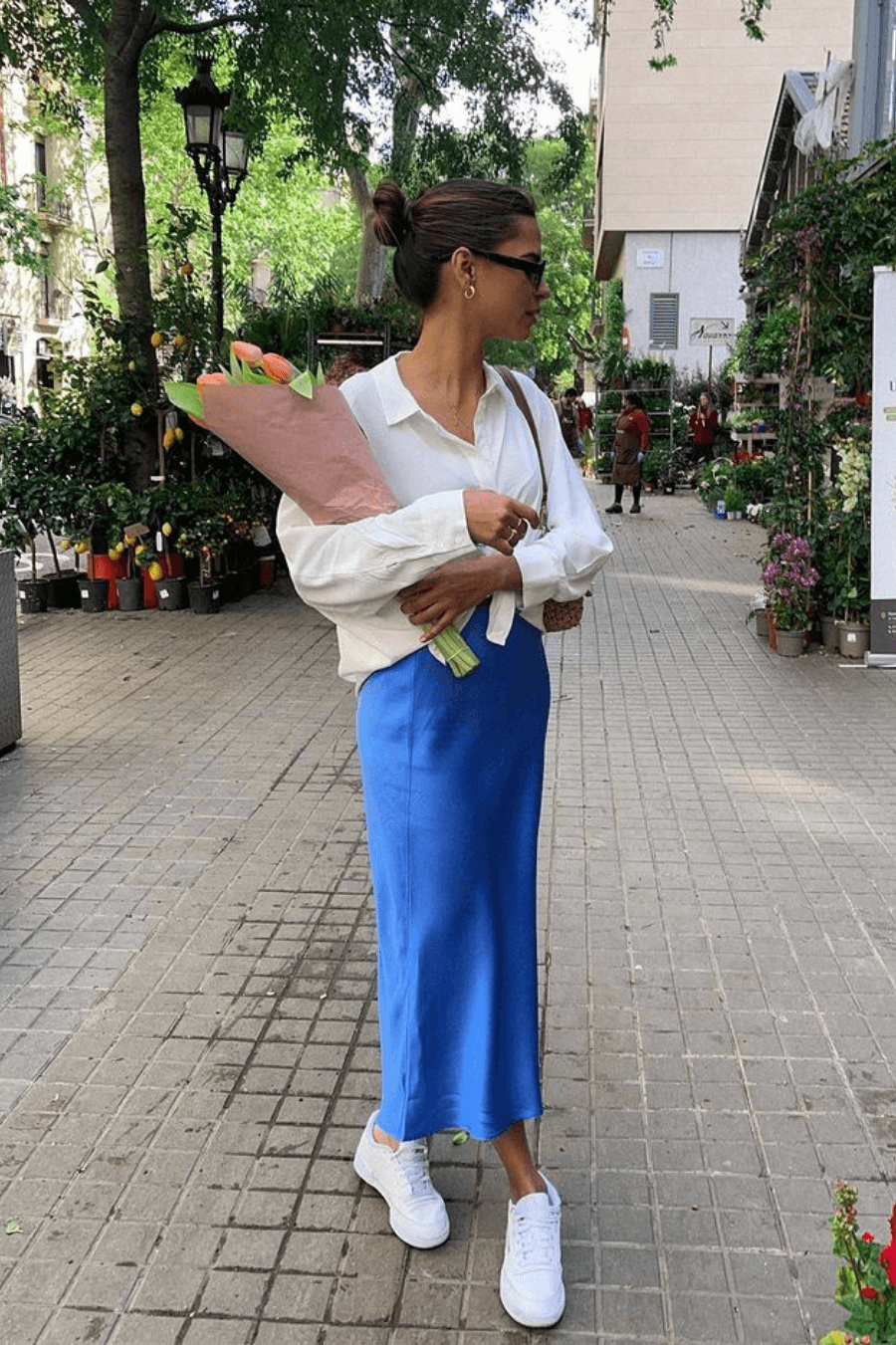 Photo via @emitaz
9) Layered Button Up 
If we've learned anything about maxi dresses over the years, it's that one should always keep a classic silk slip within reach. You won't just employ the trusty piece in the summer but anytime of the year because it works for just about any outing. As the temperatures heat up, a quick way to style your silk maxi is by layering a button down shirt on top. You can simply tie the ends for a laidback but still feminine effect or wear it loose and open.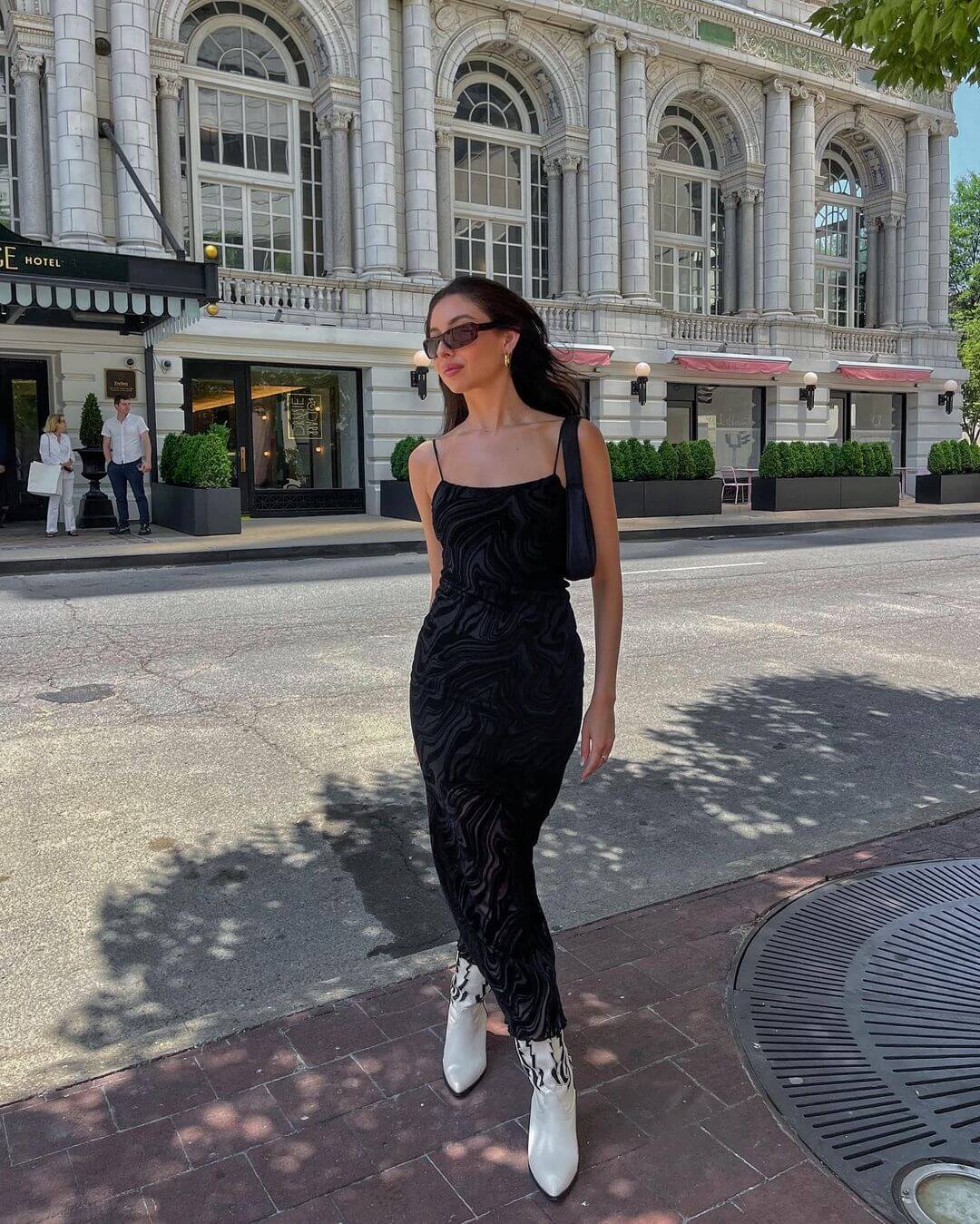 Photo via @bblyn
10) Cowgirl Boots
Looking for another outfit to wear with your cowgirl boots that doesn't revolve around denim? Follow Brooke's lead by styling your western boots with a form-fitting maxi dress. Keep it contemporary by rocking a sleek pair of sunnies and structured shoulder bag. The final result is a downplayed approach to the cowgirl trend that is sure to turn heads. 

(Visited 1 times, 1 visits today)