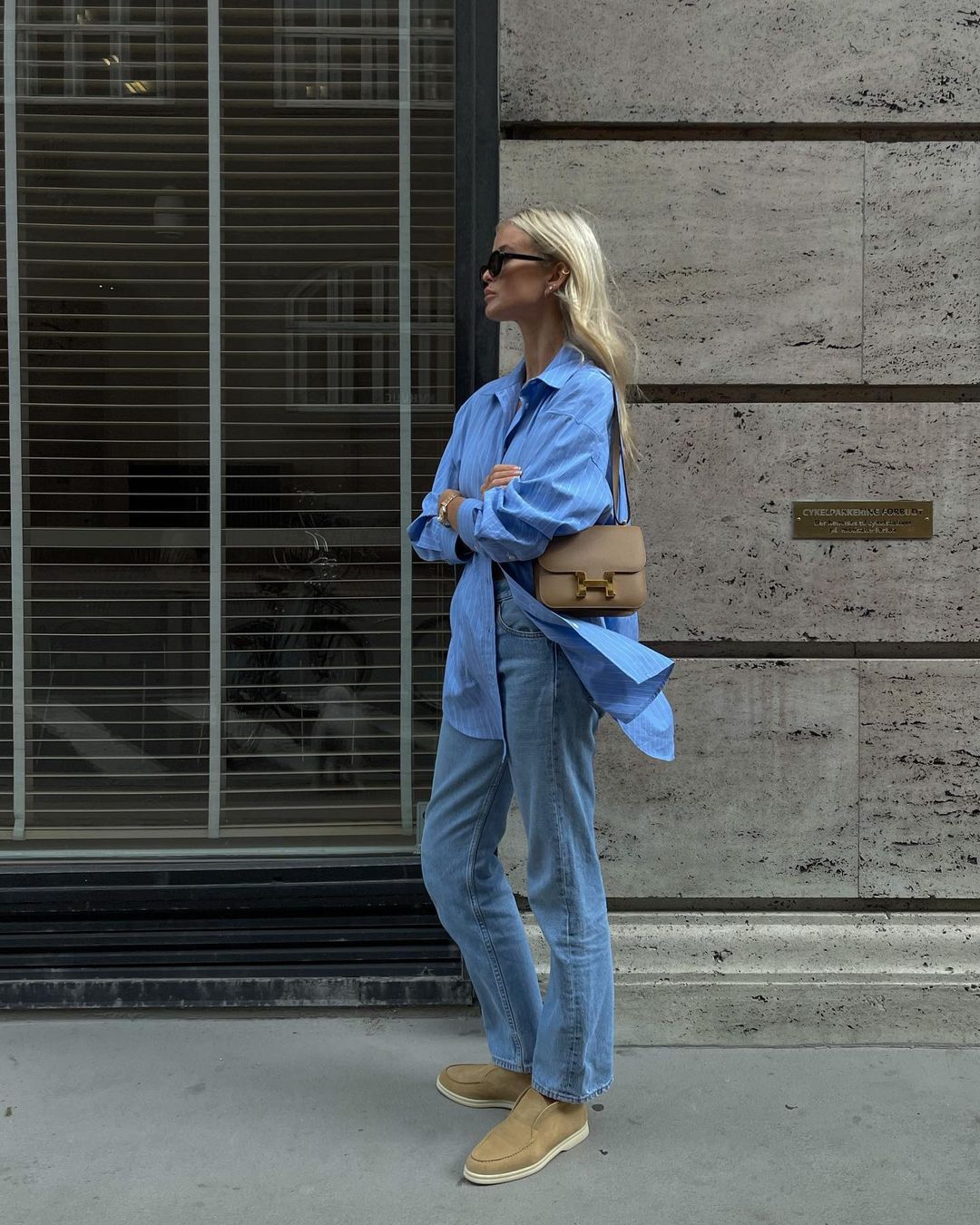 Photo via @josefinehj
Although breezy dresses and billowy skirts are typically emphasized during the summertime, there is no denying the sheer power that denim has at this time of the year. No matter the season, denim, in all of its glorious variations, are a fashion girl staple. From your basic pair of jeans to trendy silhouettes and risque miniskirts, we are here to make a case for them all. If you are tired of wearing jeans the same old way, we have you covered on some trendy, out-of-the-box ideas that will add a flair to your daily rotation. The best part? You can start thinking ahead as many of these looks can be transitioned into the fall too. So make way for the all American staple. Tap in our favorite summer denim outfits below.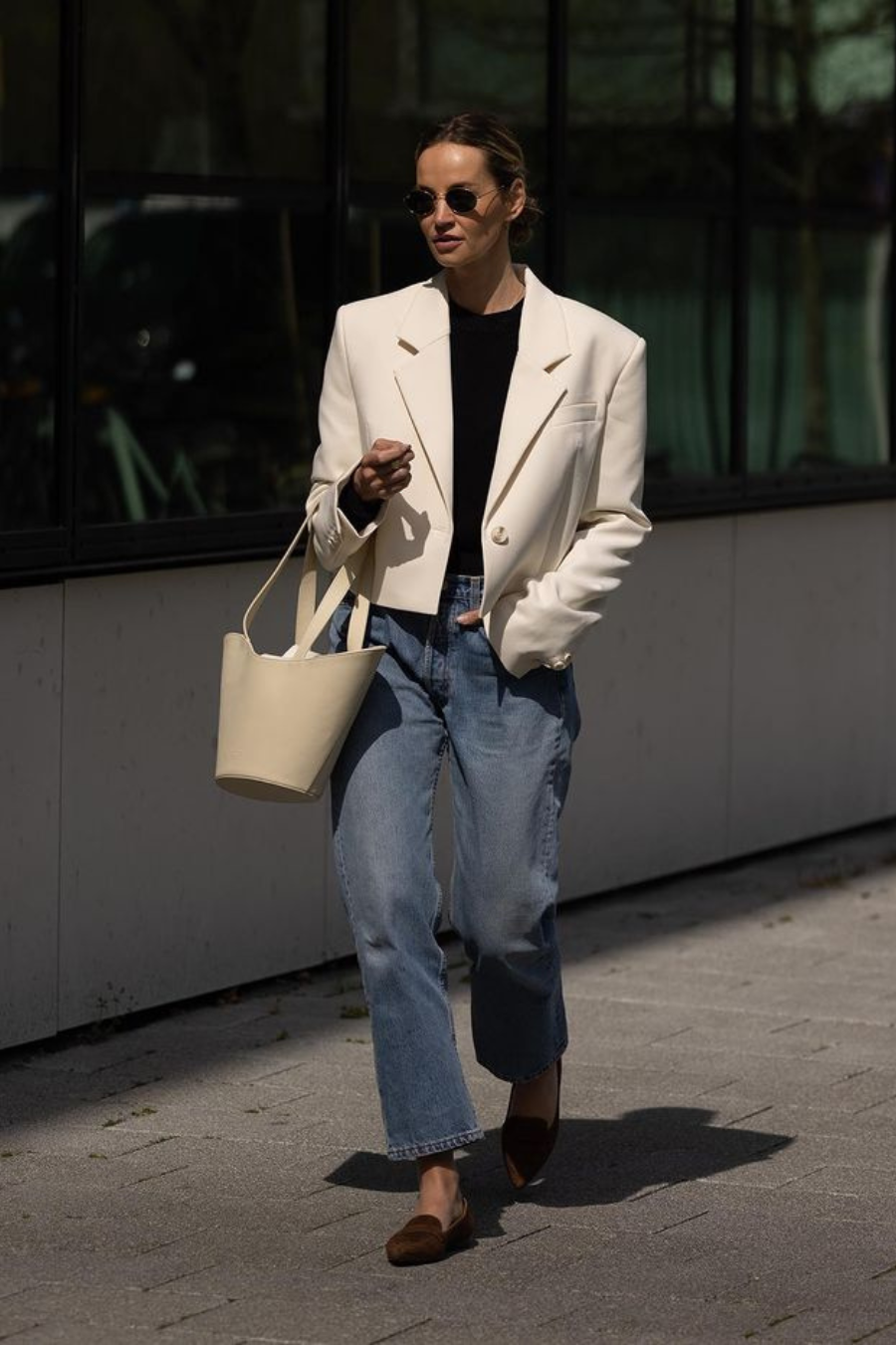 Photo via @anoukyve
1) Cropped Blazer
For an effortless and polished take on denim, fashion girls have always resorted to none other than the blazer. We've seen oversized cuts dominate the scene in recent years. But if you want to switch up the traditional look with something trendier yet equally smart, enter the cropped blazer. The result is a refined, yet casual ensemble that can be worn to work meetings and beyond.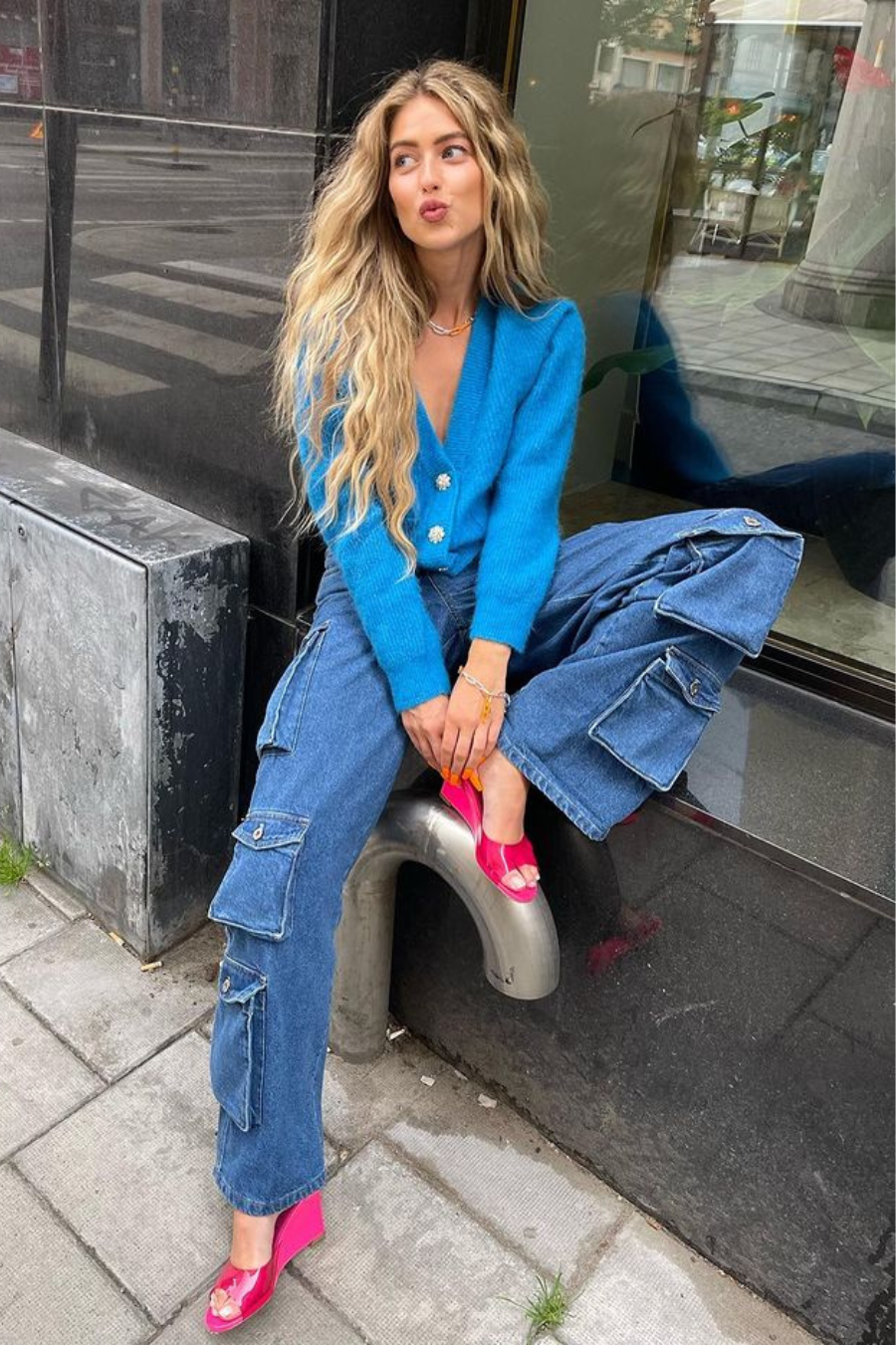 Photo via @emilisindlev
2) Cargo Denim
Trend chasers have been obsessed with cargo pants lately. If you want to take the look one step further, dip your toes into a denim variation with the same baggy silhouette and ample pocket space. These bottoms are perfect for all weekend warriors. To make the highest visual impact, take a note from Emili and dress up your cargo denim pants with some fun heels and a jewel-embellished top.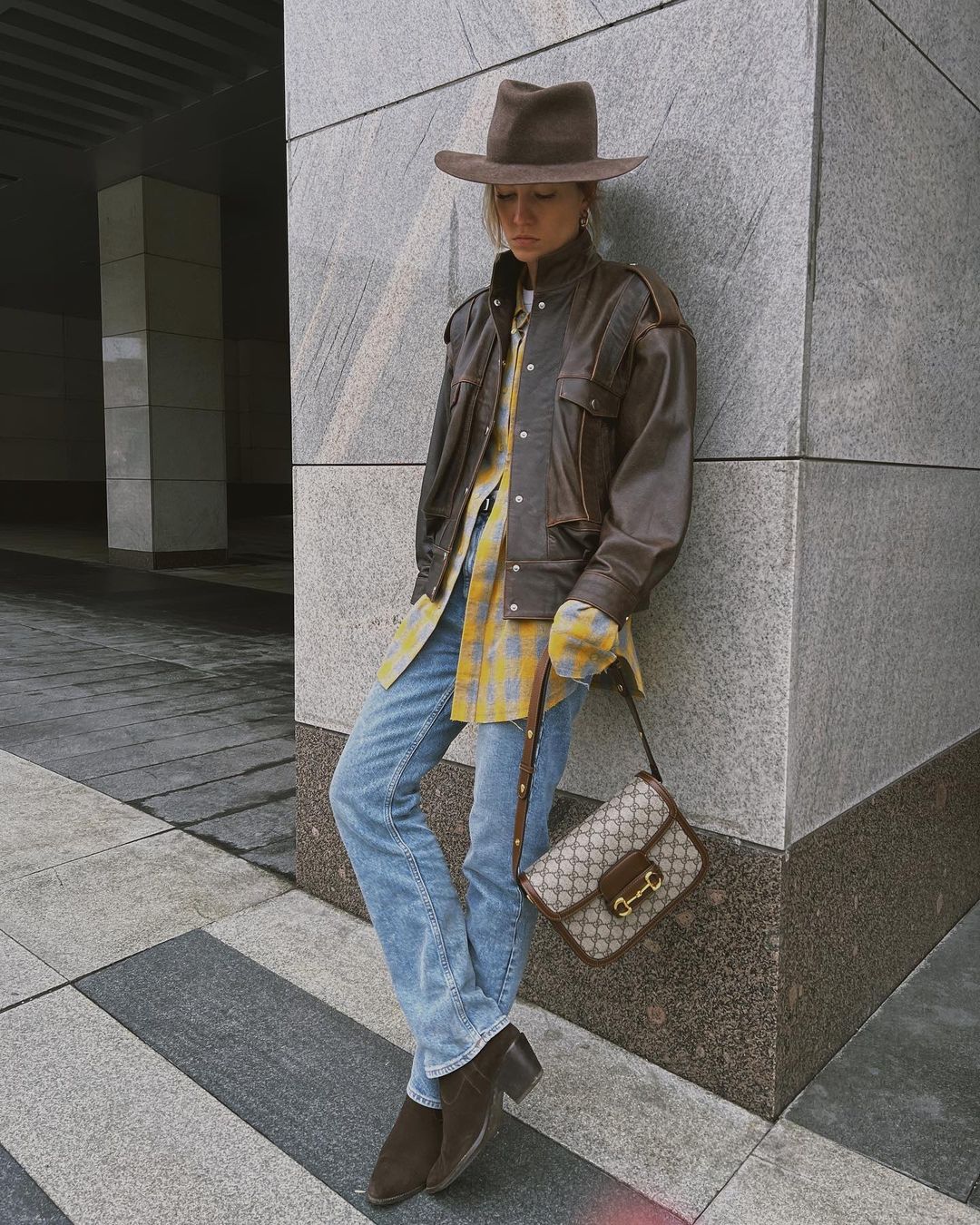 Photo via @dashakos
3) Transitional Layers
As we alluded to earlier, denim sits at the pinnacle of any wardrobe when transitioning from one season to the next. And now that autumn is just around the corner, you can most certainly make the switch easier by styling your favorite jeans in ways that accommodate the change in weather. Fall staples, such as plaid button up shirts, leather outerwear, and western boots, can be compiled into one look for a cool, trend-forward look. We love that Daria intentionally spotlights fall's hottest pieces with a bomber jacket and western boots.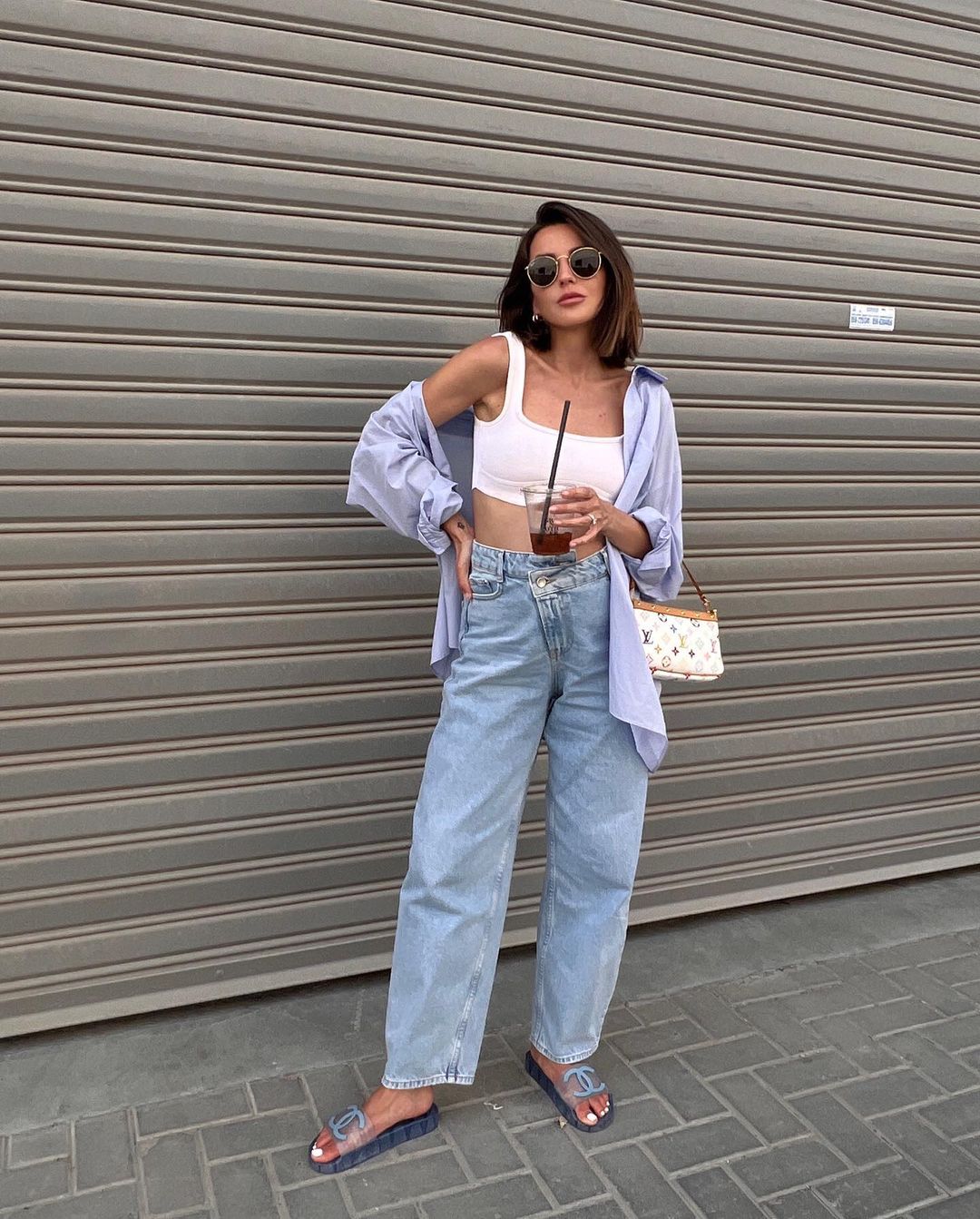 Photo via @alexandrapereira
4) Minimal
No need to overthink your denim outfit either. In fact, fans of minimalist fashion could all agree that less really is more, especially in the summer. For a clean approach to styling denim, we suggest some variation of an oversized button down shirt, a minimal tank – and of course – vintage inspired jeans. This happens to the be the summer denim outfit fashion girls are playing on repeat.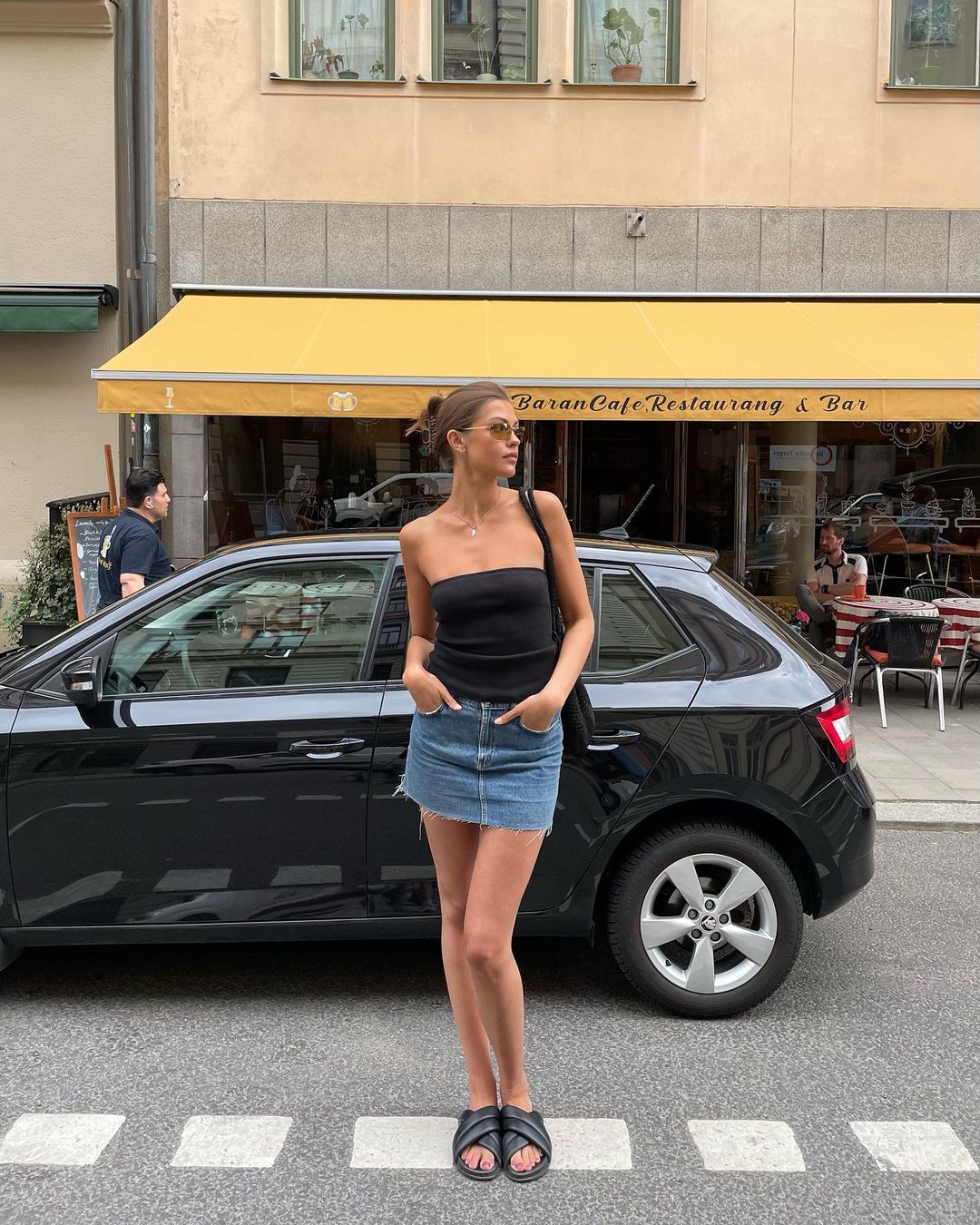 Photo via @sofiaboman
5) Miniskirt
Make your summer denim outfits irresistibly flirtatious by taking it in the form of the miniskirt trend. An ultra short bottom is the perfect way to combat the heat, especially when worn with a tube top. Just finish off the look with a sensible pair of slides and sporty sunglasses. This modern approach to nostalgic Y2K pieces is just what the doctor ordered this season.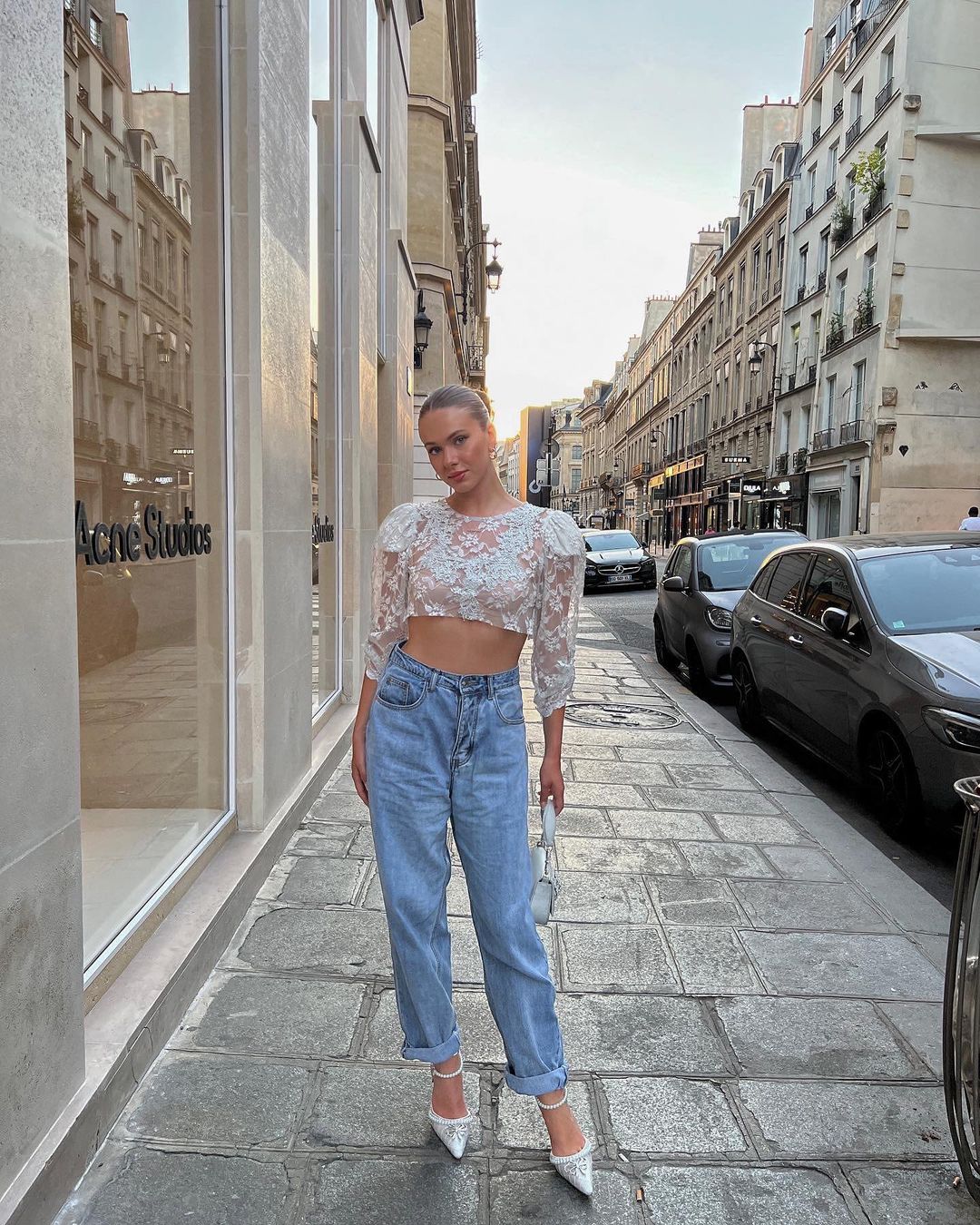 Photo via @sophiesuchan
6) Touch of Romance
Although denim is inherently casual, one can dress it up for any occasion with the right pieces. To show you just how that's done, Sophie harnesses the power of a lace crop top and Cinderella-esque pumps. This combination oozes romance, and thus, feels appropriate for date nights, nice dinner outings with friends and more elevated occasions.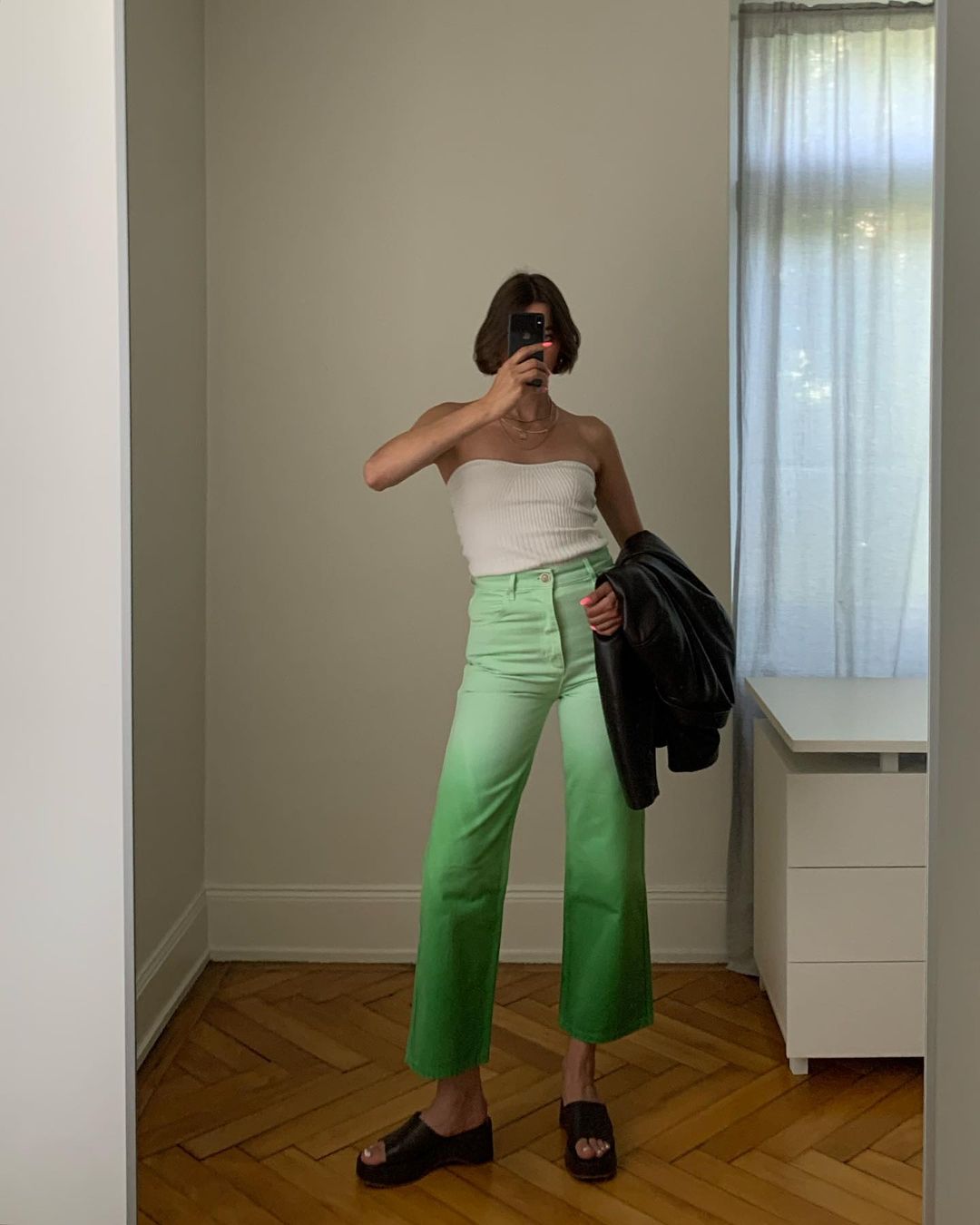 Photo via @maryljean
7) Colored Denim
The tried-and-true all American blue jean will never go out of style. But one can always reach for a punchy color to up the ante in their summer looks. When opting for color, notice how the statement denim bottoms speak for themselves. That means your safest styling approach is to accommodate the look with solid basics to ensure the overall effect is not too busy.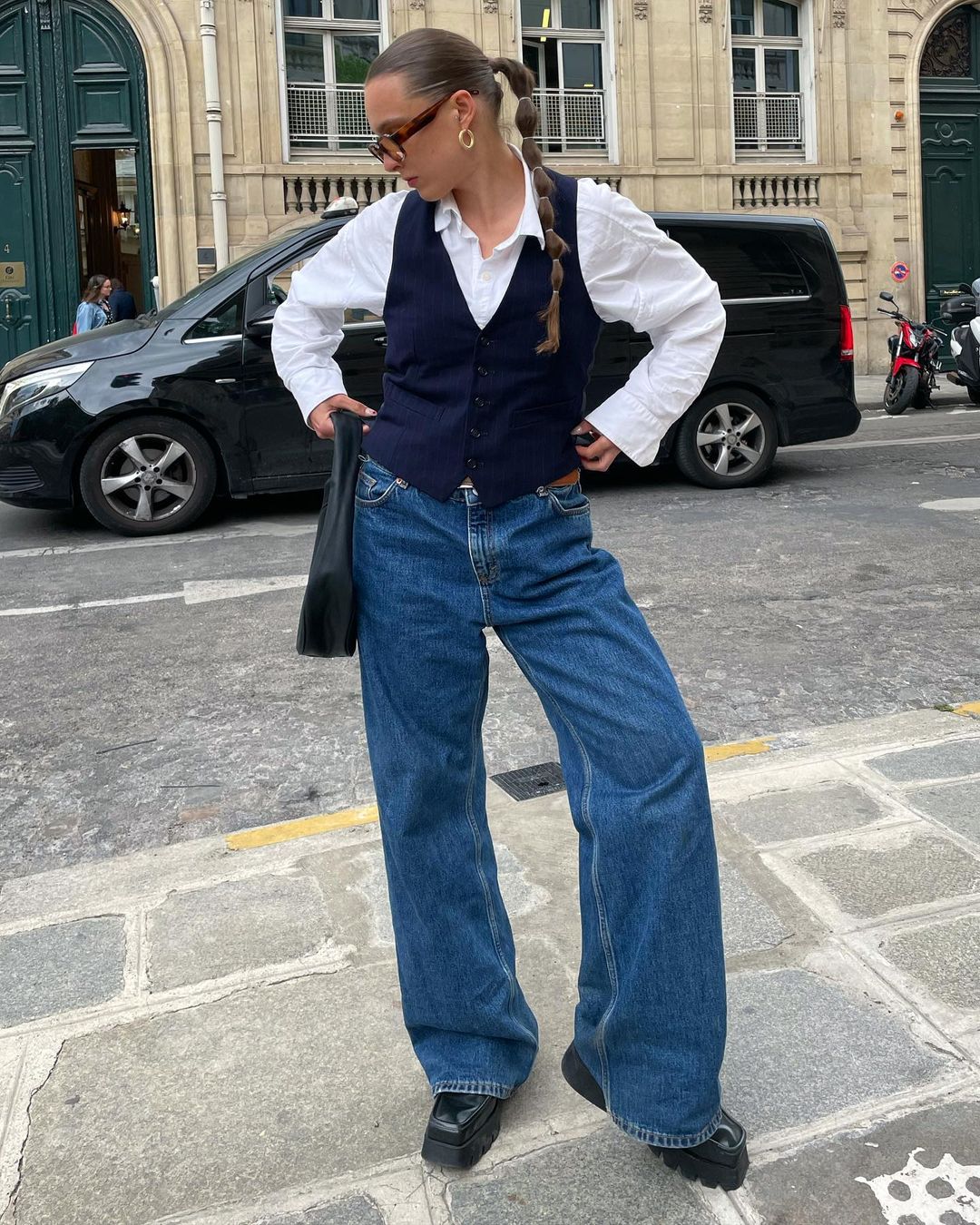 Photo via @lara_bsmnn
8) Tailored Vest
We all know skinny jeans are a thing of the past (at least for now) but styling super wide leg silhouettes can still be tricky. To look even half as chic as the "It" girls do when rocking the trend, consider wearing yours with a collared shirt and a tailored vest over top. The contrast between the top and bottom make an unexpected combo that is hard to resist, especially when throwing platform loafers into the mix.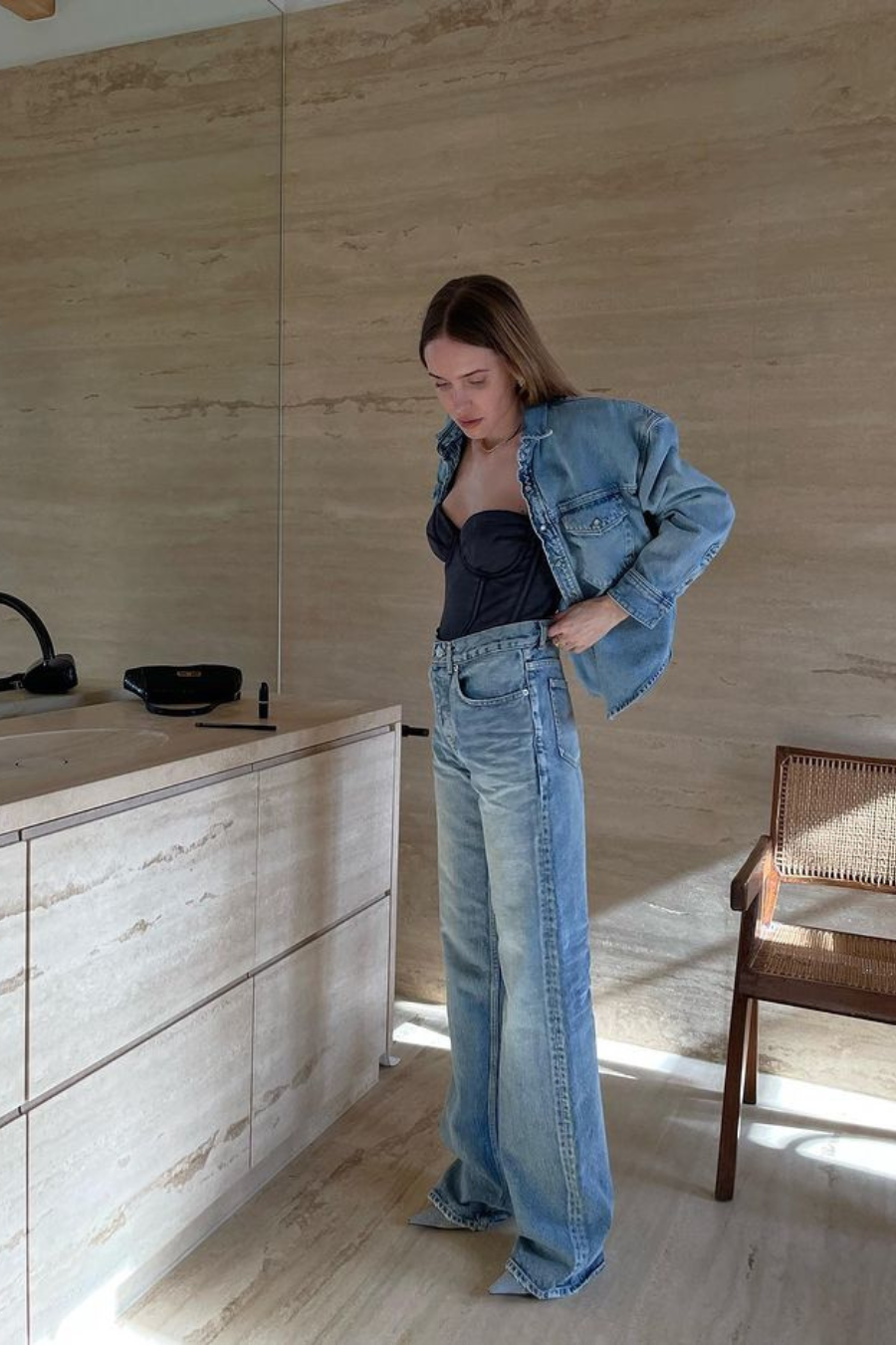 Photo via @pernilleteisbaek
9) Denim on Denim
There is also the age old denim-on-denim look (often referred to as the Canadian tuxedo). Despite popular belief, this does not have to look tacky and there is a right way to pull it off. For starters, a matching jacket and bottom in a similar wash is key for a cohesive look. But the kicker is how Pernille broke up the two denim pieces with a corset and denim pumps, which truly took the outfit to a new level of style.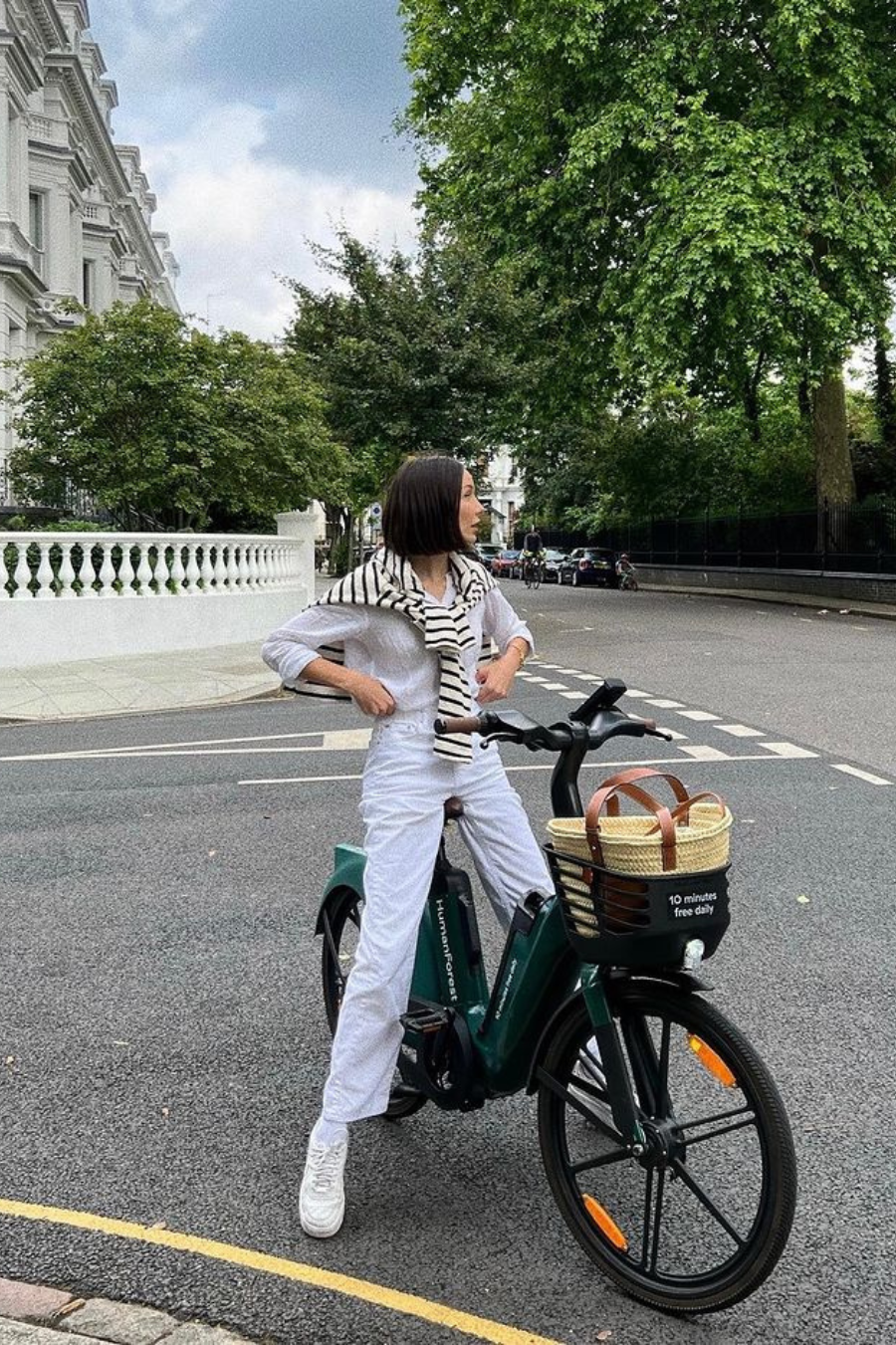 Photo via @melisekrem
10) Coastal Grandma
Last but not least, we're rounding out our summer denim outfits with the popular coastal grandma aesthetic. Within this realm, white jeans are specifically emphasized for their clean and fresh look. Activate your inner coastal grandma by styling your white bottoms with a button-down shirt and a pair of clean trainers. Don't forget the signature straw bag and nautical-inspired knit top draped over the shoulders.

(Visited 1 times, 1 visits today)