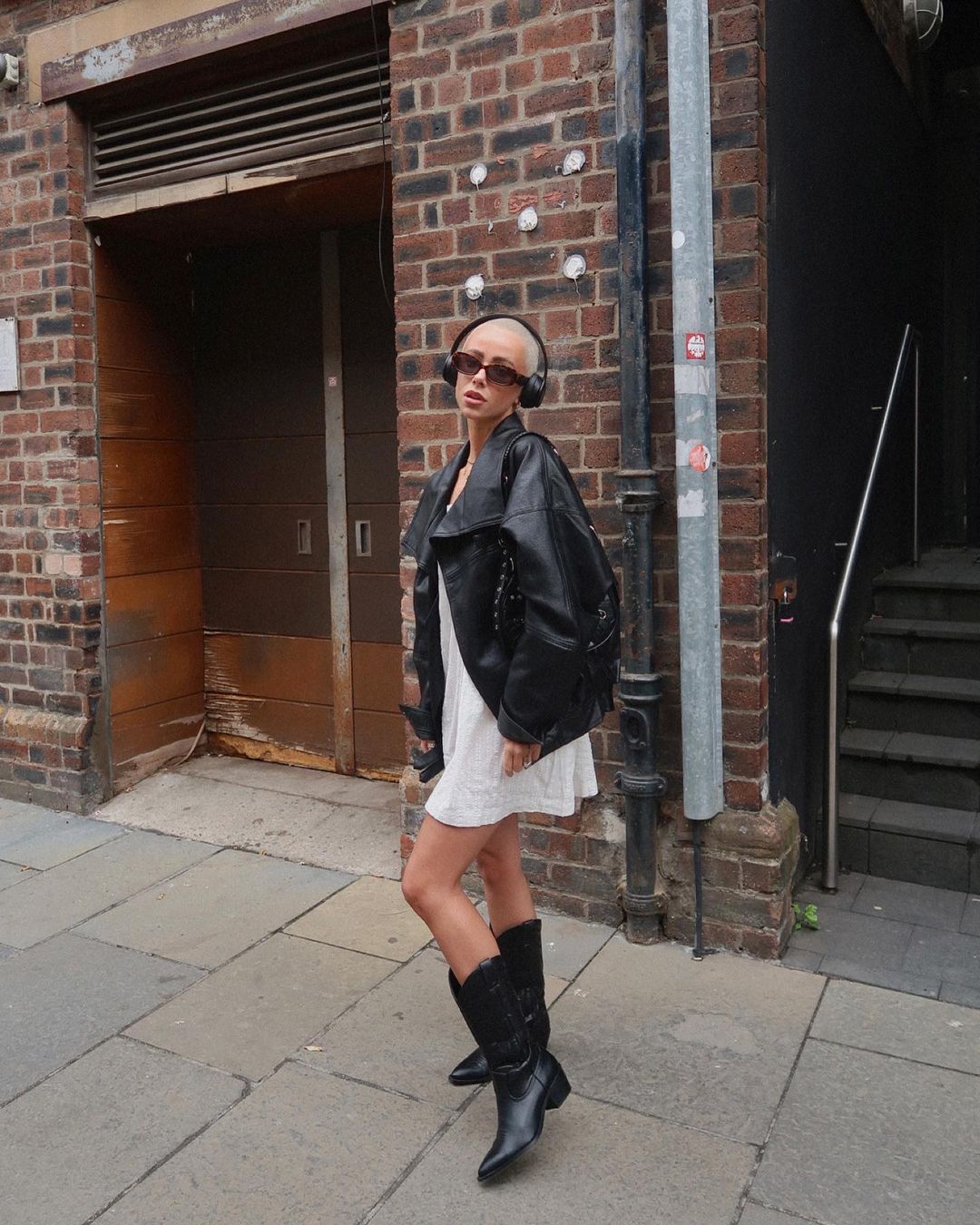 Photo via @avablack
It's time to make way for yet another emerging style aesthetic. And this time, we dare you to grab your helmet and moto jacket – and get ready to talk biker fashion. Like many of the style waves we've seen this year (e.g. barbiecore, cottagecore, and more), core aesthetics really comes down to the idea that fashion can be used as an escape from everyday life. Leaning into a trend, such as bikercore, is a fun way to feel like you're a part of something bigger and looking good is just a bonus. As one can surmise, the biker fashion movement is all about embracing the fiery persona that may have been hiding inside of you all along. Which, of course, means leather galore. Beyond just the leather jacket, there are plenty of bikercore pieces to help you achieve this edgy sense of style. Hold on tight as we rev up to explore 10 biker fashion outfits you are going to want to get in on.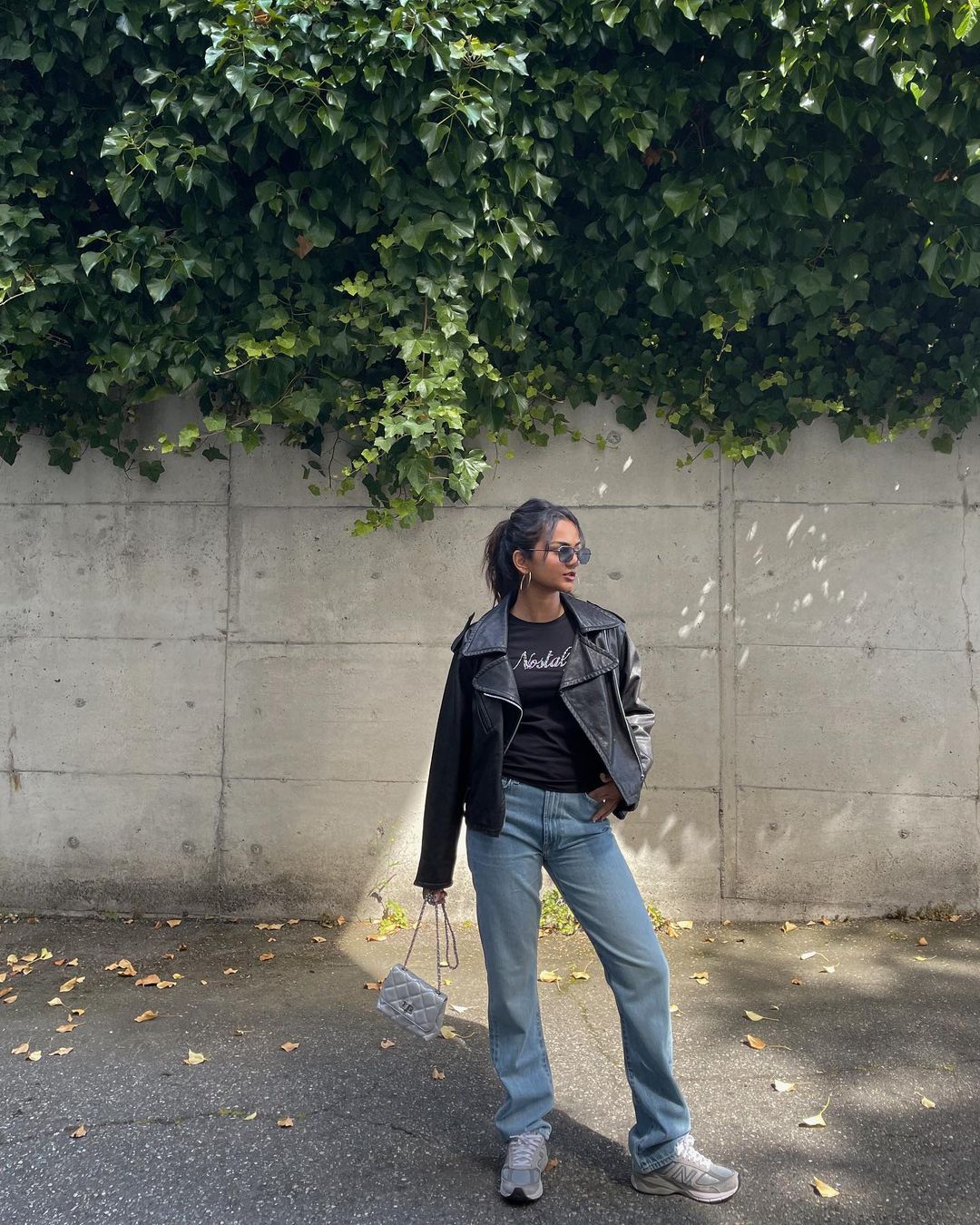 Photo via @naomigeorgeo
1) Classic Biker Jacket & Denim
When it comes to the biker fashion trend, there's a recurring fall staple that is already an integral part of your wardrobe: the moto jacket. This classic outerwear hero always makes its way back into the limelight once the chill sets in. It happens to be one of the easiest ways to get in on the look. You can keep it simple when it comes to styling your moto jacket for everyday. A simple t-shirt and jeans combo always seems to do the trick. For those looking to update the biker jacket, consider a cropped style with an oversized fit.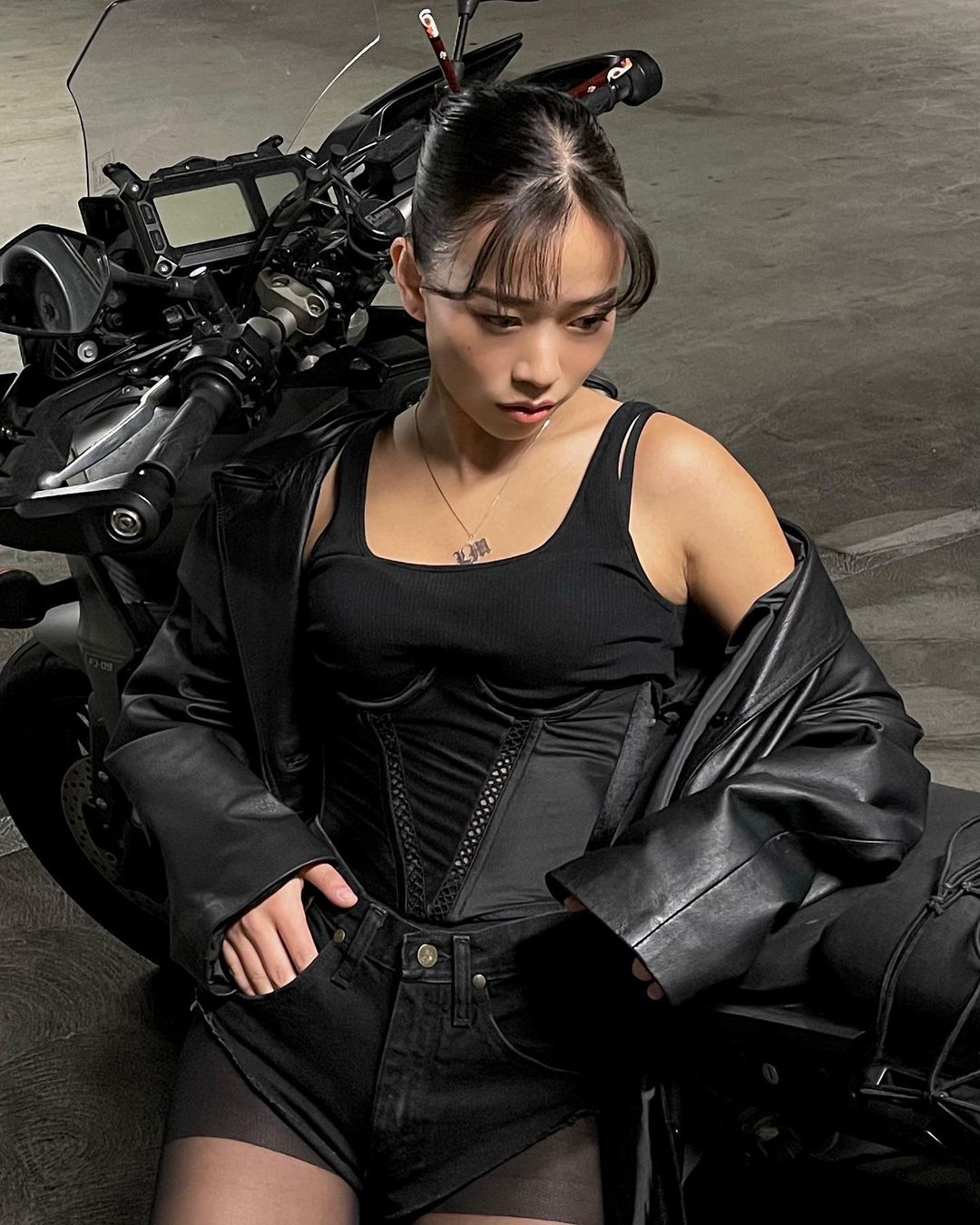 Photo via @louisameng_
2) Leather & Lingerie
The key to nailing down the bikercore trend like a pro in 2022 is to strike a balance between edgy and feminine. One piece that already does this on its own is the corset. This flirty top makes for a natural pairing with other pieces that are as tough as nails. For instance, the leather jacket comes in handy once again. Louisa's look could easily be taken from day-to-night with the flip of a switch.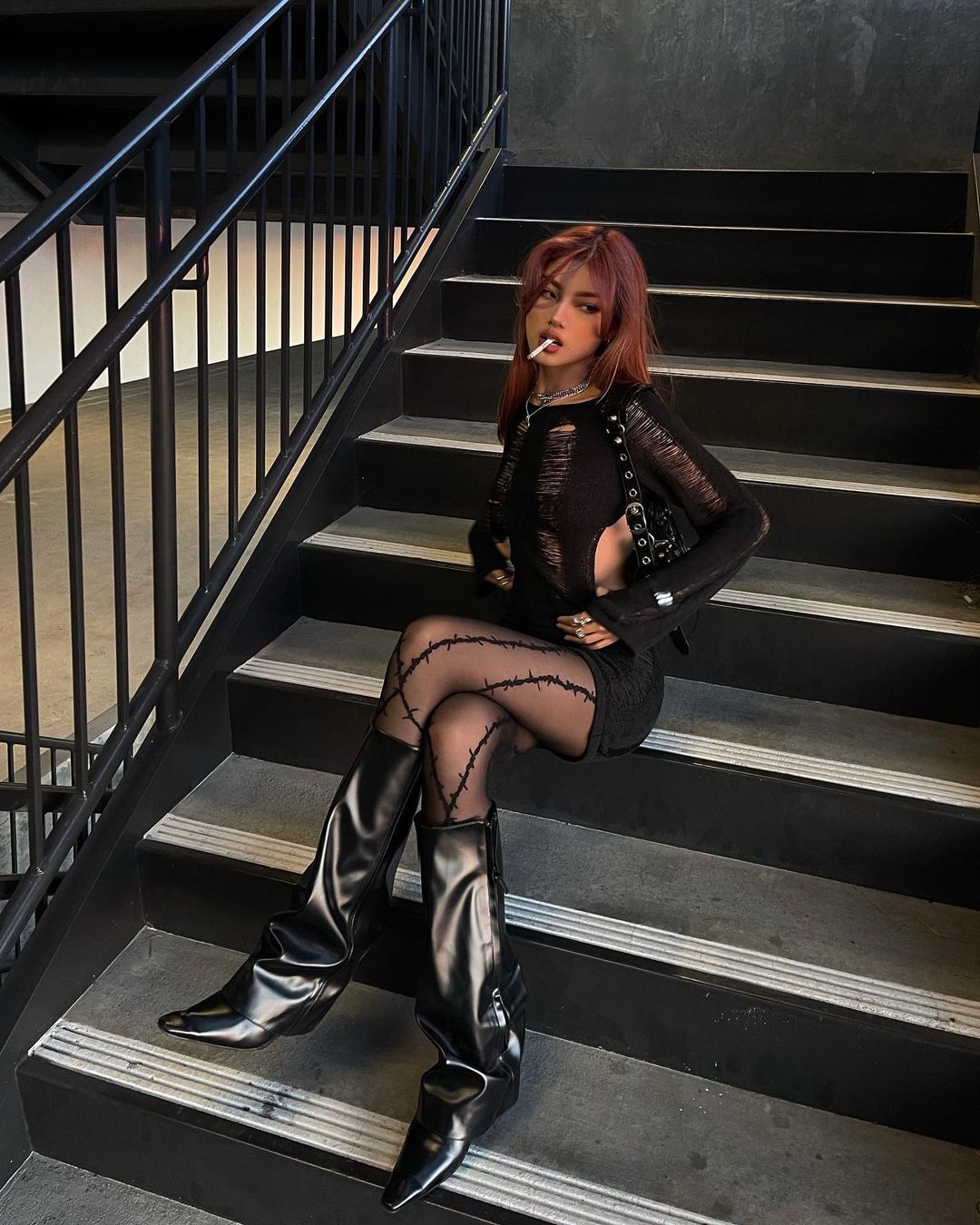 Photo via @ngc1961
3) Edgy Boots
Another way you can dip your toes into the biker fashion trend is by relying on edgy footwear. Come fall, boots will naturally become a part of the style equation. However, you can easily pivot your own tall boots to swing more biker-esque by styling them with a dark and vampy outfit. When you want to make a lasting impression, a black mini dress with your favorite pair of leather boots make for a look that screams cool, calm, and collected.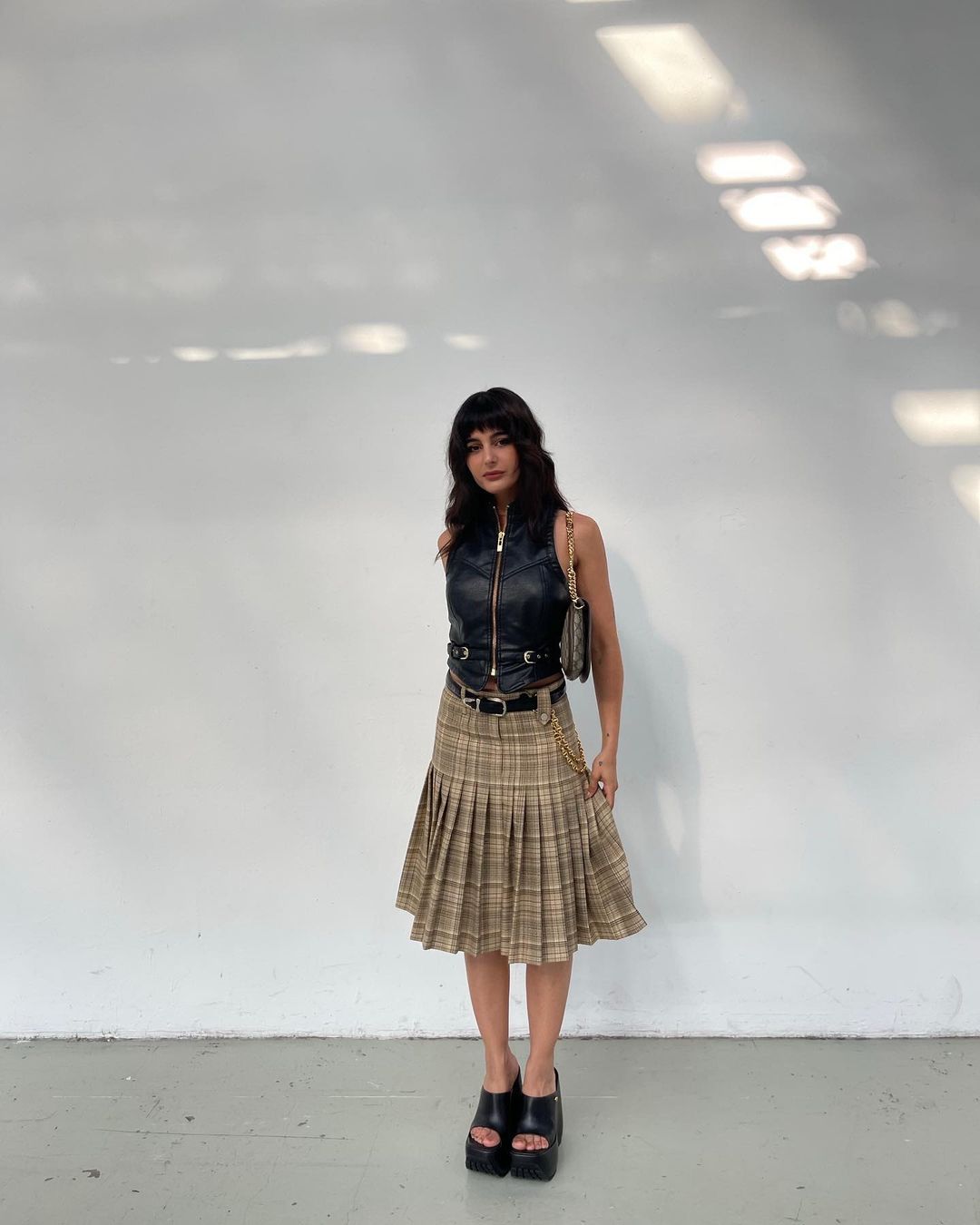 Photo via @maria_bernad
4) Leather Vest
As much as we adore the likes of sweater vests, it may be time to swap them for something on the dark side. Like a true Hells Angels member, a leather vest is a must-have piece for anyone trying to embody bikercore. Maria showcases how it can be approached in a softer way by teaming it with a pleated plaid skirt. If there's anything we can take away, it's that a leather vest makes any outfit edgier.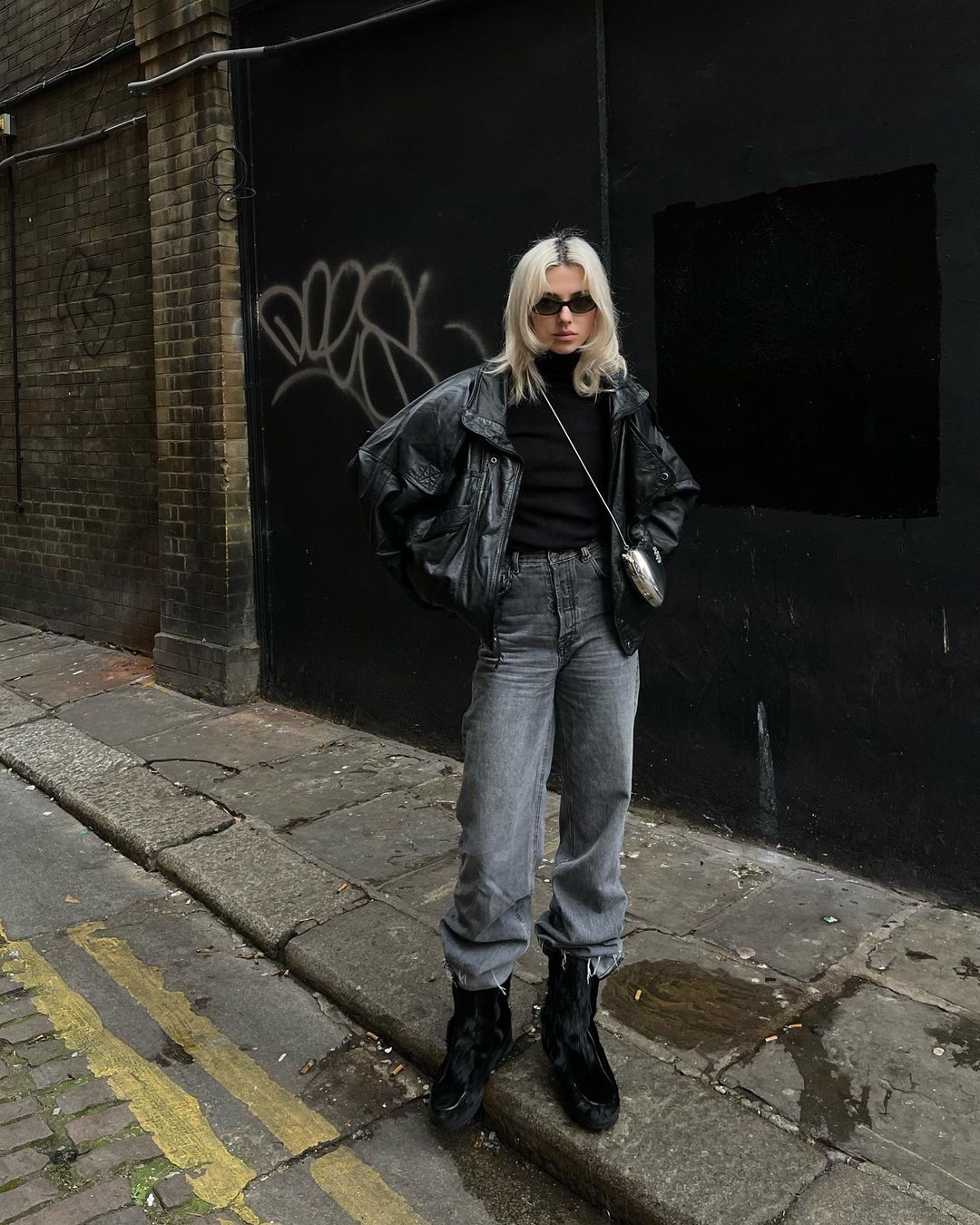 Photo via @daniellemarcan
5) Dark Denim
The biker aesthetic is naturally moody, so jeans with a darker wash tend to lend themselves well. Think grey or black washes that coordinate back to the dark leather accessories you'll be wearing them with. Whether you're rocking a motorcycle jacket with a raw, worn-in feel, slinky mesh tops, or studded accessories, dark denim seriously goes with everything.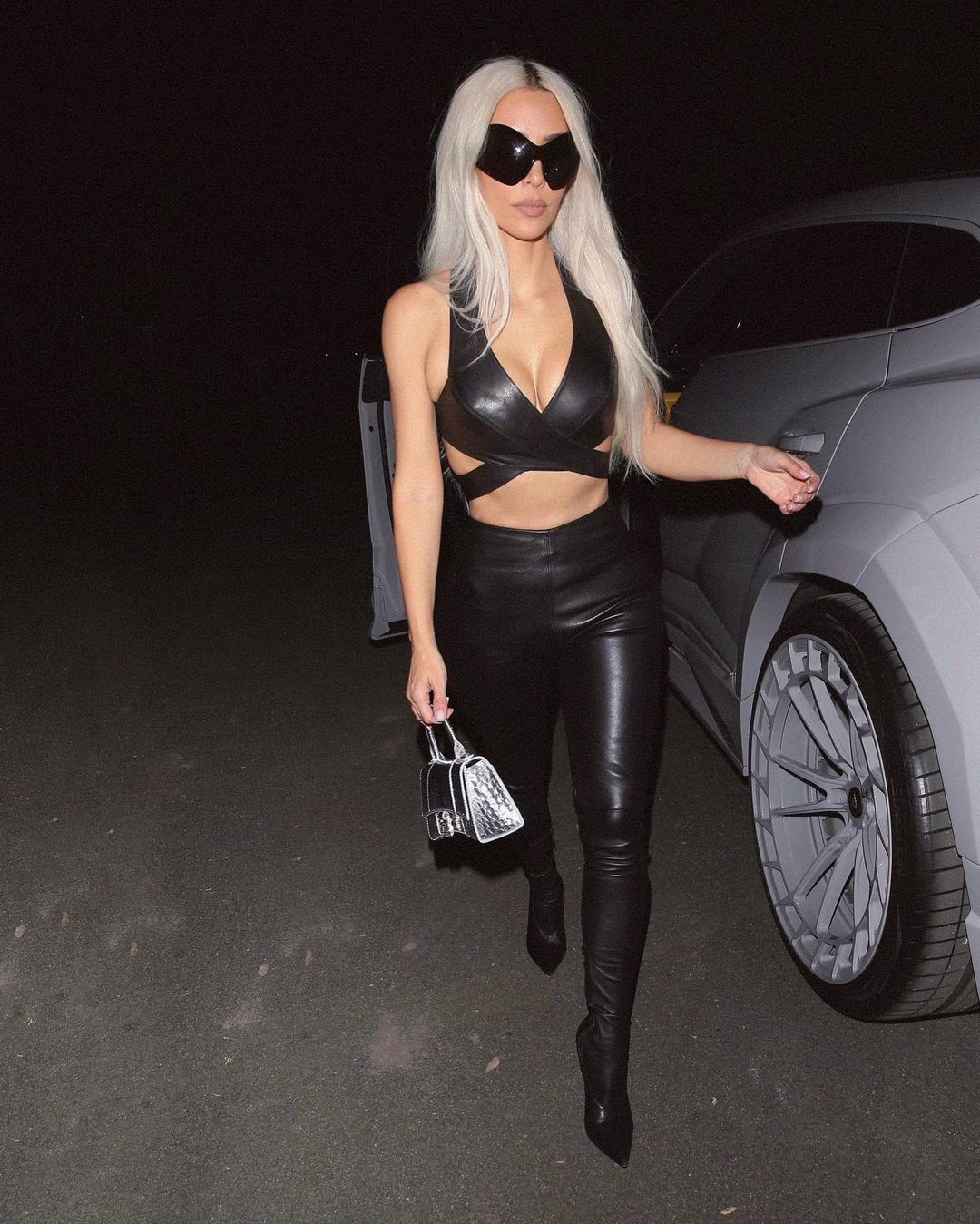 Photo via @kimkardashian
6) Head-to-Toe Leather
Lately, Kim Kardashian herself has been endorsing the bikercore trend and one of her favorite ways to embody the look seems to be nothing other than leather. Here, she opts for a head-to-toe leather look, featuring a sleek cut out top and equally lustrous leggings. To further glamorize the bike gang energy, take notes from Kim by adding a reflective handbag and pointed toe boots.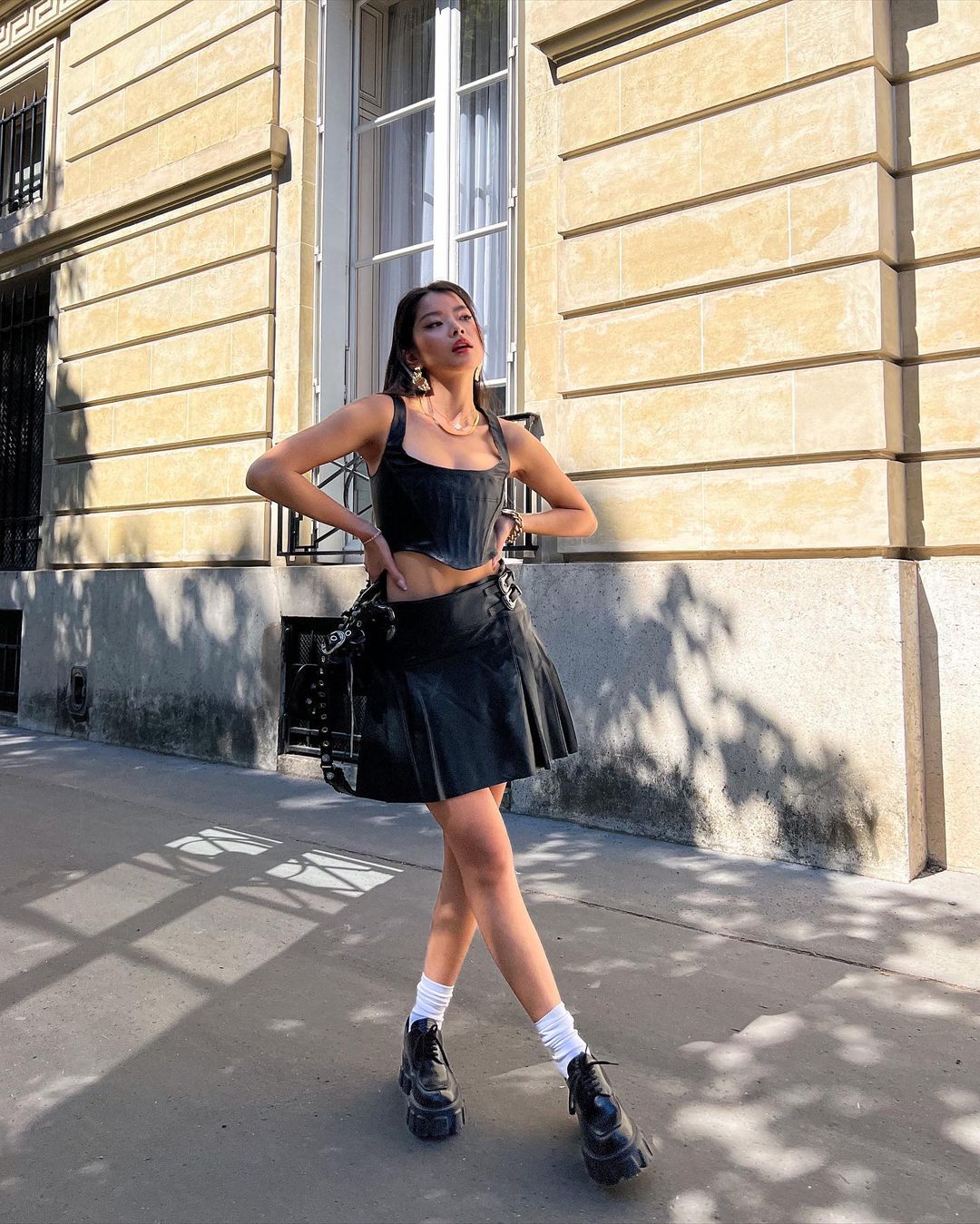 Photo via @caroline_hu
7) Leather Skirt & Platform Shoes
It should be evident by now that the biker trend works well with multiple aesthetics – much like the above look. Caroline rocks leather on leather but injects a feminine energy with the mini hemline and corset combination. The pleated skirt design brings in collegiate vibes that help offset the edginess of the overall look. Finally, by rounding out the fit with chunky platform shoes, she gives bikercore a modern refresh that's still very much subverted and effortless.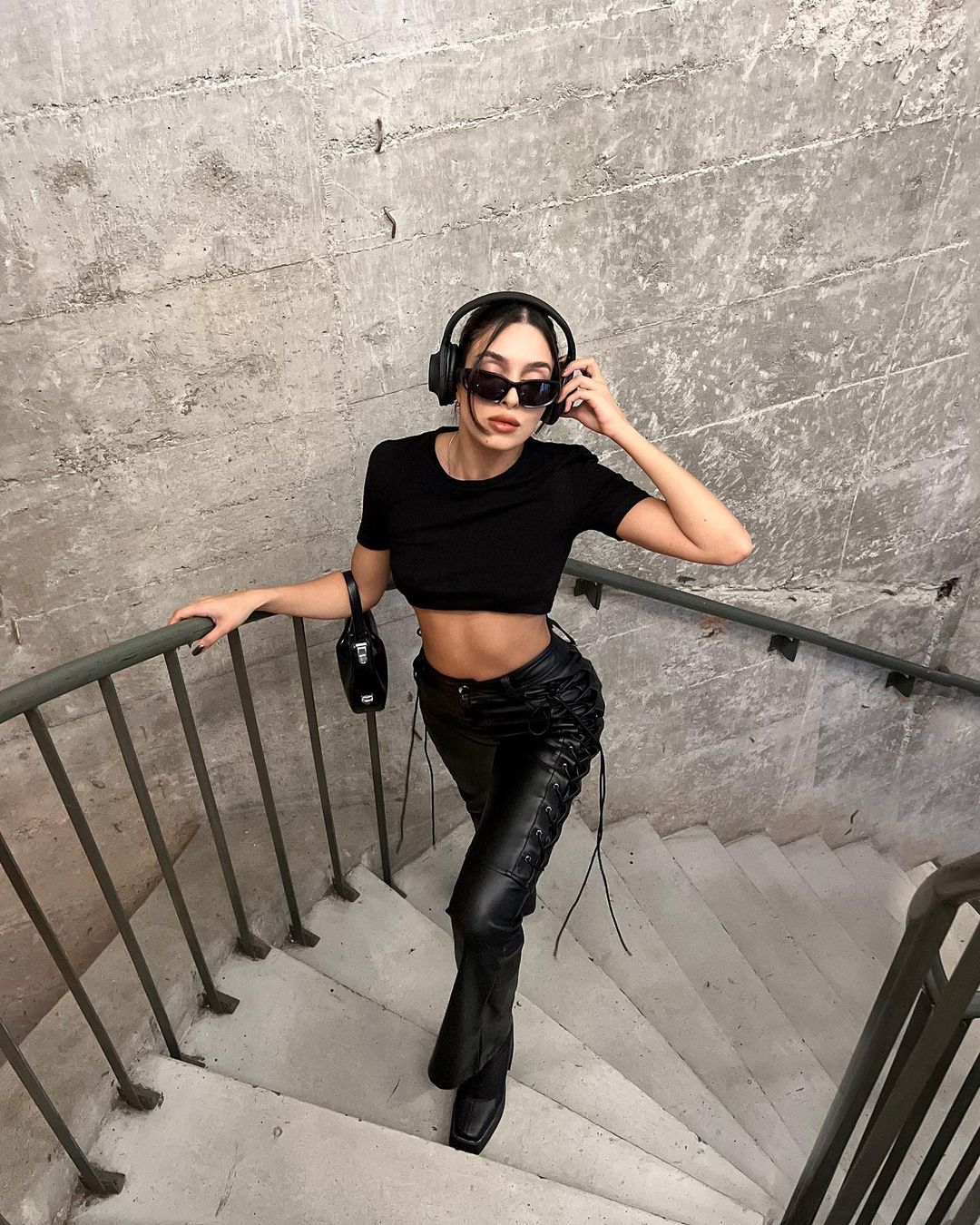 Photo via @suellensamara
8) Motocross Pants
Biker fashion also sits well alongside the demand for nostalgic Y2K clothing. Between both aesthetics, motocross pants are having a major moment. This fashion girl keeps her look rather simple so the intricate leather bottoms can standout. If you are seeking a bikercore outfit that channels the carefree, rebellious spirit this movement is all about, then put motocross pants high on your to-get list.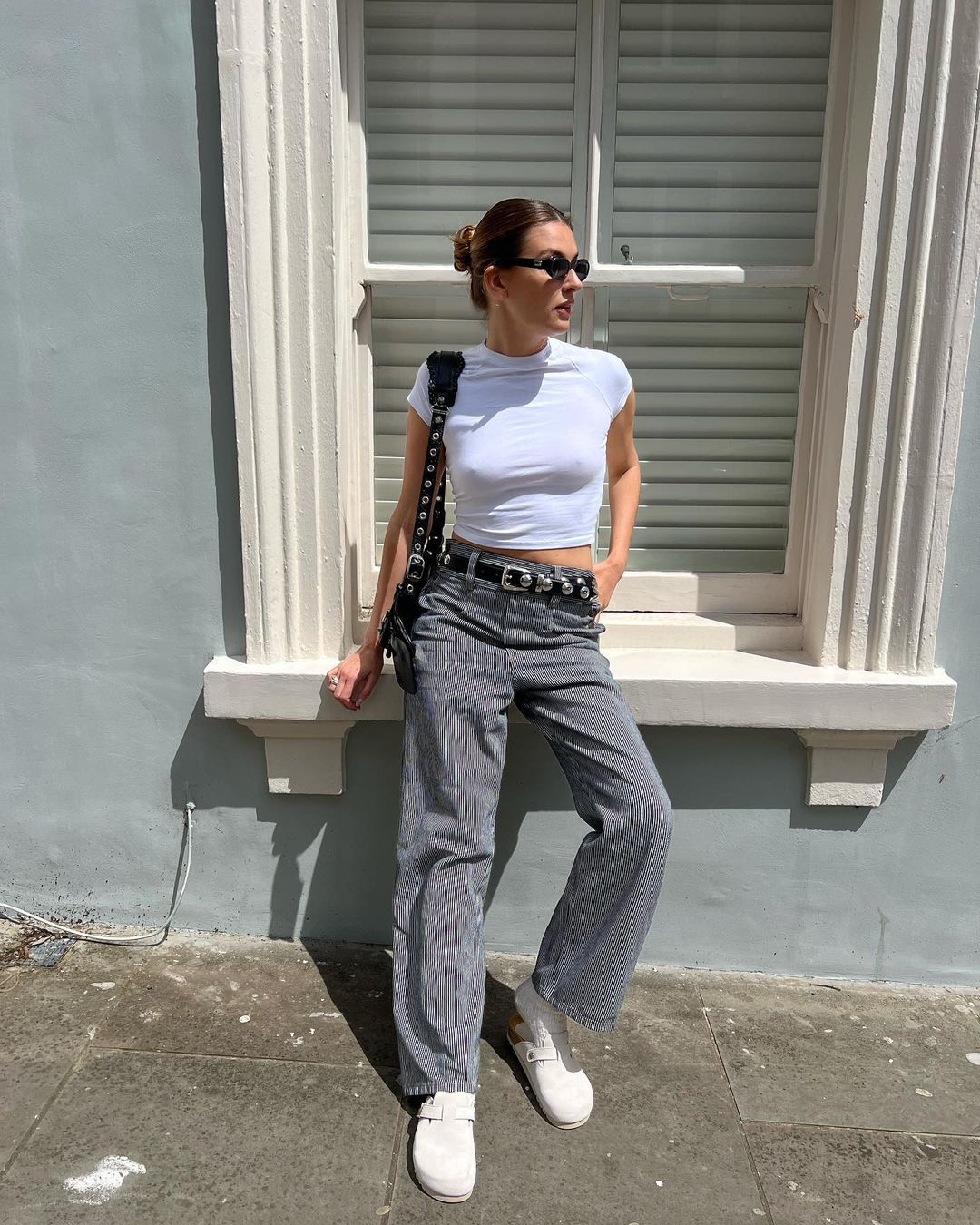 Photo via @camillecharriere
9) You're a Stud
Studs and grommets are key components of this trend and can easily be incorporated into your everyday routine. Whether it's a handbag or belt (or both), accessories are a great approach if you admire the trend but don't want to look like a motorcycle racer. Camille shows us how it's done by using a hardware heavy shoulder bag and belt to add a punk rock edge to her tee and jeans.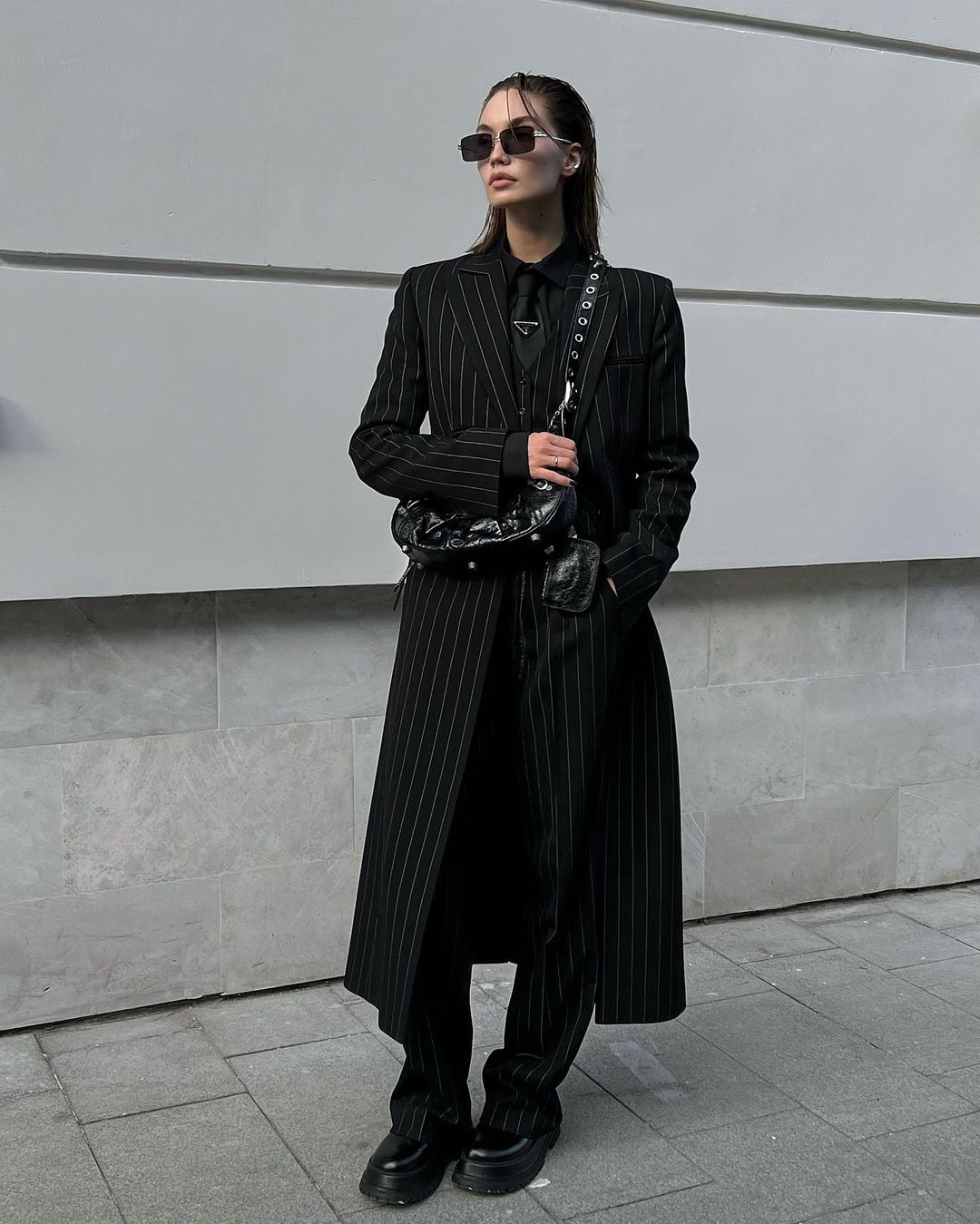 Photo via @yanamotina
10) Back to Black
By now, you have learned that opting for an all black outfit is an infallible way to approach the biker fashion trend. There are, of course, ways to break up the monochromatic outfit whether it's via texture or patterns. This influencer uses pinstripes to keep her black-on-black ensemble that much more interesting. It offers the perfect backdrop for all your biker approved accessories.  

(Visited 1 times, 1 visits today)