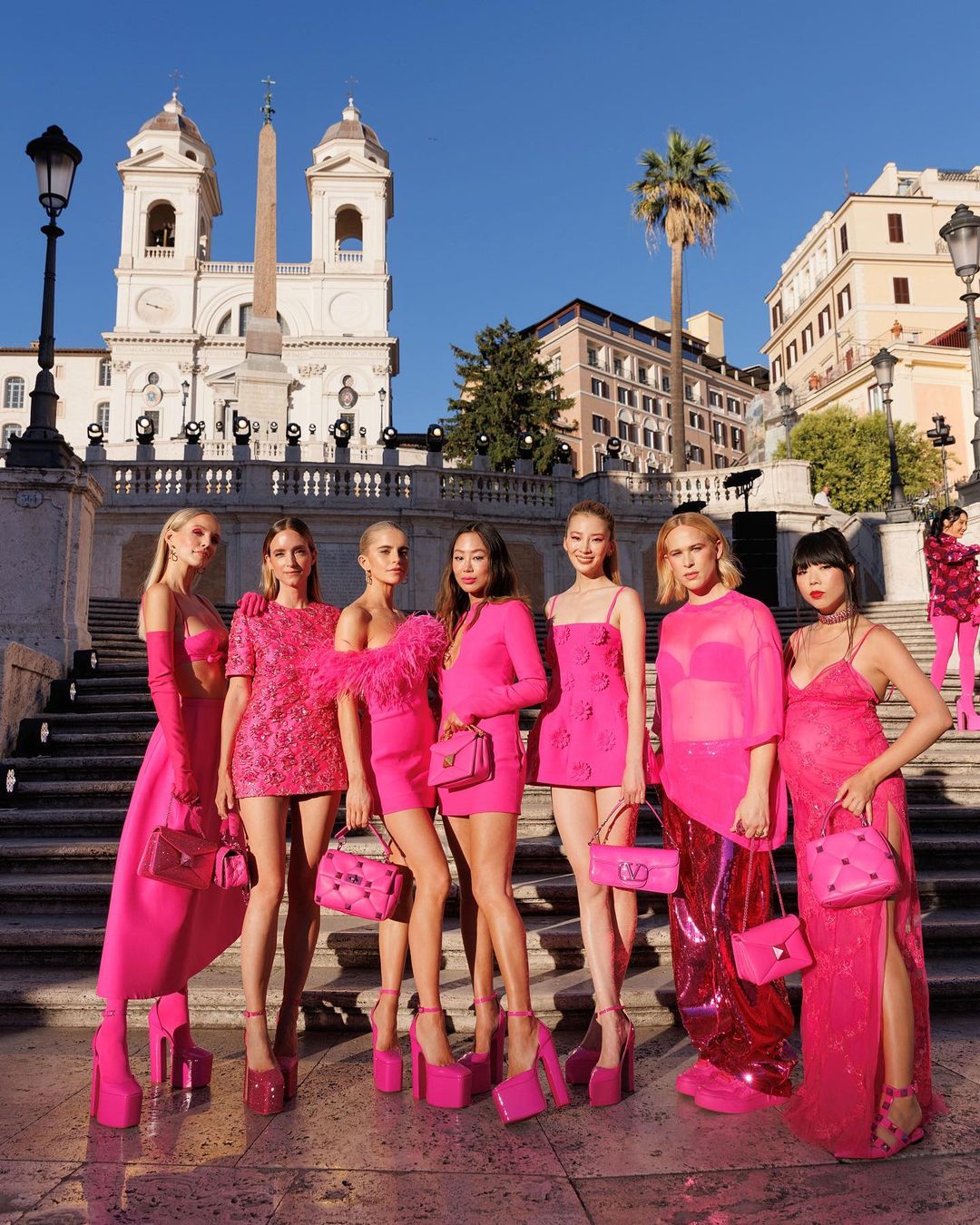 Photo via @carodaur
Barbie has always been known for her heavy use of hot pink since the 50's, and today, her sense of style has evolved into a full blown fashion sensation known as Barbiecore. Modern day fashion girls are taking notes from our favorite childhood doll herself, injecting their wardrobes with superfluous bright pinks and ultra girly accessories. Not only have A-list celebs, like Kim Kardashian and Anne Hathaway, joined the movement, but haute couture designers are on board too. Balenciaga, Valentino and Versace are all credited for propeling the hot pink aesthetic to the forefront of the masses. Believe it or not, dressing like a real life barbie doll is not as intimidating or tacky as it might seem. In fact, with the right pieces, an all pink outfit can actually be quite chic. We predict this phenomenon is only going to explode as we head into fall, so to help you make your first foray into Barbie world a success, we rounded up the best Barbiecore looks you can mimic below.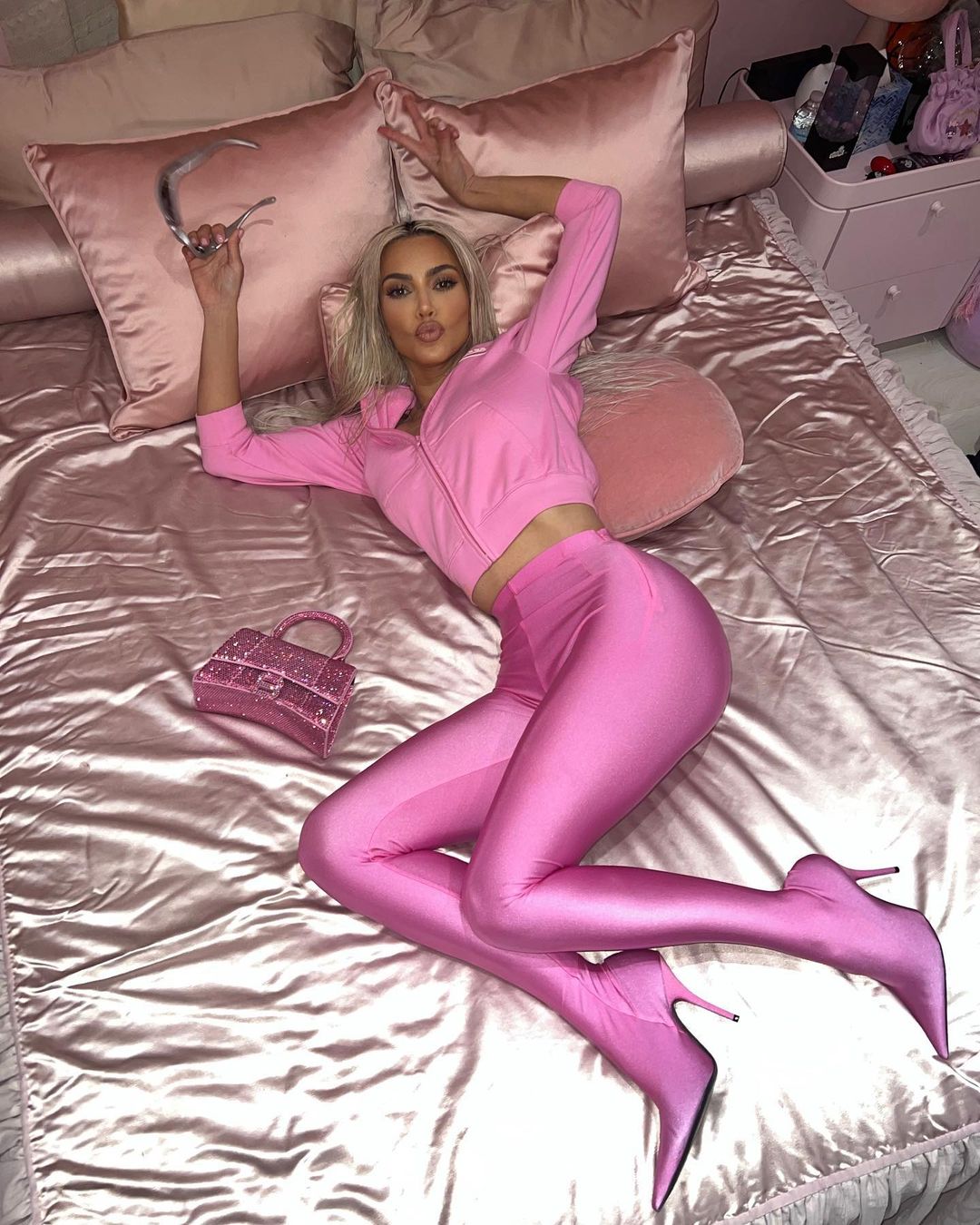 Photo via @kimkardashian
1) Metallic
Kim K had the ultimate Barbiecore inspired moment during an impromptu photoshoot with North. In head-to-toe pink (literally), she wears a cropped hoodie with metallic leggings that also cover the heels for a seamless effect. To complete the high-shine look, Kim also has a metallic handbag in tow. For those who are keen on recreating this outfit at home, any bright fuchsia leggings will do the trick.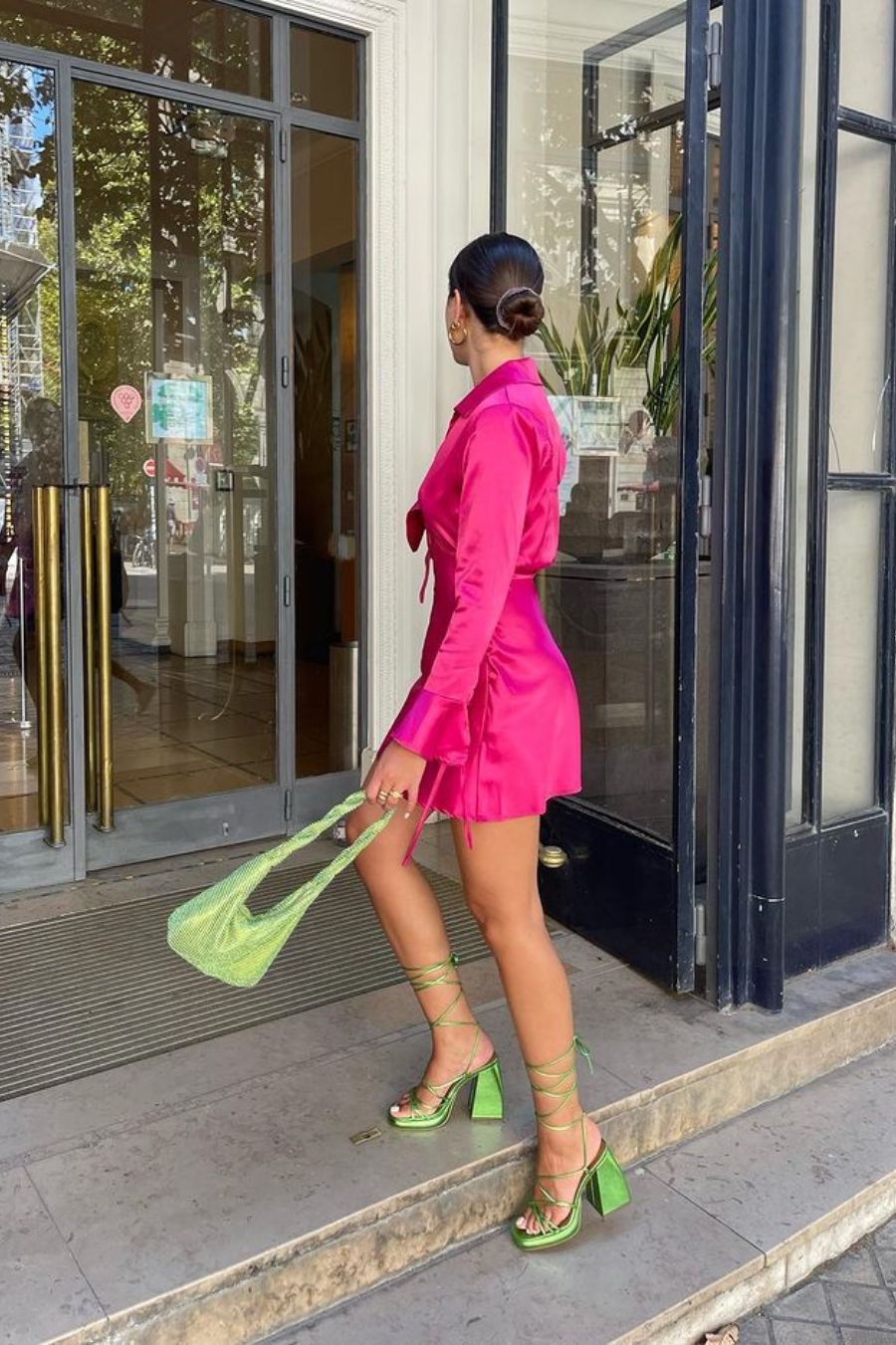 Photo via @florettenacer
2) Pops of Green
The fuchsia color that best represents Barbiecore can be an intimidating color to style. Since it is such a statement maker, you may be inclined to style it with none other than neutrals. However, Florette shares how adding a few pops of green via accessories can accentuate the girly shade. Note how the shimmer bag and lime green heels give this look a fun, summer inspired twist. We love her choice of a sleek bun to tie it all together.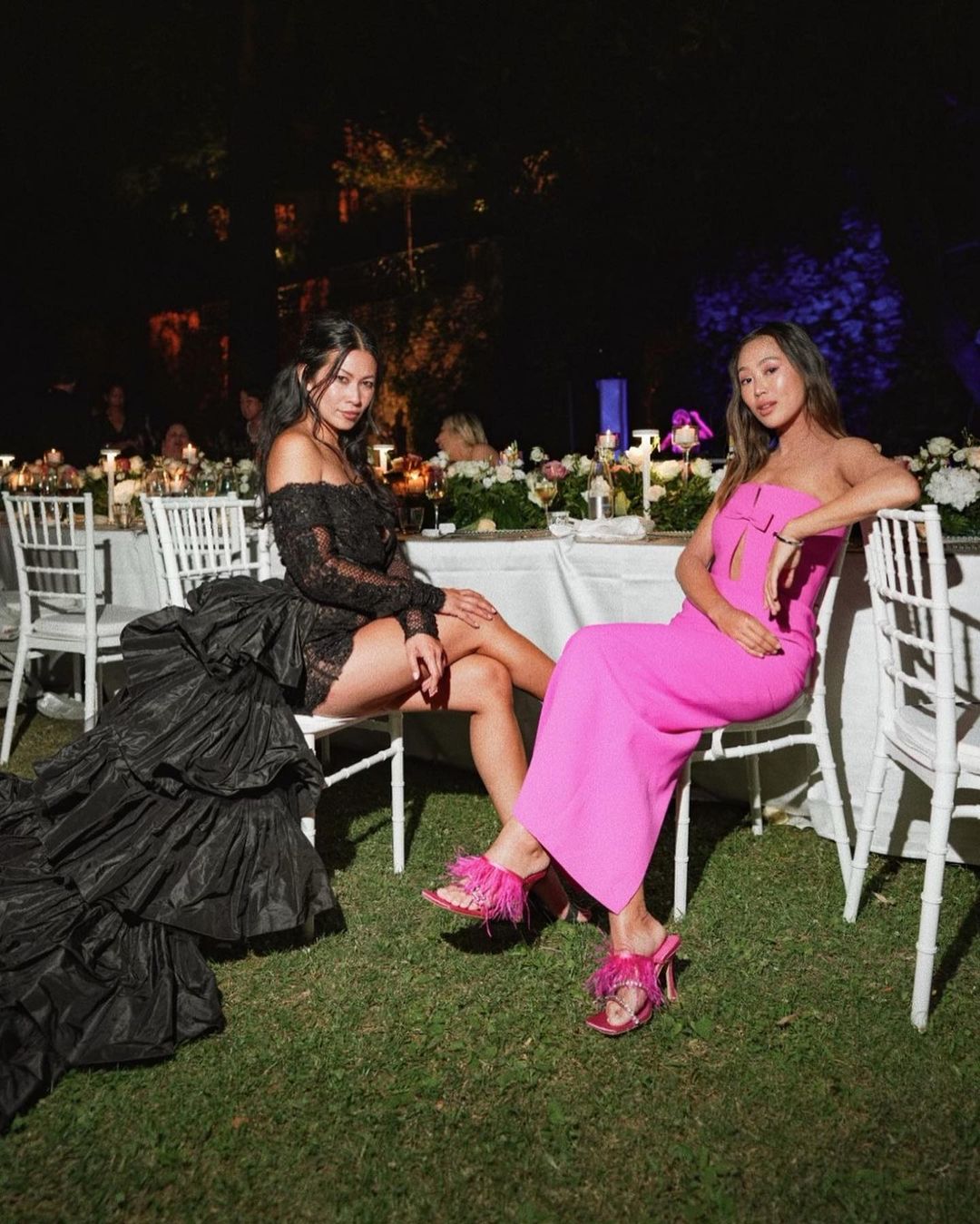 Photo via @aimeesong
3) Column Dress
The Barbiecore aesthetic can easily be channeled for your formal events too. In fact, no one can deny that it makes a fashion forward alternative to the traditional white tie attire. So take this opportunity to make a grandiose entrance at your next celebration like Aimee did with a hot pink column dress. The sophisticated silhouette married with the bold color strikes the perfect balance of on-trend and polished.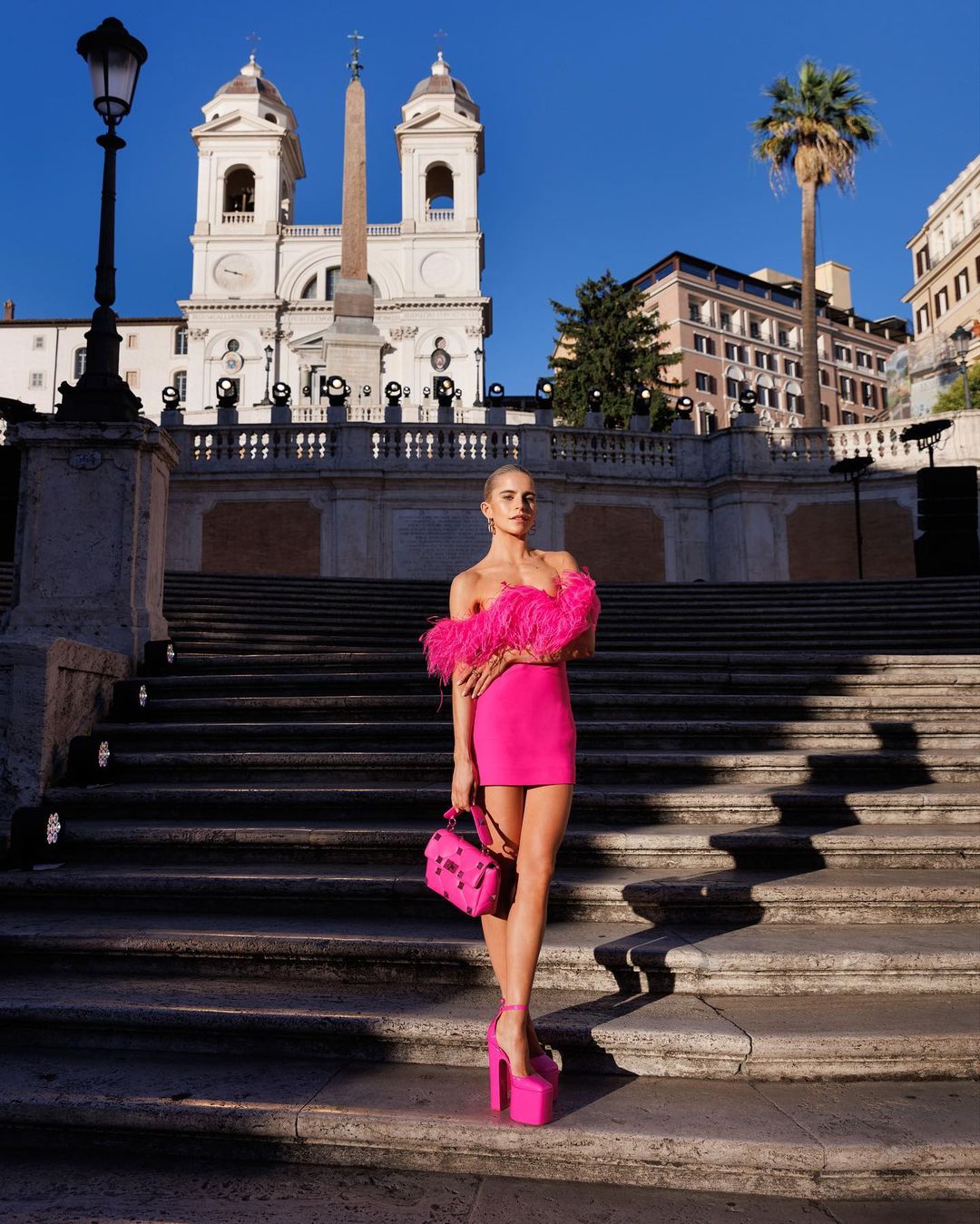 Photo via @carodaur
4) Ruffle Your Feathers 
Although Barbie's style has evolved over the years, the core of her wardrobe focuses on glam dressing. To accentuate this ideology, look no further than a little feather moment. Hot fuchsia and anything feather lined is an immediate win in our book, especially when it comes to nailing the Barbiecore aesthetic. Caroline shows us all how a feather festooned mini is ideal for your next evening out. Take it to another level with matching platform pumps.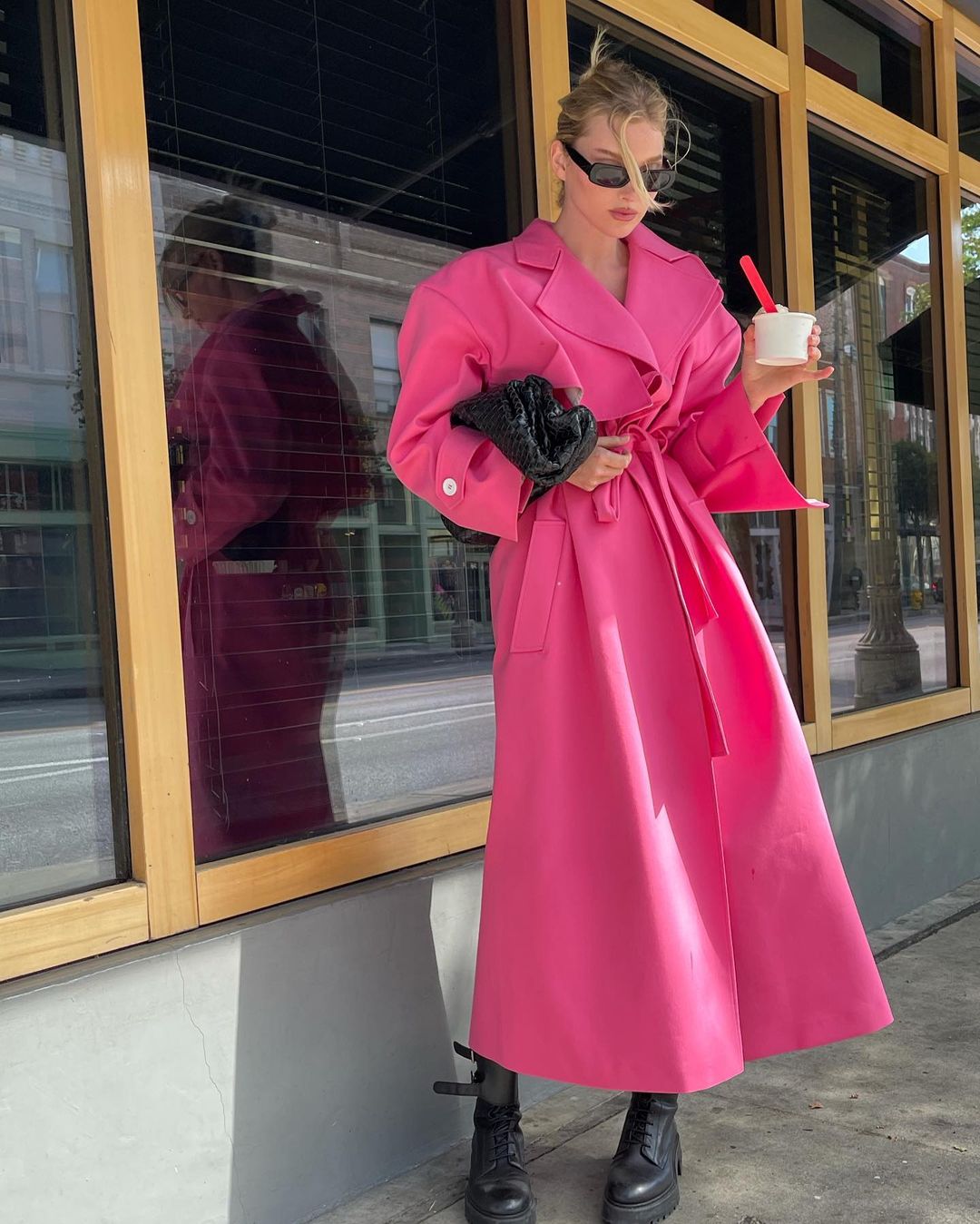 Photo via @hoskelsa
5) Pretty in Pink Outerwear
Where most tend to stick to neutrals, avid Barbiecore aesthetic lovers will throw caution to the wind. Normally, a black or tan colored outerwear will offer greater ease of styling. But as they say, go big or go home. A pretty pink coat offers both sass and class. It's the ideal statement piece to give your looks a feminine flair. Just don't be afraid to edge it up with cool-girl accessories, like military-esque combat boots and a leather handbag.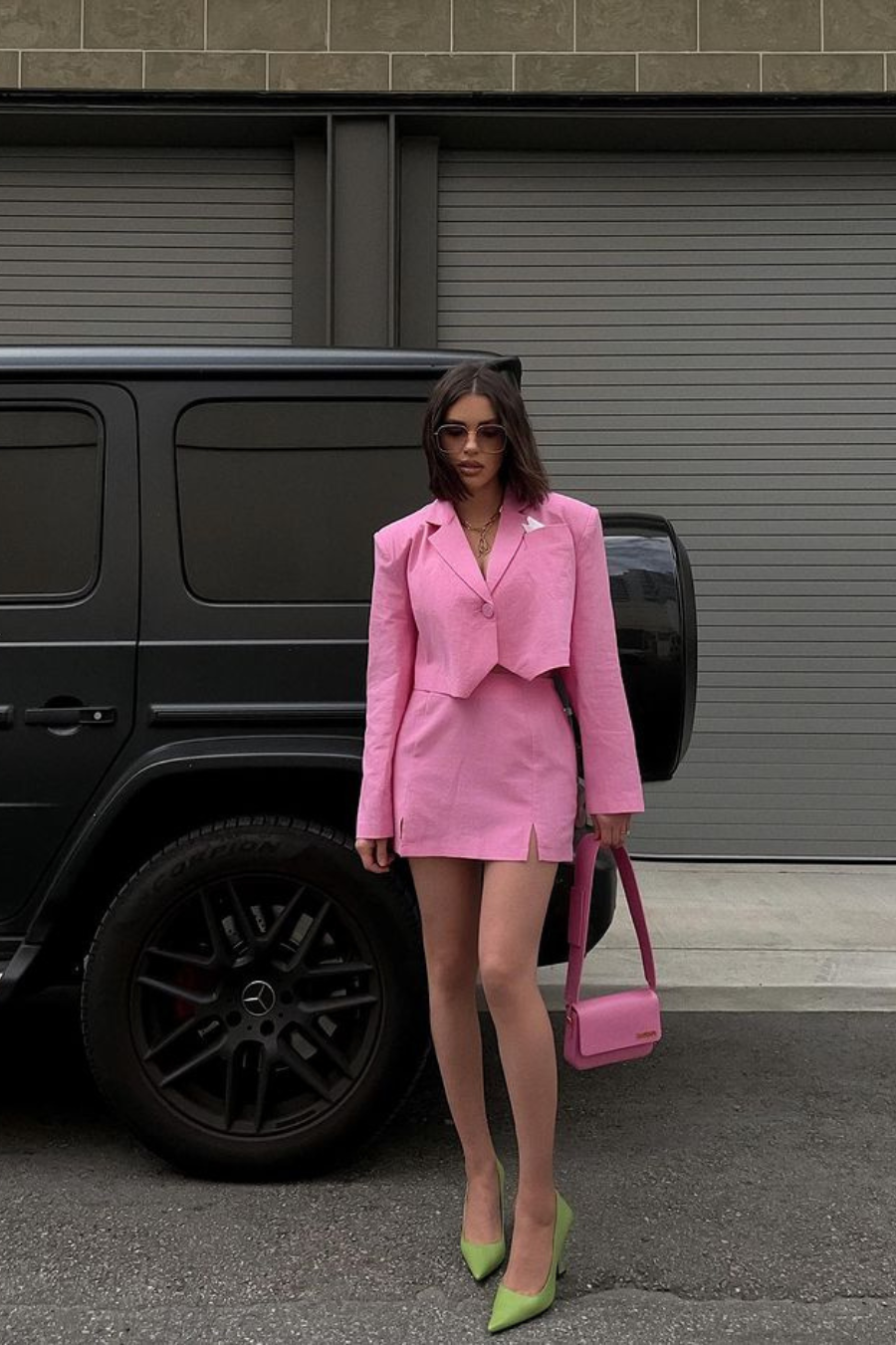 Photo via @vitaliia
6) Blazer & Mini Skirt
Even Barbie needs to get down to business every once and while. Breathe new life into a smart blazer and mini skirt set by going after bubble gum pink hues. It's a no-fail way to achieve the perfect Barbiecore workwear attire. Of course, one does not actually need to be heading into the office to pull this off. Tailored pink separates are fitting for any outing – as long as you have the intention to turn heads.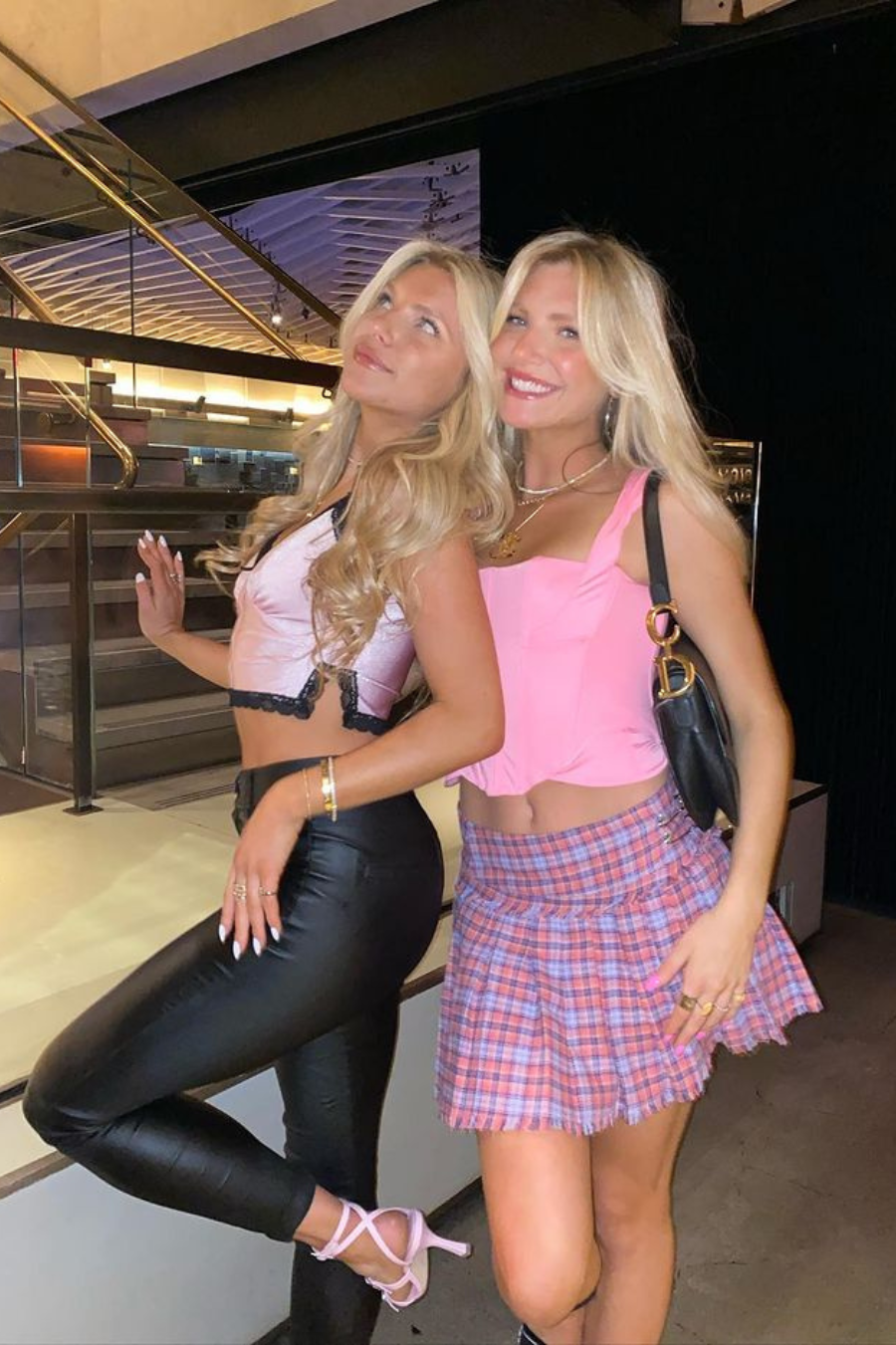 Photo via @acquired.style
7) Corset & Pleated Skirt
Dip into the Y2K trend for your next Barbiecore inspired outfit by taking some of the most revered pieces and serving them in pink. For example, two of the most worn styles that have that nostalgic charm are the corset and pleated skirt. When taken in shades of pink, you are immediately left with a Barbie-approved going out look that you can wear all season long.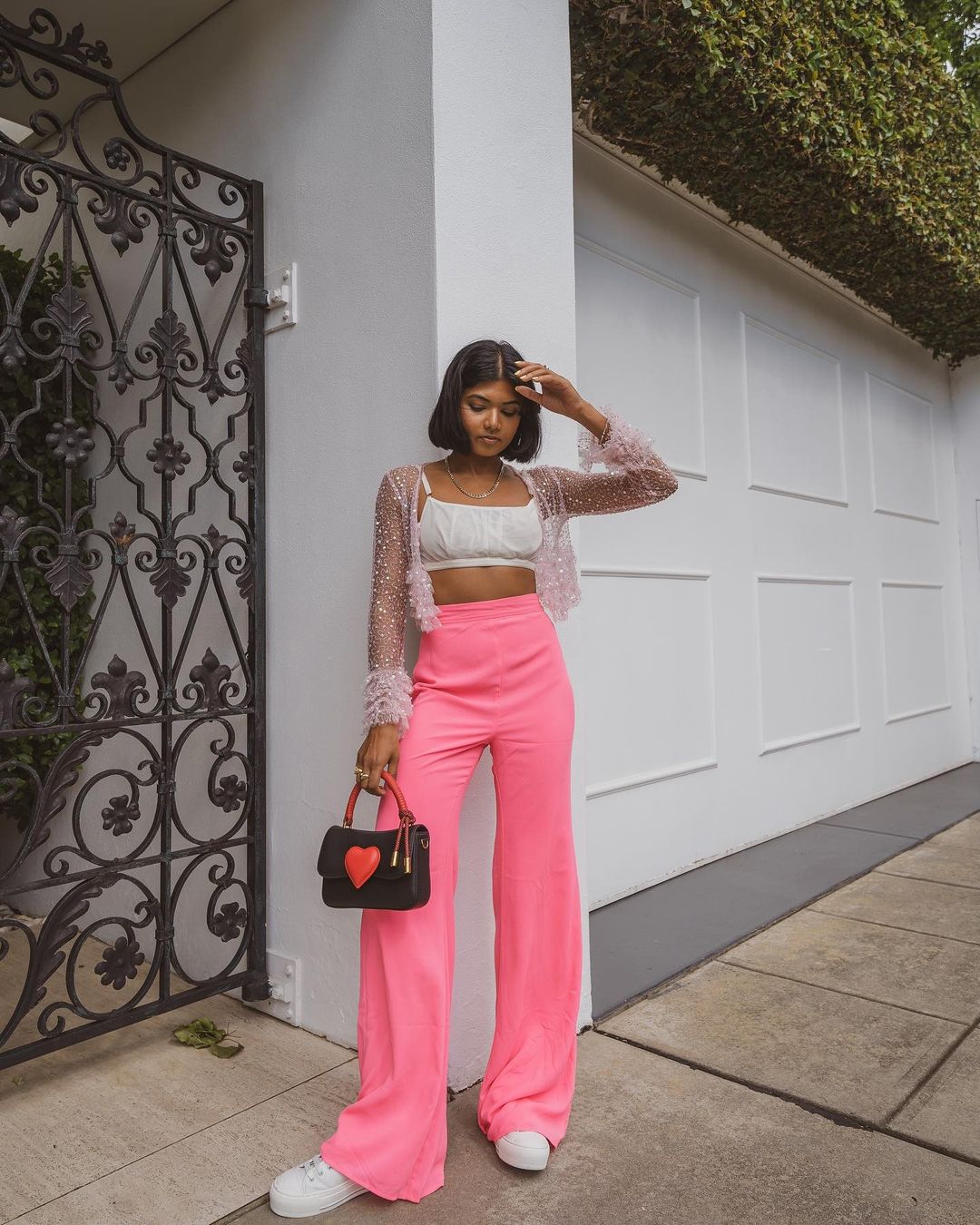 Photo via @poseandrepeat
8) Hot Pants
It's safe to say that the key to unlocking the Barbiecore aesthetic is to take your favorite silhouettes in some version of fuchsia. For instance, the trouser pants have a whole new vibe when decked out in this bold colorway. We have a penchant for Rubi's take on the look as she manages to tame the hot pants with a crop top and a pair of clean sneakers. This is a trick that can be employed for almost any bright colored piece.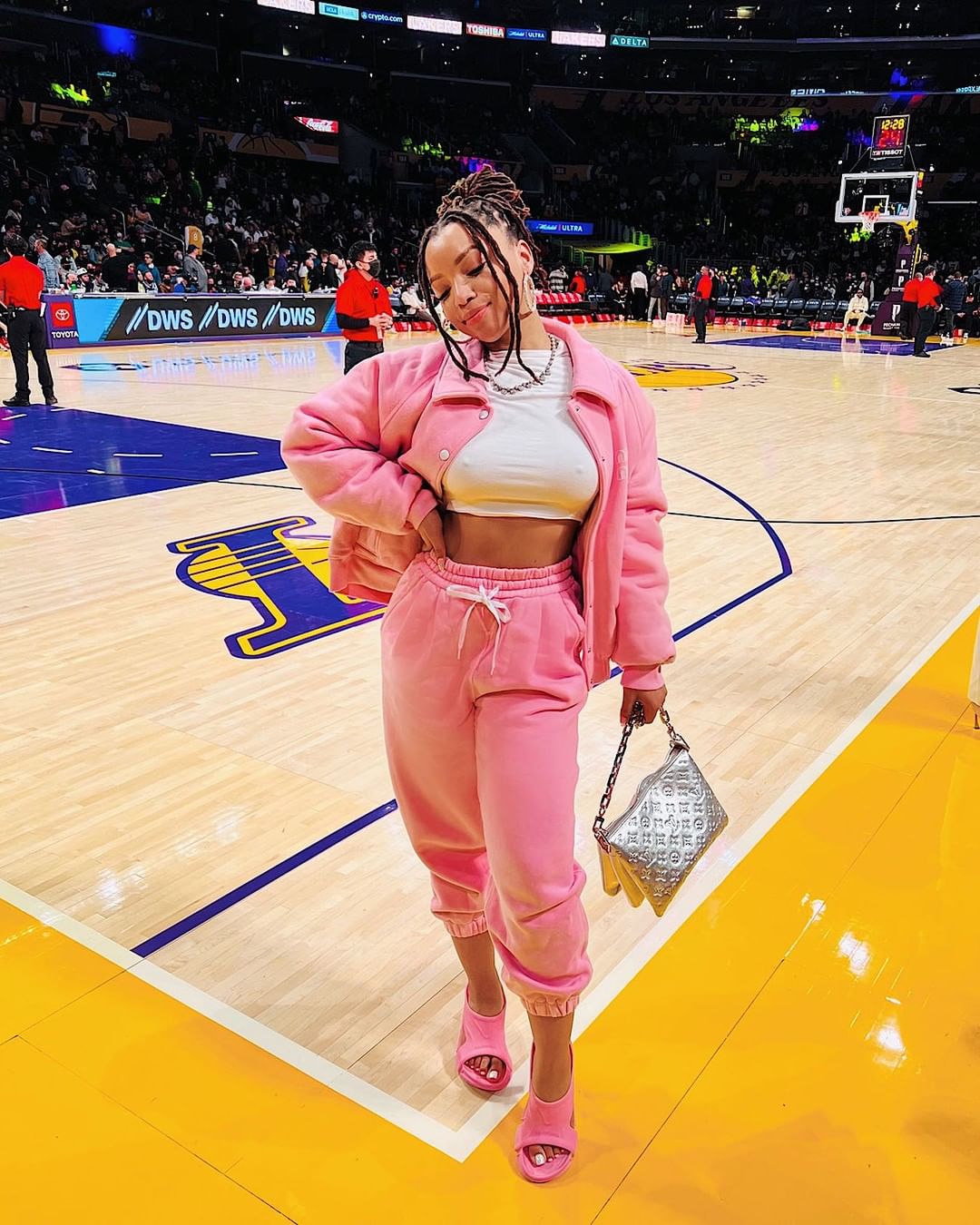 Photo via @chloebailey
9) Sweatpant Chic
Barbiecore may be inherently glam but you can tone down the vibe several notches for casual events too. Just ask Chloe who was spotted court side at a Lakers game, wearing a sweatpants set in bubble gum pink. The coordination between the top and bottom was a key factor in channeling the aesthetic. We love how she went above and beyond with the addition of hot pink slides and a metallic handbag.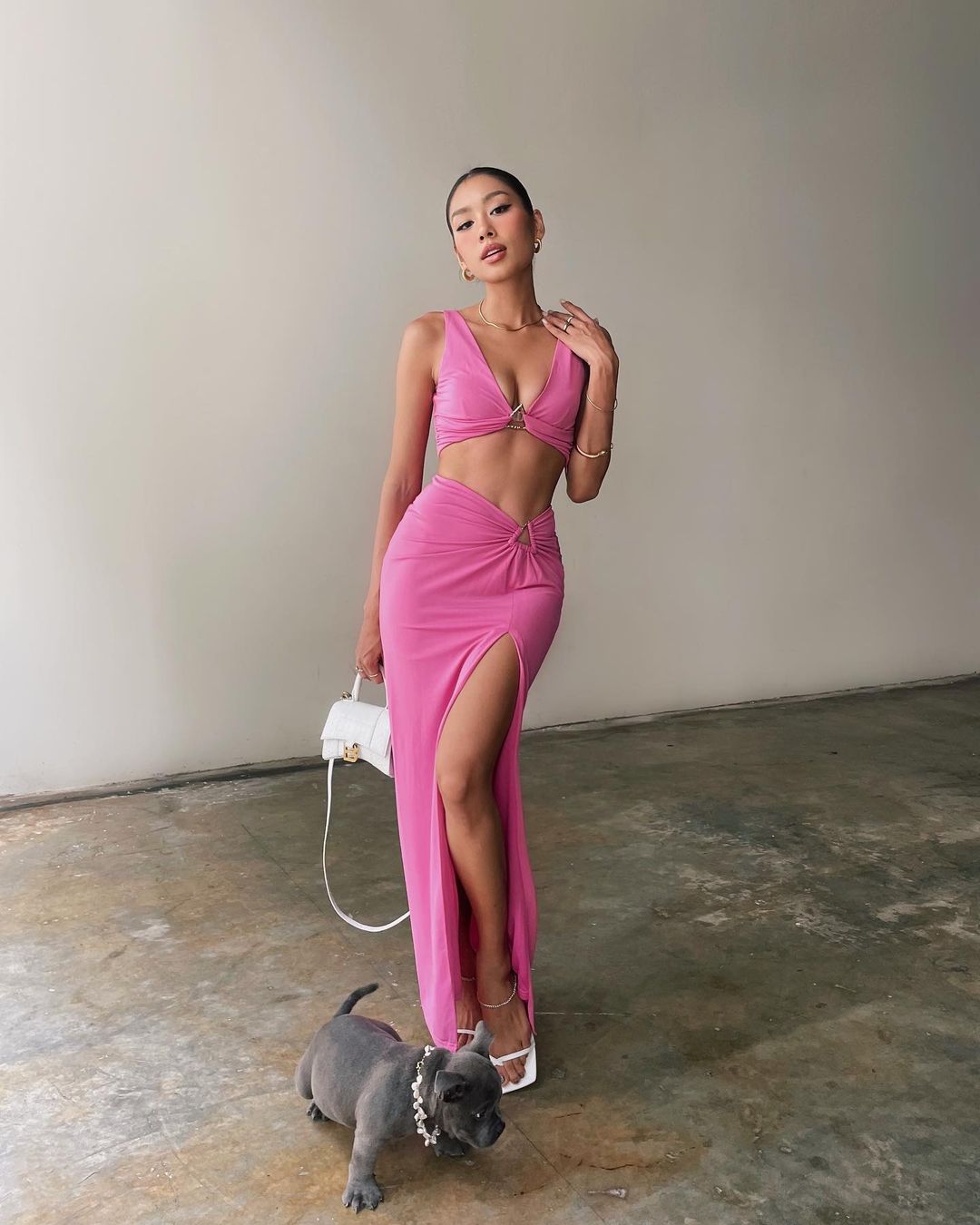 Photo via @thaonhile
10) Matching Set
The crux of Barbiecore boils down to empowerment and embracing femininity with a certain degree of fearlessness. What better way to embrace that philosophy than with a sultry, body-hugging fit. Thao shows us the power of a two-piece set. The crop top and curve-accentuating skirt creates a killer look. Can't find a set that suits you? Achieve the same vibe with the likes of pink cutout dresses and other form-fitting frocks.

(Visited 1 times, 2 visits today)