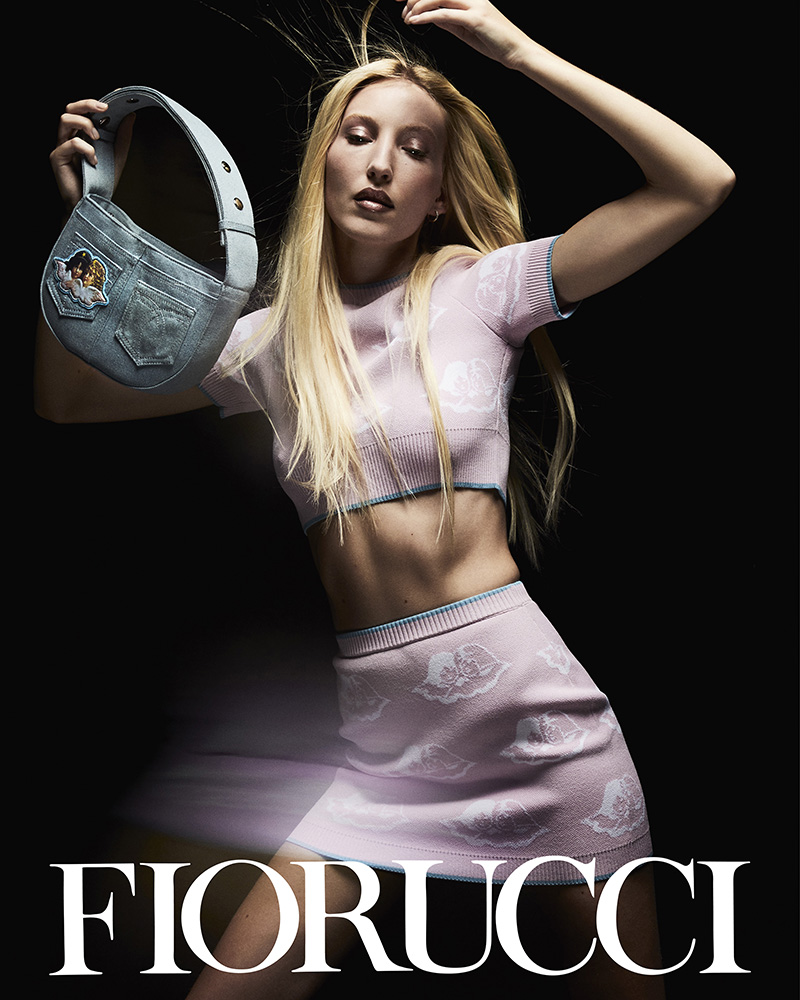 For the Fiorucci autumn/winter 2022 collection, references and influences are drawn from the early days of Fiorucci's existence and come interspersed with a distinct nod to an Italian point of dress.
Across bowling shirts, mini dresses and two-piece pairings is a collage print that pulls together sticker motifs referencing the sorts that Elio Fiorucci would have up for grabs in the New York store during the 1970s. Originals of which will soon be able to be seen as a key part of Fiorucci's Shoreditch pop-up archive exhibition. Here are kissing couples and green goddess girls set alongside TV sets and shade-wearing cherubs united on cotton and silk twill. A satin bowling shirt comes printed with original laser gun illustrations that offer the era's space race fascinations.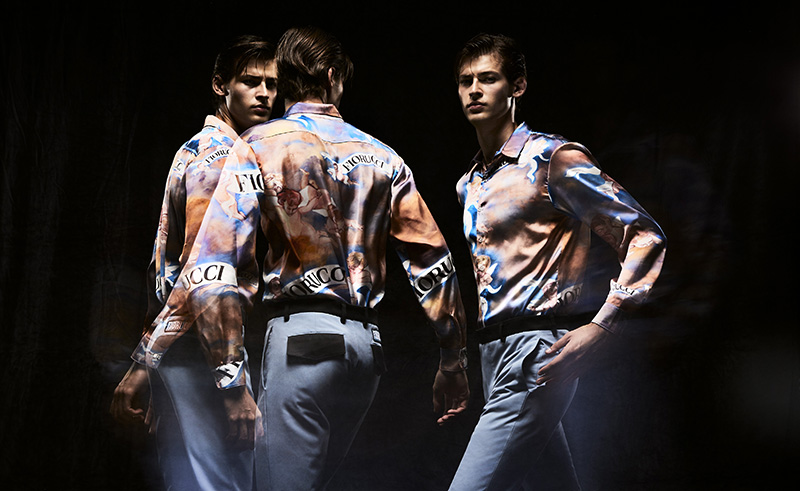 Interspersing this clear Italian homage is an underlying rumble of Americana — a movement that arrived in Italy as Elio Fiorucci came of age. Witness it in teen-idol style wide-leg cotton trousers and a loose, more mature take on the overall silhouette to contrast with most recent collections. The colour palette — whether in the introduction of mohair knits or screen-printed denim — is distinctly retro. Muted but never subtle.
The Fiorucci cherub returns in its purest form, whether that be worked through single-stroke intarsia knit sets or exploded over travel-ready vanity bags. A Rococo-inspired interpretation places them amongst baroque jacquards for denim and complementary jersey pieces.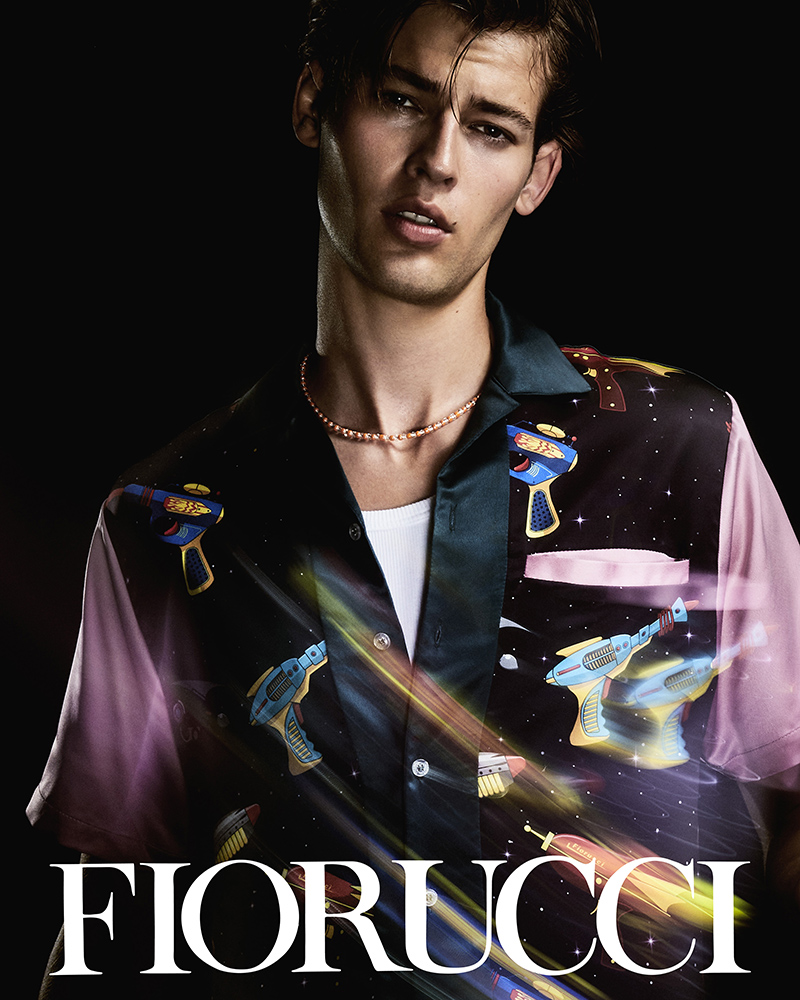 In keeping with the vivacious spirit that informs the Fiorucci brand DNA, the collection is brought to life in a stylized campaign photographed by Josie Hall. Rock royalty Ella Richards takes on the womenswear collection to evoke a special breed of insouciant glamour and is joined by Bastien De Bels in the series.
The autumn/winter 2022 collection launch coincides with further expansion in London — the contemporary epicentre of the Fiorucci brand. September will see the opening of two new pop-up Fiorucci stores situated in the heart of East London. On Redchurch Street, a dream-like destination will dedicate itself to the instantly recognisable Fiorucci Angels, while on Shoreditch High Street a second destination will embrace an exhibition-like setting displaying key items from the Fiorucci archive, including a pair of jeans hand painted by Keith Haring, a jacket custom made for Madonna and original graphic artwork by Terry Jones. Both spaces have been designed by revered architect Farshid Moussavi and will open on September 1st. In true Fiorucci style, the spaces will be opened with a celebration held at One Hundred Shoreditch with cocktails provided by Haig Club.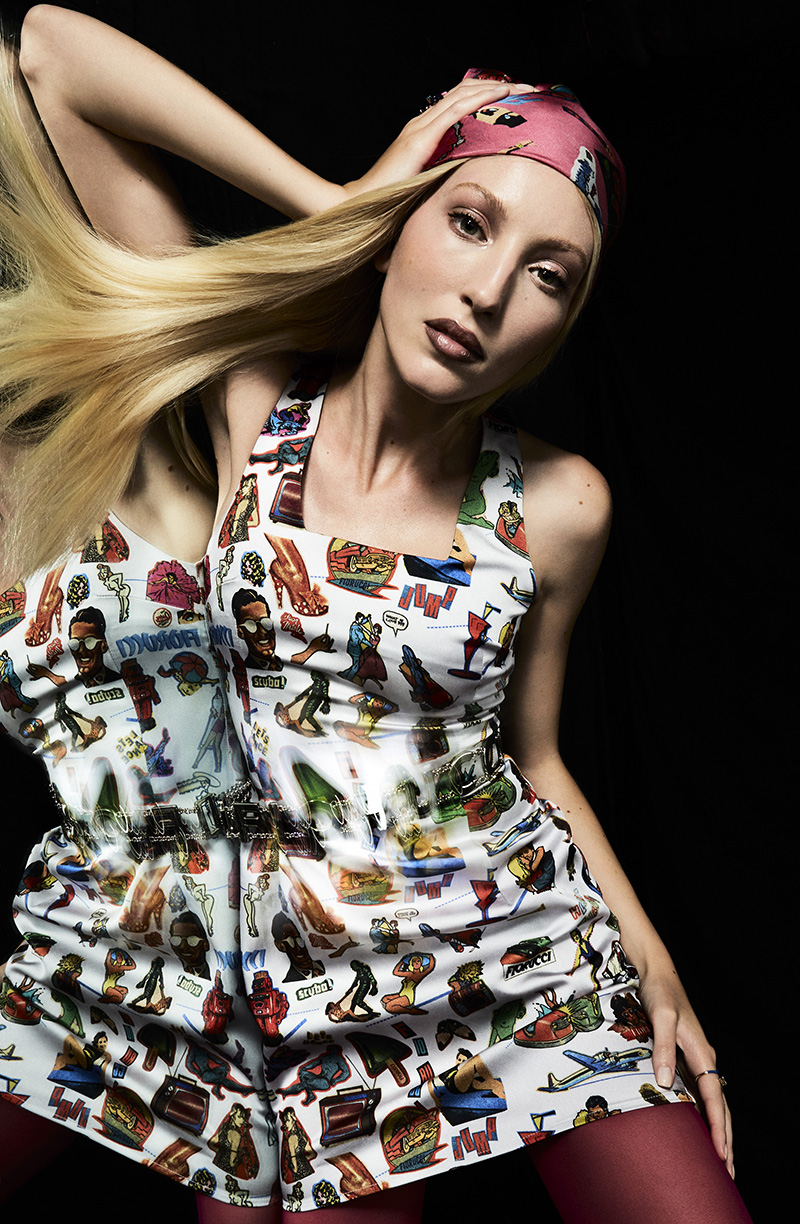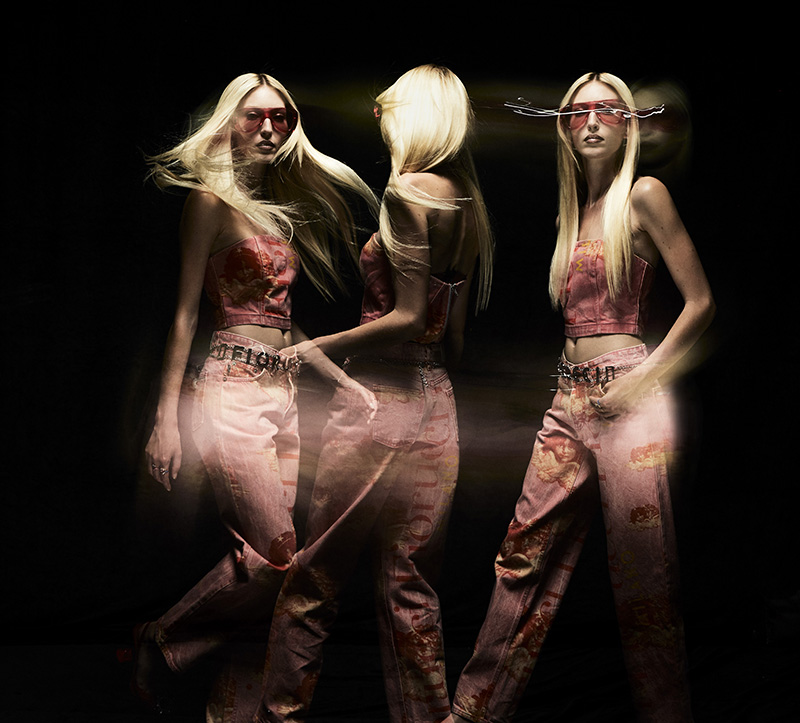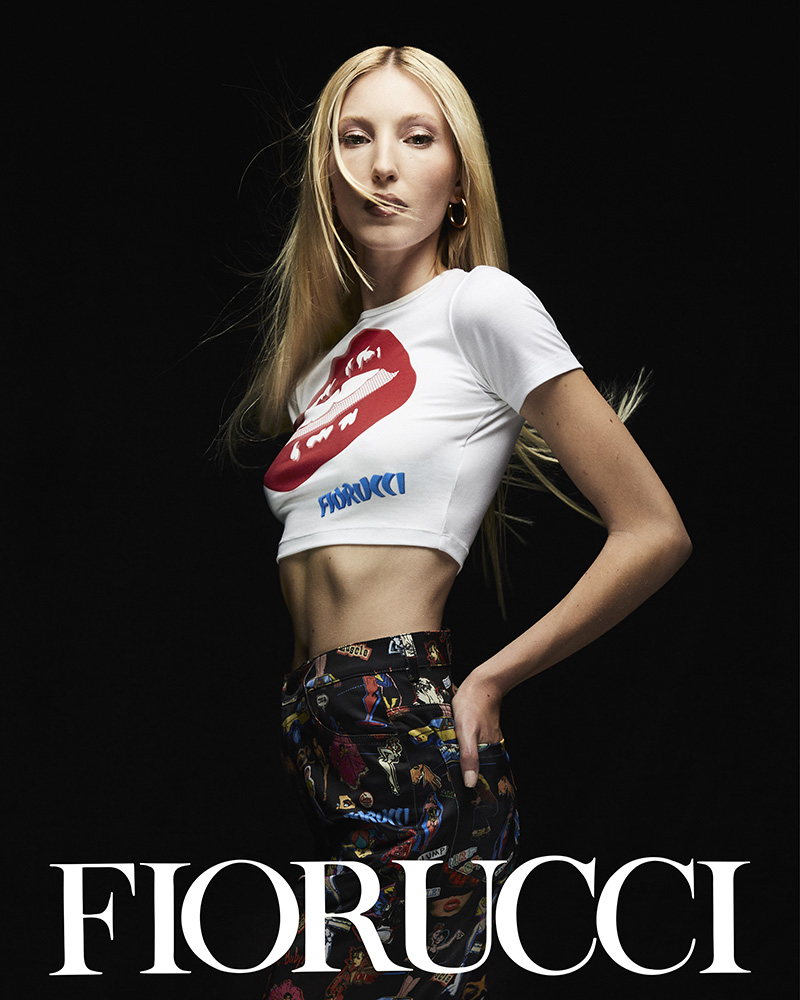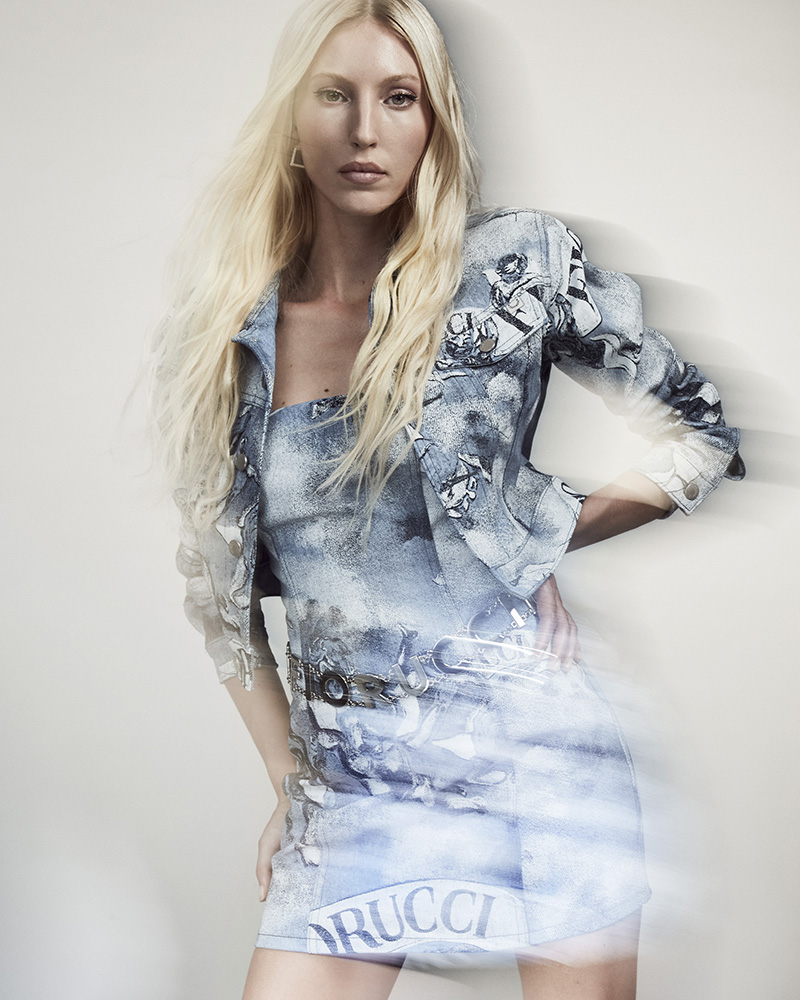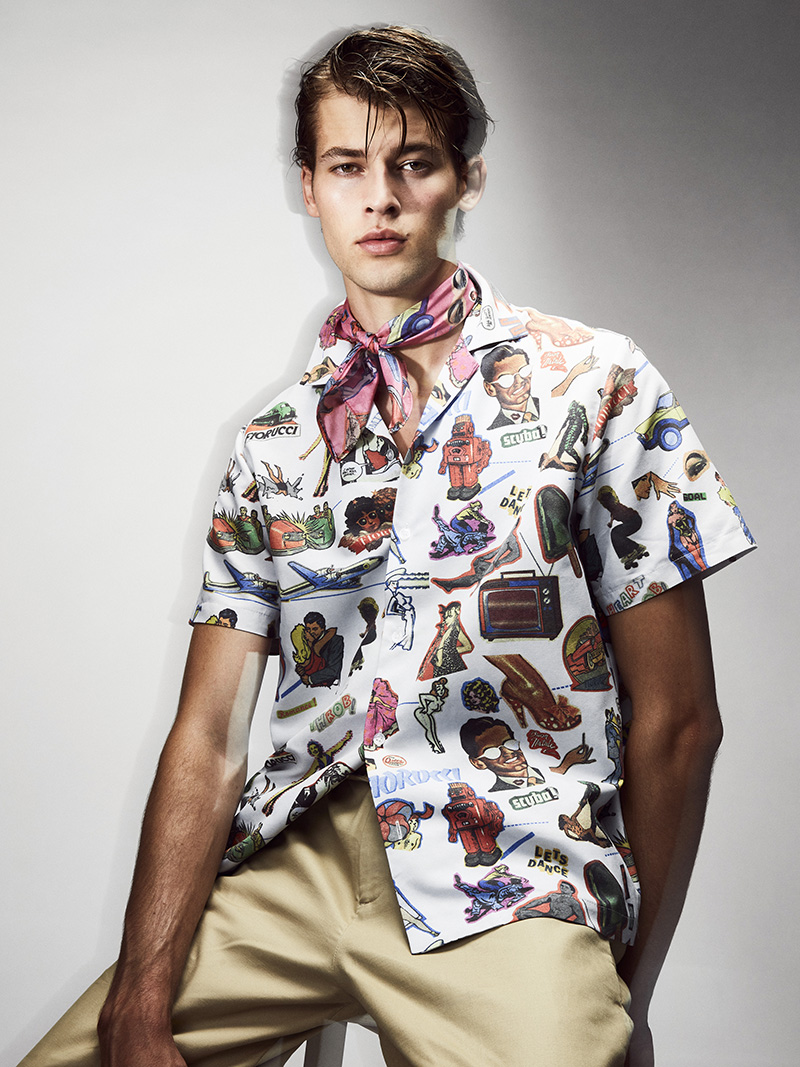 (Visited 1 times, 1 visits today)