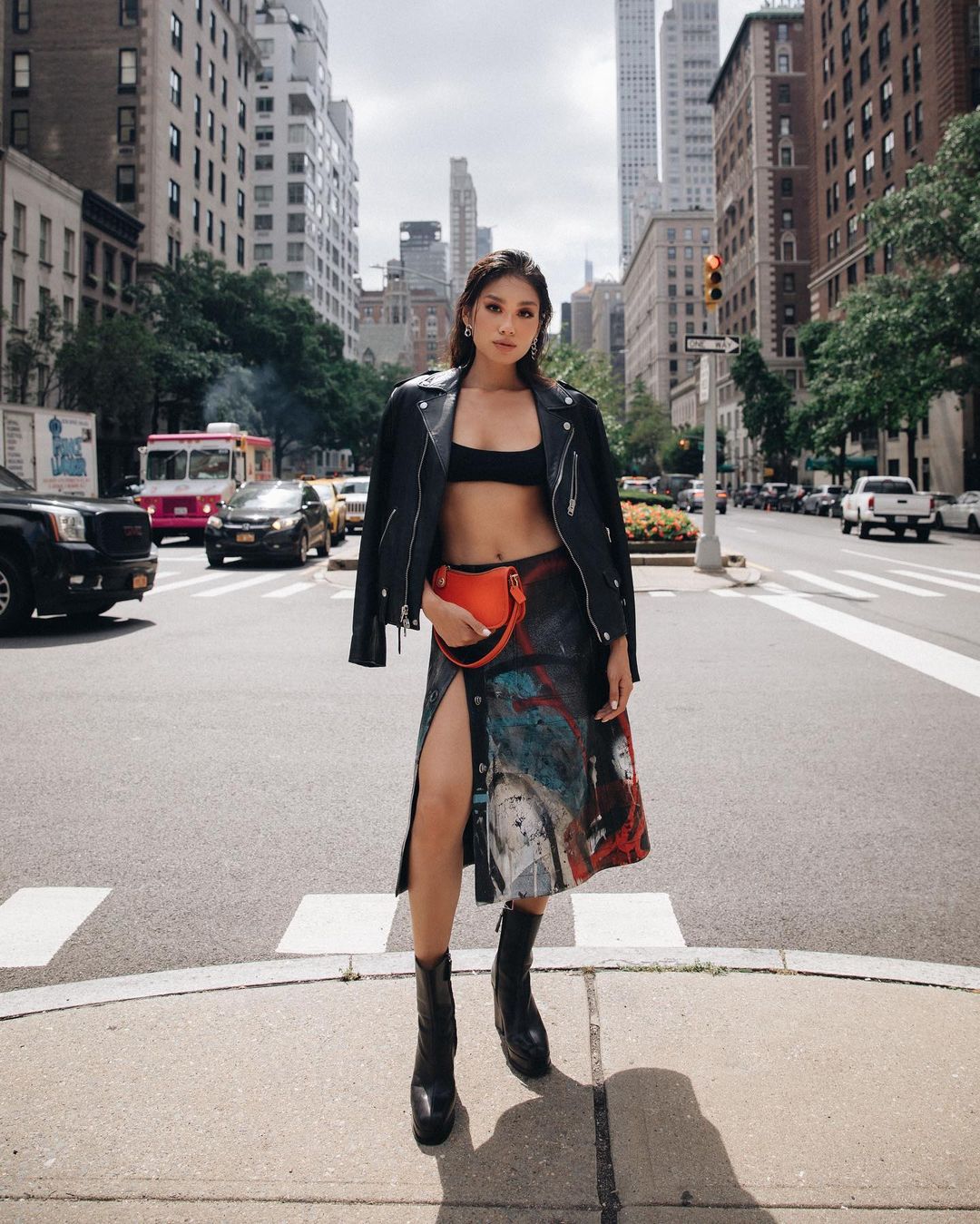 Photo via @thaonhile
Temperatures might be dropping, but the fashion world is heating up with the lingerie trend. The hot, sultry movement is all about pushing delicate undergarments to the forefront of an outfit. Think bustiers, lace teddies, briefs and sheer one-pieces – which can, in fact, be styled as day wear. The seductive style was fixated across the Spring and Summer 2023 runways. However, that doesn't mean you need to wait to tap into it. As with all budding trends, our job is to quell your fears and show you that the lingerie trend is not as intimidating as one might initially think. There are layers to the look and you ultimately get to decide how revealing you want to be. For a couple of ideas on how to incorporate undergarments into your outfit rotation, scroll ahead for 10 irresistible looks and style tricks.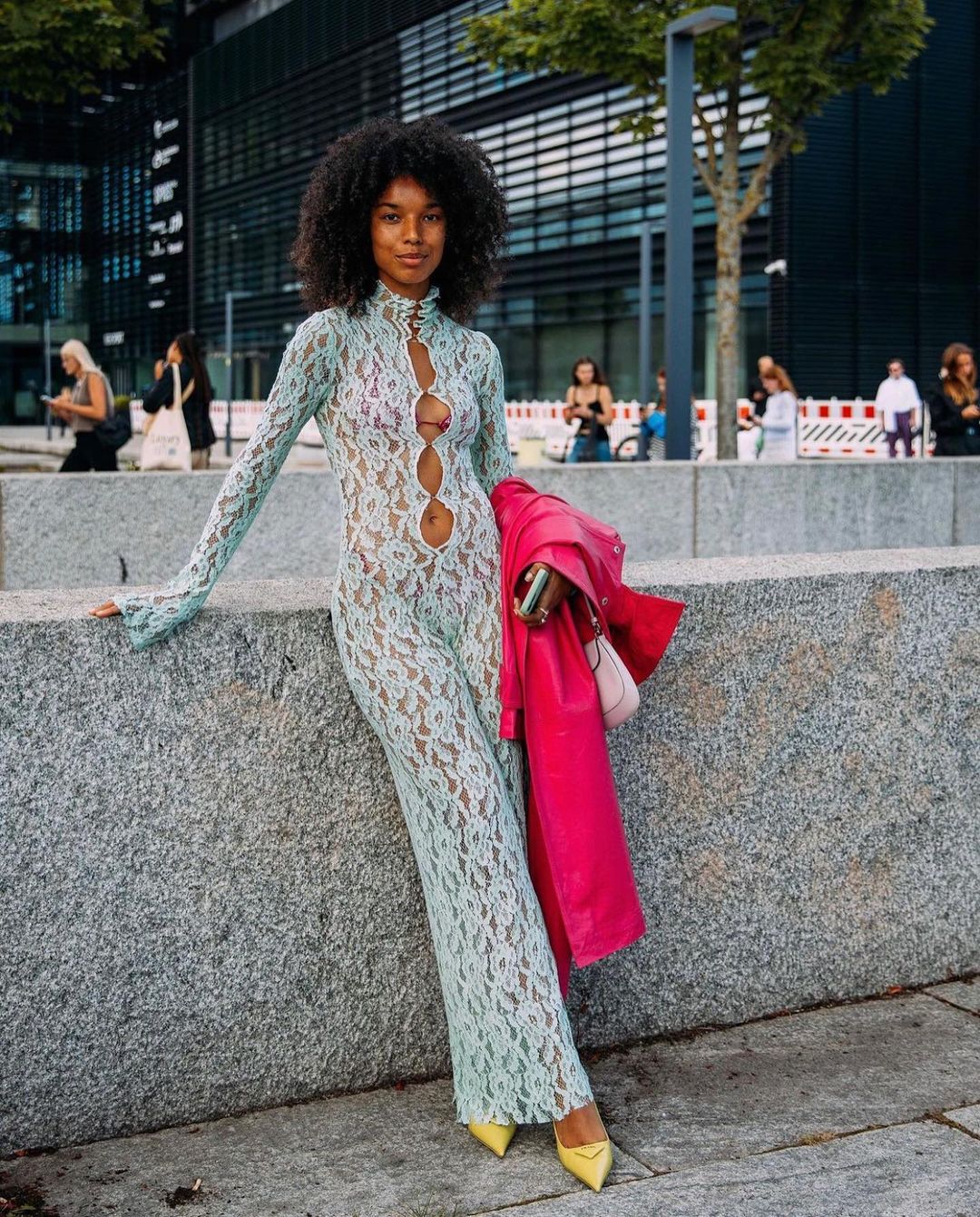 Photo via @fiahamelijnck
1) All About that Lace
Nothing says seductive lingerie more than lace and there is certainly no shortage of it here. Fia embraces the trend head-on with a full lace jumpsuit. It is cheeky, eye-catching and an elegant way to show off your skivvies (which usually doesn't have a chance to shine). Consider taking advantage of the sheer nature of lace by incorporating your bra and panty into the look via a contrasting set. Then, amp up the statement effect further with bold colored shoes and a handbag.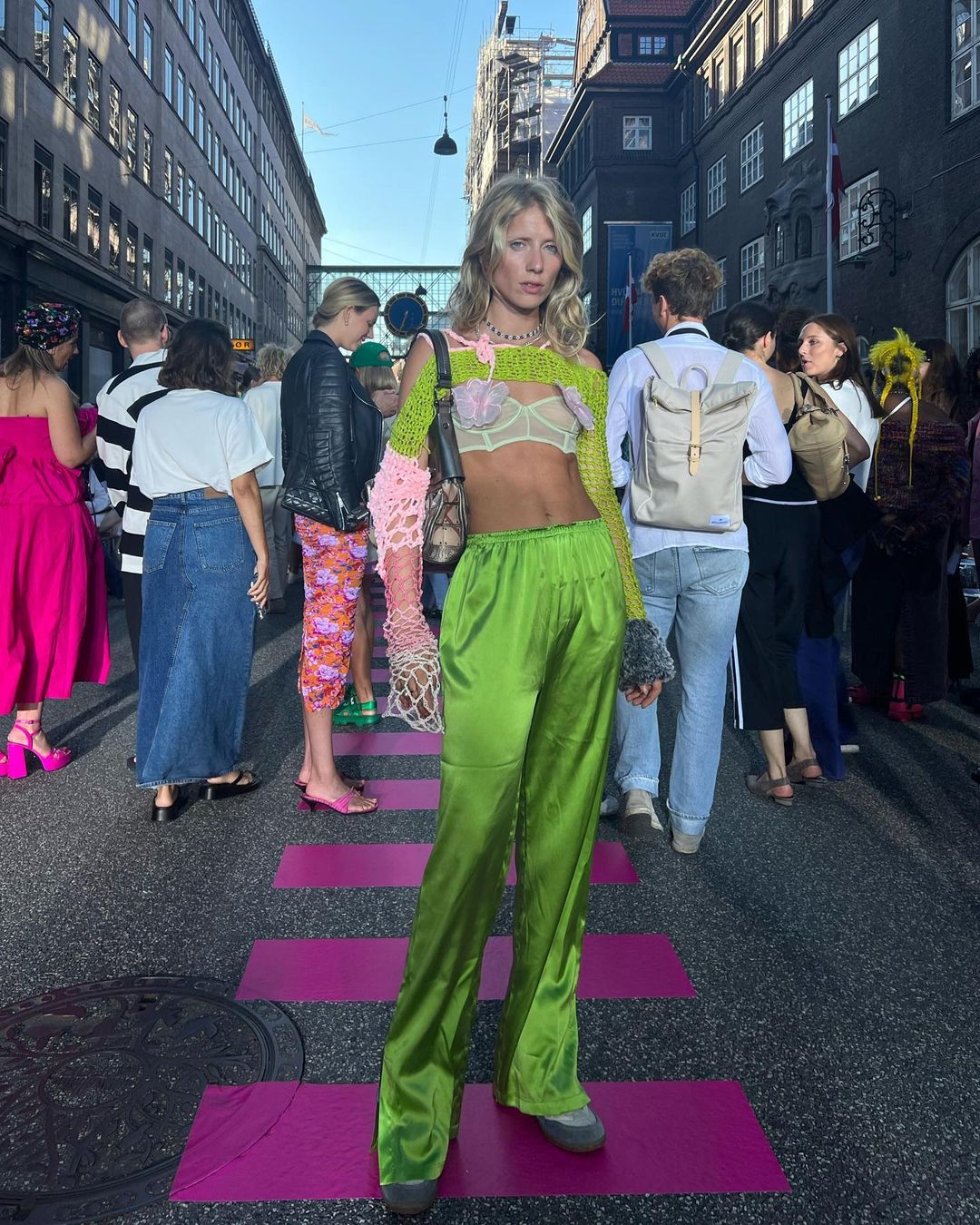 Photo via @couturekulten
2) Sheer Bustier 
Lingerie is incredibly beautiful and we always thought it was a shame to cover it up when out and about. Well, no more. We love this fun, eclectic way of wearing a sheer bustier as a crop top. To avoid a precarious nip-slip, get creative and opt for novelty pasties or an embroidered shrug. This designer even went the extra mile by matching her bra to some flashy silk trousers. Talk about dedication.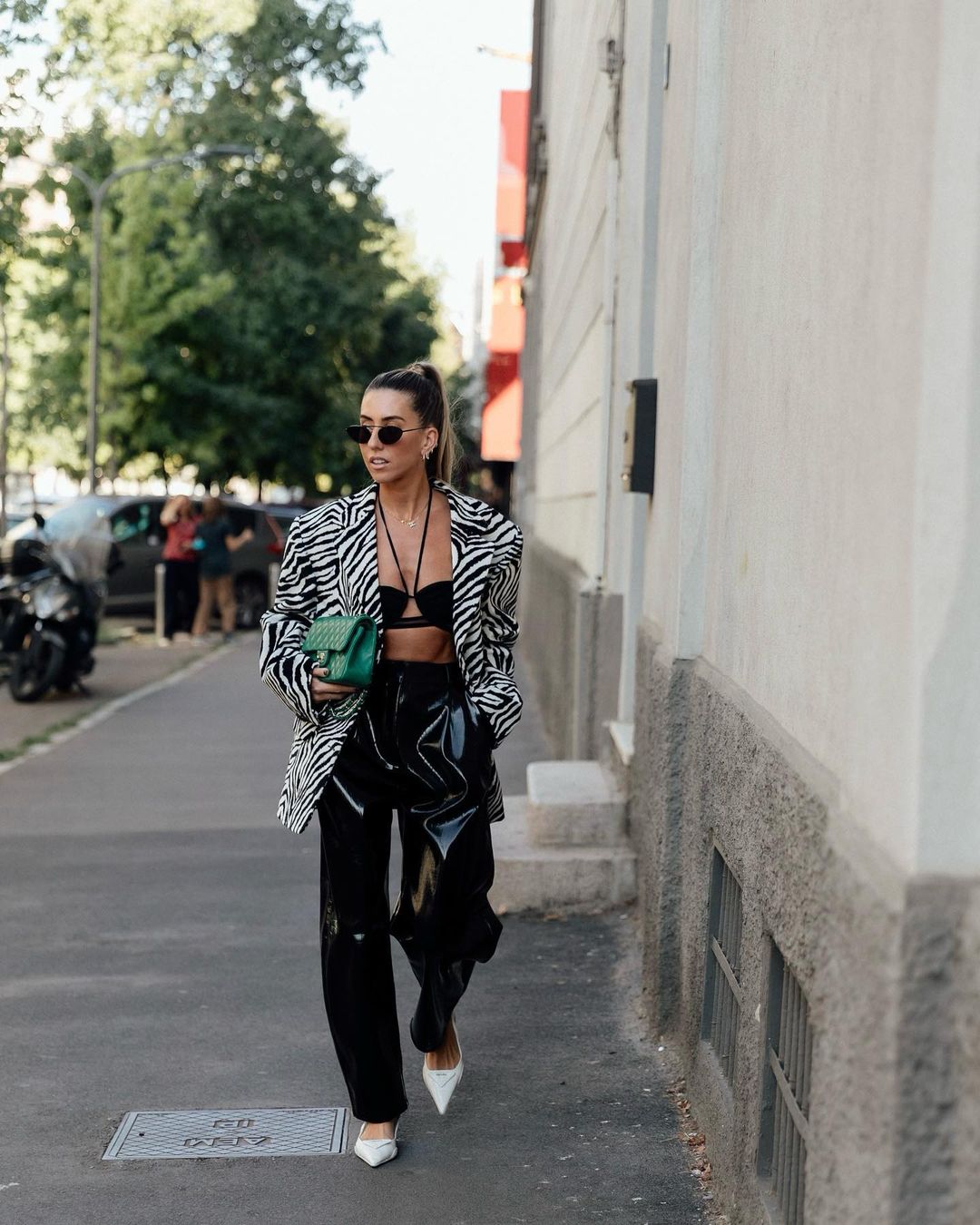 Photo via @hannahlewisstylist
3) Strappy Bra Top
If you are feeling overexposed with the previous look, you can rely on a trusty blazer to have your back. In this look, Hannah is pictured rocking a zebra print jacket over a strappy bra top so she could play into the lingerie trend while still covering up. But to ensure the outfit still reads trendy and edgy, she added some high-shine leather trousers. The overall combination yields a look that screams effortlessly cool.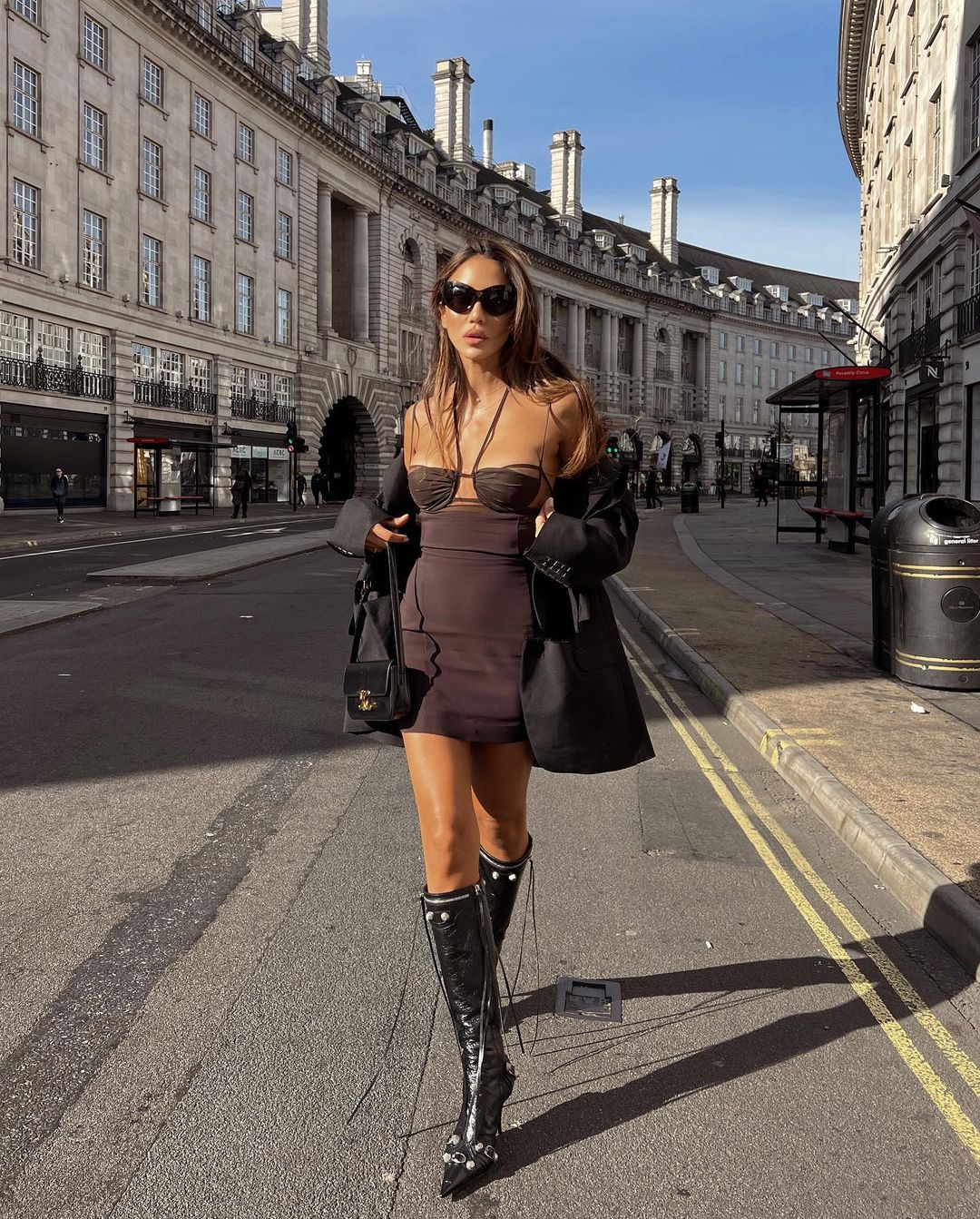 Photo via @tamara
4) Bustier Dress
There is nothing like a dress with a built-in trend. And in this case, we are shouting out the bustier dress. Think of it as a cross between a feminine frock and a corset top. The sculptural bodice helps to accentuate your curves for a killer look that oozes femininity. We love how Tamara took the liberty of combining the lingerie trend with biker-approved accessories for a head-turning effect.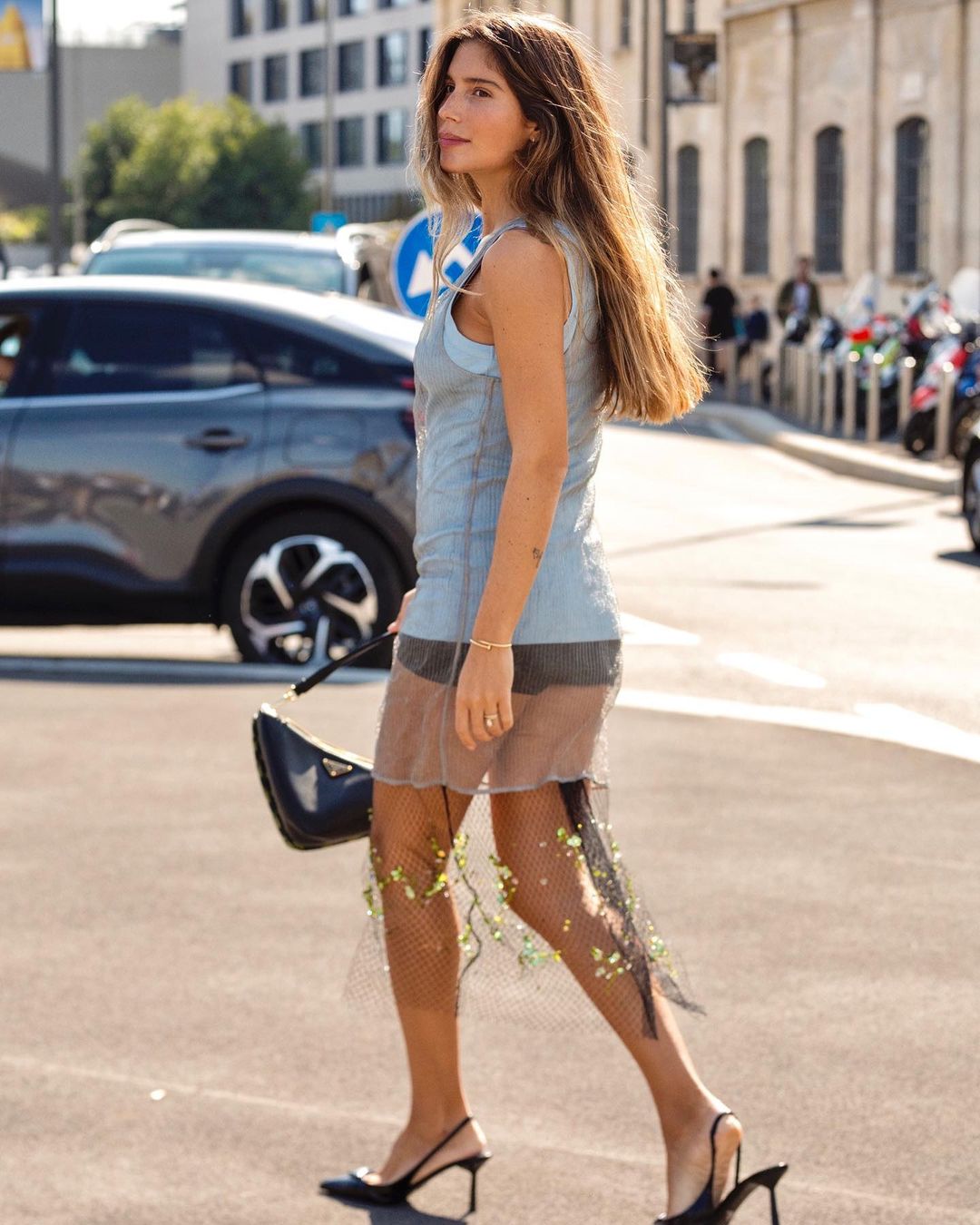 Photo via @belenhostalet
5) Sheer Seduction
Get ready to bare it all with this next take on the lingerie trend. Sheer slips and ready-to-wear separates originally meant to be worn under layers are now being styled on their own. This is an opportune moment to, again, show off more intricate undergarments – or just to flash some wardrobe basics such as a tank top (also incredibly trend-right) and a pair of itty-bitty briefs. After all, the sheer slip is the hero of the fit.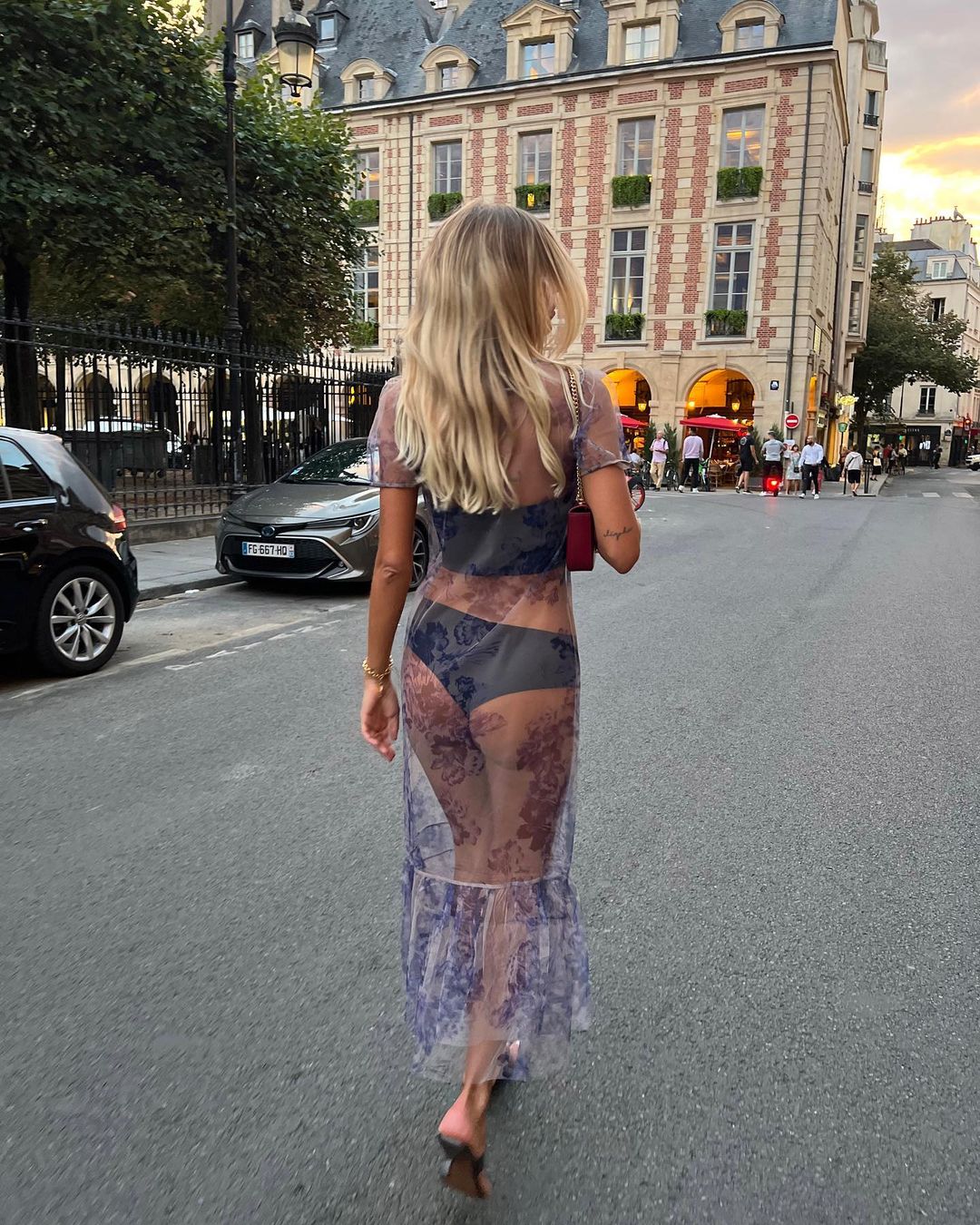 Photo via @audreyafs
6) Feeling Cheeky 
This next look manages to turn up the fire even more with a full-blown sheer dress. It's meant for those who feel most confident in their own skin. You can tone it down by keeping things monochromatic for subtle effect. For instance, a black mesh dress with high-waisted briefs and a minimal bralette. Or go bold with a printed angelic option as seen above. The key lesson here is to ensure what's underneath looks just as good as what's on top.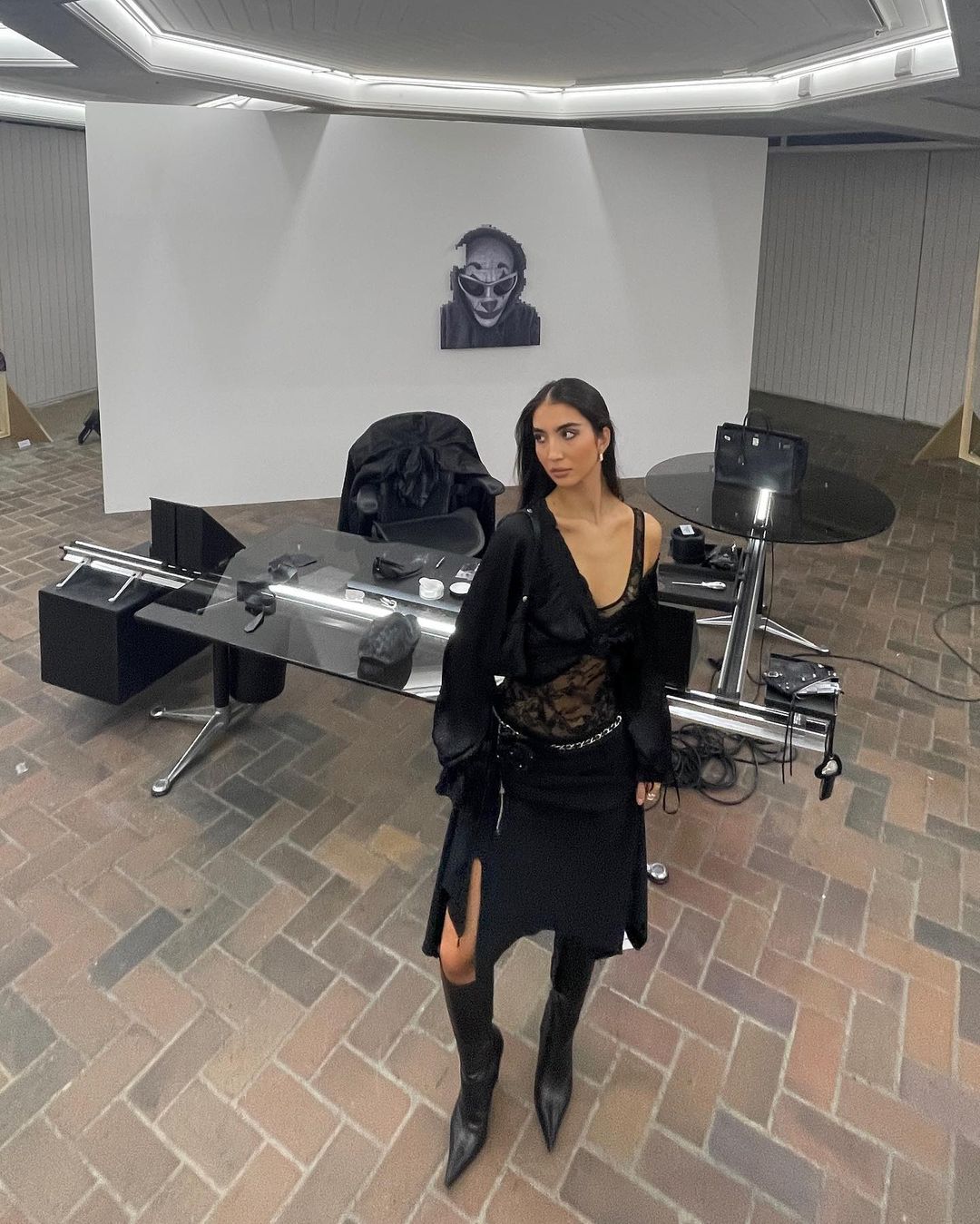 Photo via @alina_kossan
7) Lace Bodysuit
As we alluded to above, one of the most effective ways to tackle the lingerie trend is by opting for an all black ensemble. This dark and moody color is universally flattering and infinitely more seductive than many other shades. Alina shows how it's done by incorporating a lace bodysuit into her fit. She accents the look with a cropped blouse to ensure the lace effectively shows through, as well as a black skirt and drama-inducing boots.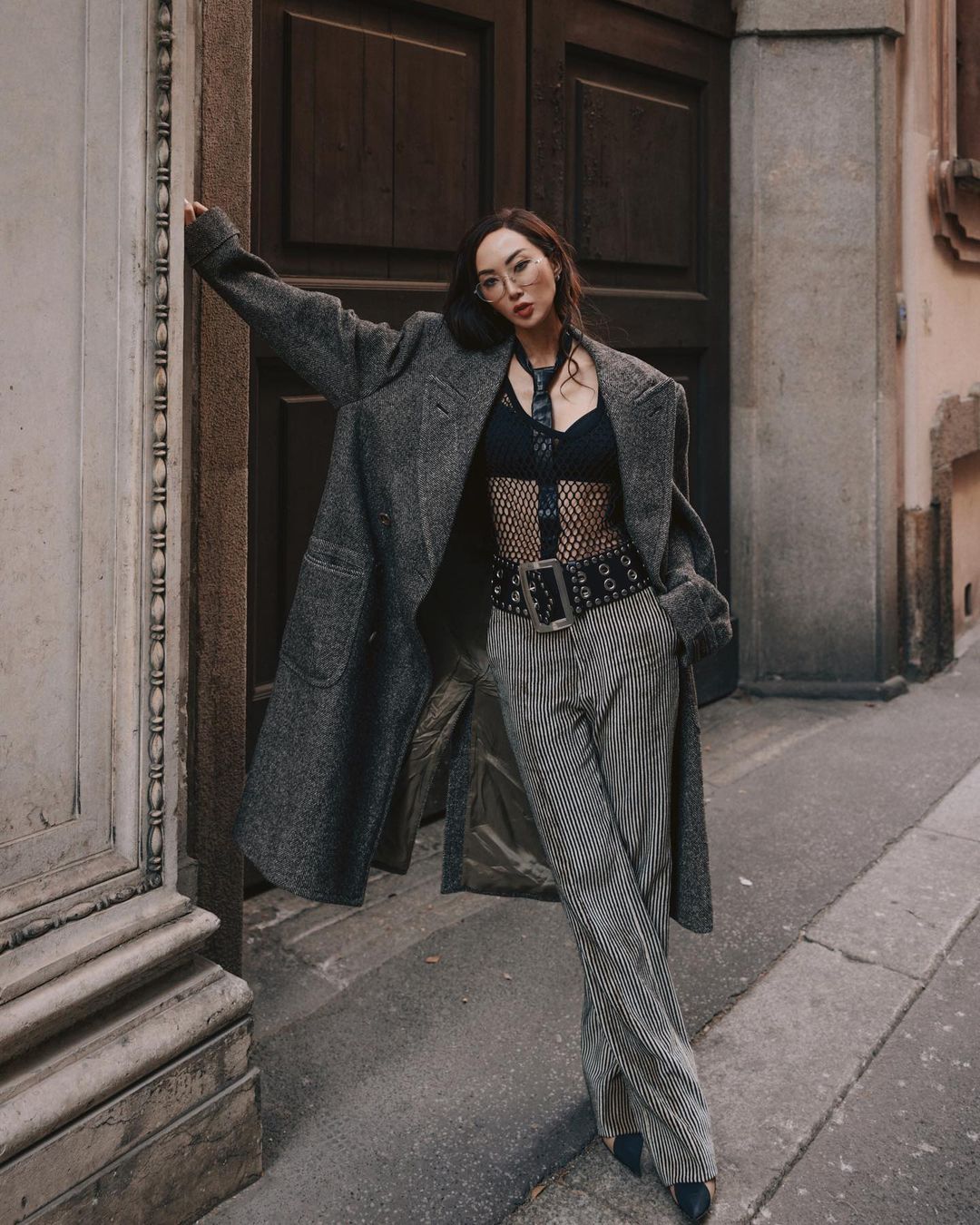 Photo via @chrisellelim
8) Fishnet & Tailored Separates
Fishnet tights always manage to add a sensual touch to your outfit – but this time, we are here to make a case for fishnet tops. Although it can give off a punk rock aesthetic, the trick to keeping it classy is to pair it with tailored pieces as seen on Chriselle. Now, the see-through top is balanced out with the smart trousers and overcoat, creating a polished look that can carry you from day to night.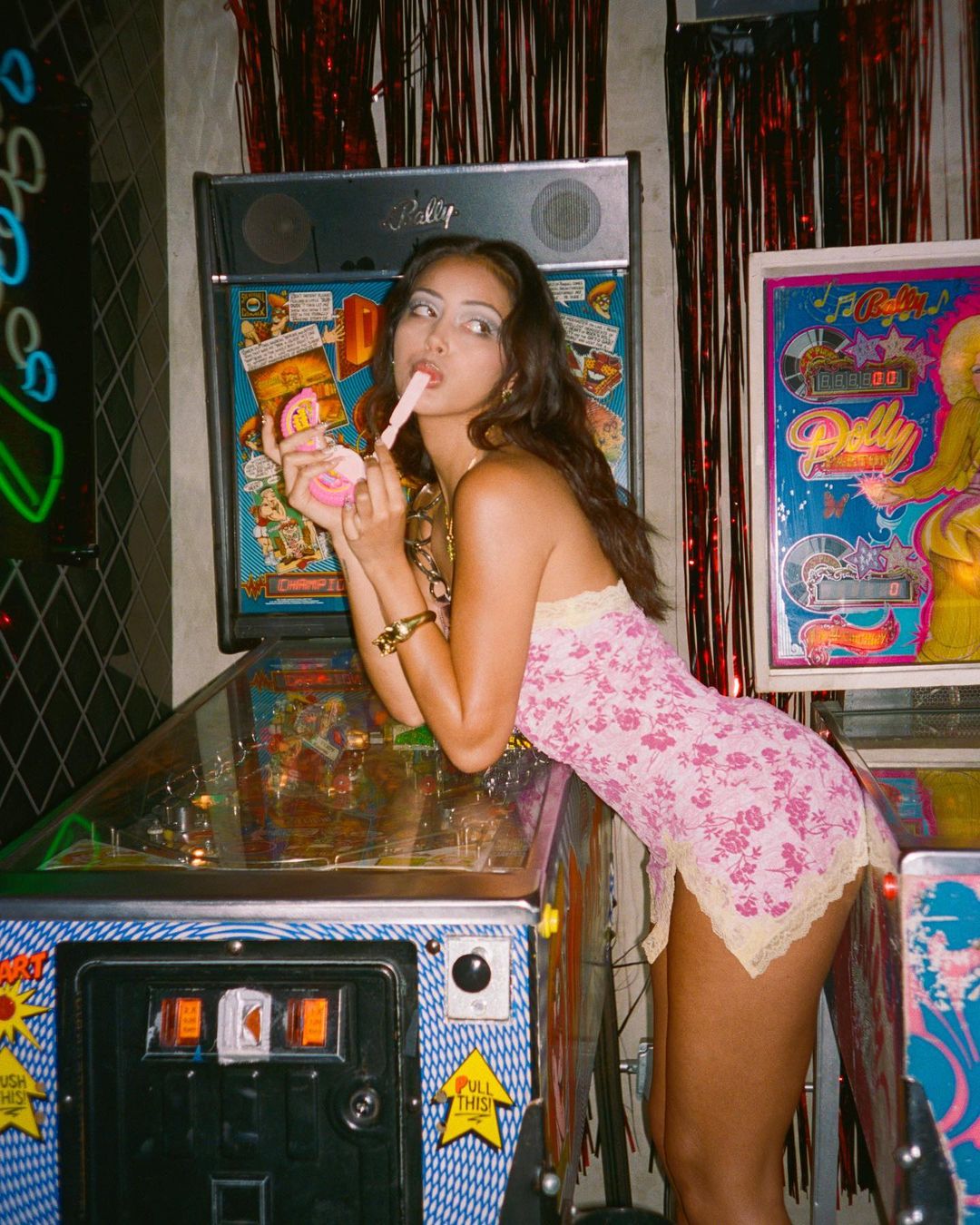 Photo via @wolfiecindy
9) Night Wear
Itty-bitty slip dresses and nighttime gowns are also being reinvented thanks to the lingerie trend. Everything from sheer iterations to lace-trim one-pieces are a major yes from us. Consider it the ideal alternative if you are looking for a sexier take on a cocktail dress. If you are worried about your nightwear being too revealing, simply layer a long sleeve underneath for added coverage.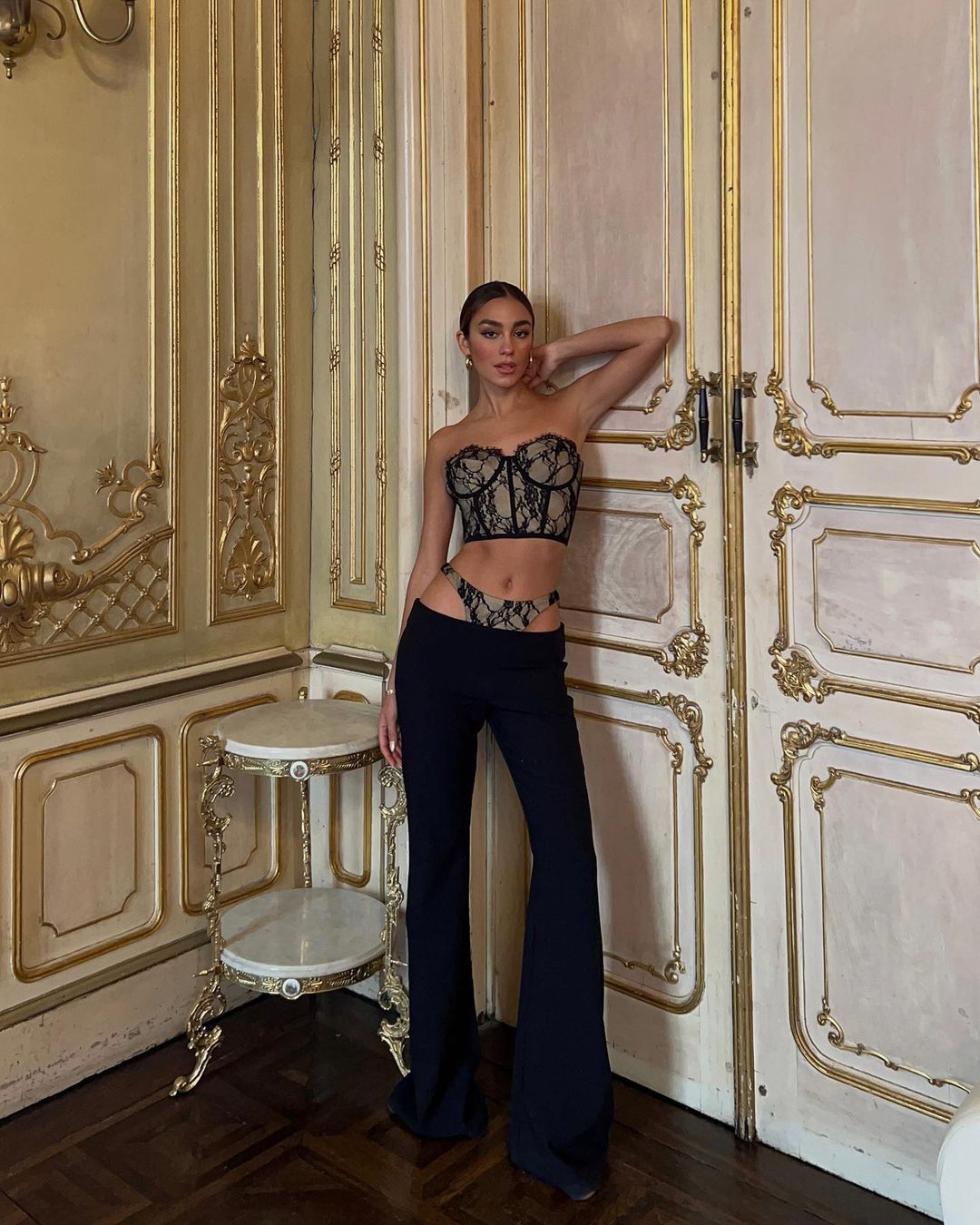 Photo via @luanabarron
10) Low-Rise Pants
Thanks to the resurgence of all things 90's and early 2000's, hot items such as corset tops and low-rise pants have made their comeback – and they are even better when worn together. Recreate your own steamy going out look with low-rise trousers that spotlight the exposed thong and a matching corset.

(Visited 1 times, 1 visits today)