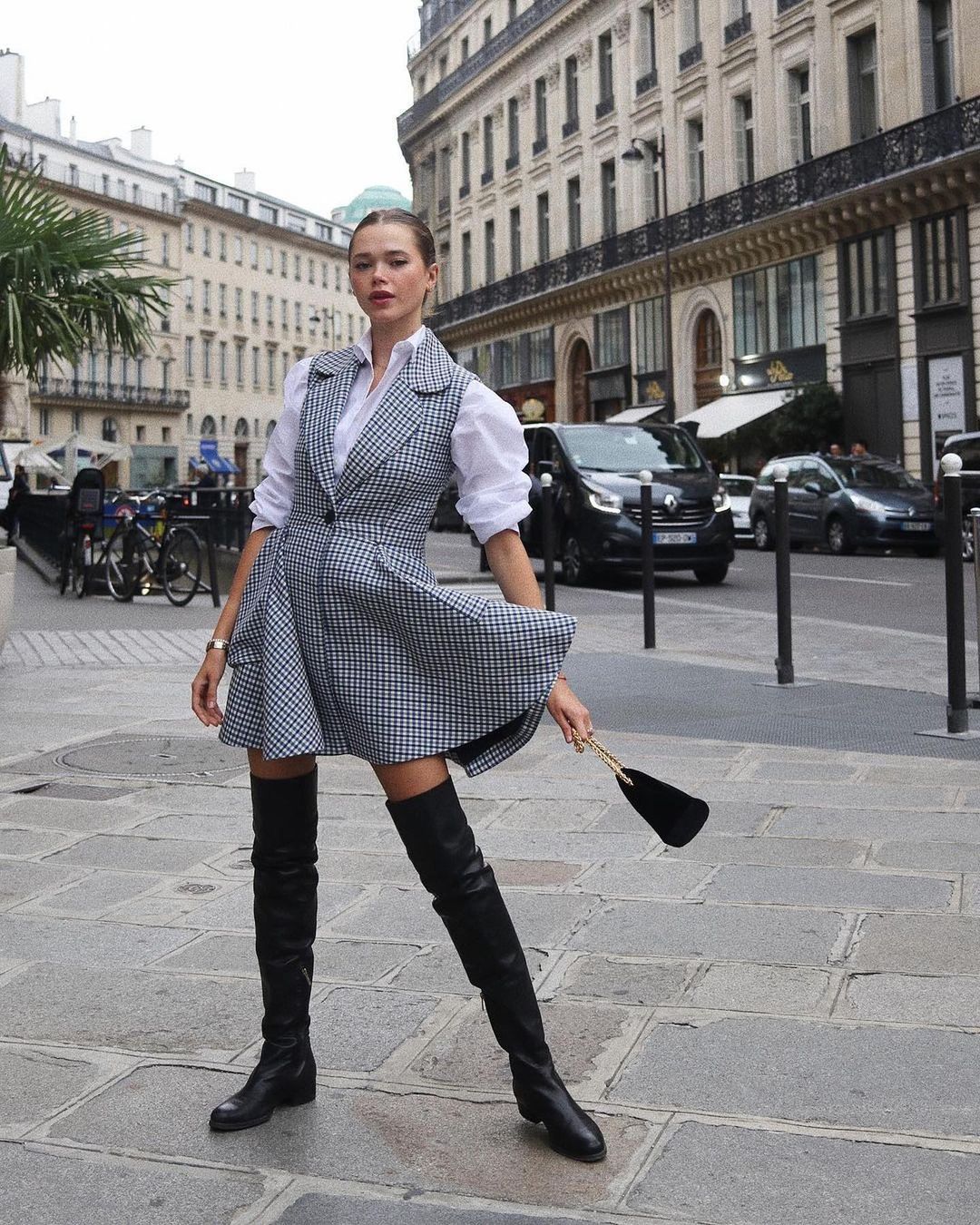 Photo via @valerialipovetsky
If you're anything like us, you're probably busting out all of your favorite boots at the first sign of fall. Our personal favorite goes to over-the-knee boots, which also happen to be one of the best accessories for transitional dressing. Whether you take them in leather, suede, or some other texture, these thigh-skimming shoes are made to invite attention in the best way possible. Despite their commanding nature, thigh high boots can easily be modified for any event or occasion. Want to dress them up? No problem. Want to wear them while checking errands off your list? No sweat. So, let this be your inspiration to dust off your OTK boots and wear them in new and invigorating ways for the season ahead. To help you get inspired on all of the various ways you can style them, we pulled together 10 show-stopping thigh-high boot outfits that anyone can pull off right now.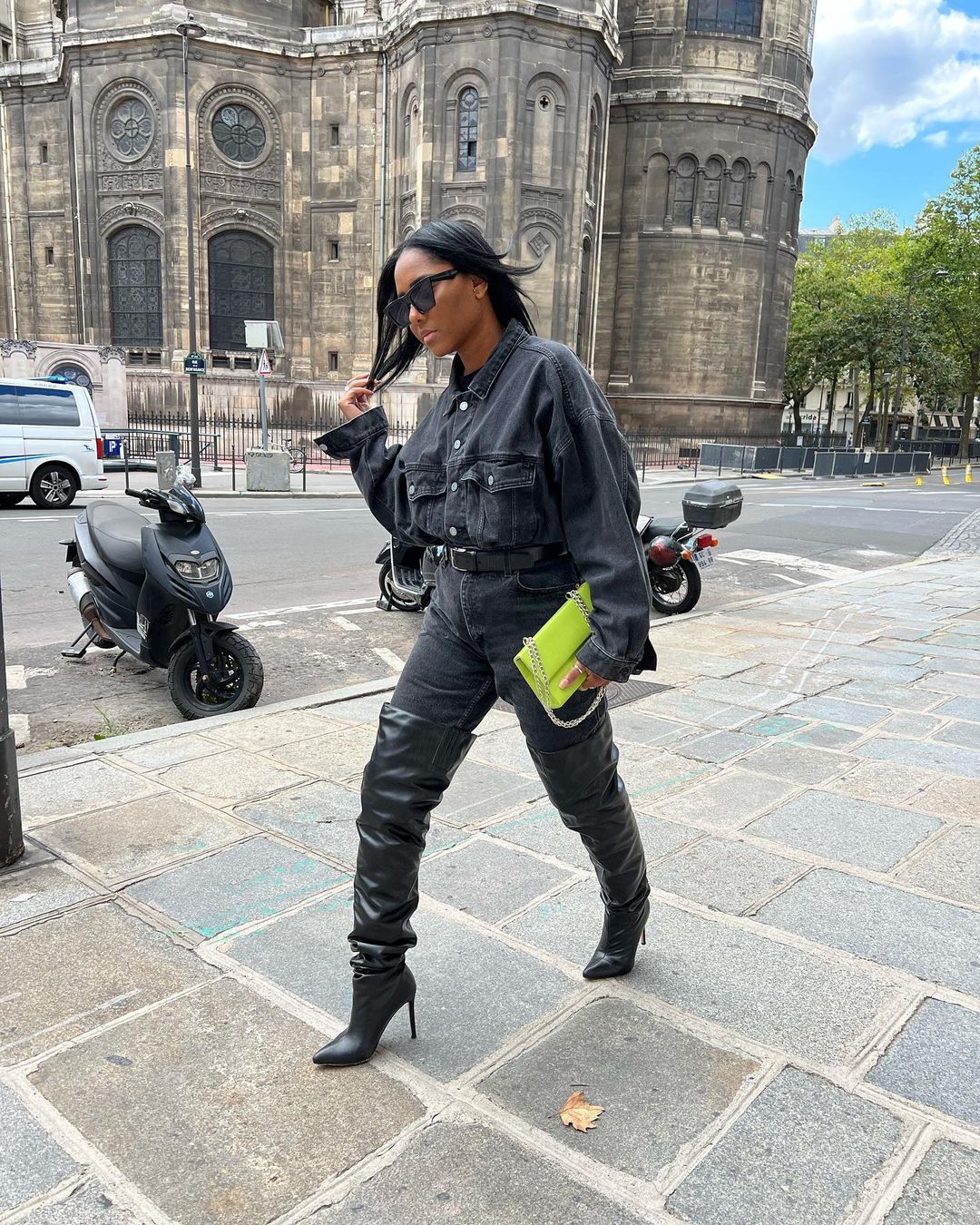 Photo via @lyleehm
1) Good Jeans 
We all know that denim is a staple in every girl's wardrobe, so this chic outfit should be a breeze to replicate for fall. Lylee demonstrates how the coveted over-the-knee boots can spice up your everyday jeans. She styles a coordinating denim jacket with matching bottoms for a pseudo-jumpsuit hack – but the icing on the cake is certainly the statement footwear. The slouchy OTK boots instantly elevate the inherently casual denim for a street style look that slays any day of the week.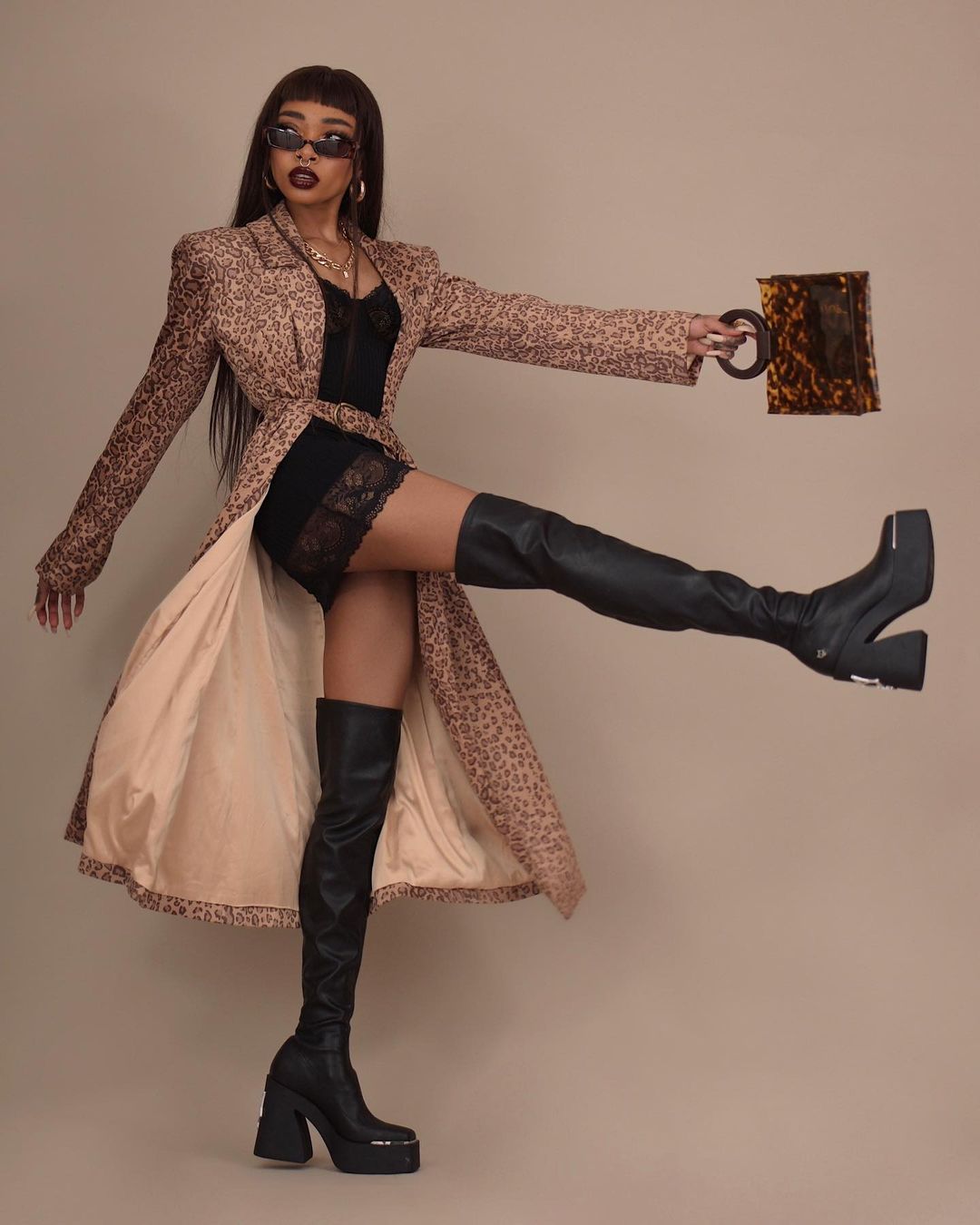 Photo via @nyane
2) Lingerie Dressing
There is something undeniably sultry about a thigh-high boot, so what better way to style them than by tapping into the ever growing lingerie trend? Nyane styles a lace-trimmed slip dress with an animal-printed coat, but the chunky, platform OTK boots take it to the next level. This effortless, easy-to-mimic outfit formula is perfect for embracing the early onset of autumn.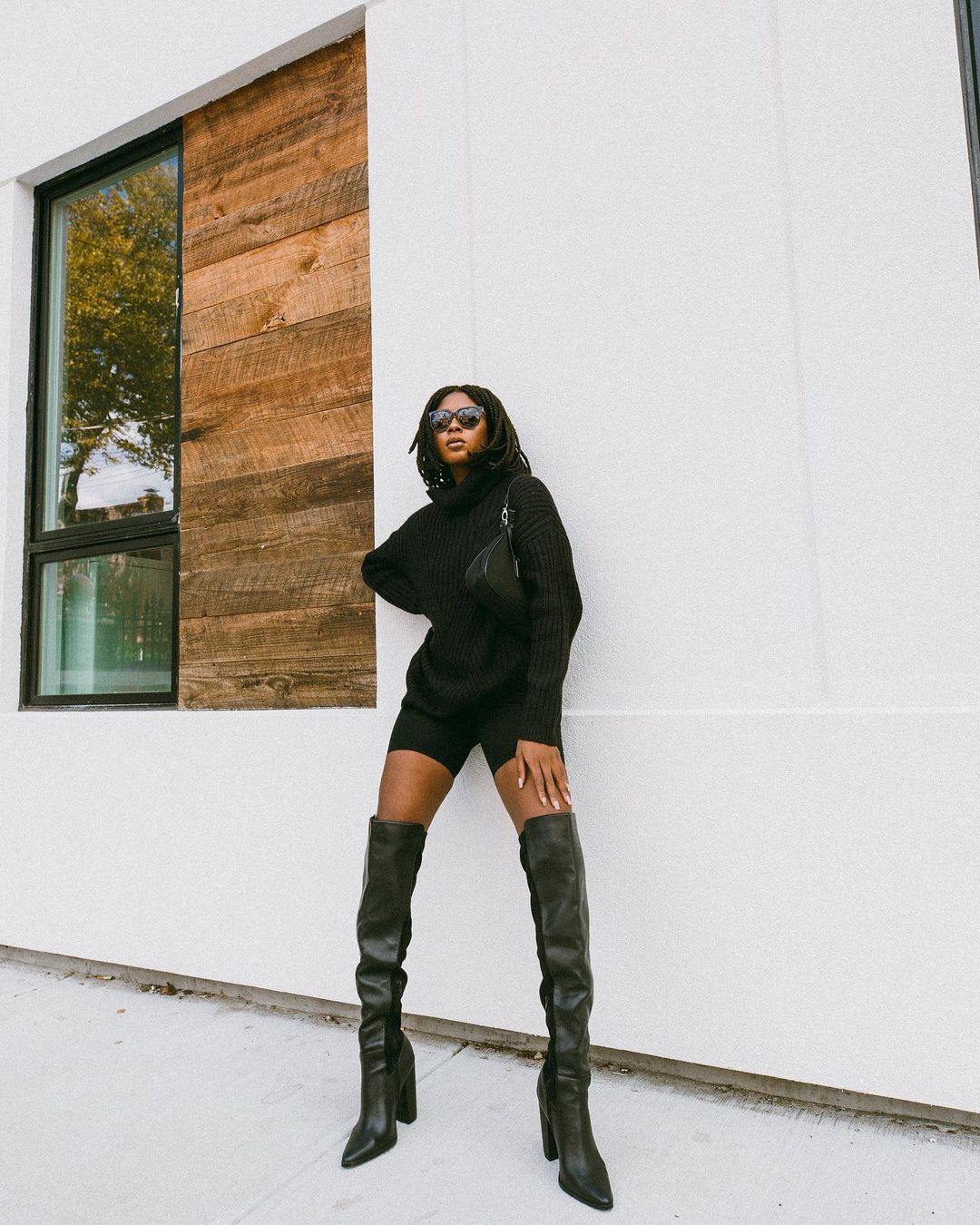 Photo via @myfashionbreak
3) Biker Shorts
Contrary to popular belief, thigh high boots are also incredibly easy to dress down. In fact, we are here to make a case for using them to revamp your biker shorts. This comfy, yet stylish outfit is a refreshing take, ideal for hopping from place-to-place on a busy weekend. If you find yourself in need of an extra layer of warmth, simply throw on a blazer or trench coat for further protection.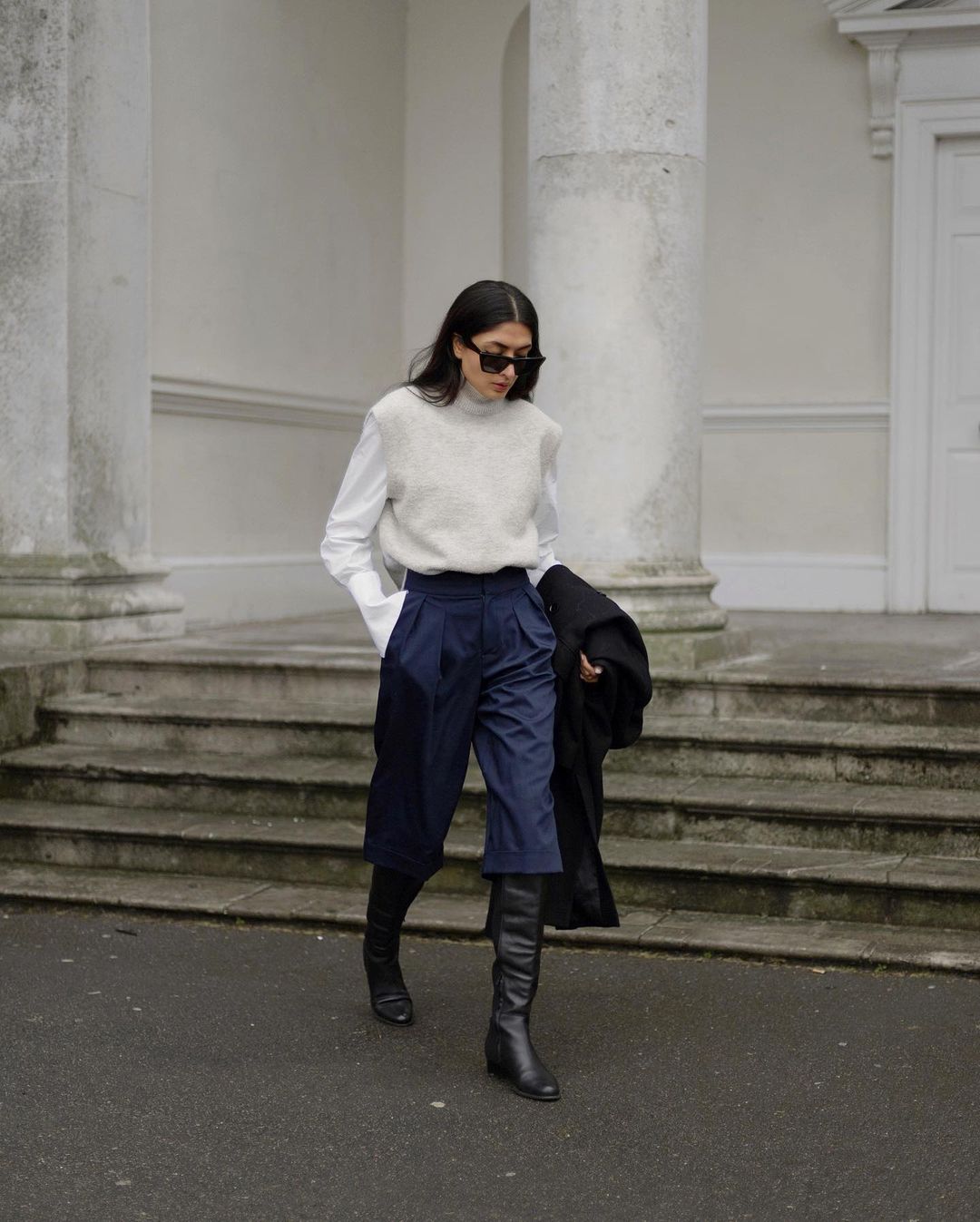 Photo via @y.a.t.r.i
4) Cool in Culottes
If you are not one to rock a dress or a skirt during fall or winter, we have an alternative option that is just as effective. Enter culottes – or a variation of the cropped wide leg pants. These bottoms happen to be the ideal companion for your over-the-knee boots because the shorter, swingy hemline allows the boots to be unabashedly shown off. Not to mention, you are still able to achieve full leg coverage for added warmth.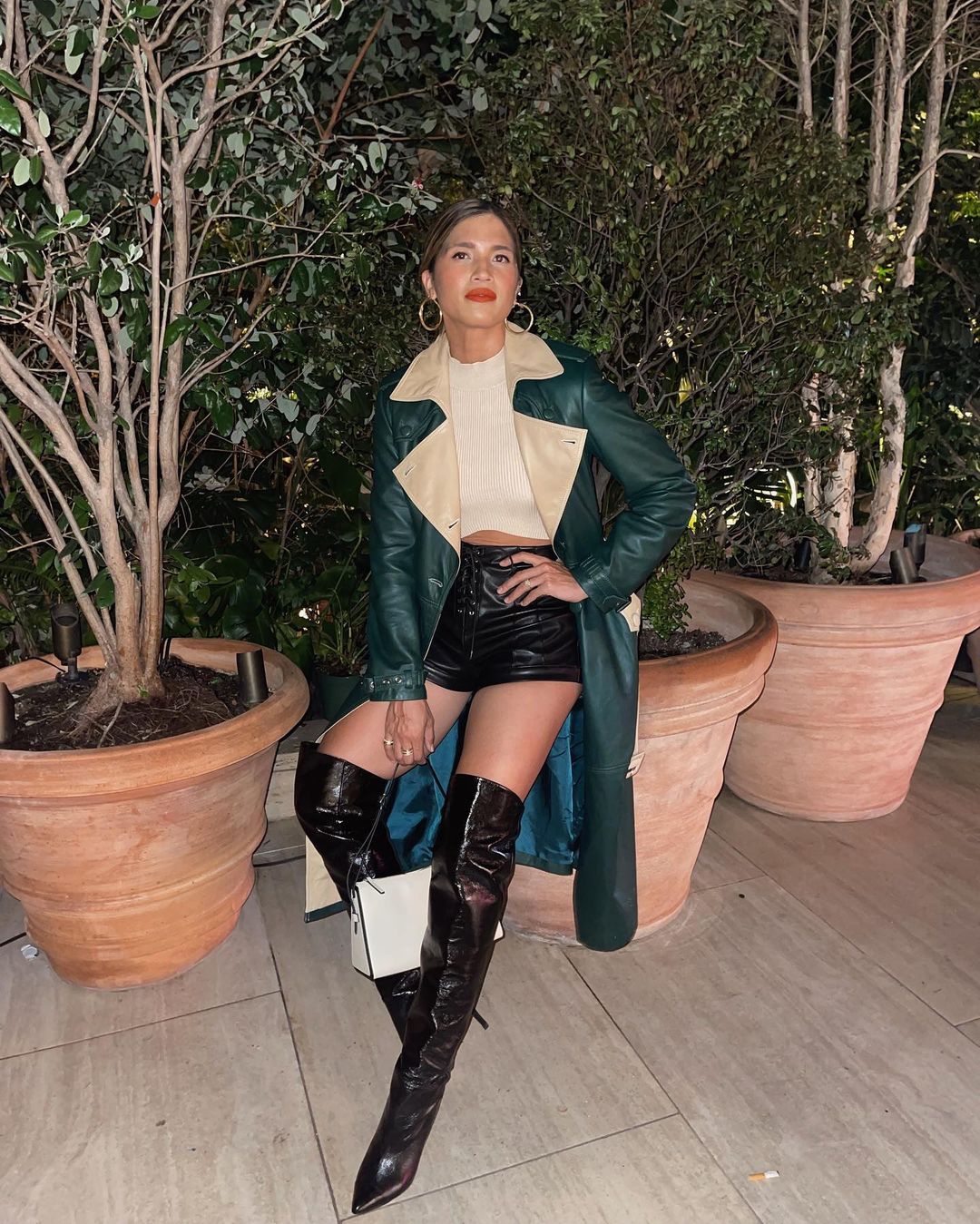 Photo via @rocky_barnes
5) Leather Weather
Looking for an unbeatable way to rock your leather over-the-knee boots? Why not double (or even triple) up on the leather – after all 'tis the season. Rocky proves she isn't one to shy away from a head-to-toe leather look. She expertly styles a trench coat and shorts along with OTK boots for a whopping total of 3 leather pieces within one killer night out fit. Now that's a fashionable way to not only have the shoes front and center but to embrace autumnal dressing head on.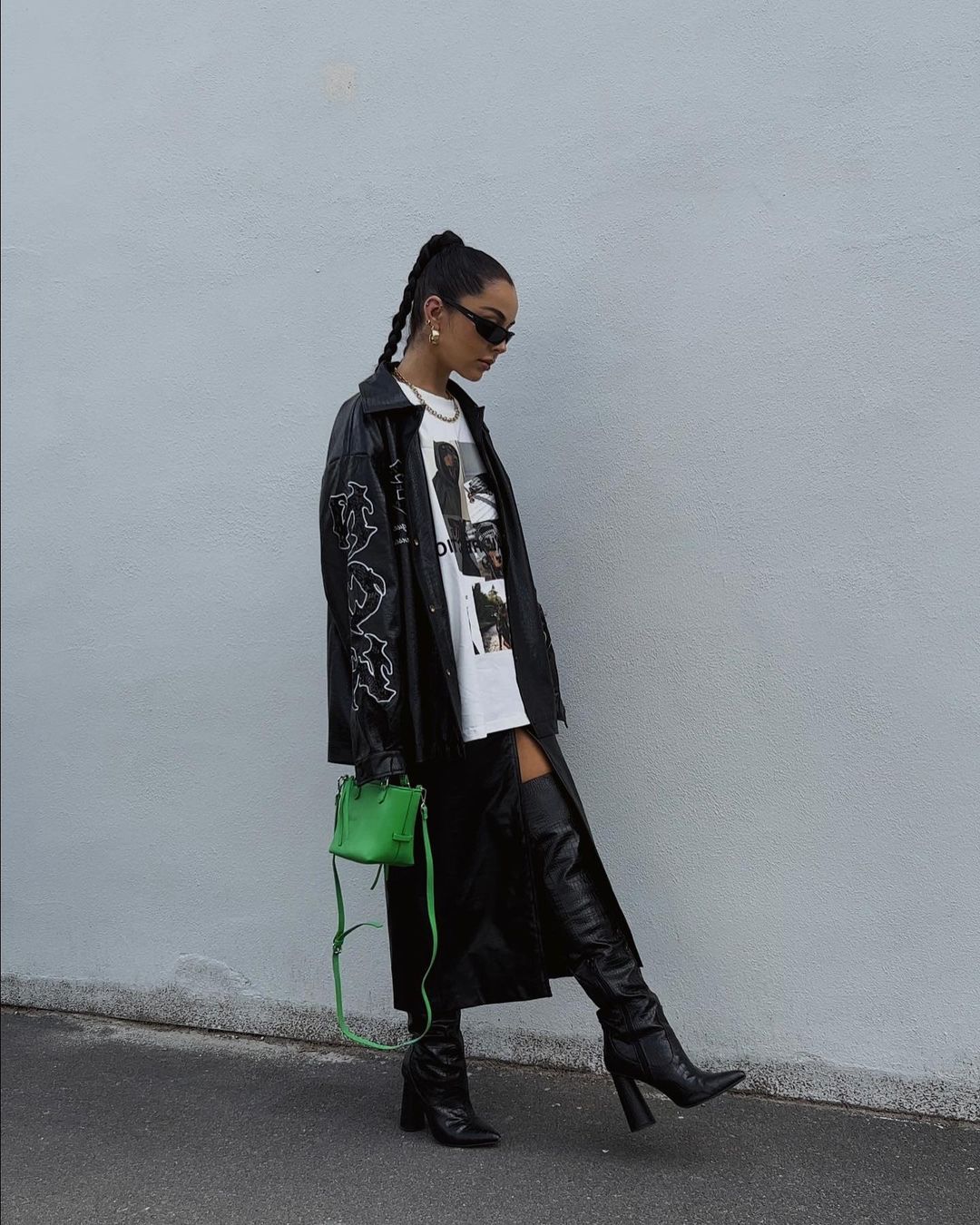 Photo via @hannahkennie
6) Rock a Slit
Your sky-high boots are meant to be shown off as much as possible. In order to do so, we suggest shopping skirts or dresses with a high slit detail. This influencer employs the style trick to ensure her boots remain just as part of the outfit as much as the other elements. We're loving the rocker chic vibe of the oversized graphic tee and leather coat in tandem with the skirt and boots.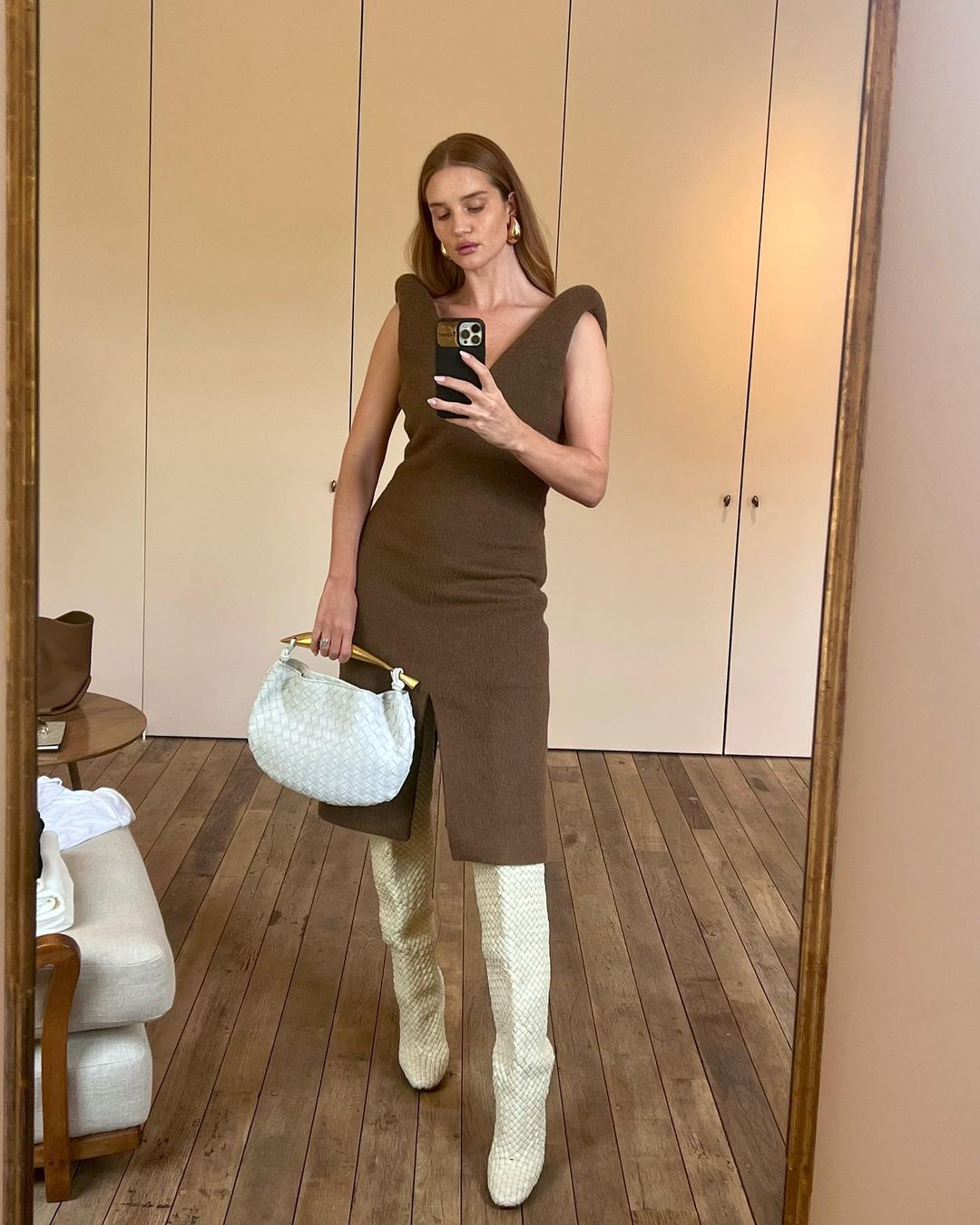 Photo via @rosiehw
7) Textured
Fall and winter is all about embracing texture, so we're fans of integrating different surfaces wherever possible. Woven fabrics, slouchy silhouettes, and faux-snake skin patterns are all varieties that enhance a look. However, we have nothing but heart eyes for the novelty look of braided thigh high boots. Rosie is pictured taking her own textured boots out for a spin with a knit midi dress and a similar woven handbag – an outfit that can take you from the office to date night and beyond.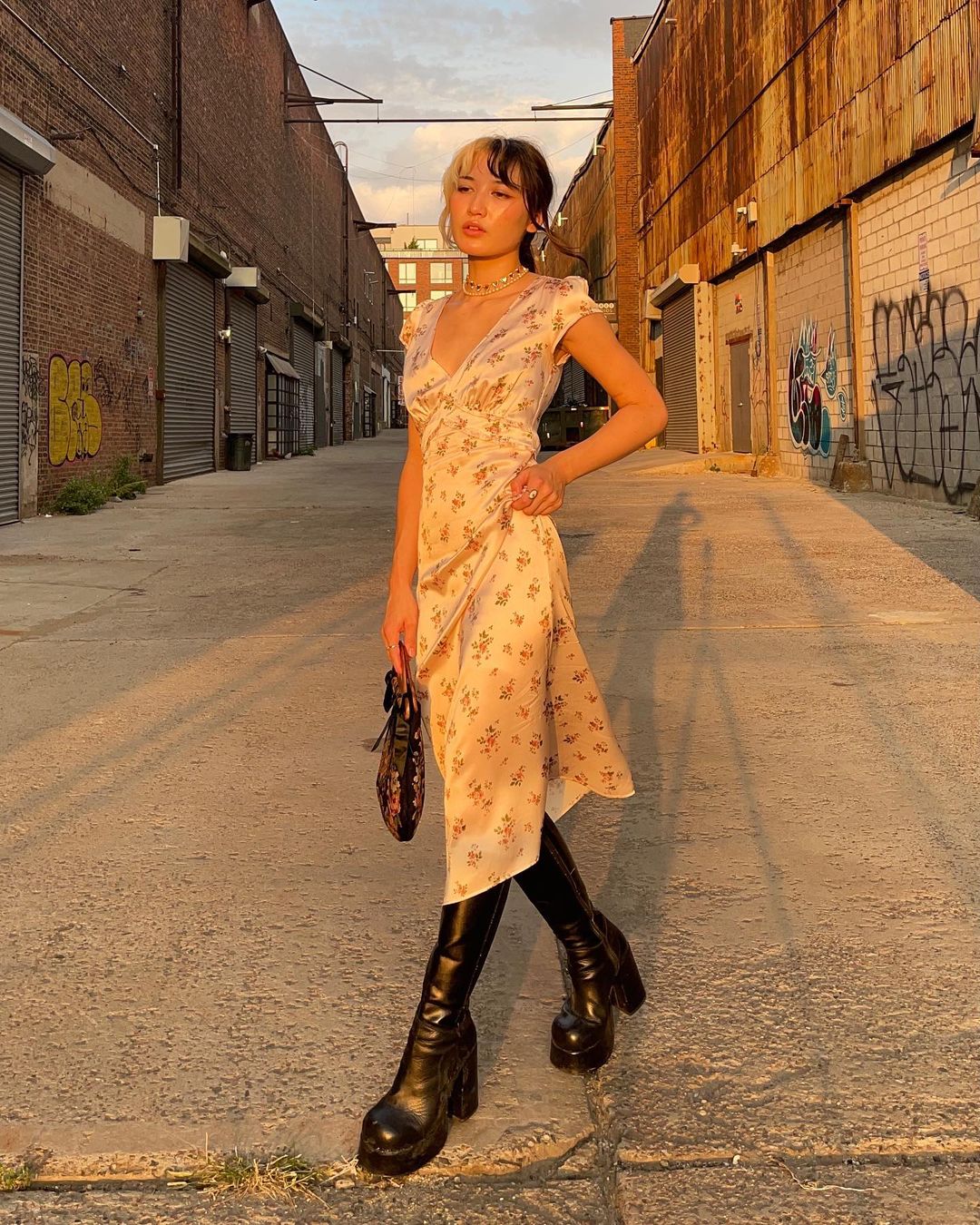 Photo via @best.dressed
8) Florals
Fashion is all about breaking the rules – and that's exactly how we'd describe Ashley's take on over-the-knee boots. She wears a demure, floral printed maxi dress that is seemingly a cross between cottagecore and regencycore. But as we know, opposites attract and this is exactly why she completes the feminine frock with chunky platform OTK boots. The high contrast effect between the two entities makes this fit an instant knockout.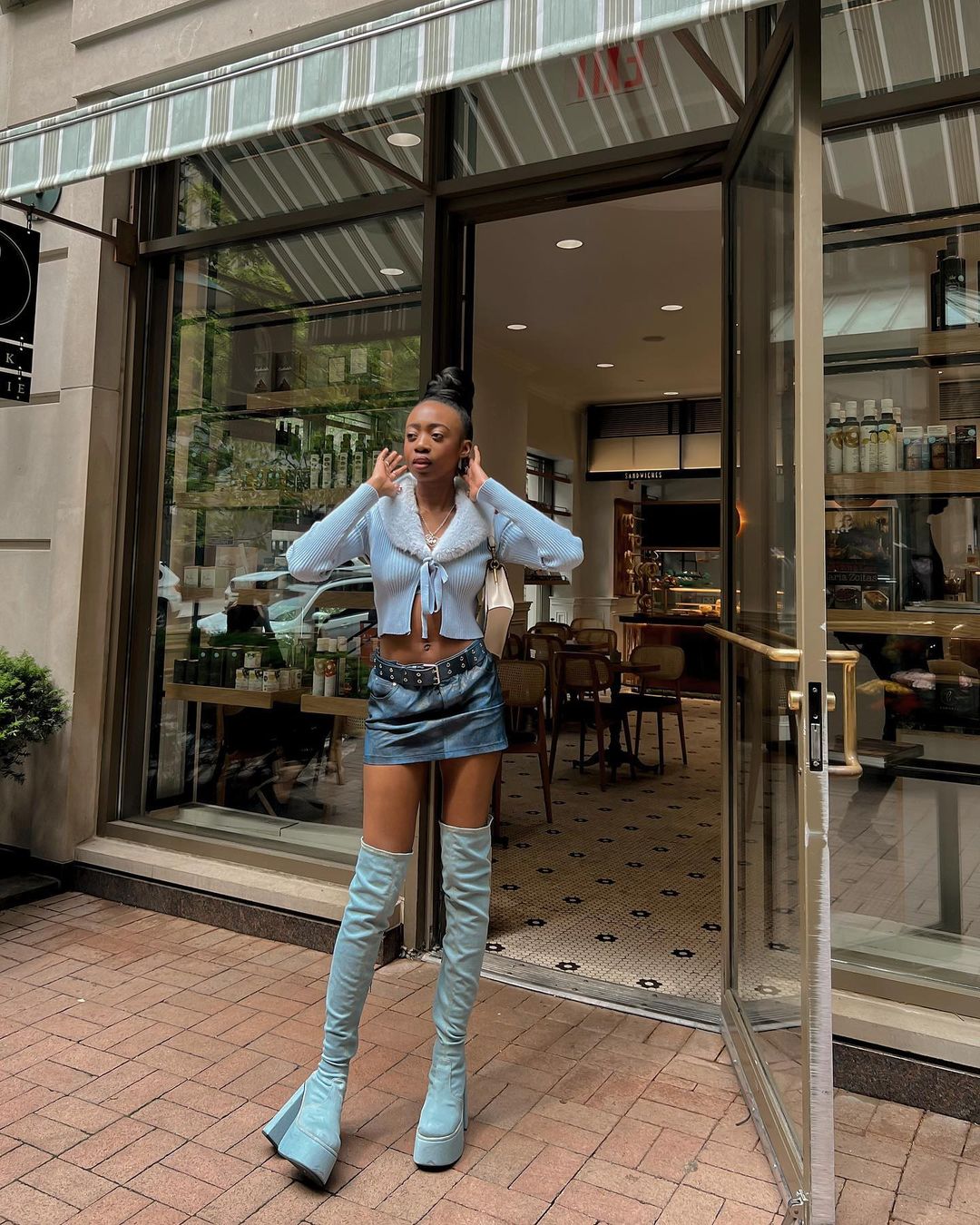 Photo via @sarahpriscillla
9) Micro Mini
Fans of flirtatious dressing are still clinging to micro miniskirts despite the shift in seasons. Luckily for them, these ultra tiny bottoms are seasonally appropriate when styled with none other than over-the-knee boots. For a nostalgic, 90's inspired take on the look, copy Sarah's lead by opting for a color-coordinated outfit that matches from head to toe.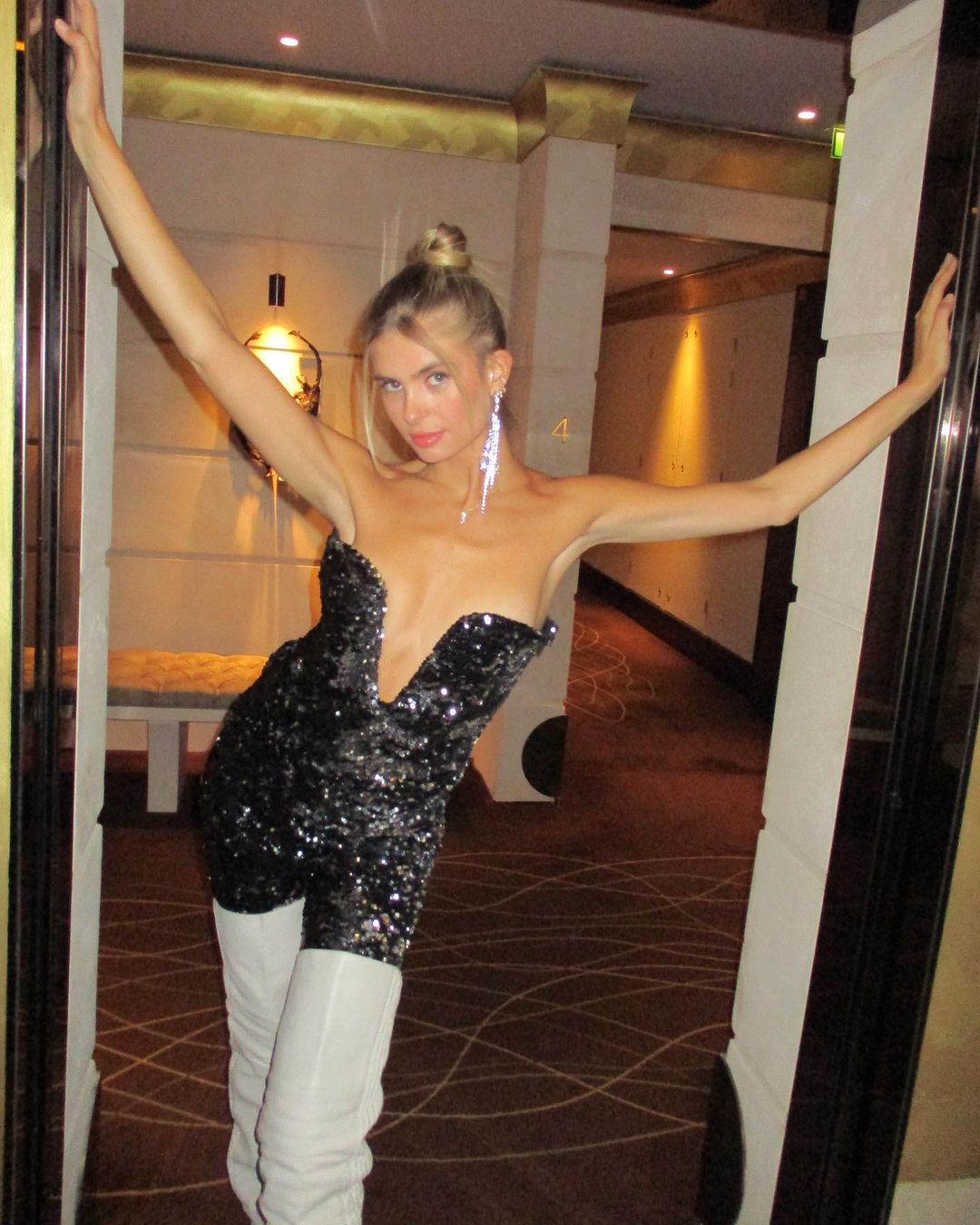 Photo via @xeniaadonts
10) Embrace Shine
As mentioned above, thigh high boots are designed to make a statement, so we don't blame you if you want to up the ante even further. In the spirit of the holiday season, we love the idea of wearing some neutral boots over a sequin jumpsuit or pants. Now this is the ultimate injection of glam. And the best part is that the look requires just two pieces and you'll be party ready in a pinch.

(Visited 1 times, 1 visits today)