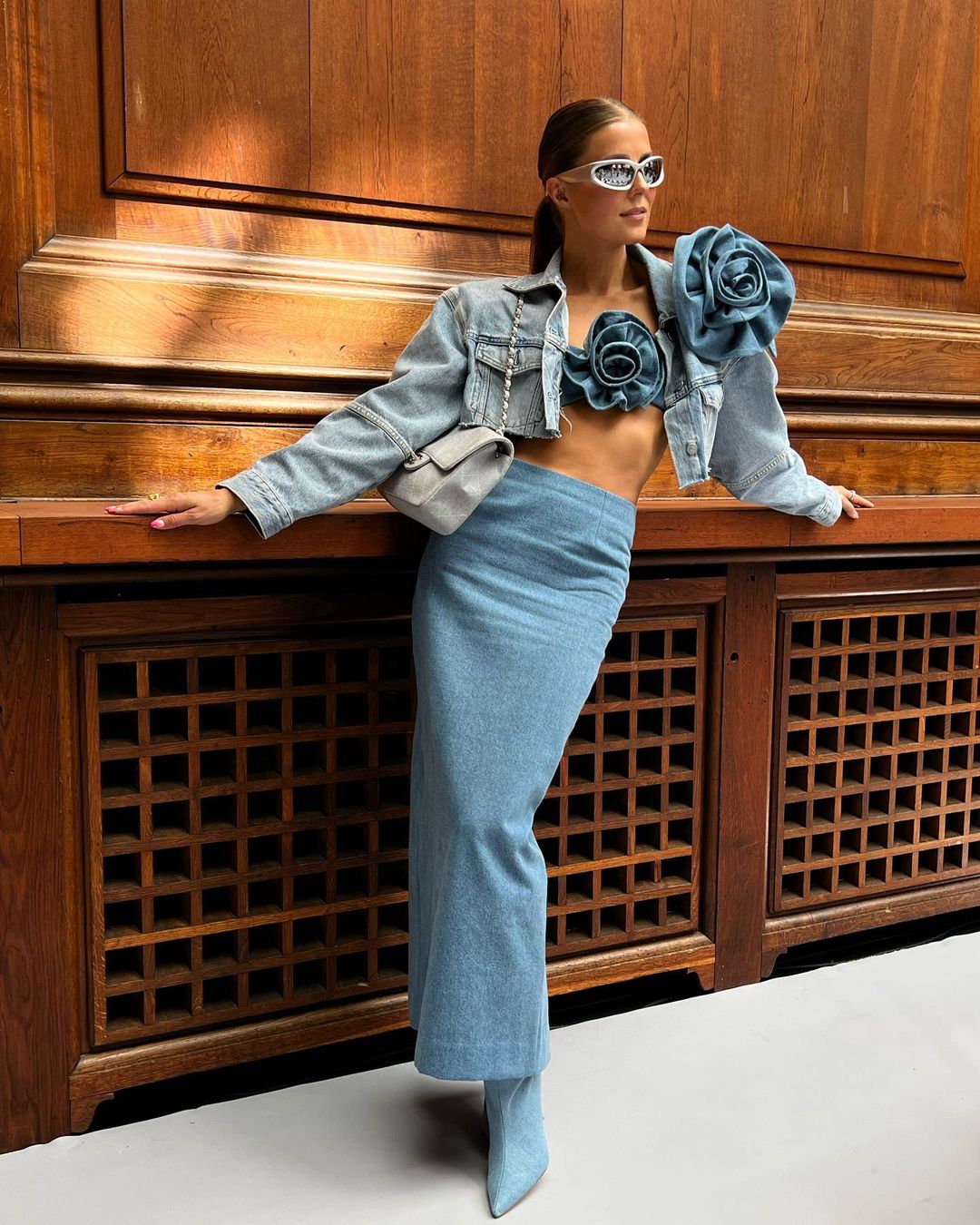 Photo via @ninasandbech
Miniskirts may have reigned supreme all summer long, but it turns out that its ankle-grazing counterpart is the new It girl foundation for a plethora of on-trend fall outfits. Contrary to the mini, the maxi skirt is more advantageous in cooler temperatures because of the additional coverage. It also happens to work for a variety of scenarios too from office attire to weekend affairs to more formal events. No matter what's on your social docket, you can bet there is an appropriate maxi skirt look that is begging to be worn. If you find yourself doubting the sheer power of the maxi, then you've come to the right place. Ahead, we've compiled 10 outfits that incorporate the coveted flowy bottom – all of which are perfect for moments when you've outworn your favorite jeans, dresses, cargo pants and trousers.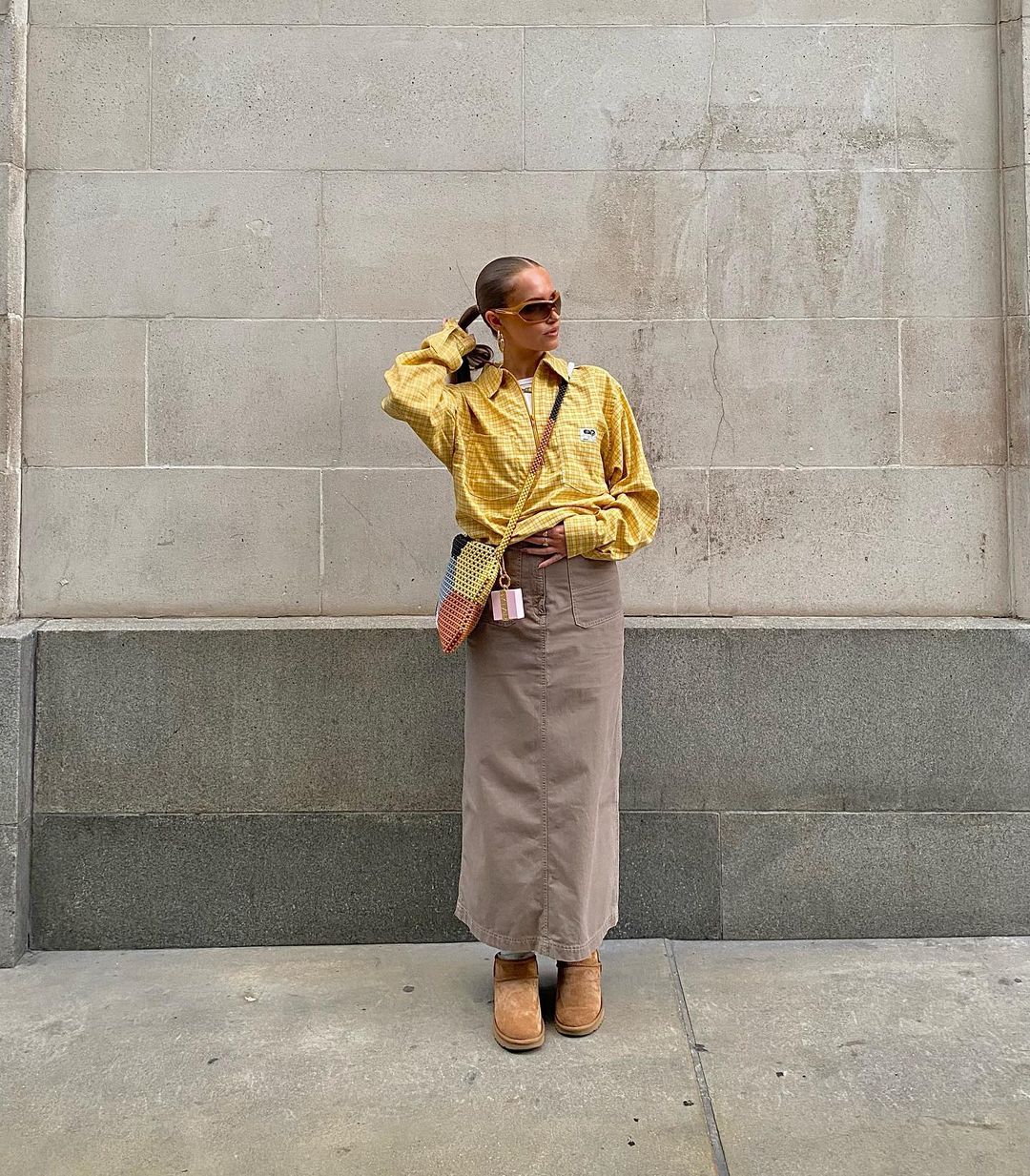 Photo via @natwinter_
1) Comfy Classics
There's no need to overthink the maxi skirt trend. Natalie proves that you can indeed incorporate this piece into your everyday outfits while taking comfort to the max. Simply do the same by layering an oversized windbreaker over a utility maxi skirt and a pair of cozy UGG boots – a combination that's bound to keep you warm for days when there's a slight chill in the air. The nonchalant result sits infinitely higher on the cool factor scale.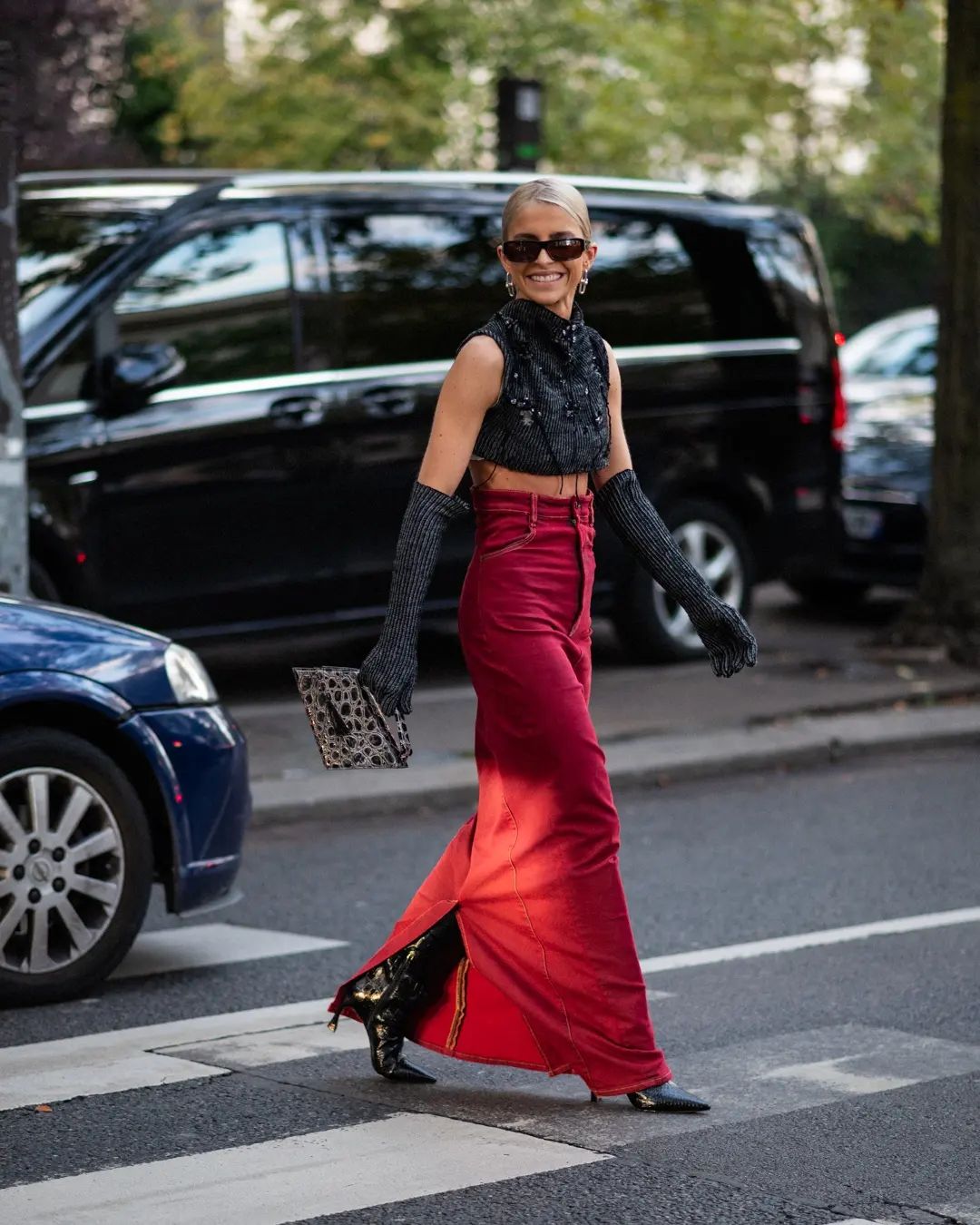 Photo via @despi_naka
2) Hint of Glam
There's much to obsess over in this outfit with the bold pops of glam. The red maxi skirt injects an elegant feel while the cropped sweater and elbow-length gloves bring in a dramatic, unexpected twist. Save this look for the next time you want to make a grand entrance. Although this influencer opted for a bright red skirt, any jewel-toned color will be sure to do the trick in terms of turning heads.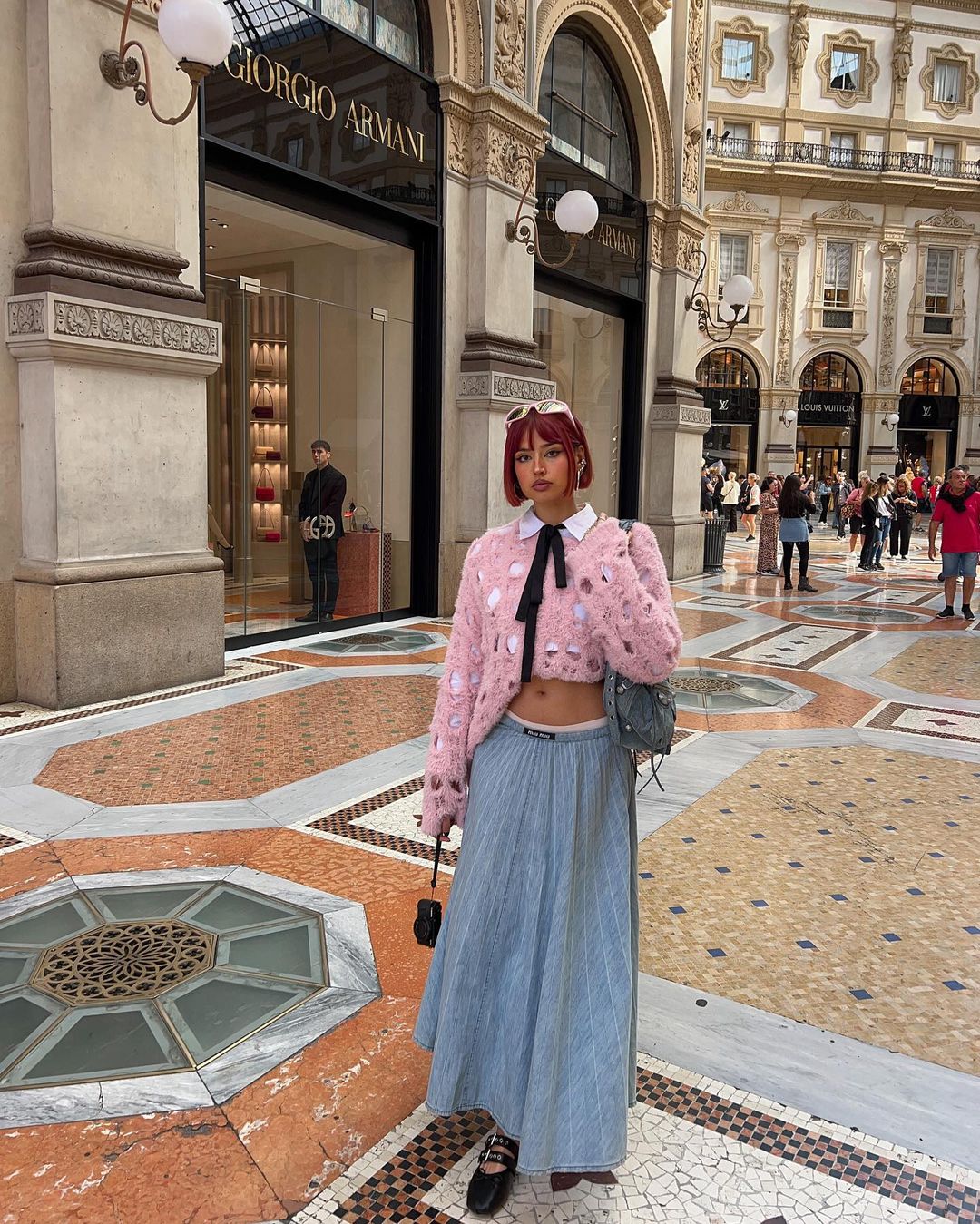 Photo via @irisloveunicorns
3) Crop It Out
Sometimes the best way to tackle a new trend is to merely find balance with complementing pieces. And what better way to counteract a floor sweeping hemline than a crop top. If you're one to dabble in flashy pairings, then consider echoing Ines' main character energy with a pleated denim maxi skirt and cutout cropped sweater. The addition of a biker bag and edgy ballet flats help create perfectly balanced ensemble.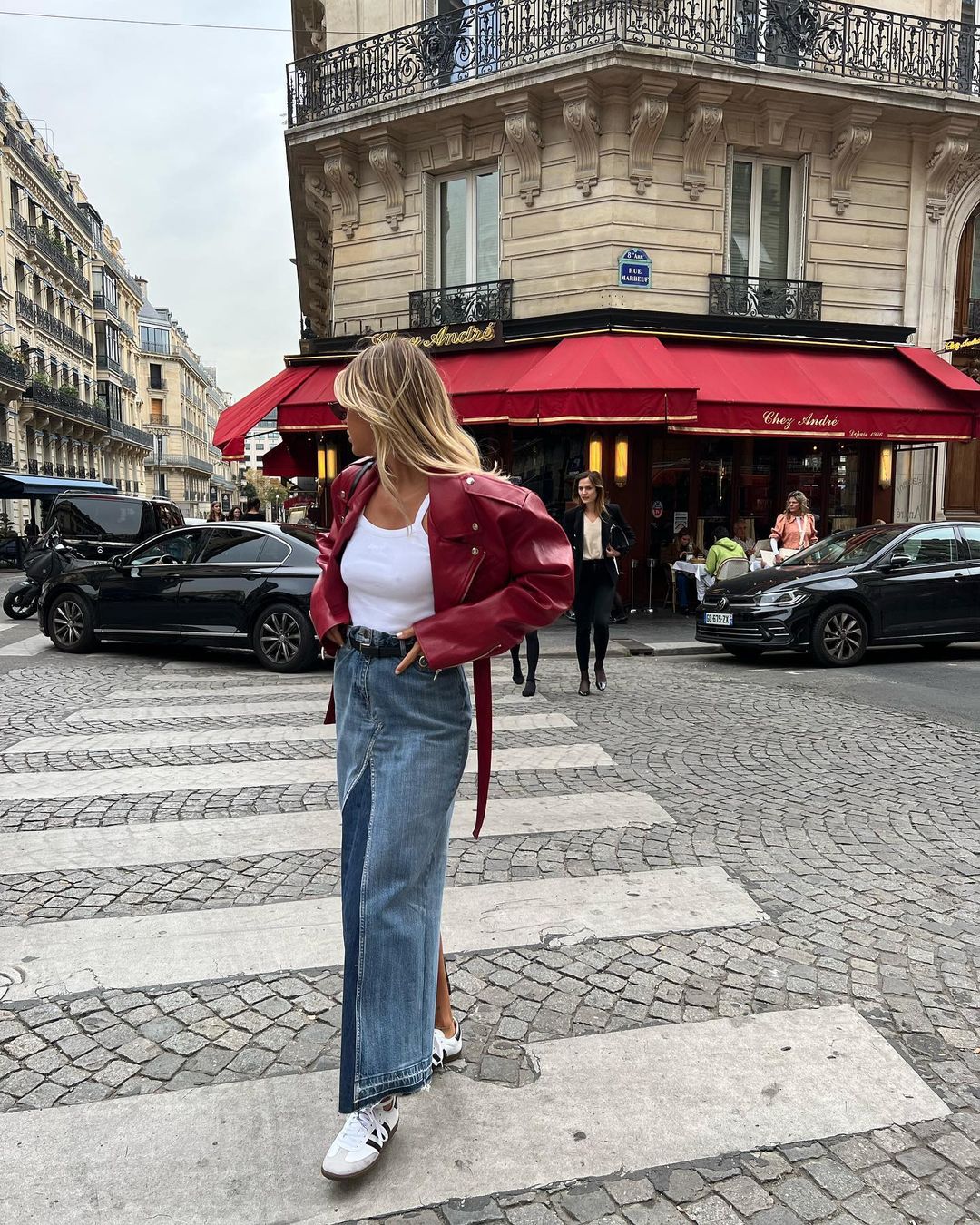 Photo via @audreyafs
4) Edgy Impact 
For the ultimate cutting-edge maxi skirt look, pair the hot ticket item with an equally alluring trend. After all, there's no harm in killing two birds with one stone. If you're an avid reader of TCH, you know we've been obsessed with all things bikercore, including the age-old moto jacket. This coveted outerwear makes a natural pairing with a denim maxi skirt. The two pieces join forces and produce a look that is uniquely polished, yet trend-right all at the same time. Keep it relaxed by finishing the look with some sneakers or adjust for a night out by replacing them with heeled boots.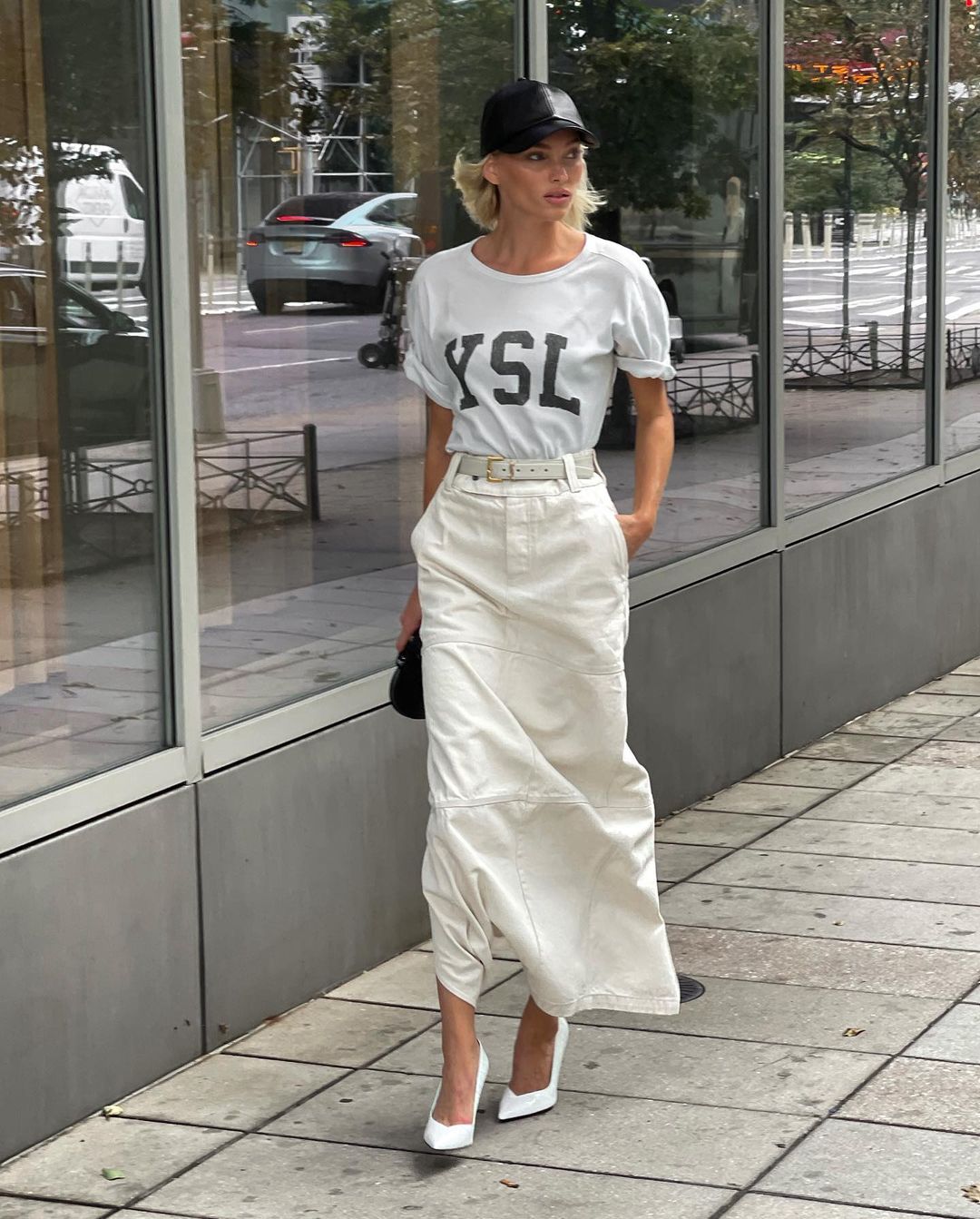 Photo via @hoskelsa
5) Get Graphic
We can always leave it to Elsa Hosk to serve up major style inspiration with the simplest of pieces. As you can tell, this is one easy fit to replicate. Simply grab your go-to graphic tee and tuck it into your favorite maxi skirt for an of-the-moment vibe (extra points if you've got a cargo maxi). But don't stop there. Continue elevating the casual look with pared back accessories, like a matching belt, leather baseball cap and a pair of pumps. We'll bet your graphic tee has never looked better.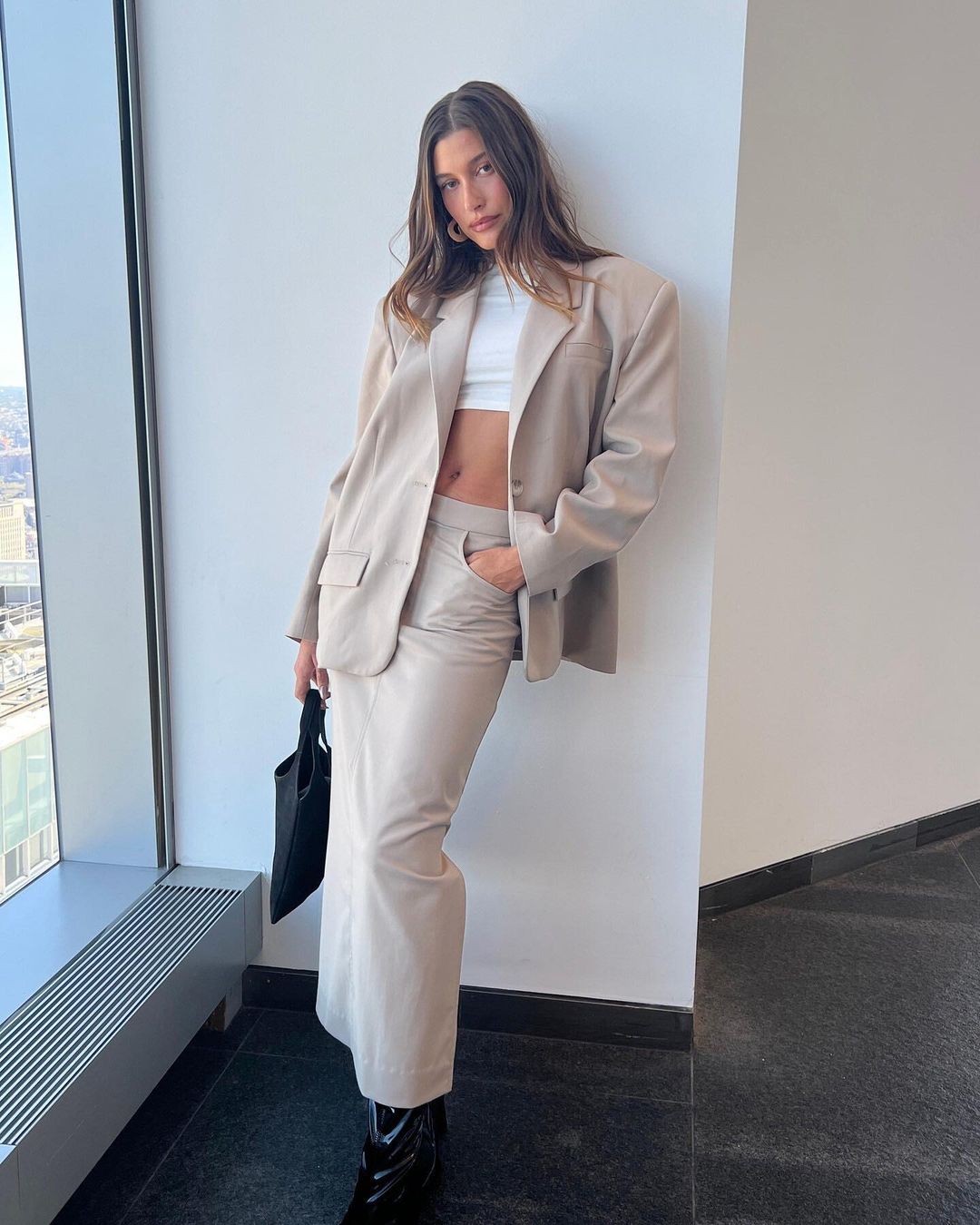 Photo via @haileybieber
6) Suits You
If there's one thing we know for sure, it's that Hailey Bieber is known for setting trends. Follow her lead and suit up this season with a new rendition of the classic tailored set. Rather than a pair of trousers or pencil skirt though, rewrite the rules and substitute your polished bottoms with a maxi skirt. Hailey's look can certainly be modified for a proper business meeting, but we prefer the idea of a cropped tee underneath for an It-girl edge.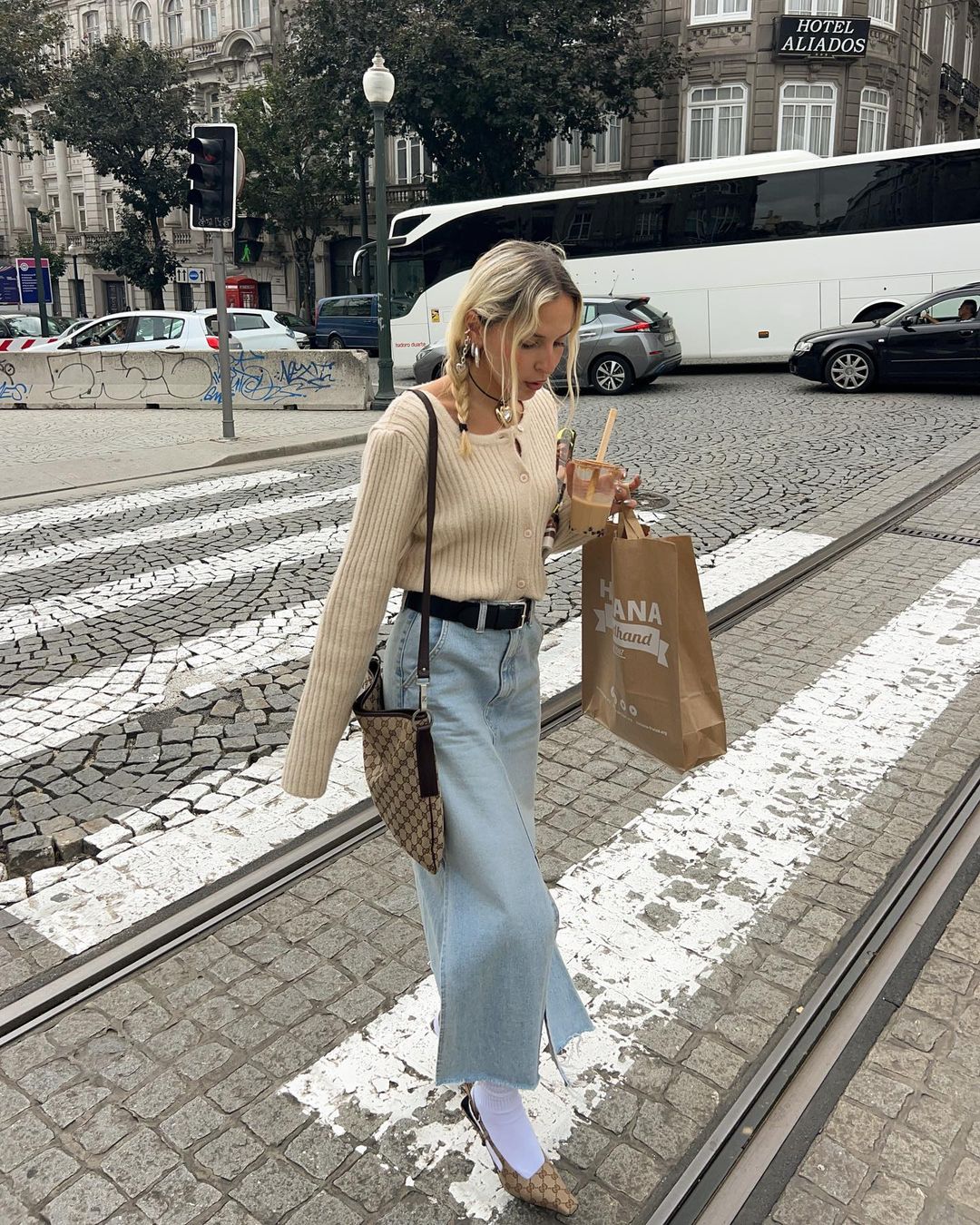 Photo via @sofiamcoelho
7) Cozy Cardi
It's officially sweater season, so we'd be remiss not to suggest wearing your coziest knits with this versatile bottom. The good news is that the maxi skirt will impress no matter what sweater you pair with it. But as shown by Sofia, you can take coastal grandma to another level by wearing the trendy skirt with a cardigan, then finish it off with a sock and slingback pumps combo. Although divisive, there is no denying the infallible impression it leaves on onlookers.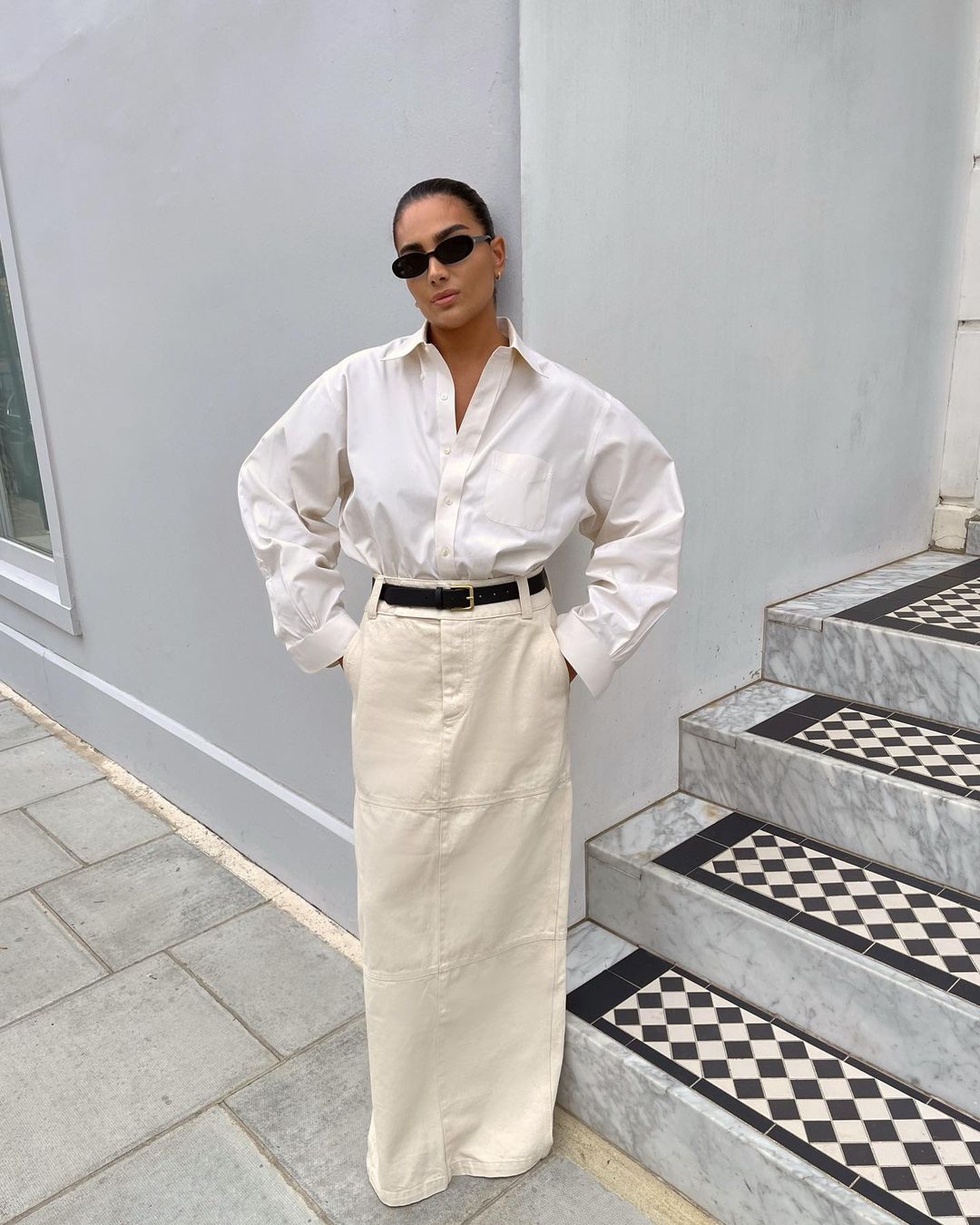 Photo via @charlotteemilysanders
8) Buttoned Up
Fashion trailblazers all over the world are on board with the maxi trend. This London-based style blogger proves that a simplistic button up shirt is a must in every girl's wardrobe. In this case, it works as a foolproof pairing with a maxi skirt – a uniform ideal for those who prefer to keep things minimal, clean, and uncomplicated. Complete the outfit with a slicked back hairstyle and dark sunglasses for a 2022 twist.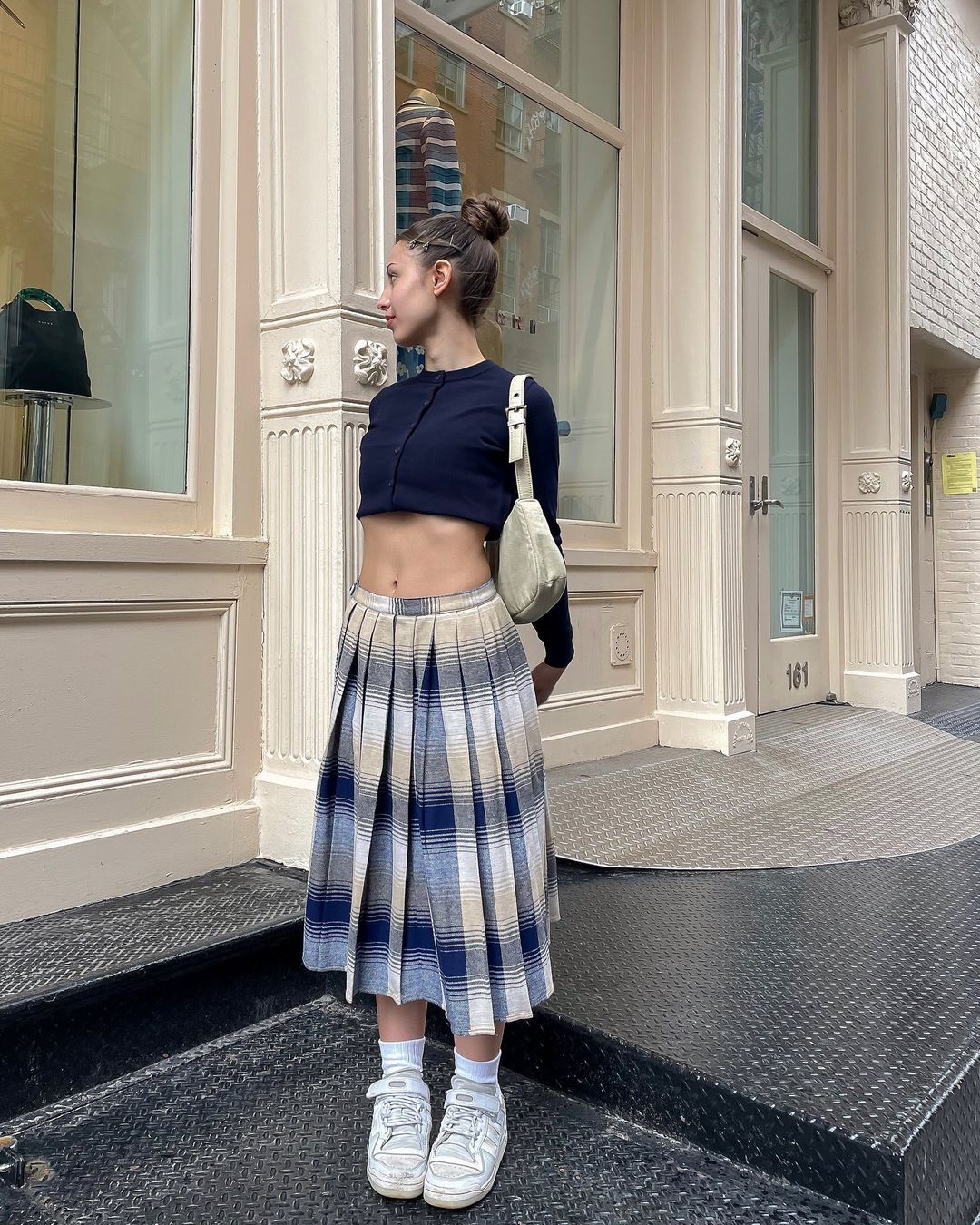 Photo via @sarahmtimet
9) Rule Breakers
The maxi skirt presents more opportunities to bring back collegiate vibes to your autumn wardrobe. Instead of the pleated mini, simply opt for a pleated maxi – but in a plaid print. You'll be amazed at how a printed option quickly amps up basics like a cardi and sneakers. When it comes to the traditional pattern, there's only one style simple trick for pulling a look together. Just take one of the colors within the print and choose a top that matches.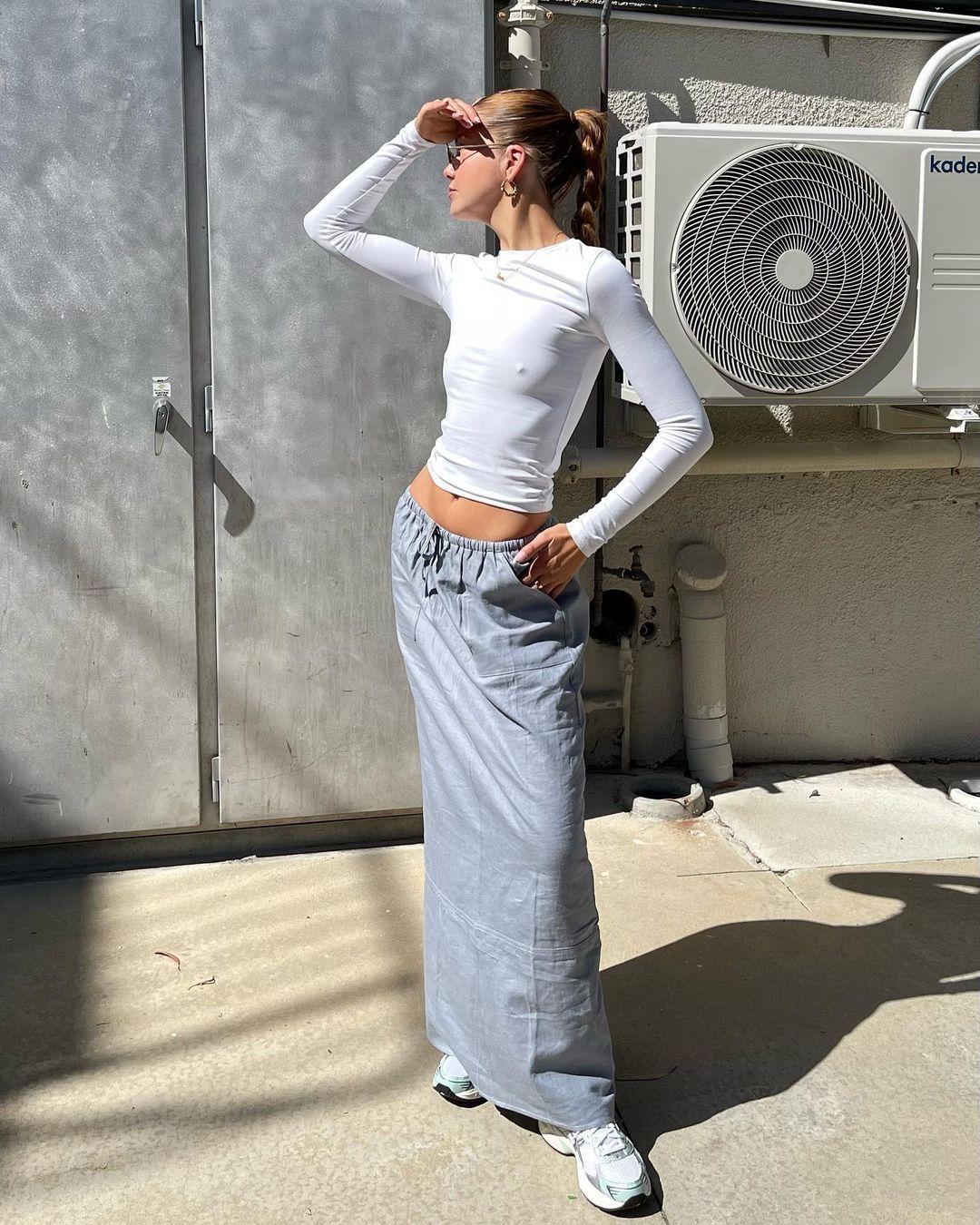 Photo via @jacquiealexander
10) Gorpcore
At the heart of gorpcore is the style philosophy that nothing is more fashionable than clothes that are not so stylish. That's where the tech-friendly maxi skirt comes into play. Jacquie makes a case for this athleisure-inspired bottom by wearing it with a long sleeve tee that's meant for the gym, then finishes off with some trail-approved sneakers. Who knew that practical and functional could be so chic.

(Visited 1 times, 1 visits today)