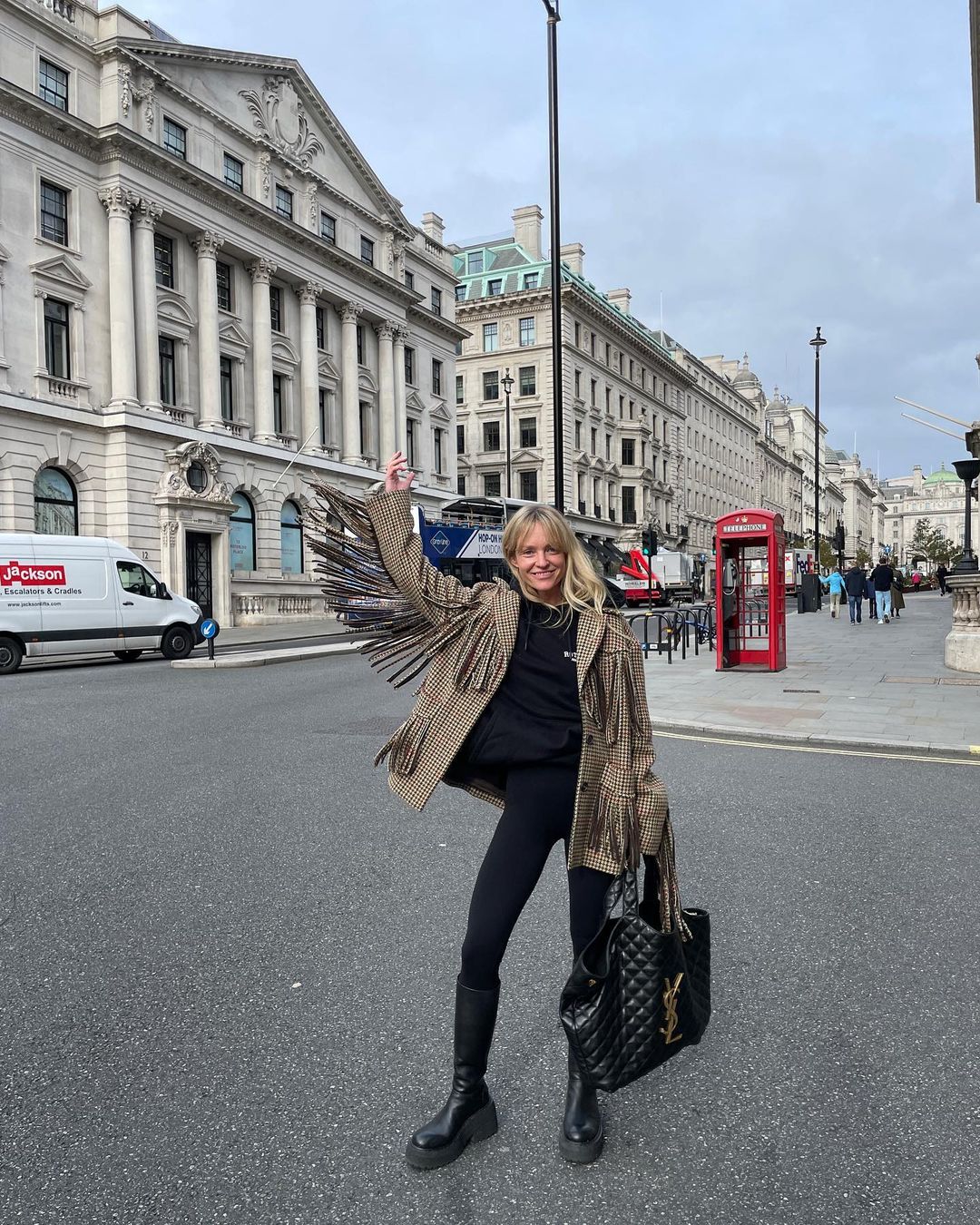 Photo via @_jeanettemadsen_
There's no doubt that you have a handful of leggings lurking in the depths of your closet. And if you are wearing them on a regular basis, chances are that it's happening at the gym or in the comfort of your own home. Lucky for us, comfort is at the forefront of fashion trends these days – along with other cozy staples, such as sherpa-lined boots and oversized sweaters. That's not to say your cozy favorites can't be worn with style. In fact, we're making the case that cozy meets chic in a myriad of unexpected ways, especially when your looks revolve around leggings as the core foundation. When styled right, leggings can easily replace your favorite jeans or dresses in any context. Not yet convinced? We've got a collection of fashion-forward leggings outfits that'll keep you inspired the rest of fall and winter. From elevated fits to off-duty medleys, you can really have the best of both worlds with a good pair of leggings on hand.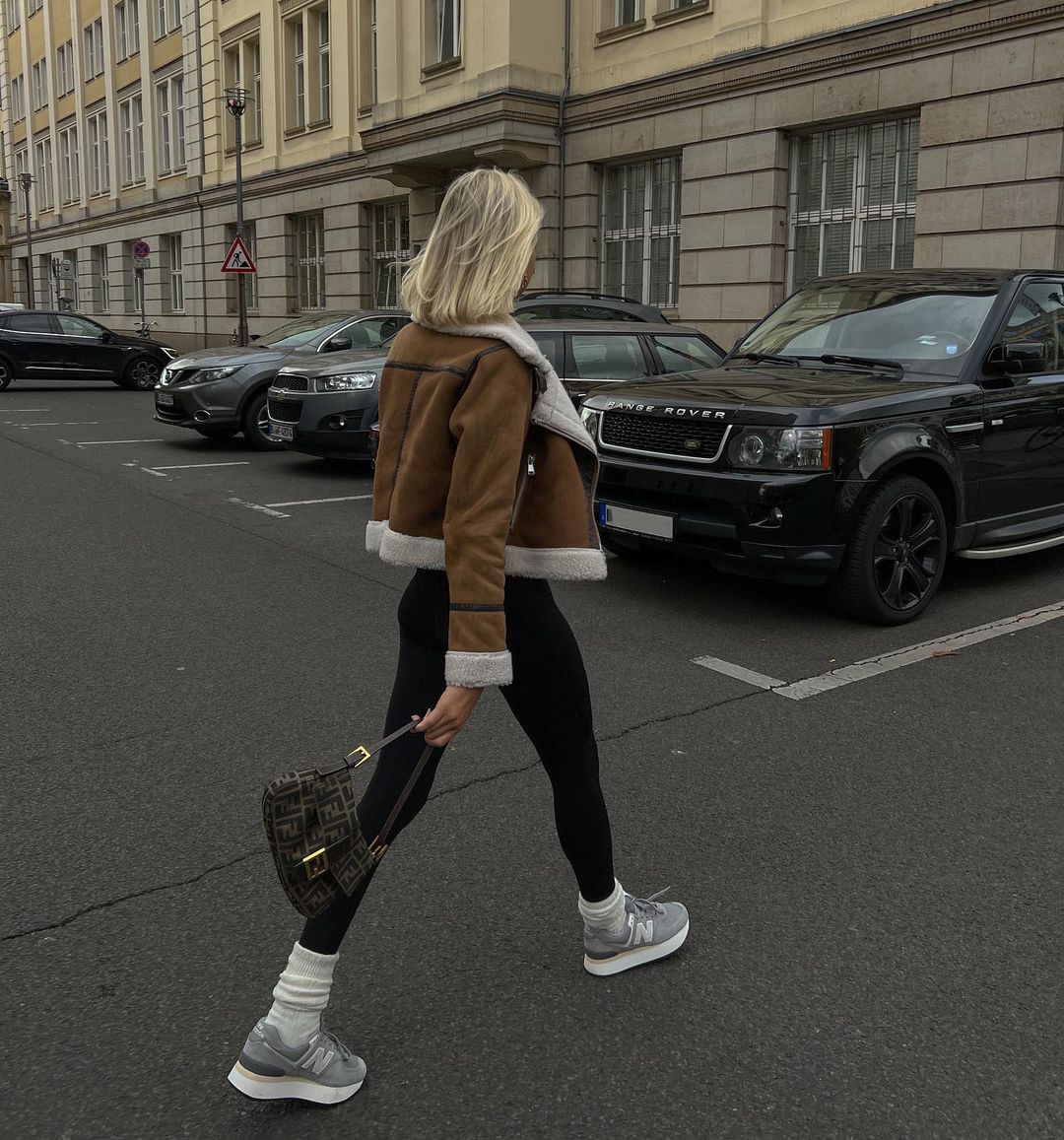 Photo via @tini_leah
1) With a Shearling Jacket
Throwing on a chic jacket is one of the easiest ways to dress up your leggings during the winter. One of the most loved outerwear pieces of the season has to be anything with shearling. The soft texture is not only trend-right but undeniably cozy, making it a match made in heaven with basic black leggings. Wear this combination with tube socks and sneakers when you're running errands or add in knee-high boots for a lunch date.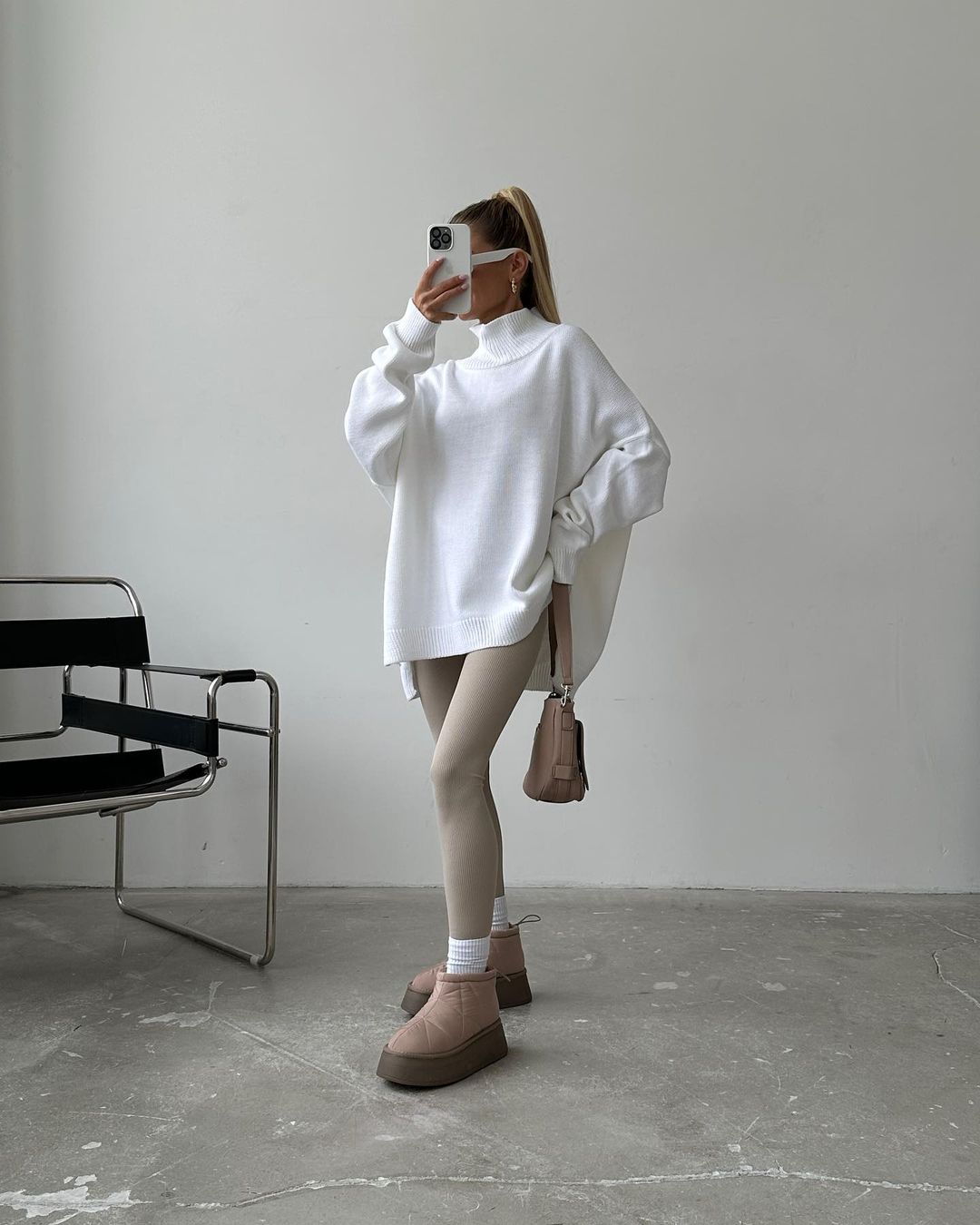 Photo via @indress___msk
2) Quilted Boots
Trying to figure out a way to rock light colored leggings? We are in love with this neutral outfit. This Instagram influencer skillfully styles her leg-skimming bottoms with similar shades of tan and cream. Everything from the oversized turtleneck sweater down to the quilted platform boots make this casual mashup feel more luxe. Not only that but it's truly the easiest thing to wear and is something you can quickly rely on when in a style rut.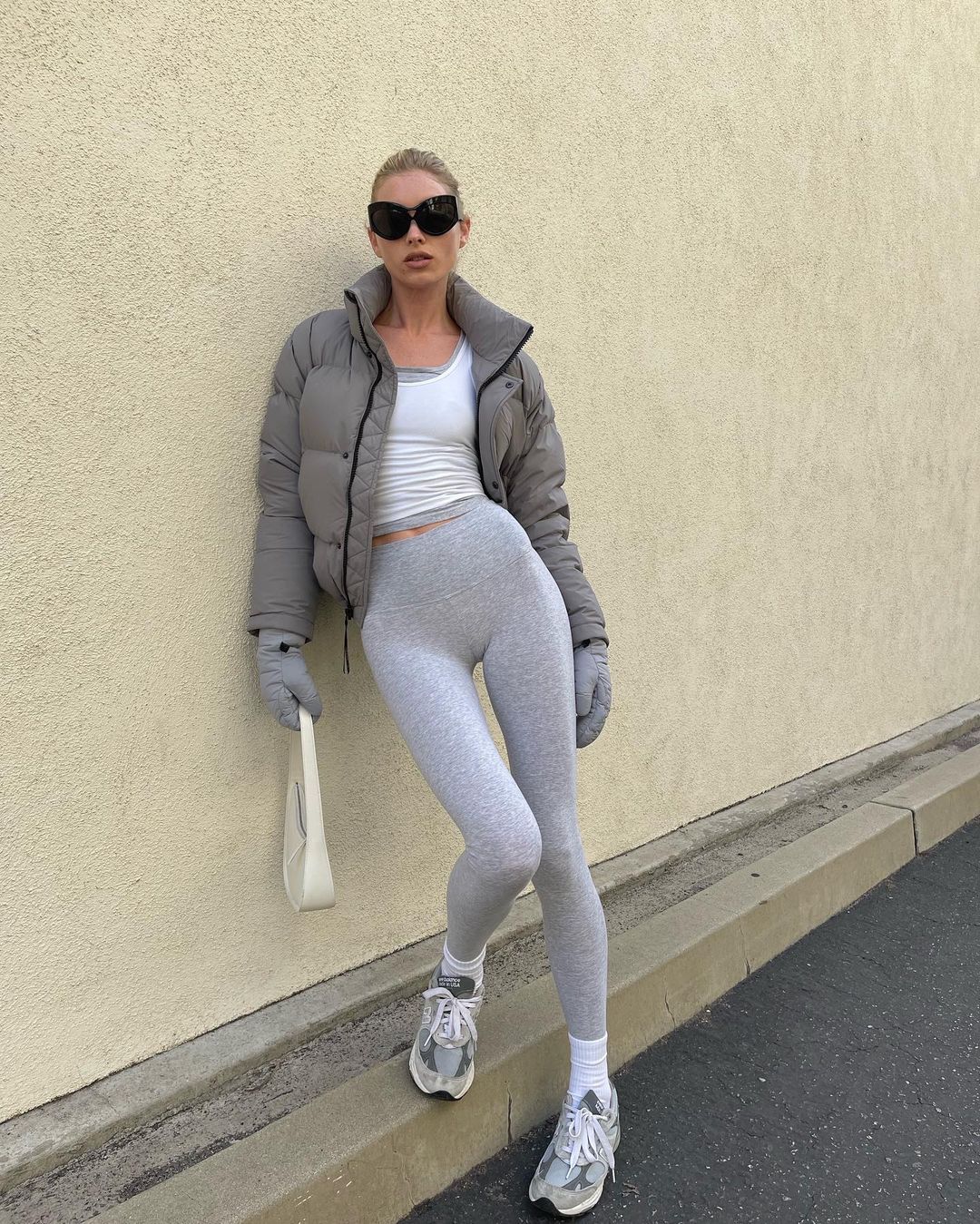 Photo via @hoskelsa
3) Winter Athleisure
Let's be honest…we are all guilty of wearing our favorite gym gear when we have no plans of going to the gym at all. Thanks to the popularization of athleisure, no one bats an eye anymore. But there are, indeed, ways to stylize your leggings and sneakers to be more suitable for other winter activities. Elsa's addition of a street chic puffer jacket, curved handbag, and oversized sunglasses add oomph to the most basic leggings outfits.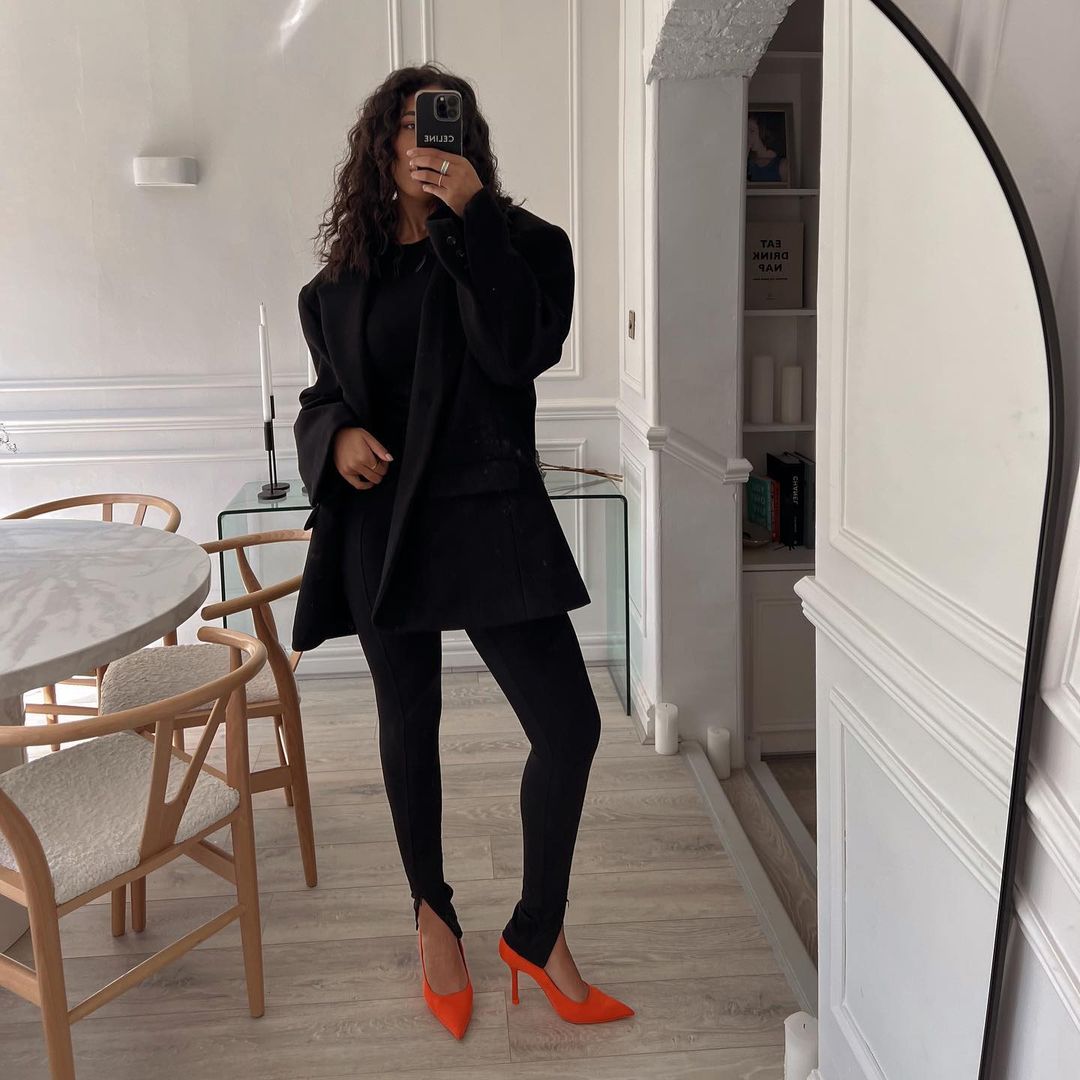 Photo via @melissasf1
4) Business Casual
A blazer is a surefire way to dress up any look no matter where you're headed. That includes your most worn pair of black leggings. We recommend opting for an oversized silhouette as well as split-hem leggings for a modern approach. From there, a simple top and a pair of heels is all you need to make the ensemble complete. Bonus points if you opt for bold, striking heels.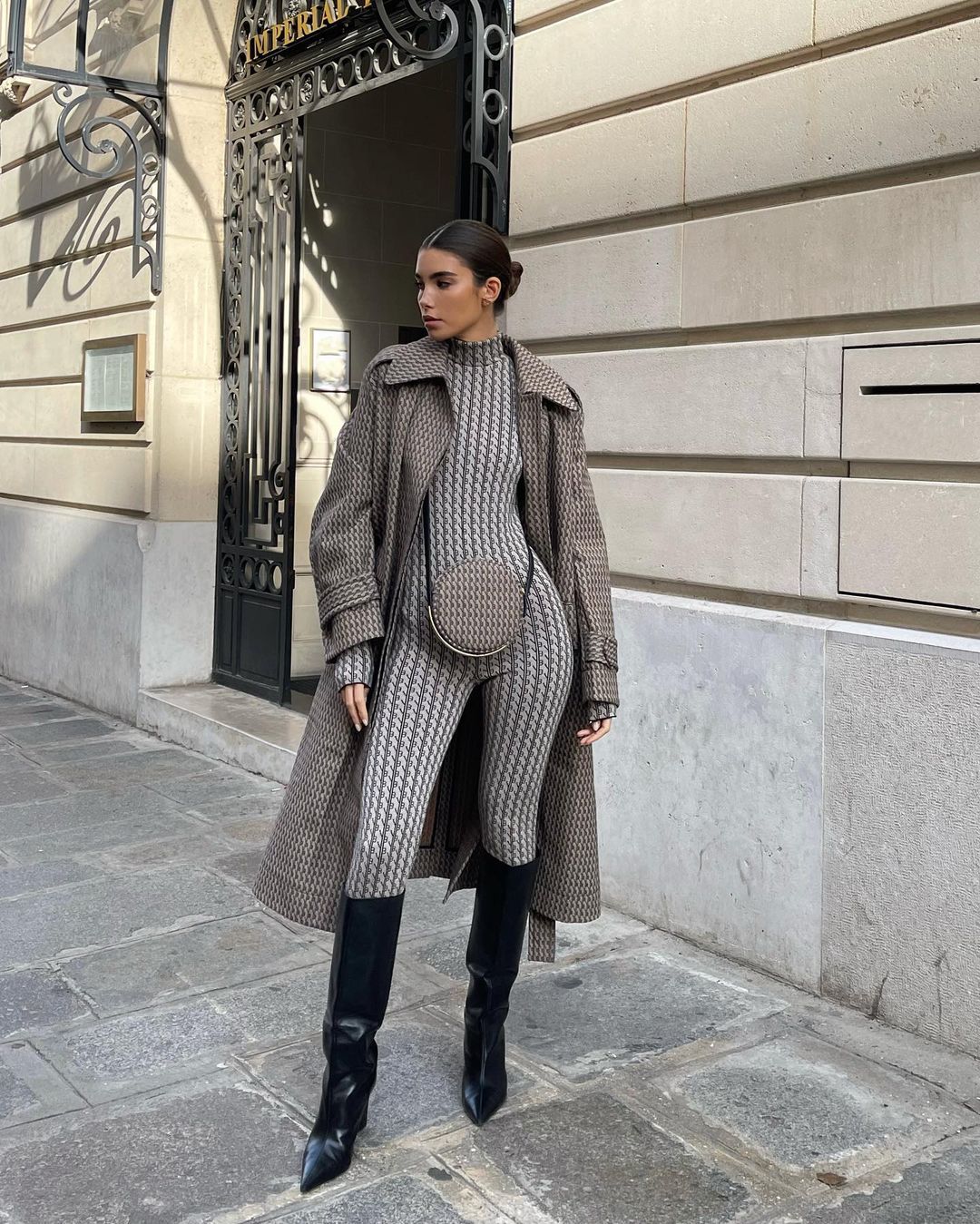 Photo via @cindymello
5) Catsuit 
Think of a catsuit as an all-in-one leggings outfit. When you want to make a statement, the lithe piece does not take much to dress up, especially when swathed in an eye-catching, all over pattern. For a sophisticated spin on the skin-tight onesie, merely stack a longline coat on top along with sleek leather boots. The three-piece outfit is all you need to to stay stylish with no effort.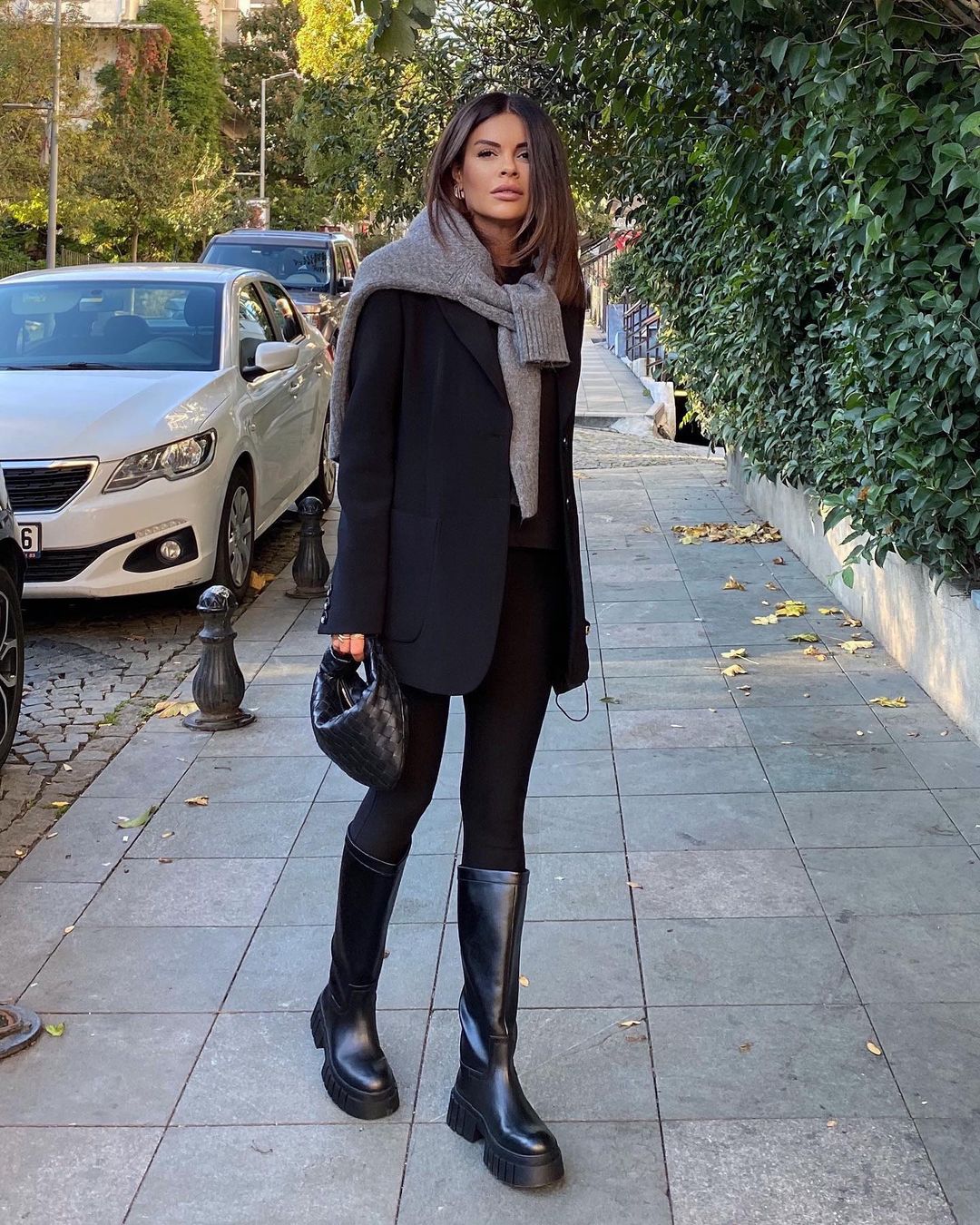 Photo via @nazifeeozcan
6) Workwear Staples
Those who work in the office can rejoice. We believe this outfit combination is the perfect way to integrate your leggings into workwear. Nazife sports hers with a tailored blazer and knee-high lug sole boots. She even tosses a sweater over her shoulders for added dimension. This easy, adaptable outfit formula screams business chic but is also covertly one of the comfiest, office-ready looks to date.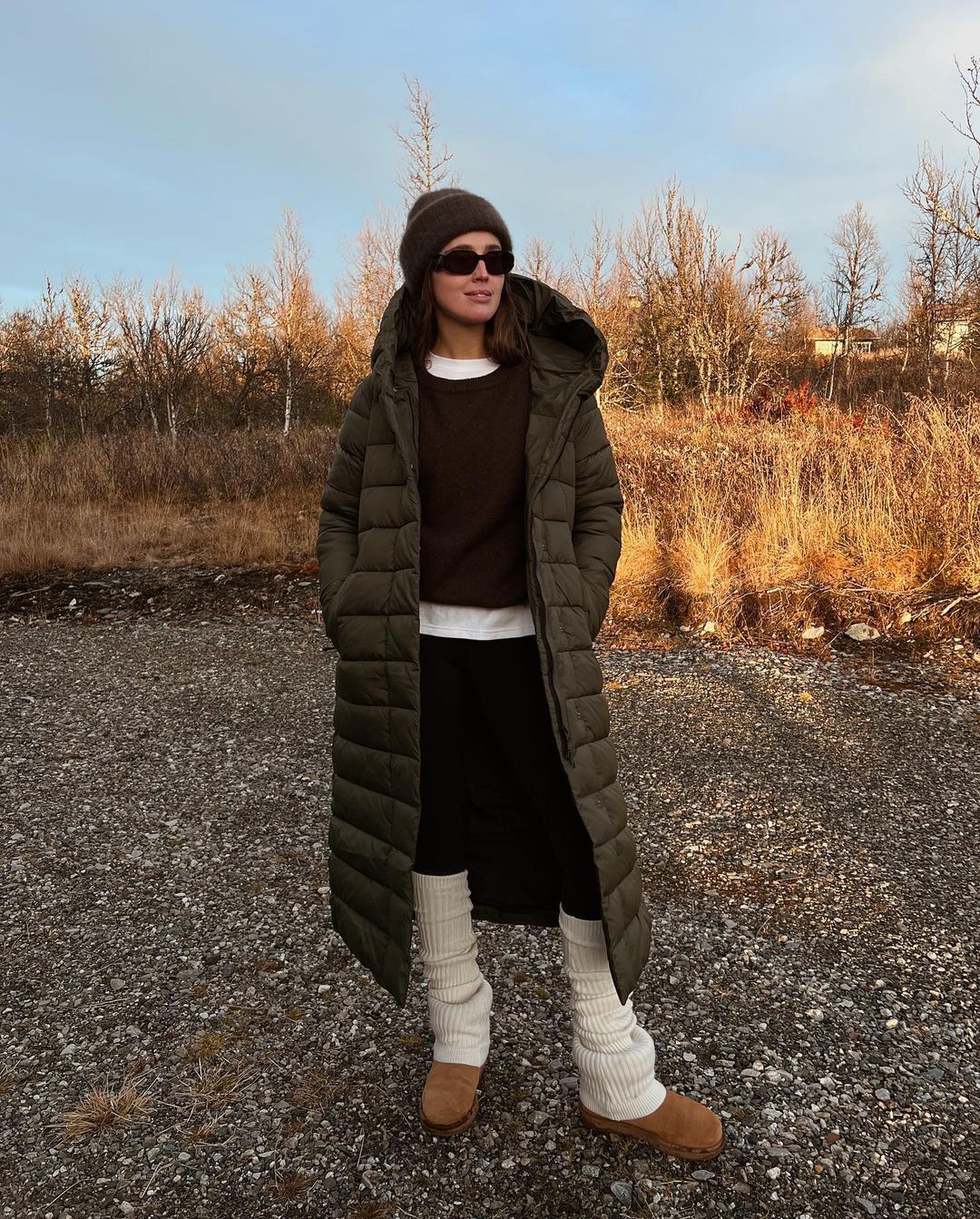 Photo via @darjabarannik
7) All Wrapped Up
Leg warmers are shaping up to be the must-have accessory of the winter season. We love this influencer's cozy boost on the trend as the leg warmers and suede boots happen to accent the black leggings quite well. She opts to keep the rest of her winter fit warm and snug thanks to the layered sweater, knit beanie, and insulated down jacket. There couldn't be a more fitting leggings outfit to combat the cold?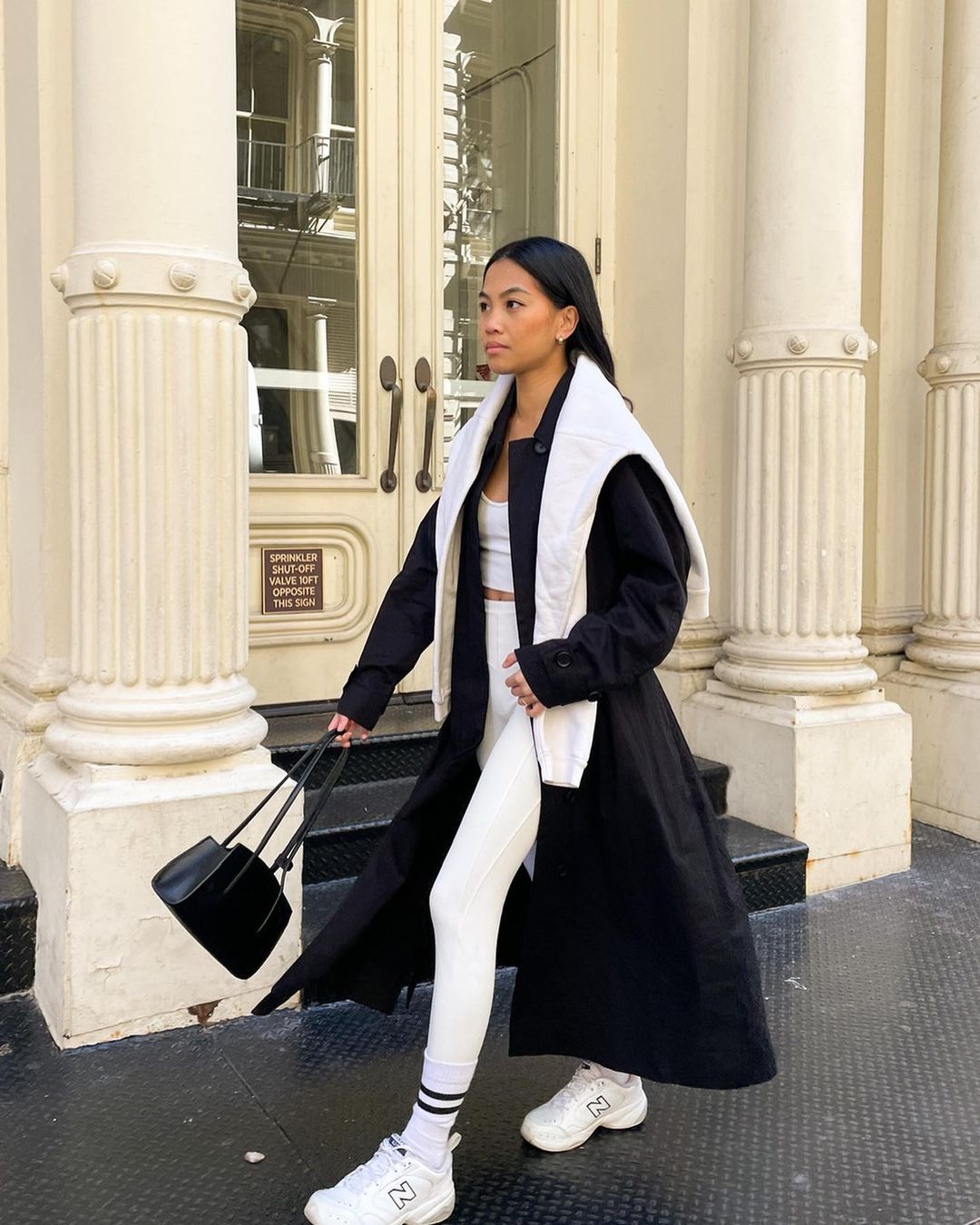 Photo via @janneltherese
8) Gym to Street
Yoga class at 9 and brunch date at 11? No worries. A sophisticated trench coat can work wonders in terms of elevating almost anything, leggings including. Jannel shows us how it is done by opting for a matching white workout set and layering a classic trench coat on top. The timeless outerwear piece instantly revamps the look, making it the ideal formula to tackle a busy day.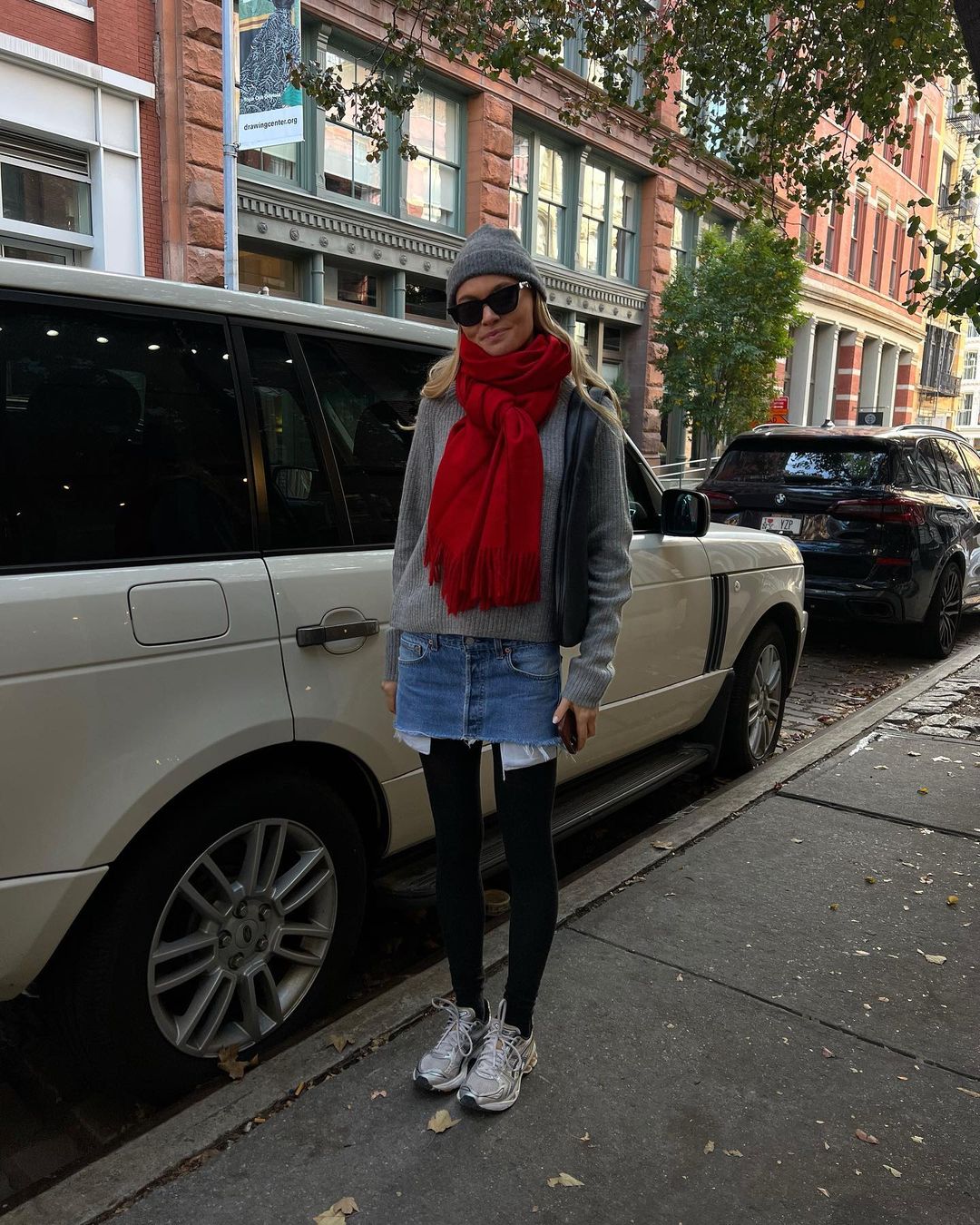 Photo via @clairerose
9) Denim Mini
The beauty of leggings is their endless ability to be layered. They offer more ways to bring your denim miniskirts out into the chill. Simply rock your black leggings underneath along with socks and sneakers. The bottom-heavy layers come together to form an outfit that is warm, unexpected yet chic. If you happen to be stepping out the door, toss on a gray sweater and bright scarf for a straightforward look.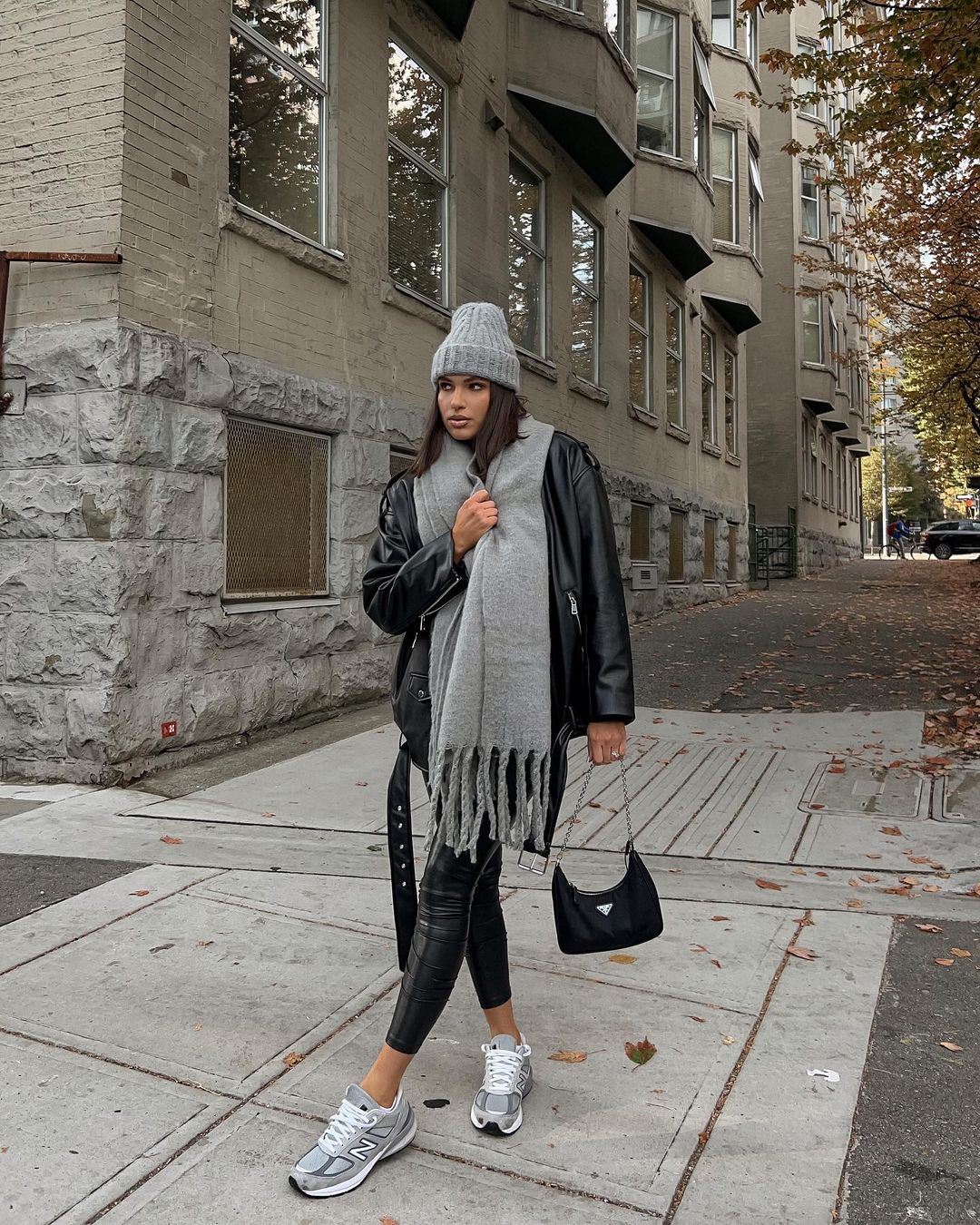 Photo via @vitaliia
10) Leather
For an edgy alternative to the basic cotton leggings, consider substituting them with a faux leather fabrication. It has all the cozy merits of the legging – but the overall look and feel is undoubtedly more dressed up. We love how Vitalia doesn't shy away from doubling down on leather either. The oversized moto jacket and cozy winter accessories guarantees you'll be the best dressed at any casual outing.

(Visited 1 times, 1 visits today)