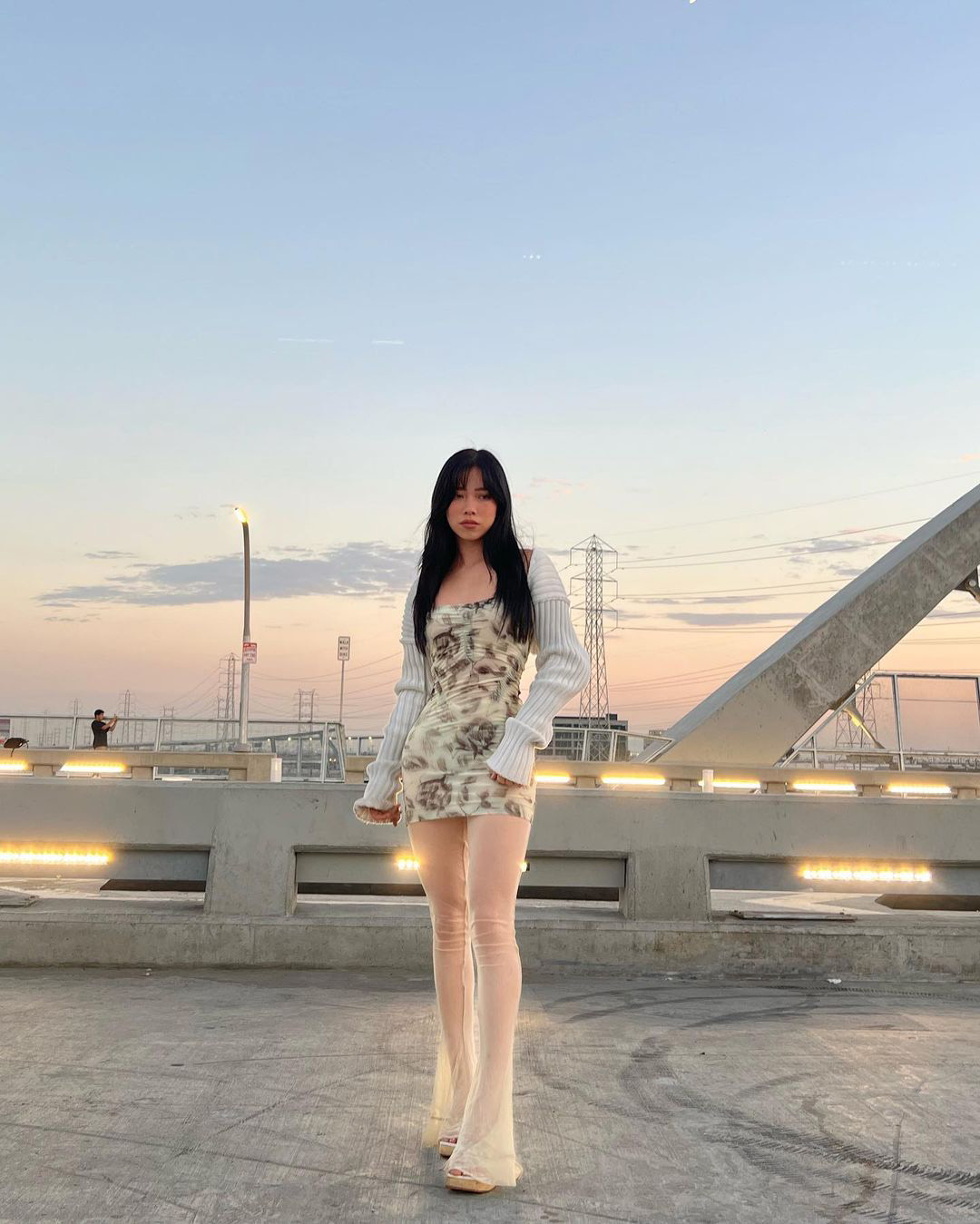 Photo via @louisameng_
We'll be the first to admit that the sheer fashion trend is not the most practical, especially during the holiday season where temperatures can stoop near freezing. But fashion girls alike are not letting the weather stop them from wearing semi-sheer frocks at any opportunity. Who can really blame them? After all, sheer outfits are everything you look for in a killer going out look. They're not just flattering and fashion-forward but captivating, allowing wearers to be seen at their finest. The best part about embracing the sheer trend is the confidence that oozes. There are, of course, varying degrees to any fashion movement, so you can dip your toes into the lingerie aesthetic regardless of your style sense. We've got a plethora of looks you'll want to consider tapping into for the upcoming party season. They span across modestly demure to bold and baring it all. If you have been thinking about test driving the trend for yourself, give these sheer outfits a closer look for inspiration. By the end, you'll find yourself adding a variety of mesh, sheer, and see-through garments to cart.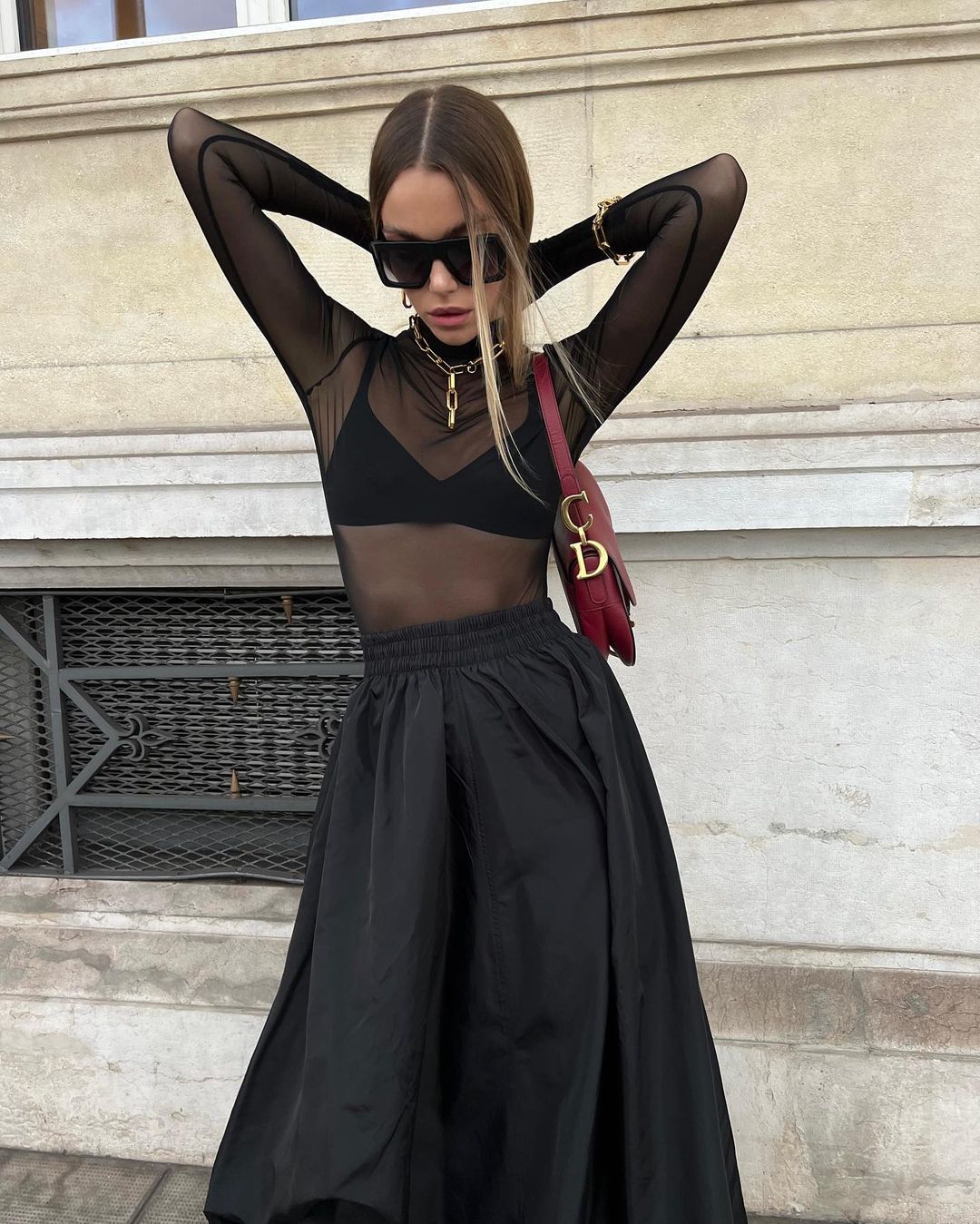 Photo via @sasha__fuks
1) Sheer Bodysuit & Maxi Skirt
One of the most versatile ways to adopt this trend is by investing in a sheer long sleeve bodysuit. This piece is minimal and functional, making it a unique layering device that can carry you throughout the season. You can opt to wear it alone with a plain bralette as Sasha did above or layer it underneath a vest or sweater. Regardless, a sleek sheer long sleeve is a surefire way to add an element of surprise to even your most dramatic of looks.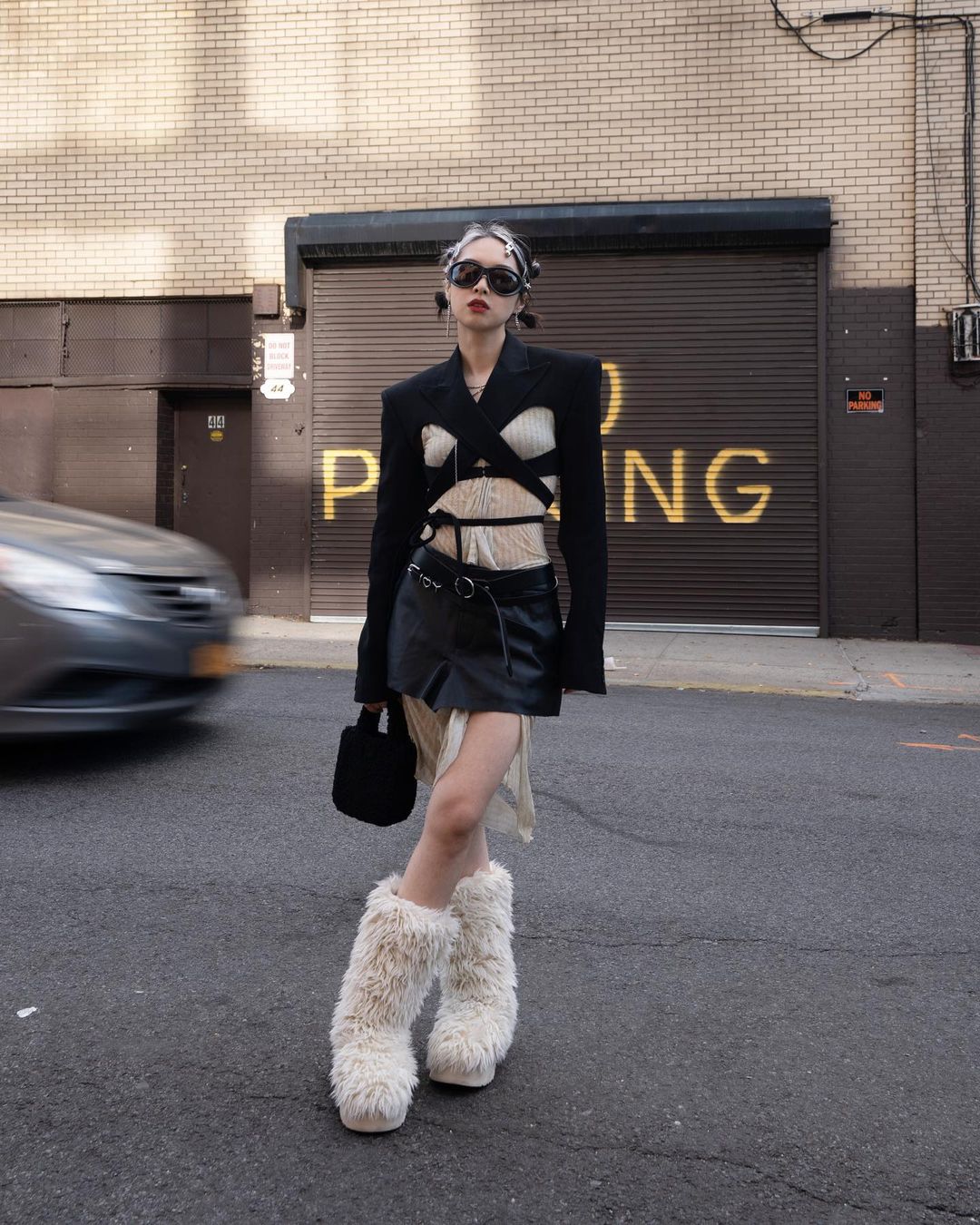 Photo via @valslooks
2) See Through Layers
Another subtle way to rock this more revealing piece is by adding a cropped jacket into the mix. To show you what we mean, take a peek at Val's fit above. She's pictured wearing a sheer button up top, which is underemphasized at first glance. But from there, she adds a cropped blazer to reveal hints of the sheer layer. If you find this trend intimidating, the style hack above is a great way to get your feet wet. Note that any cropped outerwear piece will work just as well as a cropped blazer.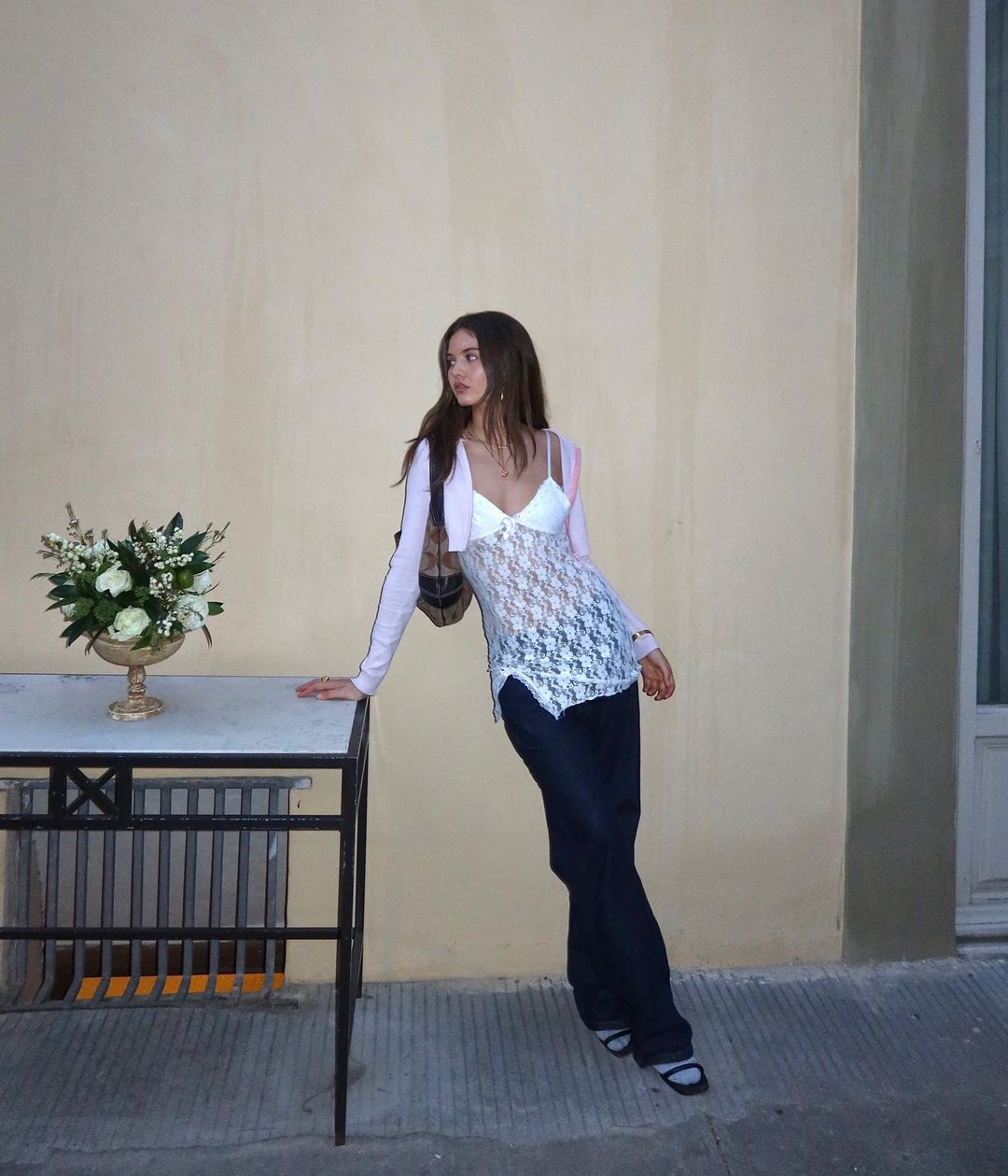 Photo via @rubylyn_
3) Lace Bodice
Lace has been adapted to the sheer trend thanks to its natural peek-a-boo effect. If you love romantic feminine style, then you've got an easy way to partake in the look. All you need is a lace bodysuit or camisole to pair with wide leg jeans. Make sure to opt for a sheer lace bodice to bare just enough skin, then add a cropped cardigan to simultaneously tap into the Y2K aesthetic.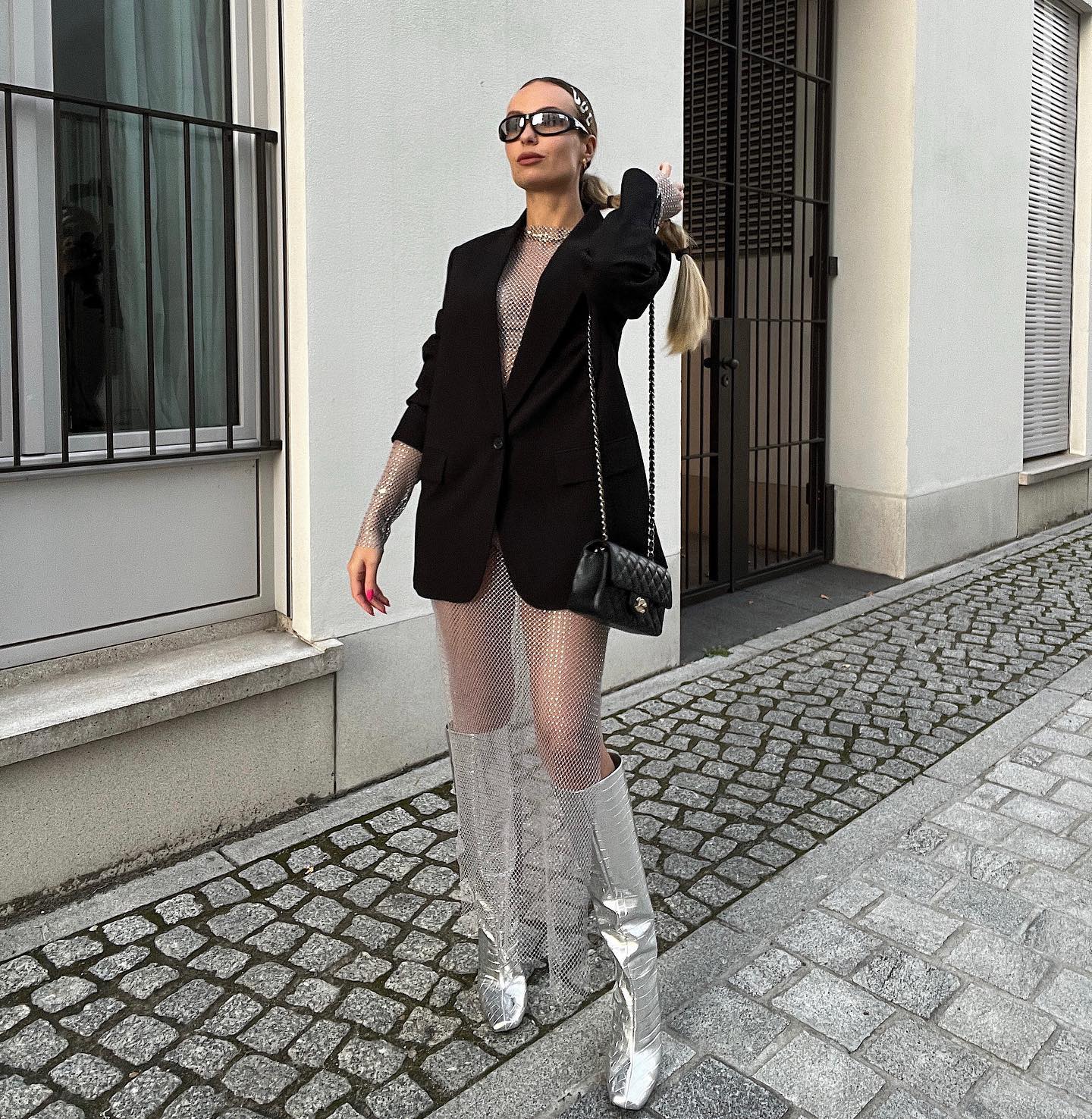 Photo via @olgaliberlin
4) Sheer Dress + Blazer
The sheer dress craze isn't slowing down at all. If you are worried about revealing too much in a completely sheer dress, we've got you covered – well, actually a blazer has you covered. Layering a complete see-through one-piece underneath a tailored blazer is a failproof way to nail the sheer fashion trend. The tailored jacket provides just enough coverage, while allowing the dress to peer out from underneath. To complete your party-approved outfit, finish off with the metallic boots.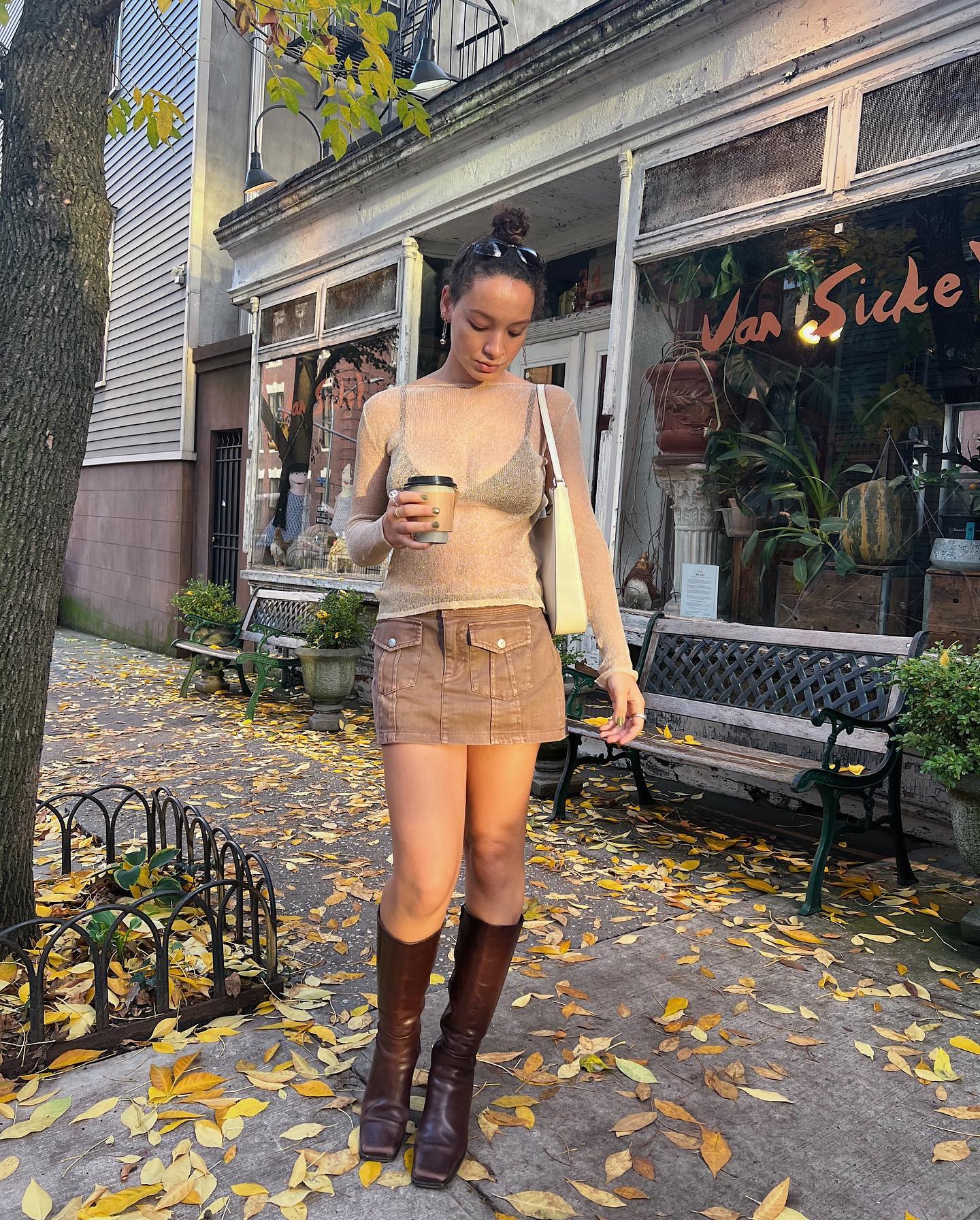 Photo via @aishafarida
5) Sheer Tee & Mini Skirt
We love the flirtatious nature of the sheer trend and what better element to pair it up with than the equally flirty mini skirt. Aisha's gauzy long sleeve tee is the perfect match for the shorter hemline. When combined together with some knee-high boots, you've got a cute fall/winter look fit for spontaneous date nights in the city. From there, your outerwear options are endless, but if you ask us, we love the idea of a bomber jacket to give it some edge.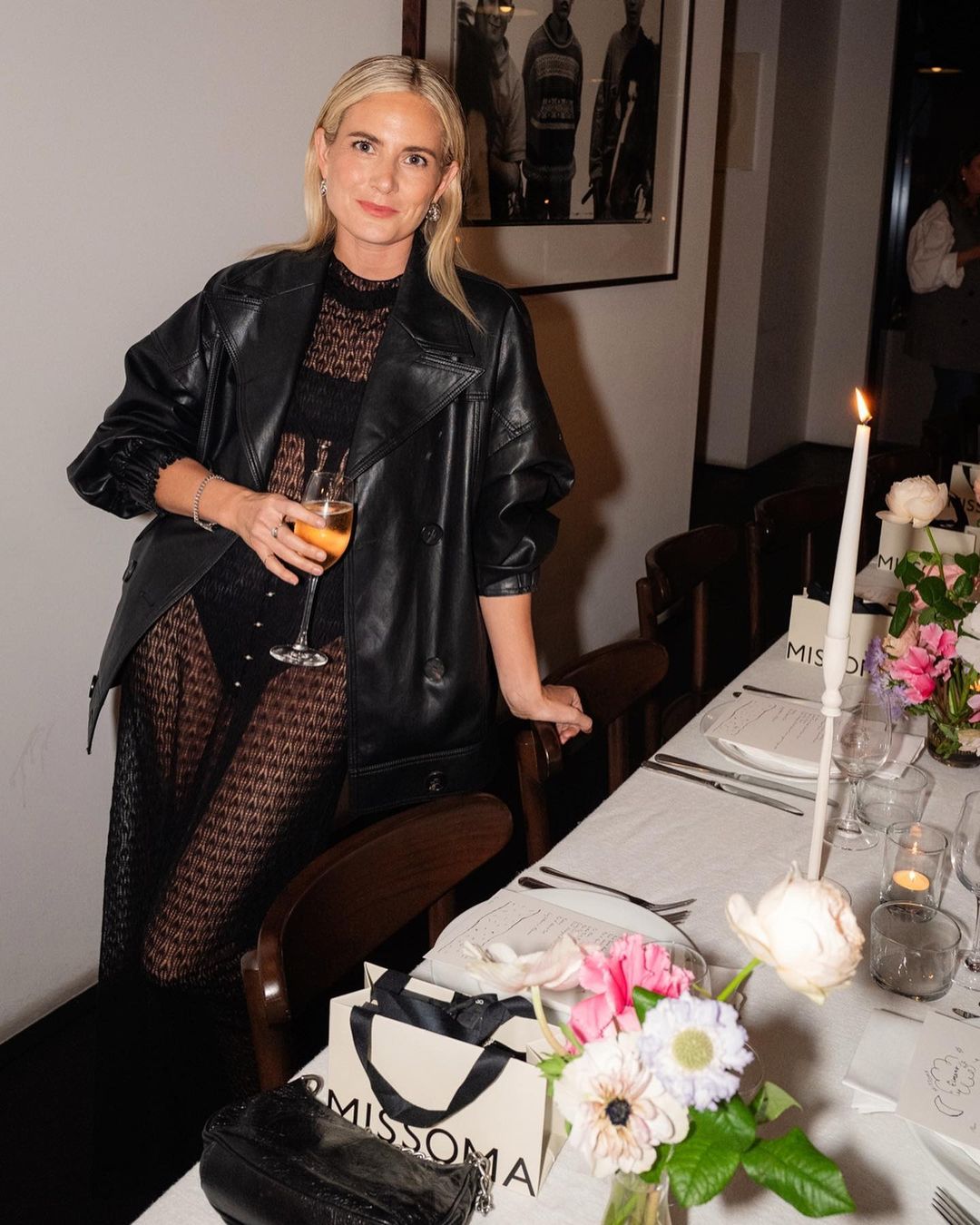 Photo via @lucywilliams02
6) Back to Black 
When adopting a new trend, especially one as audacious as sheer pieces, one can never seem to go wrong with wearing all black. This classic, tried-and-true color palette is universally flattering and far from boring, especially when swathed in an eye-catching, barely there material. Lucy's entire look comes together, from the leather moto jacket to the leather undergarments. This show-stopping sheer outfit is one for the books.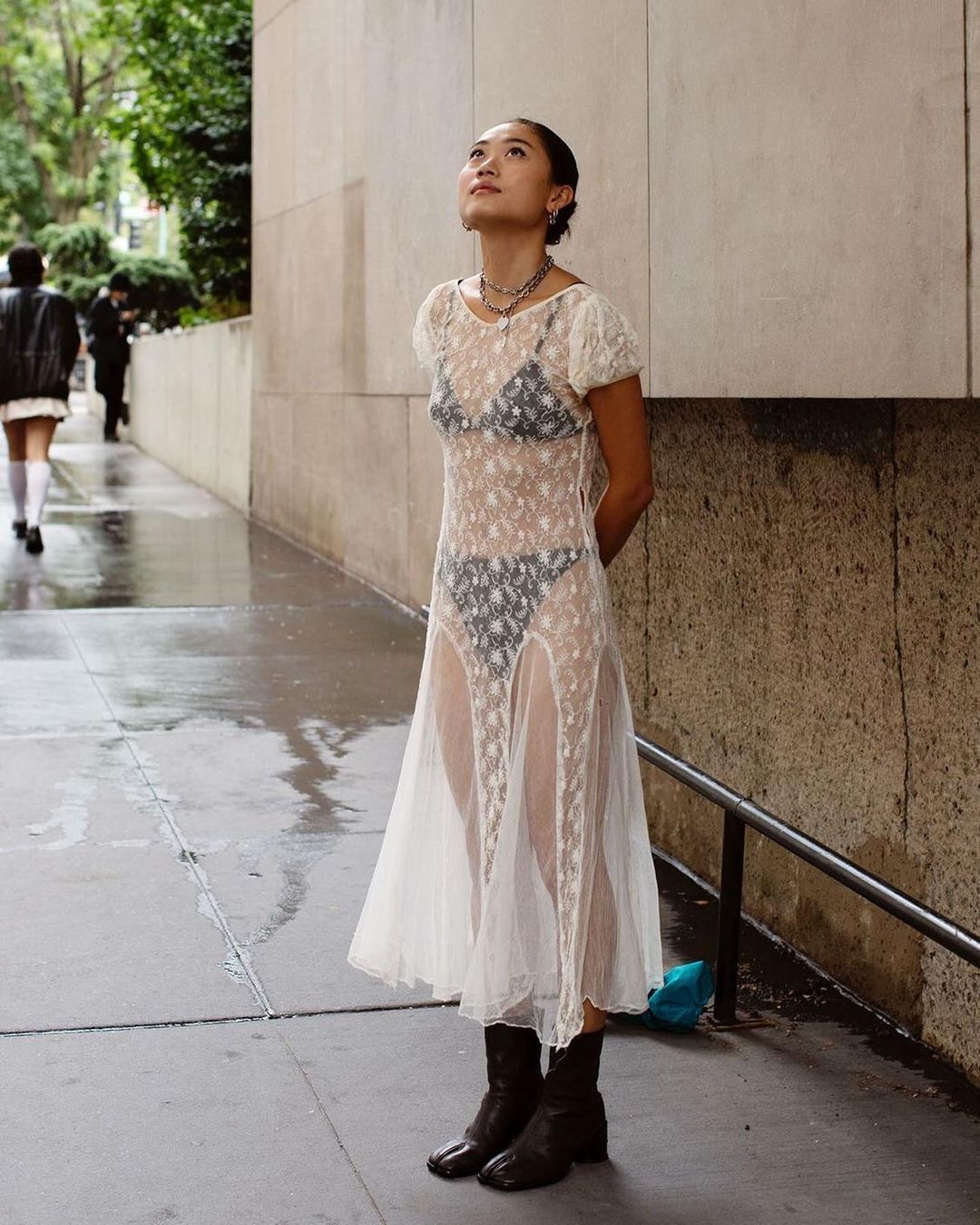 Photo via @vivian.yrl
7) White Out
For the ultimate head-turning moment, we are a big fan of this influencer's white look. There is something about a seductive trend done up in an angelic color that makes us swoon. To make this avant garde outfit appropriate for daytime frolicking, follow Vivian's suit by keeping the look simple and fuss-free with minimal undergarments and a pair of leather square toe booties.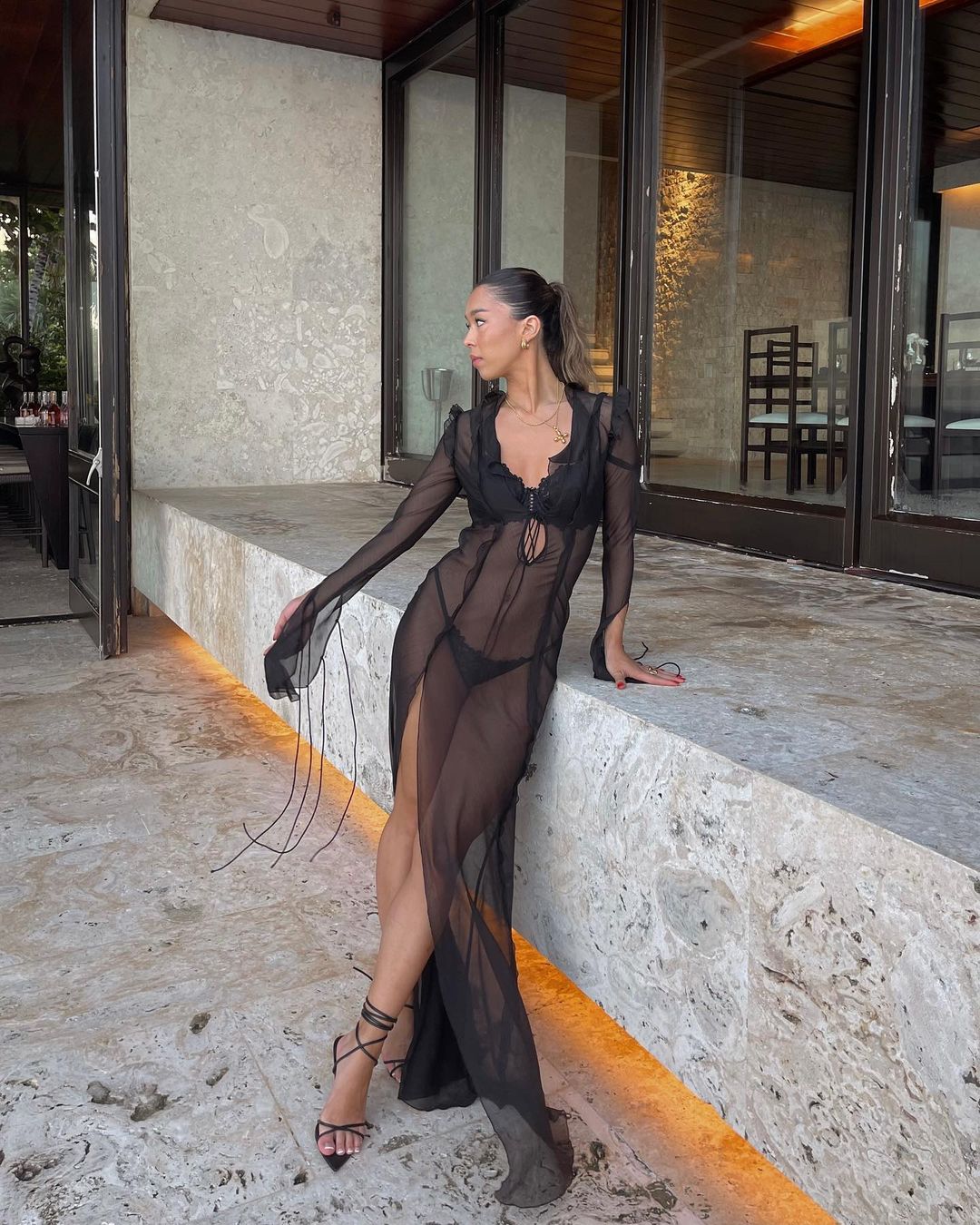 Photo via @laurenwolfe
8) Peek-a-Boo Lingerie
Alternatively, a black sheer maxi dress gives off a much more elusive, mysterious aesthetic compared to its lighter counterpart. Lauren takes the cake when it comes to putting together the most jaw-dropping night out look yet. She takes another step to up the ante further with sexy lingerie and ankle-climbing, strappy heels. This outfit screams "made you look" in the best way possible.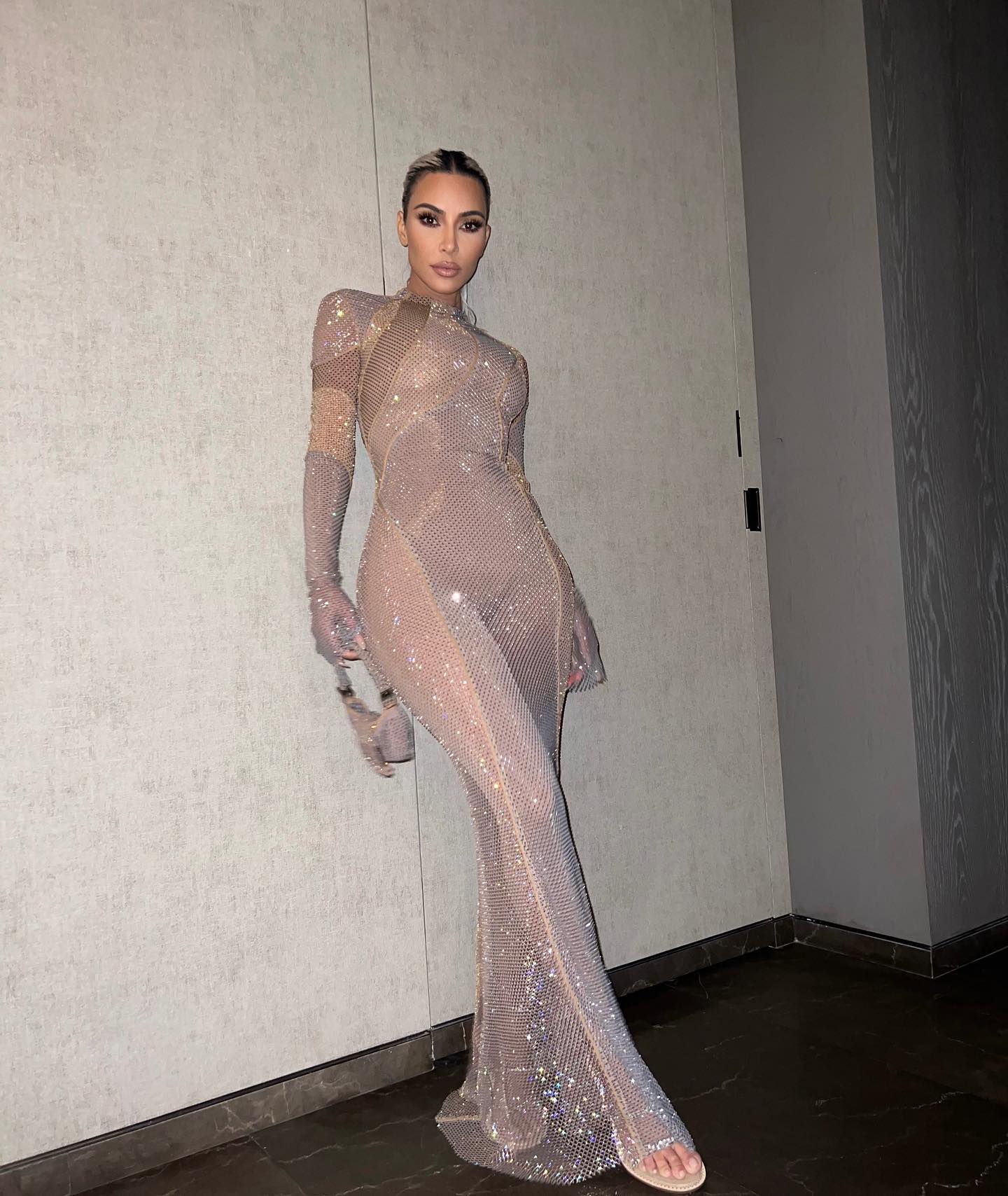 Photo via @kimkardashian
9) Crystal Gown
It comes as no surprise but Kim manages to slay all the latest trends and sheer dressing is no exception. She stuns in a full head-to-toe crystallized look that will be perfect for the upcoming holiday season. The transparent fit coupled with flashy embellishments make for an unparalleled statement. But of course, she does not stop there. The crystal-adorned handbag and sparkly heels are the icing on the cake. If you're all for stealing the spotlight, this is the look to recreate now.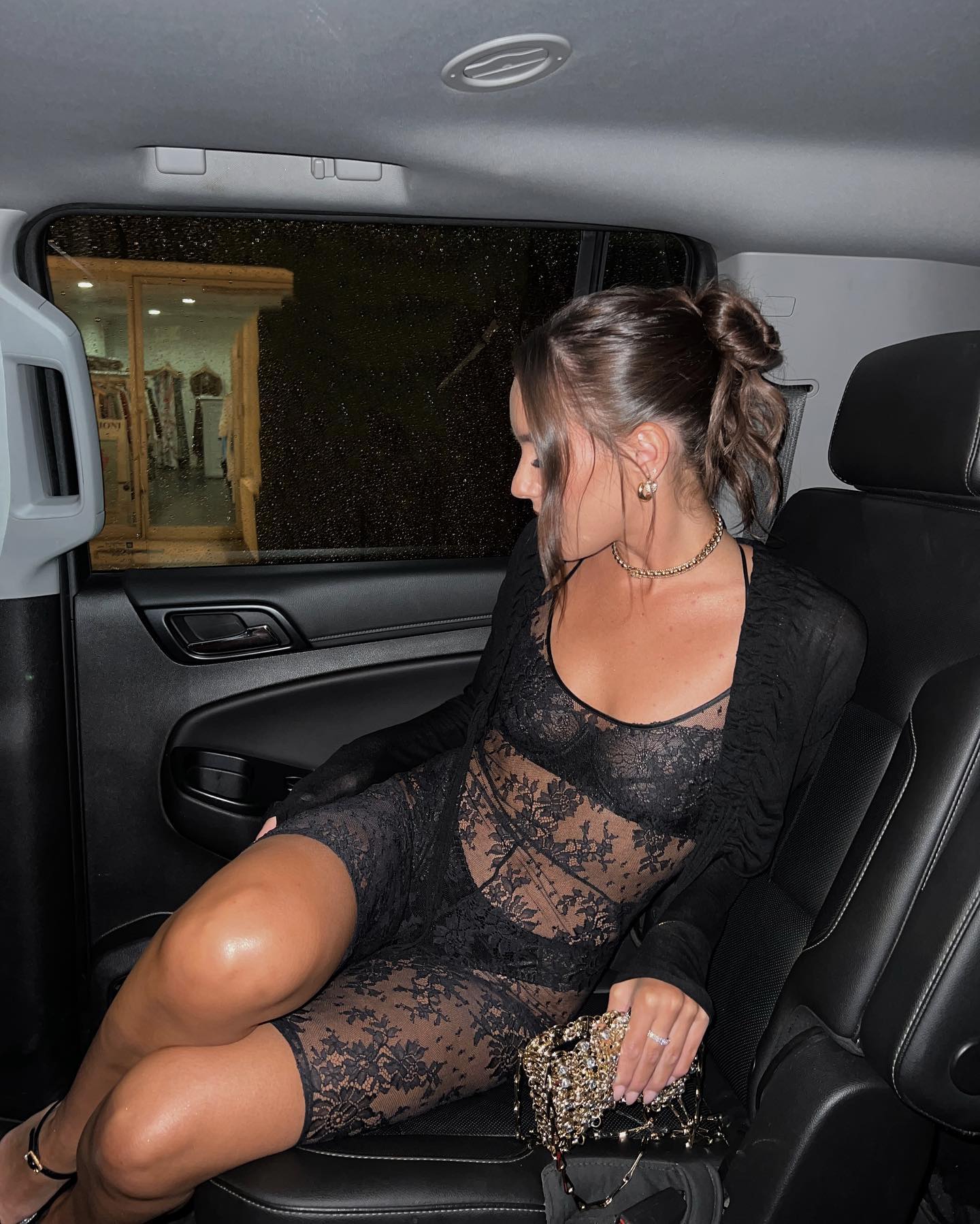 Photo via @emmaleger
10) Catsuit
There is an increasing demand for transparent one-pieces that are bound to empower the wearer. And we don't blame you if you immediately want to add a lace catsuit to your wish list after one look at Emma's party-ready look. Just don't forget a cheeky bolero you can toss over your shoulders for warmth. It's the ultimate layering companion for a lace catsuit as the cropped silhouette won't take away from the overall look.

(Visited 1 times, 2 visits today)