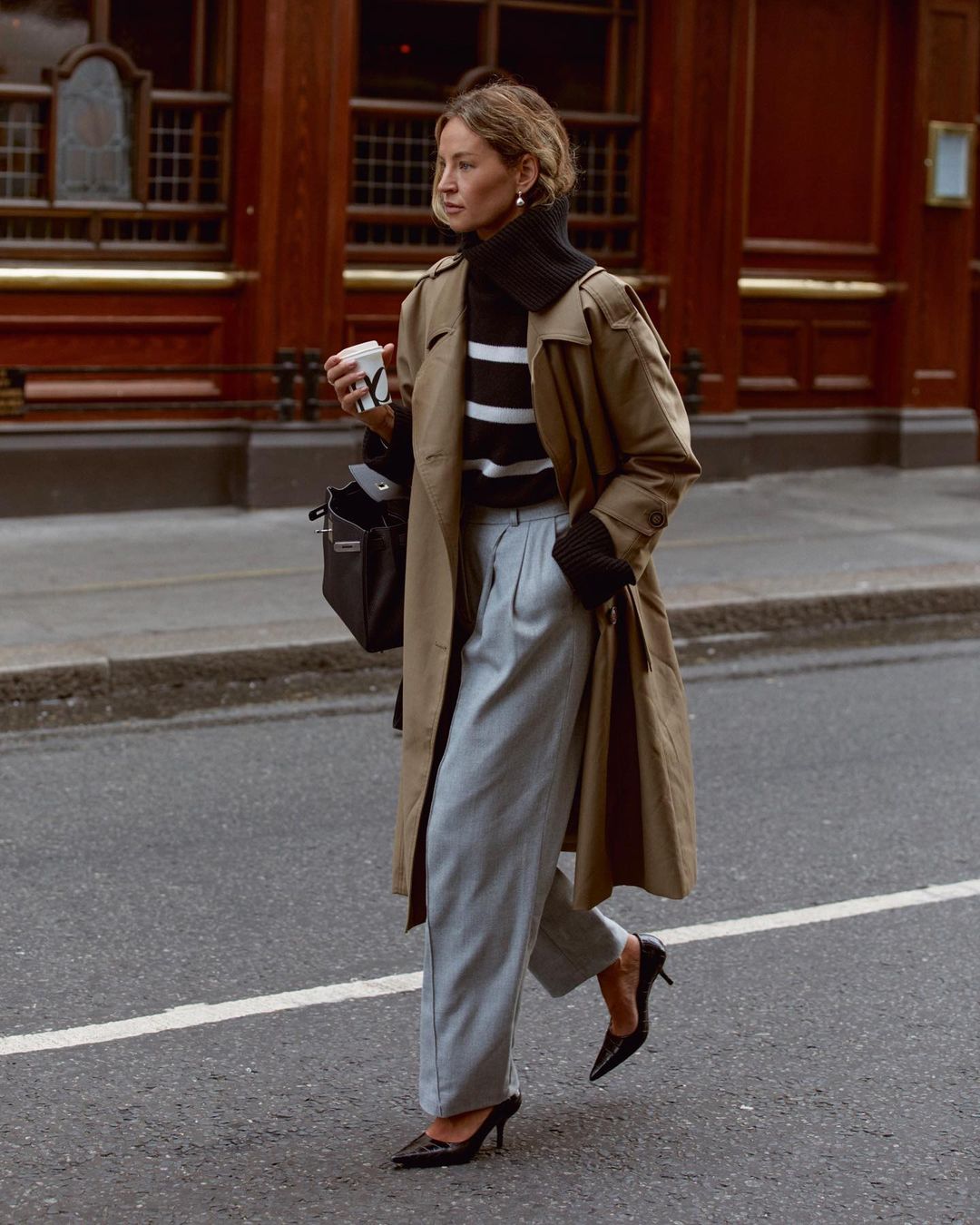 Photo via @anoukyve
There is nothing we love more than welcoming back sweater weather with open arms. And this year, we can't deny that one particular style is reigning supreme among the rest. You've probably guessed it by now – but we're alluding to the striped sweater trend that's taken the cake as the paramount knit top to get behind. Although it conjures up musings of the Coastal Grandma aesthetic from summer, there are plenty of stylish ways to rework the striped top for autumn and beyond. From everyday looks to workwear to night-outs, it's obvious that the trusty basic has become omnipresent. So to get you inspired, we found 10 of the best striped sweater outfits to date. Scroll on for our favorite styles that suit any budget as well as looks you can copy and paste.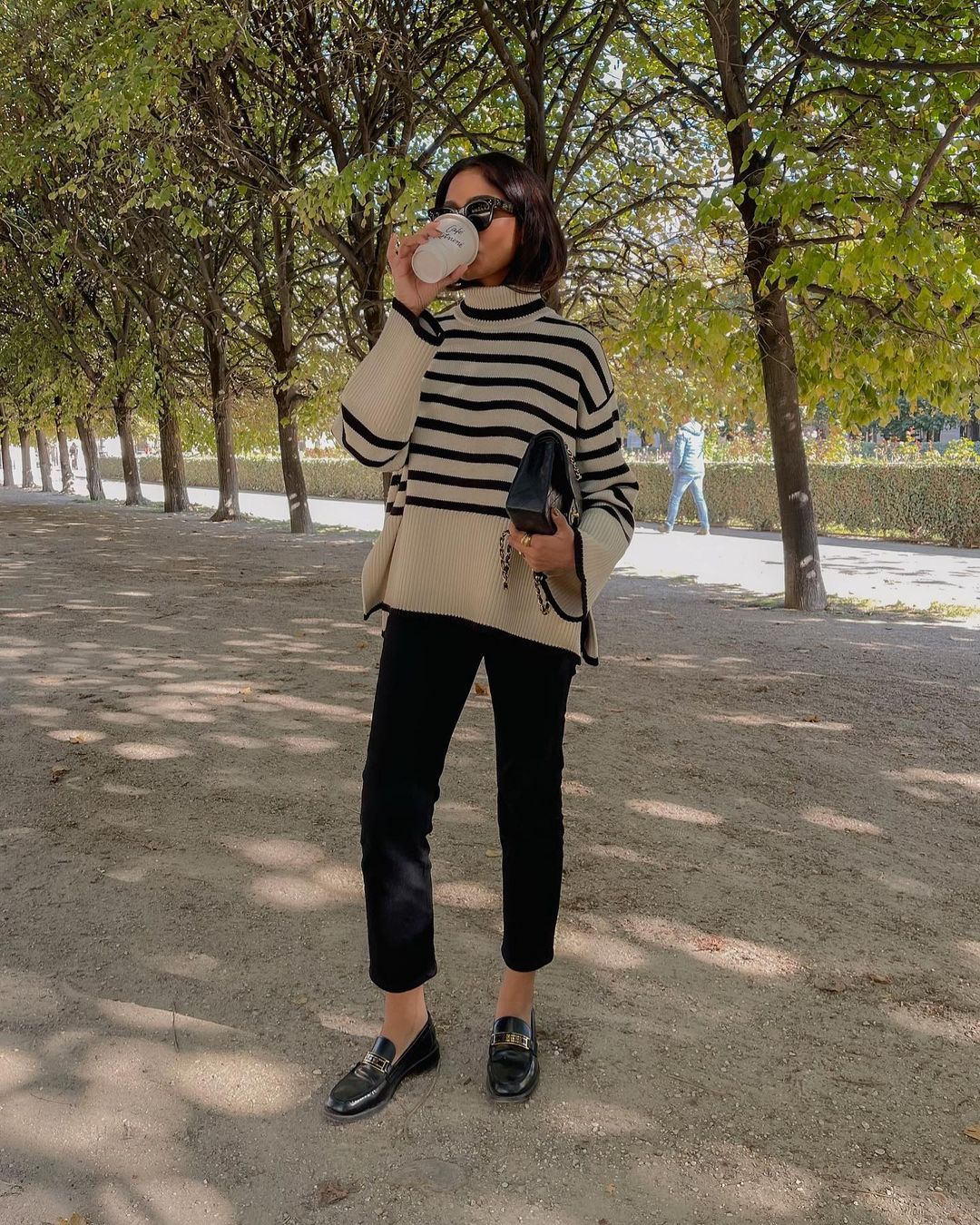 Photo via @cocobeautea
1) Loafin' Around
The striped sweater trend seems to resonate especially well with those in favor of minimalistic dressing. The pattern itself is seasonless and subtle, making it easy breezy to integrate into one's pre-existing wardrobe. Just grab your favorite cropped trousers and loafers for an uncomplicated look that's worthy of having a moment in the limelight.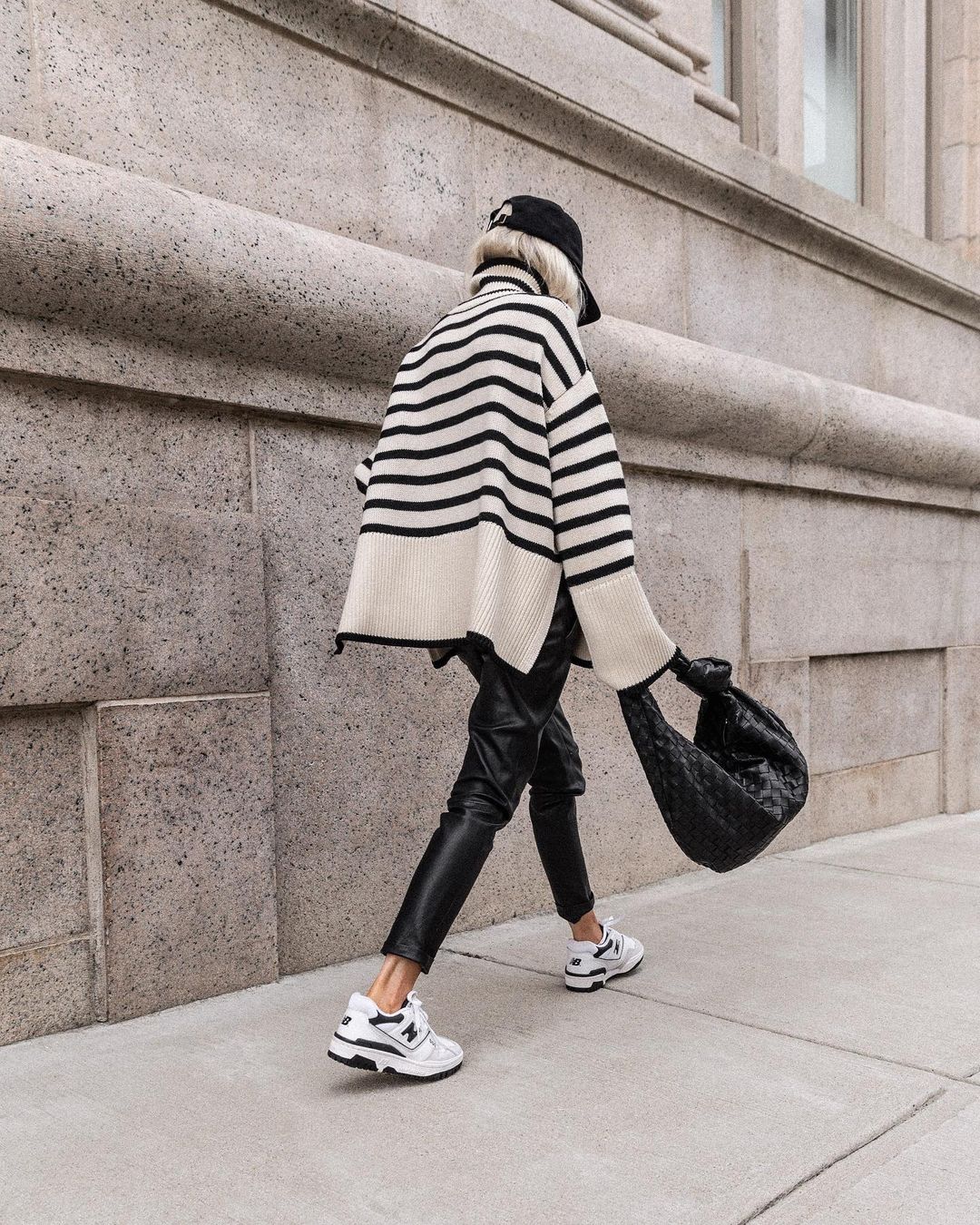 Photo via @figtny
2) Off Duty Edge
What makes a great pairing with sweater weather? Leather weather. The duo couldn't be more fitting for all the fall shopping runs that happen so frequently during this time of year. This influencer keeps her stripes and leather effortless with a baseball cap, a fresh pair of kicks and an oversized hobo bag – but the look could very much transition to the office with a quick change of shoes.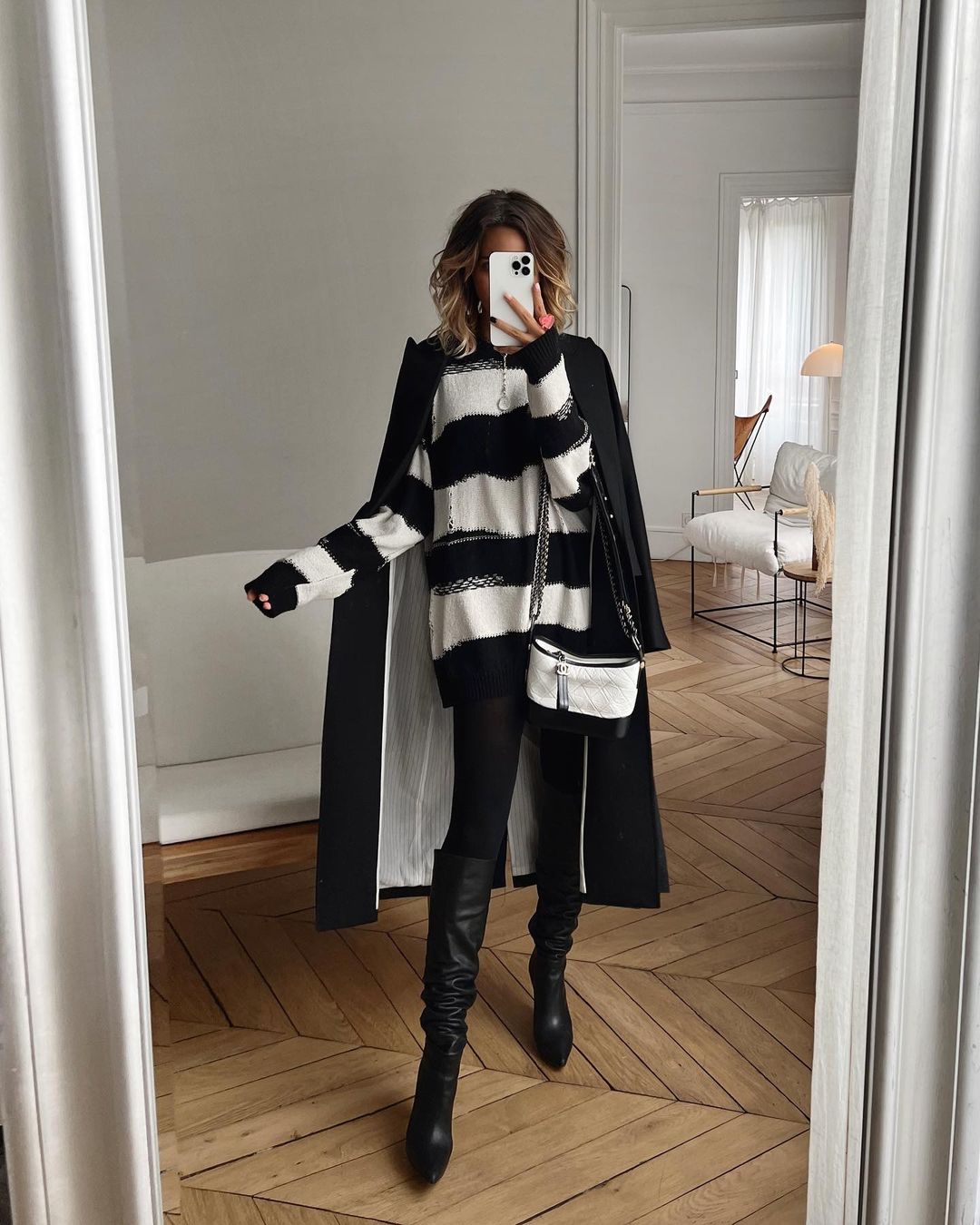 Photo via @babiolesdezoe
3) Black & White
Lean into the vampy side of a striped sweater by sticking to a strictly black and white monochrome theme. After all, nothing screams a chic rainy fall day more than Zoé's outfit. She keeps her look dark and moody with a black trench, leggings, and slouchy leather boots. The high-contrast sweater and bag are the statement makers that pull everything together.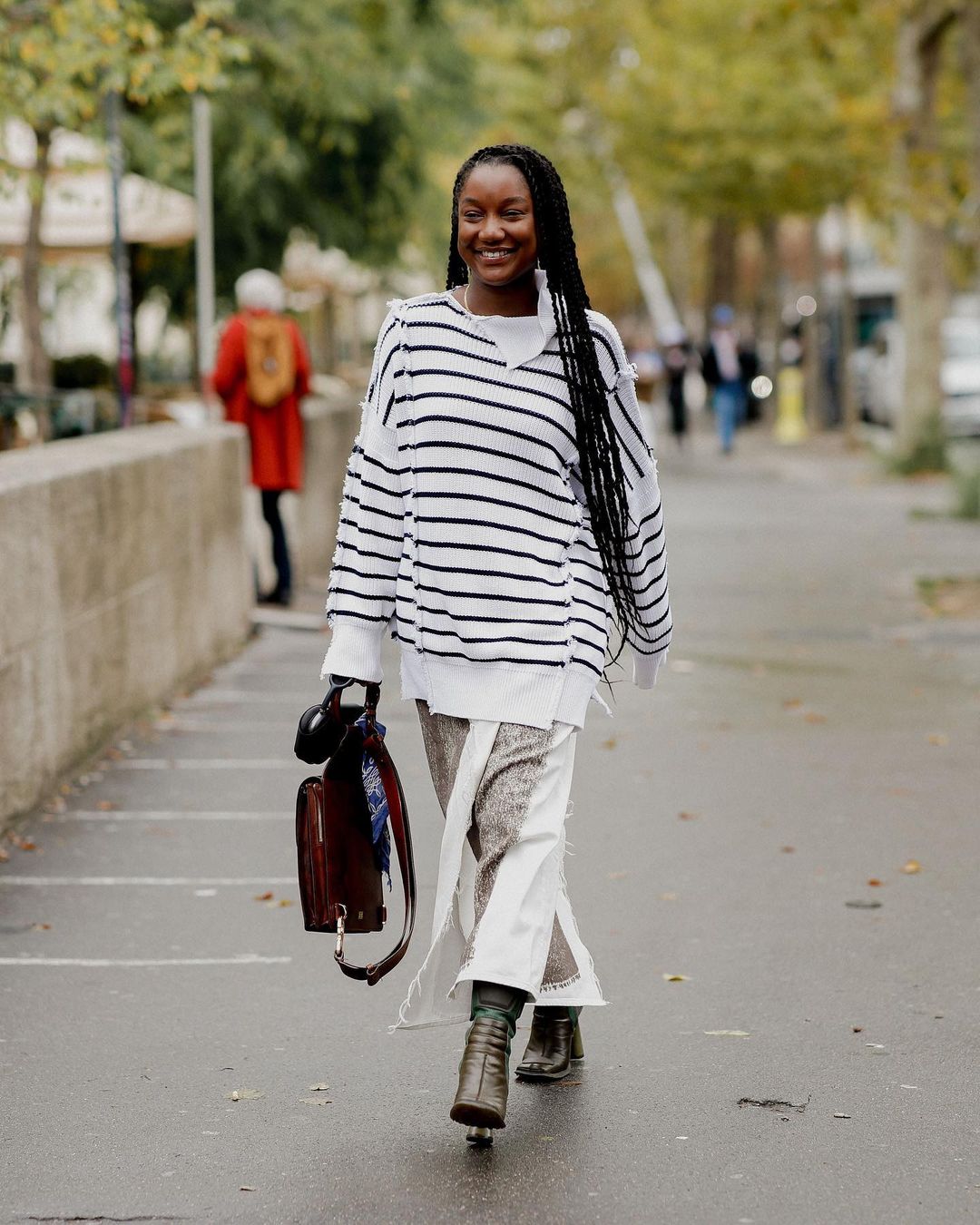 Photo via @telshaanderson
4) Grunge Layers
Sweaters are meant to be comfy, so why not amp up the cozy factor with an oversized silhouette? We're copying this influencer who rocks a large striped knit with a distressed maxi skirt for a nonchalant look. The worn-in, grunge-inspired layers are sure to make others do a double take.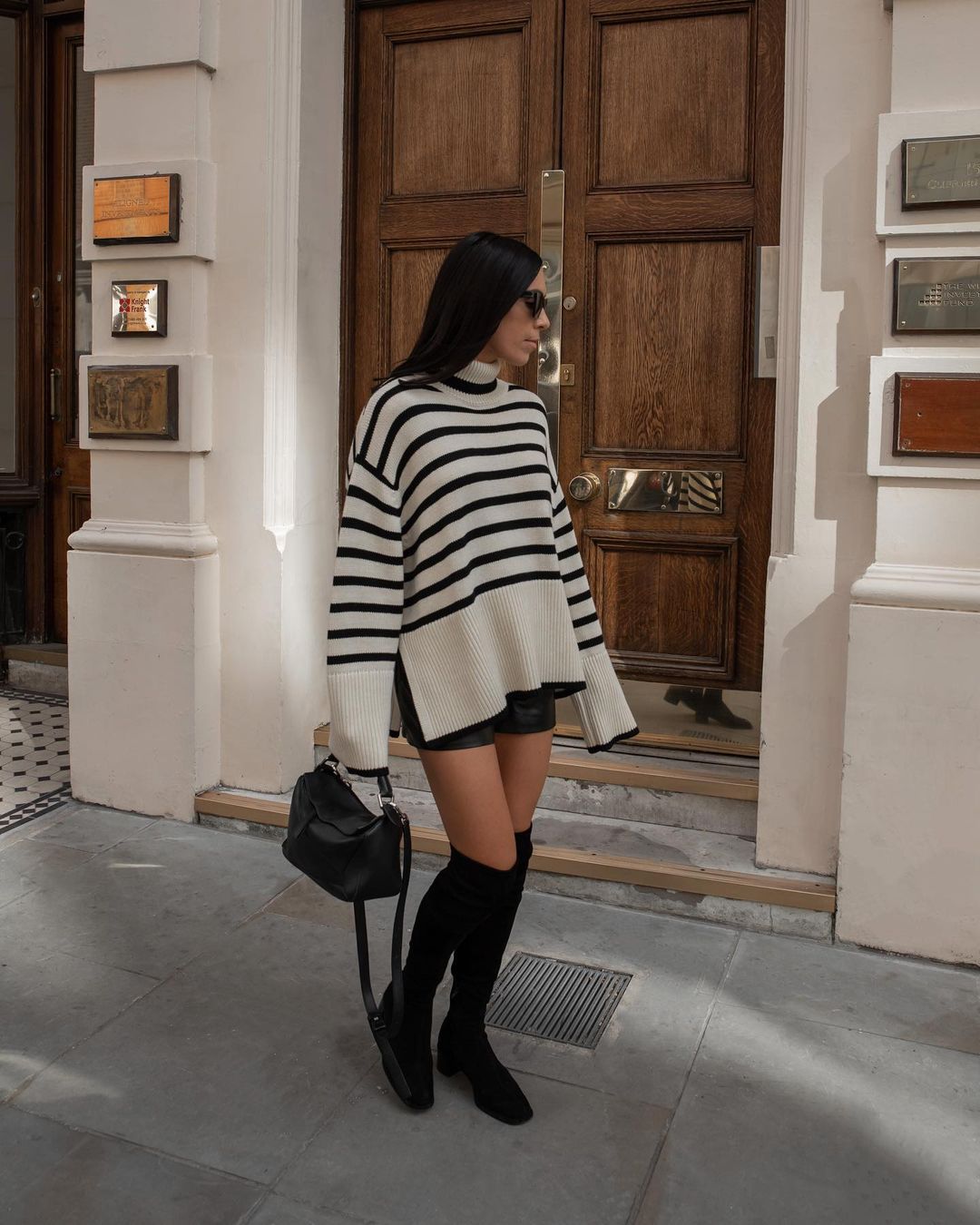 Photo via @_jessicaskye
5) Short Story
The beauty of a striped sweater is that you can pair it with other bustling trends of the season. We're talking over-the-knee boots and leather. The end result when worn together? An effortlessly chic ensemble that can take you from brunch to after-hour drinks with any crowd. As the weather cools down, you can add ribbed tights to the mix or trade out the shorts for leather leggings.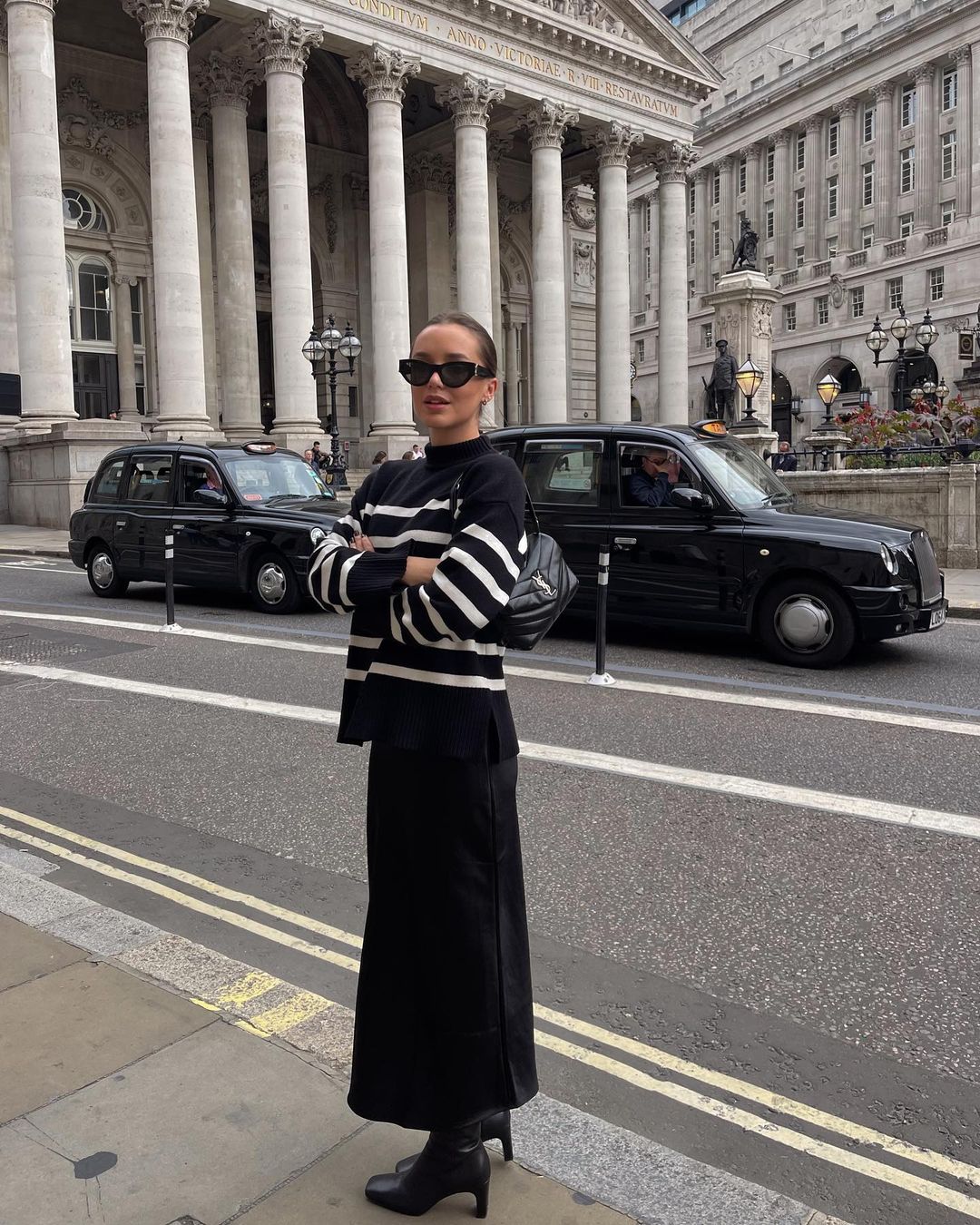 Photo via @fleurraffan
6) Slip Into Style
This next striped sweater outfit is made for those leaning towards smart, sophisticated and classic style. There is a good chance you already own a slip skirt in your arsenal. This long, polished bottom makes for a natural pairing with a neutral striped sweater. For visual proof, we turn to this influencer who is pictured wearing the two pieces together. Complete the look with a sleek pair of sunnies and minimal heeled boots and you are ready to take on the world.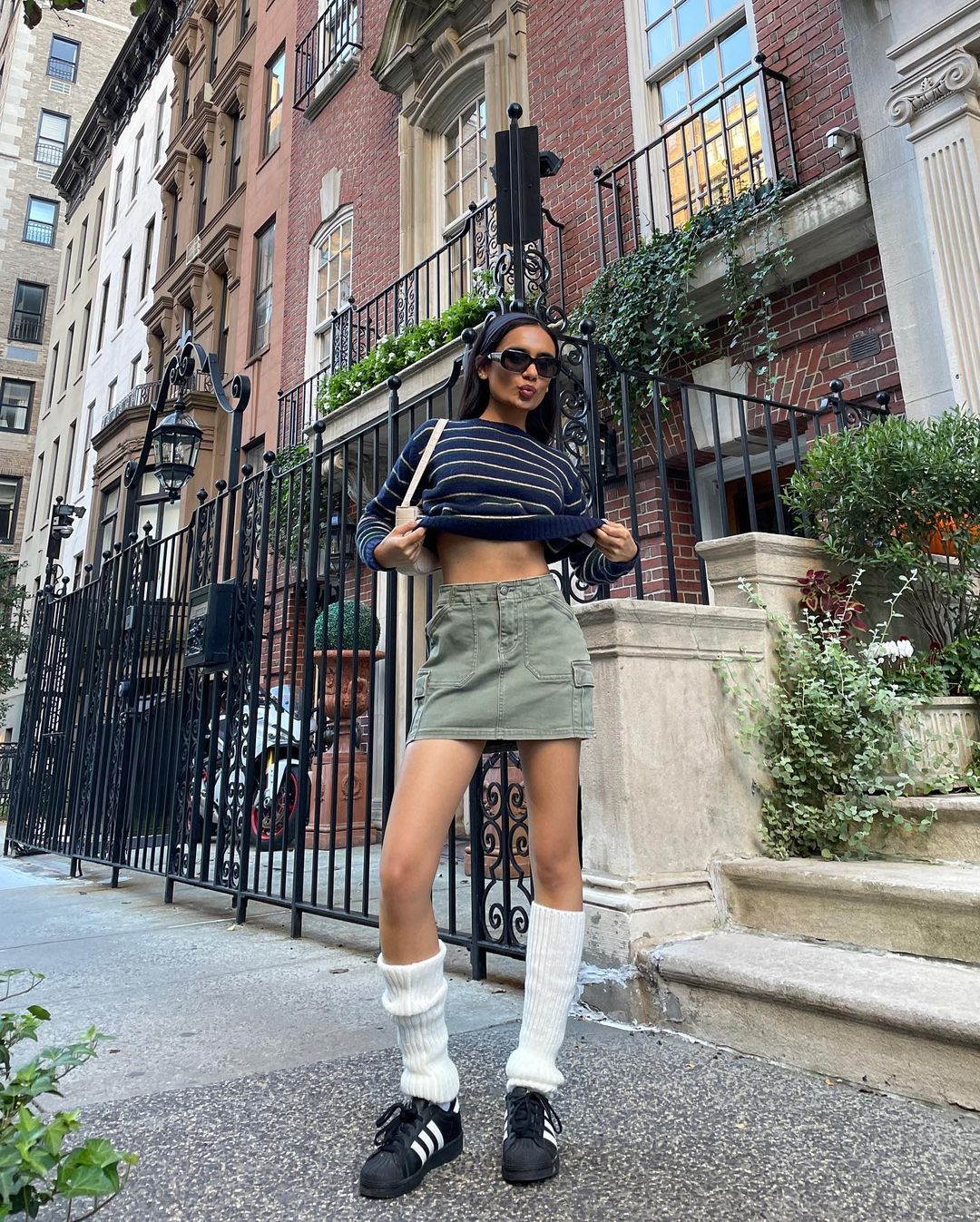 Photo via @shayanarex
7) Luxe Leisure
Before the brutal onslaught of freezing temperatures, take advantage of the beautiful fall weather by finding any opportunity to style your miniskirts before the season ends. Shay's got the right idea here with her mini cargo skirt and androgynous navy striped sweater. The key detail that sets this outfit apart from others is the leg warmers and sneakers combo. This unforeseen style hack is just one way cool girls are seamlessly transitioning their short hemlines for cooler temps.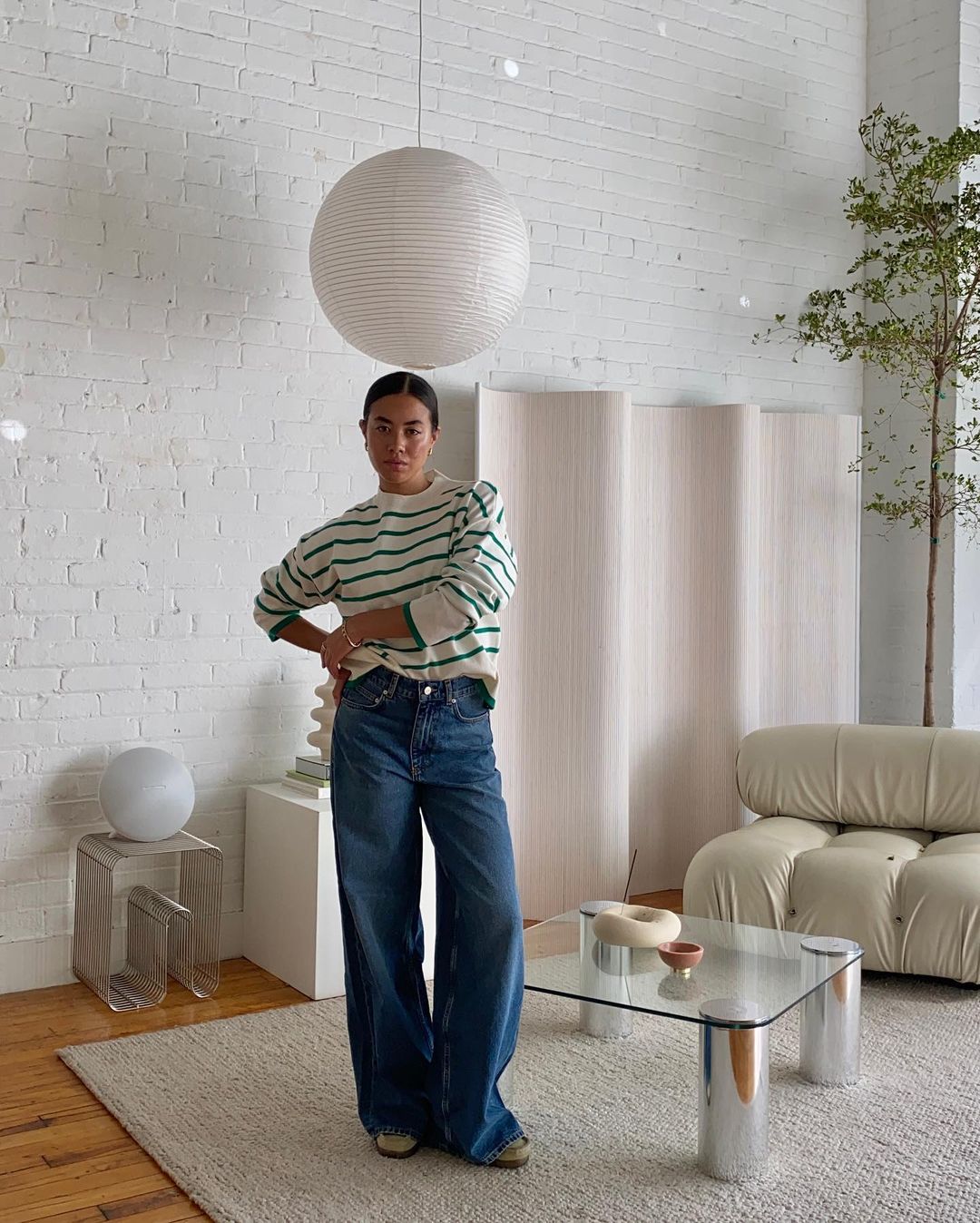 Photo via @sasha.mei
8) Wide Leg Denim
The beauty of the striped sweater trend is the idea that it looks just as good dressed down as it does dressed up. Sasha enhances her simplistic green and cream striped knit with a pair of wide leg jeans and loafers to create an outfit that is ideal for cafe-hopping with friends on the weekends. We cannot get enough of the slouchy fit of the sweater and how it spruces up the equally relaxed bottoms.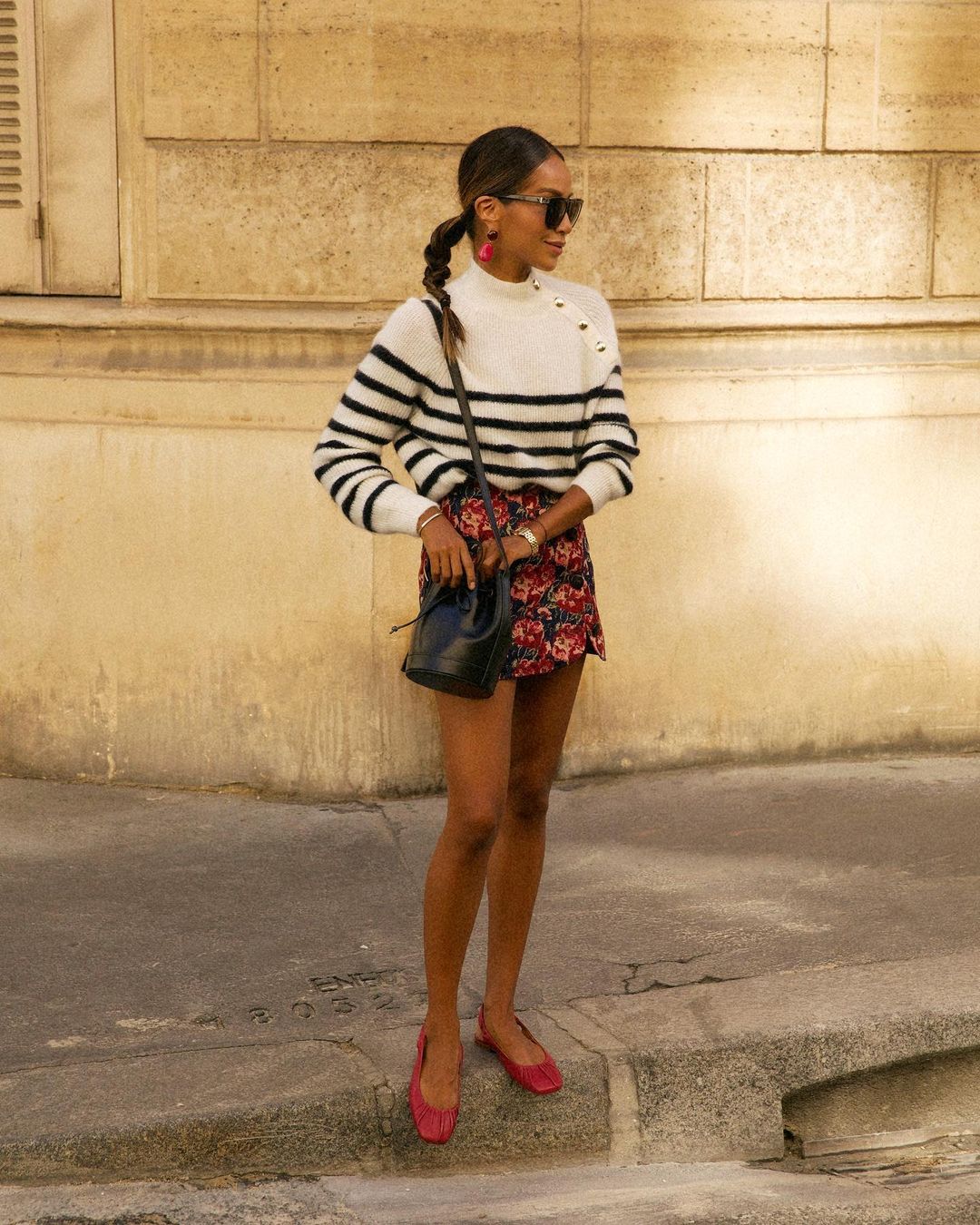 Photo via @sincerelyjules
9) Pattern Play 
Mix-and-matching different patterns is an acquired skill, but once done correctly, it can totally change up your entire style game. An easy blend to start out with involves a quintessential striped top. But to add a feminine spin, try styling with a floral print skirt for a touch of romance. The unexpected mash up yields a charming outfit that can surely do it all.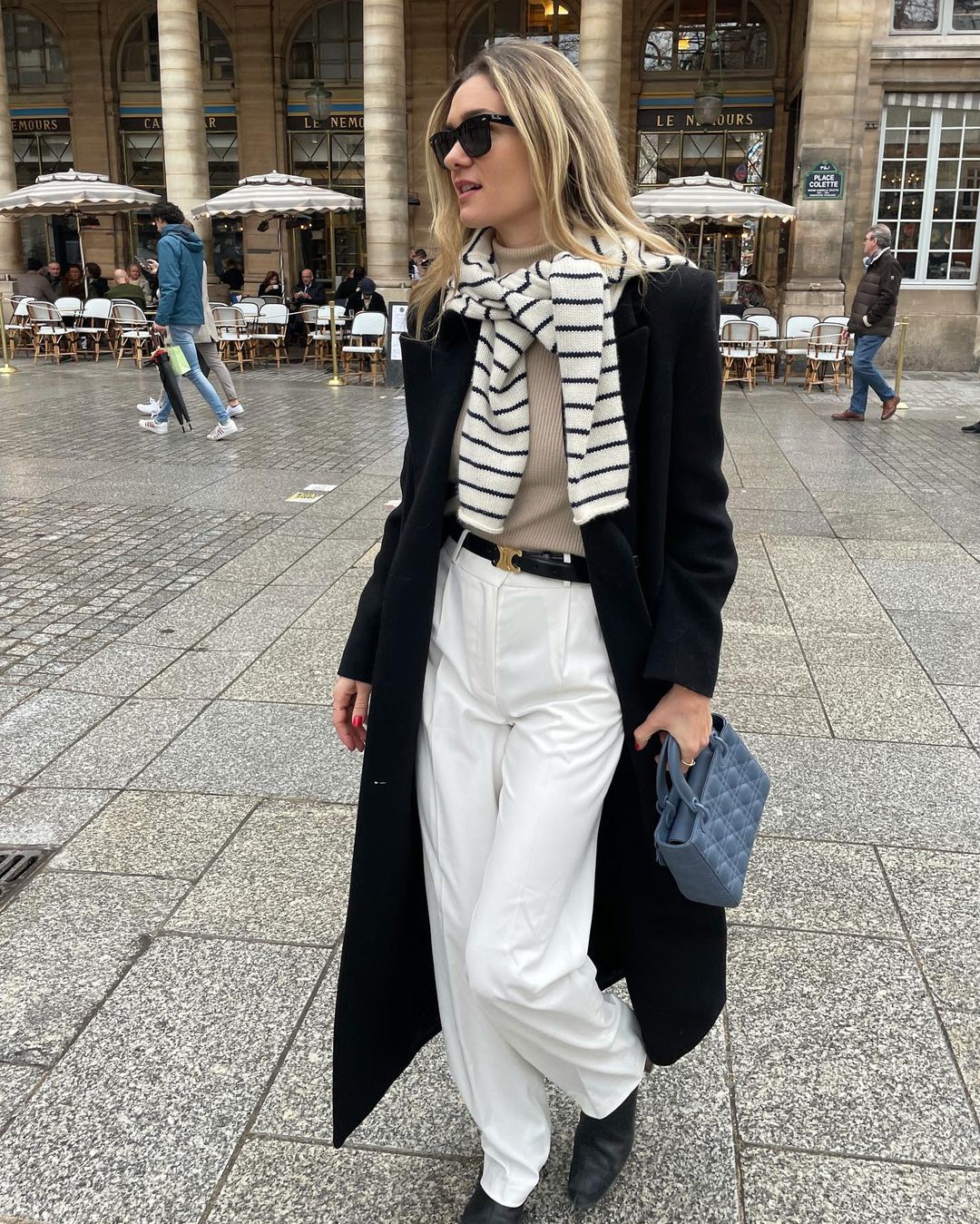 Photo via @annelauremais
10) Over The Shoulder
At the end of the day, the pieces that get the most mileage are timeless in nature. That means that pairing a refined, yet trendy piece, such as a striped sweater, with other basic staples makes for a foolproof outfit. Every. Single. Time. A wool coat and ribbed top with high-waisted trousers can feel entirely new with a striped sweater tied over the shoulders. The combination never gets old, providing further proof that striped knits are here to stay (and worth every penny).

(Visited 1 times, 12 visits today)