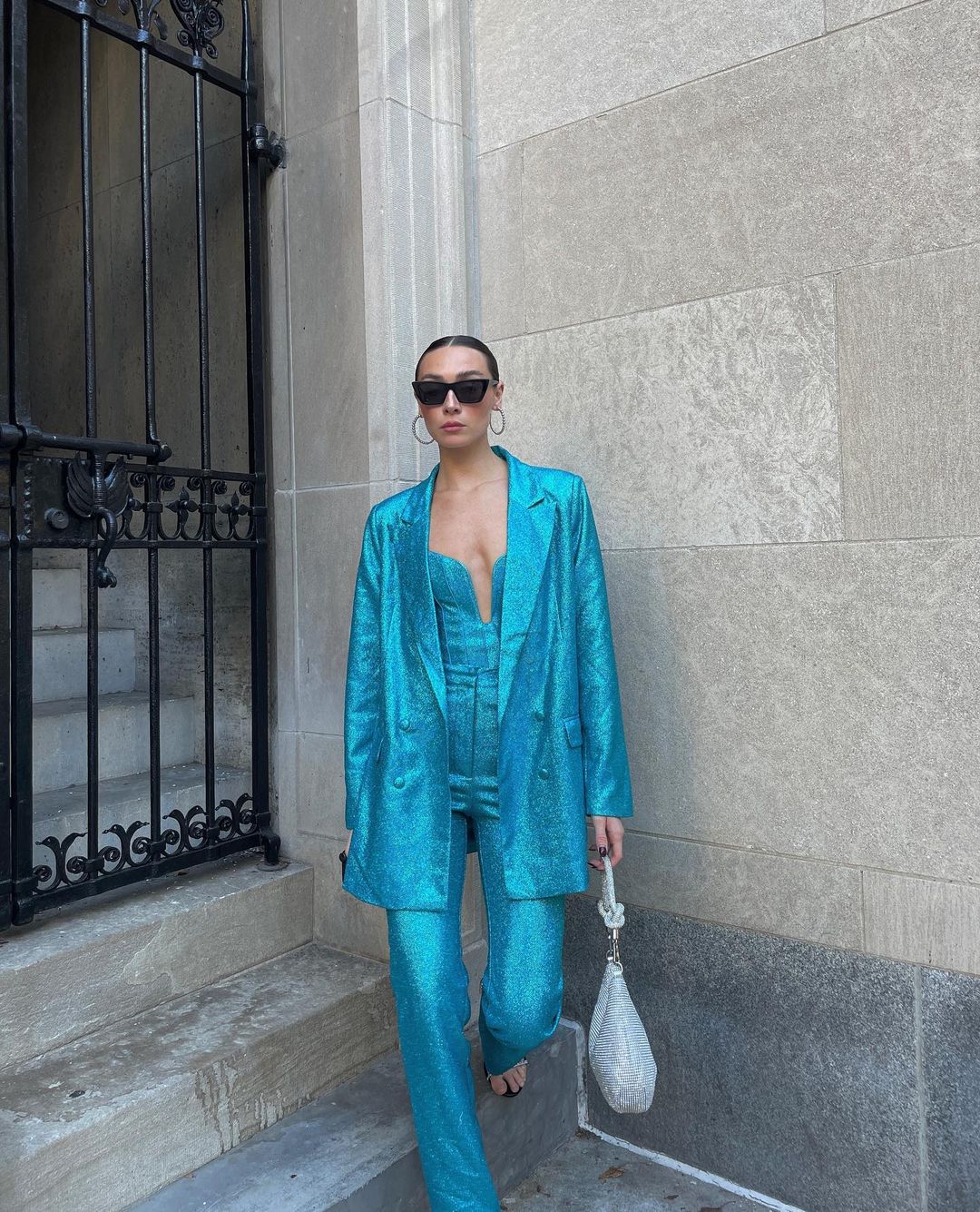 Photo via @mollydalton
This is your daily reminder that the holiday season is upon us. You certainly want to avoid that last minute scramble for the perfect outfit right before an event. The best way to do that is by shopping ahead for holiday party looks before you become inundated with invites. If your calendar is looking anything like ours, then there are probably plans to hop from one party to the next. That makes for multiple chances to step out of your comfort zone. Why not take advantage of the occasion and try a more-is-more approach to holiday dressing? We're talking trends you wouldn't usually go for on a day to day basis, like sequins, feathers – the entire works. After all, 'tis the season to be extra and look as fabulous as possible. With so much on your plate, holiday party looks might be the last thing on your mind. We wanted to make your prep as smooth as possible, so we've rounded up the 10 best holiday party outfits that you can bookmark now and replicate in the weeks to come.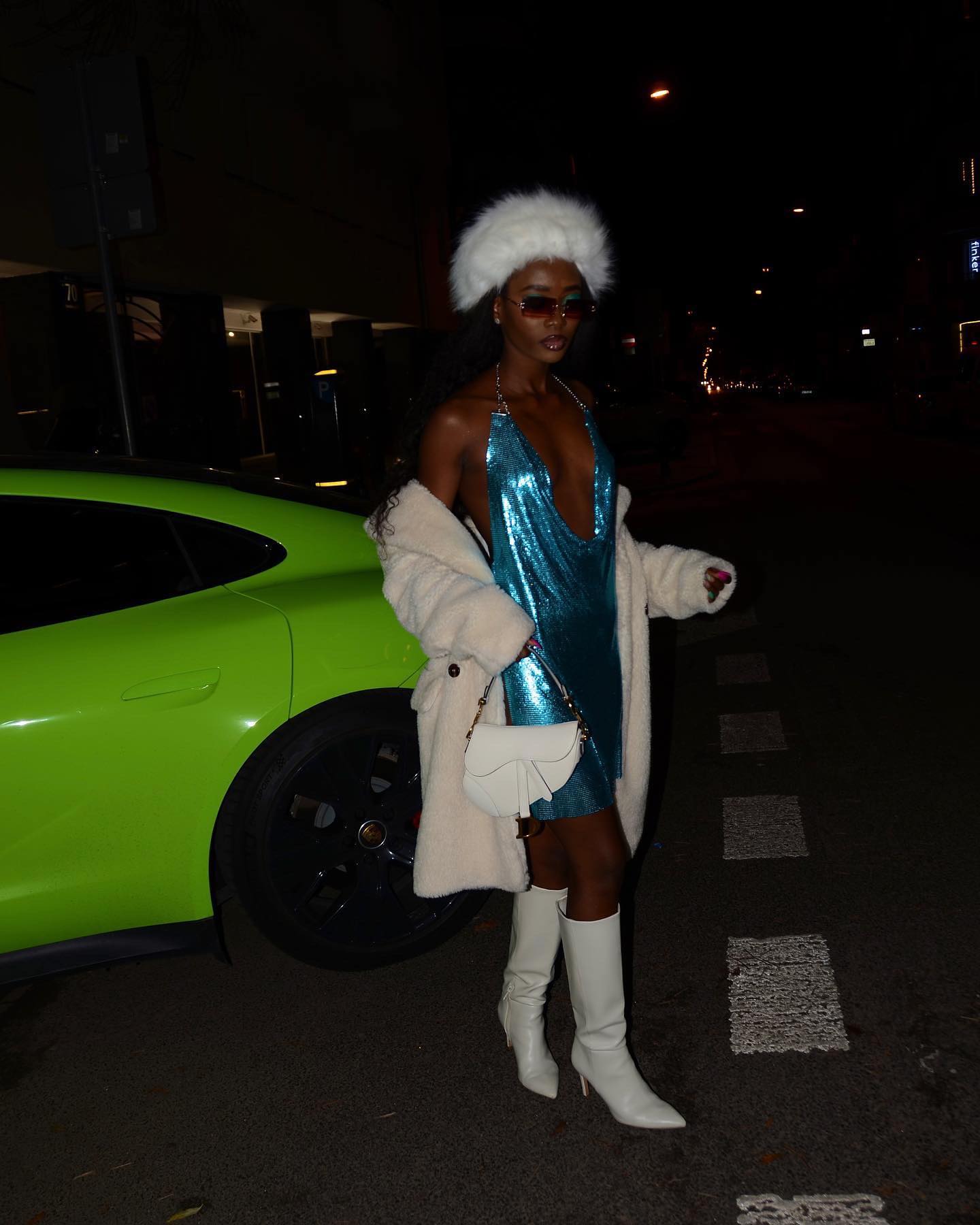 Photo via @alicia_krakowska_hadid
1) Y2K Inspired
While the notion of a mini dress doesn't sound appealing on a cold December night, we can suggest one accessory that manages to elevate the look while also providing warmth: furry hats. They're proving to be an important micro trend and a great way to accent any holiday party outfit. It adds a snow bunny vibe to her glam ensemble.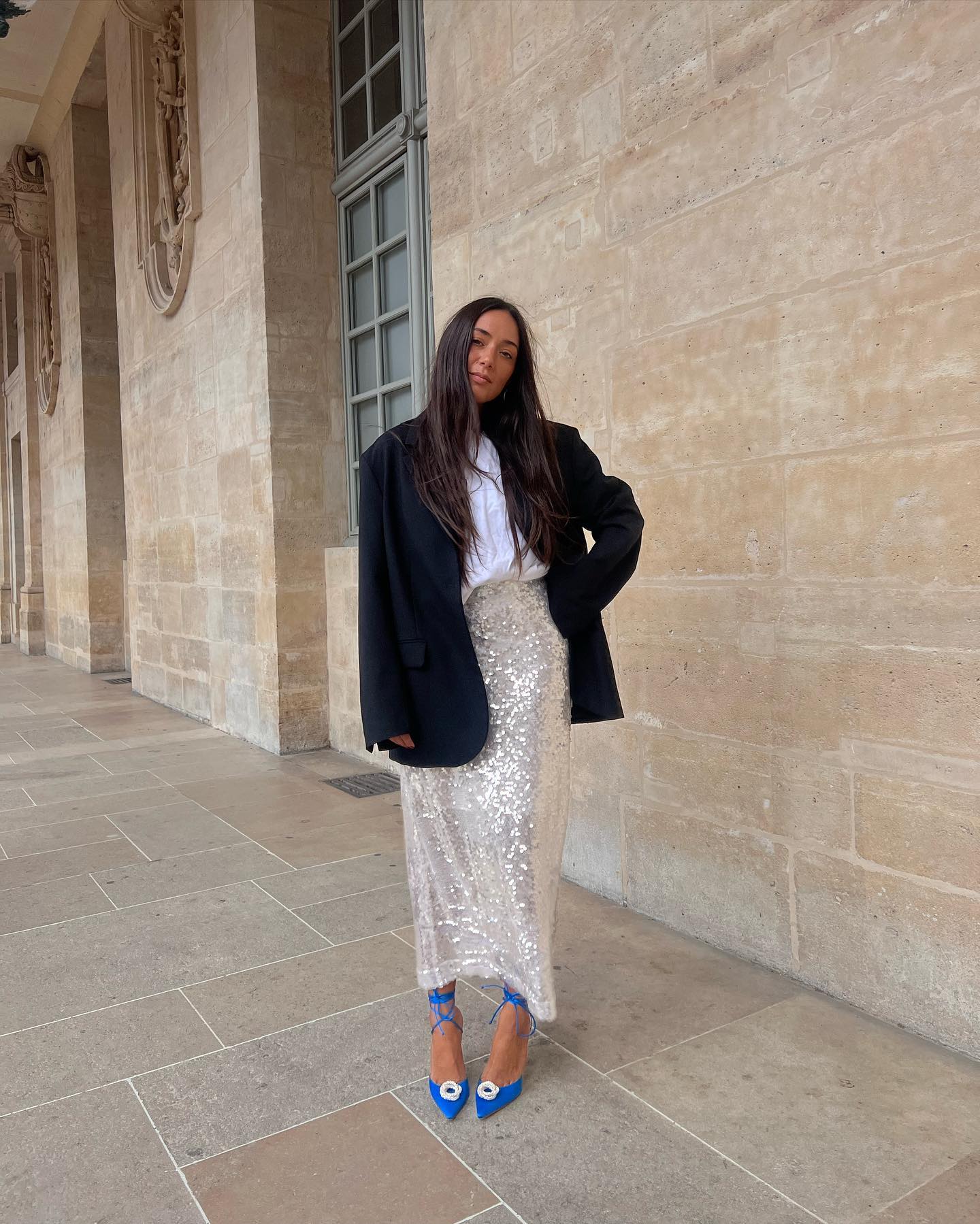 Photo via @jennifer_casimiro
2) To the Maxi
While a head-to-toe sequined number might be intimidating any other time of the year, there is no better time than now to bust it out. Sequined maxi skirts are meant to steal the spotlight and there is no better formal outfit to spread some serious holiday cheer. Feel free to look beyond just silver and gold too. Pop colors such as purple or pink are just as effective in terms of turning heads. You can even double dip and take your maxi to an office holiday party by adding a crisp white shirt and blazer.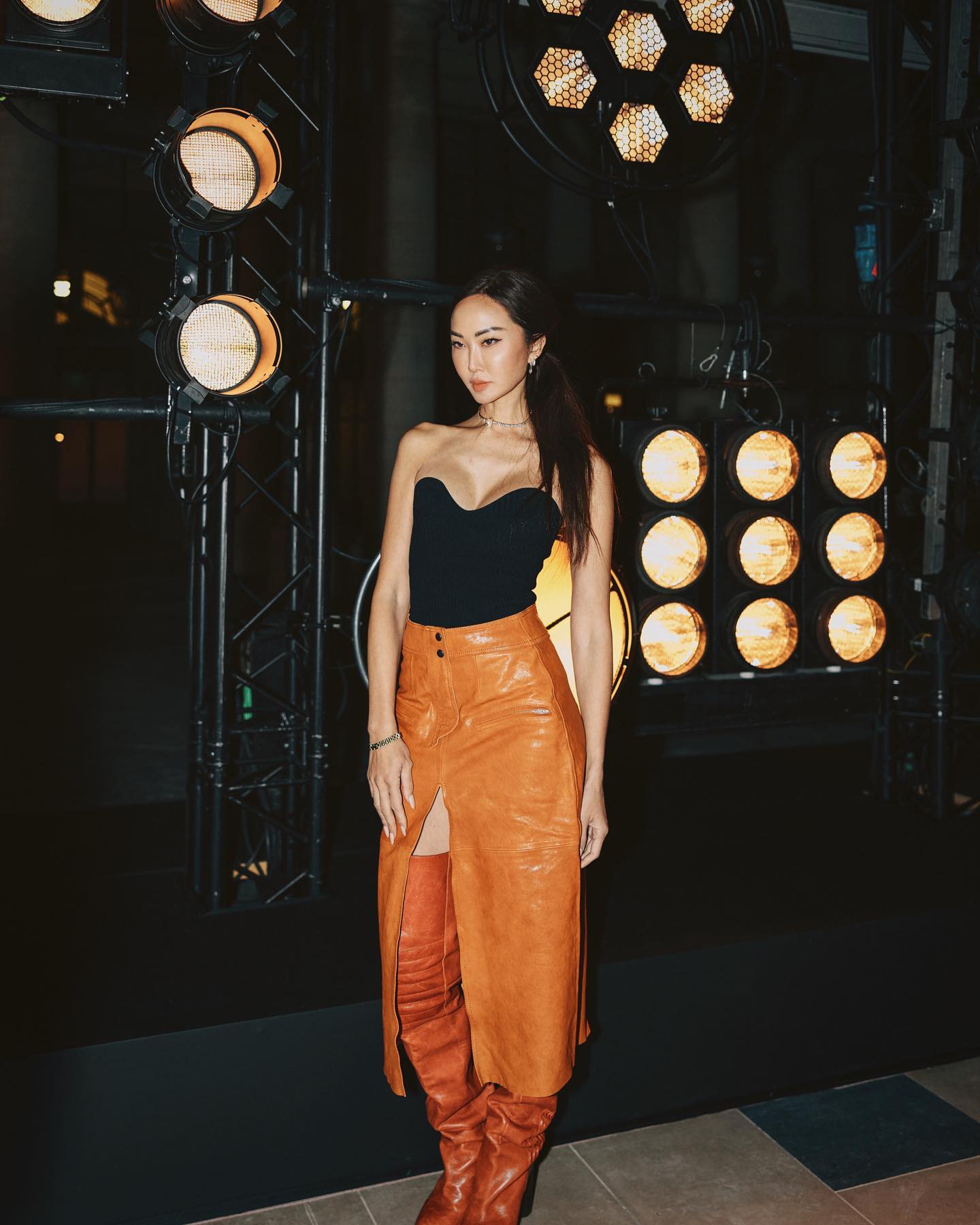 Photo via @chrisellelim
3) Tone Down
Leather continues to be one of our favorite fabrications to combat the cold and there are a myriad of ways to pull it off for a night out. For your next outing, consider skipping the leather pants and challenge yourself to style a leather skirt. We are taking major tips from Chriselle who pairs or slit midi with a minimal tube top and killer slouchy OTK boots.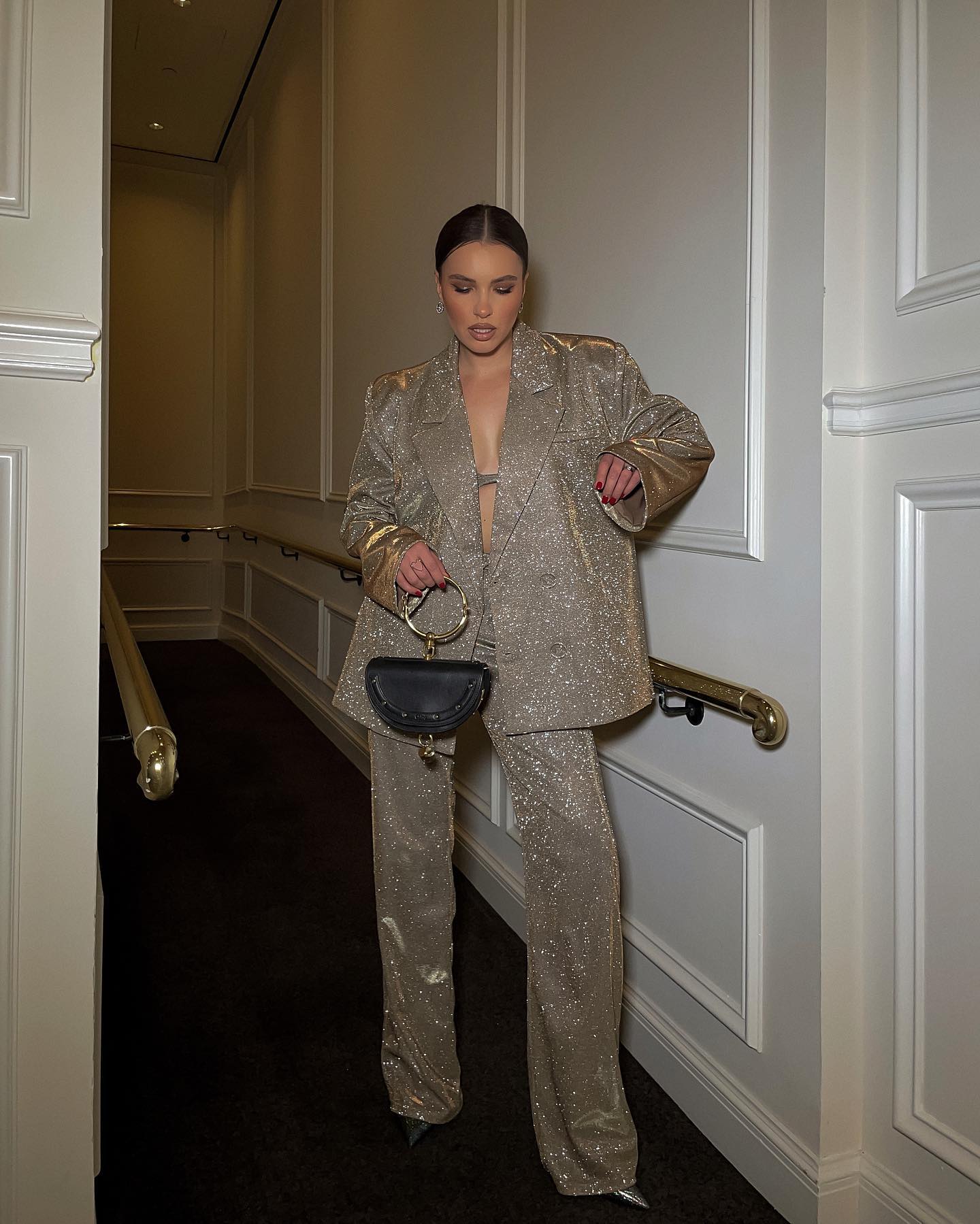 Photo via @vitaliia
4) Shine On
A tailored set might not sound like the most exciting thing to wear for a night out – but we promise this version will not disappoint. Take the beloved silhouette but make it glam with reflective embellishments for a holiday party look that rings in the compliments all night. The shimmery blazer and trouser duo is festive and flattering – but most importantly, comfortable enough to wear for an evening of drinks and dancing.

Photo via @yvzux
5) Light as a Feather
Nothing steps up the glam factor like feathers. This influencer steals the show in a feather adorned mini skirt that practically screams life of the party. To ensure all focus is on the textured bottom, she keeps the top half simple with a sheer button up. Overall, incorporating a little bit of feather is a great way to nail down a fun and flirty holiday outfit.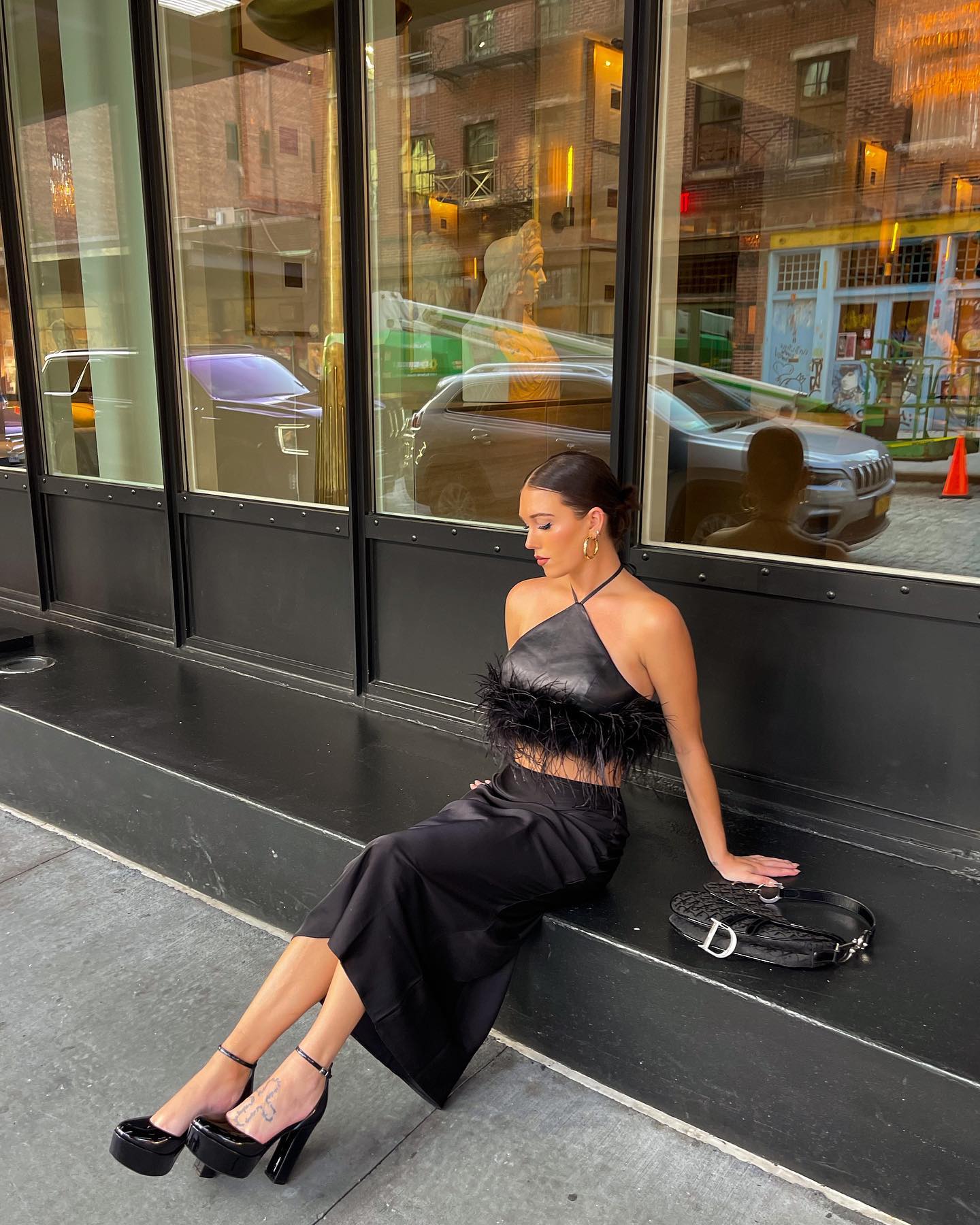 Photo via @_reillyjohnson
6) Slip Season
Speaking of feathers, a feather trimmed top happens to make for a chic pairing with a slip skirt. No matter what the occasion might be, this timeless bottom never disappoints. Slip skirts are universally chic and flattering on every figure, making them the perfect foundation to a sophisticated party ensemble. Feel free to throw in some platform heels to make your look extra posh.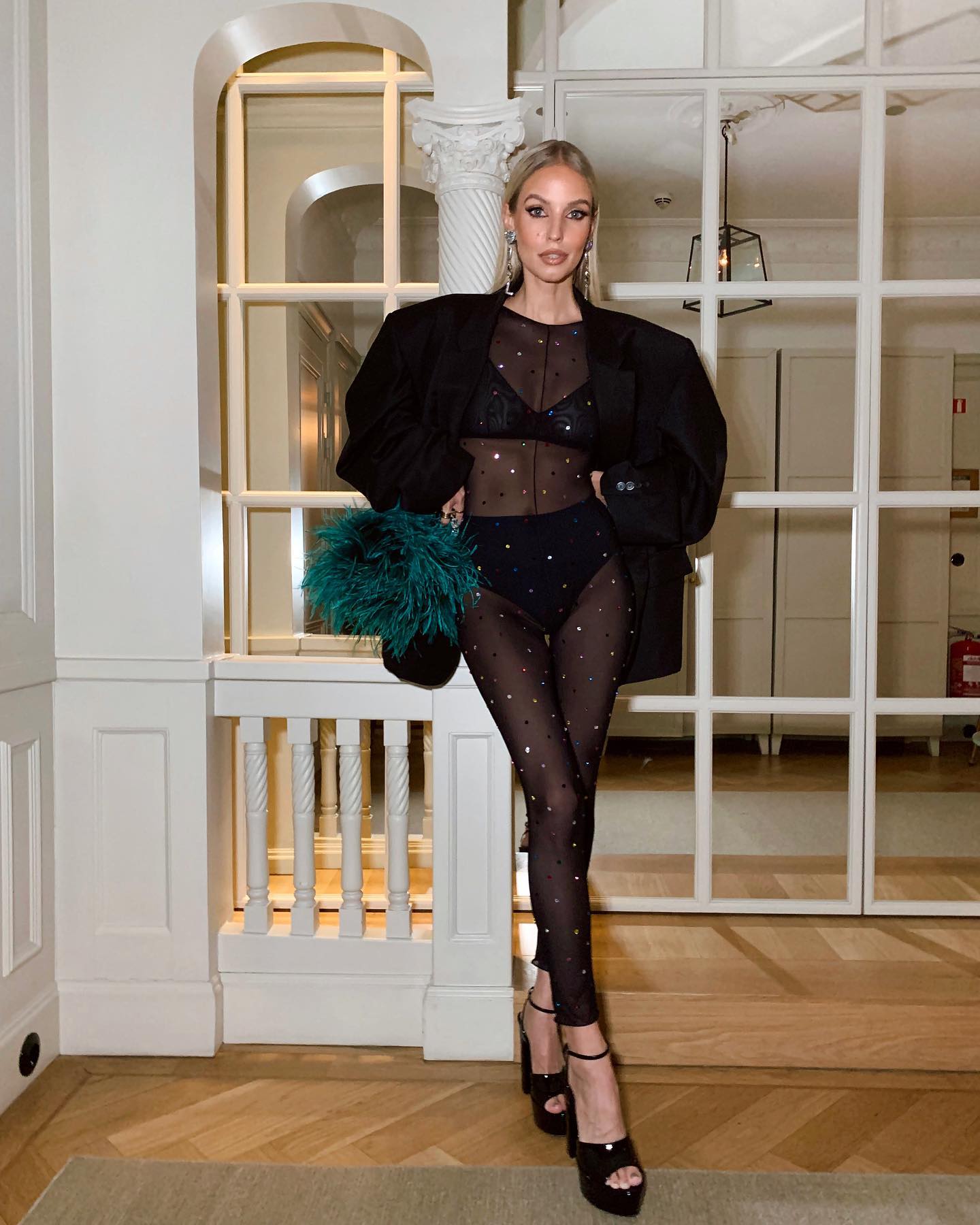 Photo via @leoniehanne
7) Naked Dressing 
From now until the night of New Year's Eve, fashion is all about going big or going home. There is no better trend to tackle than the "naked" or sheer trend. Whether it be a fully transparent maxi dress or a barely-there catsuit, just know that it's proving to be the ultimate party look. But if you are feeling a little exposed, an oversized blazer will provide the perfect fashion fix.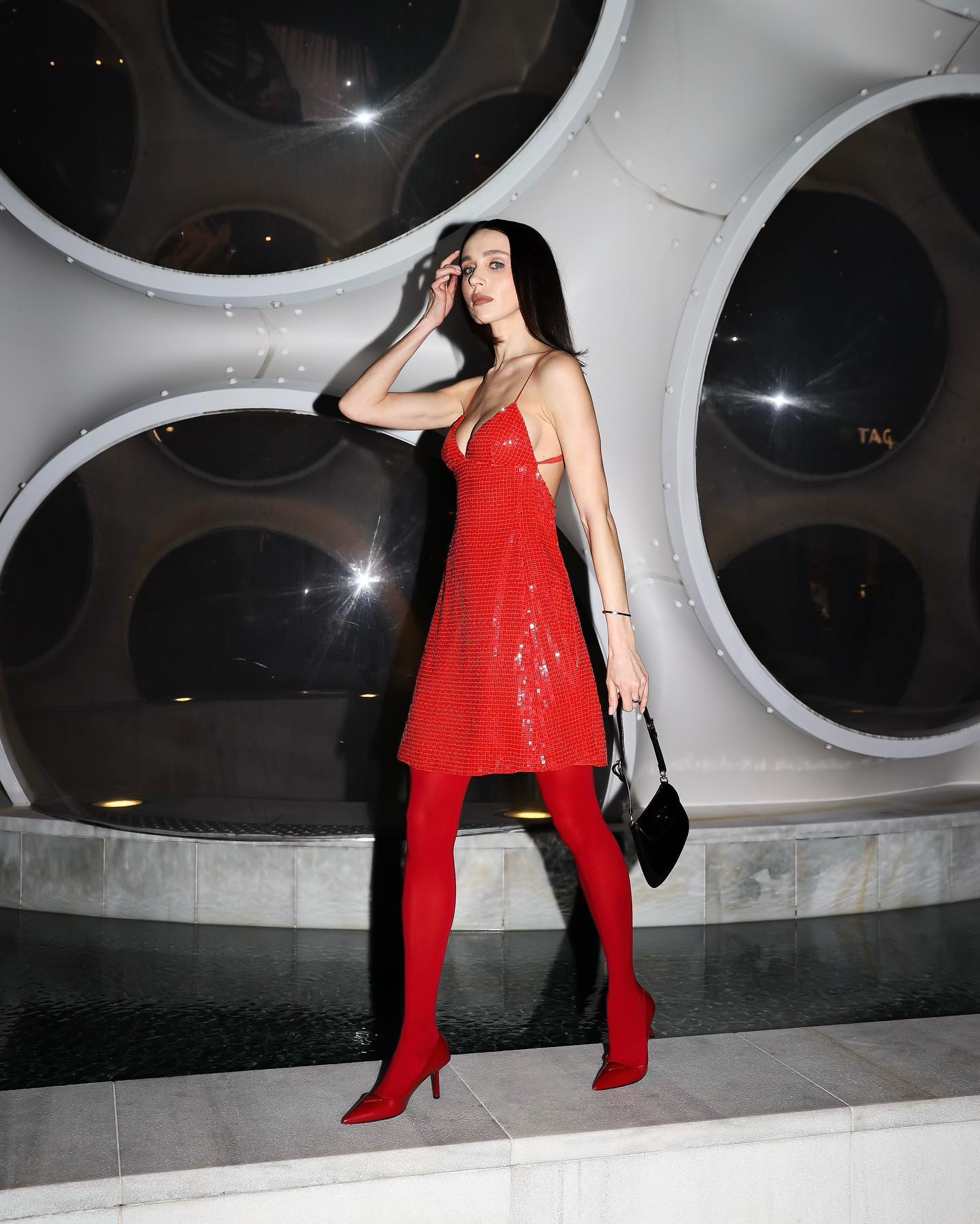 Photo via @maryleest
8) Holiday Cheer
If you are really looking to channel the spirit of Christmas this season, go bold in a monochromatic red outfit. This vibrant, sultry color is just what you need to heat up your wintertime party. We love how fashion influencer, Mary, takes it a step further by coordinating a cherry red sequined mini dress, tights, and heels for a look that's fire.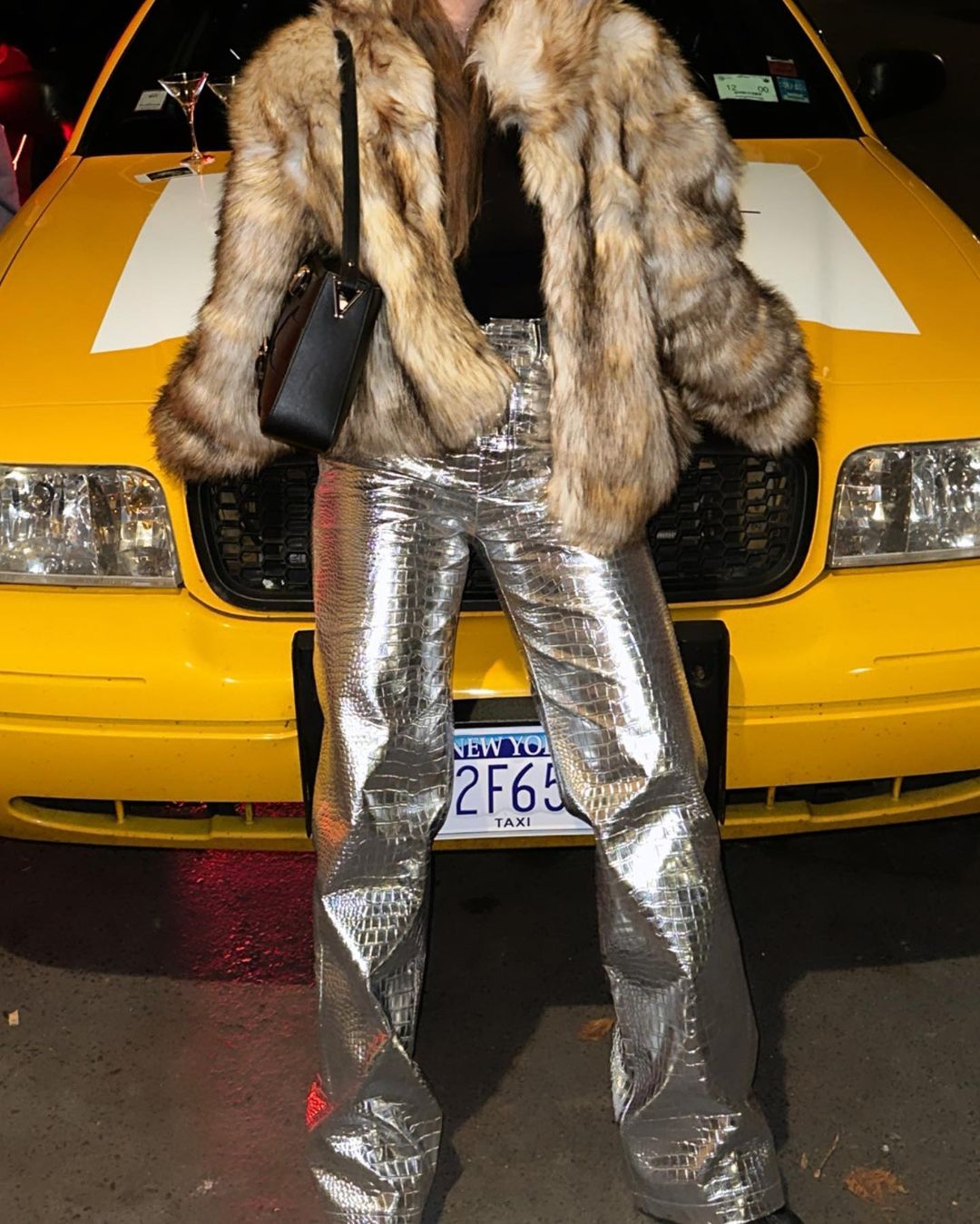 Photo via @chez.amelie
9) Liquid Metal 
As an alternative to sequins, you can opt for something flamboyant and metallic to get the same high-shine results. In this case, Amelie rocks a pair of reflective silver pants. But she doesn't stop there. She further glamorizes her night out look with a faux fur jacket. Who knew fur and metallic worked so well together?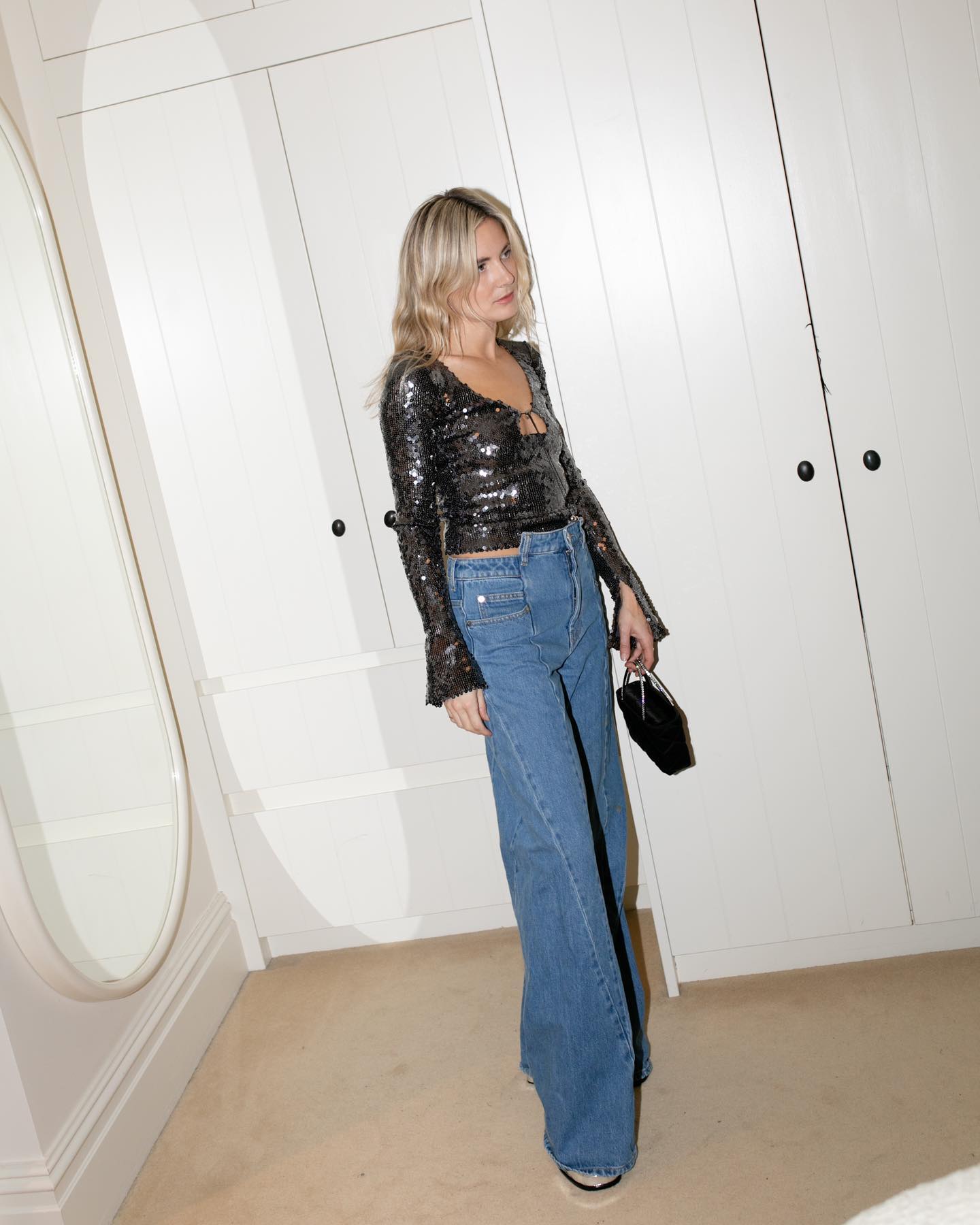 Photo via @lucywilliams02
10) Party on Top
On the other hand, if you have a low key soiree planned with your friends, perhaps a full blown dress isn't called for. You can still achieve a festive look with a pair of jeans. All you need is a fun party top to set the mood. Of course, we are all about sequins at this time of the year. A glimmering sequined top with a pair of flared jeans makes for a look that is just as stylish as the rest. 

(Visited 1 times, 1 visits today)