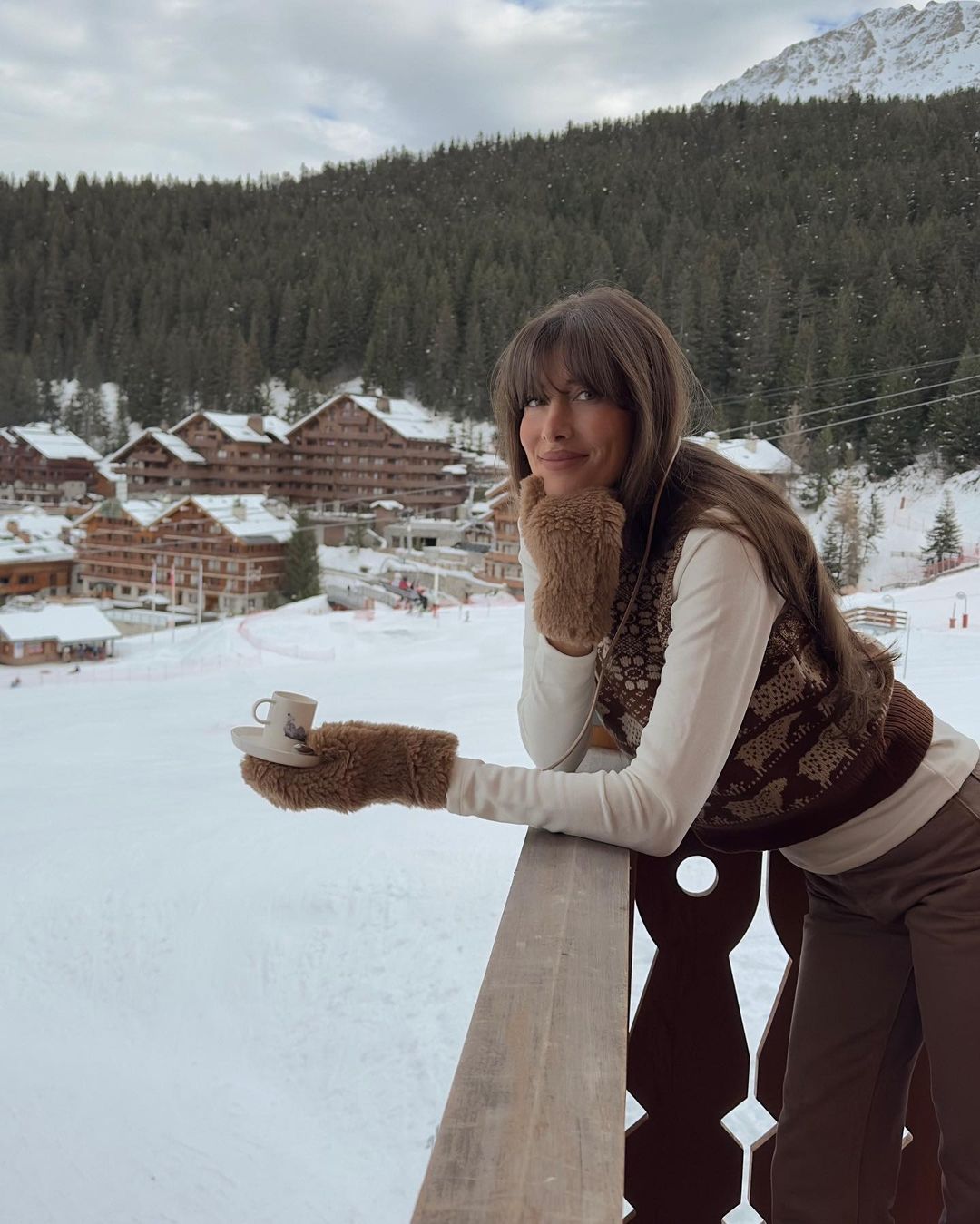 Photo via @juliesfi
Inspired by the ski scene that was popularized back in the 50's and 60's, the Aprés Ski trend is back and bigger than ever. It relies on staple winter pieces, such as fair isle knits, puffer jackets, balaclavas and snow boots. As we head into the thick of winter, it's time to bundle up and embrace the nostalgic, cold-weather aesthetic. Whether you're Aspen or Jackson Hole bound, there are ample opportunities to hit the slopes, relax by the fire, and sip on hot chocolate. And all of the above makes for the perfect excuse to dip into the burgeoning trend. Even if you have no plans to hit the slopes, you'll want to keep an eye out on all things ski chic. It's expanded into an entire mood, marrying casual with cozy and sporty, which will come in handy every day of the week. Now that the most coveted brands are doubling down on aprés ski style, it's easier than ever to find an abundance of alpine-inspired pieces at your finger tips. Scroll ahead for our favorite ways to take it to the streets.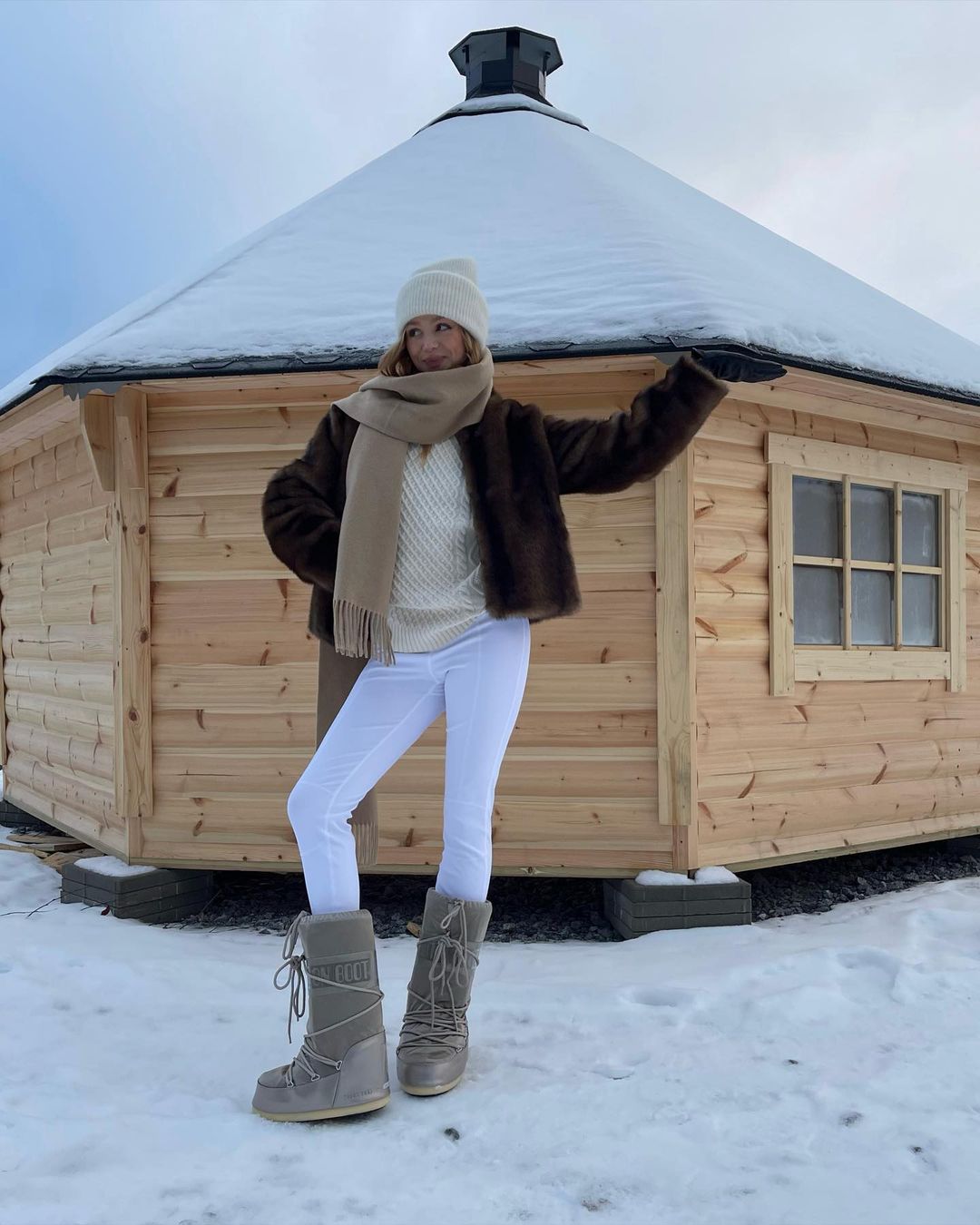 Photo via @wefelicia
1) Texture Play
Much like everyday style, one trick you can implement for a more interesting outfit is to play with different materials. Piling on contrasting textures add dimension and interest to your look without going overboard. We love how Felicia introduces faux fur on top of a cable knit sweater, leather gloves and technical pants. It yields one snow-approved look that is approachable enough for those who aren't seasoned skiers.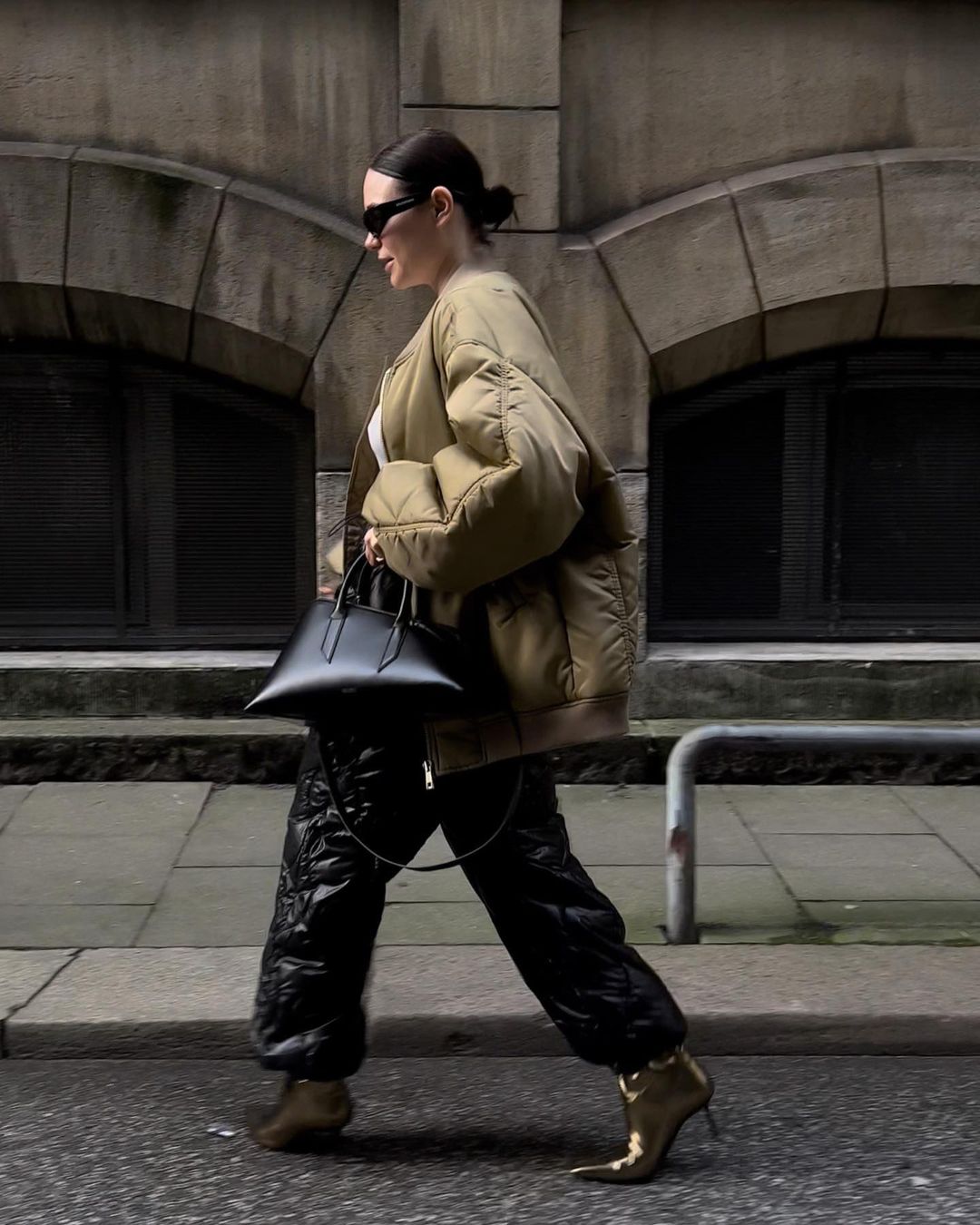 Photo via @alice_fetisova
2) Padded & Quilted Gear
The padded jacket might be the lesser known relative to the puffer jacket, but it is proving to be just as fashion-forward. These pieces tend to be oversized, which is perfect when it comes to winter layering. Alice styles her padded jacket with quilted joggers for the ultimate cold-weather uniform. This sleek aprés ski inspired look definitely leans urban but would fare just as well for a wintry getaway.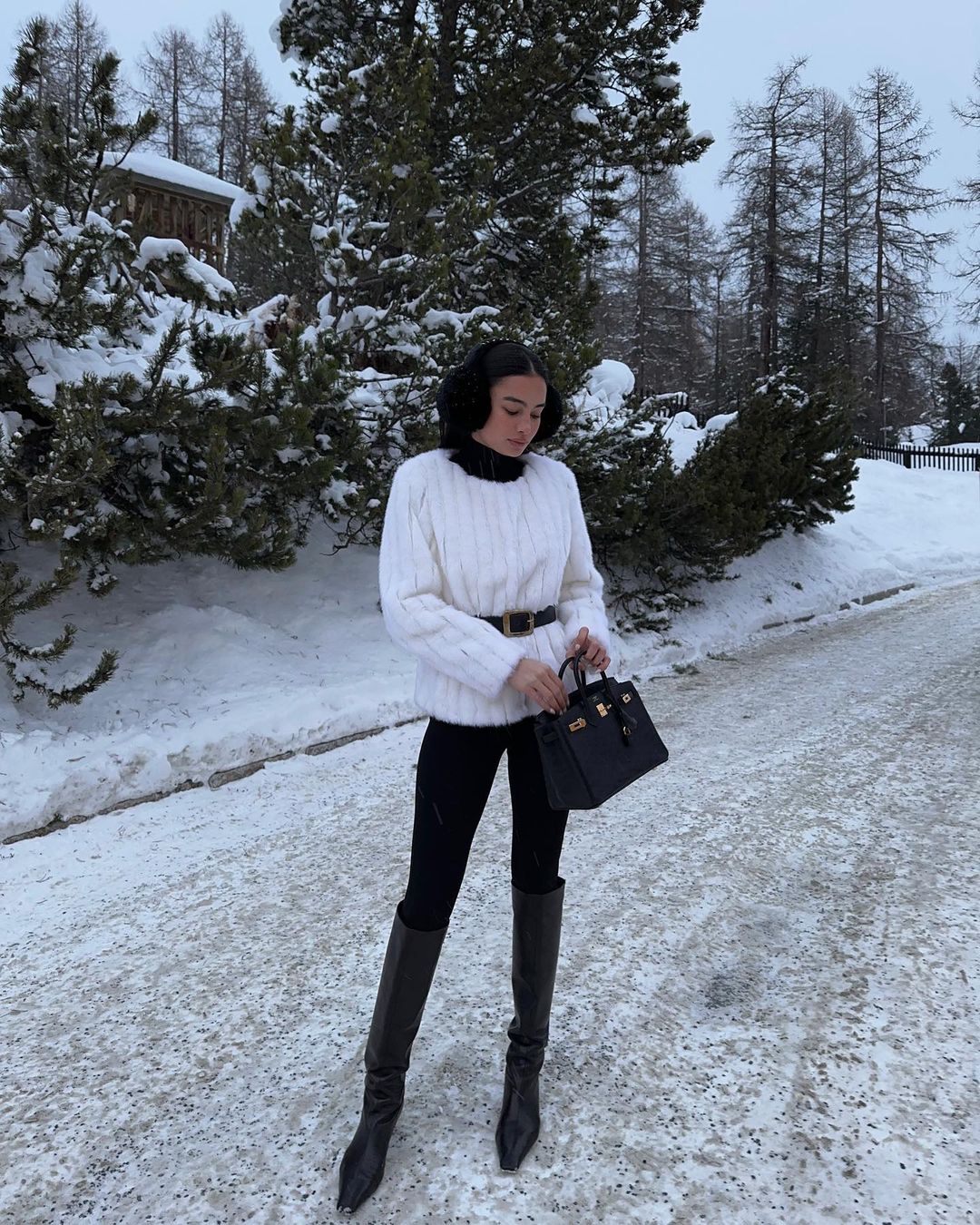 Photo via @kelseymerritt
3) Faux Fur 
The aprés ski aesthetic is undeniably luxurious but one way to up the ante further is by tossing faux fur into the mix. The inherently glam fabrication has the ability to elevate any winter outfit in the blink of an eye, especially when you stick to a neutral color palette. As a final touch, throw on some faux fur ear muffs for extra warmth.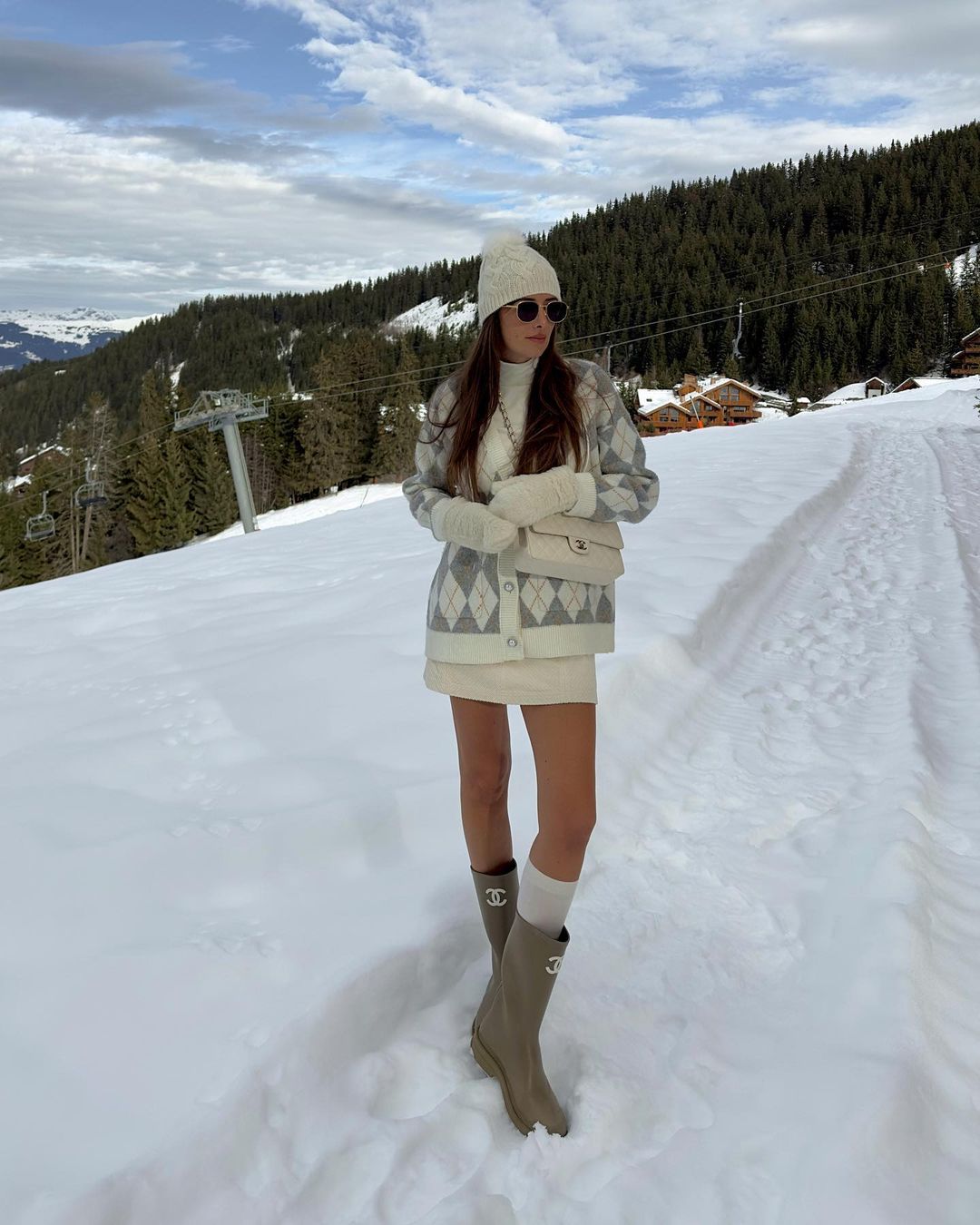 Photo via @juliesfi
4) Wellies
While snow boots are great for insulation, wellies are just as effective for keeping the cold at bay. The durable, water-proof material is ideal for casual walks through the snow – just be sure to layer some thick socks underneath. And if you are feeling as brave as Julie, pair your rain boots with a cute plaid cardigan and a sweater dress for a feminine take.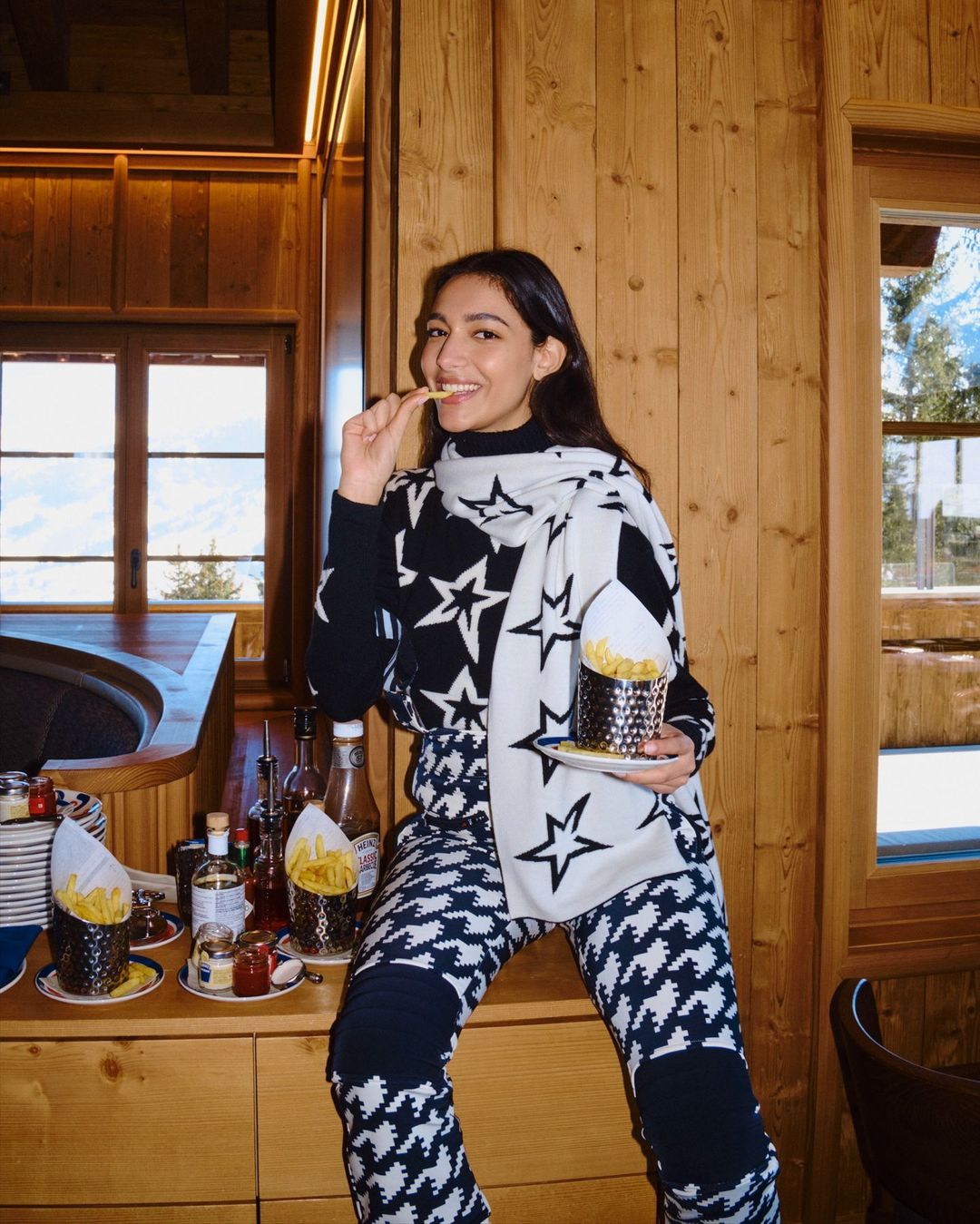 Photo via @perfectmomentsports
5) Get Graphic
One way to stand out on the slopes is to embrace graphic prints. It offers a fun way to inject some character into your winter gear. We love the idea of mixing and matching equally bold prints for an aprés ski inspired outfit that is sure to turn heads as you glide down the mountain side. If you're not yet a mix master, stick to a simple color scheme to keep everything cohesive but still eye-catching as seen above.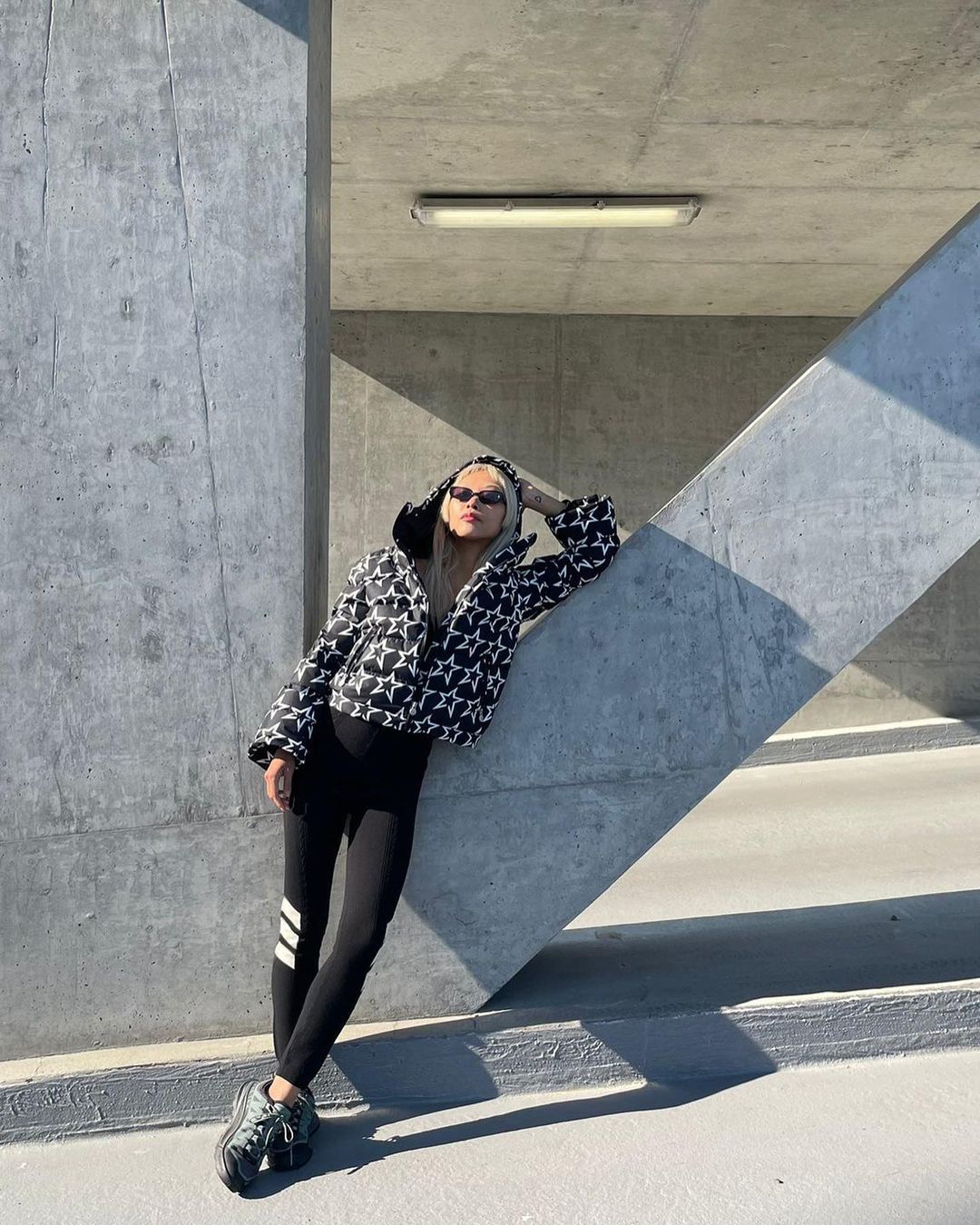 Photo via @vanessahong
6) Athleisure 
While the most important thing to consider when choosing the right winter outfit is warmth, the other critical factor is comfort. Luckily, you can repurpose your favorite athletic pieces for any cold weather styling. Vanessa dresses up a pair of black leggings with a printed puffer jacket and gorp-core sneakers to create an aprés ski fit with maximum impact and minimal effort. Now that's one way to take ski chic to the streets.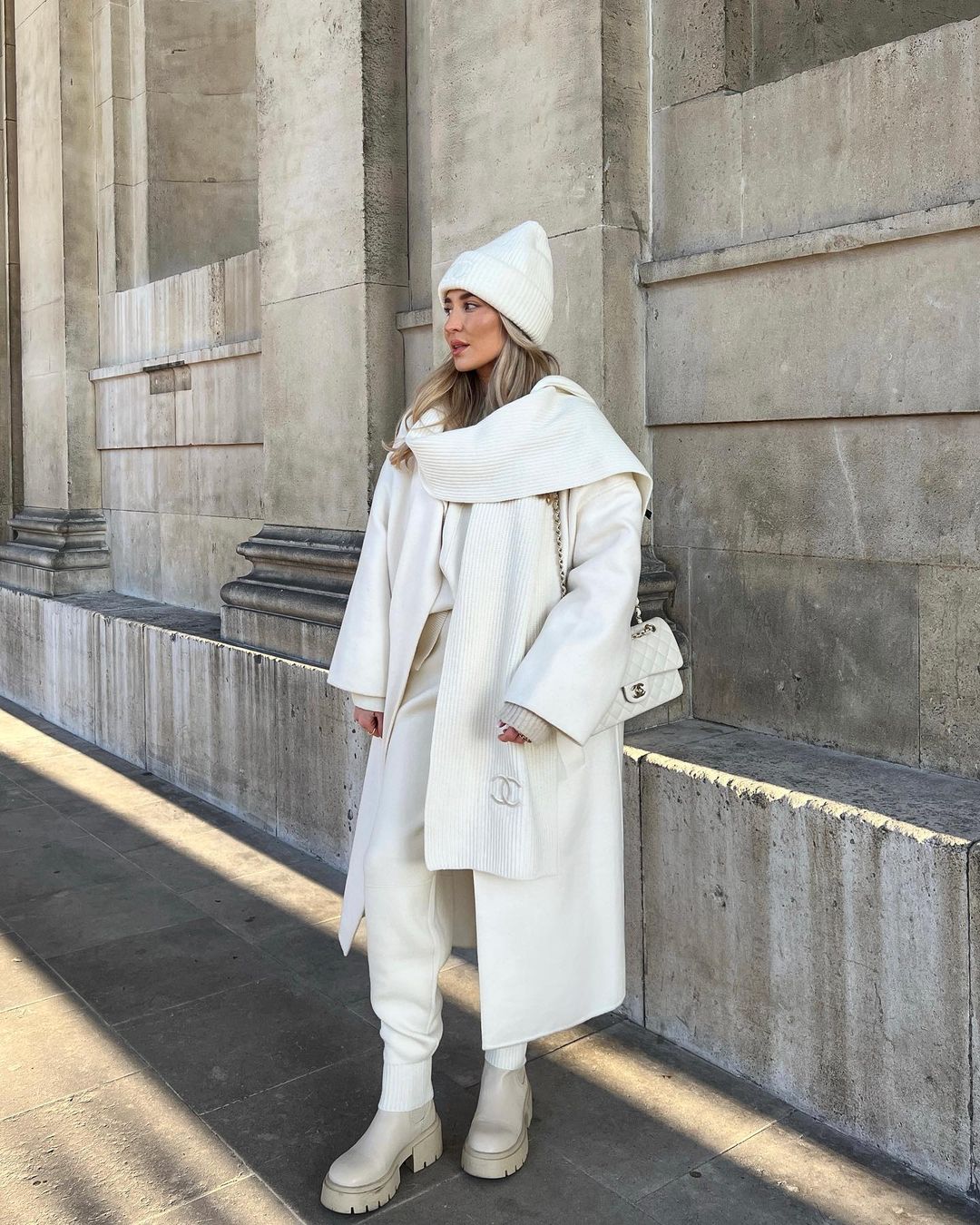 Photo via @freyakillin
7) Snow White 
When it comes to the aprés ski trend, you don't have to trek through the snow to participate. With a few styling hacks, you can create a mountain chic look in no time. Freya nails it on the head by opting for a head-to-toe white outfit. The color palette alone elevates the laidback elements, such as the joggers and lug sole boots. And if you happen to walk into a winter wonderland, you'll stand out like a blanket of snow.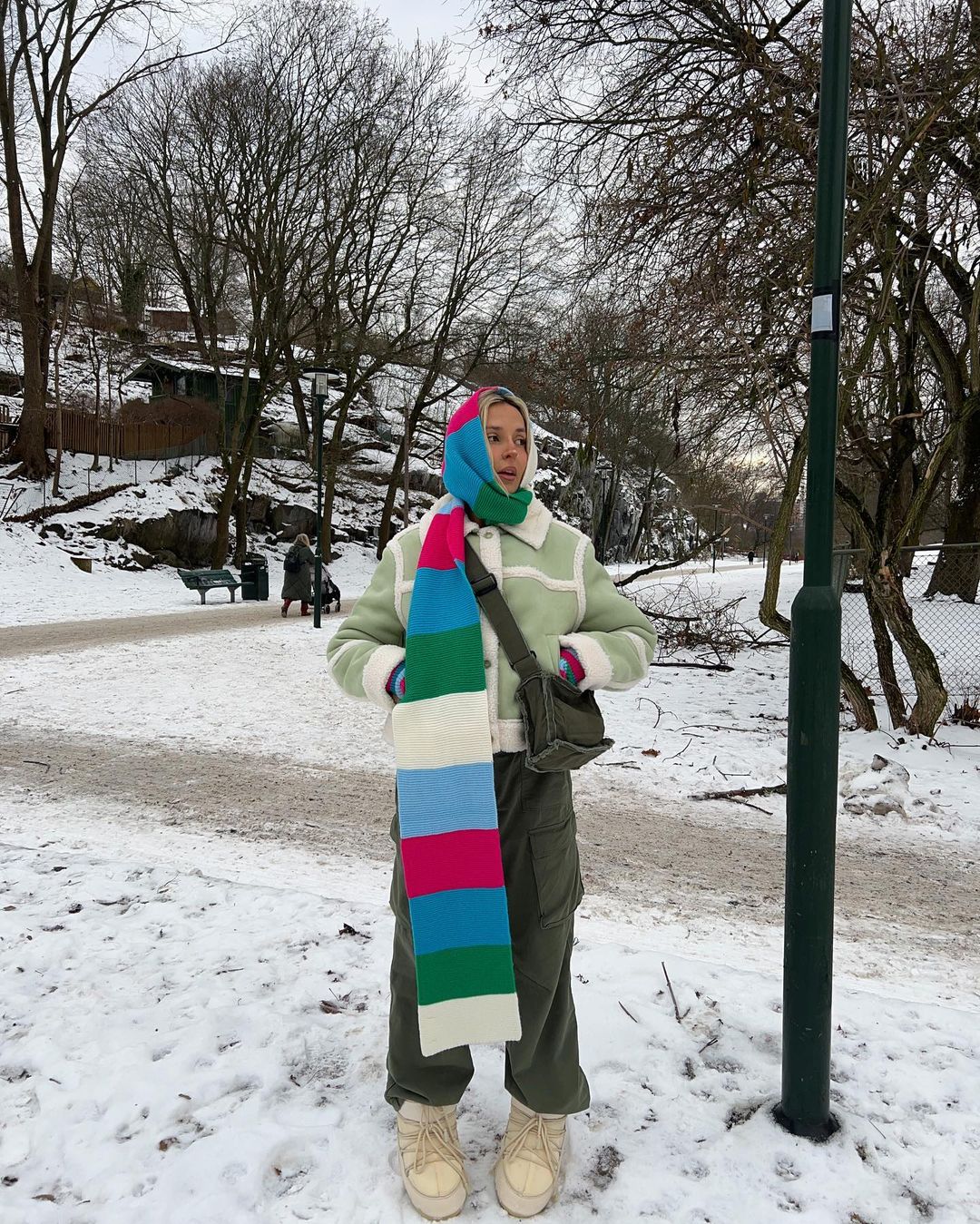 Photo via @sofiamcoelho
8) Bright Winter Accessories
While the aprés ski aesthetic is winter luxe at its best, it's also all about having fun with fashion. Enter Sofia's snow-approved look that is just as playful as it is polished. Starting with a base of cargo pants and sherpa lined outerwear, she injects color via her brightly hued scarf. Saturated winter accessories is an easy, yet surefire way to make your snow outfit stand out.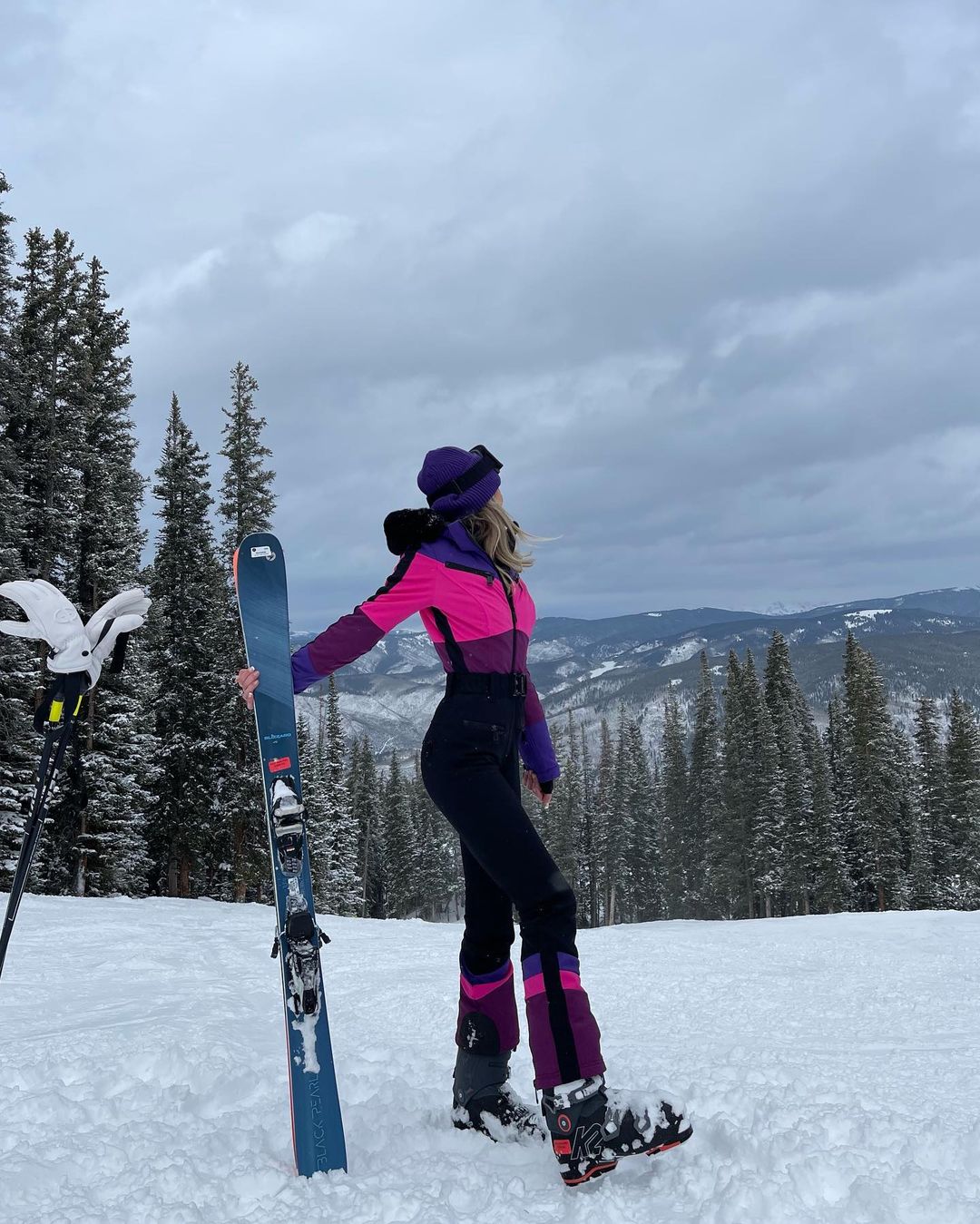 Photo via @leximars
9) Performance Wear
If you're one to rise early to spend hours on end whipping down the mountains, you'll want an outfit that can keep up. That's where the ski suit comes into play. Modern iterations have been gloriously remastered over the years. Gone are the bulky one-pieces from your childhood. In their stead are trendy, form-fitting one-pieces that keep you stylishly insulated from head-to-toe.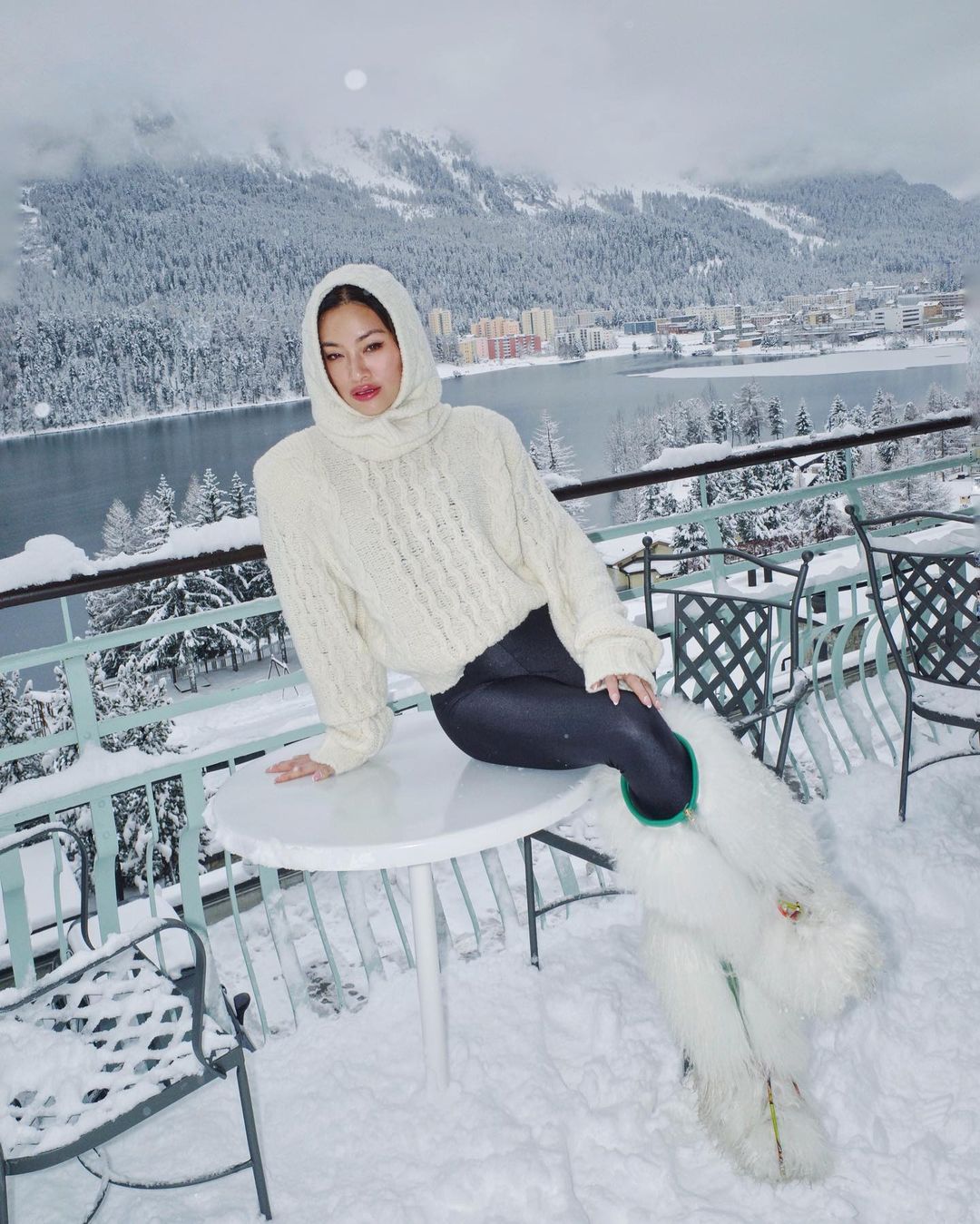 Photo via @handinfire
10) Balaclava 
One of the most important features of any aprés ski inspired look is the balaclava. It just might be the number one sought after winter accessory this season. This hooded covering not only adds major style points to your winter look but does an exceptional job keeping you warm. If you're intimidated by the unconventional piece, take notes from Tiffany who uses a knit balaclava to tie back to her chunky sweater for a seamless, hoodie-like effect. 

(Visited 1 times, 1 visits today)