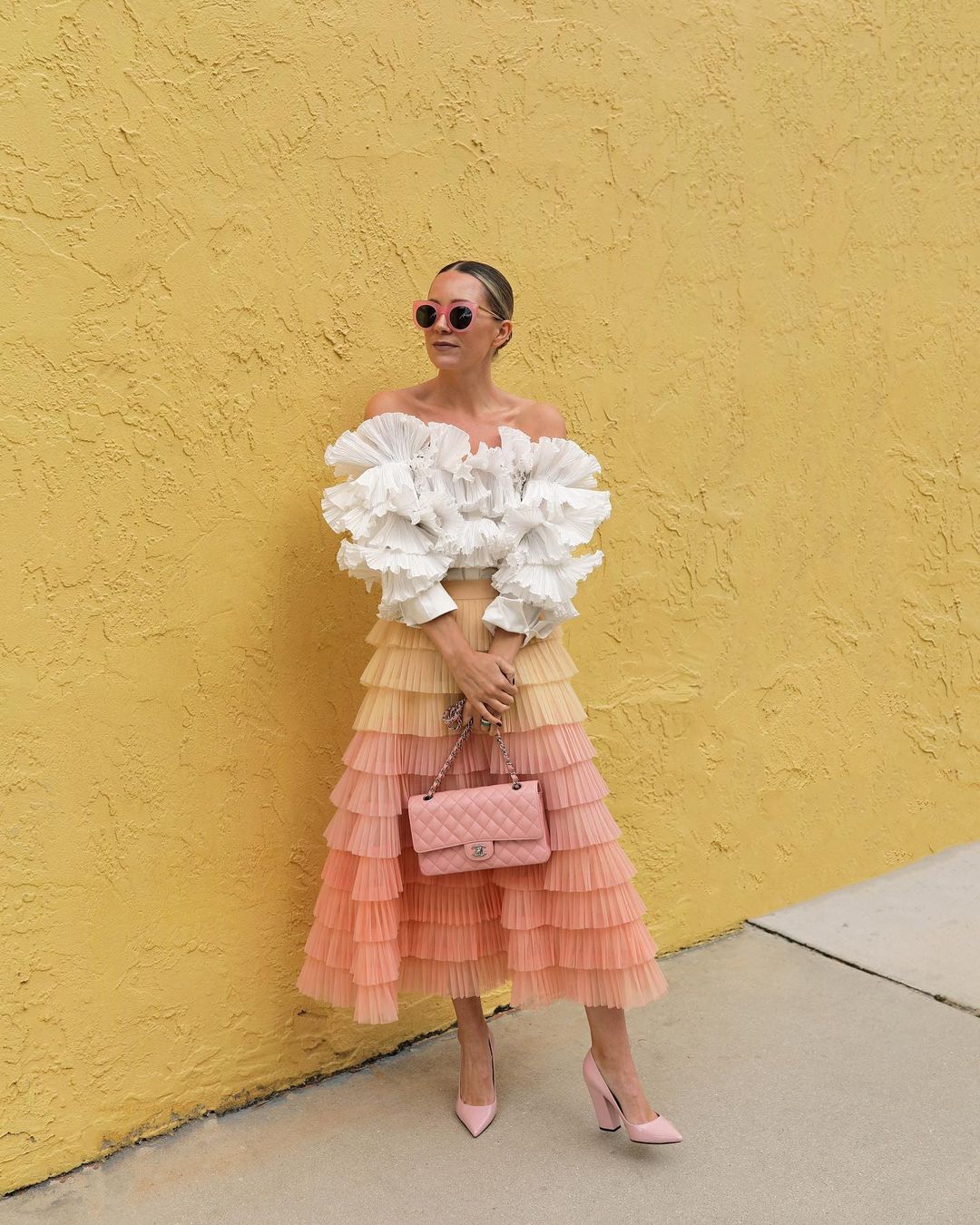 Photo via @blaireadiebee
There is no better way to cope with winter than jetting off to someplace warm. Once you have your plane tickets booked and hotel secured, it's time for the fun part – getting your outfits in order. Luckily, the fashion world is already buzzing with the latest resort wear trends just in time for your next getaway. These are the hottest looks that often oscillate between winter and spring styling. Expect to see an onslaught of dopamine induced dressing in multiple different forms. From statement prints to breezy crochet, there are a lot of 2023 resort wear trends to get excited about. Whether you're heading to the beach, the mountains or just a weekend getaway, we've got 10 of the season's biggest themes you need to refresh your wardrobe and enjoy any warm climate in style. Just don't blame us if you run out of precious suitcase space.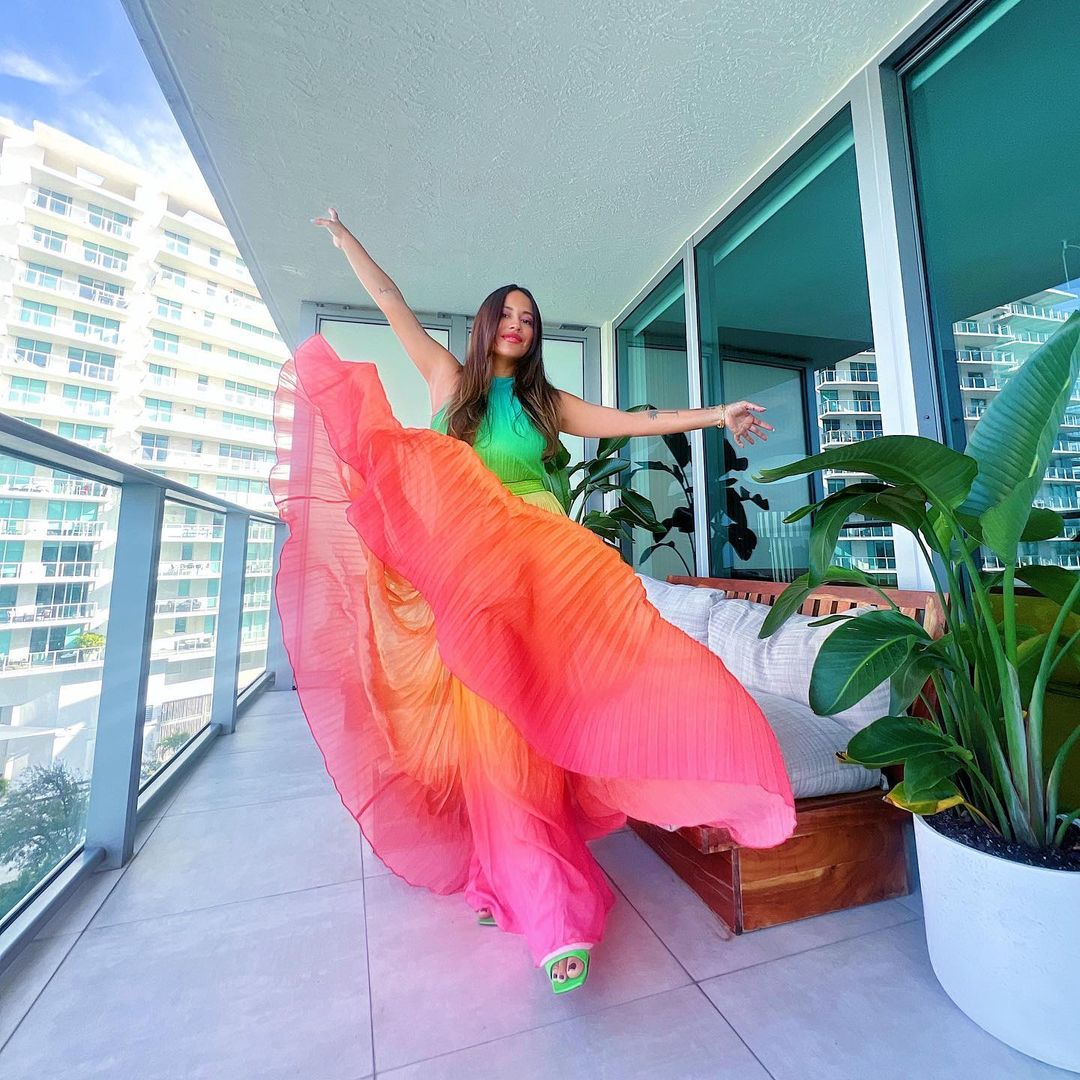 Photo via @cyndiramirez
1) Retro Inspired Full Dresses
A well-deserved vacation on the books is enough to inspire anyone to dance. And there is no better frock to do so than a retro inspired full dress. These debutante approved gowns are voluminous, eye-catching, and practically made for celebrations (ideally, somewhere warm). We can think of no better resortwear trend to kick off the season with style and grace.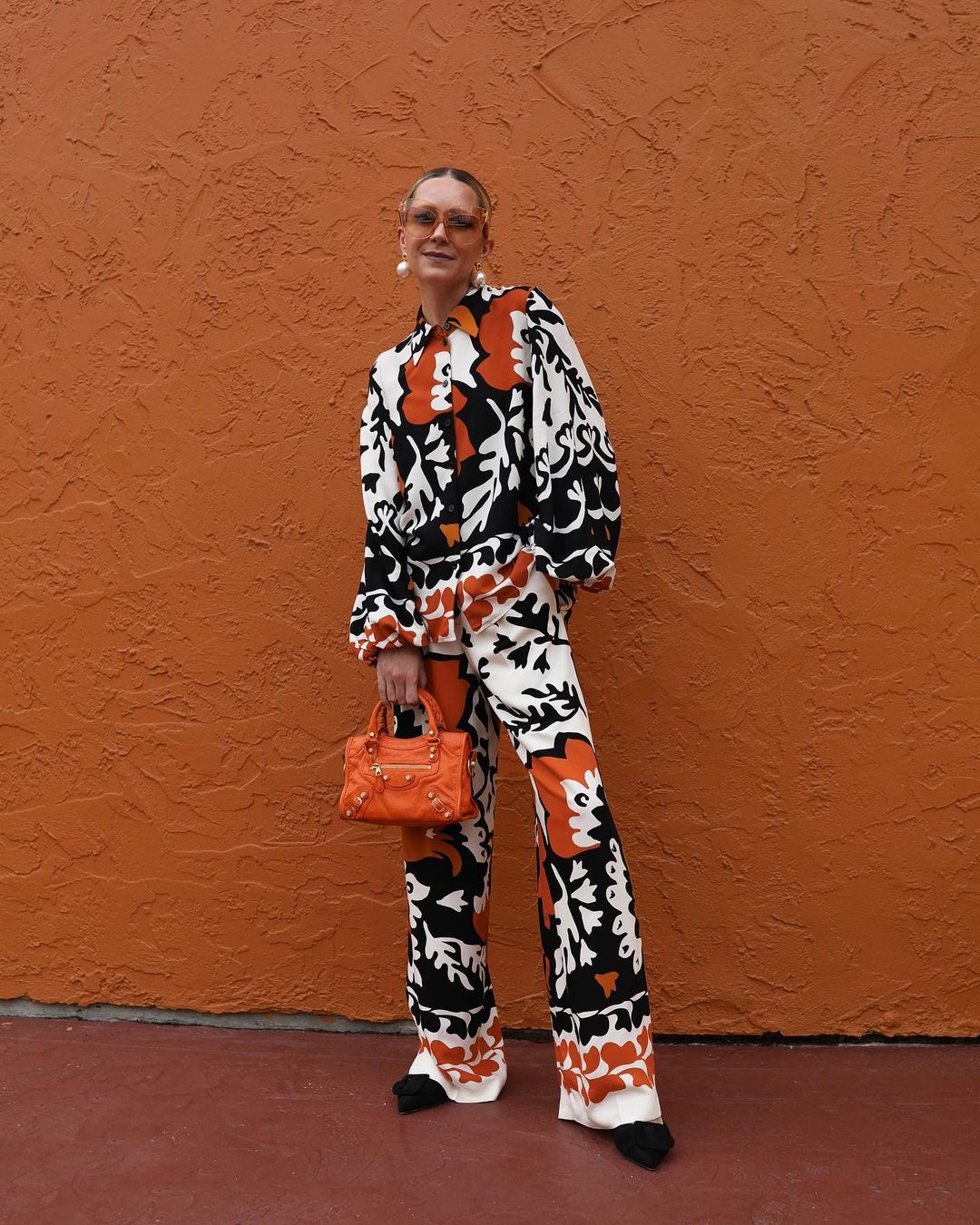 Photo via @blaireadiebee
2) Prints Galore
Prints are an essential part of any resort wear wardrobe. They don't just add a touch of fun, personality and interest to any outfit but can set the mood for your entire vacation. This season, there are two primary patterns worth keeping an eye on. Tropical prints in the form of hibiscus flowers, palm leaves, and more are no-brainer options to pack in your suitcase. But just as important are loud geometric prints that ensure the wearer stands out among the crowd.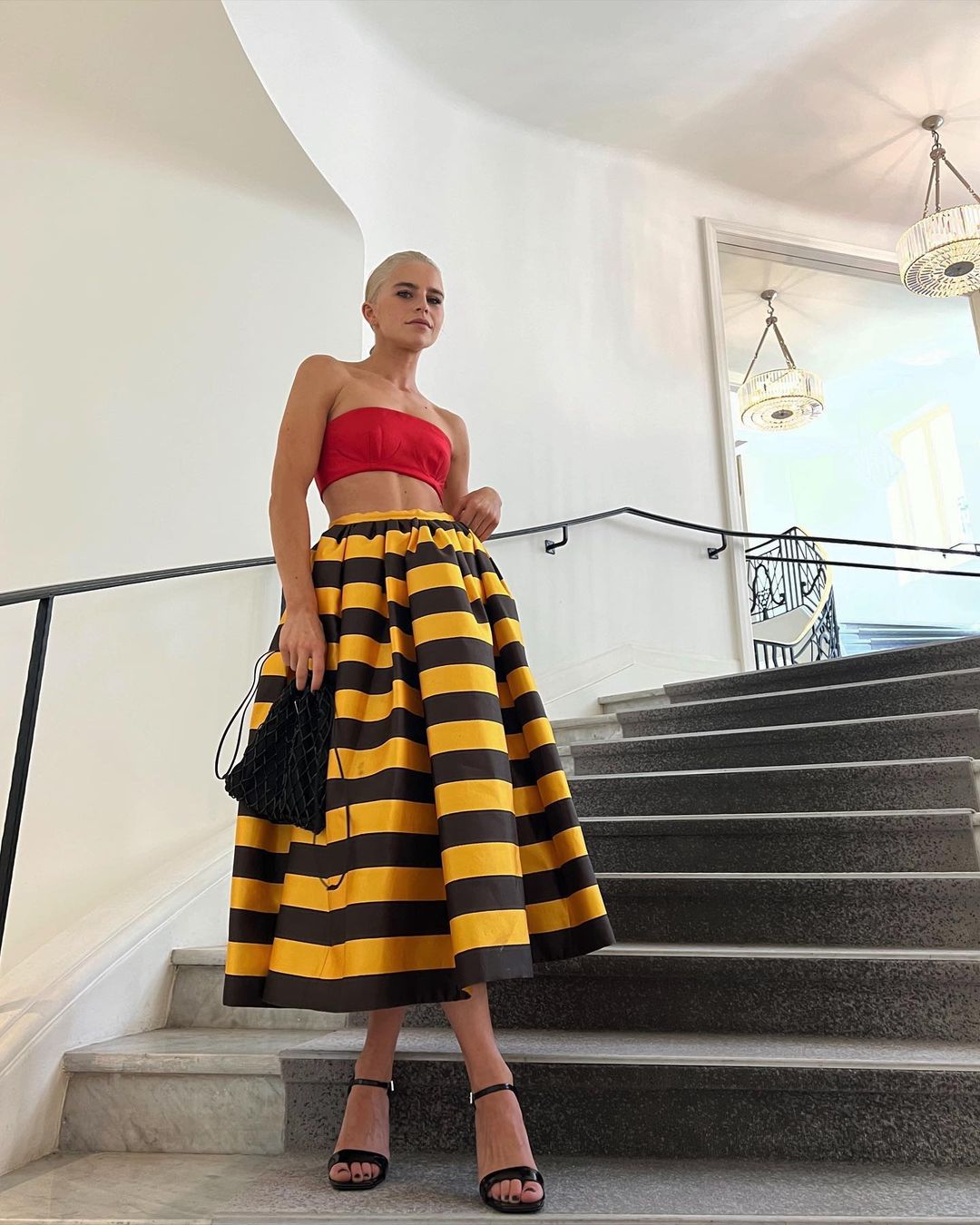 Photo via @carodaur
3) Stripes
Continuing from the aforementioned resort wear trend, expect to see an even larger emphasis on this classic pattern. Trust us when we say they're far from your basic stripes. 2023 resort wear continues to push the boundary with bolder, thicker stripes in an array of rainbow colorways. It's a fun way to inject the contagious dopamine style dressing into your everyday wear.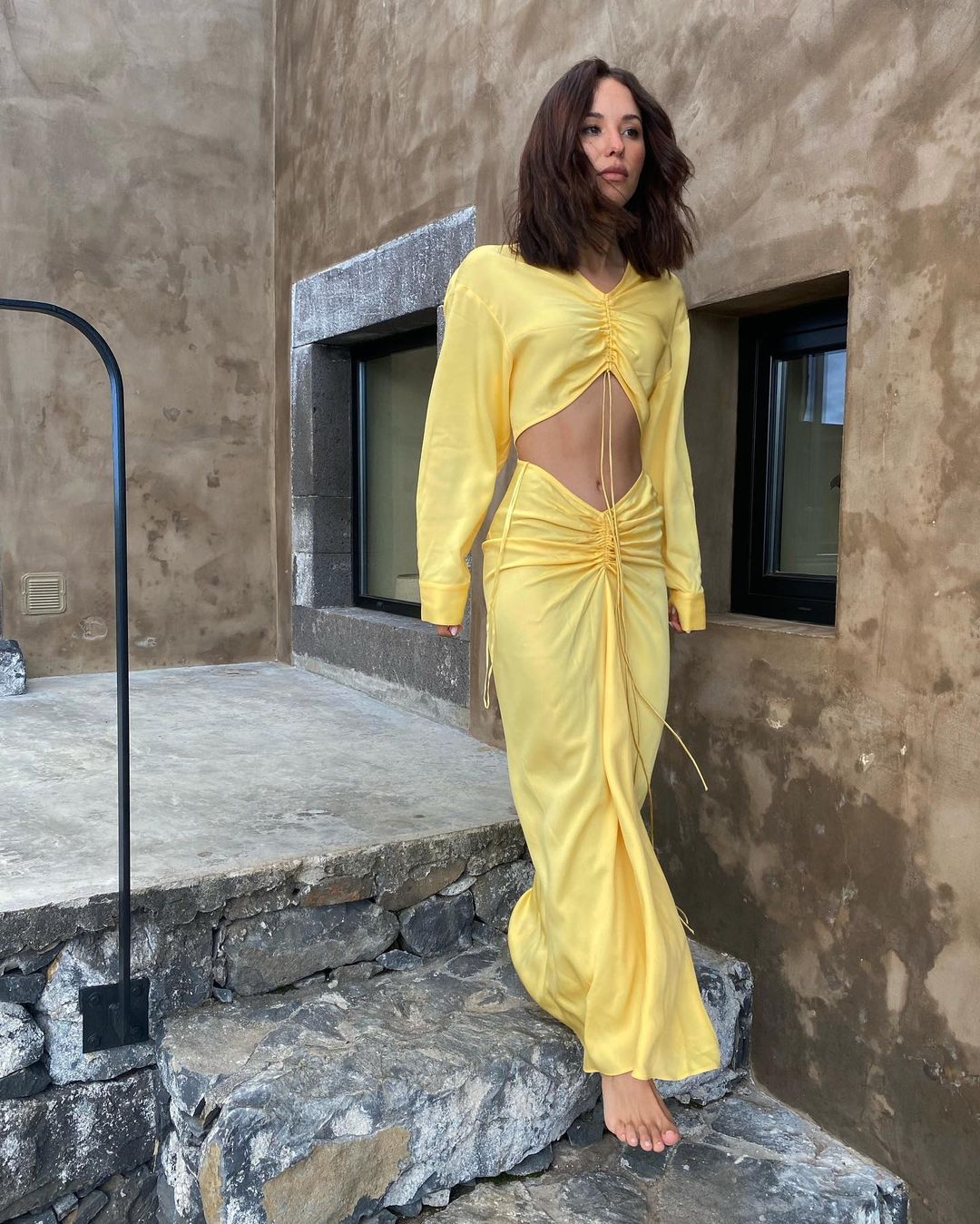 Photo via @deborabrosa
4) Ruched & Shirred Detailing
We adore a body-hugging piece and these sultry styles are getting a major upgrade. Added drawstring and shirring details accentuates the wearer's curves, while also adding dynamic surface interest to a look. Debora lights up the room in her cutout ruched maxi dress, which is an instant must-have if you plan on holidaying anywhere tropical.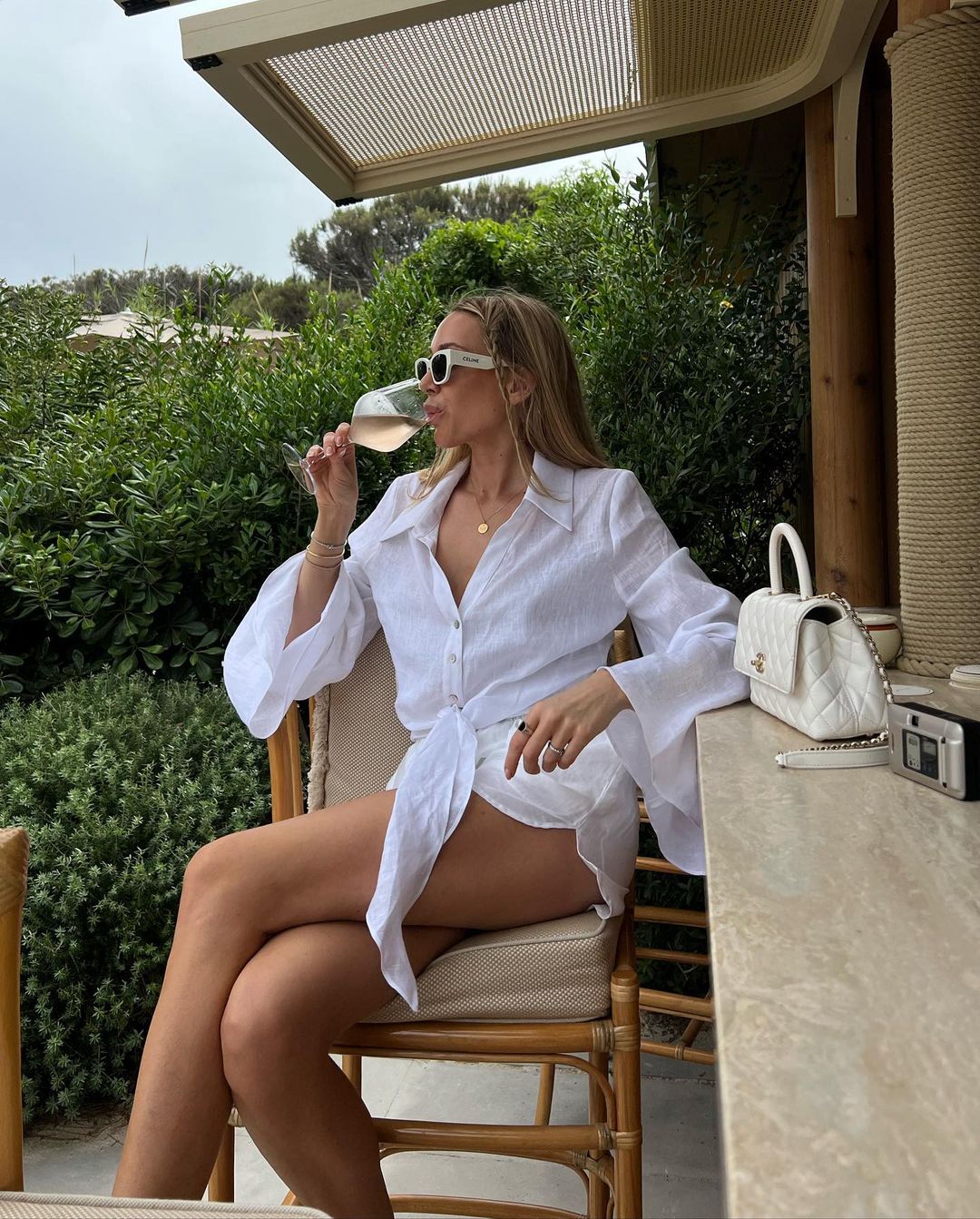 Photo via @alexiiak
5) White Shirt
Collared shirts were previously destined to be worn in business settings only. Now, the timeless white shirt can shapeshift to almost any setting imaginable. In fact, contemporary versions of the button up are proving to be ideal for our minimal-dressing vacationers. And for an even more relaxed vibe, opt for breezy options such as linen.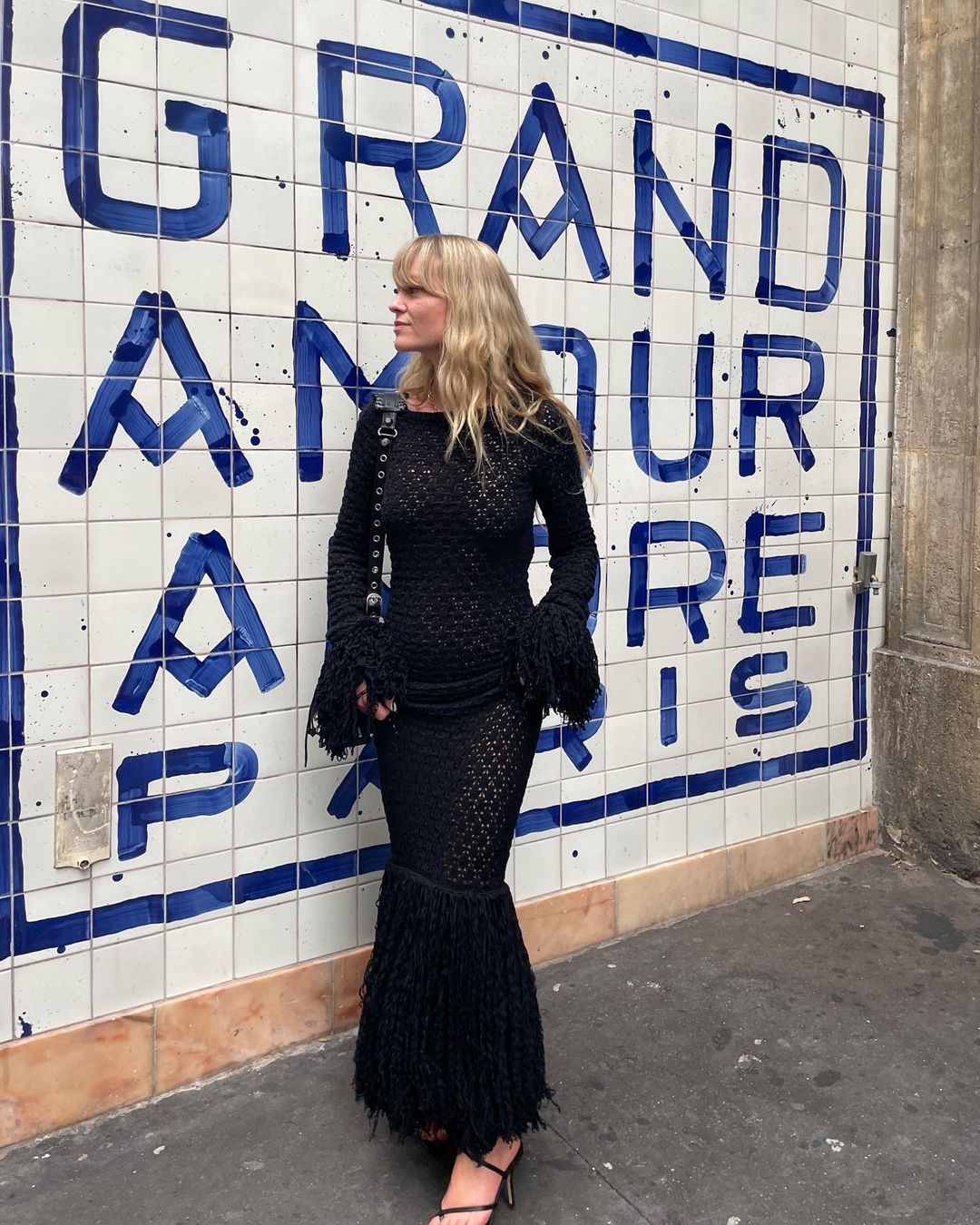 Photo via @_jeanettemadsen_
6) Crochet
This boho-inspired trend was everywhere last year and it's expected to take off once again, especially as we enter resort wear territory. The breezy fabrication adds a unique, handmade feel to any silhouette it takes. While colorful, bright crochet pieces remain just relevant, you can take a softer approach by opting for crochet in a neutral color palette.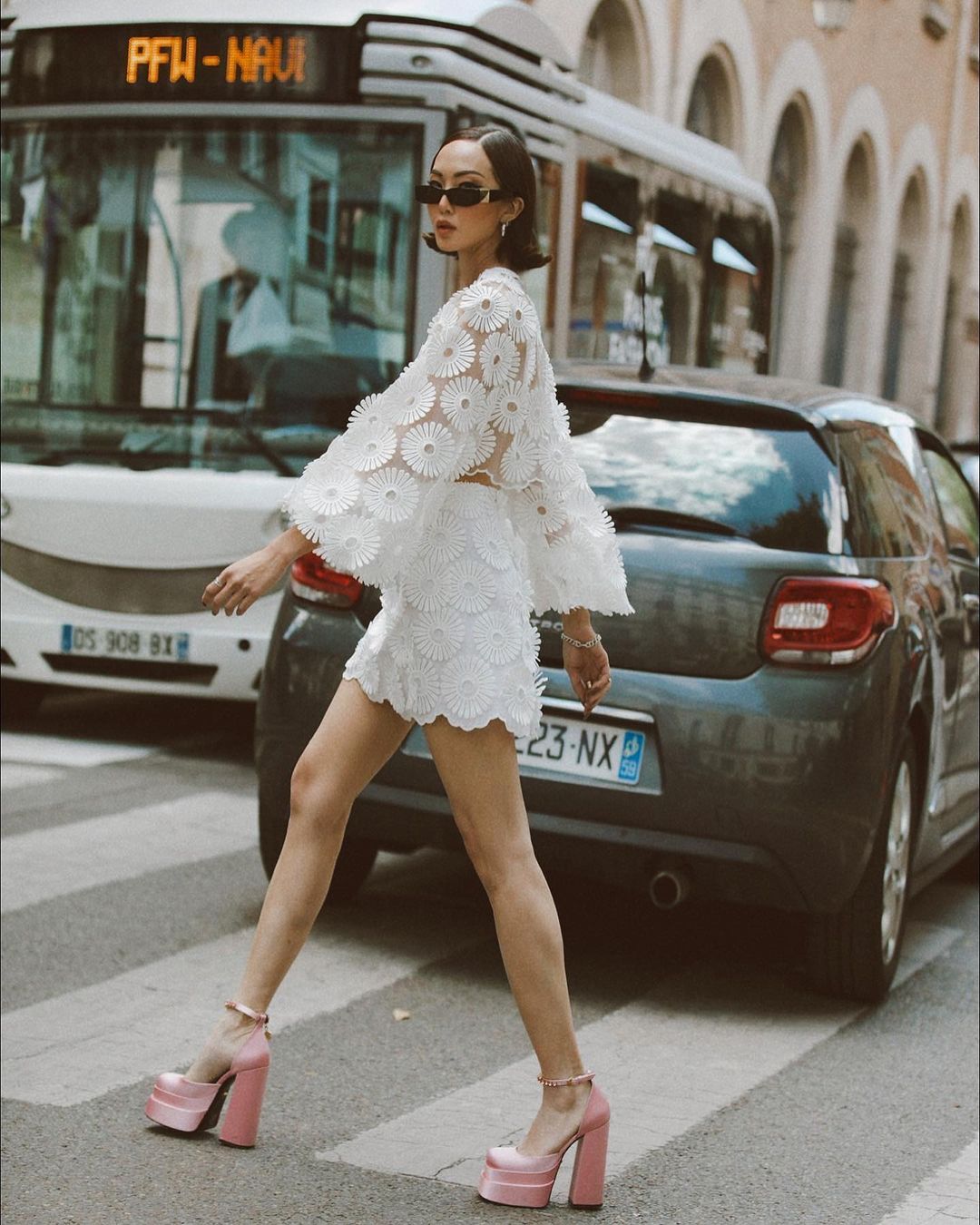 Photo via @chrisellelim
7) Skirt Suit
Resortwear is all about channeling an effortless sense of style and there isn't a better way to do so than by investing in matching sets. To switch it up this spring, opt into a coordinating skirt suit that takes the guesswork out of styling. The sassy take on tailoring allows you to better focus your time on sipping cocktails and chilling poolside (while still looking incredibly chic and forward).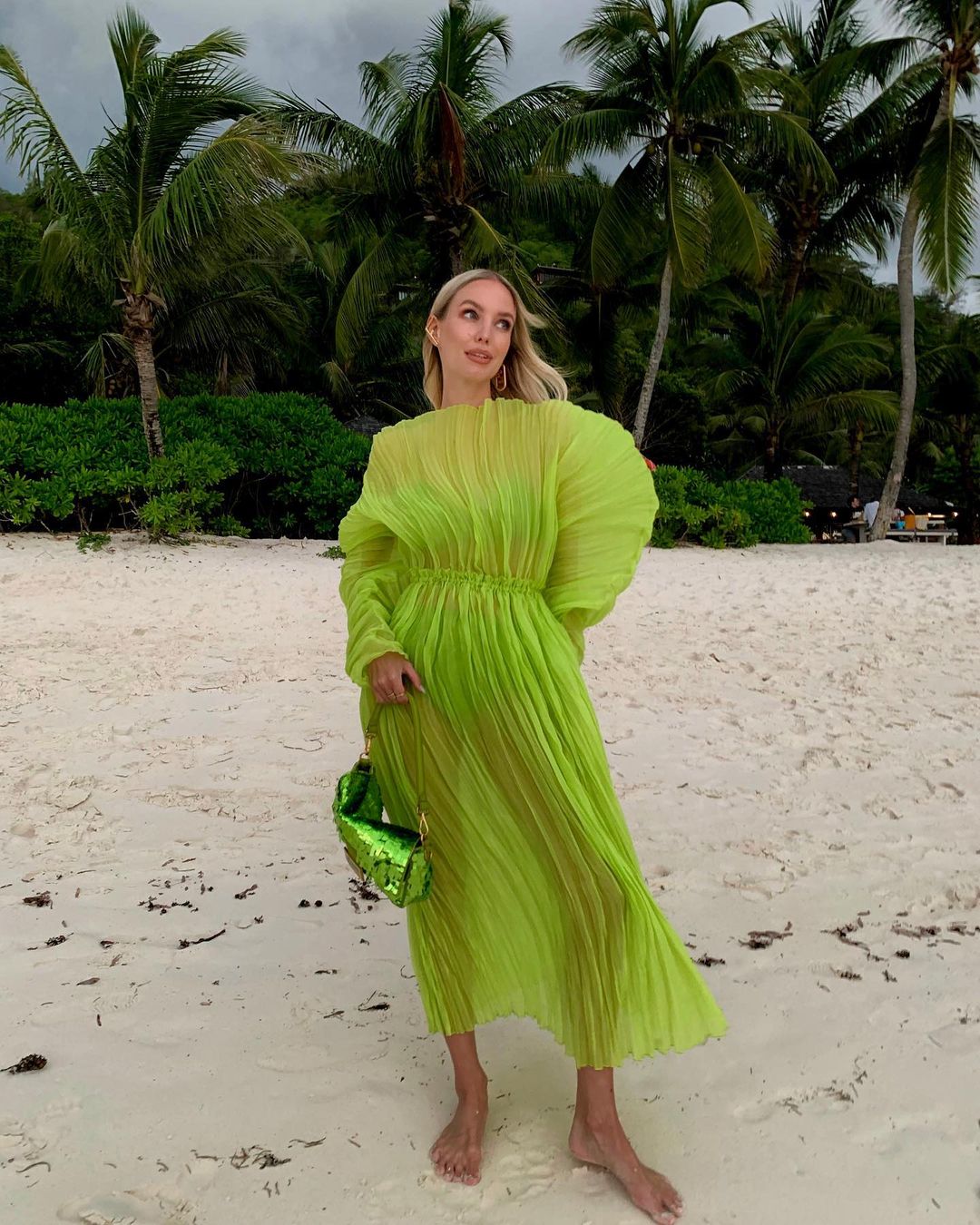 Photo via @leoniehanne
8) Saturated Hues 
Channel the good vibrations of a tropical vacation by wrapping yourself in a myriad of saturated hues. For 2023, any pantone that is bright and bold will do whether that's fuchsia or lime green. Of course, one of the easiest ways to introduce color into your mix is via dresses. With no effort, you get an all-in-one look that is bound to leave a lasting impression. The best part? Heels and sneakers will both work well with this striking frock.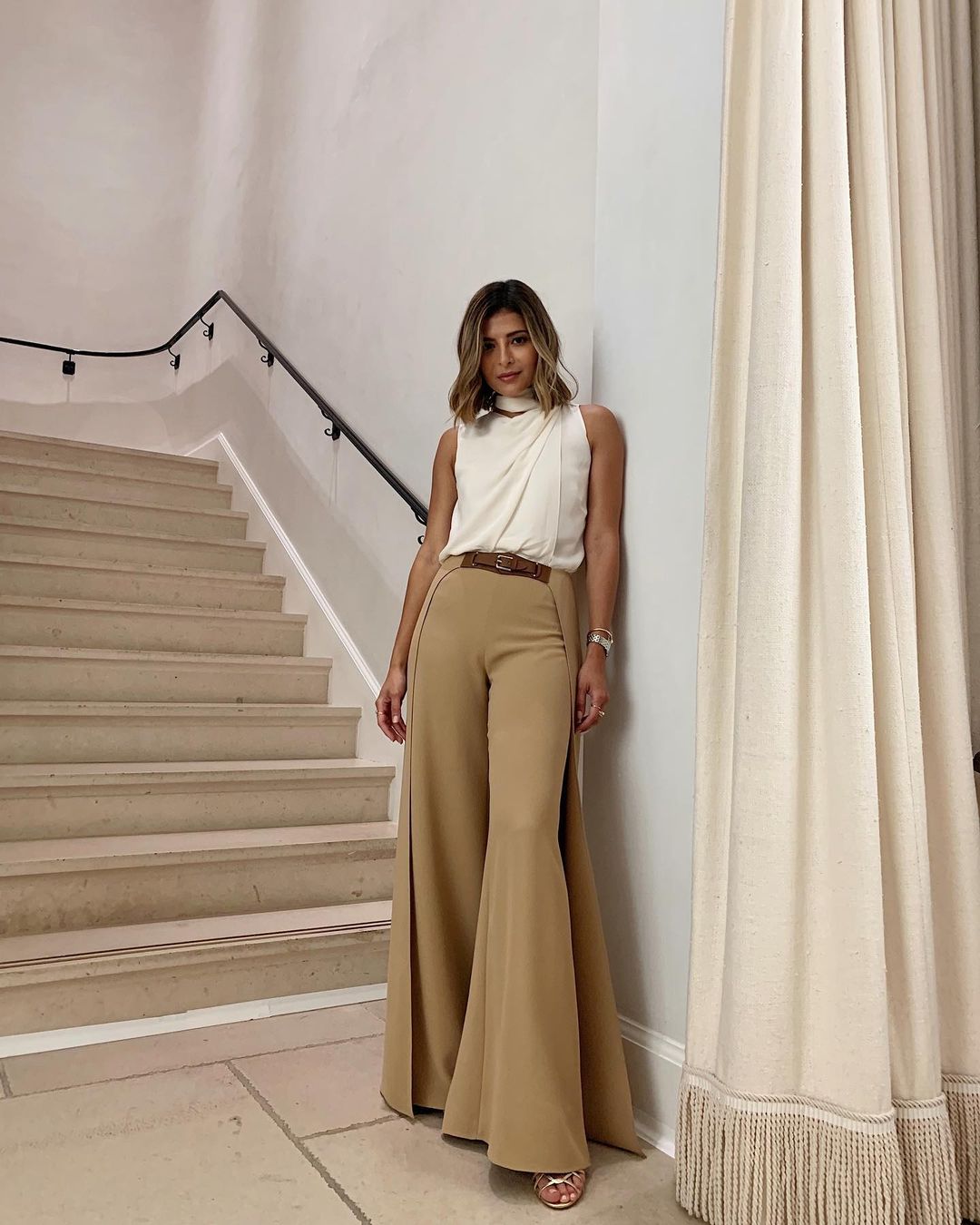 Photo via @pamarias
9) Not-So-Basic Khakis
Khakis are the new denim. These earth-toned color pants come in fresh silhouettes and feature functional details like pockets and belts, making them a versatile option no matter where you're headed. Use them to help to draw eyes to other statement pieces, like a pair of flashy mules or even a colorful blouse. We're finding that they look the most modern with a floor skimming, wide-leg fit and high-rise waist. They're sure to be a new favorite, whether you're pairing them with a sleek tank or a slouchy sweater.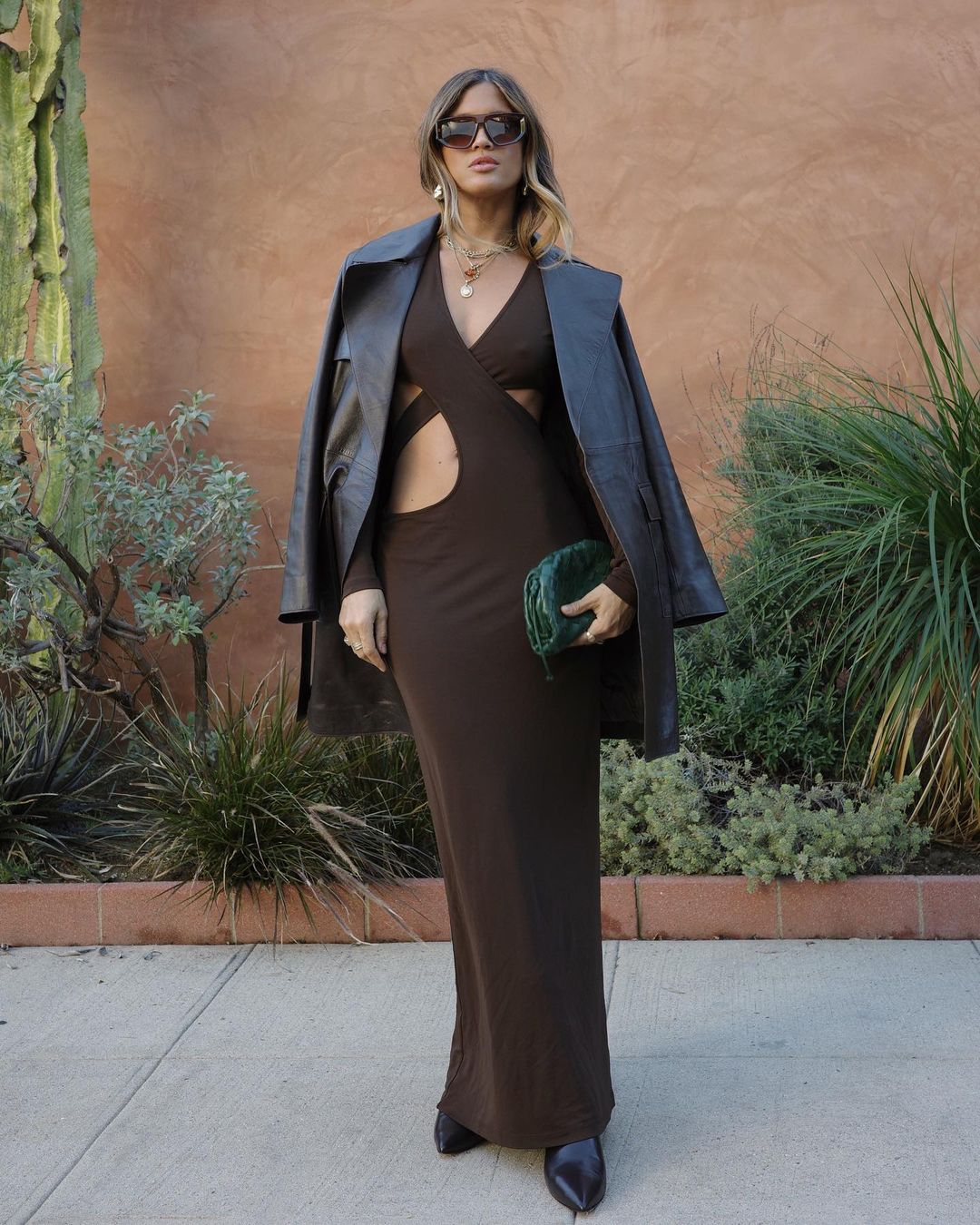 Photo via @rocky_barnes
10) Cutout Maxis
An escape to warmer weather is the perfect opportunity to show some skin. We can think of no chicer way to do so than with a cutout maxi dress. The longer silhouette errs more on the demure side but the cutouts ensure the look stays relevant and youthful. From polished neutrals to vibrant hues, you may as well stock up on a few options because you're bound to wear them now and into the summer season.

(Visited 1 times, 2 visits today)