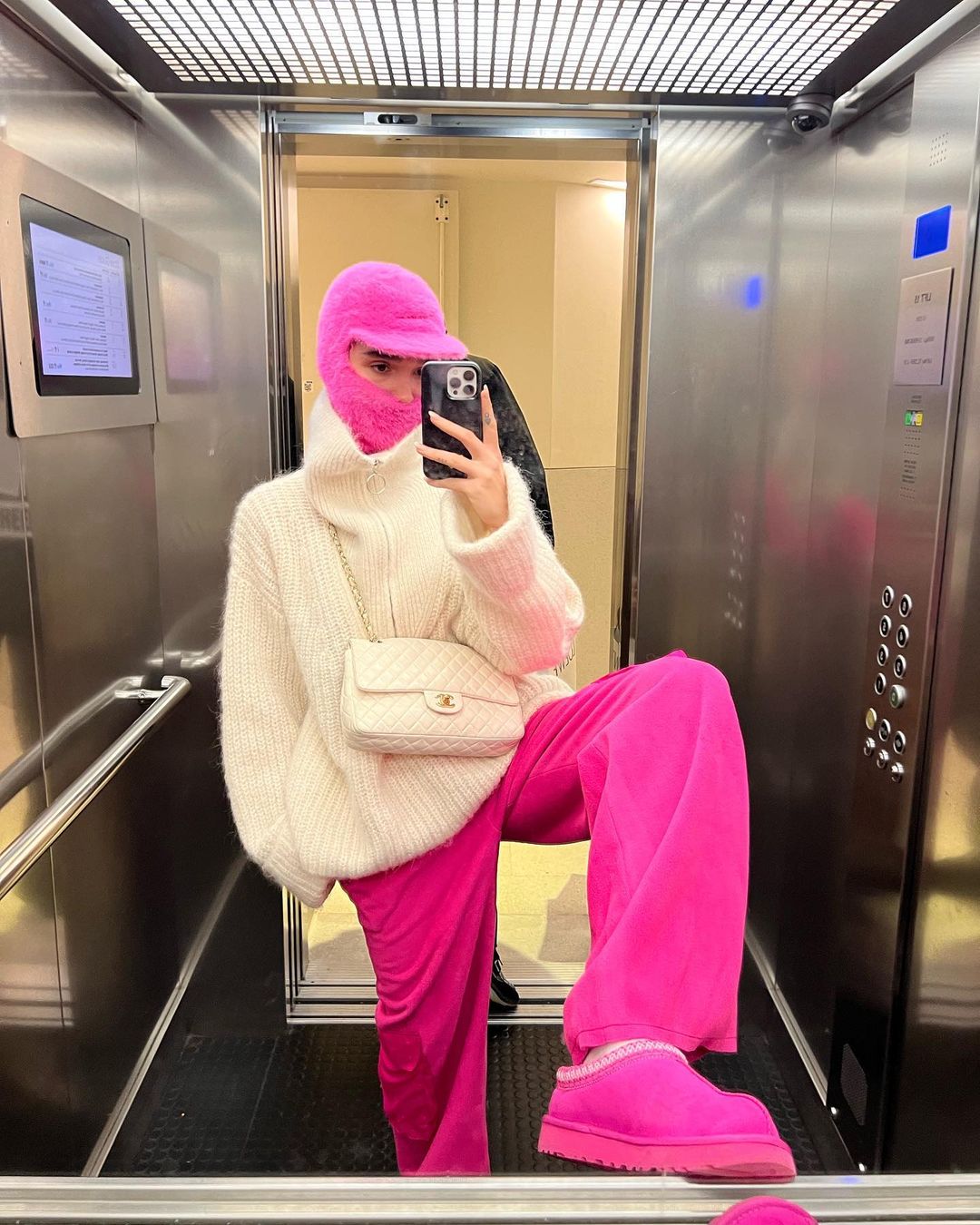 Photo via @lissyroddyy
It can be hard to break out of your style comfort zone when getting dressed in the winter. The easy way out is to throw on a sweater and leggings and call it a day. While the latter is not a bad option by any means, it does get tiresome if you have the same look on repeat. Consider this your sign to think about how to layer your clothes to stay warm and stylish. At the end of the day, a little creativity goes a long way. You just need to think outside the box and your wardrobe can nearly double in size. From wearing both a dress and a pair of pants to multi-layering, the world is your oyster. If you are ready to break out of your normal winter outfit formula, we've got some brilliant looks ahead that nail innovative winter layering.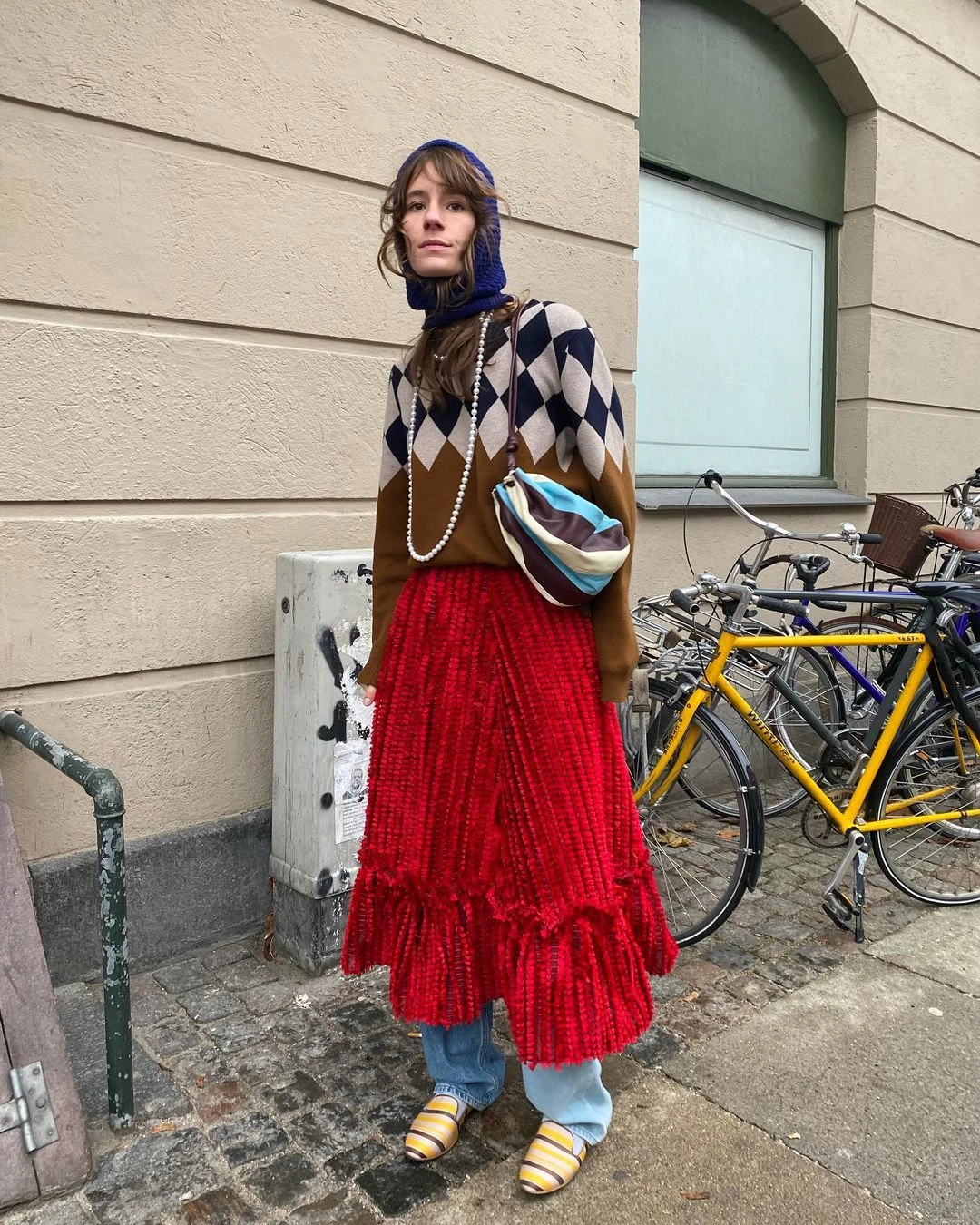 Photo via @kathrinemaron
1) Dress Over Jeans + Balaclava
Who says we have to tuck our dresses away during winter? One easy way to maximize your wardrobe offerings is to rock a pair of jeans underneath your frilly one-pieces. Not only does this styling hack have a high-fashion twist – but it keeps you warm on a cold winter's day. For additional coverage, throw on a printed sweatshirt and balaclava, which is easily this season's most desirable accessory.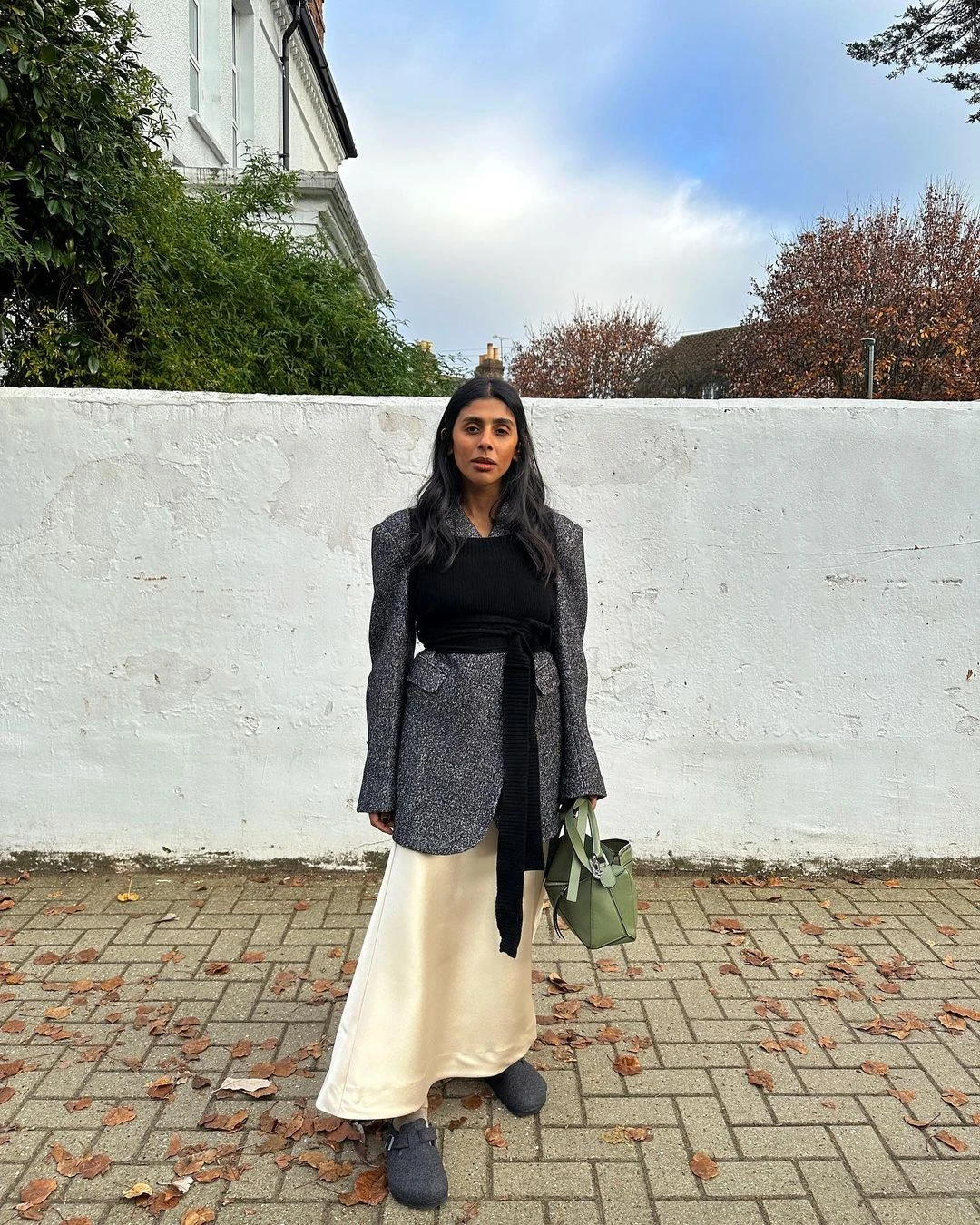 Photo via @monikh
2) Corset Over a Blazer
Outerwear is no longer optional around this time of year. It's a necessity but can disguise what lies beneath. If you want to learn how to turn your world upside down and inside out, then purposely stack a cropped corset on top of a blazer. The result is a uniquely layered look that appears more street style worthy than if you were to wear a blazer the "normal" way. We're here for the visually intriguing ensemble.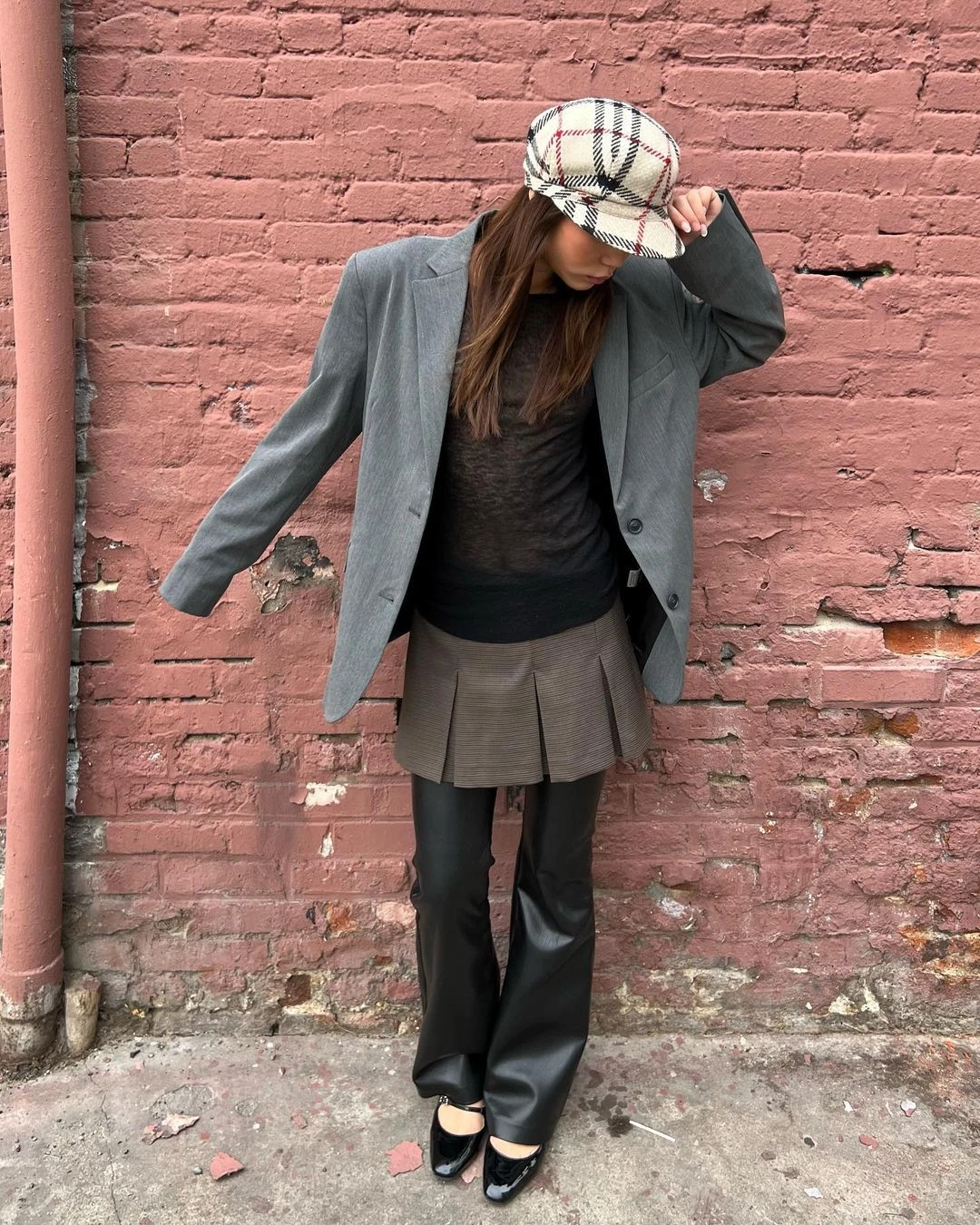 Photo via @kendalldair
3) Mini Skirt Over Leather Pants
Much like the dress-over-pants formula, the very same can be done with a mini skirt. In contrast to the casual denim look above, you can add an edgy touch by rocking leather trousers. Kendall opts to throw in a tailored blazer to ensure the overall look still reads polished and put together. We love that she doesn't over do the layers and allows each piece to serve a purpose.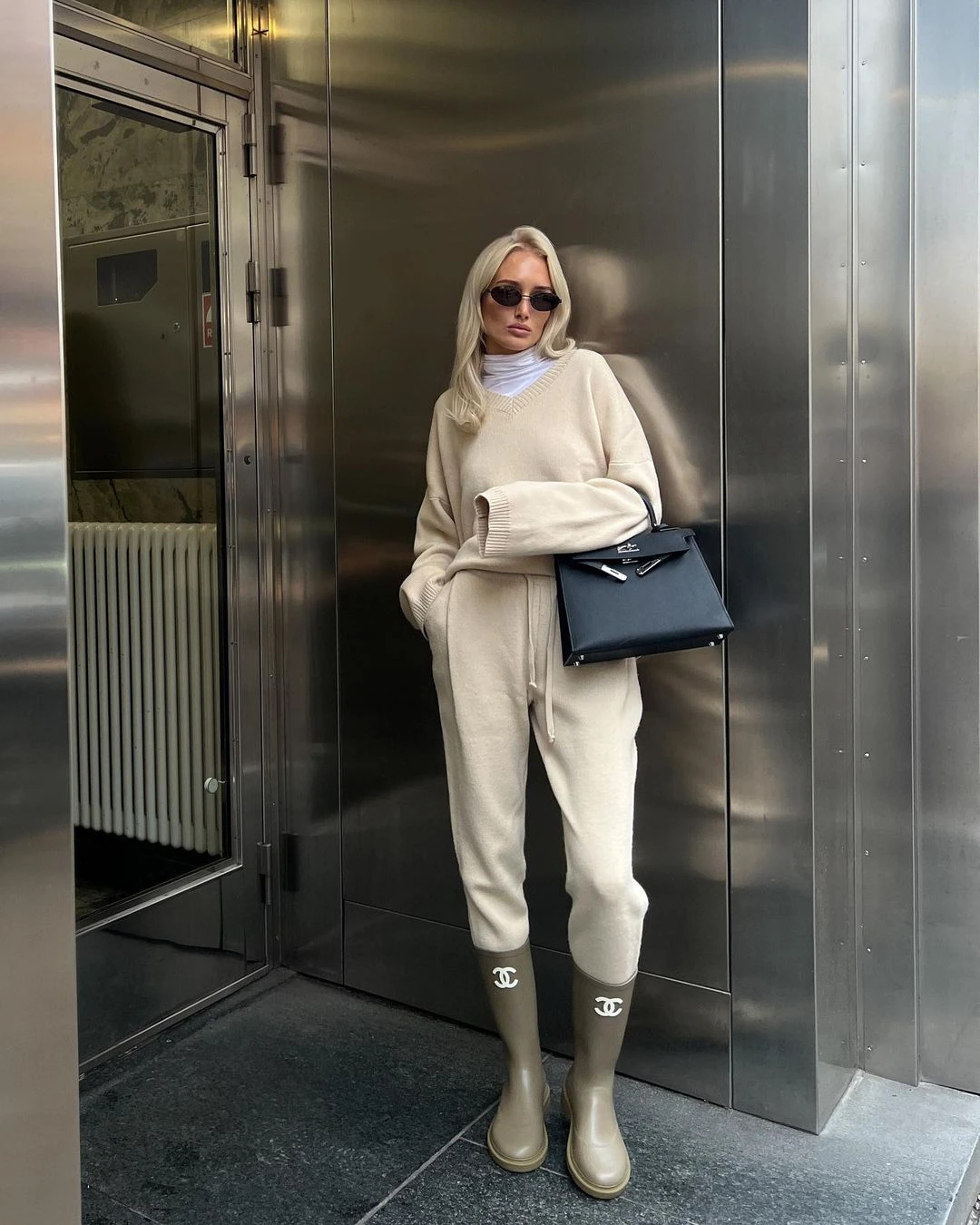 Photo via @lovisaworge
4) Turtleneck Under a V-Neck Top
The turtleneck is a crowd favorite for layers because it's both warm and versatile. The higher neckline provides way more coverage than an alluring v-neck top. However, don't let that stop you from wearing both. Lovisa expertly styles a white turtleneck underneath her sweater for an outfit that screams cozy. To take it one step further, you can add to the layered effect by tucking your joggers into a pair of tall boots.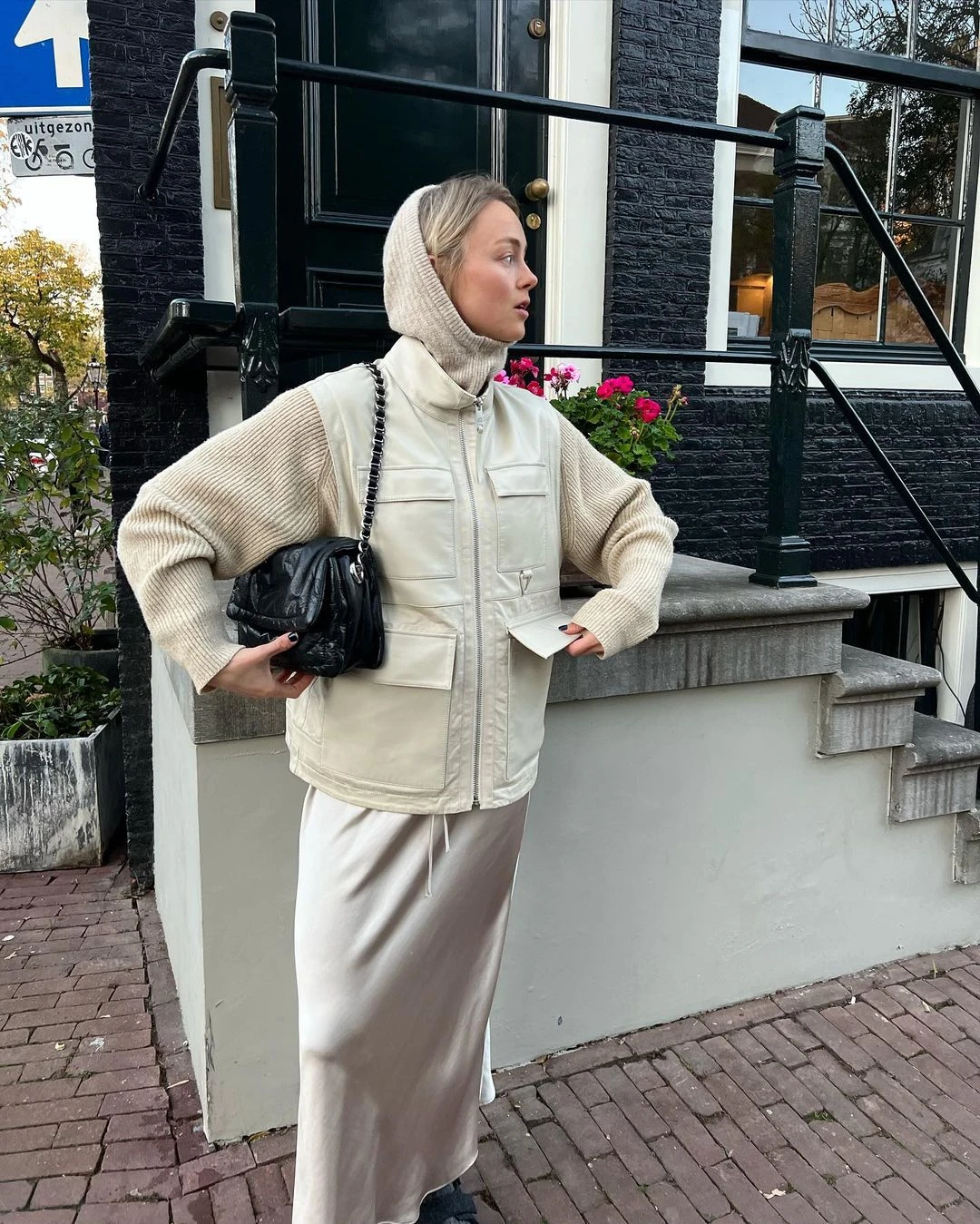 Photo via @sonjaleigh_
5) Utility Vest Under a Hoodie
The utilitarian trend has been identified as one to keep an eye on in 2023. Get ahead of the curve by incorporating this aesthetic into your winter outfit rotation. One look we cannot get enough of is a utility vest styled over a hoodie. The pragmatic outer layer adds a rugged look to even your most basic of sweatshirts and feminine skirts.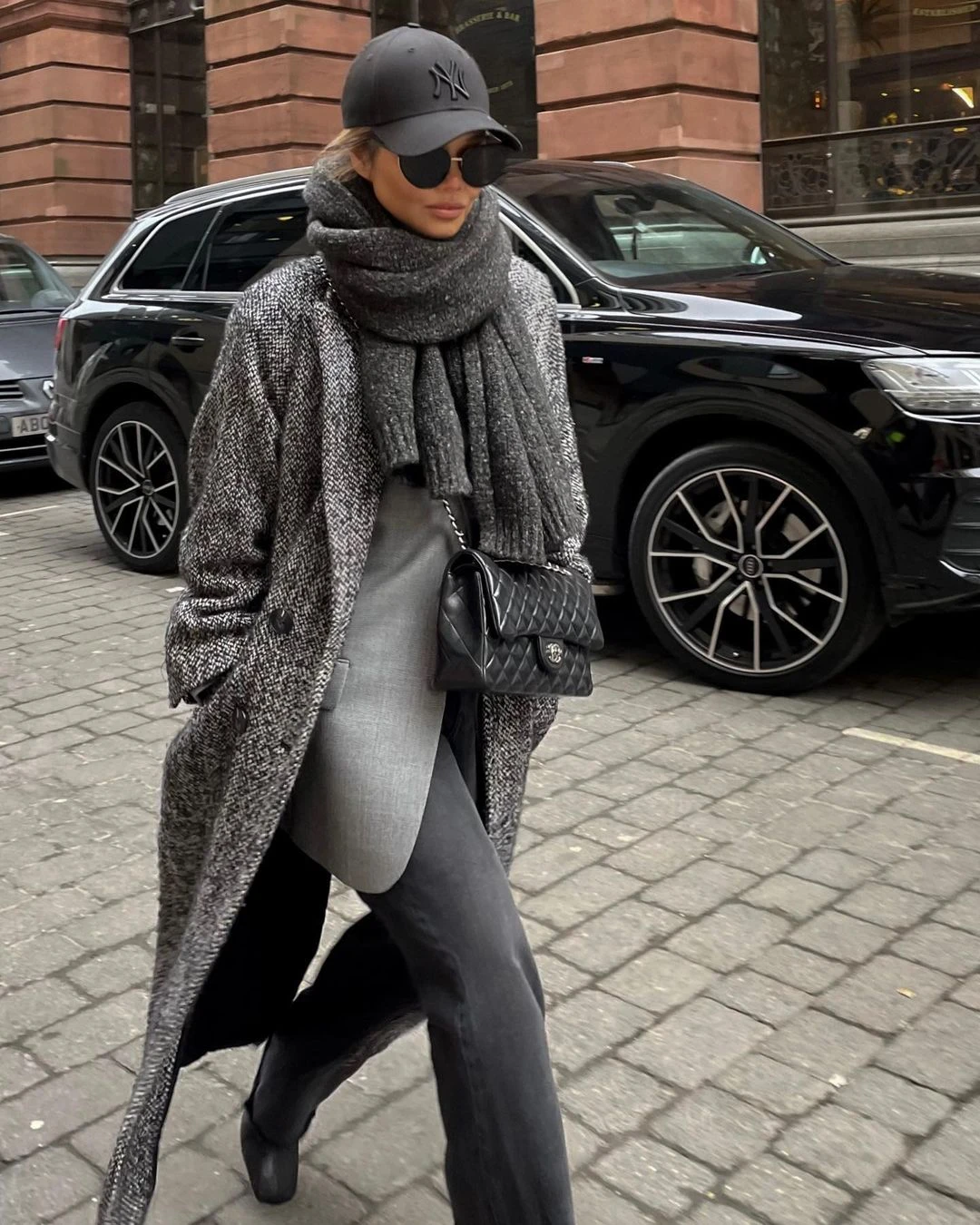 Photo via @lucky_girl_h
6) Coat, Blazer, and Scarf
The blazer is essentially seasonless, having won the coveted spot of year-round staple. On its own, it can be too light of a layer to combat the cold. The remedy? Merely layer a heavier wool coat on top. We recommend selecting a piece that's slightly longer as the staggering hemlines can further add to the charm. Alas, no winter outfit is complete with a chunky scarf to tie everything together.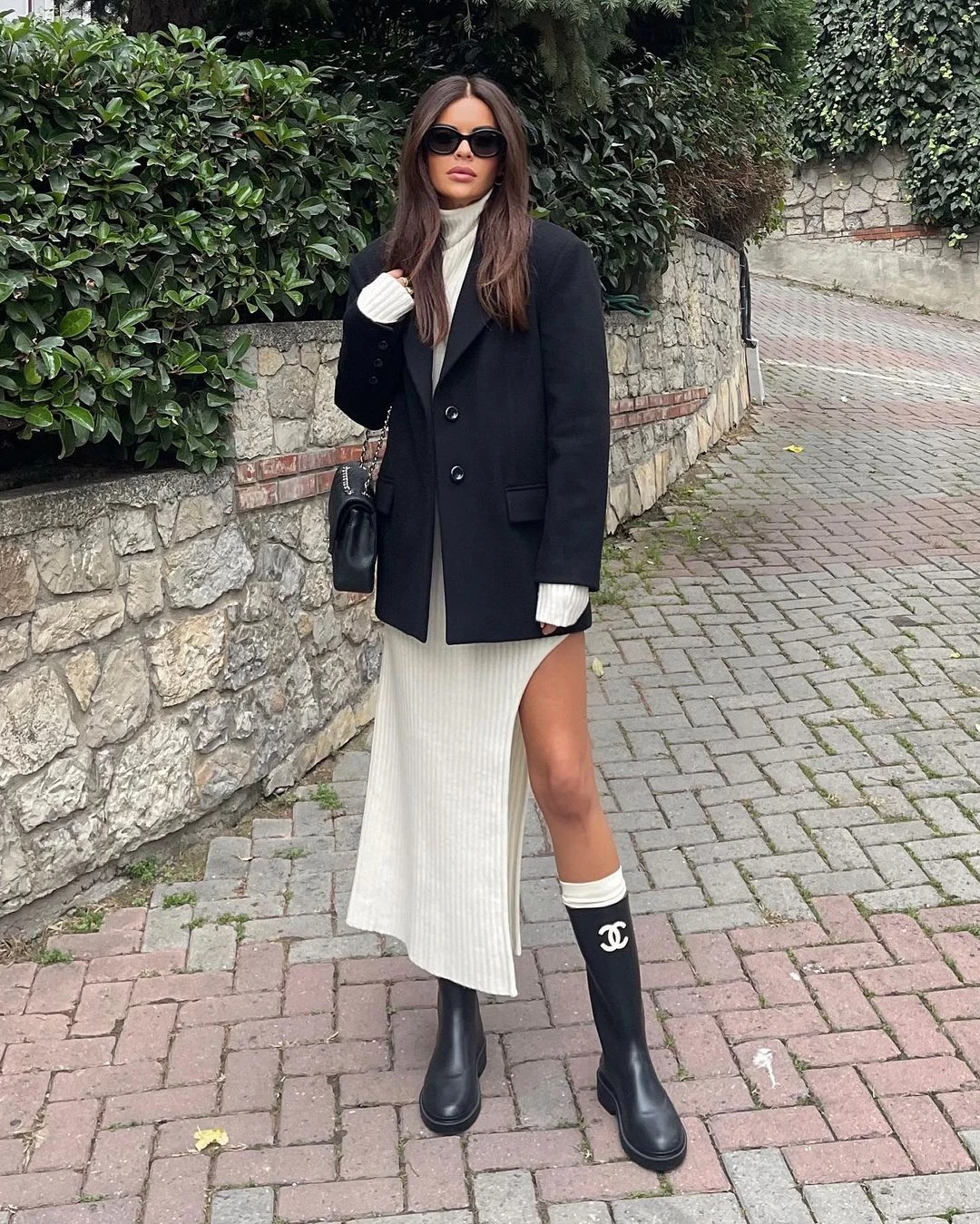 Photo via @nazifeeozcan
7) Add Socks Under Your Boots
While it would be nice for all boots to have a sherpa lining, we know that's not the case. But any shoe can be transformed with a pair of cozy socks to add warmth and comfort. Nazife was pictured wearing a pair of scrunched over-the-knee socks underneath her wellies. Not only is this more practical for combating the cold, but the contrast manages to elevate the look even further. Show off this fresh combination with a sweater dress or under leggings.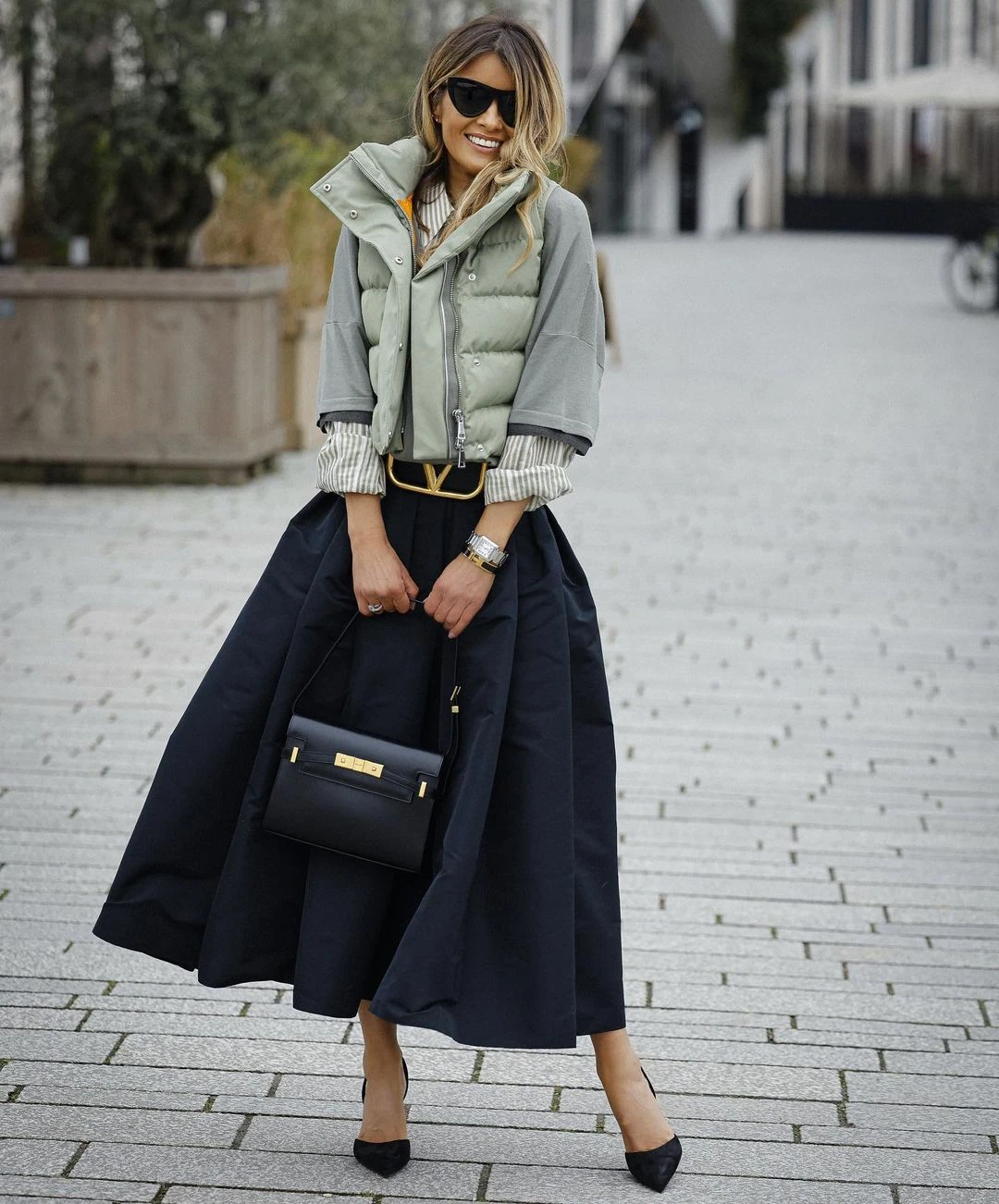 Photo via @gittabanko
8) Puffer Vest, T-Shirt, and Button Up
Why stop at just two layers? Gitta shares the ultimate layered inspiration. Her collegiate get up starts with a striped button up shirt with an oversized t-shirt on top. Finally, she adds a cropped puffer vest, which is a great way to increase warmth without adding bulk to your arms. Best of all, this outfit can easily be recreated with a variety of skirts and trousers to suit casual and more formal events.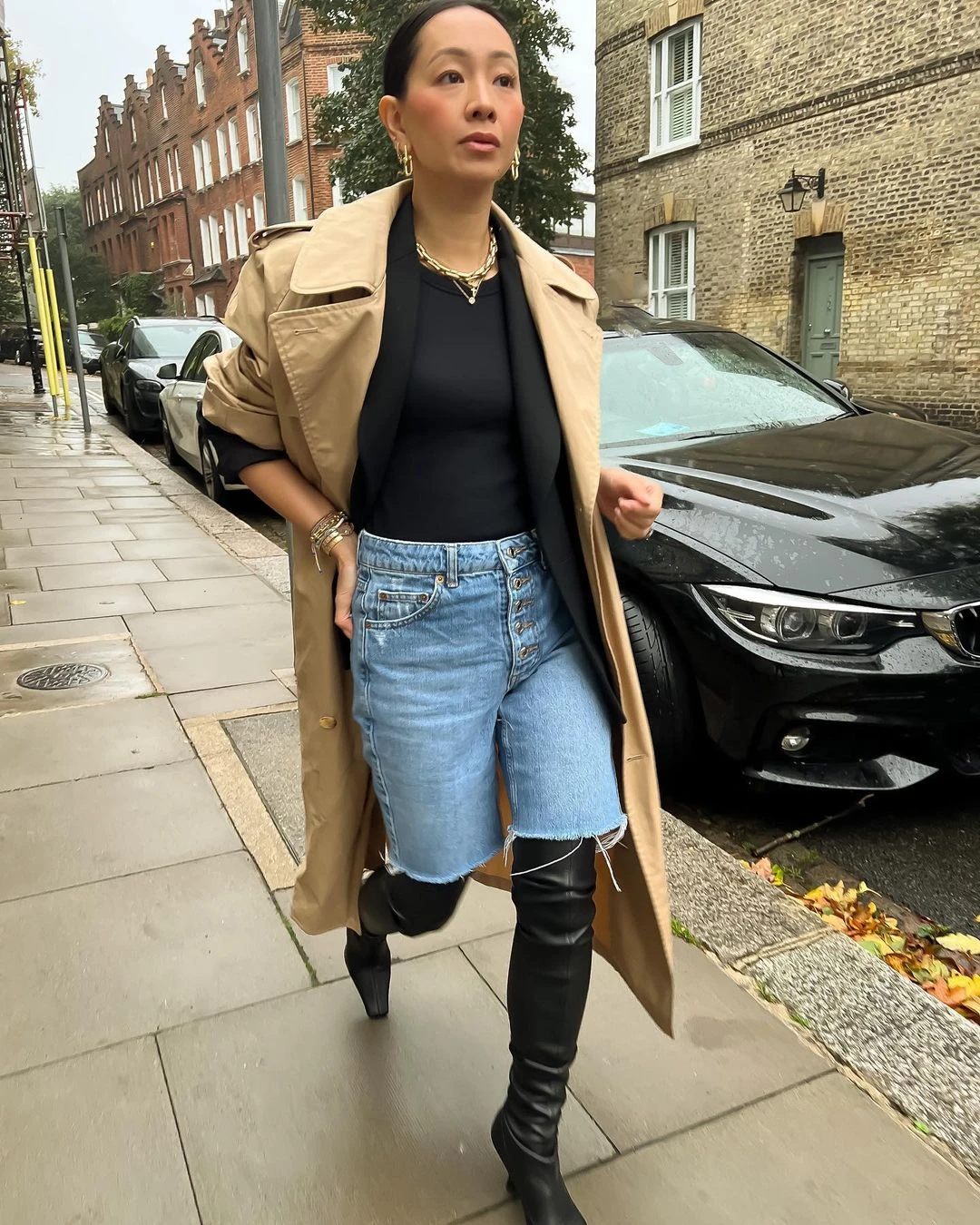 Photo via @lisaingmarinelli
9) Long Shorts + OTK Boots
Shorts and skirts may have been worn exclusively in warm weather climates – but they now have a place within your winter wardrobe. The trick is to add skin-hugging over-the-knee boots into the mix. Together, both pieces provide ample coverage but the end result is far more stylish than any other pair of jeans.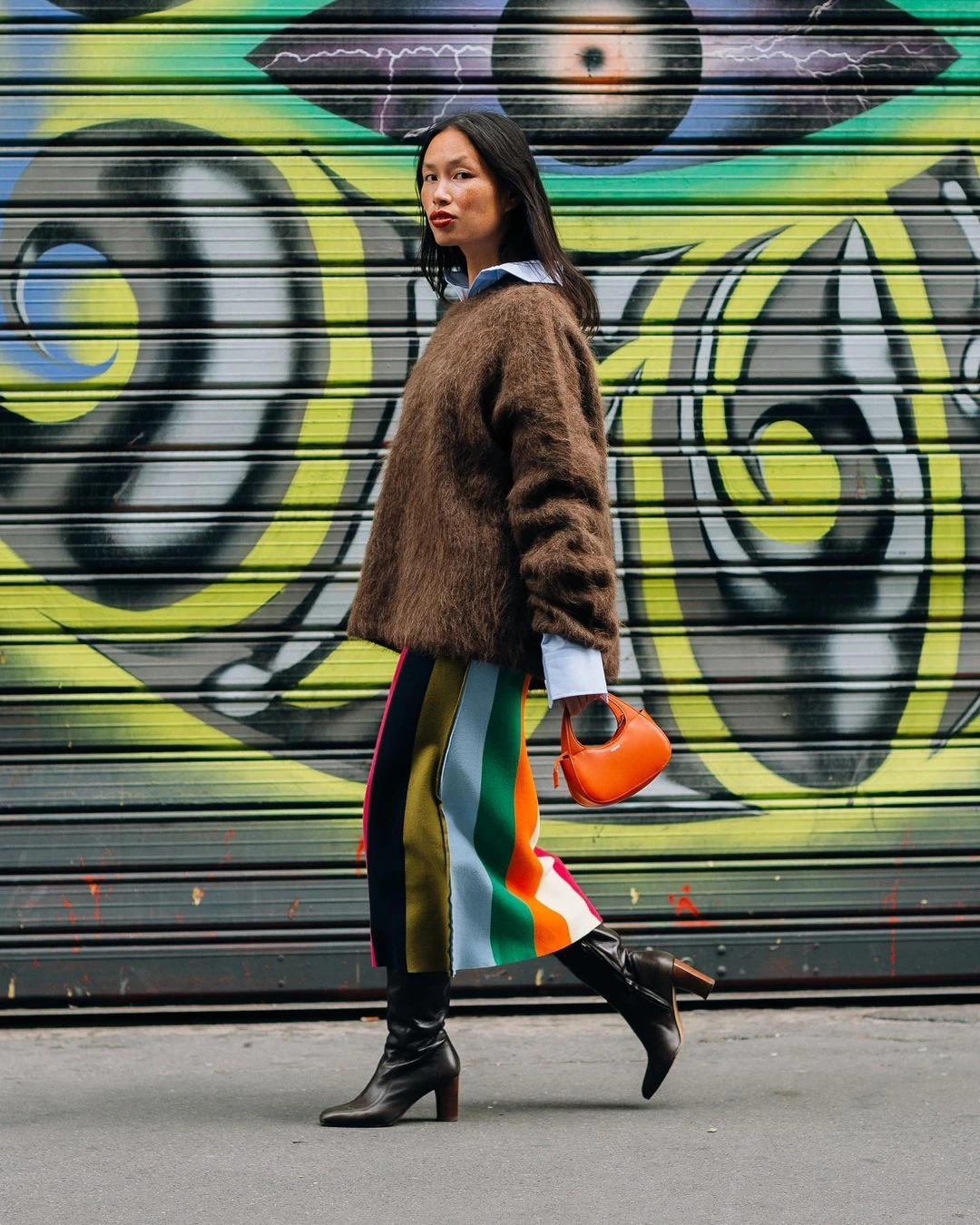 Photo via @vikilefevre
10) Button Up, Oversized Sweater & Midi Skirt
At the end of the day, layering is a science. Choosing the right pieces to stack takes time and deliberation. But one formula we perpetually fall back on is a button up paired with a sweater. You can modernize this classic style by opting for oversized pieces and contrasty textures. Then, finish off with an unconventional bottom like a striped knit skirt.

(Visited 1 times, 1 visits today)