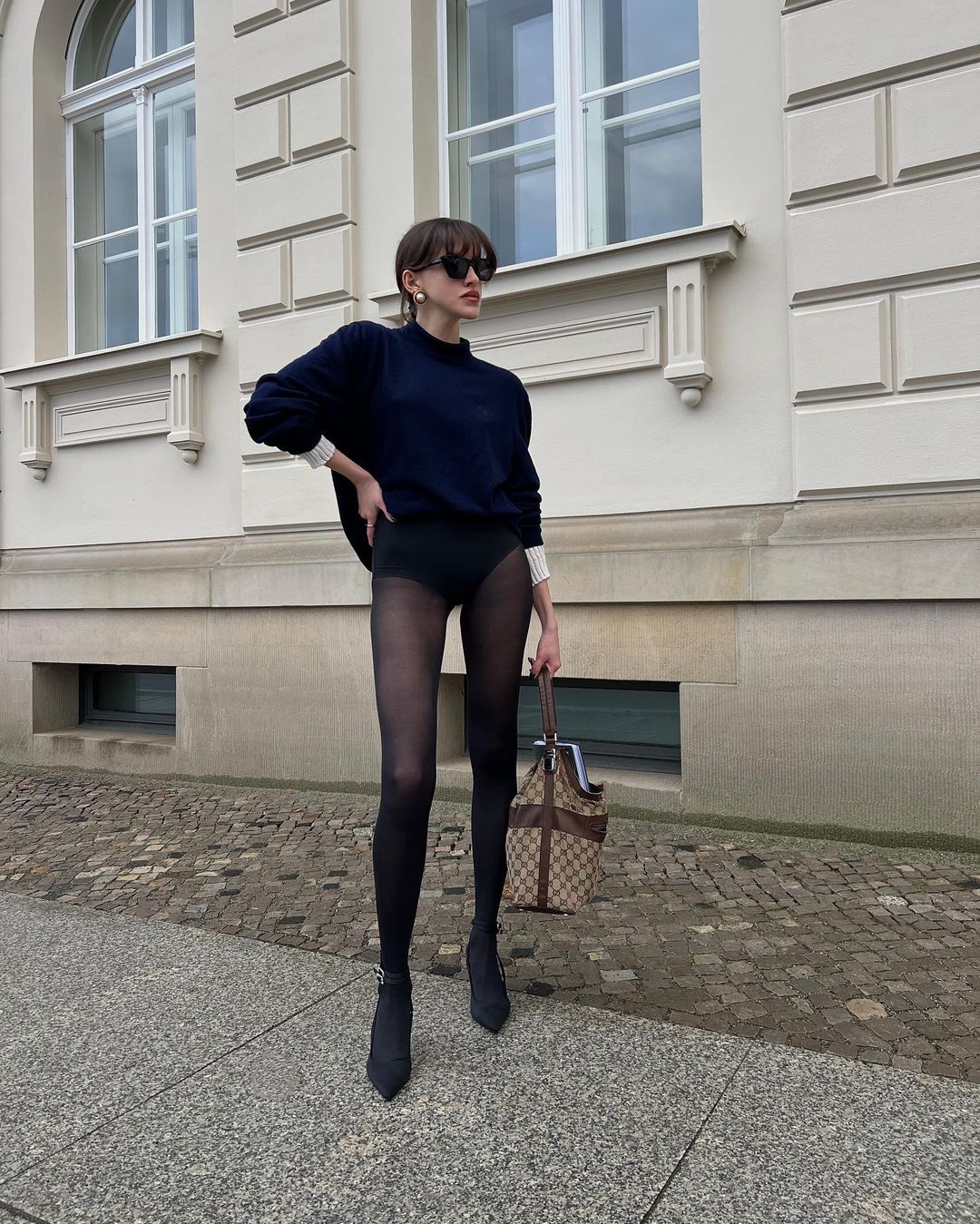 Photo via @burlakanastya
Winter date nights can be a magical experience, but finding the perfect outfit can be a challenge. You want to look stylish and put-together, but also stay warm and comfortable in the chilly weather. We have to admit that it often requires a little extra convincing to rendezvous during the midst of winter. After all, it can be difficult to feel like the best version of yourself when you inevitably have to wrap up in multiple layers. But an excuse to dress up might just be the cure to your seasonal depression. So whether you actually find the tenacity to head out into town for an intimate dinner or you just want an excuse to dress up and look your best at home, we have the inspiration you have been looking for. These date night outfits take into the consideration the low temperatures and will give you a boost of much needed confidence. Don't let the cold stop you from living your best life. Scroll ahead and take notes on these effective and sultry winter date night outfits.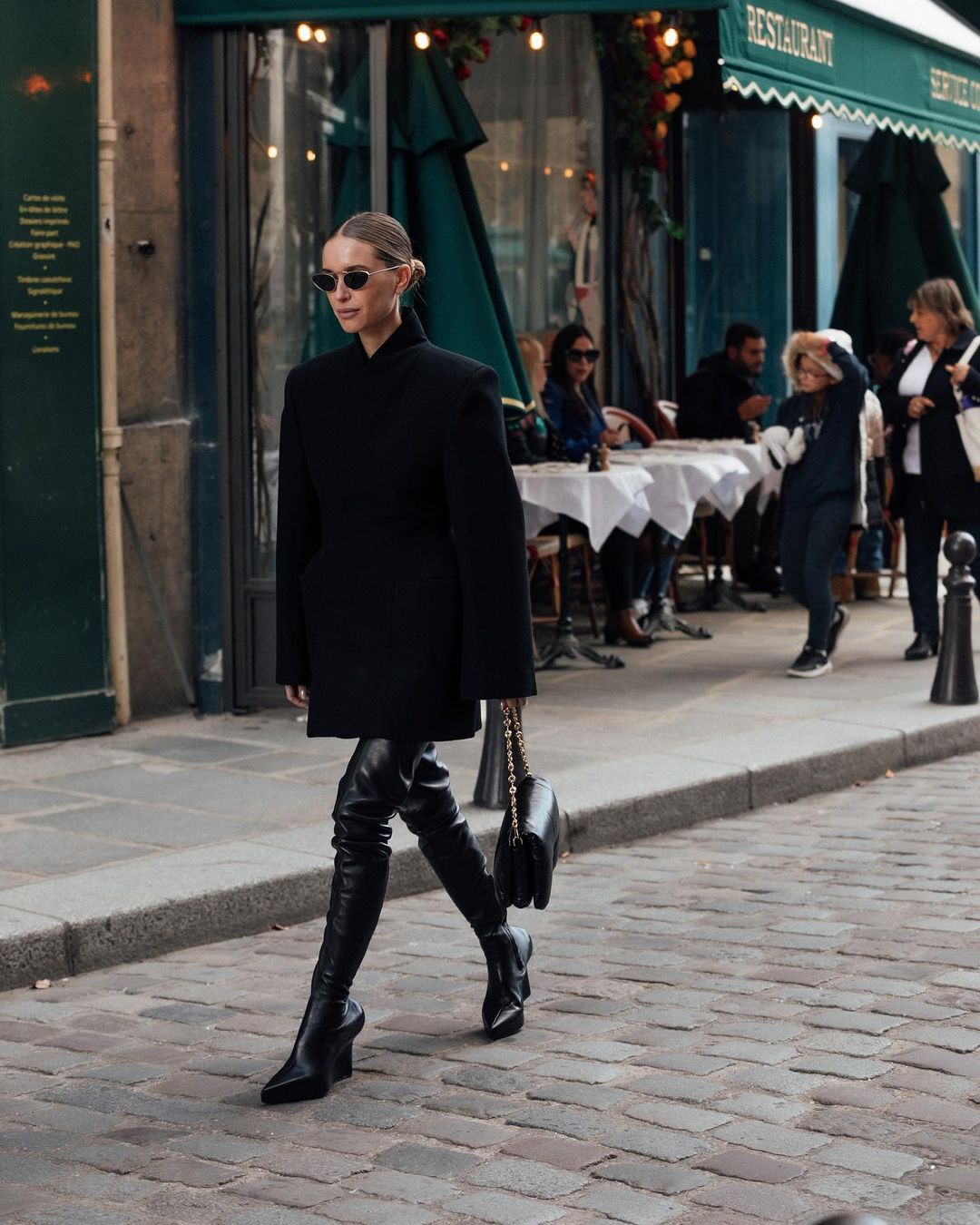 Photo via @pernilleteisbaek
1) Leather Thigh High Boots
Not in the mood for pants? No problem. A surefire way to adapt your date-night-approved skirts and dresses for winter is by slipping on a pair of over-the-knee boots. Not only does this add an edgy aesthetic to your look but it also does wonders in keeping the lower body warm. Plus, you cannot deny that leather OTK boots are bold and powerful, having the ability to lend a killer vibe that will have your date enraptured the entire time.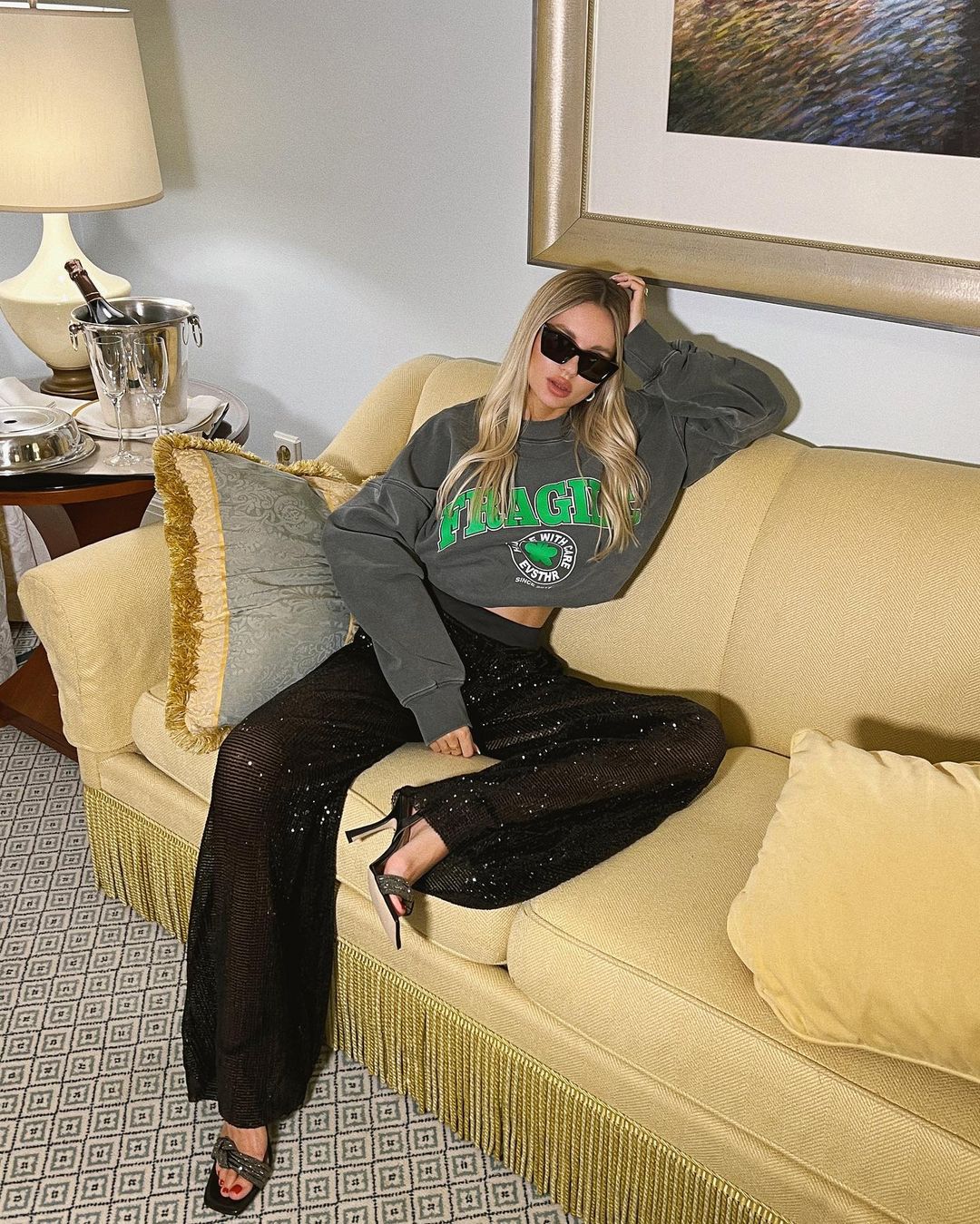 Photo via @shepelevich
2) Sporty Spice
Your favorite sweatshirt but make it glam? Yes please. This influencer adds a little spice to her comfy top by styling with none other than semi-sheer sequined pants and equally shimmery heels. The result is a winter date night look that implies you love to have fun and are not afraid to take risks. Consider us sold.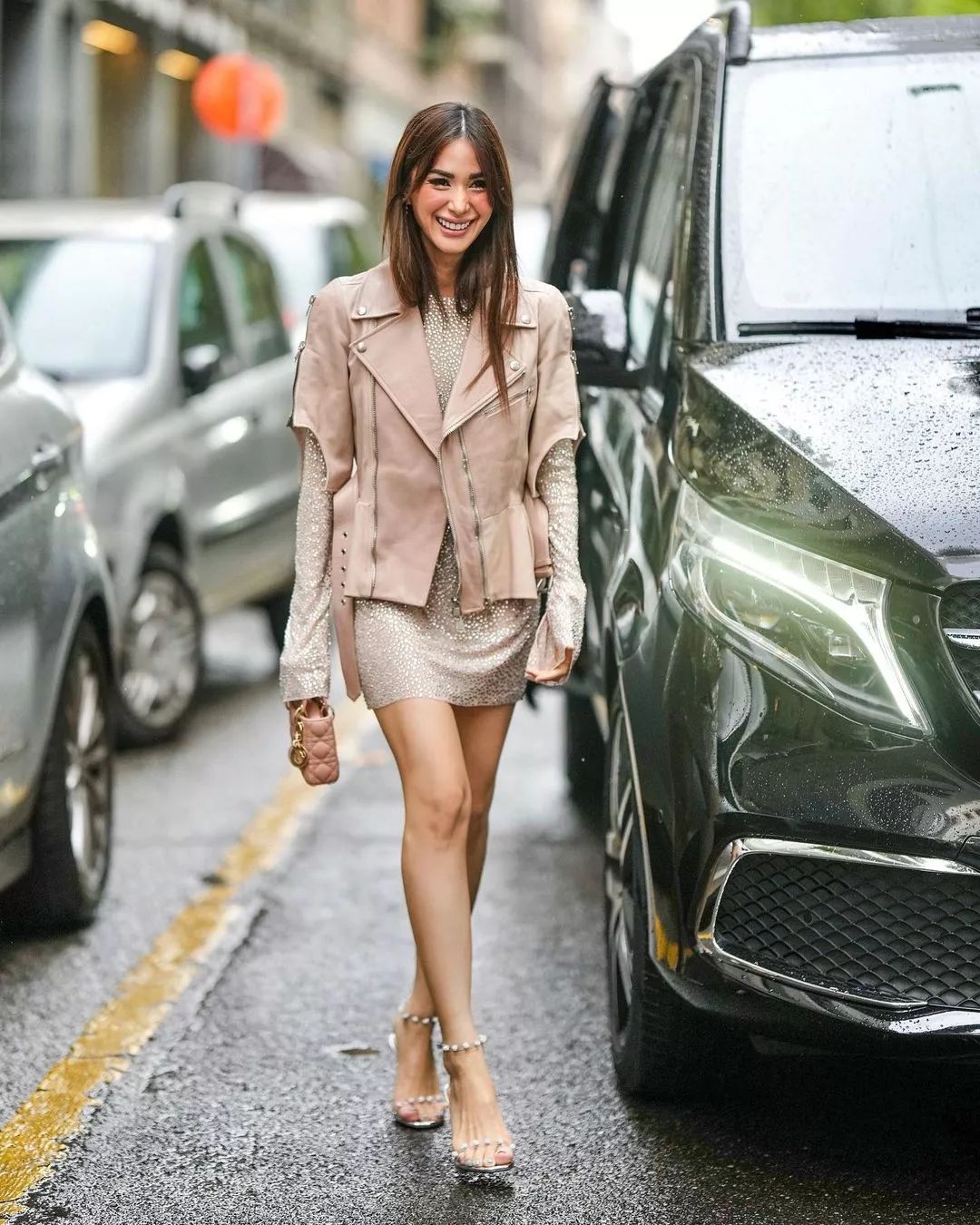 Photo via @iamhearte
3) Sequins With An Edge
We've collectively established that sequins are a year-round thing in 2023. This fun, festive embellishment makes for an excellent night out look. This impossible-to-miss option ensures all eyes are on you. Just don't forget to layer up to face the cold. If you want to further enhance that sequin mini, a moto jacket in a similar color will do the trick.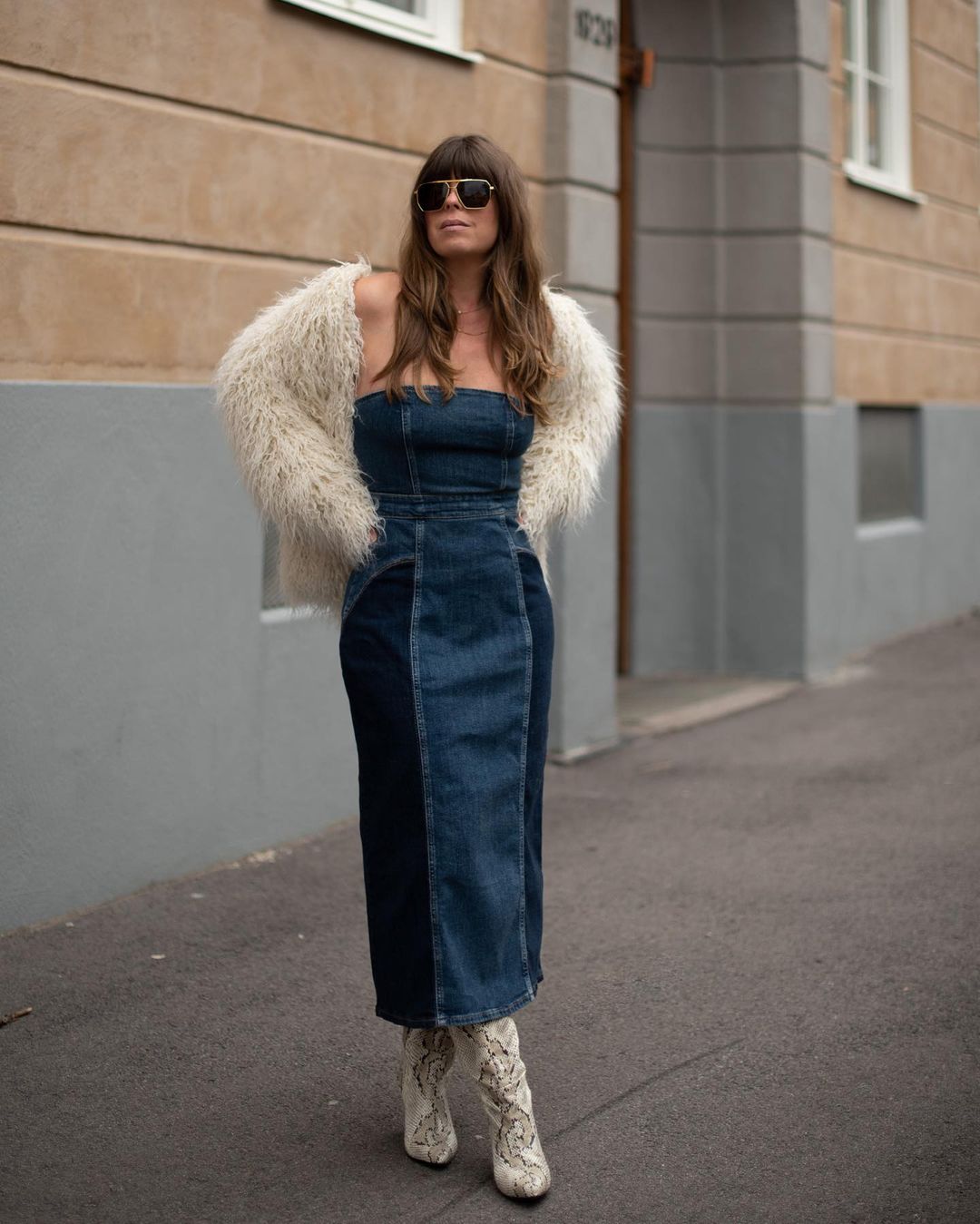 Photo via @annsofieback
4) Boho Glam
Not sure whether the occasion will lean casual or formal? Here's a show-stopping outfit that can do both. Ann fuses an inherently laidback denim dress with a glam faux fur jacket. Both pieces have differing vibes – but when worn together, manage to create a balanced look that's well equipped to handle almost any event imaginable. The tall snakeskin boots are the cherry on top!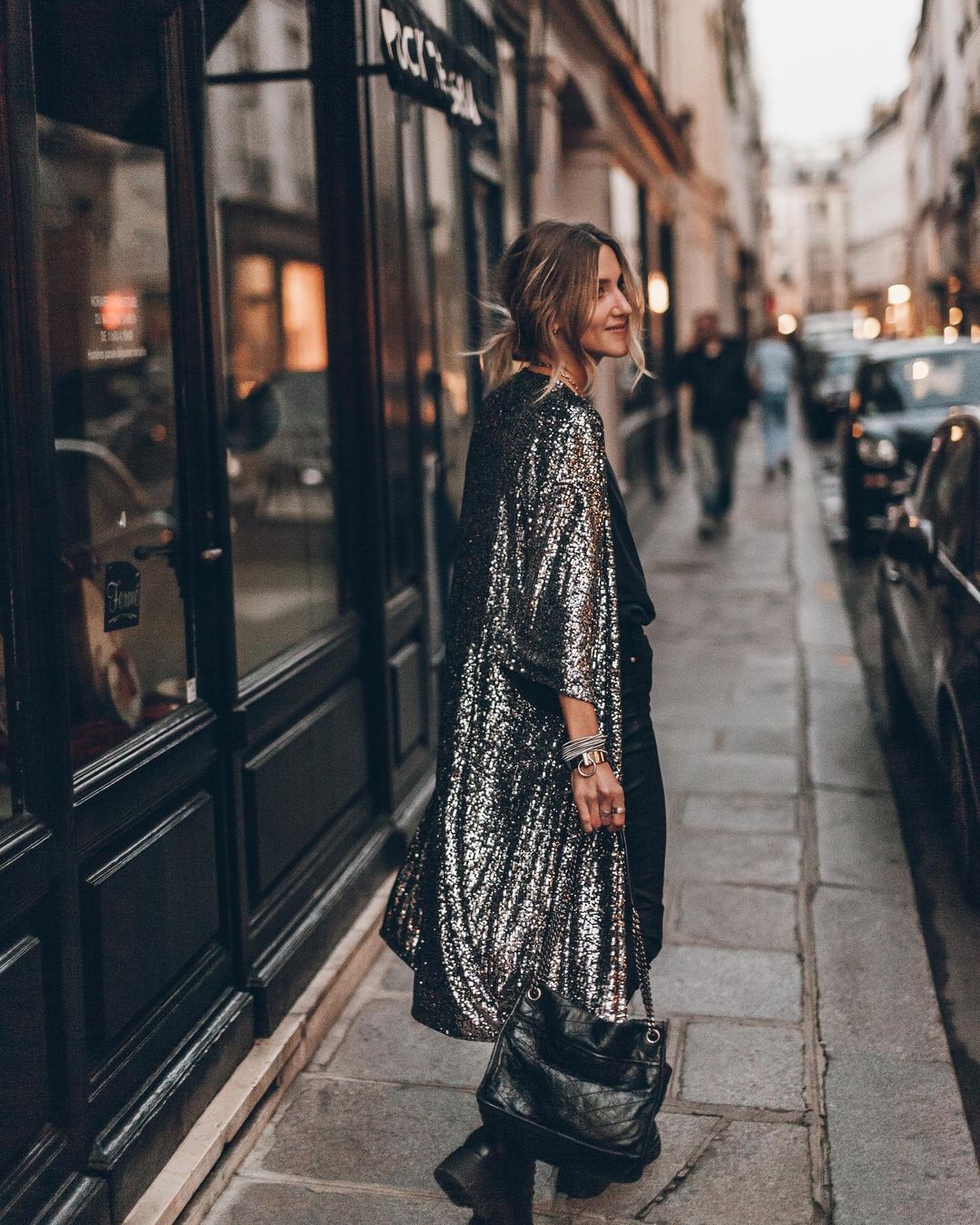 Photo via @mikutas
5) Metallic Duster
One way to become the apple of your lover's eye is to dress the part. There is nothing more striking than a metallic piece. This influencer mesmerizes in her silver embellished duster jacket. We love how she uses the alluring piece to amp up a regular day-to-day denim look for fun evening out. You can achieve the same effect with any metallic colorway, so shoot for gold, bronze and beyond.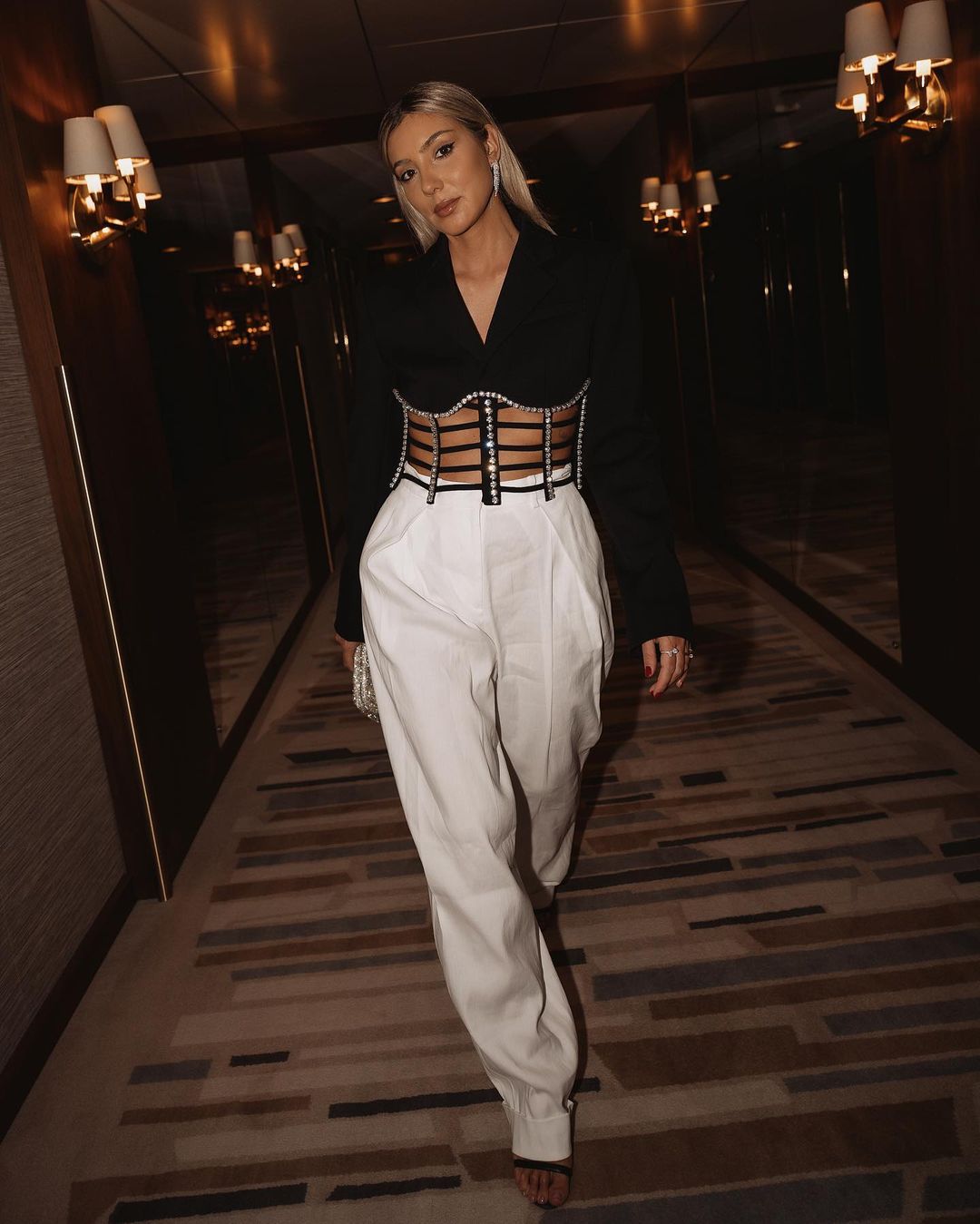 Photo via @marianamachado____
6) Dripping in Diamonds 
If you are planning for a romantic night, you want a look that can keep up. One of the more romance inducing garments involves rhinestone embellishments. Whether you opt for a steamy dress or a contemporary top like Mariana's, we're sure you'll leave a lasting impression. To make it more cold-weather appropriate, choose something with sleeves. If that's not an option, add tailored trousers.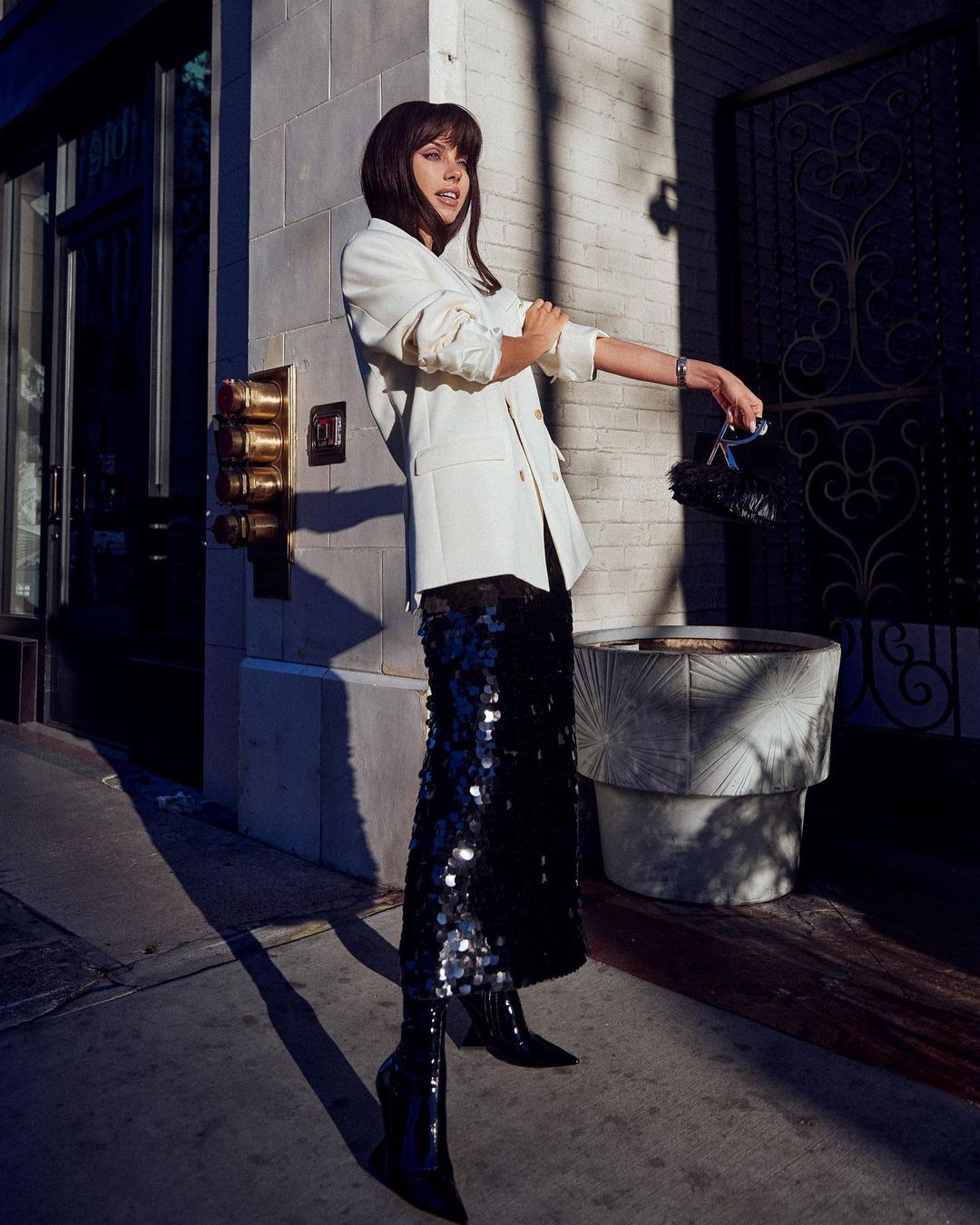 Photo via @annabellefleur
7) Maxi Dress
Instead of an ultra mini dress in 2023, try your hand at a maxi. The longer silhouette is much easier to winterize as you can incorporate tights and socks underneath without taking away from the look. Additionally, this allows you to swap your dainty heels for an insulated pair of booties. To finish it off, a blazer never fails to serve as the outermost layering device – it's a winner regardless of fit and color.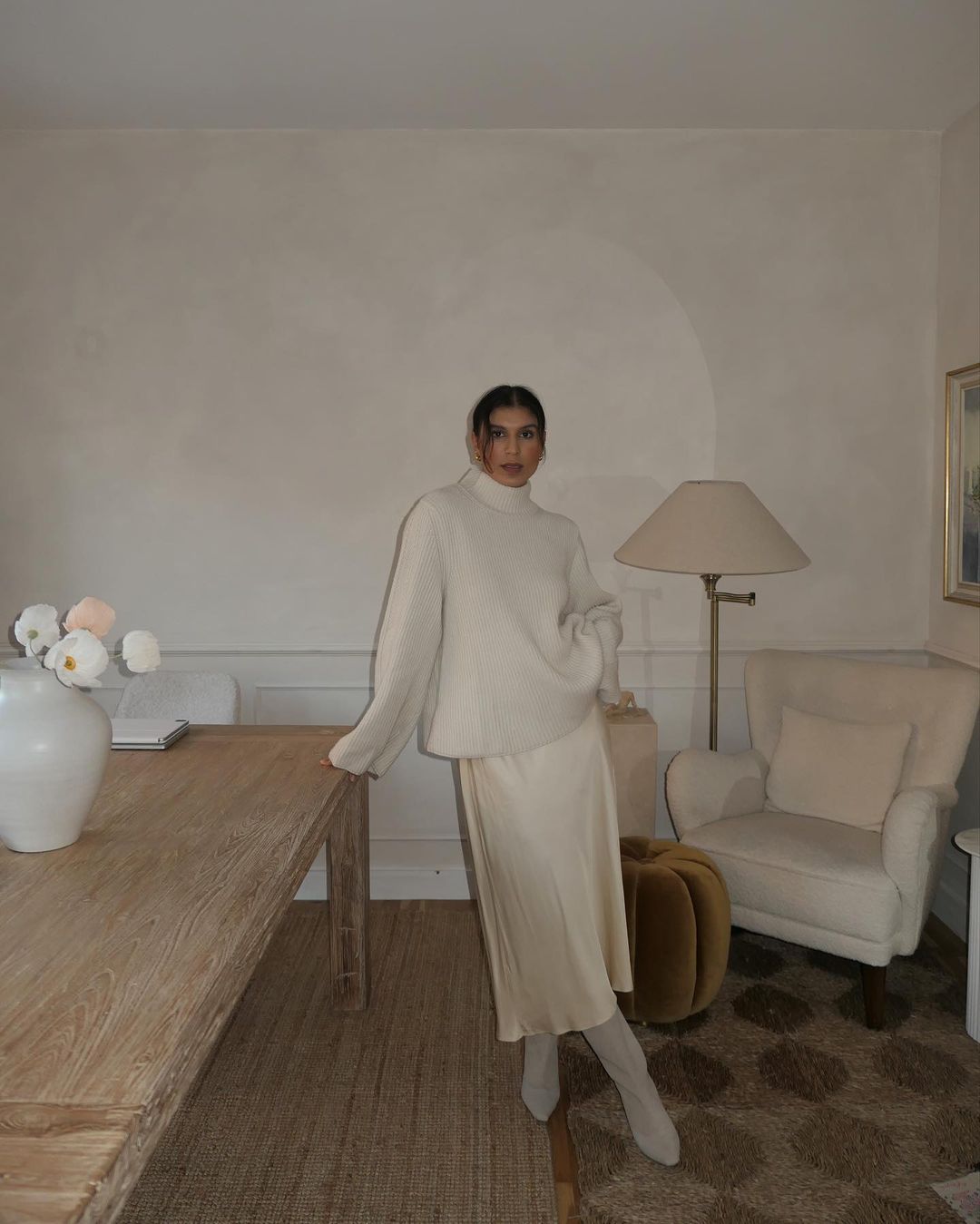 Photo via @theindiaedit
8) Slip Skirt
Staying in and whipping up a home-cooked meal is just as worthy of getting dressed up. This influencer makes a casual weeknight feel a little more special with a satin slip skirt and cozy sweater. You really don't need to get fancier when the basics are this good.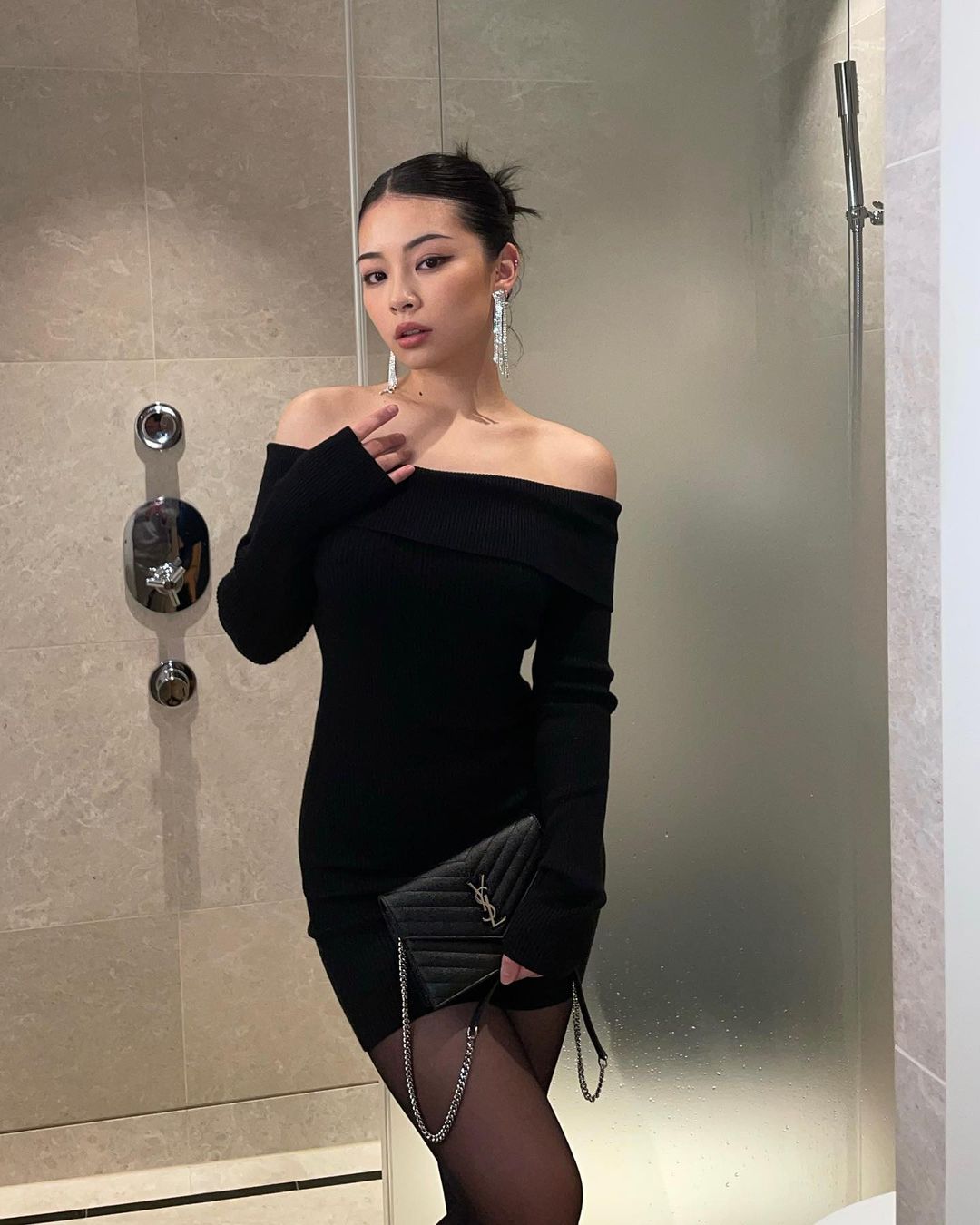 Photo via @tingting_lai
9) Sweater Dress
Another winter date night outfit idea is a classic sweater dress. This versatile piece can be dressed up or down, depending on the occasion. And while the finished look is just as polished as the others, the sweater dress is far more comfortable than everything else. Simply add some statement jewelry and an evening clutch into the mix if you wish to enhance your knitwear further.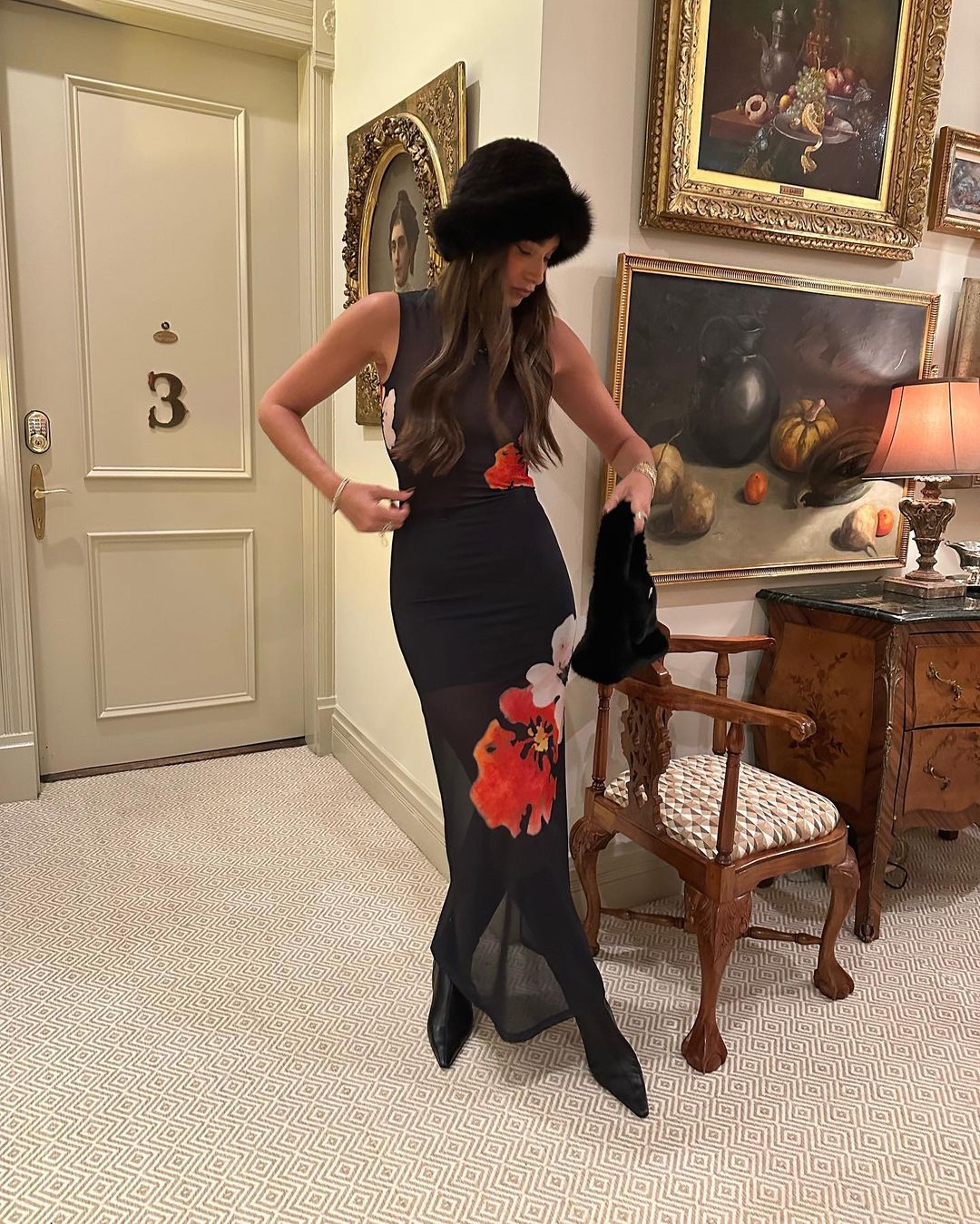 Photo via @weworewhat
10) Fur Accessories
Another playful way to adapt your favorite dress for a winter rendezvous is by tapping into faux fur accessories. Danielle uses a fuzzy hat and textured bag to brace herself against the blustery weather. The furry accouterments immediately elevate the sheer frock. But the best part is that they can be repurposed into a variety of winter outfits whether casual or formal.  

(Visited 1 times, 5 visits today)